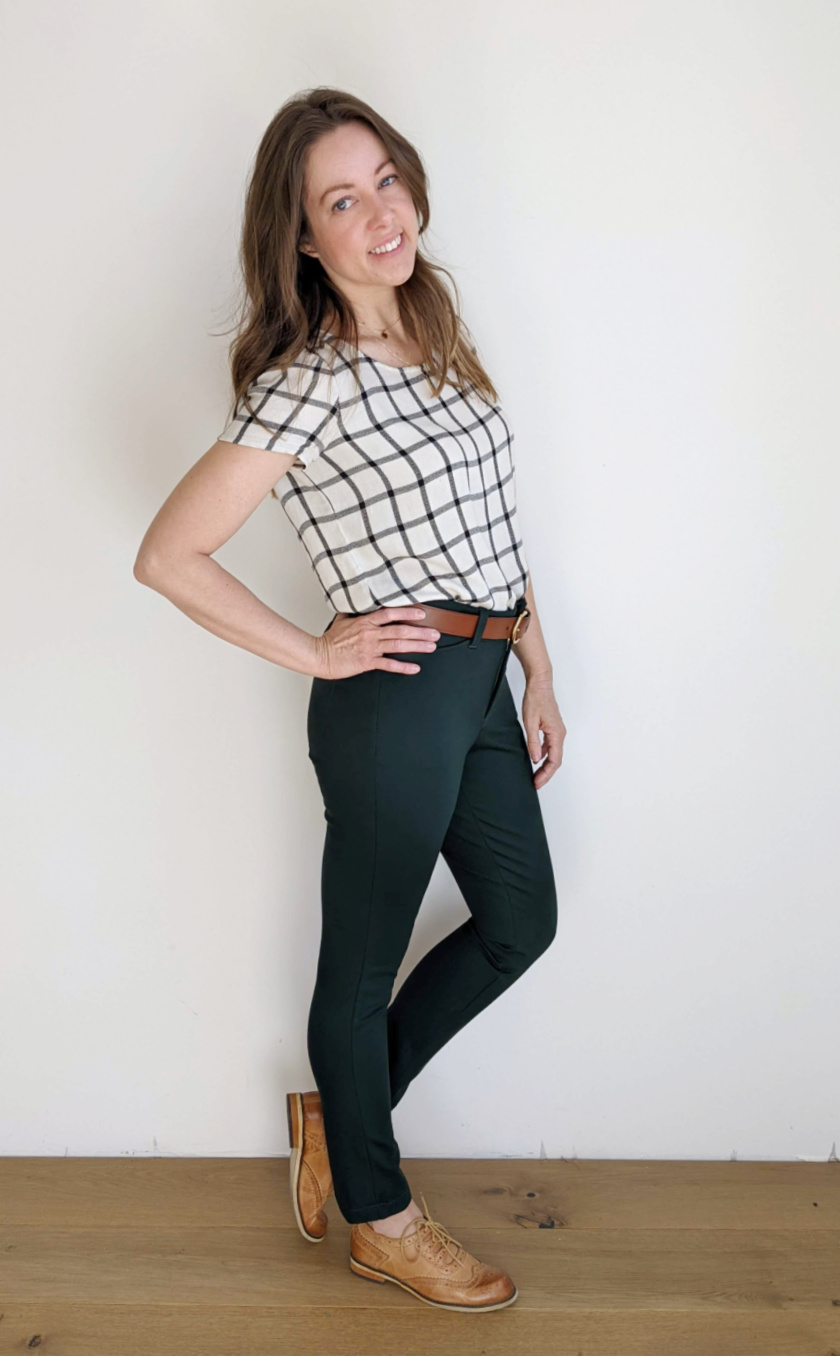 Introducing the Rosslyn Trousers
Overview
Rosslyn is a ponte stretch trouser in three leg silhouettes – slim, straight, and bootcut. All three styles feature a functional zipper fly, front slash pockets, back welt pockets, darts, belt loops, and a close fit in the waist, hip, and thighs. Rosslyn is available in sizes 0 – 30, or hip widths 35″ – 60″.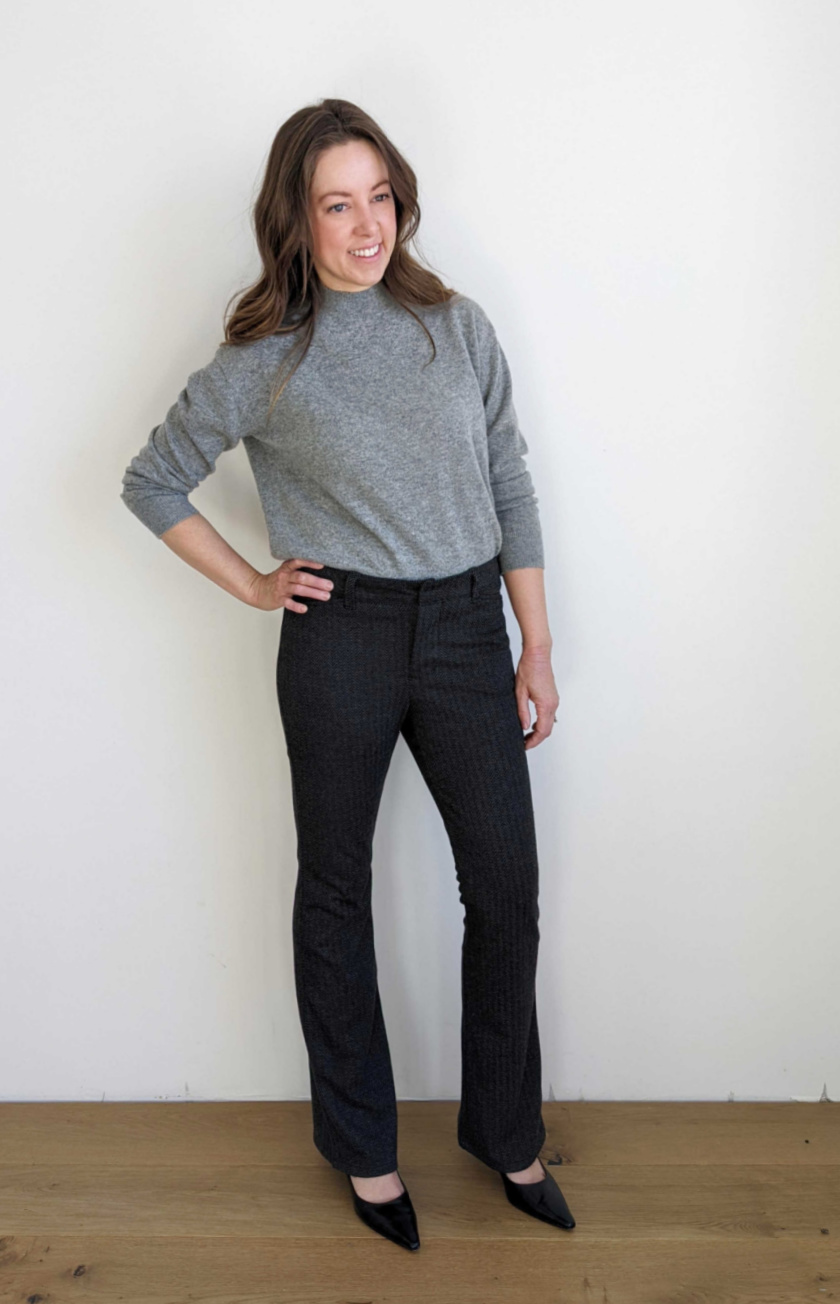 Fit
The slim fit silhouette is fitted from hip to ankle. The straight fit silhouette is slightly looser in the knee and then falls straight to the ankle. The bootcut silhouette is also slightly looser in the knee and then angles out toward the ankle. The inseam for the slim fit is designed to hit at the ankle. The straight fit is an inch longer, and the bootcut is two inches longer.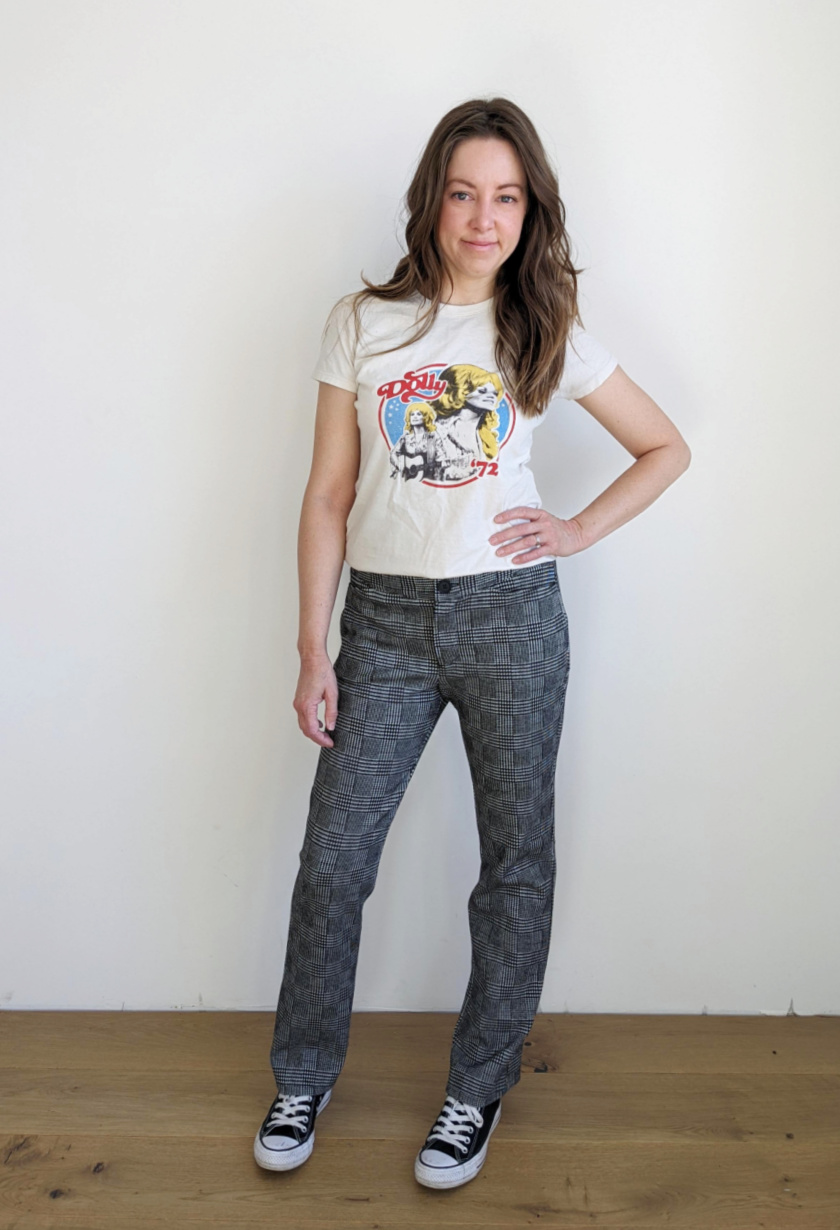 Both sets of pockets are designed to fit close to the body without adding excess bulk or gaping. The front slash pockets open against the waist instead of the hip, and the back welt pockets are sewn to the exterior of the pants to avoid any bumps from a pocket bag.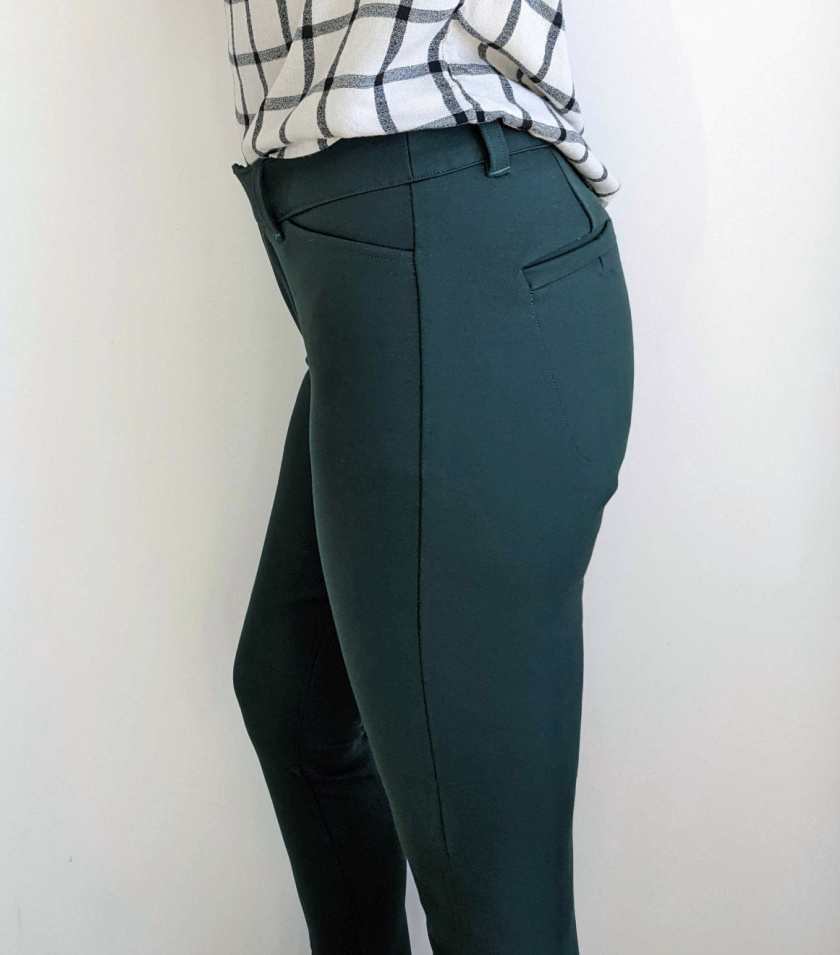 Fabric
Ponte fabric without polyester is a great choice for these trousers.  The straight and bootcut fits can tolerate a slightly lighter weight fabric with more drape and stretch, but the slim fit requires a heavier ponte with great recovery.  For the slim fit, a minimum of 11 oz/370 gsm weight fabric is recommended for that sleek look.  Keep in mind that this kind of thick knit fabric with great elasticity will also have great vertical stretch.  This will help keep you comfy as you sit, bend, and walk.  However, vertical stretch can also cause the pants to pull and "grow" in length, especially through the rise height.  If your fabric has greater than 50% vertical stretch, consider lowering the rise slightly to account for that added stretch length.  It will also be more important to choose your size carefully for this kind of fabric.  Choose based on hip, and size down if you are between or if your fabric has greater than 50% stretch for the slim fit.  Make sure the waistband fits snuggly and the interfacing is eliminating the stretch around the waistband.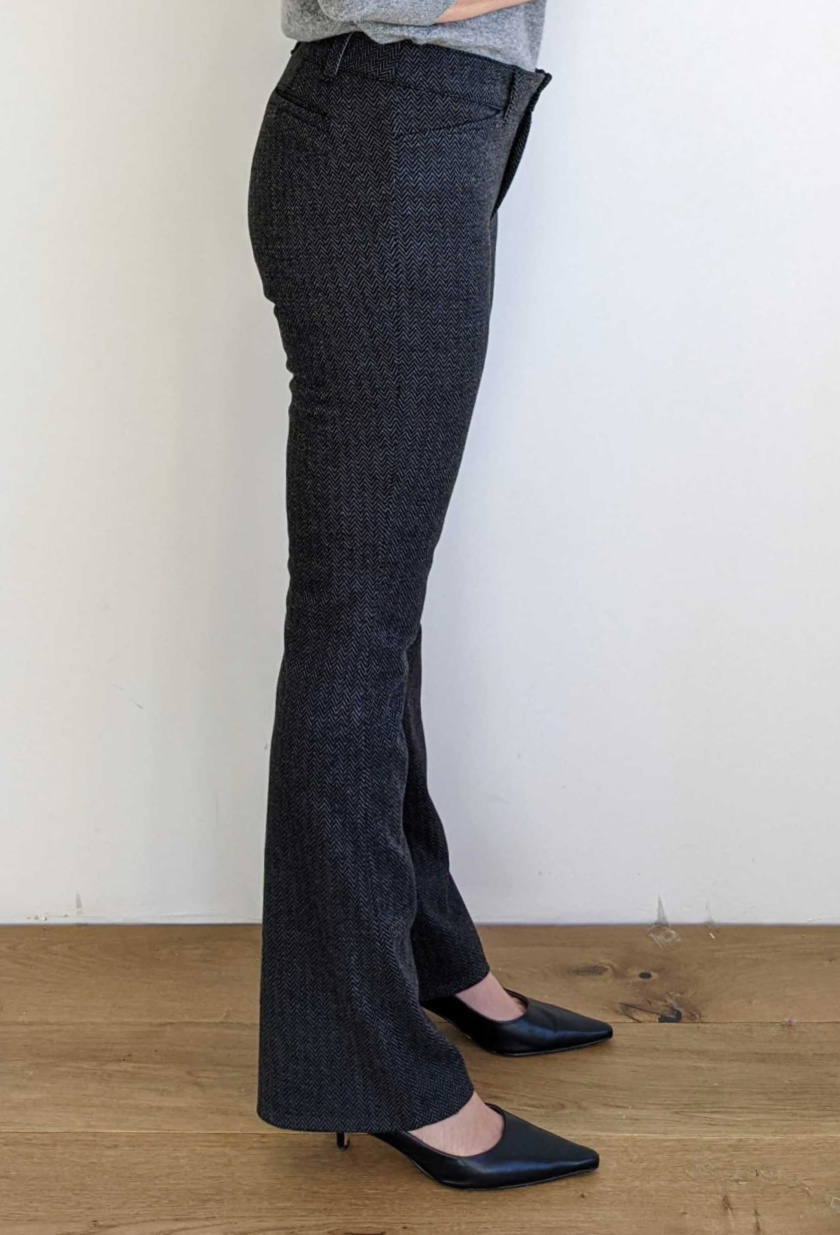 If your ponte does have a small amount of polyester, the straight or bootcut fits are recommended. Both the straight and bootcut trousers shown in these pictures contain a small amount of polyester. This can make the fabric appear wool-like and elevate the pants to look like professional trousers. Just be careful when laundering, as poly content is what causes pilling in ponte fabric. Wash on the delicate or gentle cycle and air dry.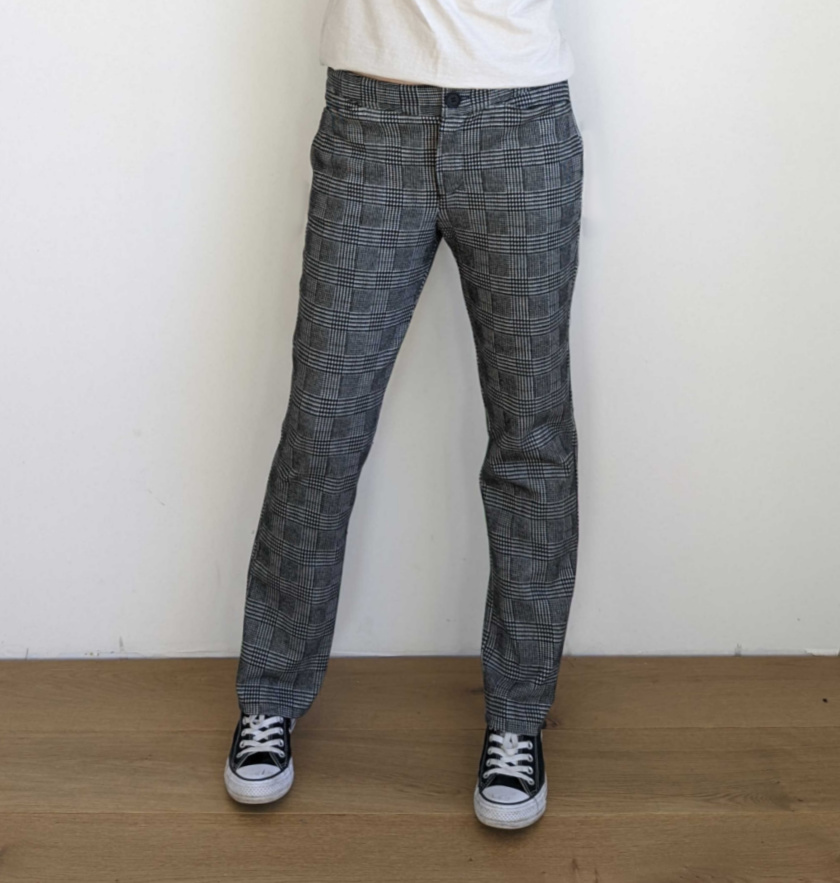 Styling
As you can see from these photos, these pants can be styled to be very professional for work wear, or very casual for everyday wear. The fabric will make a big difference in their appearance, but styling can also greatly affect how formal or casual your Rosslyns will be. They look great with heels or sneakers, cashmere or a jean jacket, and a silky button down or a graphic tee. The sky is the limit with such a great wardrobe staple in your closet! The three leg styles also help provide options when trying to replicate a pair of RTW trousers. Those with minimal alterations experience could also easily make these into a wide leg trouser.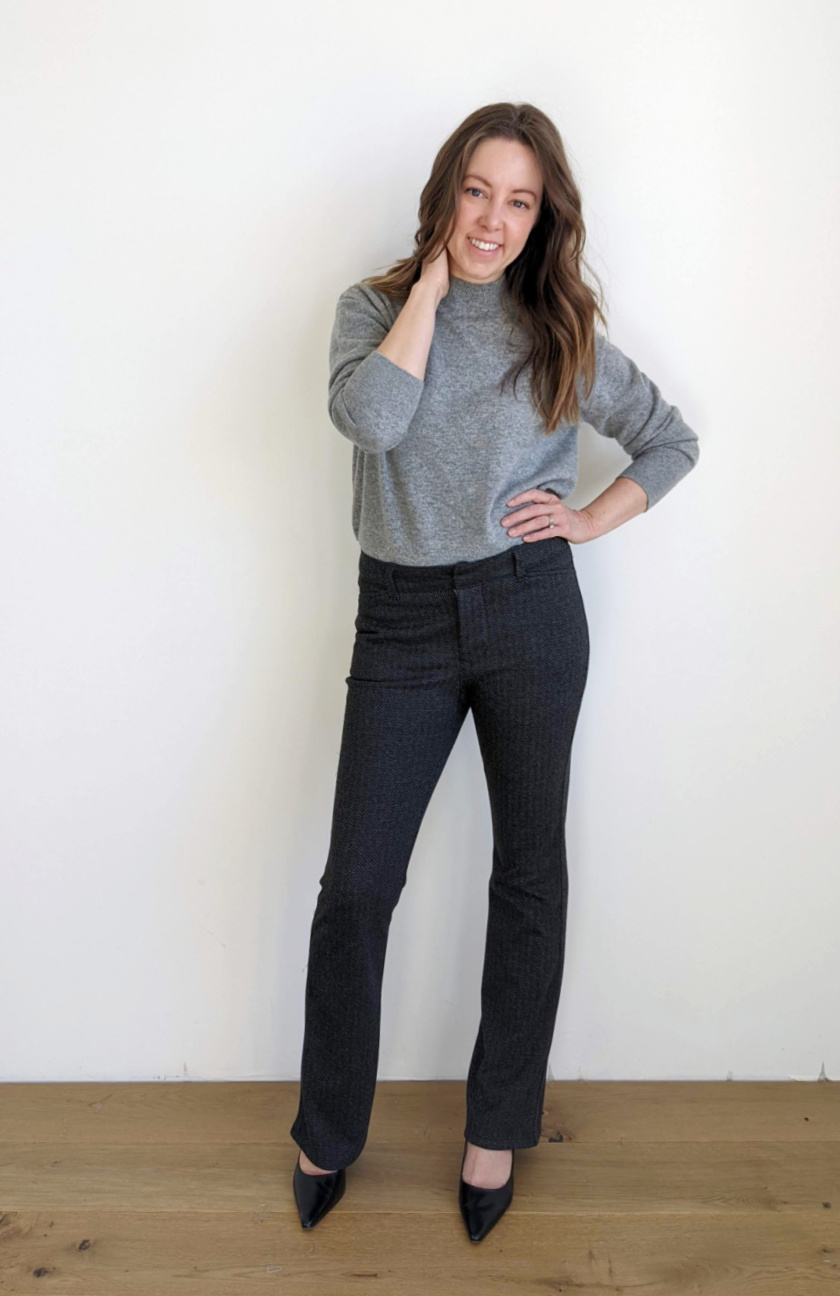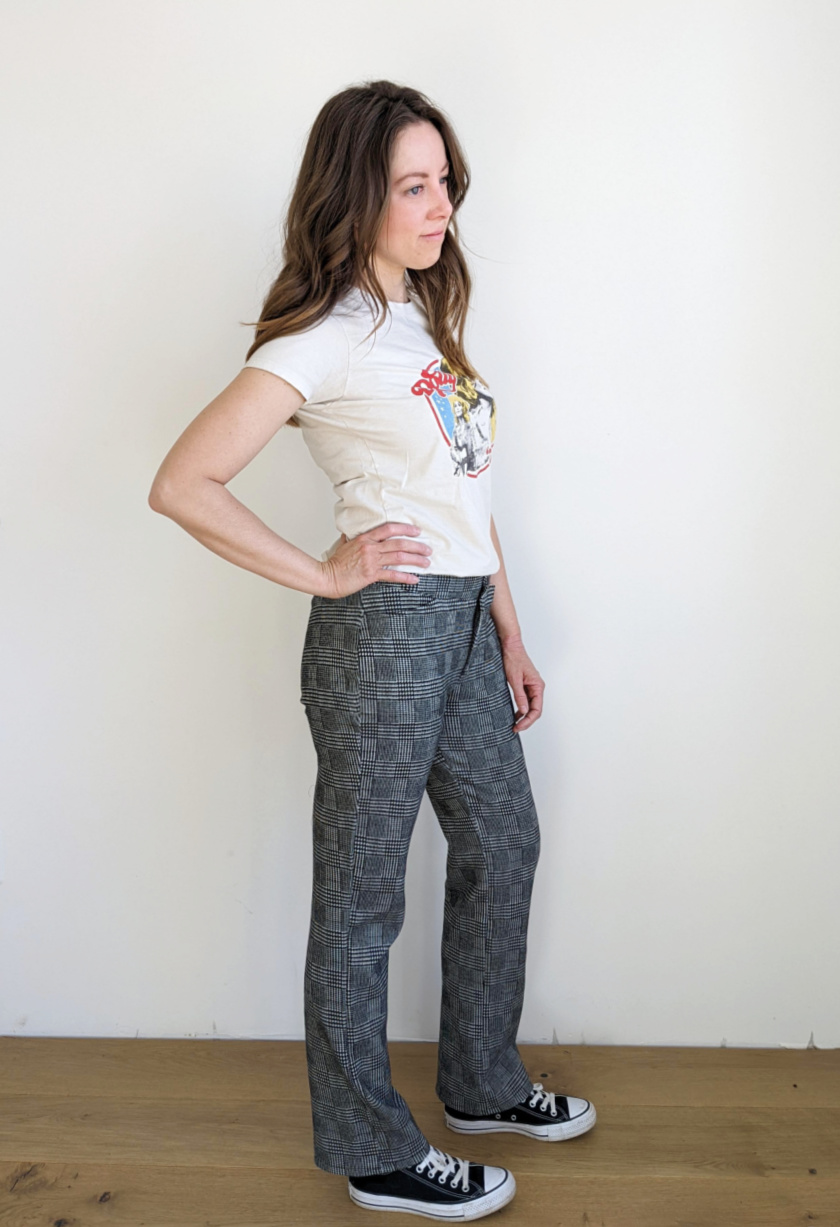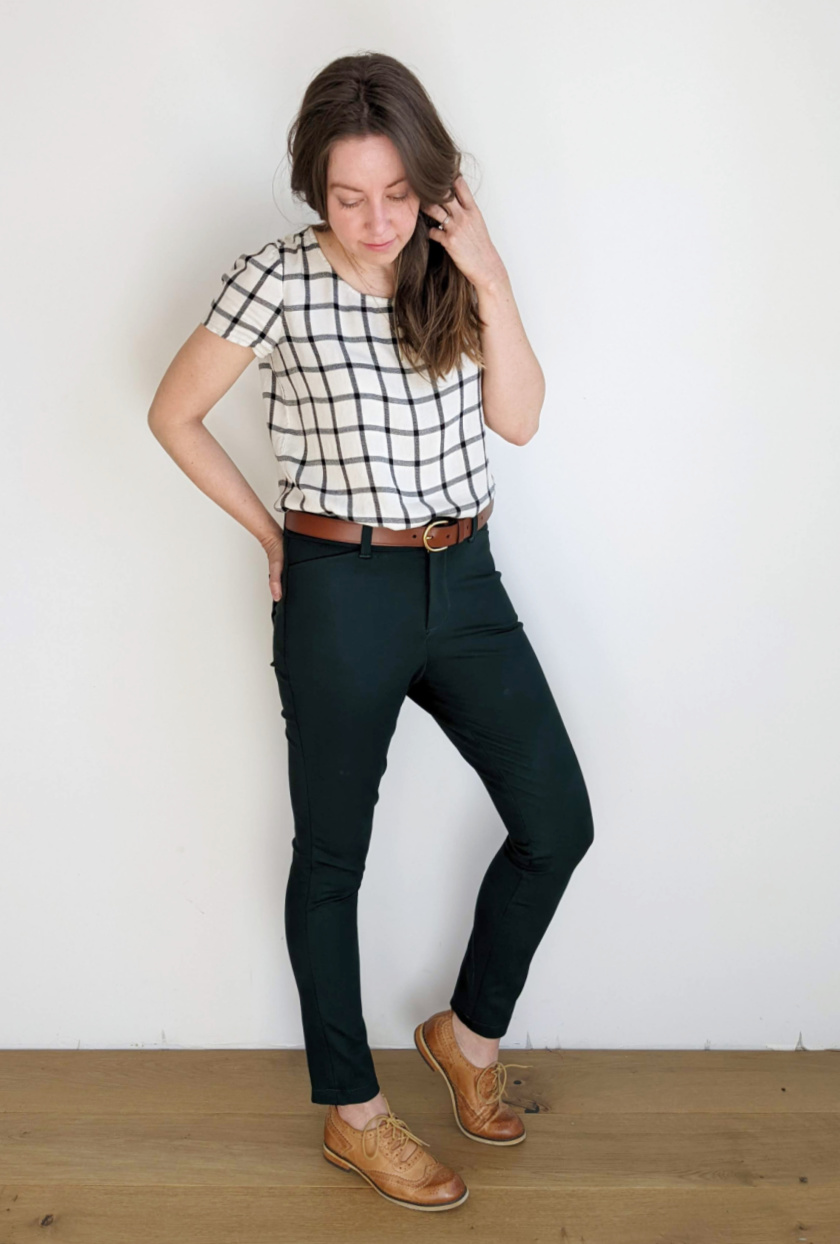 Sewalongs
The Rosslyn pattern links to multiple sewalongs to help you on your way. They are linked below for quick access: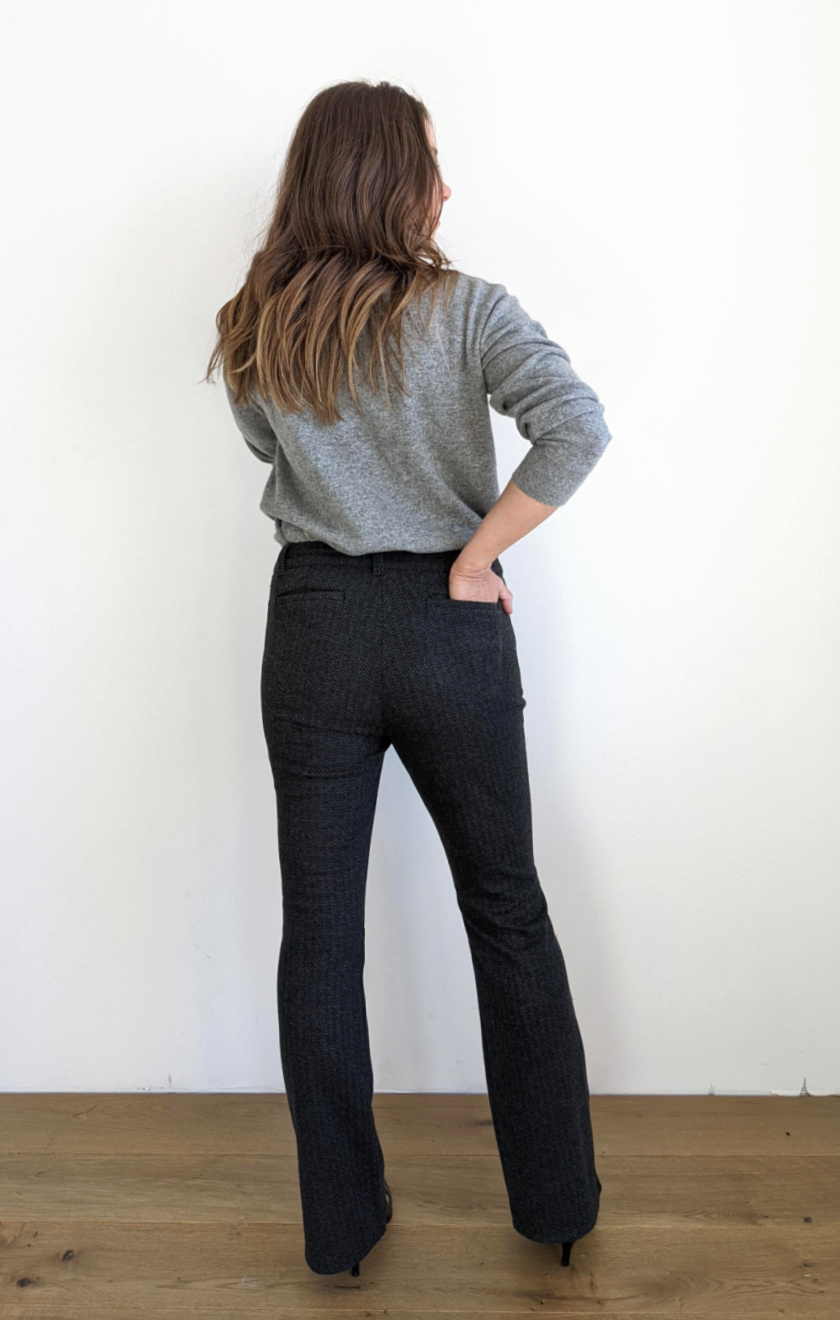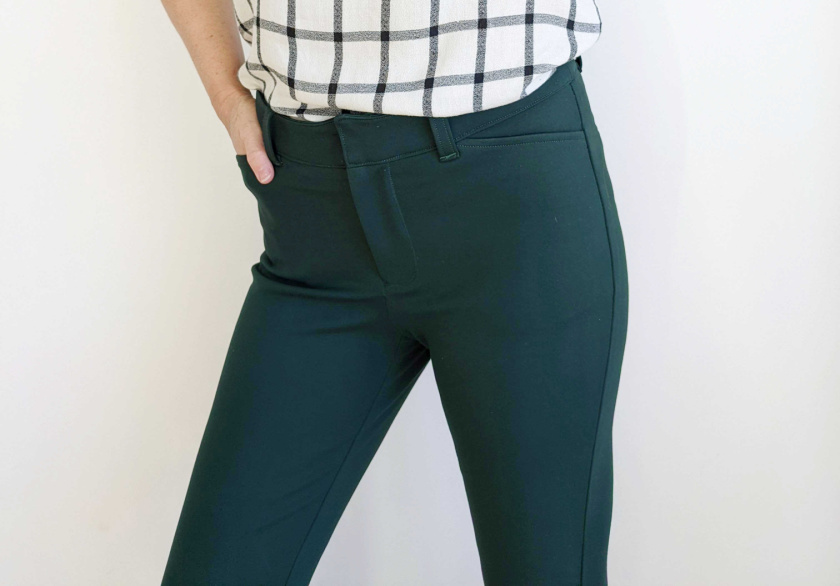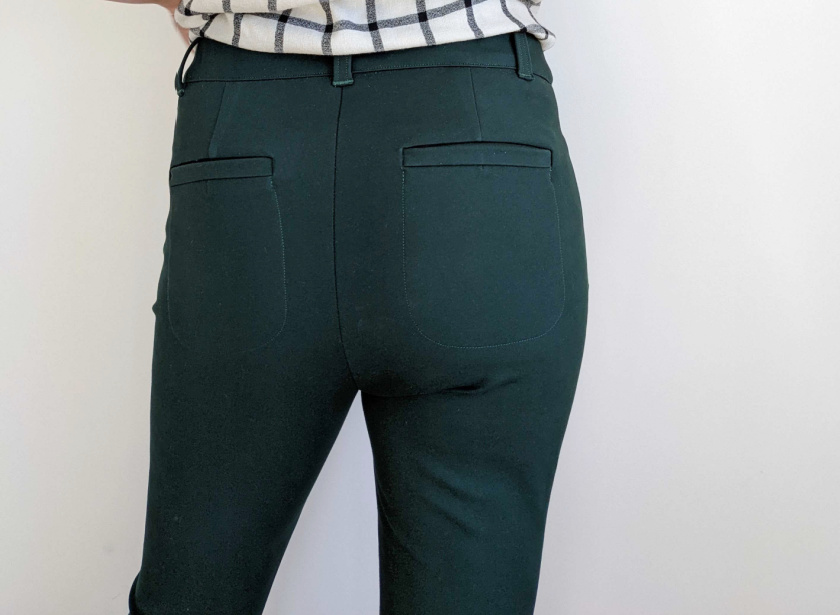 Sizing
Choose your pant size based on your hip. If between sizes, I recommend sizing down. I am between two sizes, and for these trousers, I sized down for the slim and the bootcut. I sized up for the straight fit, and you can see they are much more casual and loose. They are also made with a drapier fabric.
Once you have your base size, you will need to make personal alterations for rise height, waist width, and inseam length. If you normally have gaping in your waistband, you will most likely have to grade in at the waist and use a smaller sized waistband. If you normally have muffin top, you may have to grade out. Rise height can differ based on your torso length and personal preferences. It doesn't always equate to your overall height. I am personally an inch or so taller than the drafted height of 5'6″, but I lower my rise due to a short torso and preference. If you often have to make petite length adjustments, you may want to shorten the front and back rises. A muslin will be extremely valuable to know what alterations you will need for your body. Note that the waistband will fit best if there is some negative ease based on the size chart in comparison to your body.
Inseam also doesn't fully depend on your total height. The most important factor is making sure the knee notch hits the center of your knee. Some may need to add or subtract length only above the knee, only below the knee, or in both places. You may also find that you prefer more length for the bootcut, but don't need it for the slim fit, which are intended to be ankle length. The best way to decide is to make a muslin or measure your inseam on a pair of pants that you know fit well.
The pattern itself has a page to help with these and other common alterations, but I strongly recommend a google search to find limitless resources regarding any particular alterations you may need.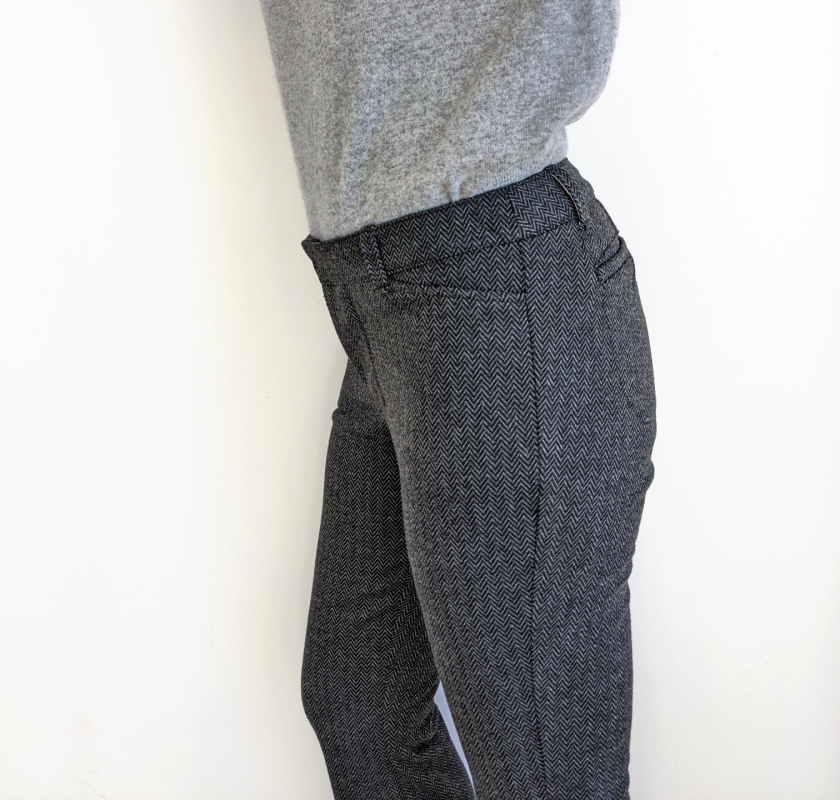 Purchase and Use
The Rosslyn Trousers can be purchased here.
If you are new to digital patterns, here is a complete overview of what they are and how to use them.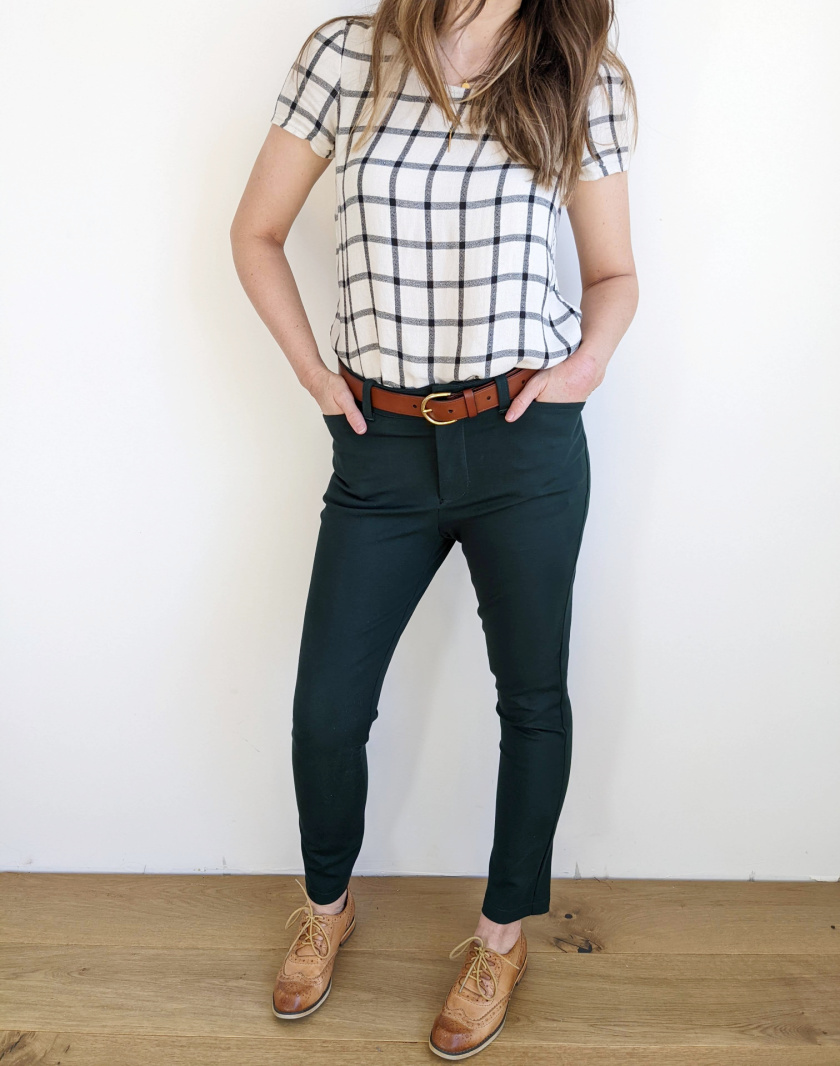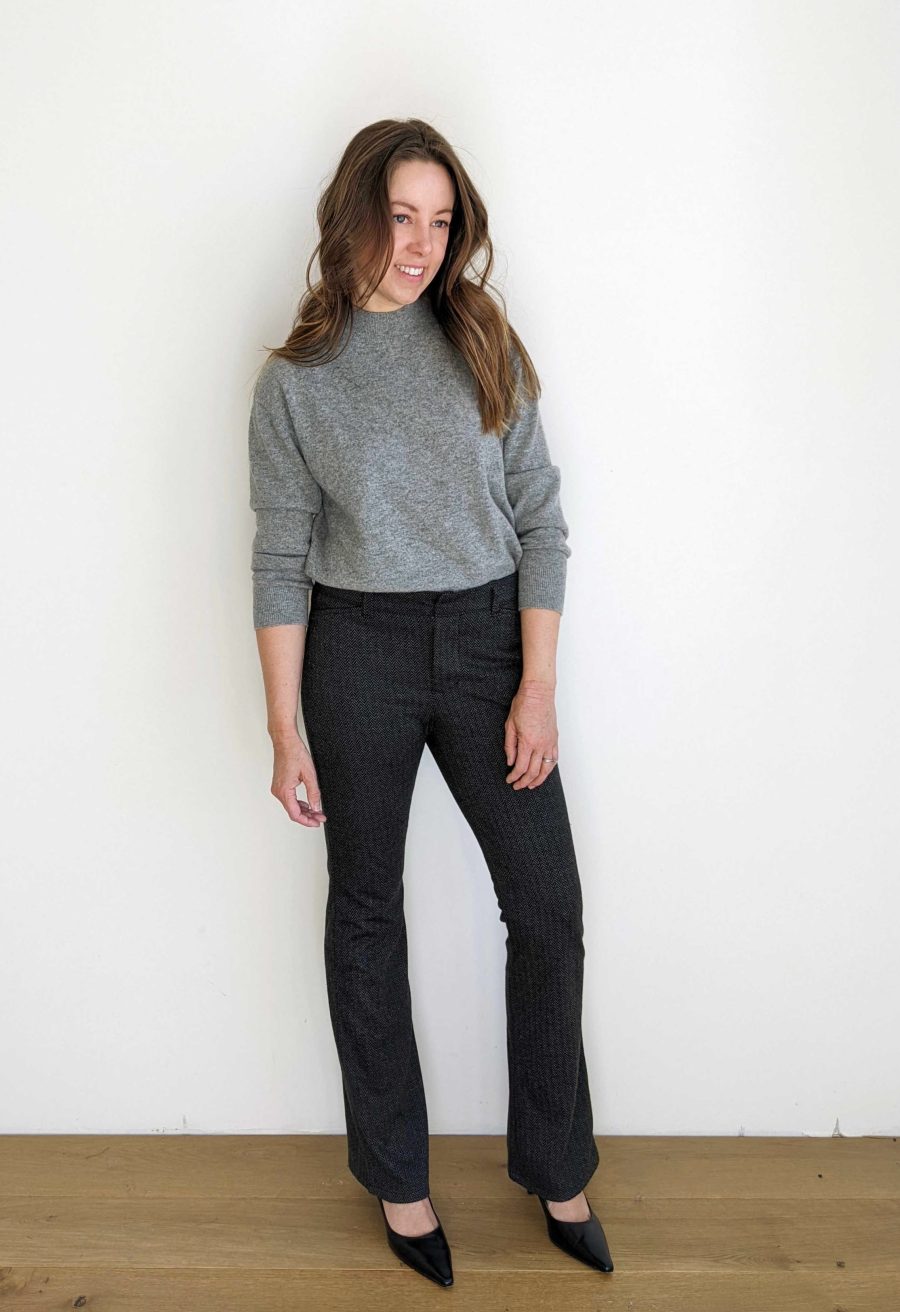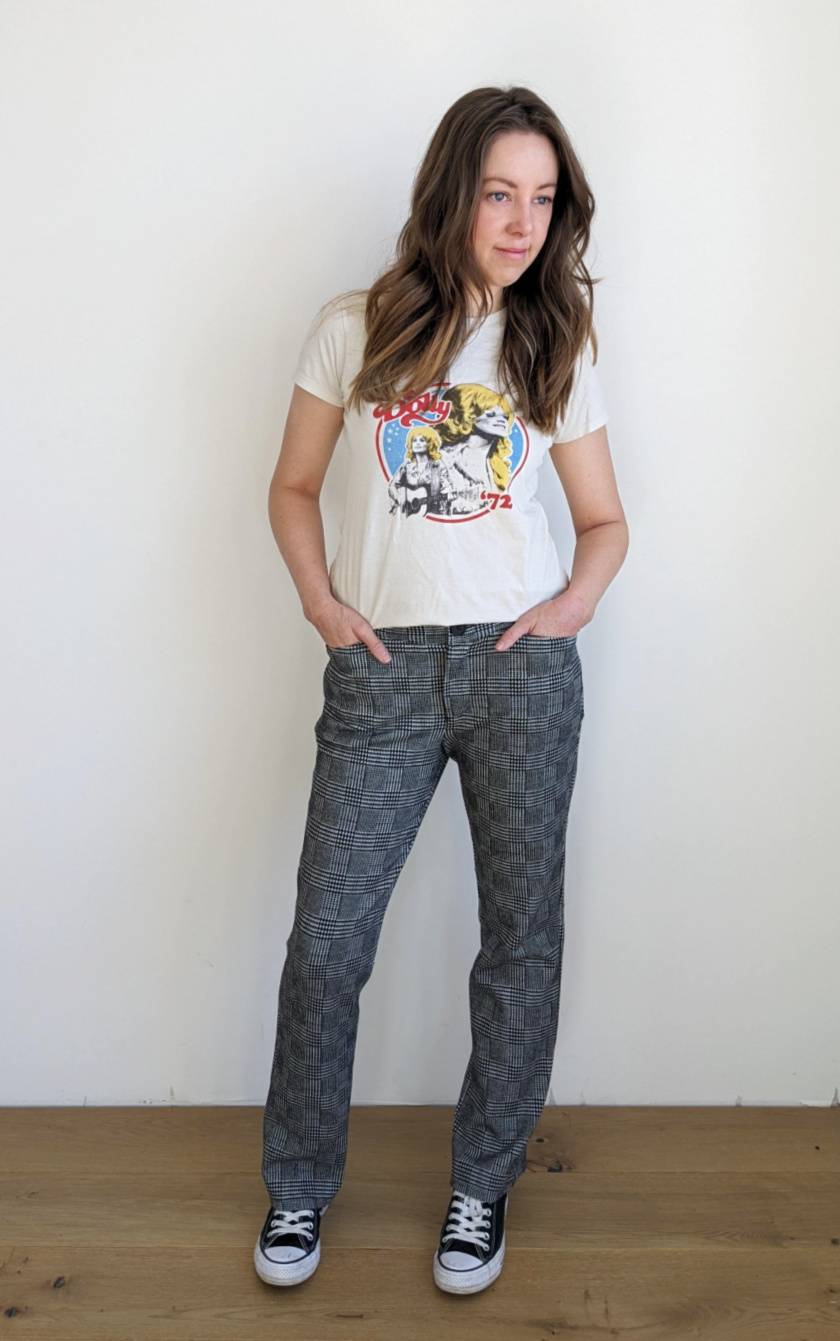 Sources:
Slim fit green ponte: Mood
Straight and bootcut patterned ponte: Stylemaker Fabrics
Windowpane plaid shirt: Key Largo Top pattern
Leather brogues (these have the most amazing cushioned insole, they are very comfortable! Size up if between!)
Converse, heels: thrifted