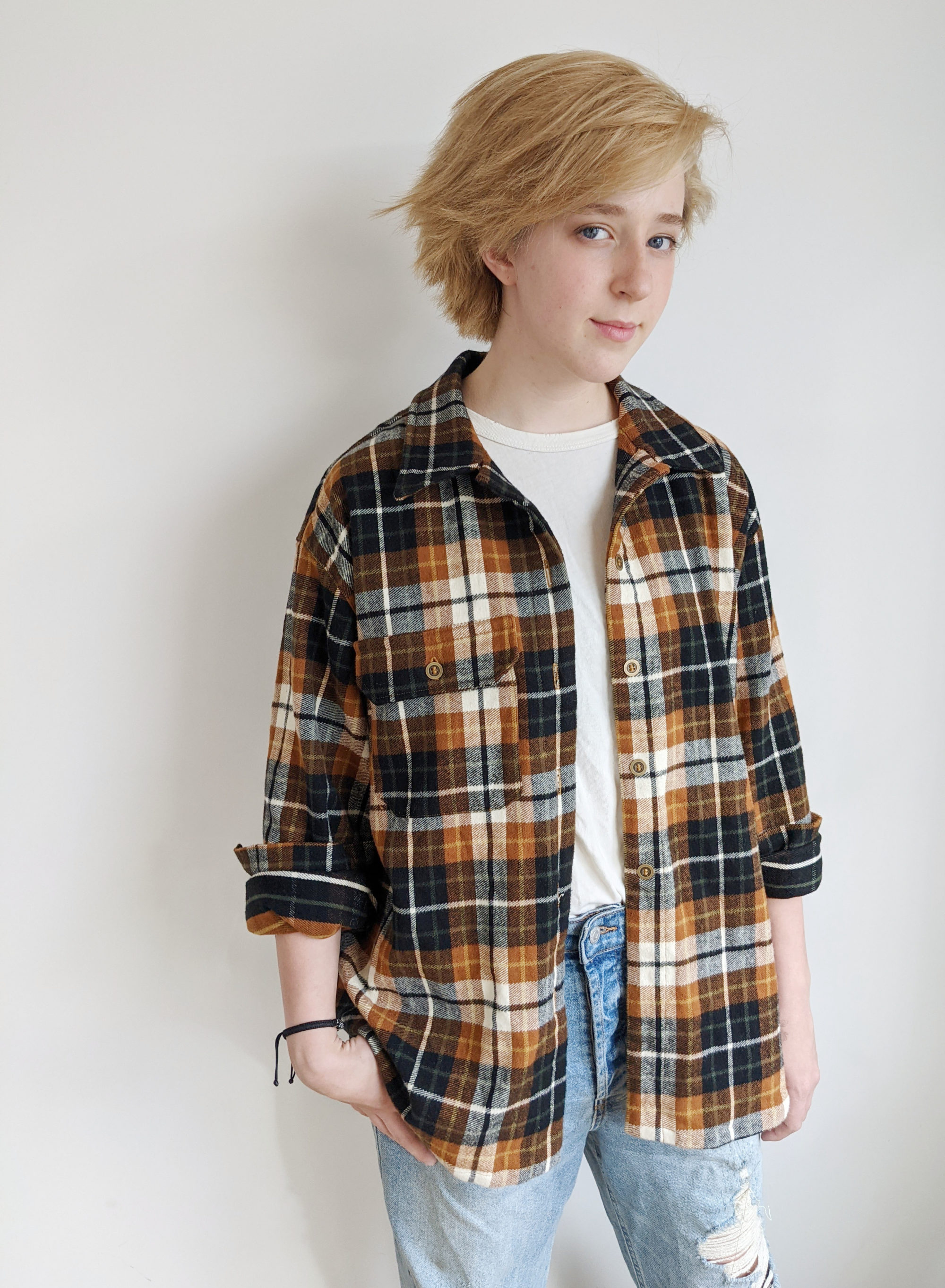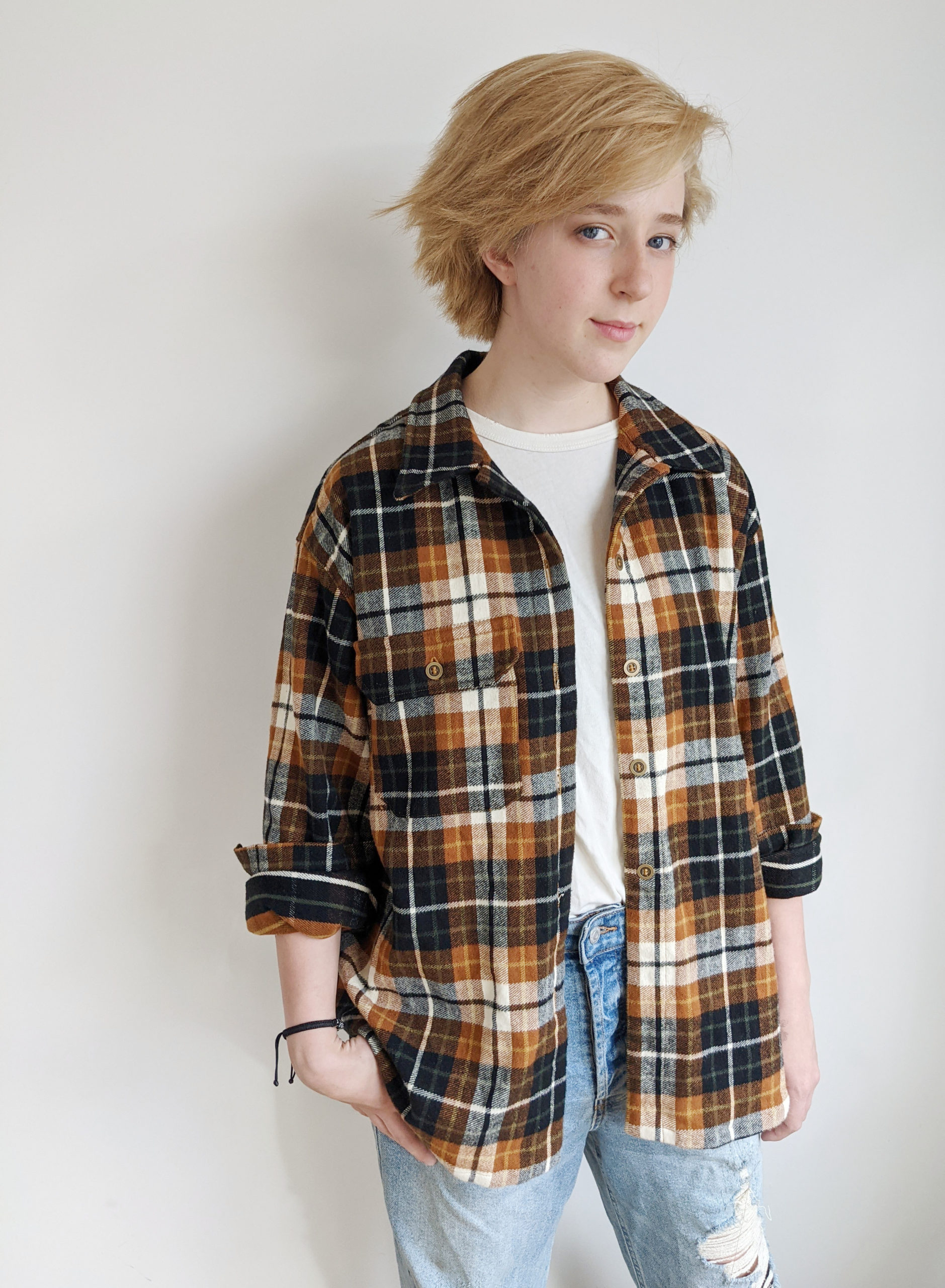 Introducing the newest Hey June pattern – the Fairmount Shacket!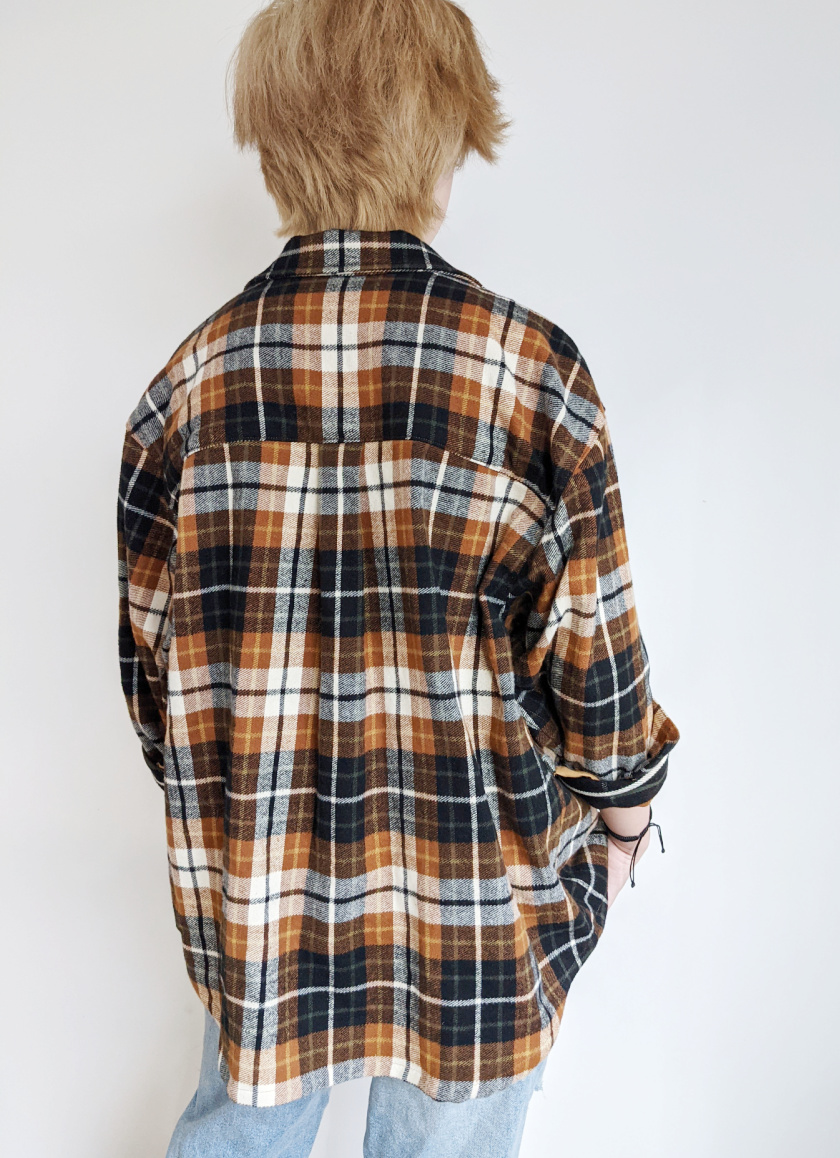 The Overview
Fairmount comes in two size groupings – 0-20 with a B sewing cup and 14 – 30 with a D sewing cup. This shacket is a relaxed, drop-sleeve button-down halfway between a shirt and a jacket.  It is designed to be worn over a top or dress for cool weather layering.  The Fairmount features bust darts on the upper size range, a convertible collar, a full button placket, optional chest pockets with flaps, a continuously bound cuff opening for easy sleeve rolling, and a generous back pleat.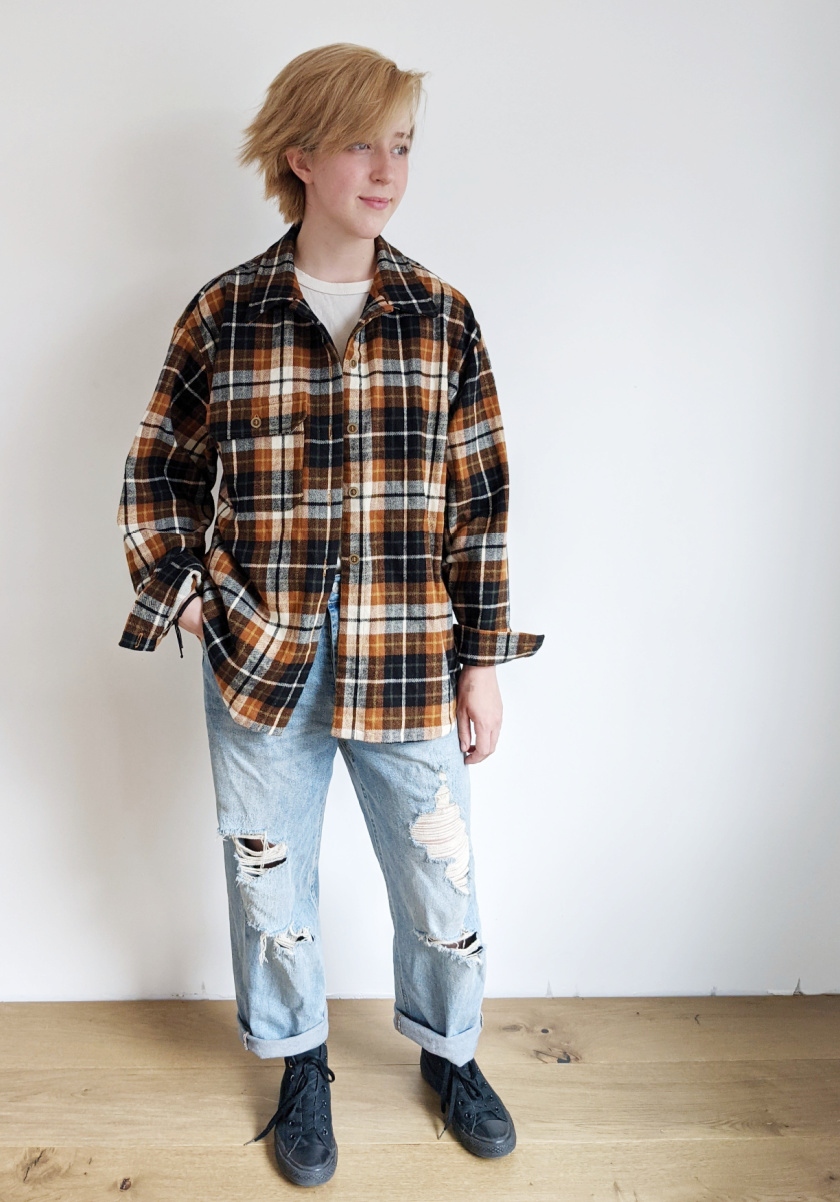 Fit and Style
If you've been to the mall or done any online shopping lately, you know that shackets are all the rage right now, and it's no question why. Shackets are casual outerwear pieces usually made in soft and cozy fabrics like flannel, wool, or even sherpa. With a shirt style but a jacket fit, shackets are the perfect layering piece that our wardrobes have been missing. They pair equally well with casual outfits like jeans and loafers, or can be used to layer over a nicer sweater dress or skirt outfit.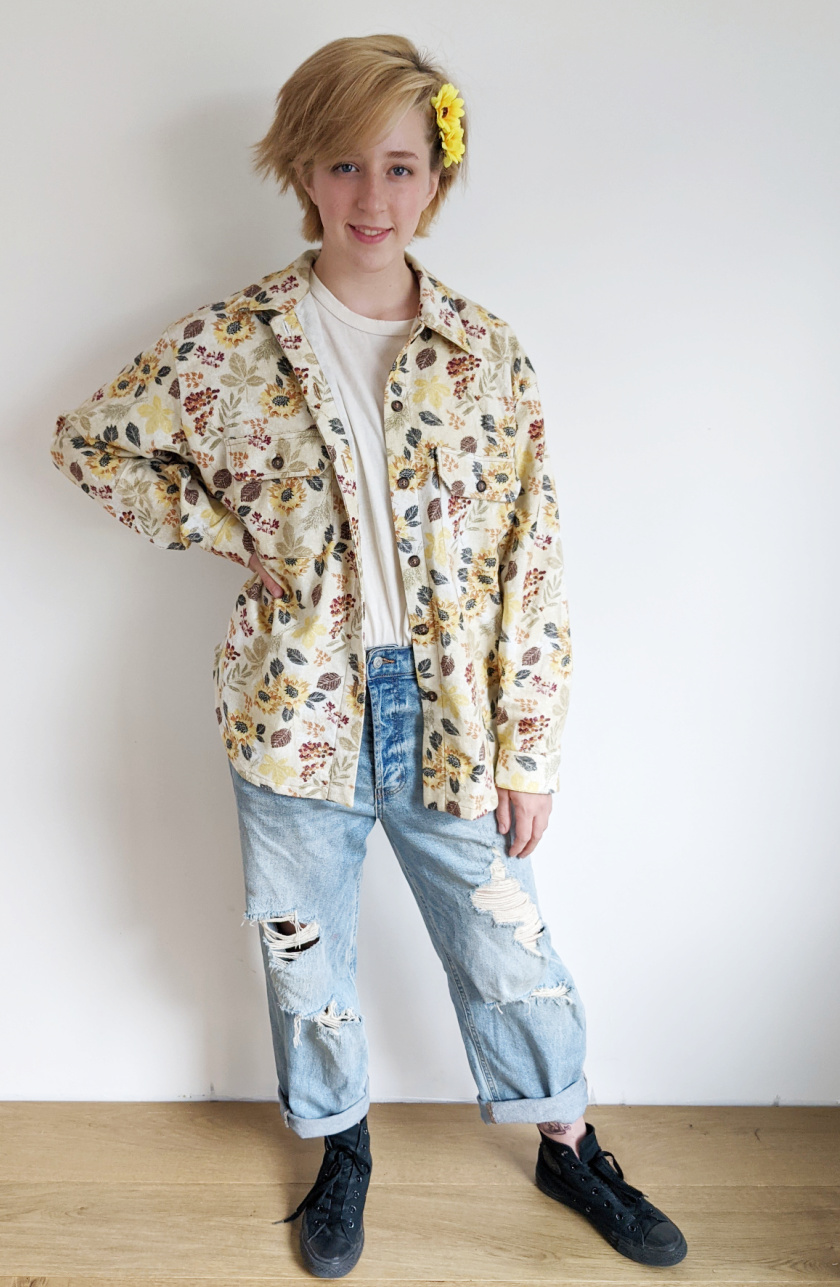 The Fairmount Shacket has classic shirt features like a collar, button placket, chest pockets, and cuffed sleeves. But the jacket side plays in pretty heavily too with a wider and more casual convertible collar, a continuously bound placket at the sleeve cuff instead of a tower placket, and a dropped sleeve. These jacket features lend the Fairmount a more laid-back layering vibe and also make it easier to sew than a traditional shirt like the Cheyenne!
Shackets are meant to be worn as outerwear or layering pieces, so they have more ease than a shirt and can also be slightly longer. The Fairmount includes both of these features as well as a deeper back pleat. This is not an elegantly tailored shirt, but a loose, casual piece. This makes it easier to fit, sew, and wear!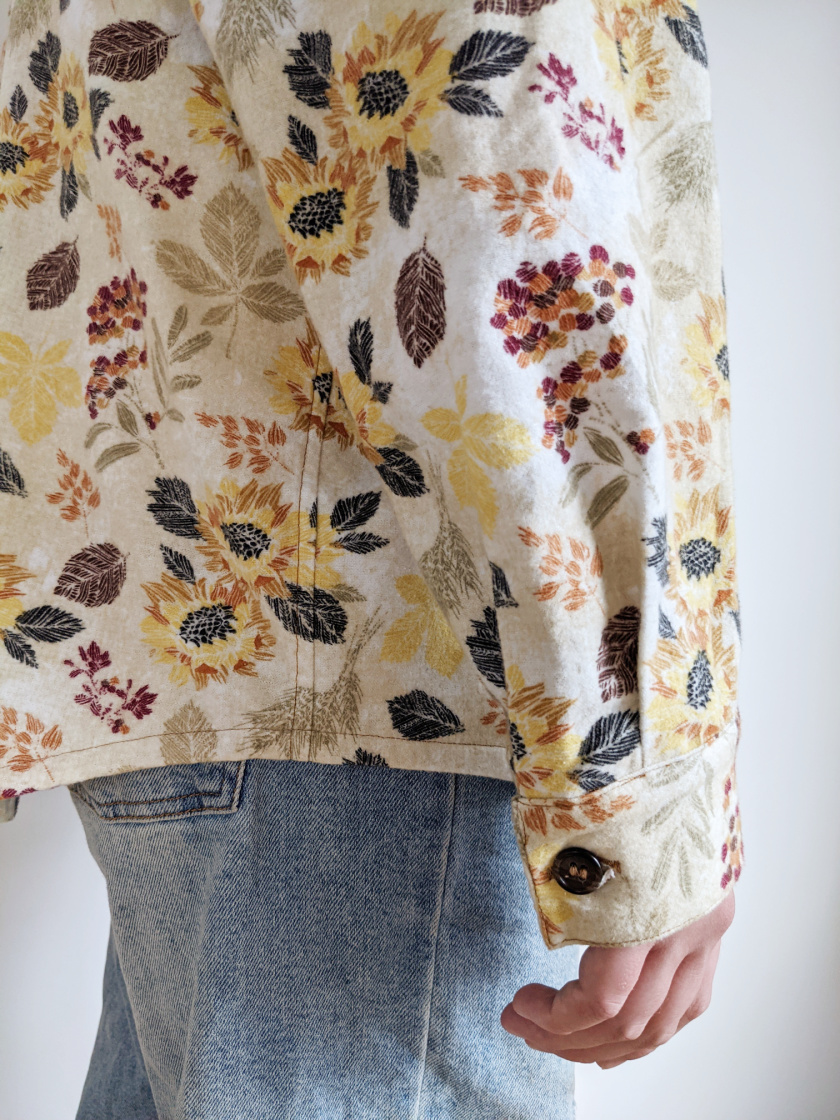 When converting popular styles into sewing patterns, I often have to adjust them to be slightly more wearable, and this most often includes eliminating ease. So, while the Fairmount is a boxy, oversized top, it may not be as wide as some you've seen on Pinterest. To achieve that look, I recommend going up one or even two sizes.
The Fairmount looks best worn open over an outfit, but can also be buttoned up for warmth and styling. Testers also found it fun to knot on each side, at the center, or styled with a half tuck in jeans. Whatever you prefer, the Fairmount is a versatile layering piece for your wardrobe!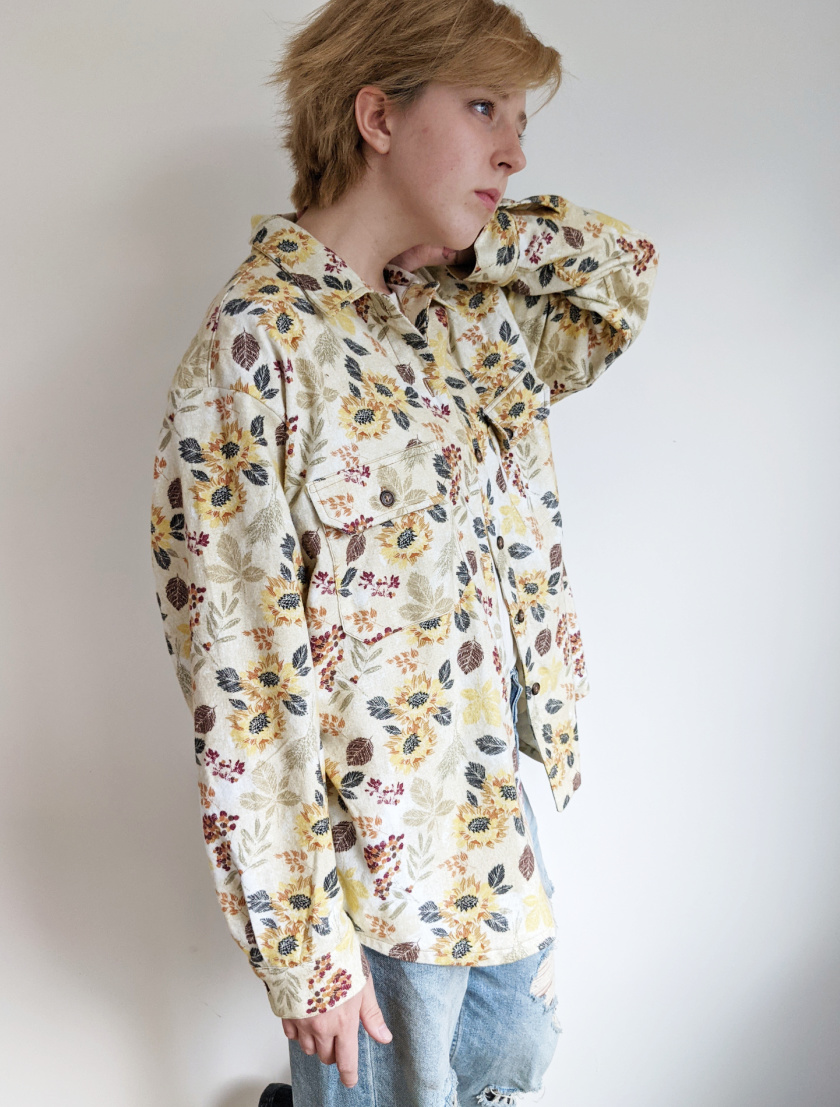 Fabric
The great thing about the Fairmount is that almost any woven, or even heavier knit fabric will work. The seam finishing is designed for lighter to midweight apparel wovens, such as flannel, double cloth, or corduroy. But heavier weight fabrics could also be used. Serging may have to be substituted for the flat felled seams, but it is absolutely doable. When choosing fabric, keep in mind that the Fairmount looks best when it's worn as a slouchy layering piece, so fabrics with some drape will look best. Thicker fabrics will have more body and look wider and more bulky, but that could make for a really cute look, more similar to a true jacket. As an example, the two fabrics featured here are both flannel, but the plaid is roughly twice the weight of the floral. The plaid definitely has more body and appears wider than the floral, while still maintaining beautiful drape.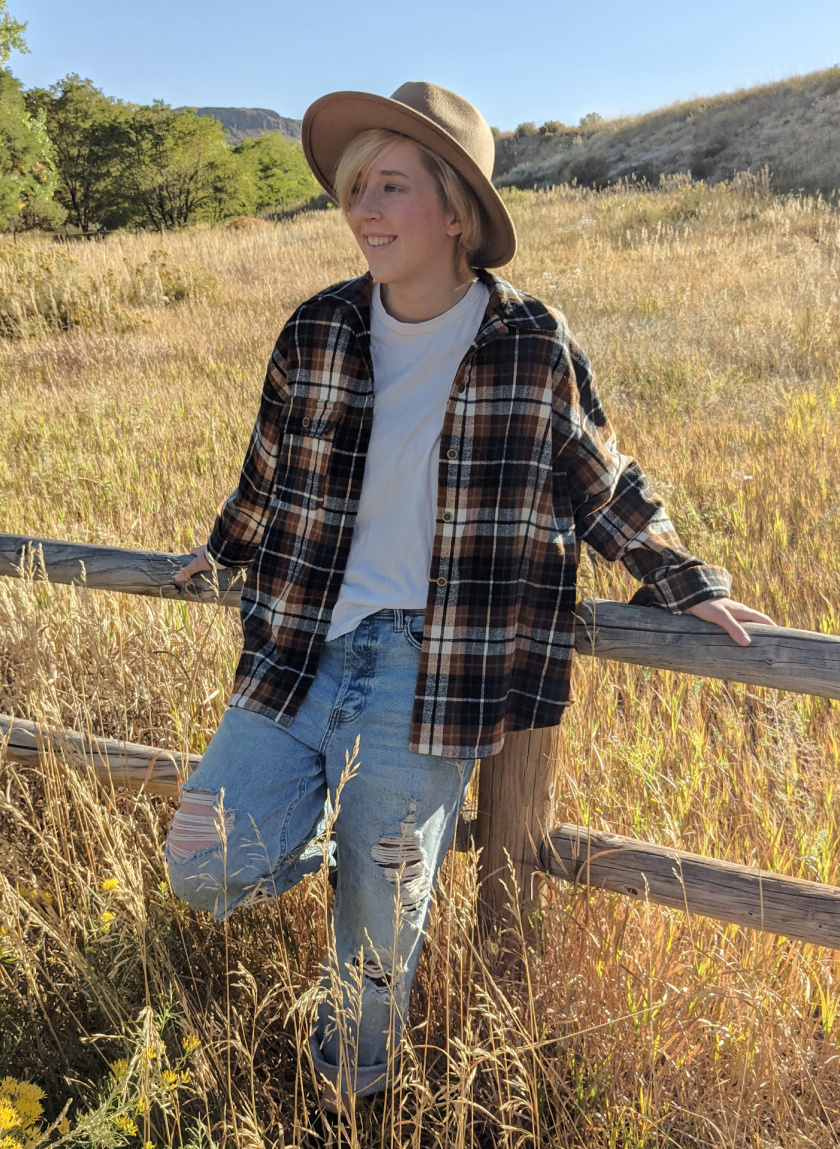 Sewalongs
The Fairmount pattern links to multiple sewalongs to help you on your way. They are linked below for quick access: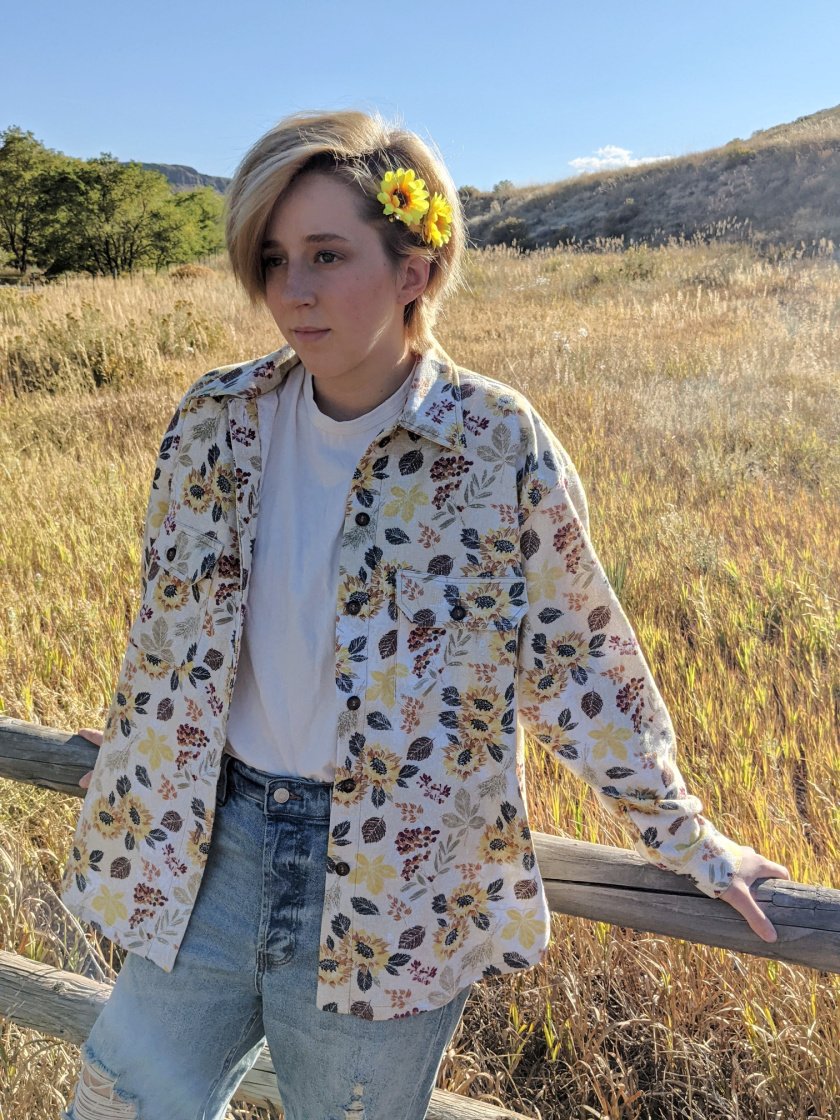 Purchase and Use
The Fairmount can be purchased here. Please choose one of the two size ranges when you add it to your cart. The Fairmount is 15% off for a special release pricing through Sunday, October 10.
If you are new to digital patterns, here is a complete overview of what they are and how to use them.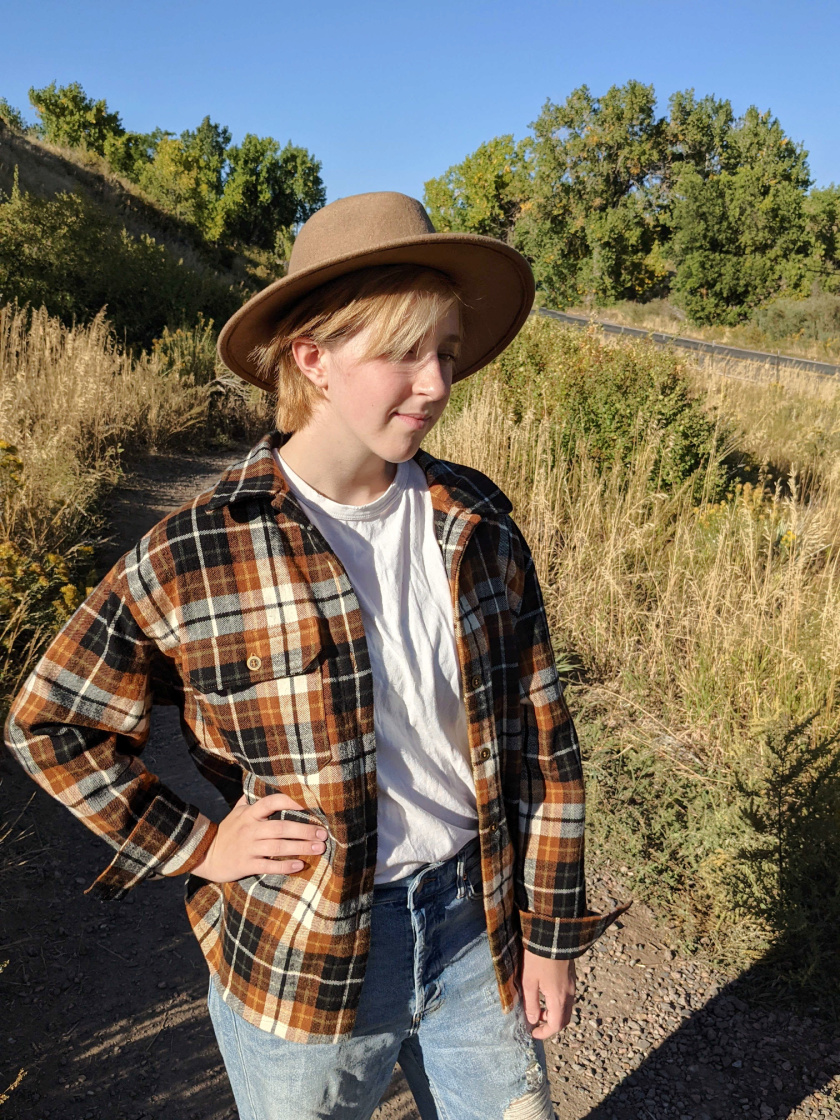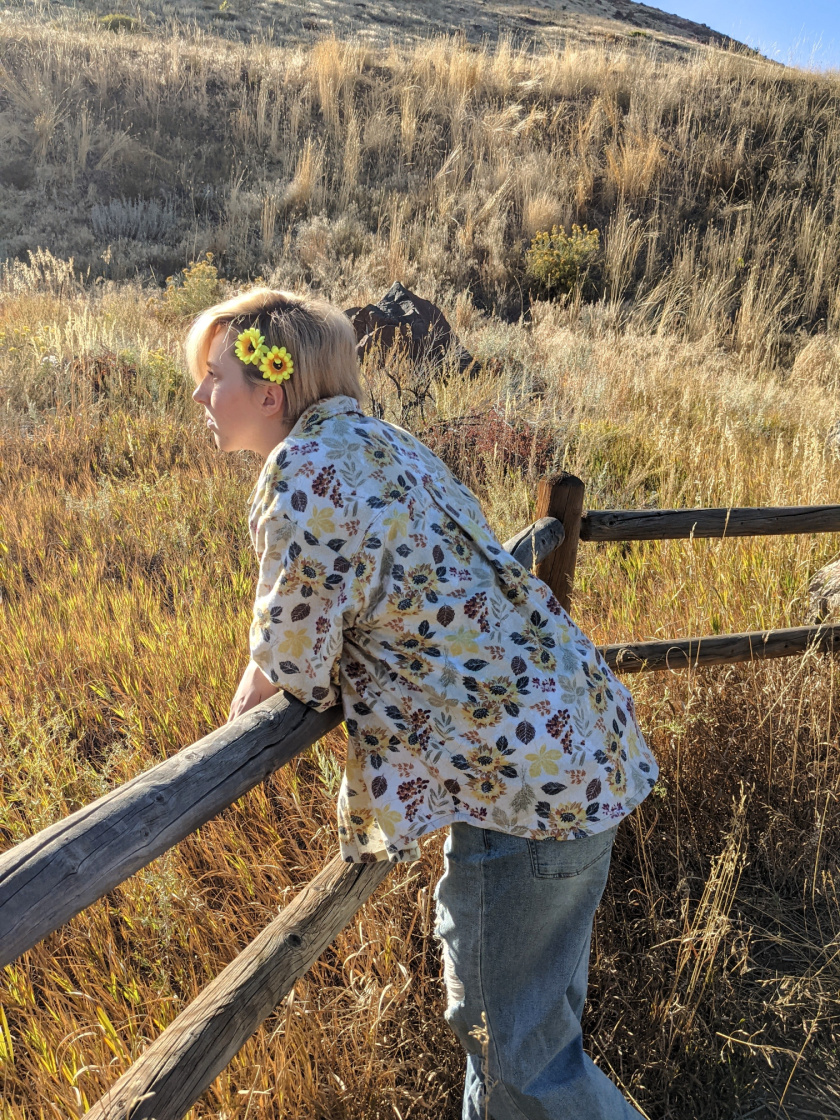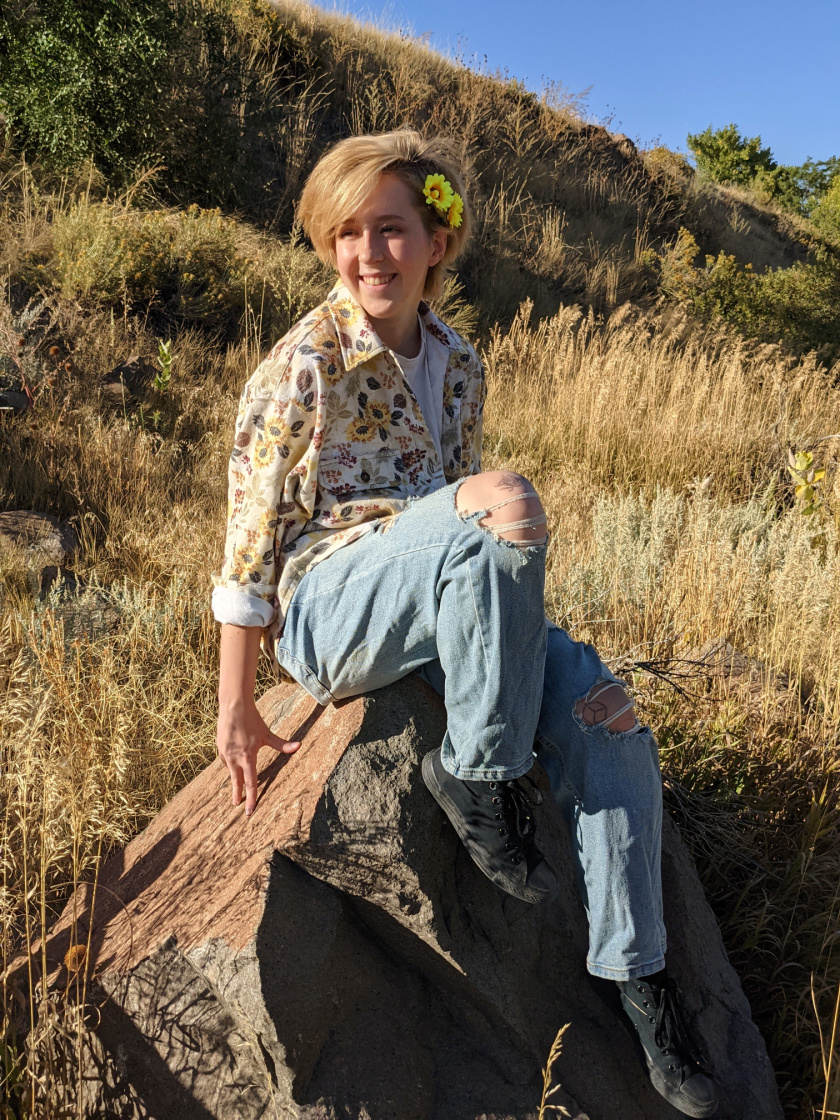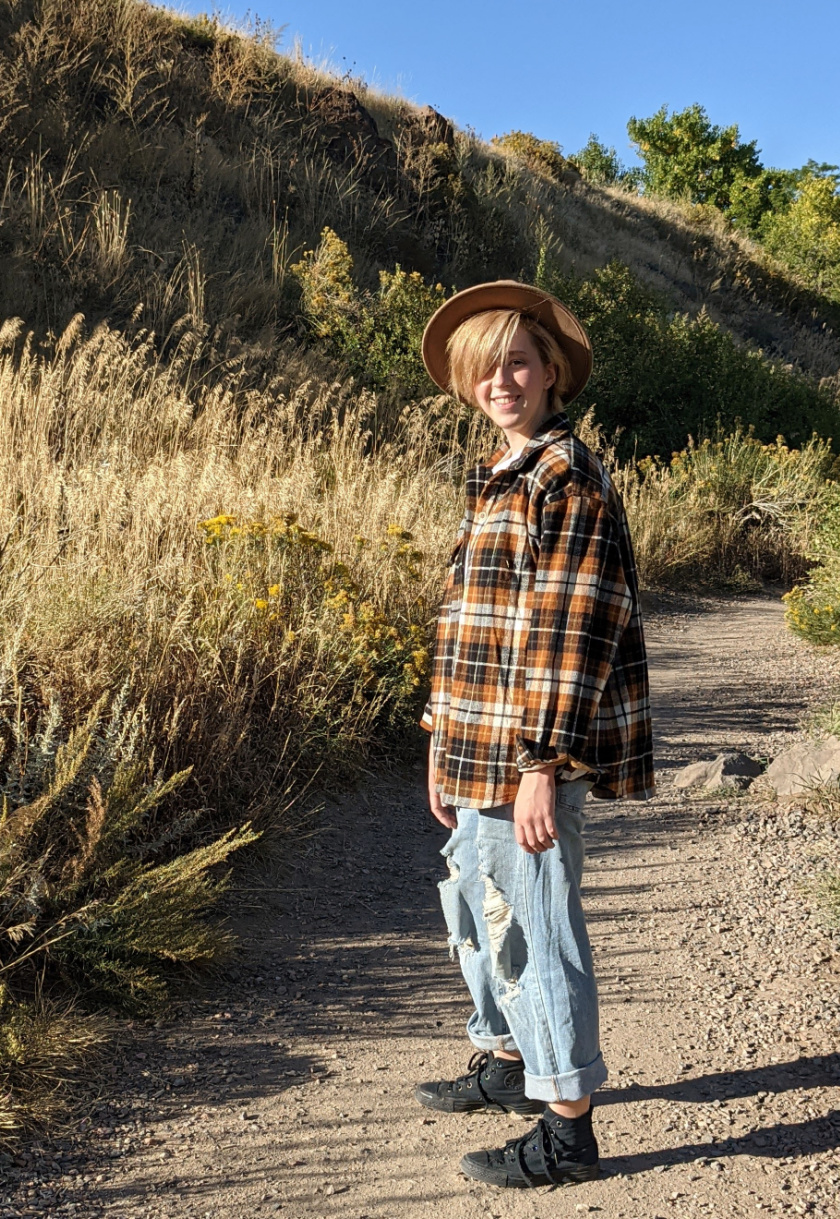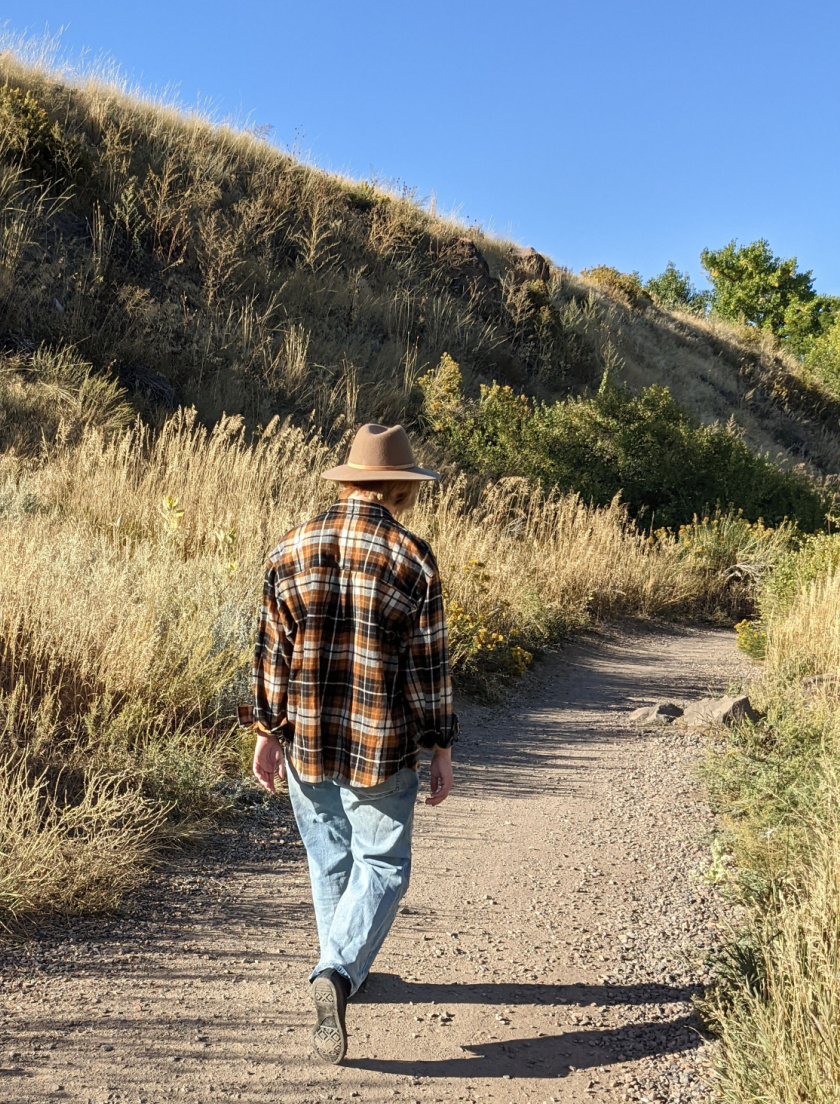 Sources:
Plaid fabric: Blackbird Fabrics
Floral fabric: Joann
Hat: tentree
Shoes: Converse
Jeans: thrifted
Tee: thrifted