Here's the post you've been waiting for! The round-up of all the testers' Fairmount Shackets! I'm so excited to share all of these with you – my testers did an outstanding job of perfecting and sewing up this pattern as usual and they're just all so good. Make sure to scroll through to the end for some modifications to the pattern that some of them have already made! Their names are all linked to their social media accounts where applicable, so if you want to leave them some praise or ask a specific question you can find them that way.
---
Amy sewed up her Fairmount with a timeless blue and green plaid design that will never go out of style. Love her styling!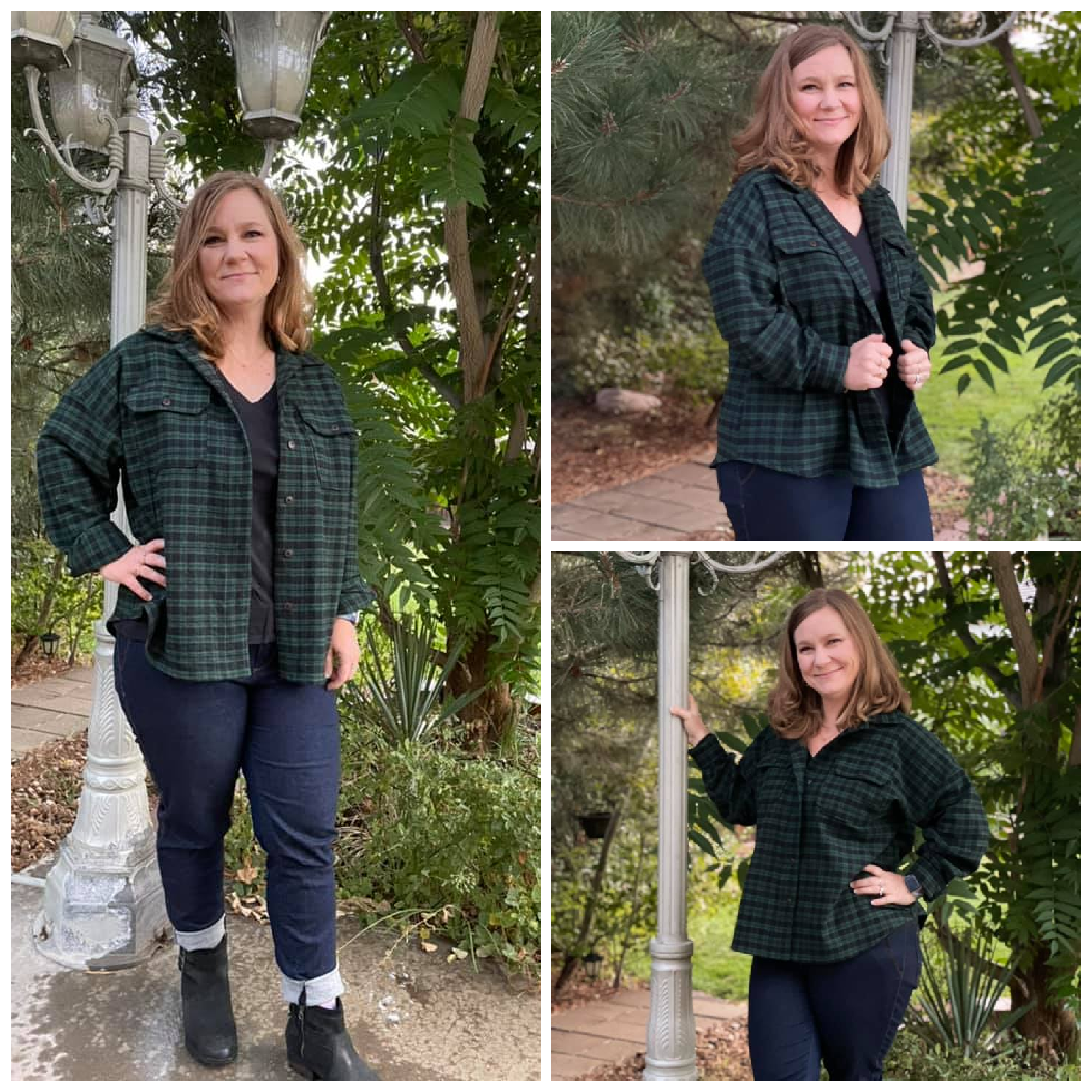 Anne used a lovely print for her Fairmount that will work perfectly in fall or spring!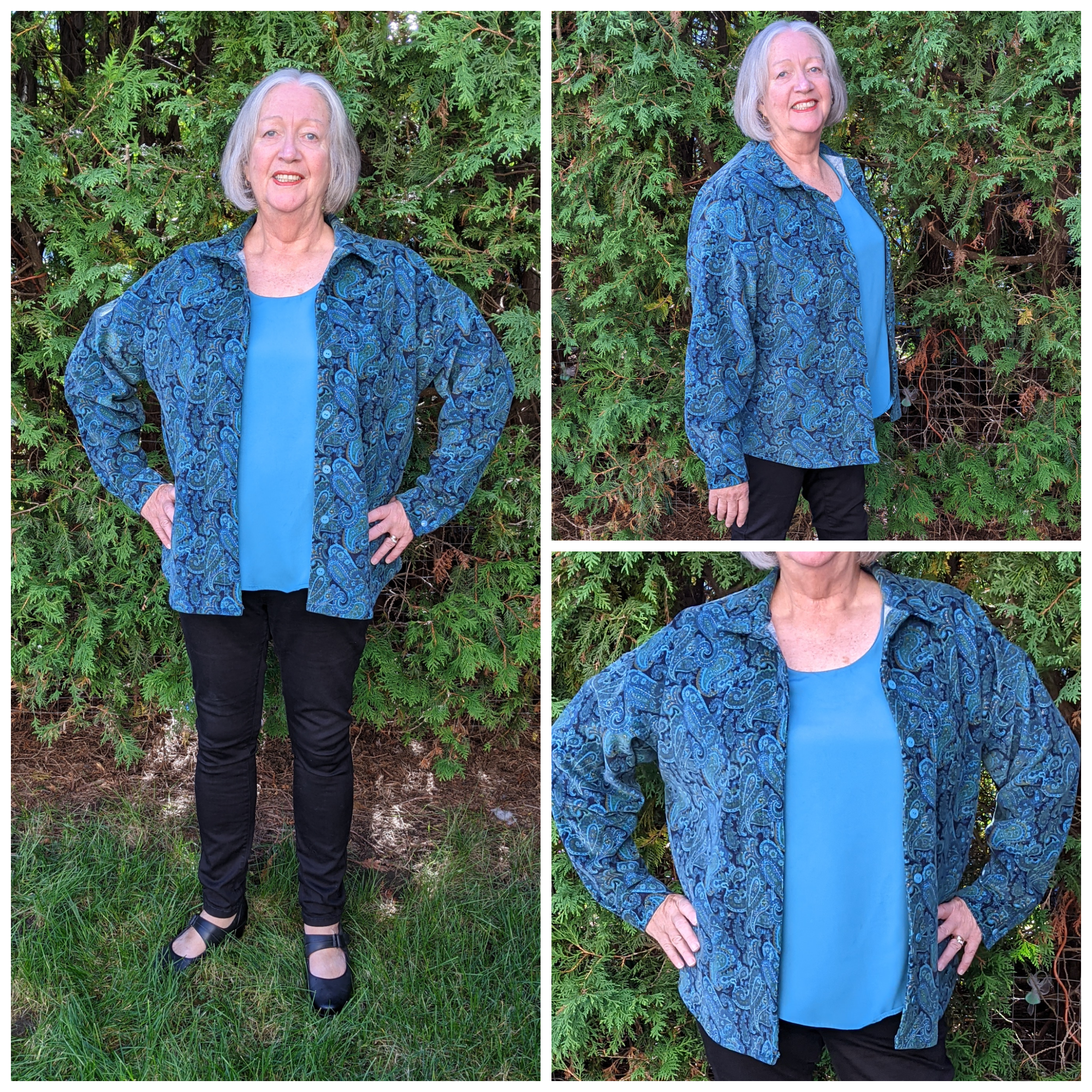 Bernice styled her classic gray flannel with a rib knit Prescott and I am obsessed with this pairing! Such a great way to transition a sleeveless dress into fall!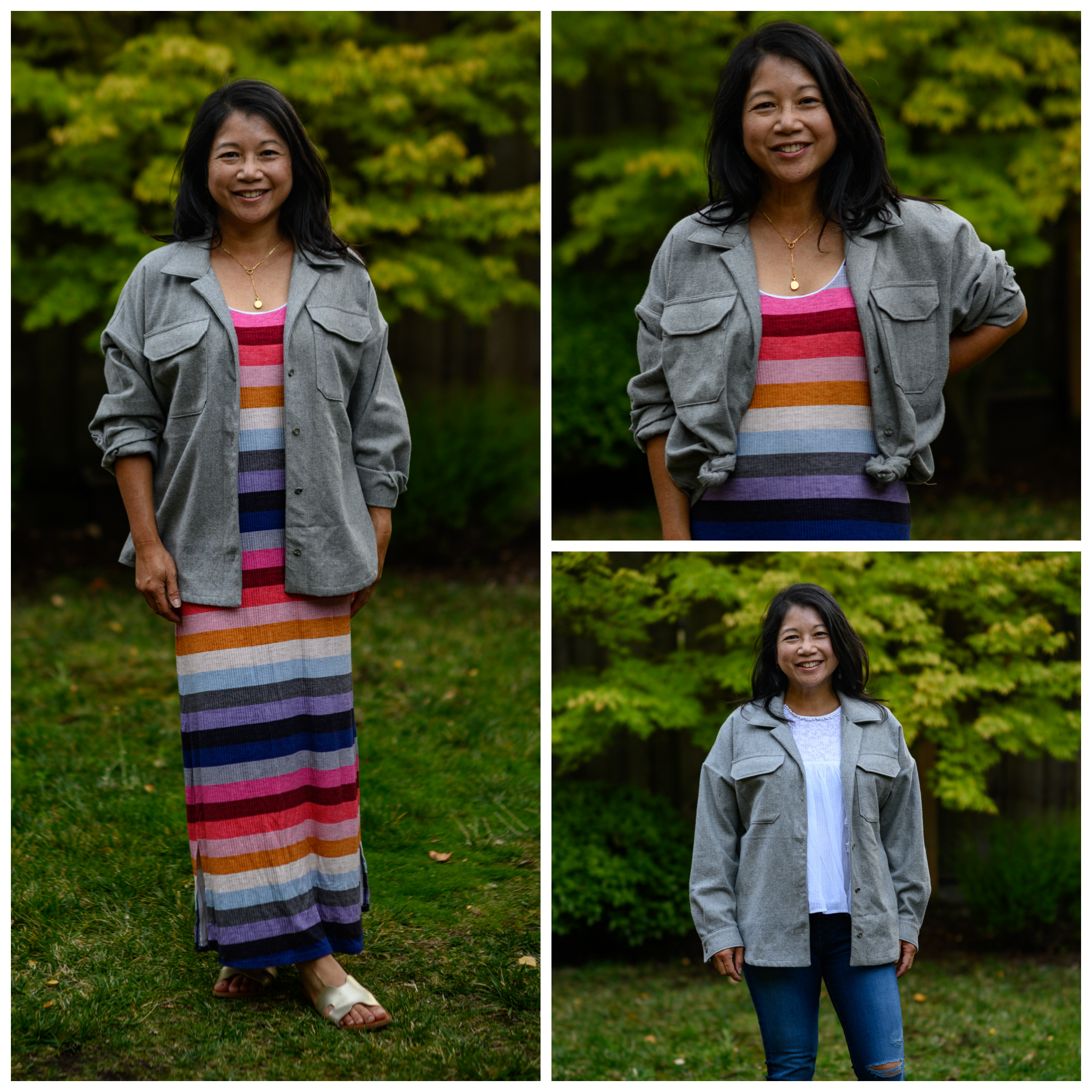 Courtney used precious fabric from her grandmother's stash for this cute Fairmount. I love how a lighter weight fabric can make this pattern work as a boyfriend-fit button down as well!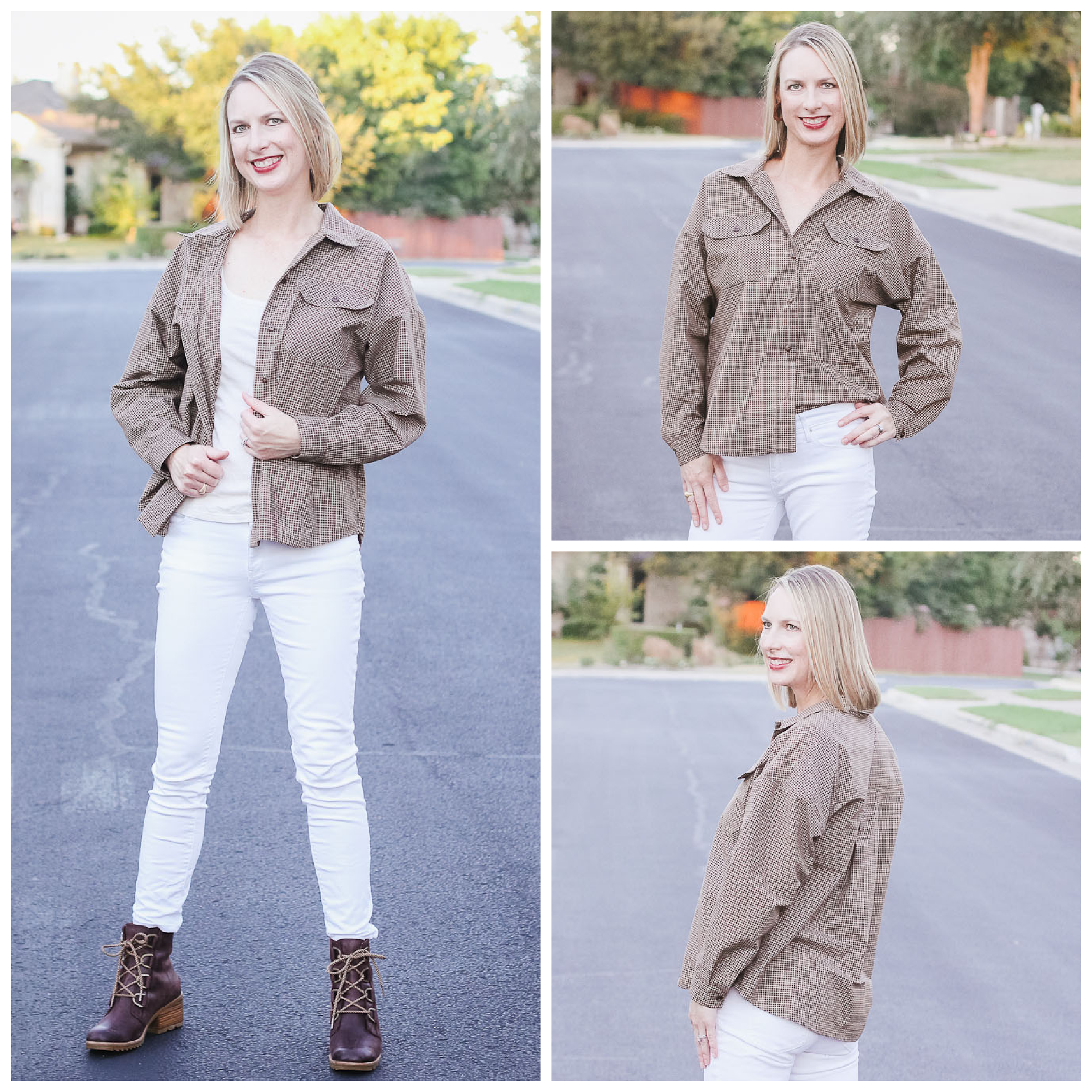 Elisabeth used coordinating fabrics to add visual interest to her pretty pink Fairmount – looks so cozy too! She also made a perfect fall plaid flannel version!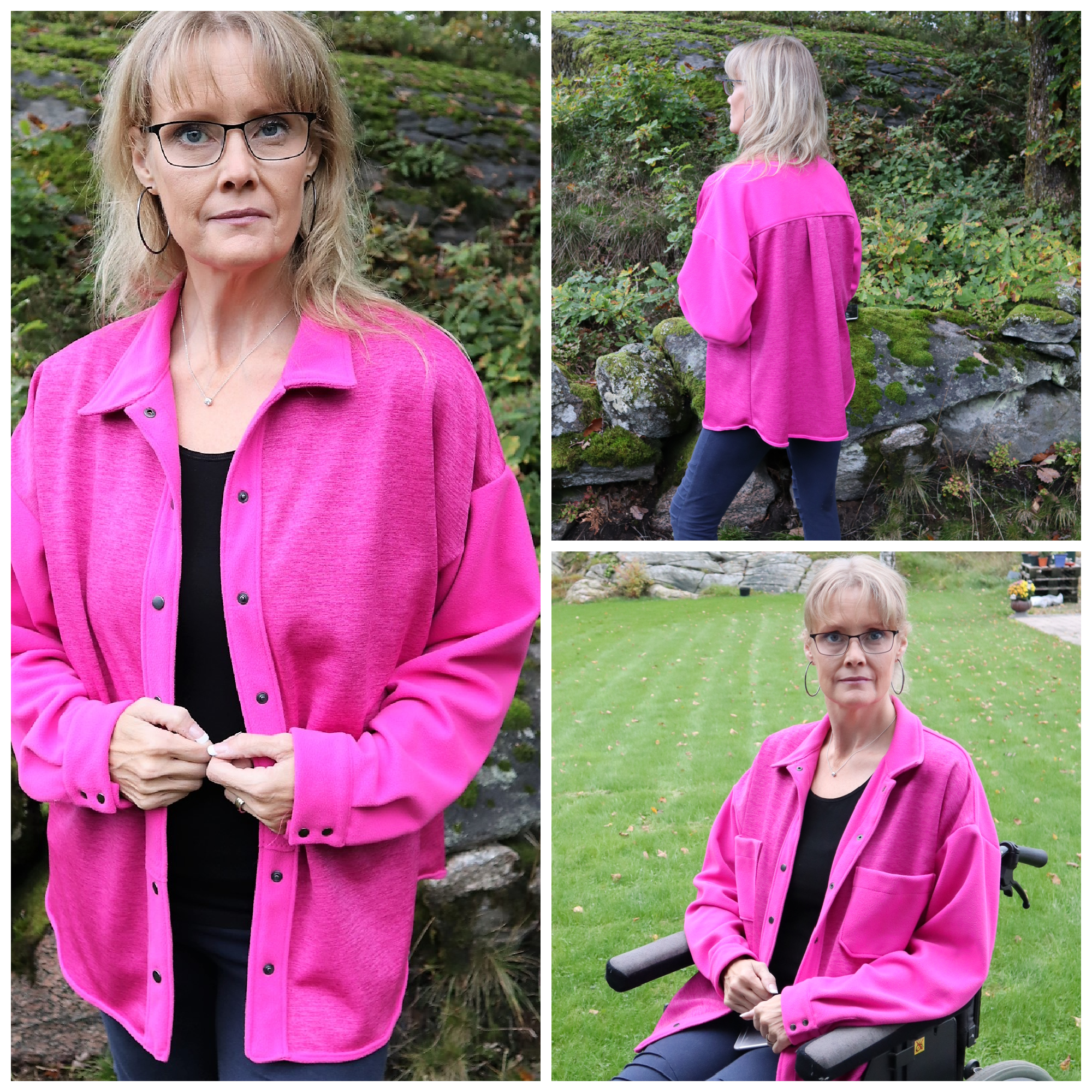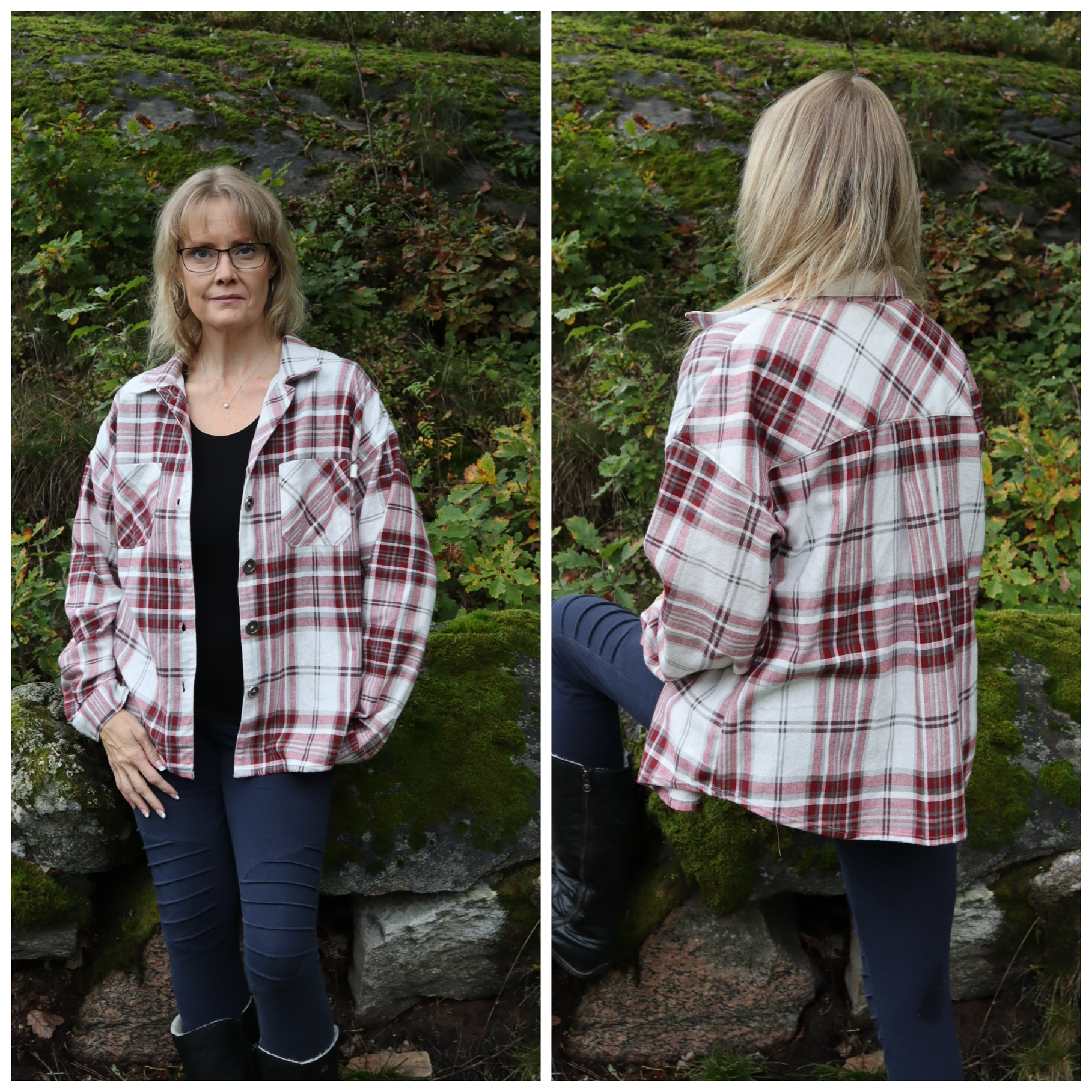 Emily made the most versatile layering piece for the changing weather – I love the subtle texture on this classic gray flannel. She also opted to use snaps instead of buttons which definitely lend it more of a jacket look!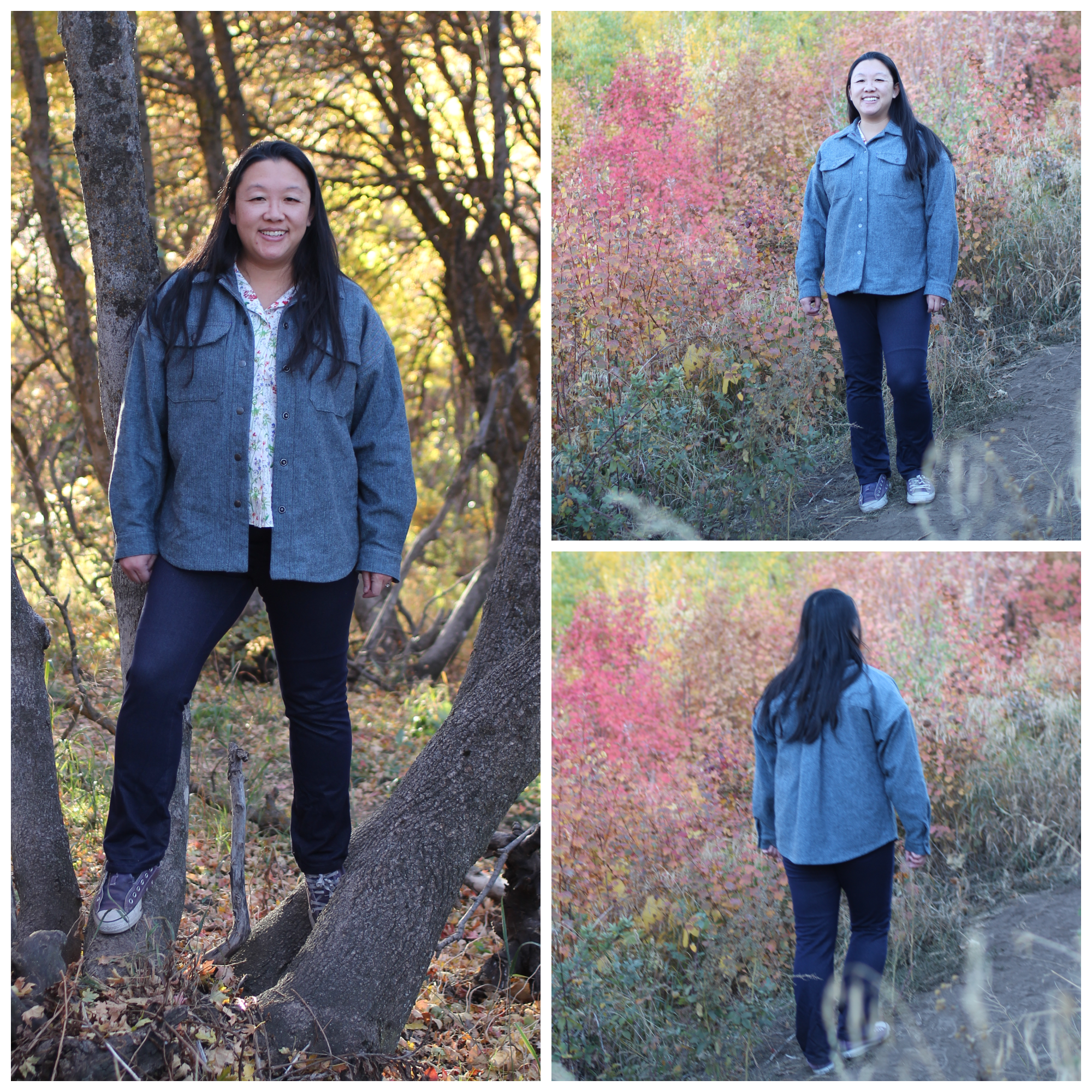 Fleurine used a gorgeous blue flannel for her shacket and it looks like the perfect piece for staying cozy during these cooler days! Also a great use of a bigger statement button on a solid background!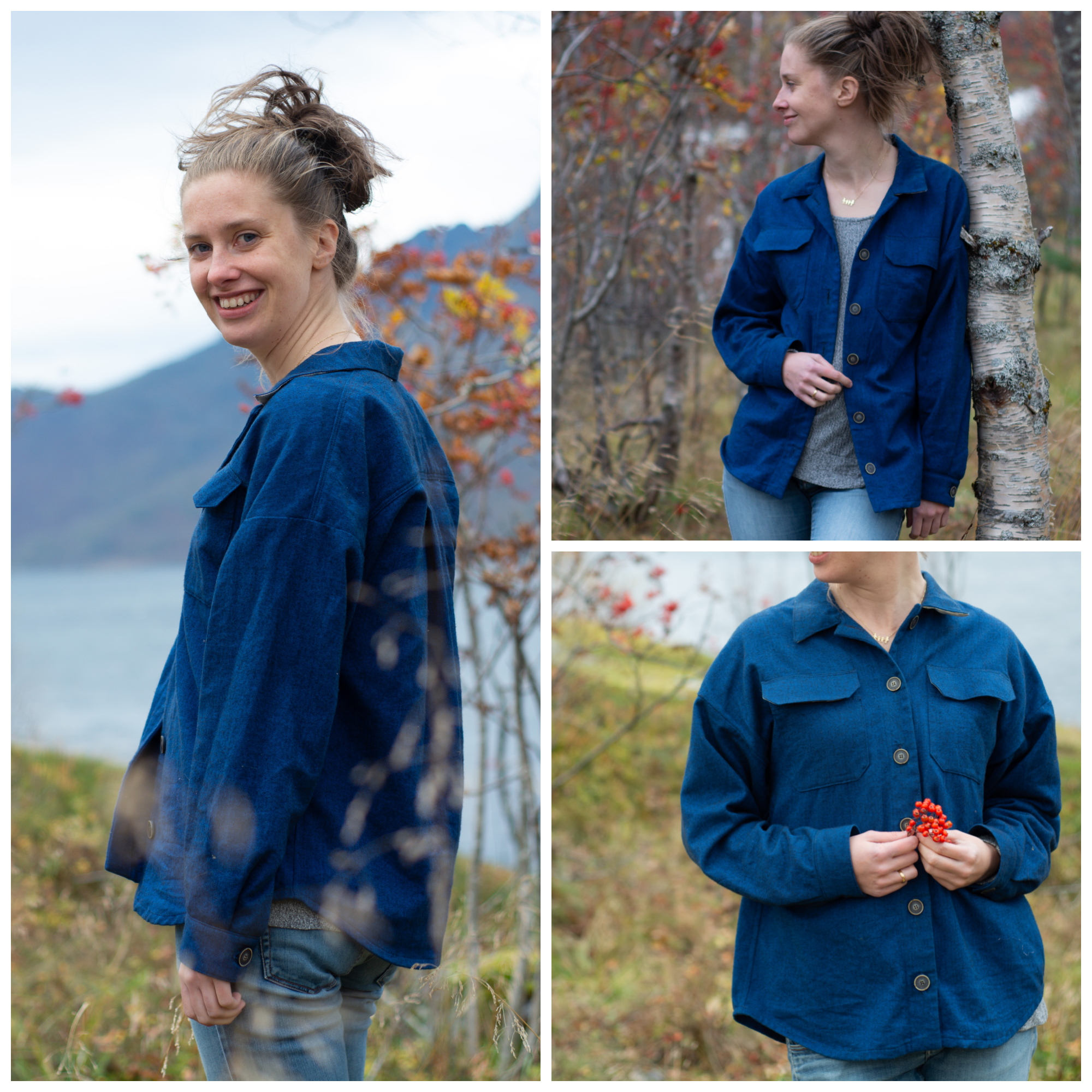 Katie skipped the middleman and made the shacket for her teen, figuring she'd just steal it anyway. I love that teenagers are digging this pattern, what a compliment! The gray buffalo check is perfect for throwing over just about anything. (I'd be stealing this from your teen, Katie 🙂 )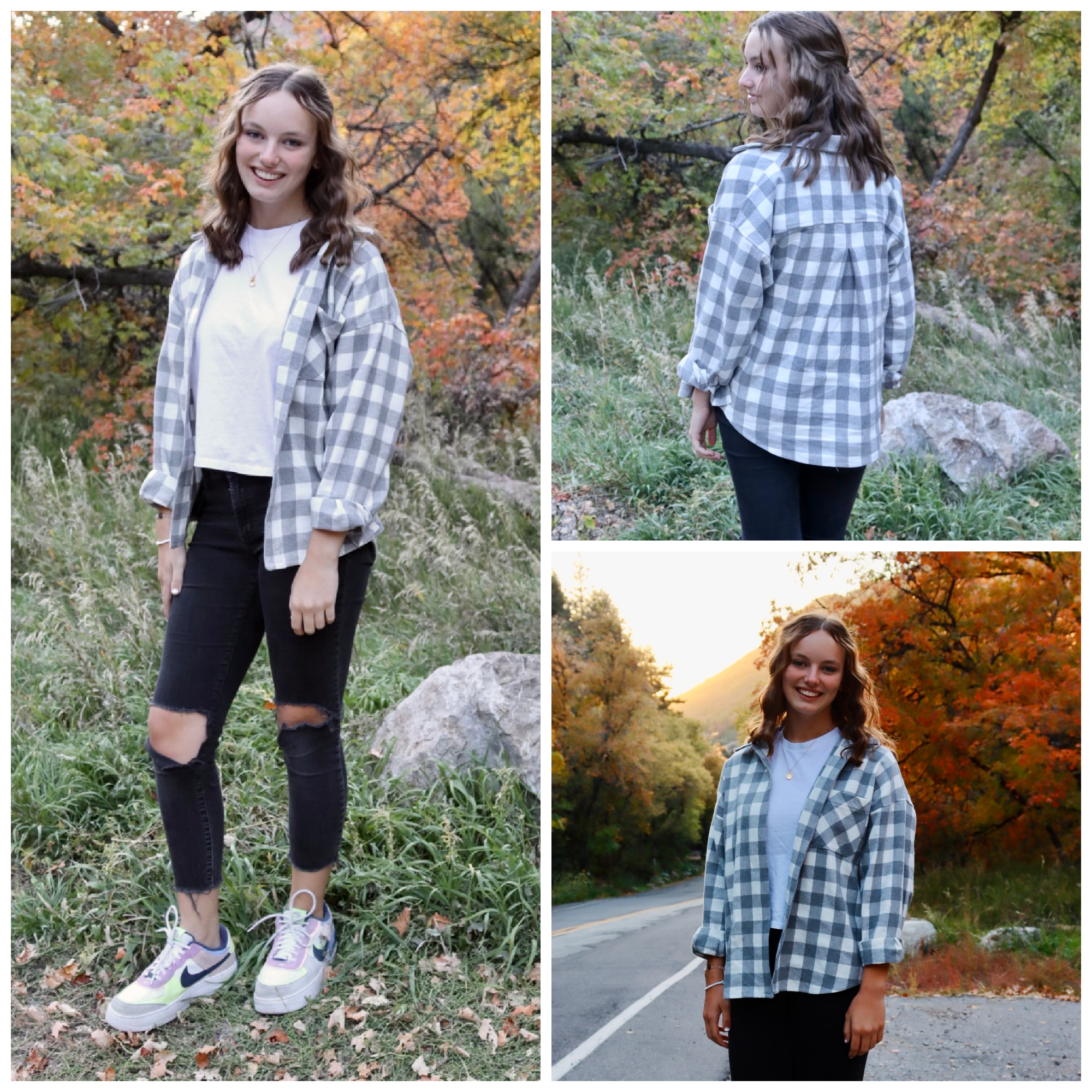 It's hard to say what's better – the vibrant colors of Kristen's shacket or her cute styling layered over a hoodie. I guess we'll just have to agree to love it all!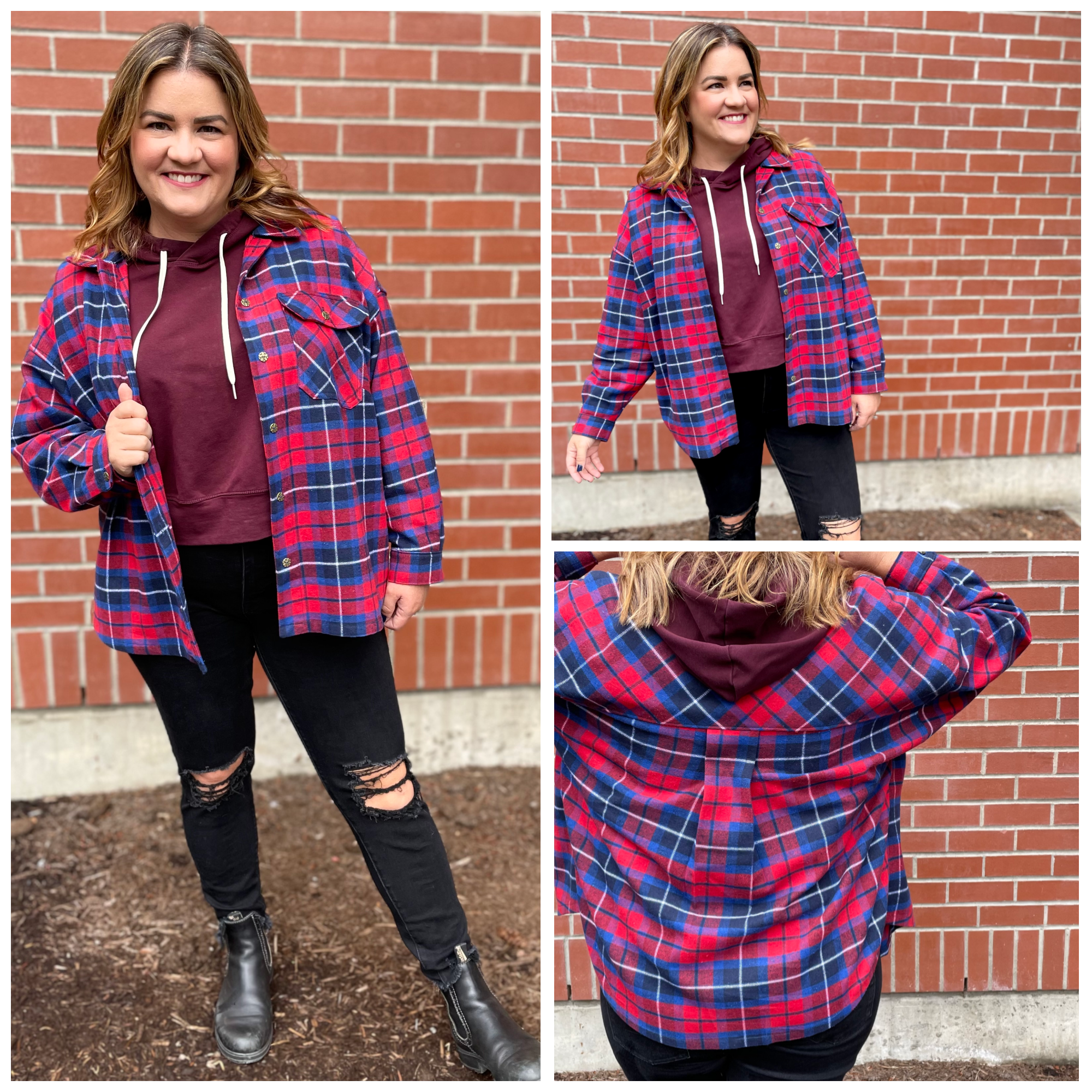 Lauren also choose a lighter weight shirting for her Fairmount and now I need one that mimics a boyfriend button down immediately. I love it paired with her denim Seaforth joggers too! Perfect pumpkin patch outfit this fall!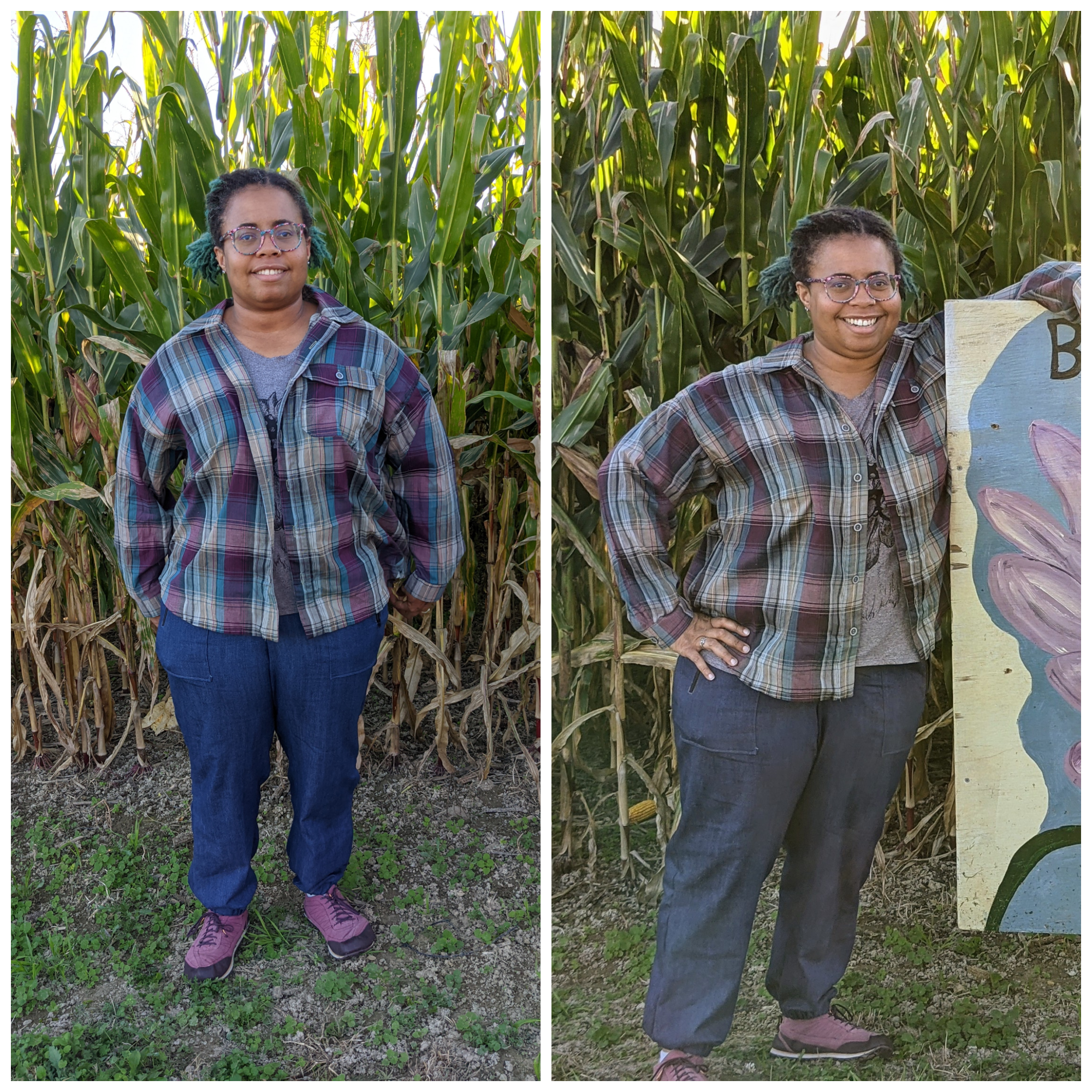 Leigh not only chose a gorgeous plaid, but proved that the under layer can add a lot with her pop of orange. It doesn't hurt that it's my favorite color, but I just love this combination!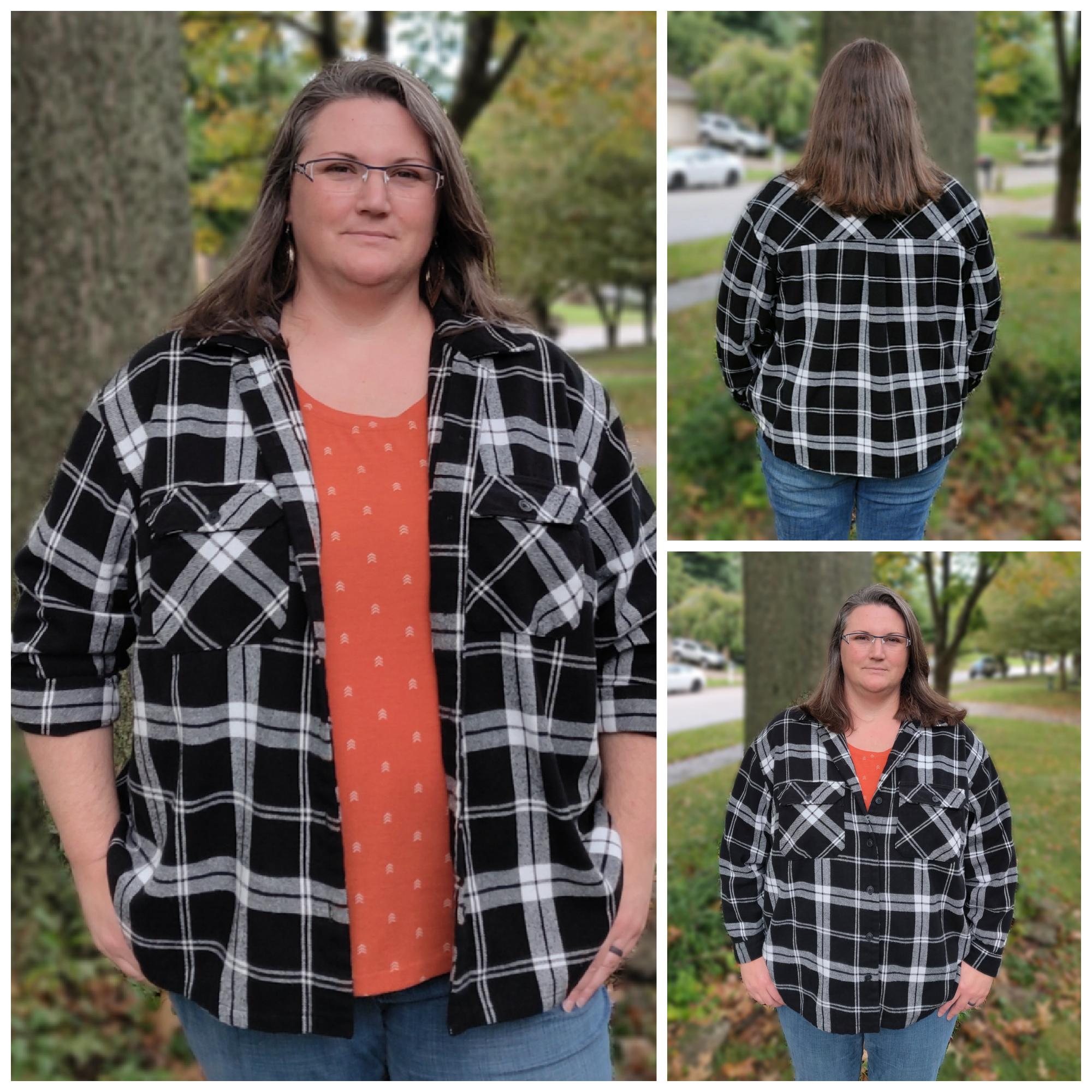 Leigh also proved that the Fairmount looks great in a solid with a pretty button. I like how she opted to omit the flap and just buttoned her pocket on this one – there are so many options with those chest pockets!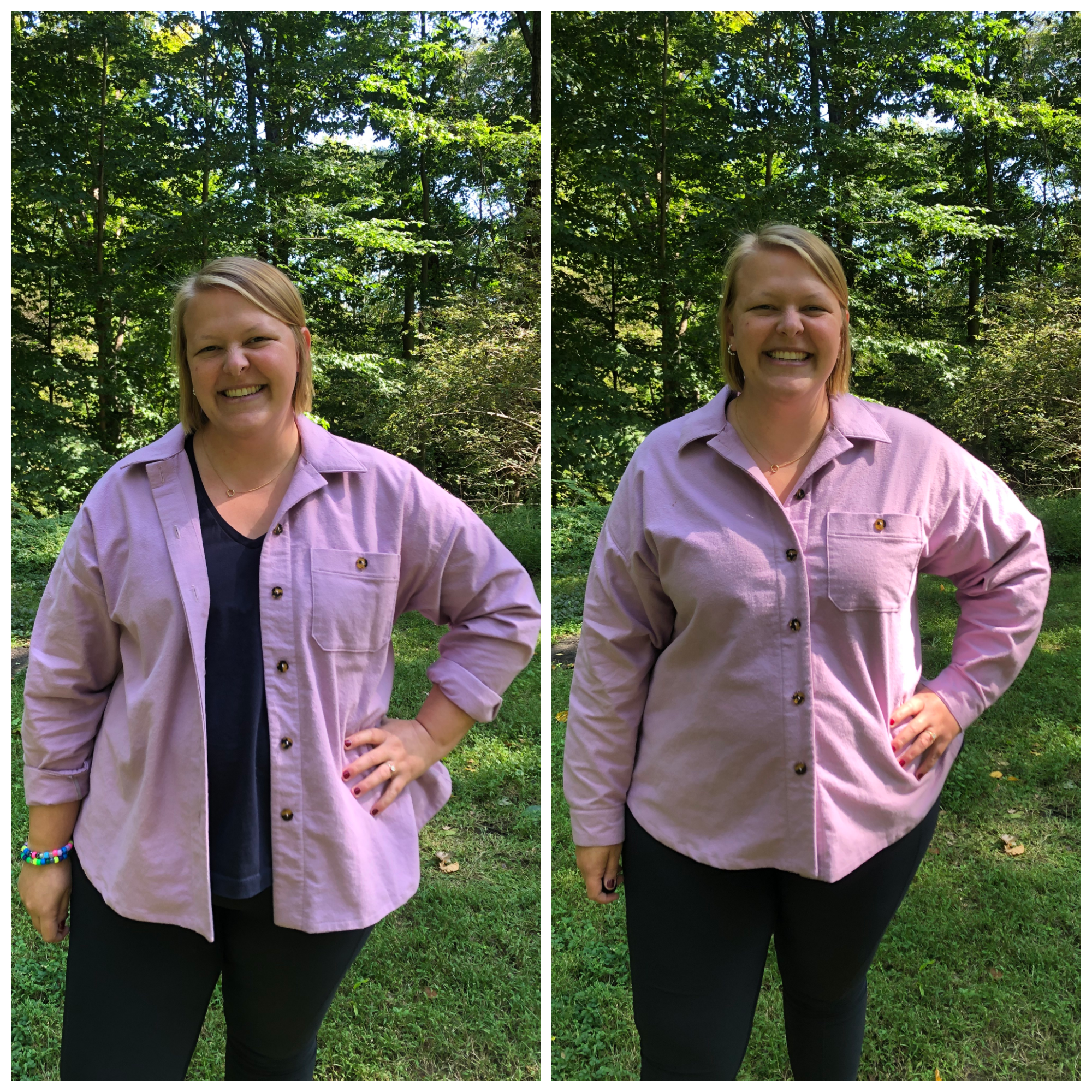 Camel corduroy might be the most fall combination I can think of for this pattern + fabric and it just looks so great thrown over a hoodie like Mandy styled it for these pics. So cozy too, without having to put on a heavy winter jacket!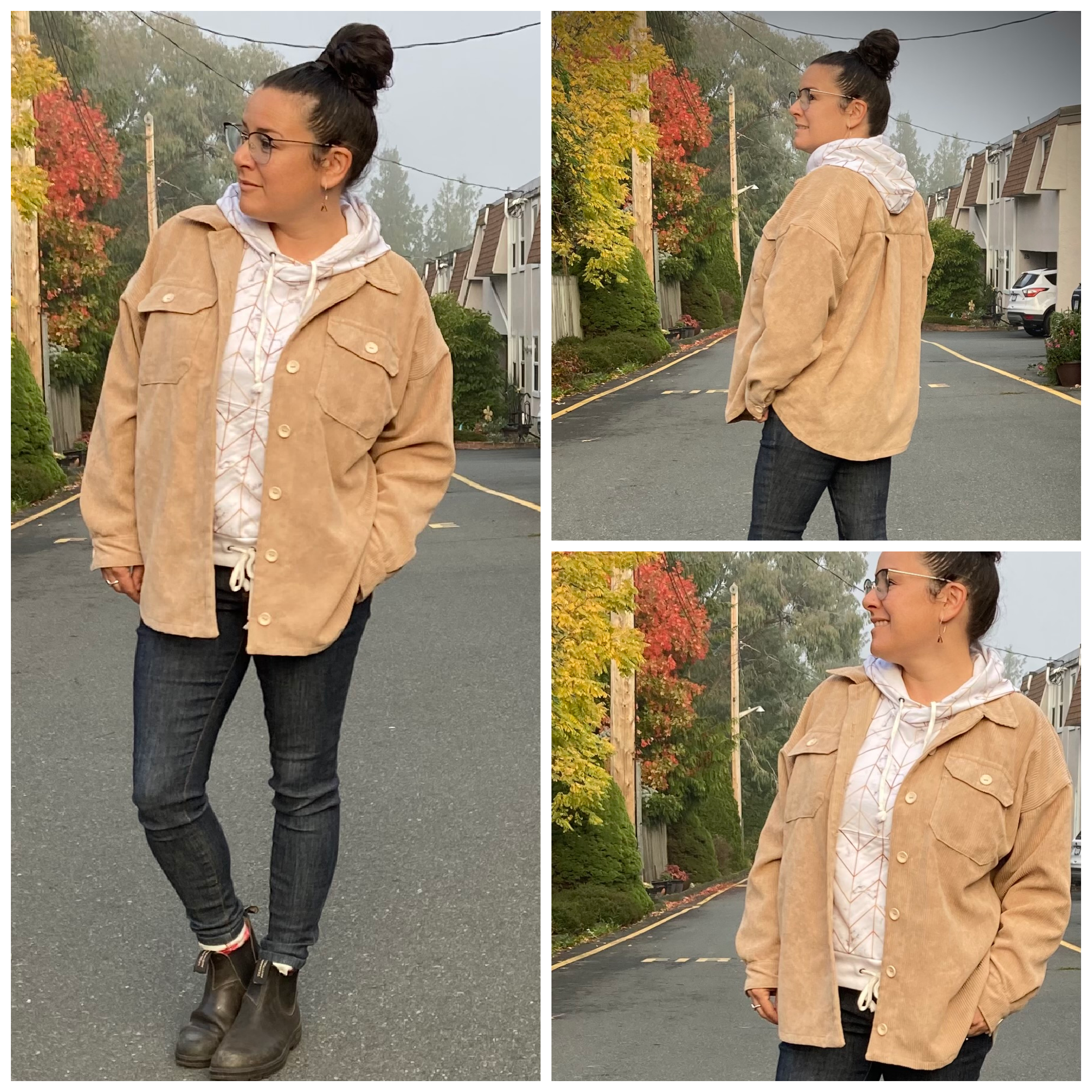 Pam had me at elbow patches – I just love this small little addition, it adds so much to the look of her pretty plaid shacket. A fitted turtleneck is also a gorgeous, slightly more elevated look for layering under the Fairmount!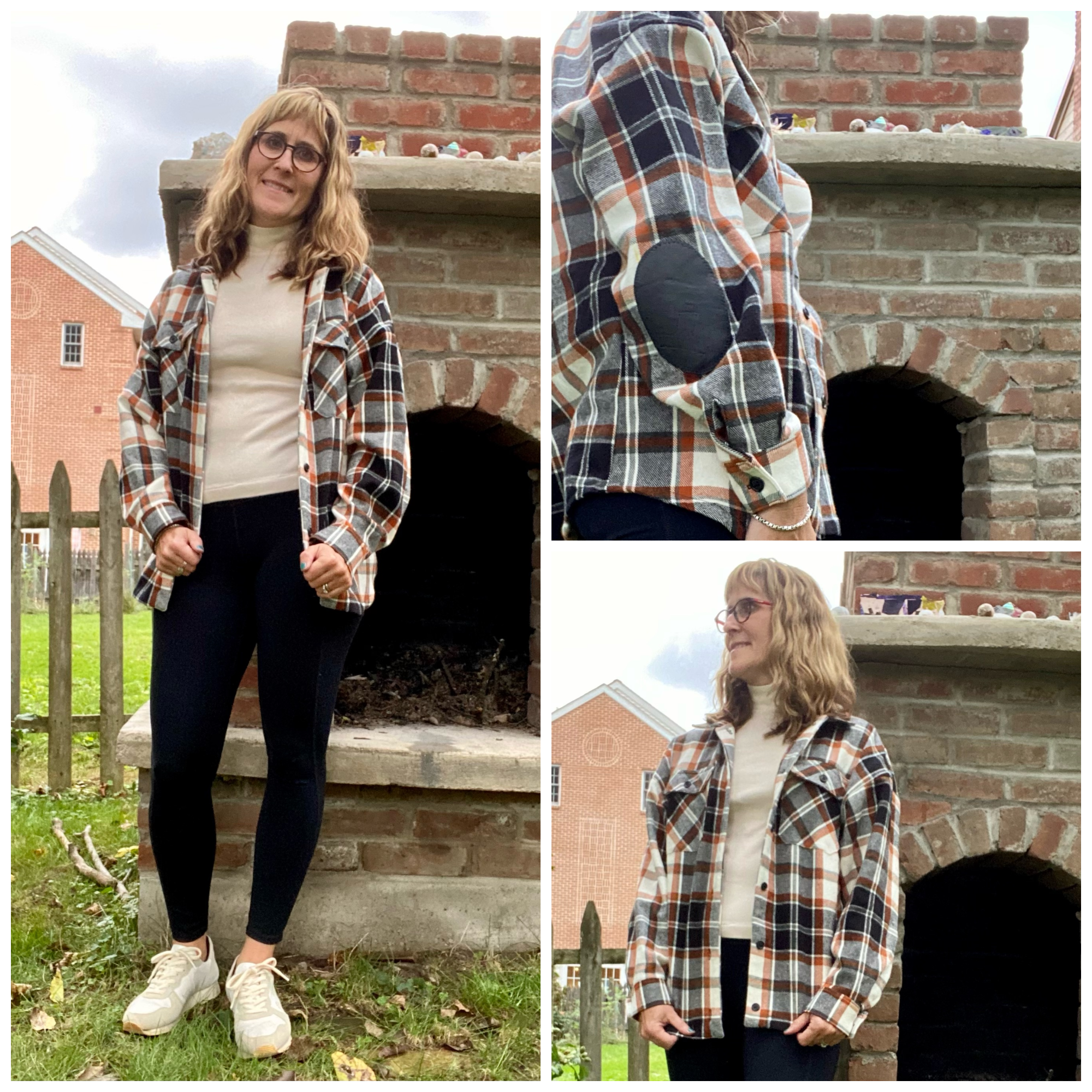 Tami's flannel is anything but basic with those pretty flecks of color and metallic snaps. I love how her simple material choices really highlight the lines of the shacket. Paired over a rich pumpkin color it's simply perfect.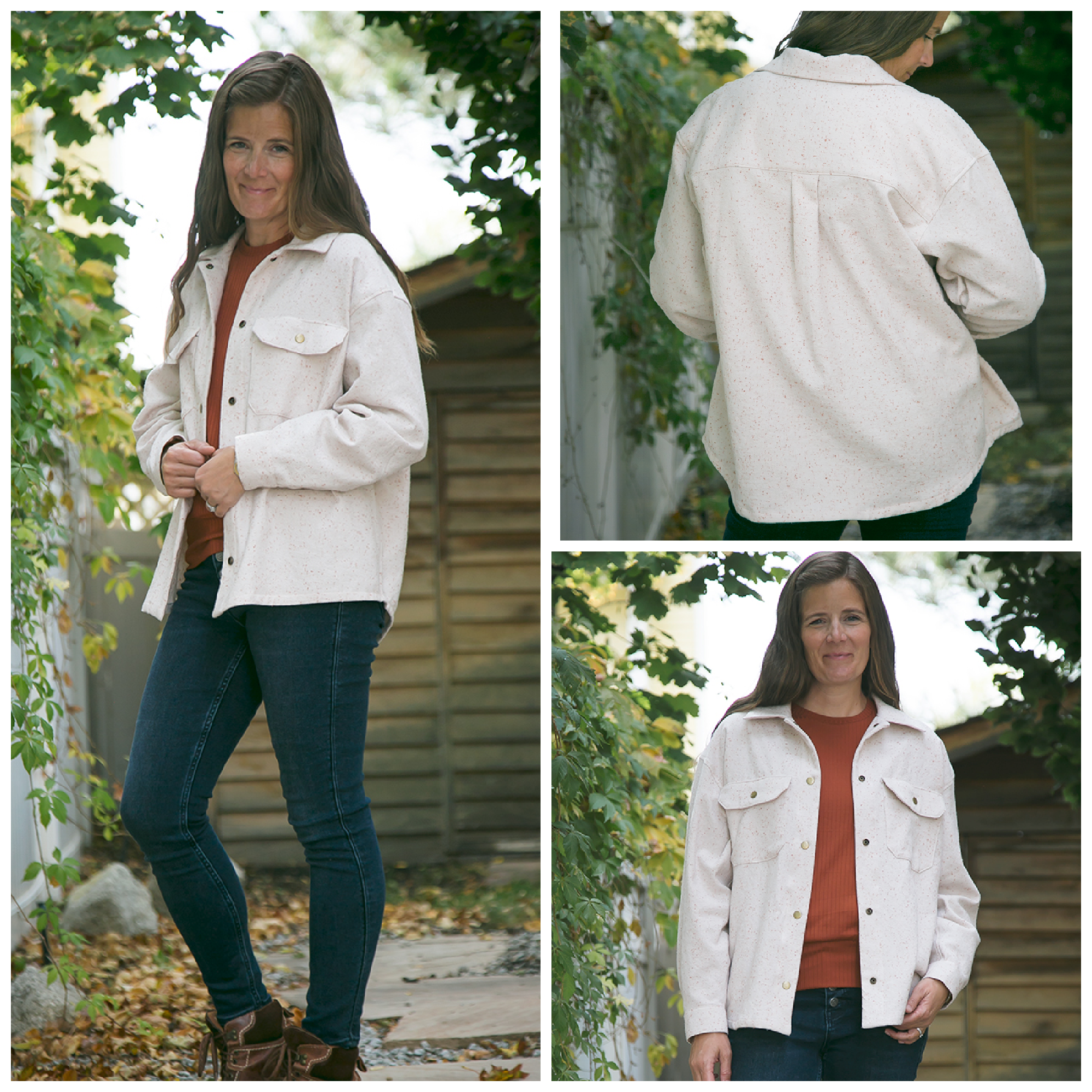 And now for some amazing hacks!
Elisabeth used upcycled denim to construct her oversized Fairmount and gave it more of a jacket look with a zip front, inseam pockets, and a lined hood. I love how she reused the pocket too! A chunky knit scarf is a great accessory to pair with your shacket, hacked or not! If you'd like to do something similar, Elisabeth used the hood from the Vero Beach Set pattern and said that it fit near perfectly without alteration!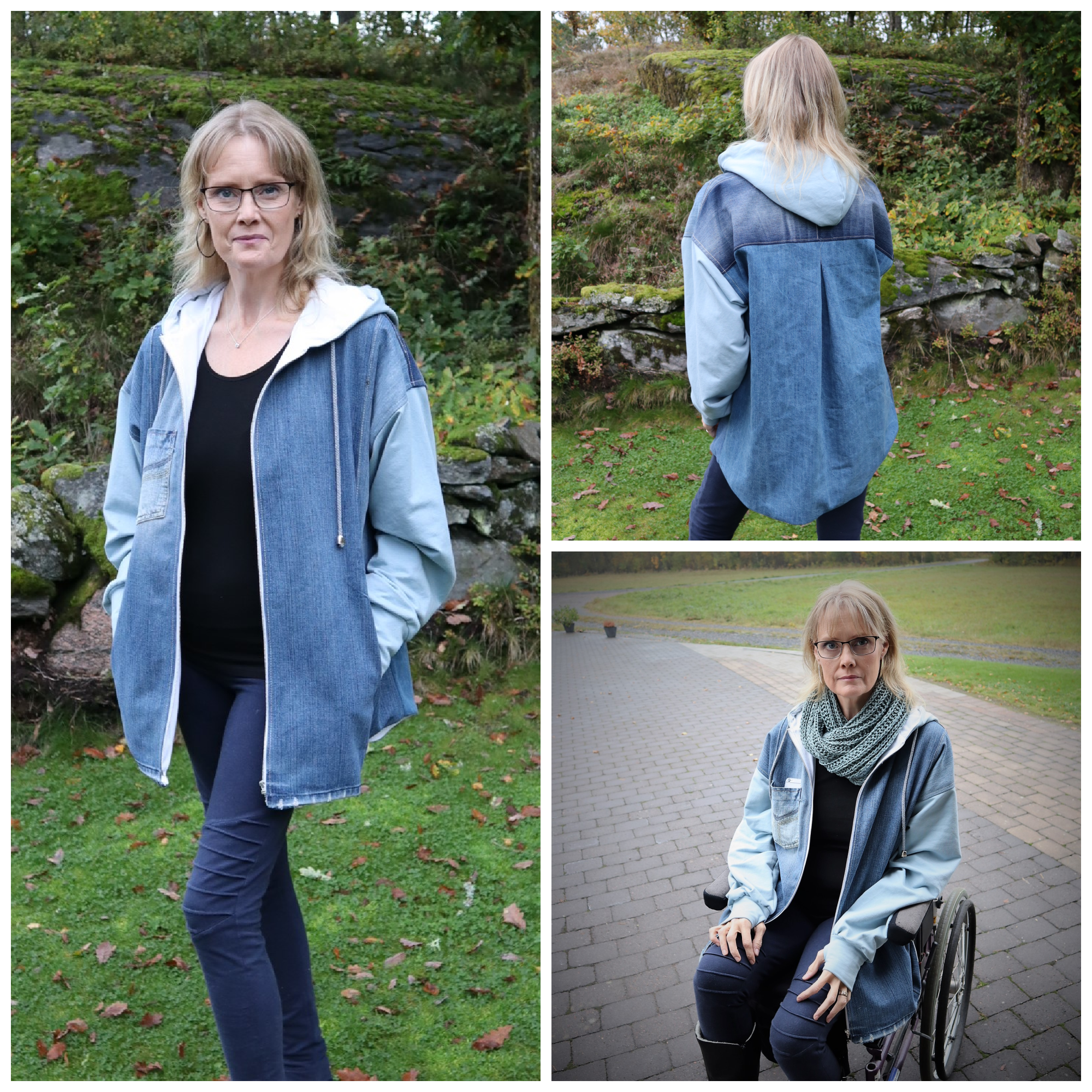 Emily also made one for her daughter with an added hood! This hood is from the Halifax, which also worked well for her. So many options! I love a hooded garment for those days when it gets windy or there's a light drizzle – such a great addition to this pattern! If you used a lined hood, you can sew it on exactly as the pattern is written, just sub it in for the collar.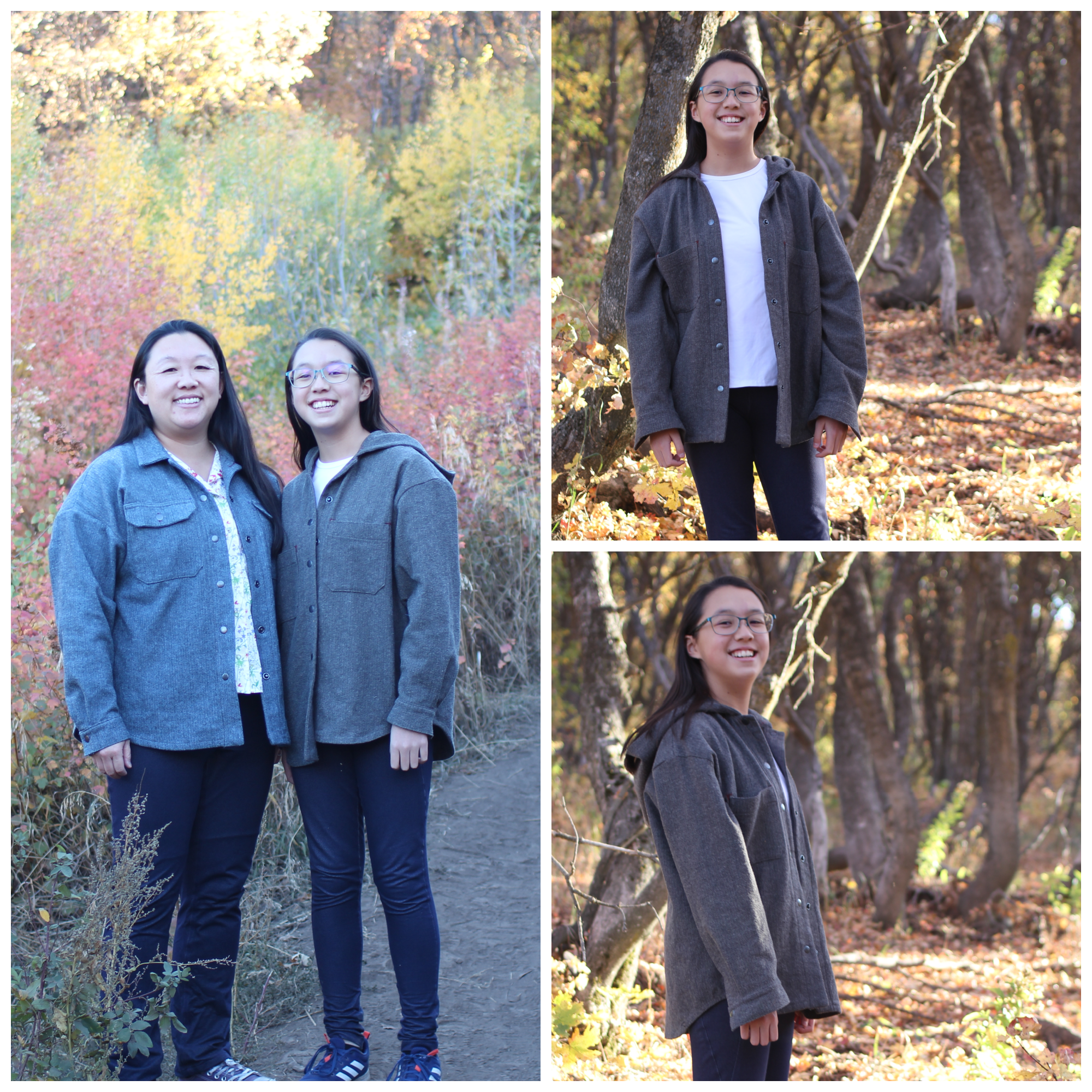 Pam used the cutest fabric to make a cropped Fairmount and this is just fall styling perfection. She says she simply reduced the hem by 3.5″ and cut straight across. I love the pops of lining fabric she used as the flap facing and bound placket too!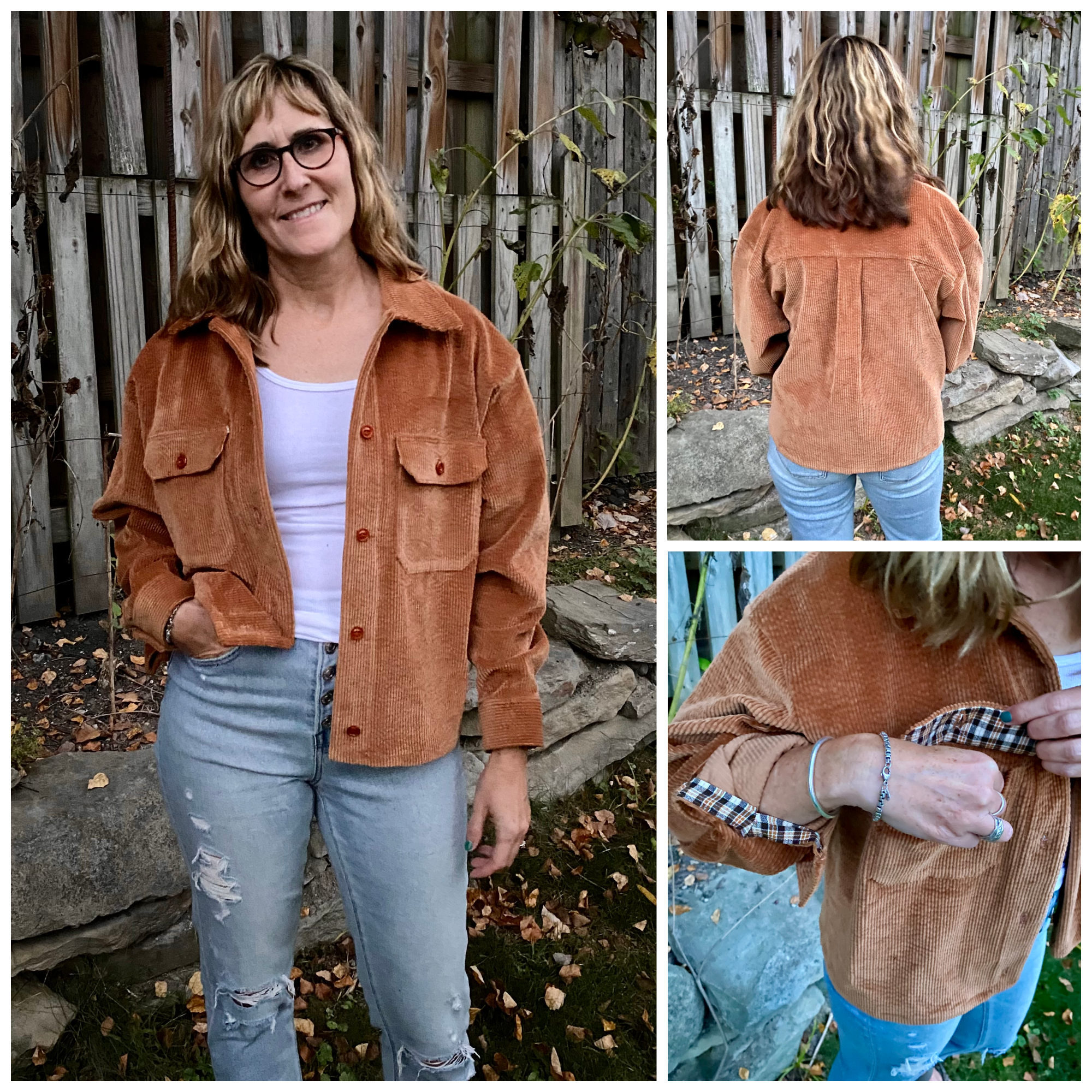 Thank you so much to my lovely and talented testers. As always, you never fail to surprise and inspire me. Your vision improves each pattern exponentially. Cheers to everyone!
---
Notes: as you can see, some of these tester versions have the chest pocket situated higher before it was lowered during testing. The last picture from Pam shows the final position of the pockets. The final pattern in the 0-20 size range was also lengthened by 1″ in the body and sleeves, though testers alter the pattern for their specific heights and arm lengths and you should as well. During testing, the drop sleeve was also raised slightly. Again, Pam's picture above shows where the final pattern sits on the arm.