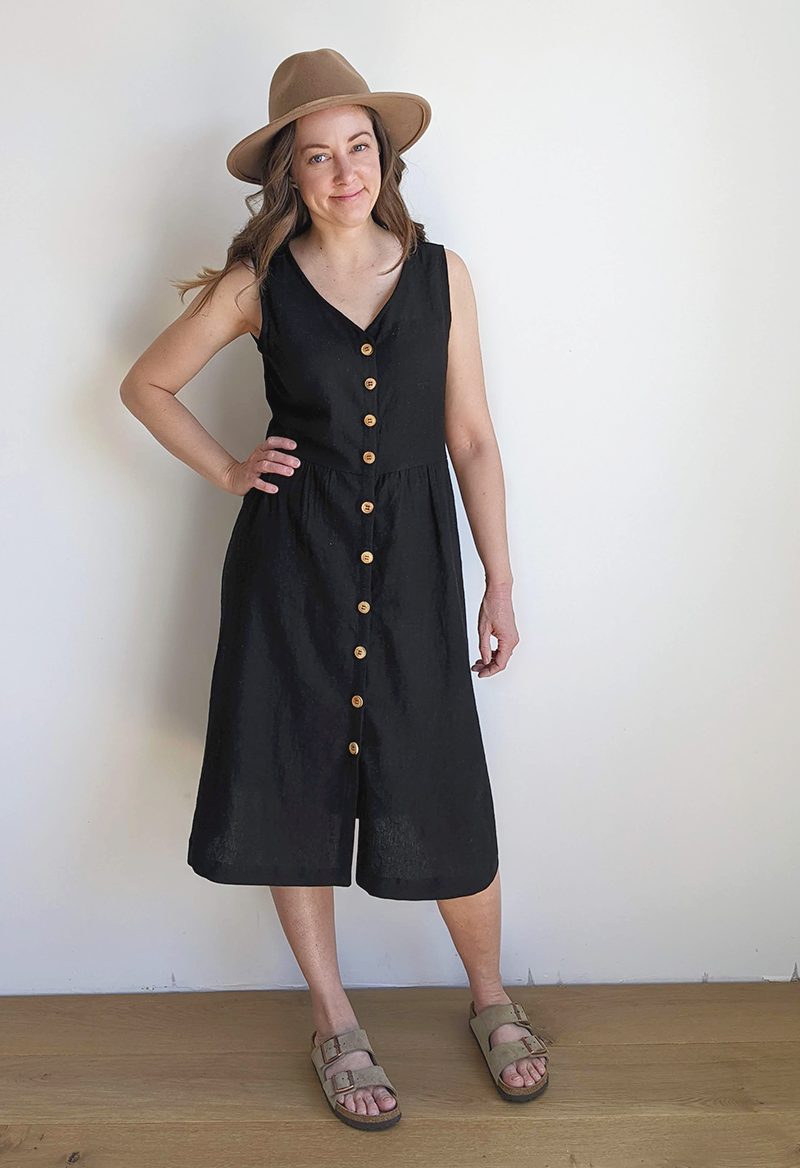 Introducing the Marseille Dress!
Design Overview
Marseille is a relaxed sleeveless dress with two bodice styles, two length options, a gathered skirt, front and back darts for shaping, inseam pockets, a full front button placket, and an optional waist sash.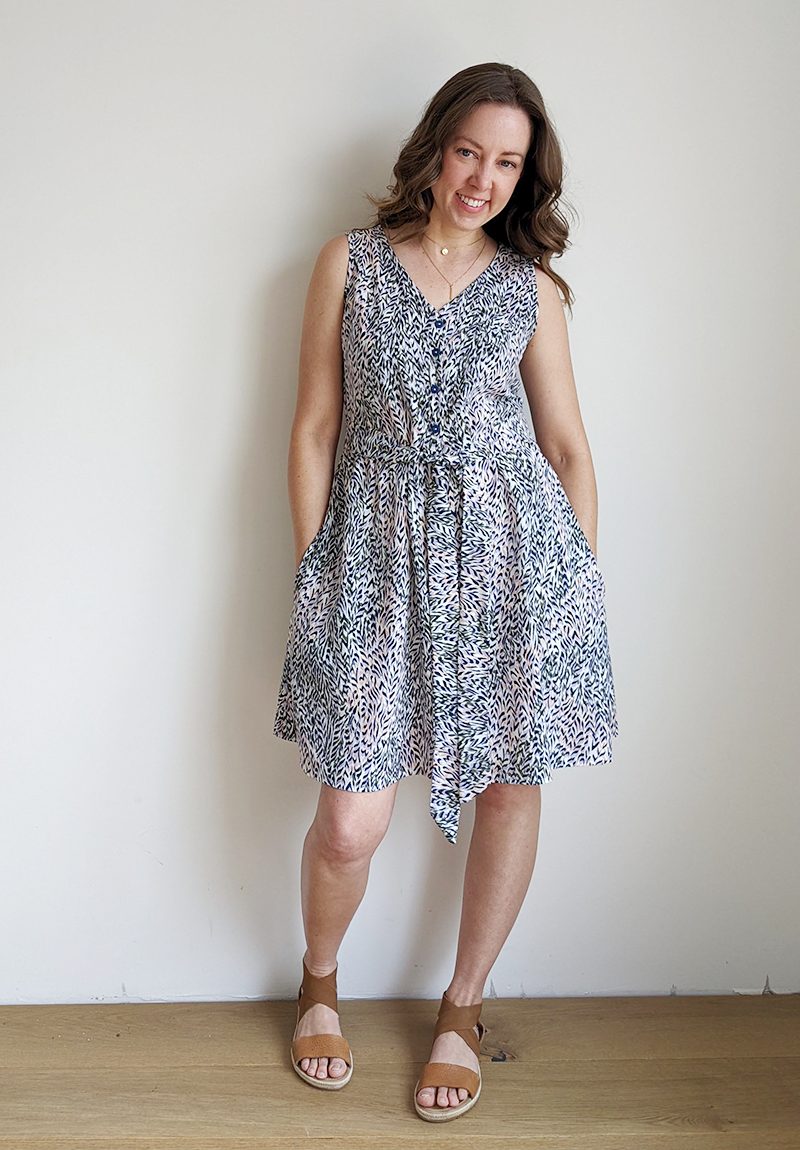 View A features a scoop neck and narrower shoulder straps.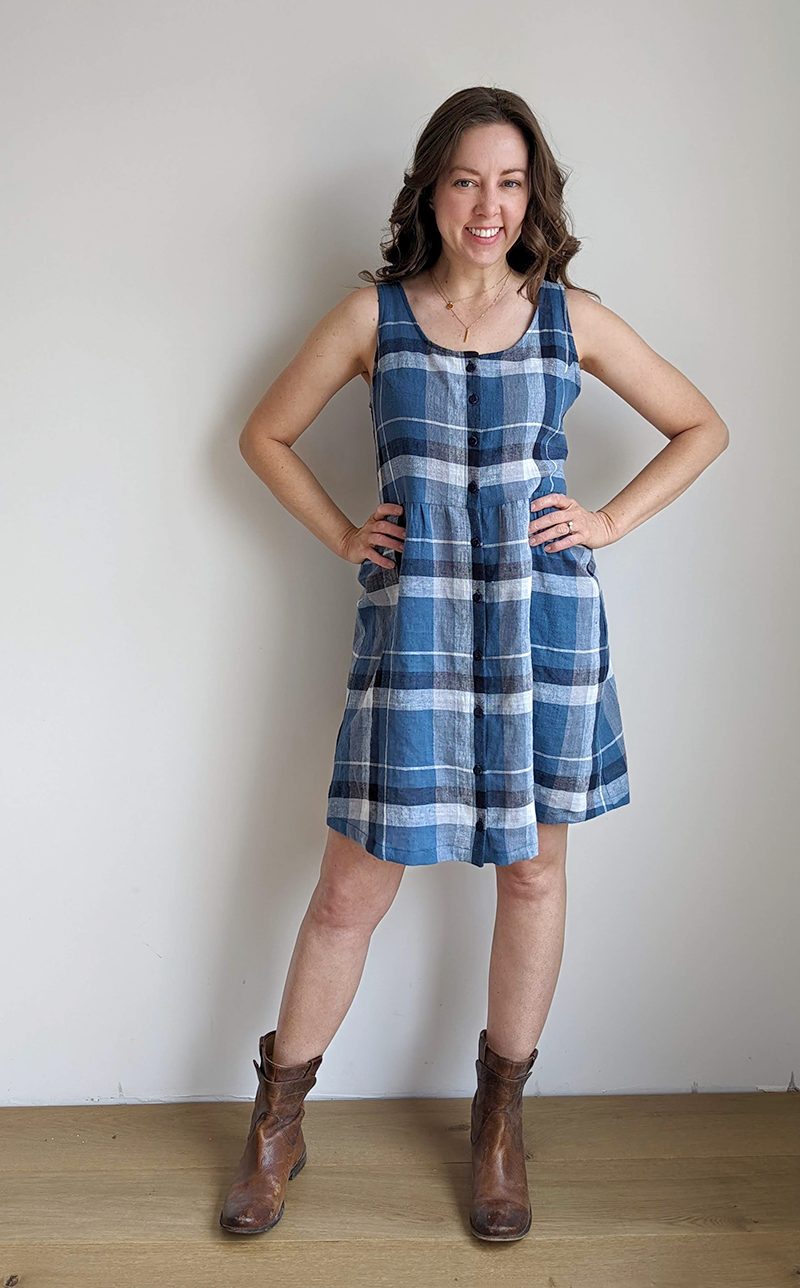 View B is a V neck with wider shoulder straps.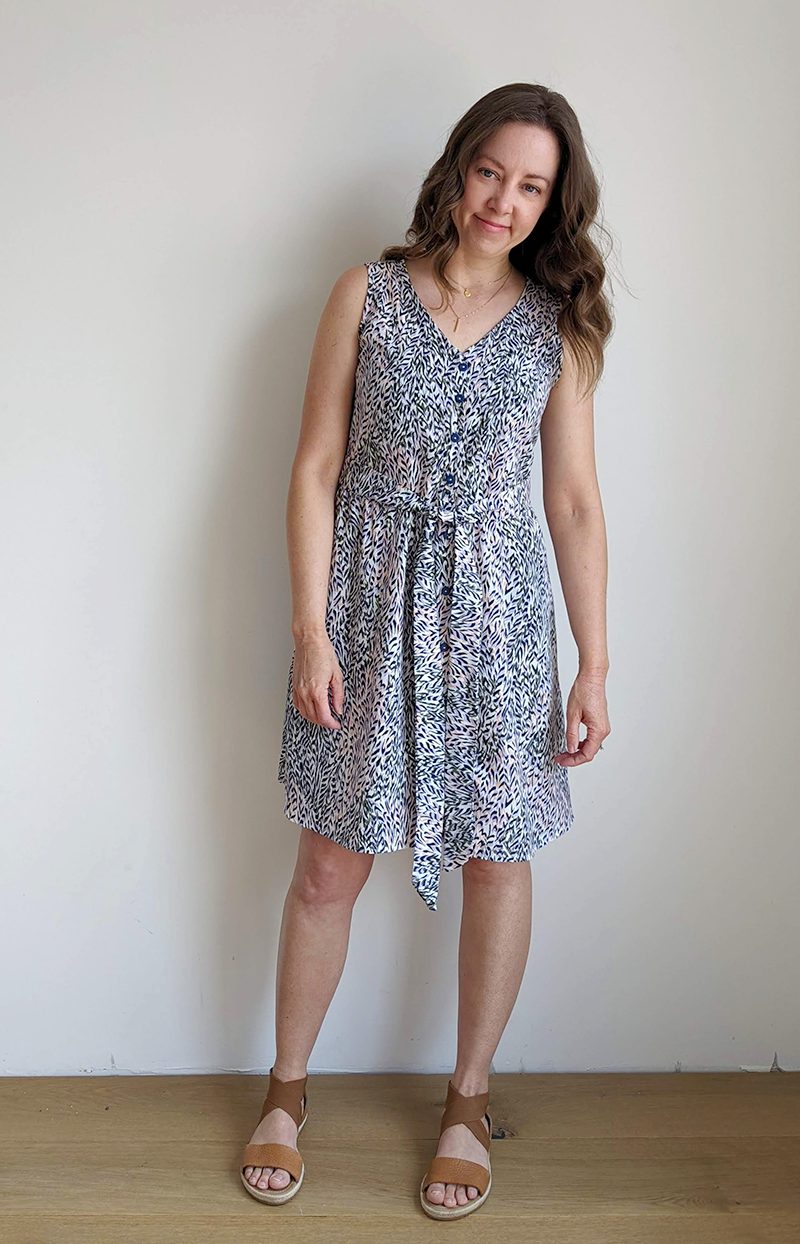 Length options include a mid-calf length…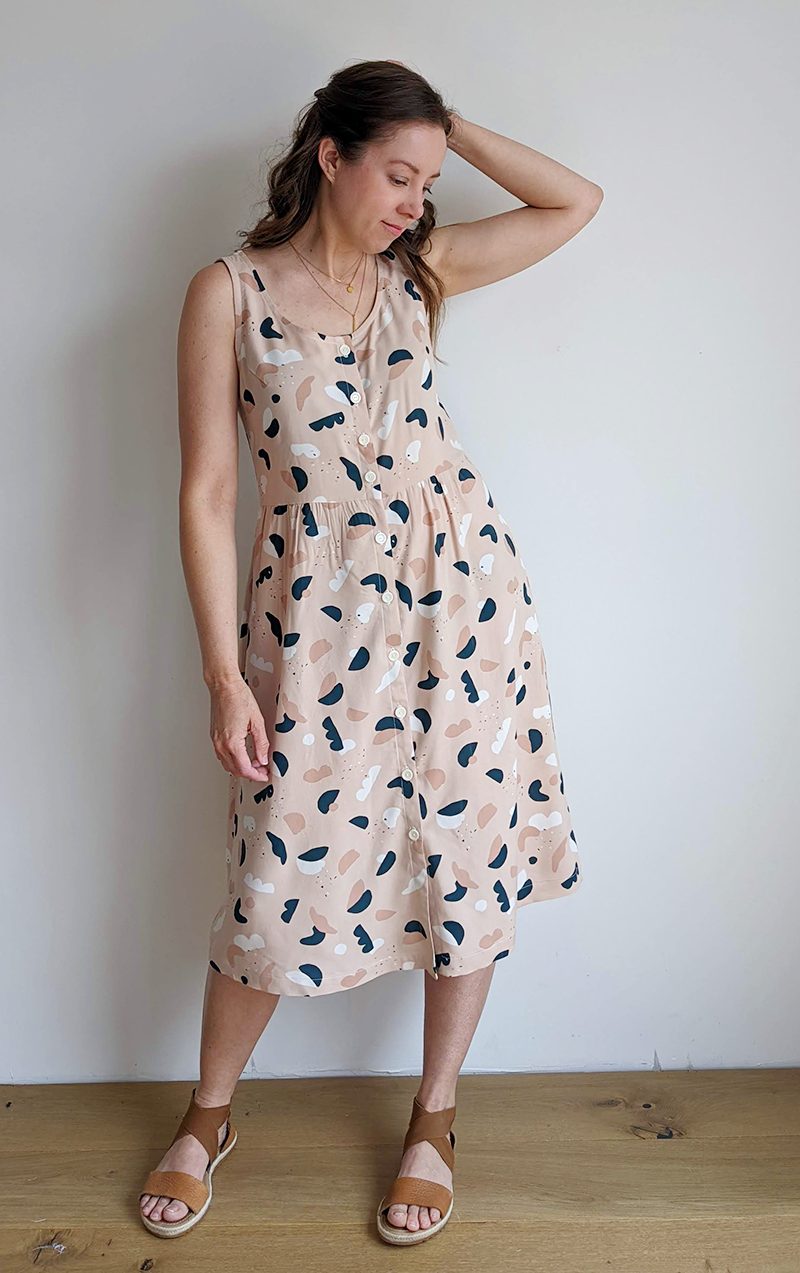 …and a knee length, which is designed to hit just at the top of the knee cap. I did not do any length adjustments on mine, so it's a little shorter on my 5'7″ frame.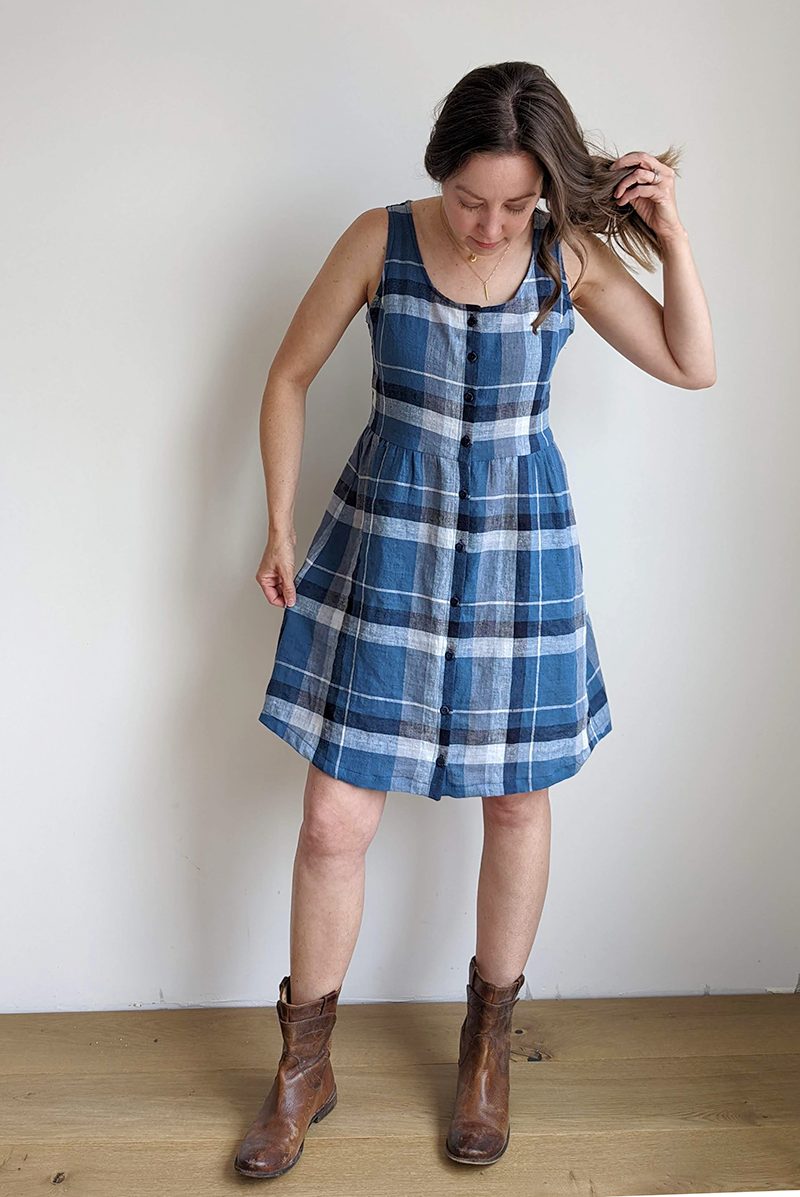 Both skirts are slightly shorter at the side seam than the center back and front, though this effect is mostly seen in fabrics that hold their shape well, like cottons. It is much less obvious in my rayon and linen versions.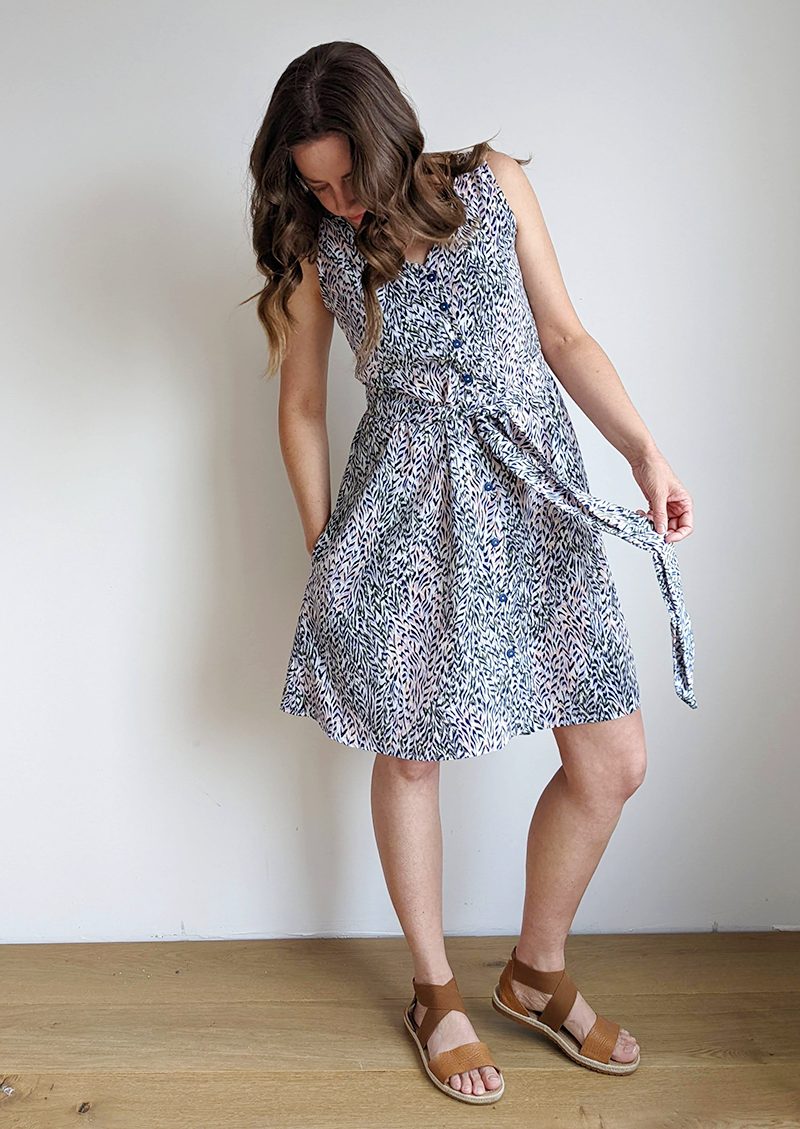 Marseille looks great with a self-fabric sash, but you can also add your own belt for a cute accessory!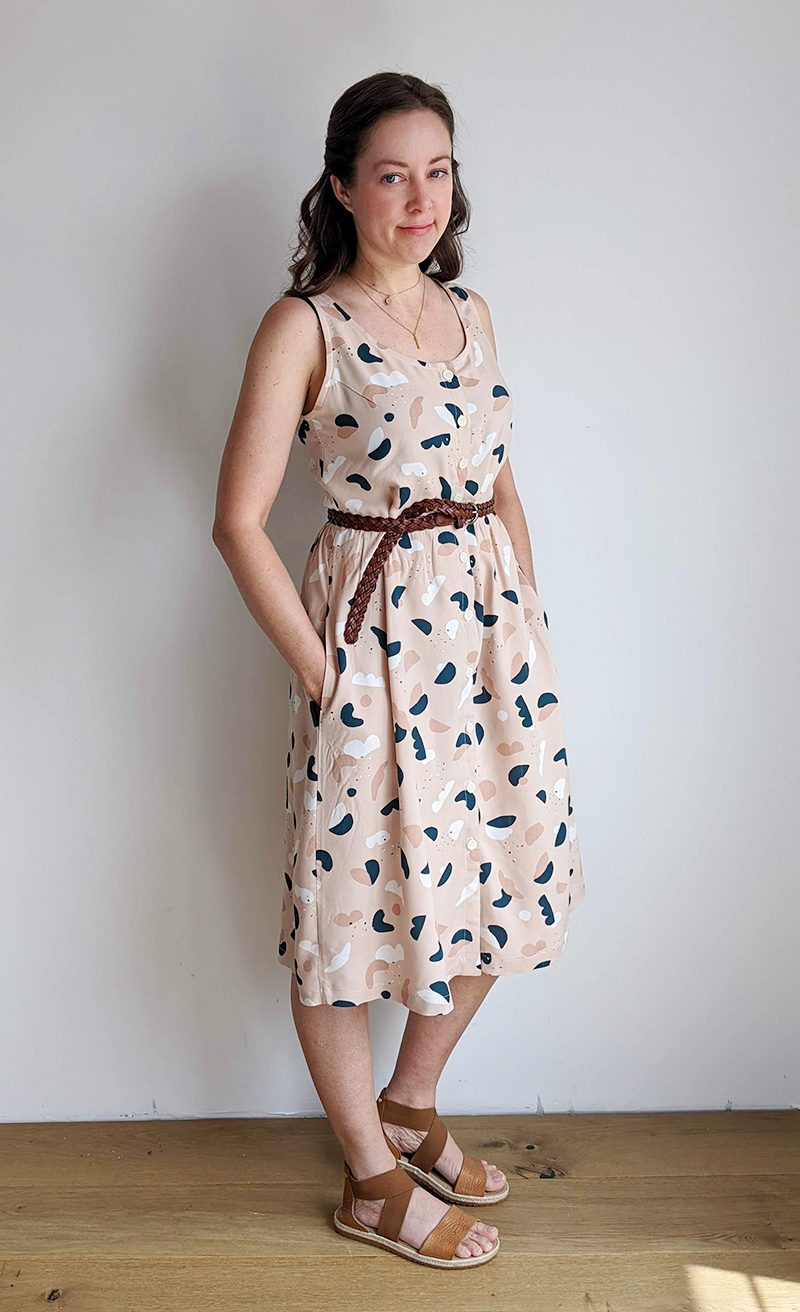 The in-seam pockets are generous and deep so you have something to do with your hands. A priority for me, at least.
The 0 – 20 size range is designed for a B cup bust and has one armscye dart on the front and a back dart for shaping. The 14 – 30 size range is designed for a D cup and has a front waist dart in addition to the armscye dart.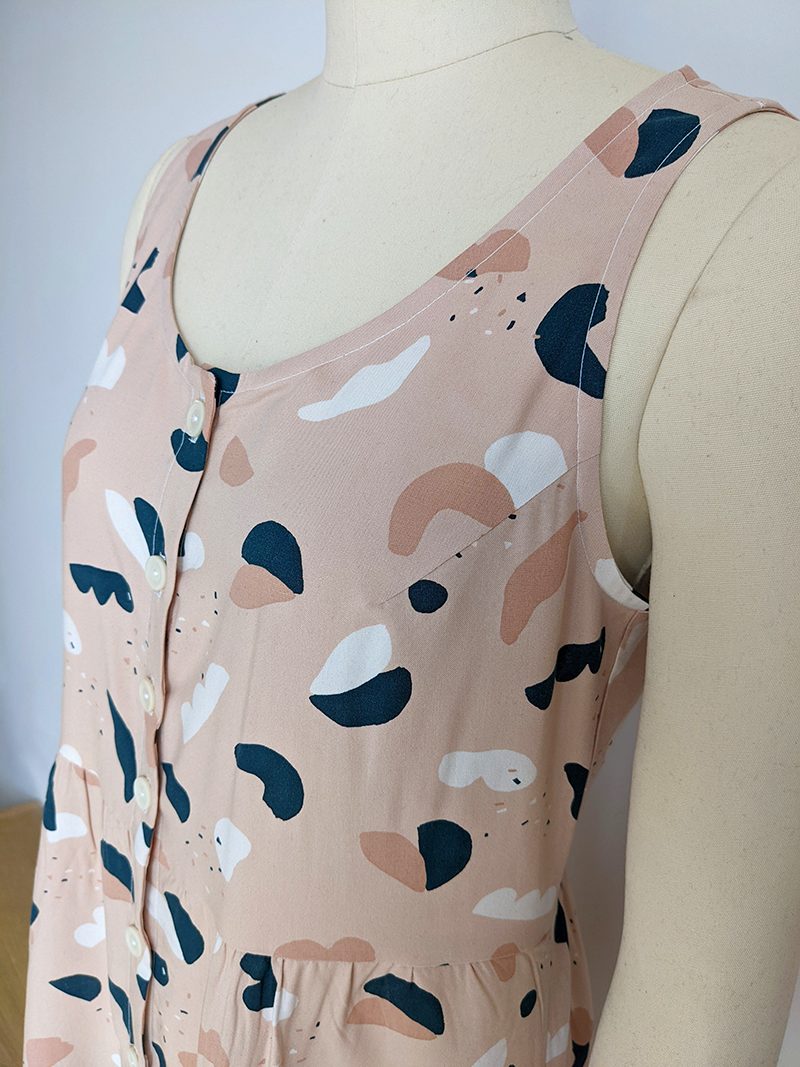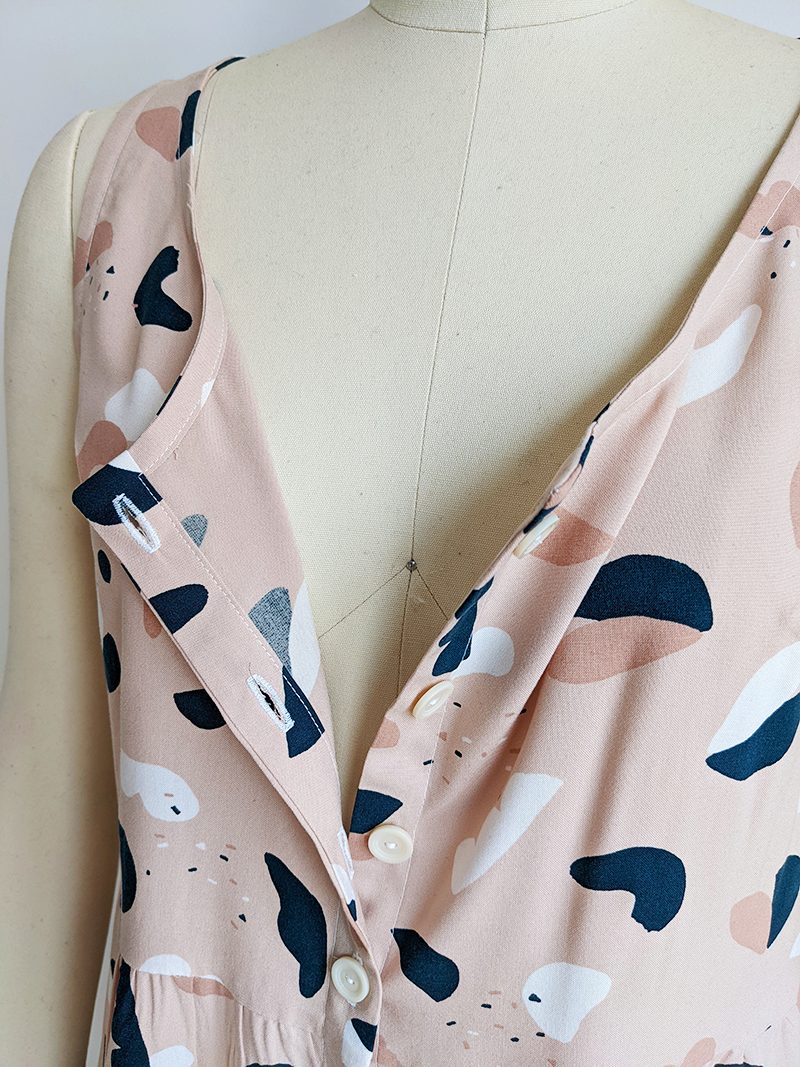 The neck and armholes are finished with bias tape inserted using the French method, and the dress is sewn in a way so the neckline, both front button plackets, and the hem are all sewn in one big loop!
There is a center back seam for shaping, which also makes any necessary adjustments like a swayback adjustment very easy.
Fabric Selection
Marseille can be made in just about any lighter to mid-weight apparel woven. The two prints used in these samples are both made with rayon, which is a lovely, flowy substrate for this dress. It feels like wearing nothing at all, perfect for warm summer days.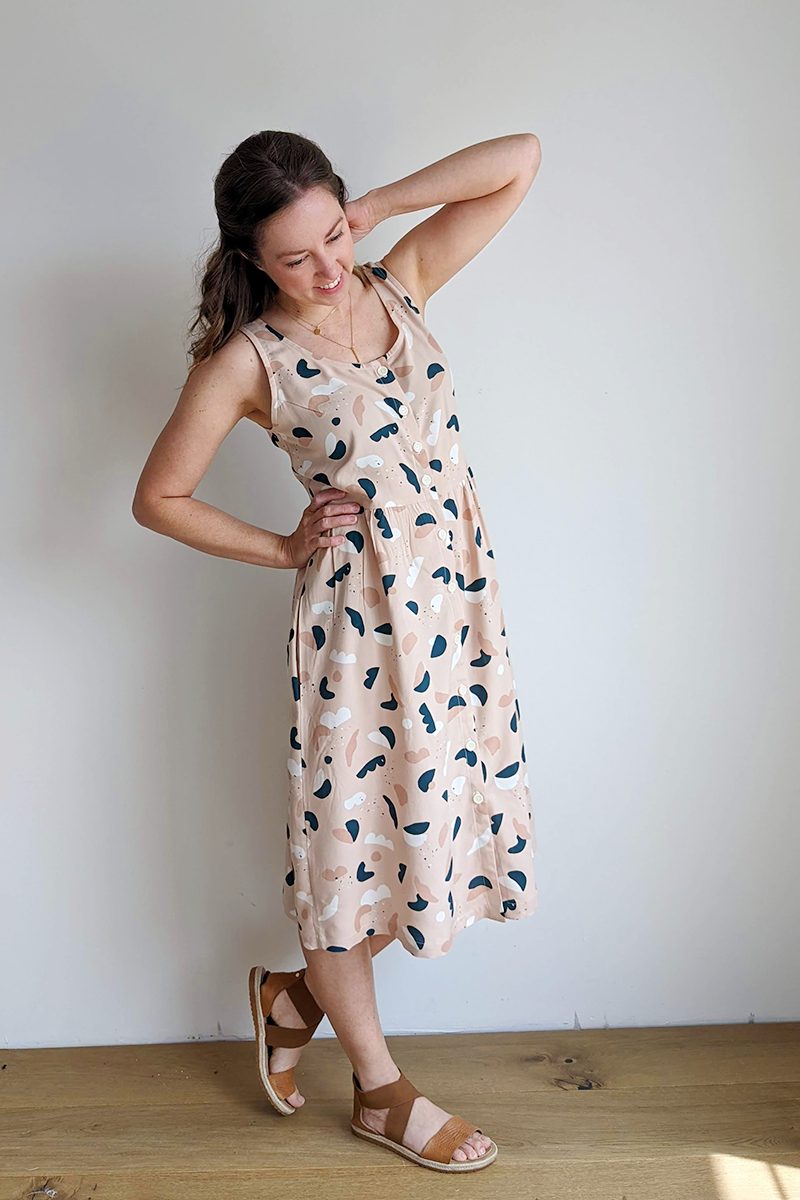 The black version is a rayon-linen blend that also has great drape with just a bit of structure from the linen. This is also a gorgeous and breathable fabric that additionally lends itself well to being accessorized for slightly cooler weather. I particularly love linen paired with a chunky, cozy cardigan.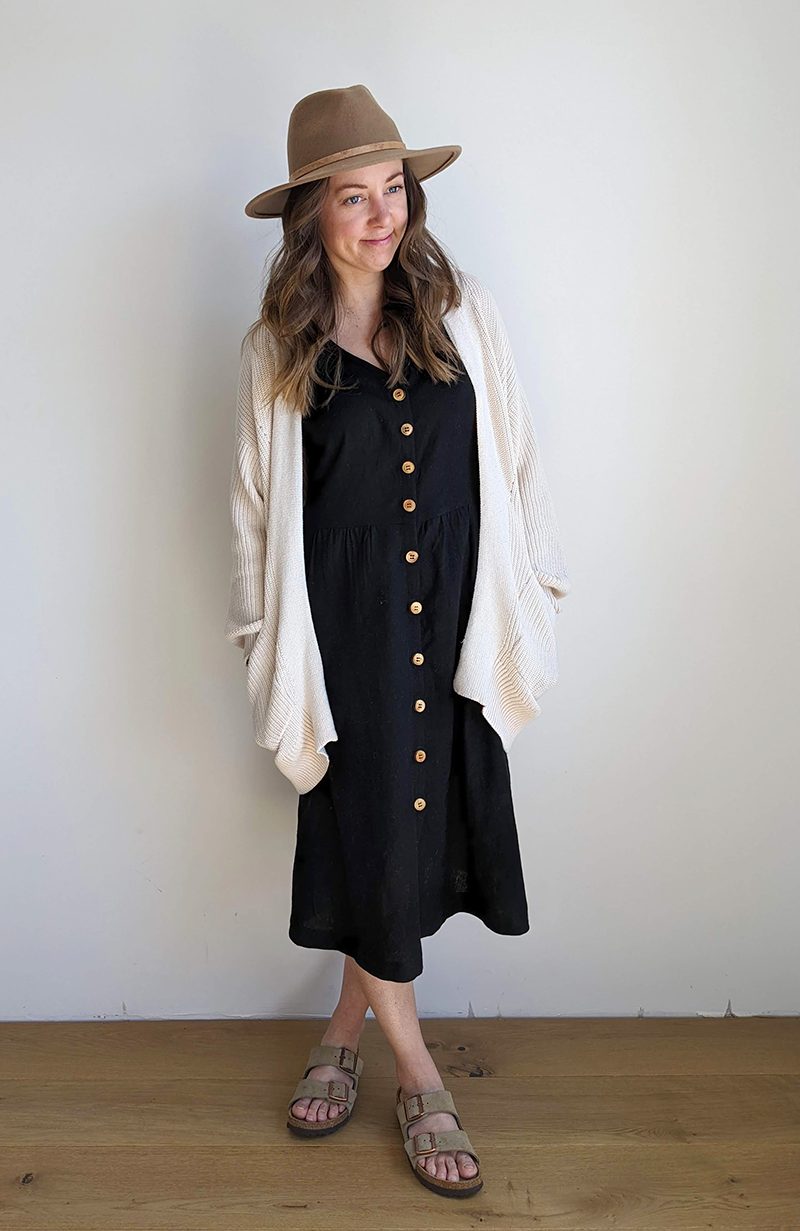 If the Marseille is made with cotton woven fabric, it will have more body and less drape. Lightweight cottons are still a great option, but stay away from fabrics with more body, like quilting cotton. You can use those fabrics, but the skirt will sit farther from the body and the gathers won't drape as well, giving it more of a dirndl look. This blue plaid is a shirt weight cotton/linen and feels like wearing a cloud.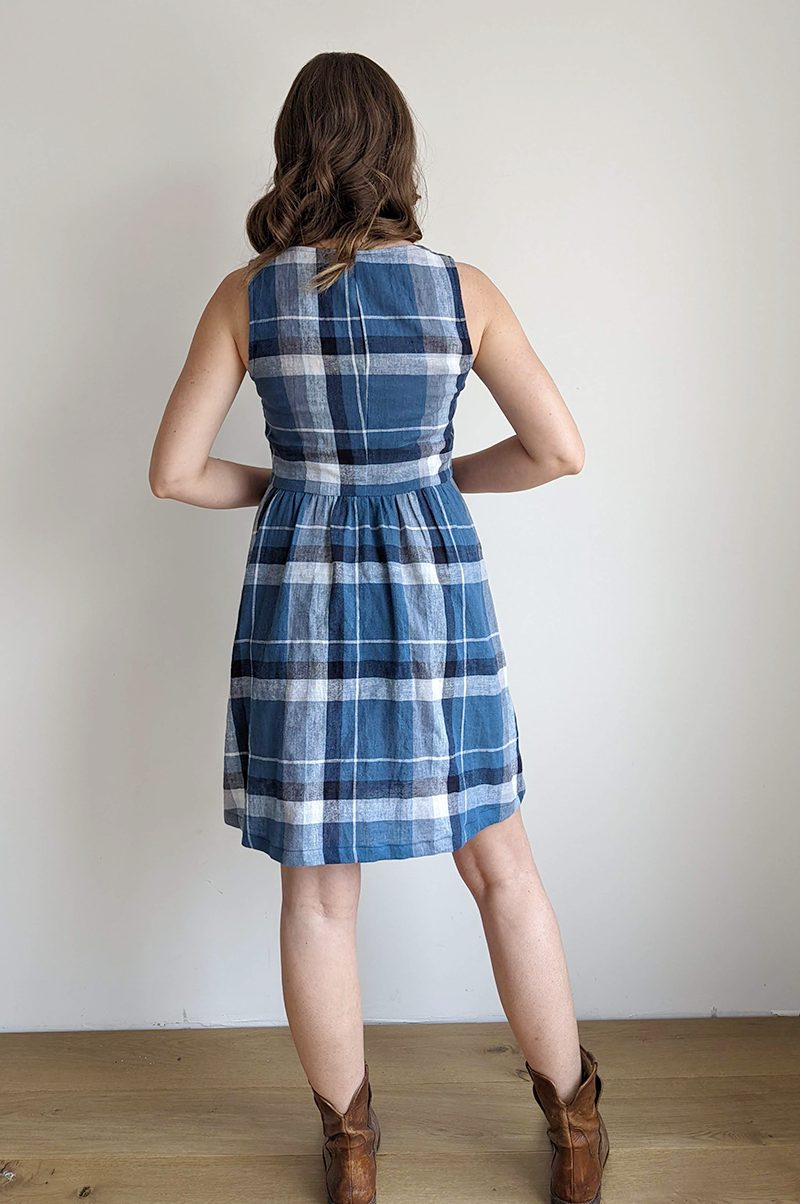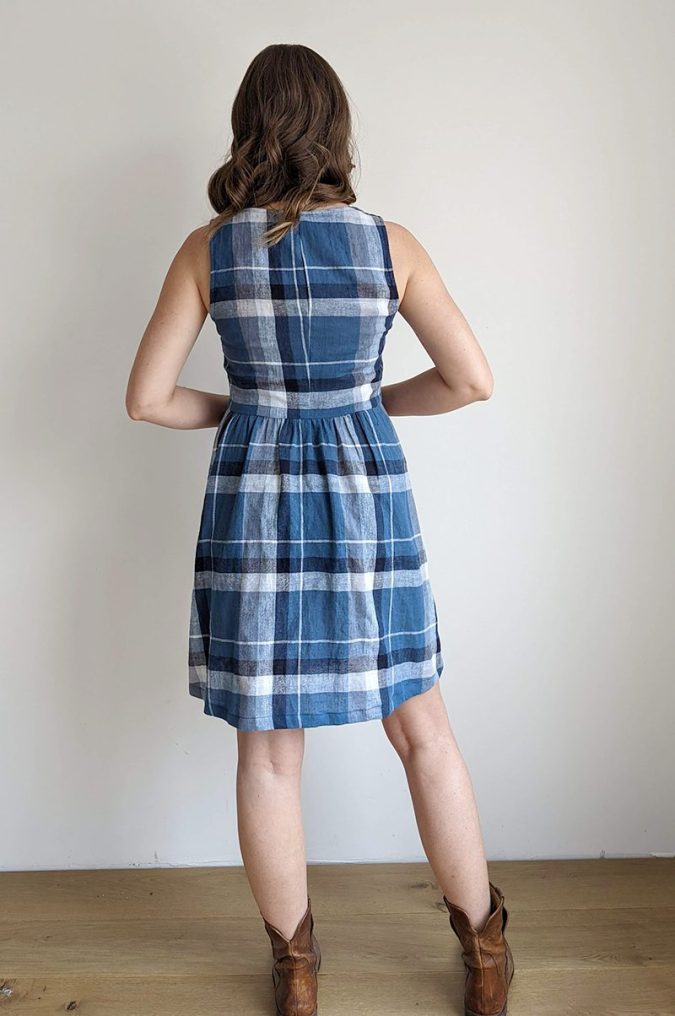 Sizing
As mentioned, Marseille comes in two size ranges with a B cup and D cup draft. The B cup sizing includes a tutorial for adding a dart if an FBA is needed. Marseille is designed to fit with ease through the waist and bust, while remaining more fitted around the neck and armholes to prevent gaping. Fabric selection will make a huge difference in the finished sizing. A quick glance at the plaid cotton version vs. the calf-length rayon version will show how different the same size on the same person can appear. If you are using a fabric with lots of drape like rayon, poly, or linen blends, you may want to size down and/or shorten the bodice length, as those fabrics will result in what can sometimes be inches more ease in the width and length. The good news about alterations is that the many seams around the bodice provide ample opportunity to take in or let out the fit.
If you are between sizes, I recommend sizing up for cottons and sizing down for drapier fabrics. A muslin of at least the bodice is a must.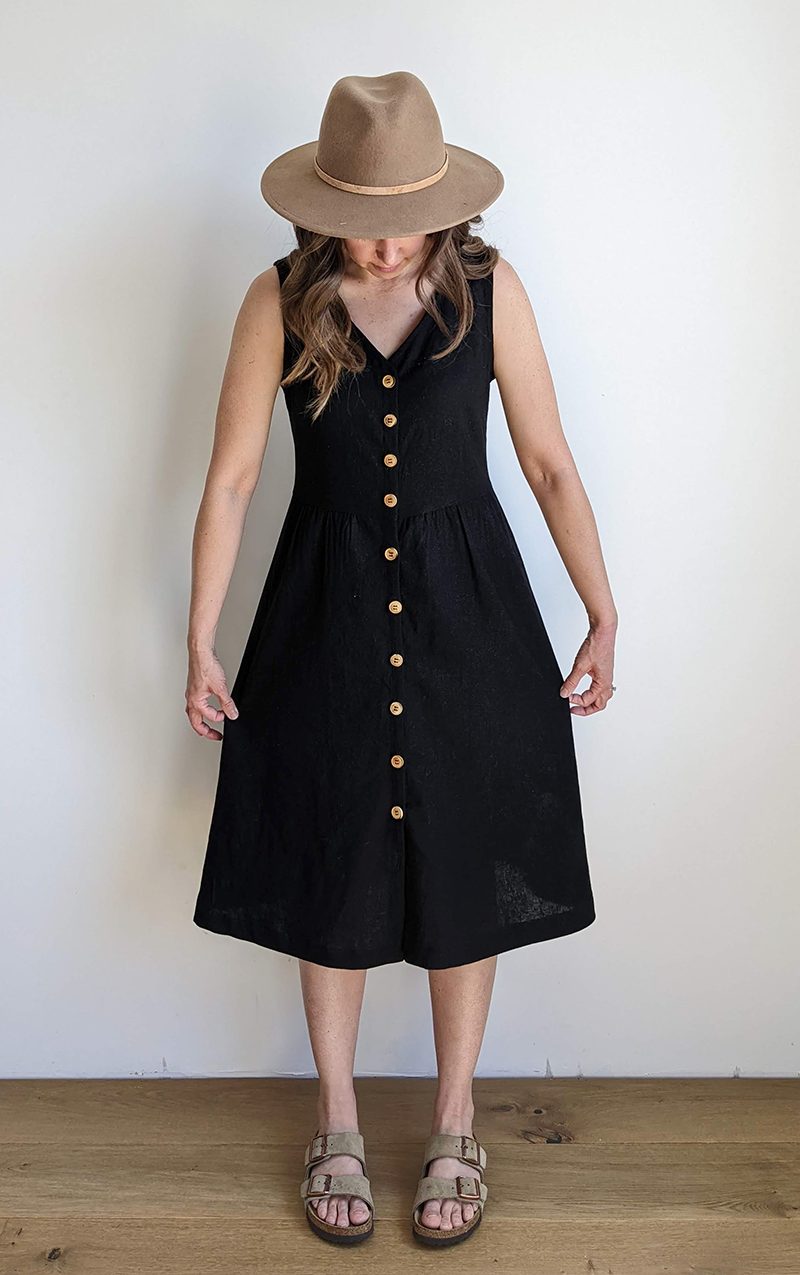 Alterations
An FBA tutorial is included in the B cup size range, and additional space can be added to the darts on the D cup bust if needed as well. Other than the bust, the Marseille is very straightforward and forgiving in terms of fit, and most alterations can be done while sewing. Length adjustments should be done to the pattern pieces using the provided waist and total length measurements as a guide. Girth adjustments can be done after a baste fit of the bodice, using the side seams, center back seam, and back darts to take in or let out ease. Just keep in mind that when switching between fabric substrates, you may find you need additional or fewer alterations to achieve your desired fit.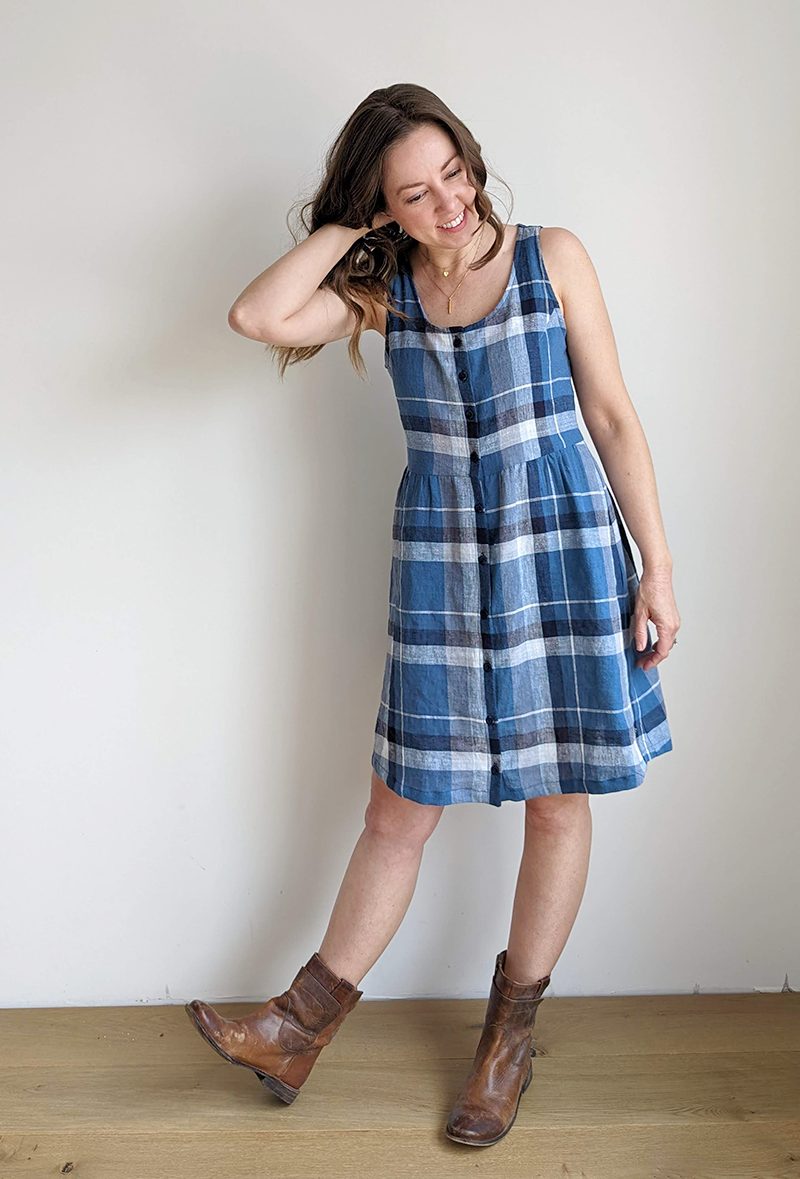 Purchase and Use
The Marseille Dress can be purchased here. Before adding it to your cart, you'll need to choose a size range.
If you are new to digital patterns, here is a complete overview of what they are and how to use them.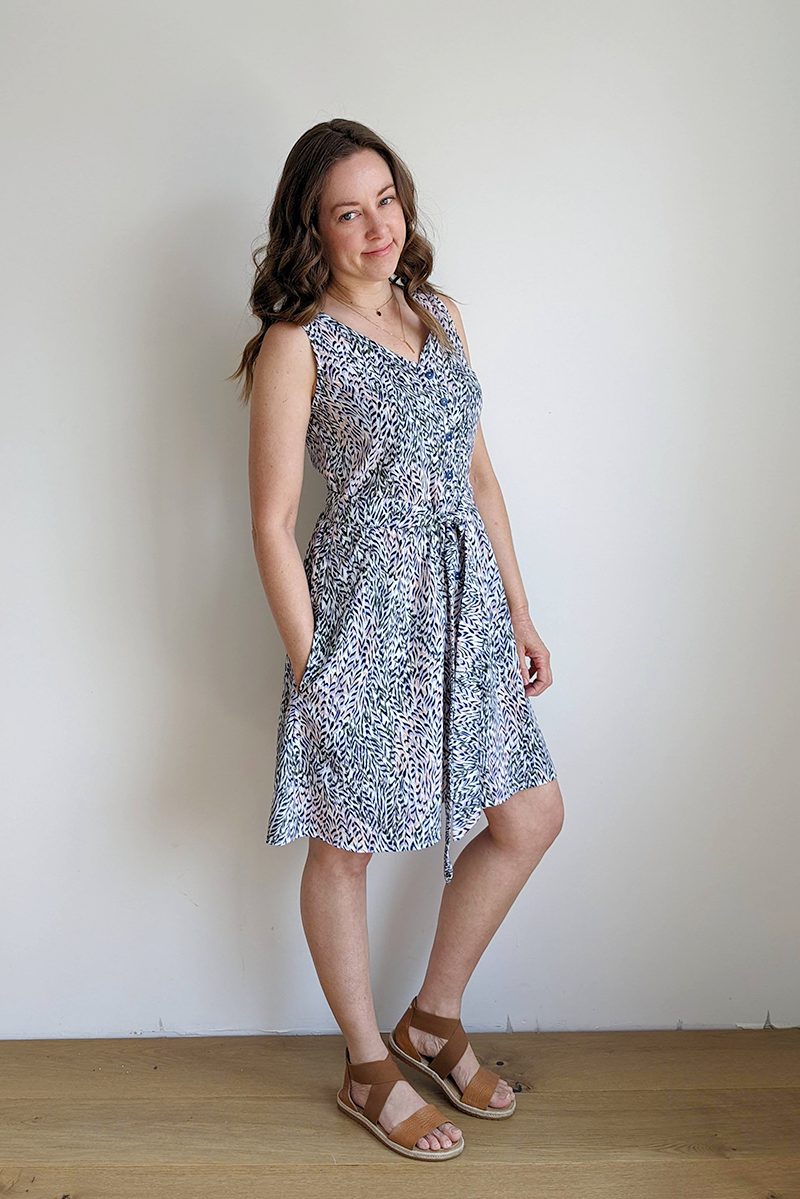 The Marseille is part of the site-wide semi-annual sale running now through May 10th! Get 20% off your purchase with code "HJSpring22"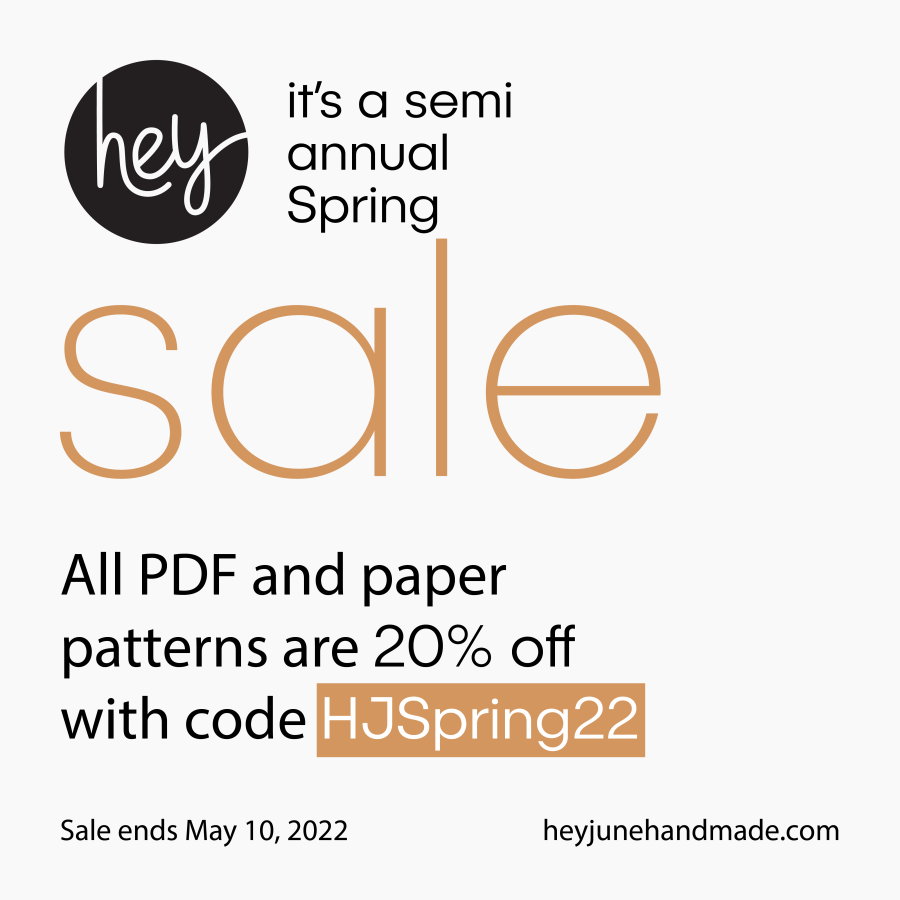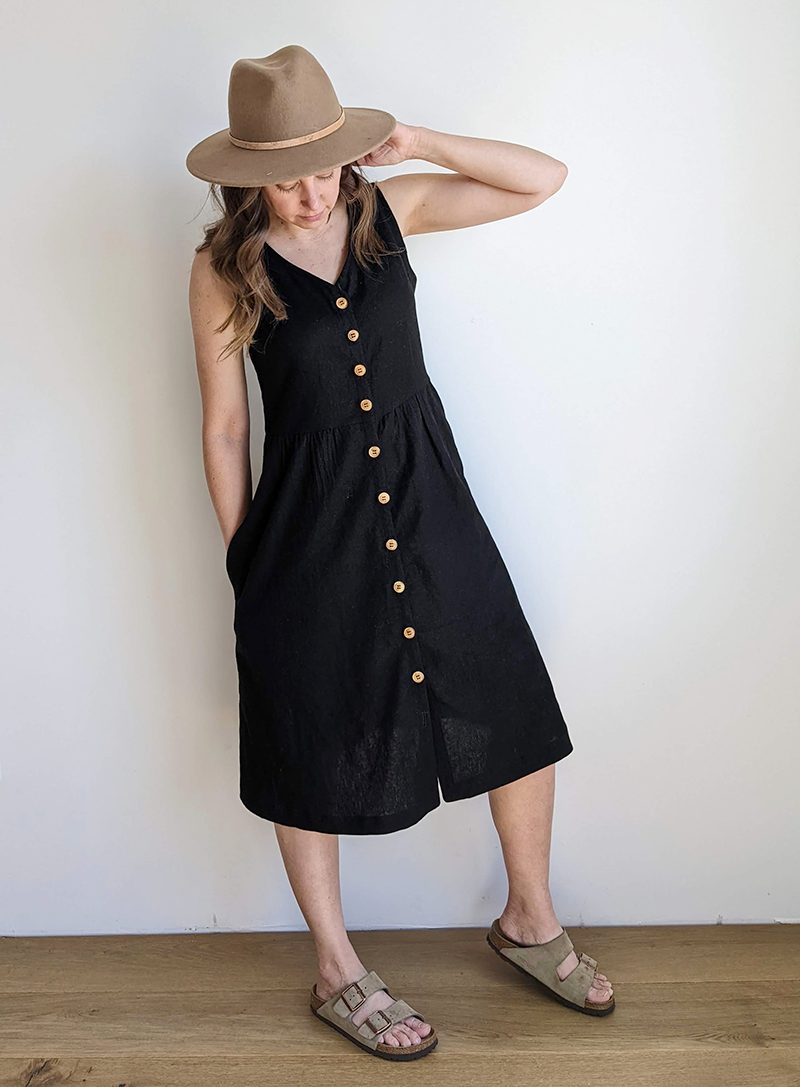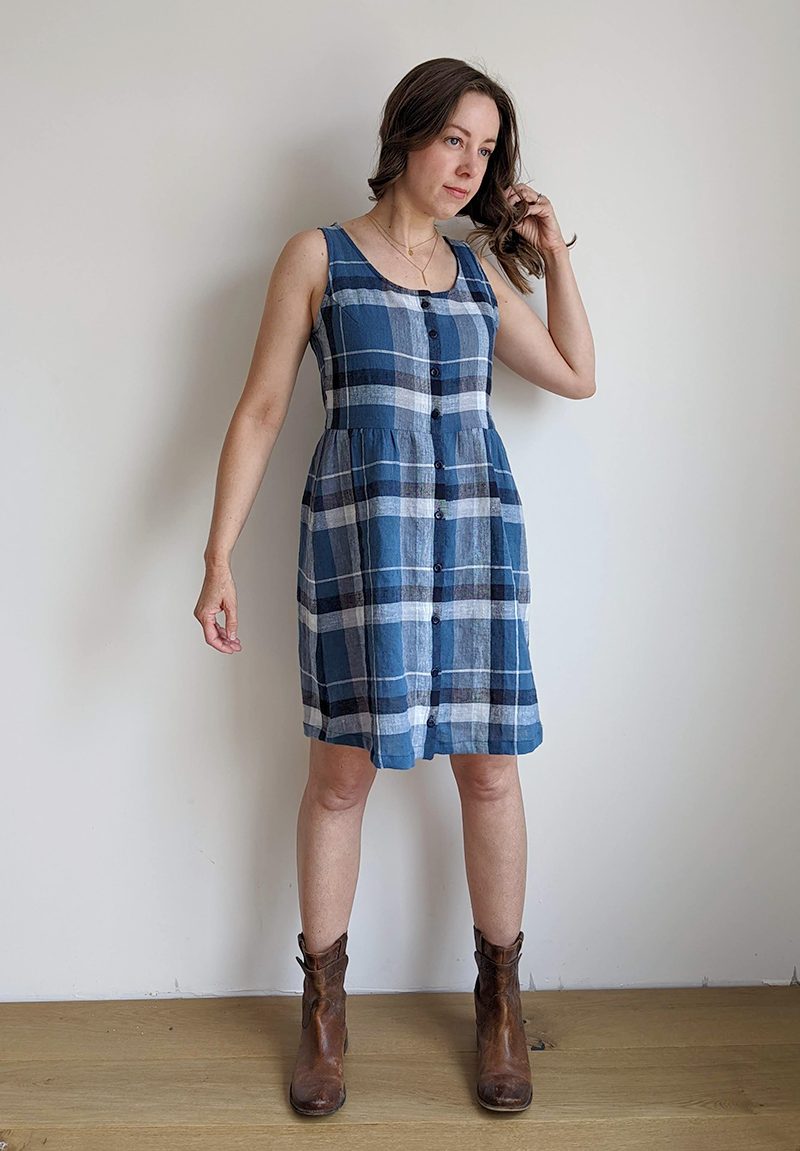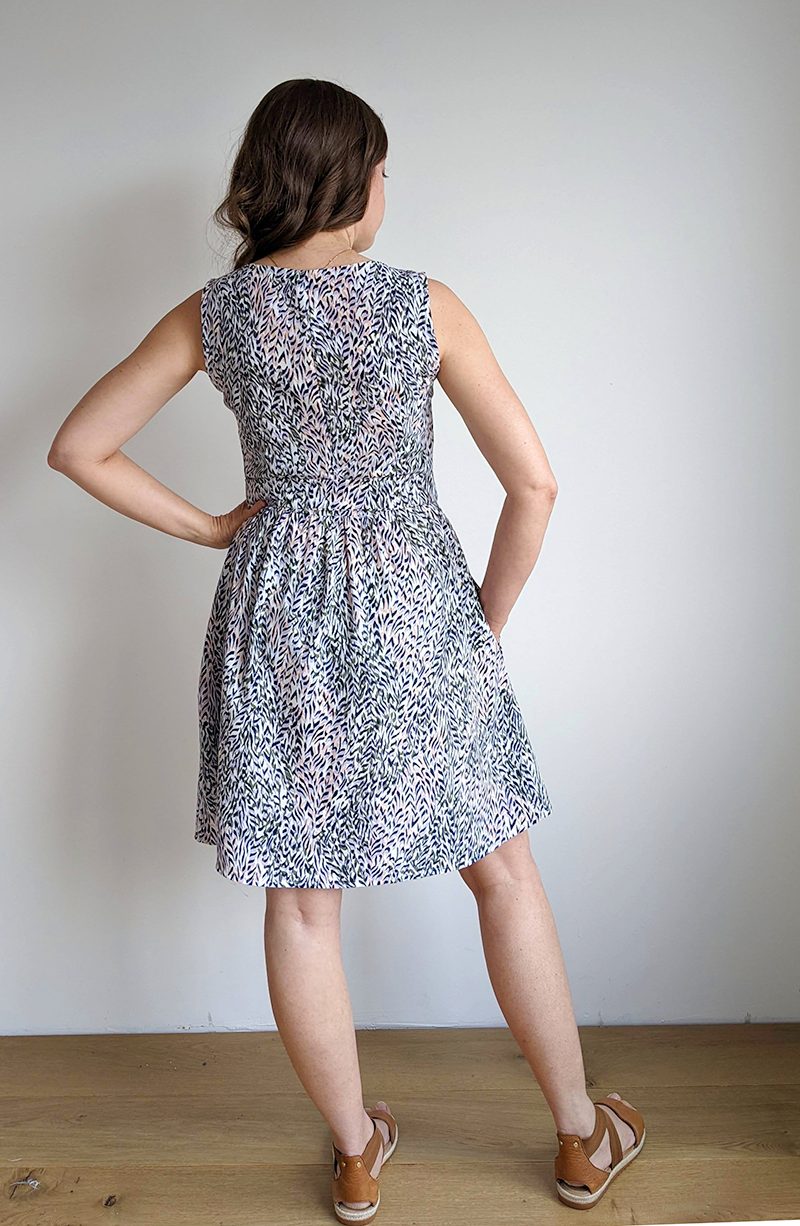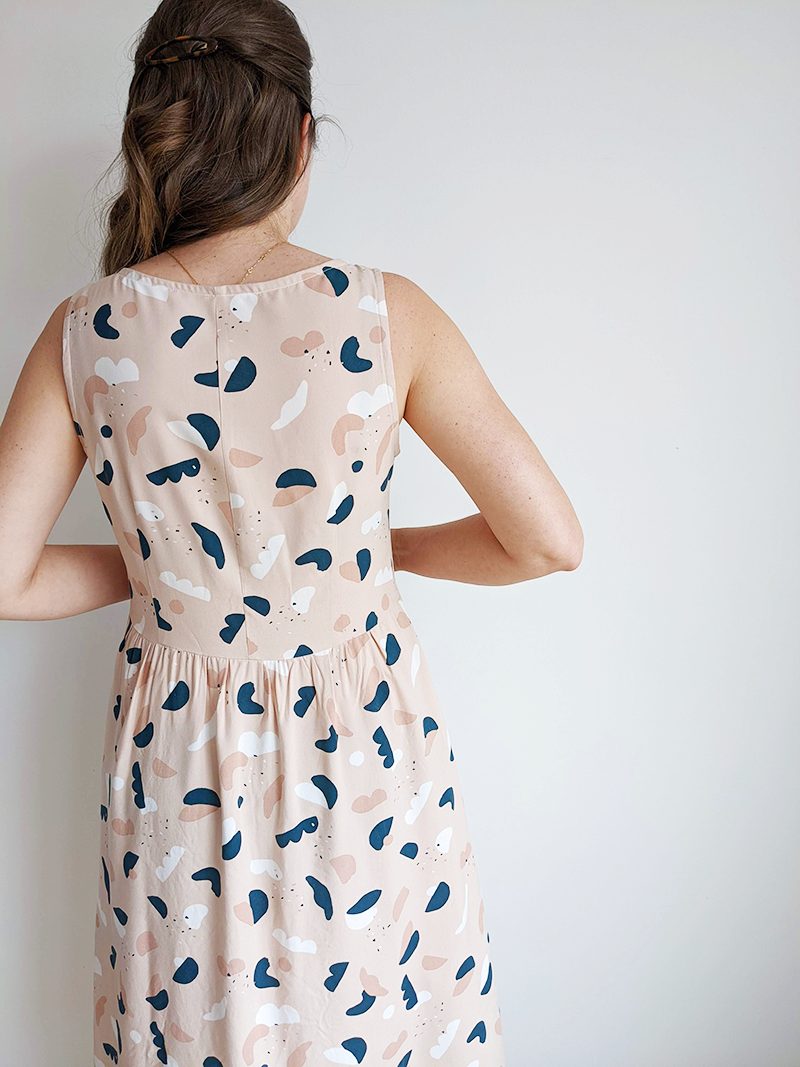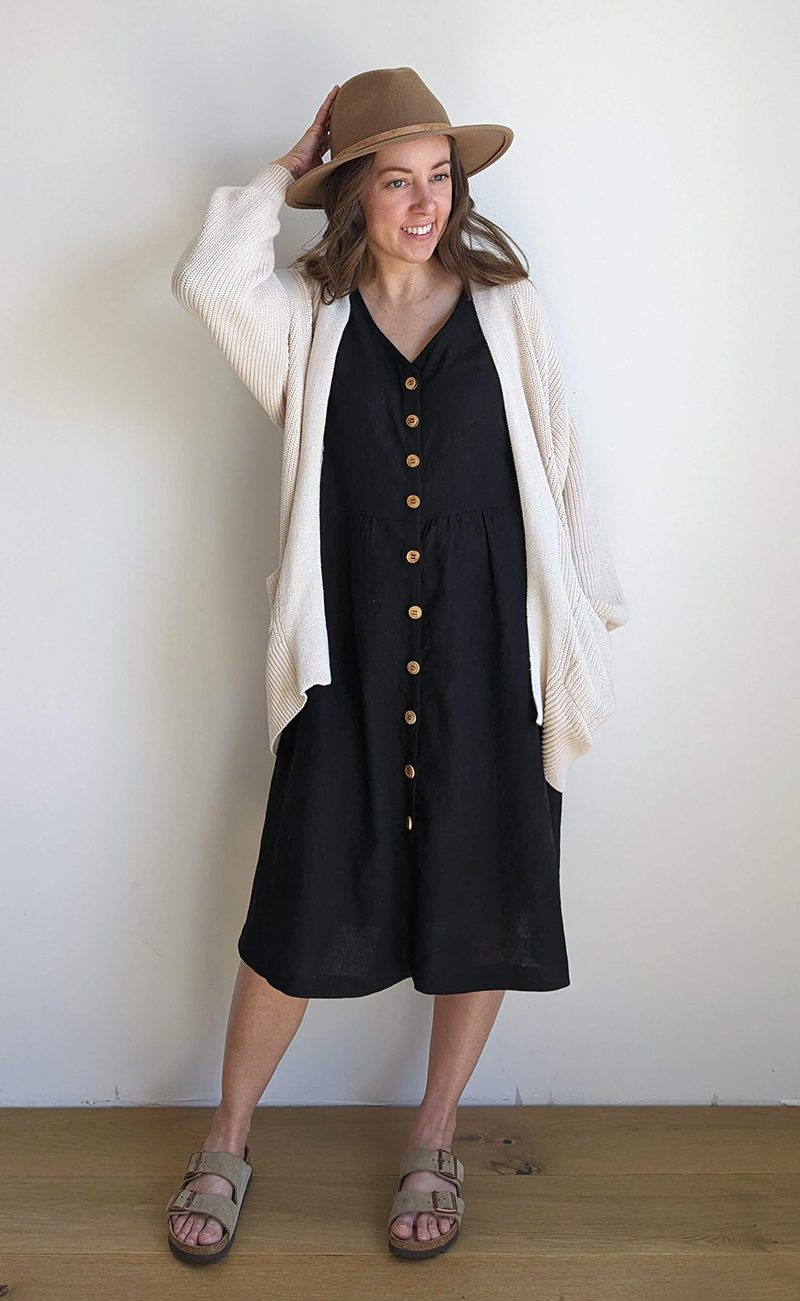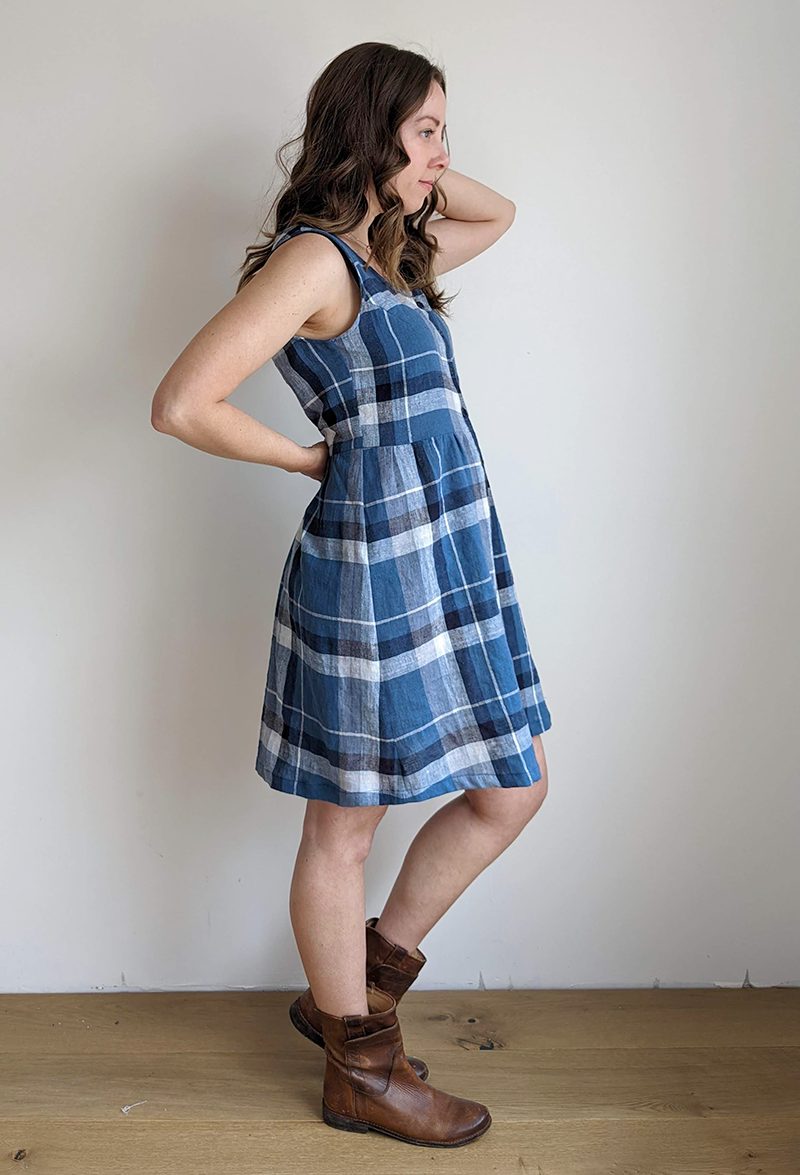 Sources
All dress fabrics: Style Maker Fabrics
Floral rayon: Old, all rayon can be found here
Boots: Frye, old, here are similar