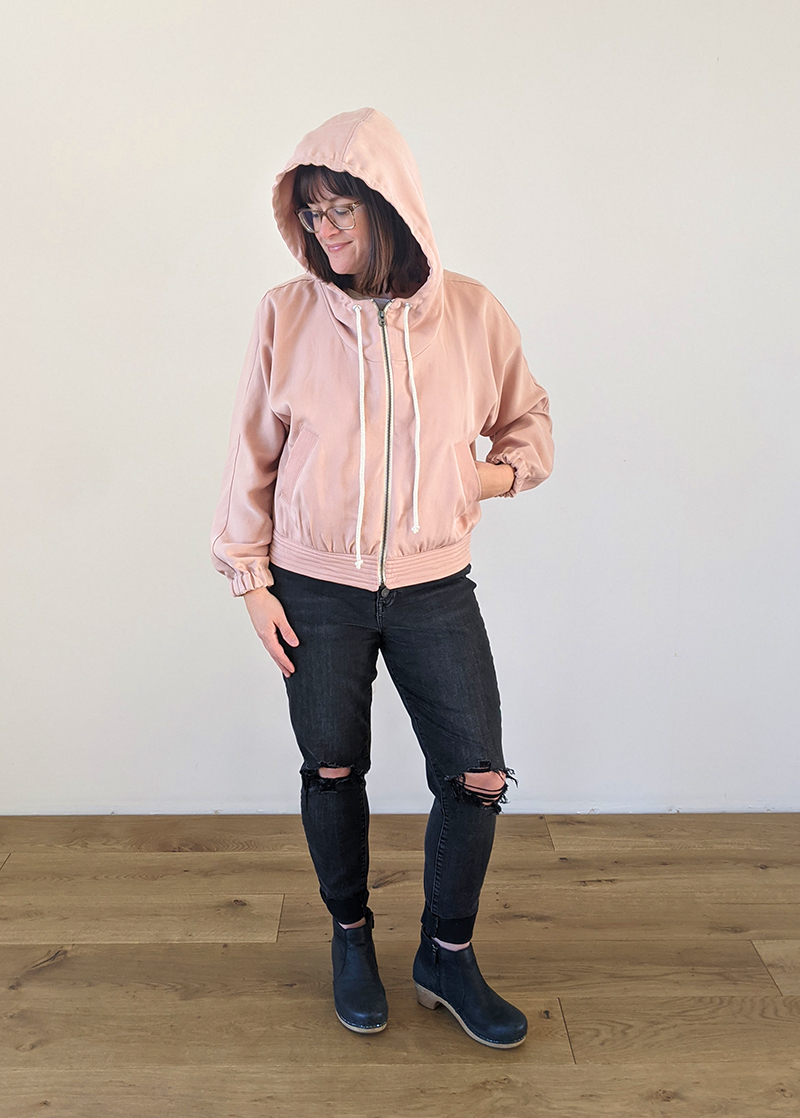 Introducing the Wheaton Windbreaker!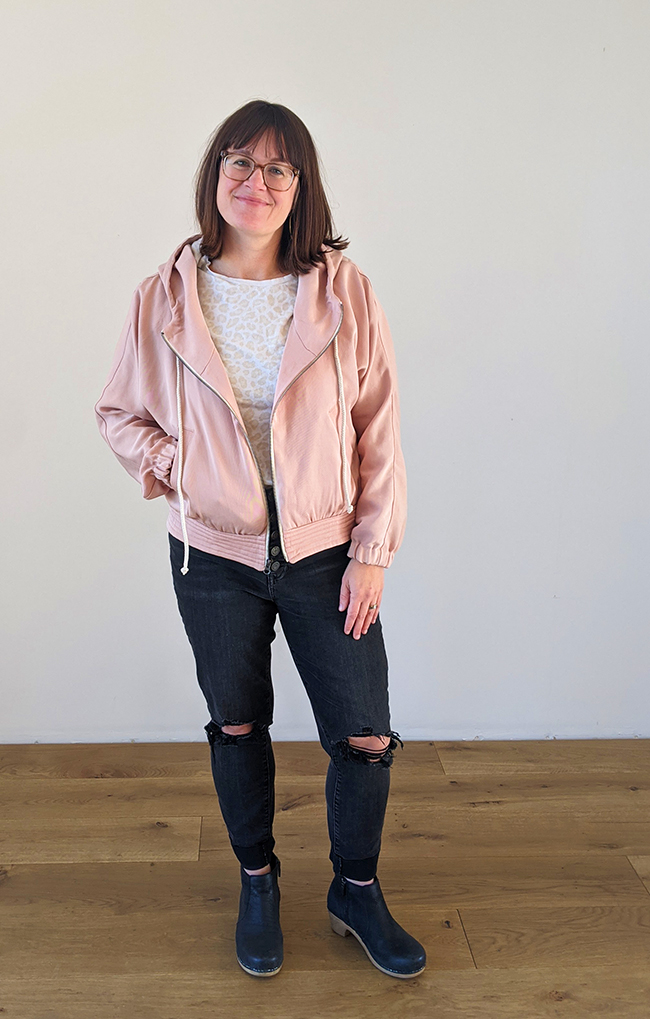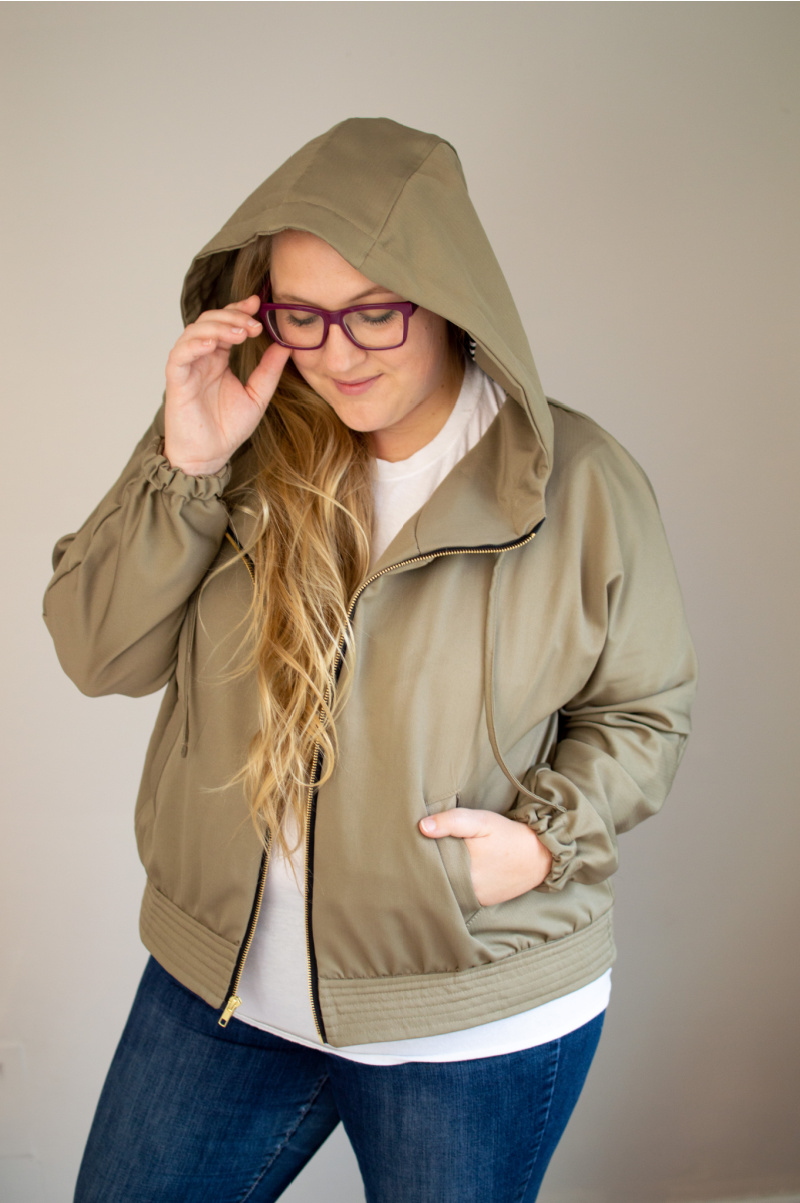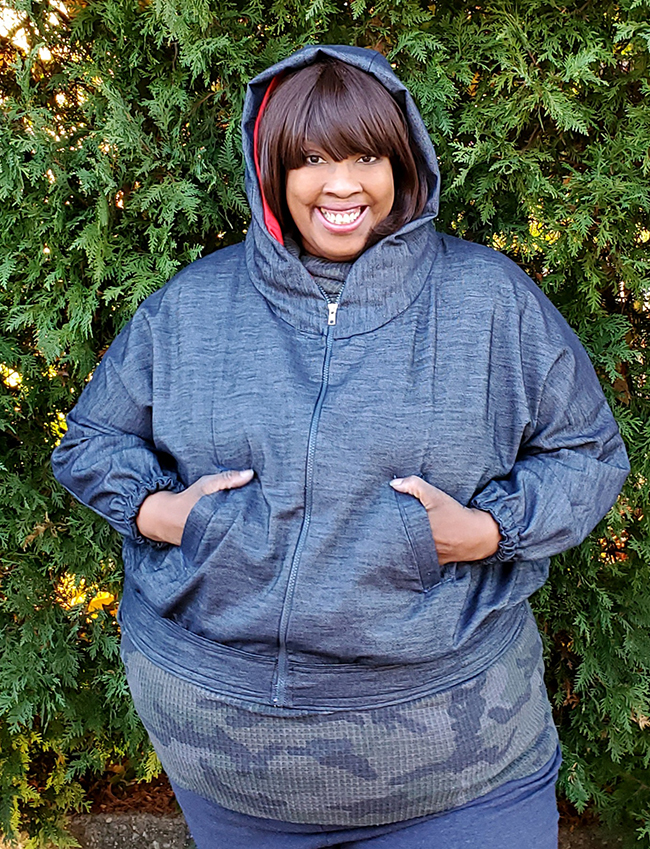 Wheaton is a casual, cropped, unlined jacket perfect for layering with sweaters and tees for cool weather.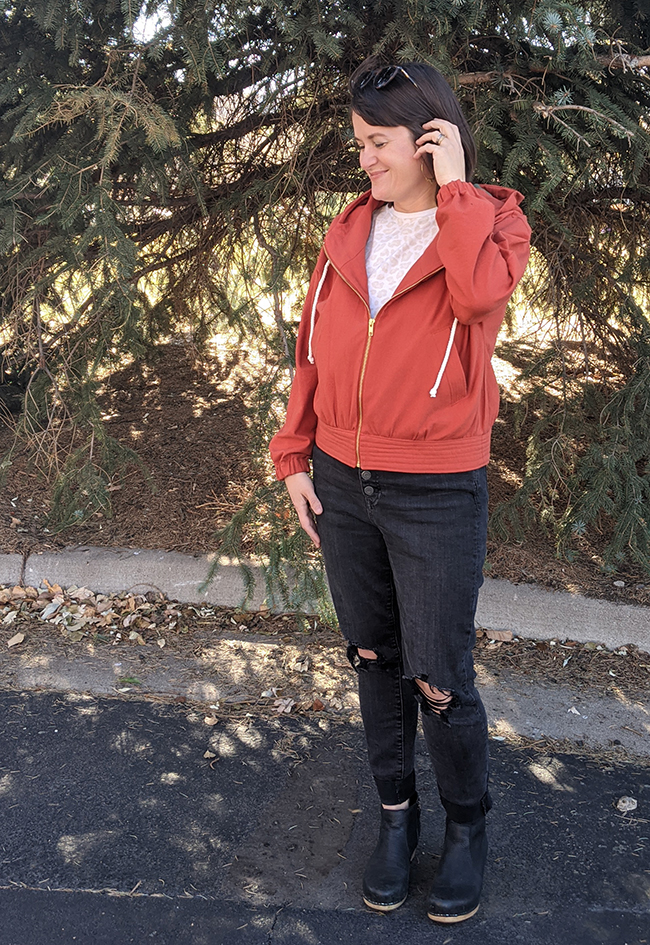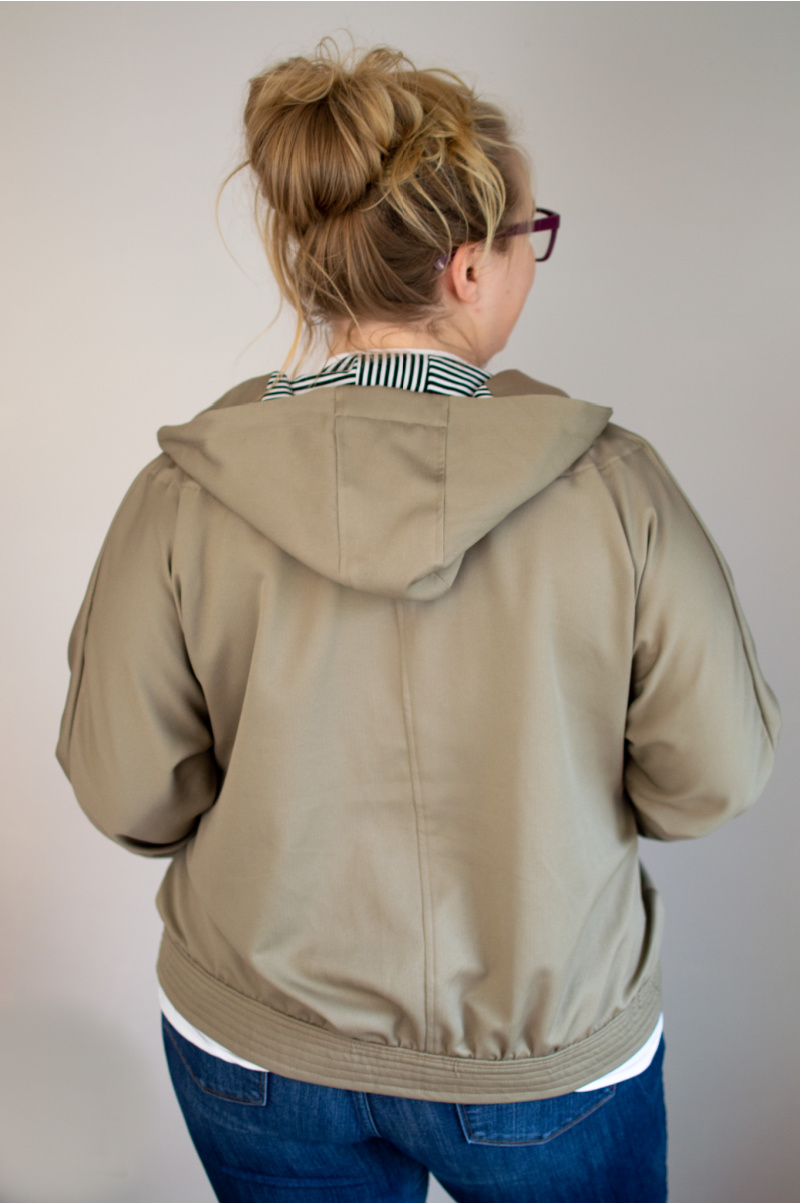 It features a lined 3-piece hood, deep welt pockets, long dolman-style sleeves, elasticated wrists, and a separate waistband.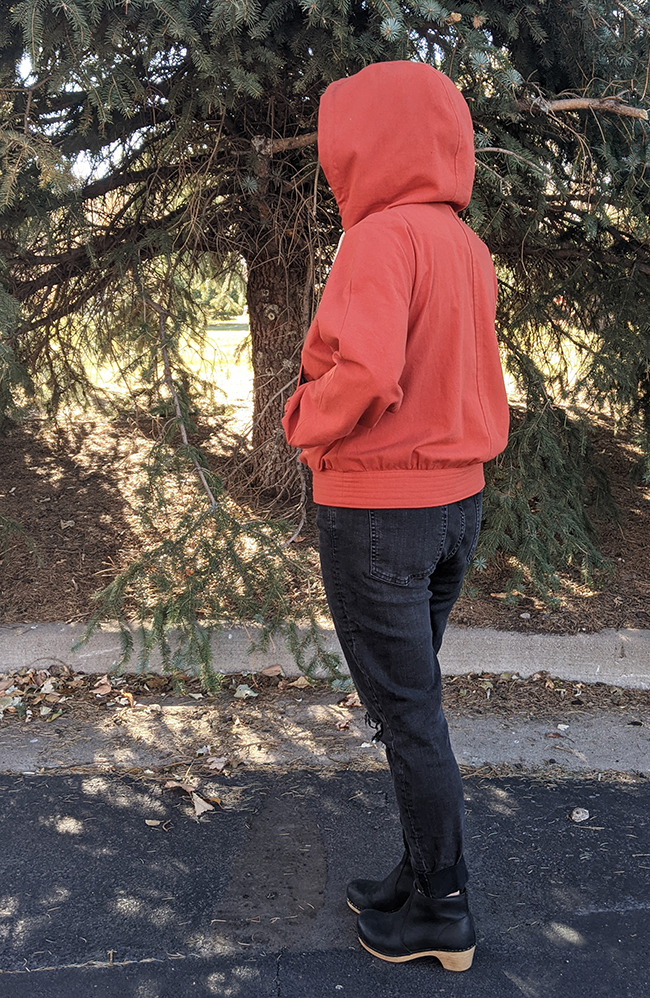 Optional decorative stitching on the welt lip and waistband add fun detail and can be sewn with contrast thread for extra pop!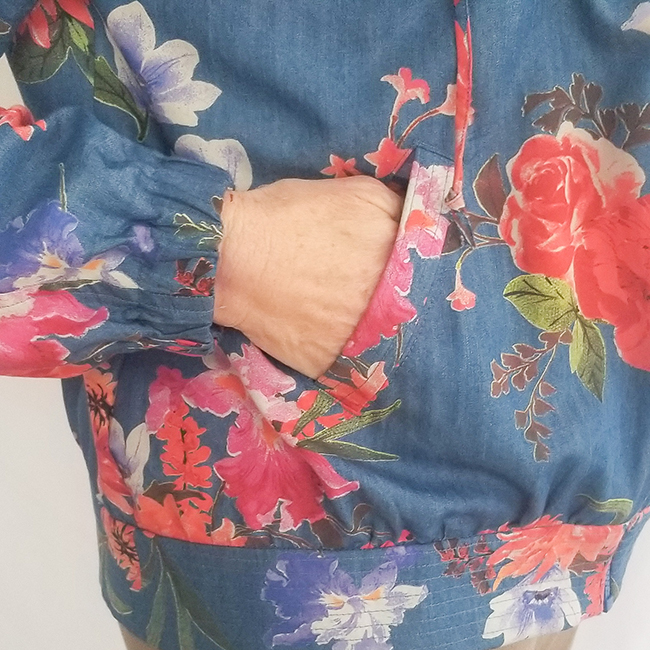 Grommets and drawstring are also optional, but add a great finishing touch to the jacket.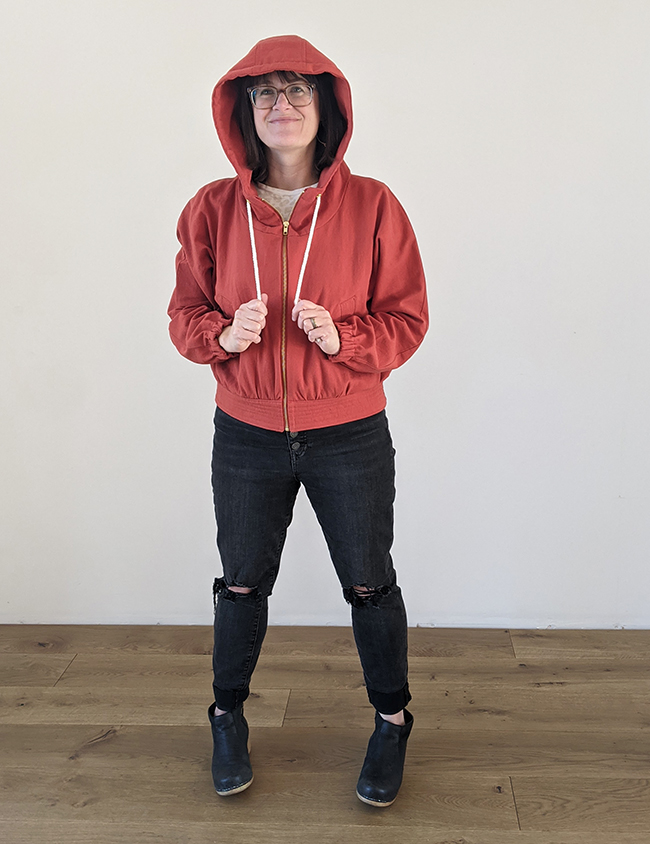 Intended Fit
The Wheaton is intended to be a cropped jacket, which means it is shorter than the traditional hip-length. It should hit on your high hip, just below the waistband of midrise jeans. The size chart includes back length measurements so you don't have to guess where it will hit on your body. I see a lot of reviews of sewing patterns on social media that say "it was more cropped than I expected" or other similar subjective language. I highly recommend using the measurements as they will provide specific mathematical proof of where the jacket will sit on your body. Through nearly a decade of testing, I've also found that total height rarely corresponds to torso/arm/leg length, so the back length measurement is going to be far more useful than a total body height, which is why that information is not included. It can cause people to shorten or lengthen unnecessarily.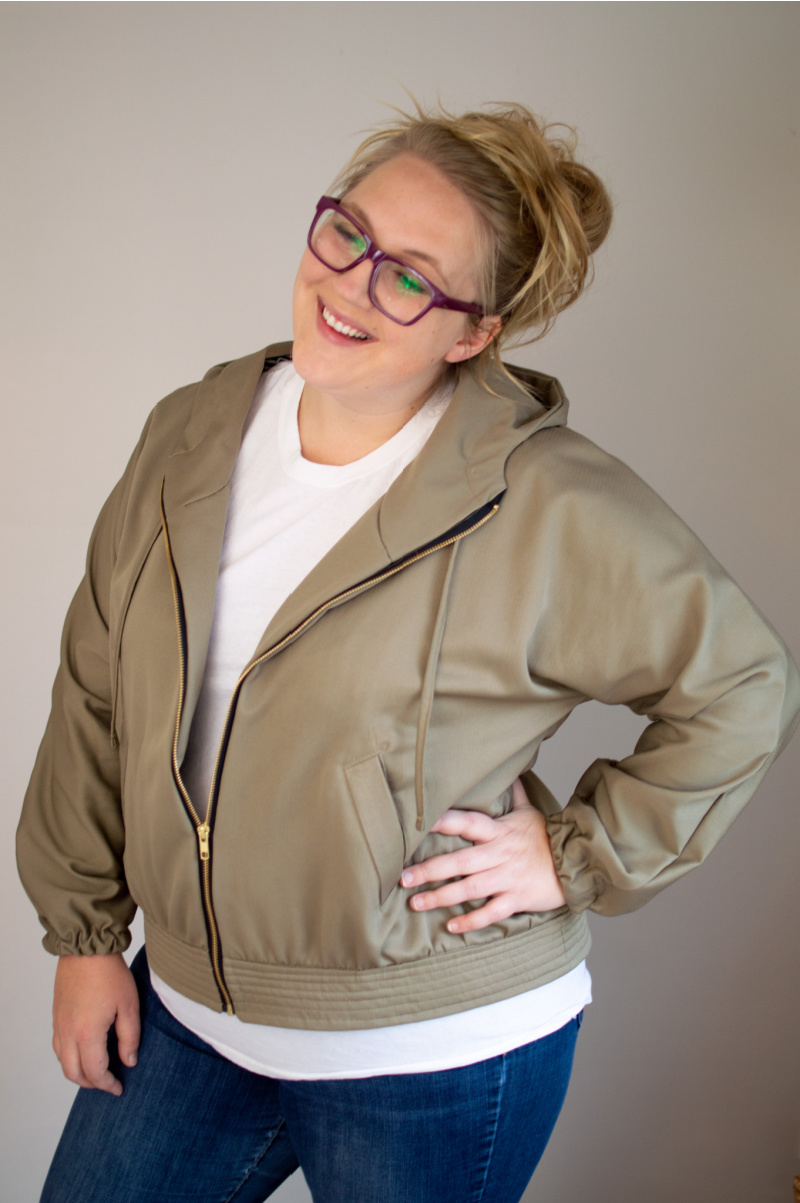 Similarly, the pattern includes sleeve lengths from center back neck to wrist. I also recommend using this to determine whether or not you should lengthen or shorten. In terms of intended fit, the wrist elastic should sit right below your wrist bone, but not covering any of your palm. For this jacket, that means that when you raise your arms the sleeves may contract and pull up on your arm a bit. If you don't prefer that, you can lengthen the sleeve. Just note that due to the nature of the wide sleeve and elasticated wrist, lengthening will cause a slight billowing effect above the wrist. The intended fit is meant to eliminate the billowing effect, but if you want longer sleeves, just note that this will happen.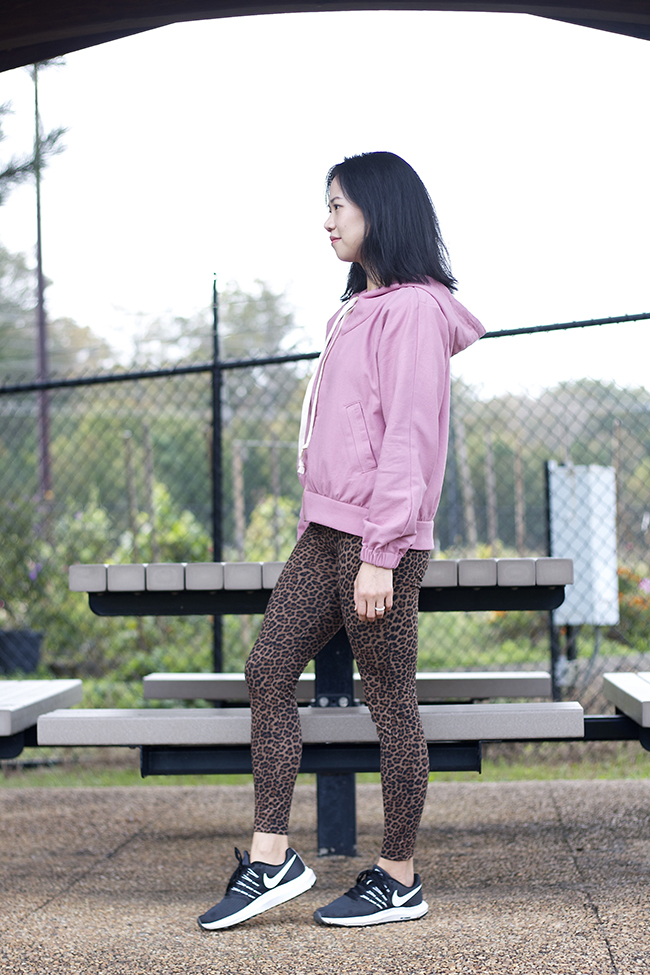 In terms of width, the Wheaton has plenty of style ease around the bust, waist, and low waist. (You can calculate how much ease you will have by subtracting your body measurement from the finished garment measurement at each point on your size.) The excess ease is gathered into the waistband, which should fit you with no more than 2.5″ of ease. A full bust adjustment was not necessary for those testers who would normally perform one because of the ease and the style of the dolman sleeve. However, if you feel like you would benefit from one, you can use this tutorial as a reference for performing a full bust adjustment on a dolman style sleeve.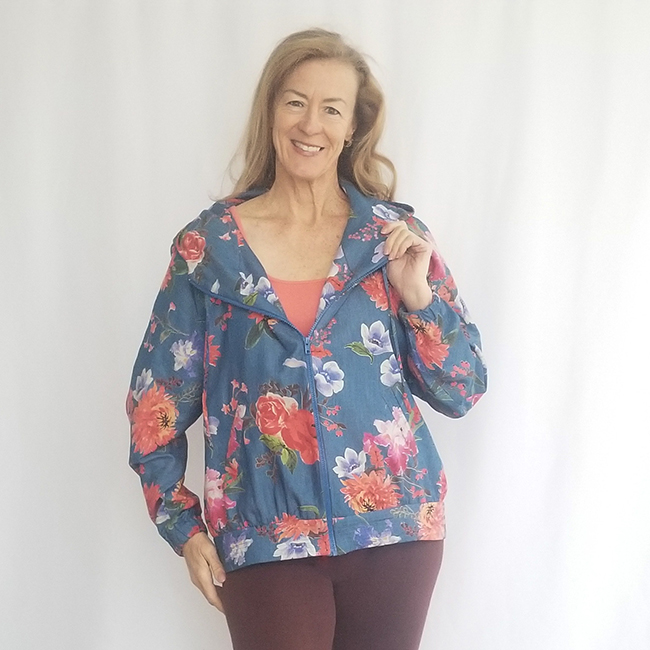 As a general style rule, garments tend to be more visually appealing when they are either wide or long, but not both. The Wheaton is intended to be wide but cropped. This is completely subjective and you can make your clothing however you prefer, which is the joy of sewing! But keep in mind that when you lengthen a garment with a lot of ease in the girth, it will appear larger than it does at a shorter length.
Fabric Recommendations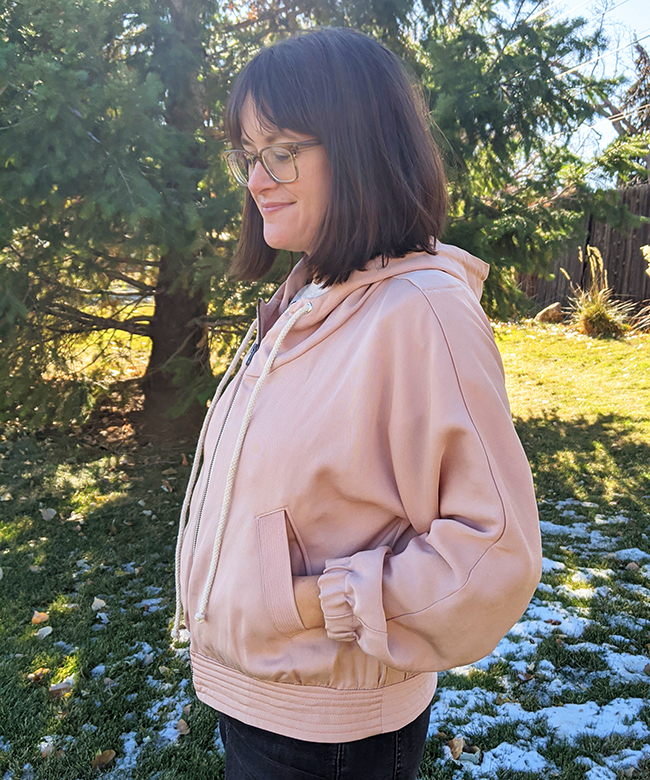 Because of its blousy nature, the Wheaton looks excellent in any woven fabric with drape. Drape is usually a result of blending woven fabrics with substrates such as rayon (or Tencel). The light pink version shown above is made with Tencel twill, which is one of the most drapey fabrics on the spectrum. This is going to be a little more difficult to cut and sew if you don't have experience with this substrate. Other great options that still have good drape but are easier to cut and sew are rayon linen or lightweight denim/chambray, like the two versions below.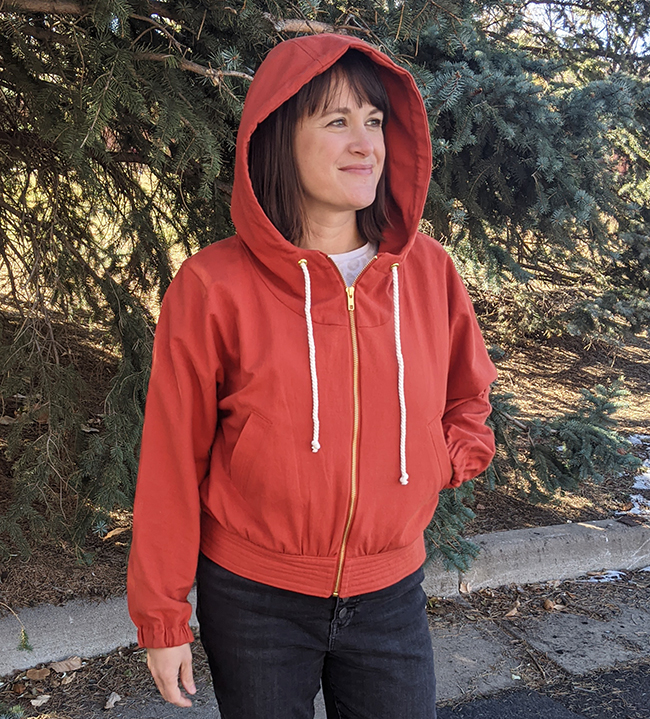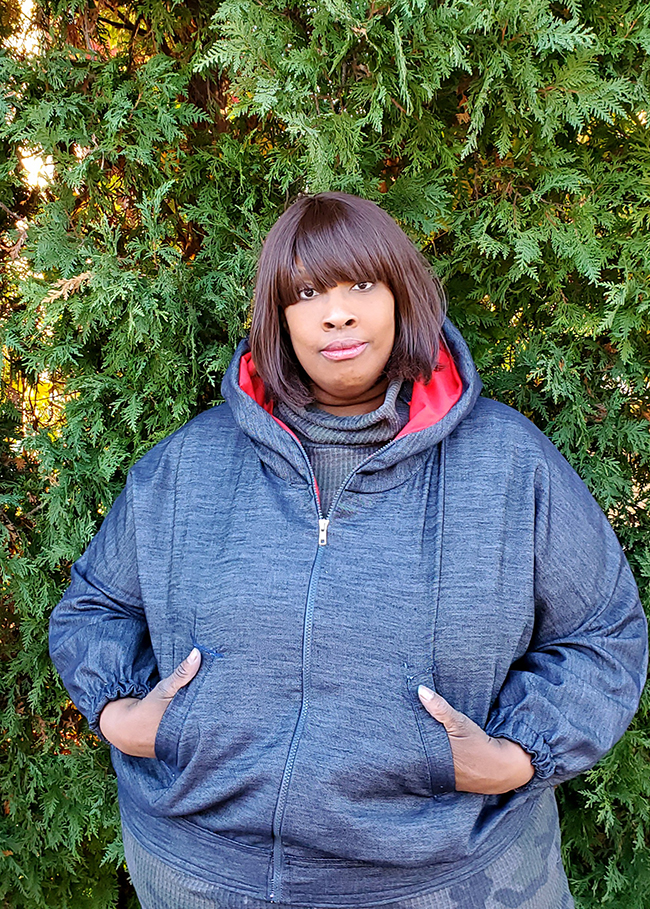 During testing, we also found that fabrics with less drape and more hand also worked beautifully, opening up the fabric recommendations to almost any light to midweight woven fabric, such as flannel, linen, corduroy, or twill. Just keep in mind that fabrics without drape will appear and feel more fitted since they don't have any give. The brown jacket below is 100% cotton twill.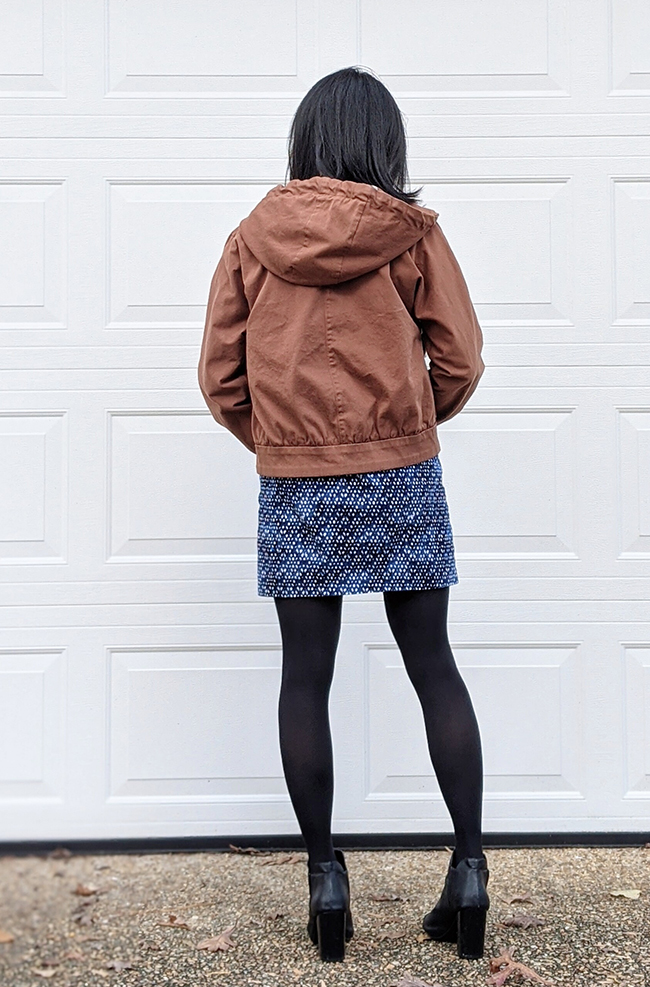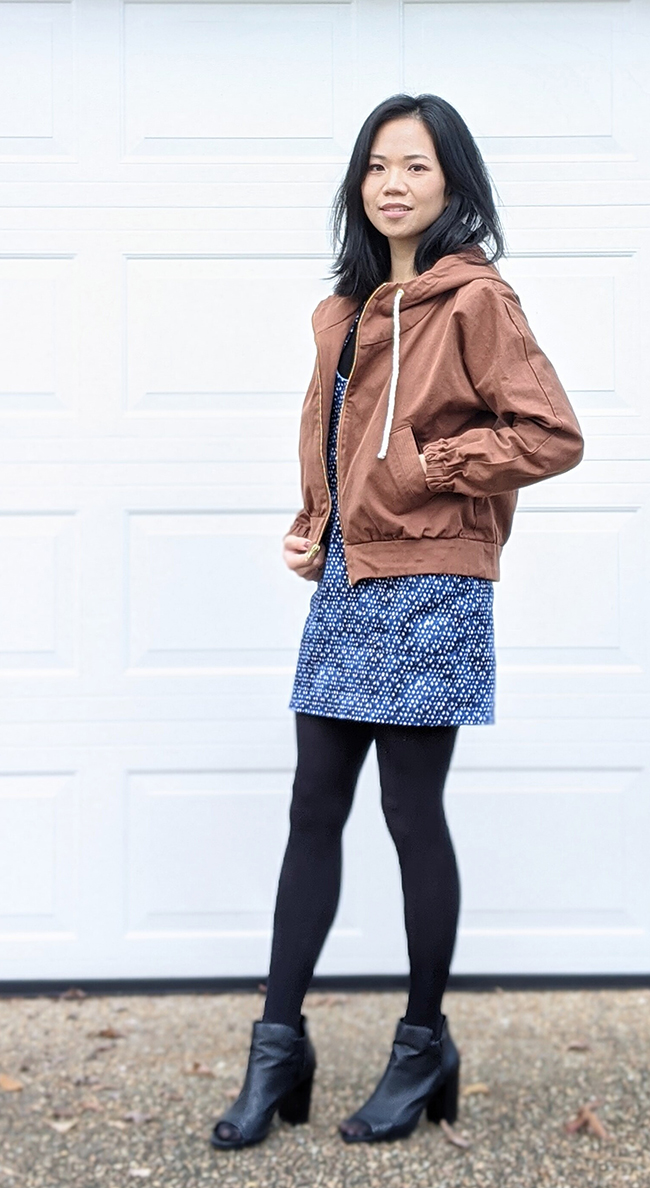 The Wheaton looks equally great in solids as it does in florals, prints, and plaids, so have fun with your fabric choices! One tester even used a solid for her jacket and a plaid for the facings, which produces a really cute contrast when the jacket is unzipped.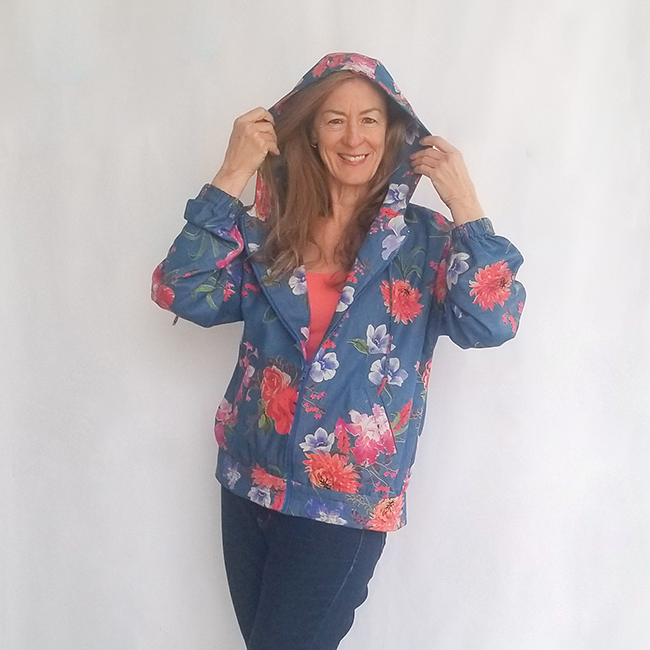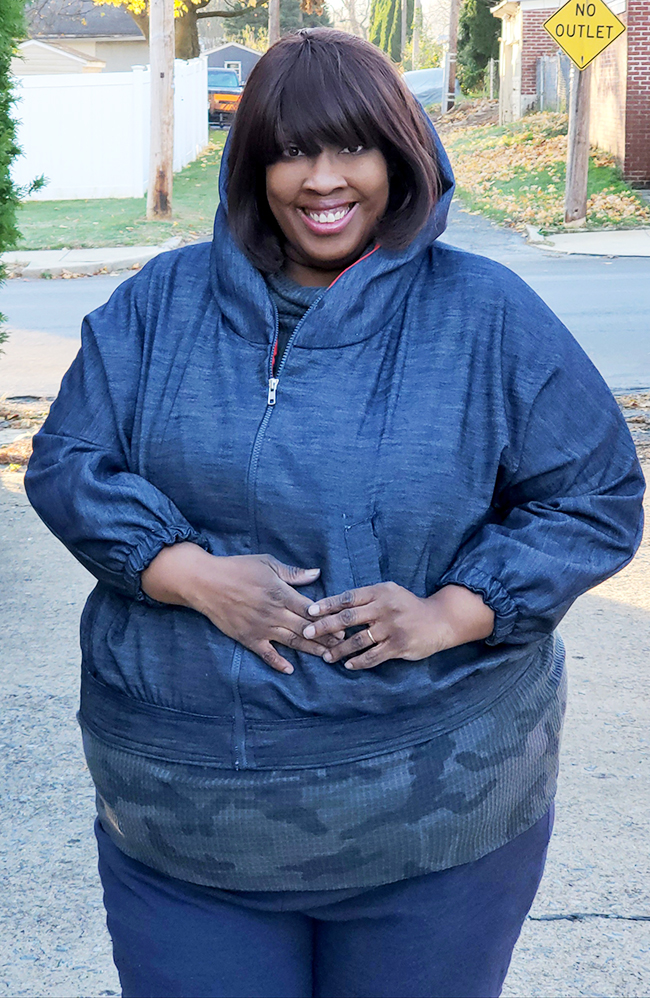 Wheaton is included in the semi-annual site-wide sale, so make sure to grab it in the next week for 20% off!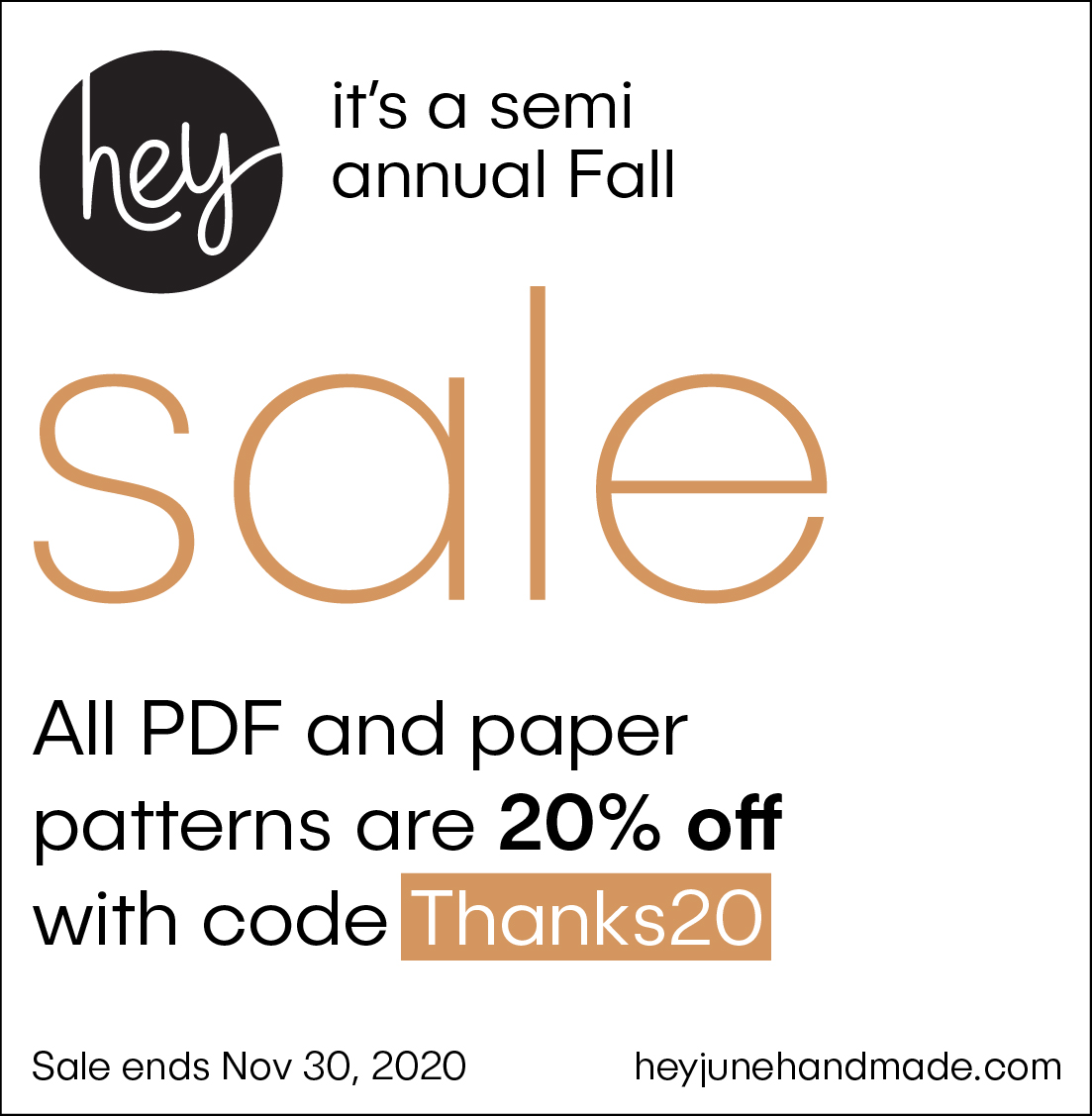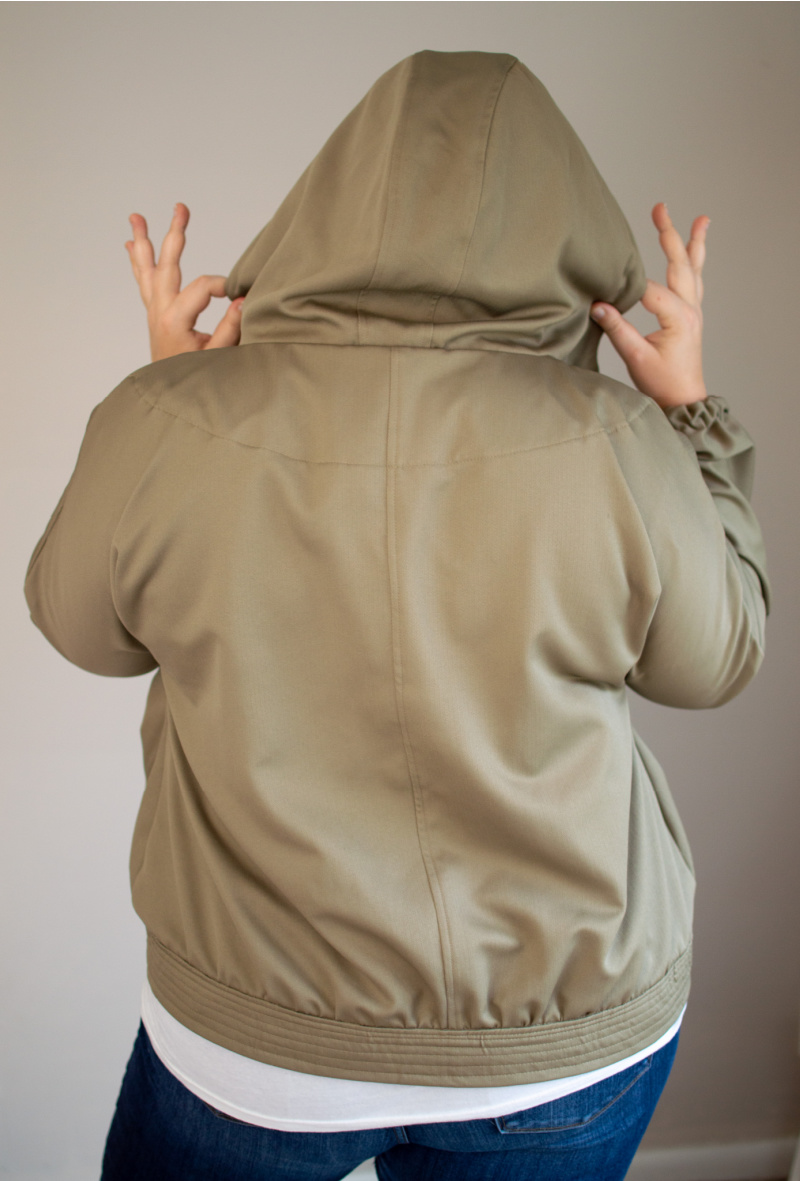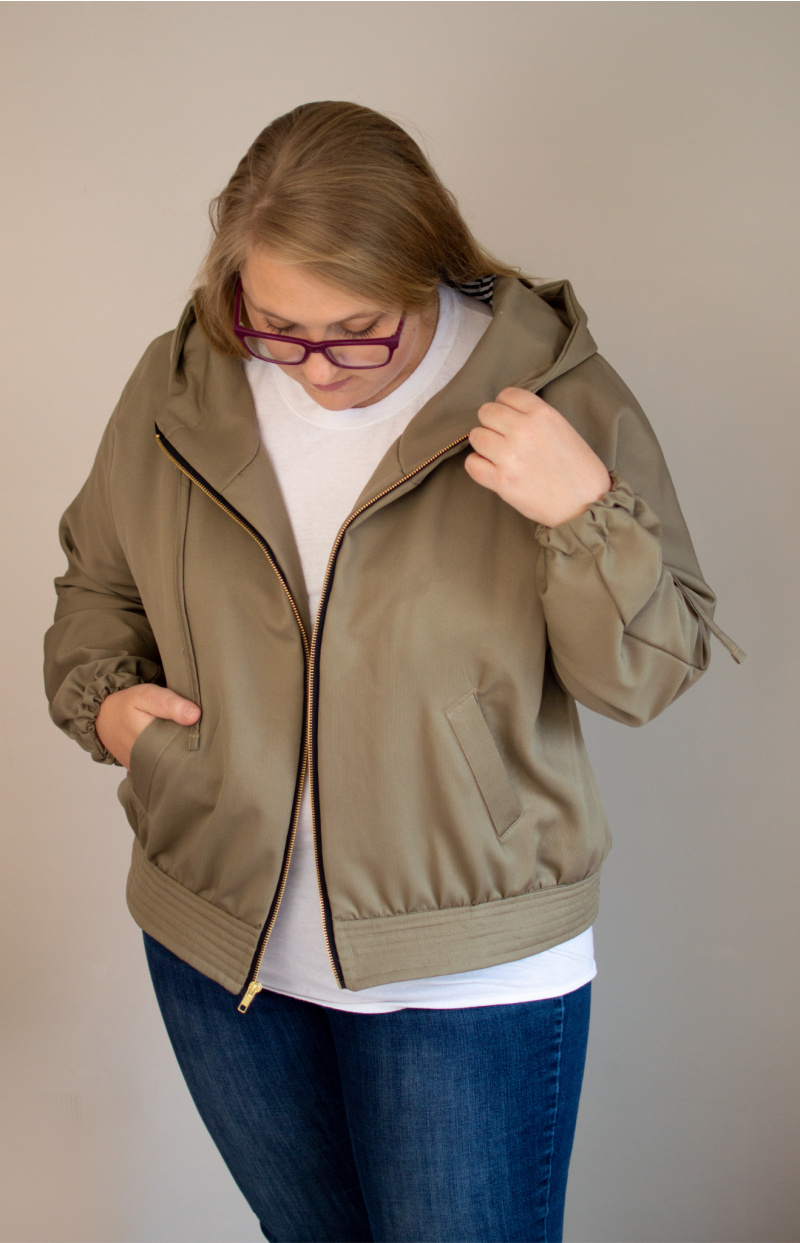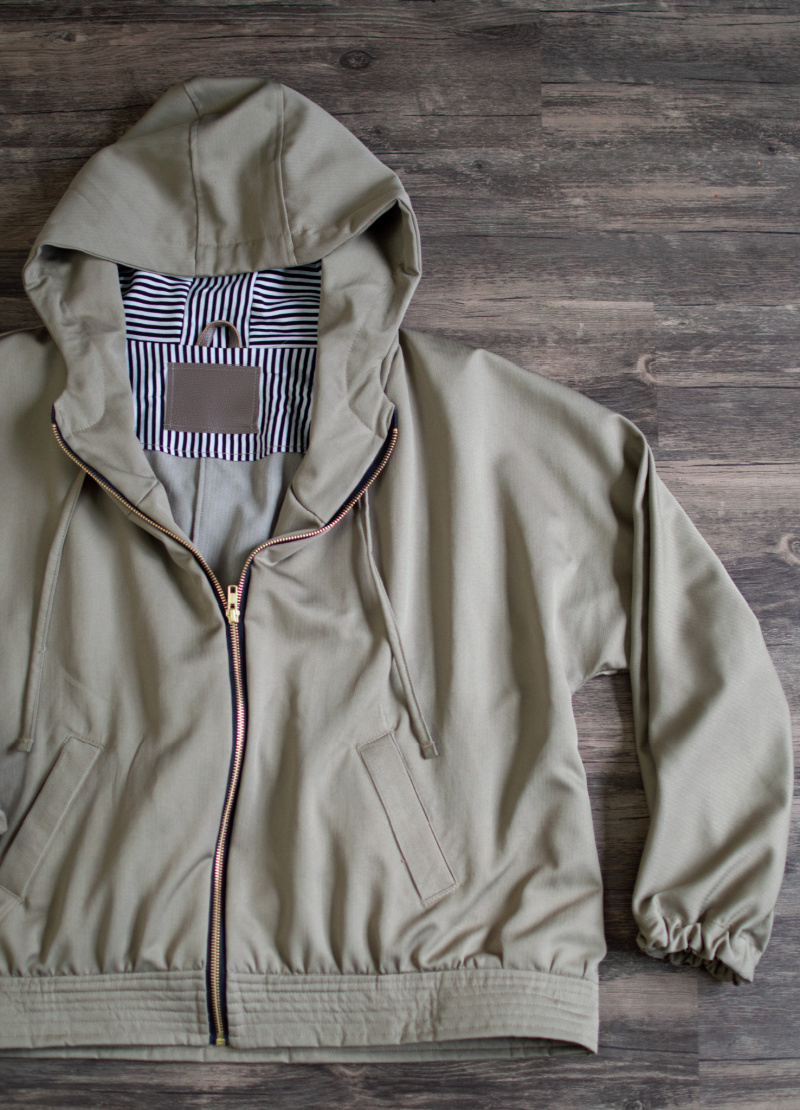 Shoutout to all the models in this post!