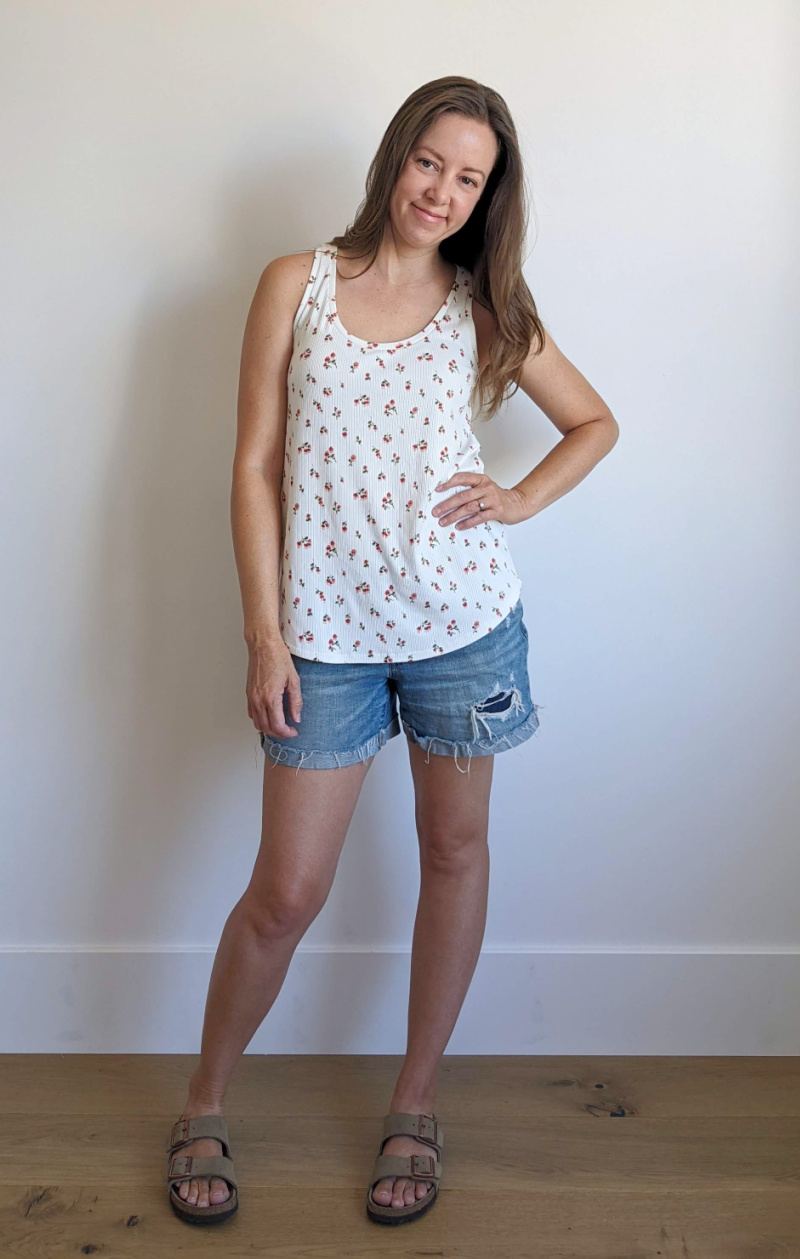 At long last, I'd love to introduce the newest Hey June pattern – the Union St. Tank!
This has been one of the most requested designs since way back in 2014 when the Union St. Tee was released, and now it's finally here!
Design Overview
The Union St. Tank is a casual knit tank top with banded armholes and necklines. Like the tee that shares its name, it is fitted through the shoulders and bust, and relaxed through the waist and hip. A curved hem sits higher at the side seams and lower at center front and back. The back is full coverage and works well over regular bras, and you can choose from a scoop or V neckline in the front. The V neckline is sewn with a modified technique that makes it as easy as sewing a dart. This pattern includes sizes 0 – 30 with a separate front piece that includes a full bust adjustment for all sizes and both front styles. The Union St. Tank is perfect for casual dressing during warm weather or layering in colder months.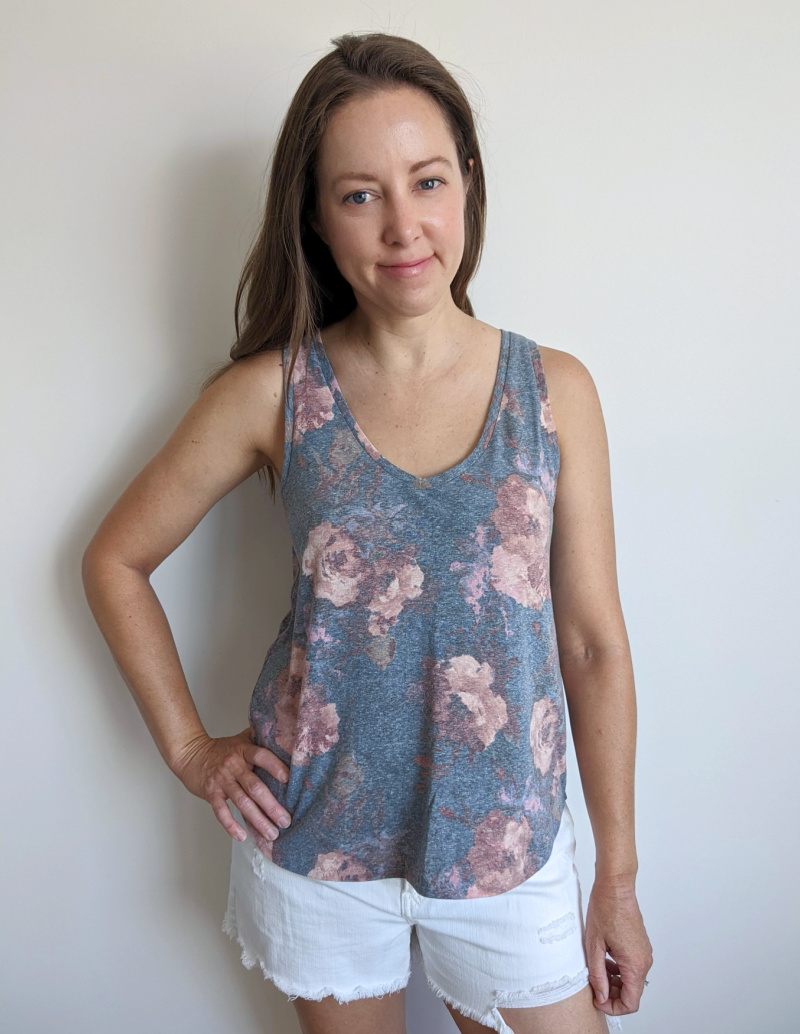 Style
The Union St. Tank is designed to be the ultimate answer to laid back casual dressing when the temperatures rise. The full coverage back and wider straps make it bra-friendly, so you don't have to fuss around with special undergarments. Ease through the waist and hip make it comfortable and lend it a great slouchy look. It looks great paired with cut offs, sandals, and a ball cap, or layer a cardigan over it when the weather takes a turn. Once you perfect your fit, this tank can be made with a huge variety of knits and will become your favorite summer wardrobe piece!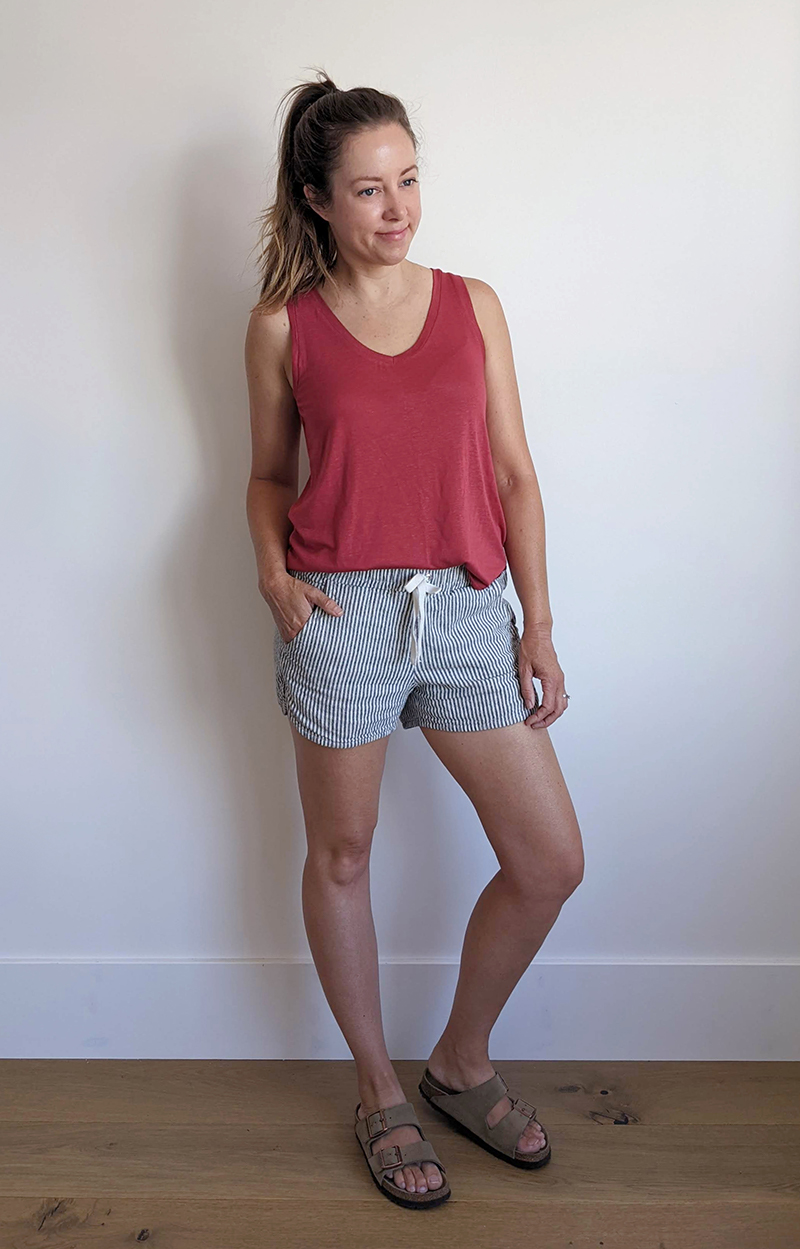 Fabric Selection
The Union St. Tank works best with light to midweight jersey knits with at least 75% stretch and good recovery (recovery is often provided by a small amount of spandex, brand name Lycra®). Composition may include cotton, polyester, linen, silk, hemp, or bamboo. Rayon blend French terry also works well with this pattern.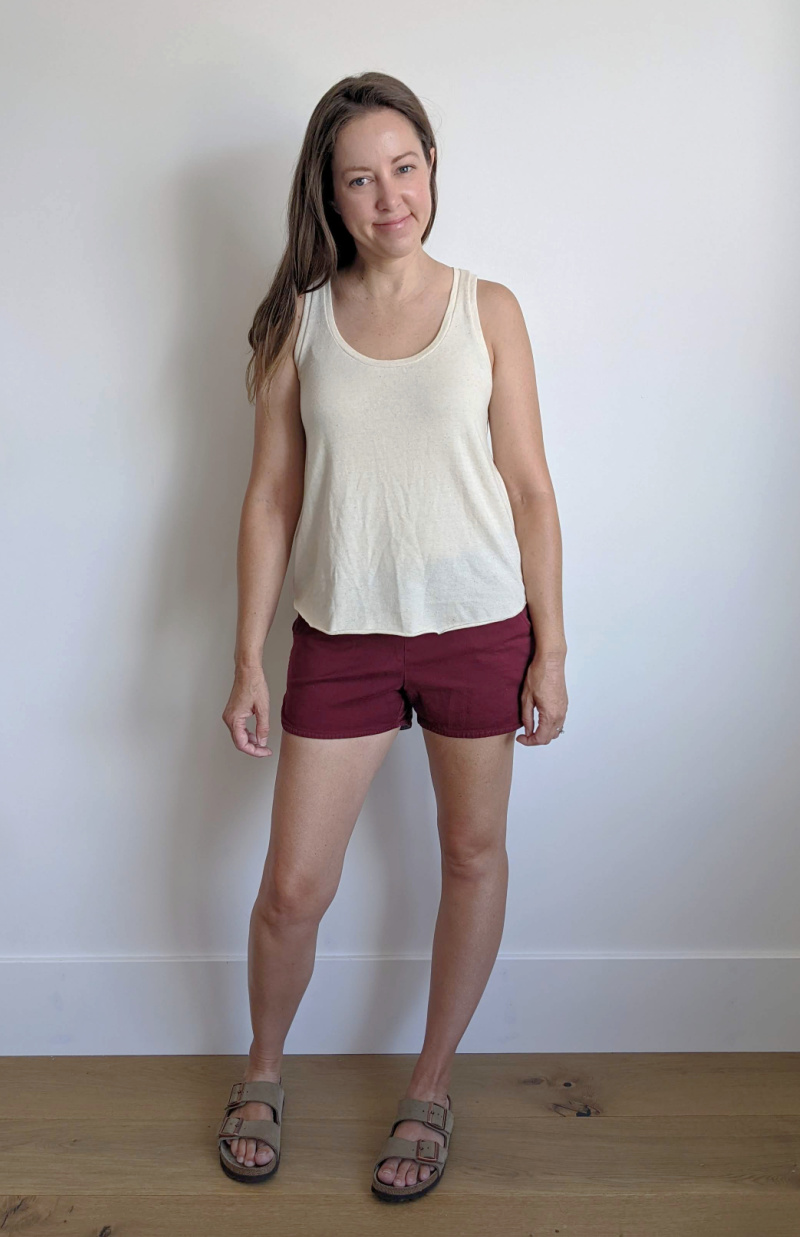 In these samples, the cream and rust colored tanks are tissue weight linen knits with a small amount of spandex. The white floral fabric is a rib knit, and the large scale floral is a rayon french terry.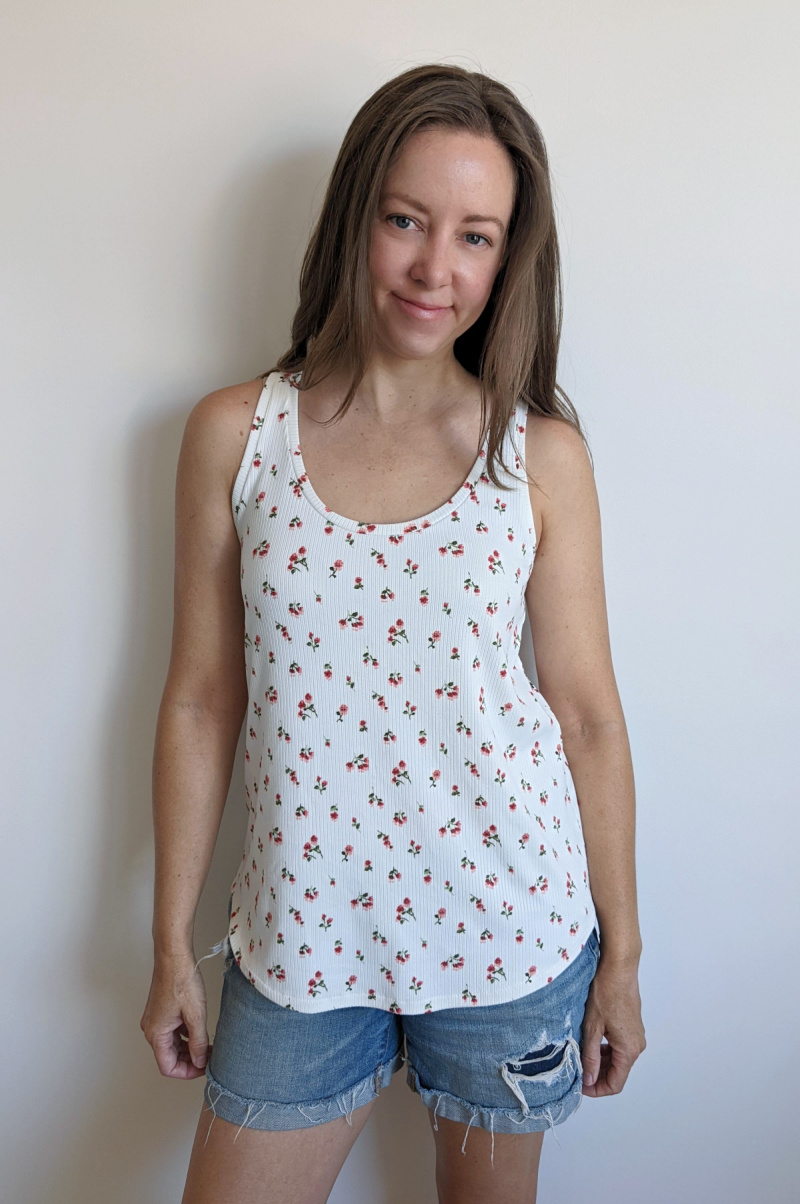 The bands are inserted in flat and the level of stretch in each area of the openings depends fully on the type of fabric you use. Because of this, the pattern uses a more intuitive method of band insertion than the normal "evenly distribute length" method. The pattern instructions go into great detail, with two pages of tips and tricks, and I've also put together a quick video showing what different stretching looks like.
Sizing
The Union St. Tank comes in sizes 0 – 30, with a full bust adjusted front piece for every size in both the scoop and V neck views. Choose your size based on the high bust measurement and size up if between sizes.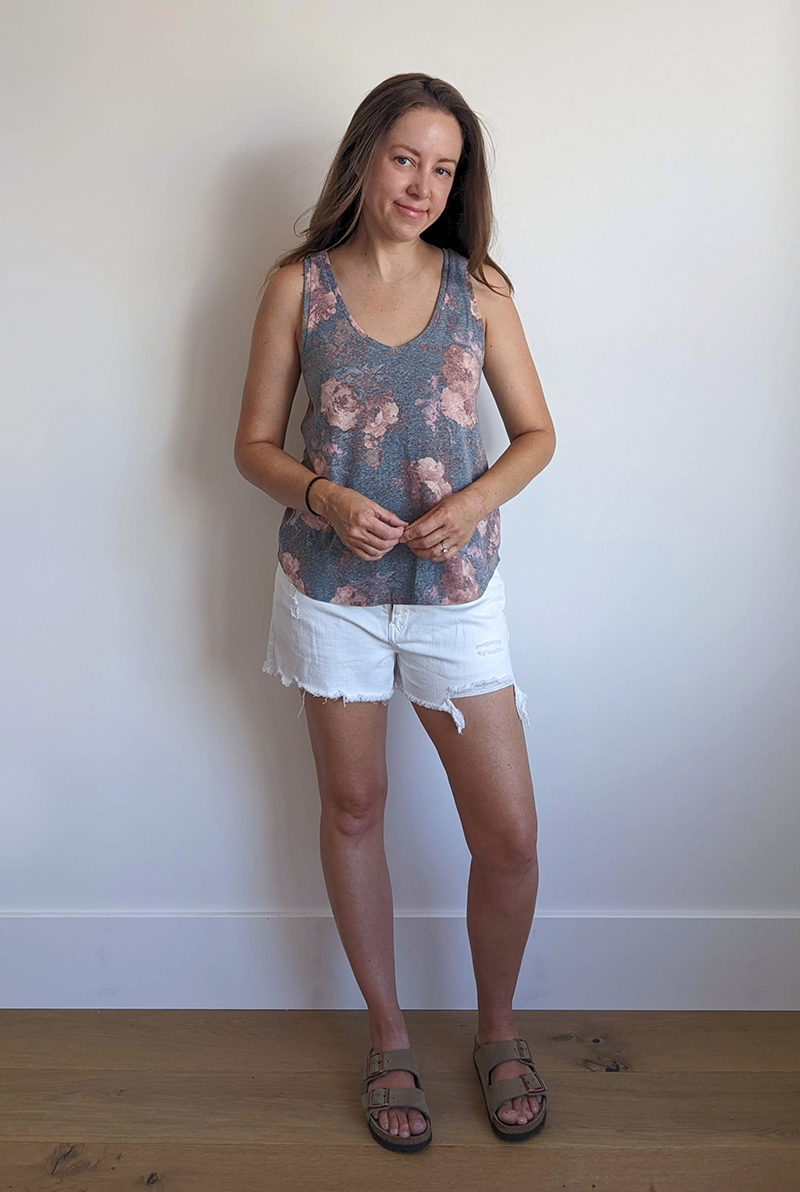 Alterations
The Union St. Tank is very straightforward so alterations are easy! After picking your size based on high bust, perform any necessary grading at the waist and hip. Length adjustments can also be made for more petite or taller sewists, or if you prefer a shorter or longer top. The pattern has a few diagrams for these alterations, along with a diagram showing how to shorten or lengthen the strap area.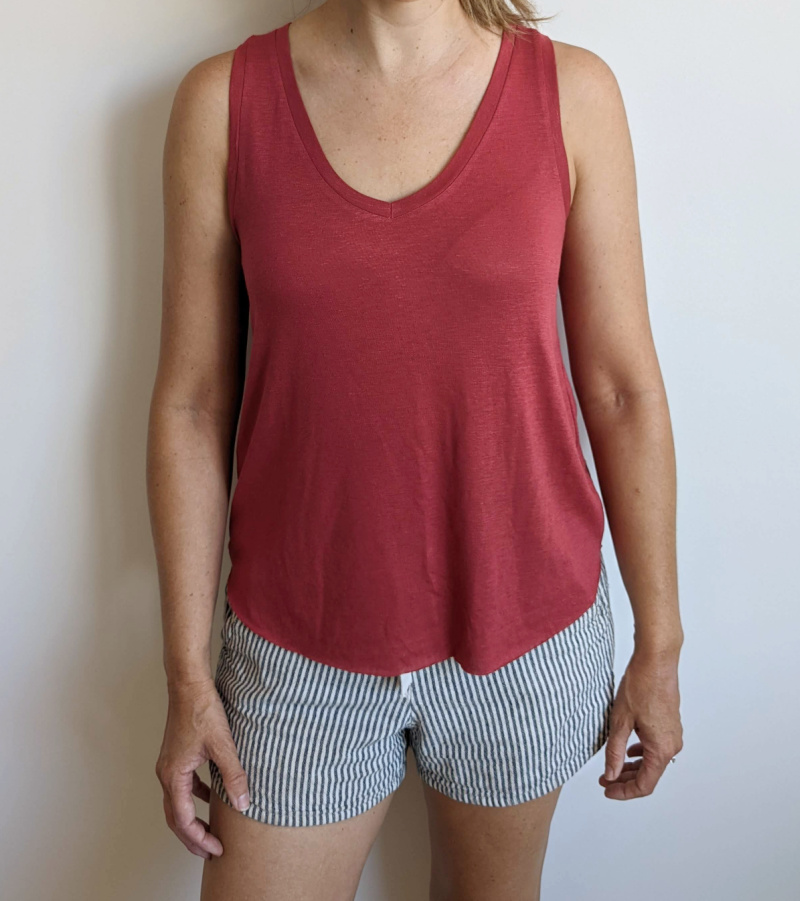 All of the samples in this post are a straight size 6 based on high bust. The two solid tanks have been reduced one inch in length. The large scale floral is made with no alterations. The white floral is lengthened 2 inches. Simply changing the length of this tank top can also drastically change the style and look! Just remember that if you lengthen it, you may need to add width at the hem to ease over the full hip.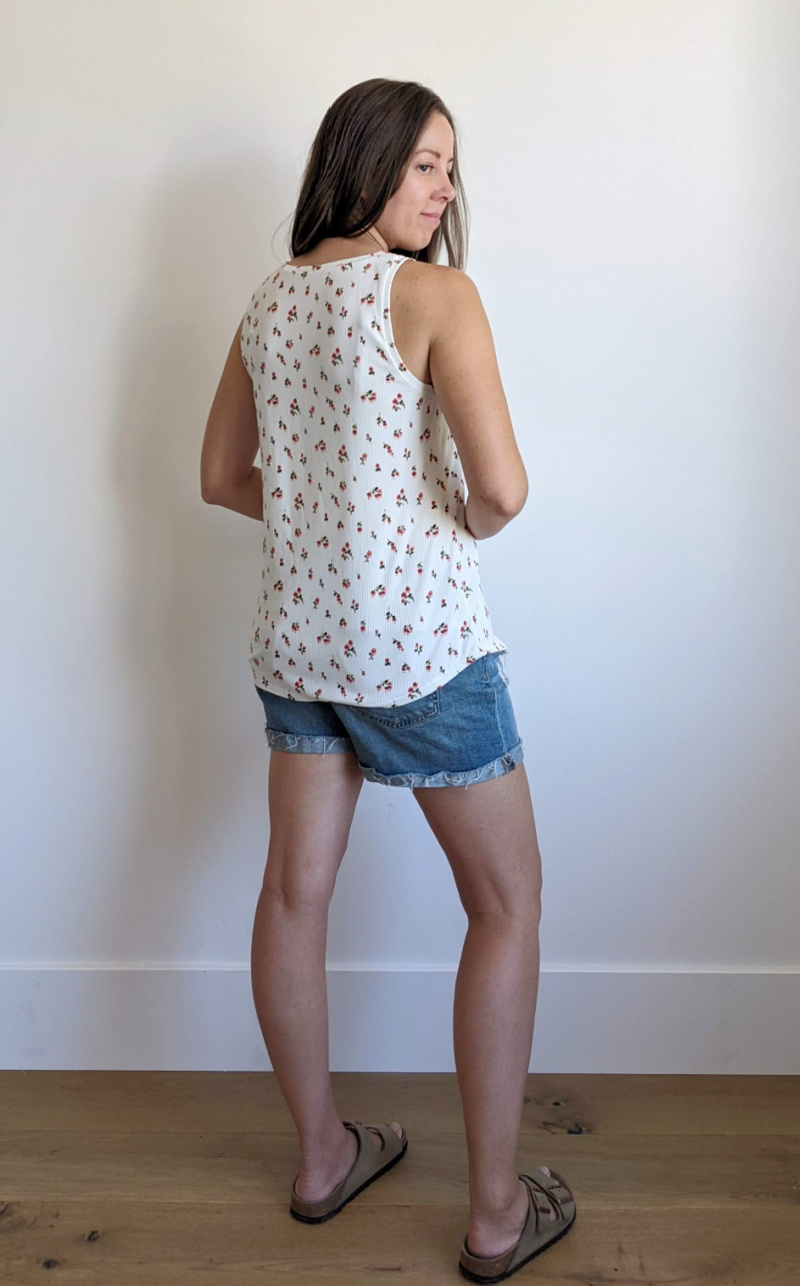 Purchase and Use
The Union St. Tank can be purchased here. This pattern can be used for personal home sewing use, either making garments for yourself or to sell in your small handmade garment shop.
If you are new to digital patterns, here is a complete overview of what they are and how to use them.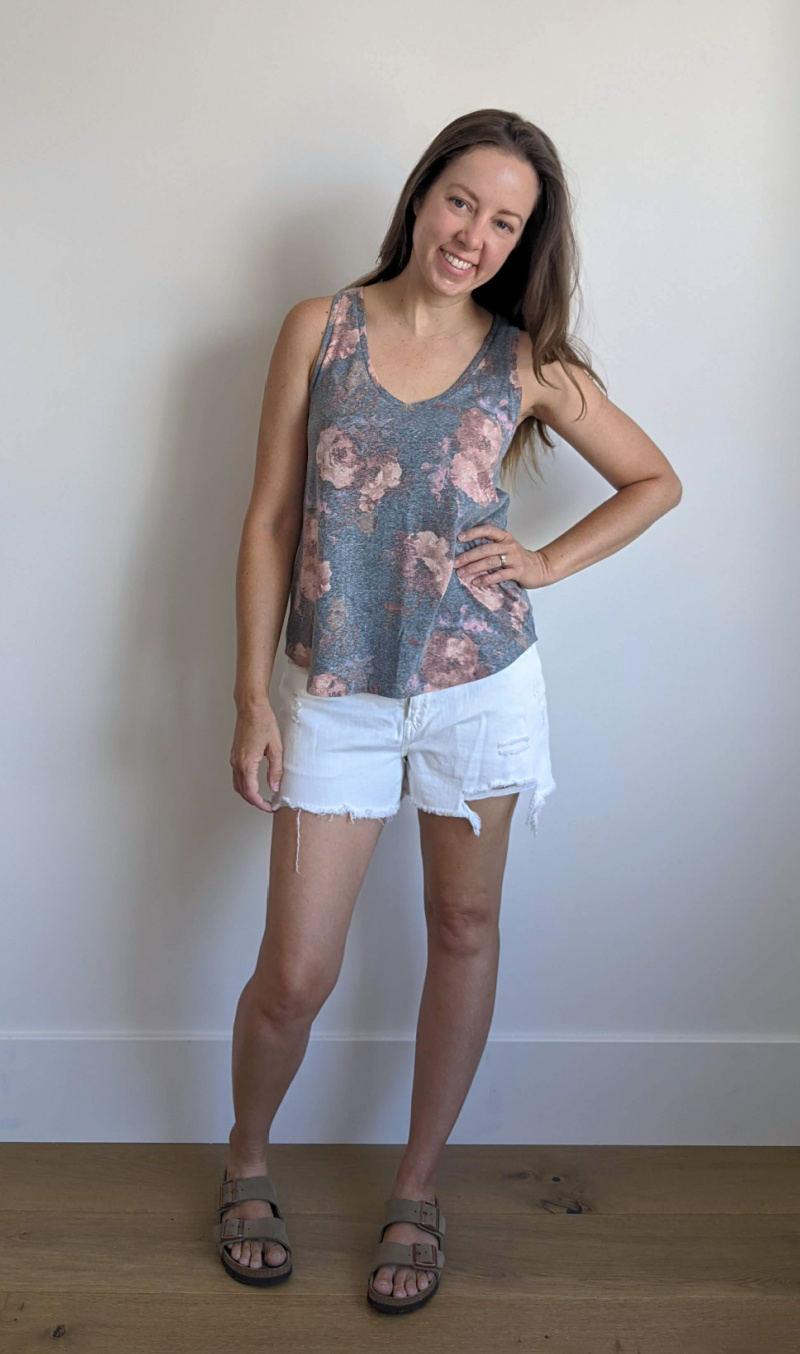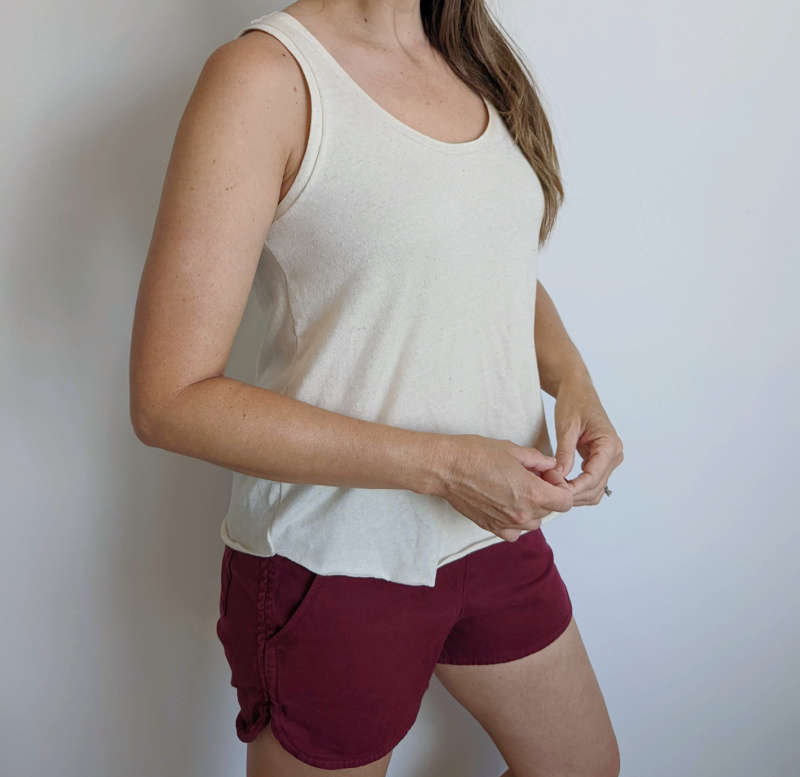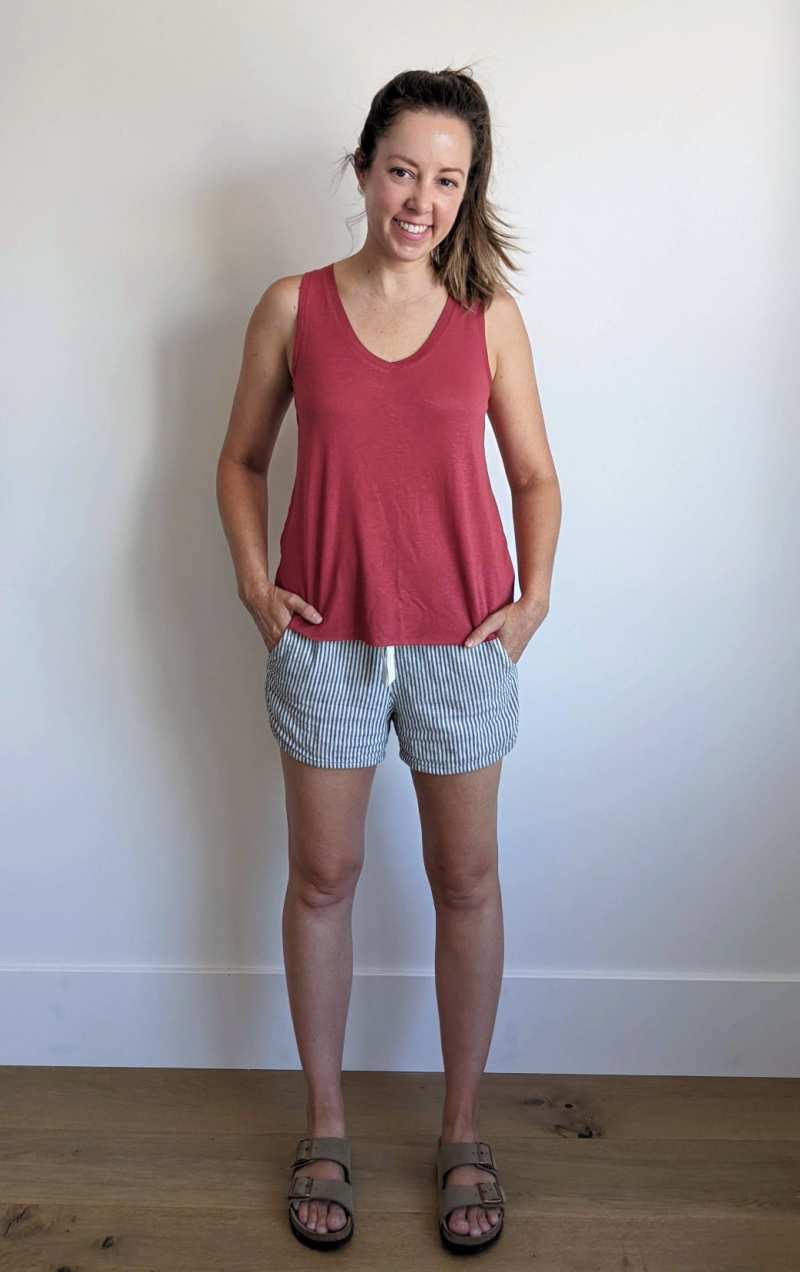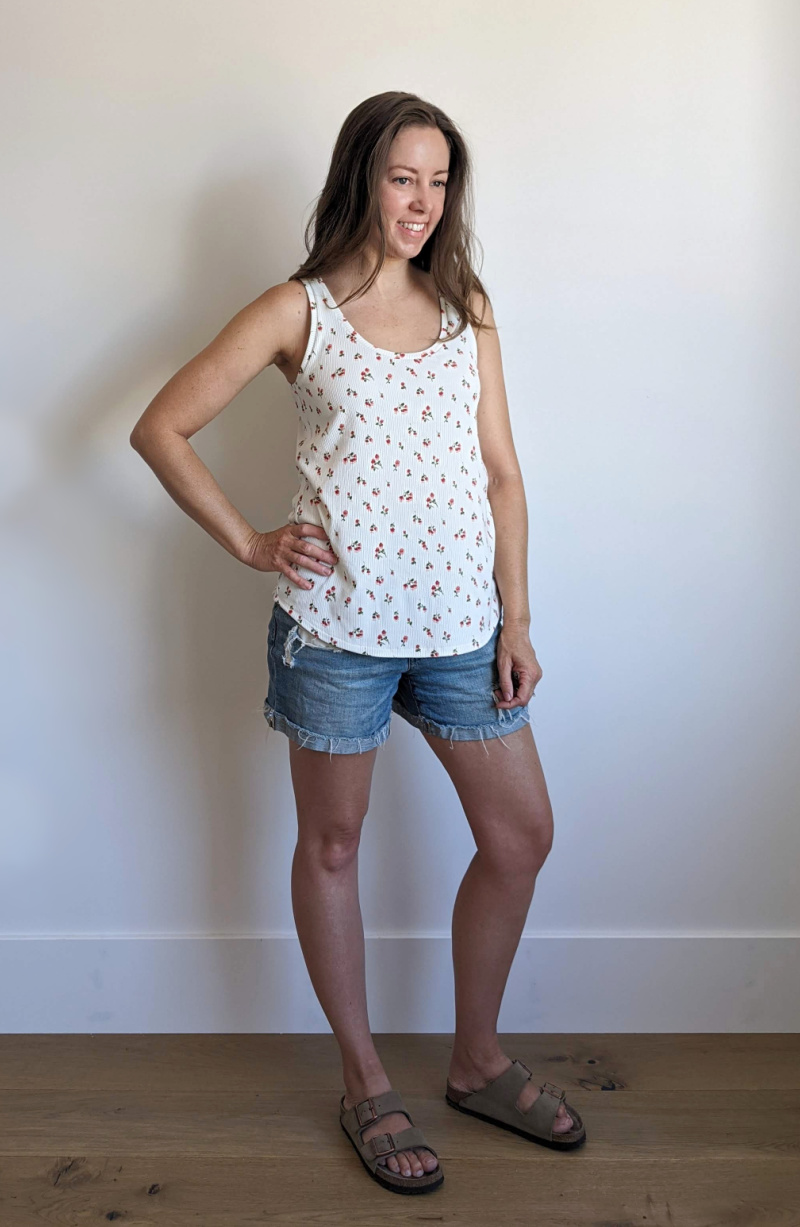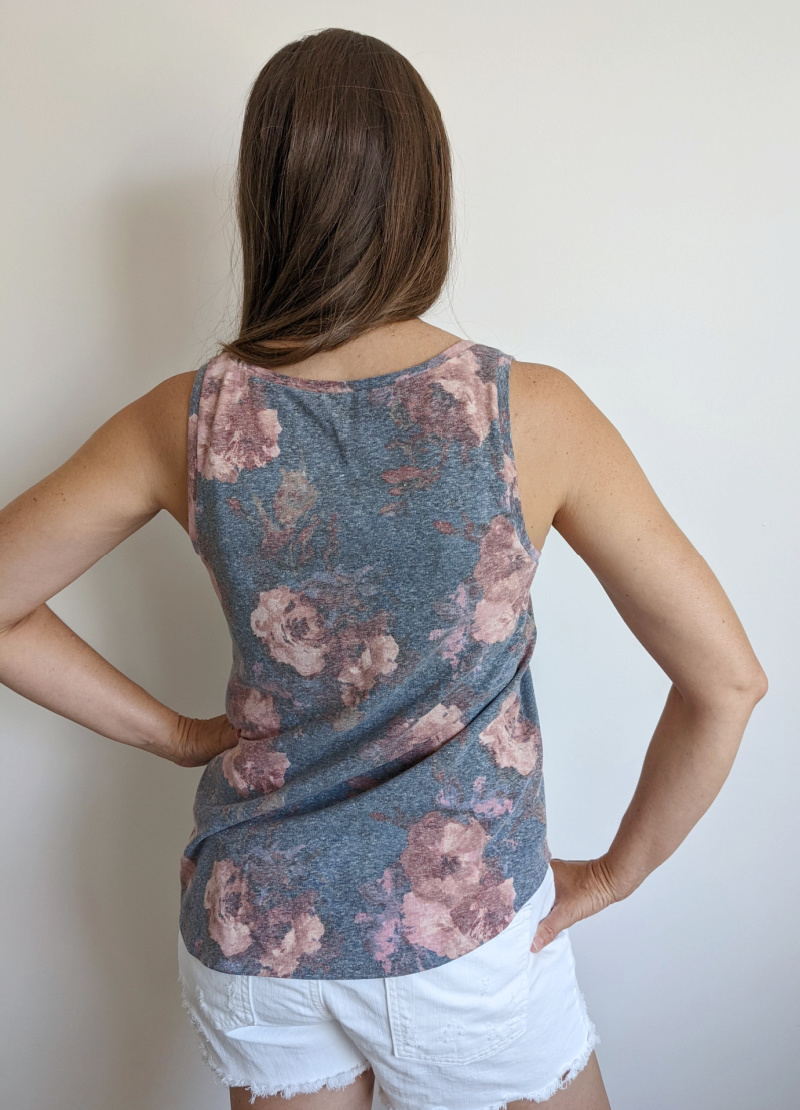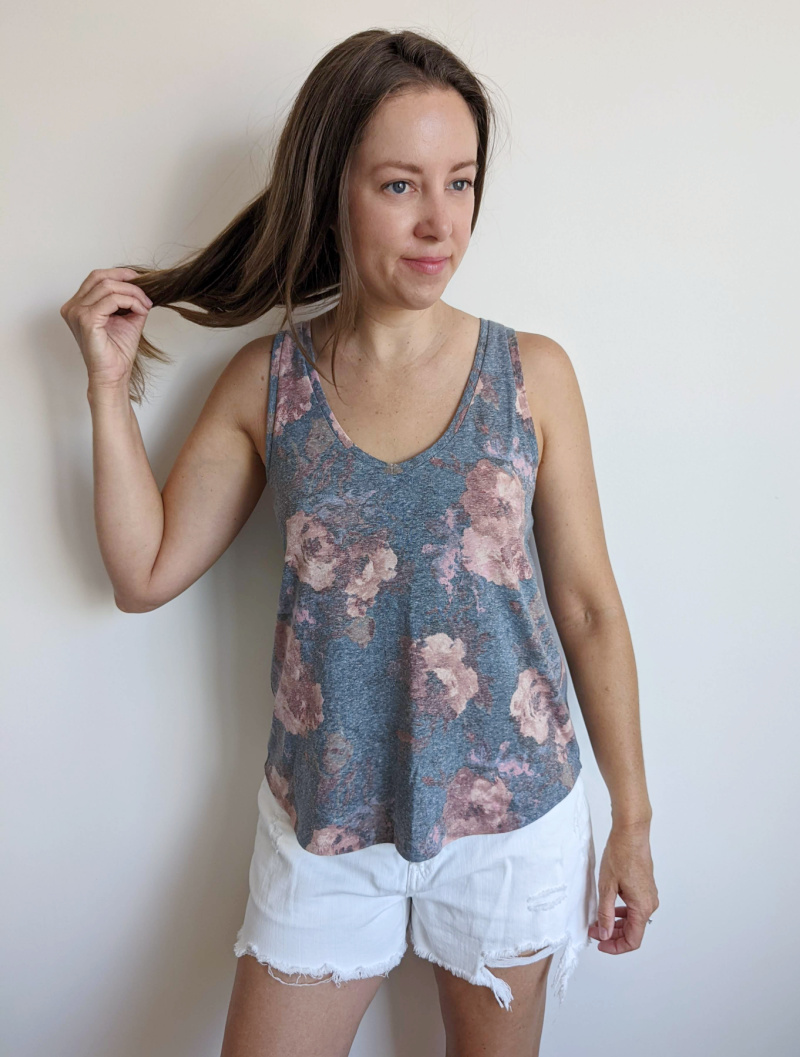 Sources
Solid fabrics: Koshtex
Floral fabrics: Alyssa May Designs
Striped and maroon shorts: Vero Beach Set shorts
Jean shorts: Gap
White jean shorts: American Eagle
Sandals: Birkenstock