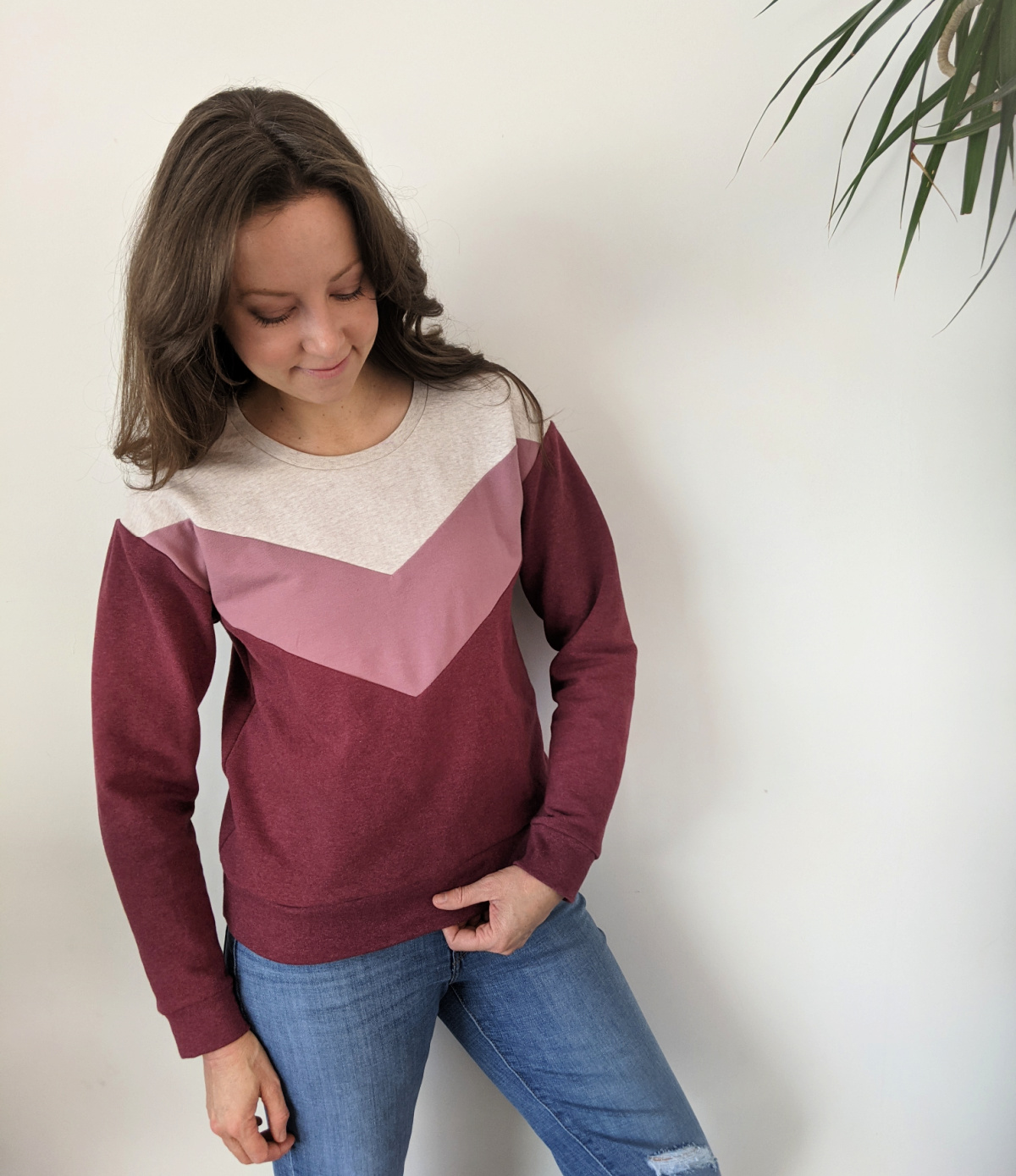 Introducing our latest pattern, the Sitka Sweatshirt. This blog post has all the information you'll need to make an informed purchase, along with the information in the listing. As you scroll, you'll find 6 sections:
Views
Fit
Fabric Recommendations (including sources from this post)
Styling and Hacks (including a Pinterest inspo board)
Sizing, Price, and Format
A short video tutorial for sewing the point on views B and C
Please leave a comment or email with further questions!
Views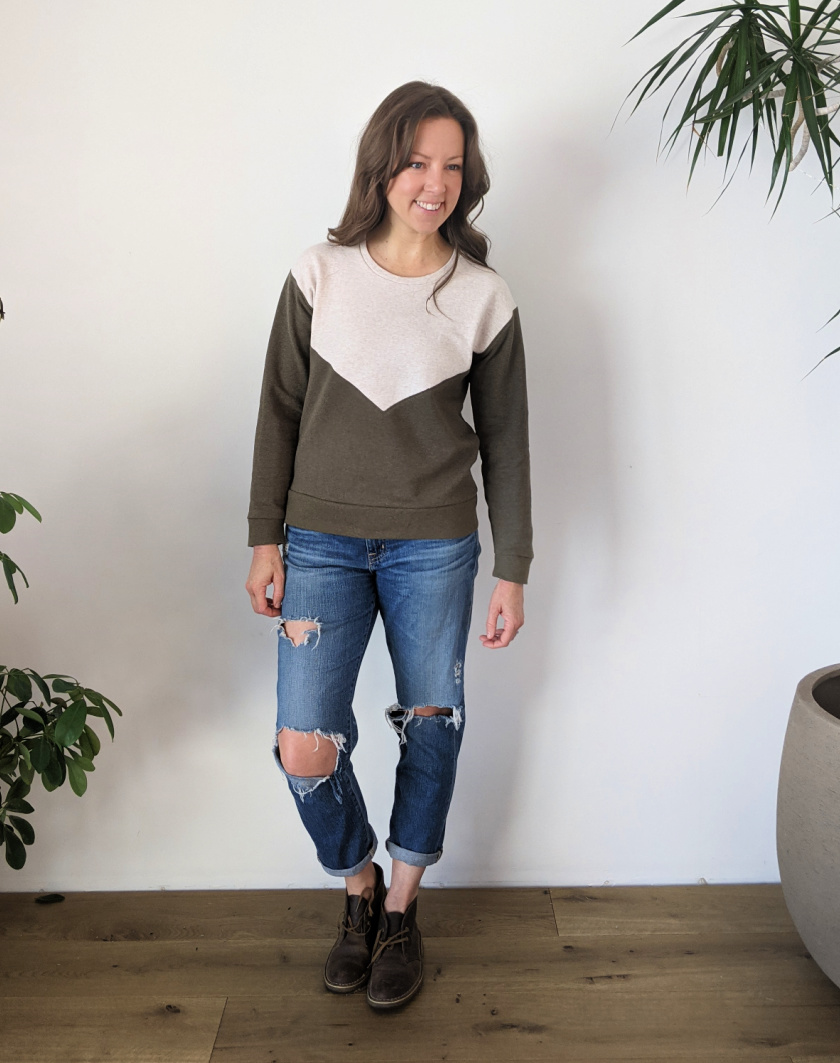 Sitka is a shrunken, crew-neck sweatshirt with a dropped sleeve in three views. View C features two chevron-shaped colorblock pieces. The design is repeated on the back as well, or use the back piece from view A to make it solid.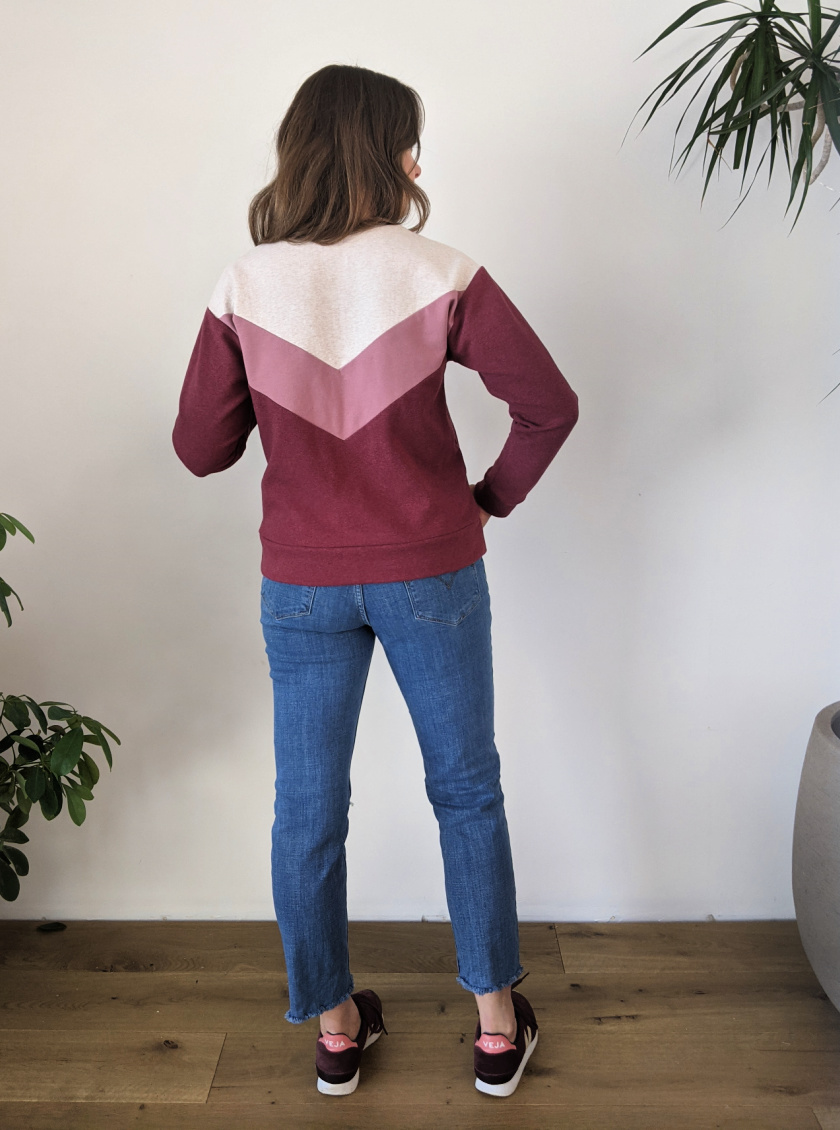 View B has only one chevon-shaped colorblock seam.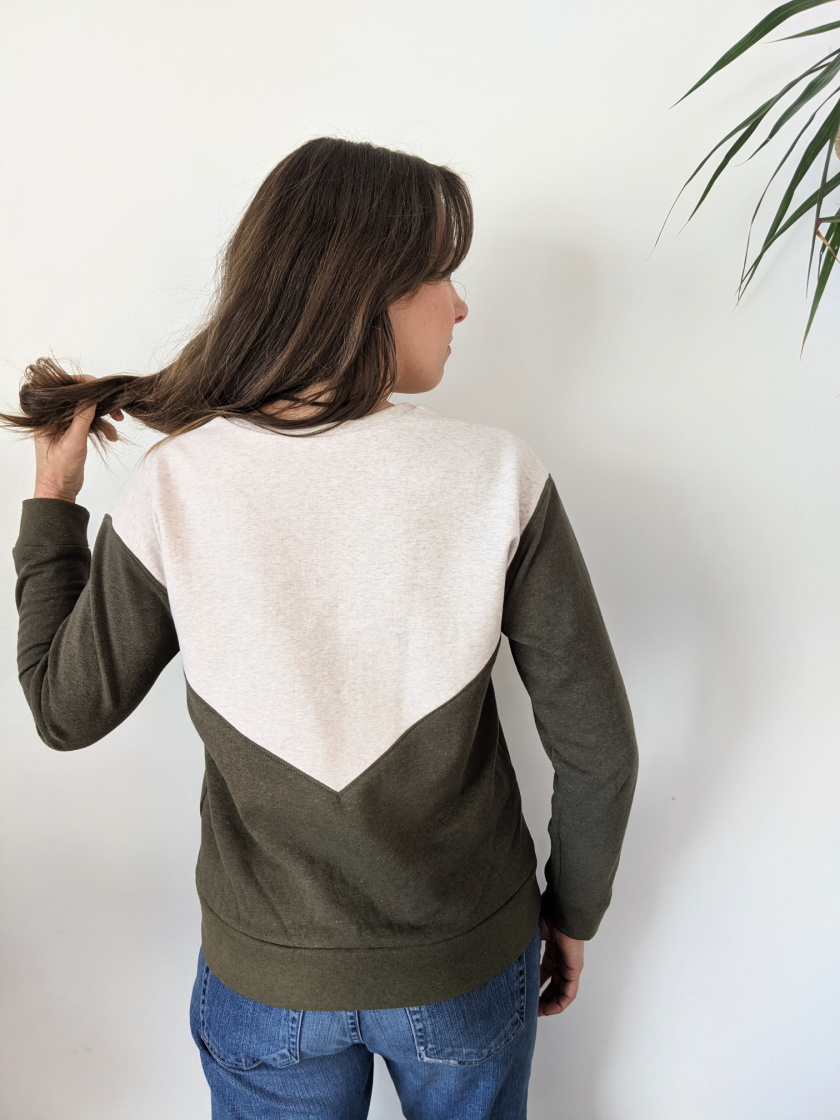 View A is a perfectly simple plain sweatshirt, with endless opportunities for customization and hacking. A heat transfer vinyl or embroidery would be a great place to start!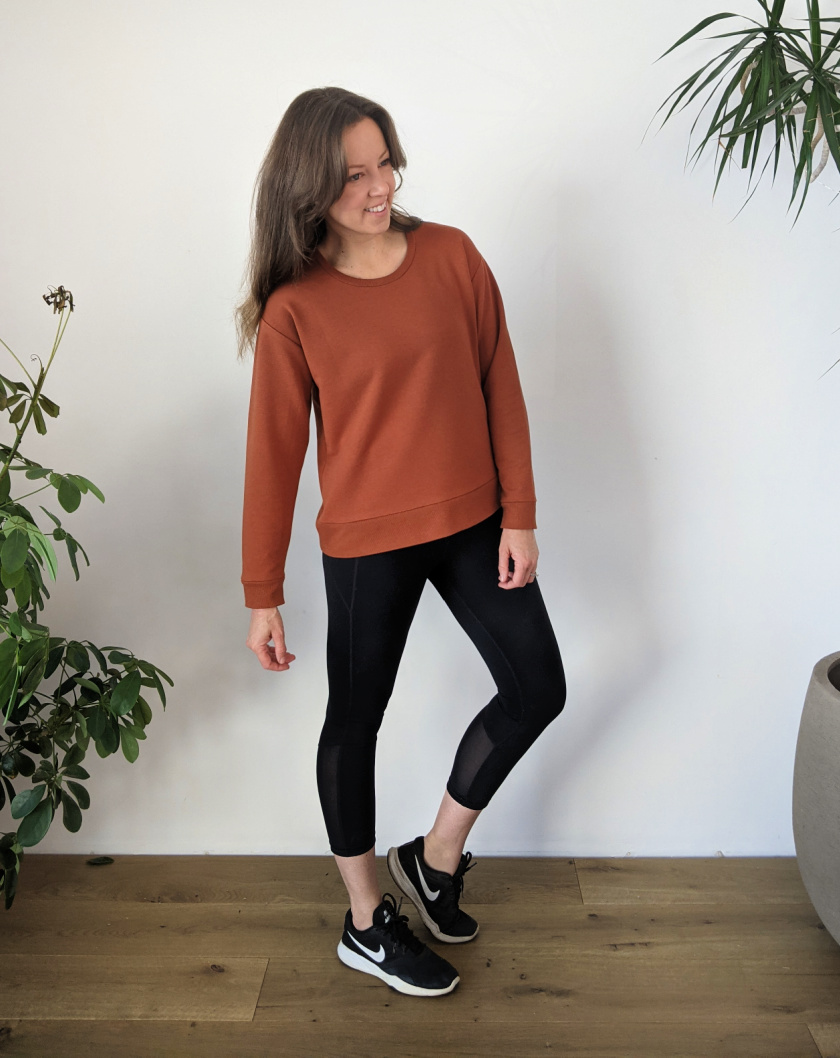 Fit
The term "shrunken" in this context means that the Sitka Sweatshirt is cropped in sleeve and overall length, but it is not tight or overly fitted. You can compare your body and finished garment measurements for an accurate calculation of the style ease in each area of the pattern.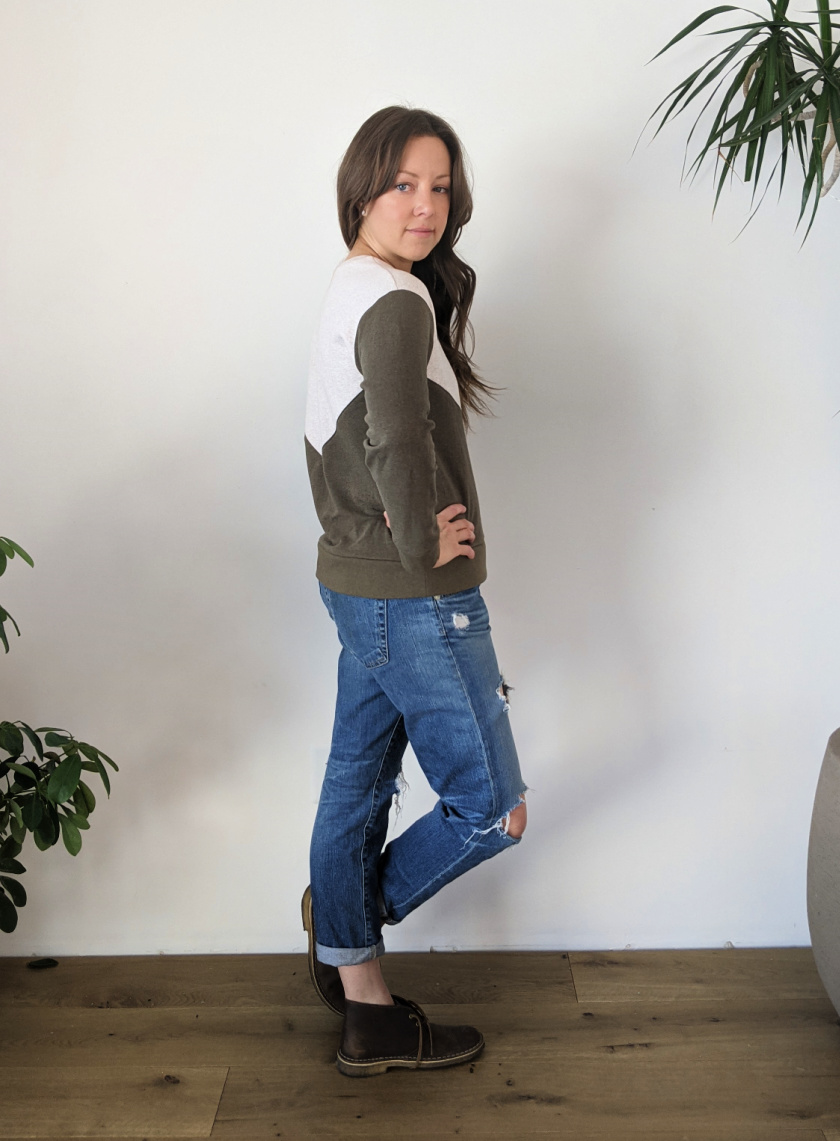 The waistband is designed to sit just over or just below a jeans waistband on mid-rise jeans, though you can of course customize the length however you desire. The waistband is the same length as the bottom of the sweatshirt, so it finishes it off nicely but doesn't cinch it in. This makes Sitka hang nicely over the high hip without getting caught around it. For a more traditional style, you could also reduce the length of the waistband by 10%.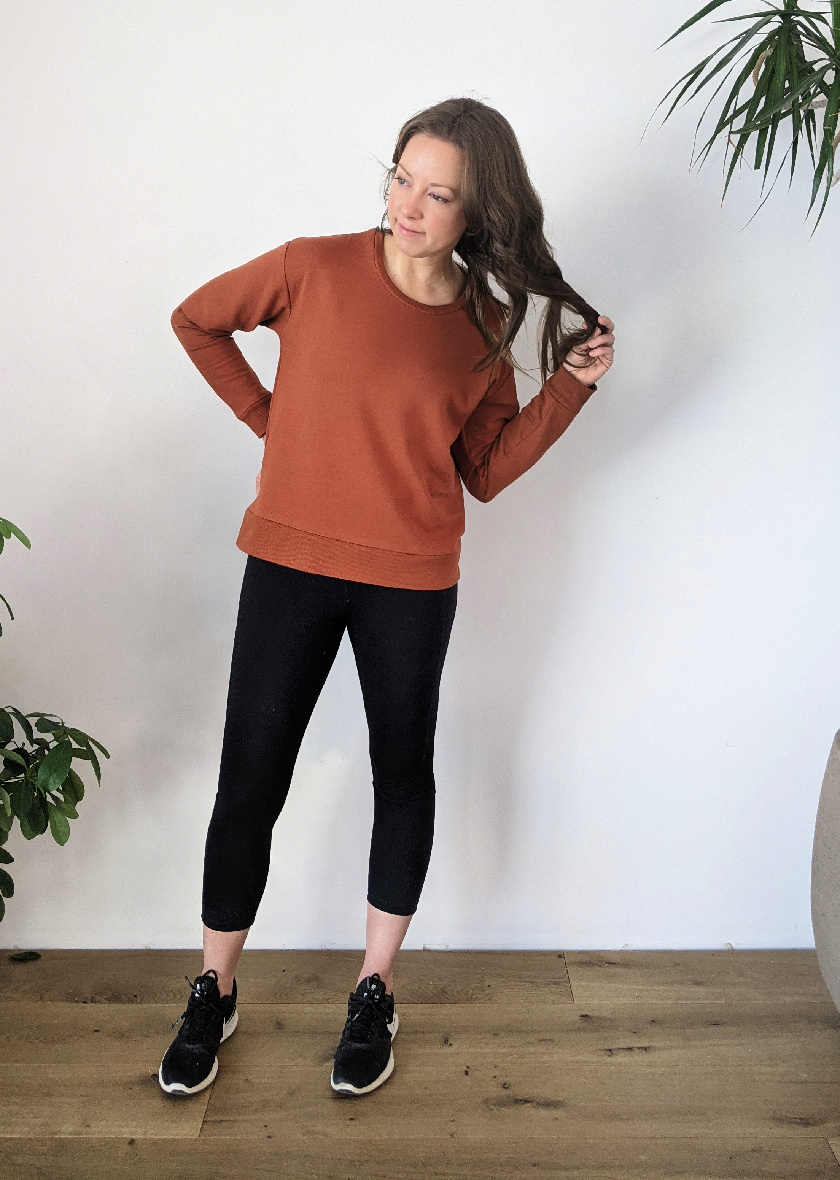 Fabric Recommendations
Sitka was designed to be made with sweatshirting fabric and coordinating rib on the neck, wrist, and waistbands. The sweatshirting must have at least 20% stretch. French terry with spandex is also a great choice for maintaining the intended fit and can be used for the body and bands.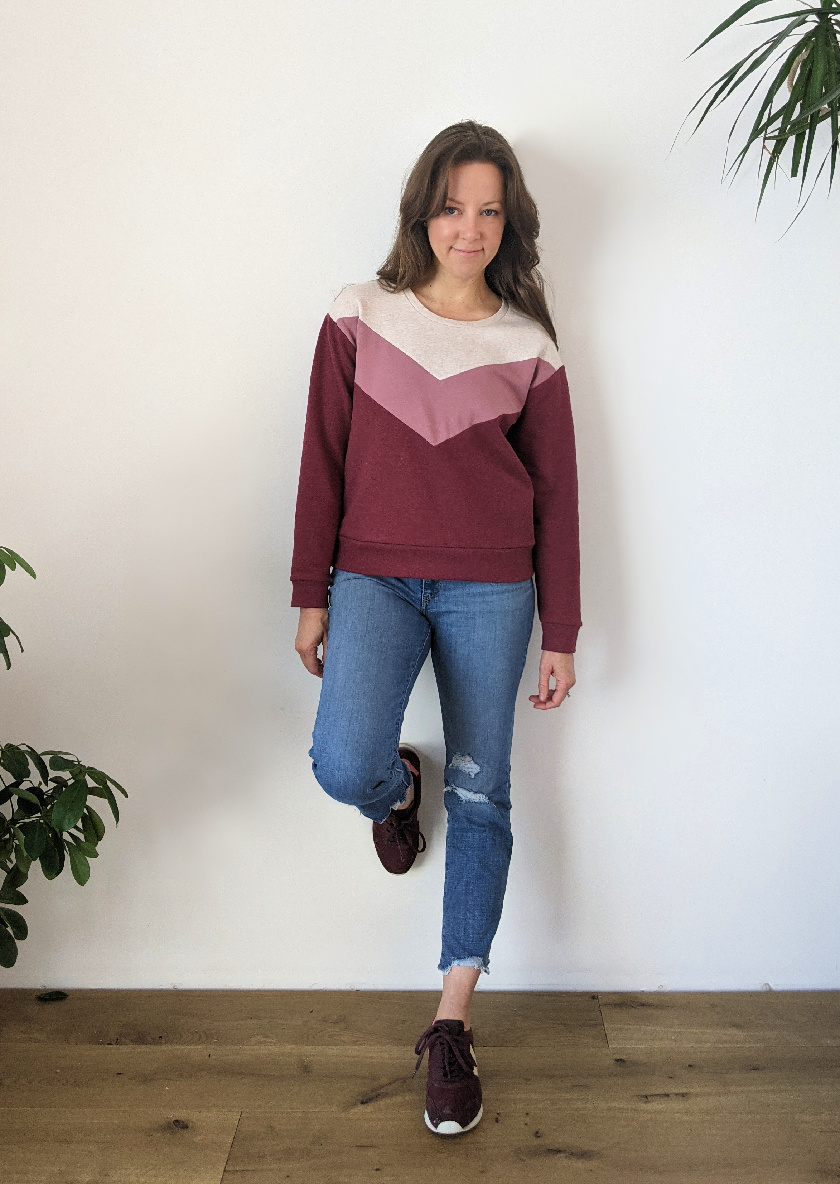 If desired, you can also make Sitka with nearly any other knit. Just note that it will become more relaxed and slouchy with anything that has less body than a sweatshirt fleece. If using something that has a lot of drape and poor recovery, like rayon spandex or waffle knit, you may decide to go down a size.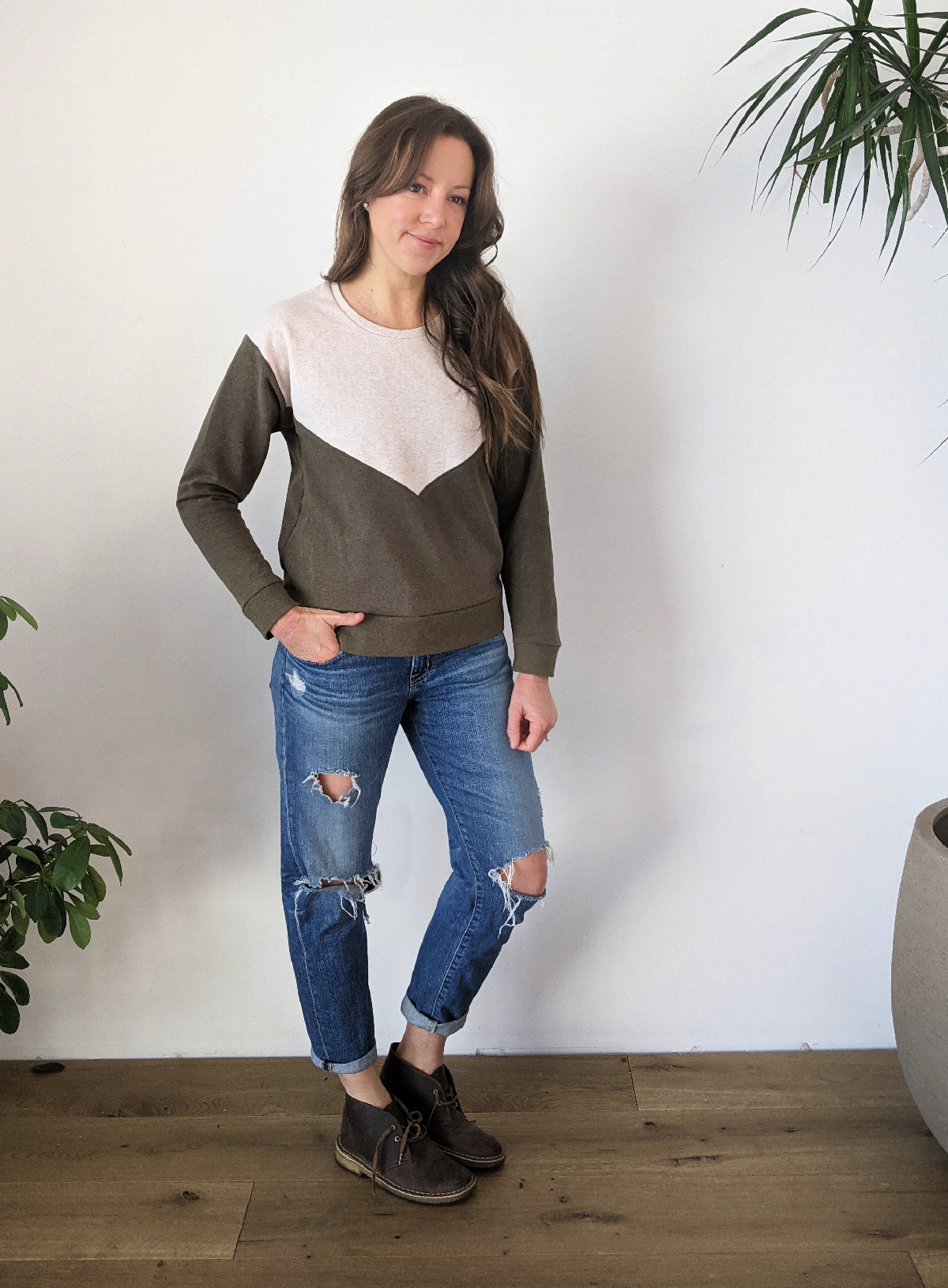 The two colorblocked versions in this post were both made with Swafing stretch sweatshirt fleece and their coordinating ribbing from Jumping June Textiles. They are all the melange versions except the center rose stripe on the view C, which is a solid.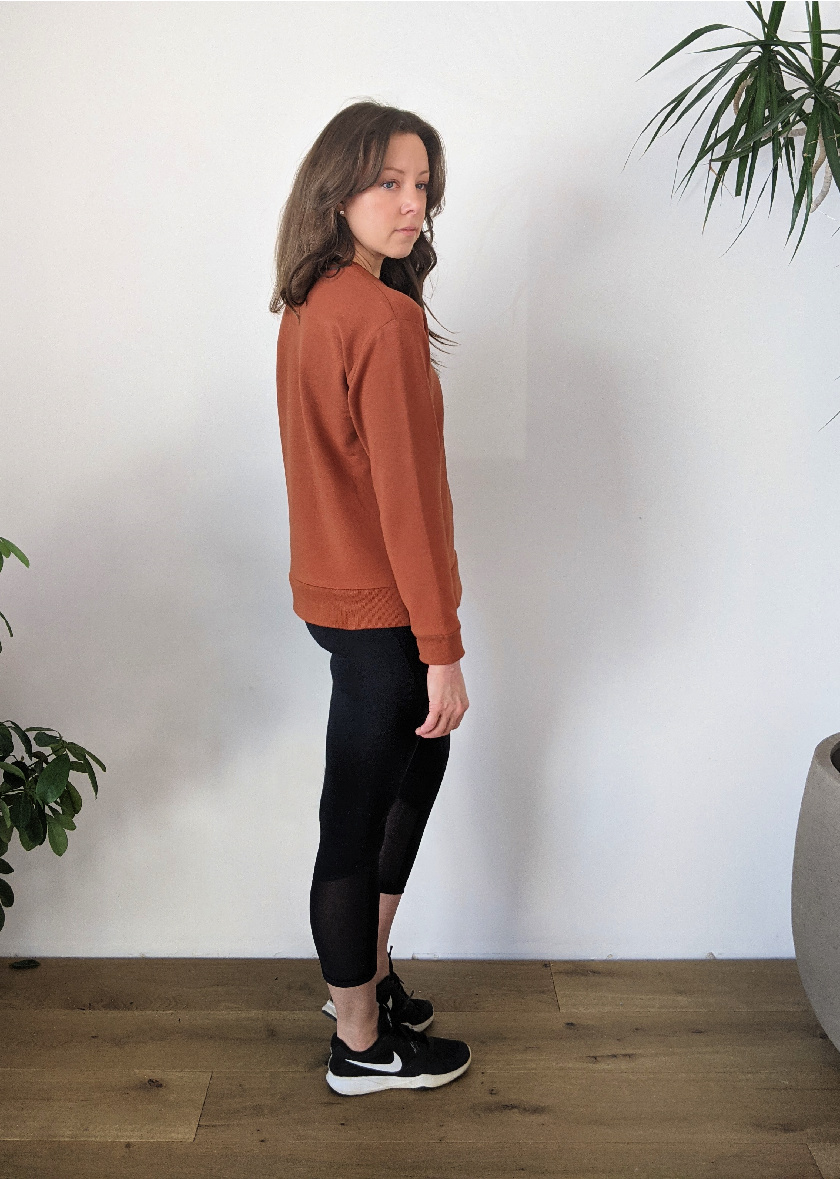 The solid version was made with bamboo/cotton stretch sweatshirting and coordinating ribbing from Blackbird Fabrics (note that the color, "terracotta", actually looks like a more dull terracotta in real life, whereas their website makes it look like a brighter pumpkin. My pictures are closer to correct, though still a little warmer and brighter than the actual fabric.). As you can see, the addition of bamboo to the solid one makes it a little bit looser than the other two. The fabric you choose will make a big difference in fit. Raspberry Creek Fabrics is another great place to source quality sweatshirting with matching rib.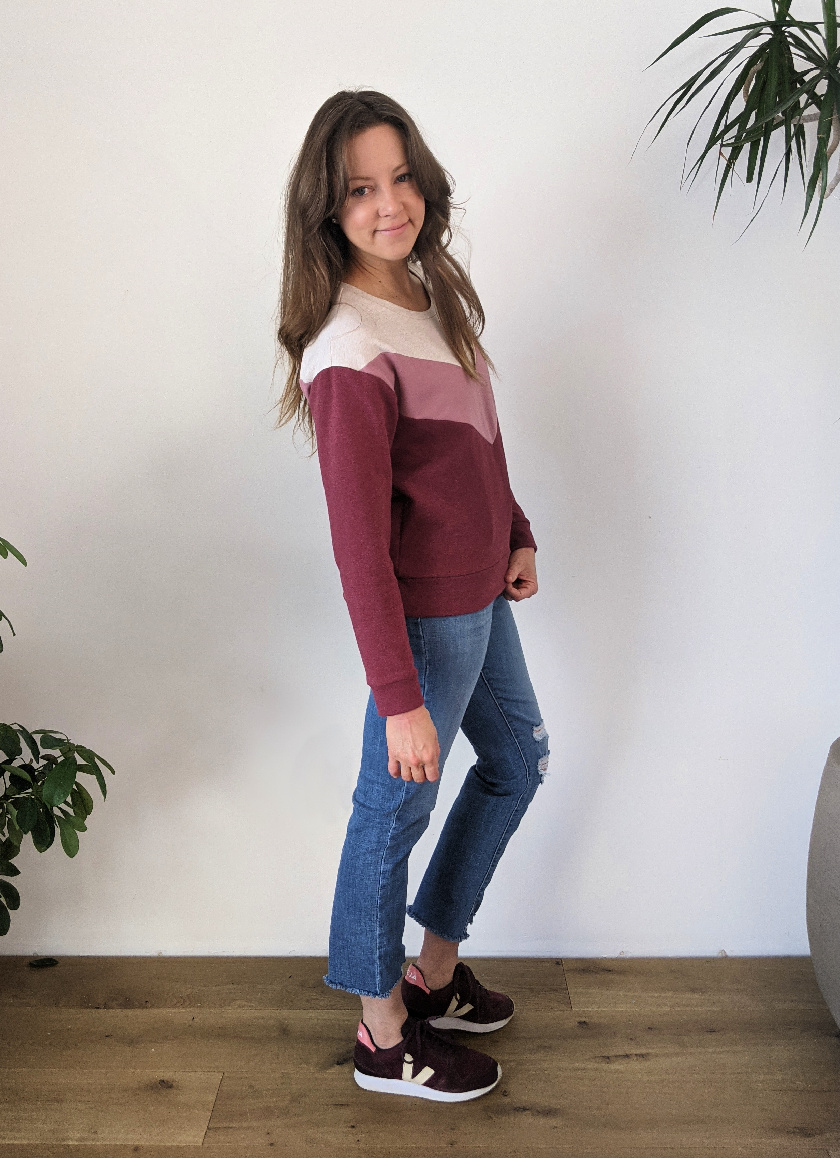 Styling and Hacks
View C in particular is great for using up scraps of a substrate that is hard to scrap-bust. View B also uses a relatively small amount of fabric for the upper part. The options for color, texture, and print blocking are nearly limitless, but our Pinterest inspiration board will get you started with some great ideas!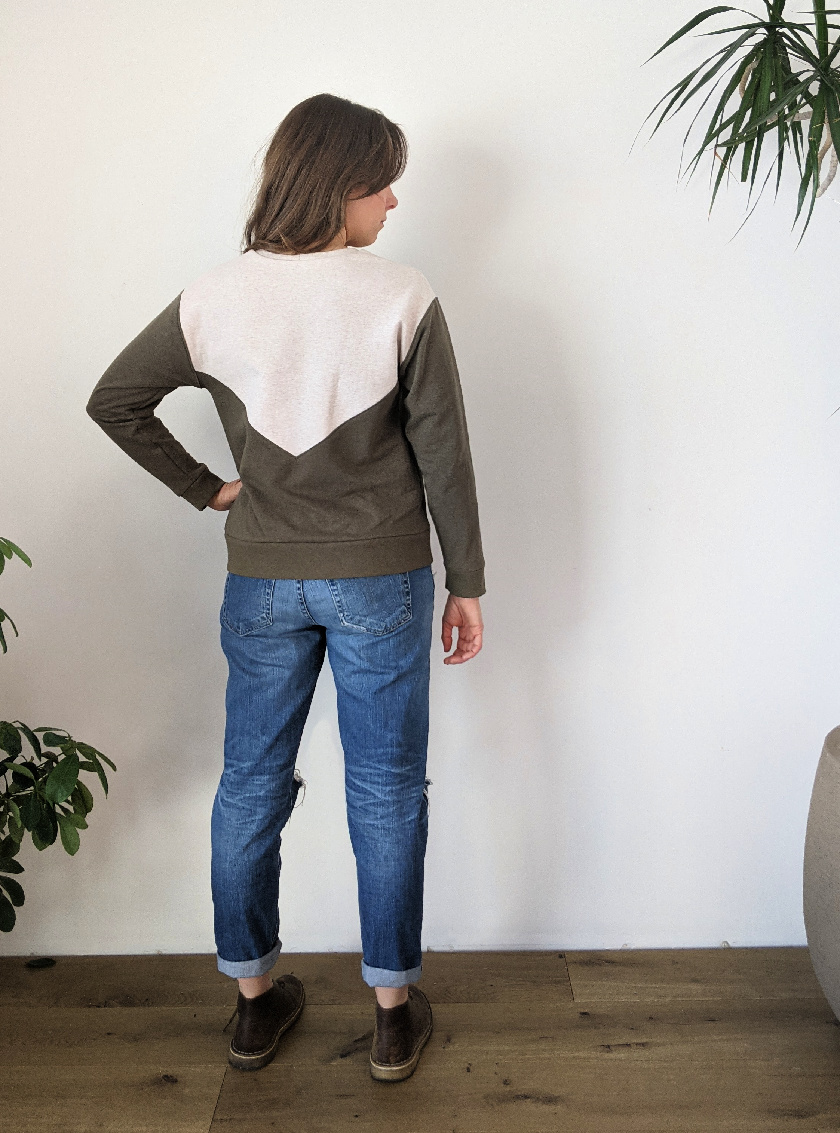 The Sitka Sweatshirt can be styled in virtually any way. It looks great as a more sporty sweatshirt with leggings and sneakers, or pair it with boyfriend jeans and loafers, skinny jeans and booties, or even with a skirt or layered over a dress! Depending on your fabric choices and how you style it, Sitka is a definite workhorse pattern.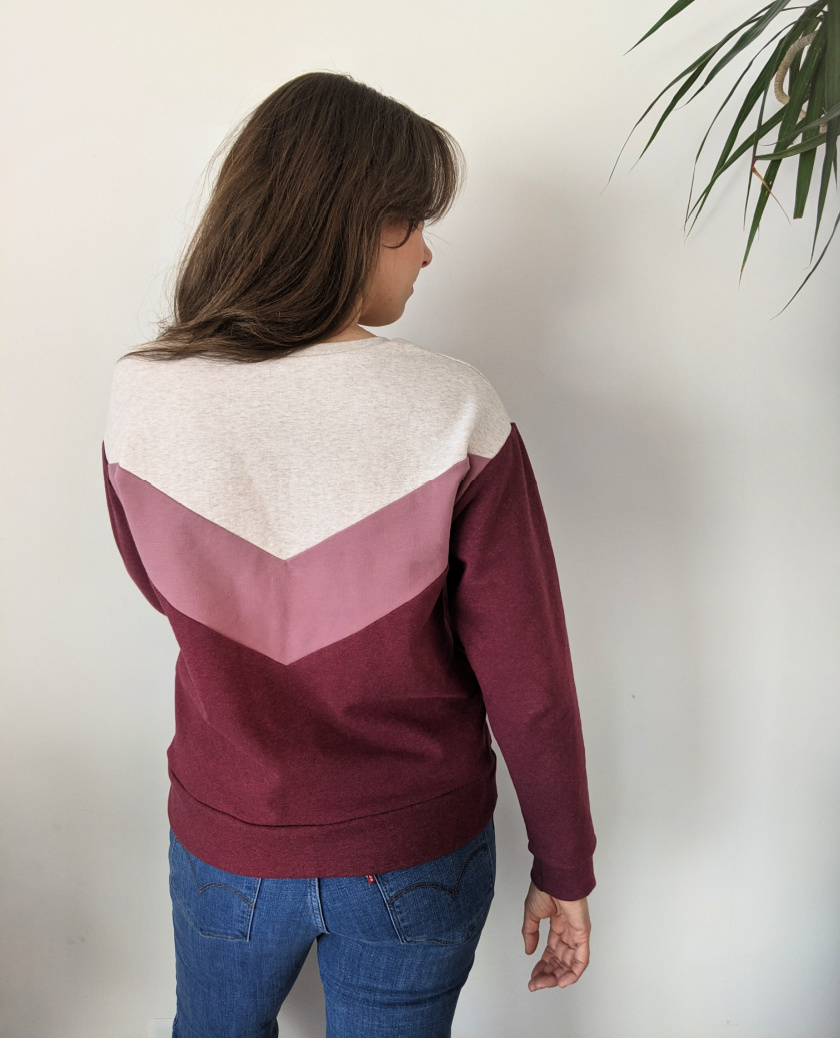 Some easy hacks to consider if you're comfortable:
add a hood
add a kangaroo pocket to view A
eliminate the wrist and waistbands, lengthen, and make a comfy long sleeve tee
do the same as above, but shorten the sleeve and make it with jersey for a drop-sleeve tee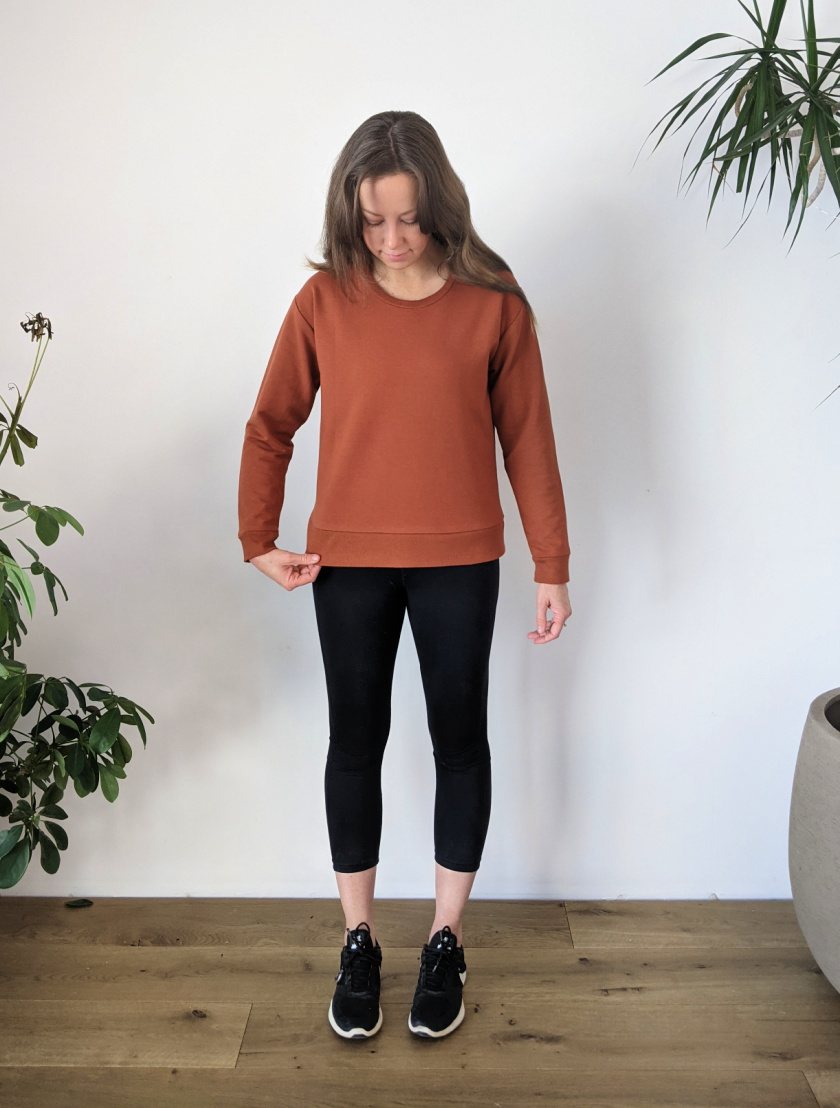 Sizing, Price, and Format
Sitka comes in two size ranges.
Sizes 0 – 20 have a B cup, and sizes 14 – 30 have a D cup and a plus-size specific measurement chart. You can view each chart in the listing to make the best choice for you. Both patterns are only $10 each during release week pricing! After February 25, 2021, the price for each size range pattern will increase to $12.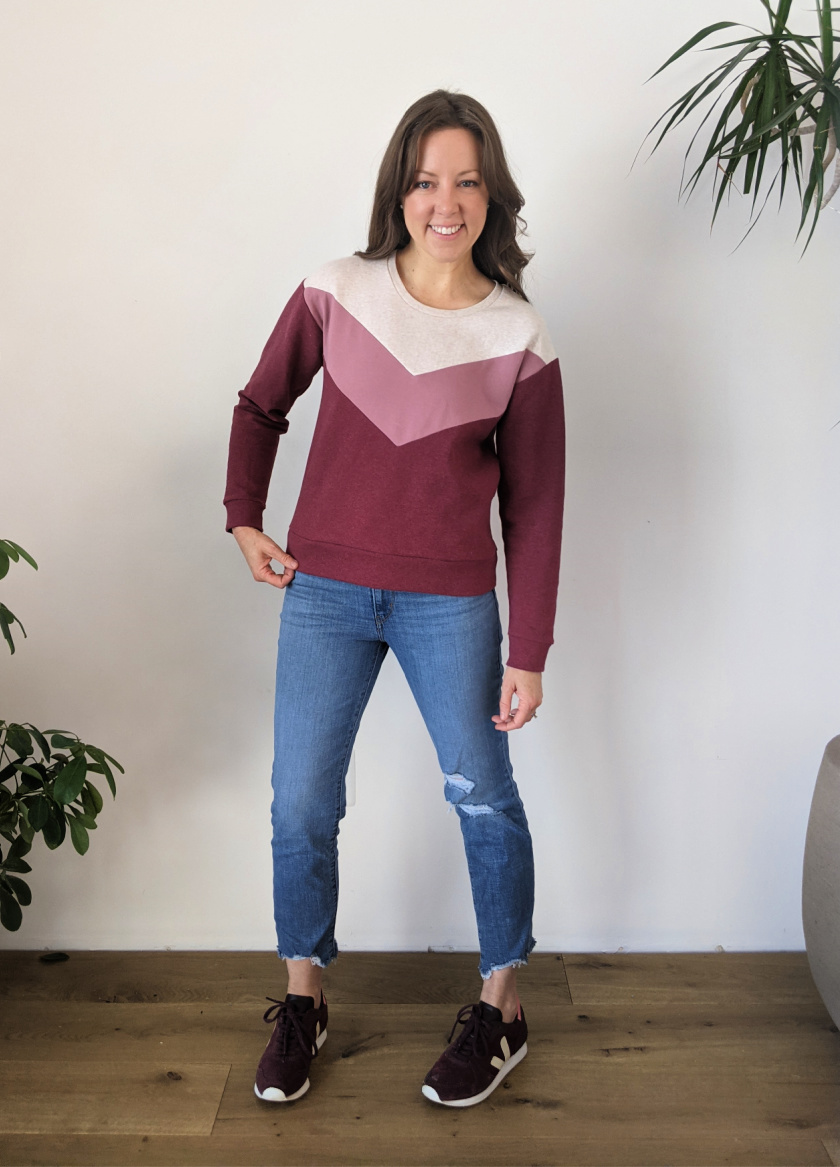 To make a pattern with so many different views, each view has been separated into its own printable pattern. However, if you print one view, there are fewer pages to print on subsequent views since the sleeve and bands are the same on all views. Views B and C share the same lower bodice pieces as well. Each size range comes with the 3 print at home files for each of the views, the instructions, and one A0 and 36″ copy shop size print. When you purchase, you will receive a .ZIP file containing these 6 .PDFS.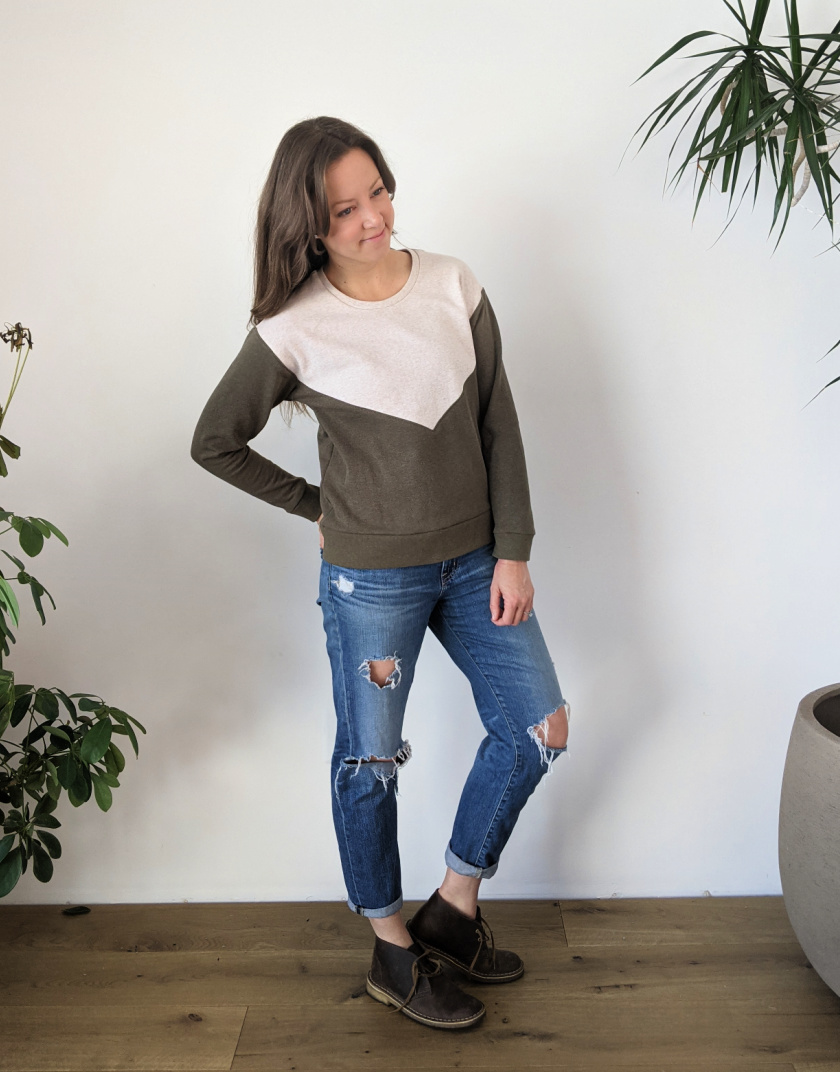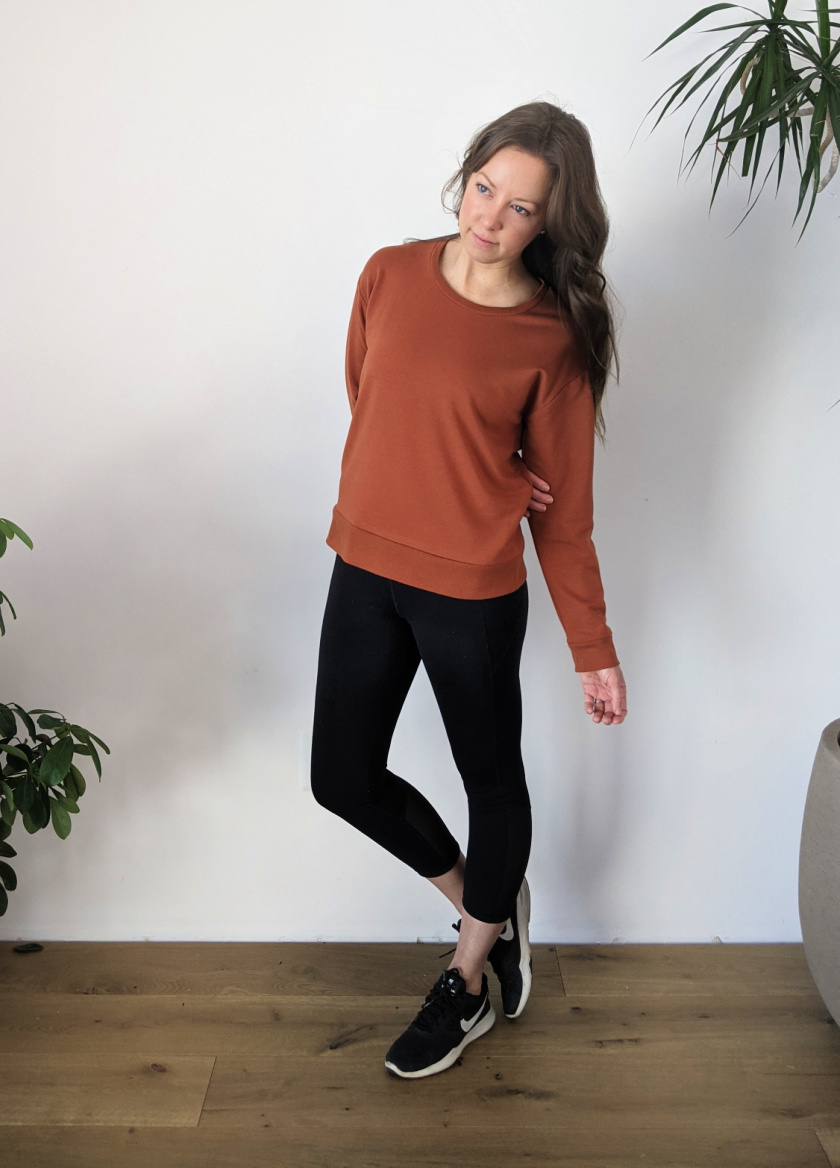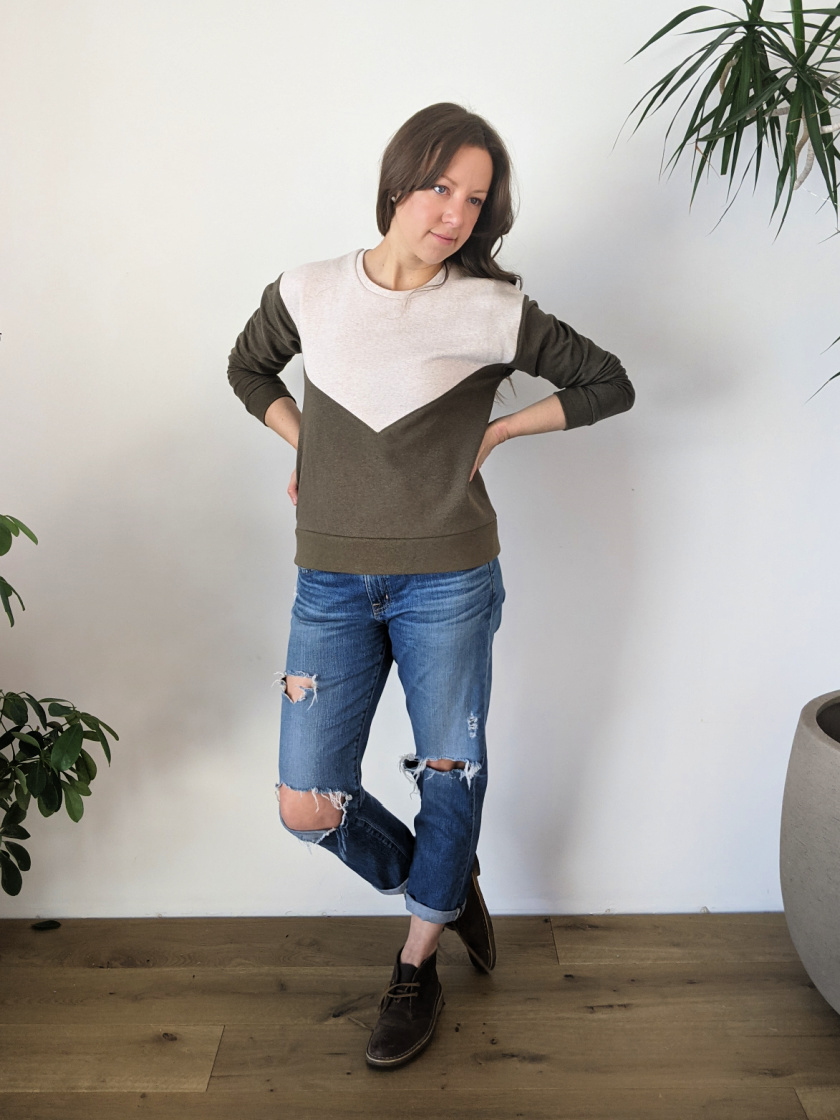 Video Tutorial
Below is a short video tutorial for sewing the points of the chevron seaming on views B and C. Note that there are several ways to do this, and you can do whichever way works best for you (as always!). I personally found this way to be the easiest and most dependable, but several testers found it easier to snip to the V on the lower piece first before sewing. Just note that if you do it that way, do not snip all the way to the seam line like you would when snipping after sewing as this will most likely result in a hole. Snip enough to release the fabric, sew, and then snip the last bit.
Happy sewing!