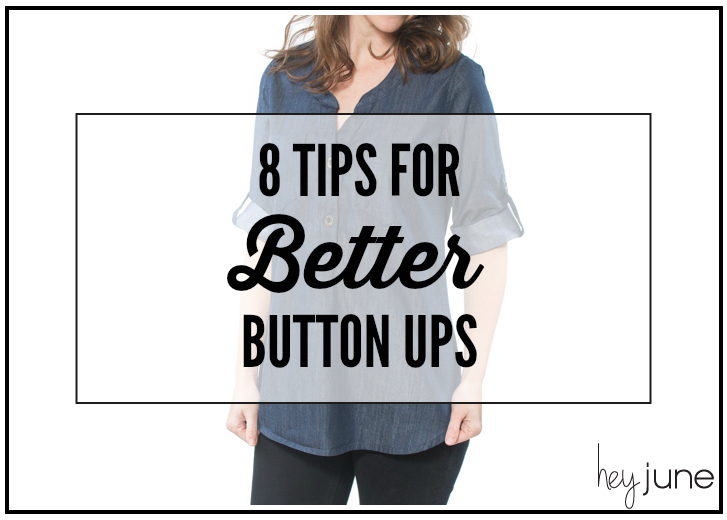 Today I'm partnering with Audrey from Skirt Fixation to load you up on a ton of button up shirt sewing tips!  Make sure you go visit her for even more tips, inspiration, and a whole slew of sewing patterns for everyone in the family!
Here are 8 of my favorite tips that will elevate your button up game and make things just a little bit easier for you too.  The shirt used in these pictures is the Cheyenne Tunic, View B.  View A features a traditional full button down placket and collar.  For a full pictorial tutorial, check out the Cheyenne Tunic Sew along.
So let's get to it!
1. Interfacing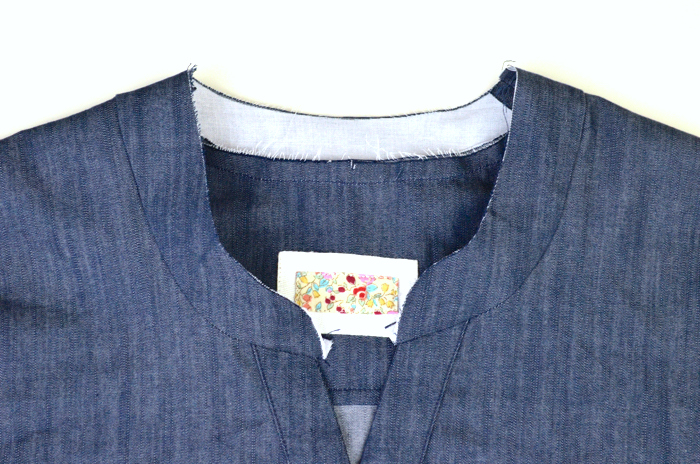 We all know that interfacing is vital to most woven garments, but the placement of interfacing can also make a big difference.  On buttons up shirts, there are several areas where only half of the pattern piece is interfaced, or the piece has an identical facing and only one is interfaced.  These areas include the cuffs, placket, collar, and collar stand.  Depending on the pattern, you may be interfacing the facing or the piece that will show on the outside of the garment.  For most fabrics there's not a huge difference either way.  However, if you're using a beautiful sheer fabric like light colored rayon challis, georgette, silk, or lightweight cotton, you'll want to be sure to interface the piece that will be on the outside of the garment.  Unless you're really into your perfect seam allowances and want to show them off, they'll show through the fabric and ruin an otherwise beautiful garment.
2. Staystitching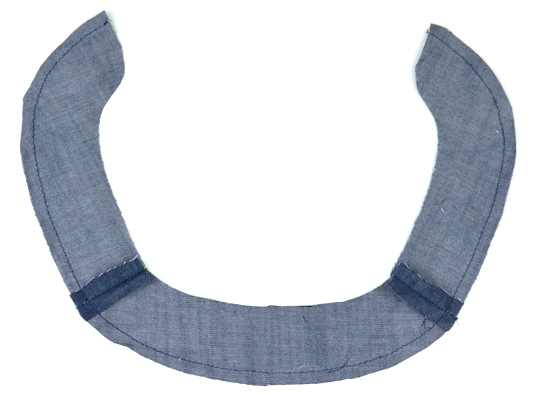 There are several areas while sewing a button up shirt where you'll have to turn a seam allowance before sewing the pattern piece.  These folds are not arbitrary and need to be as precise as possible for a perfect finished garment.  Maybe you can eyeball an exact 1/4″ pressed edge, but I sure can't.  In fact, even with the sliding hem ruler I usually end up with uneven hems, burnt fingers, and then discover that the slide on my ruler has moved while I was using it and the last few inches are more like 3/8″.  Stay stitching has the benefit of keeping your pattern pieces to the exact shape they're meant to be despite handling and pressing, but it also gives you a perfect line to press along.  If your instructions call for you to press a hem 1/4″ to the wrong side, like in this collar stand, first sew around the garment using a 1/4″ seam allowance with a basting stitch (longest stitch length).  Then you can simply turn and press the fabric along your stitch line and know that it's perfectly even.  If the basting stitch shows on the right side of the garment, simply rip it out.
3. Edgestitch Foot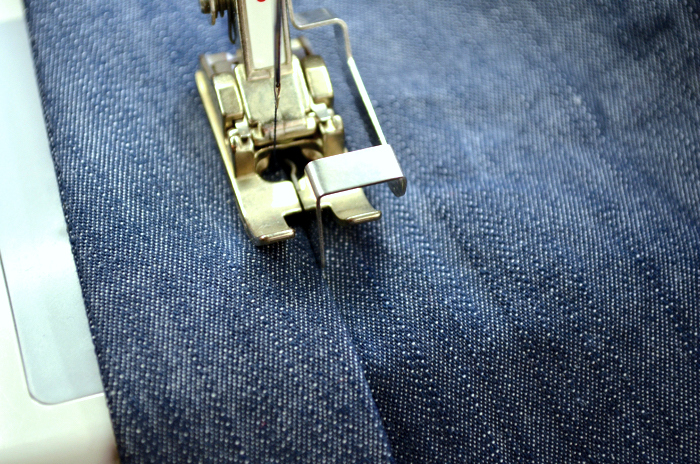 You've heard that with the right tools you can do anything, right?  Well that's never more true than in sewing.  If you have an edge stitch foot, this is the very best time to bust that sucker out and put it to use!  And if you don't have one yet, you can own one for only the cost of a couple overpriced burnt espresso lattes from starbucks DID I SAY THAT OUTLOUD? (yes I did, because it's true.) Seriously though, get thee an edge stitch foot and you will have a best friend for life.  On button down shirts, it is priceless for top stitching the placket, cuffs, sleeve plackets, collar, collar stand….basically anywhere you'll want to top stitch.  There's a metal guide that runs in front of the foot that you align with a seam or fold and then you can stitch away with perfectly straight, even, super-close-to-the-edge stitches without even really trying.  People will oooh and ahhh and tell you how beautiful your stitching is and you can reply, "I know."
It's a hot topic, I know.  You love them or you hate them, and I'm going to be totally honest with you and say that you 100% get what you pay for with your sewing machine when it comes to buttonholes.  If you find yourself a $150 machine that does perfect automatic buttonholes every single time then I applaud your unlikely fortune.  I don't say this to discourage you, but to encourage you that if your buttonholes aren't working out, it's probably not your fault.  I've owned a machine that straight up wouldn't do them, and now I own a machine that does them while I press the foot down and watch reruns of Parks and Rec on my laptop.  So that's step 1 – don't blame yourself, and if you don't have one, beg, borrow, or temporarily and legally acquire a machine that makes good buttonholes.  You can also take your shirt to a tailor when you're finished and ask them to sew buttonholes to avoid the whole thing!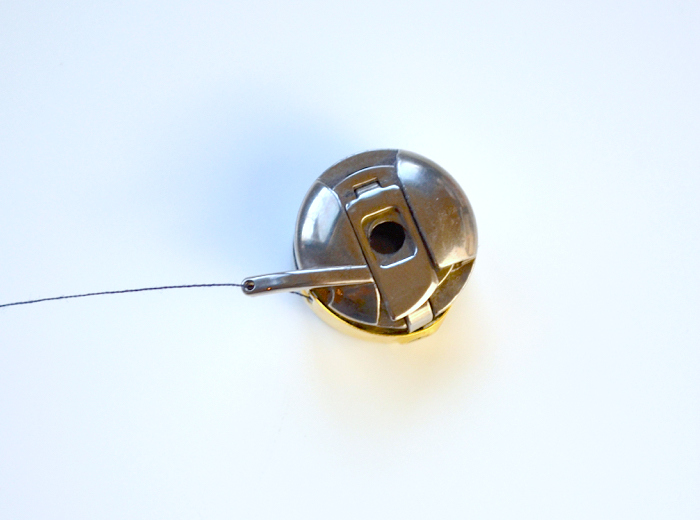 However, if your machine makes decent buttonholes, here's a couple tips to make them even more perfect!  First, of course, practice on a scrap to see how your thread behaves on your fabric of choice.  Secondly, if you have a front loading (vertical) bobbin, make sure you bring your thread through that little hole at the end of the bobbin case arm.  That will ensure beautifully sewn buttonholes with perfect tension every single time, guaranteed.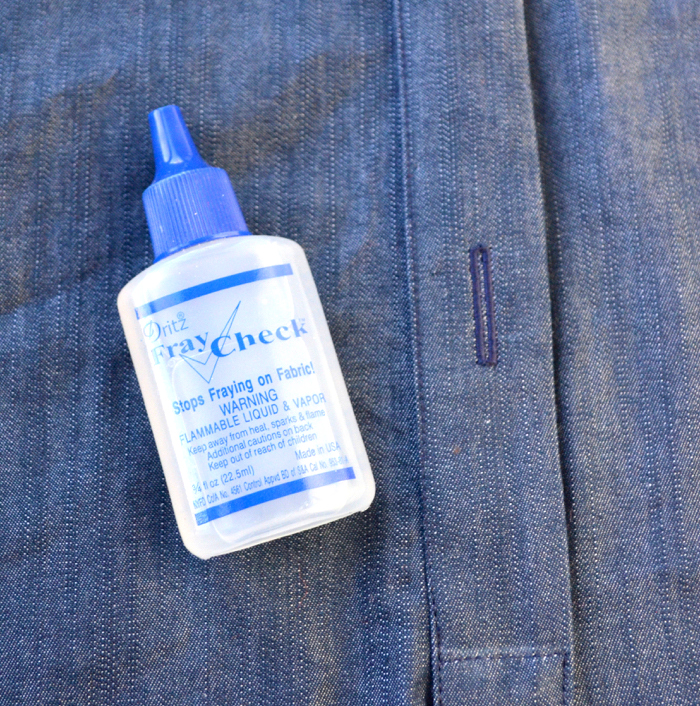 Lastly, before you open your buttonhole, apply a tiny drop of Fray Check to the back of the buttonhole to keep it from becoming overly frayed or thready after you cut it open.  I promise buttonholes don't have to be the enemy!  Don't let them stop you from making your own shirts.  There's always snaps too…
6, 7 & 8: Pockets
After doing a placket and two sleeve plackets and attaching a collar stand you're probably feeling pretty laid back about your pockets.  But despite all those precision seams that you are (and should be) proud of, the fact remains that they will mostly be hidden while worn.  Pockets, on the other hand, are front and center and one of the main features of your shirt, so they'll definitely be seen.  So don't slack off when constructing and attaching your pockets.  Here's a few tips to help.
Your pattern will have it's own unique way of constructing pockets and none of them are wrong.  There are several ways to make a pocket, but if you're new to shirt making some of them can be more difficult or require a high level of precision.  Here's the method that I use in my Biscayne and Cheyenne patterns that makes it virtually fool proof for even a beginner! (you can use this method for almost any patch pocket pattern – even on pants!)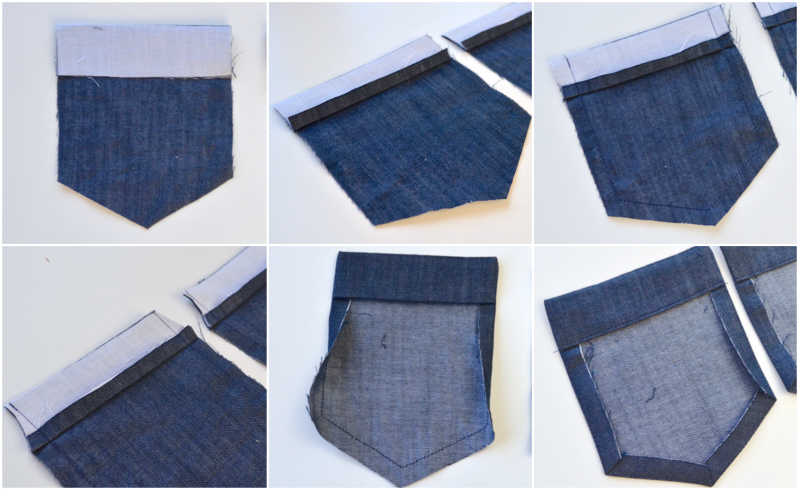 a. Press the top interfaced portion of the pocket to the right side.
b. Press the hem of the interfaced top of the pocket to the wrong side by 1/4″.
c. Sew around the sides and bottom of the pocket using a 3/8″ seam allowance (or whatever is called for in your pattern).  Make sure you sew over the fold from the previous step.
d. Trim the top corners of the pocket.
e. Turn the pocket to the right side and push out the corners.  Press well.
f. First turn up the bottom of the pocket along the seam line and press, then press the sides of the pocket in along the seam.  If desired, edge stitch across the fold in the top of the pocket.
Now your perfectly symmetrical and even pockets are ready to sew to your shirt, which brings me to….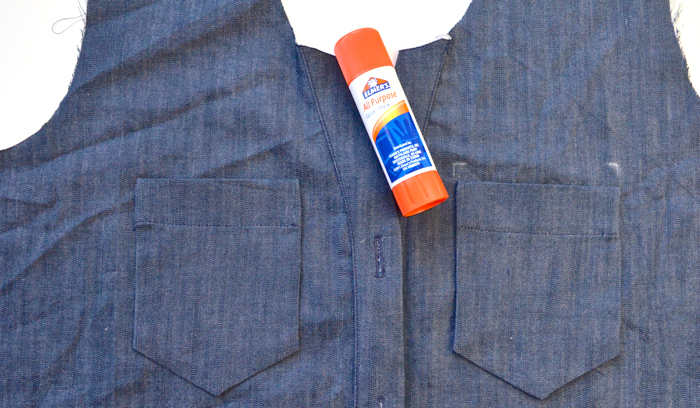 Apply a regular old elmer's glue stick to the edges of the wrong side of your pocket to help position it on your shirt.  This will help you align your pockets perfectly and check placement on your body before sewing them on.  You should also place a couple pins in your pocket when you're happy with the placement, but too many pins can actually distort your positioning, so the gluestick will keep things in place with only a pin or two.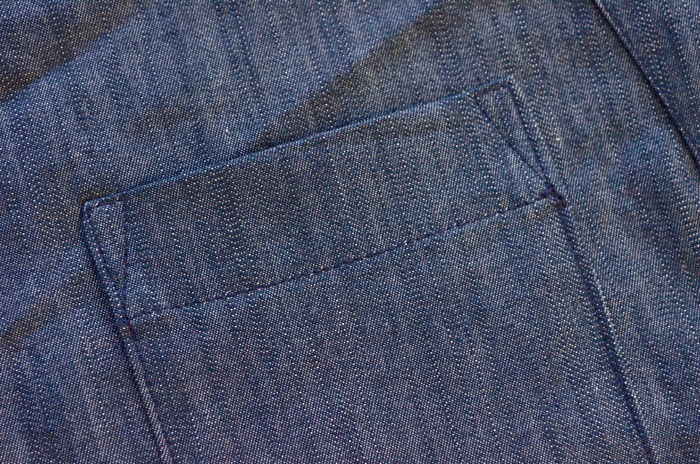 If desired, a reinforcement triangle or rectangle at the top of your pocket is a nice and professional finish.  It also adds some visual interest for a more casual shirt.  To achieve perfectly symmetrical reinforcement stitches along the top of your pocket, sew your first one and when you reach the top hem of the pocket, count the horizontal stitches.  As you reach the other side, make sure to repeat the same amount of stitches across the top.  This is a great tip for any time stitch lines need to be perfectly symmetrical, especially when they'll show on the front of a garment!  For reference, my pockets have 4 regular length stitches across the top, which is fairly standard.
And there you go – 8 tips to help make your button down shirt just as beautiful and precise as it can be.  I know button ups seem intimidating because they are fairly precise and have several steps, but I promise if you go slowly and take one thing at a time, you'll find this to be no different than any other garment, with 83% more satisfaction when you're finished (scientific fact).
Don't forget to go visit Skirt Fixation for even more tips!
Happy button up sewing!