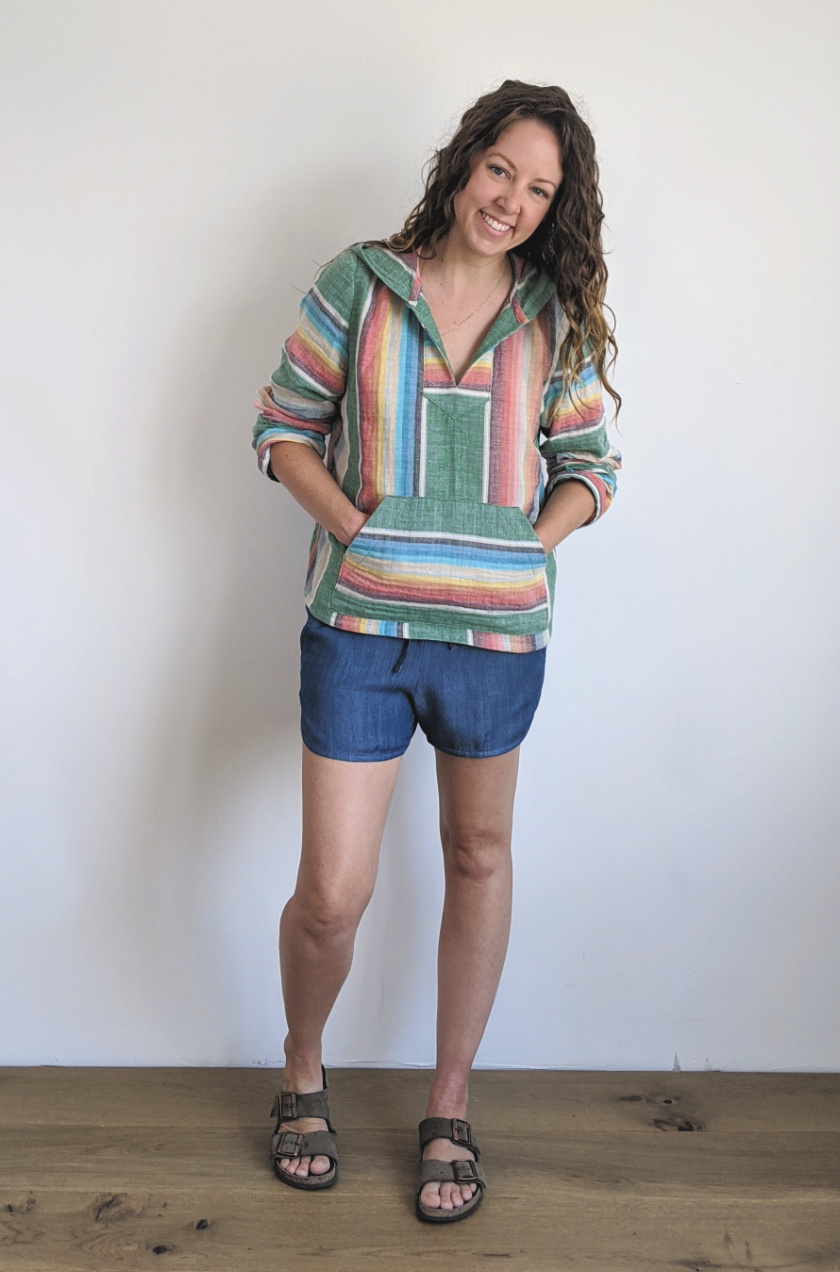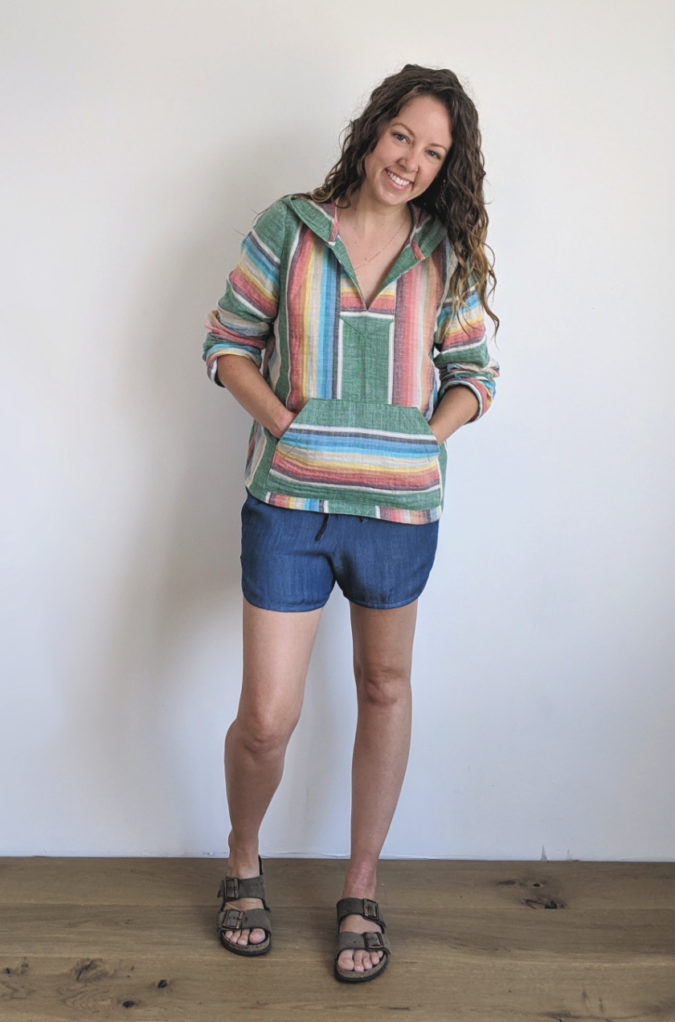 Introducing the Vero Beach Set!
The Vero Beach Set includes 2 pieces. The top is a loose-fit woven hoodie with a large kangaroo pocket, wide sleeves, and a slightly cropped hem.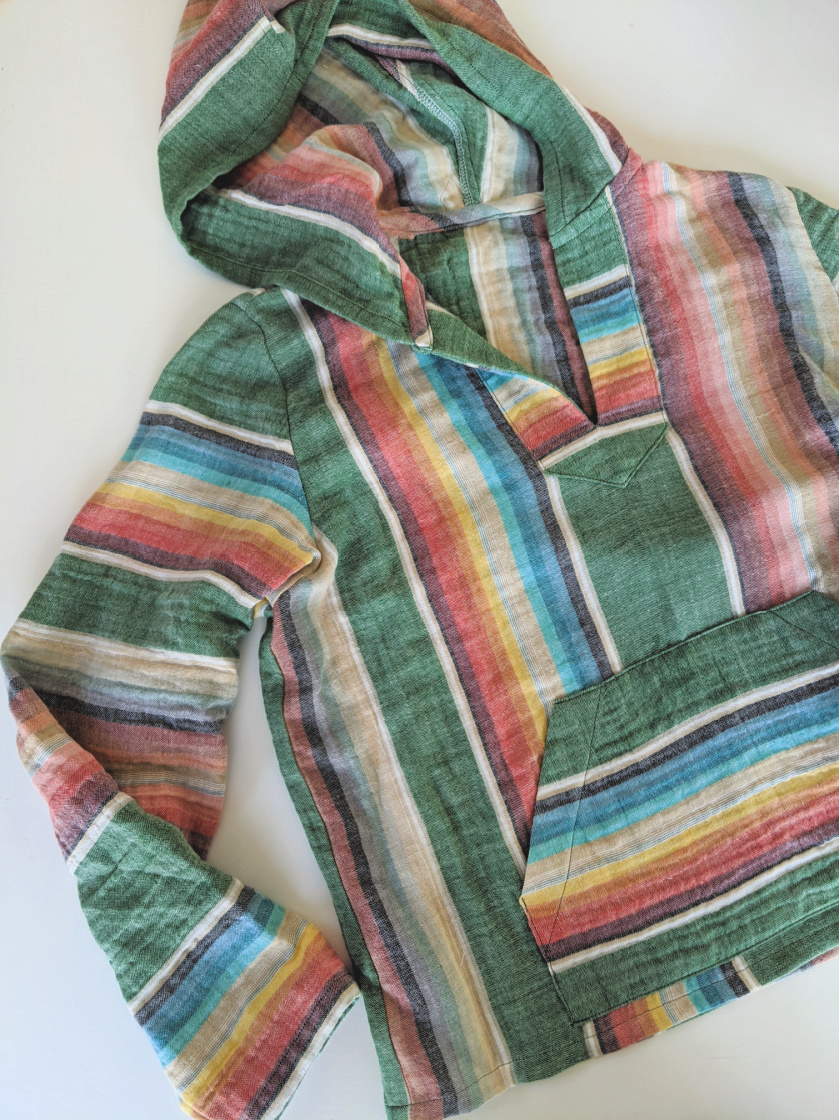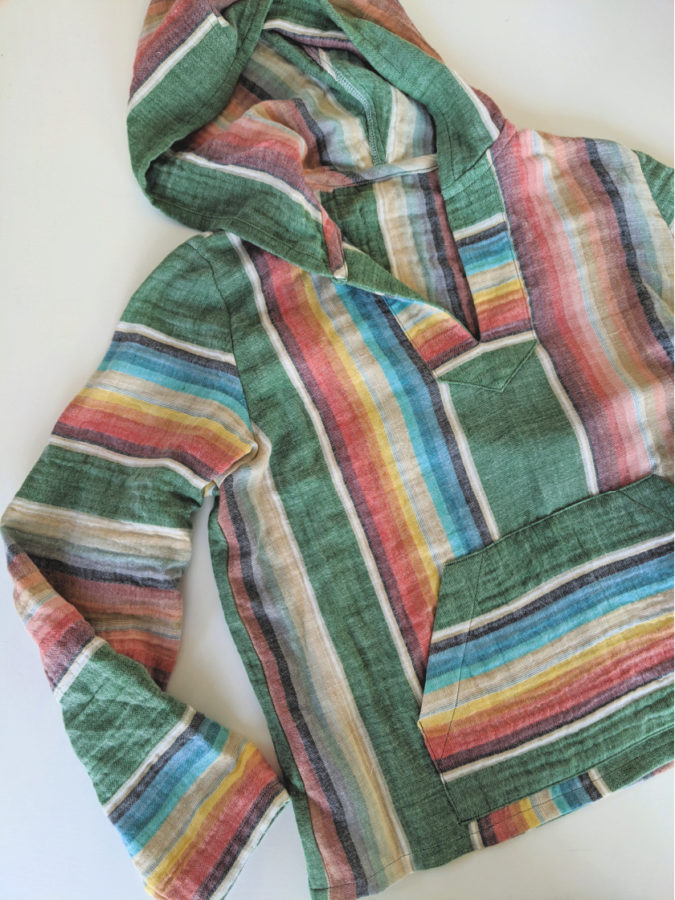 This top evokes the mood of Baja hoodies, bonfires on the beach, and hanging out in the quad in college. It's the perfect piece for sun protection over a bathing suit or tank top when you're at the beach, pool, lake, hiking, or just hanging out in your backyard. Throw it on for cooler summer evenings after a day in the sun or make it in heavier fabrics for autumn and winter.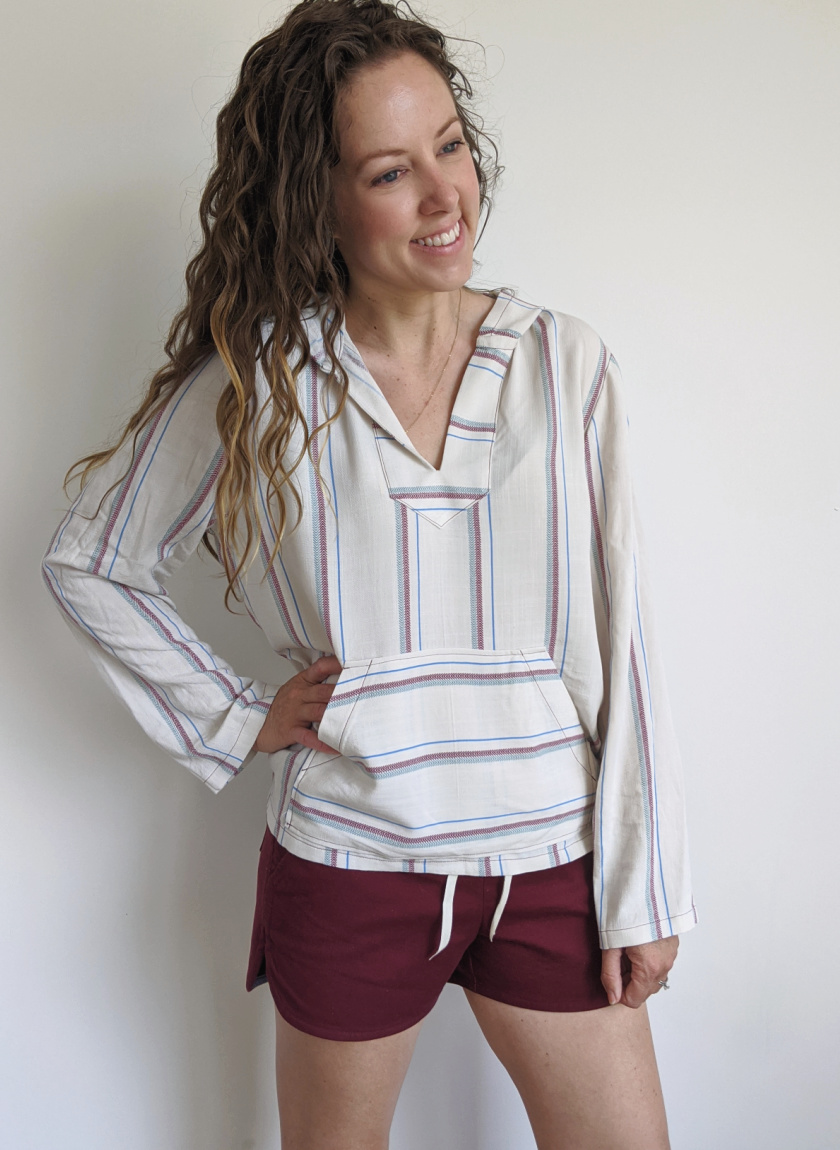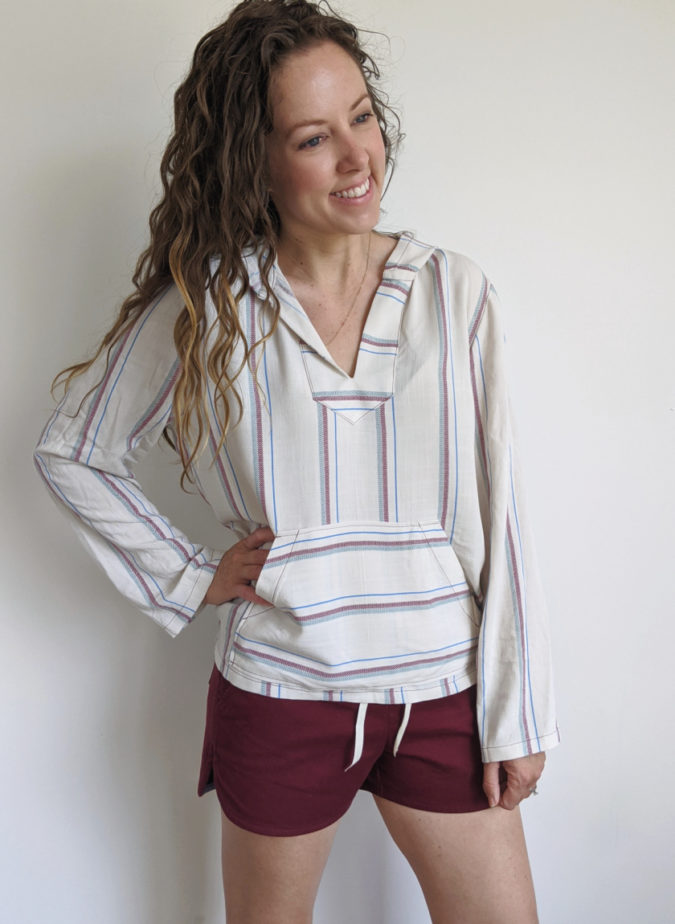 The fabric and styling opportunities for this top will make it a versatile pattern in your collection. This top looks great with drapey or lightweight fabrics such as anything with rayon content, raw silk, voile, lawn, or gauze. The rainbow one pictured here is a double gauze and the cream one is primarily a rayon with a small linen content.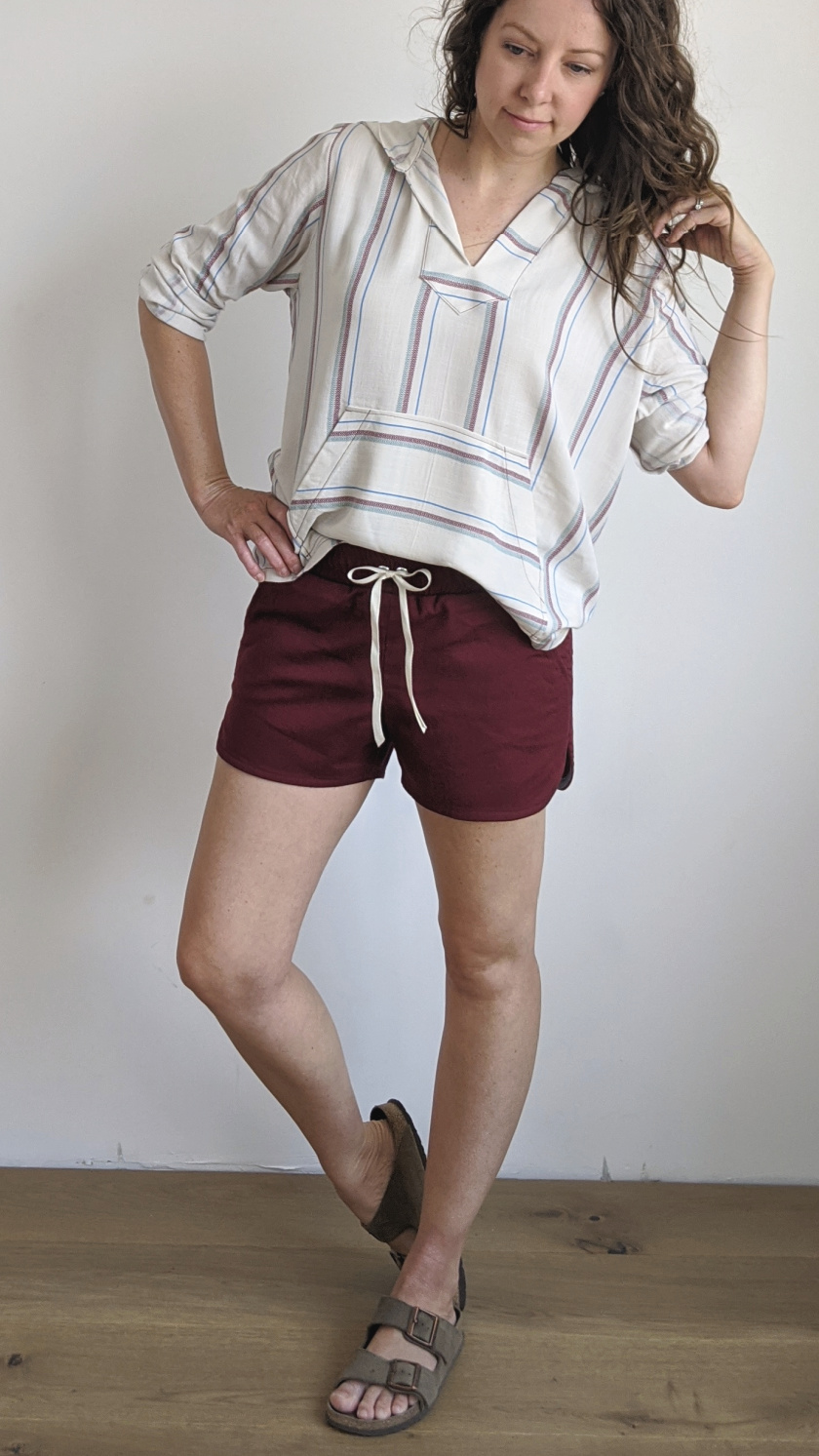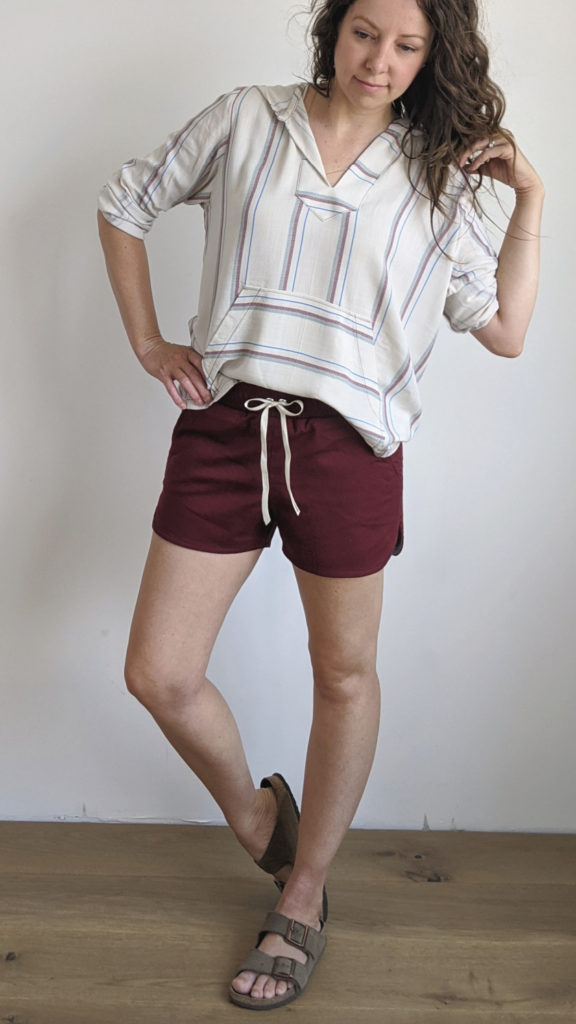 But it will also work well with heavier fabrics or fabrics with more structure, such as linen or cotton. One tester repurposed a soft blanket and another used a pair of curtains and they worked beautifully! Heavier fabrics with less drape will really highlight the boxy nature of this garment whereas lighter fabrics will drape and pool more to make the top have less body. Both styles are equally great, it just depends on the look you desire.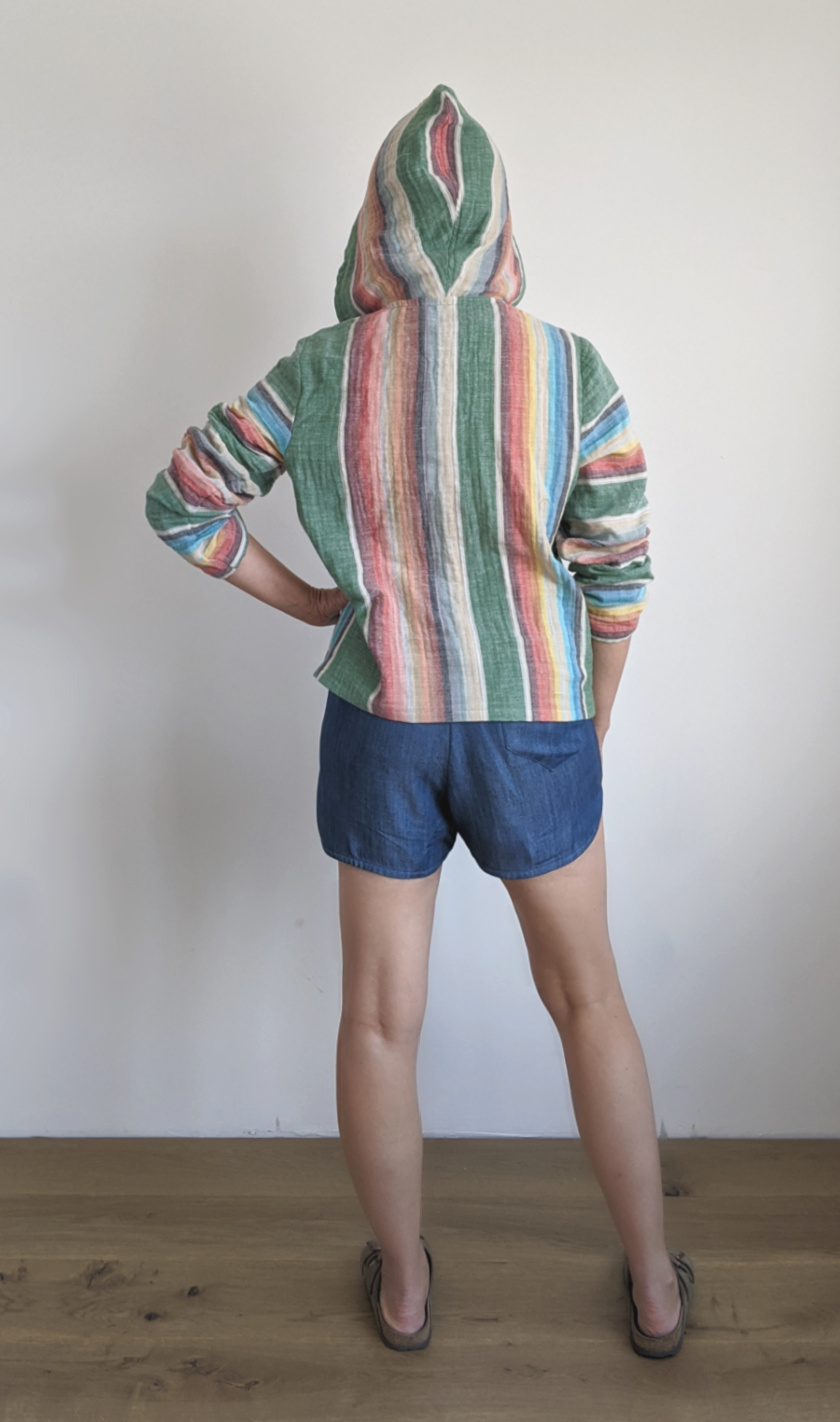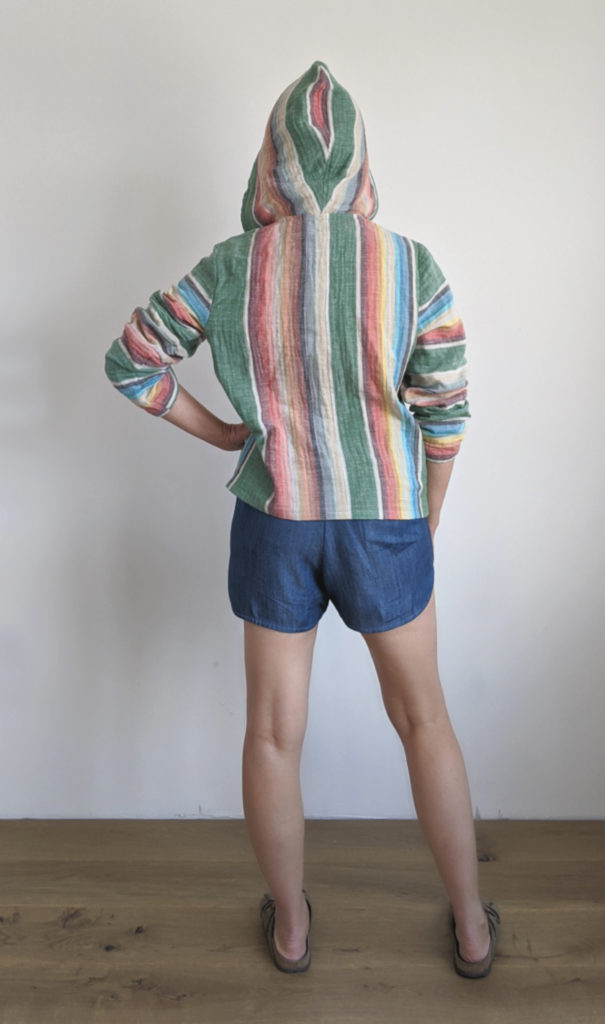 The top is meant to be worn as a layering piece, but the slit in the front placket is also high enough that it can be worn by itself depending on personal preference.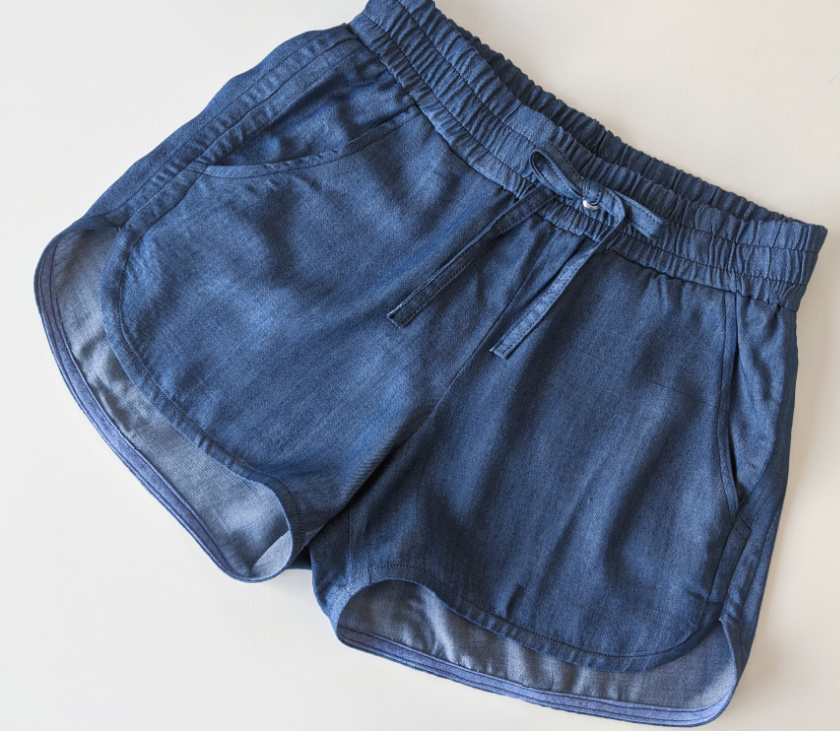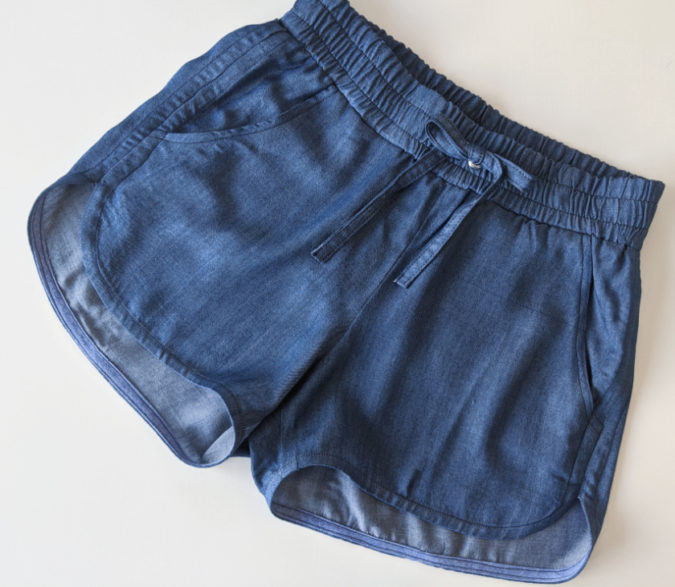 The Vero Beach Set bottoms are elastic waist, fitted shorts with a bias-bound tulip-hem side seam, front slash pockets, and a back patch pocket. Their easy pull-on nature and elastic waist makes them easy to sew, fit, and wear.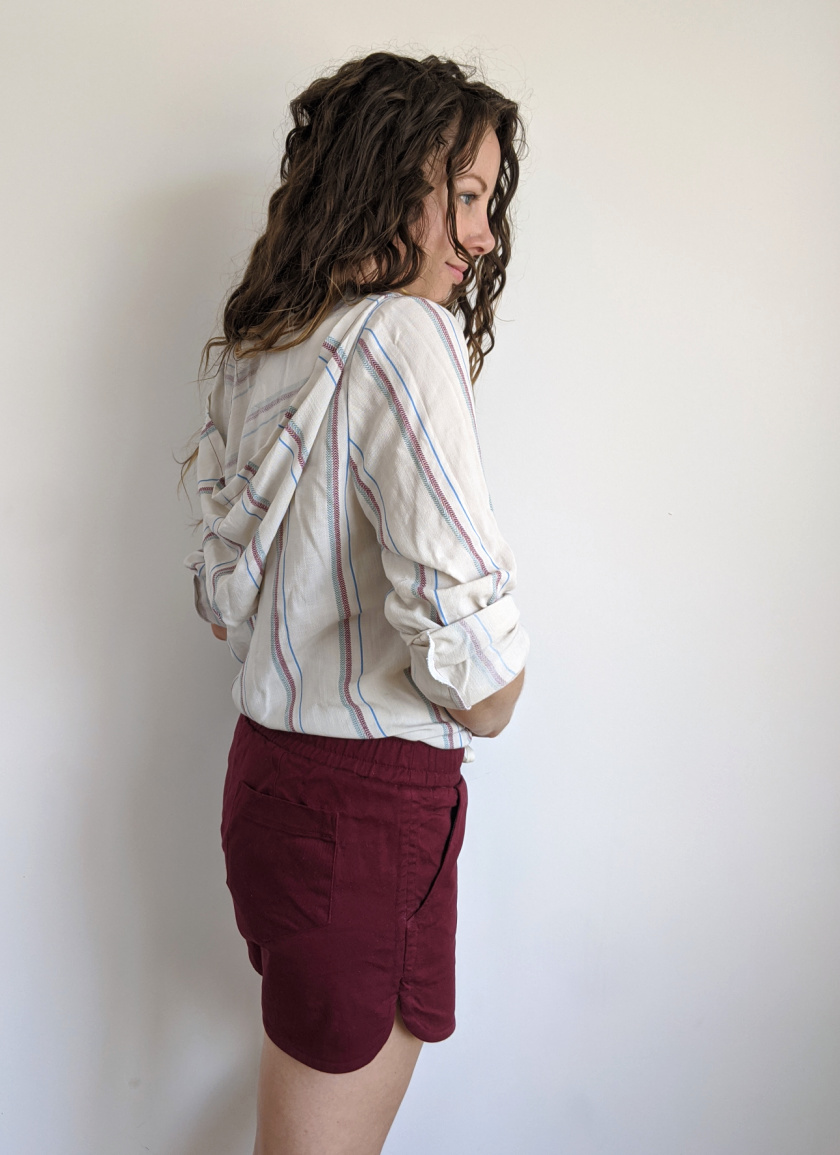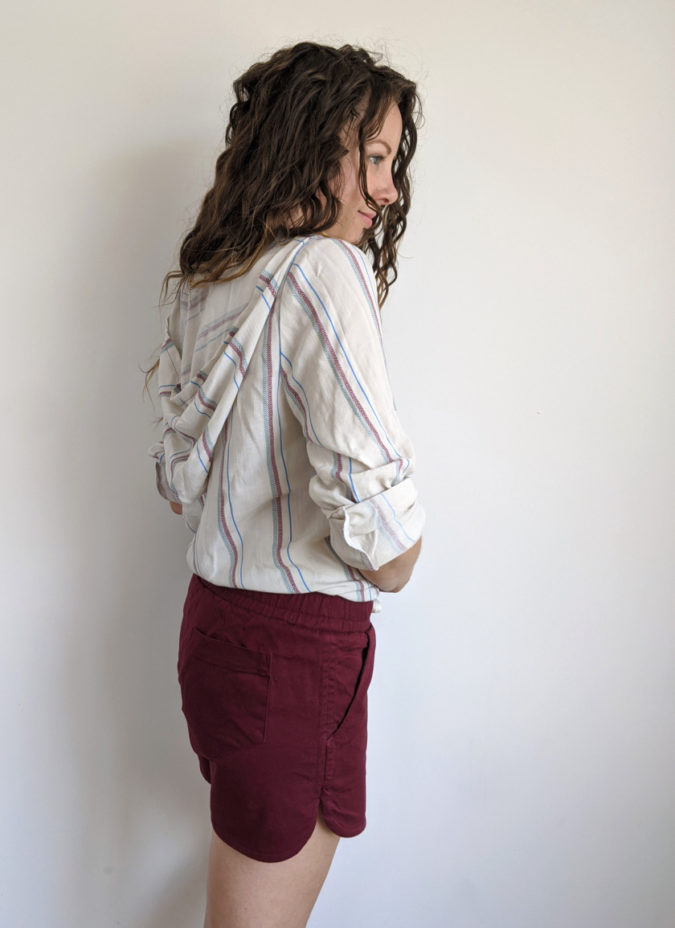 The shorts have back darts to customize the fit even more and eliminate the bunching that can be caused by an elastic waistband. They have a 3" inseam with a slightly dropped crotch to provide moderate coverage for those who don't generally wear shorter inseams.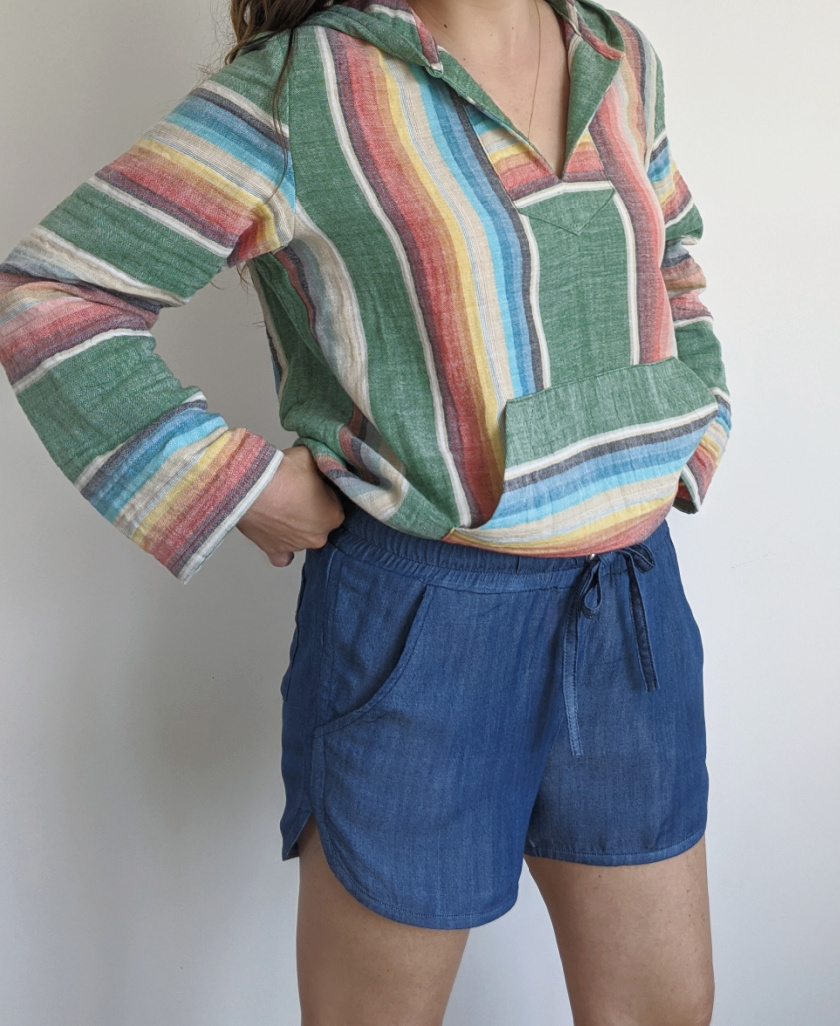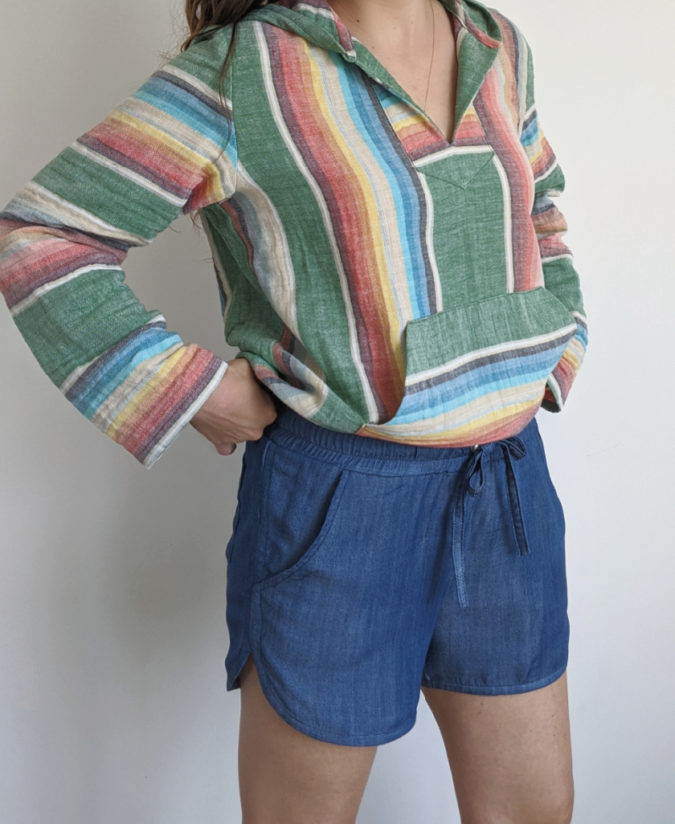 They are easy to pull up as a swim cover and could even be made in board short fabric to be waterproof and quick-drying. They feature a mid-rise fit, which sits at the low waist/high hip and is generally an inch or two below the belly button. This more low-slung fit adds to their casual look and comfy fit – no high rise bands digging into your waist here!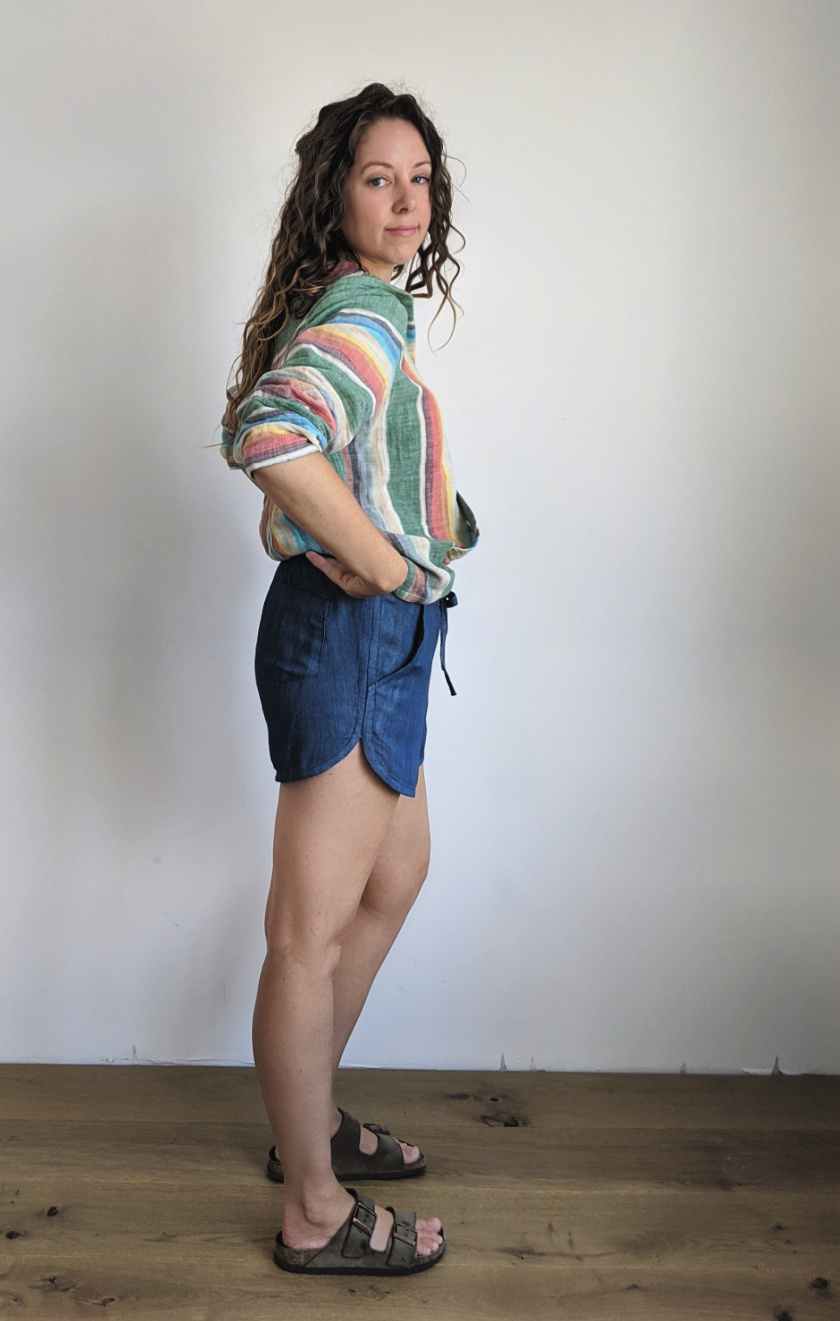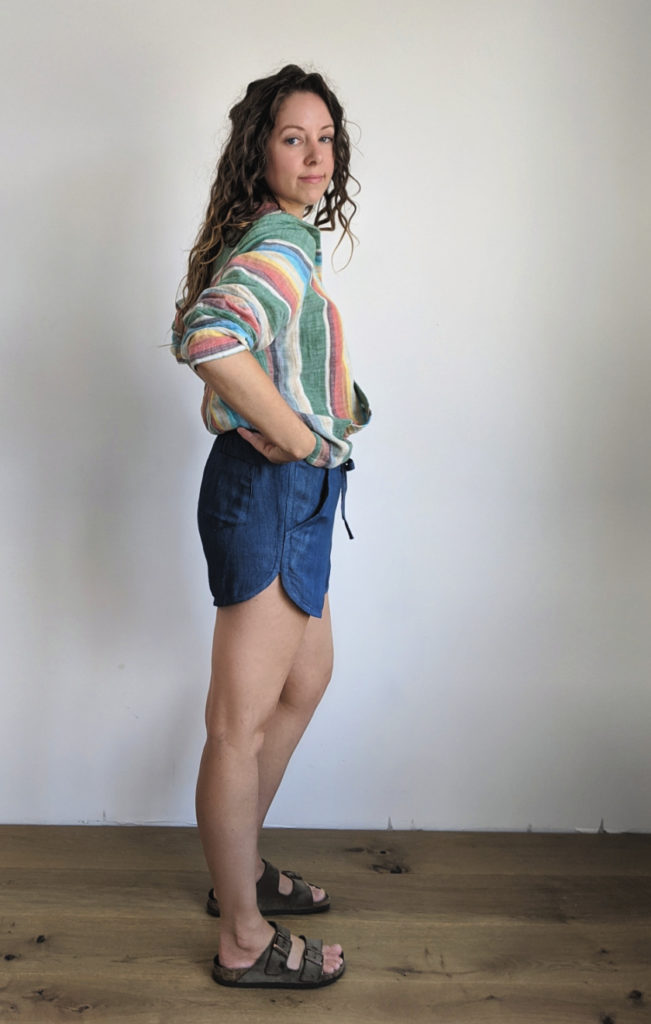 There are two generous front slash pockets and a large back patch pocket that easily fits a phone. You can also choose to use two back pockets if desired.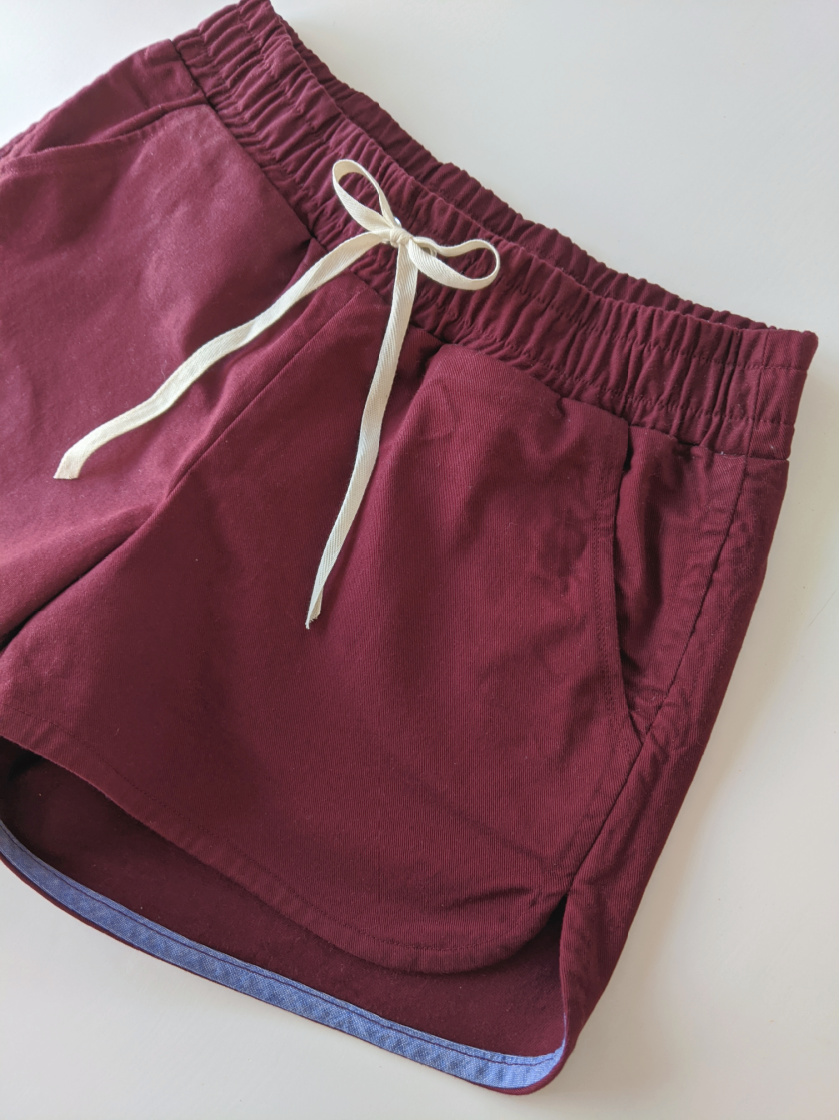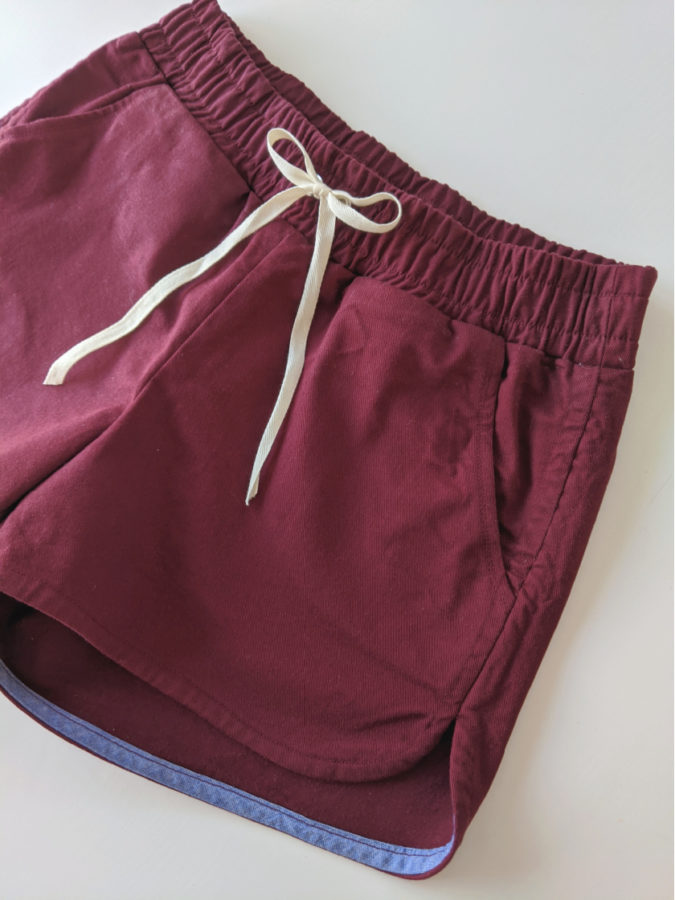 The bias tape can be made with a separate fabric to use up scraps as it is not visible from the right side of the shorts. It's also a great place to feature a cute print or stripe. These shorts work with virtually any fabric from lightweight flowy rayons to structured twill (these are the two fabrics featured in this post). The fit and style will change slightly depending on fabric used, but they will work with almost any woven fabric.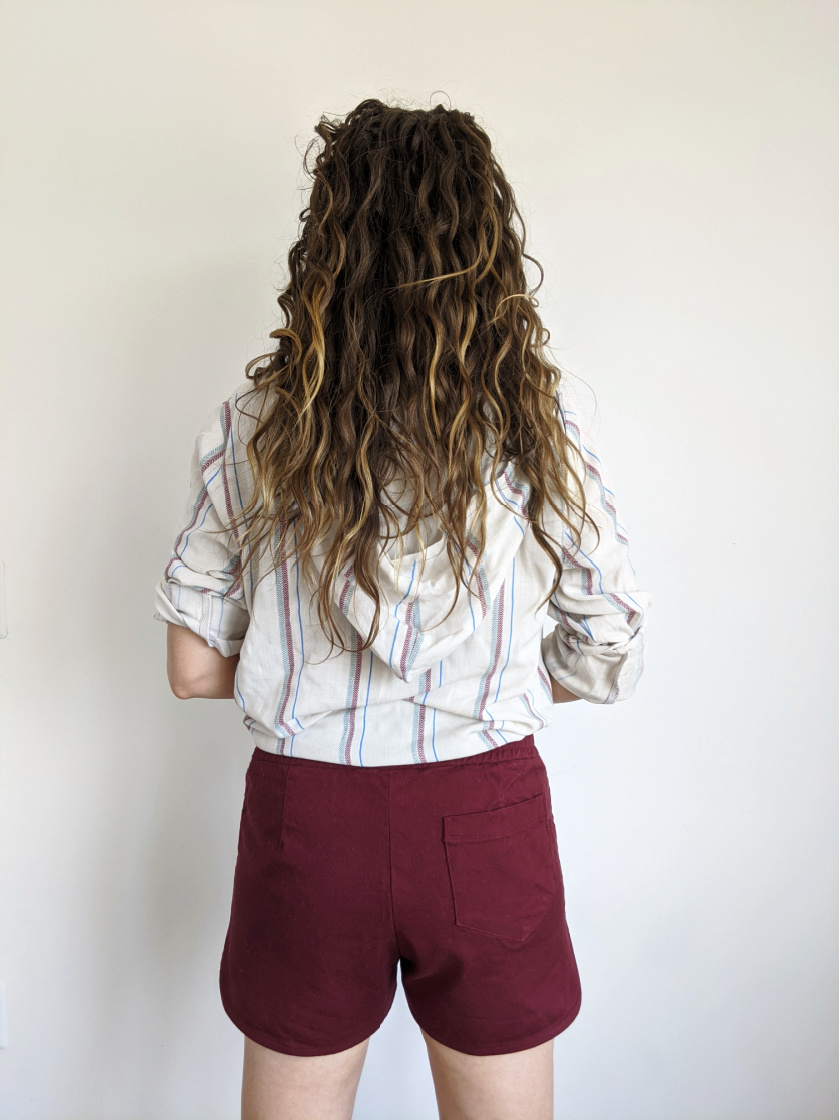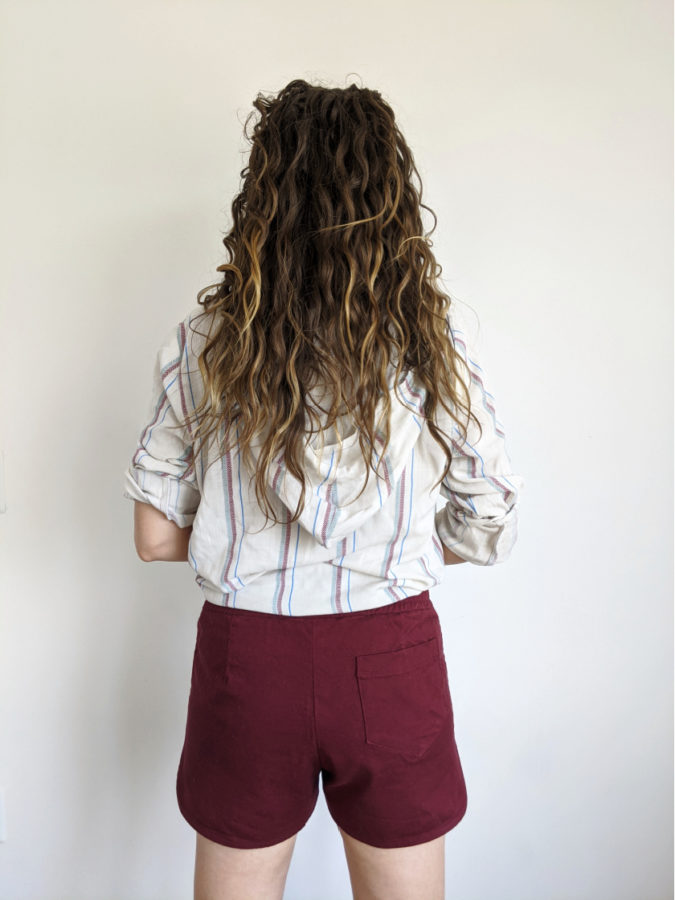 With their low yardage requirements and fabric versatility, the Vero Beach Set shorts are the casual pull-on shorts you'll be wearing all summer!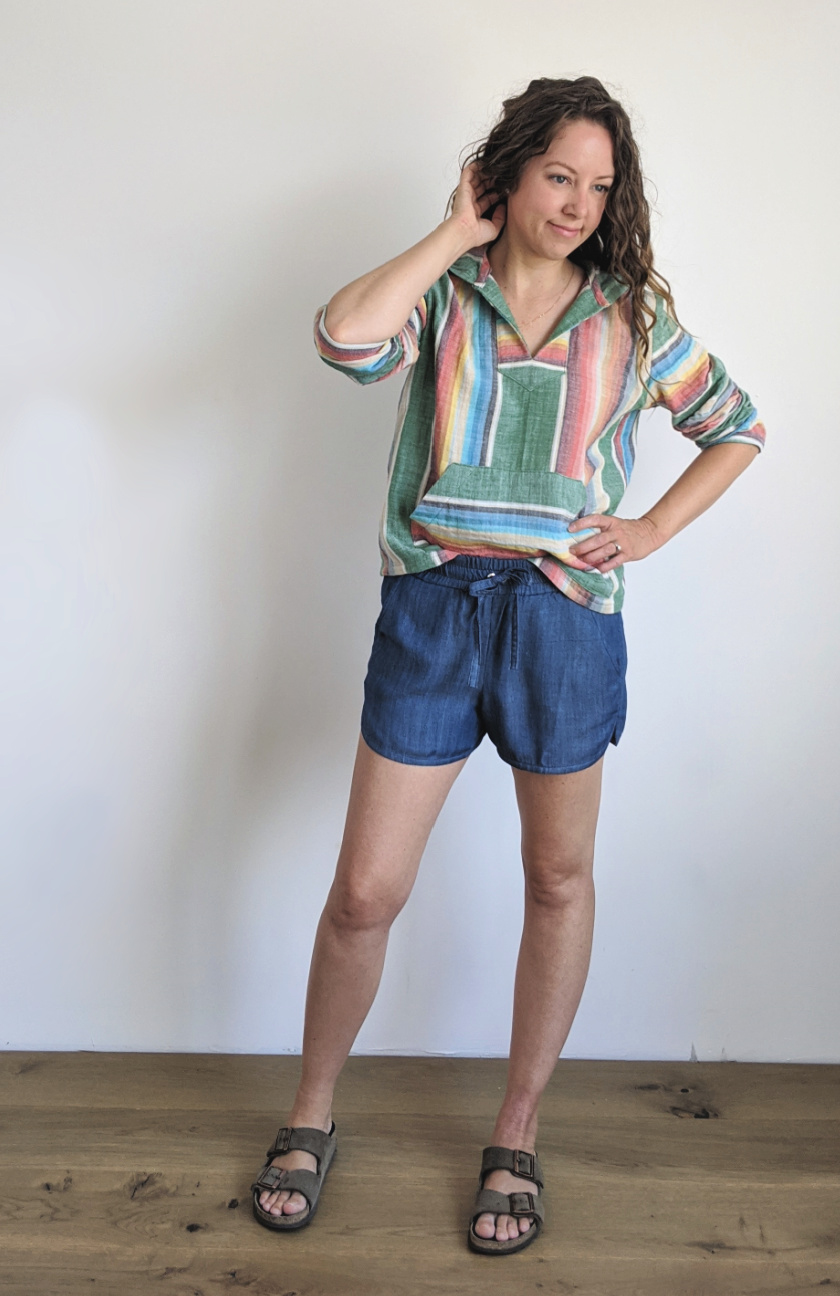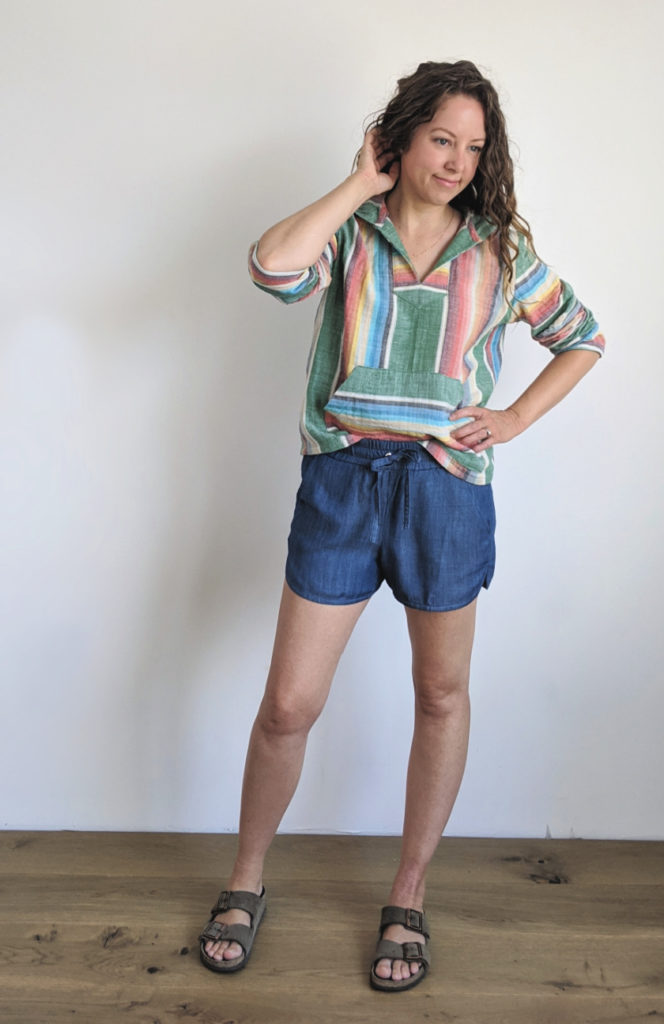 Fit
This was discussed a bit in the introductory paragraphs, but for a quick run down, here are some notes about the intended fit of these two garments:
Shirt
– Extra long and wide sleeves
– Slightly cropped hem length
– Boxy fit through the body
– Relaxed shoulder seam
– Extra large kangaroo pocket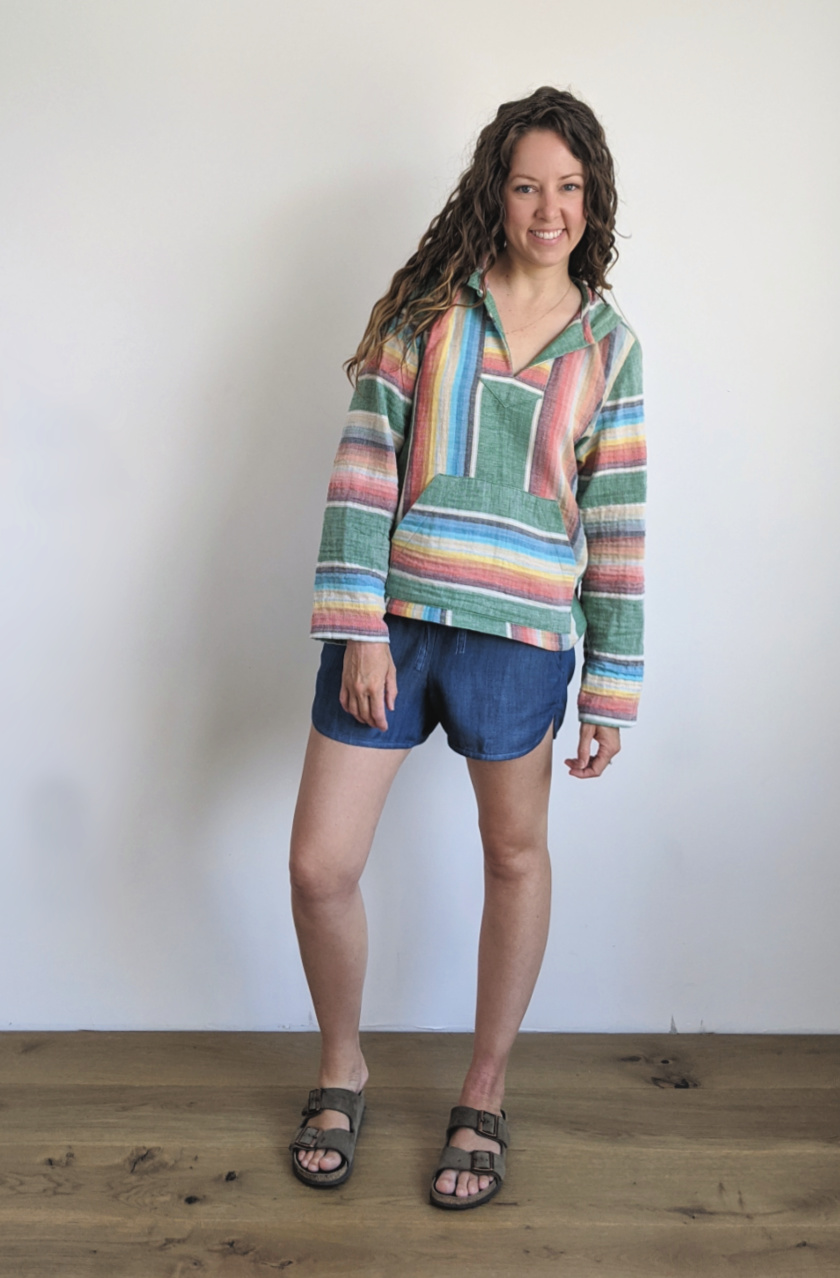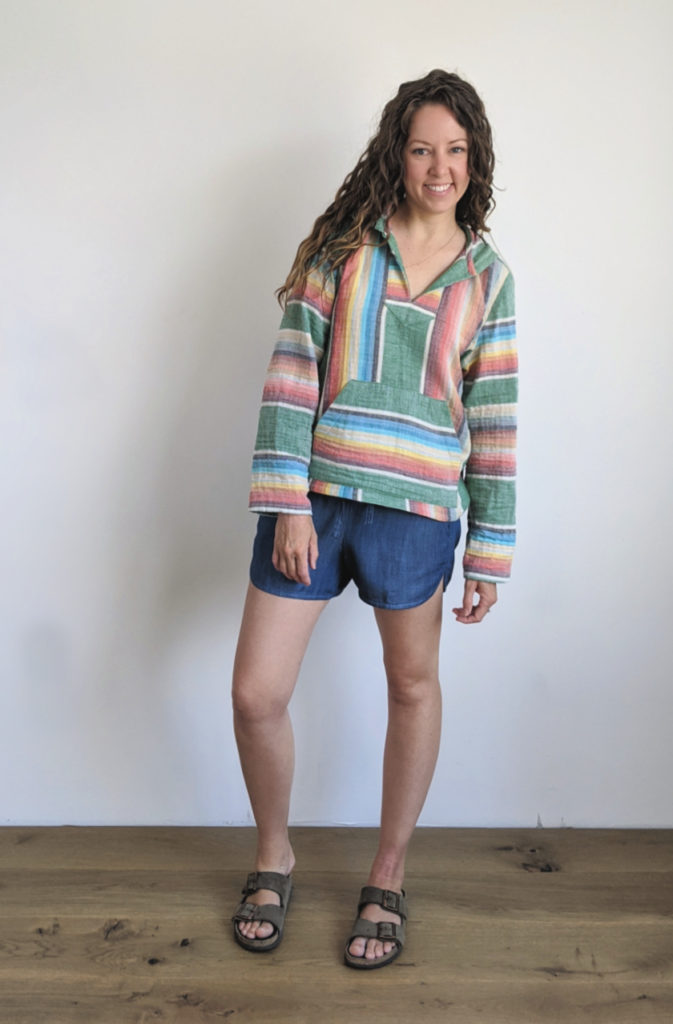 Shorts
– Mid-rise fit – should sit a few inches below the belly button for most people
– Fitted through the hip – 3" dropped inseam, should sit an inch or two below your crotch for a total length of 4-5"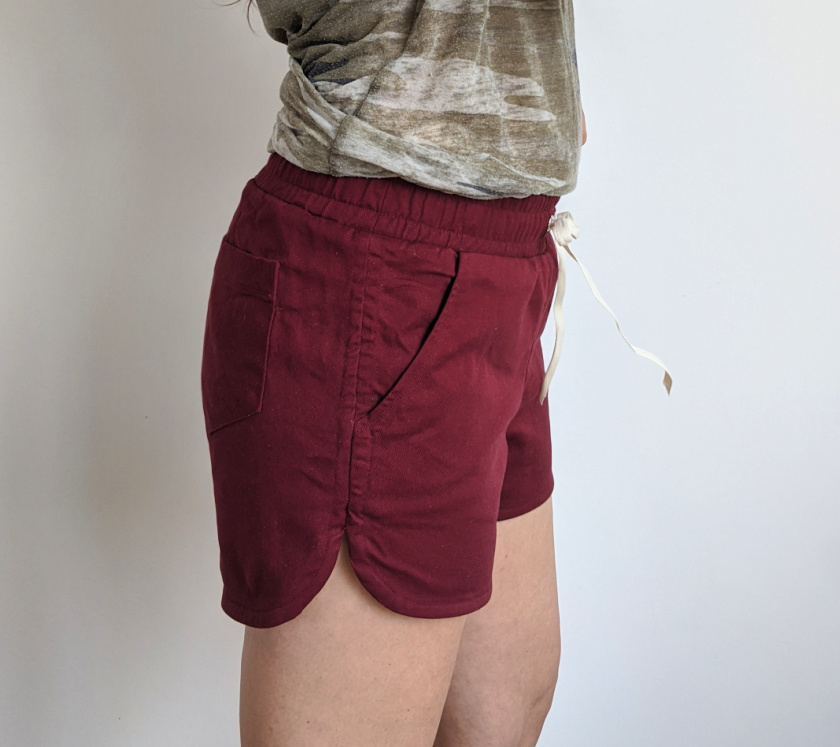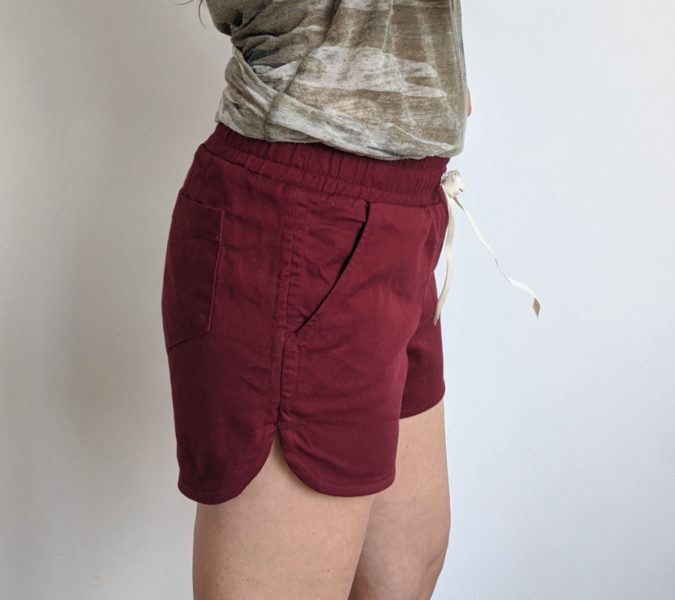 Alterations
If you wish to make either of the pieces fit differently from how they were drafted, you will need to make some alterations.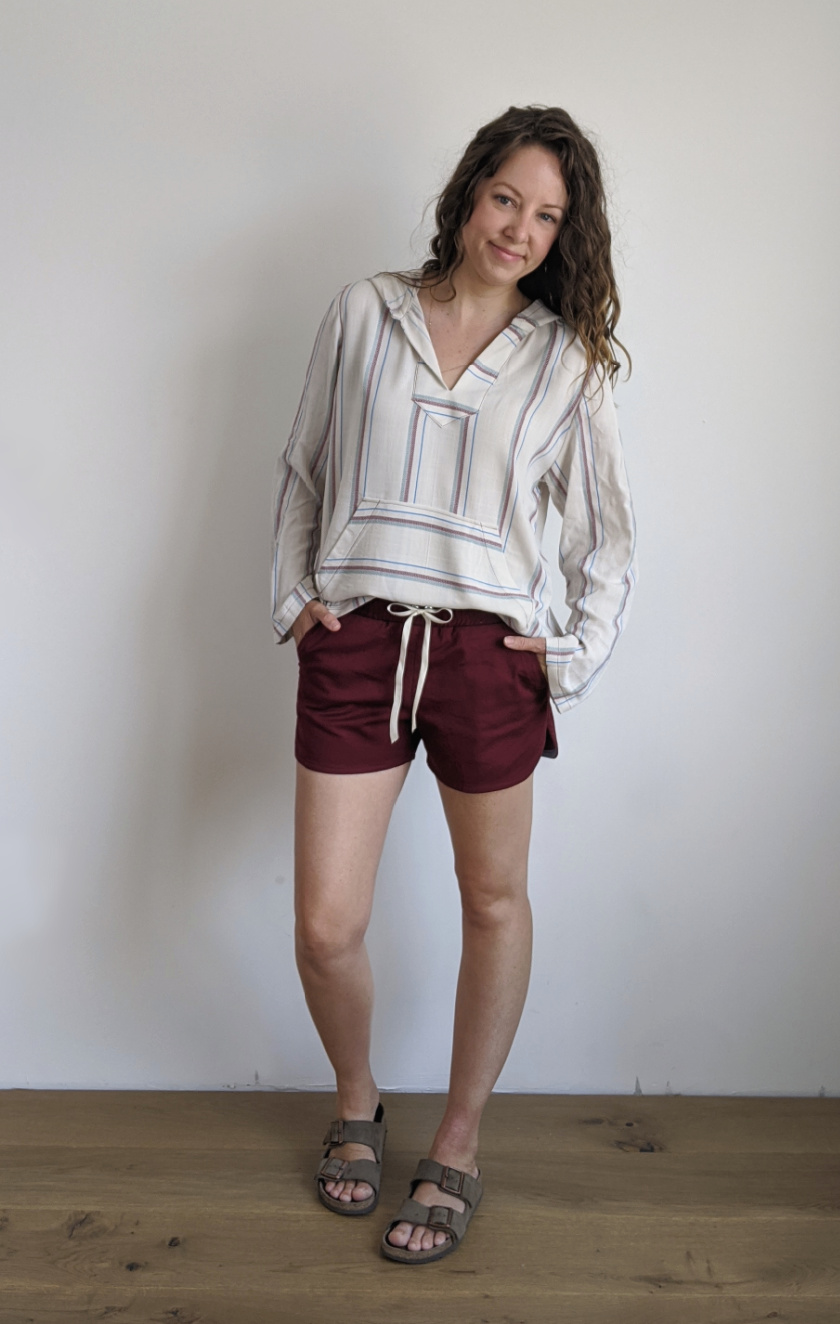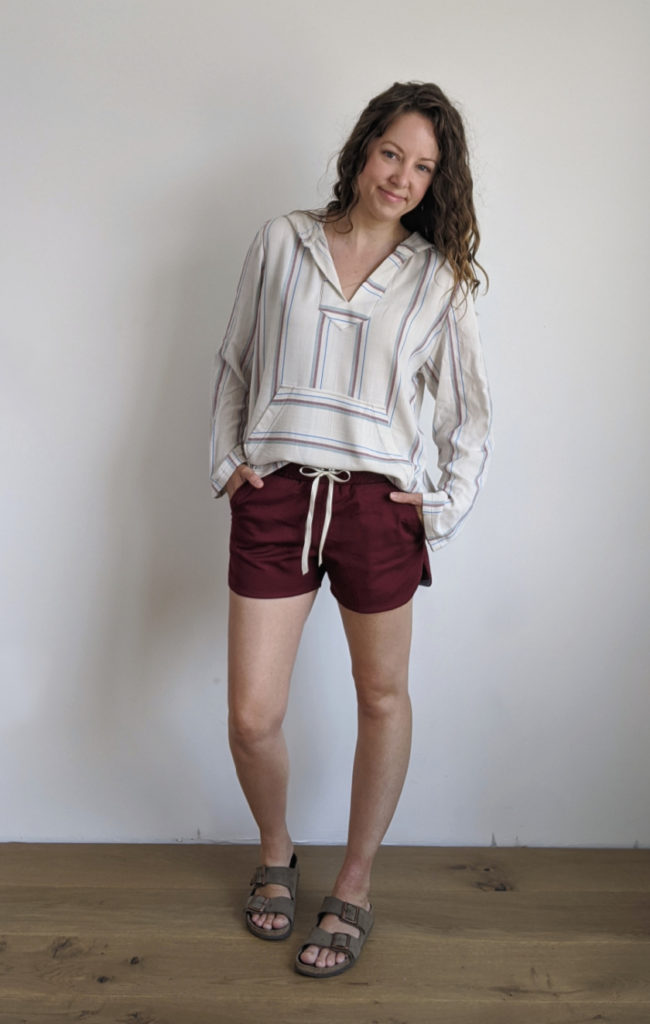 Because the shorts are meant to have a mid-rise fit, if they are pulled up or down to sit on a different part of your torso, the width markers will not hit your body where intended and will cause fit issues. For example, you could technically eliminate the dropped crotch and pull the shorts up to sit at your natural waist, but this would make the waistband too big, excess fabric below your waist (because that point of the pattern should be sitting at your hips), and the thigh area to be too tight (because it is supposed to be sitting farther down on your leg). If you want to alter these shorts to be high waisted, you need to instead add to the rise, and keep the hip notch on the shorts sitting at your hip. If you raise them up to your natural waist I would also recommend trying them on before adding the waistband, as you may need to increase the dart uptake to make them slim enough for your natural waist. Waistband elastic should always be a personal measurement when possible, so you will also need to measure your natural waist and change the elastic measurement to fit your body at this smaller point.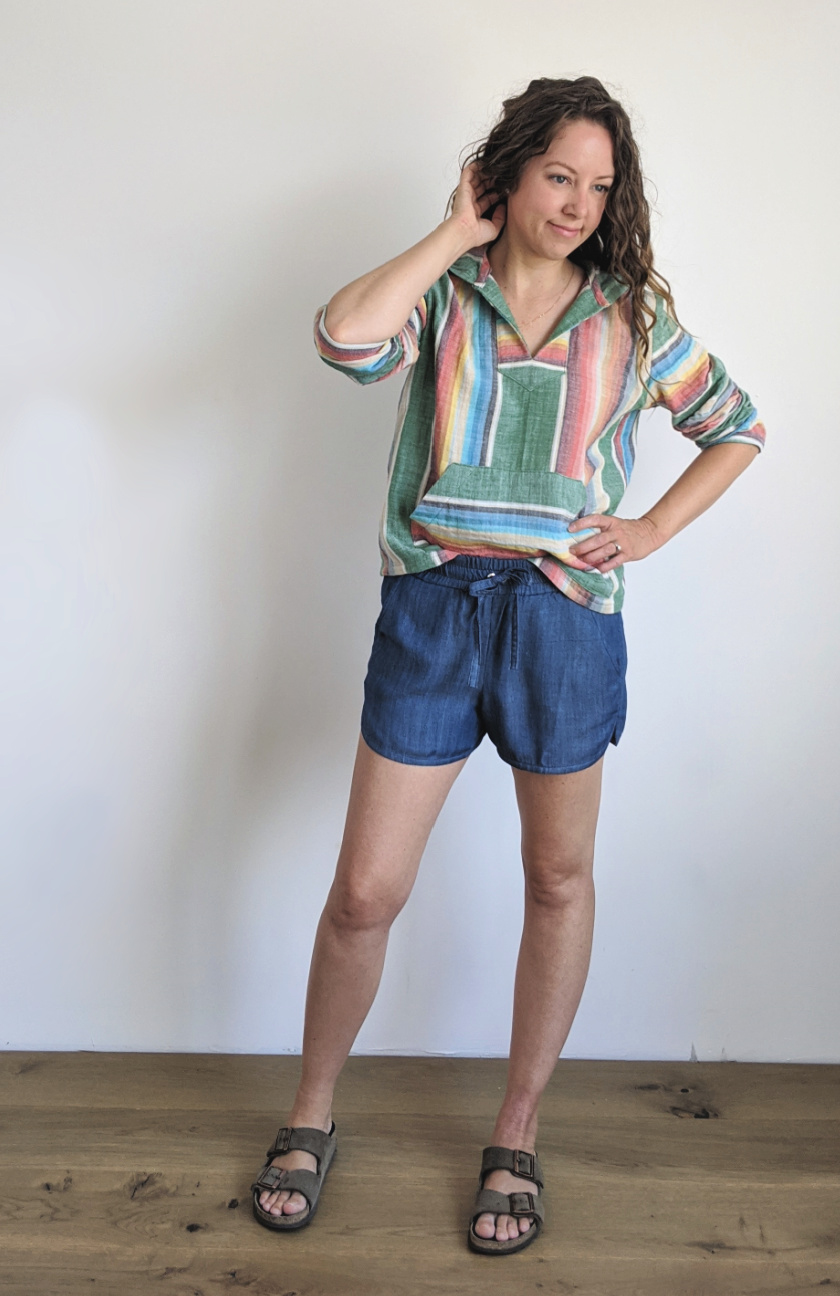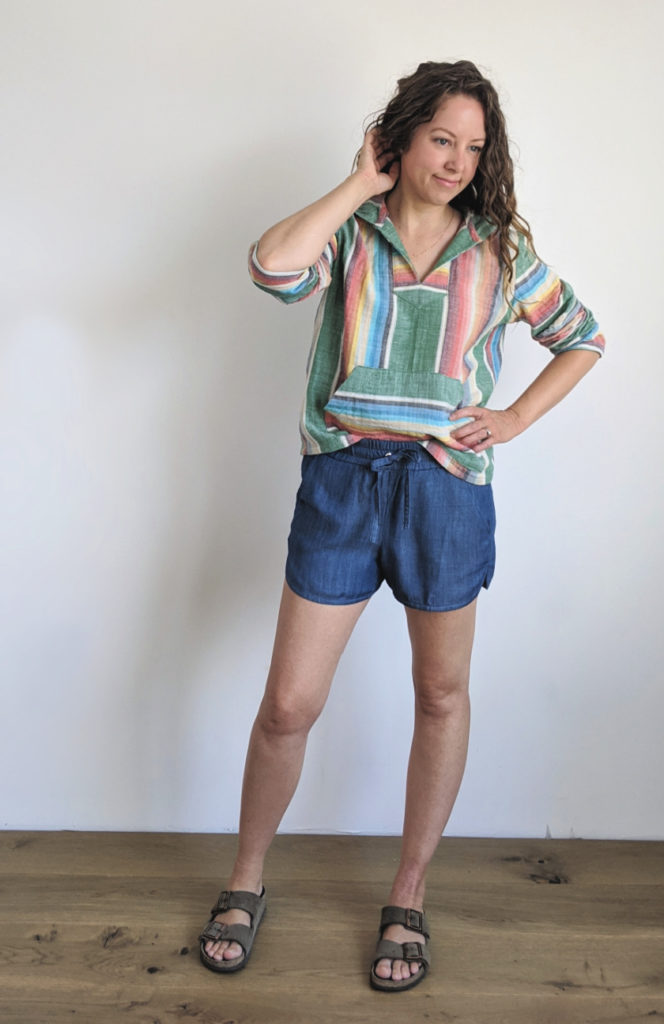 Alterations that deal with body-specific requirements and aren't intended to change the style are very straight forward because of the simple lines and easy fit on both of these garments. You can grade between sizes on the top or bottom easily or add or reduce length through the torso, sleeve, rise, and inseam. Finding your perfect fit will be relatively simple and then you can save your altered pattern pieces for a quick sew using the Vero Beach Set at any time! These alterations are also outlined in the pattern for reference. I recommend noting each measurement included in the pattern and comparing them to your body measurements before starting for an educated decision about alterations.
For reference, I fit into the high bust and hip measurement for a size 6, so I made a size 6 for each piece. The top is unaltered in any way. Because I have a very short waist, I lowered the rise by 1/2″ all the way around the shorts. For personal preference, I reduced the inseam by 1/4″.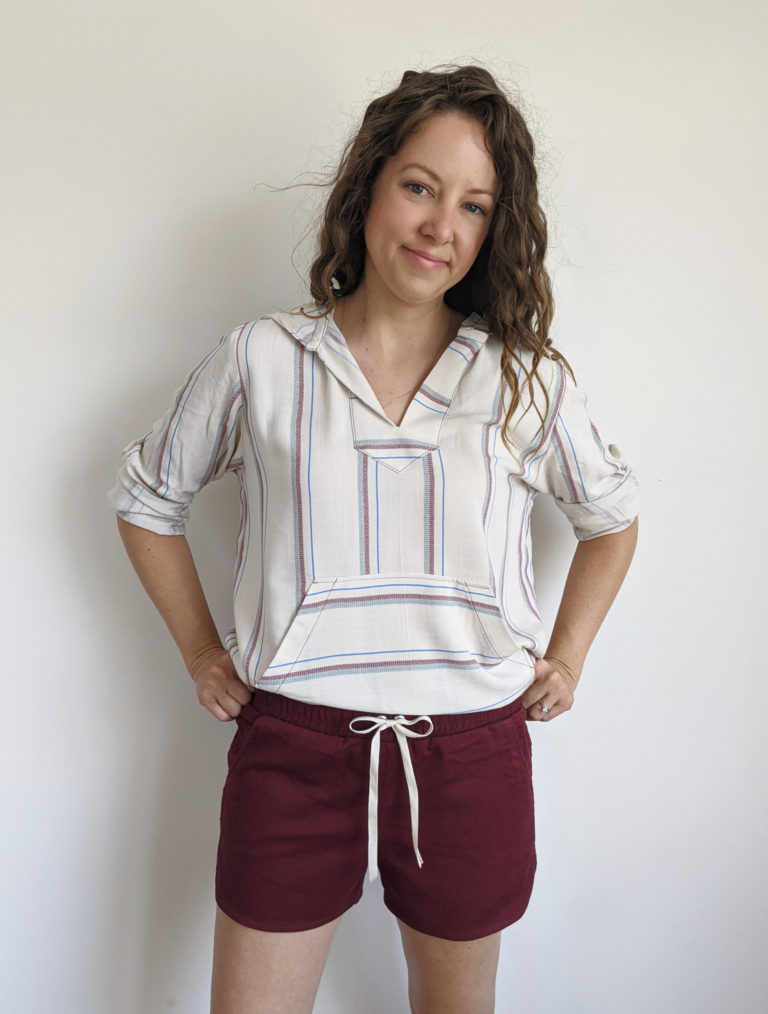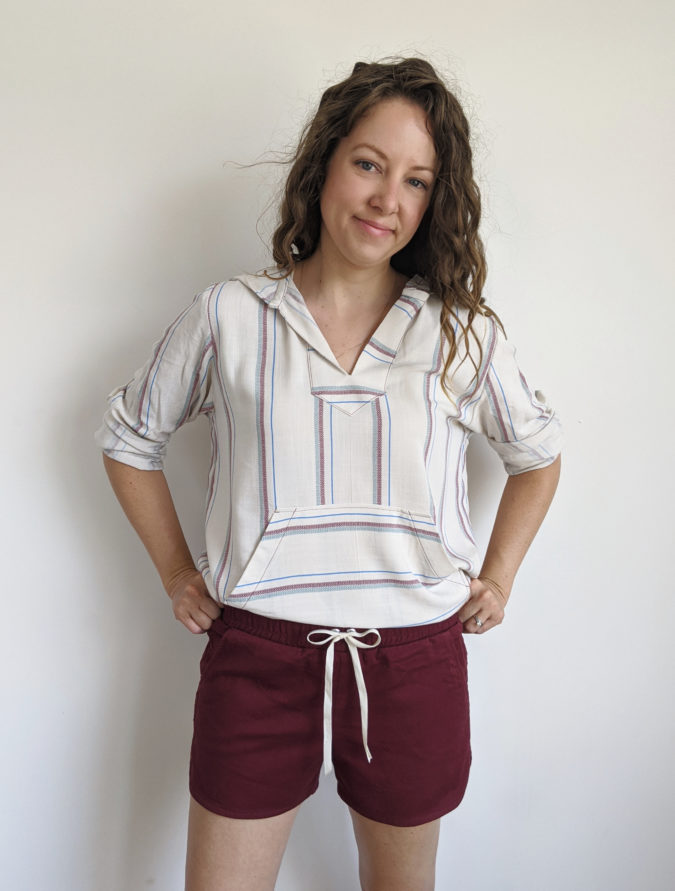 Sources
Rainbow stripe double gauze – Maharaja Fabrics
Rayon chambray – old, from stash, Joanns
Cream striped rayon linen – Alyssa May Design
Maroon twill – old, from stash, best guess is Mood
Birkenstock Sandals