I know I say this every time, but every time it's true – my testers really hit this one out of the park. The amount of inspiration that comes at me daily in the testing group is borderline excessive, if I'm being honest ;). I hope you enjoy these as much as I have – if you have a second, be sure to click on the testers' names and give them a follow on social media! Thank you so much for your hard work and for sharing your gorgeous Vero Beach Sets, ladies! (tip: make sure you scroll through all the way to the end, because the last one is pretty cool!)
---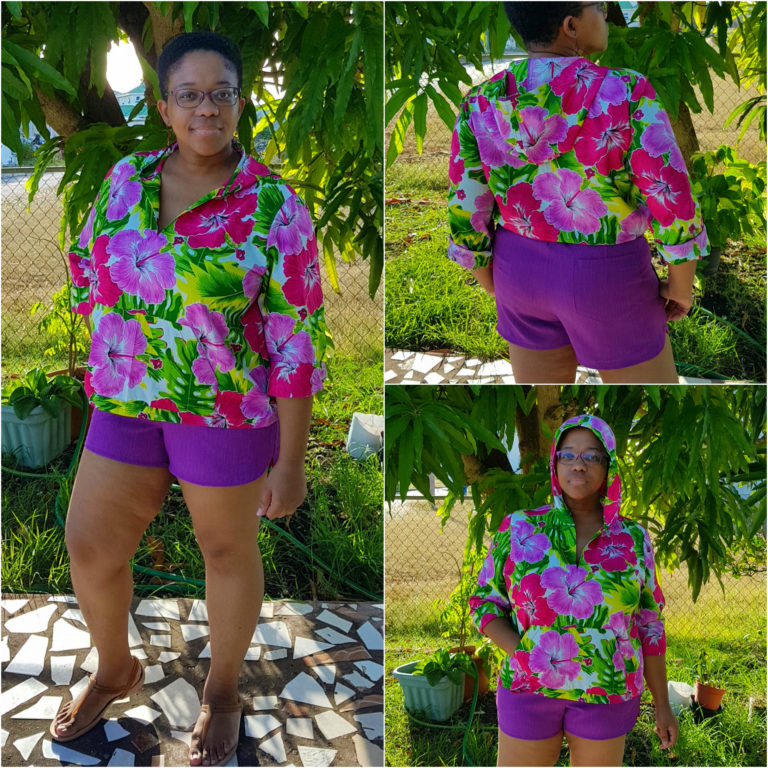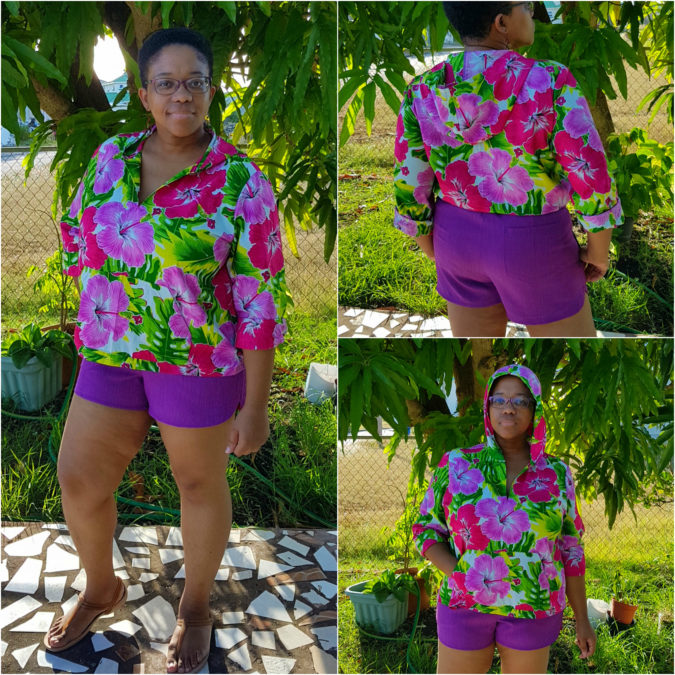 Abbey made the most vibrant, beautiful Vero Beach Set, and the fun hidden detail that you can't see here is that she used the floral fabric from her top as the bias for the hem on her shorts! I love special touches like that!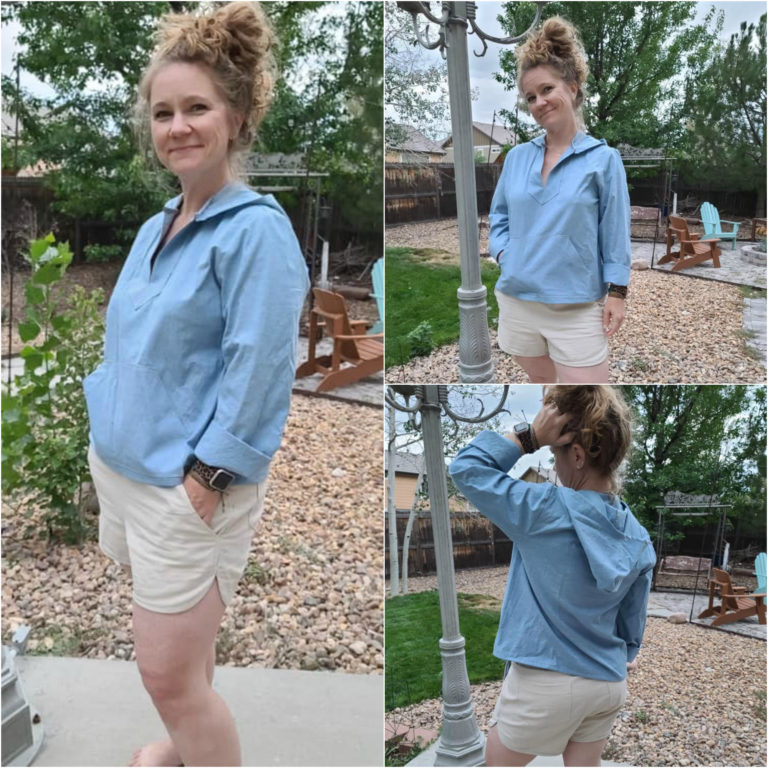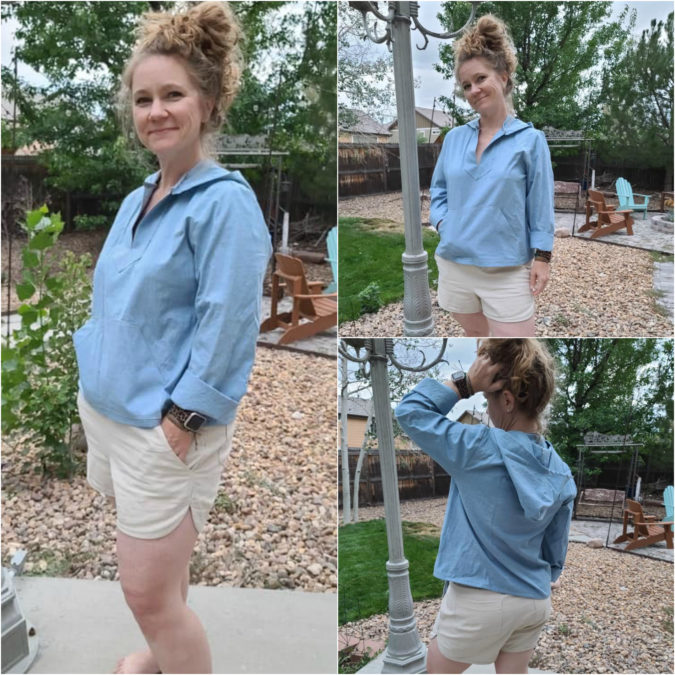 Amy made such a classic set with simple blue and khaki – I would wear these pieces constantly, both with each other and paired with other wardrobe pieces! Definitely a staple set.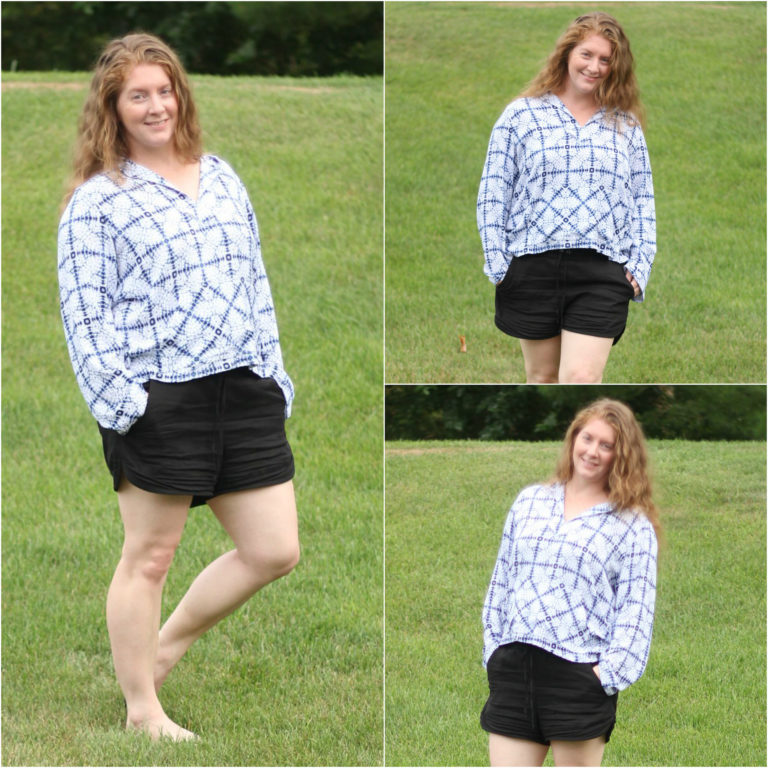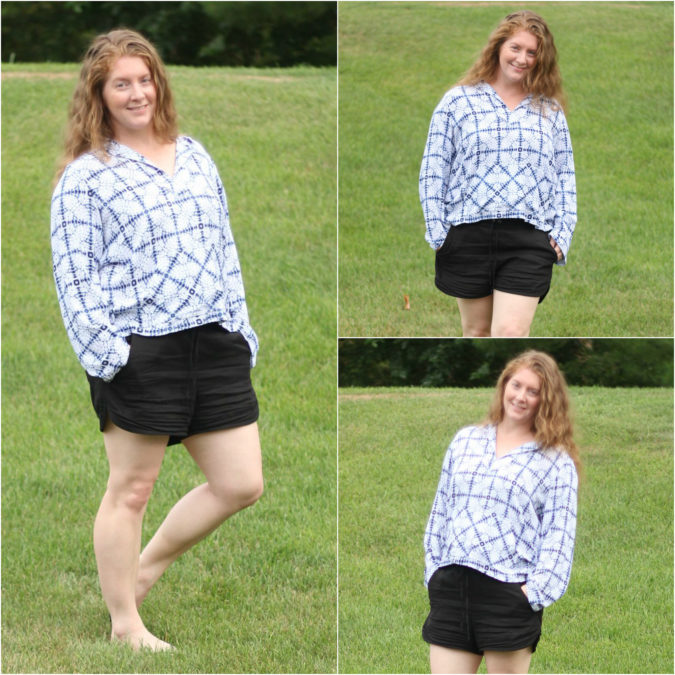 Cori used a front print for her top and paired it with some go-with-everything black shorts! I'm really loving this top in a geometric print.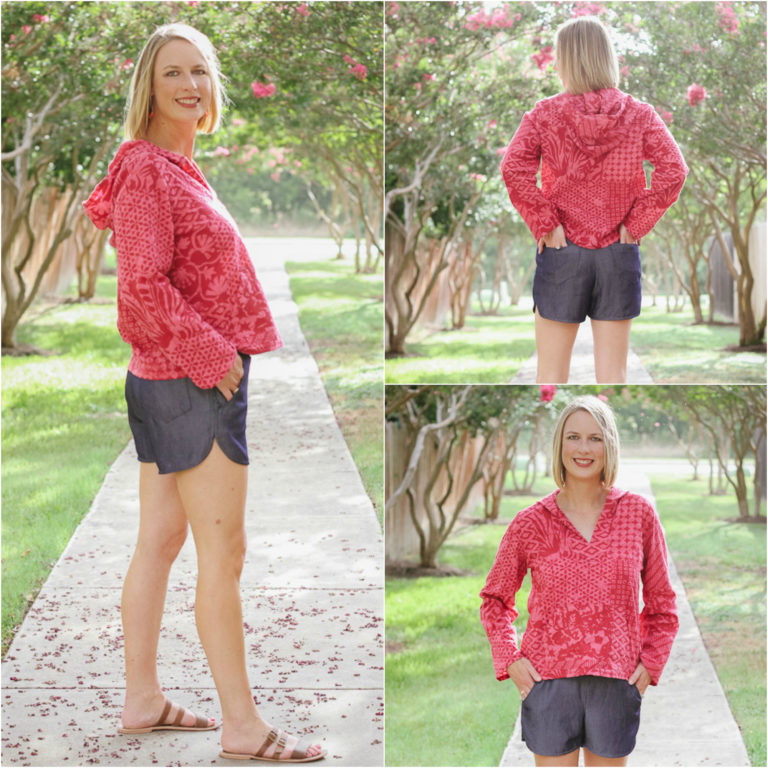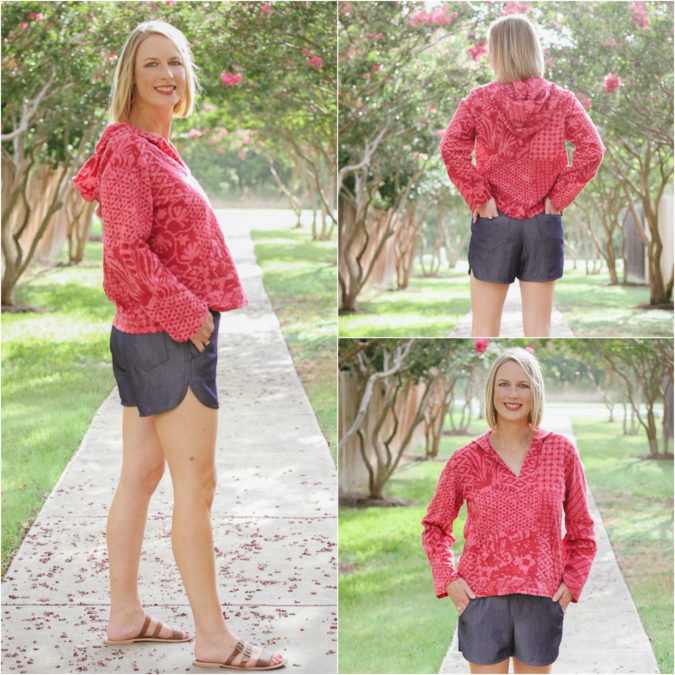 Courtney is such a pro at sewing and photography, I love her use of light here as well as her gorgeous set!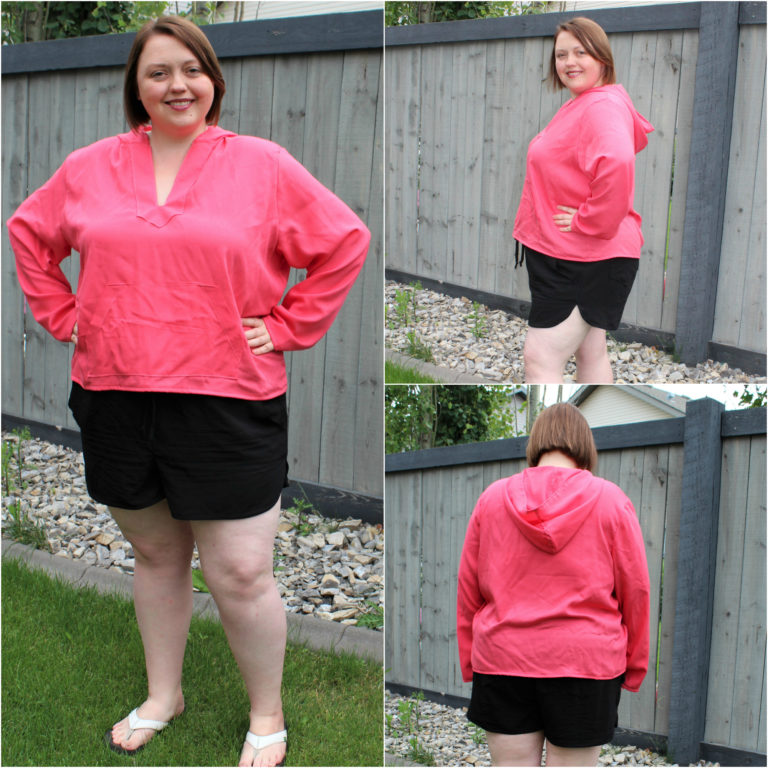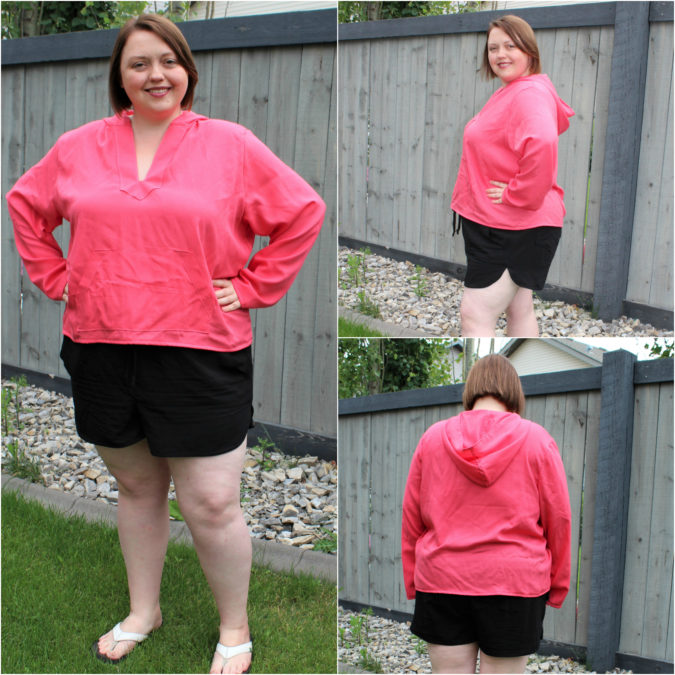 Courtney used solids for both of her pieces for ultimate versatility! I love how these pair together and can also see them being total wardrobe staples to pair with other tops and bottoms year round!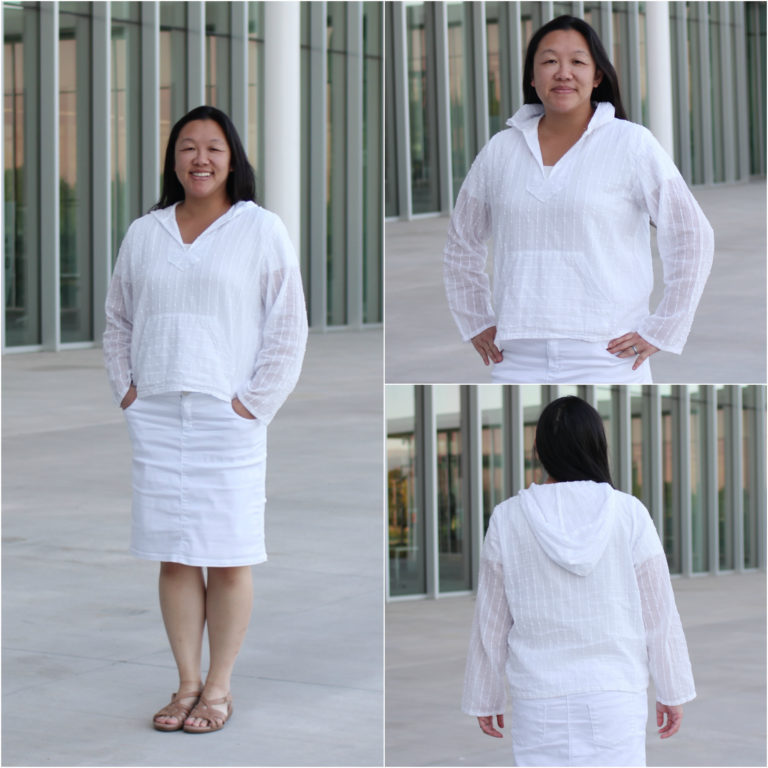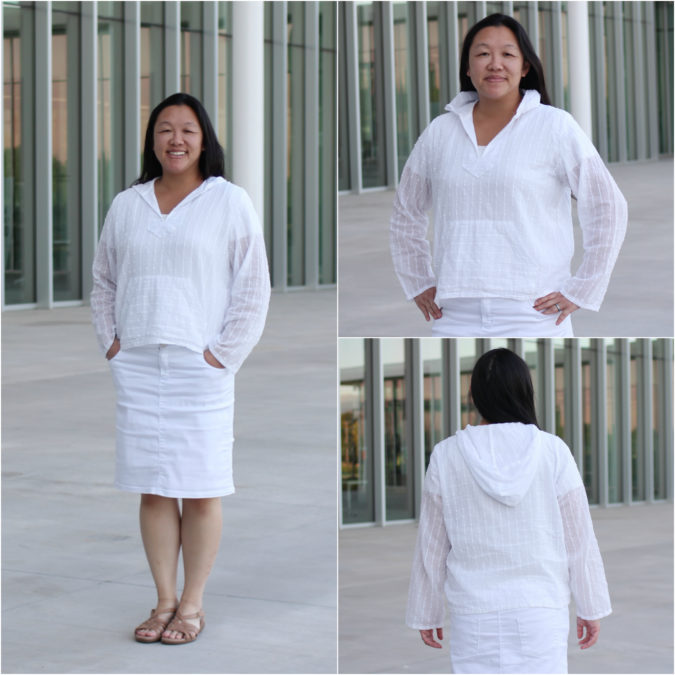 You'll never guess what Emily used for her gorgeous textured cotton top – Ikea curtains! How genius is that? I can't get over how lovely it is with the subtle threading and transparency. Great idea for an alternative fabric source!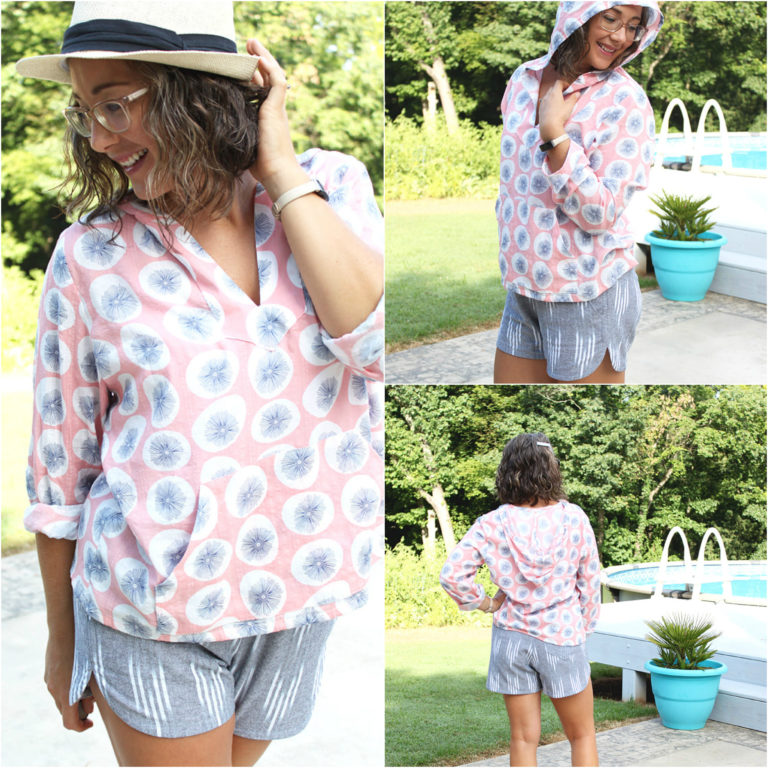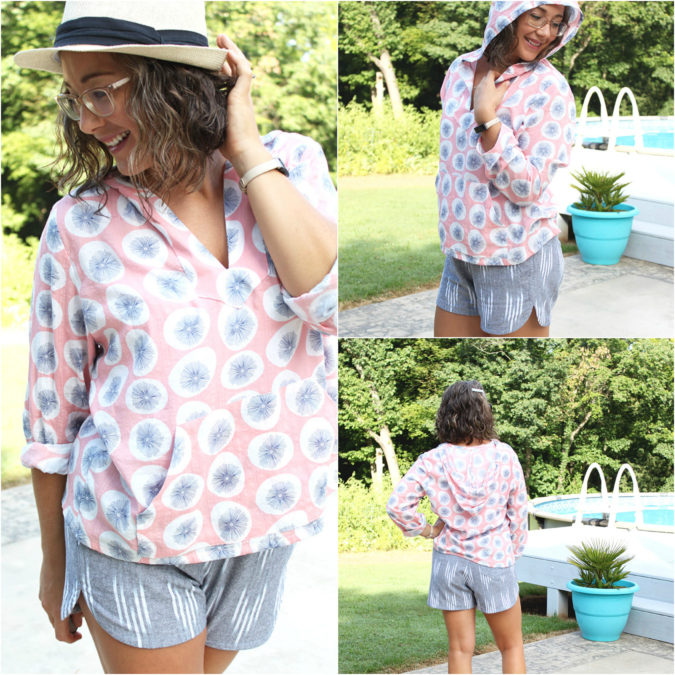 I pretty much just told Heidi to stop because I can't handle the cuteness of her set and her pics! I love this outfit paired with a straw hat by the pool.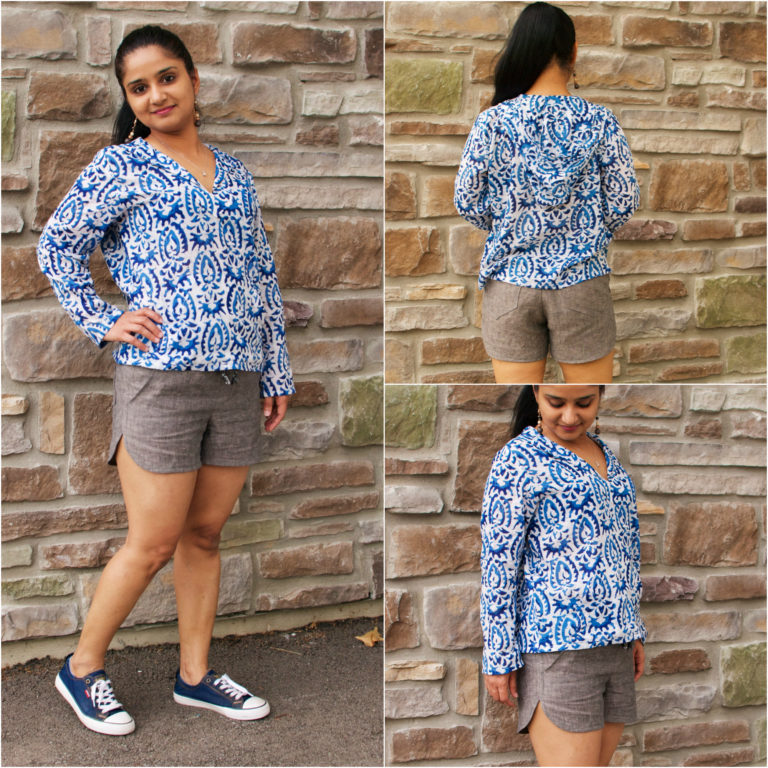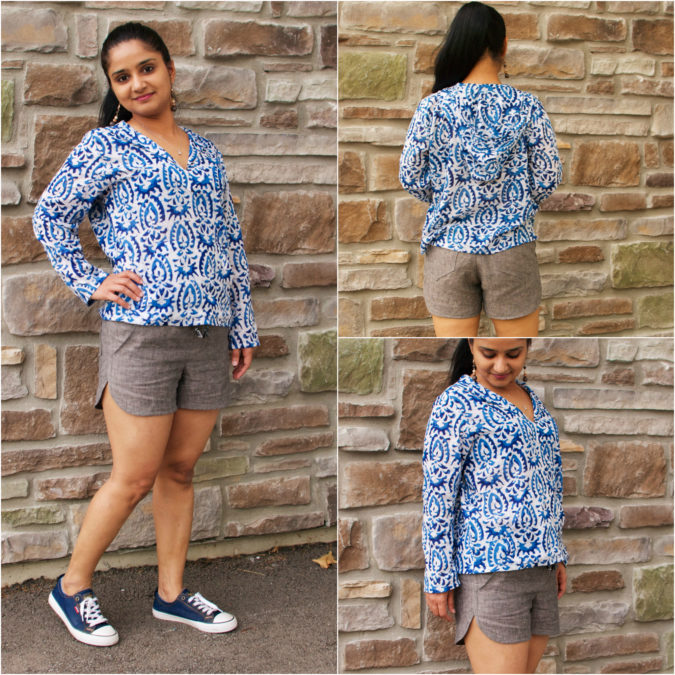 Indu used some gorgeous linen for her shorts and I think they would just be the perfect addition to any capsule wardrobe – they'd definitely go with anything and be worn all summer long. I love it paired with that gorgeous printed top and sneakers!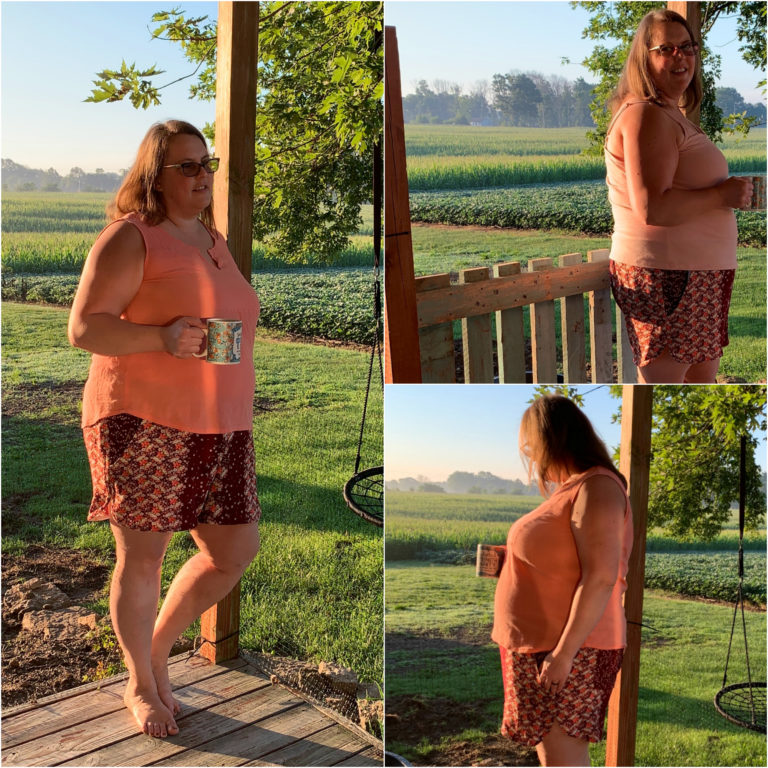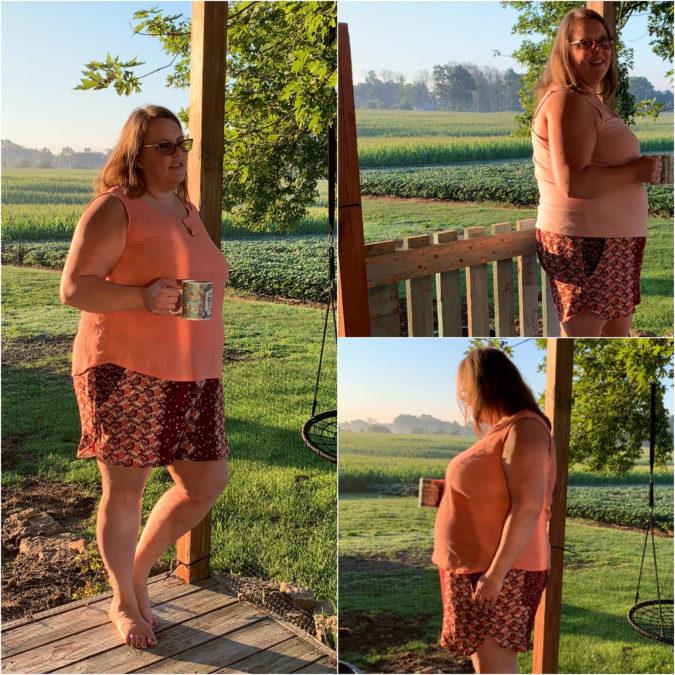 Iva used a really pretty rayon print for her shorts and paired them with a Phoenix Blouse! I love these together! And I'll admit to some extreme longing to join her on that porch with that view and a hot cup of coffee. How gorgeous!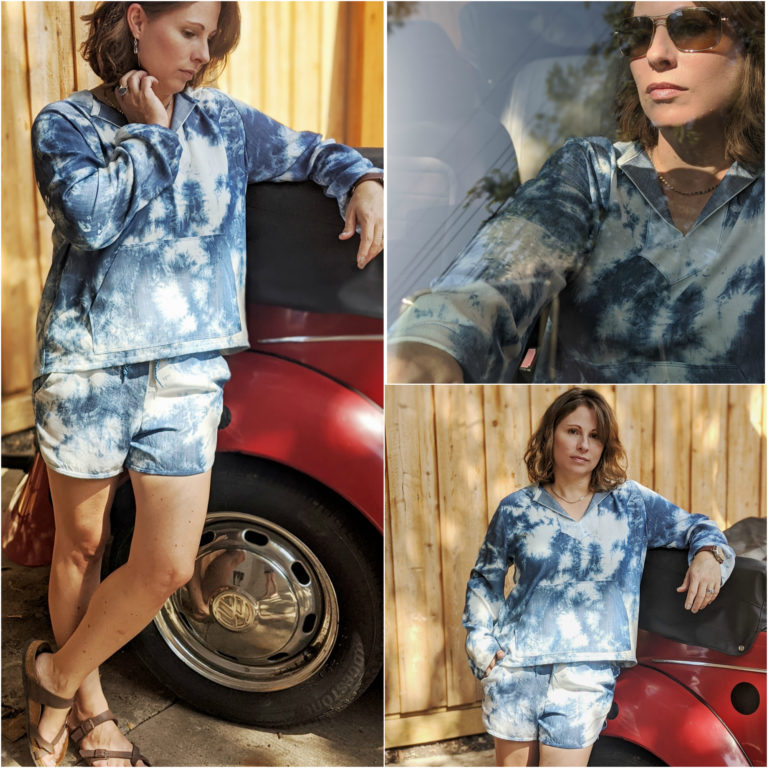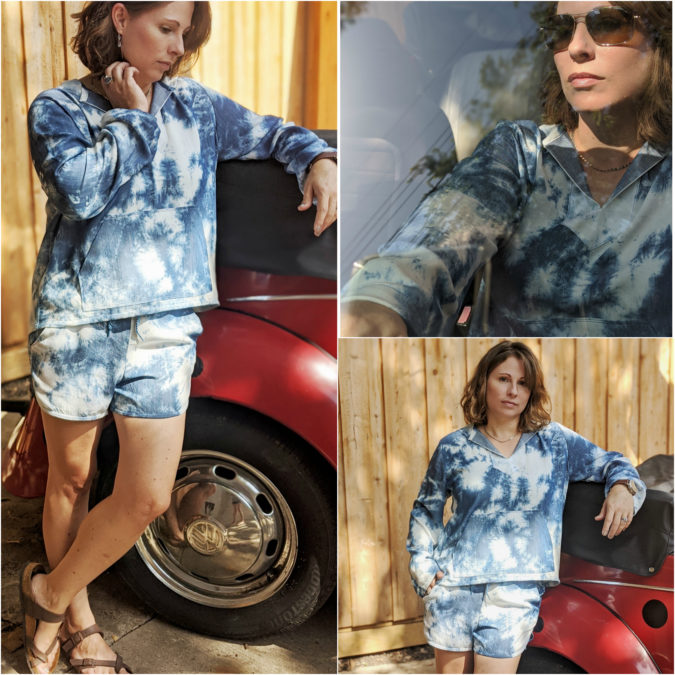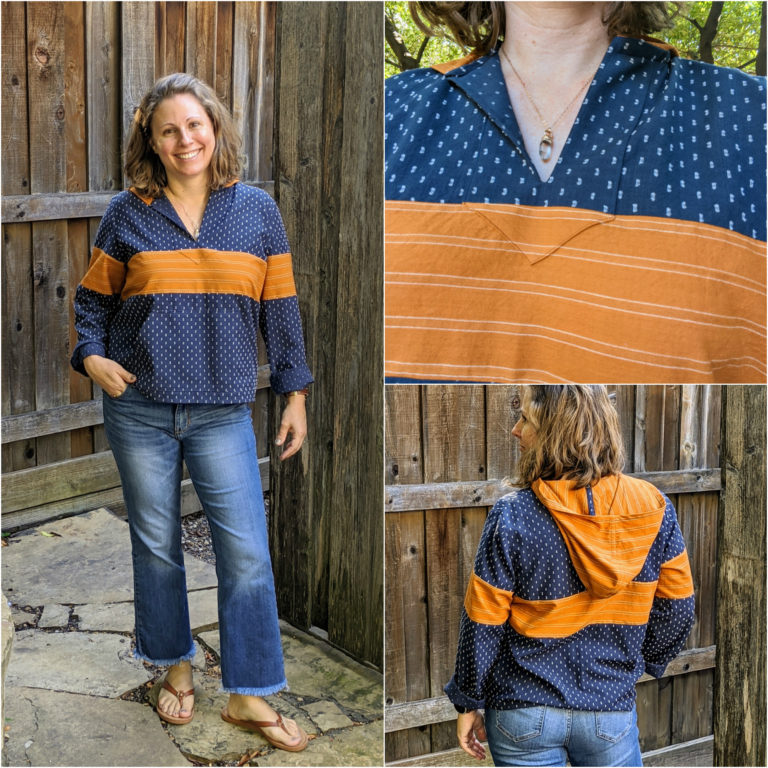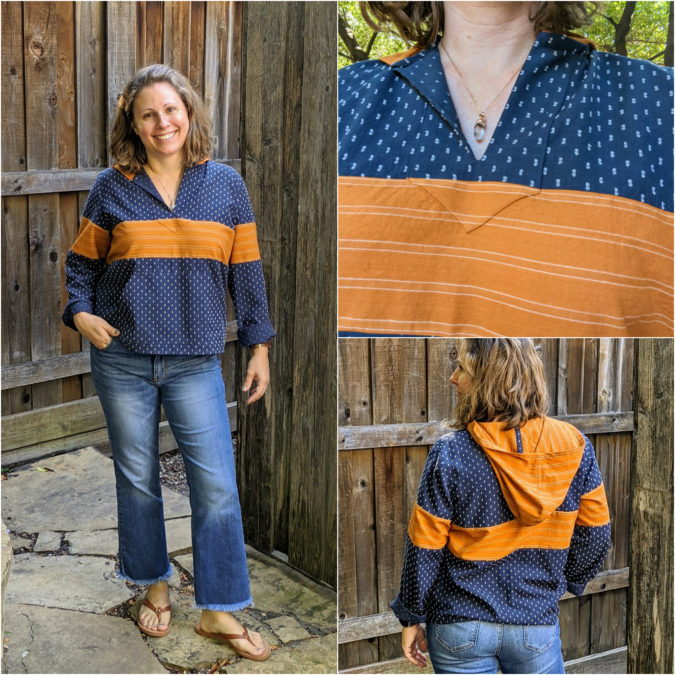 I don't even know how to express how impressed I am with Jill's two tops and shorts! I am now dying to have a tie dye set of my own (and a ladybug beetle!). And just check out that blocking using the new Warp and Weft line of fabrics! She even pieced the bottom of the placket so the stripe block wouldn't be disrupted! Gorgeous and well executed!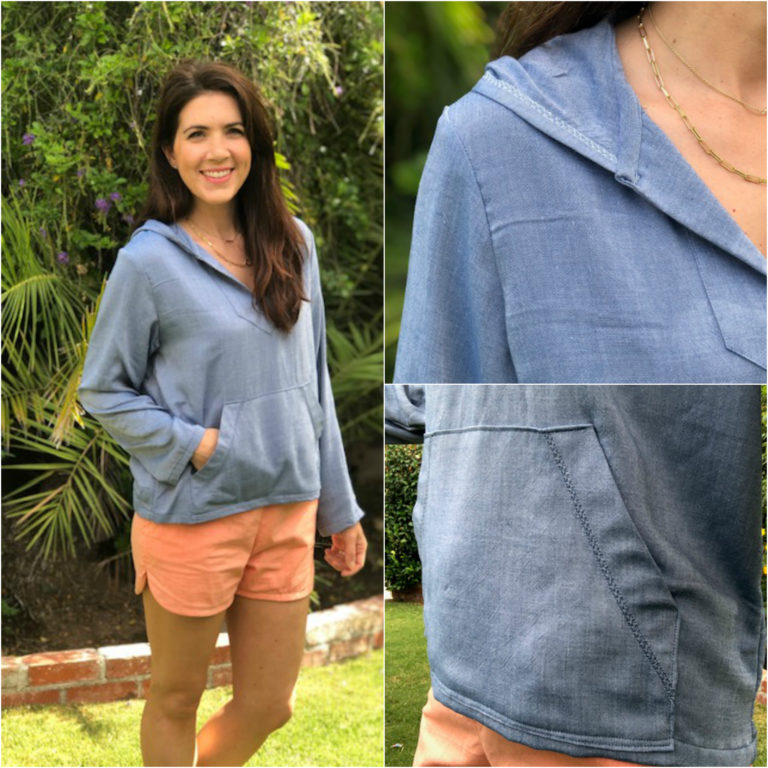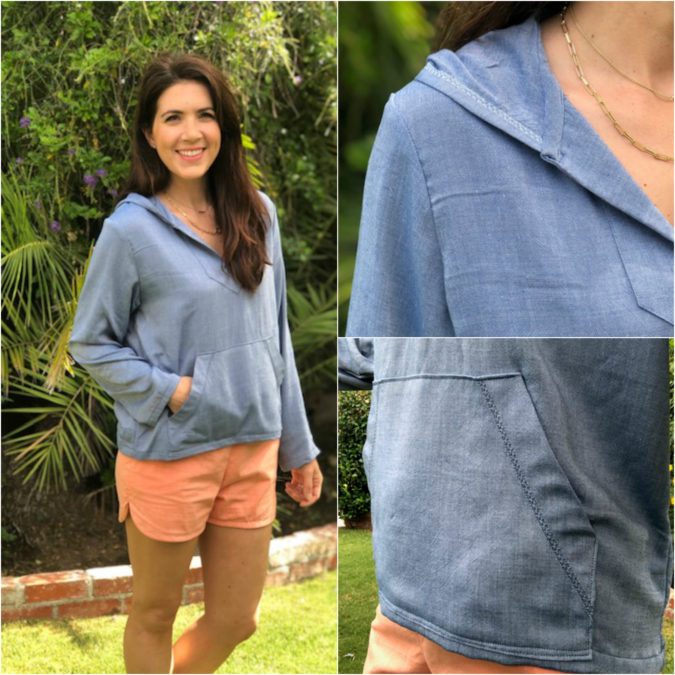 Jill made the cutest set with a neutral chambray colored top and pretty peach bottoms. But the big star here is her decorative top stitching! She used it on the kangaroo pocket, hood, and the hem of her shorts. Such a fun idea and it adds so much to a classic set!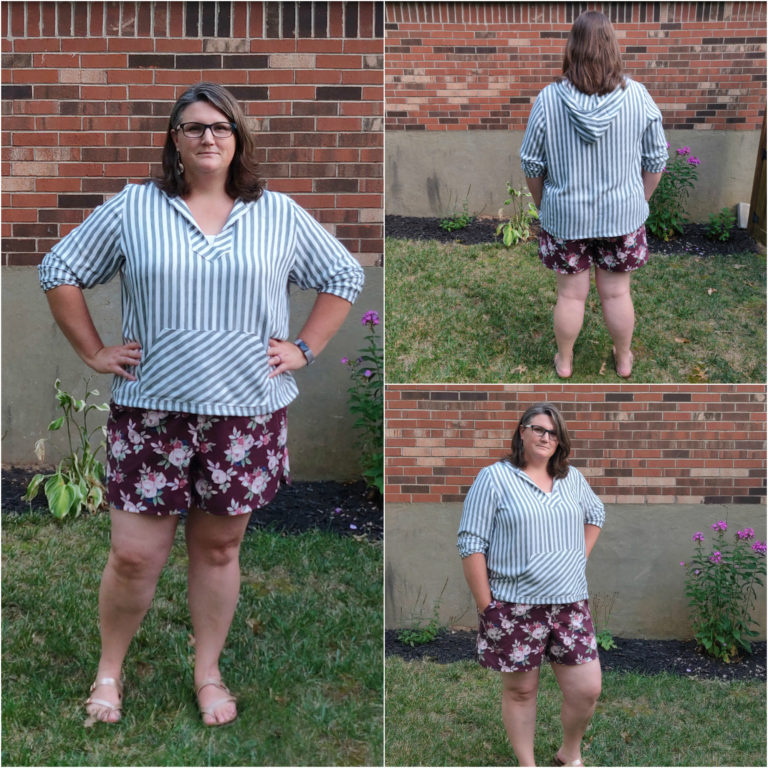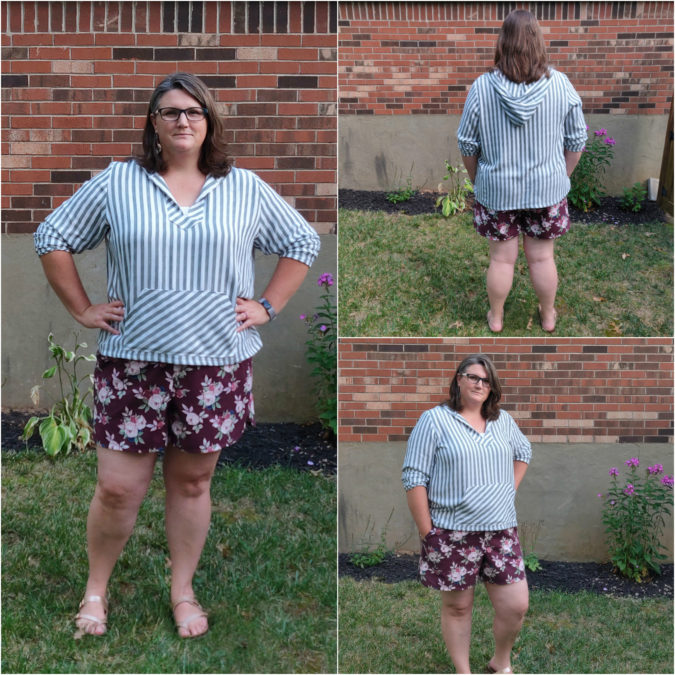 Leigh did a fun and classic pattern matching – stripes and floral! This will never get old, especially in such pretty colors like a blue and maroon. I just love these two pieces together. It's also another great set for mixing and matching with other closet pieces!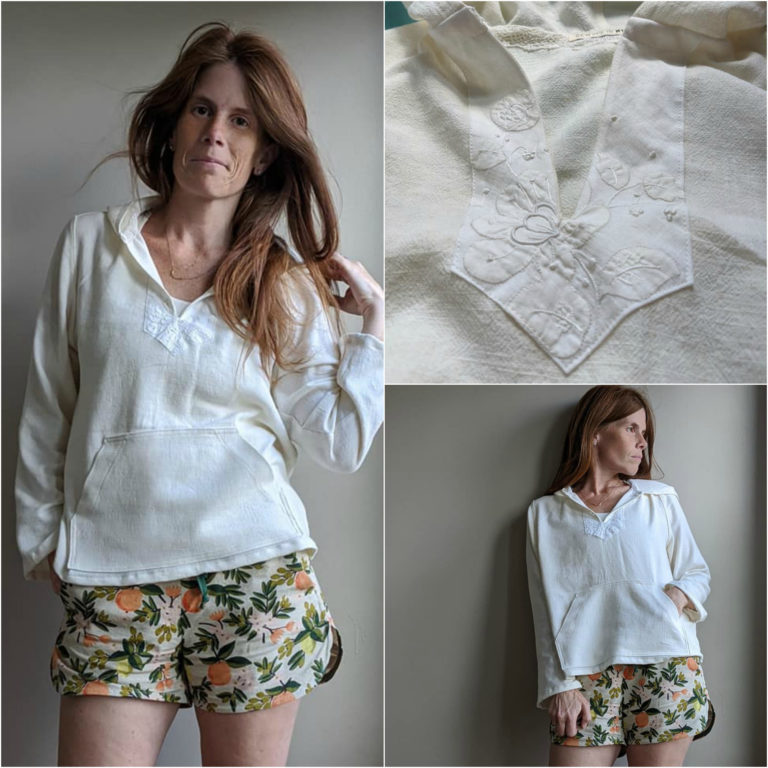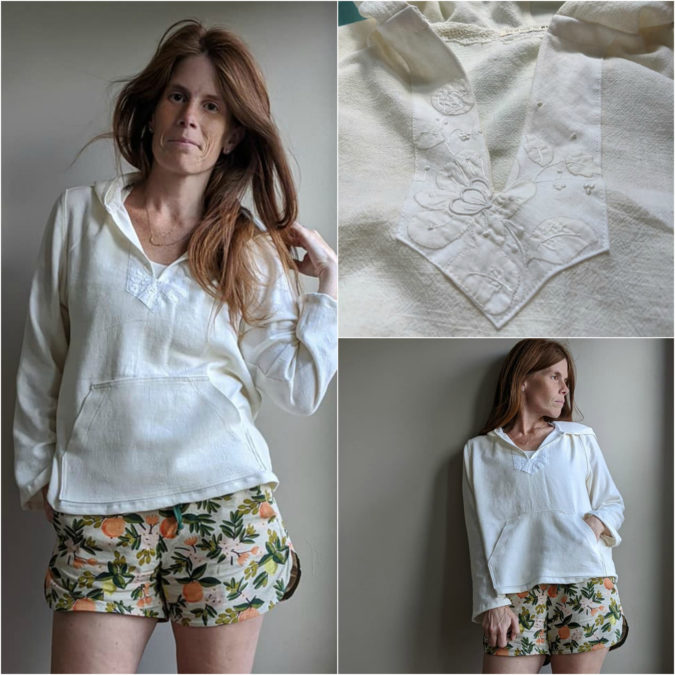 Loni made, no joke, 8 pairs of shorts (so far), so you'll have to check out her instagram to see all of those, but I admit that these are my favorite, so much so that I ordered the same fabric to copy her :). I LOVE how she used heirloom family linens to make her placket and crochet trim to bind her neckline. What a beautiful way to honor special pieces of fabric!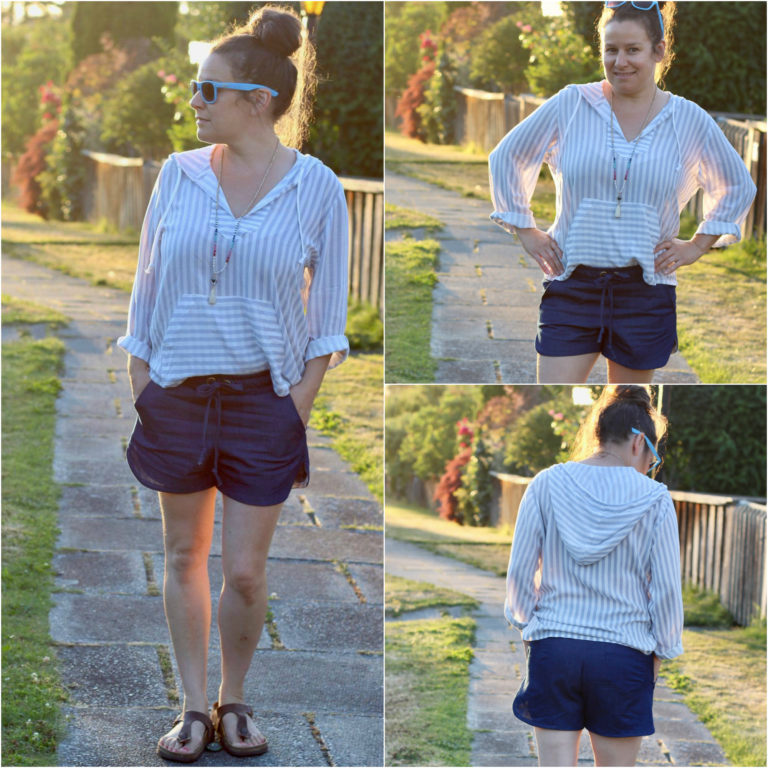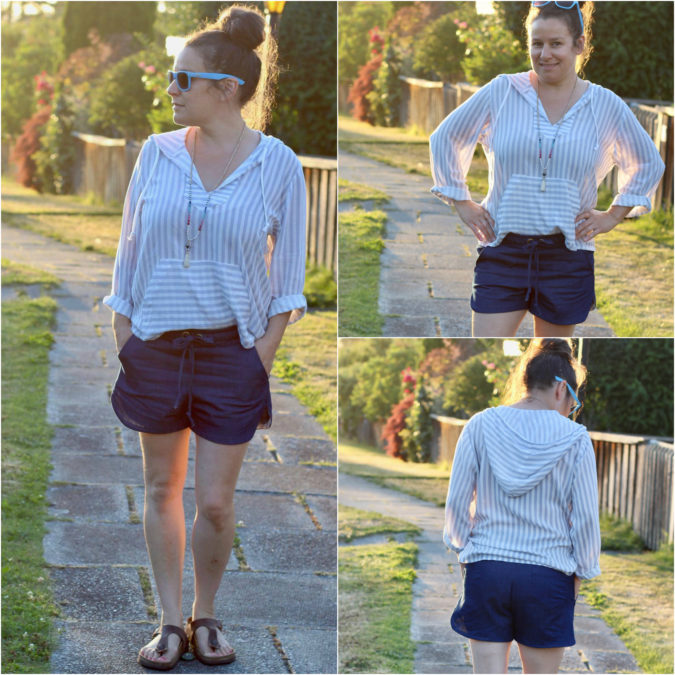 I'm in love with Mandy's simple and classic set – it looks like it came from a high-end boutique, especially styled with a cute necklace and sandals! Such pretty drape too!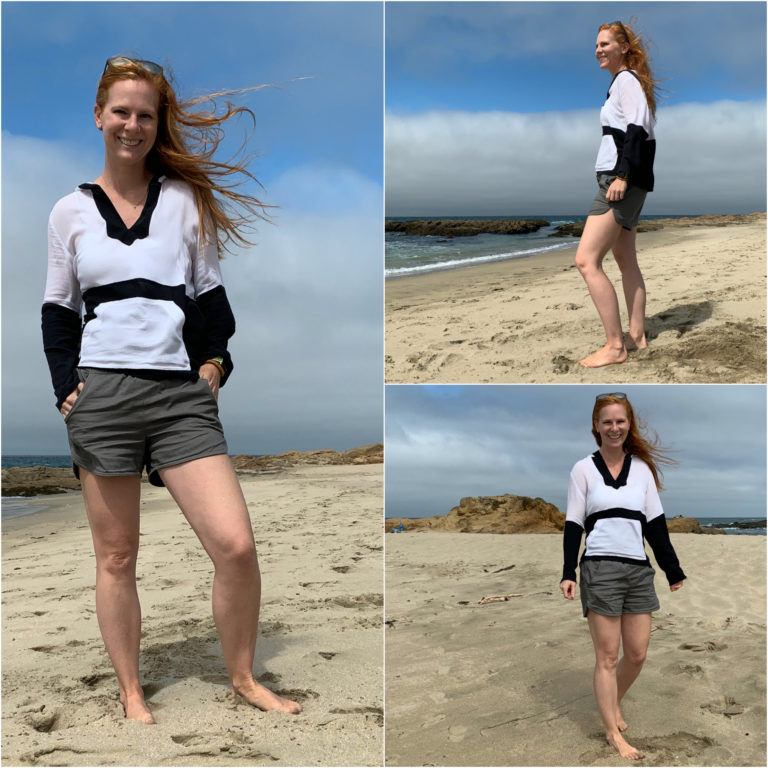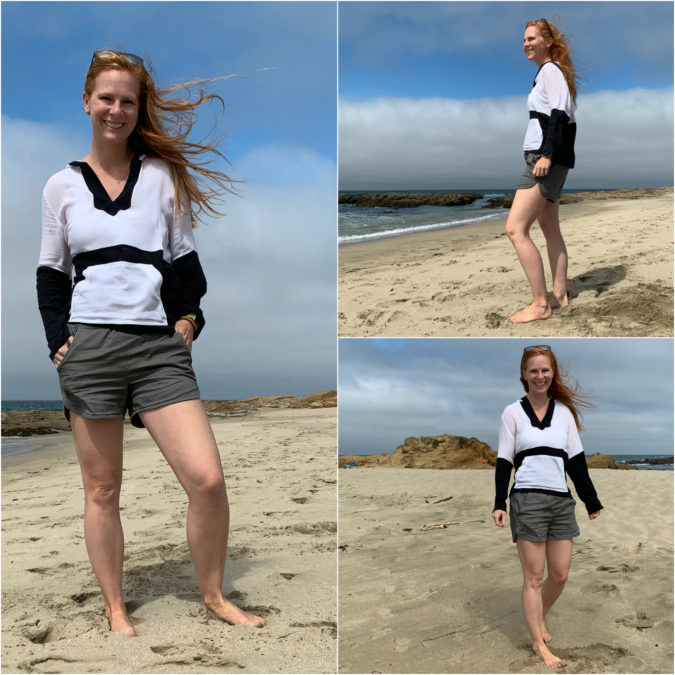 Patti did us all a solid and took her beach set to an actual beach! I am definitely not jealous at all :). But I do love her gorgeous pics and how she was able to use two large scraps of fabric to colorblock a new top for herself! Such a great way to make use of every piece!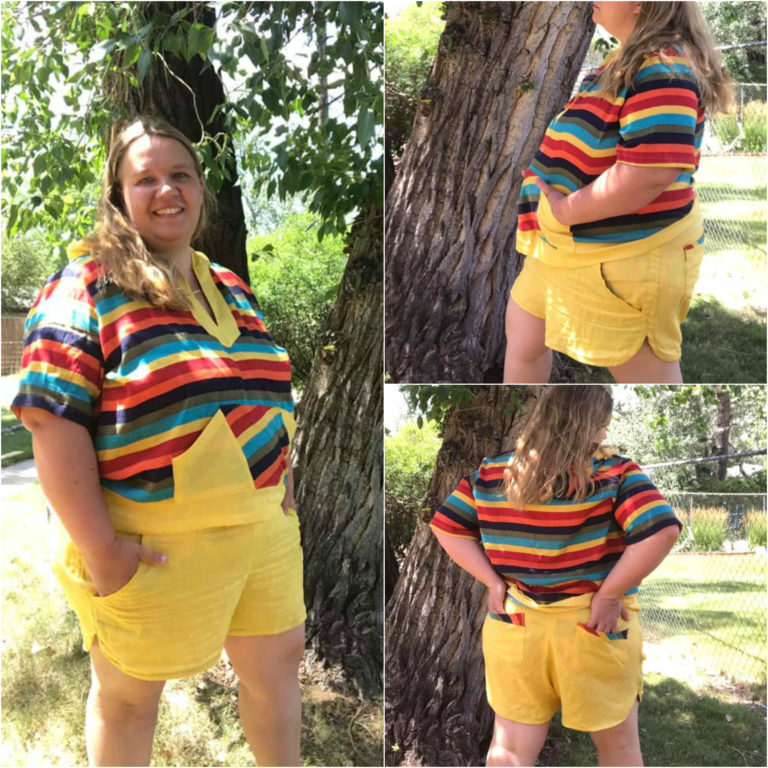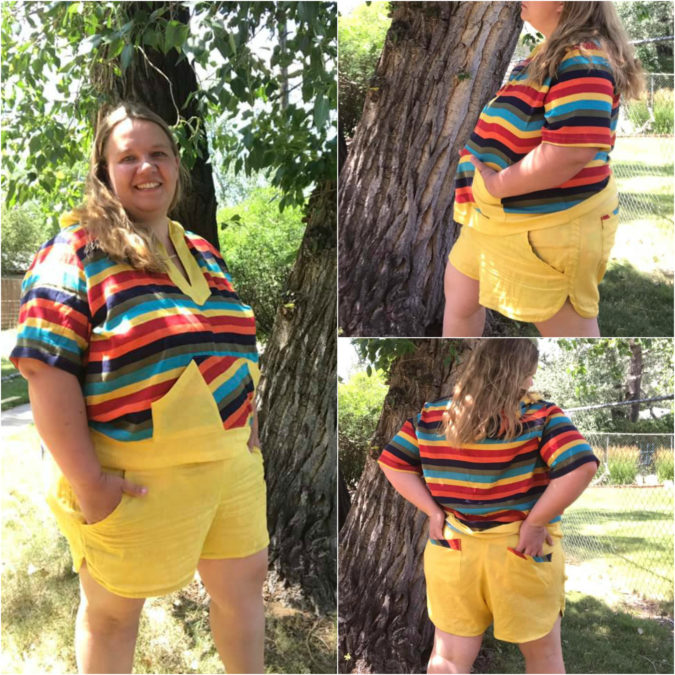 I believe Meriel originally did short sleeves and colorblocking because of a fabric shortage, but it turned into the best result! I love all of her thoughtful details – my favorite are those slanted bias details at the top of her back pockets! So cool!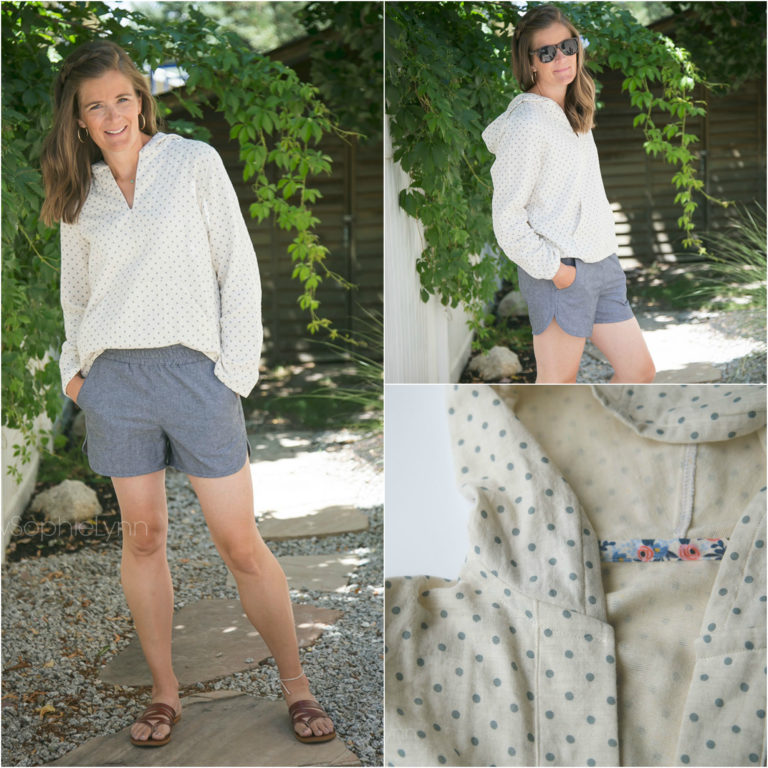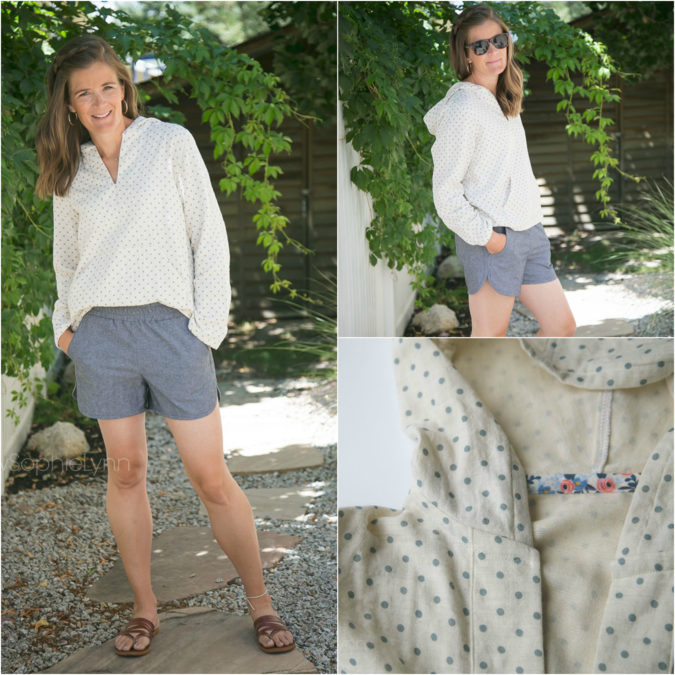 Tami used the prettiest fabrics for her top and bottom – I just love how laid back she looks in this outfit. She always has the best style. She also used a cute floral for her neckline binding for the sweetest little detail!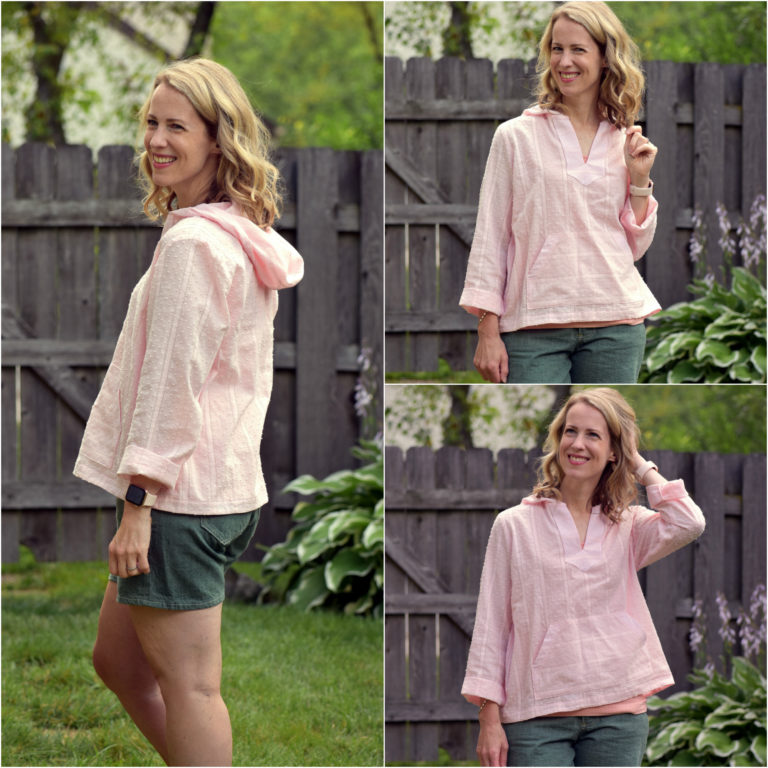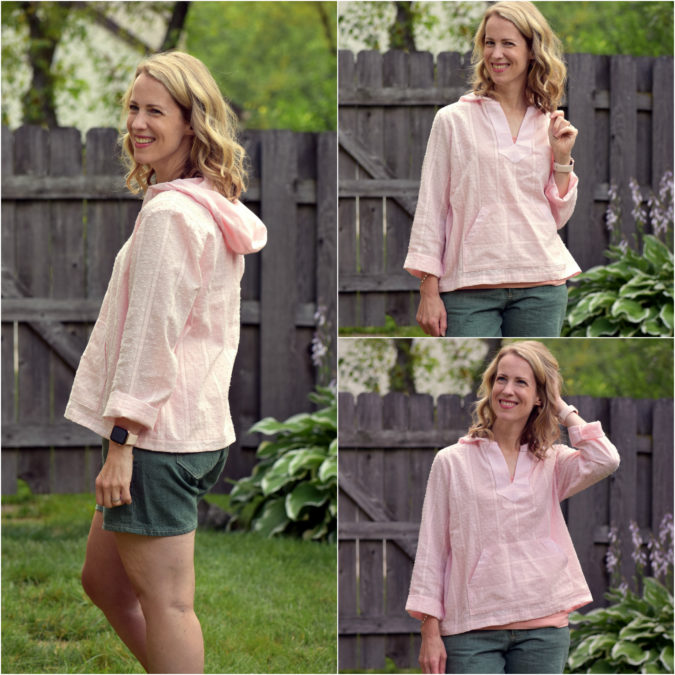 Teri used a textured dobby cotton from everyone's new favorite store – Alyssa May – (if she's sold out it's because we all went a little bonkers). This semi-sheer fabric is just perfect for the Vero Beach top and makes a great lightweight piece for layering and sun protection.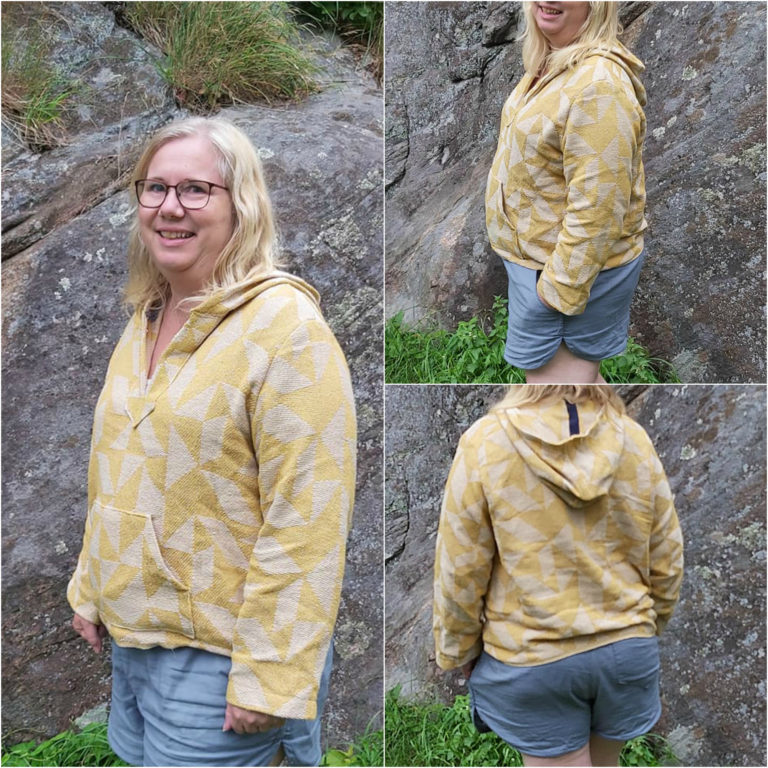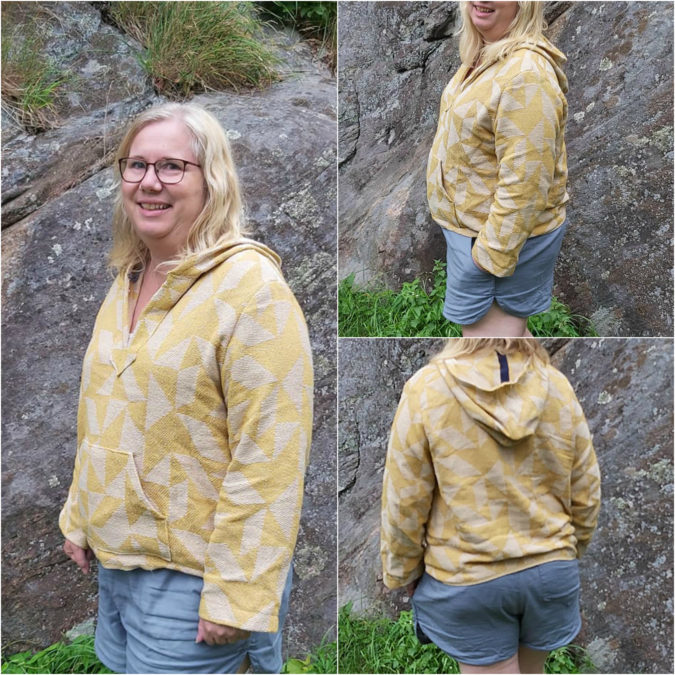 And only last because of the order of the alphabet, but definitely not least – Tone cut up a lightweight blanket for her top! Amazing!!! I think everyone in the tester group immediately started looking for old blankets and I know for a fact one person bought some specifically for this purpose. This is just the best idea and I can't think of anything better than actually wearing a blanket as clothes! Her denim-look shorts are also a perfect wardrobe staple for pairing with everything!
---
Thank you again to all my testers! You all did an amazing job and I am continuously impressed by your creativity and skill!