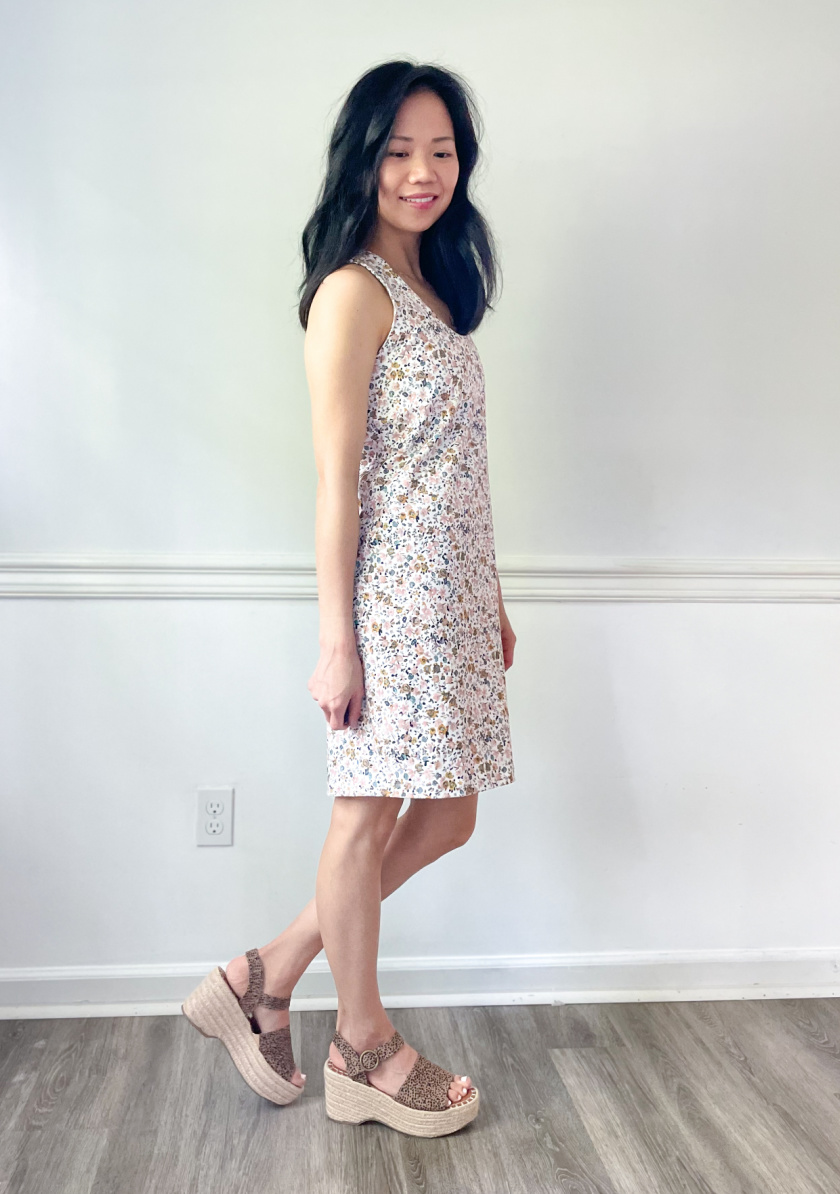 Introducing the Prescott Dress! This pattern is almost exactly a full nine years in the making! On May 14, 2012, I released the girl's racerback dress on my blog – my first multi-sized pattern! I was not even operating under the name Hey June yet (that would come later that year). Since that very day, I have been receiving requests and pleas and death threats (ok, not quite, but close) begging for a women's version. So here she is, the grown-up version of the racerback dress. And I don't know about you, but a simple, knit, loose-fitting dress could not have come at a better time. I'm glad I waited, both because this is the dress we all need this summer, and because I'm now drafting under my two new size ranges so it will fit more people!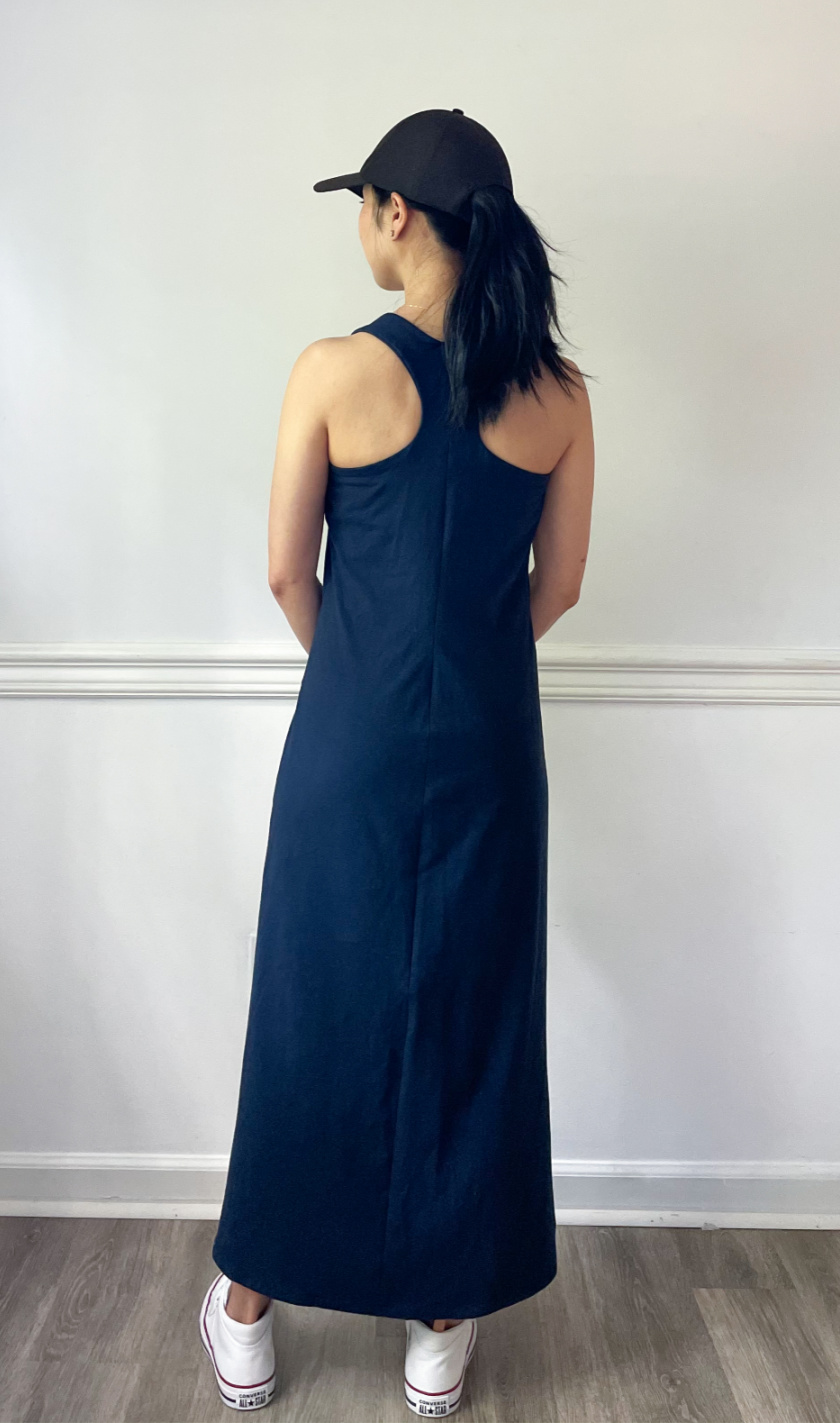 Prescott is a casual, comfy knit racerback dress in two views. View A sits just above the knee with a sheath-style silhouette. View B is A-line, tea length, and has slits on both of the side seams. Please note that the model chose not to shorten the view B dress for her height. As drafted, the dress will reach mid-calf for a person of about 5 foot 6 inch height.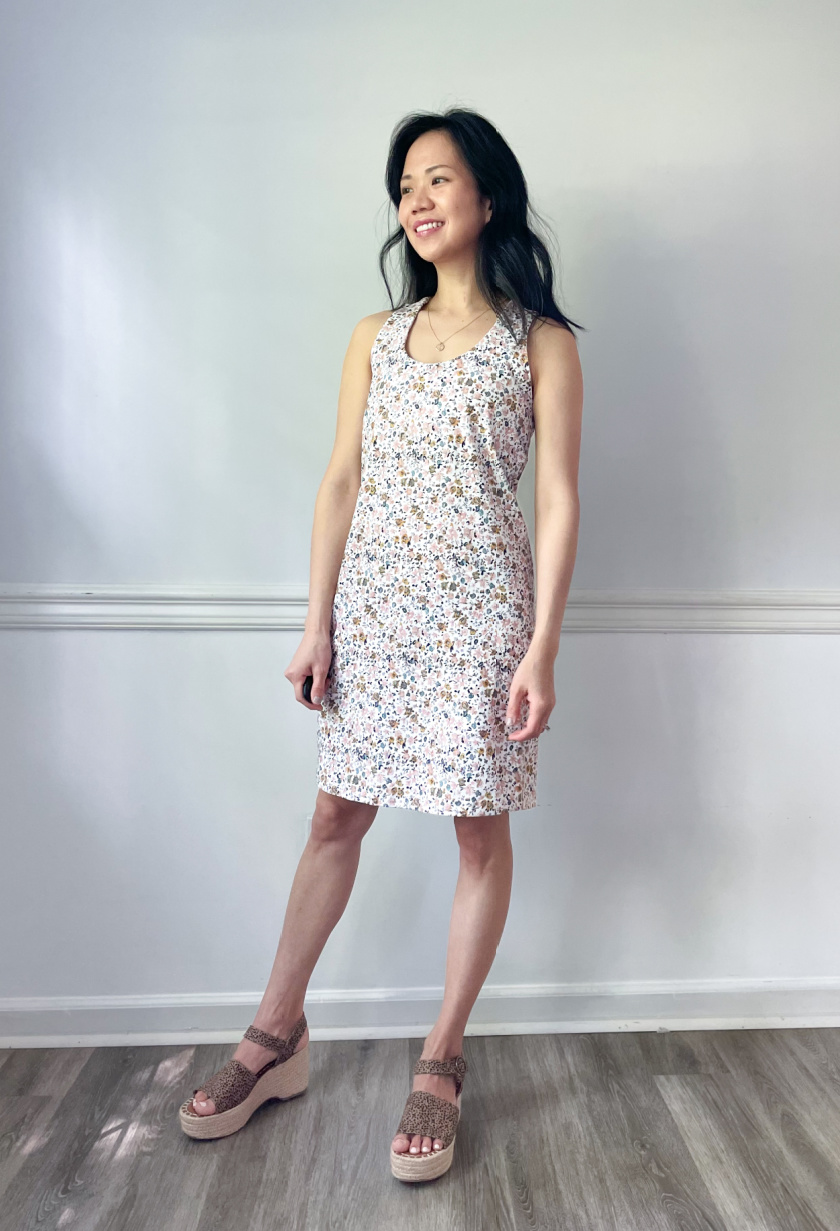 Fit and Style
Both views feature a more fitted top around the straps and chest, angling down to a more relaxed fit through the bust, waist, and hips, for ultimate summer comfort. The front has a U-shaped scoop neck and the back is a classic racerback style with good coverage under the arm. There is a shaped center back seam to eliminate a sway-back effect and to provide for easier alterations. This dress has positive ease through the body, and though it has shaping like a body-con dress, it will not fit closely to the body.
The neckline and armscyes are finished with a facing, which becomes an optional shelf bra with the addition of elastic. The instructions include both finishing options. Even if you choose not to use the shelf bra by itself, as so few can, a shelf bra can help hold a strapless bra in place, and it also keeps the facing pulled down on your body.
The Prescott not only can be sewn on a regular sewing machine, but it should. There are a few areas that have four seams crossing, and they tend to grow bulky with serging.
As our lovely model Ashley has shown, the Prescott pairs equally well with espadrilles or sneakers, pretty jewelry, or a ball cap. This casual dress will truly work for just about any event this summer – from ball games to running errands and even to casual weddings!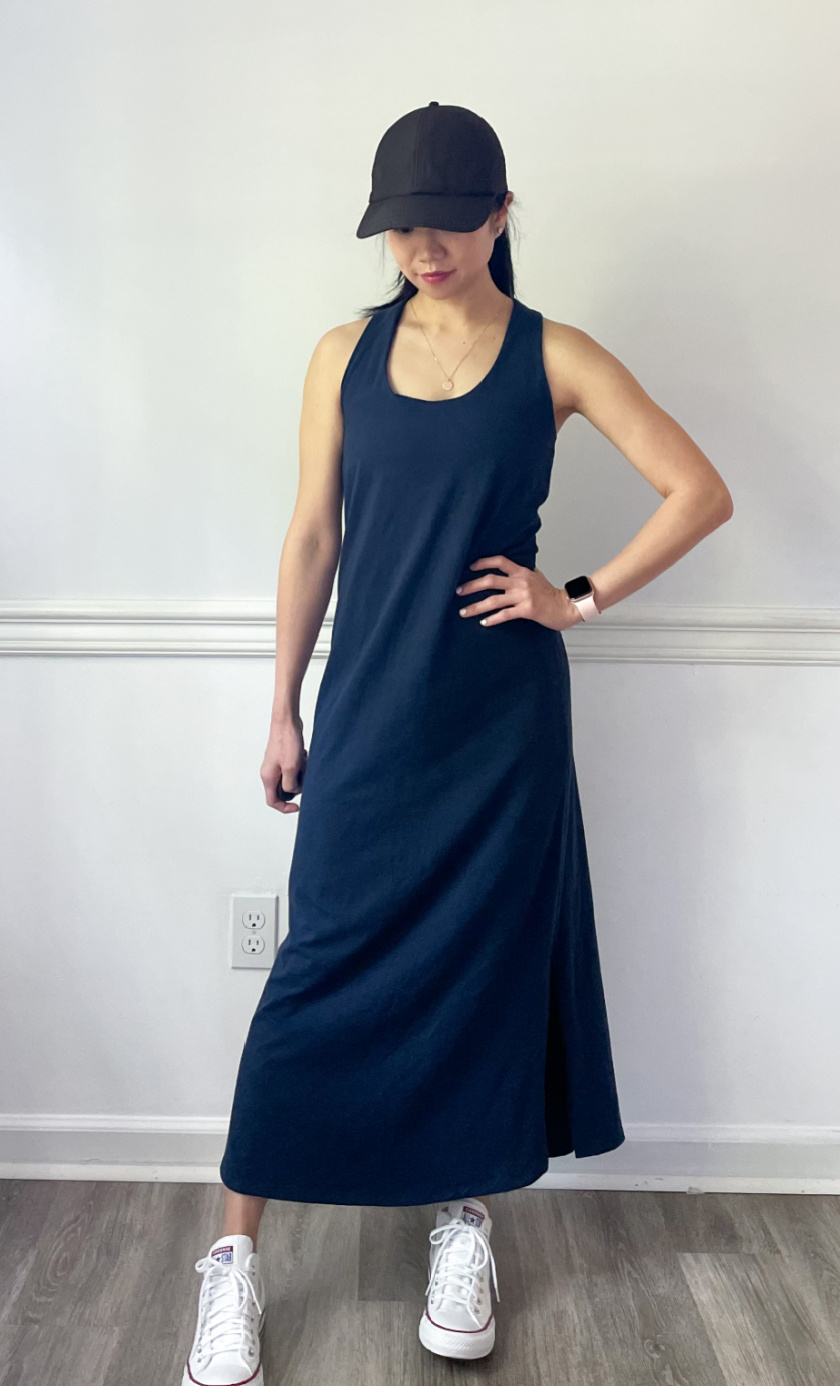 Fabric
Cotton Lycra is by far the best substrate for this pattern, and as a bonus, it is widely available in any color, stripe, or print. It is also the substrate most often used for custom knits, so it is easy to find and relatively inexpensive. Other knits that have decent body and recovery also work well, such as ponte, liverpool, and poly blends. Fabrics with rayon or heavier fabrics like rib knits may cause the dress to stretch and be lower in the armholes and neckline than desired. They are certainly viable fabrics, but just note that you may need to take them in slightly at the sides under the arms. Luckily, given the way the facings are sewn, this is very simple to do.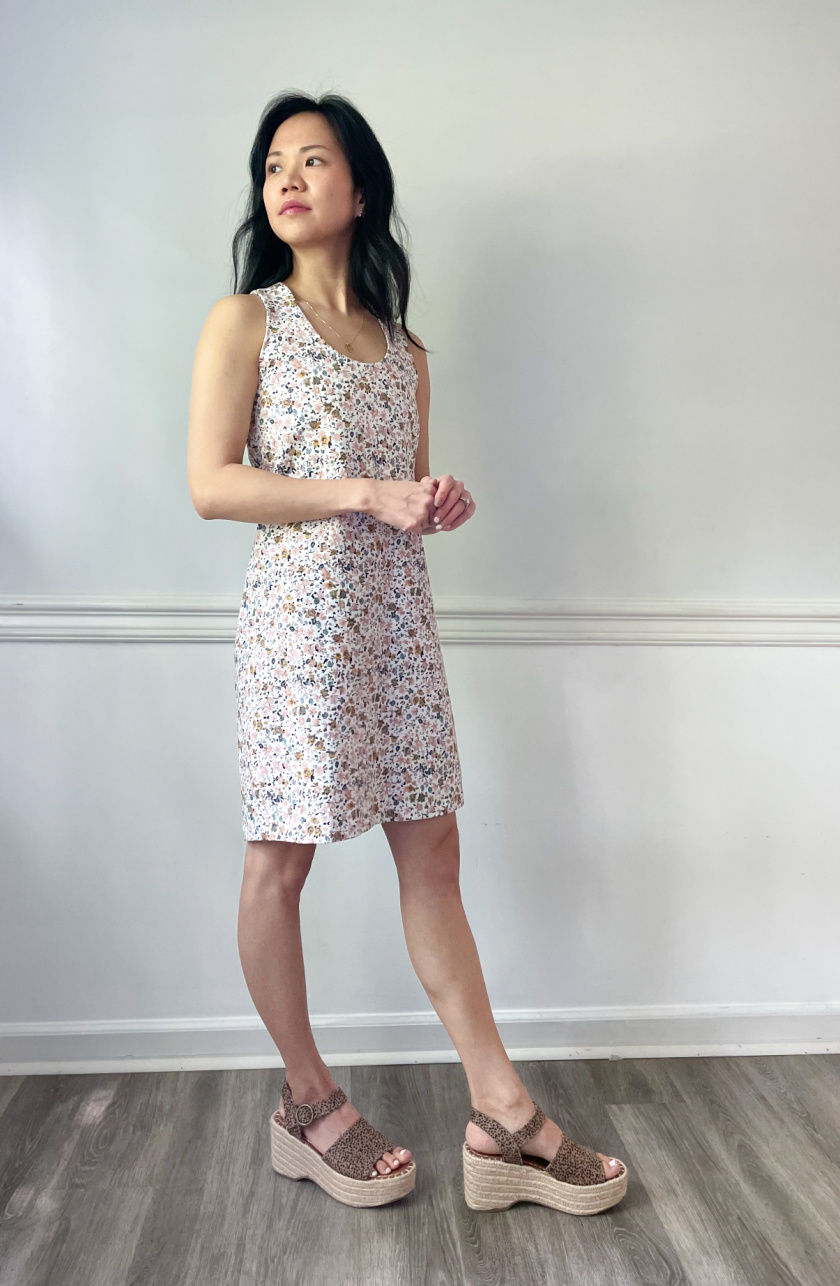 Common Alterations and Adjustments
One great thing about the Prescott is that you can first just sew the two facings together to check fit around the neck and armscyes. This is the area with the most likelihood for requiring adjustments, so using the facings will save fabric over a full dress muslin.
Petites: Because this is a strappy dress and the fit is very important under the arms, you may need to remove some height between the shoulder and bust before cutting your fabric. This alteration is shown in the pattern itself, but be sure to muslin the facings first just to check. Length can then also be removed from the dress to ensure that the bust, waist, and hip points align with those points on your body.
Grading between sizes: The Prescott can easily be graded between sizes if necessary. On the body measurement chart, choose your size based on your high bust. Then mark the size required for your hip. If they are different, you will need to grade between the two. Because of the relaxed nature of this dress, grading to a lower hip size is unnecessary, but I definitely recommend grading up to maintain the minimum required amount of style and body ease.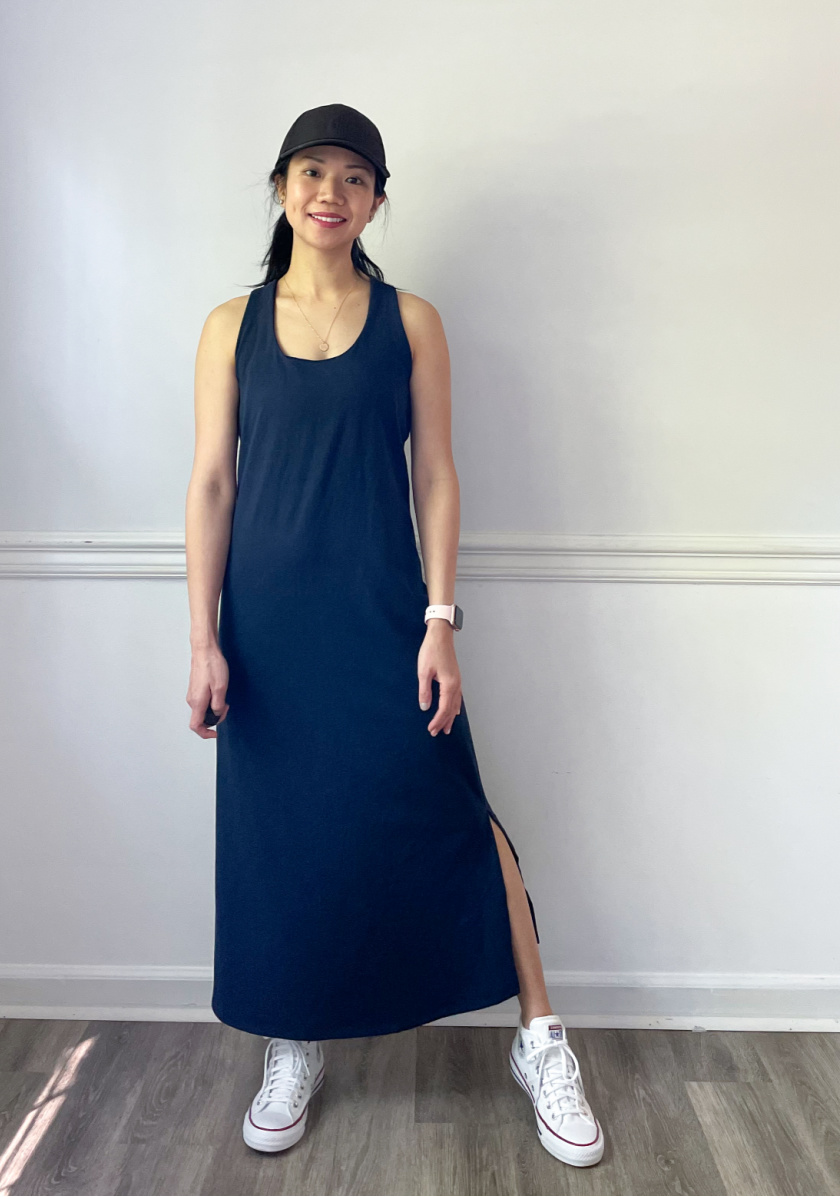 Cup size: The 0 – 20 size range is based on a 2″ difference between the high bust and full bust, or a B sewing cup. If your difference is much larger, you may want to perform a full bust adjustment. For this pattern, I do recommend either keeping the dart and sewing it, or gathering the dart into the side seam for a small ruching effect. If you simply eliminate the dart, as you would in other knit FBAs, it can throw off the grainline and cause your dress's hem to have big folds at the center front. This is mainly an issue on the longer dress length, but is recommended for both lengths. During testing, we found that a FBA is not necessary on the facing, as it is meant to stretch around the bust.
The 14 – 30 size range is based on a 4″ difference between the high bust and full bust, or a D sewing cup. If you need to increase the difference, simply perform a normal FBA and add to the dart uptake. A small bust adjustment can also be performed on these sizes.
One of the easiest alterations for the Prescott is to cut the dress at the view B width and the view A length, yielding a shorter A-line dress. This requires no "hacking" at all, simply follow the view B side seams until you reach the view A hem cut line.
Another simple modification is to cut the pattern at a shirt length. For this easy hack, just measure down on the side seams to your preferred length and then cut at a gentle curve to the center front/back, adding an inch of length at centers. Be sure to come to a 90 degree angle with the centers. This will give you a basic shirt hem shape, but the angle of the hem is also a style line, so be creative!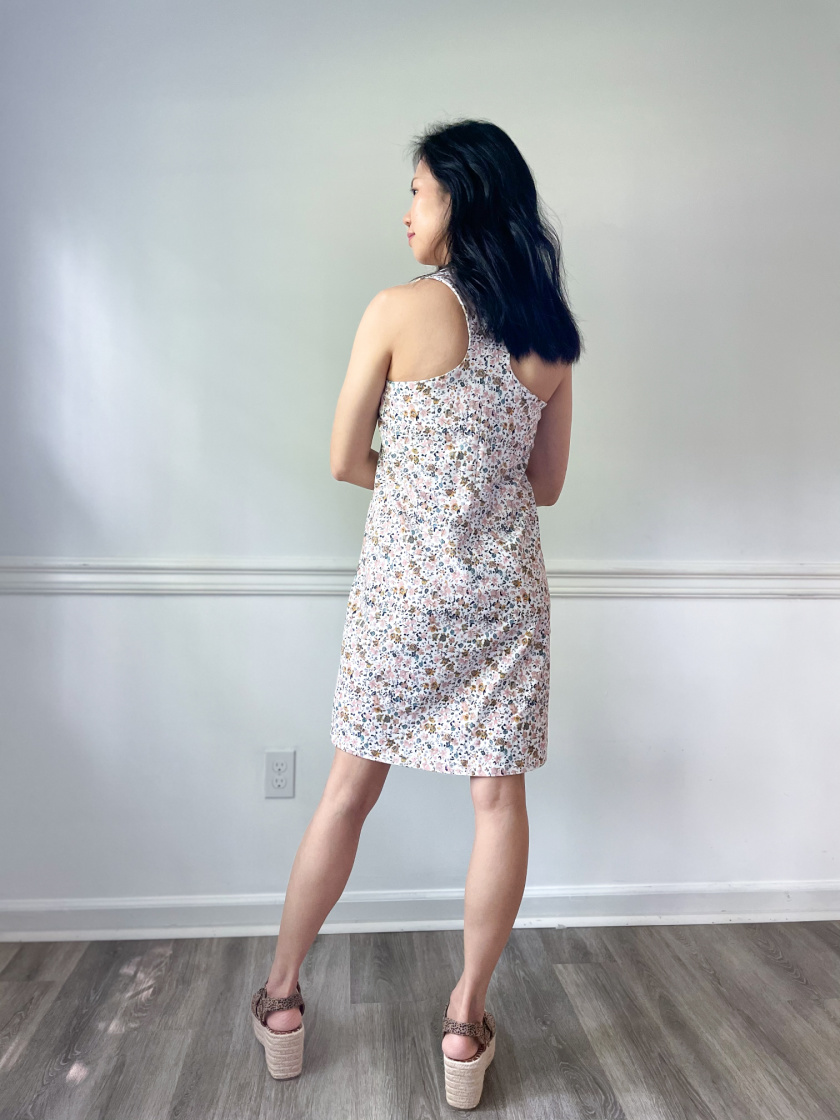 Purchase and Use
The Prescott can be purchased here. Please choose one of the two size ranges when you add it to your cart. As part of our semi-annual sale, Prescott is 20% off through May 20 with code "HJMay21".
If you are new to digital patterns, here is a complete overview of what they are and how to use them.