It's pattern release day!! I'm so excited to introduce my first outerwear to the Hey June collection – meet the Evergreen Jacket!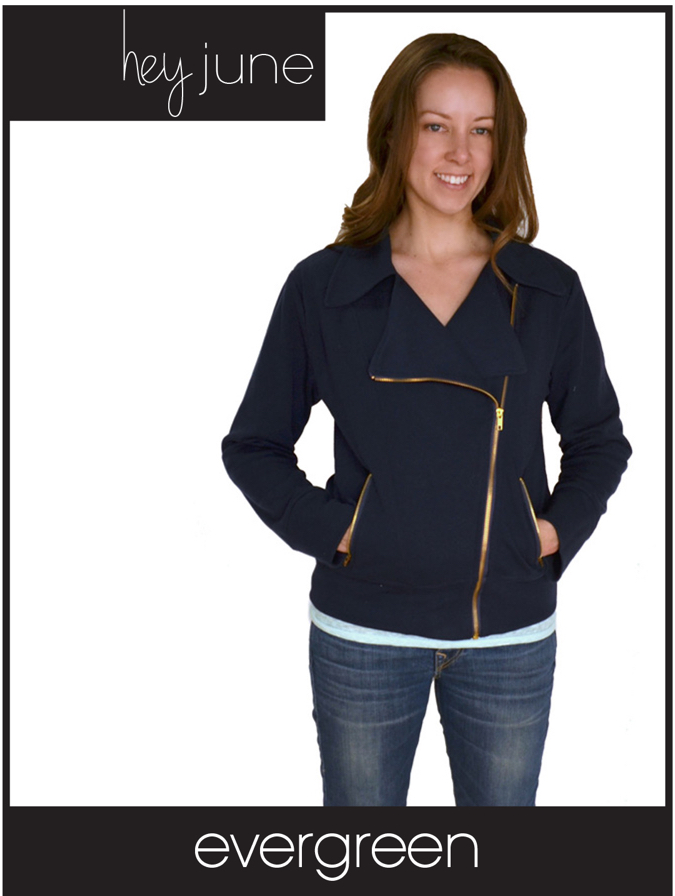 The Evergreen Jacket is a stylish yet cozy knit jacket with moto-styling, an asymmetrical zipper, and zippered pockets. The yoke, collar, and front lapels are fully faced so your garment will be beautifully finished inside and out. The sleeves are two-part, adding a little shaping and a fun detail on the back. Make the Evergreen Jacket in a cozy sweatshirt fleece and you'll live in it all weekend. Or make it in a stretch faux leather with ribbing accents, pair it with your skinny jeans and boots and you have the perfect Saturday night outfit!
The Evergreen Jacket comes in sizes XS – 2XL, or bust sizes 31-44 inches. If you make it in a stretchy interlock, you can even accommodate a 46 inch bust. The fabric you choose can make a big difference for this jacket. Choose something with low stretch capacity, like sweatshirting, fleece, or faux leather and your jacket will be fitted and structured. A stretchier knit like interlock will yield a slightly slouchier, relaxed vibe. One of my awesome testers, Kristin, made two jackets so you could see the difference! (didn't I say she was awesome?) The red jacket is made using a stretchy interlock, and the white version is a structured sweatshirting. You can see that the white jacket is more fitted and holds its shape better, especially around the collar. It just depends on the look and feel you want!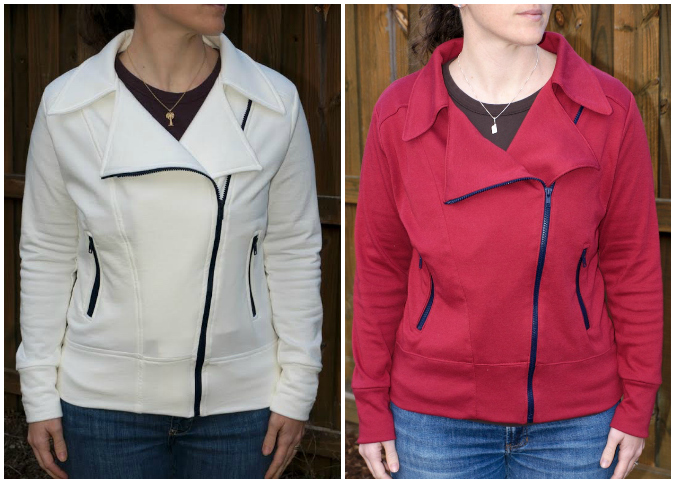 Because of snow, out of town guests, illnesses, snow, and more snow, a real photoshoot for this jacket still hasn't happened. But I didn't want to keep it from you guys any longer, so I'm releasing it with my face on the cover. I had hoped to avoid that scenario if at all possible, but it happened. Don't be surprised if the cover changes when I get a qualified model to take real pictures for me! In the meantime, I happen to have some fantastic photos of the finished product for you from my wonderful testers. They really worked hard on this one. It was a lot of pieces to cut and interface and sew with no real guarantee about the final fit. I hope you all will join me in thanking them for working out all the kinks and perfecting this pattern!Stacey made a sweatshirt version and helped me out by taking a ton of great photos. I had a hard time narrowing them down, so I'm including three. She also gives a good look at how the jacket looks zipped all the way up, in case you were wondering.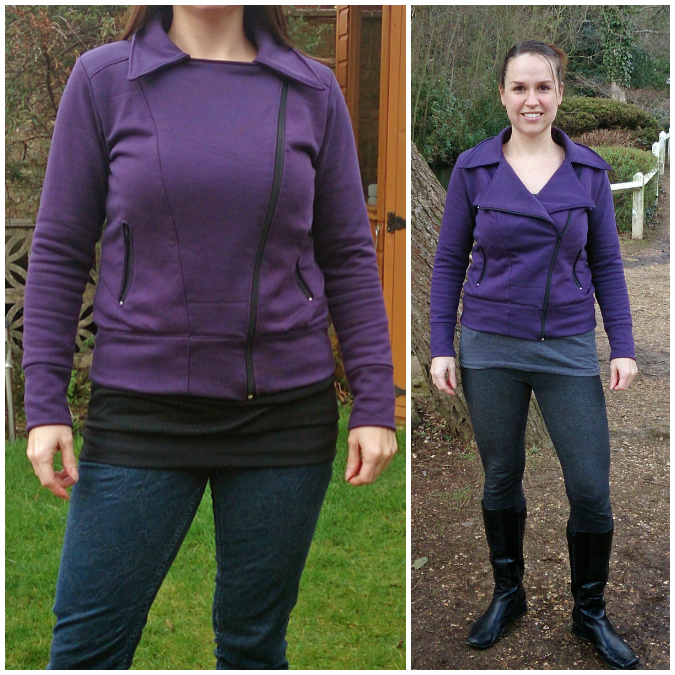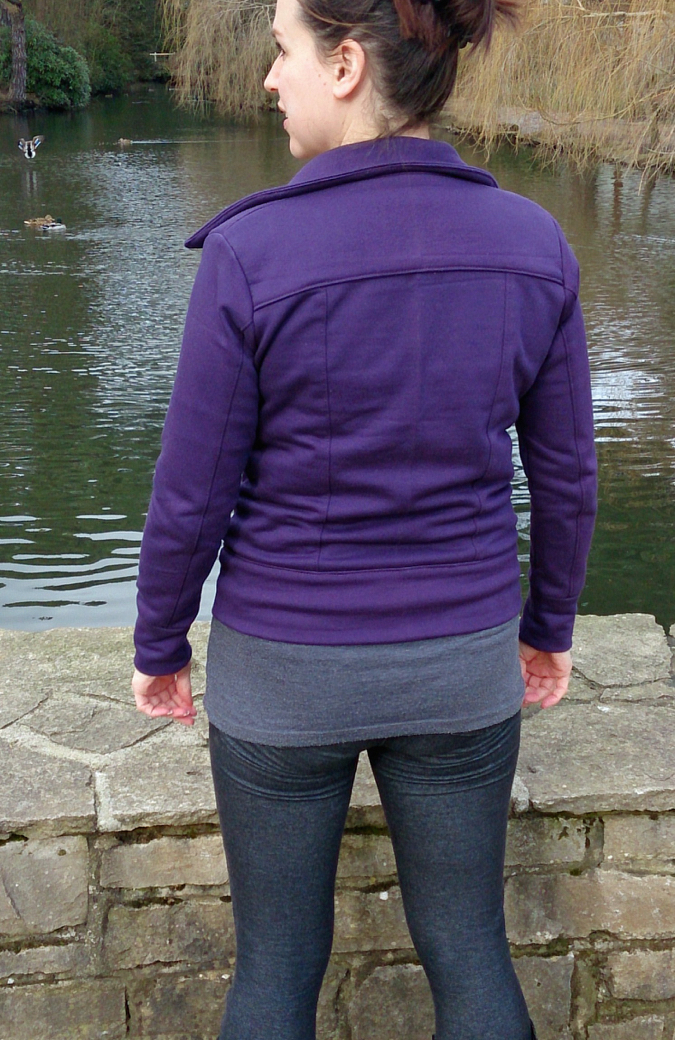 Diana made this incredible textured version. If you love that knit as much as I do you might be in luck! She's trying to source it for her fabric store so we can all get our hands on it! Her store is Raspberry Creek Fabrics, and you can follow her on instagram @raspberrycreekfabrics.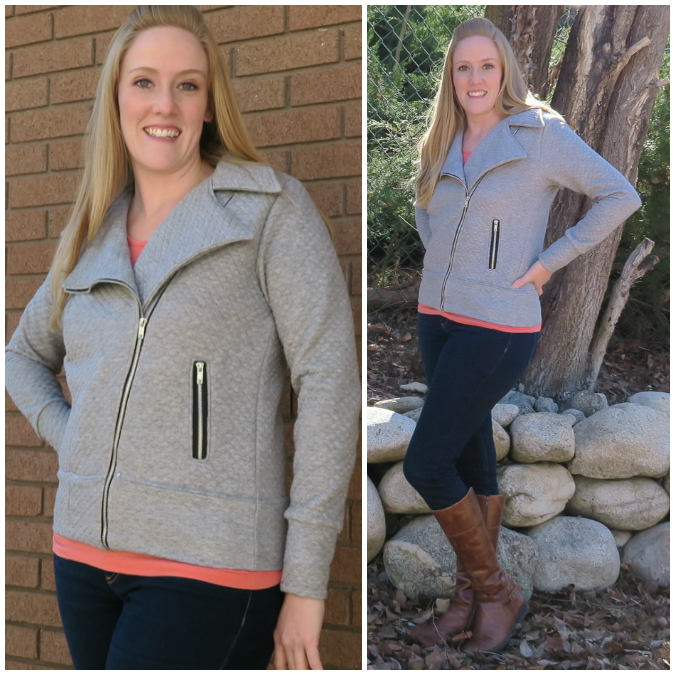 Amy made this chic white version using sweatshirting. I love her effortless pose. I tried to copy it for the cover and it looked like I was about to kill somebody standing off camera. I need modeling lessons from my testers, I tell you. The back of Amy's jacket also really shows off the piecing and topstitching that gives the Evergreen so much of its character!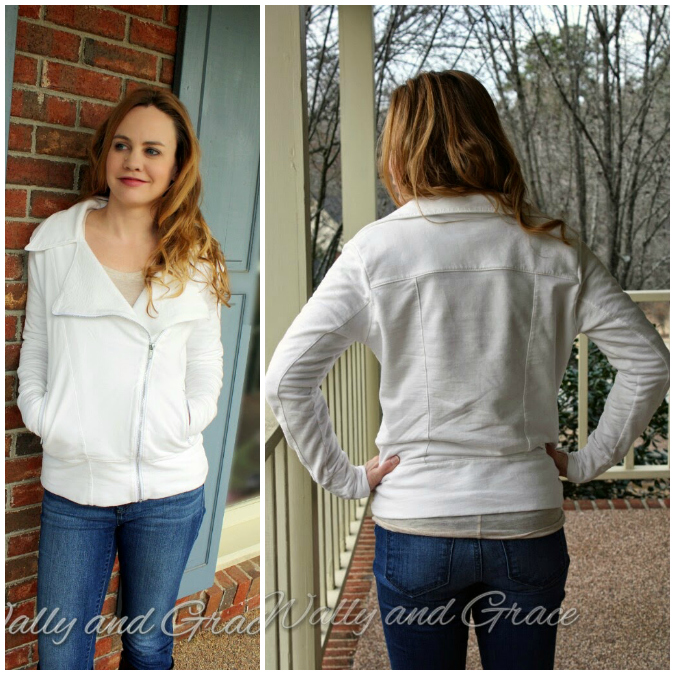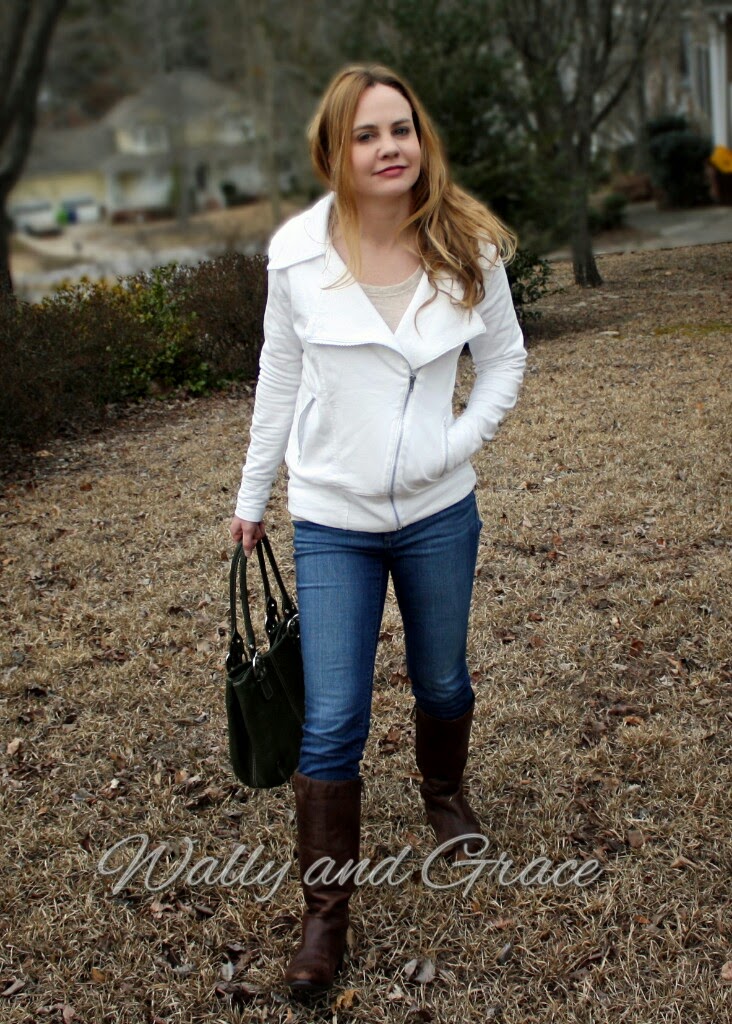 Charity also made a white version. I love how she paired it with a girly skirt – such a great contrast for a really cute outfit! And, you know, a great smile never hurts 🙂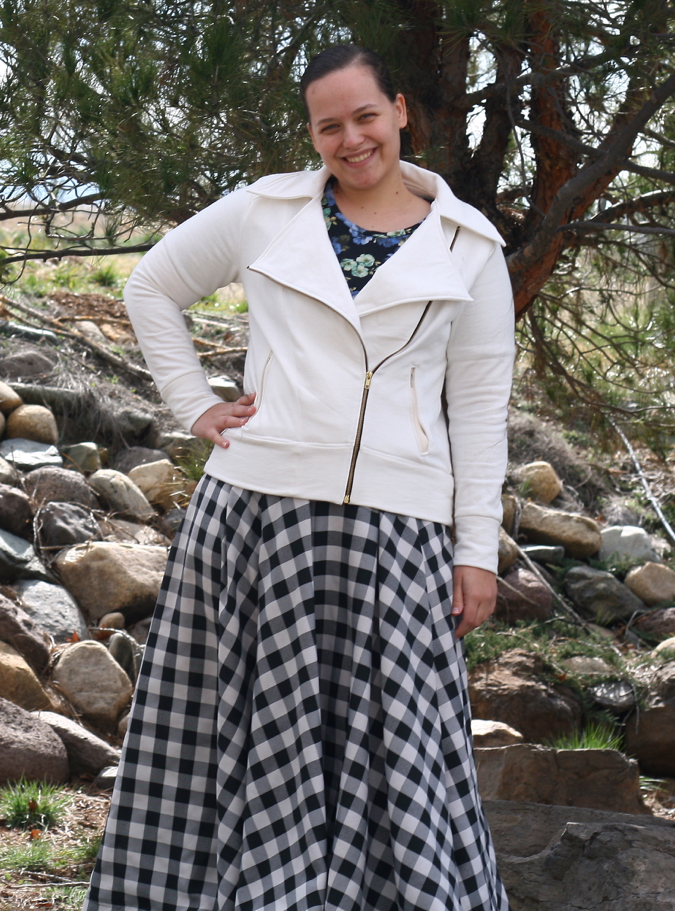 Chloe made her Evergreen Jacket out of a woven! Yes, you can definitely do that! Just use a knit for the waist and wristbands, and you're all set. Check out the pattern for details about choosing the best size. Chloe's is a cotton sateen, but you could use just about any fabric you can think of, even real leather! I'm a big fan of the print she chose too.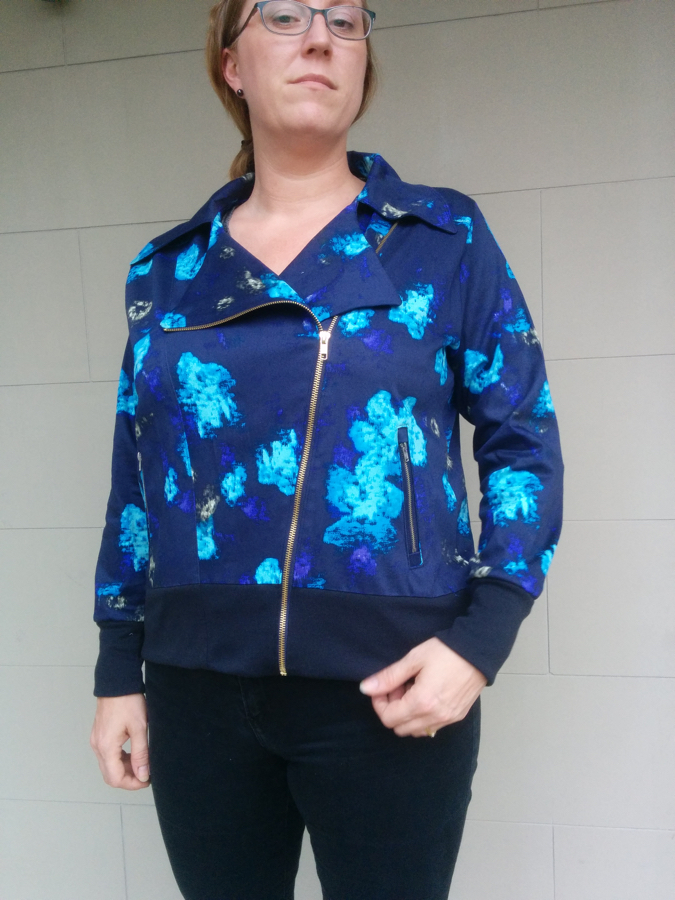 Kourtney has been a great Hey June pattern tester in the past, so you might recognize her pretty face. She sewed up a great french terry version with metal hardware and did a great photoshoot in this gorgeous landscape. You can find Kourtney and see all her sewing projects on instagram @theBainbridgeBunch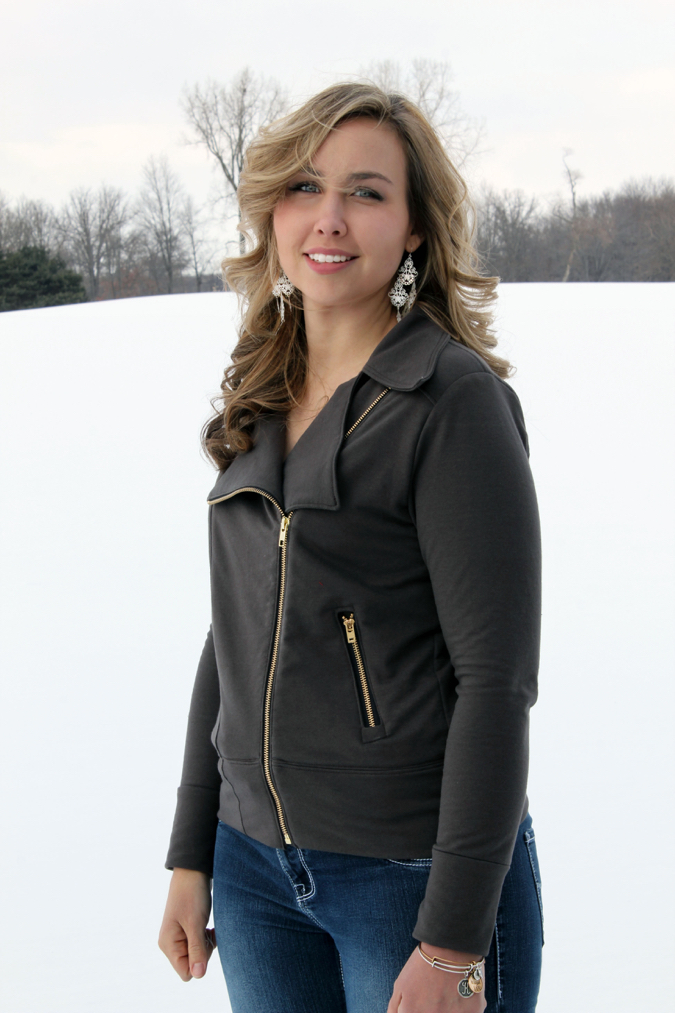 Let's head in a completely different version, weather and color-wise and check out Stacy's white jacket with fun gold accents.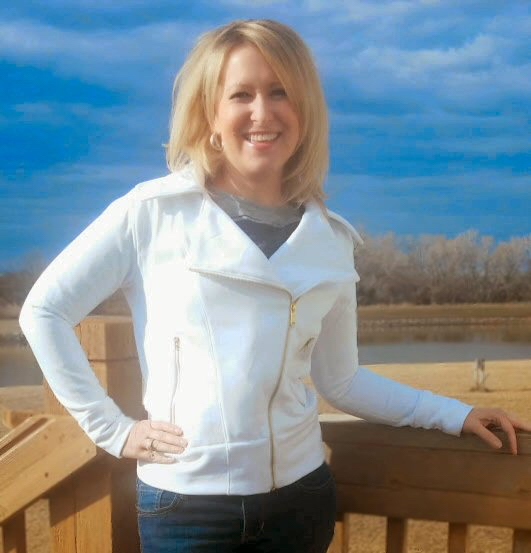 Cheryl did us all a solid and showed us what the Evergreen Jacket looks like in anti-pill fleece! So soft and cozy! Cheryl also has the distinction of having one of the best handles on the internet. You can find her on instagram @MillerGenuineCraft.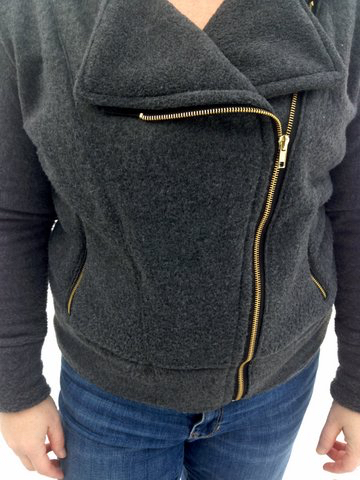 Sarah also used a fleece for her jacket. Her version features micro fleece and those completely rad neon zippers. I think everyone needs a moto jacket with neon zippers. It should be like a law or something. You can find Sarah and all her projects on instagram @dilettantesarah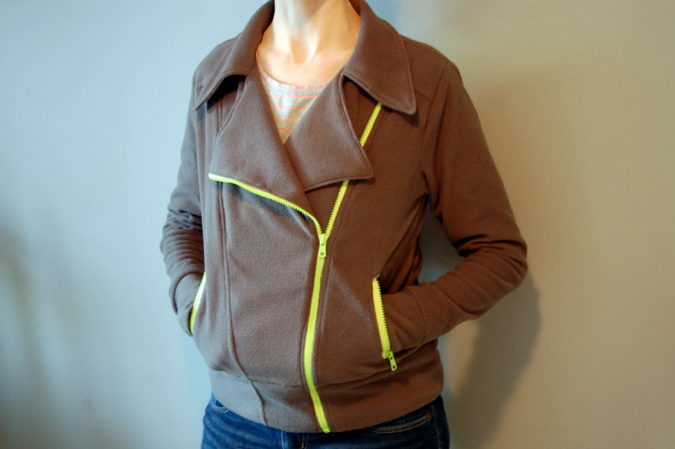 Last and absolutely not least is Carla, with her lovely gray jacket with teal zippers. I love that little peek of color. Carla also chose to do the optional double stitching on the collar and I think it really added a lot of detail to her jacket.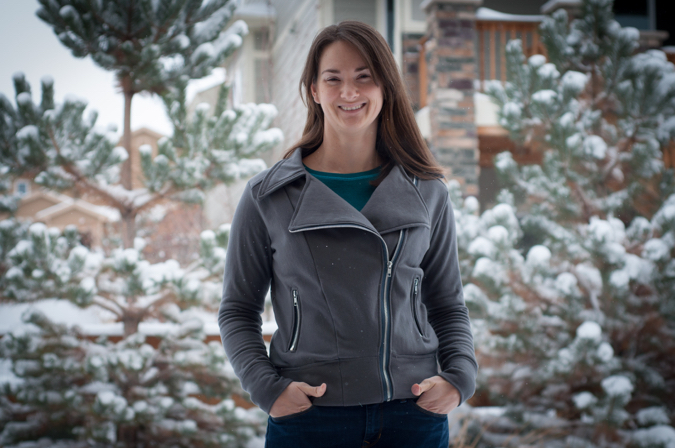 Carla also gives us a look at the jacket unzipped, which I think is really fun and casual. You can follow Carla on instagram @carlakeahey.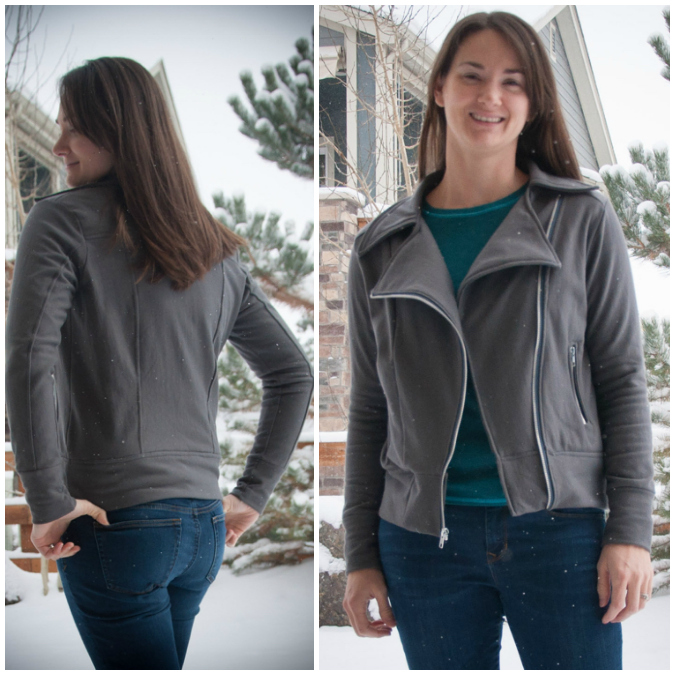 The Evergreen Jacket is available now in the shop!