Up today is the Ava dress by Victory Patterns!  The Ava is intended for woven fabric, but you probably won't have a heart attack and die from shock when I tell you I made it with knit. Navy striped knit.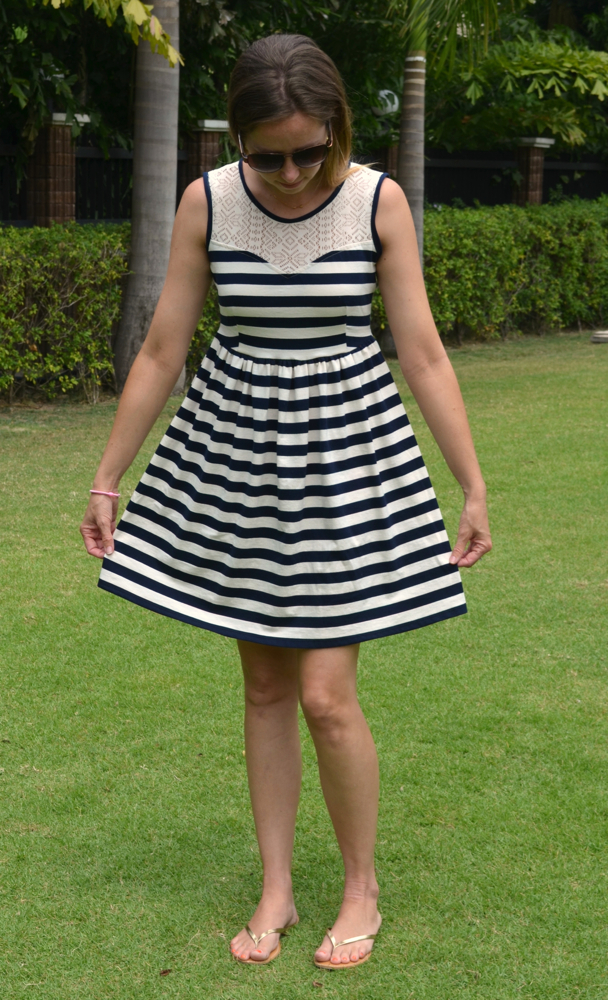 To make the knit version, I went down a size, and still ended up taking out some of the width in the bodice and waistline. Also, because I used my serger to construct the side seams and waist seam, I didn't have to use a zipper – score! Just fyi, you can do this with many patterns for wovens, especially dresses, and usually you can eliminate the need for any closures. Just make sure your head fits through the neck opening and sew everything with a stretch stitch.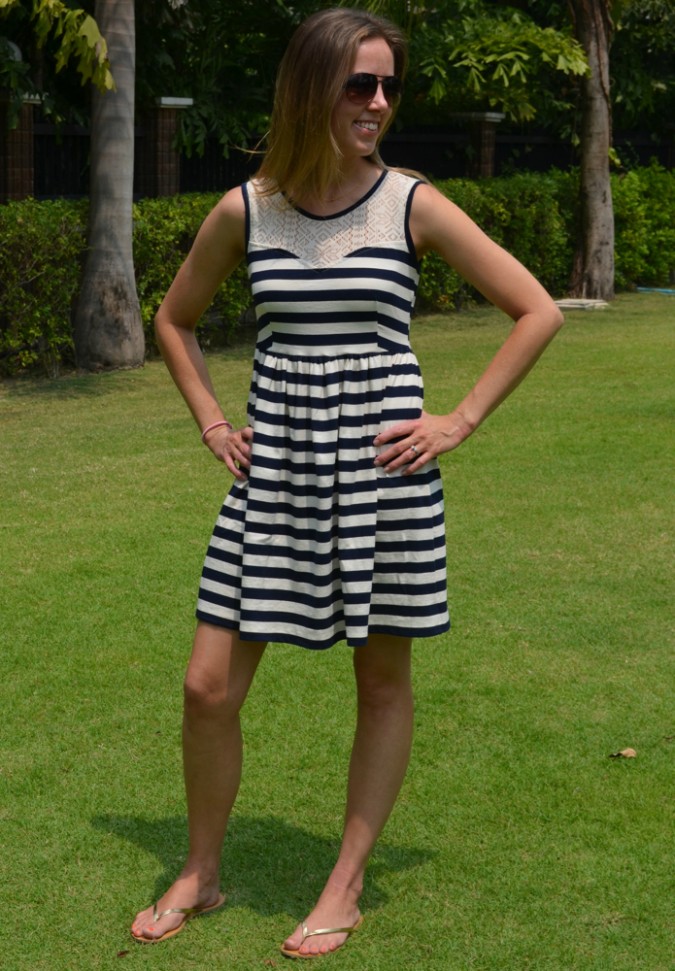 I love the pieced A-line skirt of this pattern, but I don't love the look of a-lines made with striped fabric. The stripes end up making a rainbow shape across your body, with the highest point at your waist. It's visually odd and tends to make your waist look bulky. Nobody wants that. So instead I just cut the skirt as a gathered rectangle. Because this knit is so thick, I probably could've used even less width, though I do like the width at the hem.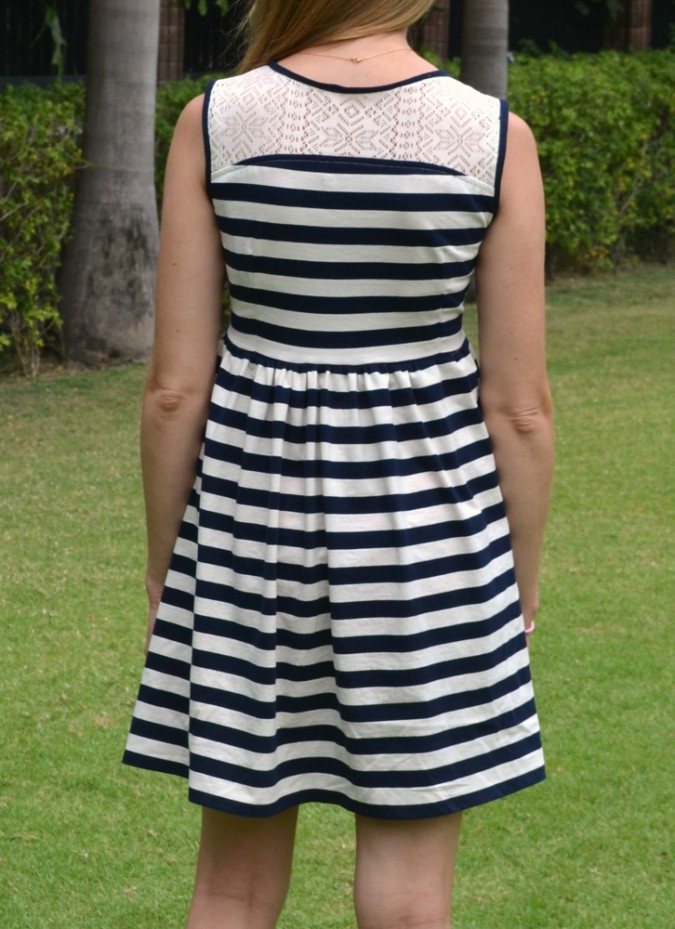 I really wanted an easy knit slip-on dress with a little bit of detail, and I think this dress fits the bill perfectly. I'm a busy mom of 3 living in the tropics, so dresses like this fit my lifestyle really well. I stay cool and comfy, but still look put together, and laundry is a breeze. Gotta love that.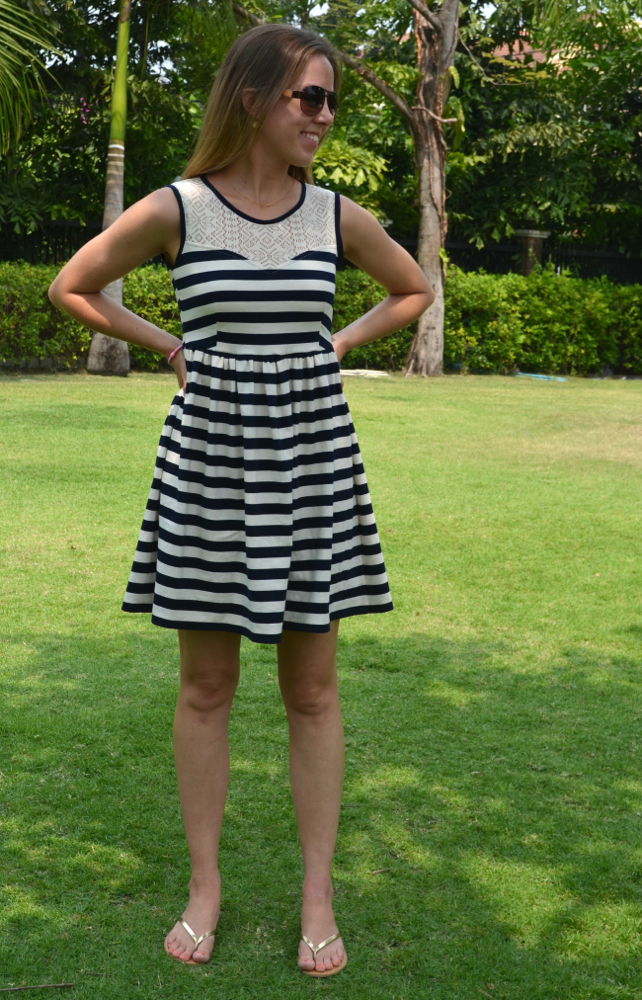 I just can't stop loving this neckline with the amazing tribal print lace I found. The sheer portion of this dress is perfectly placed to show a tasteful amount of skin, but still allow for the wearing of under-necessities.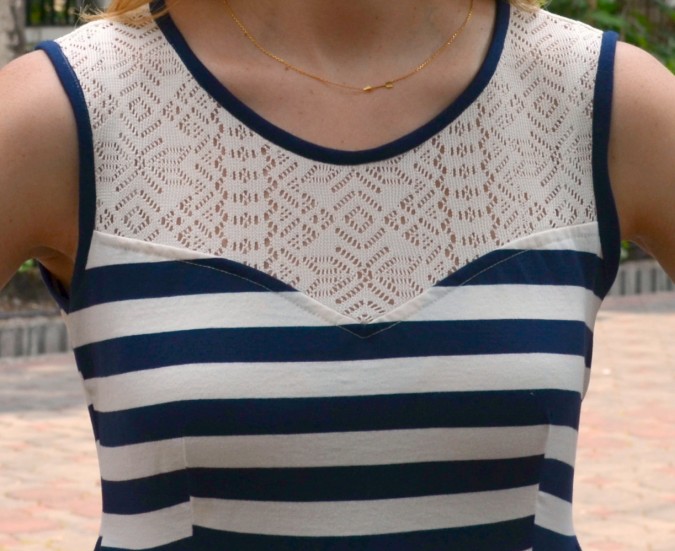 You can't go wrong with this pattern in your stash. It also comes with a peplum option and two different sleeve options. I dressed it way down, but I think you could also dress it way up. I love that kind of versatility in a pattern!
Stripe knit sourced locally, tribal lace from lace fabrics, arrow necklace and drop earrings from petit formal.