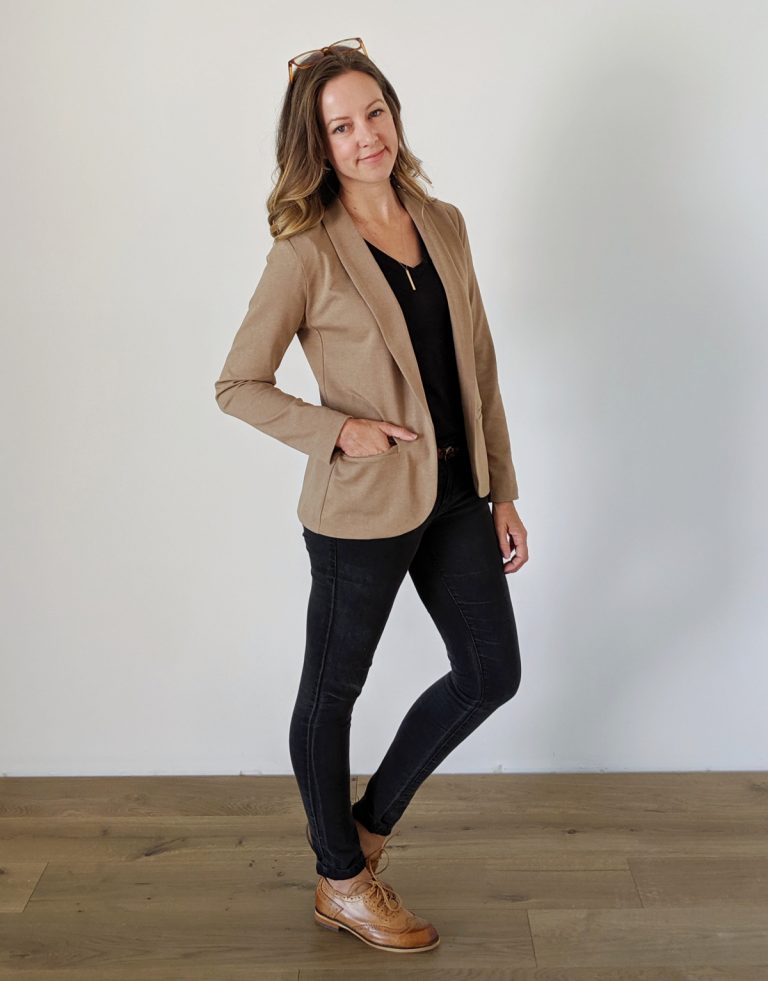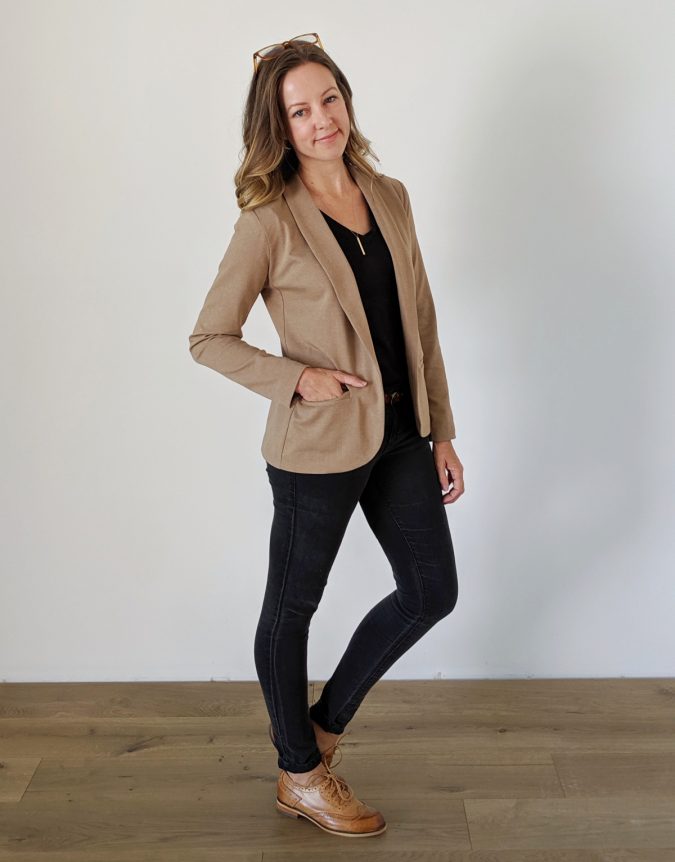 Introducing the Evans Blazer!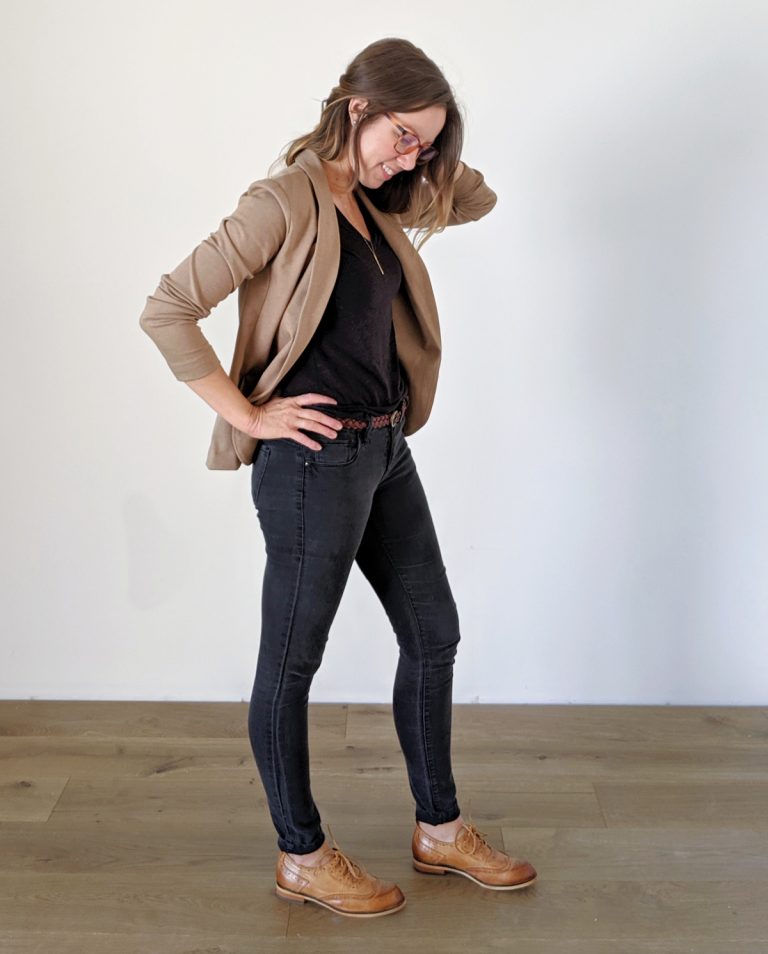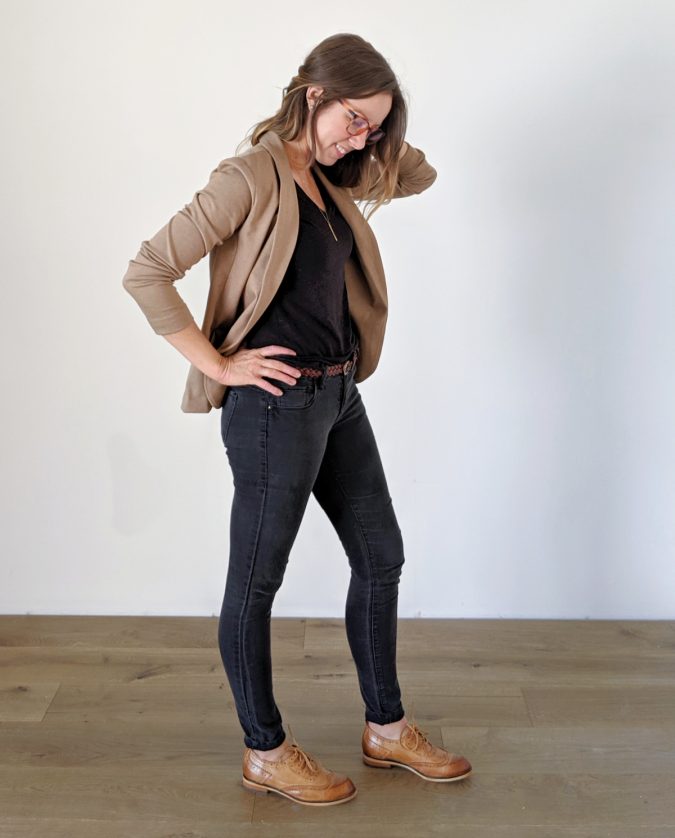 The Evans is a laid back, unlined knit blazer in two views. Both views feature classic two piece sleeves and a side inset piece on the body. They both have a shawl style collar and lapel, making the Evans much easier to sew than a traditional notched collar.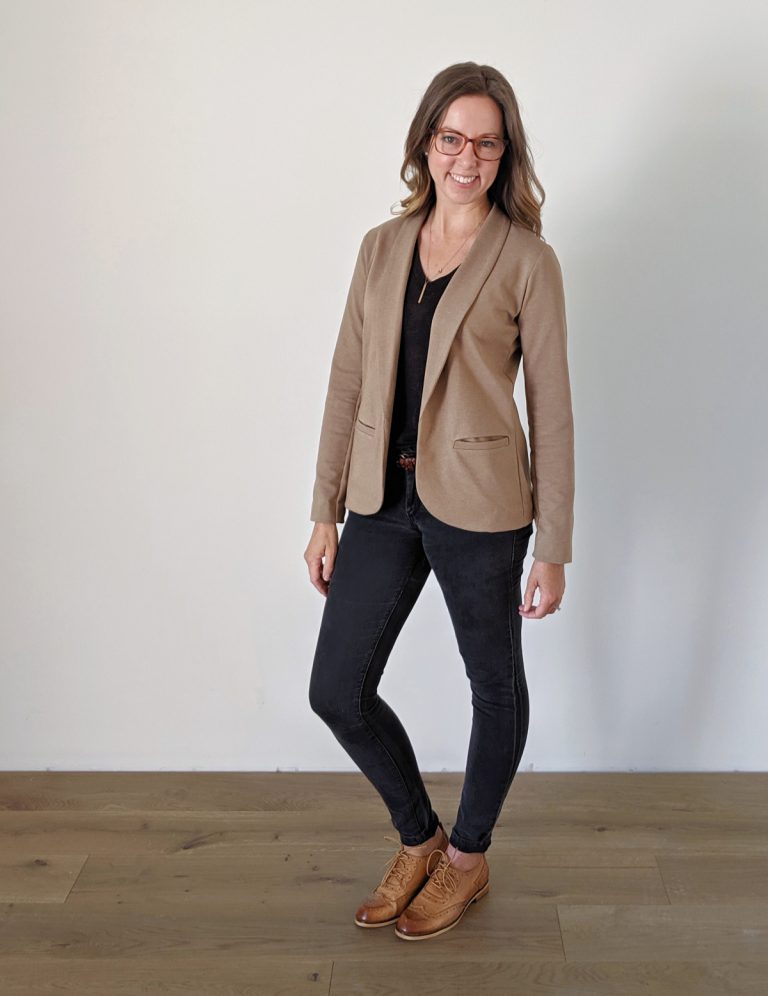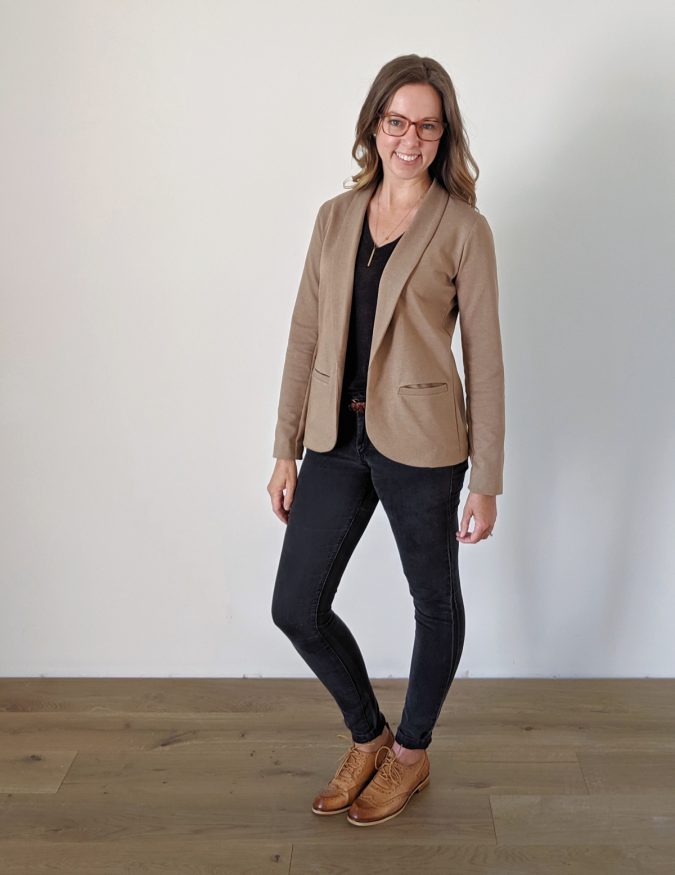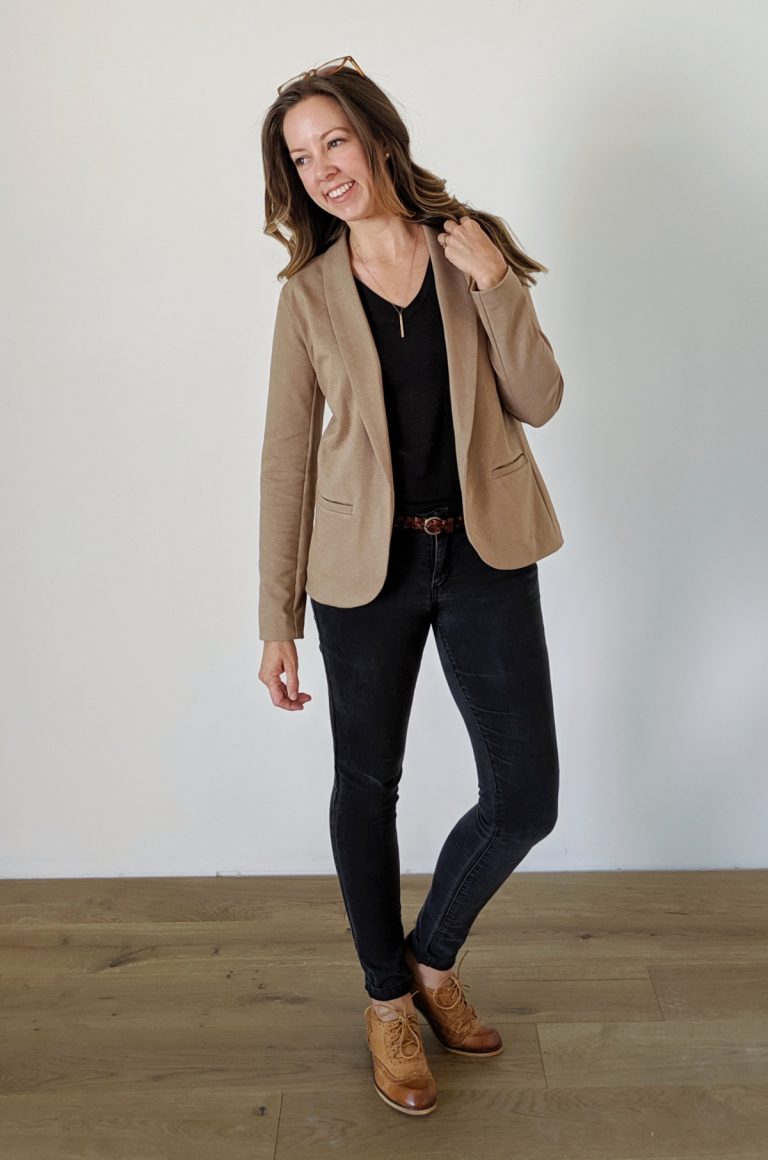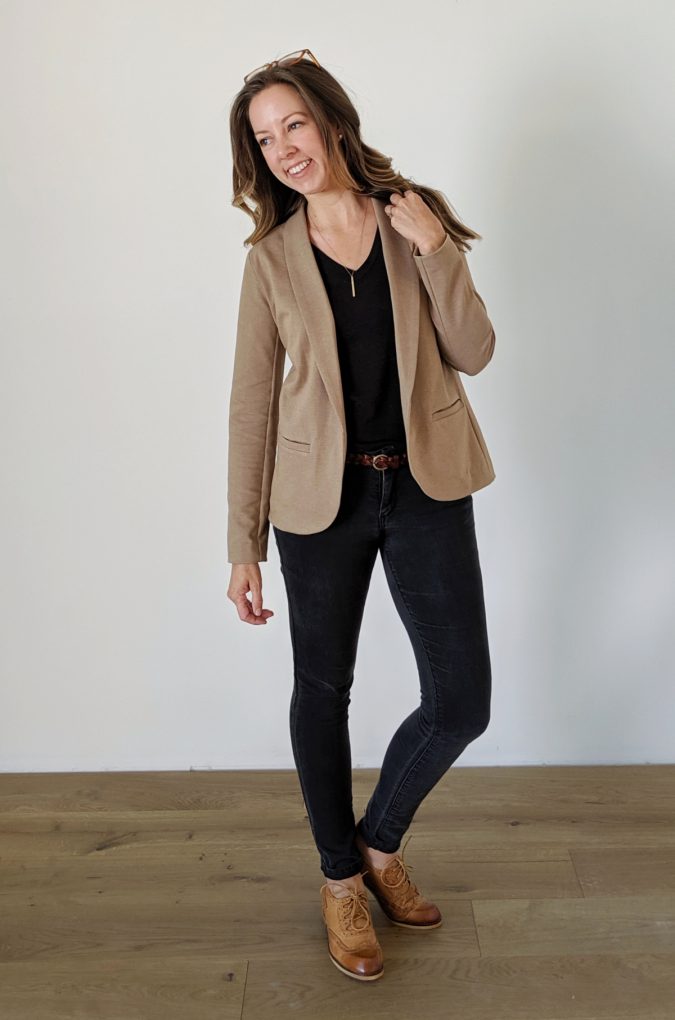 View A is a more classic blazer silhouette with a curved front hemline and functional welt pockets. It has a narrower shawl collar and lapel and hits mid hip. An optional button at the waist dresses it up even more for office or formal situations.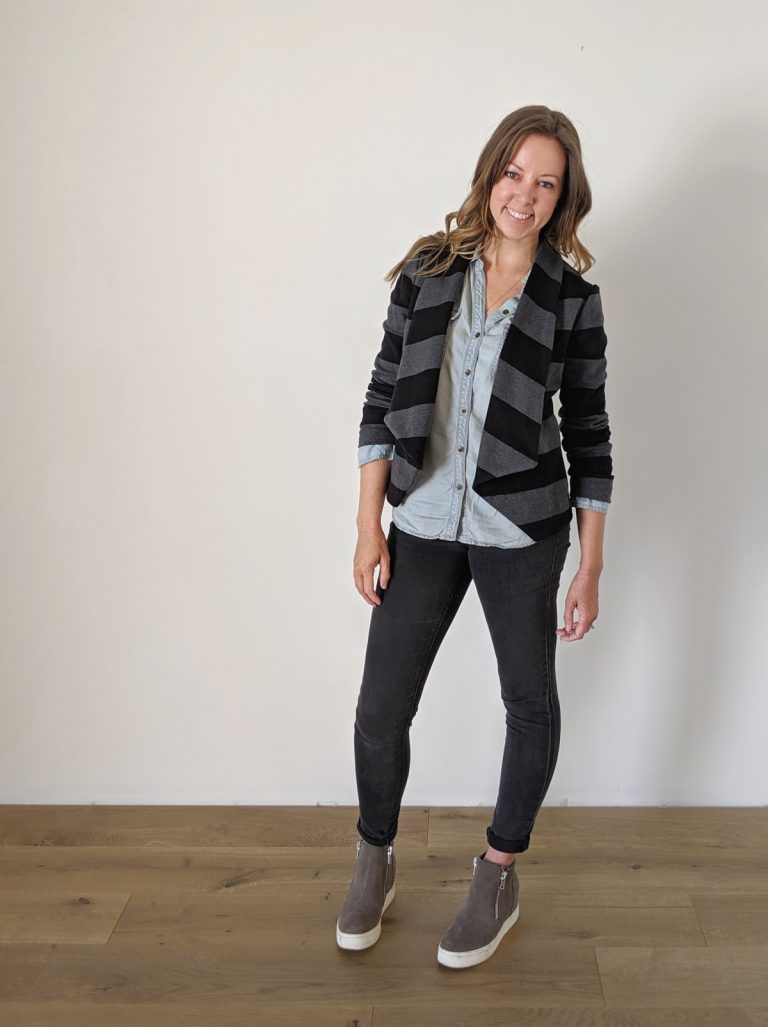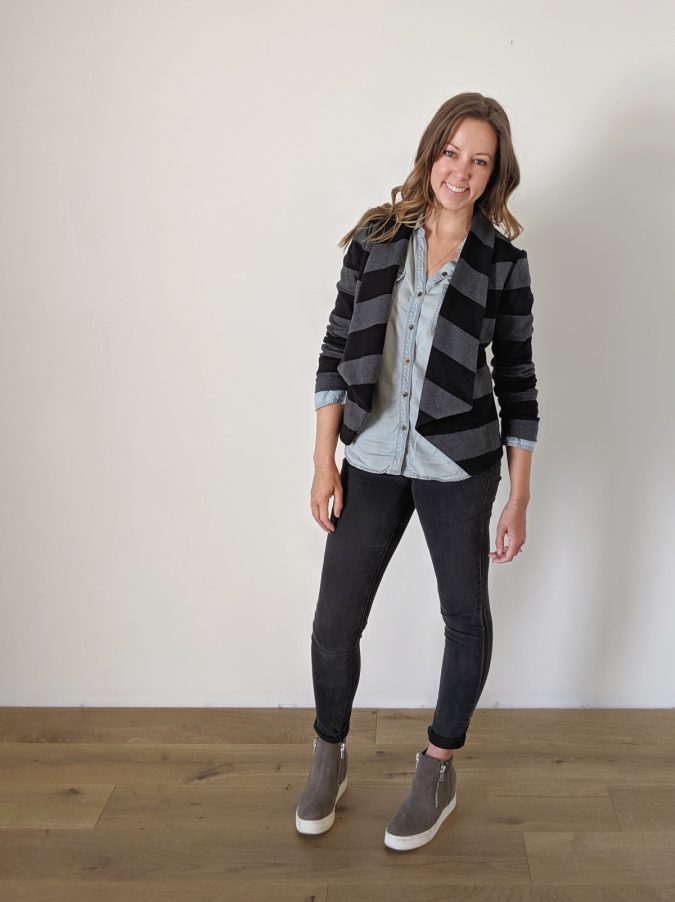 View B has a more casual vibe with the wider angled draped lapel and pointed center front hemline. It is slightly cropped and meant to hit just below your waistband.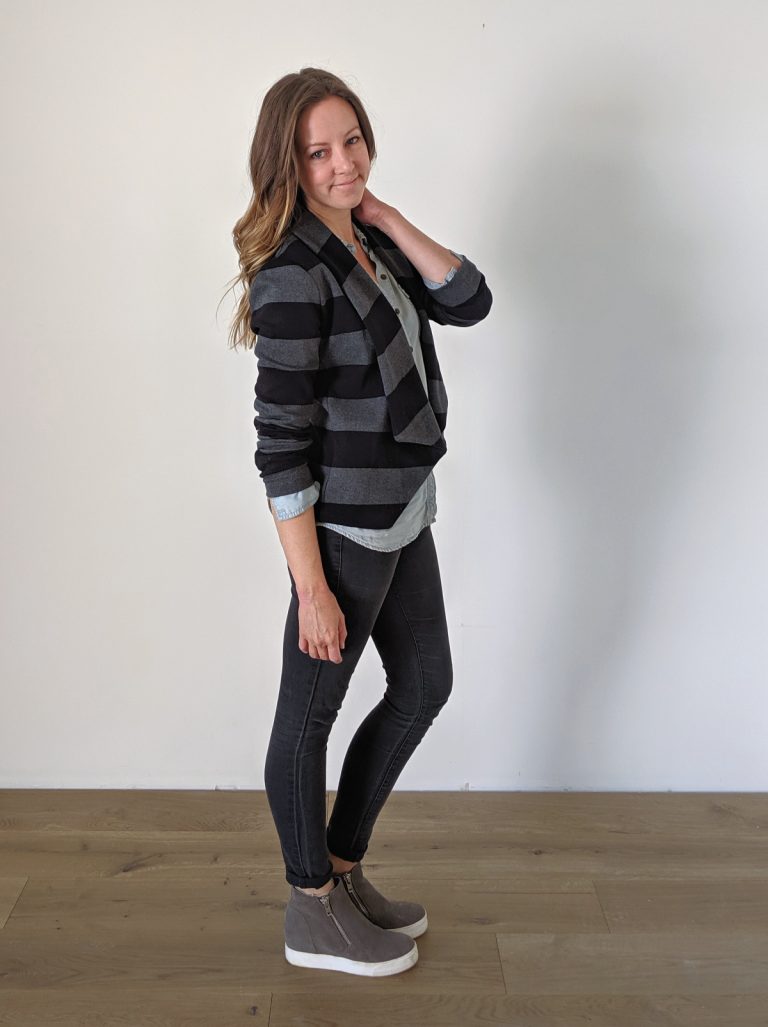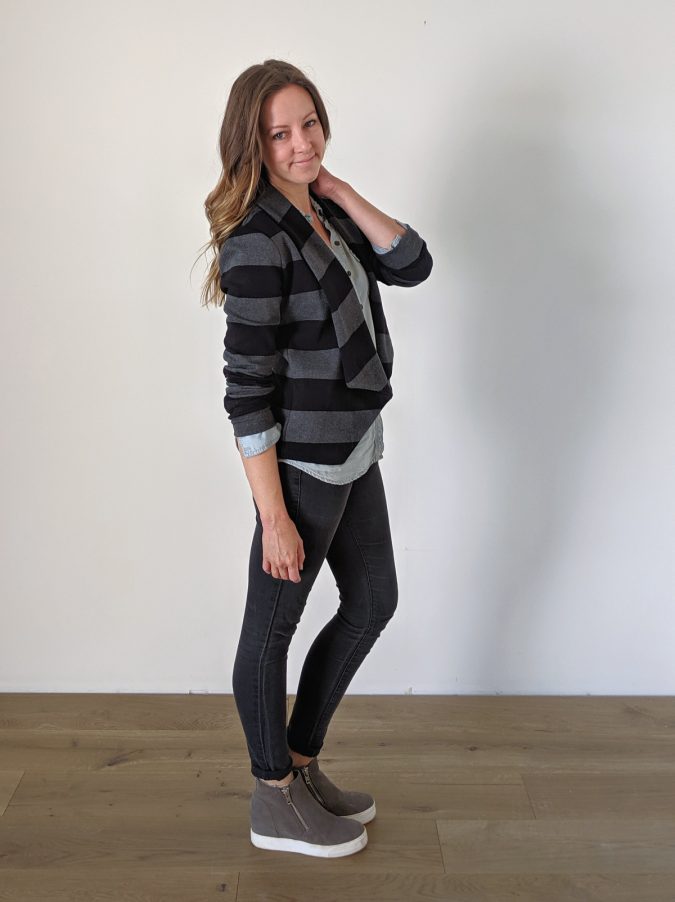 When developing the Evans Blazer, I really paid attention to the types of garments my sewing community likes to make and wear the most. As amazing as it is to sew and wear a structured, heavily tailored woven blazer, I knew that it would be very daunting to most. Even those with the skills to sew a traditional blazer often don't want to take the time to do so.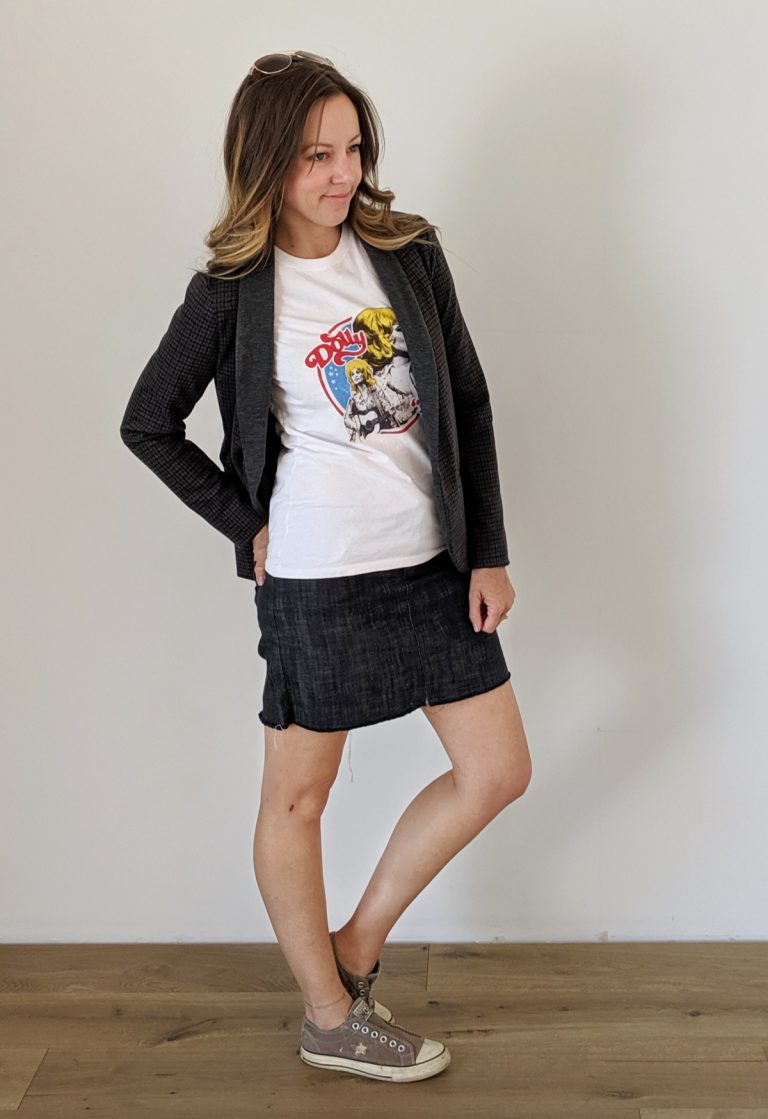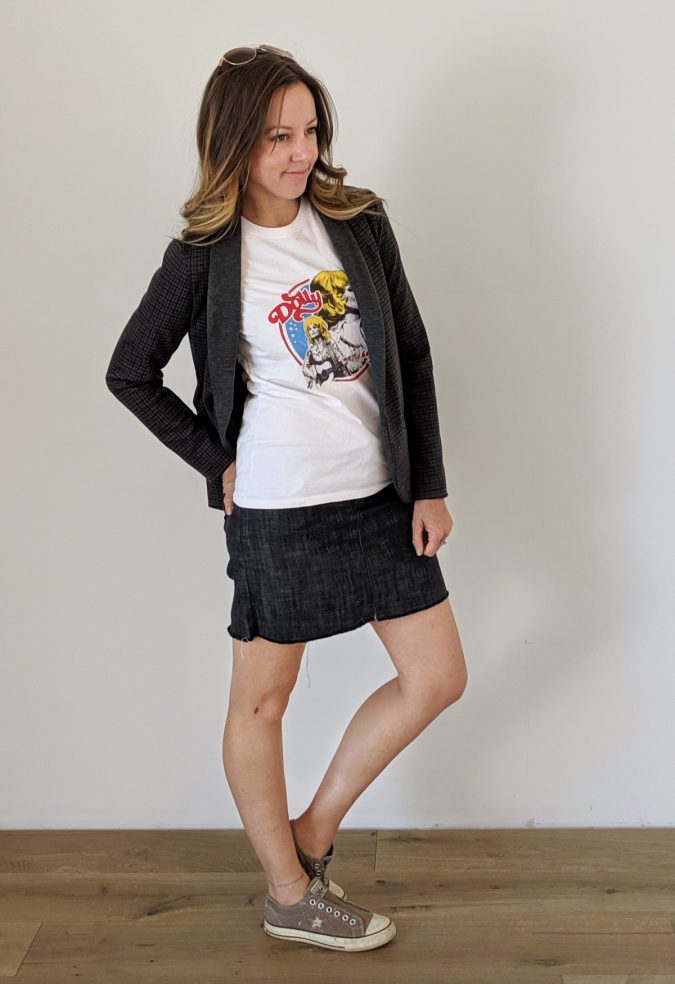 To that end, I decided to design a layering piece that would mimic the classic lines of a blazer but be almost as simple to sew as a cardigan or hoodie.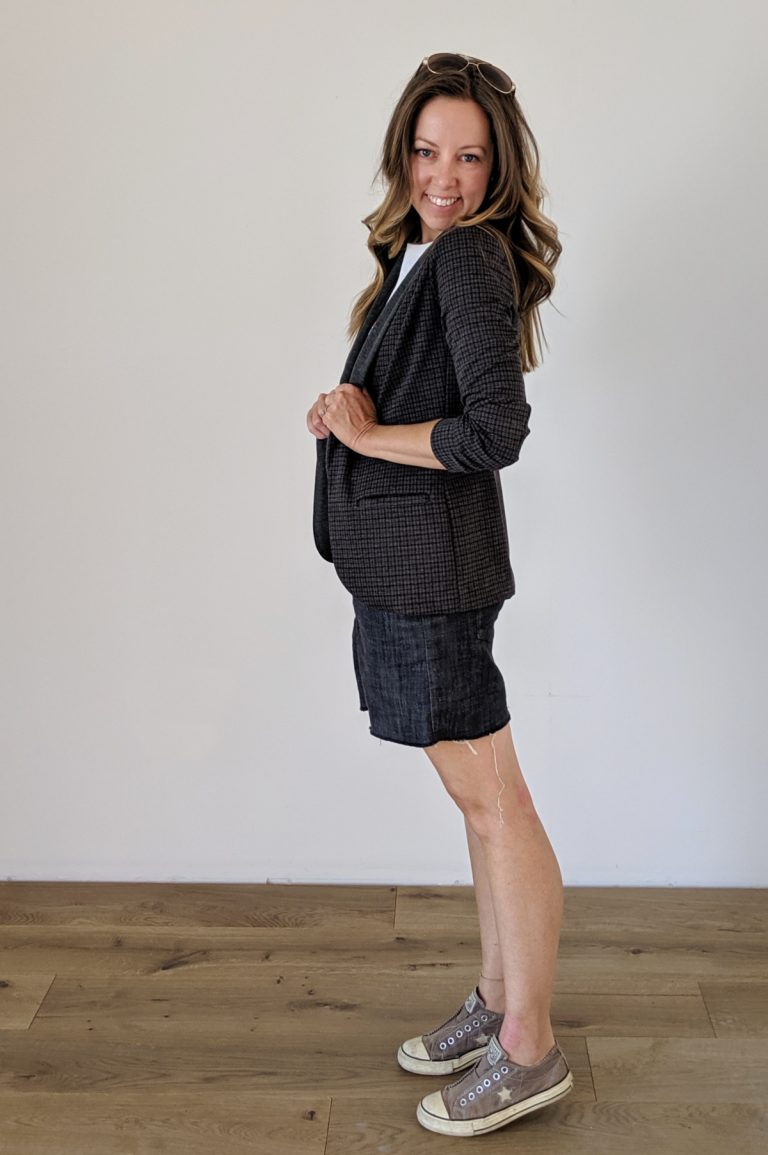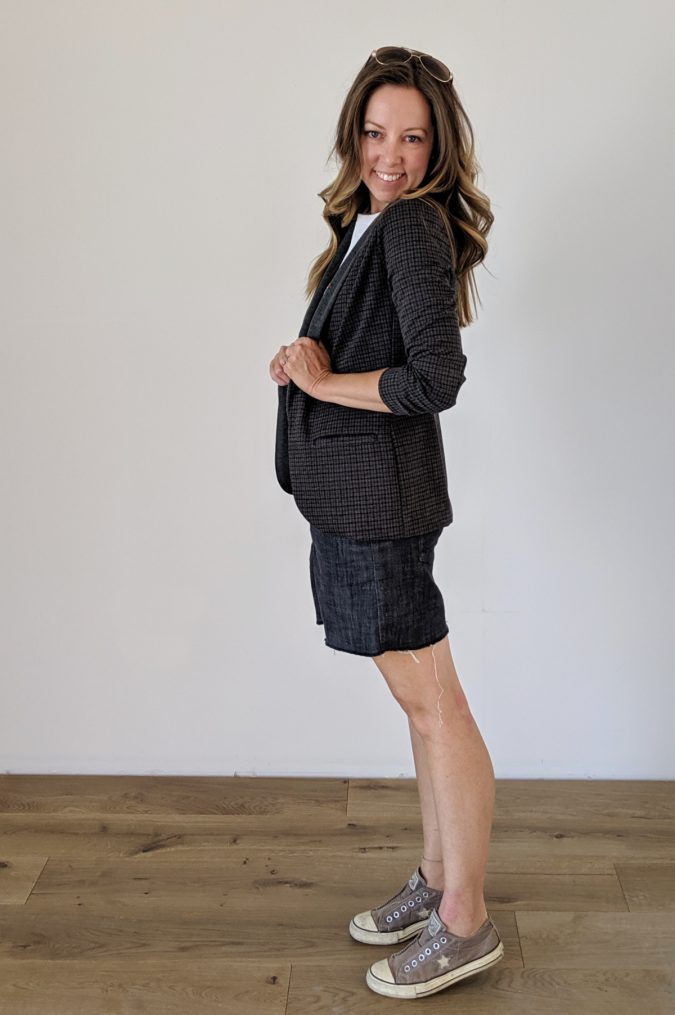 Not only is the Evans a very quick and straightforward sew, it is also easy to style! The unstuffy nature of knits means it can be dressed up or down depending on fabric and styling. A smooth solid ponte will create a more formal look, especially paired with trousers or a pencil skirt. A patterned sweater knit is great for wearing with boyfriend jeans and loafers.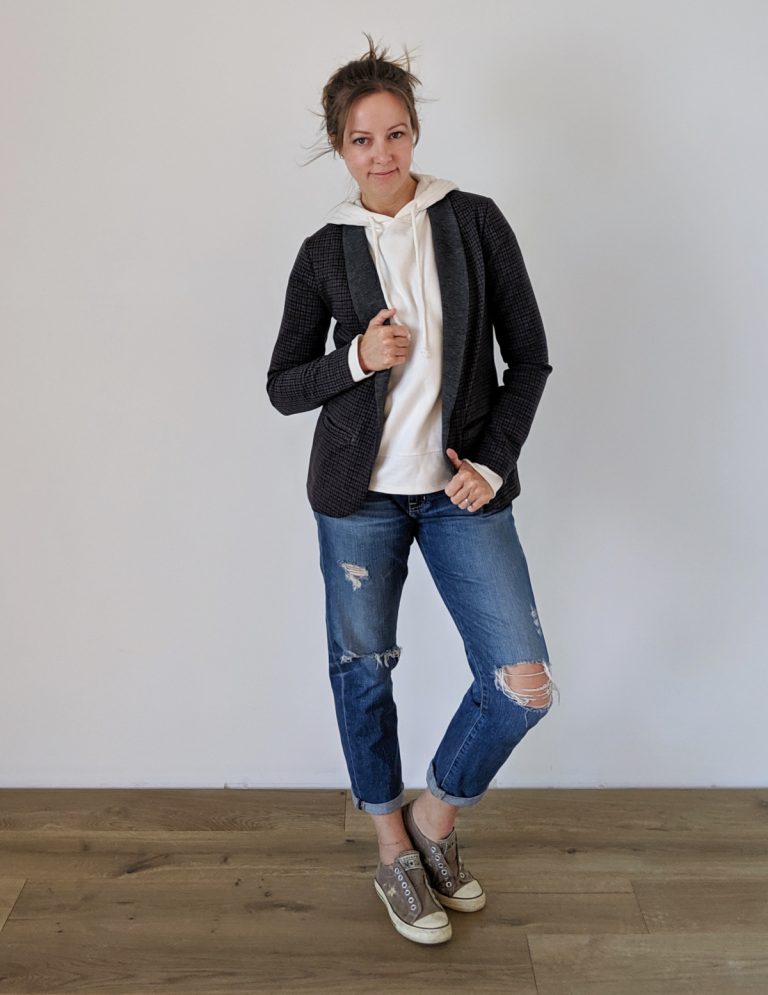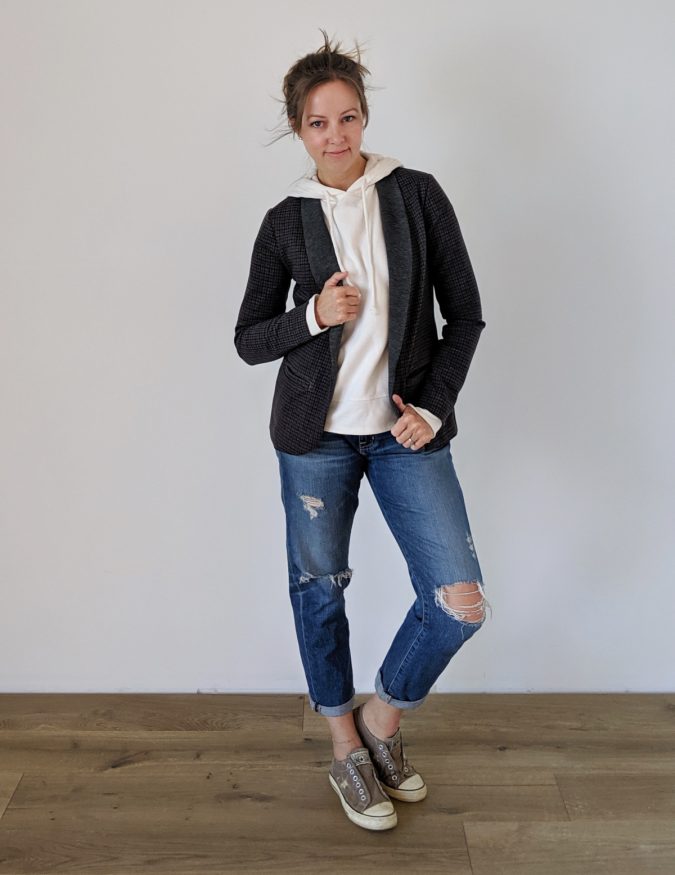 I'm also kind of obsessed with styling a more formal blazer over extremely casual outfits to lend them some polish, such as joggers, graphic tees, and cut-off denim shorts or skirts.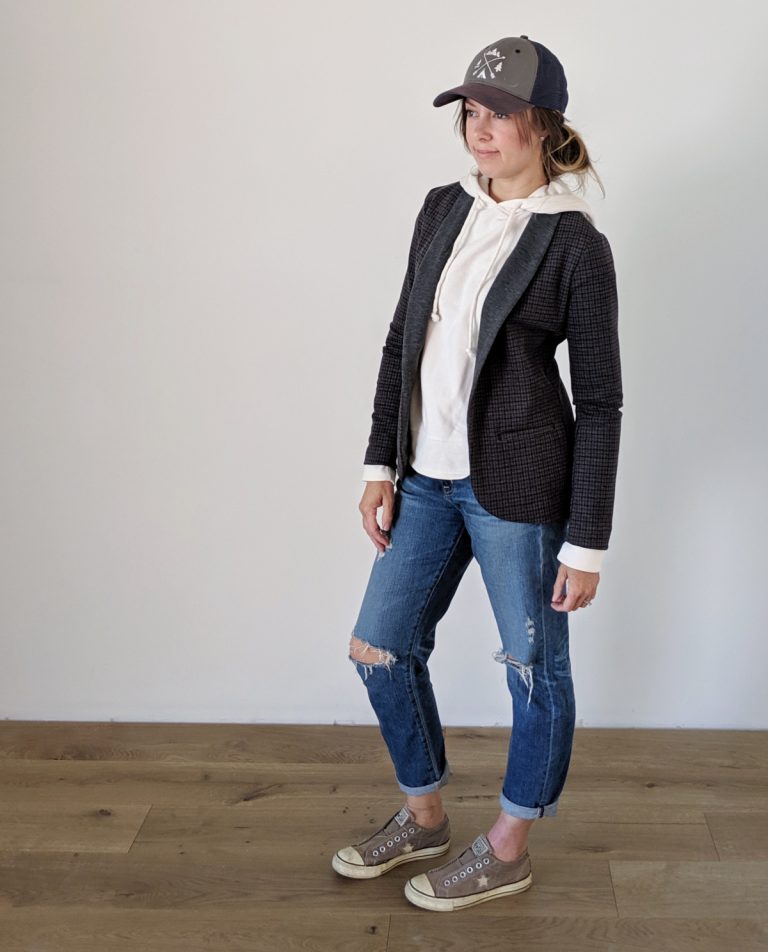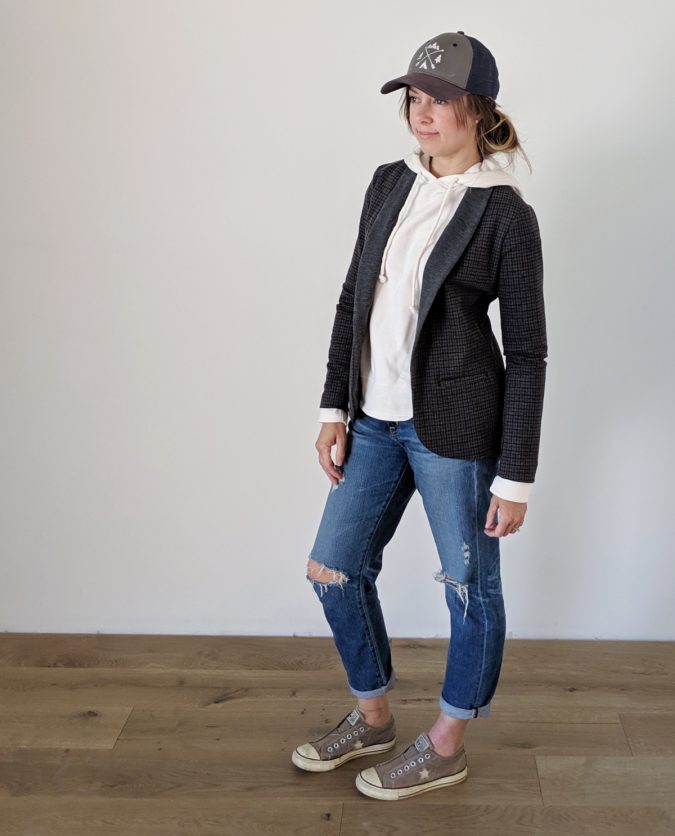 Fabric choice is the most important factor when making the Evans Blazer. Thin light to midweight sturdy knits are ideal. Stretch percentage isn't very important, as long as it's at least 30%, but recovery is extremely important. The fabric should "snap back" when stretched. It is important to note these factors despite the fabric label. For example, some sweater knits will work beautifully, as long as they are more tightly knit and have recovery. Conversely, some pontes may be too heavy. Look for fabric with a weight around 8 – 12 oz or 250 – 350 gsm.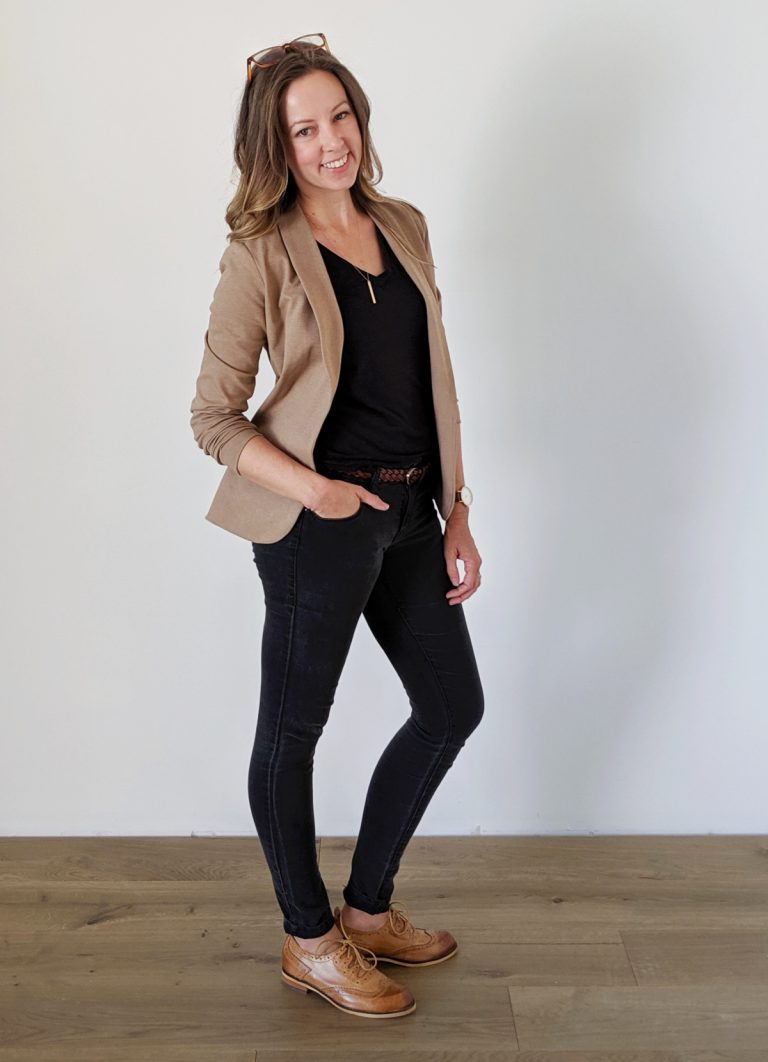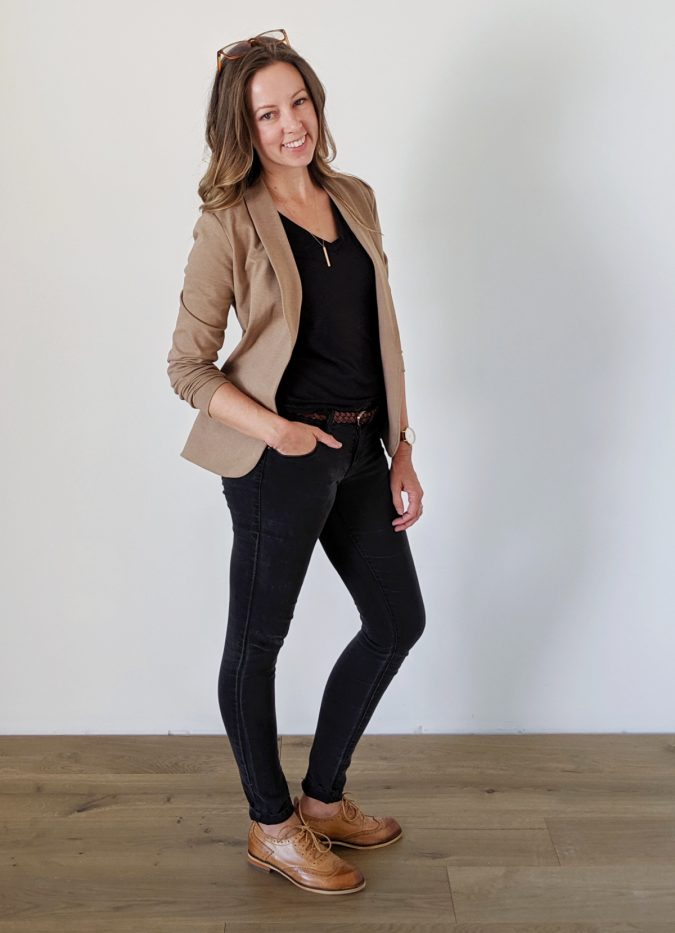 Using these caveats, the best fabrics for the Evans are ponte, double knit, rib knit, sweater knit, heavy cotton/lycra jersey, liverpool, and interlock. Note that just about any sturdy knit fabric will work for the jacket outside of the lapel area. Heavier weight knits or knits without recovery will need extra tack stitches and/or stabilization to lay correctly at the lapel.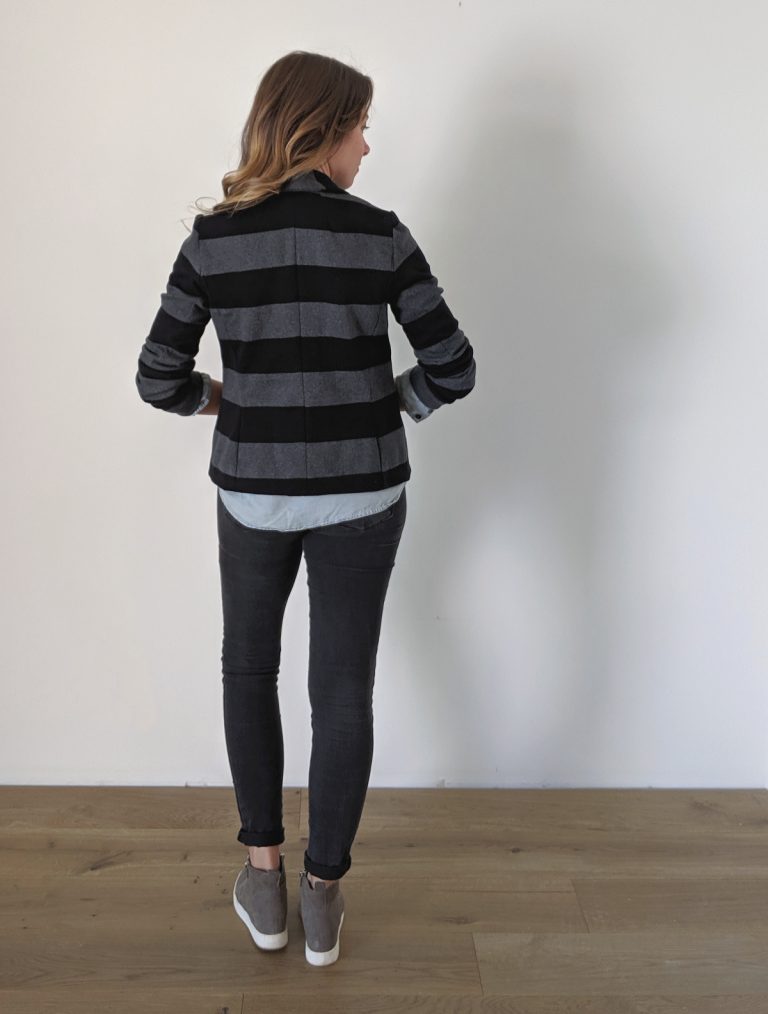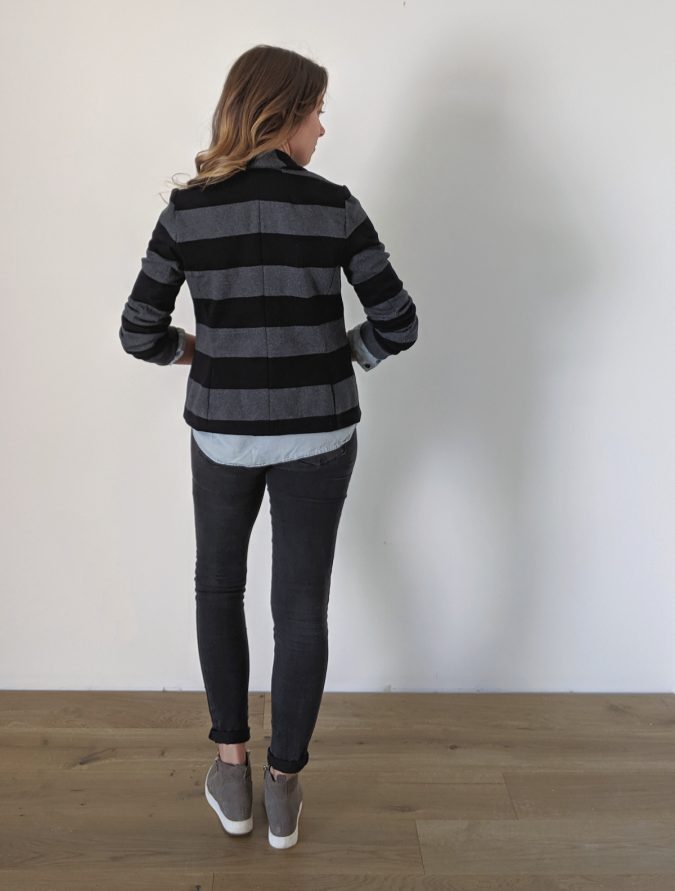 If you are able to shop for fabric in person, a helpful tip is to fold the fabric so it has 4 layers and then hold it up to check drape. This will mimic the 4 layers of fabric at the lapel.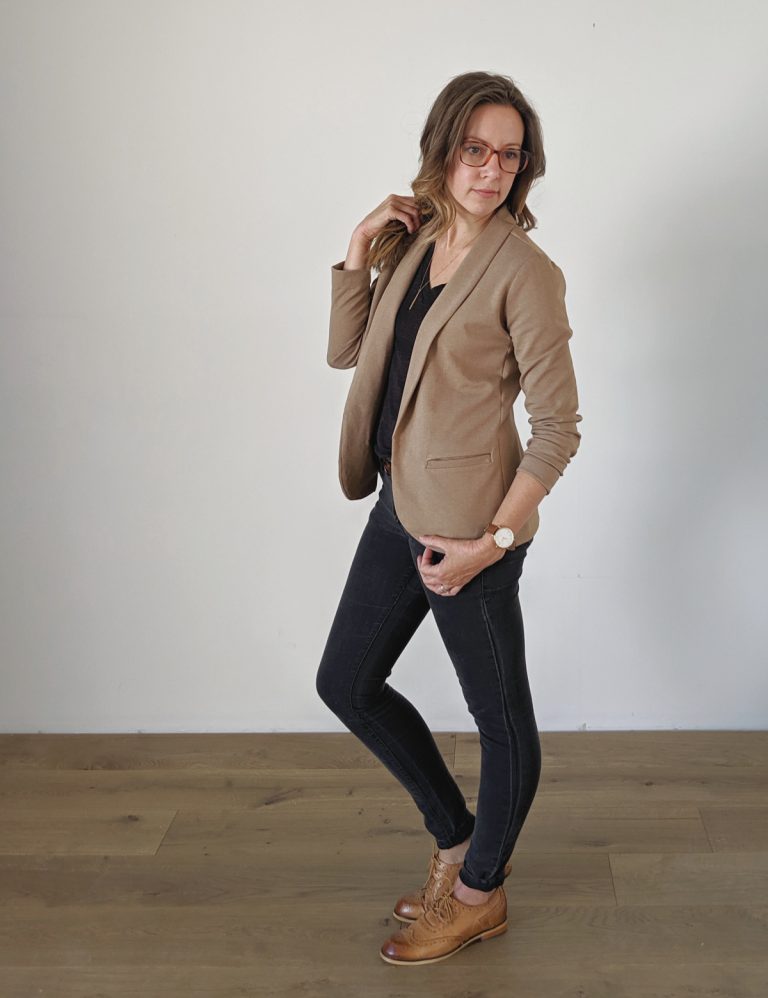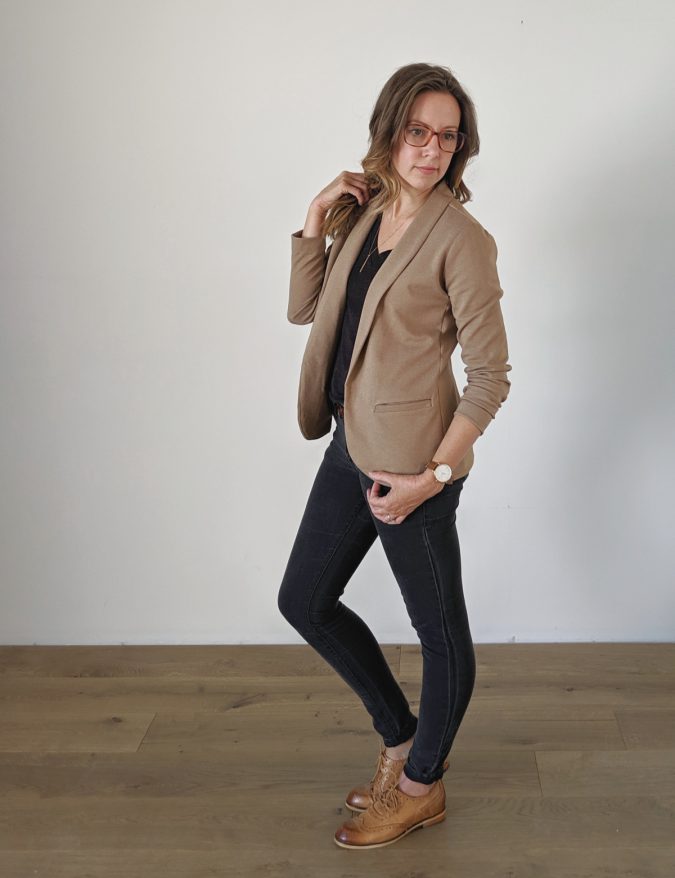 This lightweight camel ponte is a viscose/nylon/elastane blend from Mood Fabrics. At only 8 oz it is definitely on the lightest end of the recommended spectrum. It lays really beautifully without any need for extra tacking around the lapel and makes a perfect lightweight layer for early fall.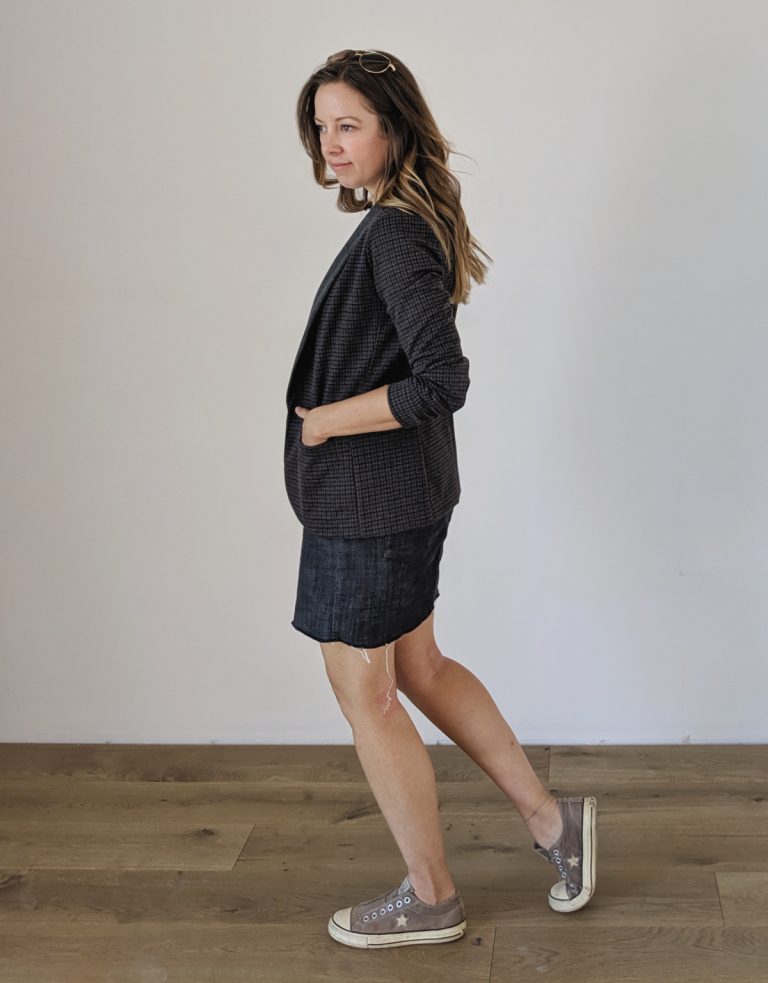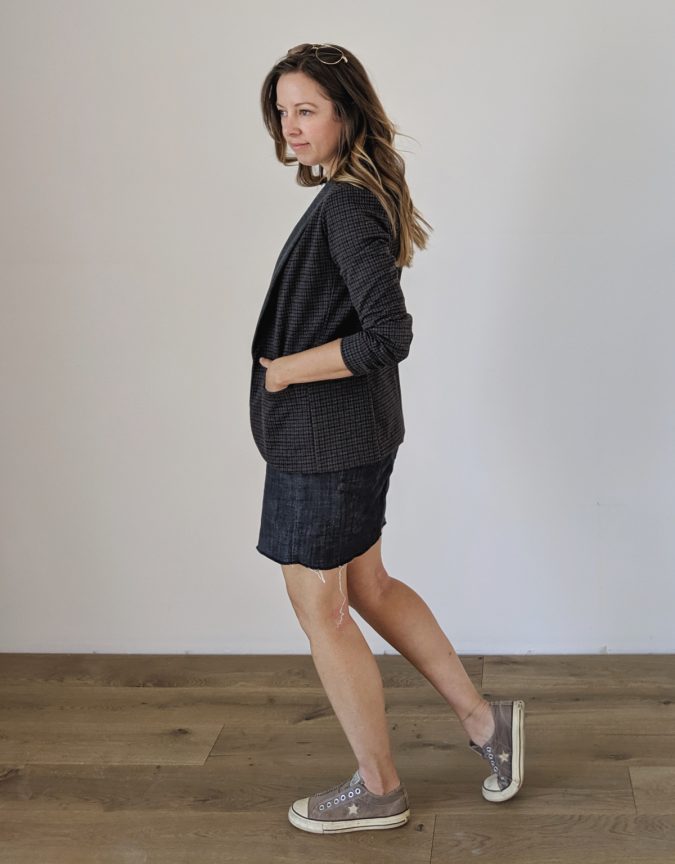 The tattersall check fabric is also from Mood and it is much heavier at about 12 oz. This one is a poly/nylon/spandex blend and also works beautifully for the Evans. It has a closer fit and is slightly more restrictive in movement because of the weight, but it lays really nicely and also didn't need any extra tacking at the lapel. For this blazer, I used the wrong side of the fabric for the facing for a bit of colorblocking.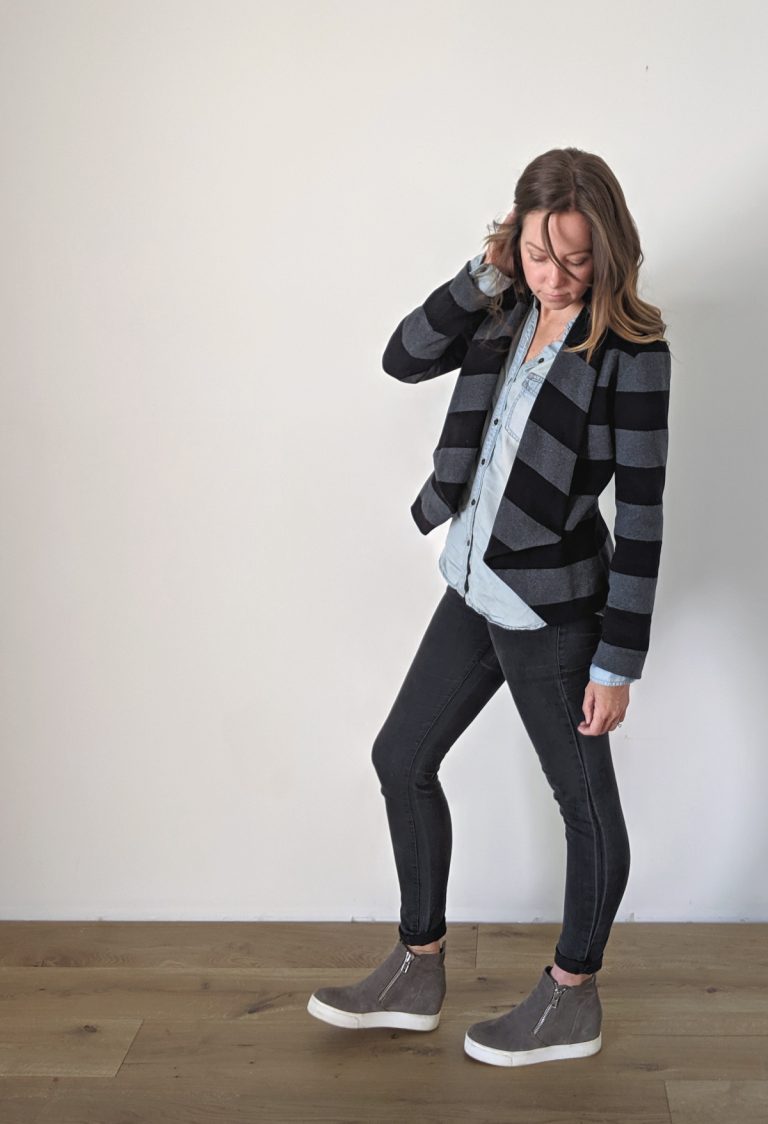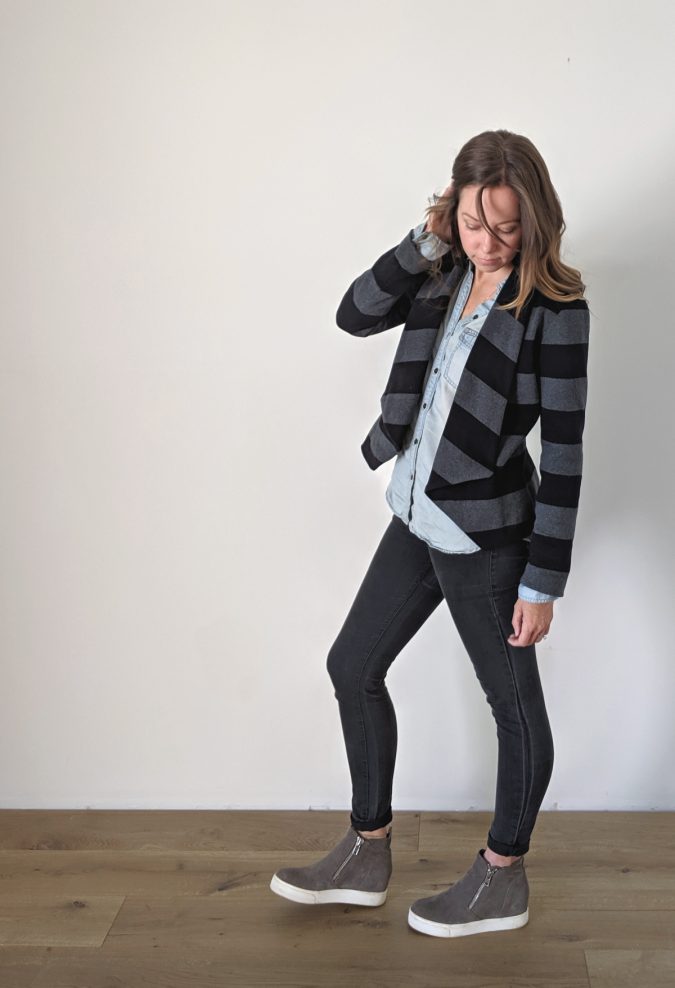 Last and by far my favorite is this sweater knit from La Mercerie! If I could only make this pattern in one fabric forever it would be this one! It has a similar hand feel to a ponte in terms of recovery and smoothness, but it is much softer and has slightly better drape. This fabric required no coaxing whatsoever to lay beautifully at the draped lapel and feels like my softest sweater. La Mercerie just released this fabric in several different stripe and large format polka dot colorways and there is a possibility for a few basic solids if we beg hard enough 😉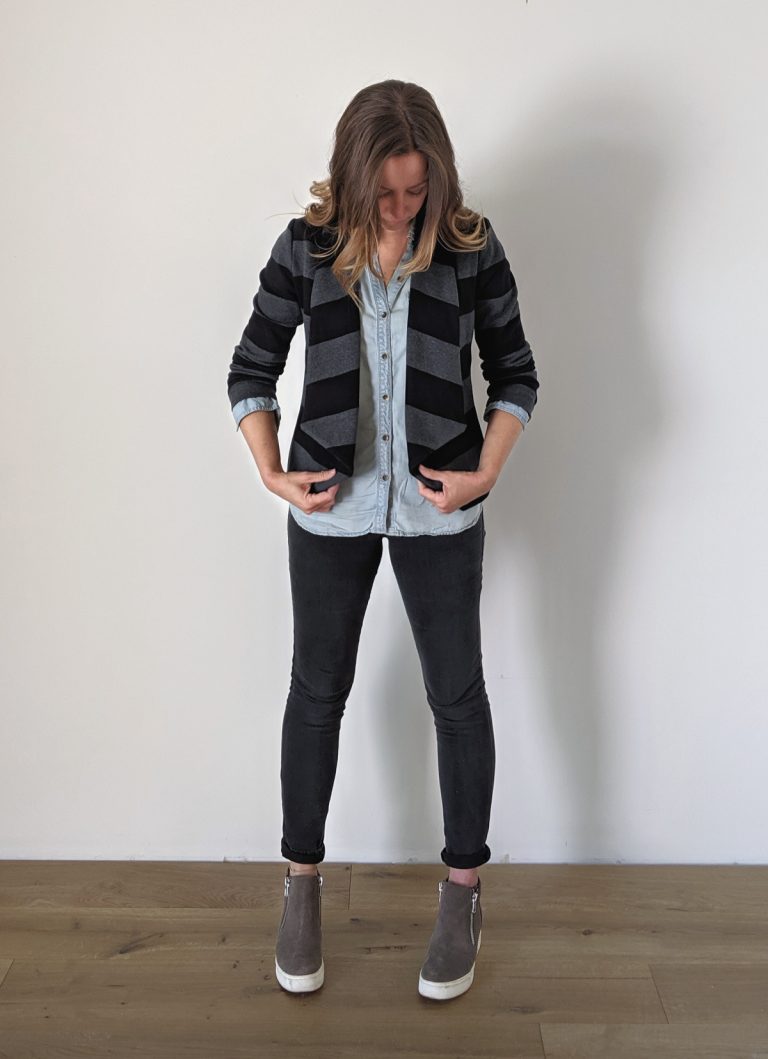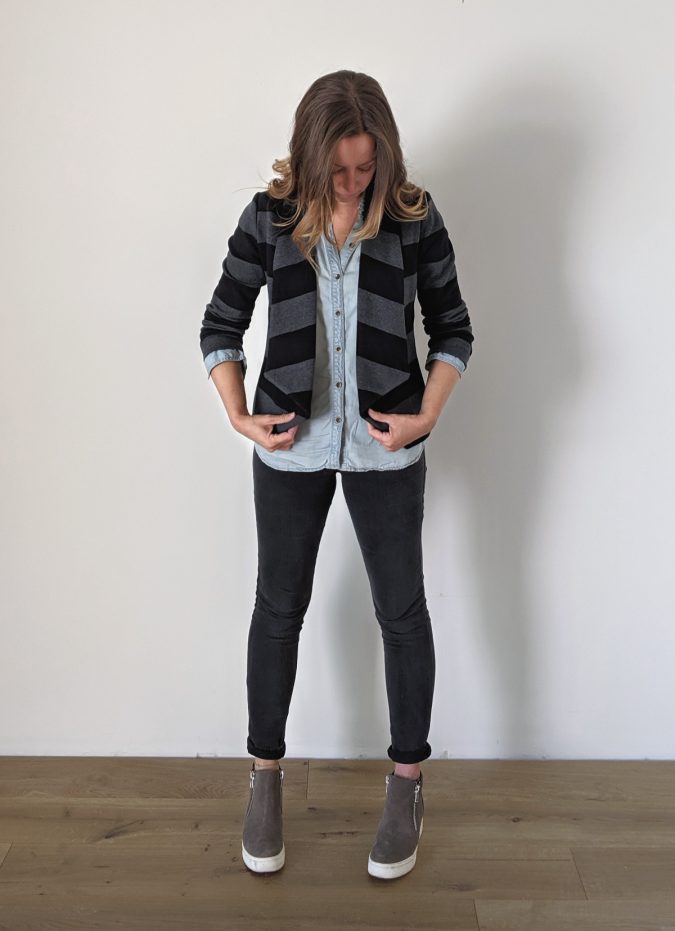 I hope you all love the Evans Blazer as much as I do! I can't stop thinking of new ways to style it! The pattern is 15% off through release weekend. Sale ends midnight mountain time 9/22.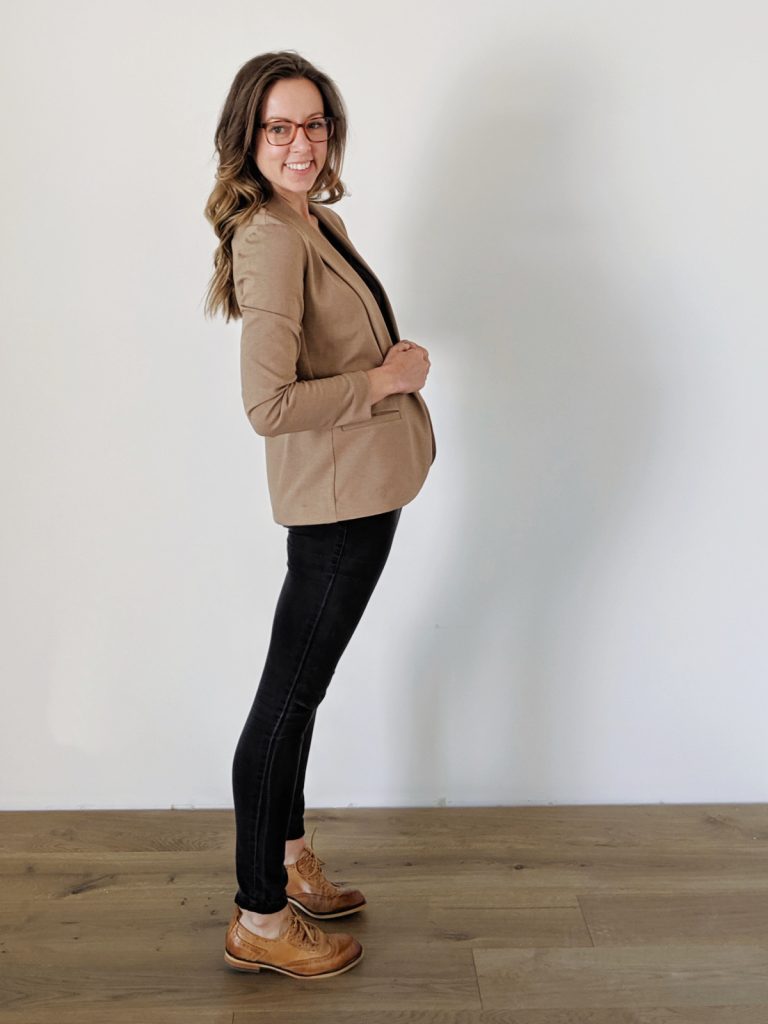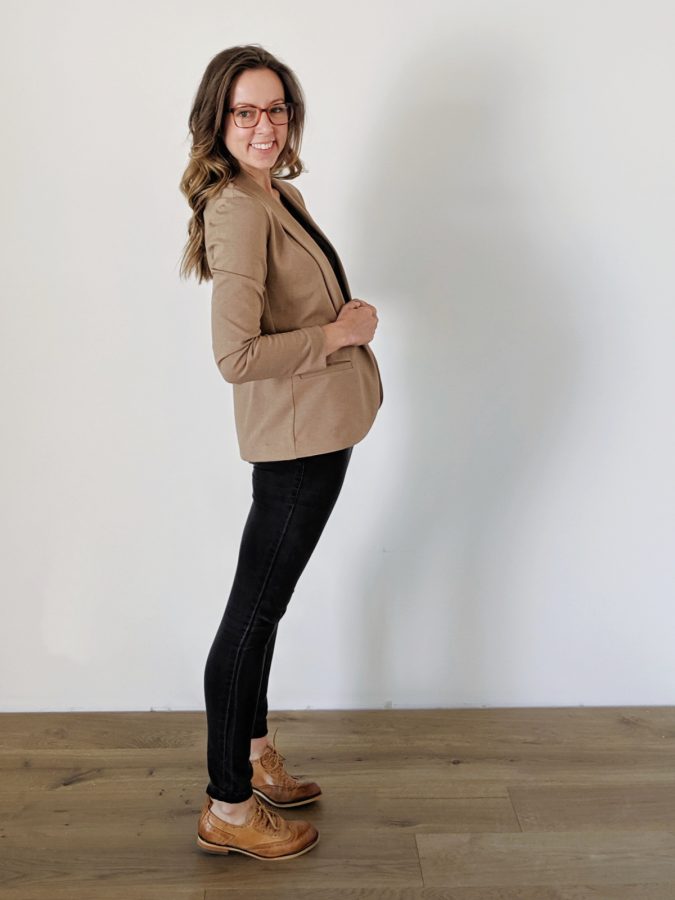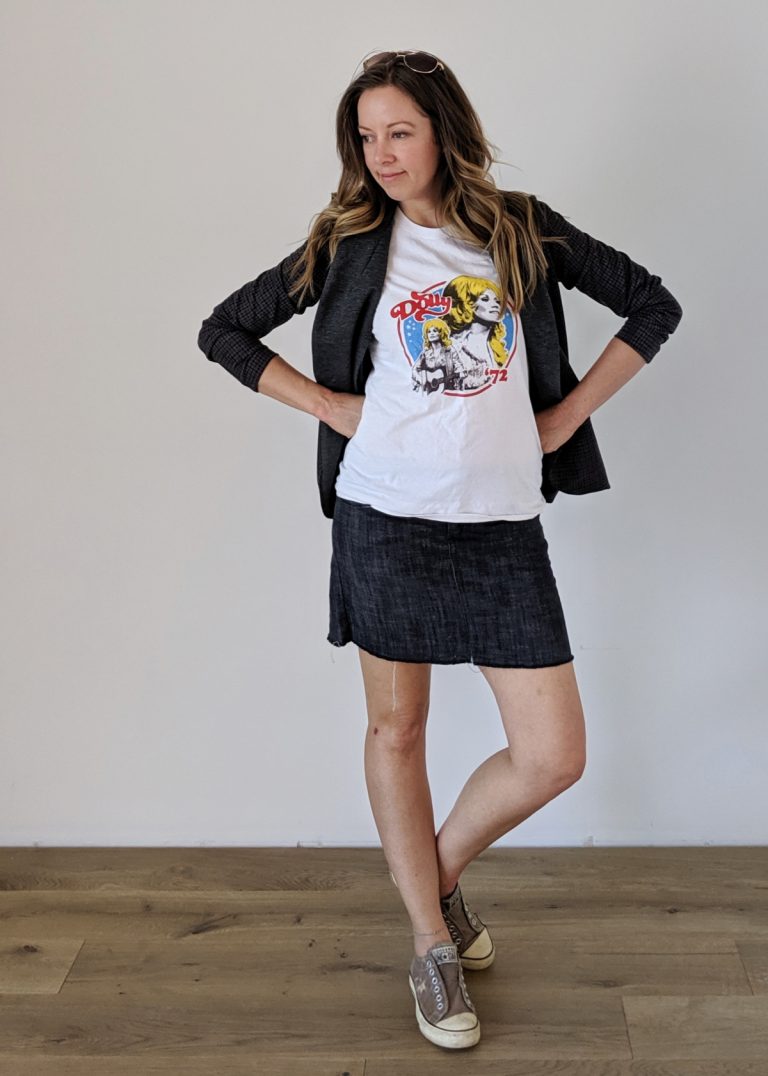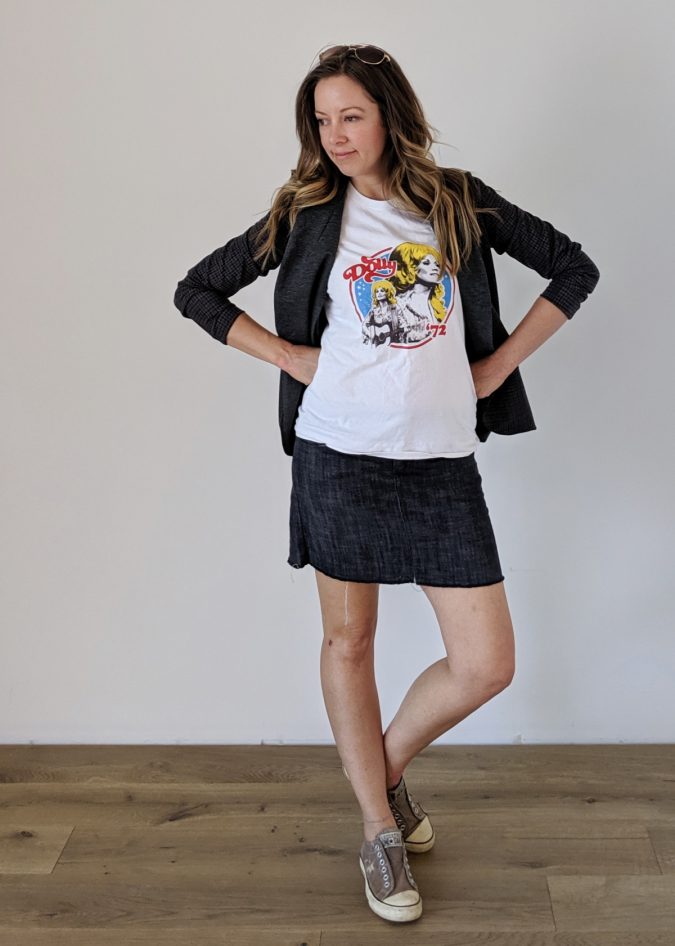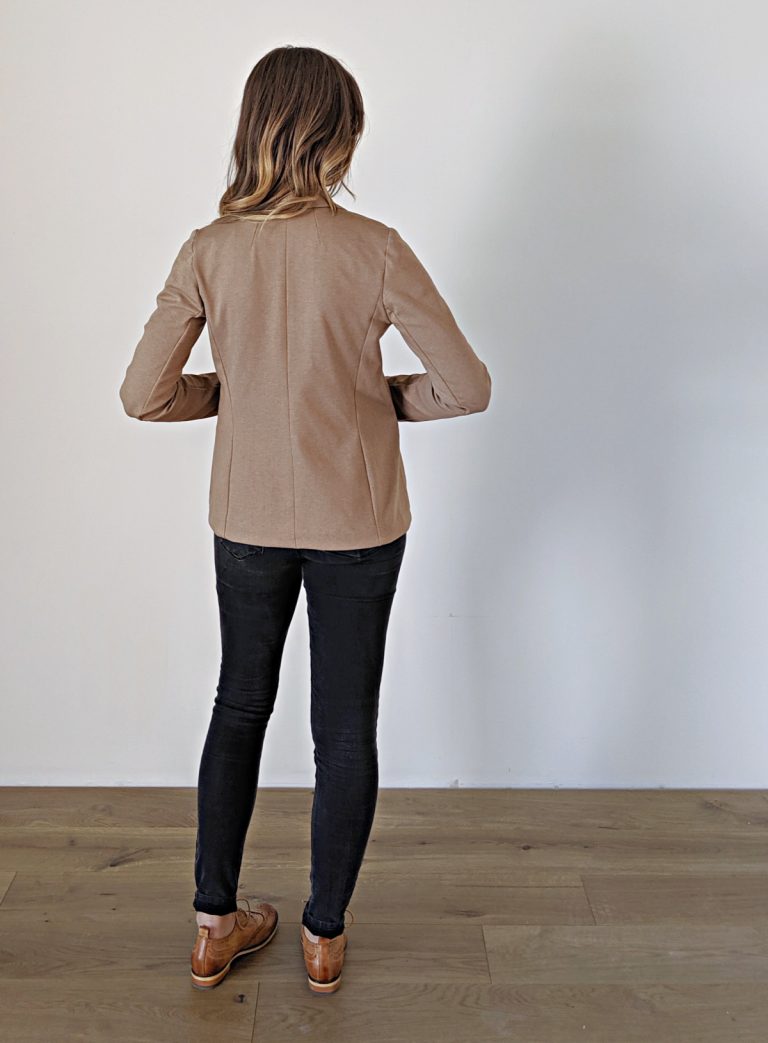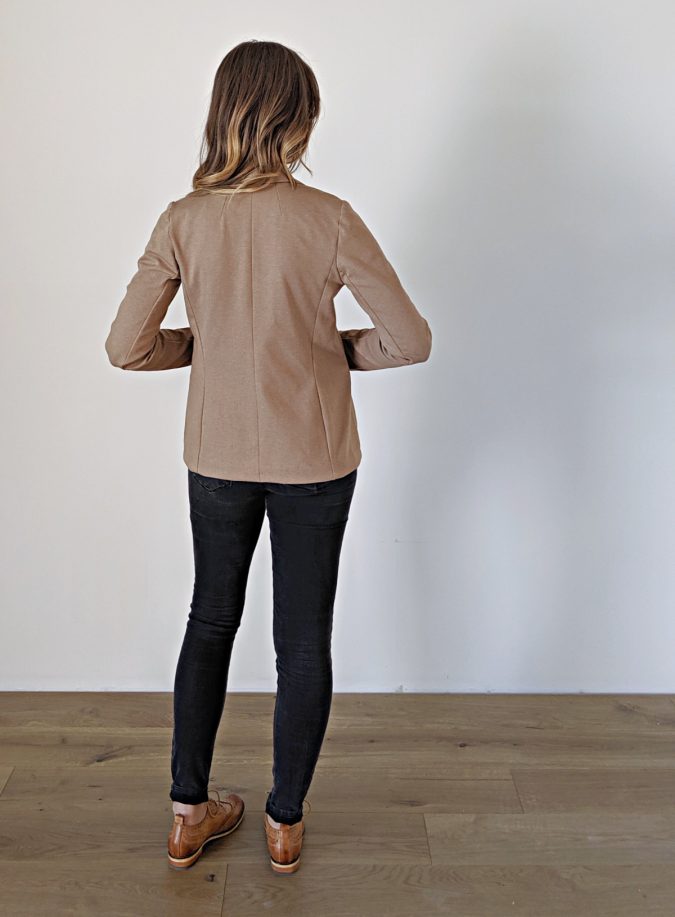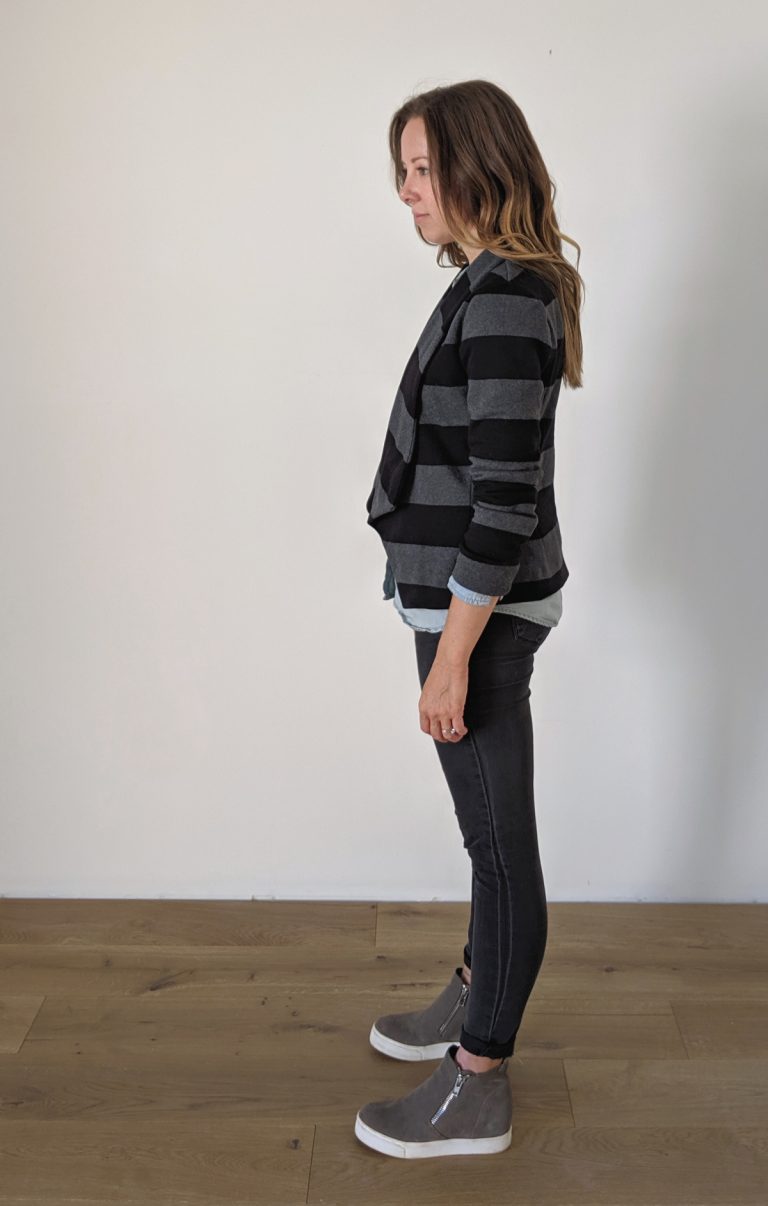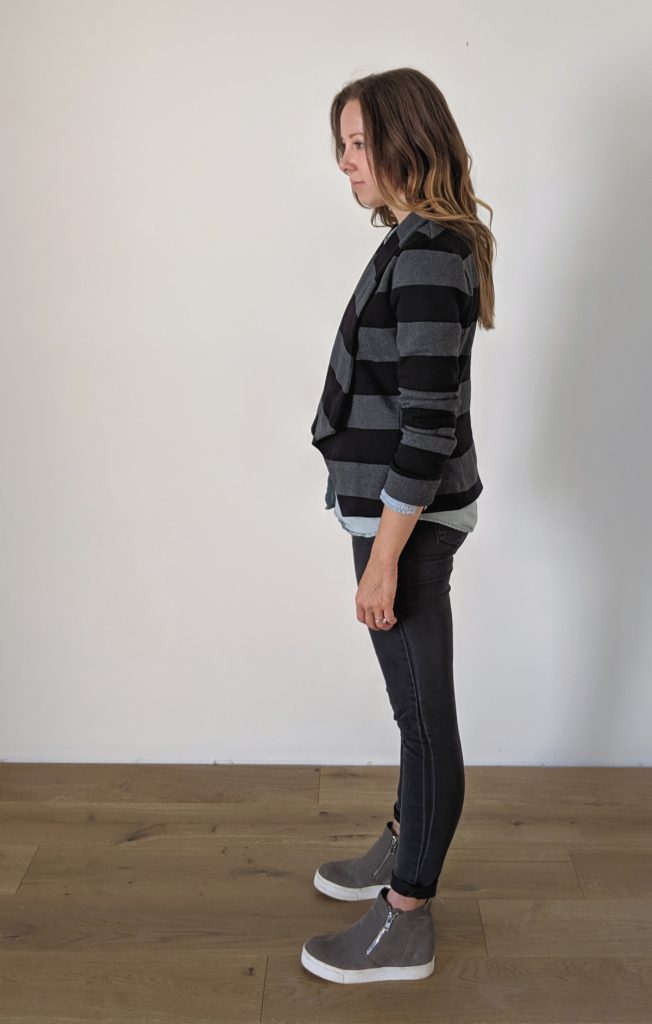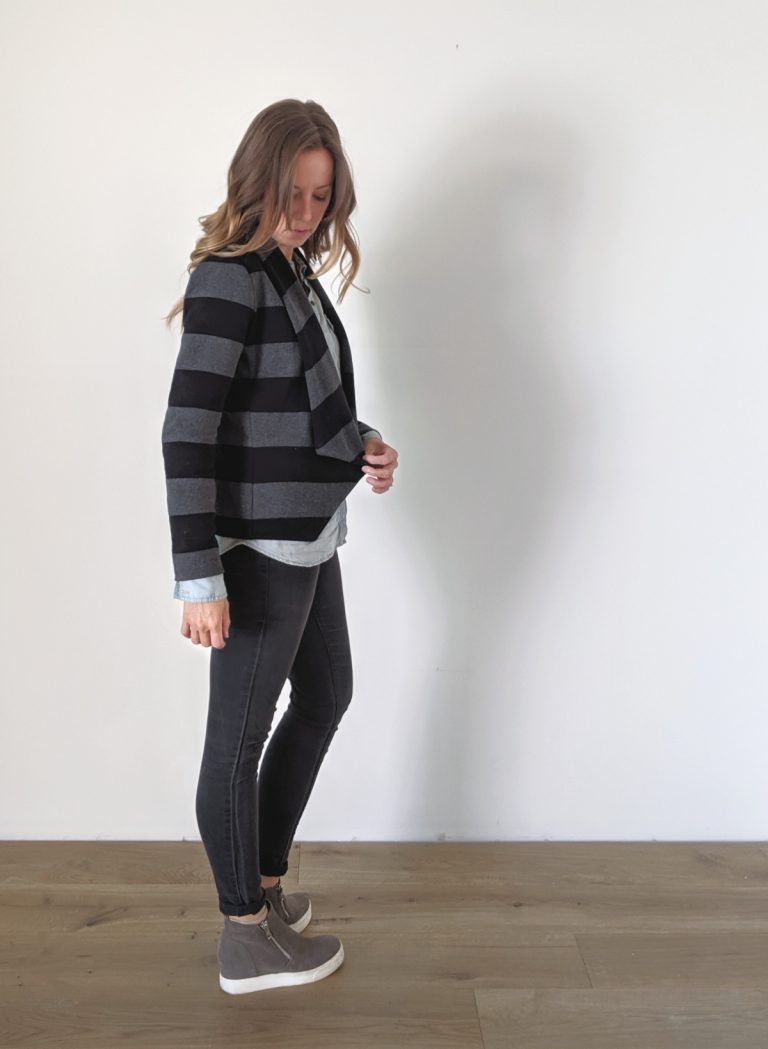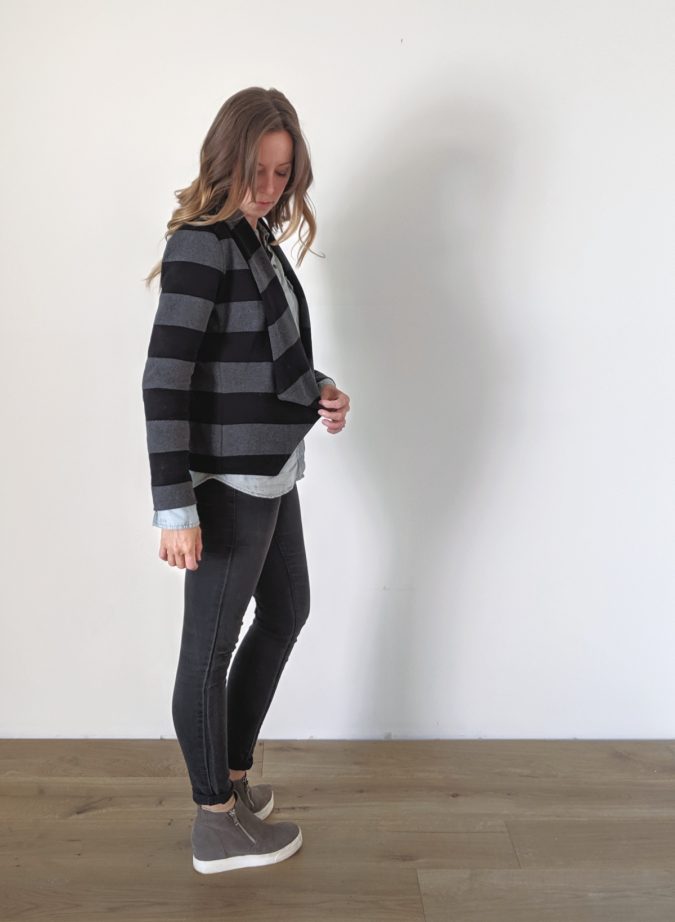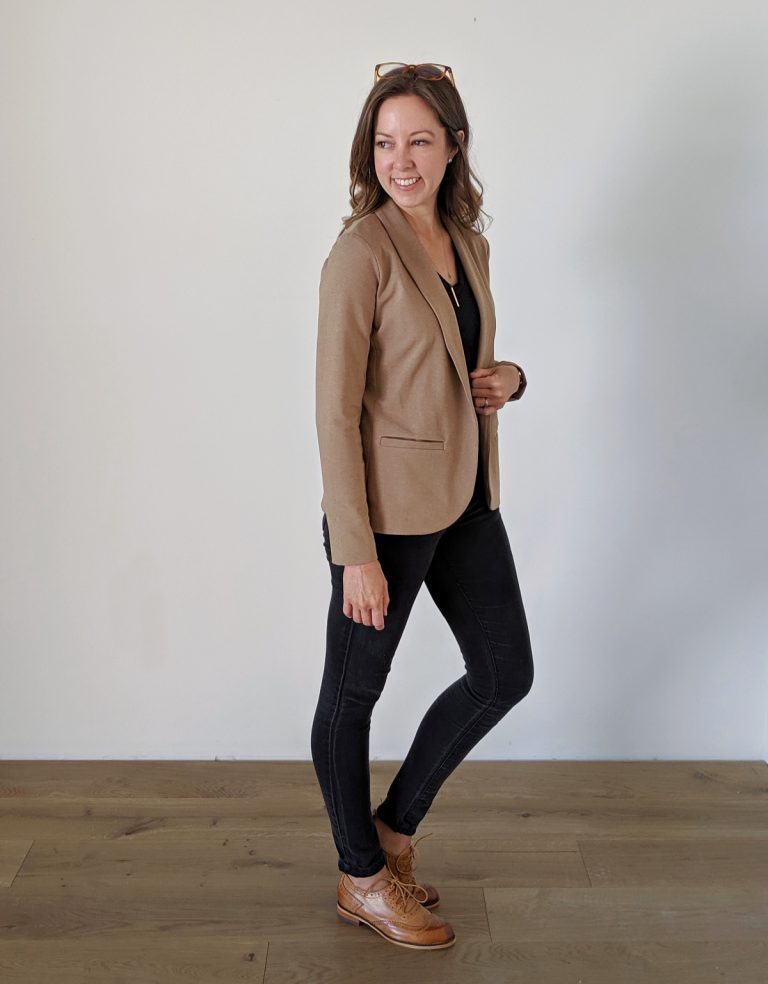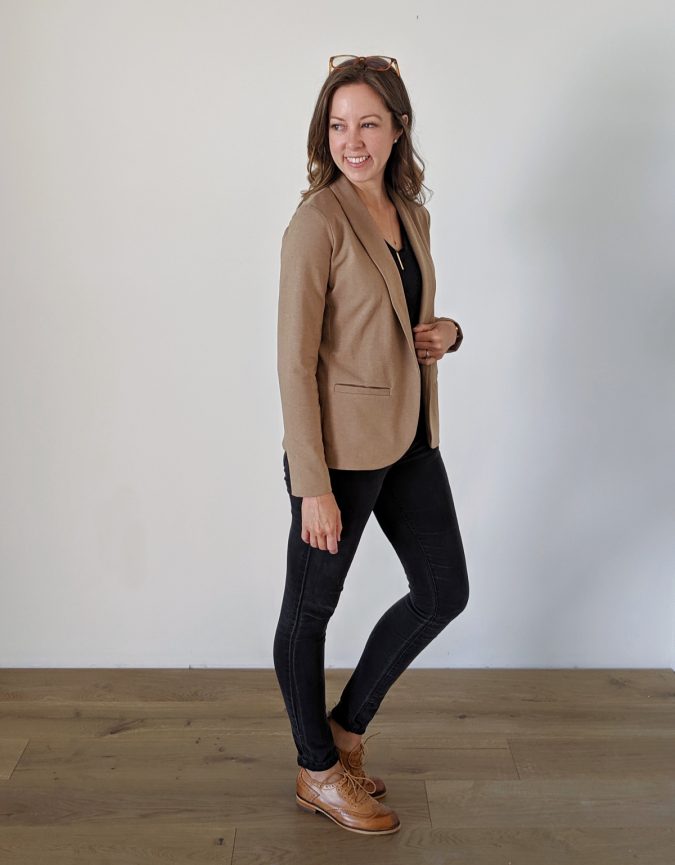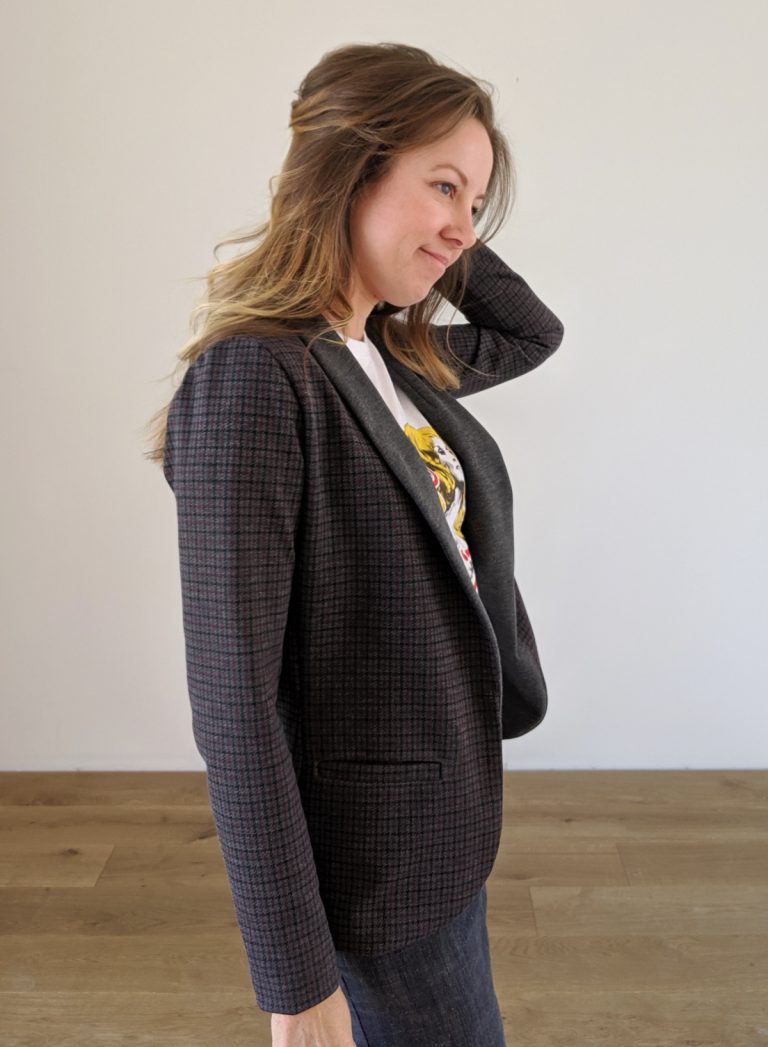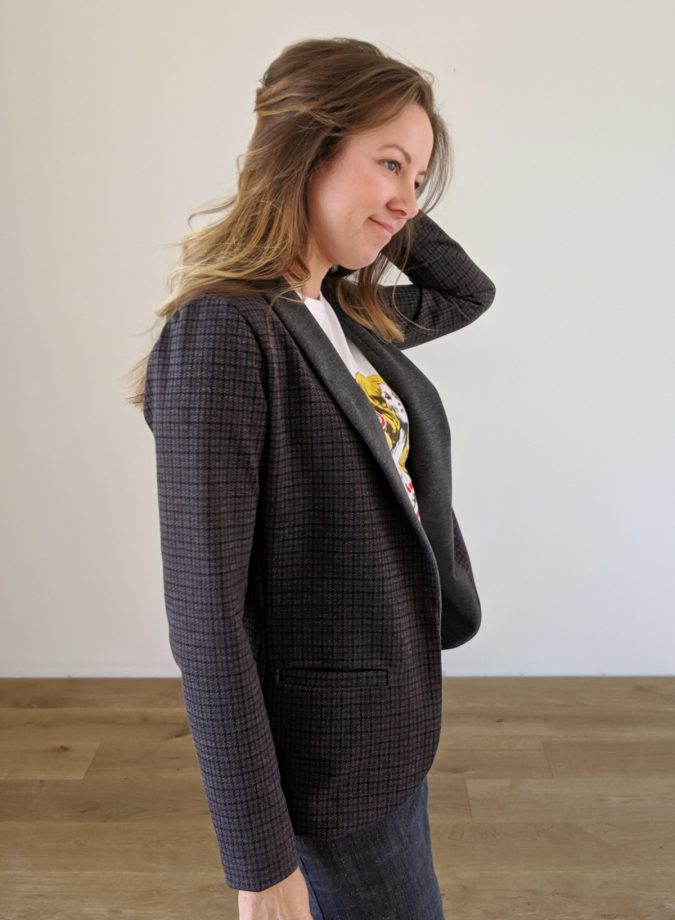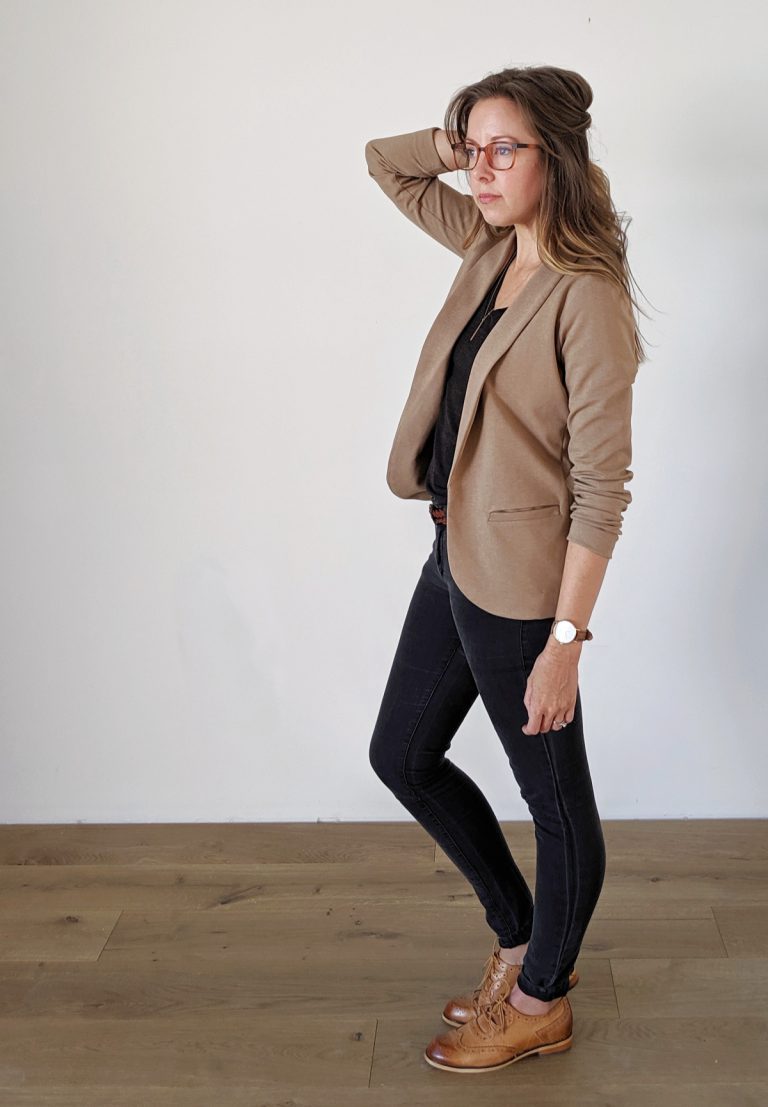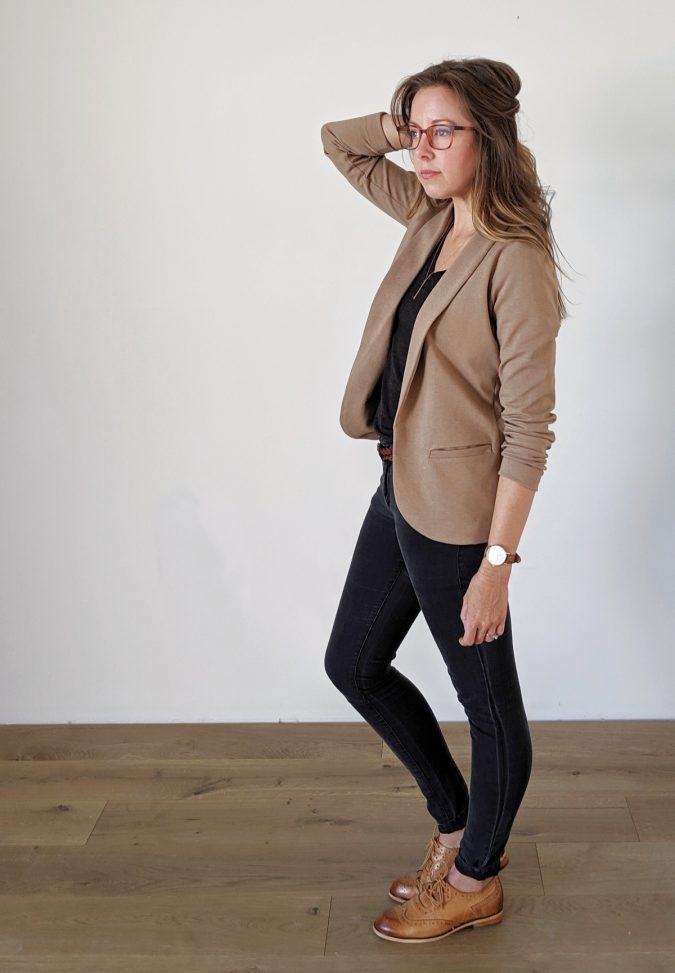 Outfit Sources:
Black tee – Union St. Tee
Black jeans – old, SP Black brand from Nordstrom
Leather brogues (these have the most amazing cushioned insole, they are very comfortable! Size up if between!)
Chambray shirt – old, Halogen brand from Nordstrom
Denim skirt – Sandbridge Skirt
Sneakers – old, Converse