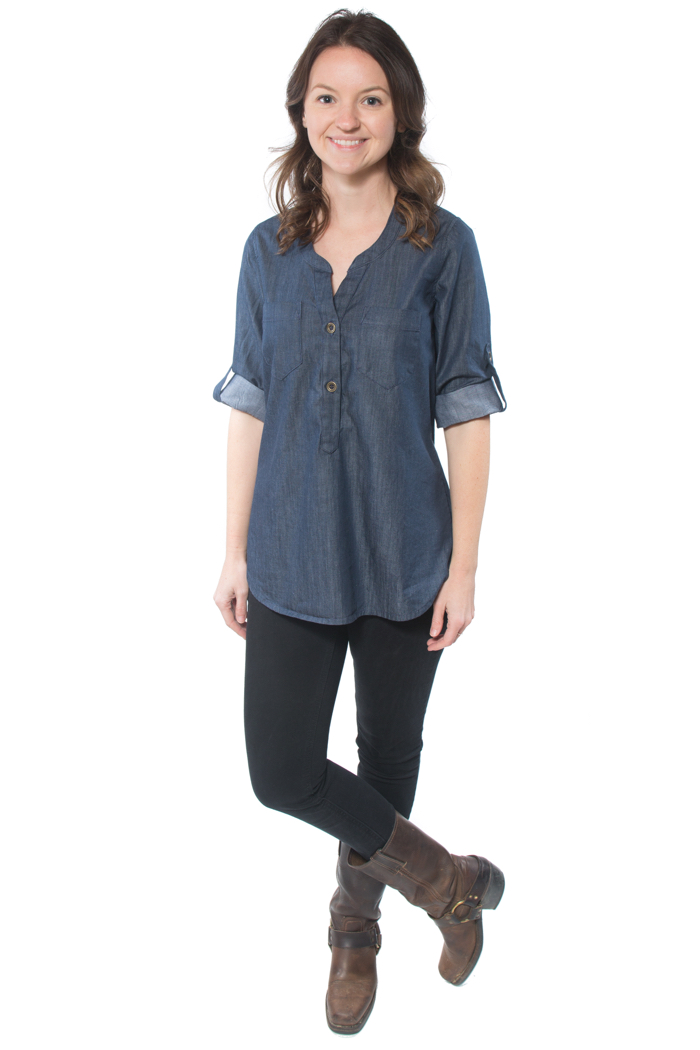 Wow, I really doubted this day would actually ever come, but it's finally time to release the Cheyenne Tunic!  I'm so excited about this one you guys.  I think the variations are pretty endless and I can't wait to see what you guys do with it!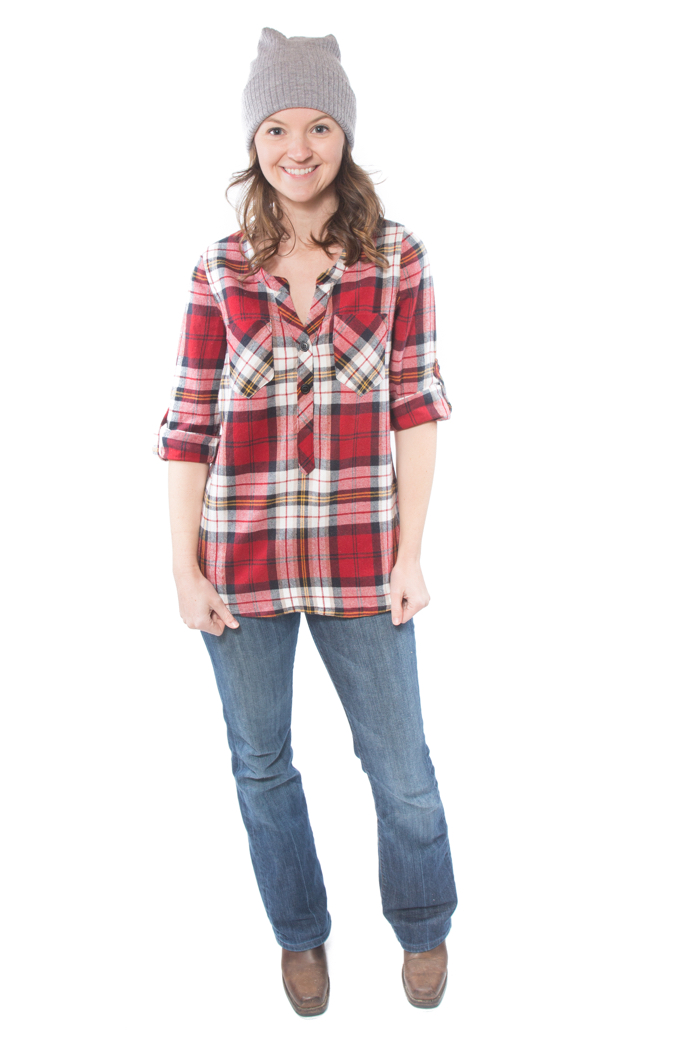 The Cheyenne is a casual woven shirt or tunic in two views.  The denim and red plaid versions you see here are both View B and feature a dropped collar-less neckline with a shaped half placket.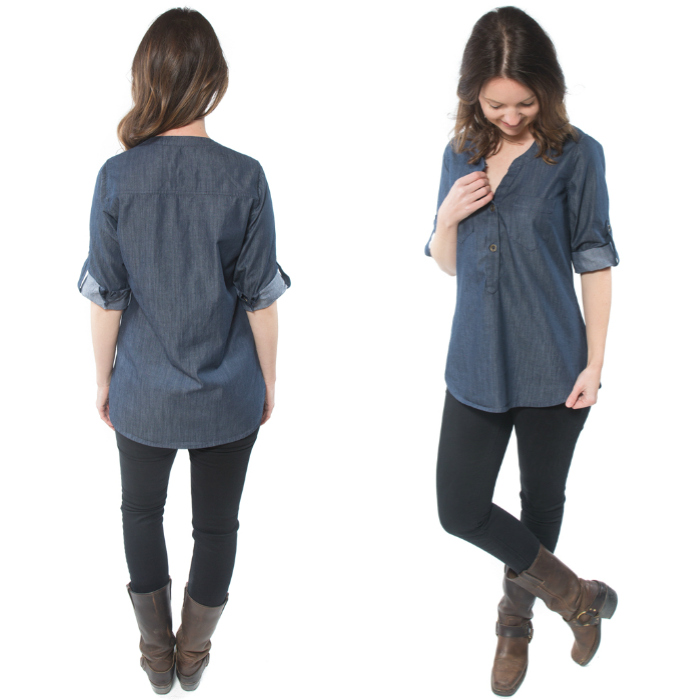 These were both done with the 3/4 sleeve and optional sleeve tab in a tunic length.  You can also make View B with a long sleeve and traditional shirt placket and in a slightly shorter shirt length.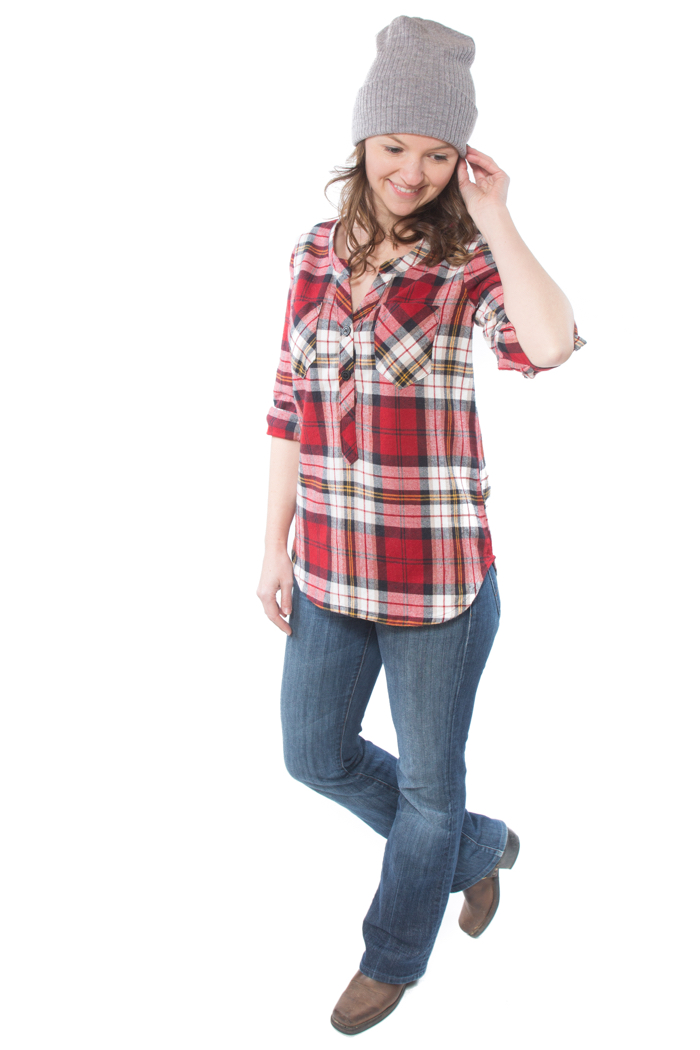 View A is a standard collared button down, perfect for dressing up for work and going out or dressing down with flannel like this cute buffalo plaid version!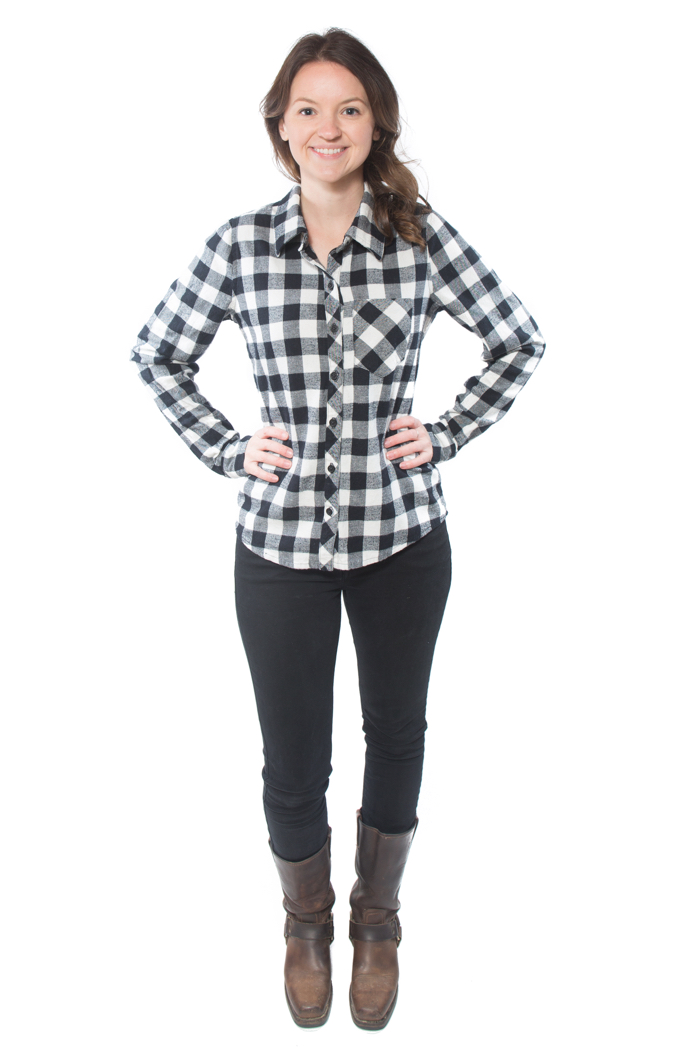 The Cheyenne features gentle curves on the side seams to accentuate and flatter a woman's body while still maintaining an easy casual shape.  All interior seams are sewn with a French seam so the inside of your Cheyenne will be just as beautiful as the outside!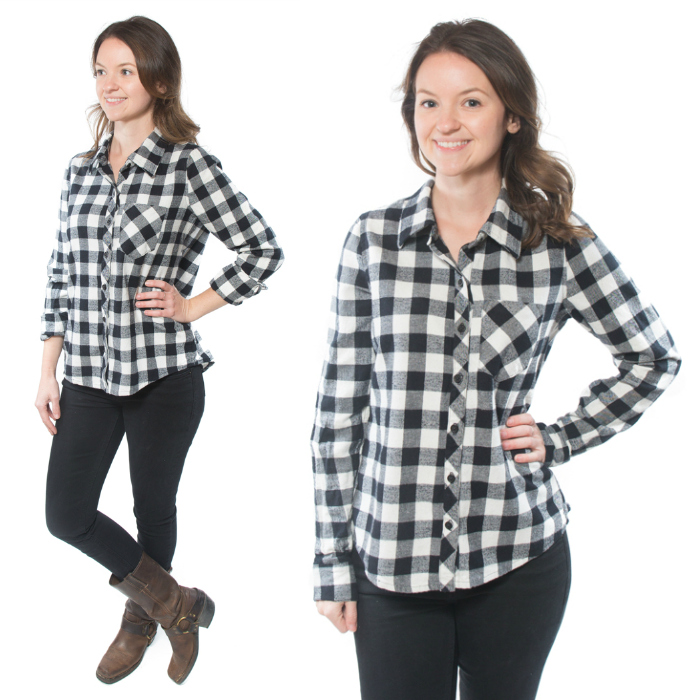 Because there are no bust darts, the Cheyenne is perfect for stripe and pattern matching.  The pattern works for busts up to a D cup and has tips for altering the pattern for larger bust adjustments without adding a dart.  If pockets are a concern for you, you can leave them off or opt to only add one.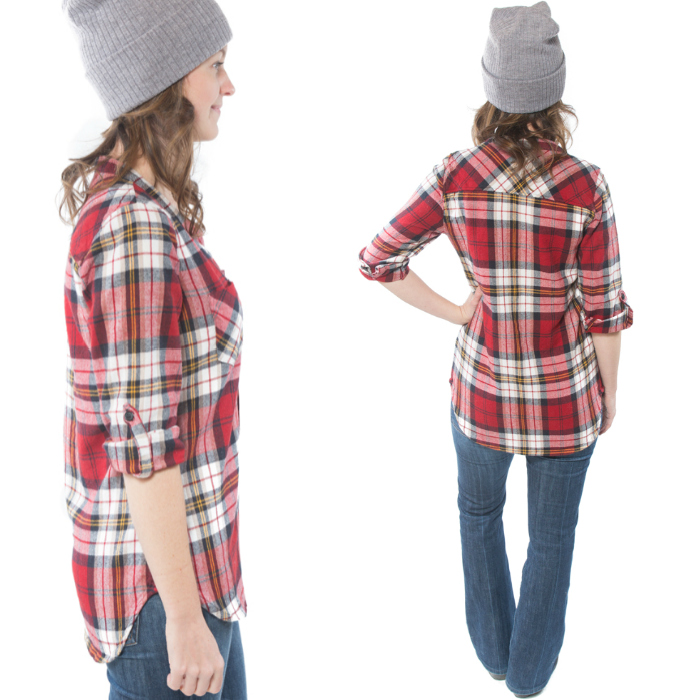 For a fun twist, use the markings on the pattern pieces to cut the back yoke, button placket, and pockets on the bias!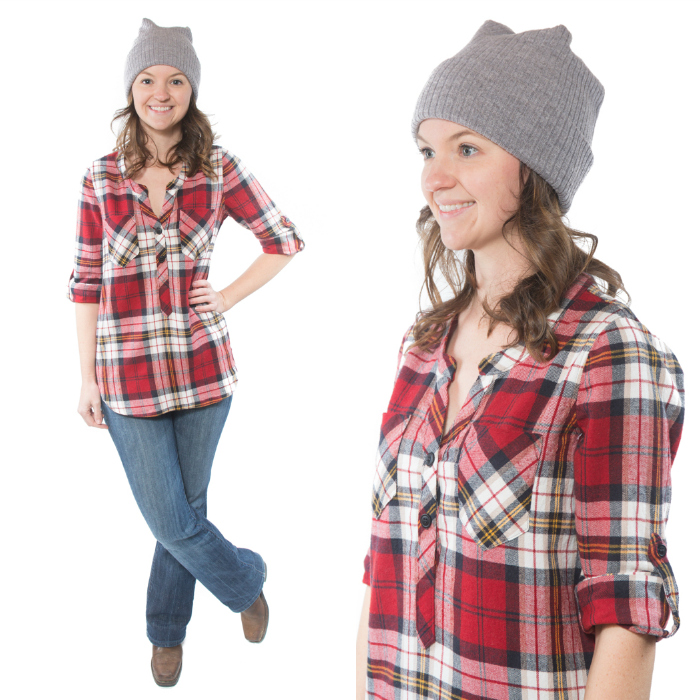 Or just make up a chambray version, perfect for all occasions.  Throw it on with some great skinny jeans and earrings and you've got yourself a comfy, easy, and stylish outfit.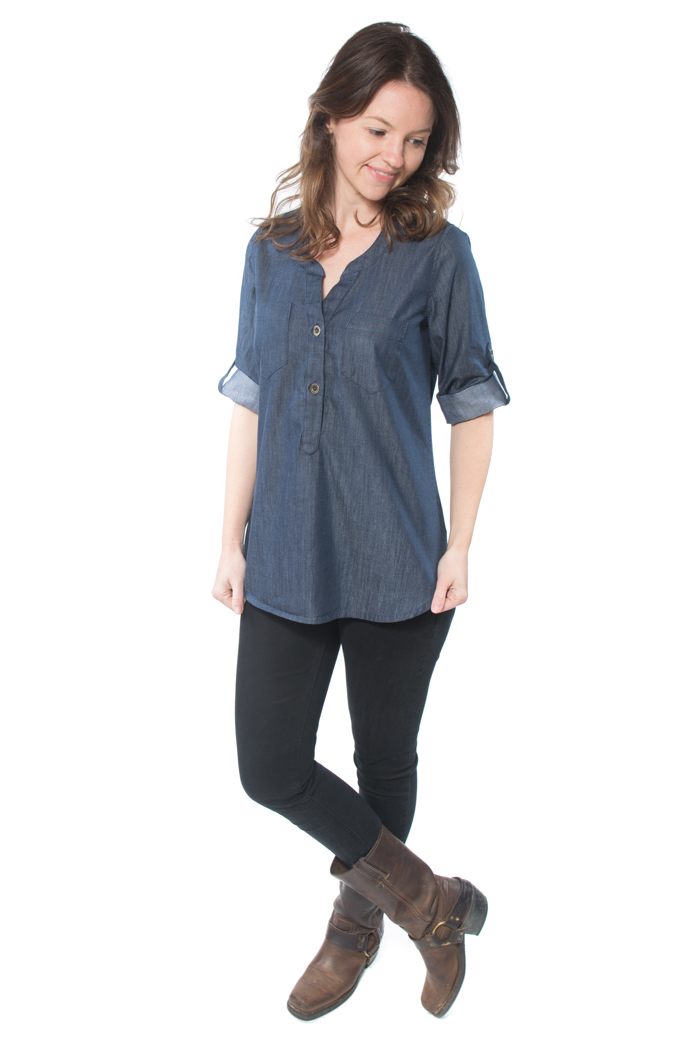 The Cheyenne can be dressed up in fancier fabrics like cotton sateen or georgette, or made casual with a soft flannel plaid or cotton shirting.  The versatility of this pattern will make it a workhorse in your pattern stash!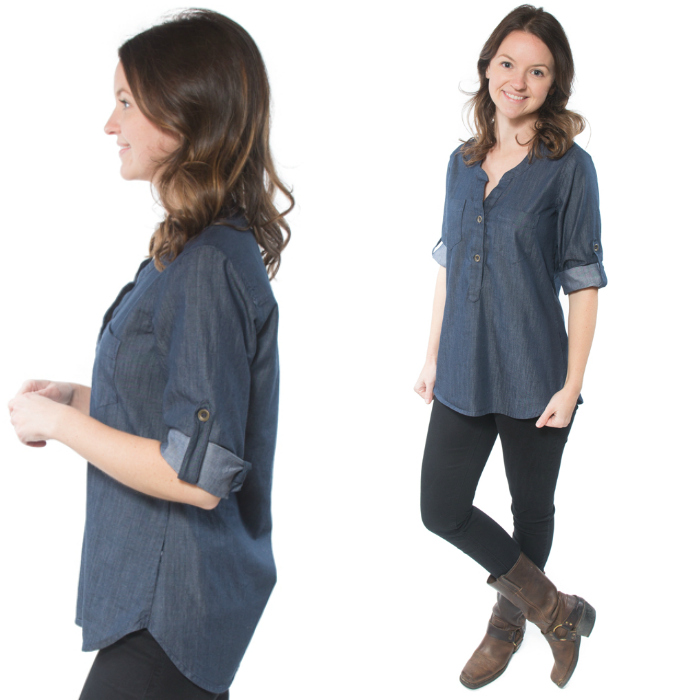 Celebrate the release with us by saving 25% on the Cheyenne Tunic this weekend, no coupon necessary!  Sale ends Sunday 12/6 at 11:59 pm MST.  Gather up your supplies because we'll begin a full sew-along on Monday!
And be sure to check back in tomorrow for a round up of all the Cheyennes made by our lovely testers.  There's some serious inspiration in there that you won't want to miss!
{My gorgeous model is Allie from IndieSew.  Big round of applause to her for posing like a boss and also providing the photography equipment and editing!  The beanie she's wearing is the Delia Beanie pattern from Named Clothing which can be found on the IndieSew website.}