Introducing the Bryce Cargo Pants!  I'm thrilled to finally bring you my first woven pants pattern for women.  I think the Bryce Cargos are a great and versatile addition to any wardrobe with their classic but feminine styling and features.
The Bryce is a mid rise pant, which has long been hailed as the most flattering rise for a woman's body.  You won't have to worry about revealing anything when you bend over, but they also sit low enough that they won't cut into your midsection.  For women of average height (5'5″) and proportions, these are meant to sit about an inch or two below the belly button, with a higher rise in the back.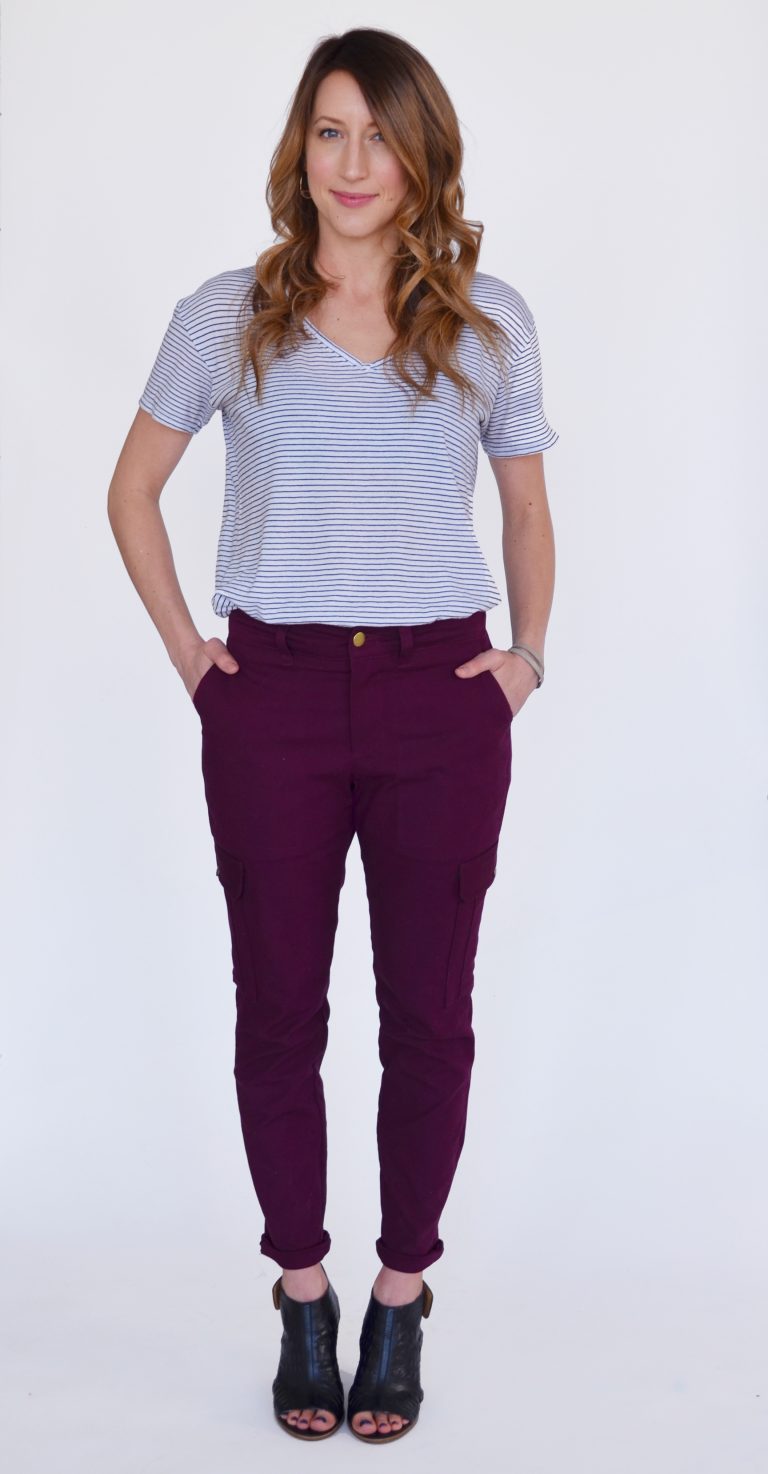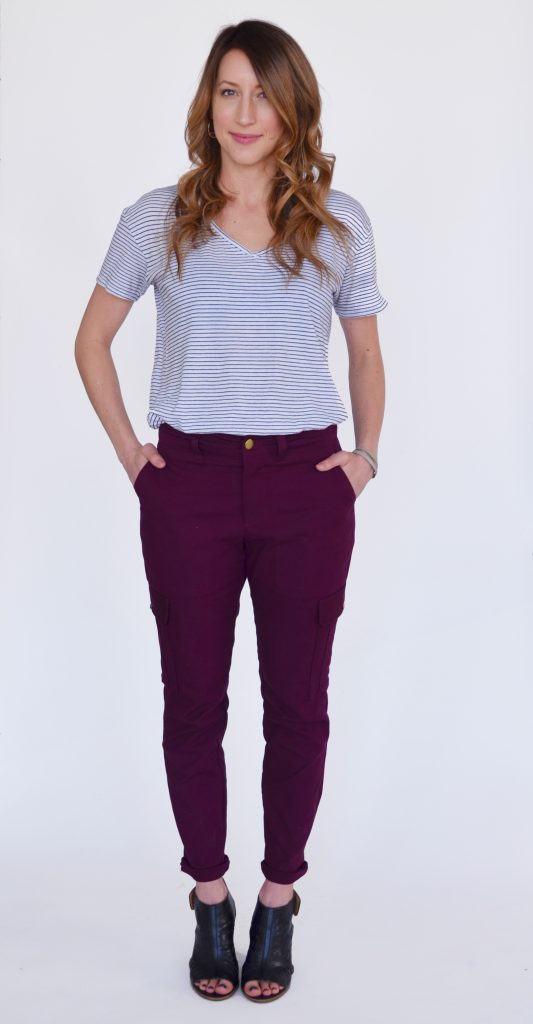 The leg of the Bryce Cargos is slim and fitted, but not "skinny" or tight.  The fullest part of the hip is designed to have no ease.  When using the recommended stretch woven bottom weight fabric, this will yield a nicely fitted but not skin tight pair of pants.  Given the low percentage of spandex in stretch wovens, they will also gain some ease throughout the day with movement and wear.  They also feature a dart on each side of the front knee for additional cargo styling and more range of motion in a fitted pant.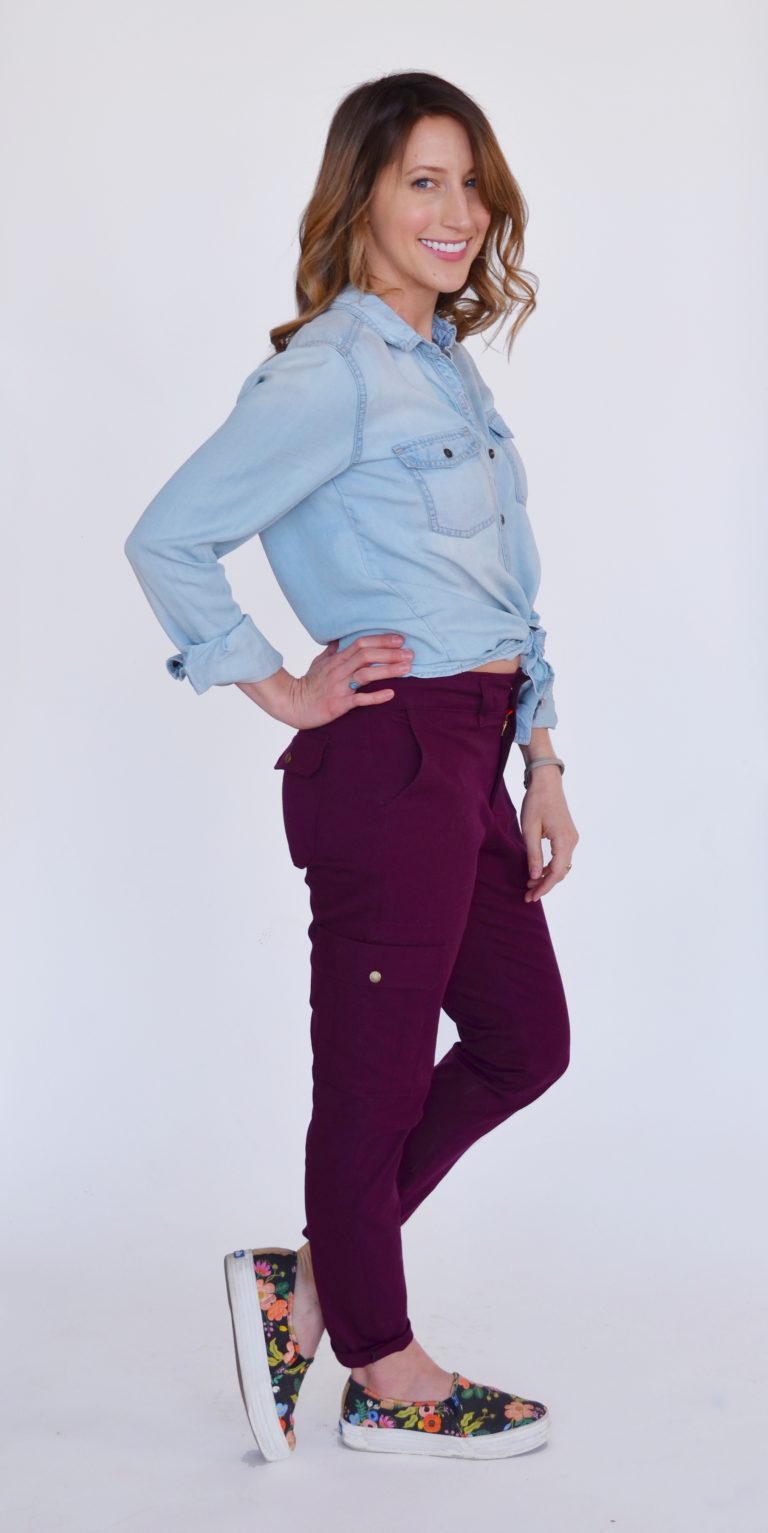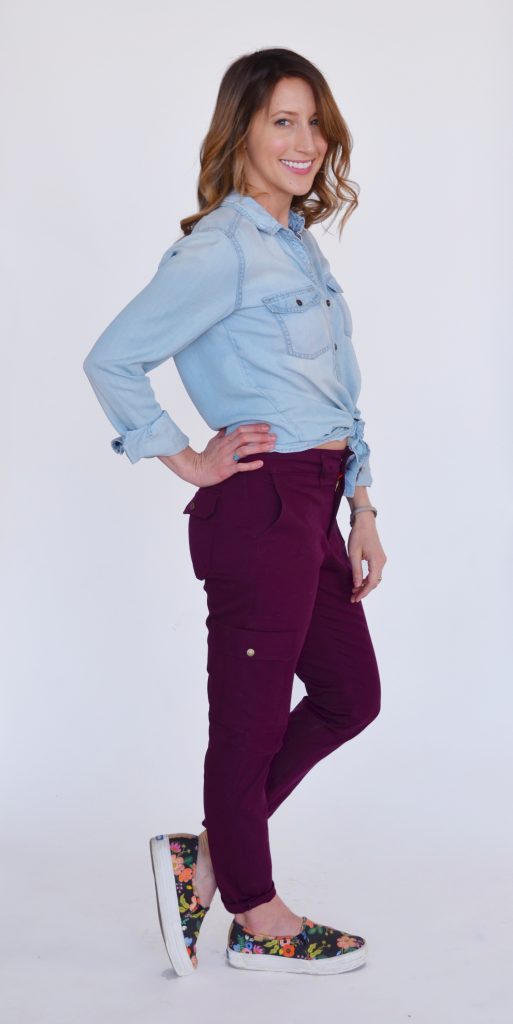 The inseam for each size of the Bryce Cargos is just under 28″, which is meant to hit right at or past the ankle bone for a modern silhouette.  This is the perfect length for pairing with heels, loafers, or joggers, and can also be rolled up for ankle booties.  Lengthening and shortening cut lines are included in the pattern to adjust for height or to make the pants shorter or longer for personal preference and style.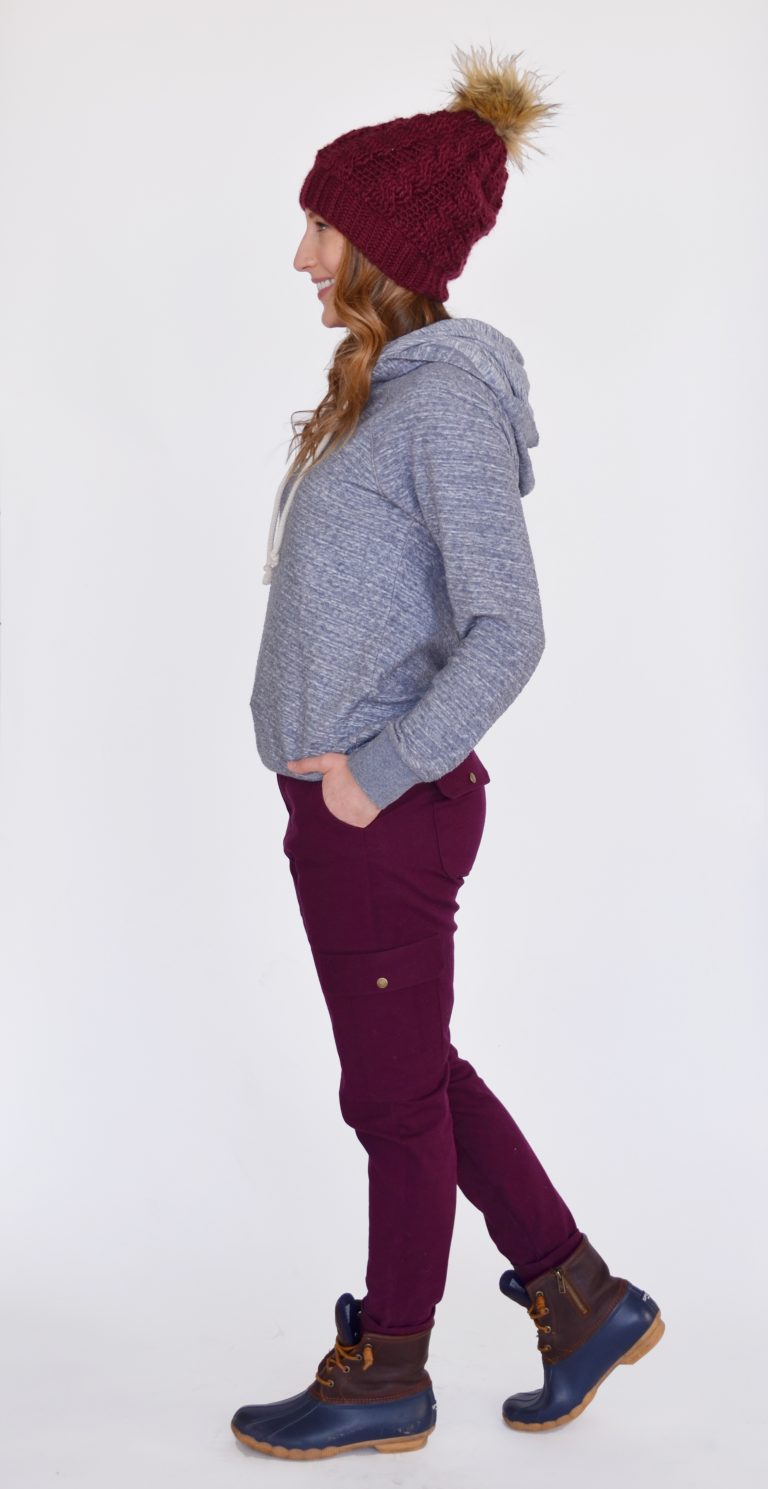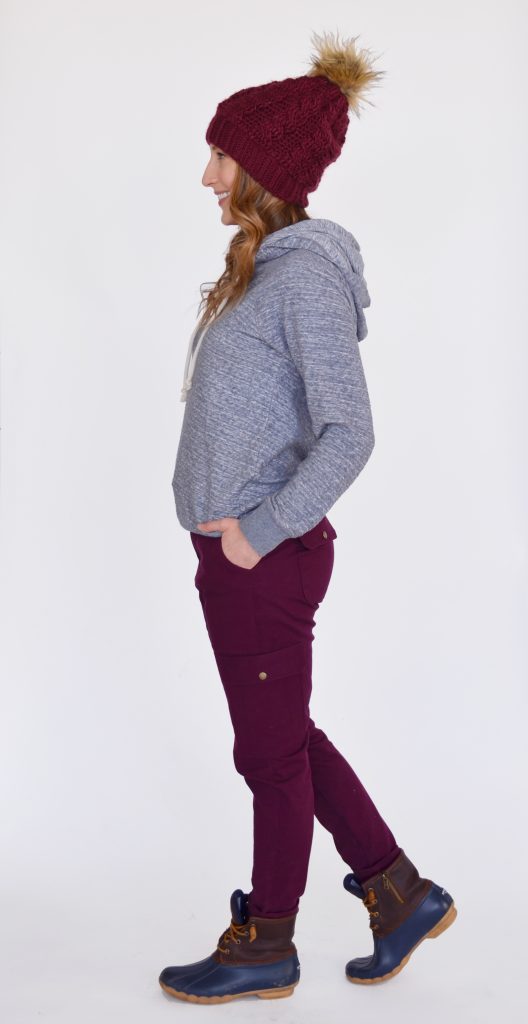 The Bryce features traditional chino styling, including front hip slash pockets, a back waist dart, a fully functional zip fly, belt loops, and a faced, contoured waistband.
The pockets really give the Bryce pants their cargo styling.  The slash pockets are tacked to the front leg with decorative top stitching, the back features patch pockets with a flap, and pleated cargo pockets with a flap are centered over the outseam above the knee.  Both have the option for a button or snap closure either in the center or on either side of each pocket flap.  The cargo pockets can be sewn flat for a sleek look, as in these pictures, or the pleats can be left open for additional functional pocket space.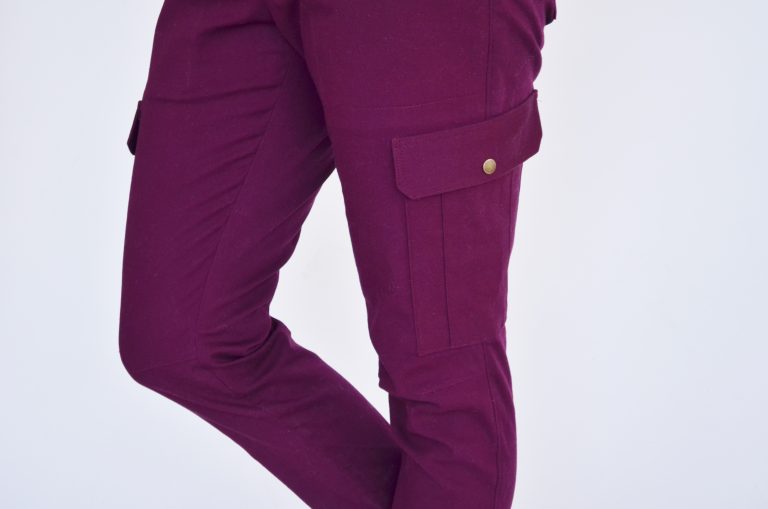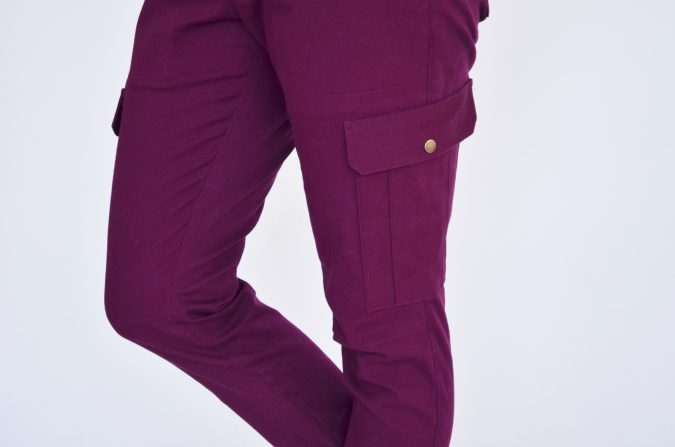 For best results, I recommend a cotton/spandex woven blend of about 97%/3%.  During testing, we found that the addition of polyester and/or rayon caused the pants to be too thin and even altered the fit to be too loose.  If these substrates are used, I recommend muslining the pants with the same fabric first to make any necessary alterations.
Just like with ready to wear pants, no pants pattern is going to fit everyone, or even anyone, right out of the package.  Women's bodies are so drastically different, especially from the waist down, and require personalized tailoring in every bottom pattern.  For that reason, I highly encourage you to muslin these pants first, even if you are using the recommended fabric and your measurements are identical to the size chart.  The shape and positioning of our curves require more of a precision fit for fitted woven pants than may be necessary for a knit tee, for example.  The pattern does offer alteration advice for the most common fit issues, and the upcoming sew along will provide even more information and resources to help you get your best fit.  Once you have your alterations finished, you will have a fantastic base pattern for a fitted pair of pants that can also be altered for different styles, so it is definitely worth your time and effort to achieve your best muslin!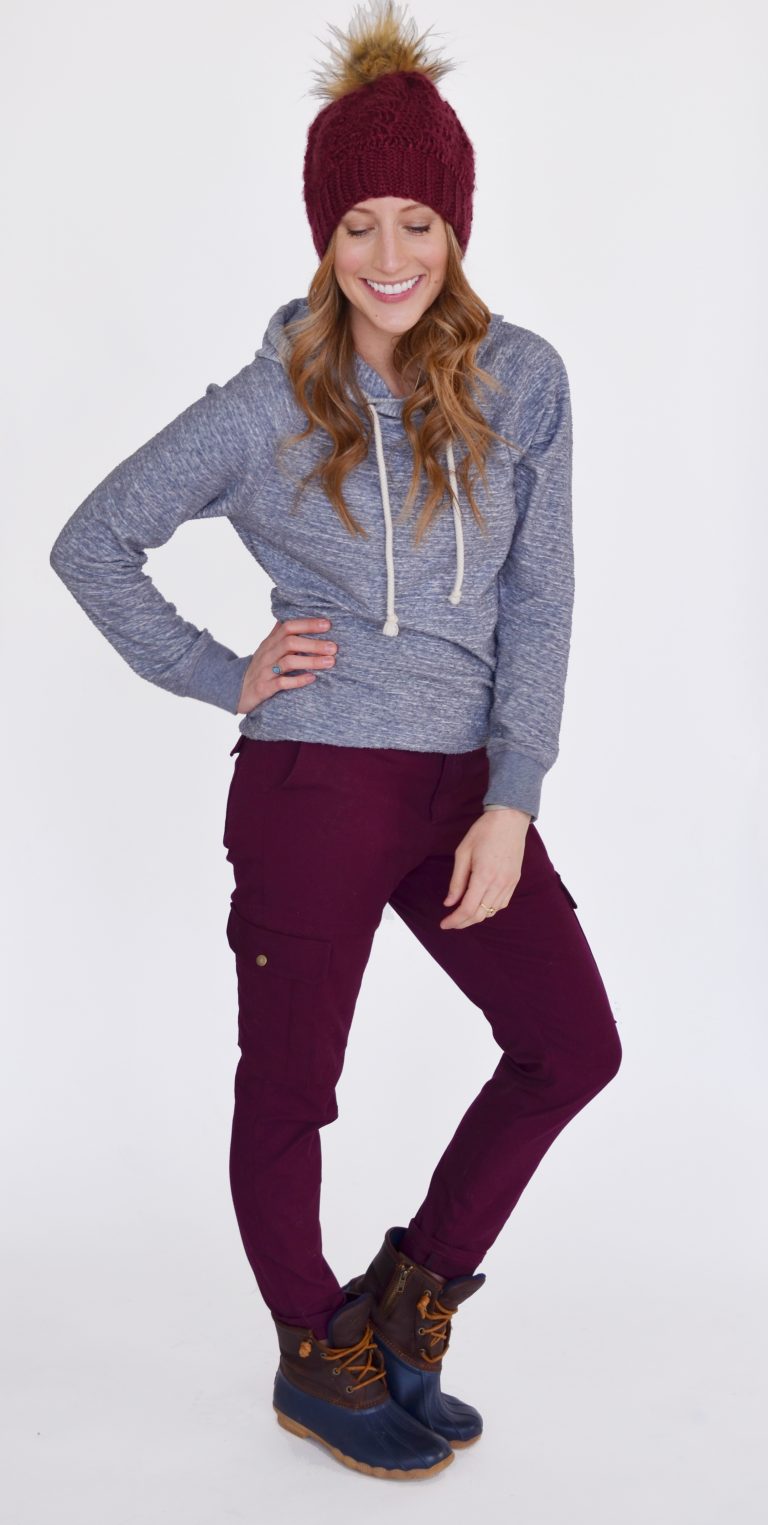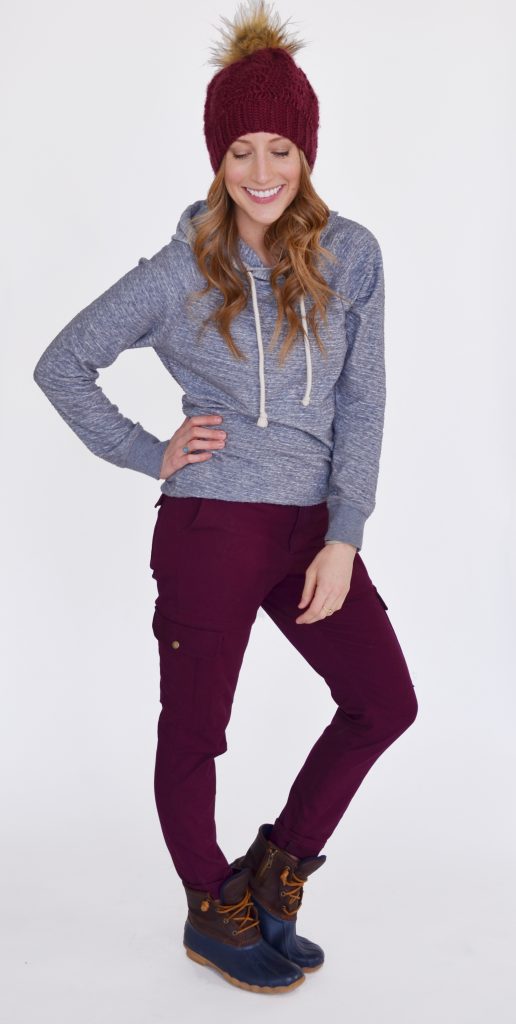 The alterations on the pants modeled here include adding a second back dart to remove back waist gaping and altering the waistband accordingly.  There is a tutorial for these alterations in the pattern as it is common for women with more of an hourglass shape.  This model is 2″ shorter than the height the pattern is drafted to fit, so a half inch was taken out of the length of the pant both above and below the knee, where indicated on the pattern.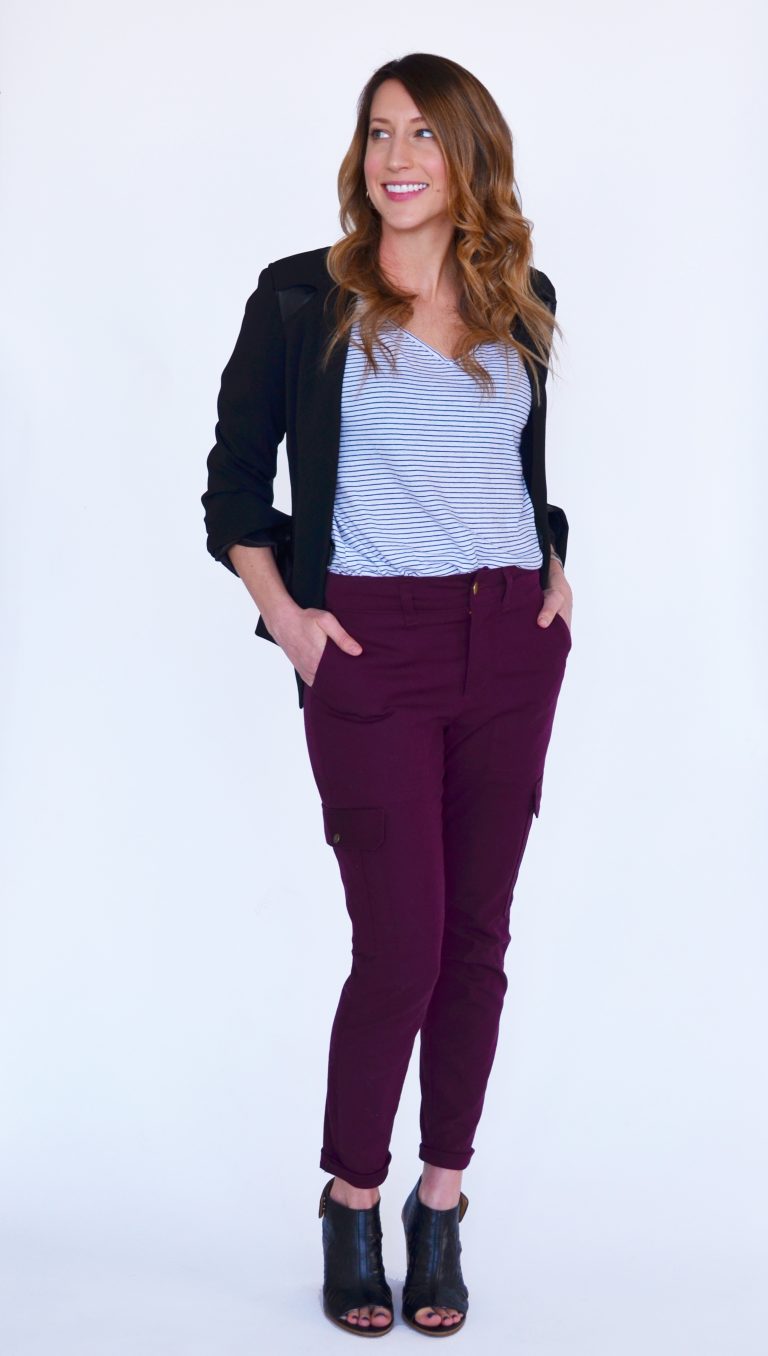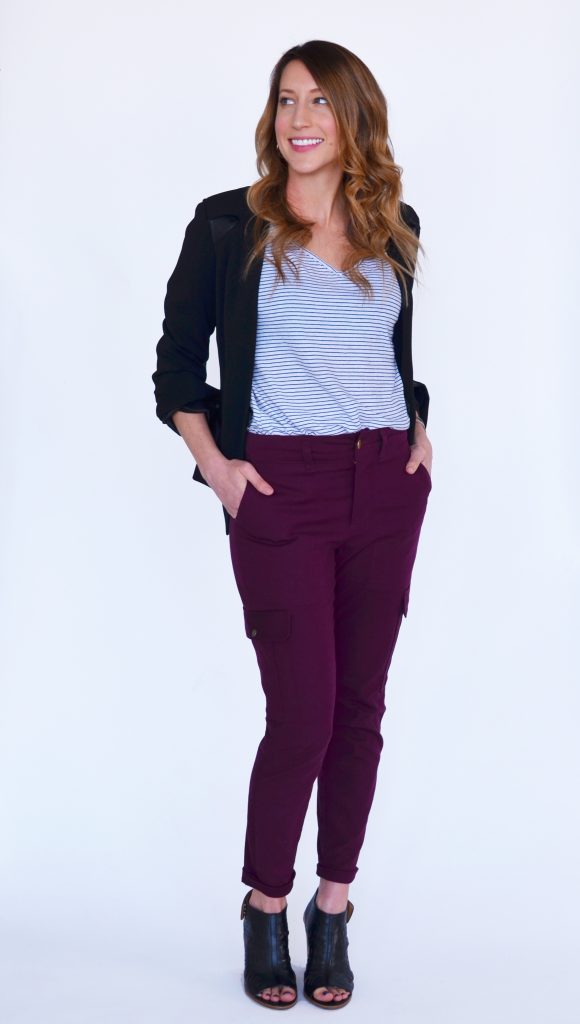 Lastly, I know Hey June patterns have a reputation for having several views.  The Bryce Cargo Pants only include one view for a few reasons.  The first is practical: this pattern is extremely long and involved as it is.  Also, if a pattern is going to go into print someday, it needs to remain relatively compact.  Secondly, unlike other HJ patterns, the method to changing up the Bryce Cargos would be to subtract features from the pattern, not add to it.  To make a more formal pair of fitted trousers, for example, you could omit the cargo pockets, knee darts, front pocket top stitching, and change the back pockets to welts or simple patch pockets.  The other view that was initially considered was a short zipper or button placket on the outseam at the ankle.  Again, these would be simple to add into the seam as you are sewing and do not require a completely separate front and back piece, which would add about 20 pages to the pattern.  If you've been following Hey June for awhile, you know we absolutely love to hack patterns around here and share the tutorials with you, so keep an eye out for those in the future!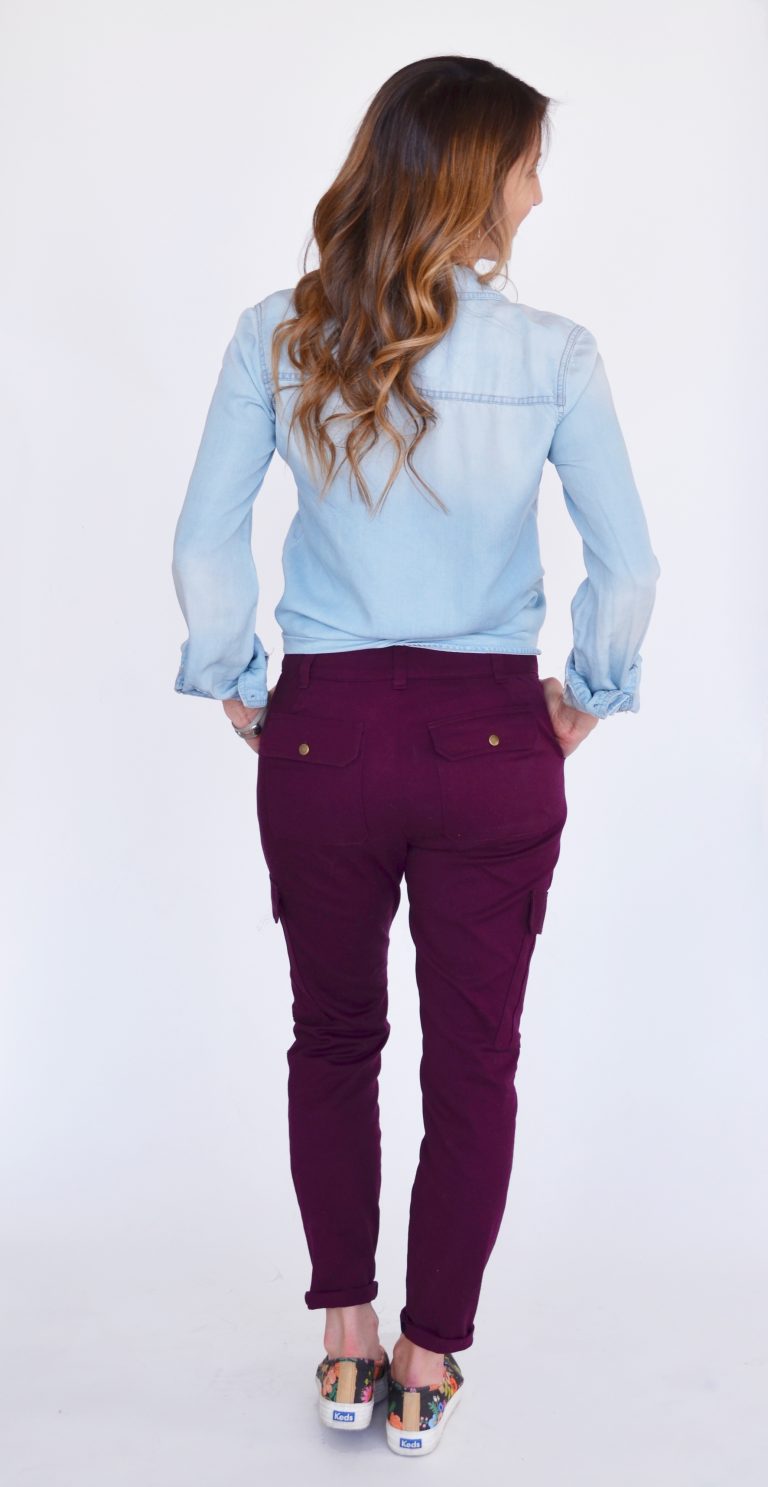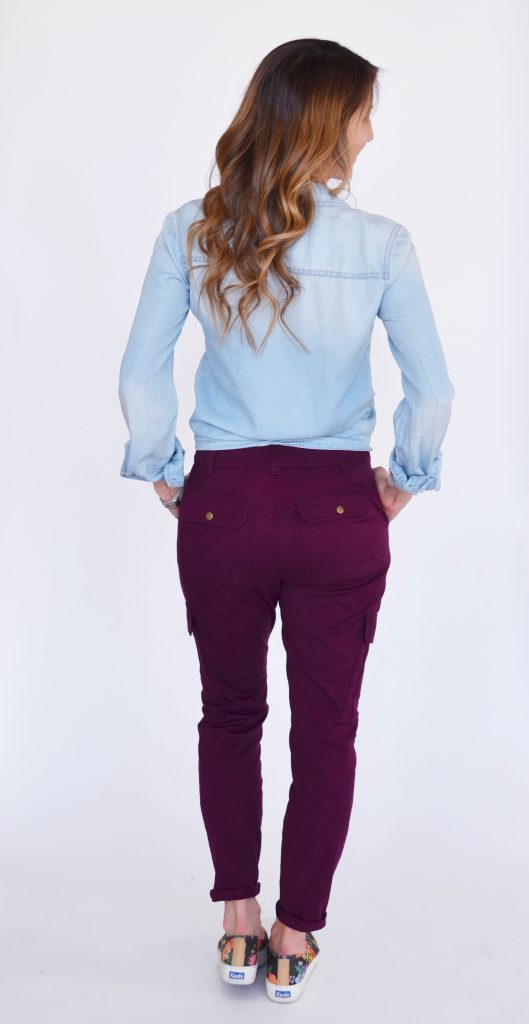 I have so many fantastic pictures to share with you from my model Erin of Sewbon, who did an amazing job of showing off the Bryce Cargos.  I've decided to split them into four galleries, each styled to suit a different season, as well as a gallery of up-close detail shots.  I think you'll see that this pattern is perfect for year-round wear and can be dressed up or down with shoes and accessories.  Don't forget to purchase the Bryce Cargos at a discount through February 4, no coupon necessary!
Spring
[metaslider id=37991]
Summer
[metaslider id=38000]
Autumn
[metaslider id=38010]
Winter
[metaslider id=38022]
Details
[metaslider id=38032]