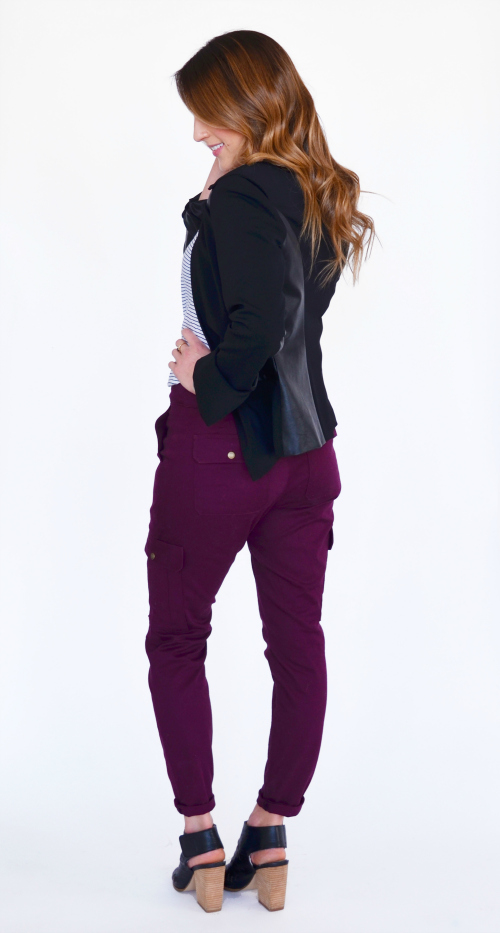 Hi everyone!  Thank you so much for your kind words and enthusiasm about the Bryce Cargo Pants release yesterday!  If you haven't purchased them yet, remember they are still available at a discounted introductory price through Sunday, Feb 4!
I thought I'd do a short post to give you some background into how I planned and designed the Bryces and also a few links to source fabric and hardware.
The Bryce was one of the few "absolute must make" patterns when I started planning my work schedule in January 2017.  The only other two that I had on my list were the Willamette and Sandbridge.  As my pattern library grows, I've been thinking more about how the patterns work together, and I knew that meant adding in more pants and skirts!  I thought a basic jean skirt and cargo pants would fit the bill perfectly to go with just about every single one of my top patterns.
Fitted "fashion" cargo pants for women have definitely been having a moment over the past year, and I feel like if they are styled right they are a timeless staple.  I started gathering my inspiration pics in stores and on the internet and deciding what features I loved and what was too over the top for a sewing pattern.  I like to keep sewing patterns more straight forward and simple than a lot of rtw garments because that gives the sewist the opportunity make any additions or alterations they desire.
The main things that I decided to nix from rtw were the ultra-skinny silhouette and the super low rise that I was seeing on many of my inspiration pairs.  The Bryces are mid rise and fitted through the leg, but not tight or skinny (unless you wish to alter them that way).  I think that provides a better fit for average women and casual wear.
I've rounded up several of my inspiration pictures into a Pinterest board so you can scroll through and get ideas for styling, hacks, and alterations.  The one thing you may notice is that almost all of these pants are olive green.  I LOVE an olive green pair of cargos (I'm planning them for my next pair!), but I've been so excited to see many of my testers choosing other colors and I can't wait to see what you all choose for your Bryce Cargos too.  Maybe even a print, perhaps?  That's the best part of sewing – making bold choices that aren't necessarily available in rtw.
Now on to materials sourcing!  The recommend fabric for the Bryce Cargos is a midweight 97% cotton 3% spandex woven twill blend.  This fabric was found to be the most stable, yet forgiving.  Rayon or poly blend stretch bottomweights OR cotton with more than 3% spandex can also be used, but should be muslined because the fit will be altered drastically.  Even with the same composition (97/3), rayon or poly blends are much more lightweight and thin.  Rayon and poly also tend to add a slight sheen, so keep that in mind depending on the style of pants you're trying to achieve.  Lastly, non-stretch cotton twill is very easy to source (Robert Kaufman makes a great one!) but if you choose to use it I highly recommend muslining a size up to start.  You will probably need to make them a straighter fit through the leg otherwise they will pull when you try to bend or move.
Here is a list of places where my testers and I were able to source good stretch cotton twill fabric for the Bryces:
Keep an eye out for stretch twill coming soon to:
Sources for other twill substrates or different spandex contents:
And if you find good sources for stretch twill, please let me know so I can add them to this list (especially if you're outside of the US!)
The Bryce Cargo pants require a 4″ pants zipper and a button or snap for the waistband closure.  A pants zipper is slightly different than a jeans zipper because it has a slimmer profile so it doesn't cause any bulk in the fly area.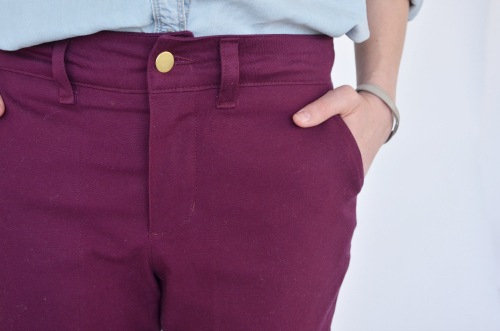 The cargo pockets and back pockets each have flaps that give the option to add one or two closures, for a total of 4 – 8 extra snaps or buttons.  (sidenote: kinda dyyying for someone to do a cargo pocket closure with a D ring and twill tape!)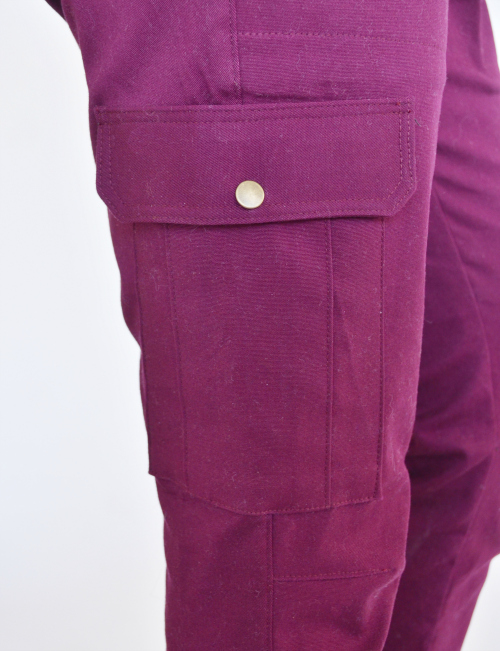 The best source I've found for a 4″ pants zipper in almost any color for a great price is from Wawak.  They are designated as #4.5, whereas a jeans zipper is #5 and slightly heavier.  They also have great waistband buttons and snaps (I recommend size 27L).  You can also find several colors of snaps (I recommend size 20L) and setting tools.  Please note that while Wawak does carry spring snap refills, they don't seem to have an affordable spring snap setting tool.  A regular snap tool will not work on a spring snap.  It is personal preference, but I think spring snaps look and feel much more professional.
If you don't yet have the spring snap setting tool, I highly recommend getting the whole kit from Noodlehead.  They carry the tool with a starter pack of snaps in your choice of metal finish and size.  The kit is super affordable with extremely fast shipping and you will of course be supporting a small business, which is always preferable!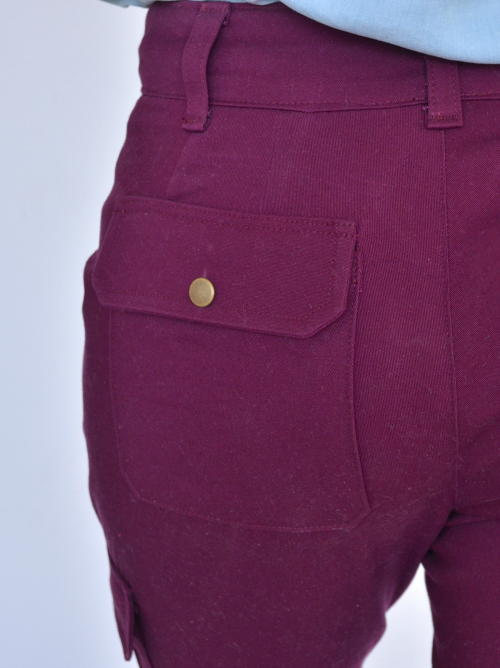 On these pants, the waistband button is from Wawak and the pocket snaps are from Noodlehead, both in "antique brass".  As you can see, they match pretty well.  I prefer the slightly less shiny finish of the snaps, but figure the waistband button will wear over time.
I hope that helps you as you plan and source materials for your Bryce Cargo Pants!!  Please feel free to reach out to me with further questions or ask in the Hey June Facebook Group, where there are thousands of helpful sewists with a wealth of knowledge!