You guys, I am completely blown away by my testers during this round.  They put up with me for a major fit alteration halfway through testing and they all still ended up with gorgeous skirts!  You would never guess that this was the first time sewing a functional zip fly or installing belt loops and rivets for many of them.  These ladies are amazing and deserve some serious gratitude and love!
Be sure to grab the Sandbridge Skirt this weekend and prepare for the sew along starting on Monday!
I keep coming back to admire Meghan's ikat-ish denim Sandbridge.  I think she just nailed that fit with this gorgeous and unique fabric!  (this one also features a sewn hem if you wanted to see how that looks!)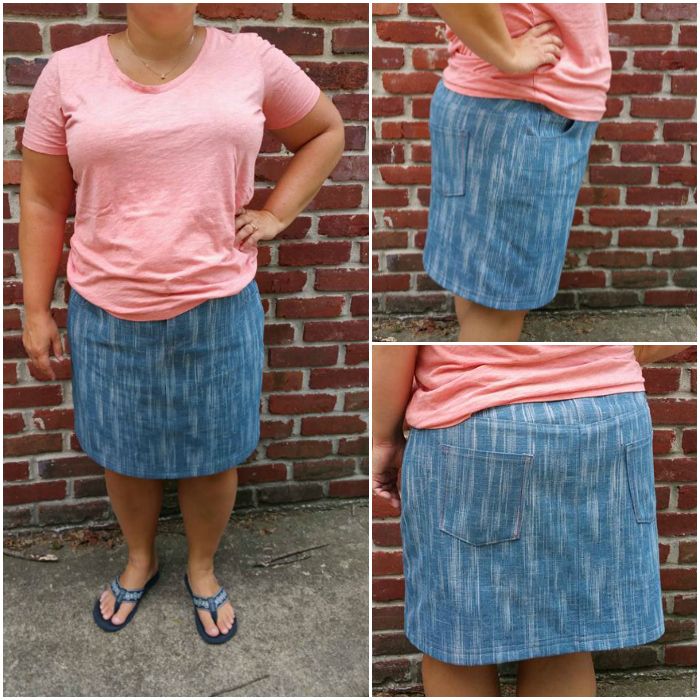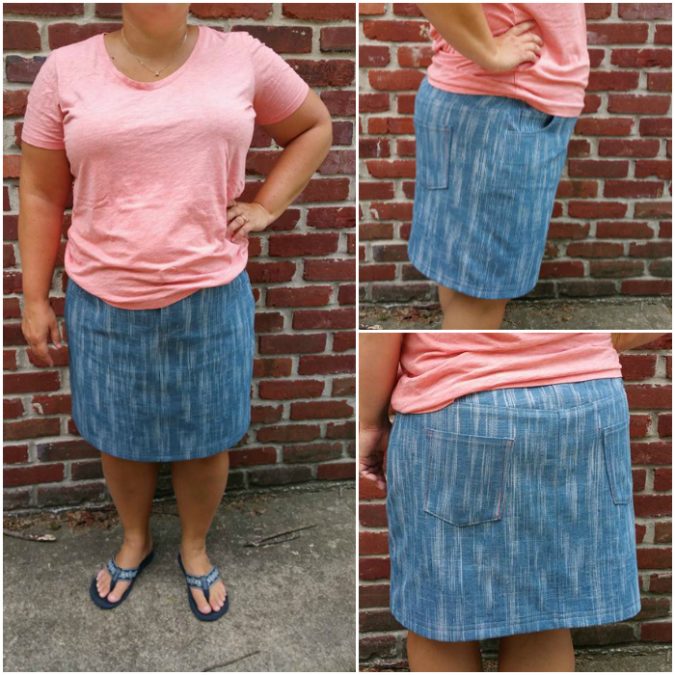 Tone embellished her cute view B classic denim skirt with the cutest heart detail in her top stitching on the back pocket!  I love all the ways you can customize this wardrobe basic!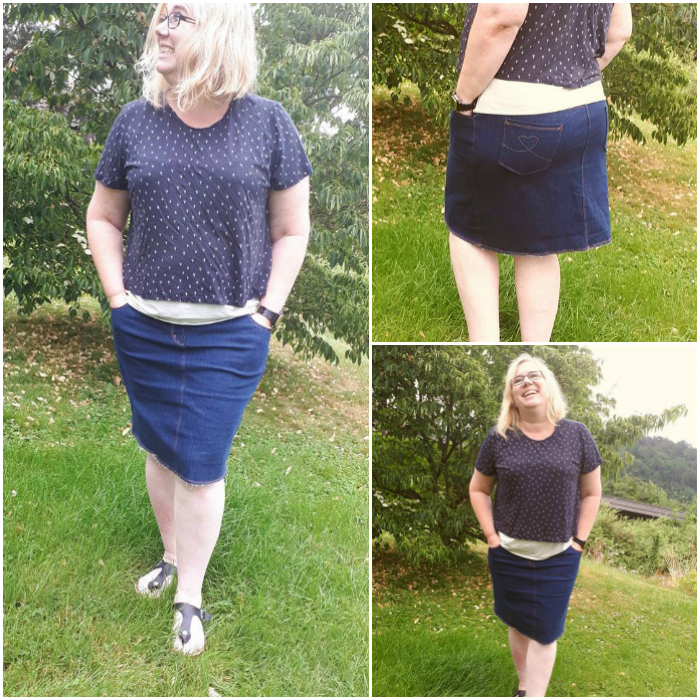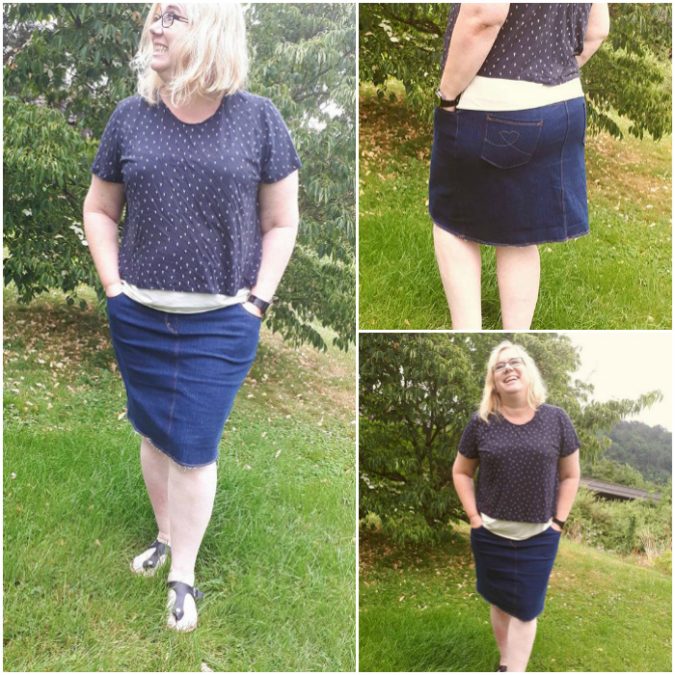 Tami's pics look straight out of a magazine – how amazing is that perfectly top stitched skirt against those fun backgrounds?  Love these!  She's also showing off a cute leather patch on the back waistband, which is a fun detail to add to your skirt.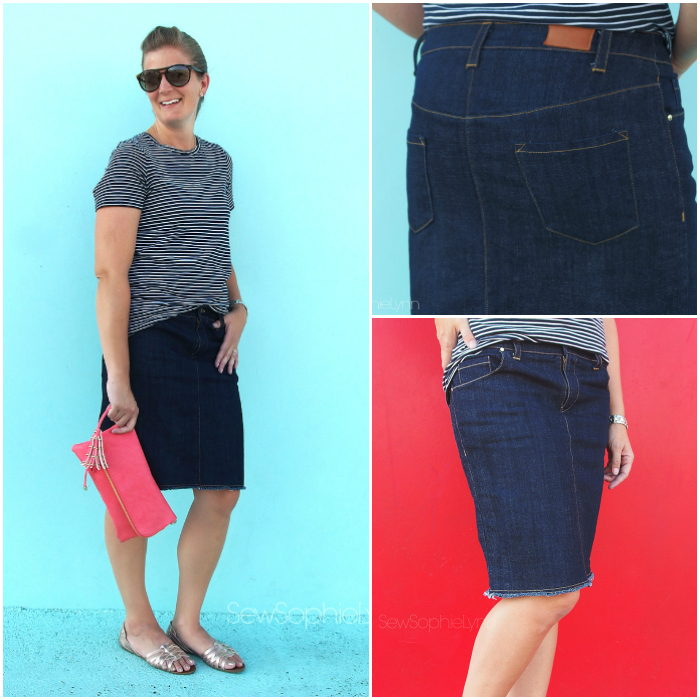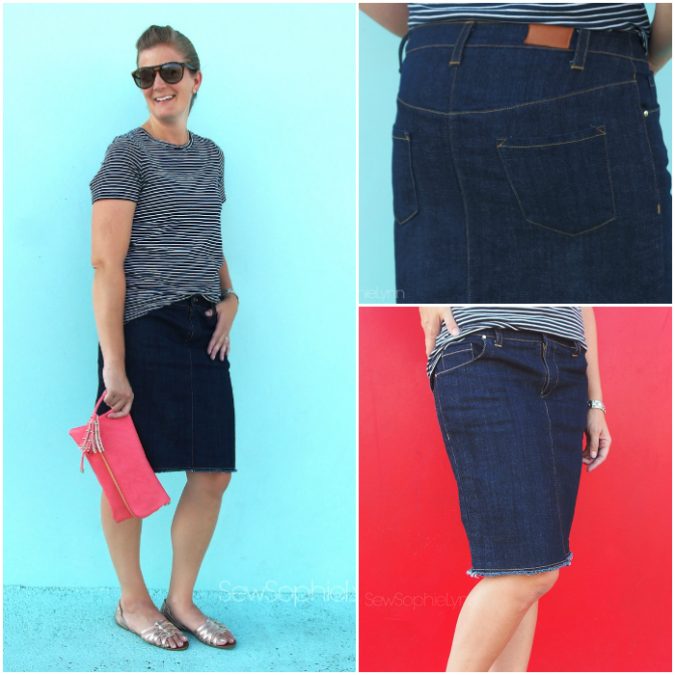 I love the shade of Patti's shorter Sandbridge and how it almost looks like chino styling.  Bonus, she paired it perfectly with her Key Largo Top!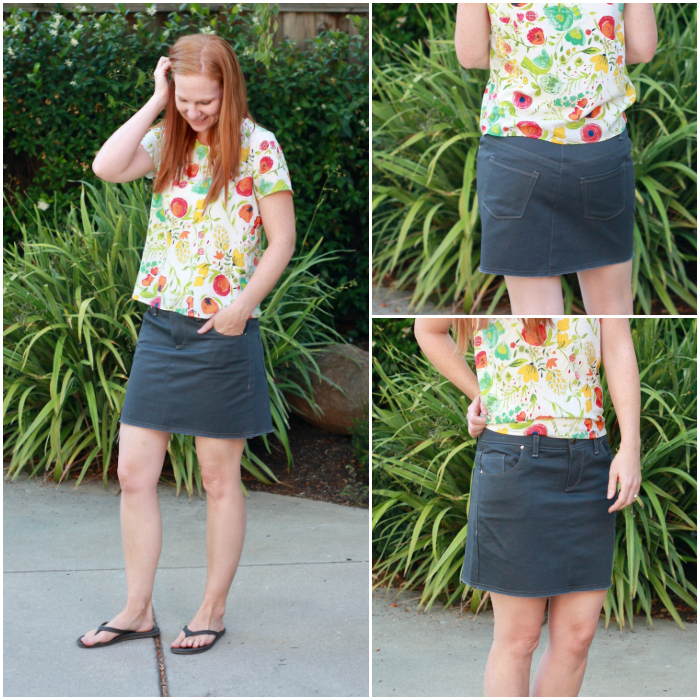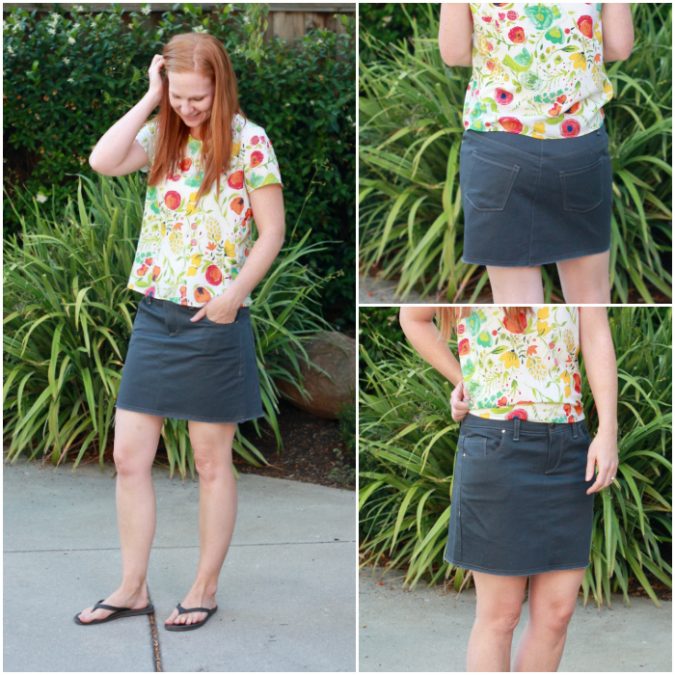 Pam used corduroy for her view B but left the hem raw for a really awesome beachy/grunge look.  Is beachy grunge a thing?  It is now!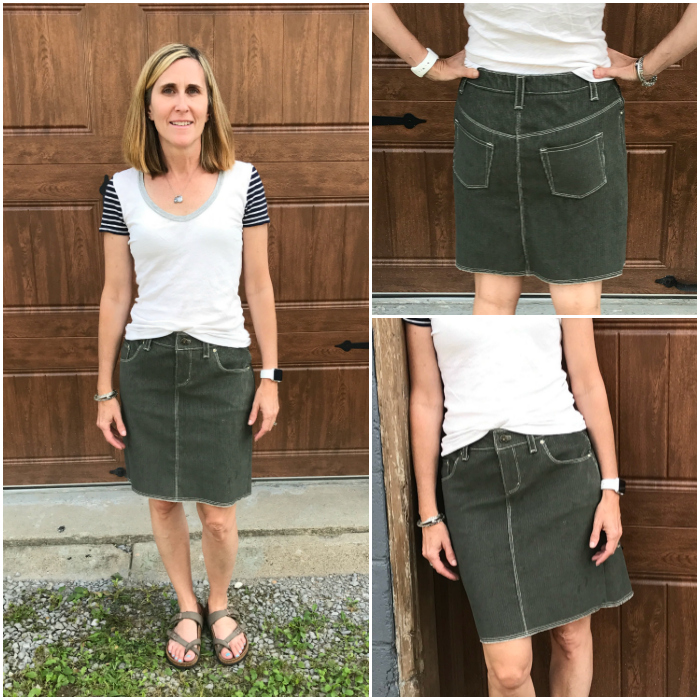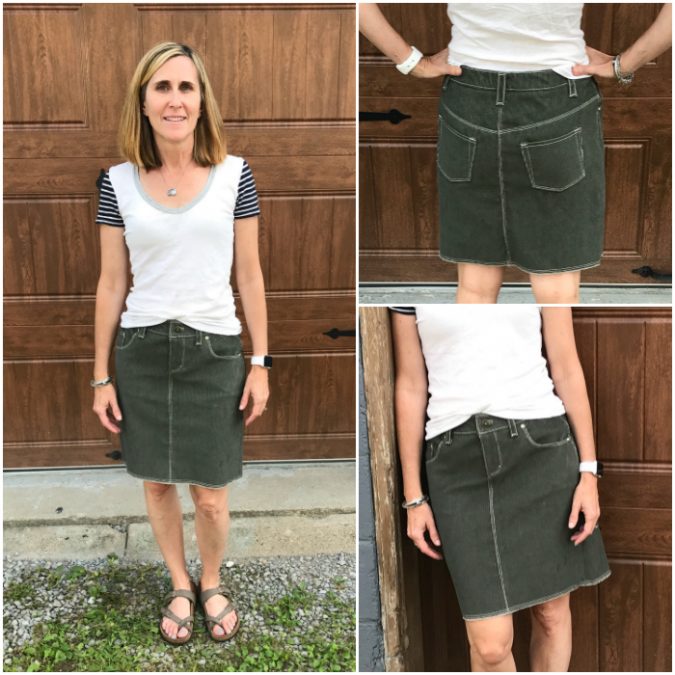 Melissa made hers a bit more polished by tailoring it to be more fitted and hemming the bottom.  I absolutely love her monochromatic styling here with that amazing necklace!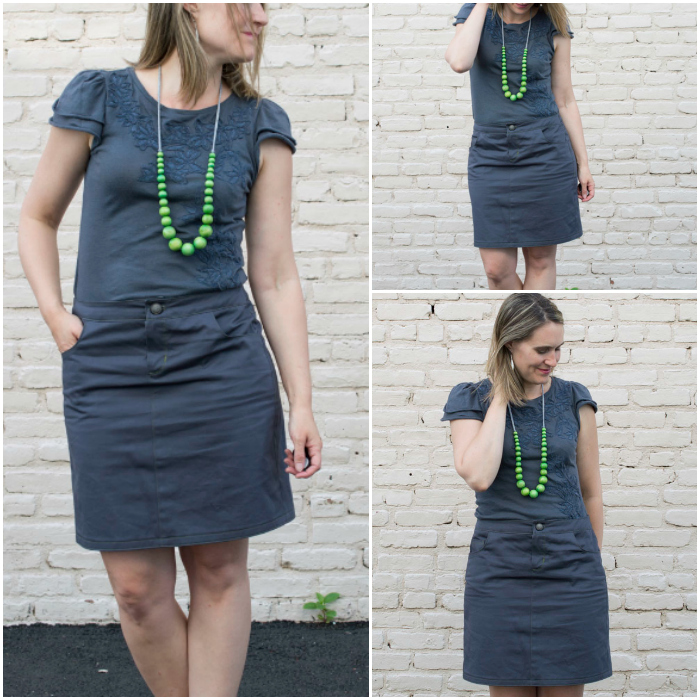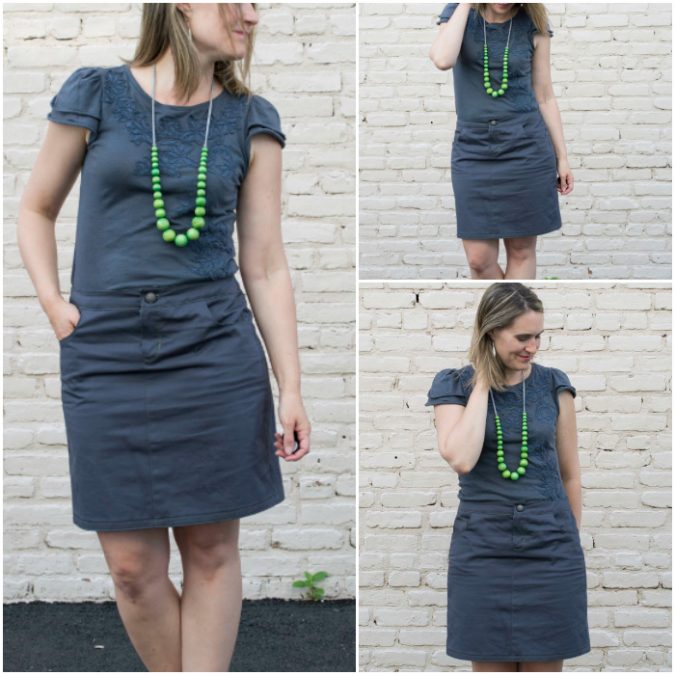 Anne also paired hers with a Key Largo and a yet-to-be-released pattern 😉  There's nothing like a dark wash denim skirt in your wardrobe, you'll wear it constantly! I would even say it's a must in a capsule wardrobe.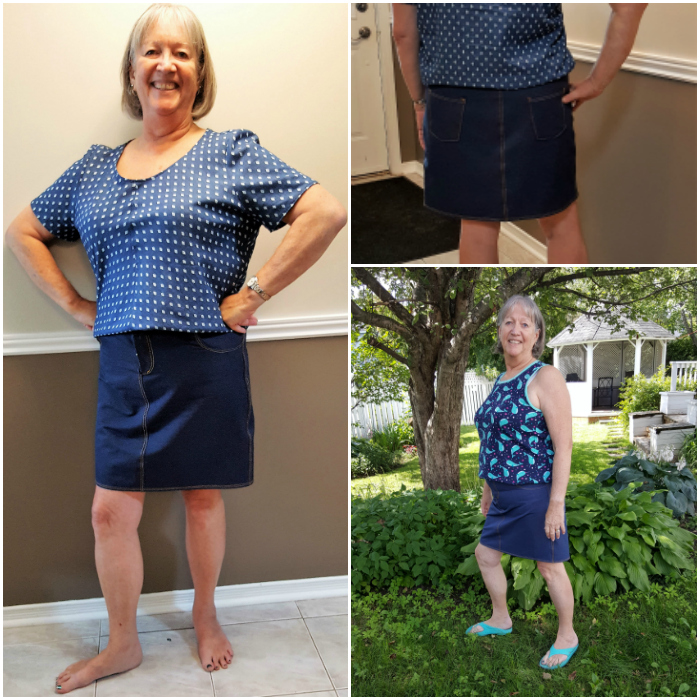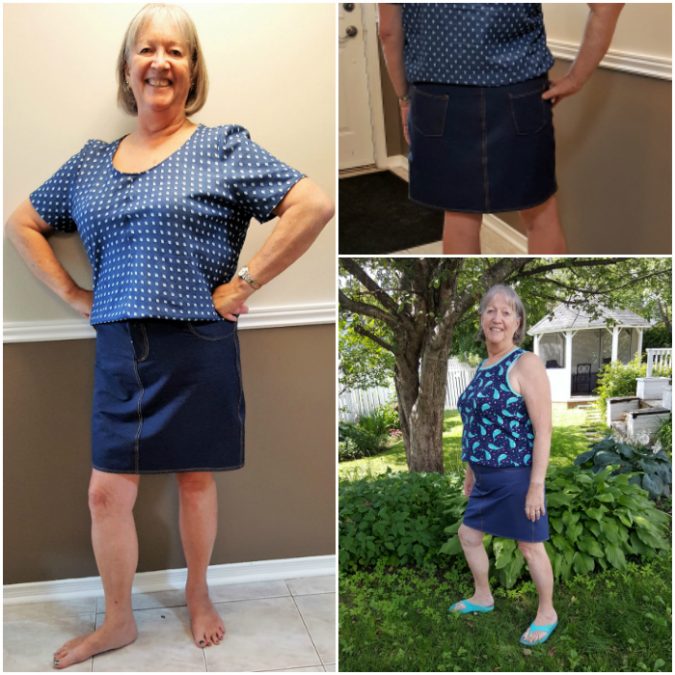 Carlada personalized her Sandbridge by leaving the top of the back pockets raw so they would fray to match the hem.  The styling on her model is impeccable!  Perfect teen friendly pattern!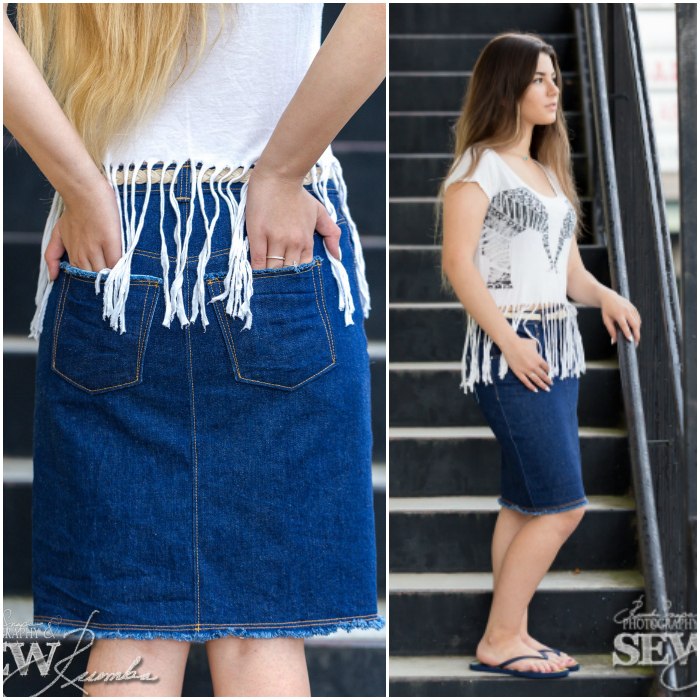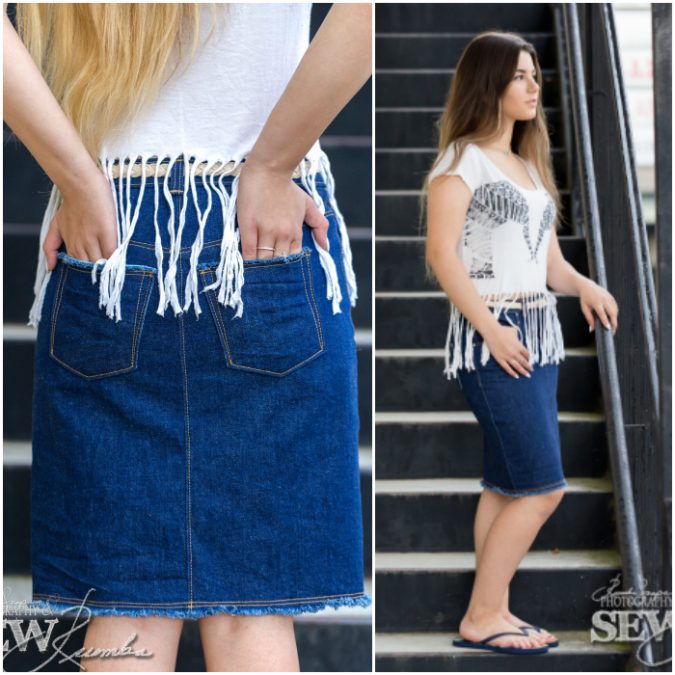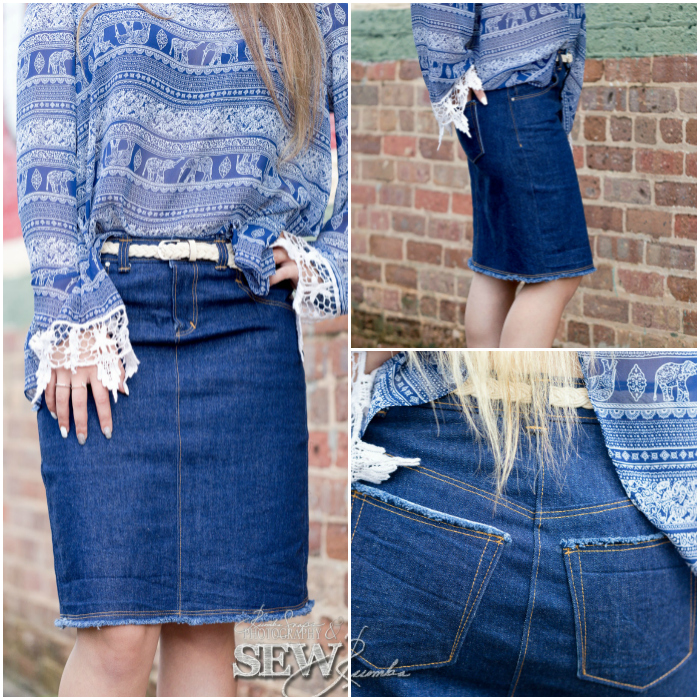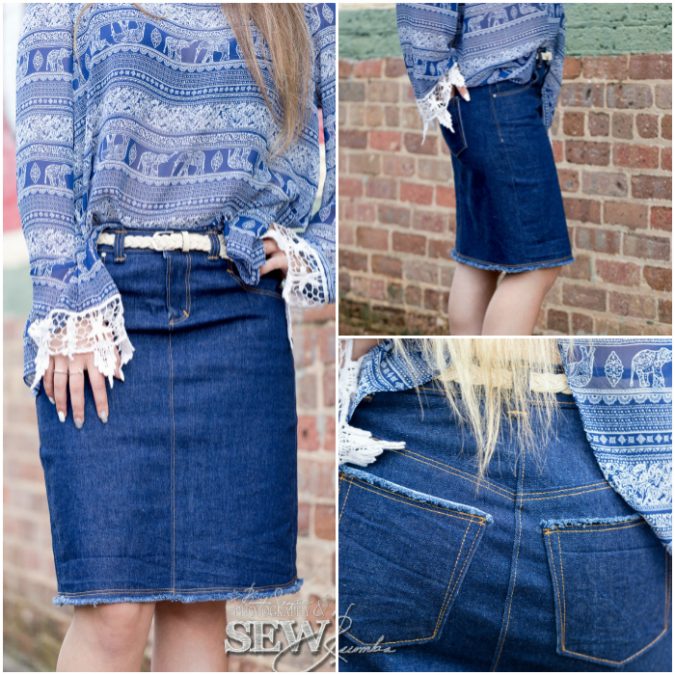 I love that Brenda used a polka-dot type fabric for her Sandbridge!  It adds so much visual interest while still remaining neutral.  Cute outfit!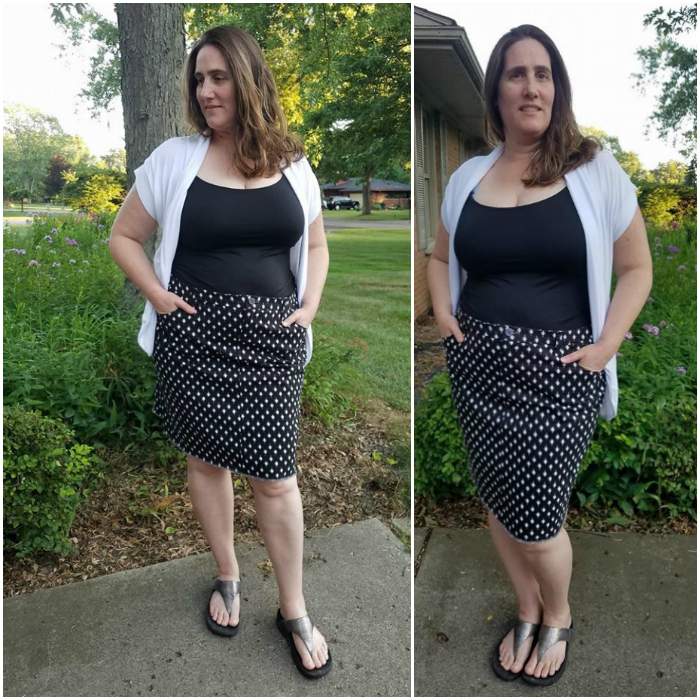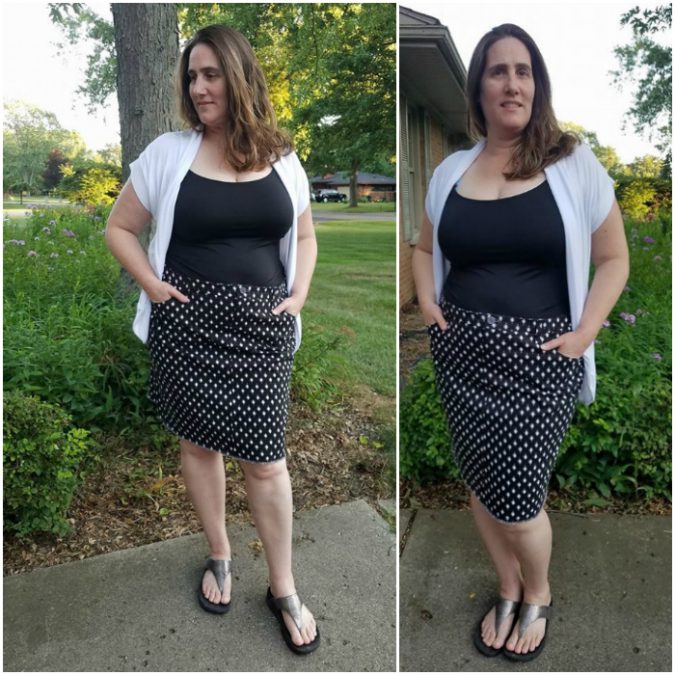 Try to glance away from that fab necklace for a second to check out Becky's amazing mustard Art Gallery denim Sandbridge.  That bold pop of color is everything.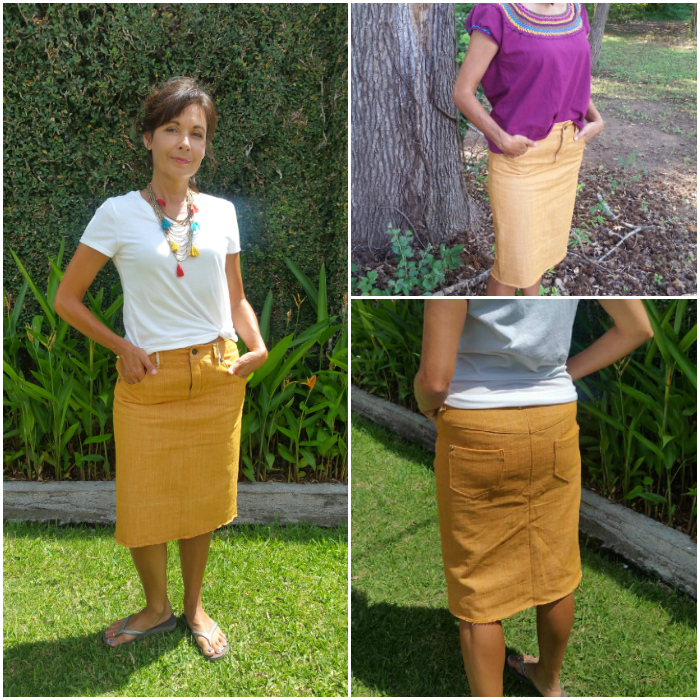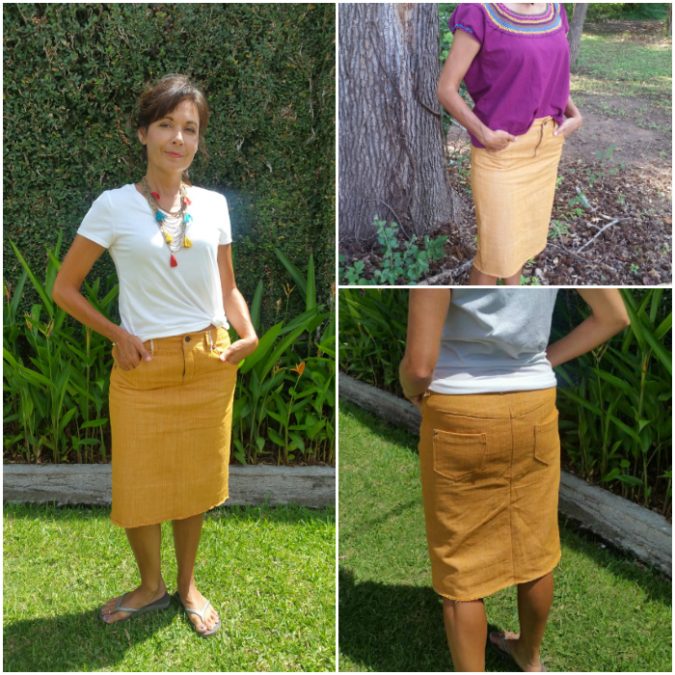 Cat sewed up two Sandbridges!  The first one is just killing me with that railroad stripe and the perfectly placed rivets.  I also love the unexpected color of her shorter length version.  Despite the bold shade I think it works perfectly as a neutral and will also be a wardrobe staple.  It never hurts to pair it with the cutest jewelry and sandals too!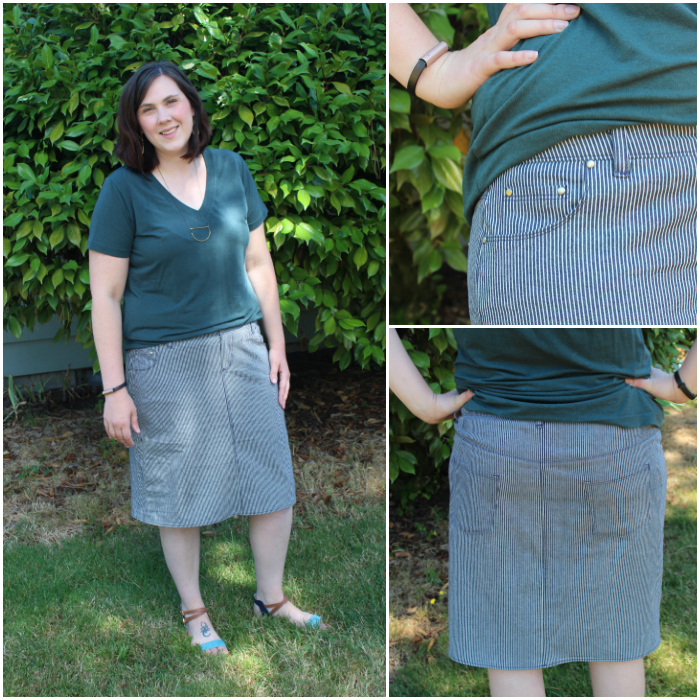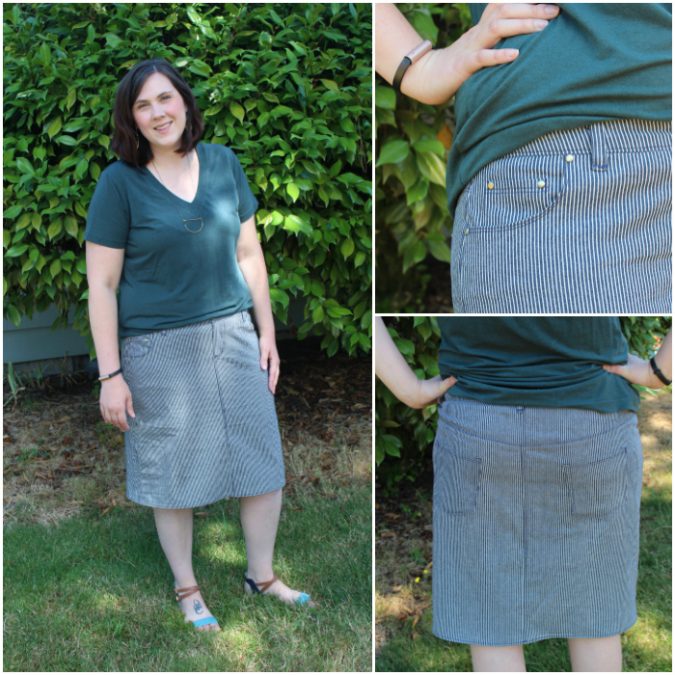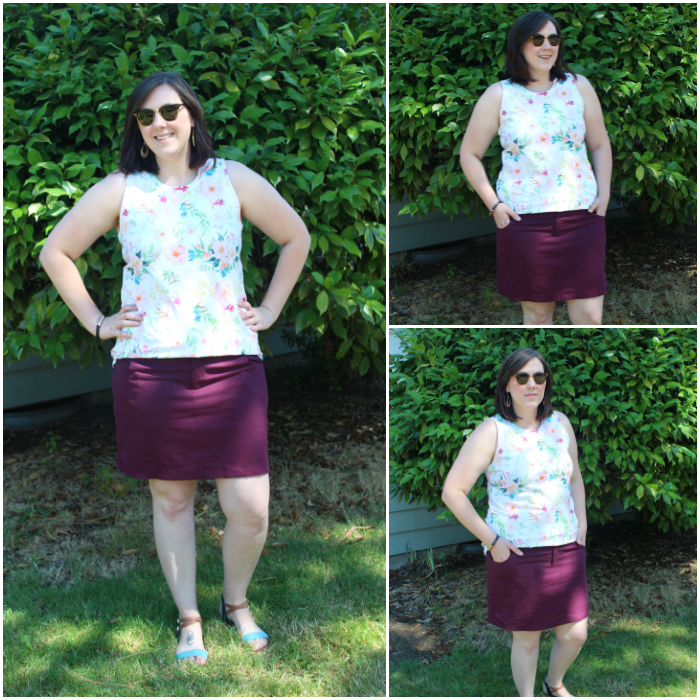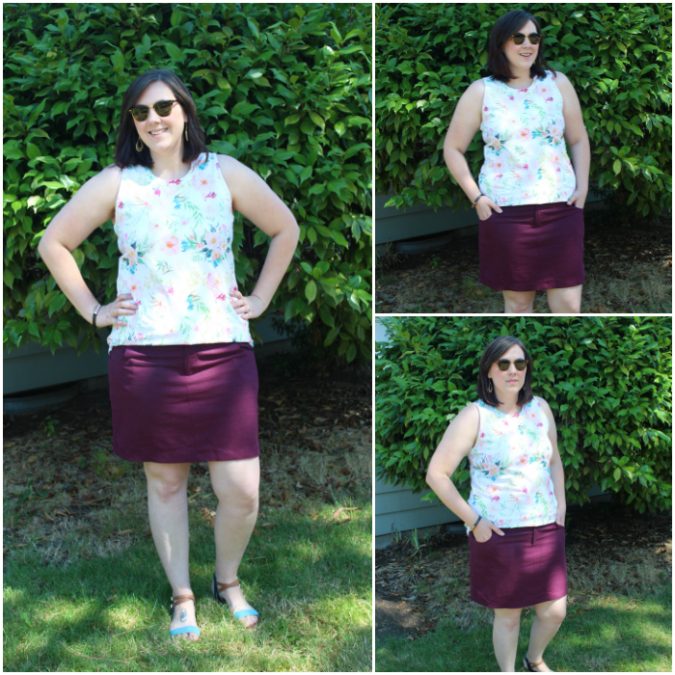 Cori also used a stripe fabric for her Sandbridge.  I love the nautical vibe happening here – perfect for summer!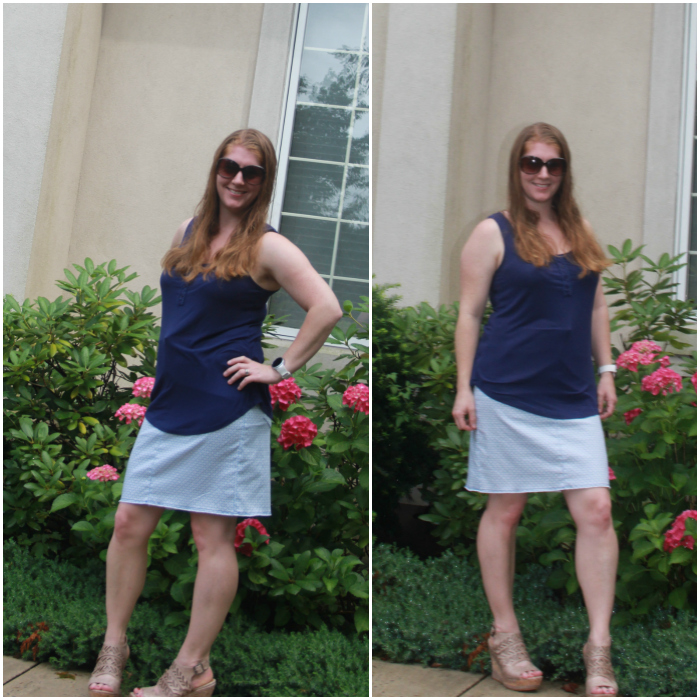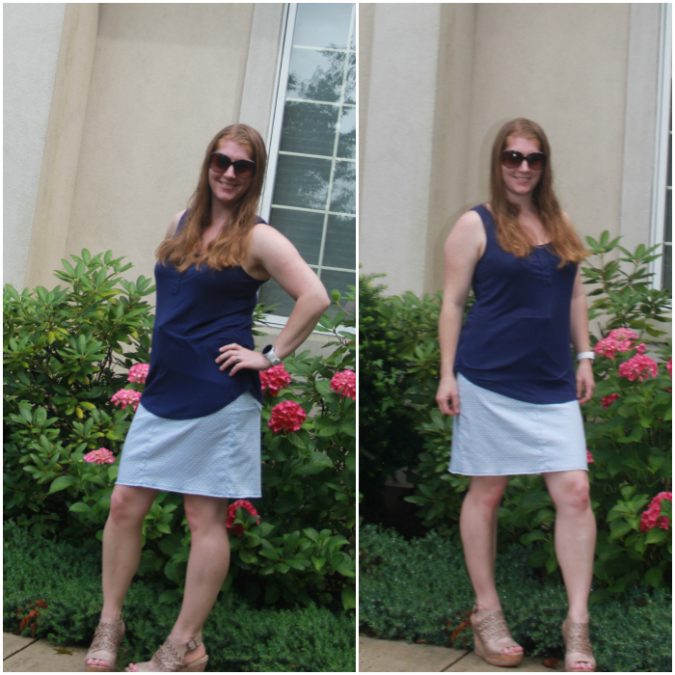 Emily also made two skirts and I love that she used colored fabric for each one.  That lime green fabric is perfect for this style, and check out those gorgeous insides!  I love the broken-in look of the blue skirt too.  I admit to sitting with mine scrunched up before I left the house to try and emulate her vibe.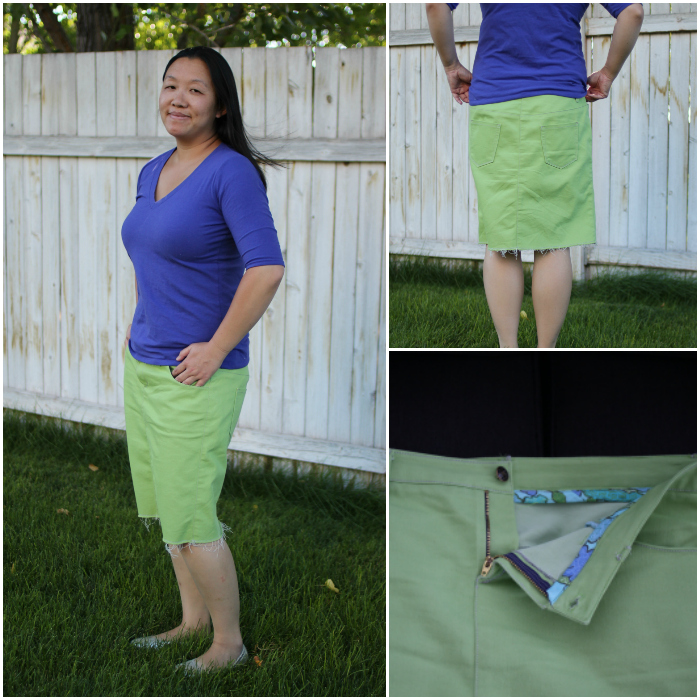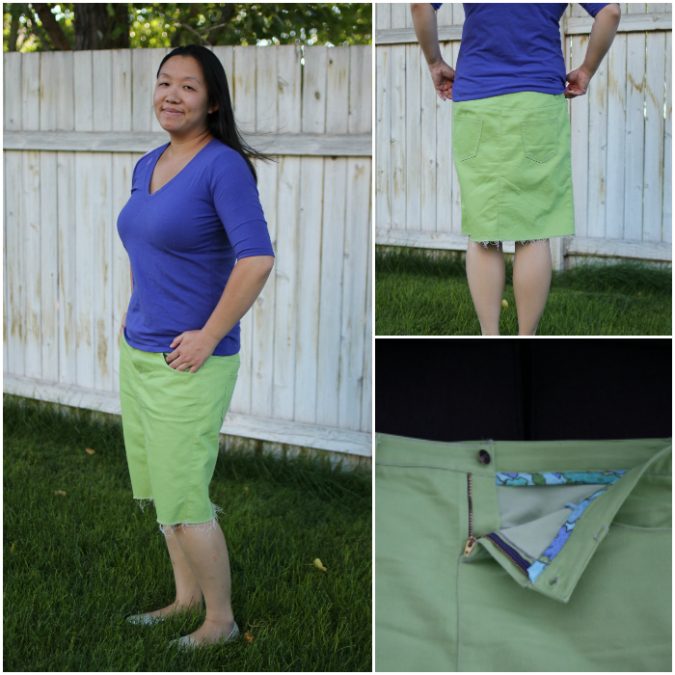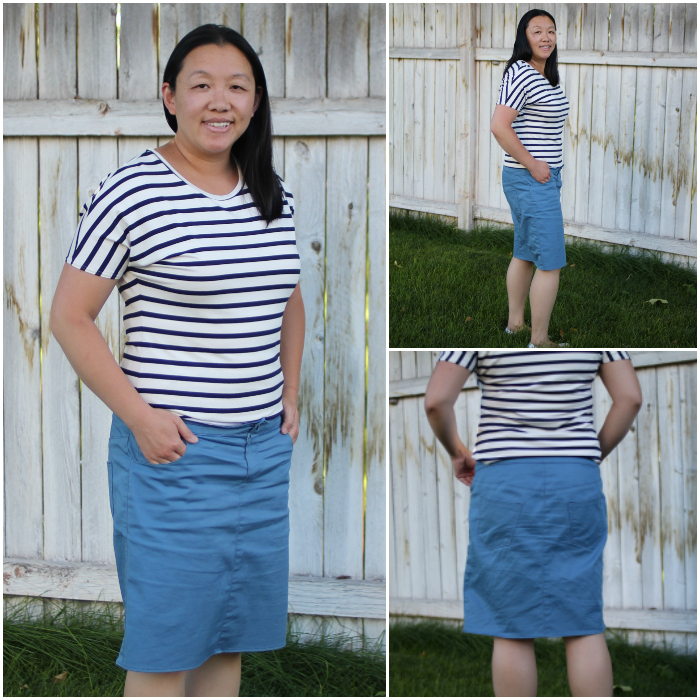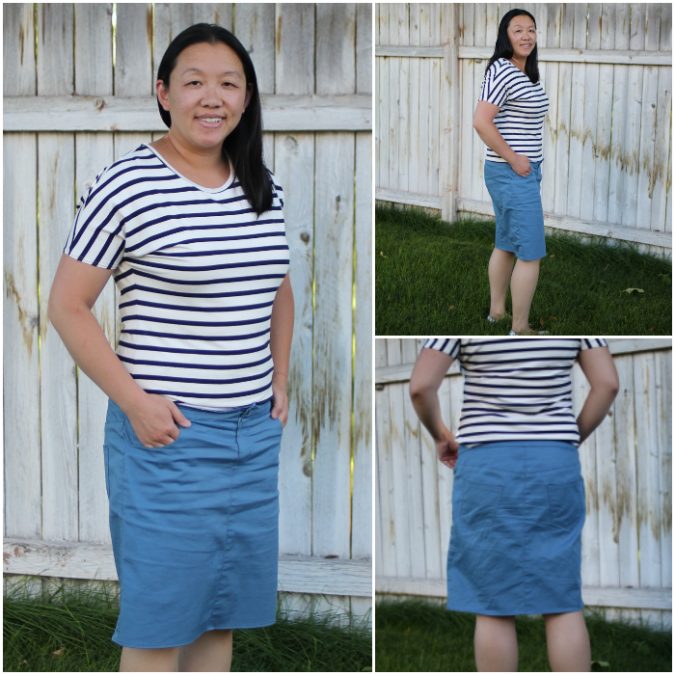 Emi's whole outfit is so on point I can't even.  That hat and camera remind me that the Sandbridge is an excellent piece to pack for vacation – it'll go with any top and if you make it in a plain darker wash like this nobody will realize you're wearing the same thing every day!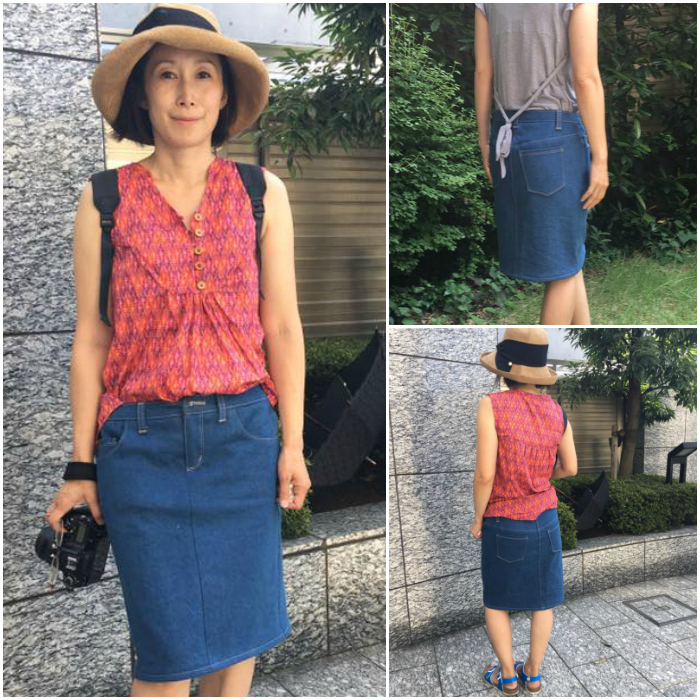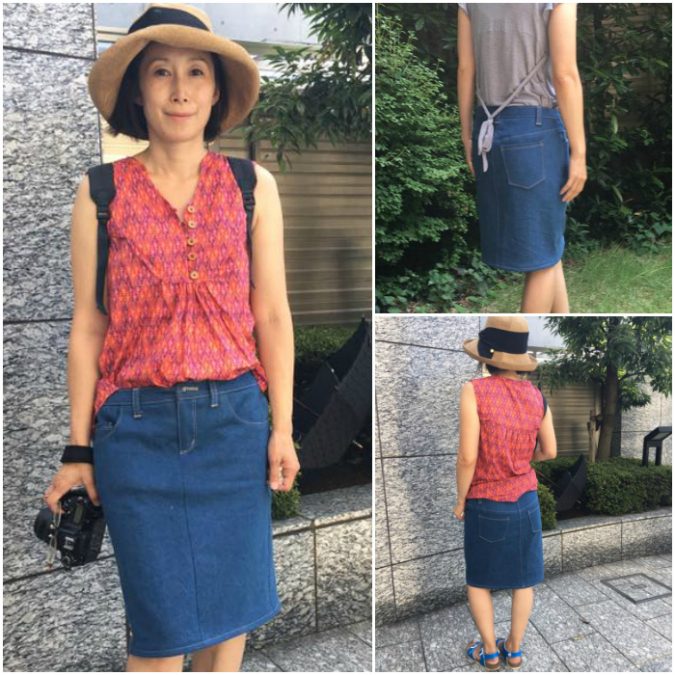 Crystal basically nailed the look I was dreaming of when I started working on this pattern.  That bleached denim and the heavily frayed hem, paired with a simple white tee and sandals?  Yep, perfection.  I could and have lived in this look all summer.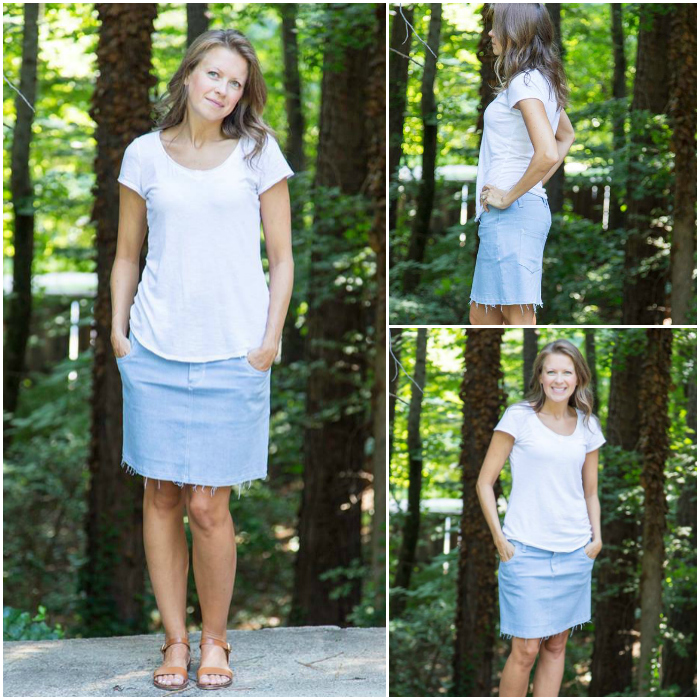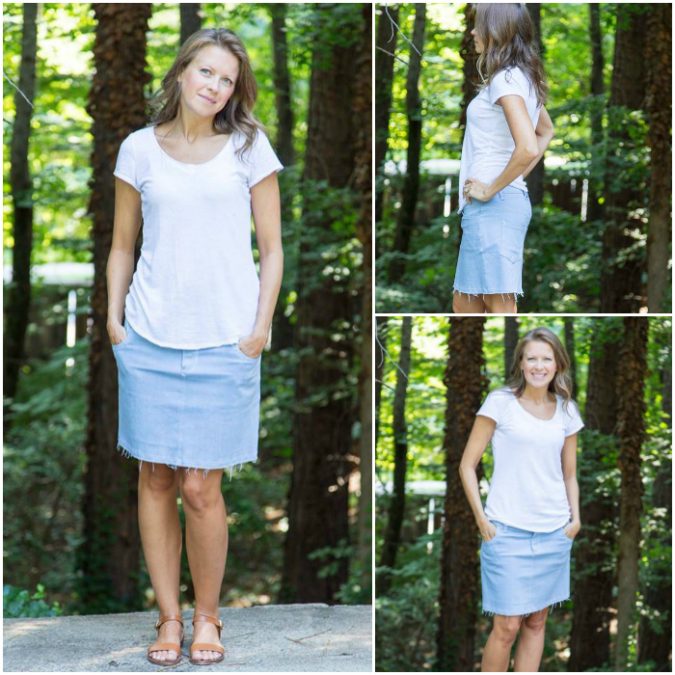 If you guys have been around for awhile you know that Fleurine never fails to take jaw dropping photos and then pose in them like, "oh this little fjord?  I've had this thing forever."  Pretty sure she lives in a Norwegian travel magazine.  Stunning as always!  Love seeing the Sandbridge styled for fall with a perfectly slouchy sweater, beanie, and boots!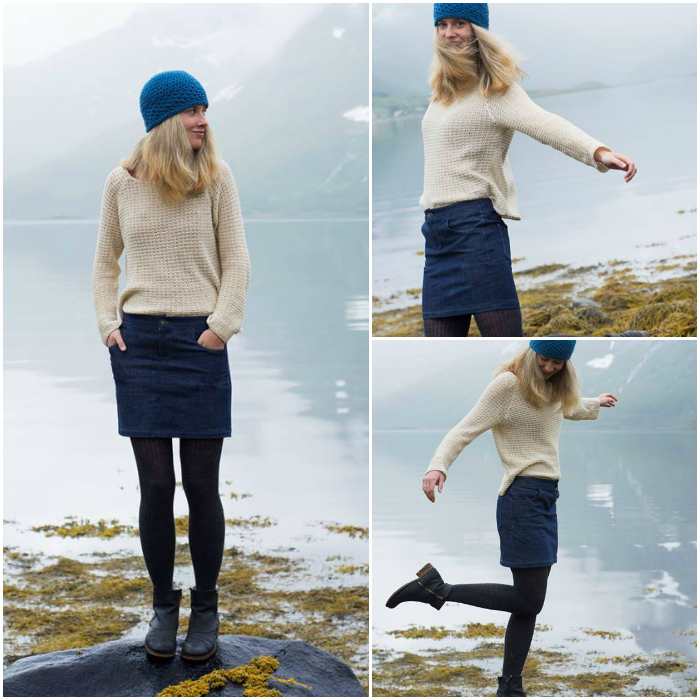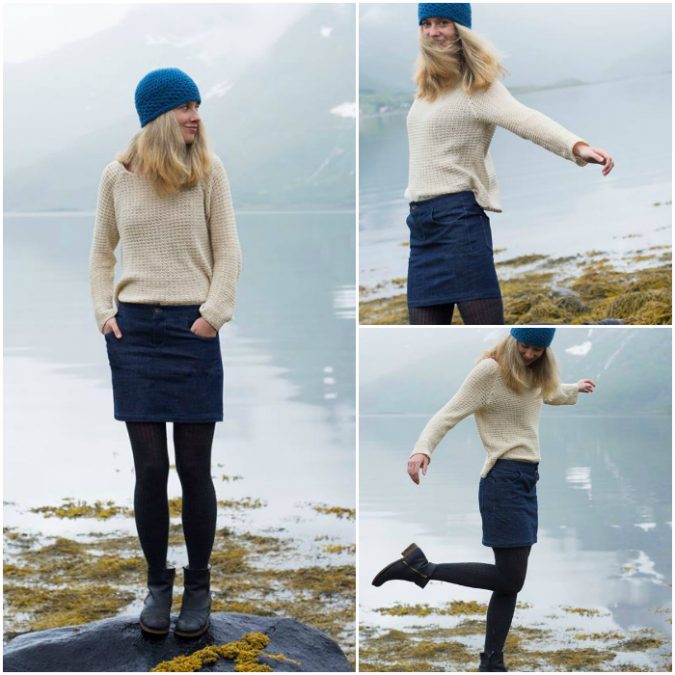 Jacque's bold colored Sandbridge is just screaming summer to me – I imagine that skirt goes with the majority of her tops and will be perfect for throwing on for weekend bbqs and baseball games!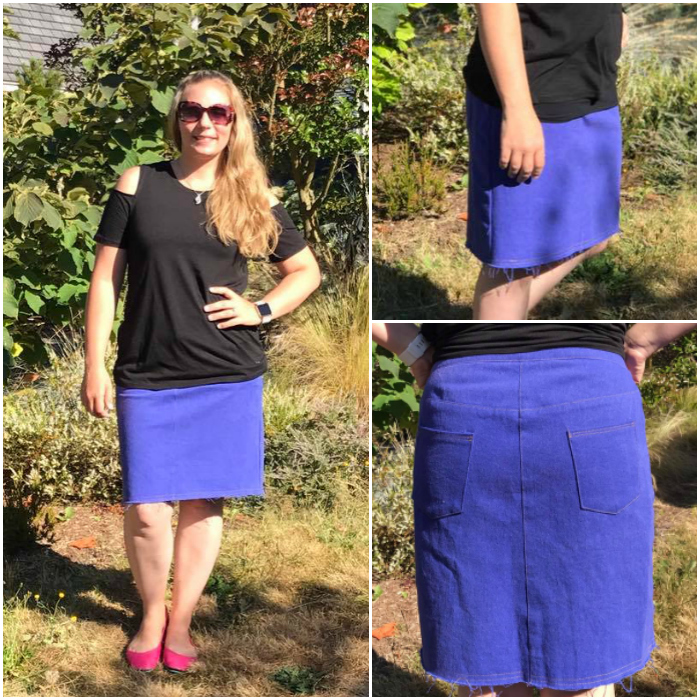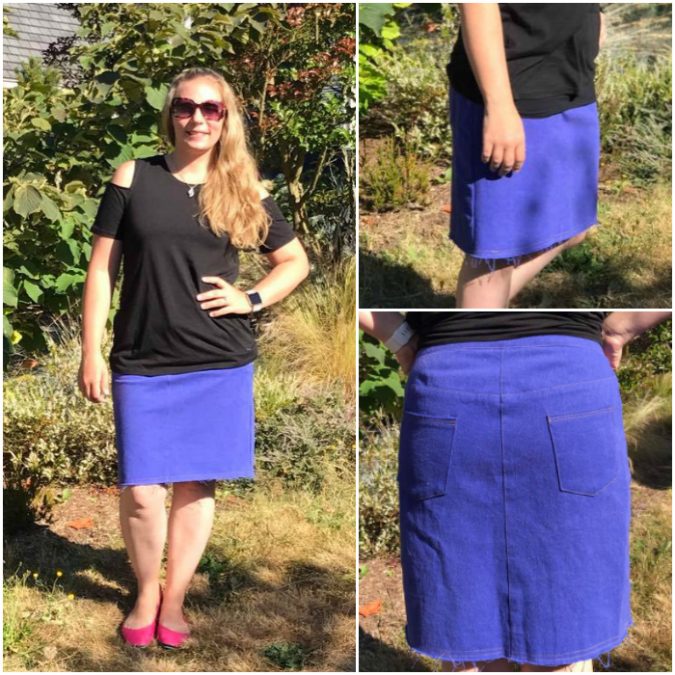 I love LOVE that Iva used a floral for one of her Sandbridges!  How amazing is that?  I need a printed skirt STAT!  She also used old jeans to cut up and make her denim Sandbridge, which is kinda the best.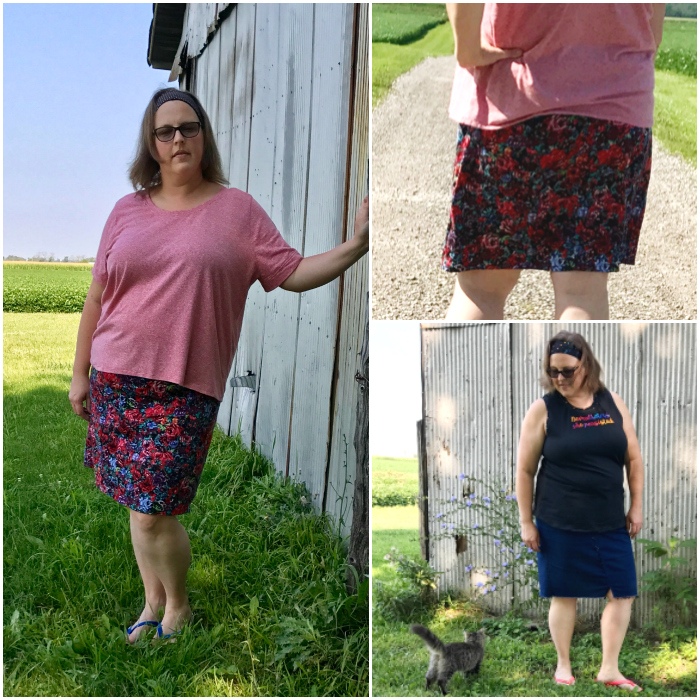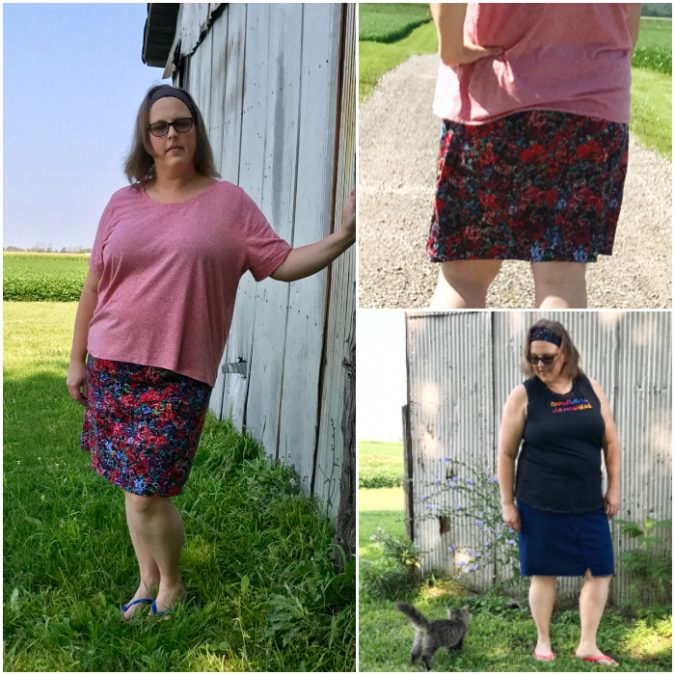 Indu is gorgeous as always in her perfectly tailored view B.  Those back pockets look like high-end ready to wear denim to me!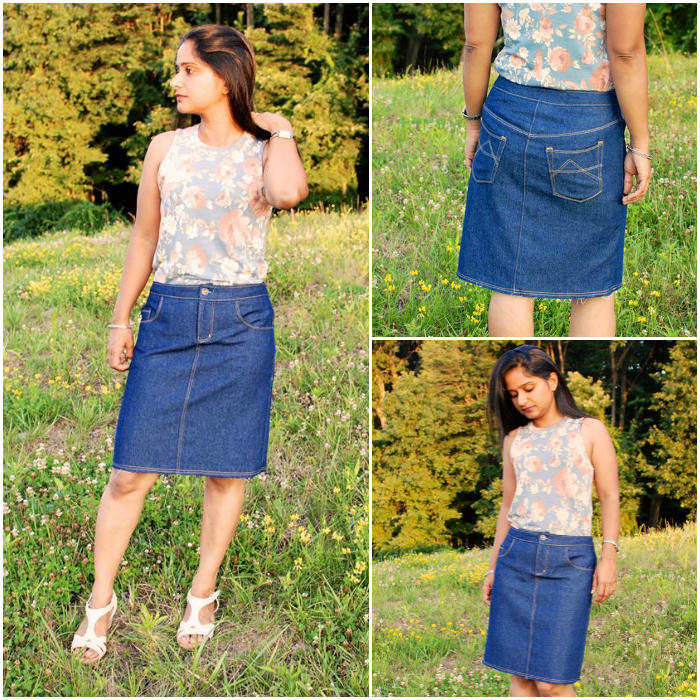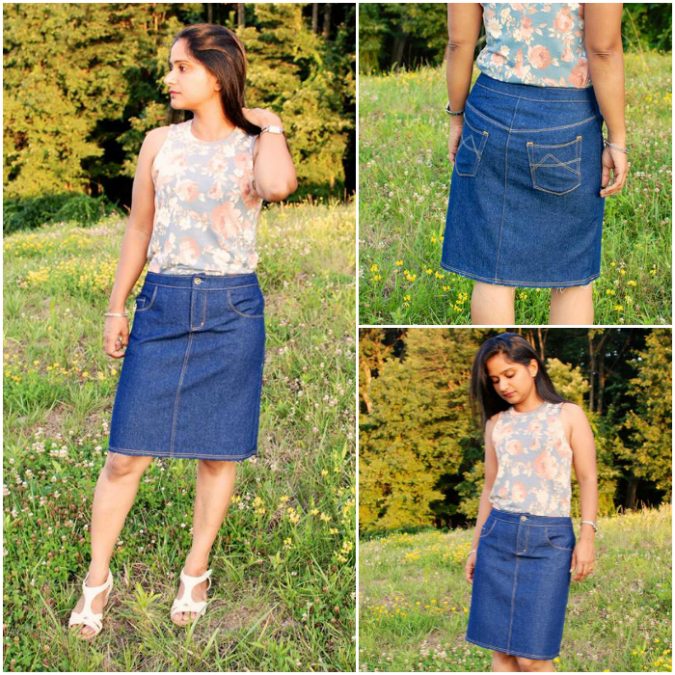 Kristin is speaking my language here with a laid back skirt and cute printed tee.  We'll basically be twinsing all summer long.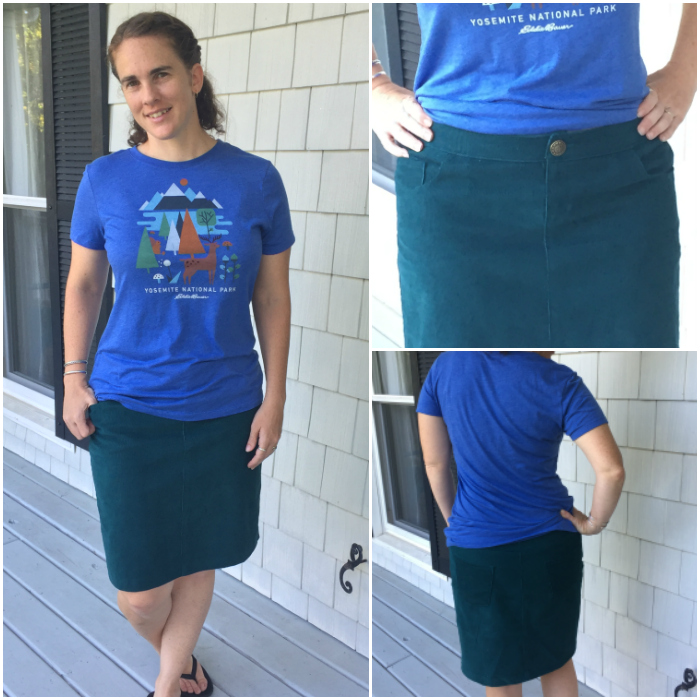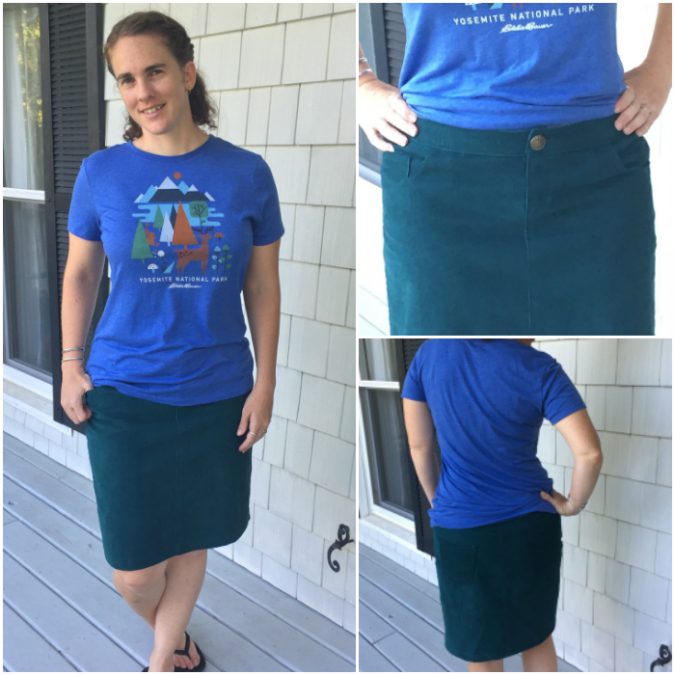 I love Maria's polished Sandbridge in that beautiful denim.  Paired with a True Bias Ogden Cami she's ready for dinner on the patio at a trendy restaurant or Sunday shopping.  I think she really nailed the fit on hers too!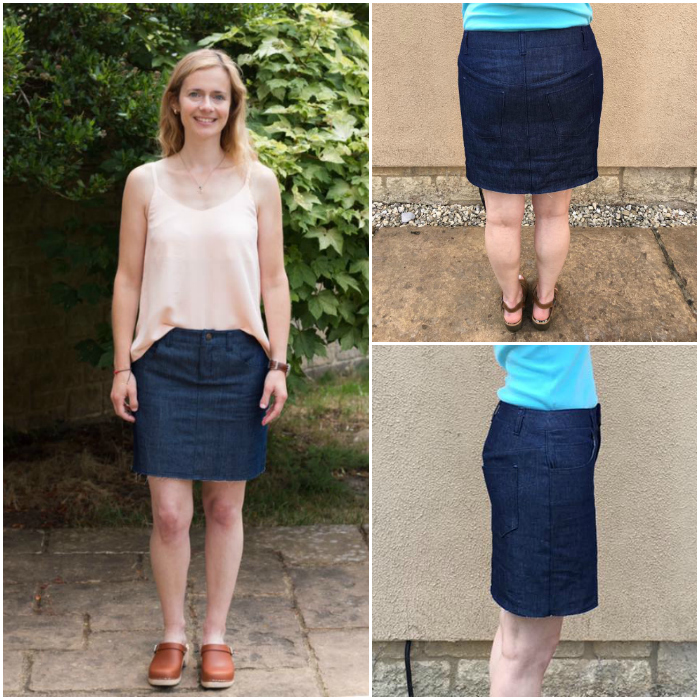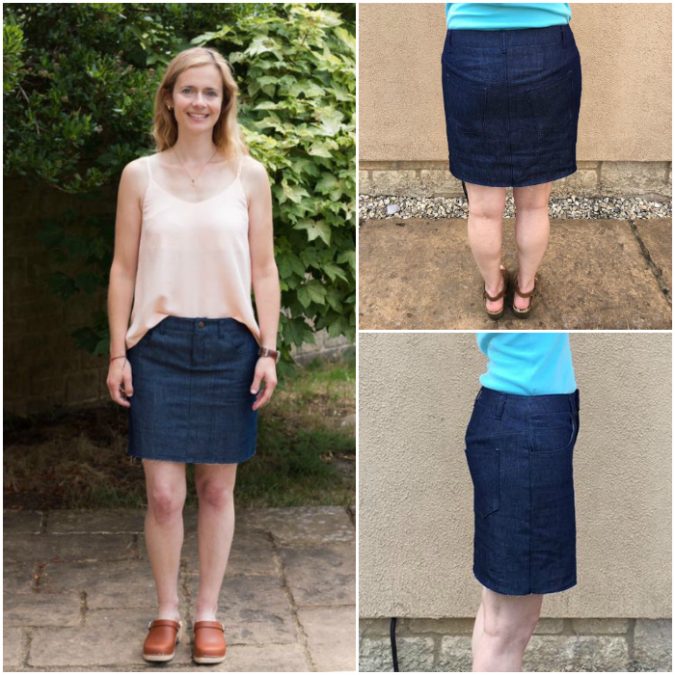 Last but obviously not lease we have Kristin, who went way above and beyond with her back pocket stitching.  I mean, can you even stand how awesome that is?  I audibly gasped and it took me several moments to notice how she also nailed the fit of her Sandbridge in that cool cross hatch denim.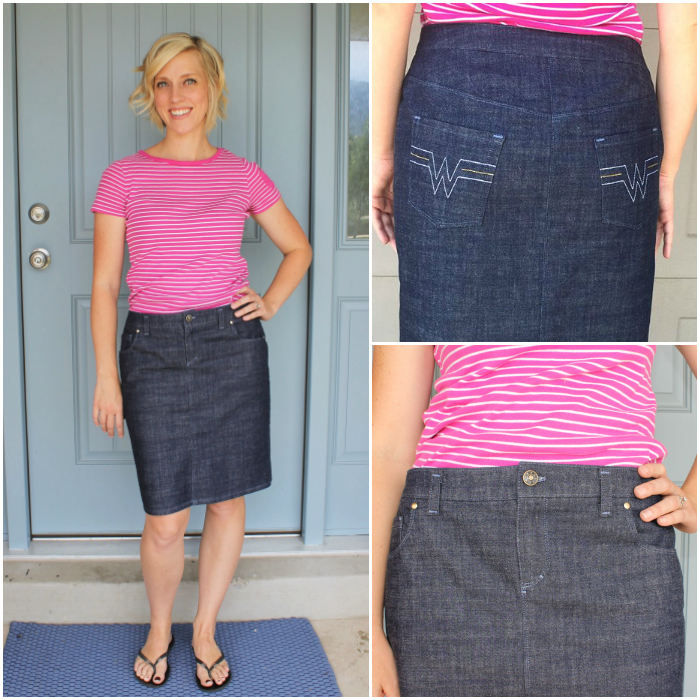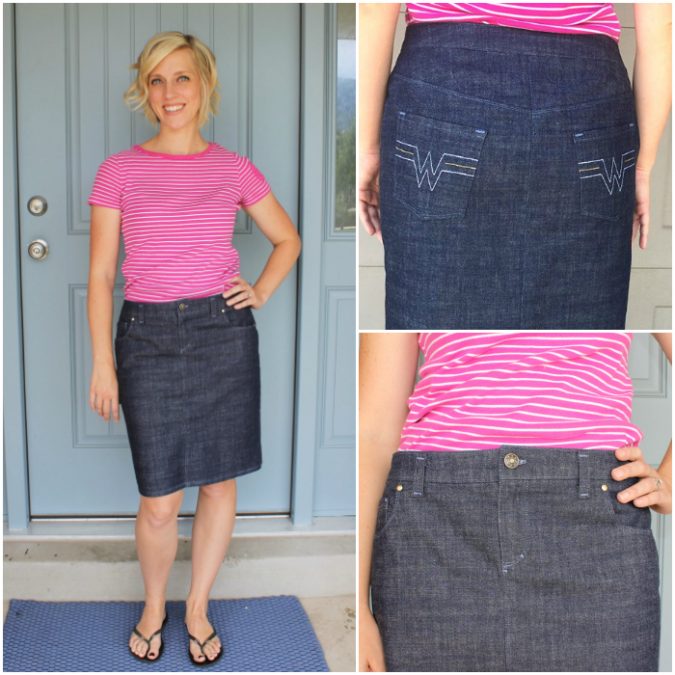 I'm including more detail shots because I think it's all just so beautiful and creative and fun and we like all those things around here!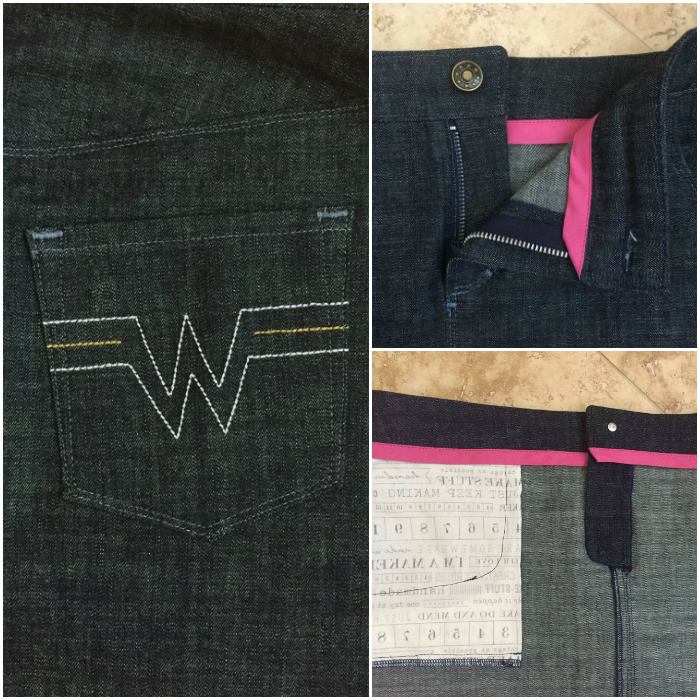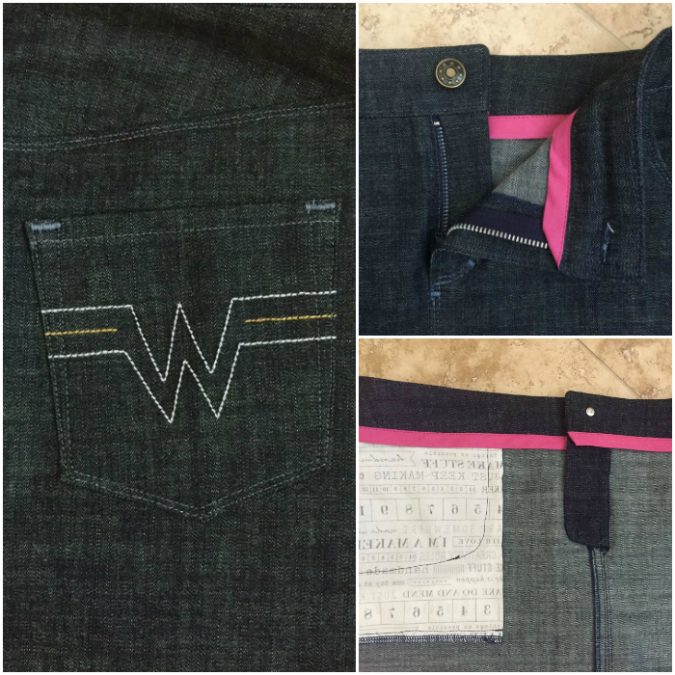 Absolutely amazing work ladies!  We are in awe!  Thank you very much for all your muslining and sewing and pinching and pinning to perfect the fit on this pattern!