Hi patient blog readers!  I guess the blog fell to the wayside as we enjoyed our last few weeks of summer.  I'm back and ready to embrace fall today though, and first up is my turn on the "Not Just a Sunsuit" Tour, featuring Call Ajaire's first pdf pattern, the Paneled Sunsuit!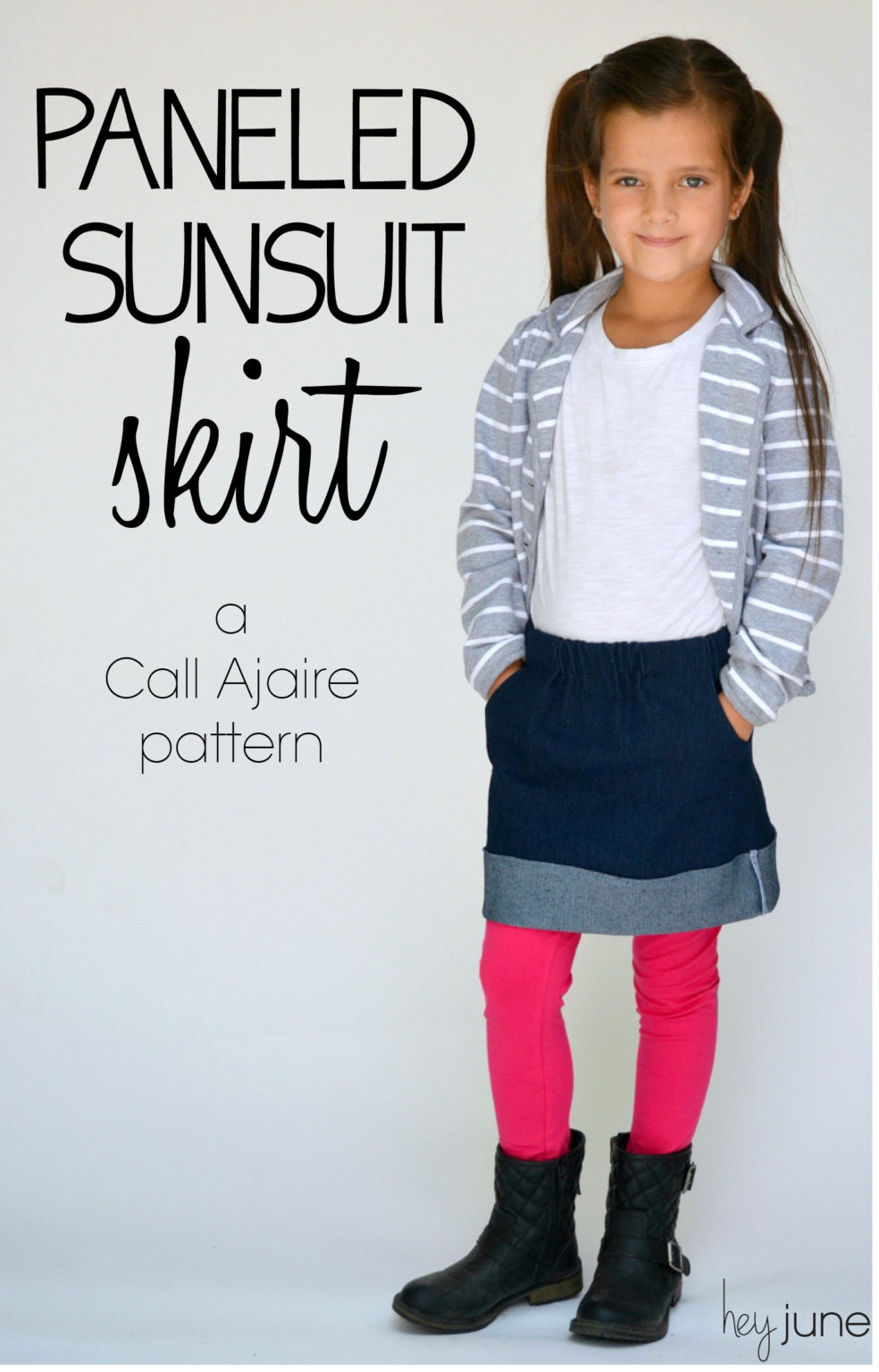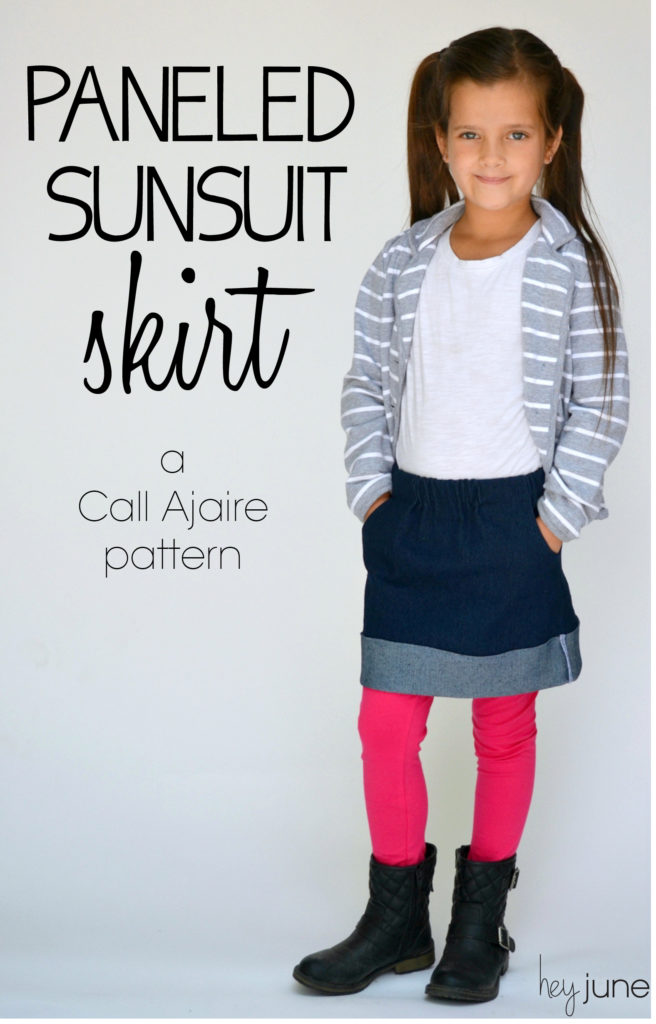 This pattern has like ONE MILLION views (no exaggeration) so I feel as though I'm possibly showing you the least exciting way to make it.  But circumstances intervened (school starting and no school clothes to be had) so I decided to sew up a simple but extremely necessary denim skirt.  There is of course a sunsuit version, but you must go check out the pattern to see all ways you can make it.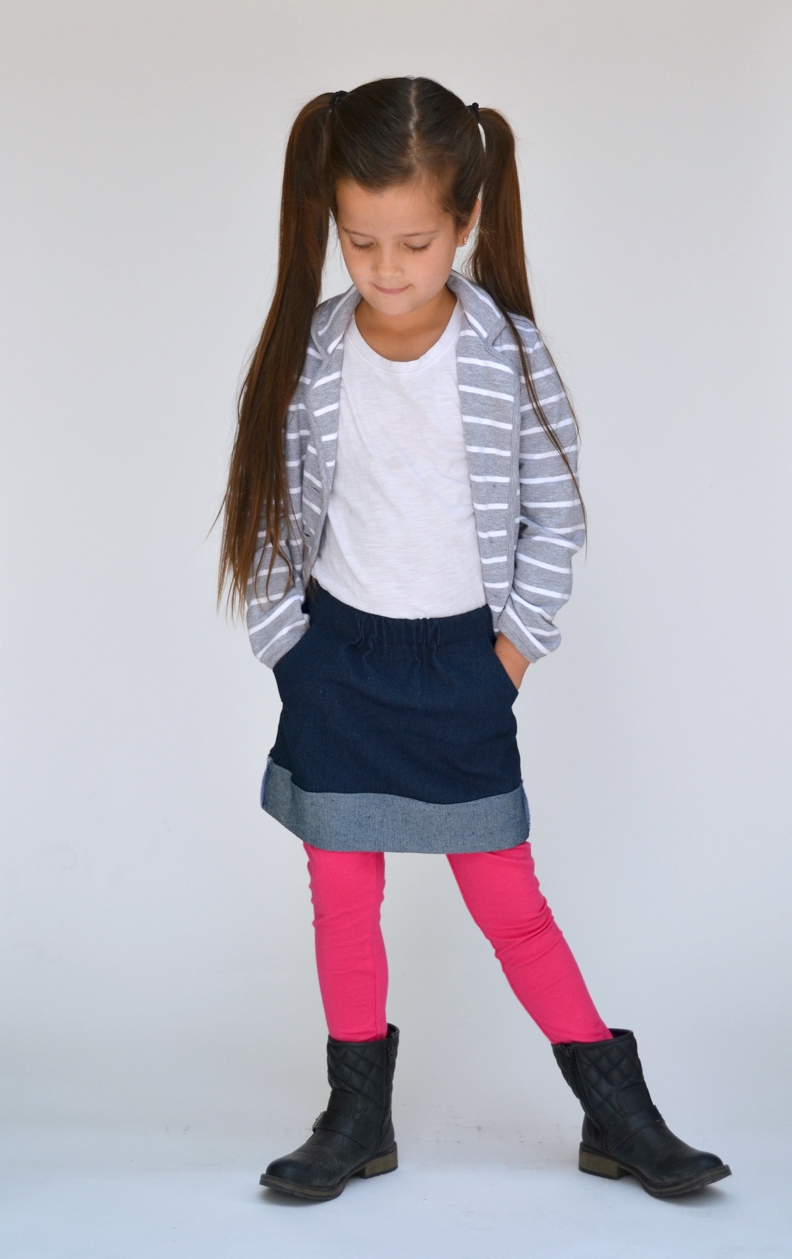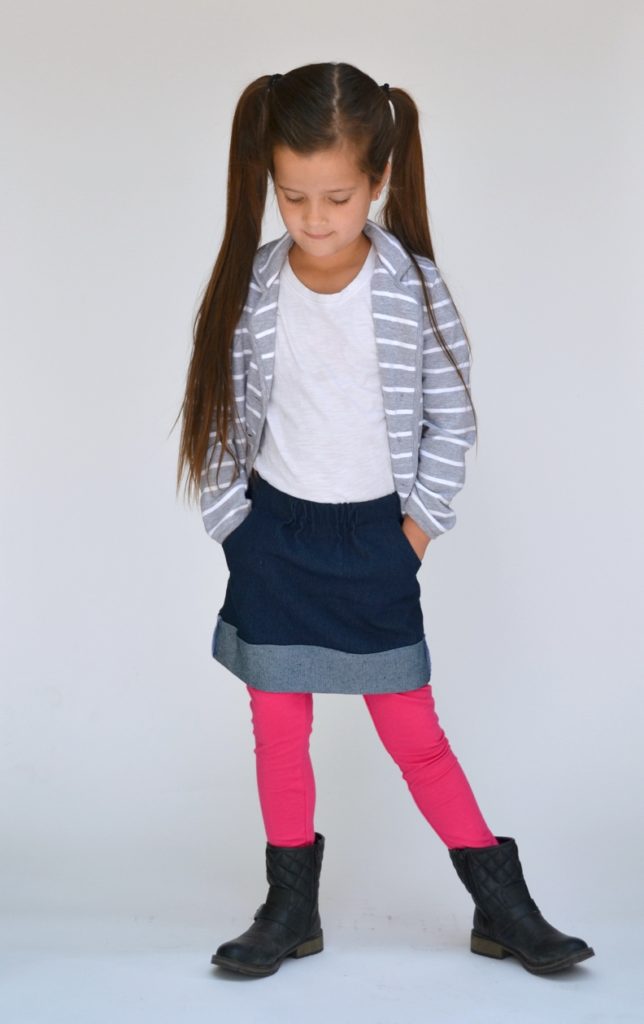 This skirt could not have been easier.  I think it took me all of 30 minutes to make.  But her wardrobe is so full of busy printed tops and sweaters and needed a workhorse solid.  That's not to say she won't go to school with a floral shirt, striped skirt, and polka dot leggings, because she will (I'm writing my annual blanket apology letter to her teacher now), but it's always nice to have some retina-preserving coordinates.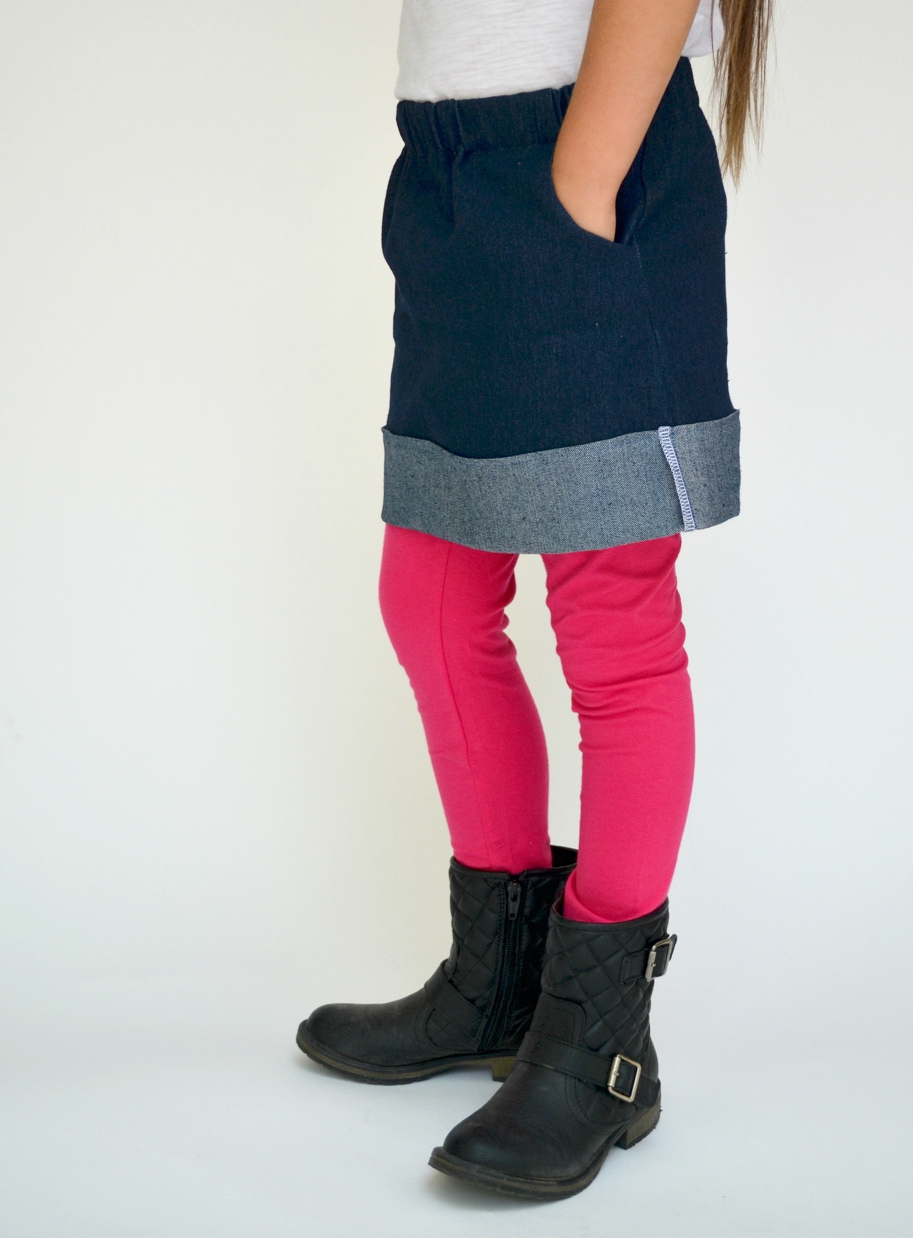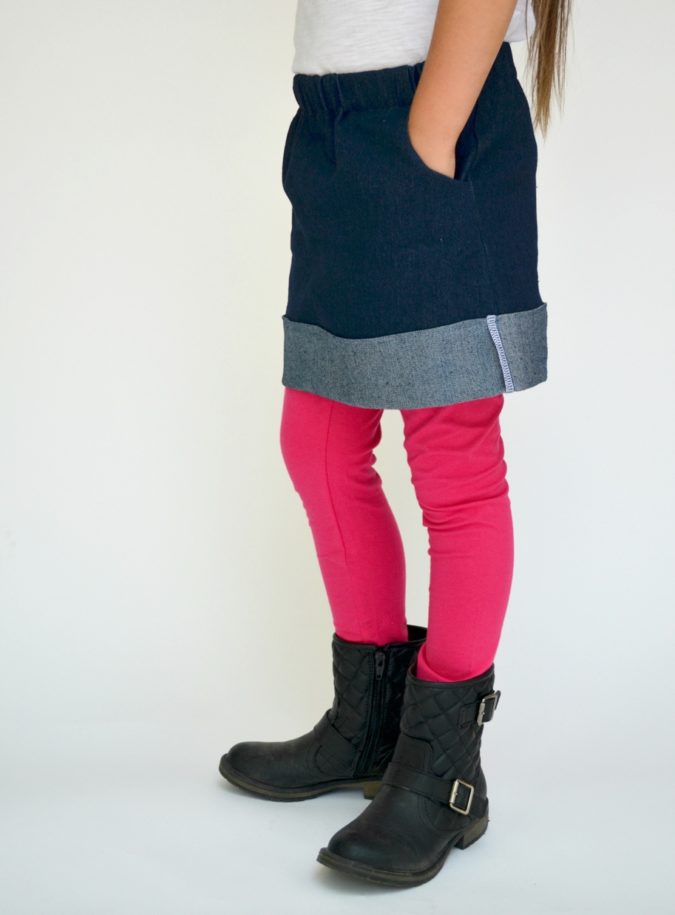 I made a straight size 6 with a stretch denim and no modifications except at the hem.  Since I knew she'd be wearing leggings with this skirt all winter, I decided to shorten the hem.  Just personal preference, no issue with the pattern itself.  In fact, I was thinking that this view would be perfect for school uniform skirts as it's comfy whilst still accommodating skirt hem length rules.  When it came time to take out some length in the hem, I actually pinned it up as she was wearing it, just to gauge how much length I would remove.  Then I noticed that it actually looked super cute and fun with the hem flipped to the wrong side, so I decided to leave it that way!  A fun little unintentional design feature.  I would've finished the side seams differently if I had known they would show, but I actually don't mind the visible serging either – it makes for a casual little contrast.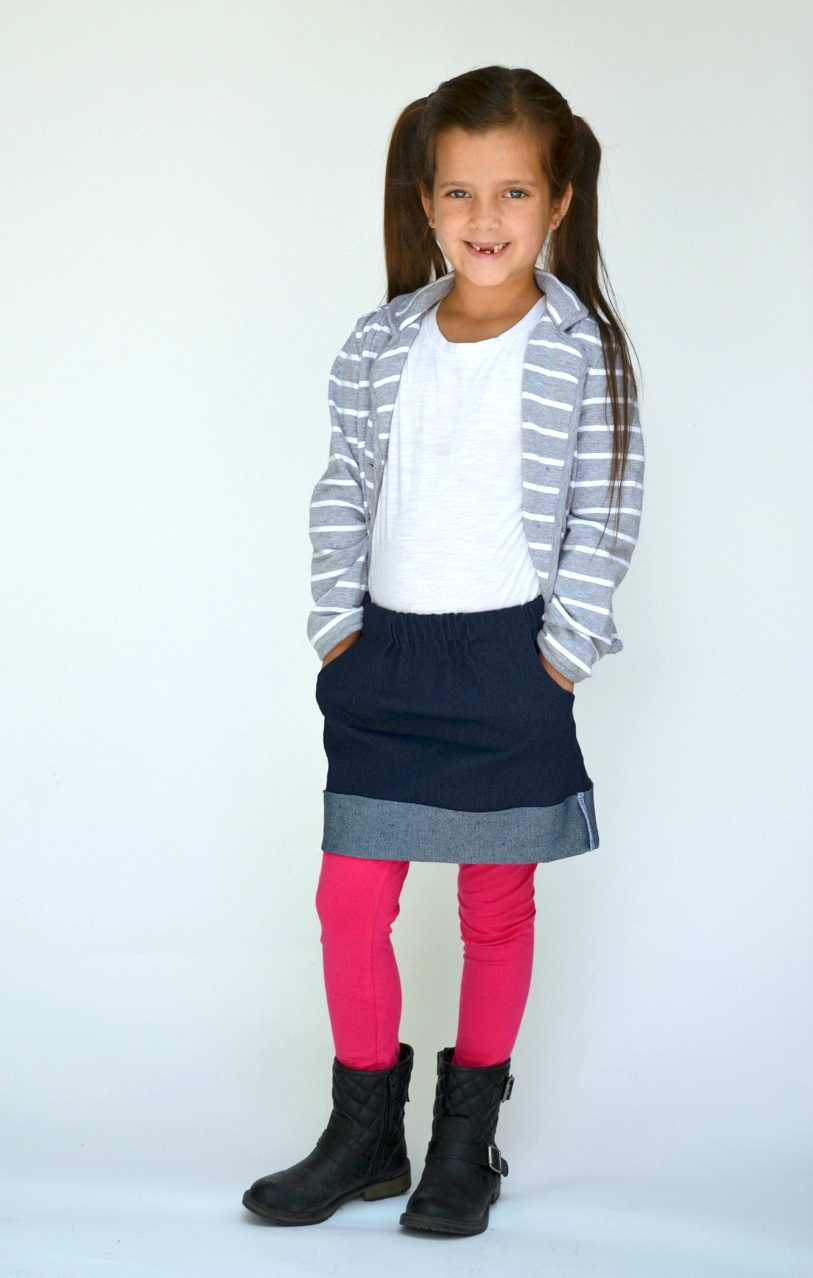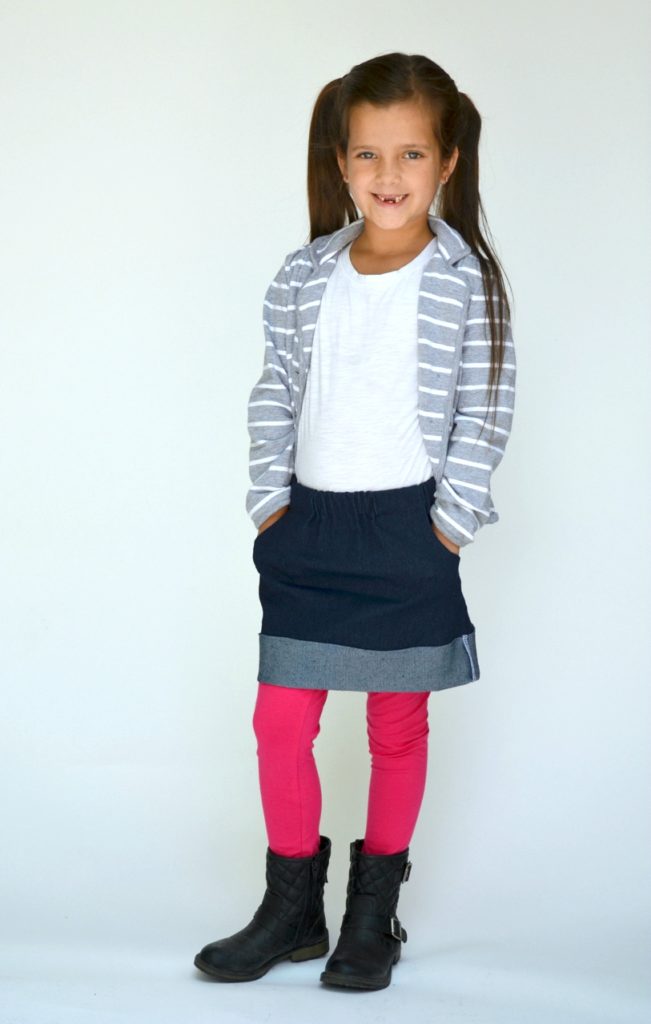 I can't say enough about the pattern itself.  It is without a doubt the most comprehensive pattern I've ever used and will probably ever use.  If you're a beginner, this is the one for you.  Views that include a dress, romper, skirt, pants, and top (and more!), incredibly detailed pattern notes and measurement charts, and beautifully illustrated directions make it a must for your pattern library.  I found the fit to be spot-on for my girl in the skirt view too.  She's turning 7 in a couple weeks but is just now starting to wear size 6 in RTW bottoms and this fit exactly as I expected.
If you'd like to see ALL THE VIEWS of the Paneled Sunsuit and get it for 15% off, head over to Call Ajaire!  Or, you can try your luck at winning one of four free copies by entering the giveaway below:
And stay tuned for the next two weeks as the Paneled Sunsuit makes its' tour at blogs around the world: