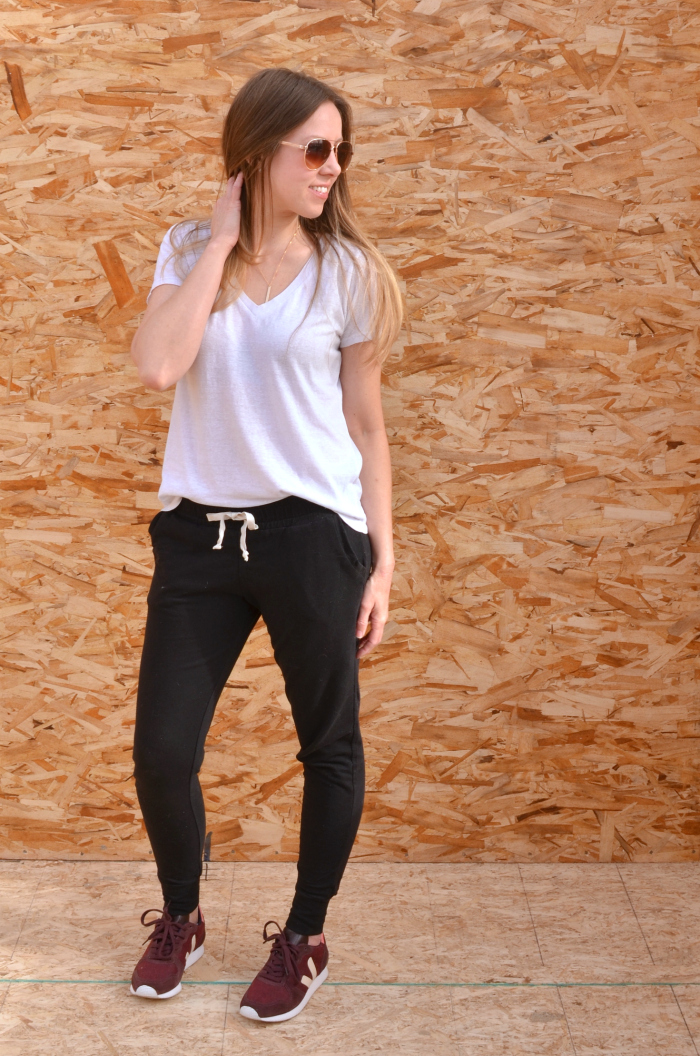 Welcome to day 2 of my little series of Hudson pants!  If you missed yesterday, Kelli, the designer behind True Bias, is offering Hey June readers 15% off of the Hudson Pants PDF pattern through Wednesday 1/24 with code "heyhudson"!!
My second pair of Hudsons couldn't be more basic, but that's what makes them so very great.  This is a buttery soft pair made with RCF black french terry and make such a great addition to my capsule-ish wardrobe. I think I'm going to go out on a limb and state that RCF's spandex french terry is the very best fabric for Hudsons on the market today.  It's just perfect.  Yesterday's and today's Hudsons both feature natural colored twill tape as a drawstring.  I just tie the ends into a knot to keep them from fraying.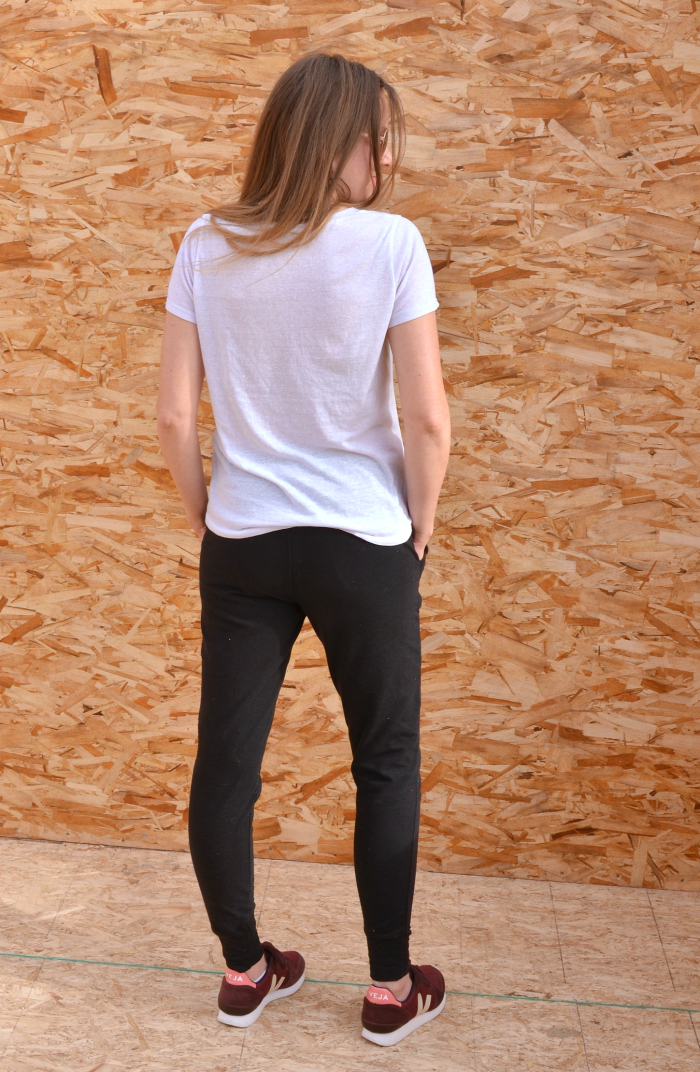 I'd be lying if I said there aren't days I wear them, sleep in them, and then wear them again.  They're just that versatile 🙂  I had already been working on paring down my wardrobe to just the basics for each season, and then moving into an RV pushed that lazy minimalism into high gear.  So to add anything into my two (yes, two) drawers of clothes these days, it has to be pretty amazing.
Solid black pants mean that I can pair just about any tee I own with it and I can have fun with sneakers.  I love these ethically sourced and produced pair from Veja!  And although basically any tee matches these, I'm again sporting my fave simple white Union St.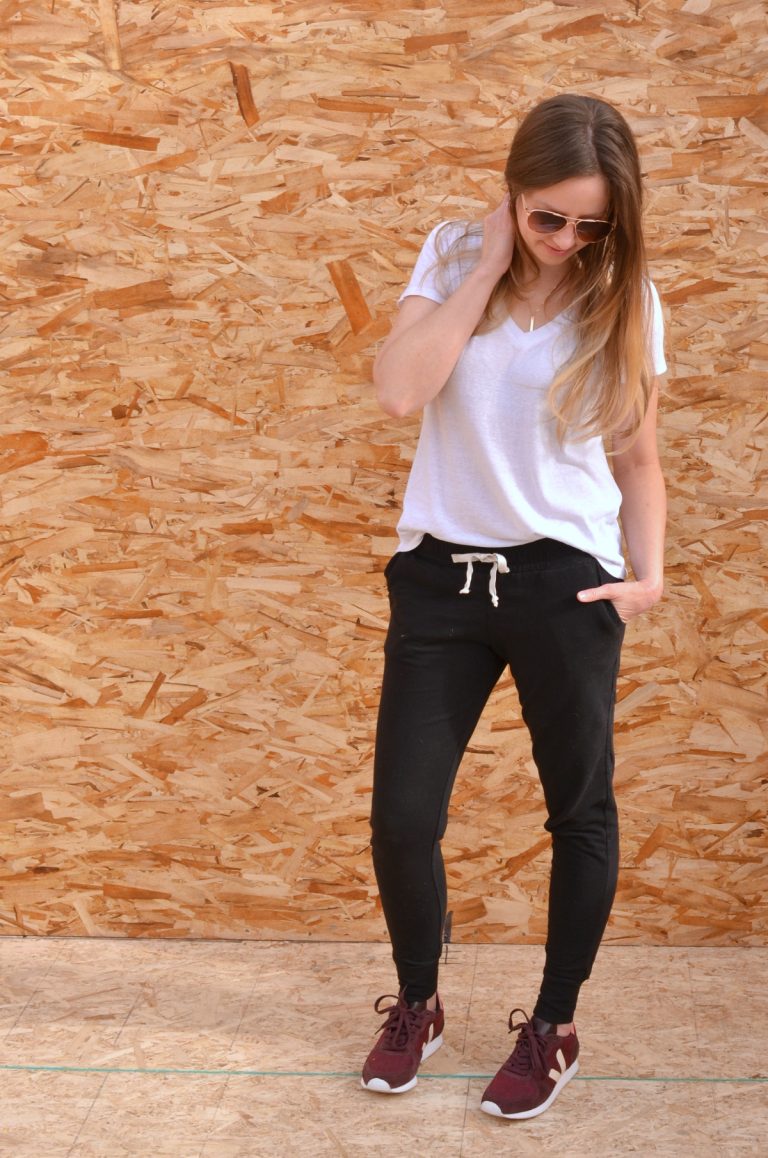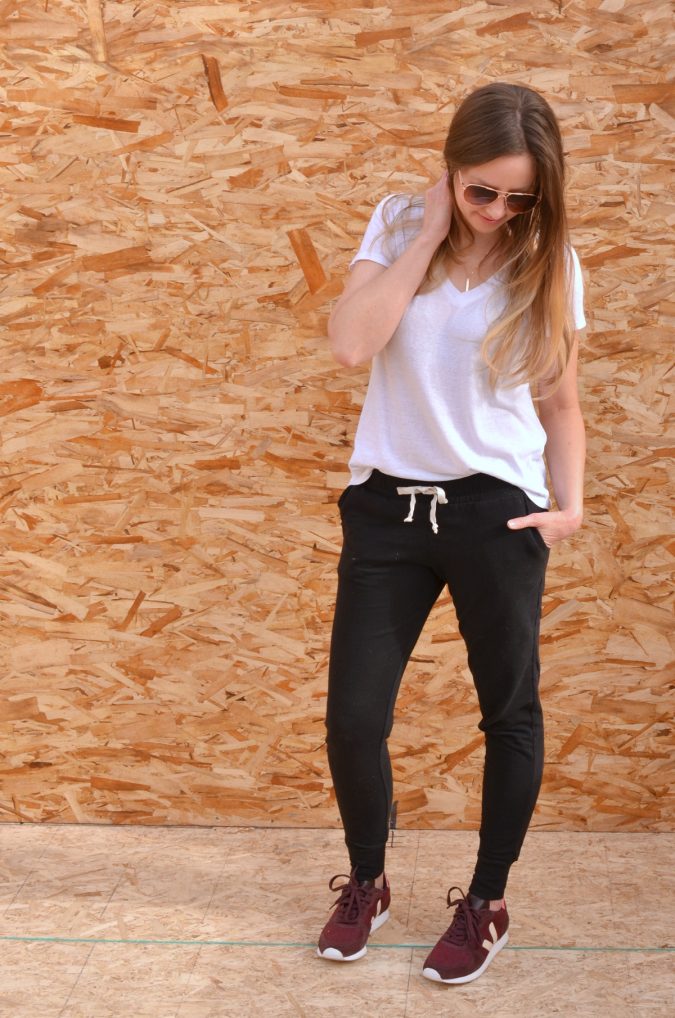 Just a note: I'm wearing the same size in all three pairs that I'm sharing.  As noted, my camo Hudsons have very little stretch so they are pretty tight.  These fit perfectly with the better combination of cotton/spandex and 4 way stretch.  Tomorrow's are also the same french terry but you'll be able to see how they fit after wearing them for a few days.  They do get a little baggy in the knee, but not terribly.  See you back here tomorrow, and don't forget to grab the Hudsons with the discount code!