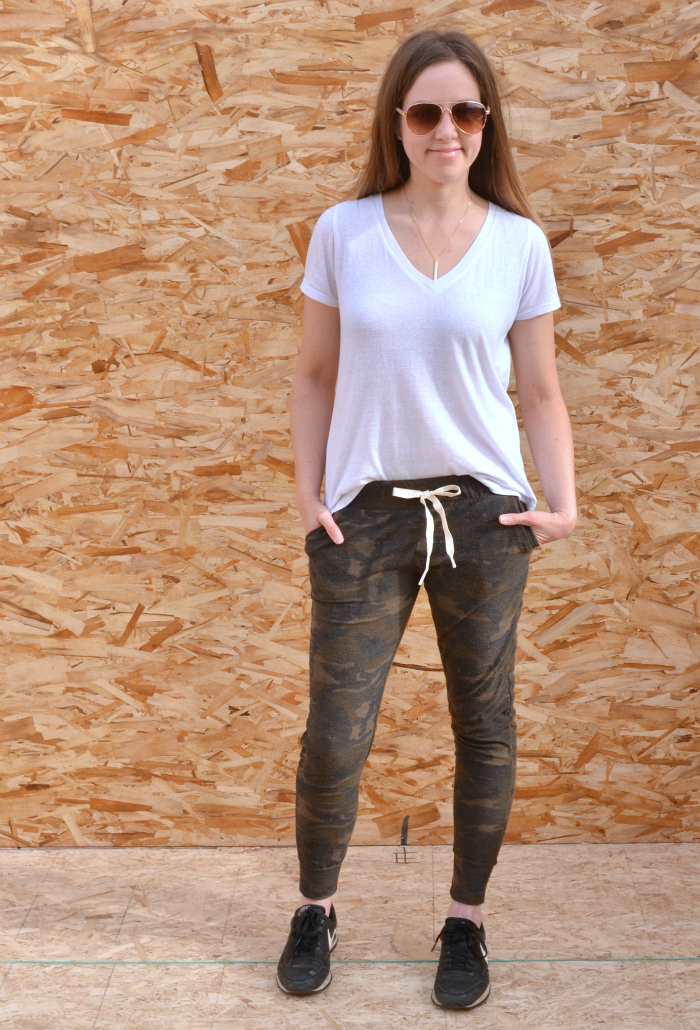 I made so many pairs of Hudson pants this past fall I thought I should share them with you all at once in a little series. I've made the Hudsons before, but I realized that I never blogged them – what an oversight!  The Hudsons are my hands down favorite pair of lounge pants.  They're comfy yet flattering and can be really versatile depending on how you style them.  I've seen them dressed up with heels and button down shirts, but they work equally well as pjs!  Kelli, the designer behind True Bias, is offering Hey June readers 15% off of the Hudson Pants PDF pattern today through Wednesday with code "heyhudson"!!  Thank you Kelli!!  If you don't have this pattern yet I definitely encourage you to grab it while it's on sale.  It's a tried and true pattern in the home sewing world.
Bonus, I'm wearing handmade tops in all of these posts too!  I should also note that I'll be modeling them in what will soon be my brand new studio!  I planned this spot specifically for picture taking.  There will be wood floors and a white wall and just to my left is a 9 foot wide south facing window (hallelujah!)
First up is possibly my favorite pair (tied with the other two) – my camo Hudsons!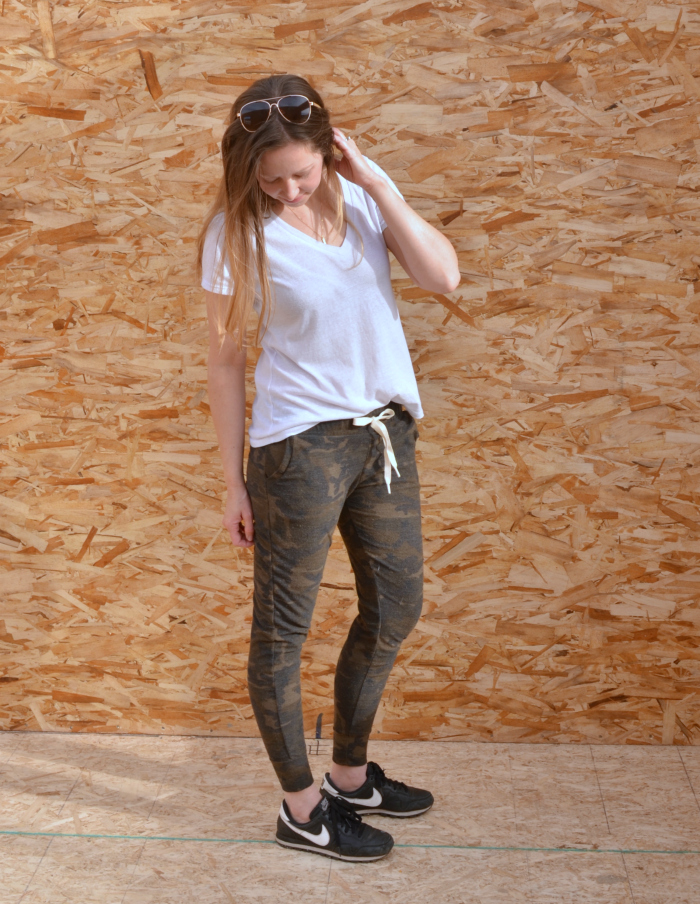 I kind of walk a fine line with camo and whether or not I like it.  Is it too trendy?  Do I look like a poser?  Is it cultural appropriation of the military and hunters?  I do prefer it when it's muted like this fabric from Schooks Fabrics though.  This french terry only has minimal two way stretch (the listing is wrong) and I don't necessarily recommend it for joggers unless you size up.  So these Hudsons fit more like leggings and I have to yank them up over my feet, but they're still pretty great once they're on.  I think they work pretty decently as a neutral although I'm not courageous enough to wear them with anything other than a white or gray top…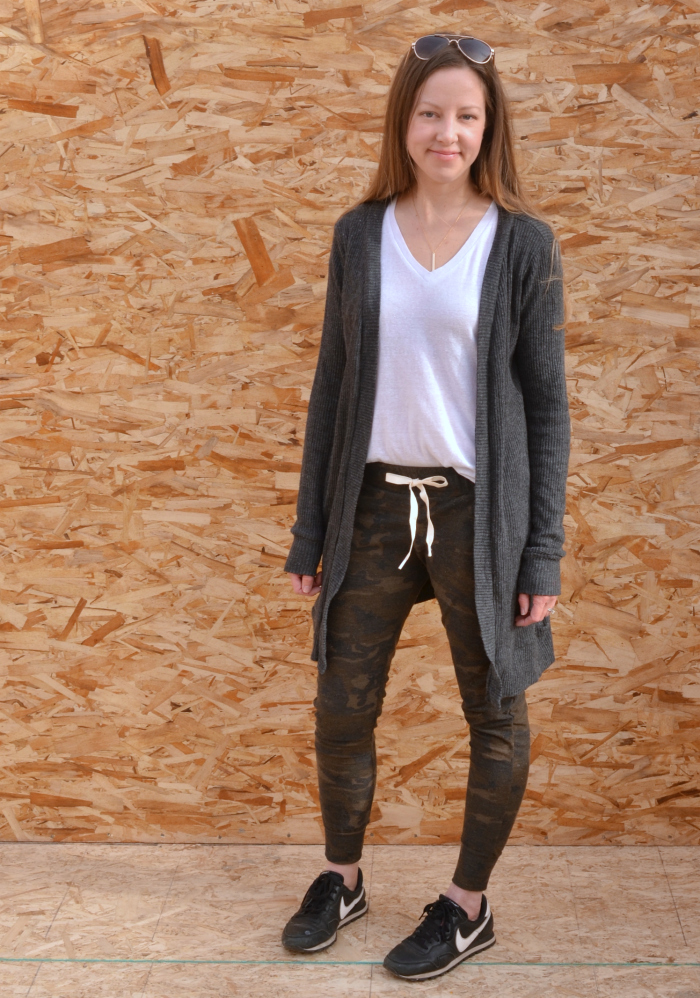 And speaking of, I'm sporting a white and a gray top in these pics, both of which are Union St. Tees!  The white one is a straight up short sleeve v-neck in a gloriously thin and drapey triblend from Sly Fox Fabrics.  The sweater was made with a super duper soft and squishy charcoal rib knit from Blackbird Fabrics.  I used the same tutorial that I used for my Tallinn Duster hack.  I meant to add pockets to this but instead I put it on a few months ago and basically never took it off.  Oops.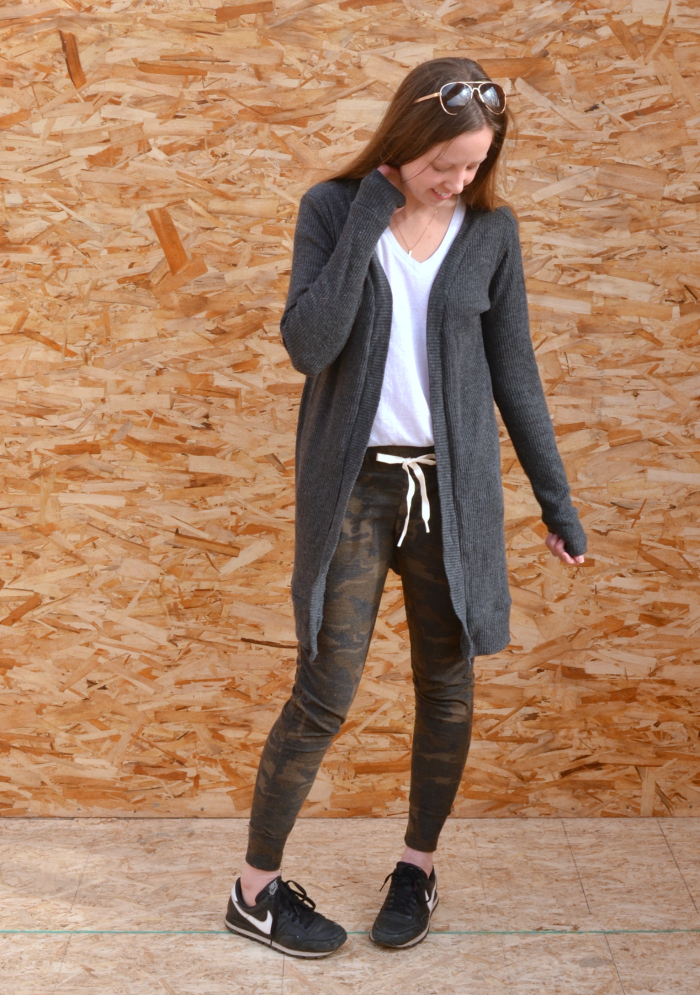 These three pieces make up what has quickly become my "work uniform".  I just can't turn down a cozy & comfy outfit!  And counterintuitively, the sweater is great for throwing on when I go inside and then I can just shed it when I step outside into those sunny 70 degree January Denver days!
I'll be back tomorrow with another pair of Hudsons!