The Edelweiss Dress was only my third pattern, but it remains one of my very favorites.  It's just the epitome of sweet, summery little girl.  It has a little frill on the straps to keep girls happy, but it's still casual and comfy enough for every day play.  Right now the Edelweiss Dress is the featured Hey June pattern!  You can find more details and a sale code at the bottom of my website.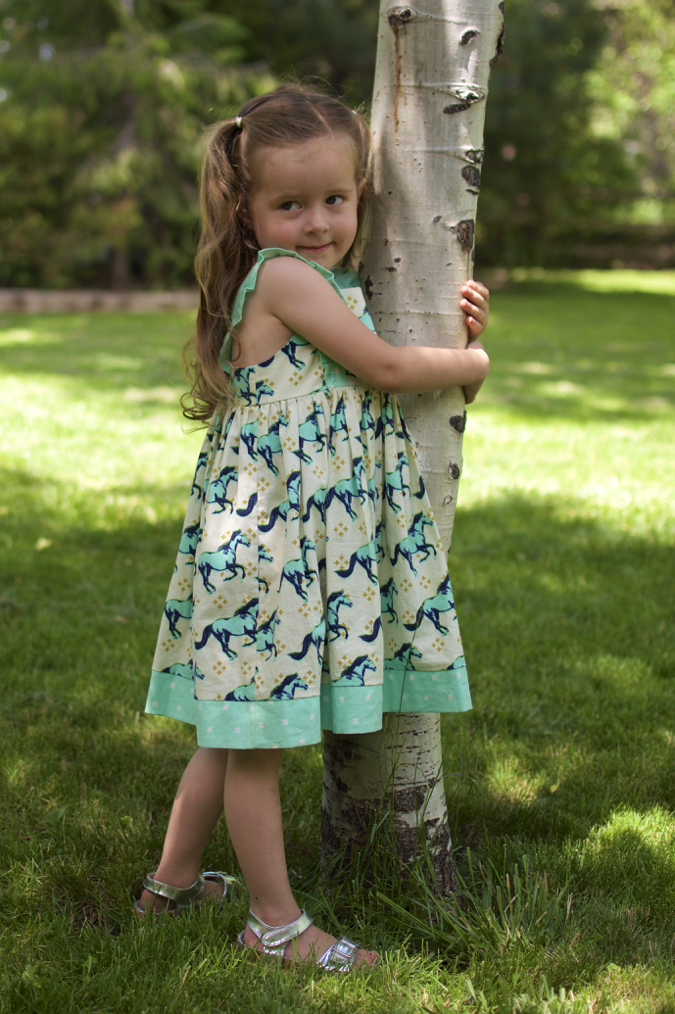 I got this fantastic Cotton + Steel fabric from the very generous, sweet, and funny Liz of Simple Simon and Co for a gift swap.  Believe it or not, I was headed to Fancy Tiger Crafts to use a coupon to buy this exact print when it arrived in my mailbox!!  Your mind reading game is on point Liz!  (sidenote: I ended up using that coupon to buy some uhhhmazing Pendleton wool.  More on that later!)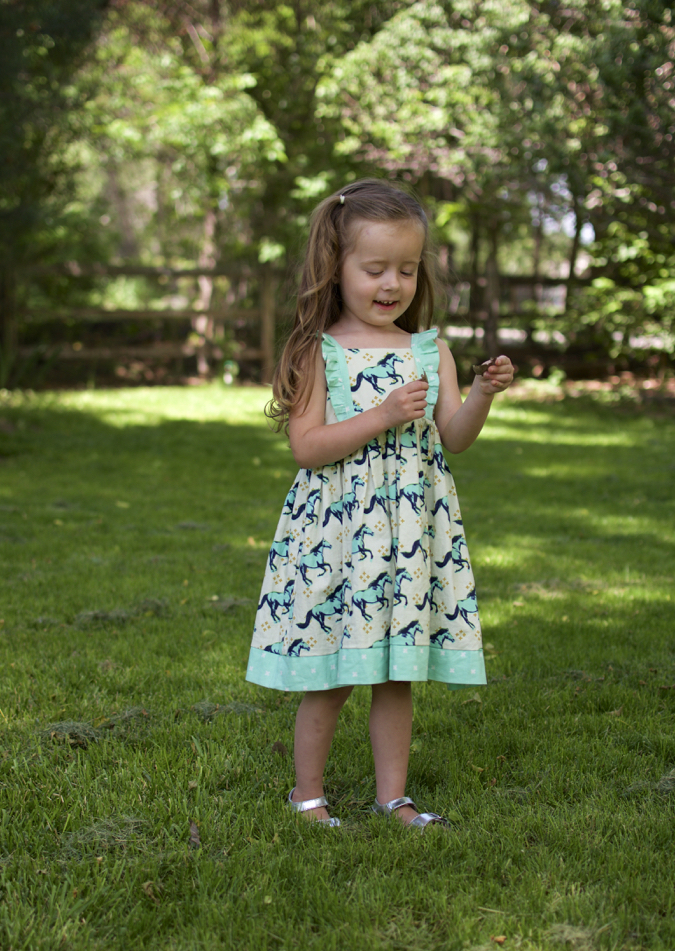 I made a couple alterations to the pattern.  Because I had a full yard of that glorious stallion print, I decided to use as much of it up as possible.  When my scrap collecting got to the point where the pile become a functioning member of our family, I made the executive decision to stop collecting scraps.  I'm a garment maker, I ain't got time for anything under a half yard.  So I use as much as possible and the rest goes in the trash (I KNOW!!!!  I'M SORRY!!).  Knit scraps go into a box for one day turning into a floor poof.  I now have enough for 17 floor poofs.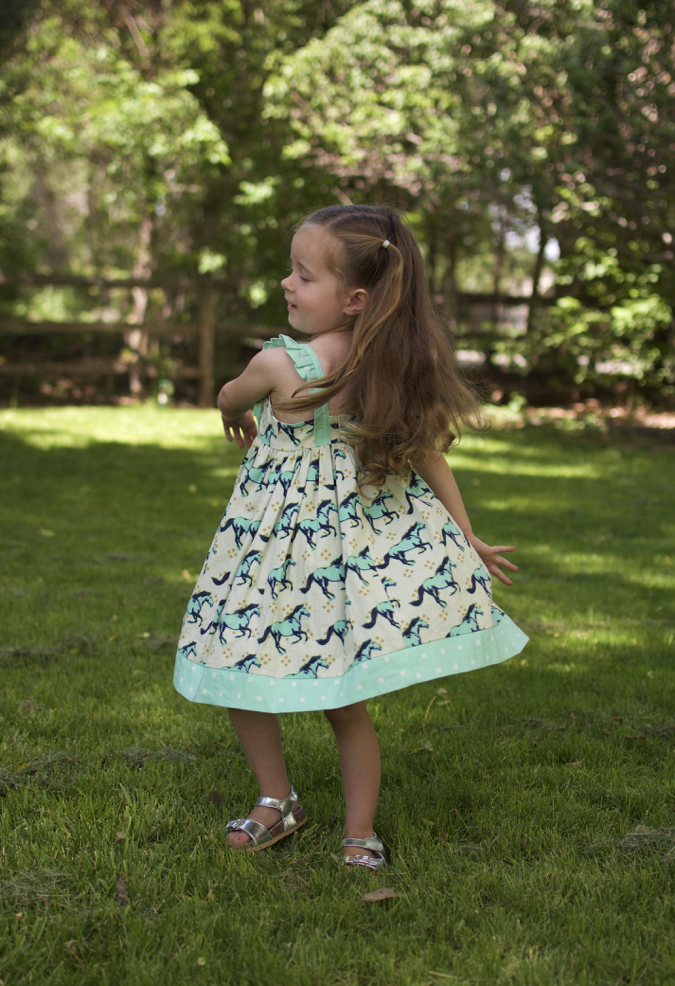 I was talking about alterations, sorry.  So because I wanted as few scraps left over as possible, I doubled the width of the skirt.  That's why it's extra twirly and poofy.  Normally the Edelweiss has just enough poof to make it a gathered skirt, but not enough to interfere with normal three year old activity.  And because liZ was so awesome and sent me that coordinating print, I decided to add that at the bottom as a band as well as using it for coordinating straps.  No hemming + making the dress long enough for two years' wear = double win.  Plus, adding a band like this around a very full skirt is a huge fabric hog, so I used up a lot of that too.  I did save the scraps from that fabric though, because hello Cotton + Steel, amiright?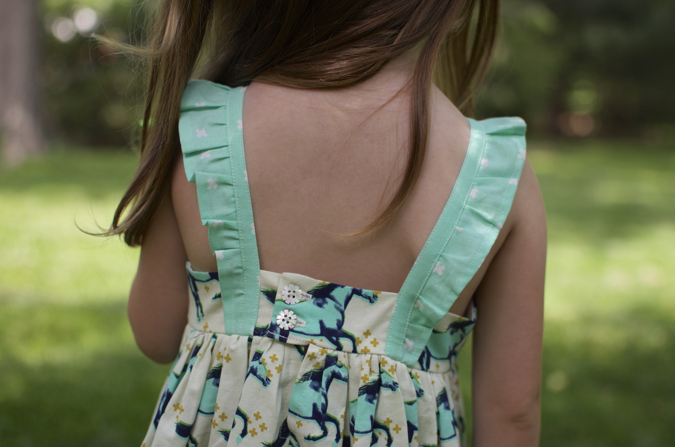 Juniper adores her Edelweiss Dresses!  She lived in her chambray one last summer, and so far this one is in heavy rotation also.  Good thing I just got a brand new Rowenta for all that wrinkly quilting cotton.  As a knits girl, this ironing thing is foreign to me, but the Rowenta makes it ever so slightly more fun, which is really all you can ask from an iron.
For reference, this is a size 3 with an added 2 inch band on my 3.5 year old very tall and slender girl.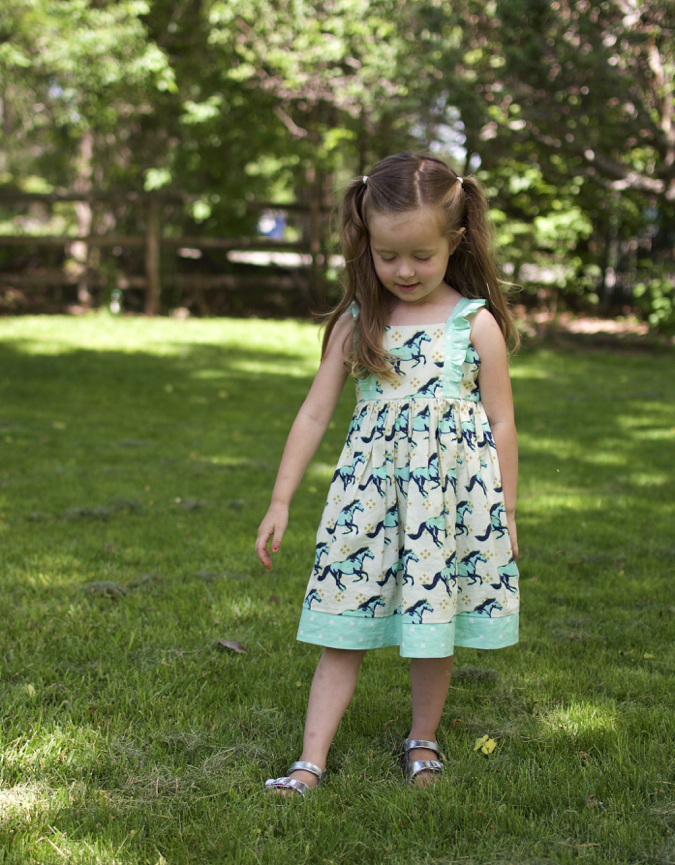 {this post contains affiliate links}