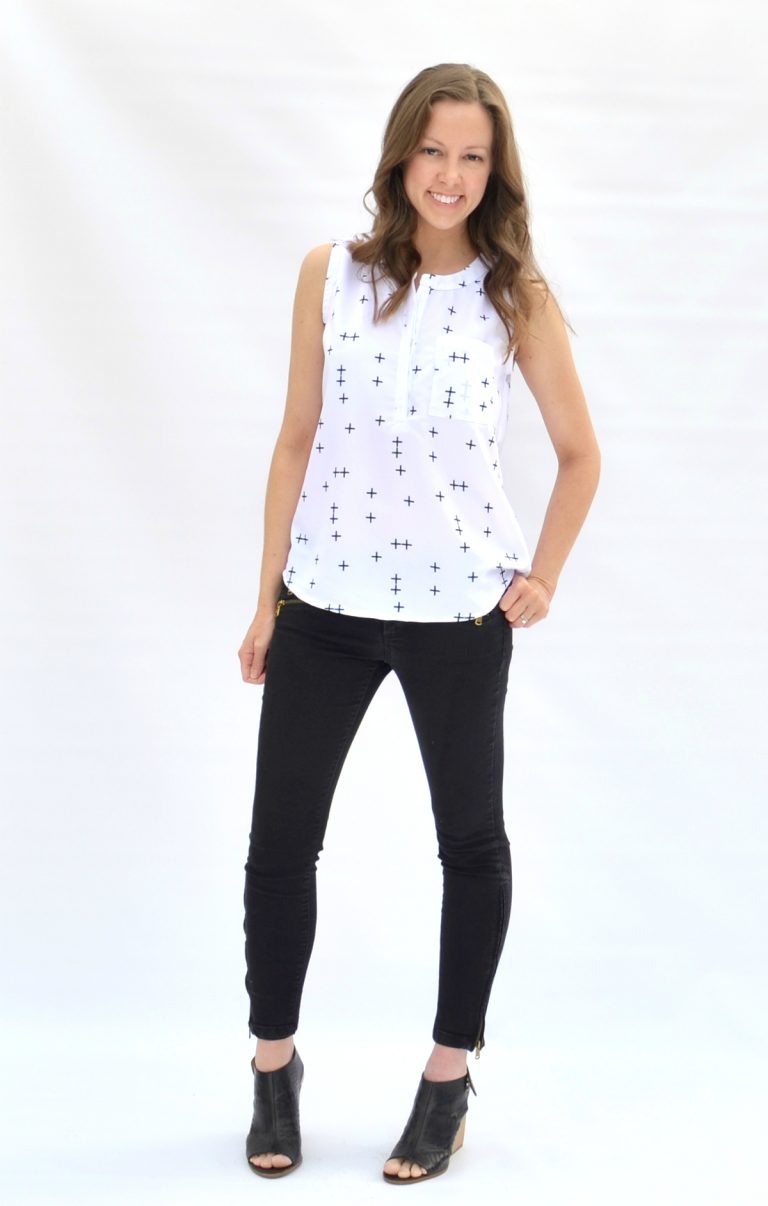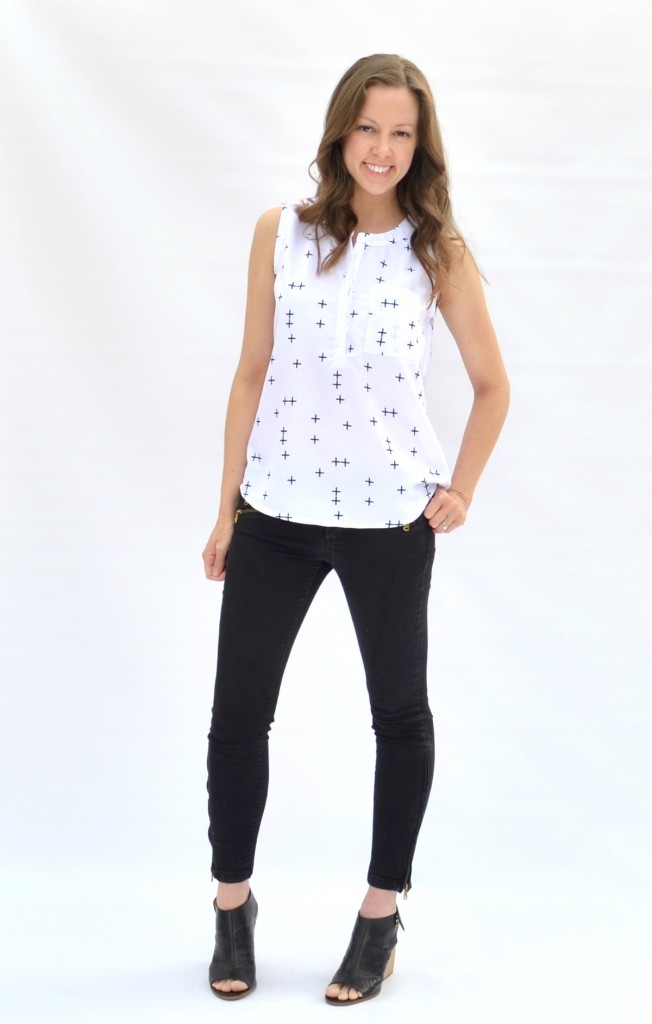 It's safe to say I have a new favorite top!  Meet the Biscayne Blouse from Sprout Patterns!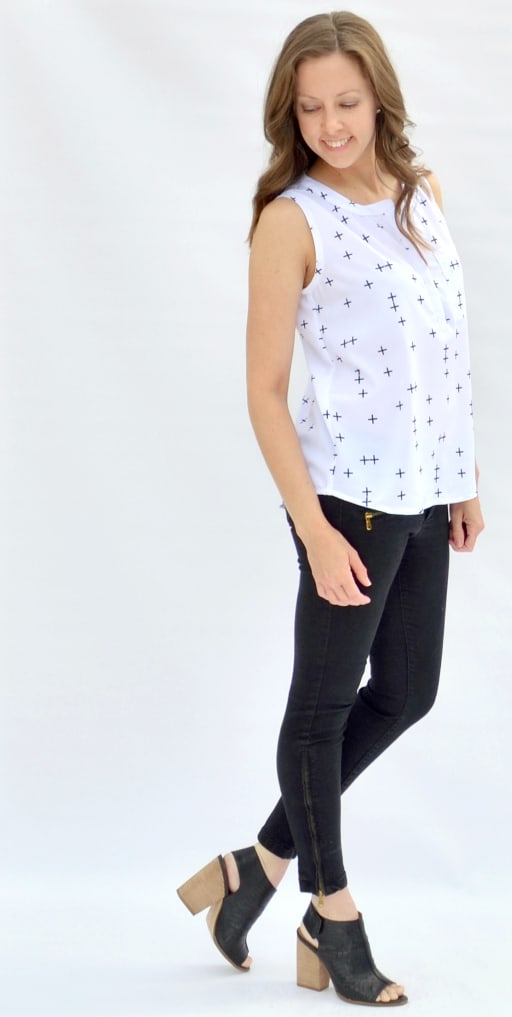 If you haven't heard of Sprout, it's a fantastic new division of Spoonflower!  You can choose from several popular sewing patterns and Sprout will print the pattern pieces directly onto the fabric of your choice!  Yes, it's kinda awesome.  I won't get into the specifics here because Sprout has already laid out the details really clearly on their website!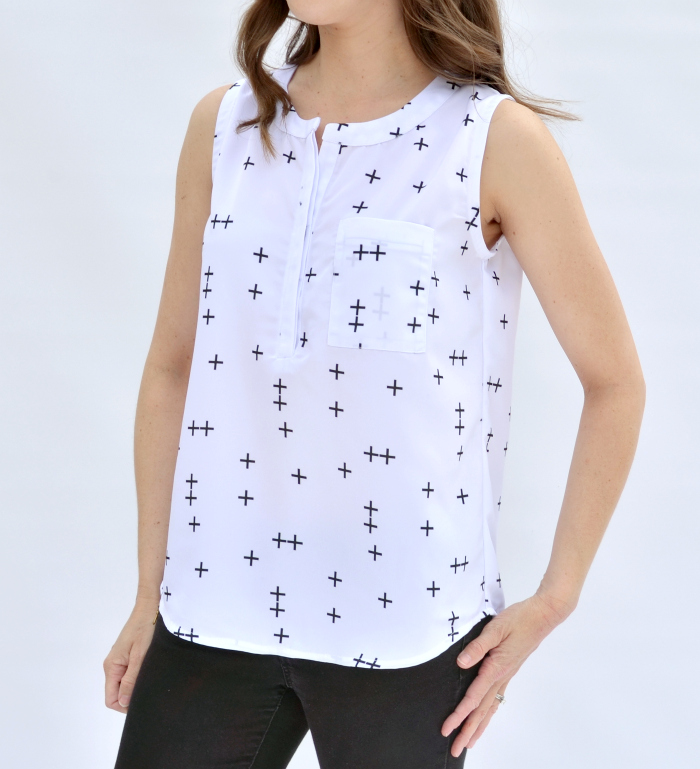 Sprout is currently printing 4 Hey June designs – the Lane Raglan, Sloan Leggings, Aurora Tee, and this one – the Biscayne Blouse!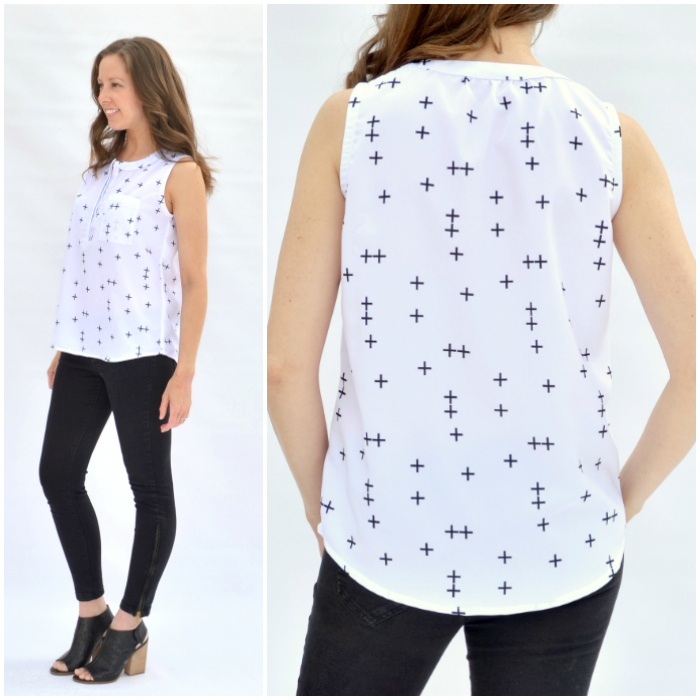 Designing your own garment couldn't be easier….until you get to the part where you have to choose your fabric.  Then it gets exponentially more difficult.  There are thousands of prints to choose from, and several patterns give you the option to mix and match prints too!  I wanted to keep things simple with a fun black and white graphic, so I used the excellent search function on Sprout to narrow down my choices and came across this gem called "cross on white// plus plus" from the fabulous designer littlearrowdesign.  It was perfect for what I was looking for and the final product turned out exactly as I had envisioned it.  I used the silky faille substrate, but each pattern comes with multiple appropriate fabric substrate options.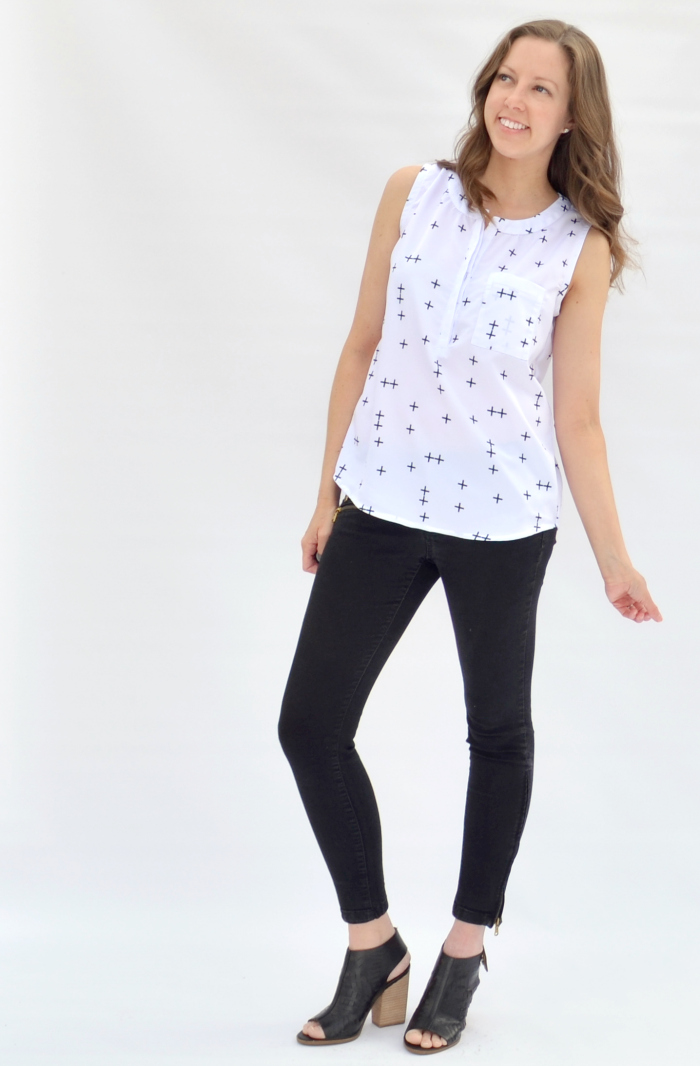 My order came all wrapped up in cute packaging.  Each length of fabric comes printed with the name of the pattern, the size you chose, and every pattern piece labeled and notched.  All you have to do is cut around the black outline!  I felt so spoiled not having to worry about fabric layout and fabric grain and pinning pattern pieces to make sure they didn't shift.  The Biscayne is not a quick sew, but not having to assemble and cut the pattern or lay out all the pattern pieces on the fabric and cut them saved a ton of time and effort.  It was so fun to just dive right into the best part – actually sewing!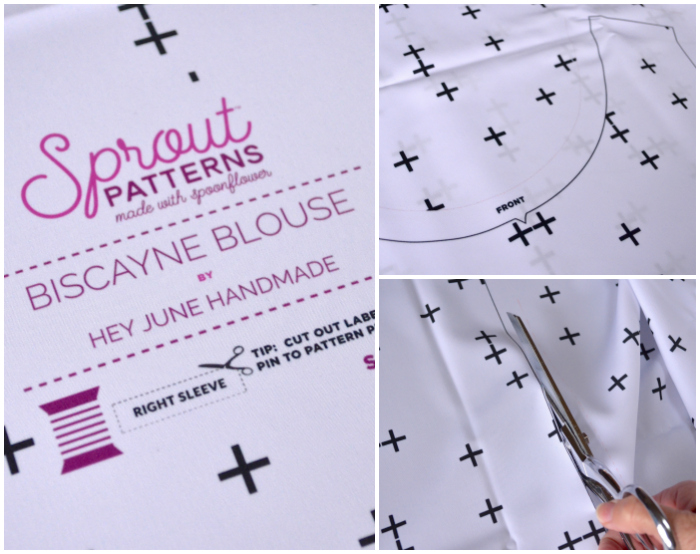 I love the drape and slight sheerness of this fabric (in white – there would not be any sheerness with any other color).  I think it worked perfectly for a simple yet polished top that I can dress up or down.  It'll be great for going out this summer or any time I need to dress business casual (or for posing in my front yard during a random yet common 70* Denver winter day).  The silky faille also sewed up extremely well.  If this is your first drapey or silky fabric I highly recommend it.  In fact, I probably could've gotten away with eliminating the full interfacing because the fabric is so stable.  And yet, it still maintains a nice drape in the finished garment.  It definitely looks and feels like the polyester it is, so be aware that it does have that slight sheen associated with polyester, and you'll have to be very careful to iron with low heat and use a press cloth.  But in the end it's totally worth it!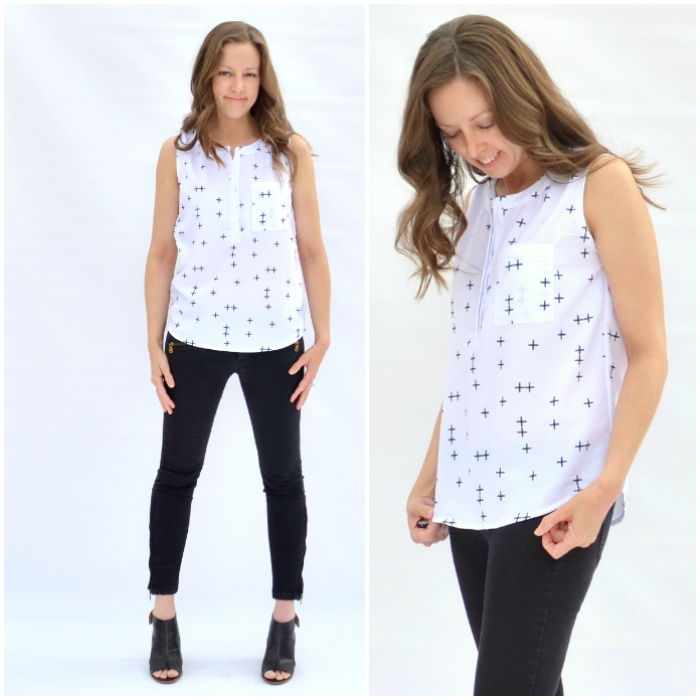 I love how this top looks here styled with some edgier moto jeans, but I can also envision it tucked into a pencil skirt with a great blazer, or worn with jeans and a floppy hat.  I love this pattern for its versatility!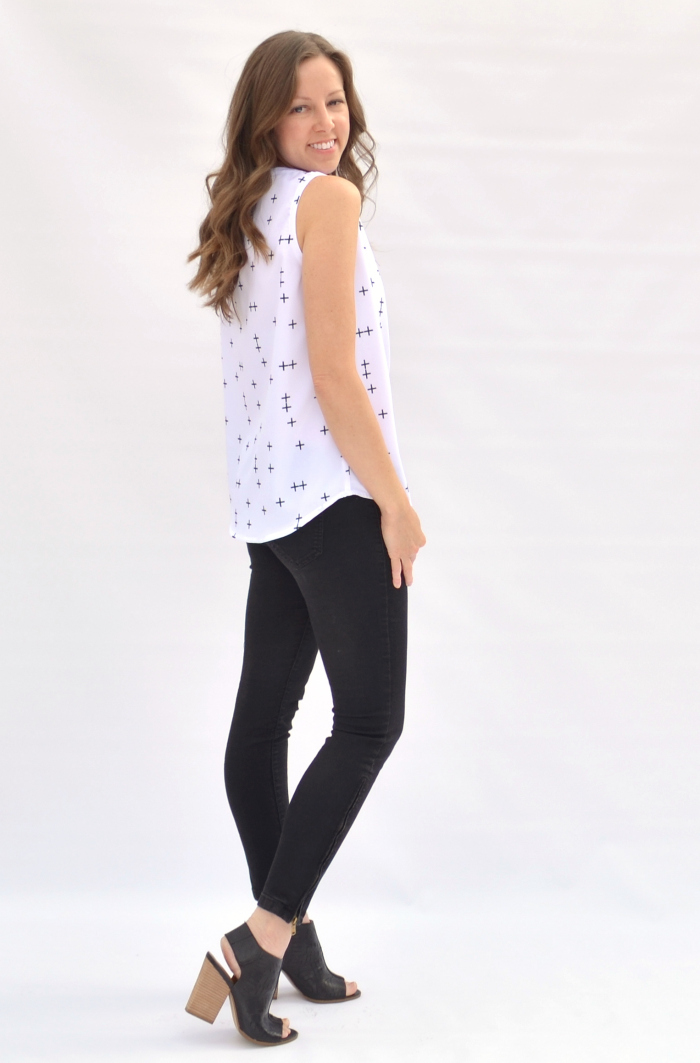 Are you ready to go design your own garment?  I gotta warn you, it's highly addicting!  Once you start pairing prints and applying them to all the great patterns available it's really hard to stop!  I had to talk myself down off a ledge several times and remind myself that I won't actually wear a floral and plaid shirt in real life.  But it's so fun to dream and design!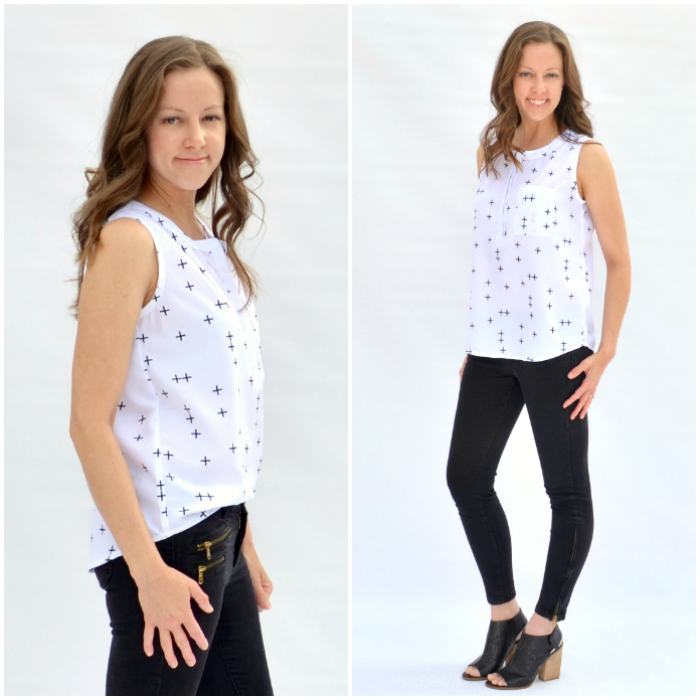 If you want to give it a shot, head over to Sprout Patterns and use code "HEYJUNELOVE" to get 25% off any Hey June pattern on Sprout for the rest of the week!  Not only will you receive the fabric printed with your size in the pattern you choose, but you also get a complete copy of the original pdf pattern with your purchase!  For Hey June patterns, that's a $10 value!  That way when you're done making your Sprout garment, you can still use the pattern to make other versions or sizes.  I love that Sprout offers that option and I think it's a huge value for customers.  I've been talking to the lovely folks over at Sprout for almost 6 months now and I have to say that they are so sweet, fun, and committed to this ingenious project.  They're really just a bunch of people who love to sew, create, and innovate, just like you and me.  So get over there!  It's a virtual playground for designers and sewists and I know you're going to have a blast playing around on the Sprout website!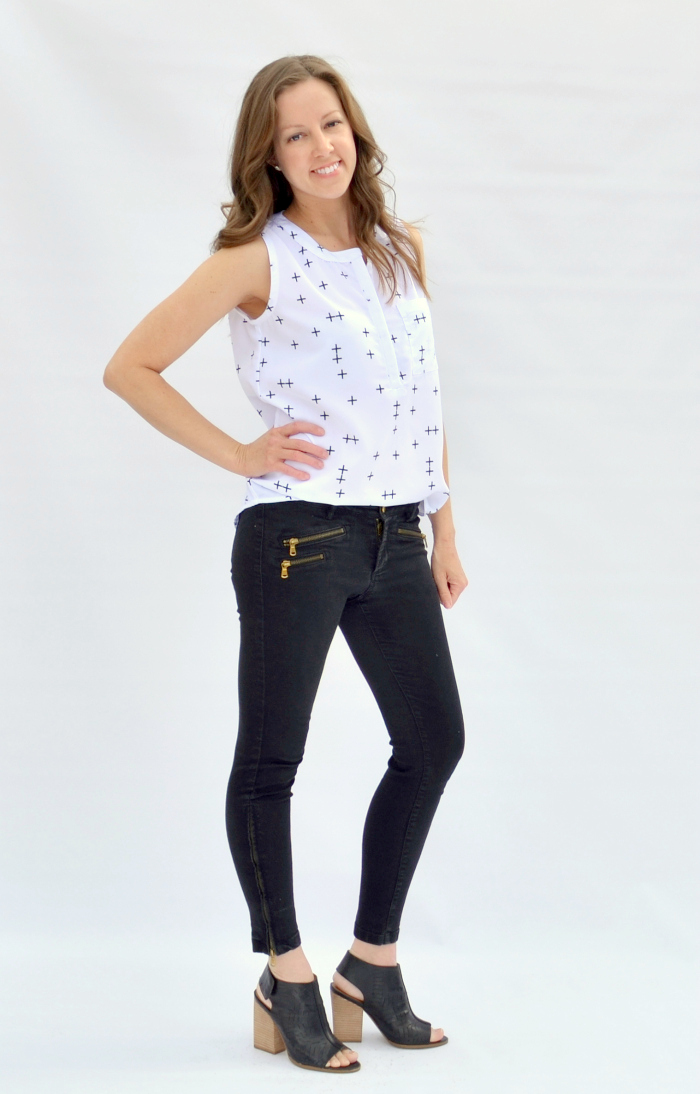 Outfit details
top: Biscayne Blouse//Sprout Patterns
jeans: Zara
shoes: Report//Zappos