I'm so excited to announce that after being a staple Hey June pattern for over 2 years, the Lane Raglan has received a full make over and is now back and better than ever!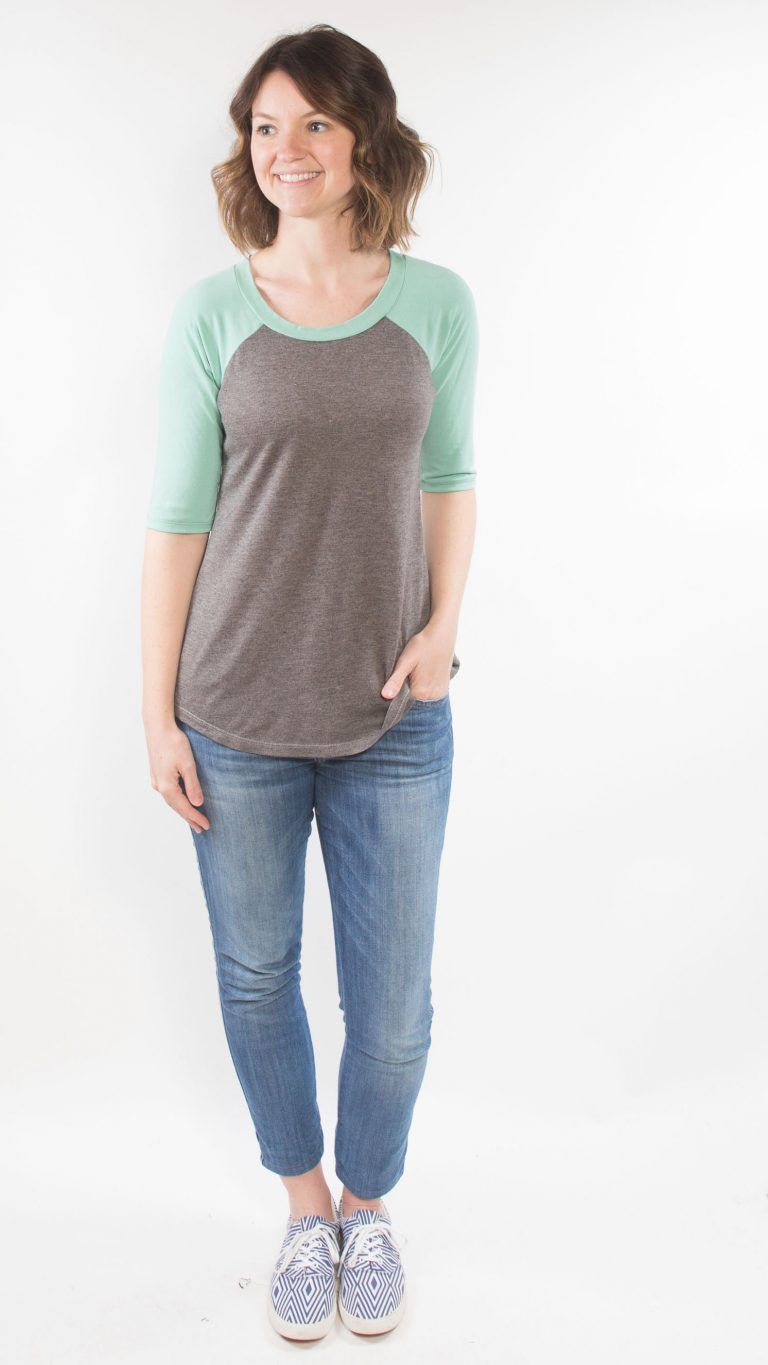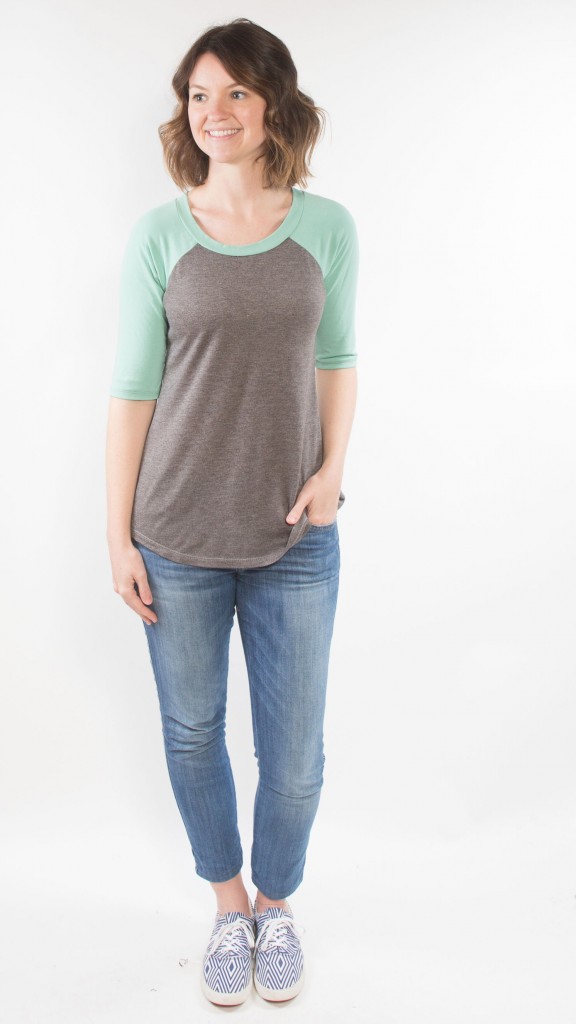 The Lane started as a simple raglan top with banded sleeves and hem.  About a year ago it was updated to include a hood and thumbhole wristbands so it could be used as outerwear as well.  The brand spanking new Lane now includes options for a curved hemline, elbow length sleeves, 3/4 length sleeves, and long hemmed sleeves with no band.  The upper chest area and sleeves were slimmed down for a better fit, and the raglan seams were curved and slightly rotated for a more flattering feminine shape.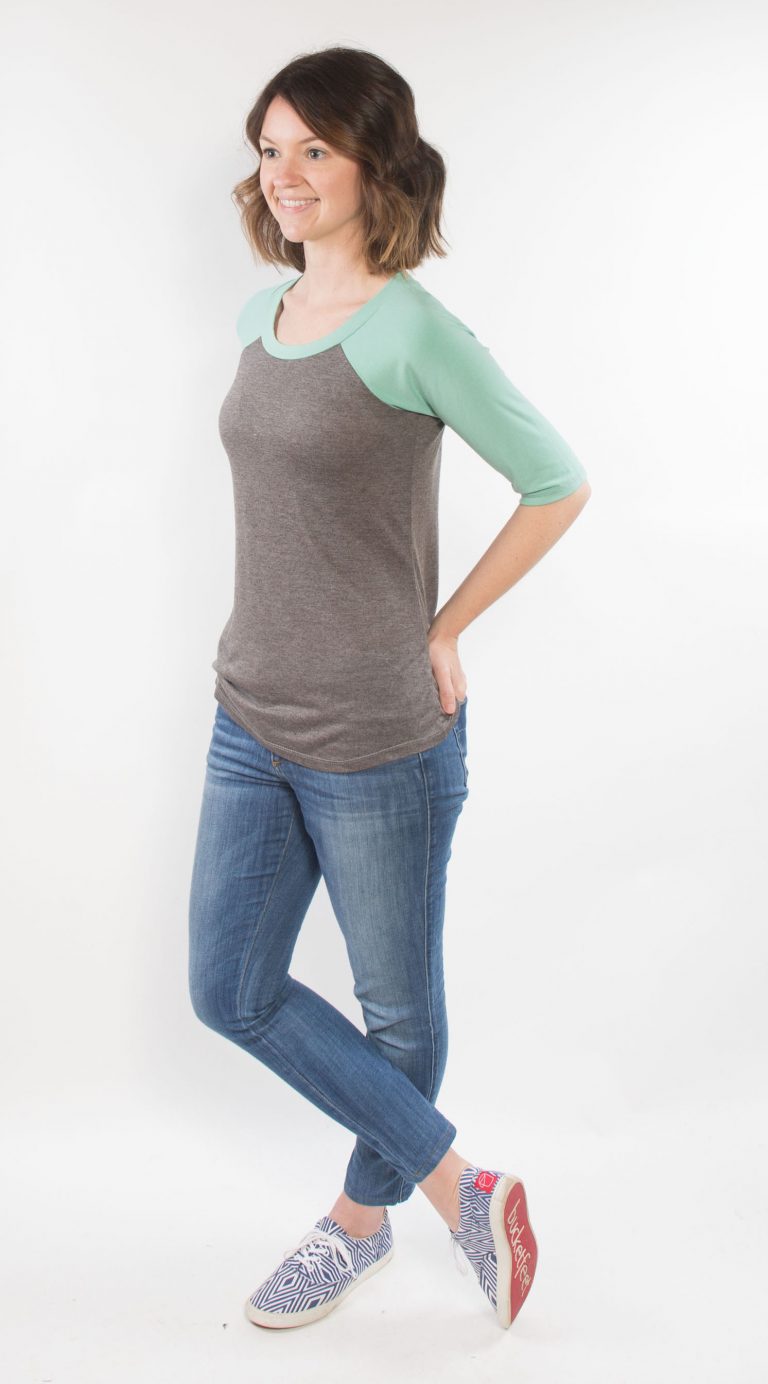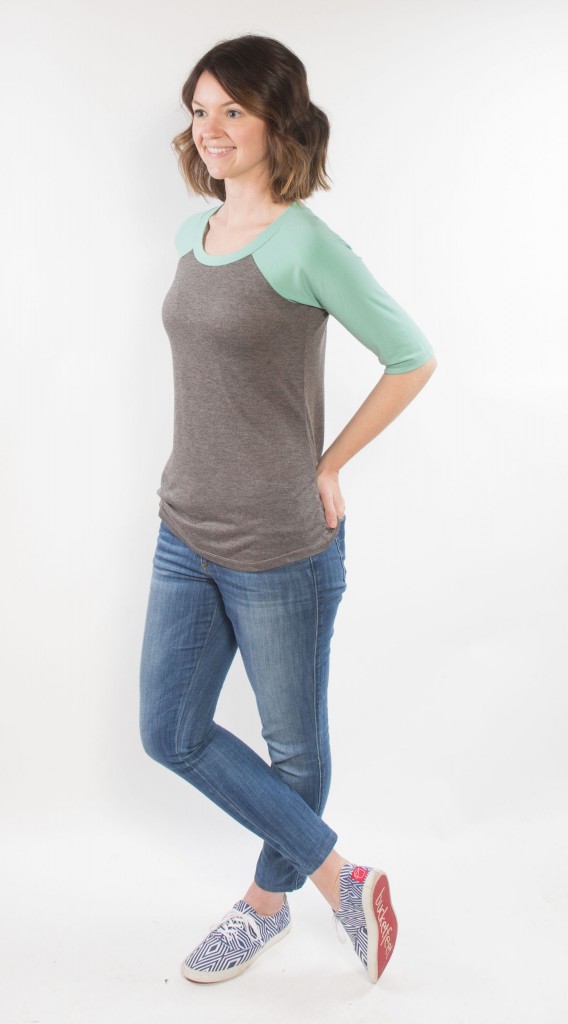 But perhaps the most exciting addition to the Lane is that it now comes with a separate front piece with a built in full bust adjustment!  The pattern instructions help you find the difference between your upper and full bust and depending on that measurement you may find that you need the full bust adjustment.  If you've ever experienced fabric stretching under the arm or wrinkling at the raglan seam, chances are the full bust adjustment is for you!  The best part about having a pattern that is adjusted to fit a larger bust is that you don't have to sacrifice a great fit at the waist or hip to get it.  The rest of the pattern remains exactly the same, only the bust size is increased.  Your days of sizing up and wearing a tent just so your bust will fit are over!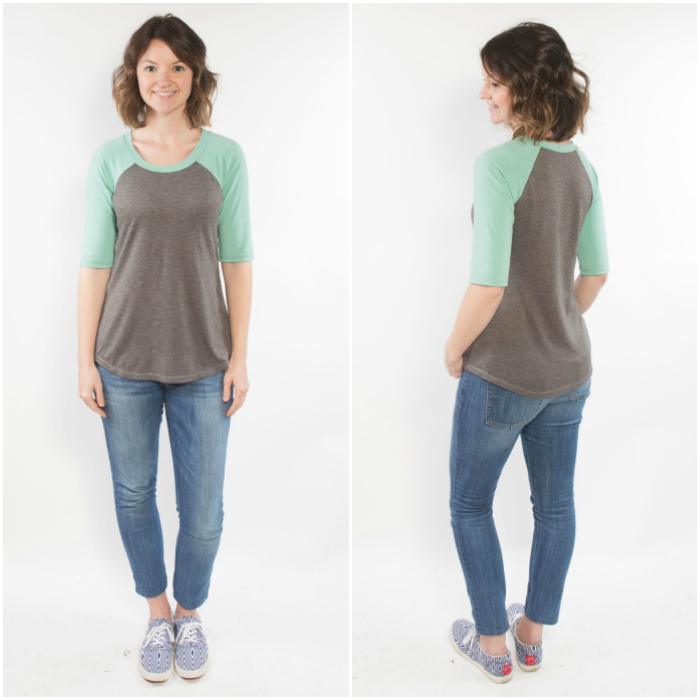 The Lane looks great in just about any kind of knit fabric with at least 30% stretch.  You can make it in a soft and drapey rayon blend like this gray and teal top and have a super comfy slouchy top…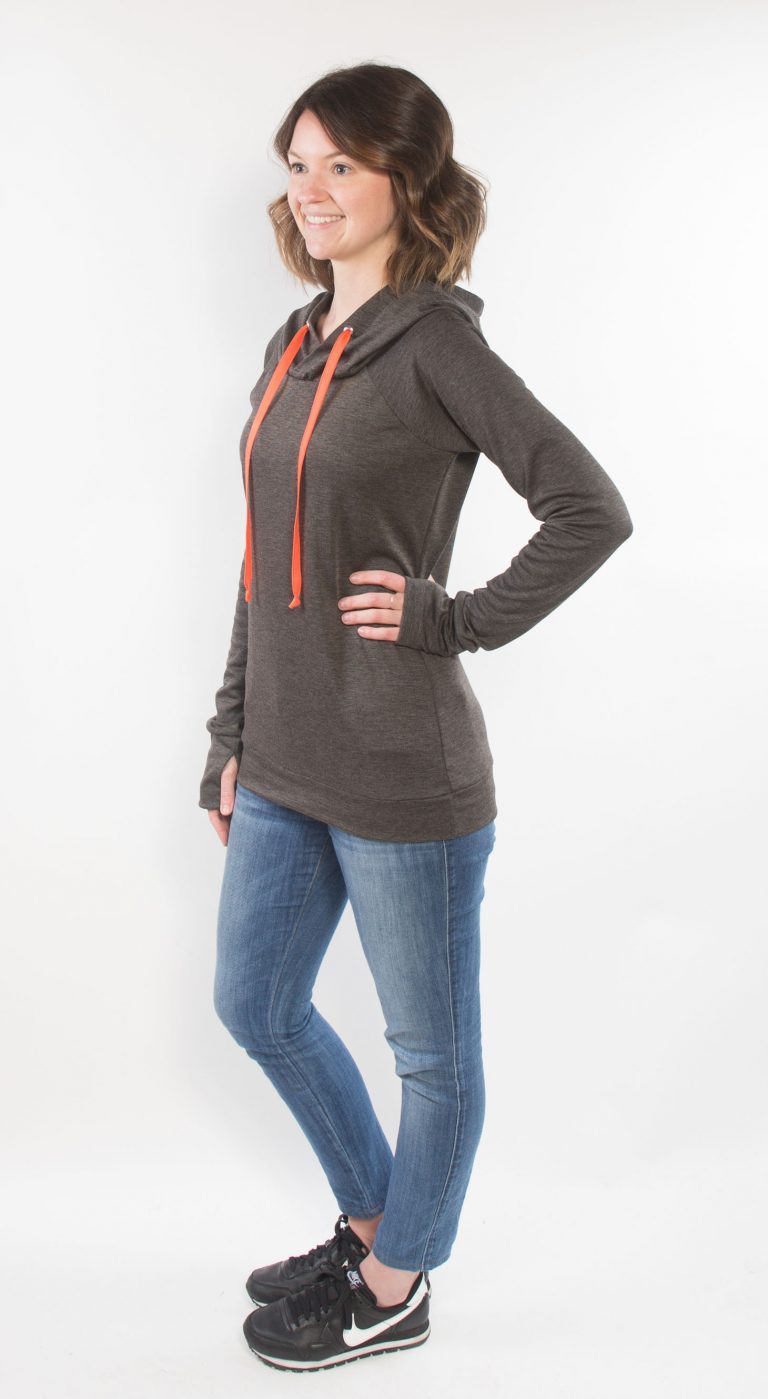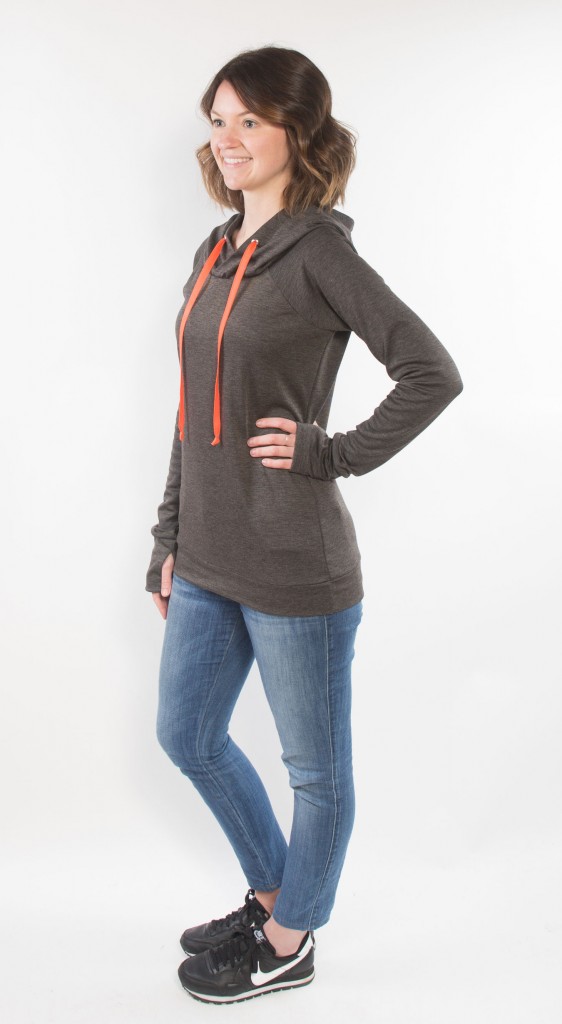 ..or use a thicker knit and size up for a fun hoodie or workout jacket for cooler temps.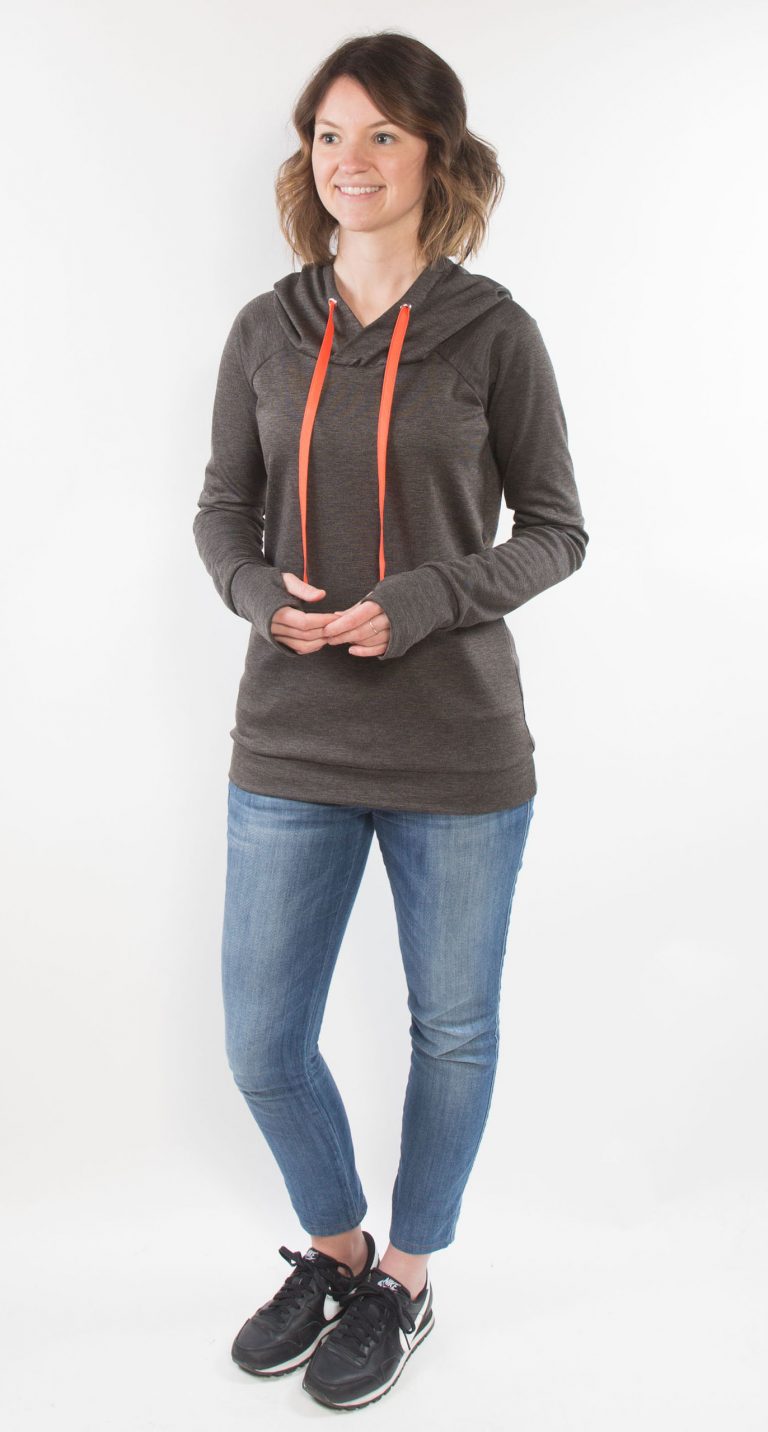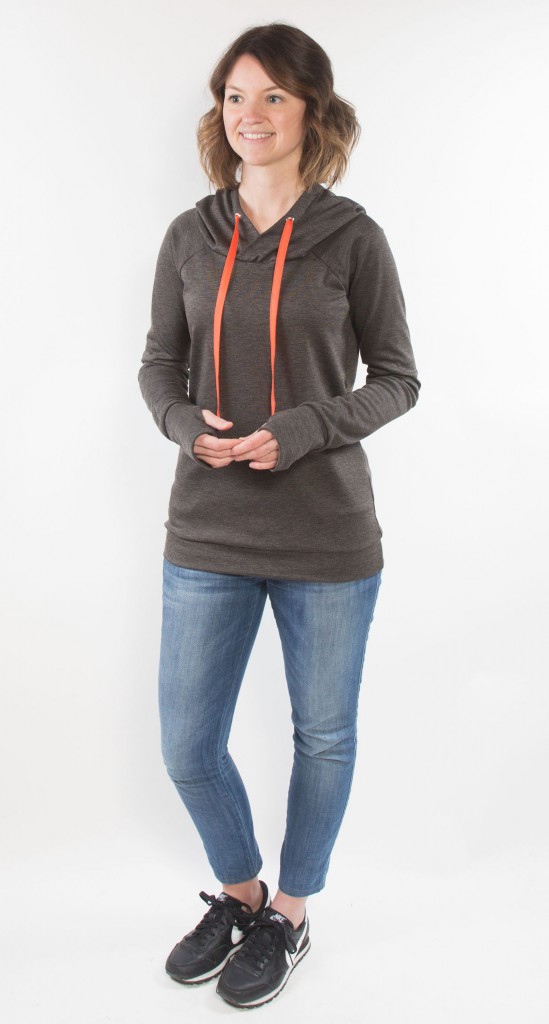 Fabrics with a stiffer hand like cotton/spandex (often referred to as Cotton/Lycra™) will yield a nicely fitted shirt, whereas fabrics that are blended with bamboo, rayon, silk, or poly will be looser and have more drape.  You really can't go wrong with any fabric you choose for your Lane Raglan!  Try out a bunch of different combinations of fabric blends, prints, solids, and color blocking and you'll have a different shirt every time you make this wardrobe staple!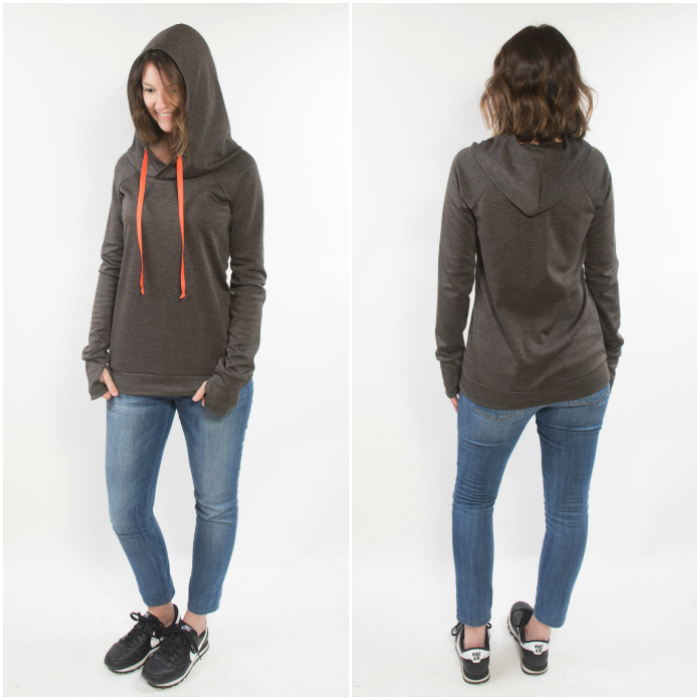 The Lane Raglan currently has around 650 posts under the hashtag #LaneRaglan on Instagram, so there is a huge wealth of inspiration for you!  I've seen it made into a casual baseball tee, a dressed up lacy number, a sweatshirt, a swim rashguard, an open front cardigan, and even cropped to wear with a matching high waisted pencil skirt!  The sky is really the limit on the ways you can hack and transform this basic pattern to be whatever you need it to be!  Once you find your perfect base fit and know exactly what fabrics will work best for the look you're going for,  you'll be able to whip up a simple tee in only about 45 minutes.  I really recommend tracing a copy or two of your size so you can have a couple blank copies to "hack" when inspiration strikes!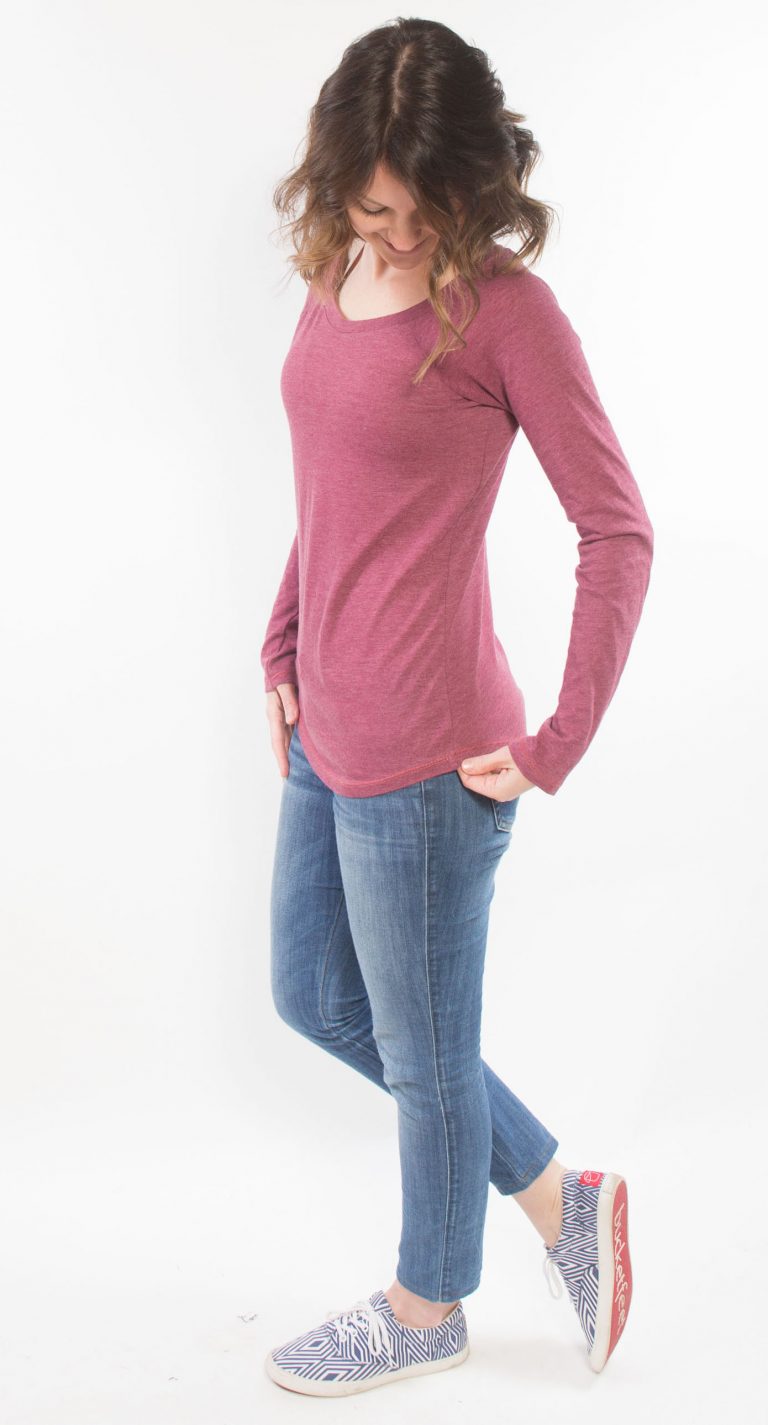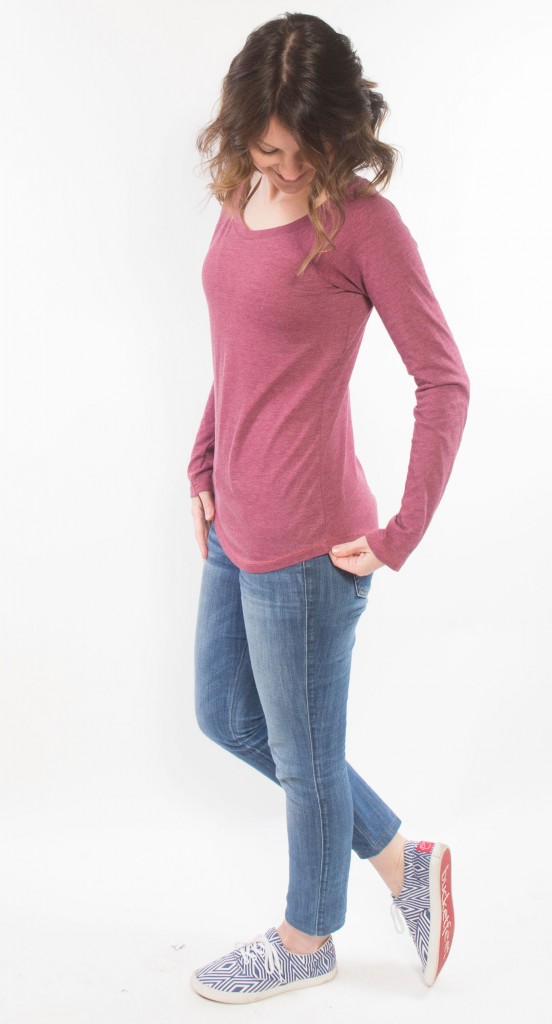 Like all womens' patterns from Hey June, the Lane comes with the option to print layers (print only your size, or only the sizes you select).  You can also have it printed at a copy shop on a continuous sheet of 36″ wide paper, or on two pieces of A0 sized paper for your convenience.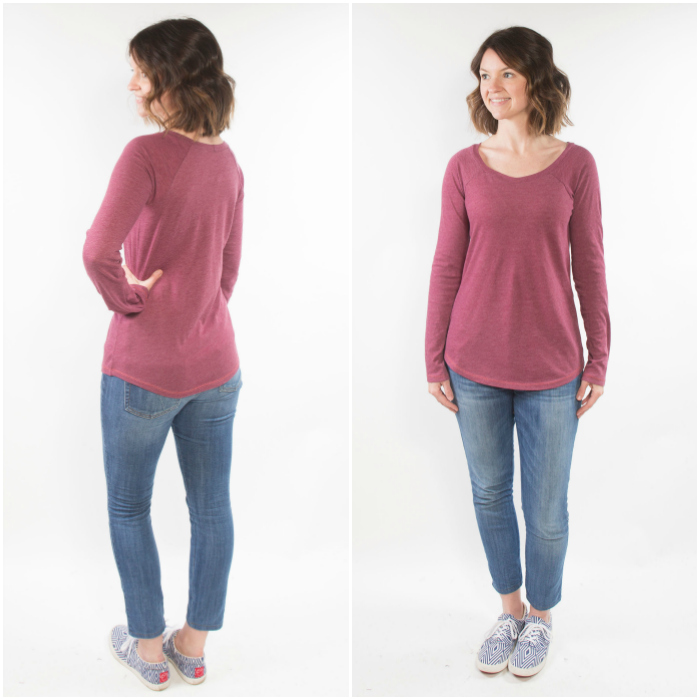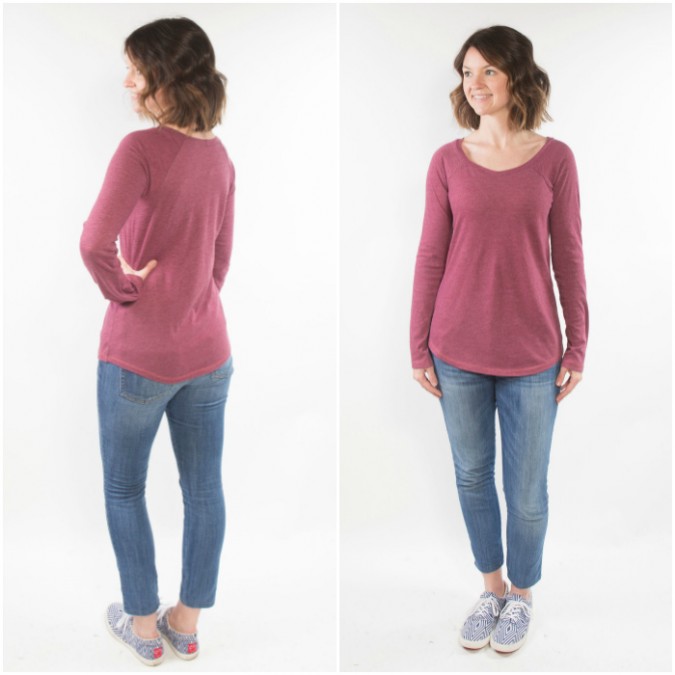 Are your ready to add this workhorse pattern to your library?  You can get the brand new Lane Raglan for only $7.50 now through Monday, February 29th, at 11:59 pm MST.  No coupon code necessary!  If you've purchased the Lane in the past, it will automatically be updated in your account.  Simply log in and re-download the file.  Contact [email protected] if you have any questions about prior purchases.
So tell us – what Lane will you make first?!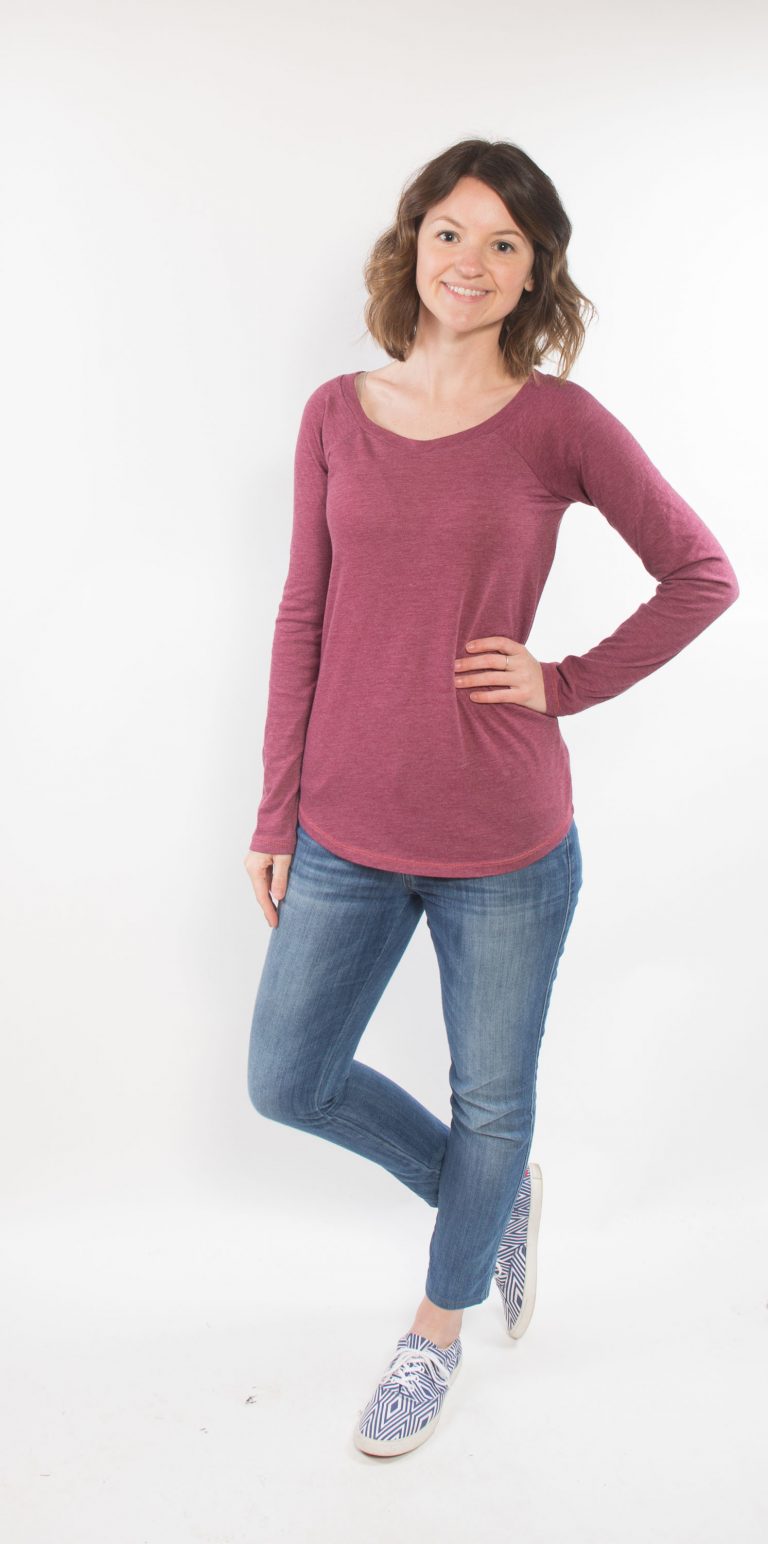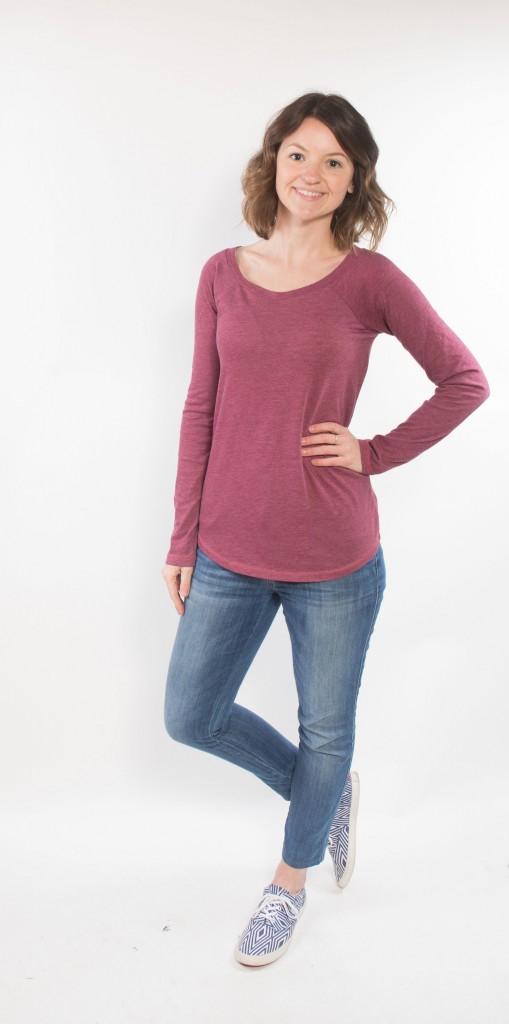 Model is the always lovely Allie of Indie Sew.