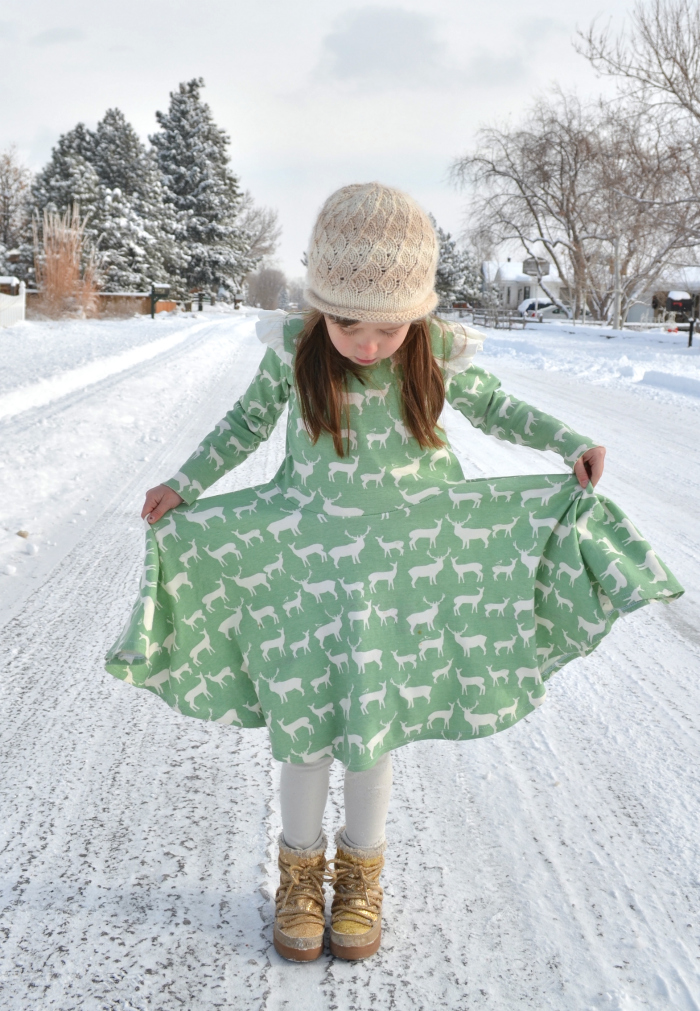 Hi guys!  I'm popping in today to share my youngest daughter's Christmas dress (the older two have flannel plaid Larkspur dresses!)  We don't usually dress up too much for the holidays, but I realized her preschool was having their annual performance and she was at risk of yet again being the only girl there without a fancy velvet and tulle dress.  Well, I didn't resort to taffeta, but I did decide she needed a dress 🙂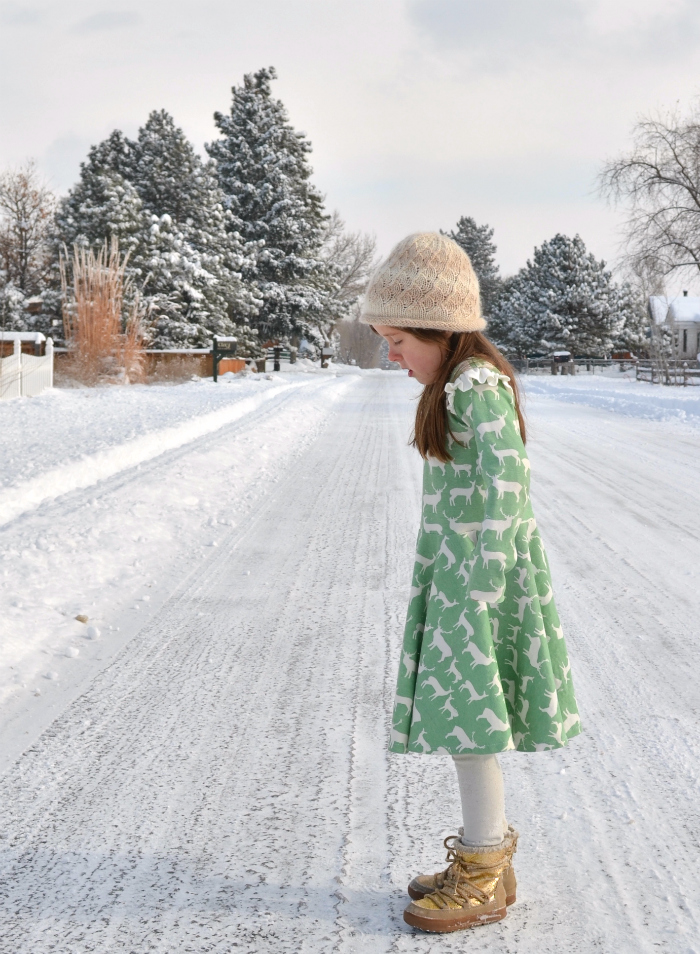 This dress is made with the super soft and easy-to-sew organic Birch interlock knit.  If you're new to the world of knits, this is a great substrate to start with.  It's 100% cotton so it behaves like a woven in many ways.  It's a heavier weight and doesn't curl or shift and sews just as well with a sewing machine as it does with a serger.
The pattern is of course the Pistachio Tee from Sew Like My Mom.  This is my go-to knit bodice for just about anything I want to sew for this kiddo.  I already know the body and sleeves fit beautifully, so it's easy to get whatever look I'm going for from there.  My only hacks on this one were to lower the back neckline to a deeper scoop and finish the neckline with a facing instead of a band.  I also tapered the bodice at the waist by about 3/4″ (for a total loss of 3″) because I wanted it to be more fitted.  The Pistachio comes with a circular peplum that you can easily extend into a dress length, but since I changed the measurement of the waist, I just cut my own circle skirt.  Of course that means the back of the skirt is upside down, but I don't care and she doesn't know 🙂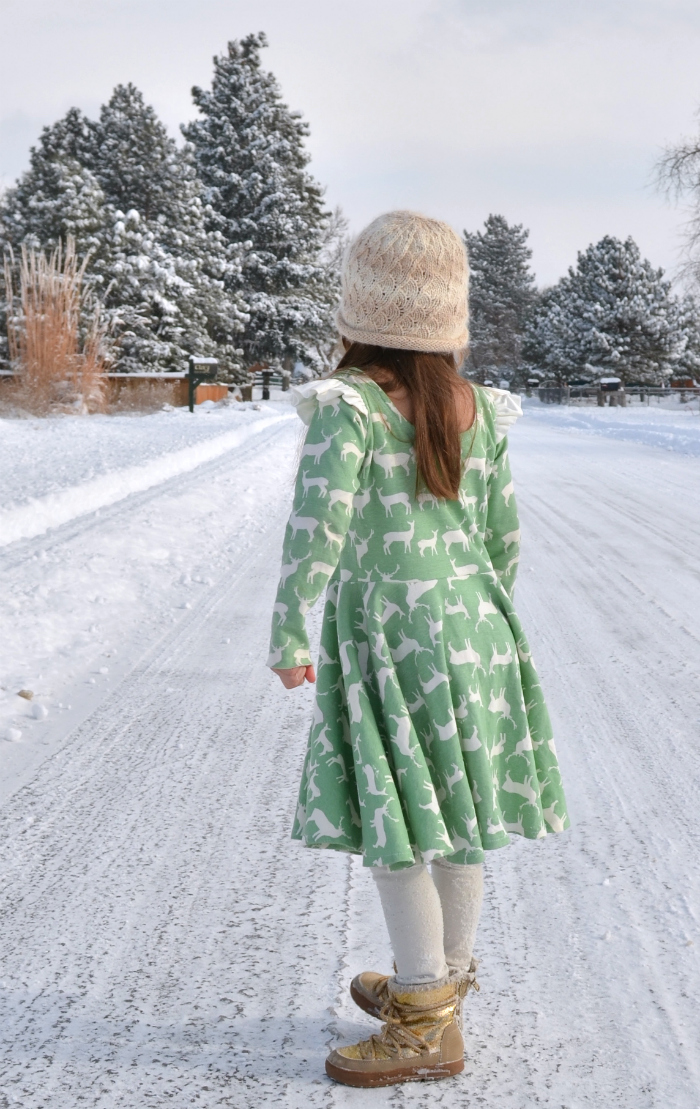 I did size up for this Pistachio since she's currently between sizes (she turned five today, sob!)  I want this one to fit next fall because I'm lazy.  I think it looks cute now and provides plenty of room for growth.  Of course you're also seeing it stretched out since she wore it all day the day before these pictures, slept in it, and wore it all day again.  How's that for a wrinkle-resistant fabric?!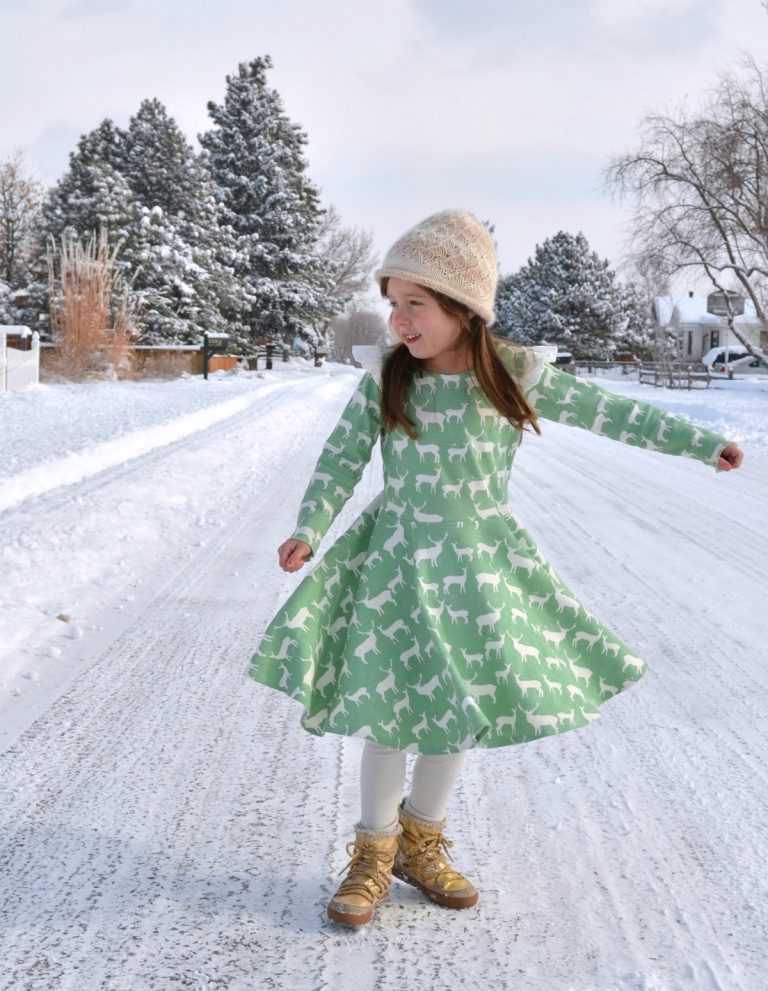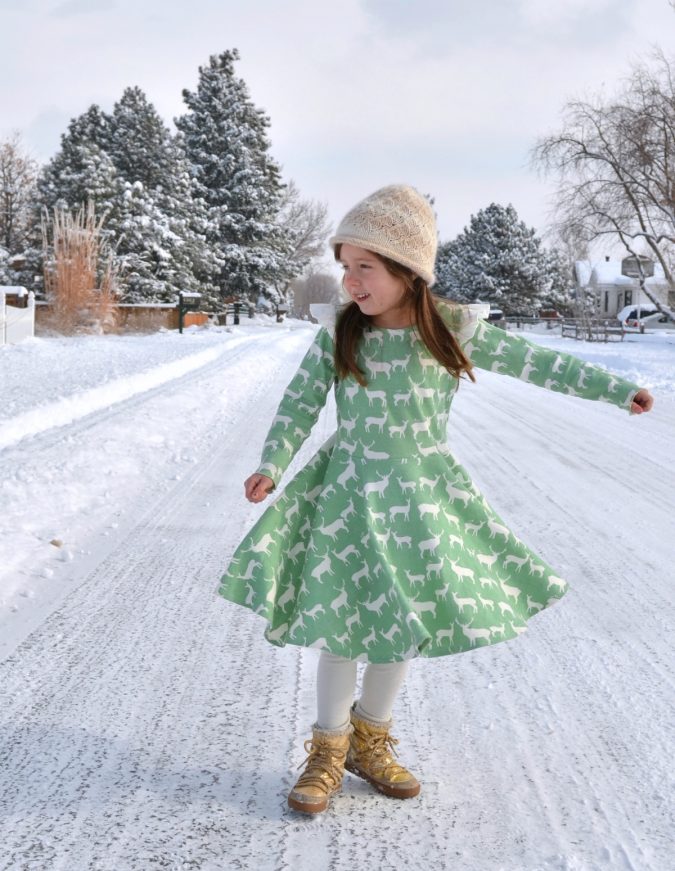 Those shoulder ruffles are my fave.  Perfect little holiday flourish.  (ps: the Pistachio is actually a unisex pattern and comes loaded with options – go check it out!)