It's time for the best part of a new pattern release – the tester round up!!  I am always excited about this part, but I am especially thrilled to share the Amalfi Dresses these fabulous ladies made.  Maybe it's the change in weather and all the beautiful drapey, Springy dresses that illustrate it, or maybe it's just that these women are flat out talented and amazing and I love everything they do.  Either way, here they are in alphabetical order – enjoy!
I have no words for Cat's Amalfi Dress besides stunning!!  Those hyper saturated colors are just so lush and summer-y.  Cat used the view B skirt and the short sleeves for her pretty dress.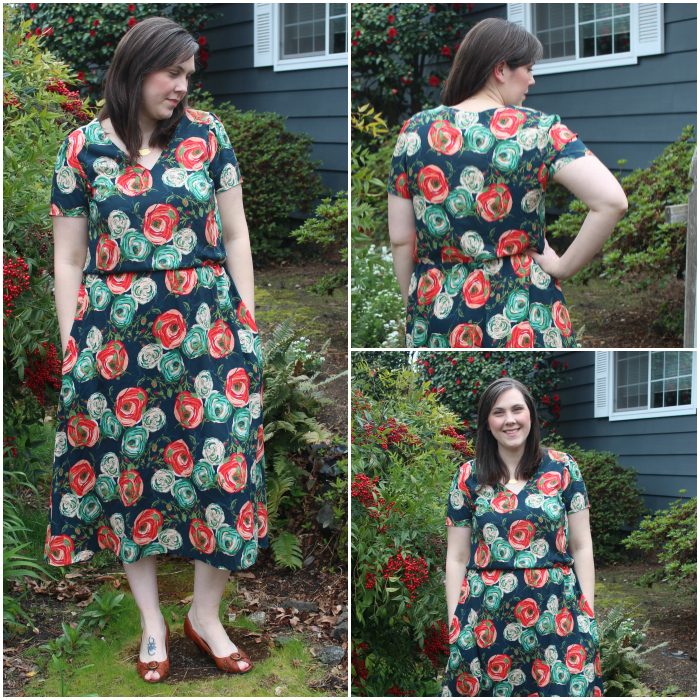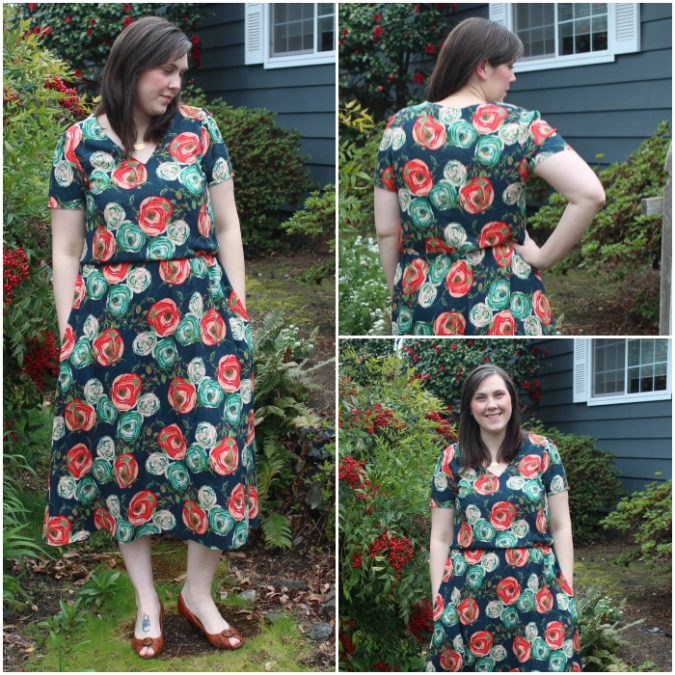 Cori made the perfect dress for a beach vacation!  I can just imagine family photos at the beach or a nice oceanside dinner in this pretty nautical-inspired dress!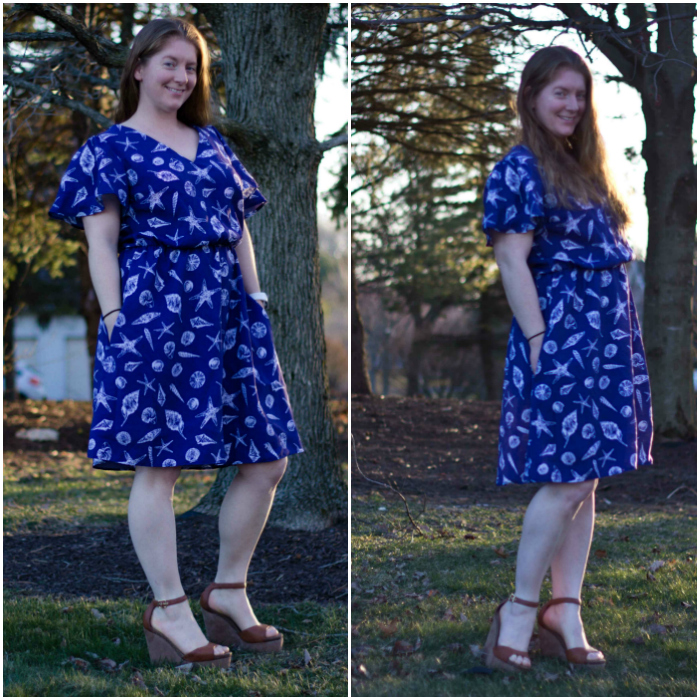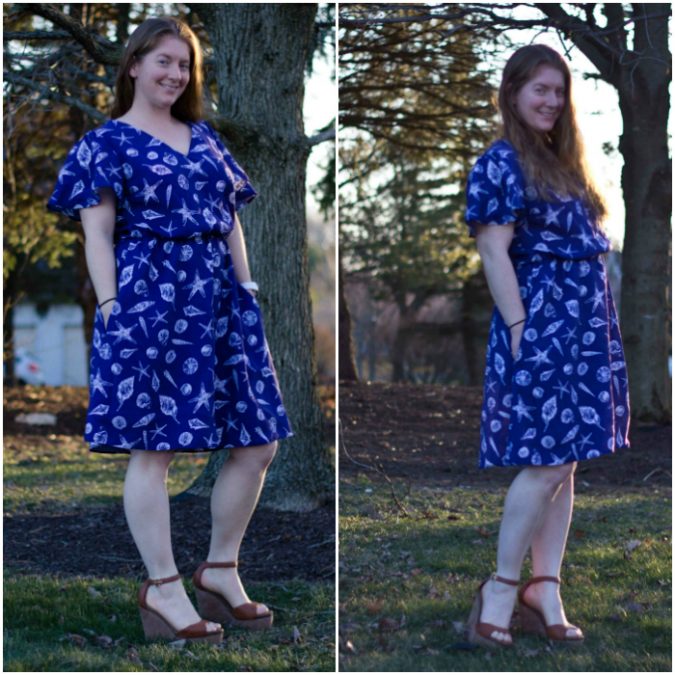 Crystal always nails her fabric choice in both texture and color and this time is no exception.  Love this breezy and simple view A with flutter sleeves!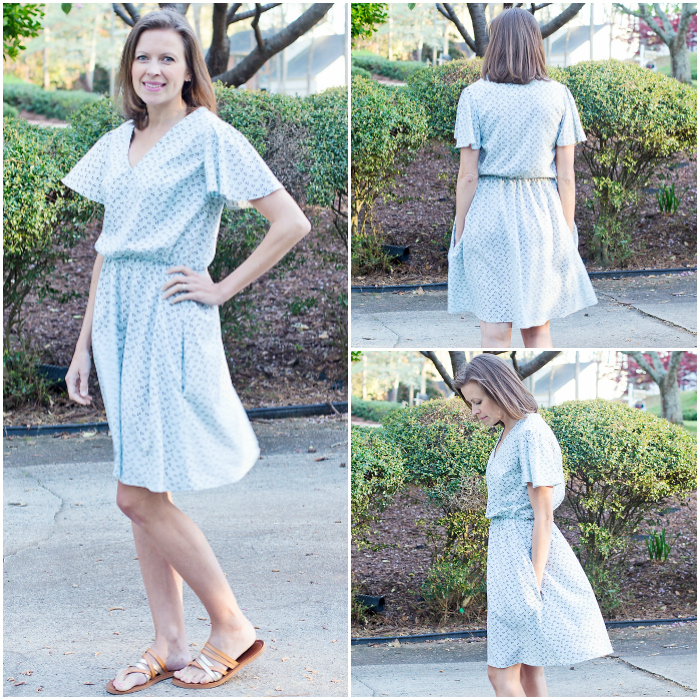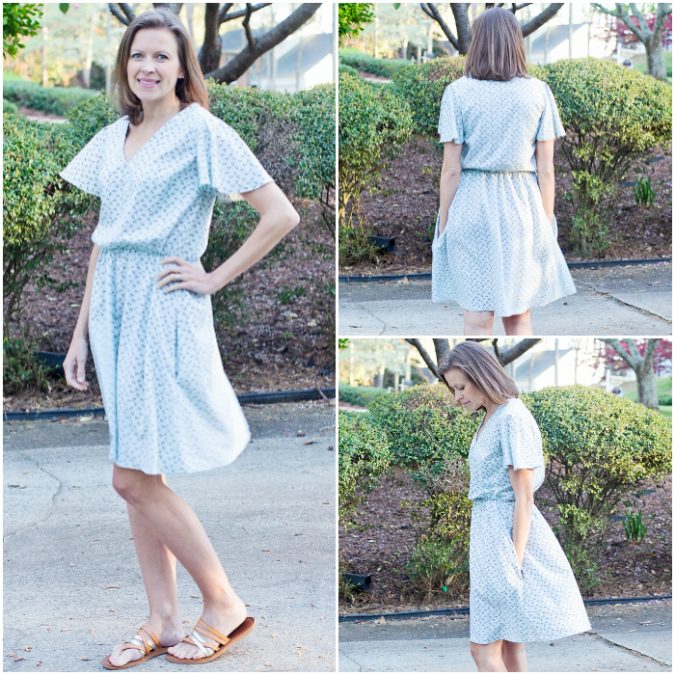 Emi was initially uncertain about using two different fabrics but we all assured her that it looks amazing!  I really love how it makes the dress look like separates, yet still has the ease of a dress.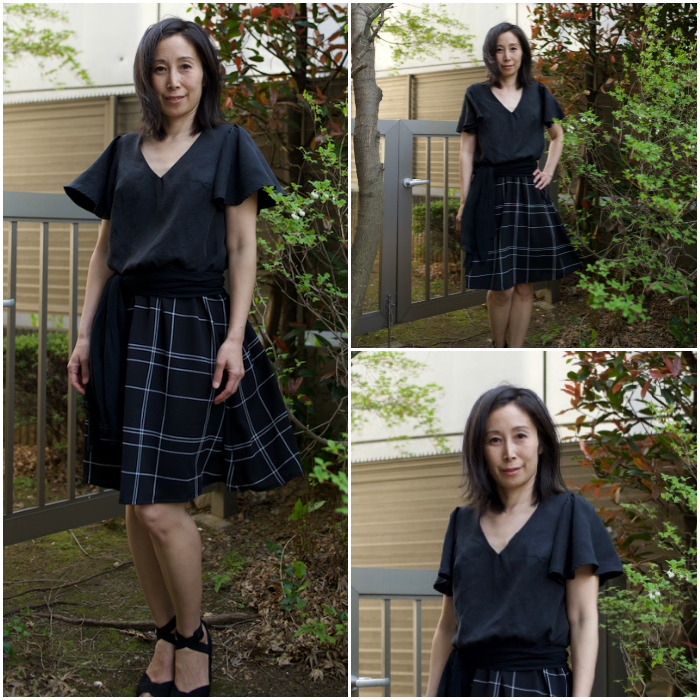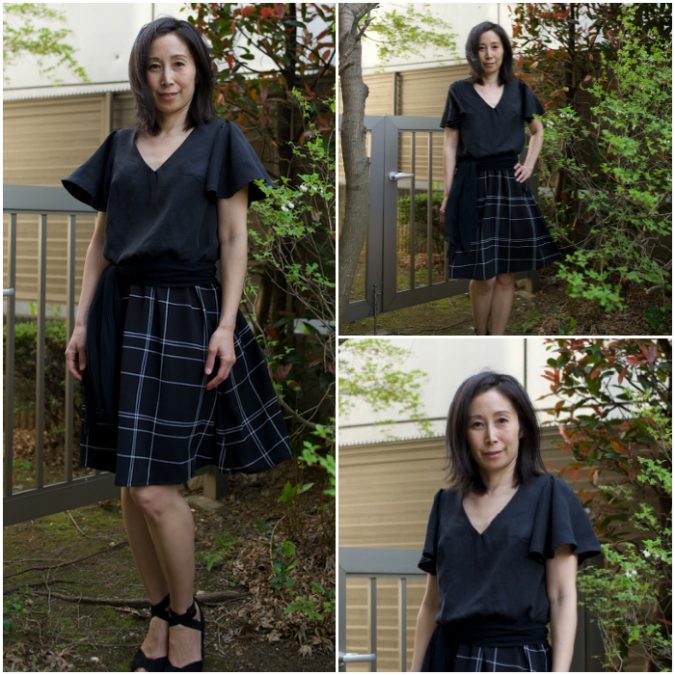 Emily made a simple yet classic chambray version with the view A skirt and short sleeves.  The styling options on this one are innumerable!  I would live in this all summer!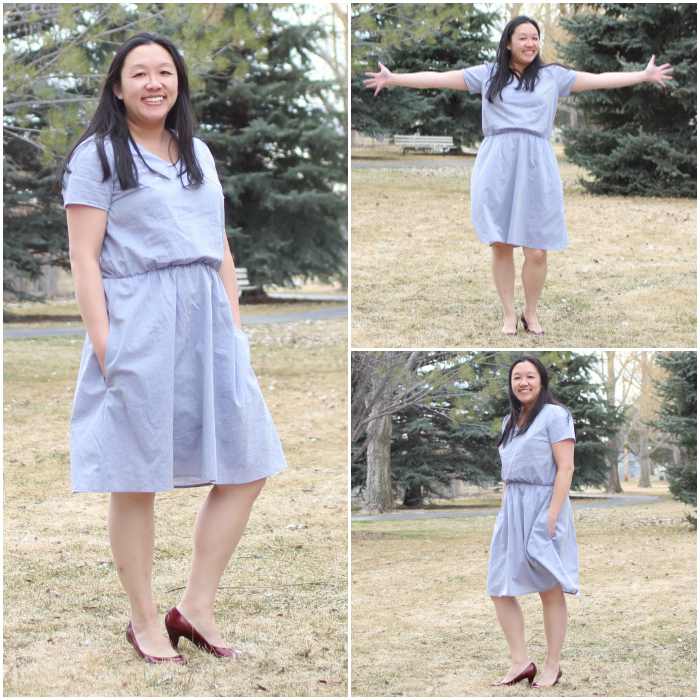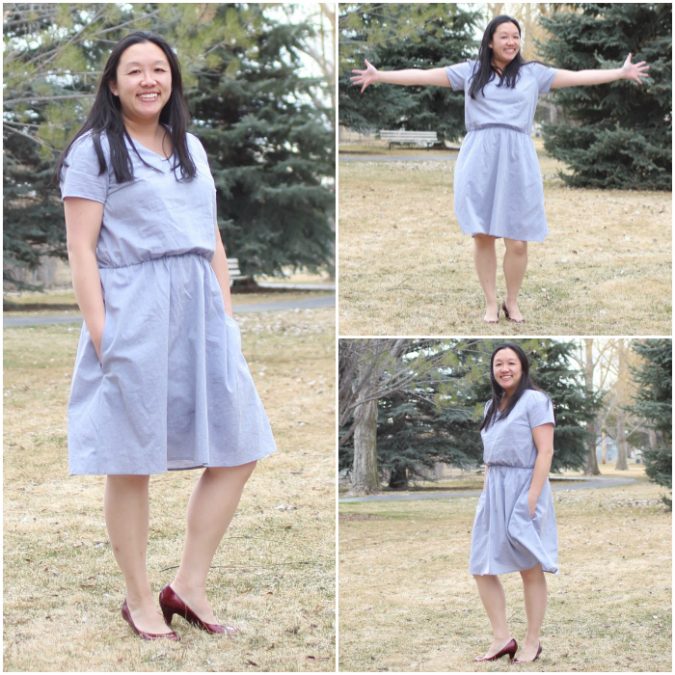 Indu's rayon flutter sleeve Amalfi is everything drapey dress dreams are made of.  I think the print makes it fancy enough for a summer wedding, but still comfortable and easy to wear!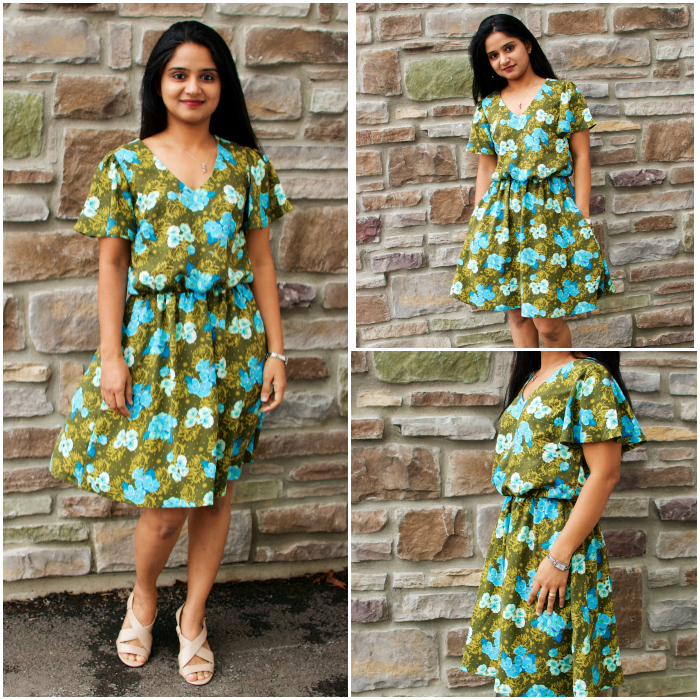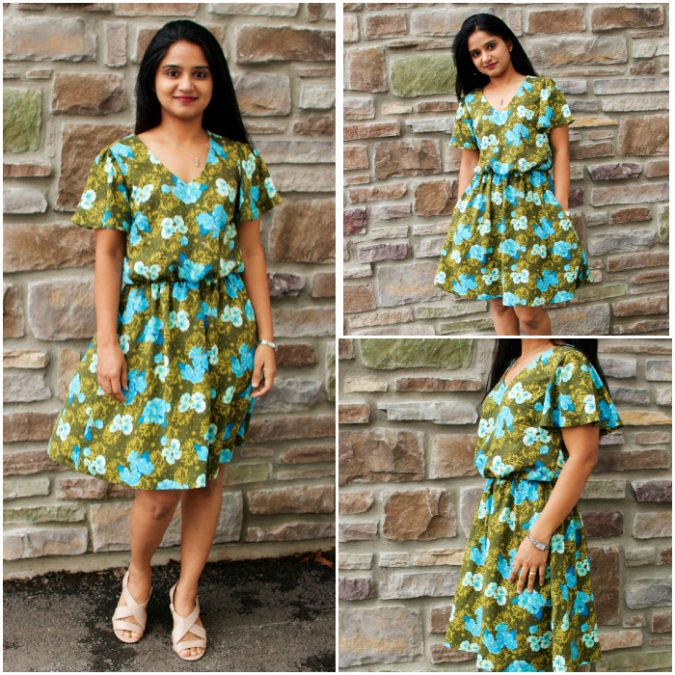 Jill is looking gorgeous as usual with that bold cobalt fabric.  Because the lines of the Amalfi are simple, is so great for featuring a beautiful print or a solid color that highlights your coloring perfectly like Jill did here.  I love the Amalfi paired with gladiator sandals too!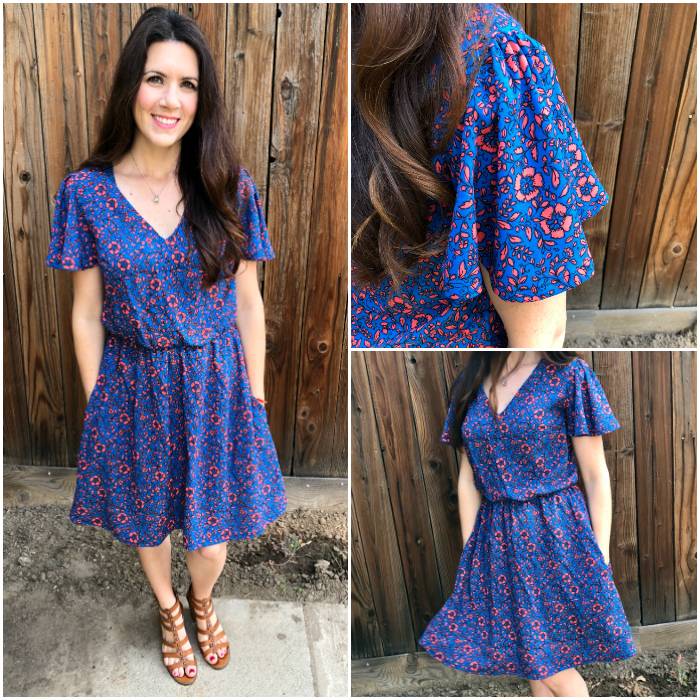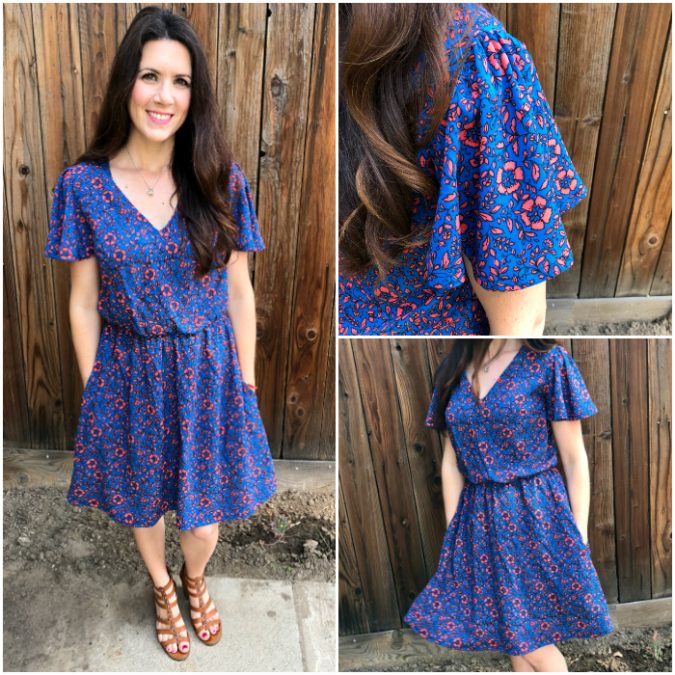 Beth used a trendy and beautiful tie dye effect fabric for her Amalfi and I think it is absolute perfection.  Yet another example of really letting a great fabric do the talking!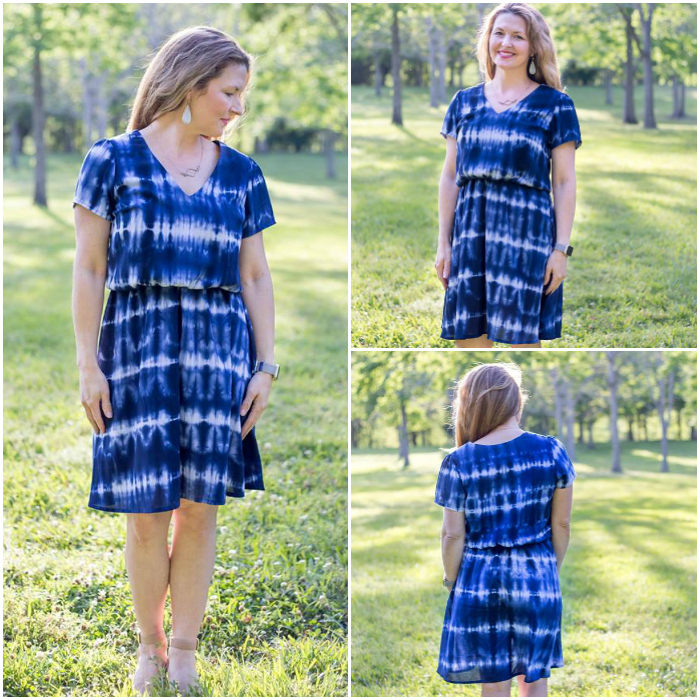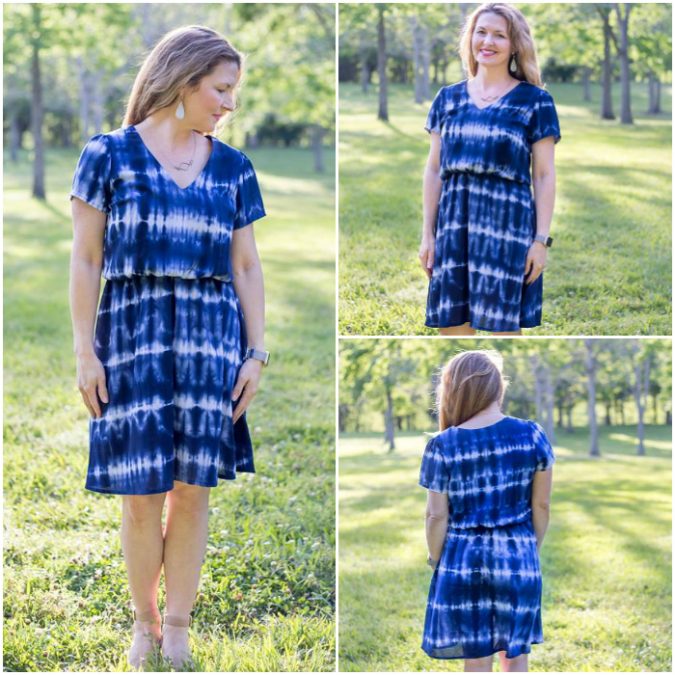 Carrie used her fabric and the pattern to the best advantage with that floral placement!  I think this Amalfi is particularly suited for day-to-night wear, working equally well in an office setting or a dinner out!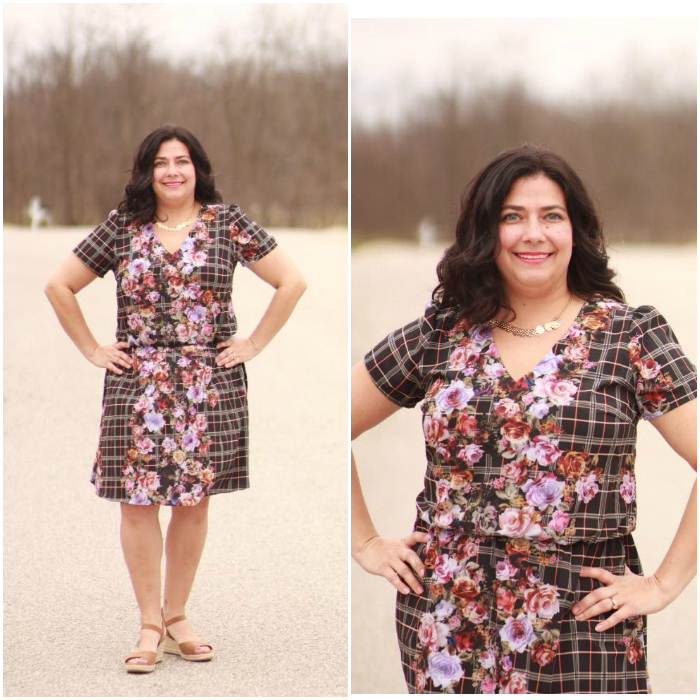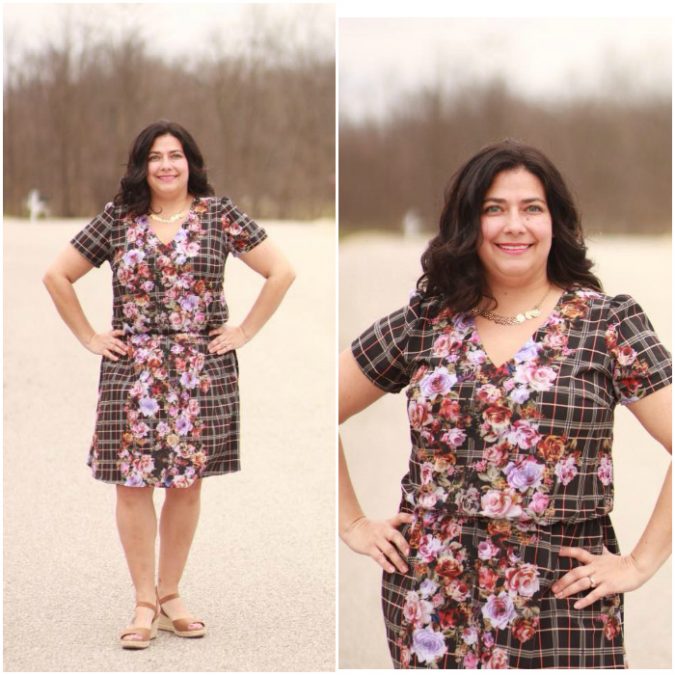 Kristin's dress gives me heart eyes every time I see it.  I just can't get over that gorgeous print and drape, and it works perfectly with her coloring.  If you're wondering, she actually got this fabric at Hobby Lobby!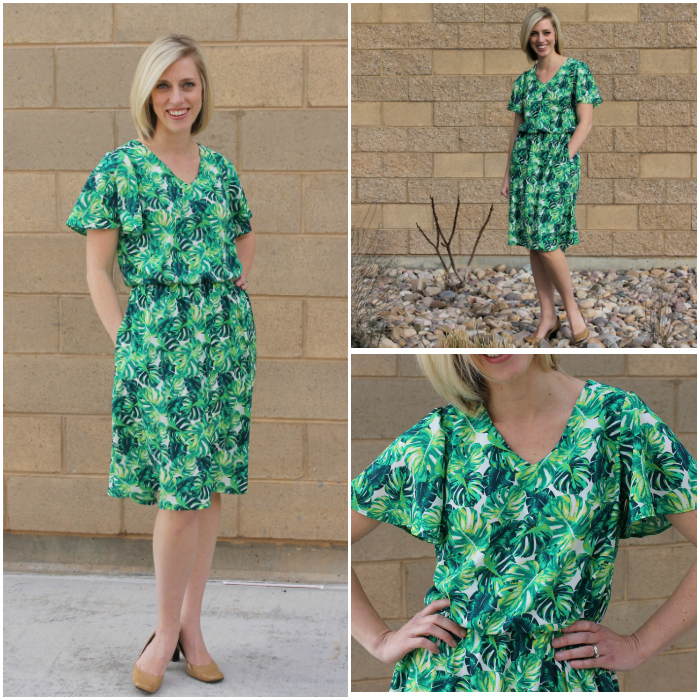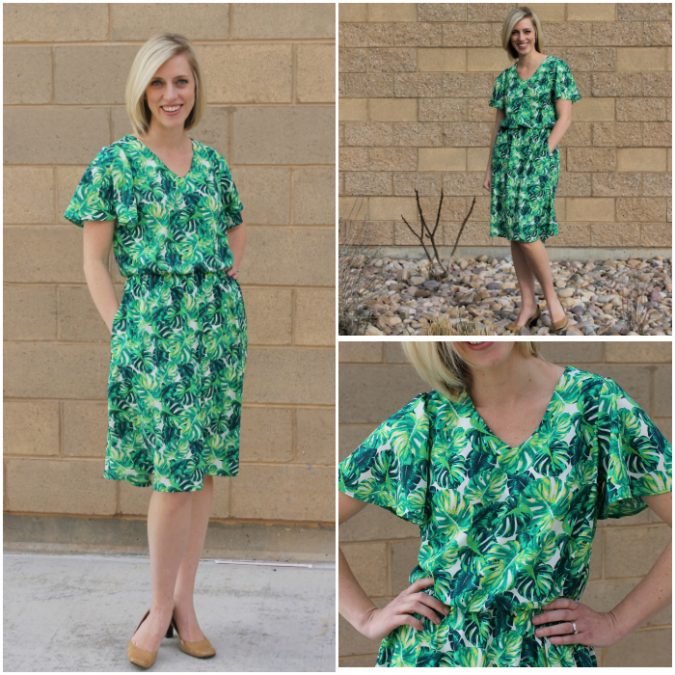 Maria made the loveliest, softest, floatiest, springiest view B Amalfi.  If you follow her on instagram, you'll agree that she is so great at nailing her signature style with silhouettes, fabrics, and colors, and I would recognize this as her work from a mile away.  I admire people who really know their style, especially when it's as gorgeous as Maria's!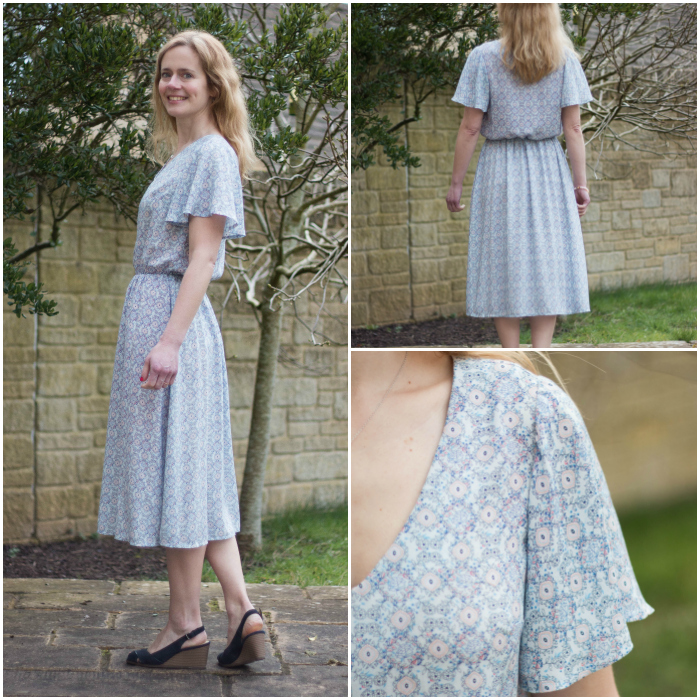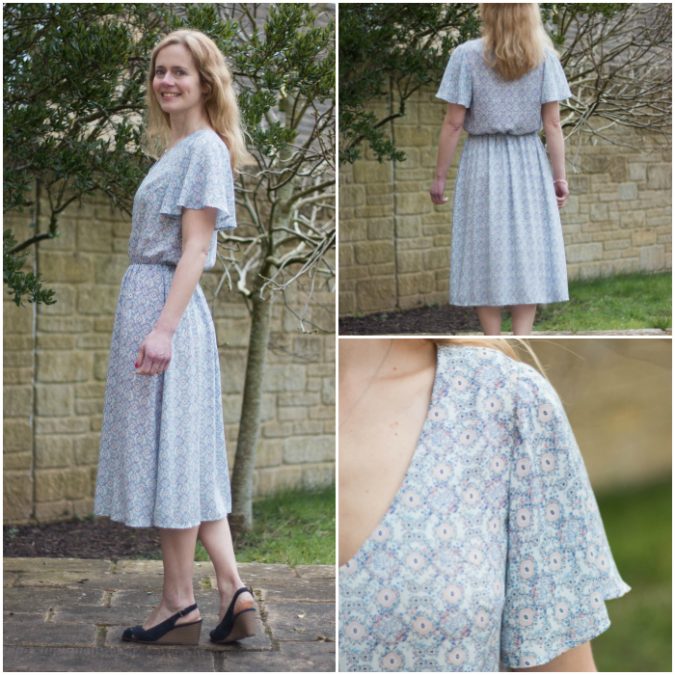 Meghan used this beautiful floral Cotton & Steel rayon for her Amalfi and there couldn't be a better pairing of fabric and pattern!  ps: did you know that C&S is designing a line that is named Amalfi?!!  How perfect is that?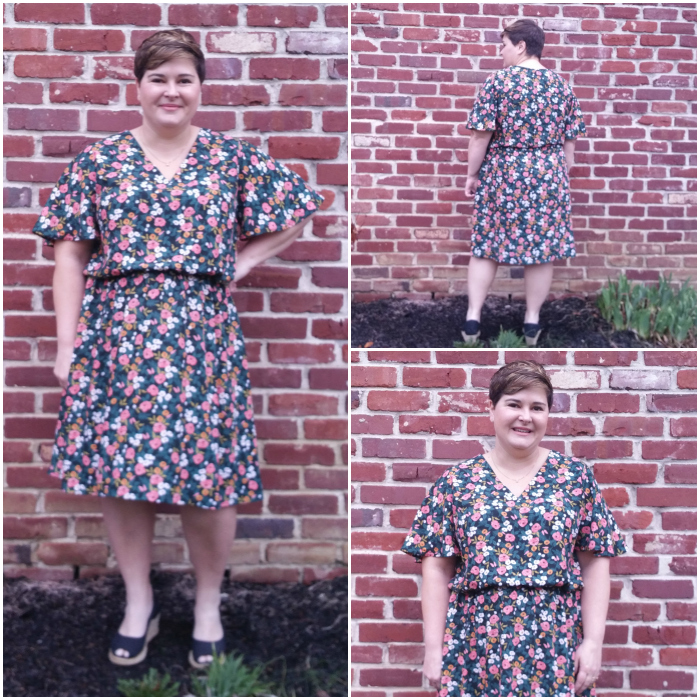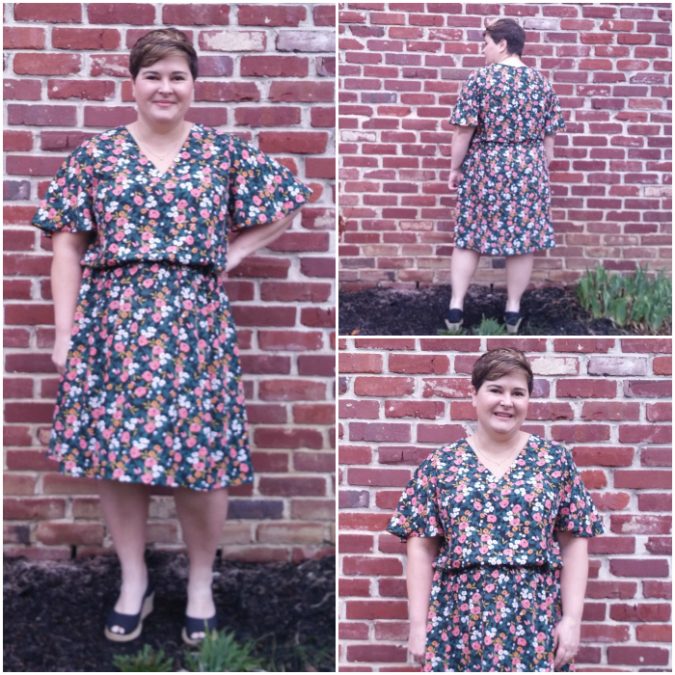 I know many of you are with me in applauding Fleurine for showing us how to make the Amalfi maternity and nursing friendly!!  She has all her mods written up in her blog post, so go check them out!  I may not need this mod anymore, but I'll never stop admiring how gorgeous that Les Fleurs looks against the white snow.  Simply stunning, Fleurine!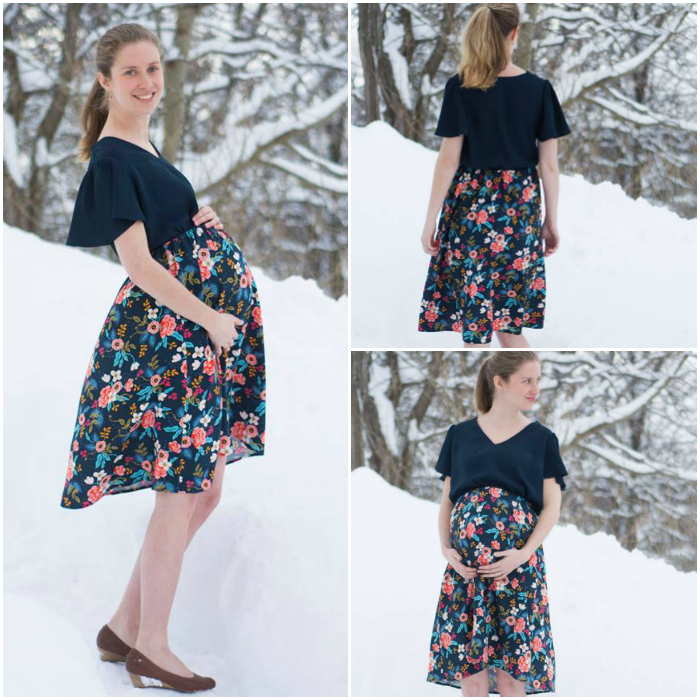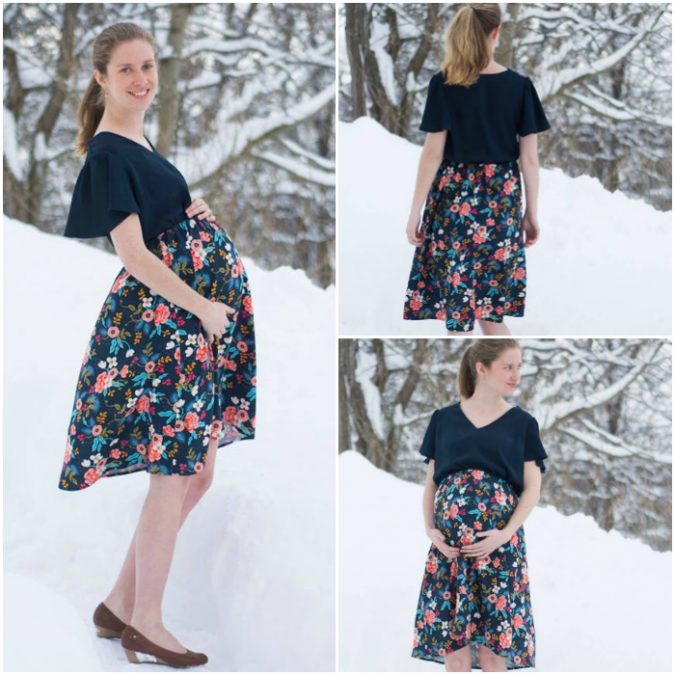 Melissa made a perfect wardrobe-staple with her simple blue striped Amalfi.  I think this one is casual enough that I'd be wearing it even for running errands.  The Amalfi makes it easy to look cute while feeling casual and comfy!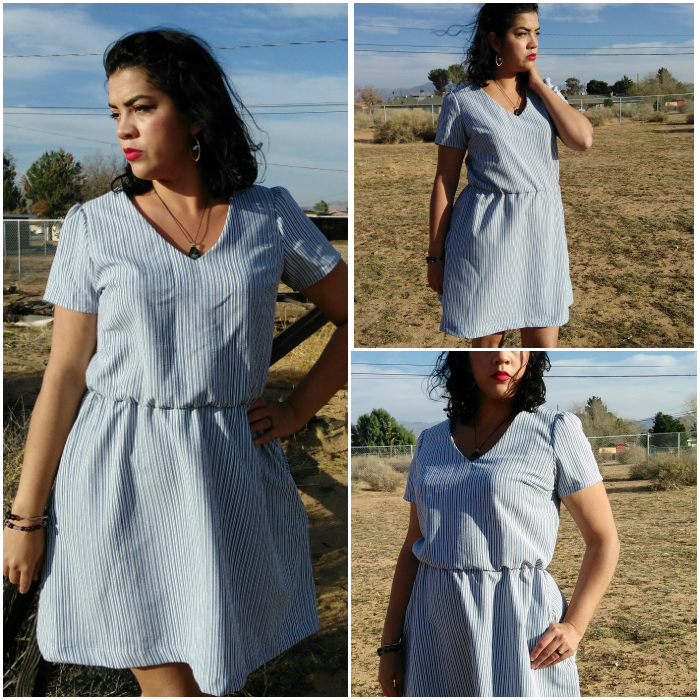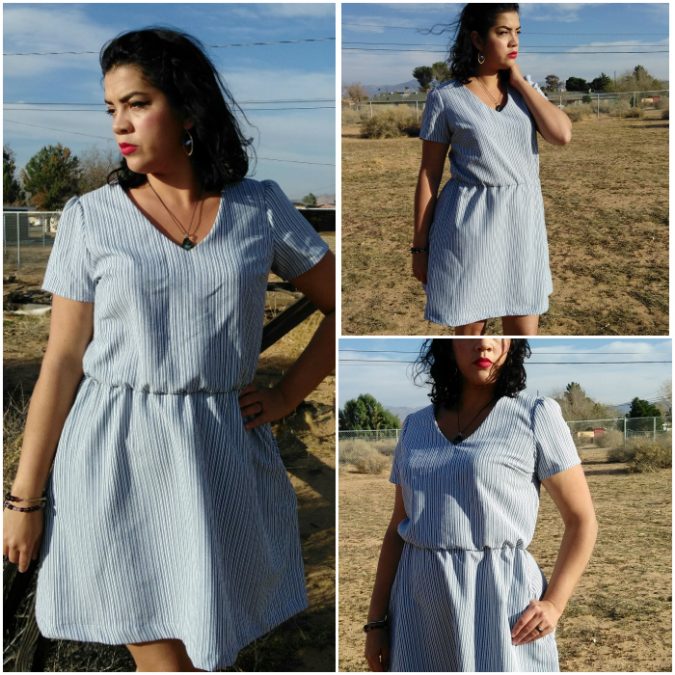 Laura still claims that the Amalfi doesn't suit her figure, but I think we can all agree that she looks amazing!!  This silhouette is definitely not for everyone, and I won't argue with that, but the fabric and styling she chose really make it work.  If you're wondering why she's posing with an axe then you're clearly not following her on IG and you should be!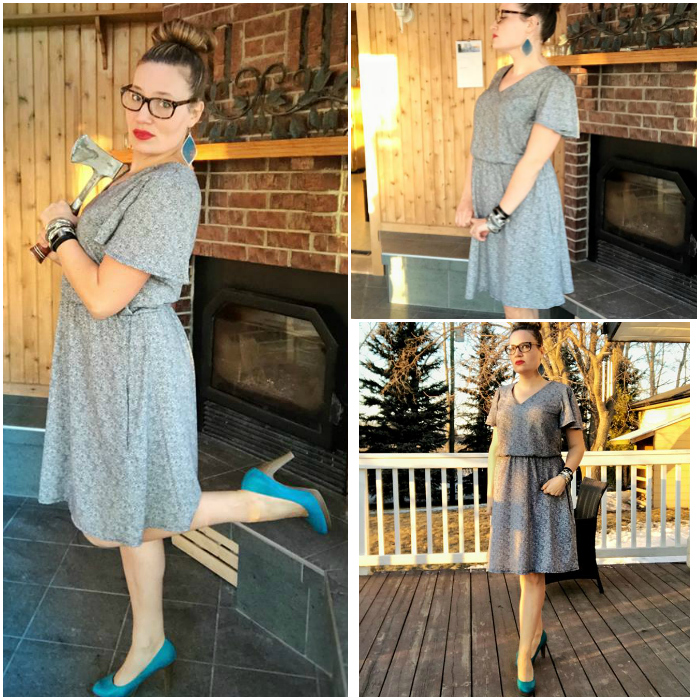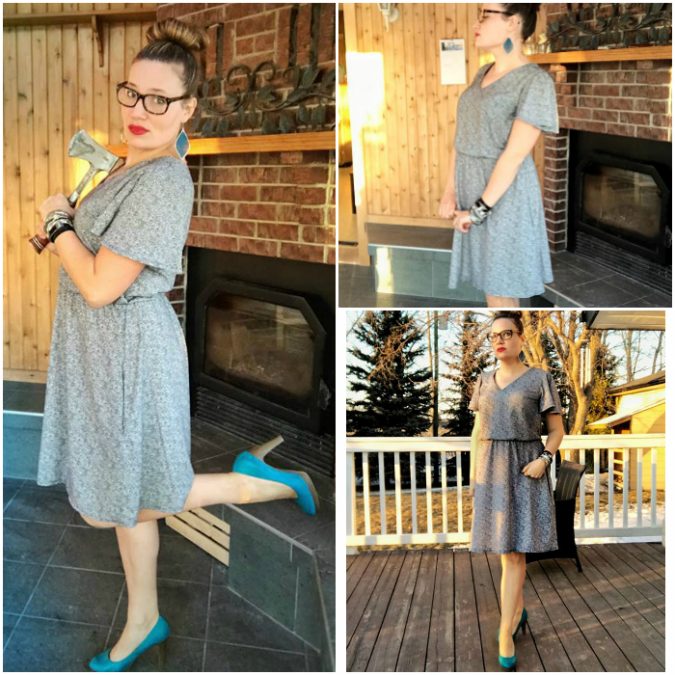 MJ used the prettiest vertical stripe floral fabric, and I love the affect it produces with the Amalfi pattern.  Also, check out that great vest styling!  The Amalfi is great for layering with vests, cardigans, denim jackets, or even a leather jacket to give it that edgy/feminine look!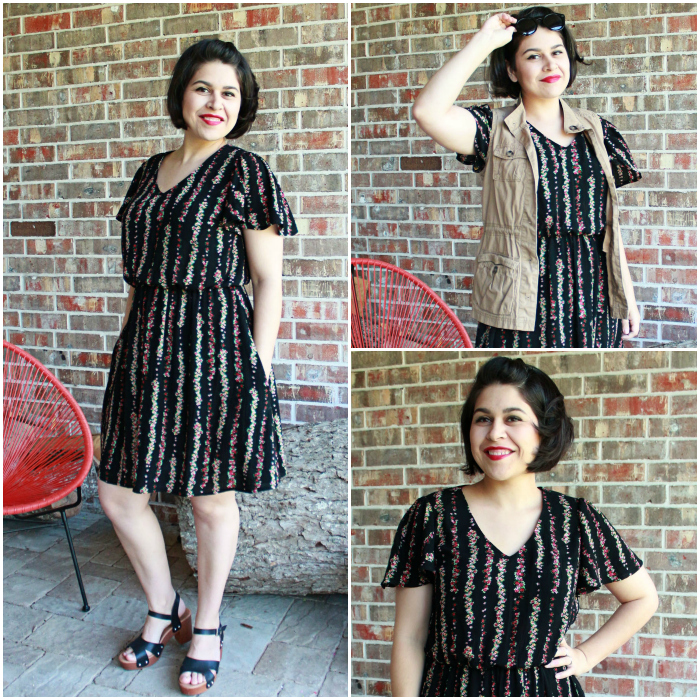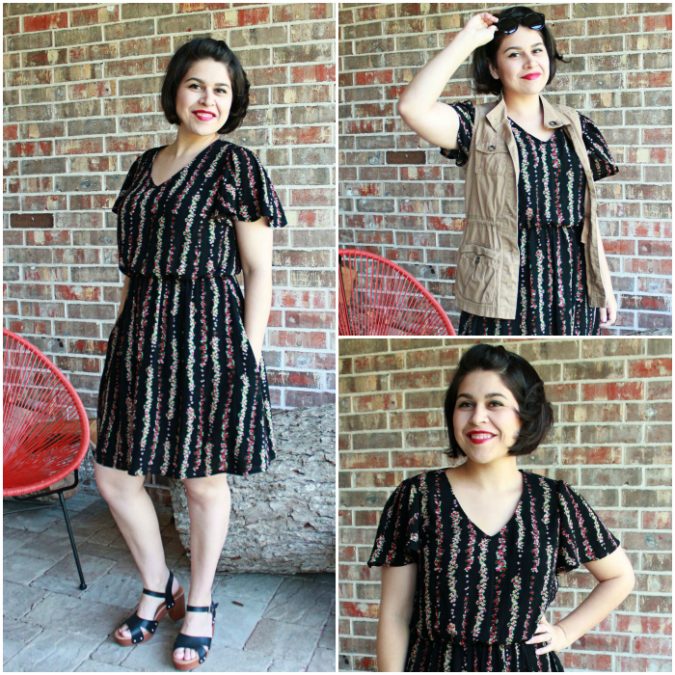 Maria absolutely nailed it with that rich emerald color for her simple yet gorgeous Amalfi.  Pair it with a long line statement necklace and you're pretty much ready for any event!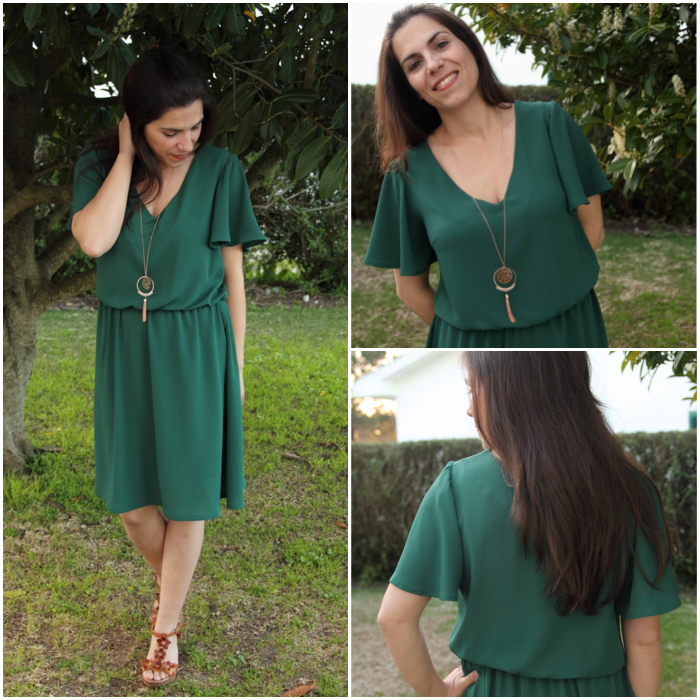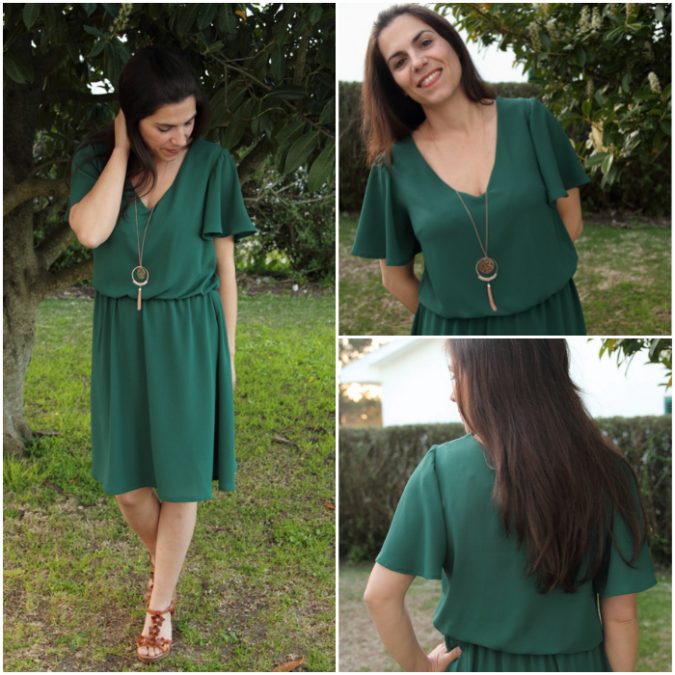 Pam made a darker chambray Amalfi that is basically the dress of my dreams.  Tell me you wouldn't live in this one!  She styled it perfectly for summer here, but I imagine it could easily take you through 3 season wear with different layers and shoes.  That hat, that necklace, those sandals – absolute perfection, Pam!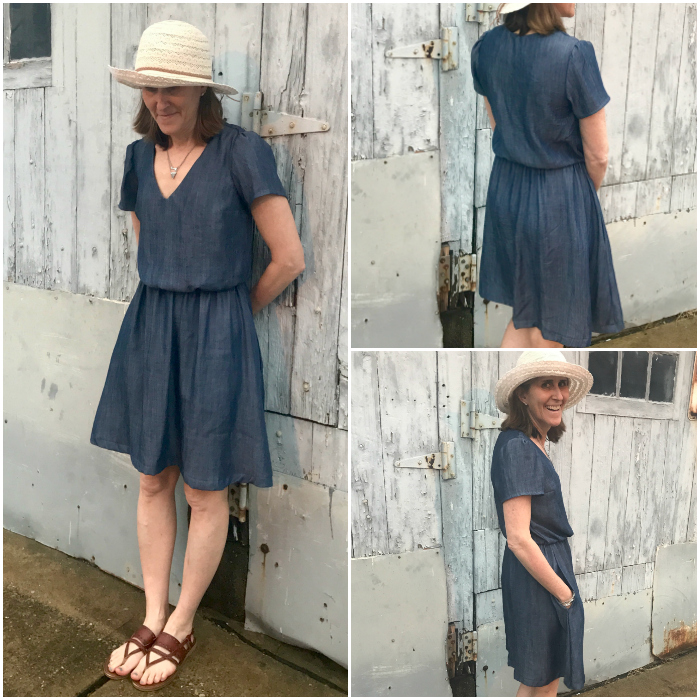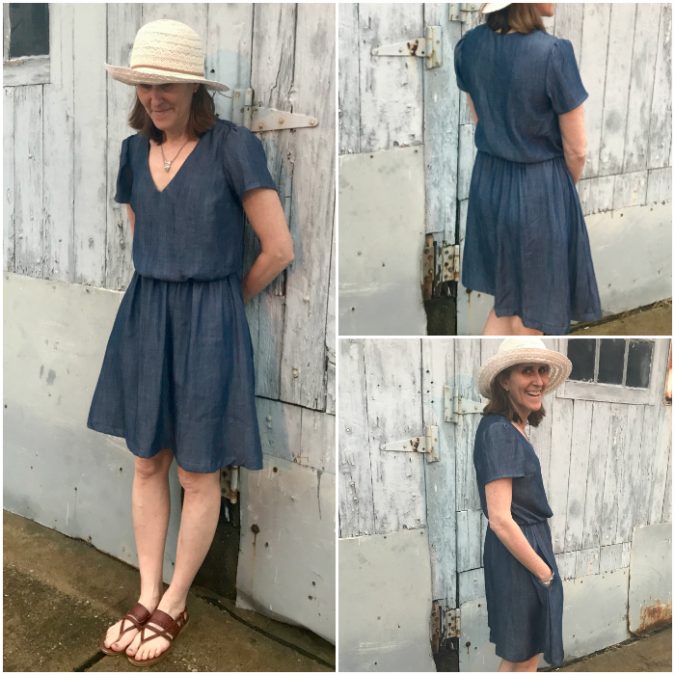 Patti made the most jaw-droppingly beautiful rayon gauze Amalfi Dress!  I love how this one is so dramatic while remaining totally comfortable and wearable.  You can't say that about most dresses!  I think she found the perfect red shade for her coloring too – it just looks gorgeous!!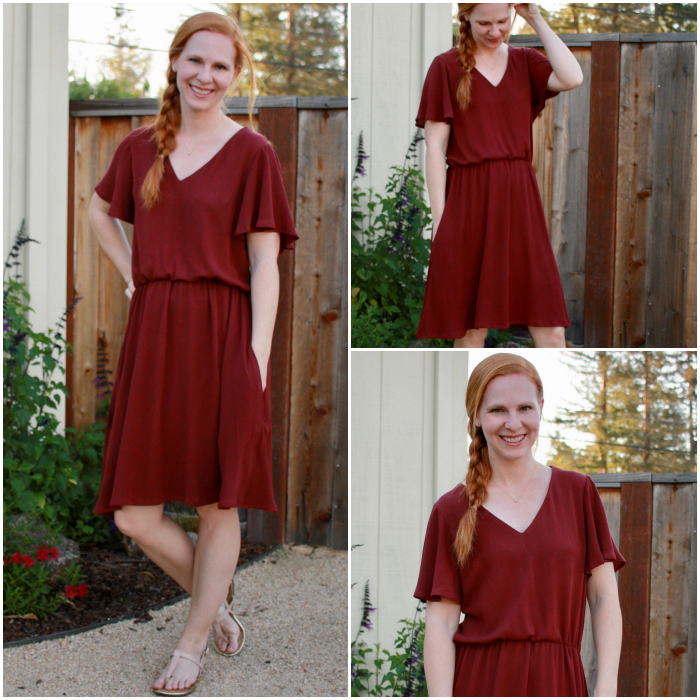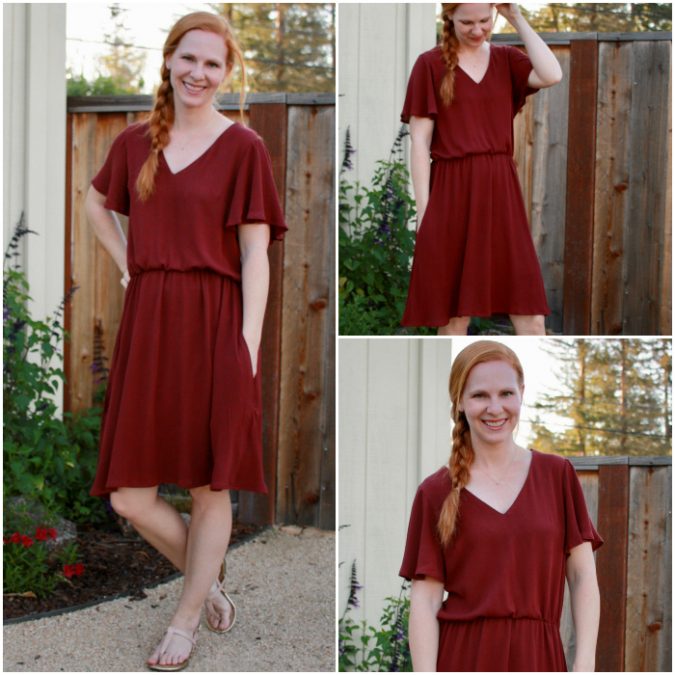 Rachel's Amalfi Dress and pictures made me audibly gasp the first time I saw them.  That color!  That drape!  That background!  I love how the Amalfi moves with all its drapey goodness, and I love how Rachel demonstrated that here!  Plus, hello, could those shoes BE any more perfect?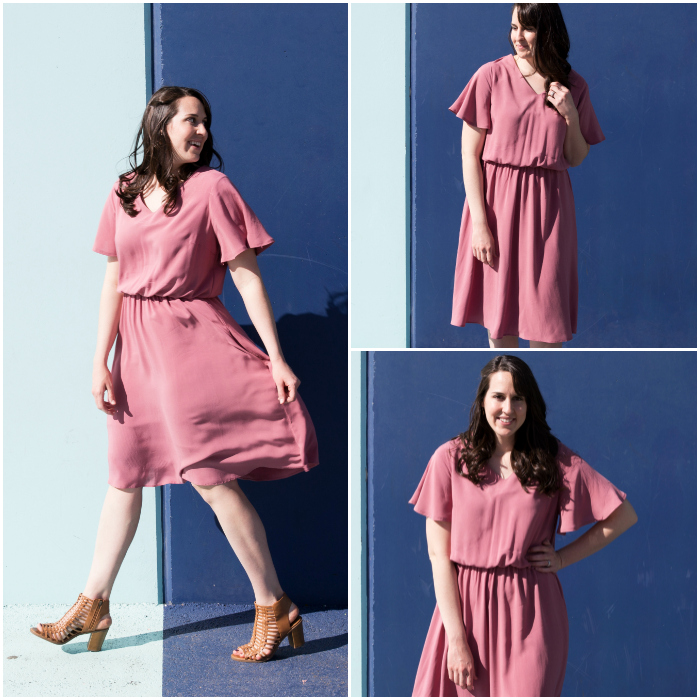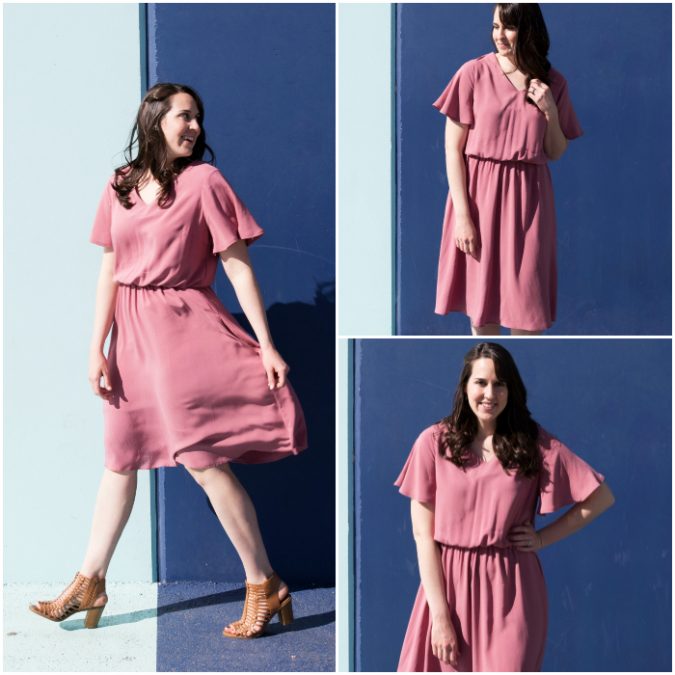 Rebecca also made a super wearable chambray wardrobe staple, but hers has a little twist!  I absolutely love how she played with this fabric to highlight the border print!  So genius!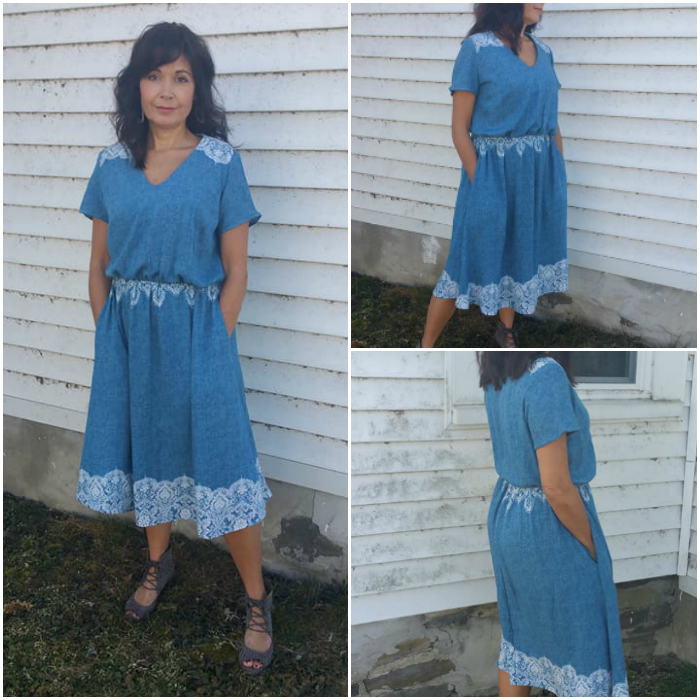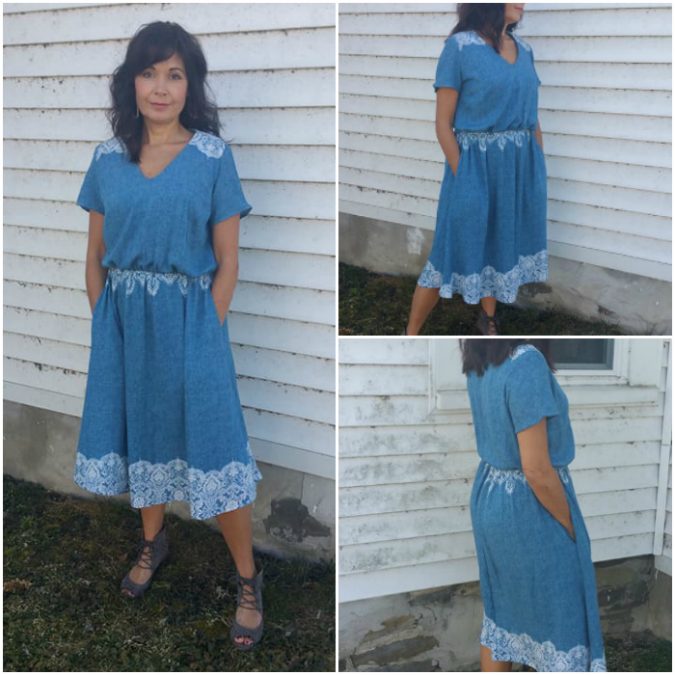 Stacey made another dress that I think would just be perfect for day-t0-night wear.  Perfectly subdued for an office, but then throw on some great earrings, shoes, and lipstick and you're good to go for a night out!  I love how she paired it with a high boot here too!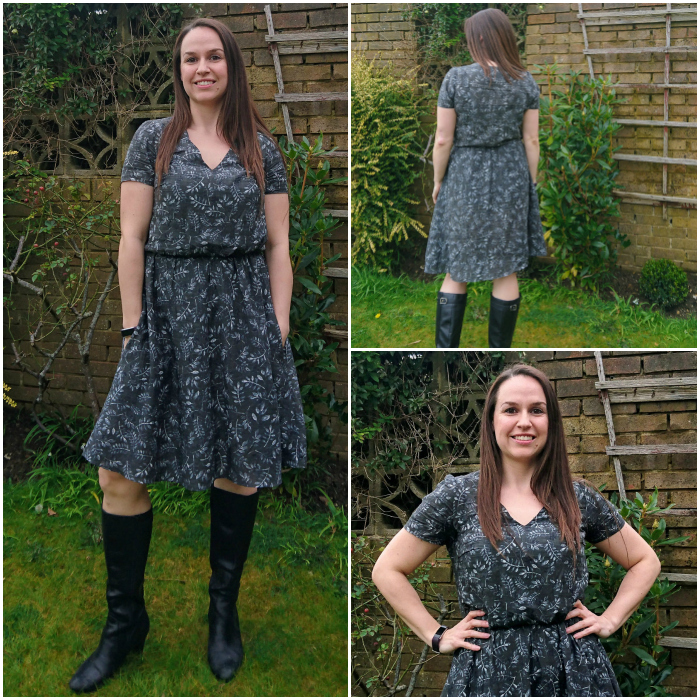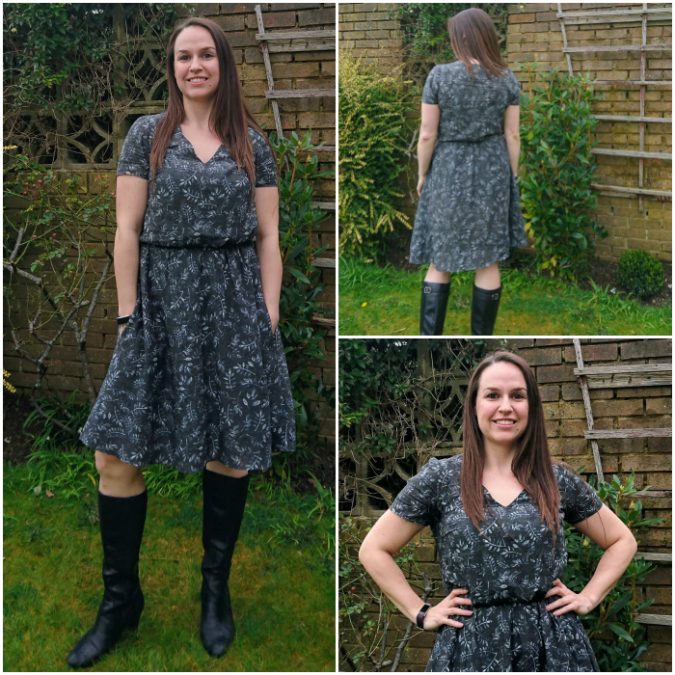 Everyone please join me saying a big huge thank you to all of my lovely testers!  I think they absolutely hit this one out of the park.  If they inspired you, be sure to click on the link on each of their names to comment and thank them!  Remember to grab the Amalfi Dress while it's 10% off through the weekend!