Happy holiday season! If you follow me over at my personal instagram, you know that although I am no chef, I really love to cook and bake. It's probably tied with sewing and reading for my 3 favorite hobbies. Well, and sleeping. Actually, sleeping is my number one hobby. Mmmmm….sleep.
But, much like my sewing habits, I am not a tidy cook. I walk away from the kitchen with it looking like a mild tornado has passed through, and I am usually wearing a bit of every ingredient. My first tip for this situation is that dish soap gets out grease stains, every time! My second tip – always wear an apron!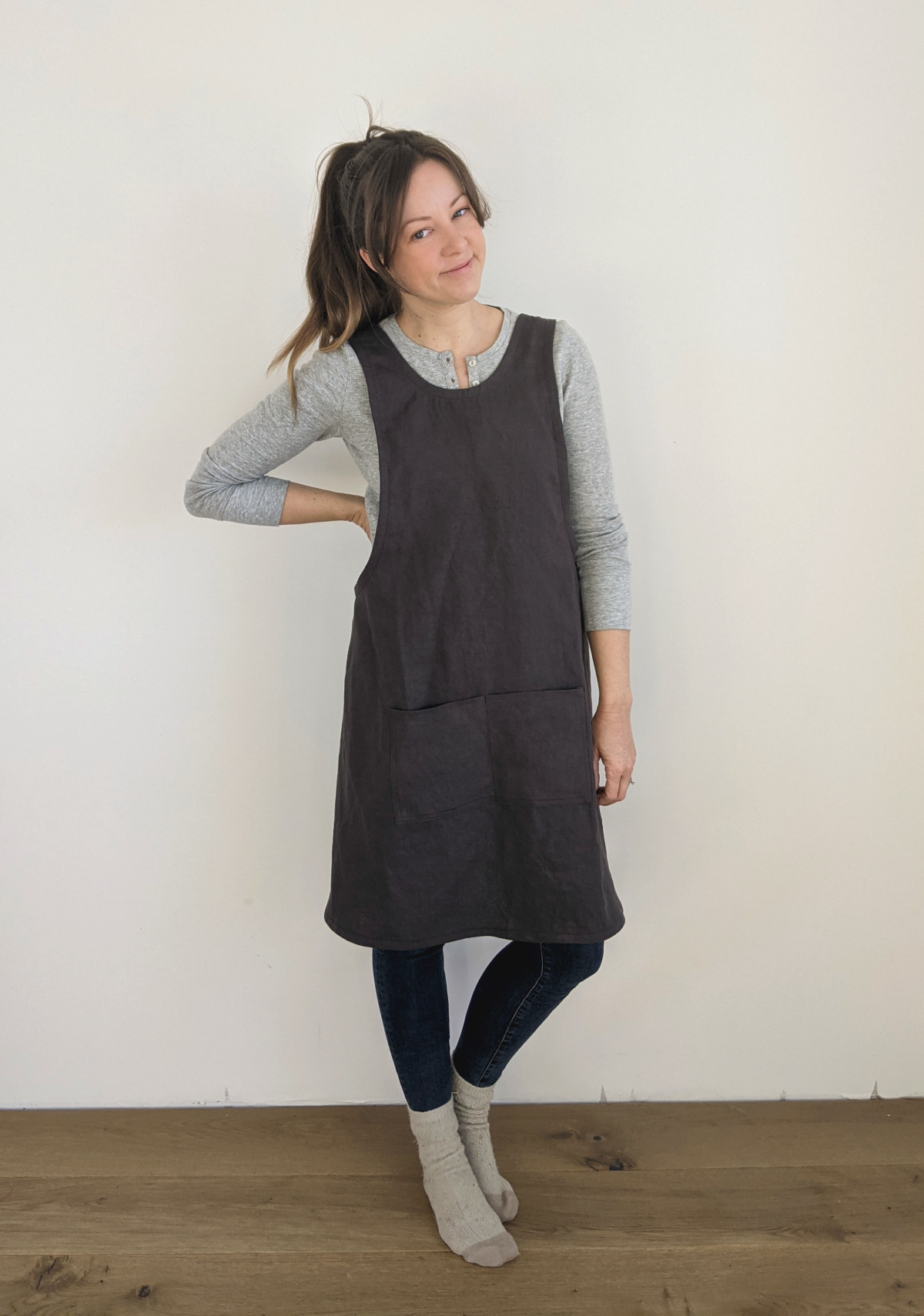 I've been wanting to make myself a wrap-style apron like this one for awhile. For one, they're just so darn cute. And for two, I usually remember to put on an apron after I've touched raw chicken and the frying pan is spitting everywhere, so it was important for me to have one that I could slip over my head one-handed, without having to tie. I'm nothing if not practical.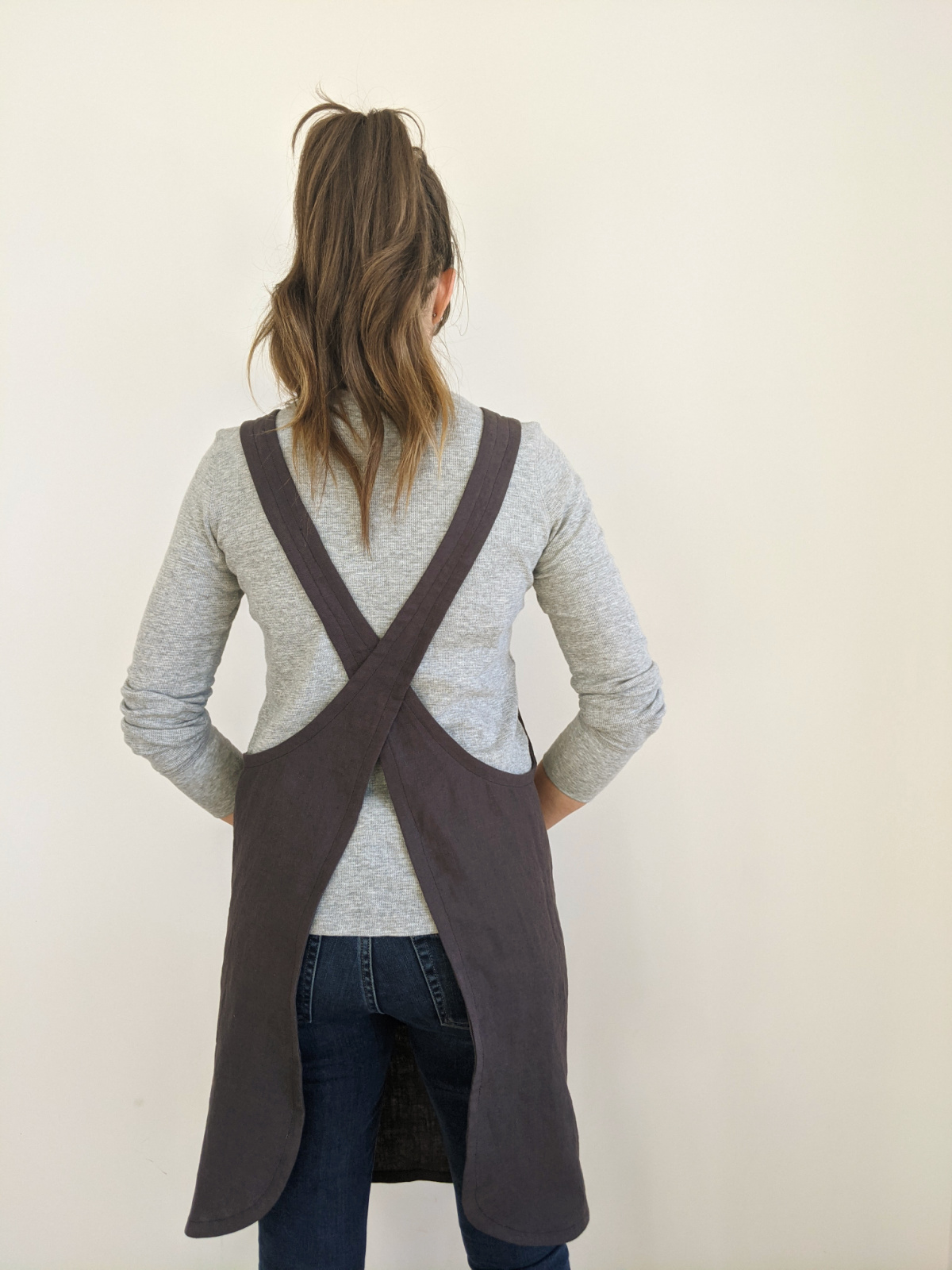 Funny story, I bought my fabric for these aprons from Fabric Wholesale Direct, and while I was developing this pattern, they reached out to me and offered some of their fabric for a project! So this post is not sponsored, but they are sending me some more fabric for another great gift idea that I'll share soon! For this project, I gravitated toward their linen because there is just nothing like a well-used, wrinkly linen apron in your kitchen. Their linen is described as "medium-heavy weight with a strong yet soft body and a pristine drape" and I couldn't say it better myself. It's just as good for garments as it is for home goods. And the price can't be beat! I picked out the charcoal and natural colors to go with my neutral-toned house, but they have a rainbow of gorgeously saturated colors for any palette!
Allspice Apron for you, and you, and you!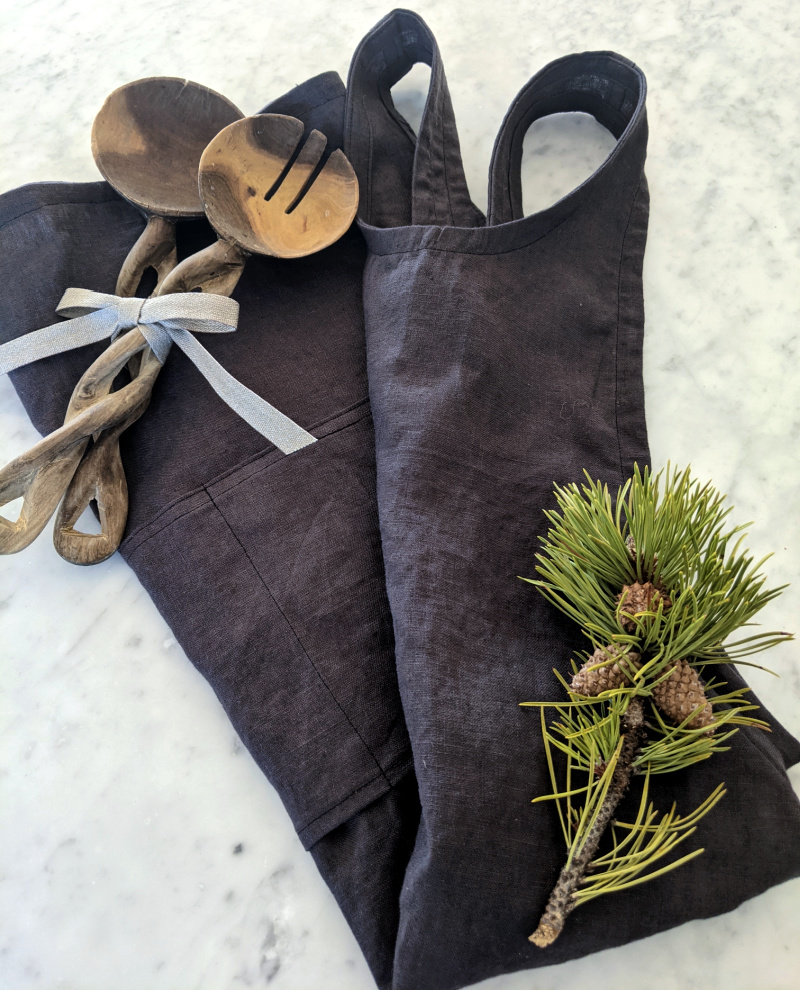 I figured while I was making myself one, I'd make a pattern for all of us to share! I think the Allspice Apron would make a really lovely gift too. It's a great handmade item to combine with some baked goods for a fully DIY gift, or you could pair it with another kitchen-related item. A few of my favorites:
Sizing and Fabric
With gift-giving in mind, I made this apron multi-sized. It's really a one-size-fits-all style, but I wanted to really make it look best on each person, so I've graded it from XS – XL, covering hips from about 32″ to 60″. This apron is for adult heights (approximately knee length for someone who is 5'6″), but you could also reduce the hem length and strap length and use the XS for children starting at around 8 yrs old. In the spirit of last-minute gift giving, I also designed this apron to fit on narrower fabric and only use 1.5 yards/meters. The largest size will require a full 42″ width of useable fabric, so just be aware that if your fabric is printed and has really wide selvages it may not work for the XL. Otherwise, 1.5 yards of any width fabric 42″ and wider will work for all sizes!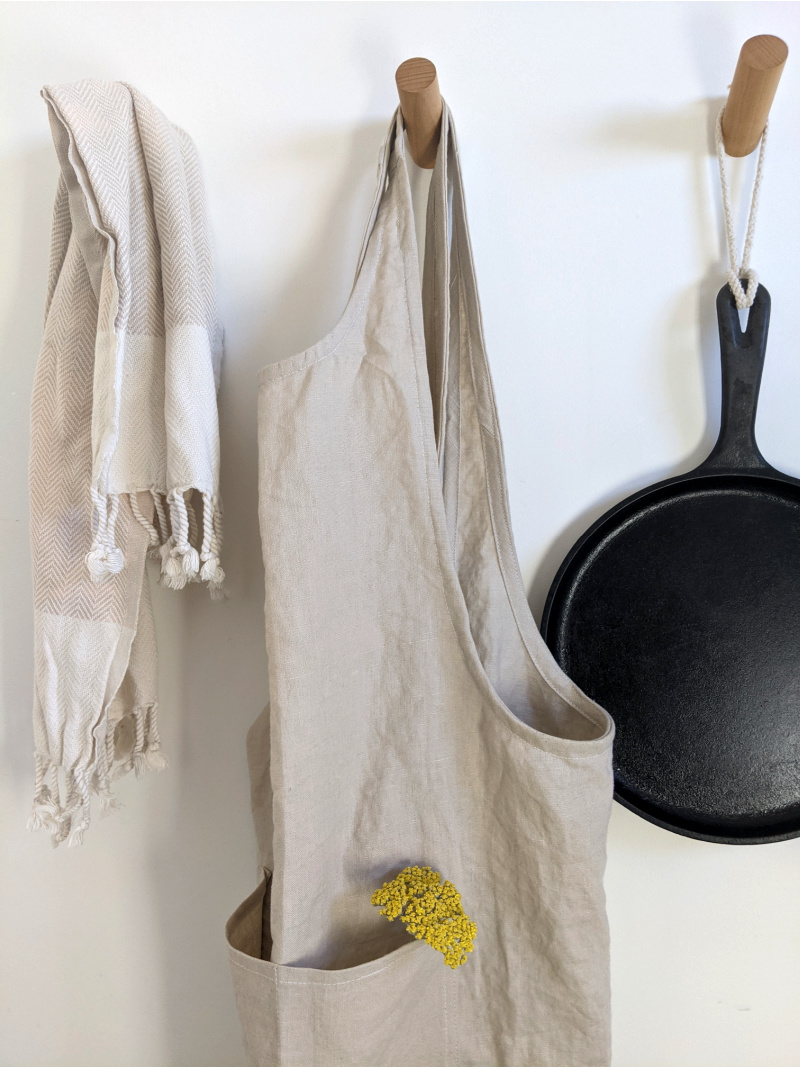 The Allspice looks fantastic in the FWD linen, but can also be made with just about any woven fabric (or, heck, any knit! Do you, boo.)
Size Chart
| | | | | | |
| --- | --- | --- | --- | --- | --- |
| size | XS | S | M | L | XL |
| hip measurement | 32 – 36 | 38 – 42 | 44 – 48 | 50 – 54 | 56 – 60 |
The aprons shown in this post are a size S on a 38″ hip. If you need to guess about your recipient, a S or M is technically a one size fits all, it just won't have the same coverage around the back hem or at the chest width if the wearer is larger than the size chart indicates.
Materials Required:
1.5 yards or meters of any woven fabric 42″ wide or wider
matching thread
6.5 yards or meters of 2″ total width bias tape (or just use storebought double fold and apply it using the traditional method) OR a 24″ square of fabric to make your own.
A note about bias tape:
These instructions are for finishing the edges with single fold bias tape using the French method. This is hands down the easiest way to apply bias tape. However, it will require you to open up store-bought single-fold bias and re-press it to only have one fold, and the total width of the bias tape needs to be 2″ for this method (yes, you heard correctly. Manufactured "single-fold" bias tape actually has two factory folds, and double fold has 4. I understand that they're referring to each side individually, but it doesn't change how I feel about it.) Alternately, you can make your own bias tape by piecing together several strips or using a continuous bias tape making tutorial and cutting to 2″ wide. (hot tip: I don't even press it in half, I just align the two raw edges as I sew. You have to work slightly slower to make this work, but it's still faster than pressing 200+" of bias tape.) If you are using the continuous tape tutorial, you will need a 24″ square of fabric to get enough bias tape for the largest size with a little extra.
If you prefer to purchase and apply double fold bias tape, that is also totally fine, but it is not included in this tutorial. Lastly, you could also just do a narrow double fold hem on all edges and skip the bias altogether. There will be tips included for that method in the instructions.
Print and Assemble the pattern
The Allspice Apron pattern prints on 13 sheets of letter or A4 paper on your home printer. I recommend printing from the free program Adobe Reader on a computer so you can access the layers functionality. If you do this, you will see the following under your layers menu (the overlapping diamonds on the left side). If you need more info about layers or how to reveal the layer option in your side menu, do a quick google and there will be a ton of info to help you.
Then you can choose what size(s) you want to print so you don't have to print all of them. This example shows just a size M being printed.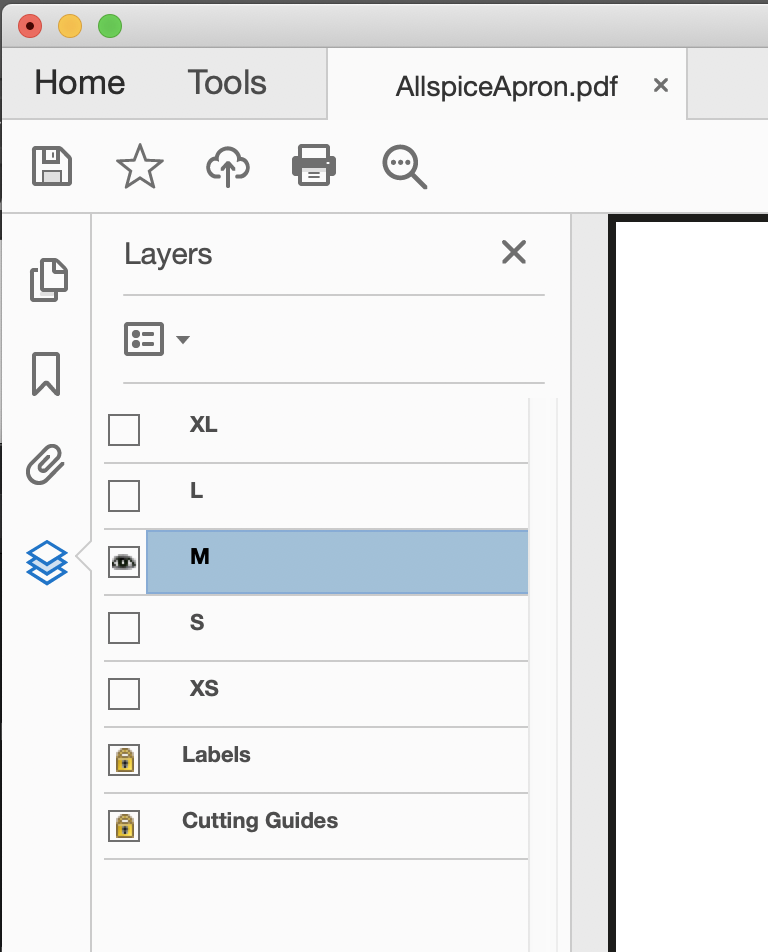 Print at 100% (no scaling) and make sure that your orientation is set to "auto" (not landscape or portrait). If you've printed correctly, each page will have a 7″ x 10″ frame centered on the page with the pattern printed within that frame, and the reference square on page 1 will be the correct size. If you want, print page 1 by itself first to check that it's printing correctly before printing the rest of the pages.
After printing, you will need to tape the pages together. If you want to make it really neat and tidy, trim off the top and left margins from each sheet of paper for easy assembly. If you don't care how neat it is and want to tape it together in about one minute, just overlap the margins and align the pages along the frames so the triangles match up to form diamonds (the triangles are only on edges that will need to be connected to another page). This is my method 100% of the time. Some people compromise and fold back two of the margins. If you do overlap, the margins will cover up parts of the pattern. This one is so simplistic that you'll have no trouble connecting the lines with your scissor or rotary cutter as you cut out the pattern, but for more complex patterns I just go in with a pen and trace the pattern onto the margins where it's covered up. Here is the diagram to show you how to tape the pattern together: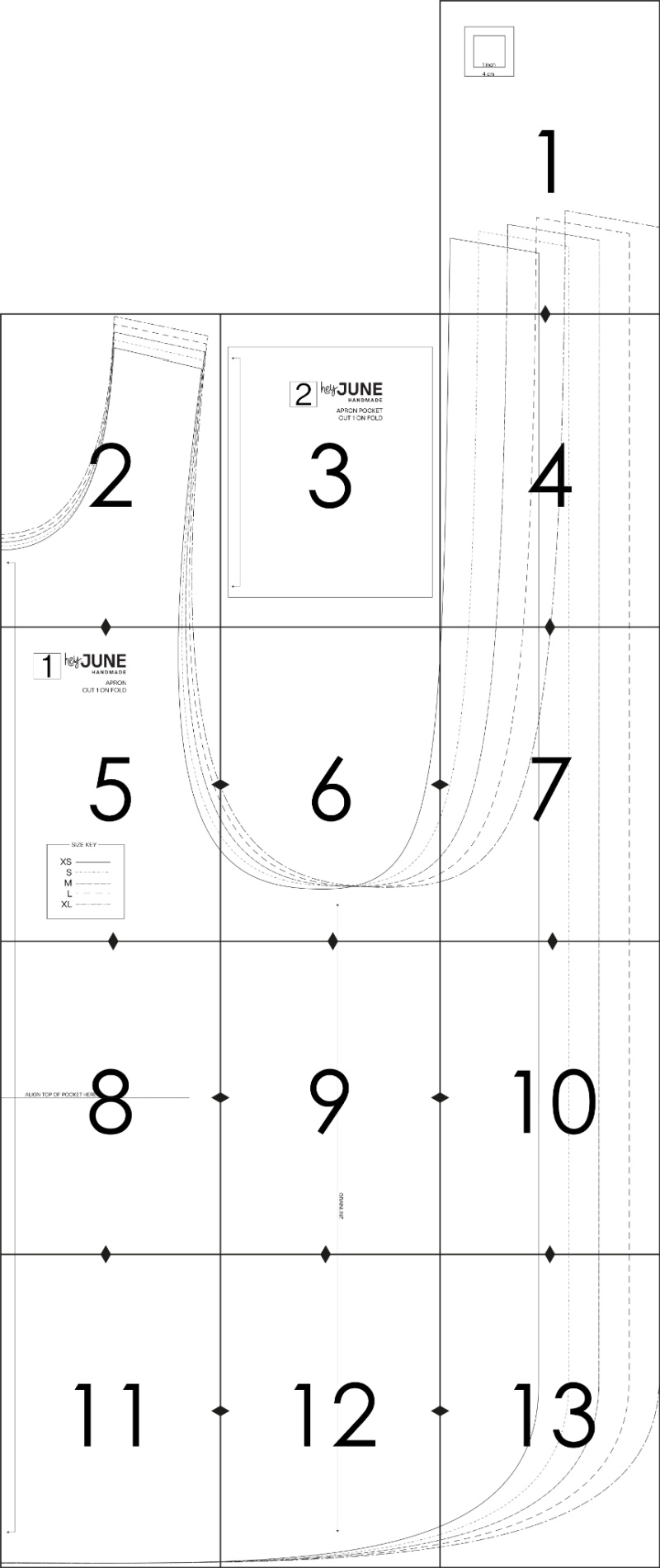 Once your pattern is assembled you can cut it out (I use a separate rotary cutter just for paper!). You will have one piece that is the entire apron pattern to be cut on the fold, and the second piece which is the front pocket, also cut on the fold.
Cut and Mark Your Fabric
Fold your yardage so the fold of the center front of the apron is on the fold of fabric along the grain. Place the pocket on the fold just below the apron. Cut around each piece. Open them up and you'll have two full sized mirrored pieces.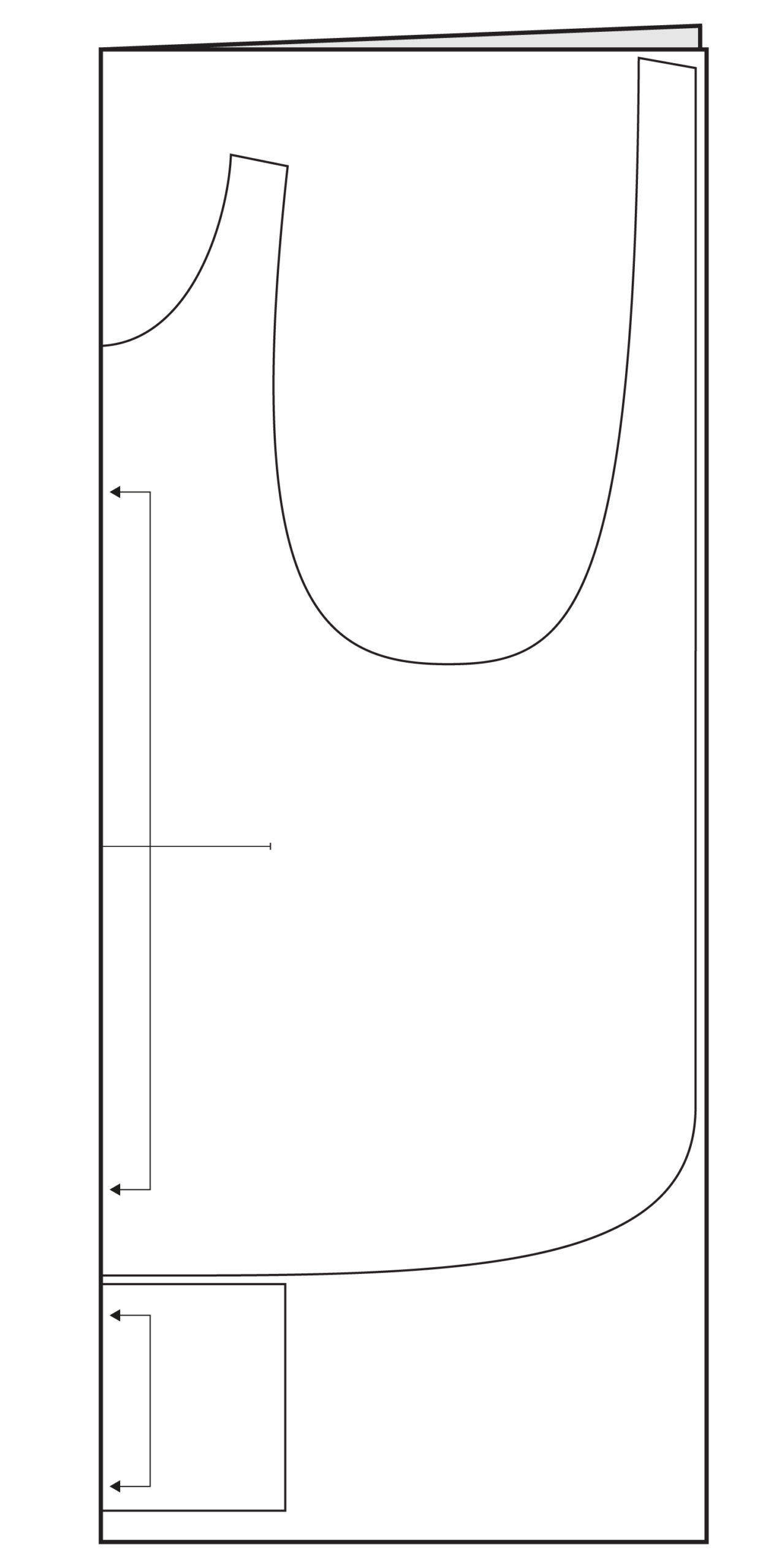 On the front of the apron, mark your pocket position line using tailor's chalk, a washable or disappearing marker, or by simply marking each end of the line with a pin.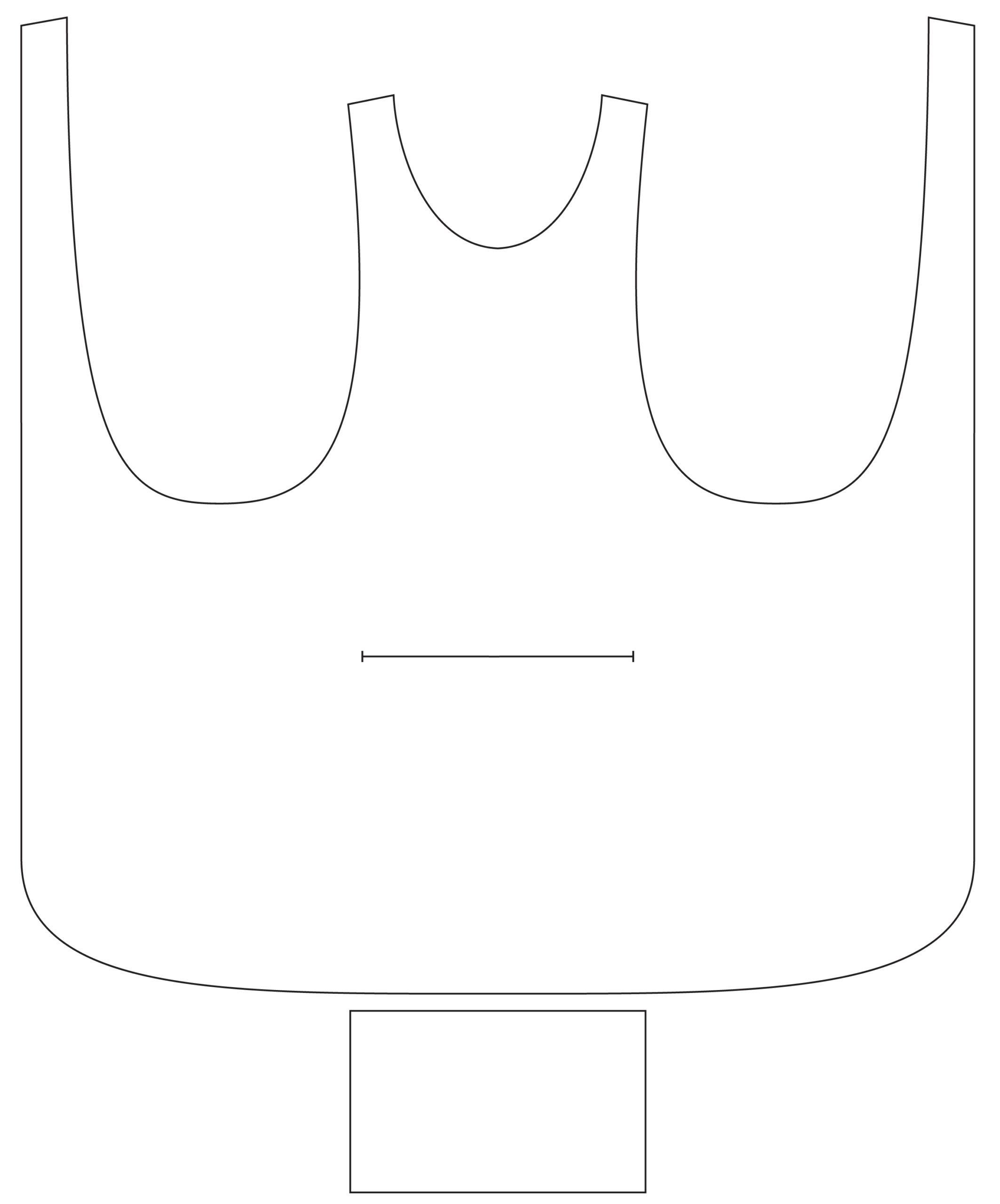 Sew the Apron
Step 1:
Hem all 4 edges of the pocket piece with a double 1/4″ fold. Use an edge stitch as close to the fold as possible for a clean finish.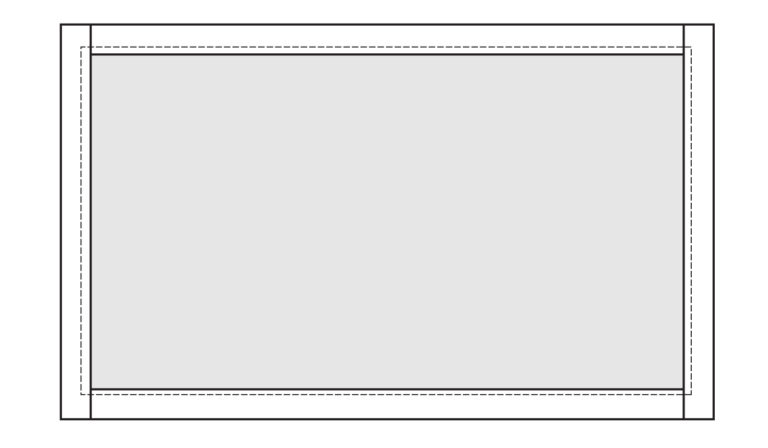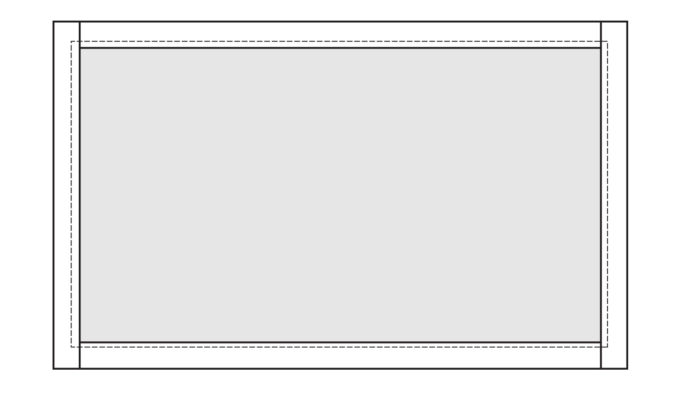 Step 2:
Align the top of the pocket with the pocket marking on the apron and pin it in place. Then edge stitch around the sides and bottom of the pocket to secure it to the apron. If desired, sew a second line of stitching 1/4″ away from the first for extra security and detailing.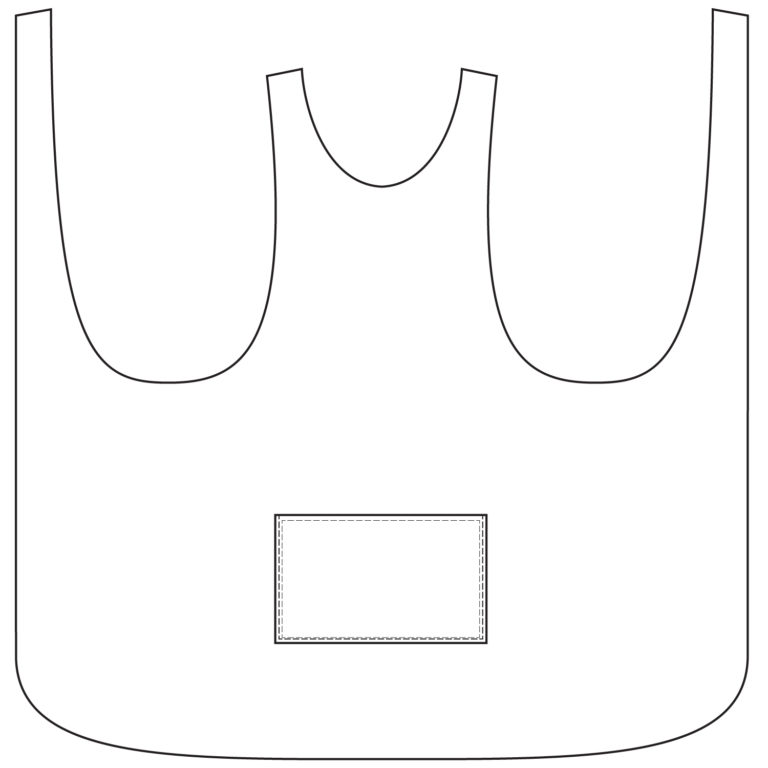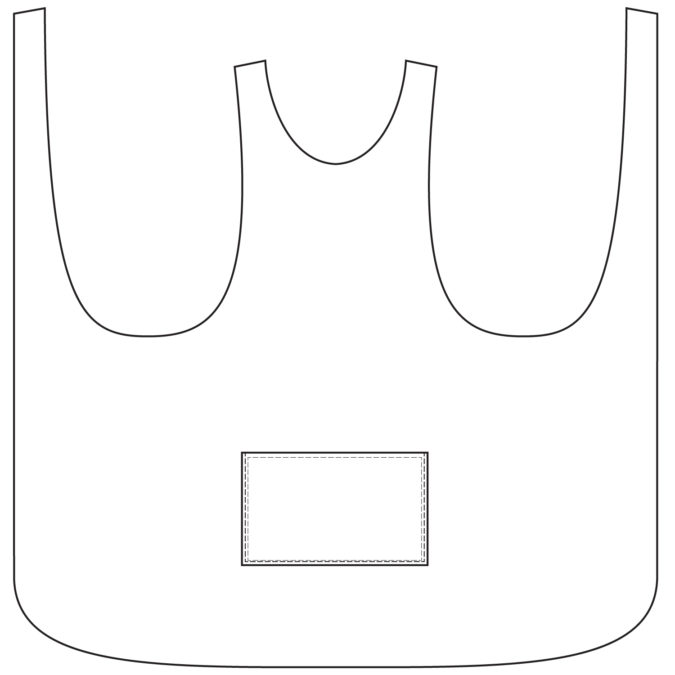 Step 3:
Sew a line of stitching straight down the center of the pocket. Alternately, leave it open as one large pocket, or divide it up into 3 sections or uneven widths. This is a design decision that is all yours!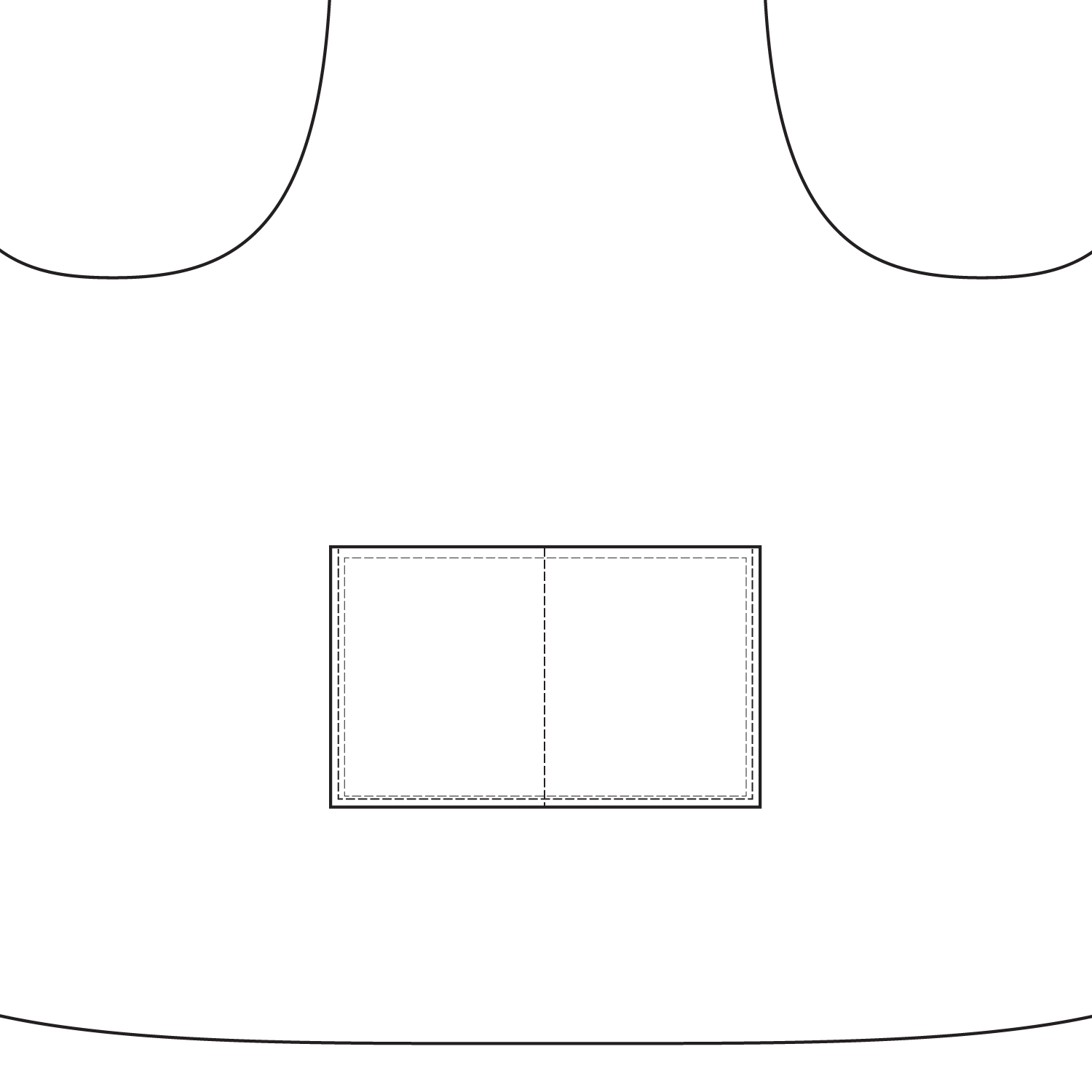 Step 4:
Lay the apron right side down. Bring the back strap up to align with the opposite front strap, wrong sides together. Pin them together and then sew with a 1/4″ seam allowance.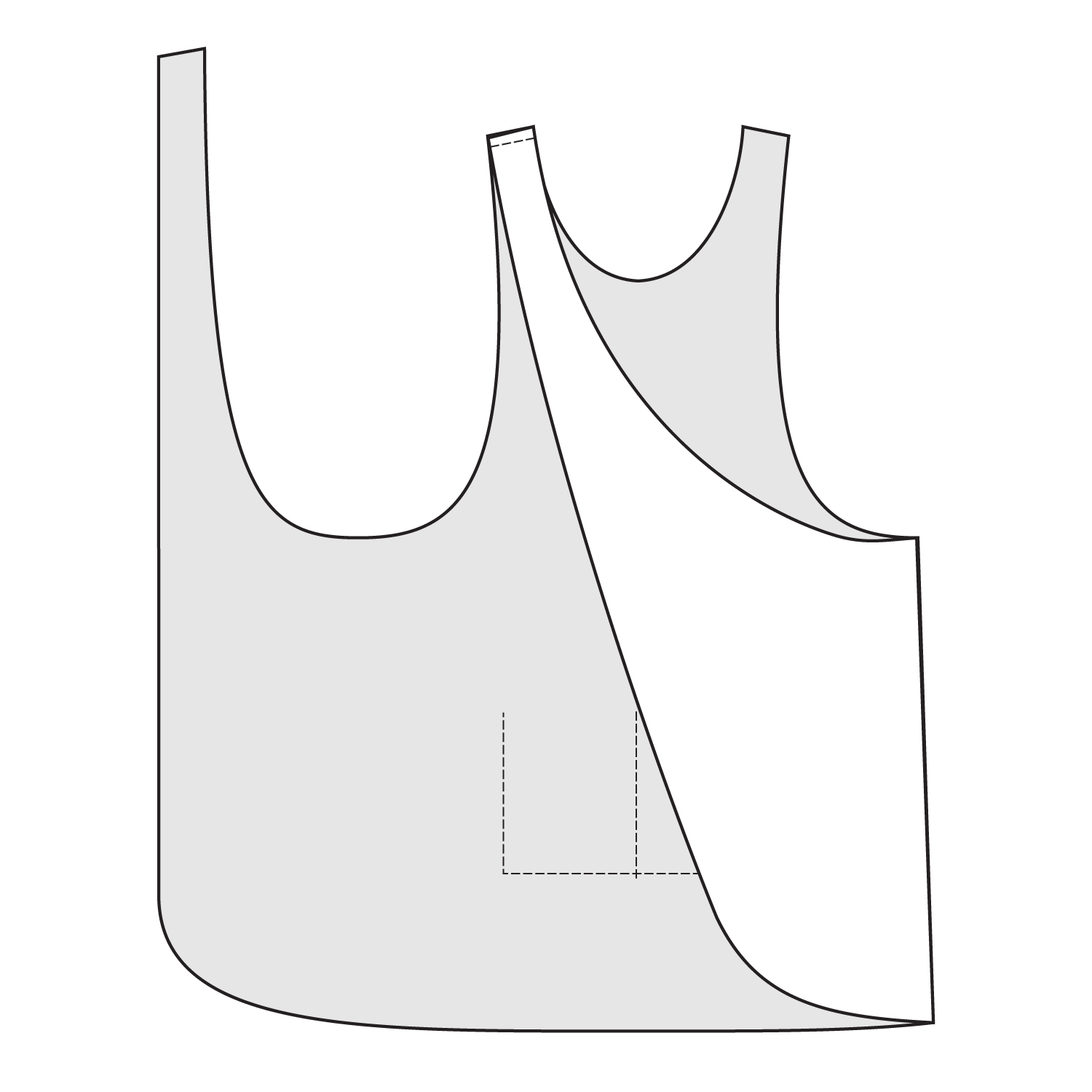 Repeat for the other strap.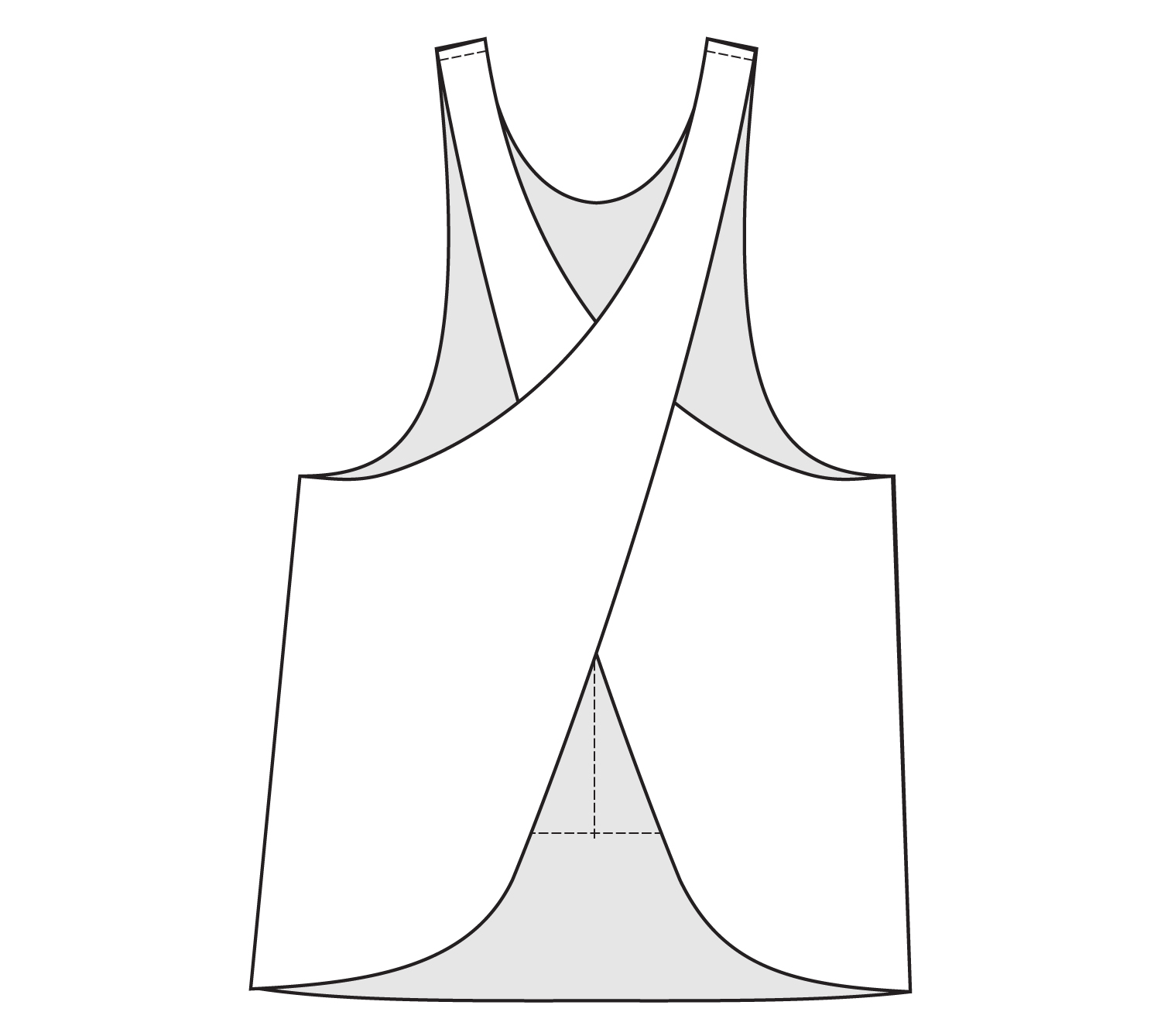 Step 5:
Turn the apron wrong side out and press along the shoulder seams so they lay flat. Then sew both shoulder seams once more, this time right sides together, using a 1/2″ seam allowance. This seam will enclose the seams from step 4 and form a French seam finish. Press the seam allowances toward the back and topstitch them down, if desired.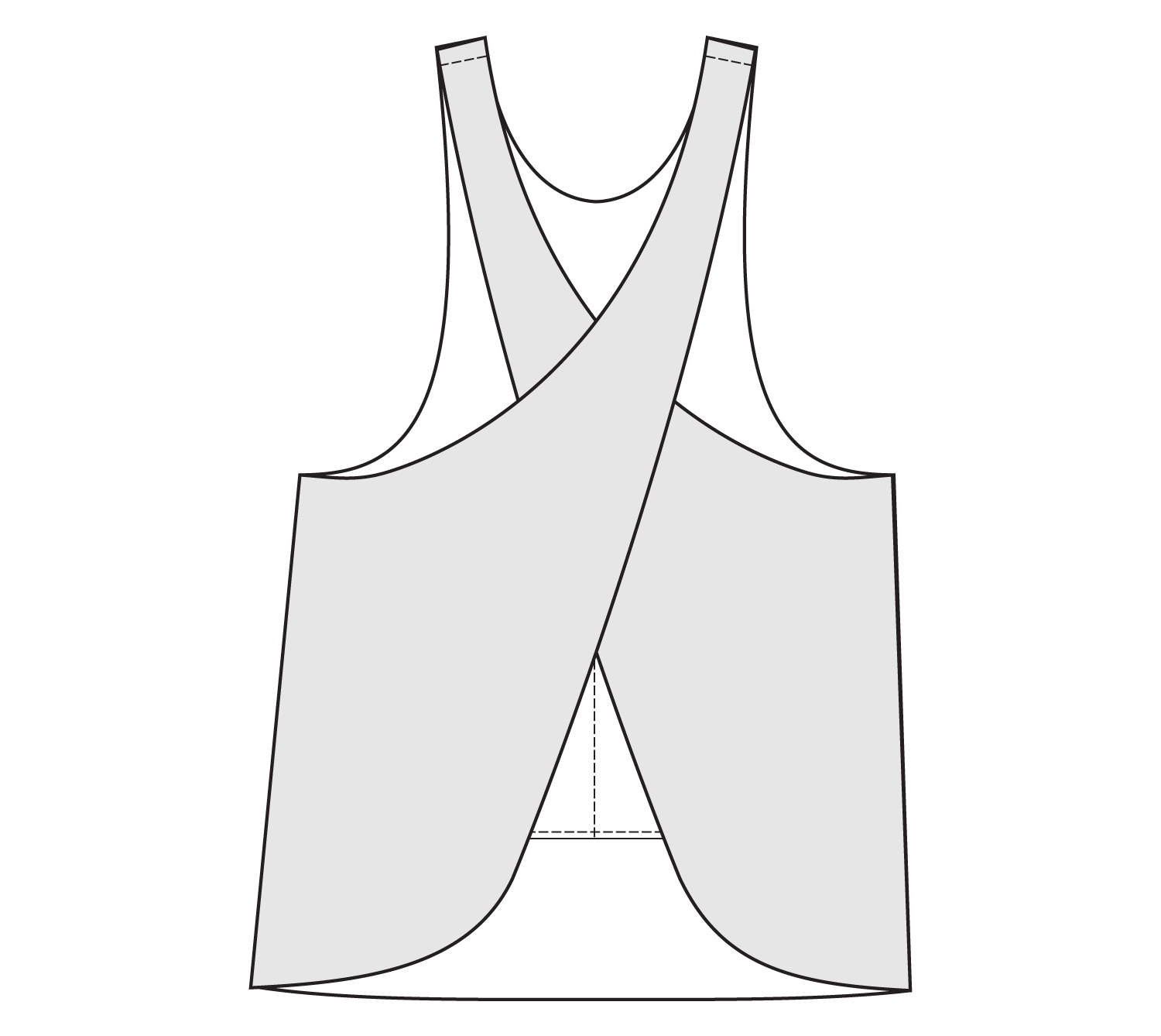 Step 6:
The apron construction is finished! Now you can finish all the edges with your preference of single fold bias tape, double fold bias tape, or a simple double turned hem. If you prefer to just hem, I recommend first sewing long gathering stitches around the convex curved areas at the lower center back to help with turning and pressing later. When you press your hem in place, first press at 1/2″. Pull the gathering stitch thread tails around the curve to help bring the edge in without causing the fabric to bunch up. On the concave curves, like the neckline and underarm areas, you may need to clip up to the fold in a few places to get the hem to stay in place. After pressing at 1/2″, go in and tuck the raw edge down into the hem for a total hem width of 1/4″. This is visually the same as doing a double 1/4″ folded hem, but it is easier to do it this way on curved areas with such a small hem allowance.
To finish with bias tape: Make sure your bias tape is only pressed once, wrong sides together in half (see an example in the pic below). Align both raw edges of the bias tape with the raw edge of the apron (anywhere) on the right side. Leave about 6″ hanging free and then start sewing the bias tape to the apron using a 3/8″ seam allowance.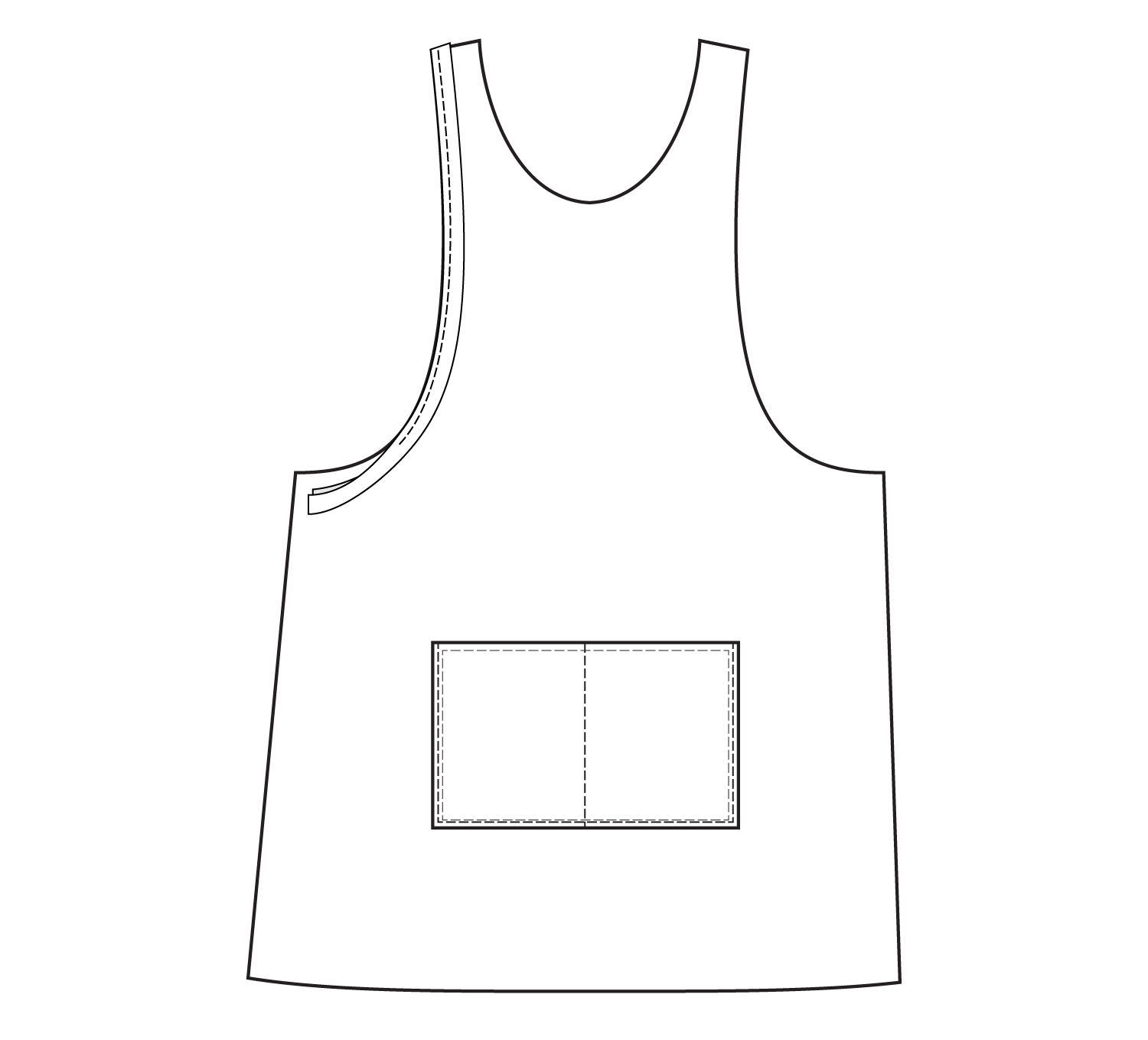 Step 7:
Sew alllll around all edges. They are all connected in one huge loop at this point, about 230″ of loop for the largest size, so just keep going. Stop sewing when you get about 6″ from where you started. Now you will need to connect the two ends of tape and trim any excess before you can finish sewing the bias to the apron. You will connect these two ends, right sides together, exactly the way you'd do a quilt binding. First lay the loose ends of the bias tape over the unfinished edge and mark where they need to be sewn together. Then lay the right piece over the left piece so they align at a 90 degree angle, right sides together. You'll need to open up the ends of the bias tape so they are not folded for this step.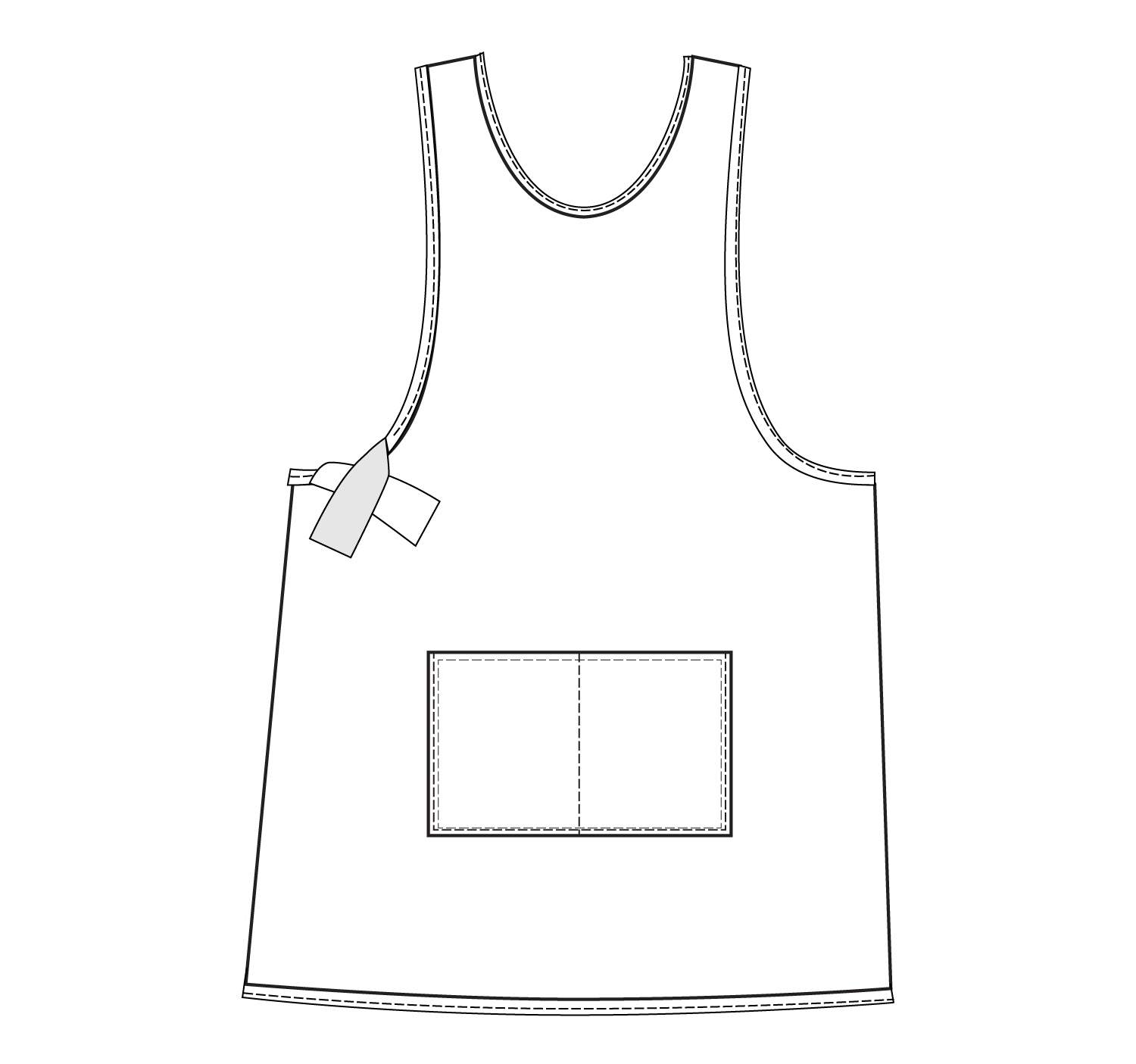 With the two ends laying right sides together at 90 degrees, sew from the bottom left corner to the top right corner of the box they form. Tip: I always just hold the two pieces together where this seam will be to double check that A: the final length will perfectly fit the unsewn apron edge, and B: the bias strips are turned correctly. The "left" strip, or the one that is right side up in this pic, needs to be turned over in a specific way for this to work, and it's nearly impossible to explain in text but very easy to see when you're holding the pieces. So, double check before sewing. If you just can't visualize what's about to happen, baste this seam first so you can be sure it works before sewing a permanent seam and trimming.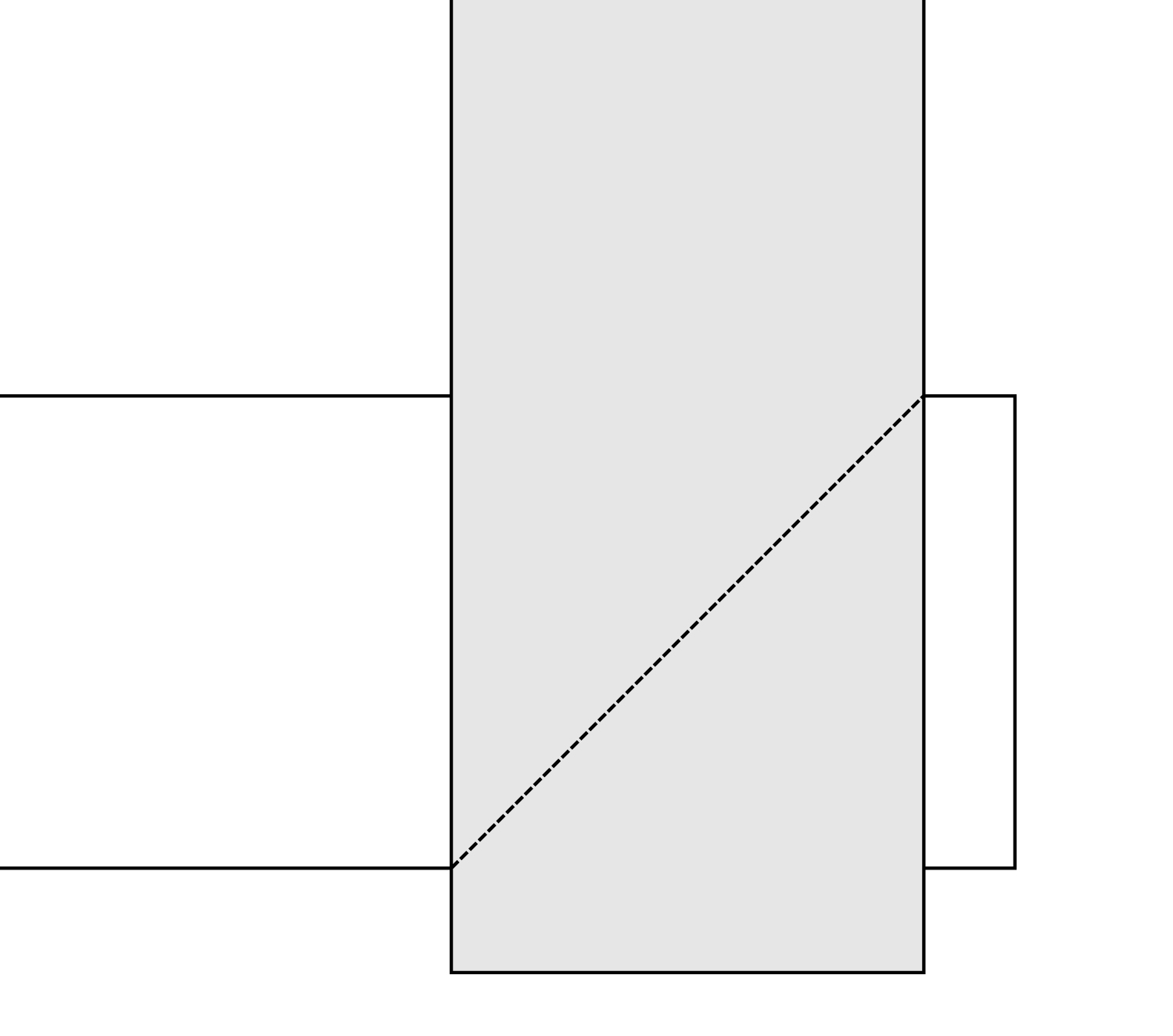 Trim the seam allowances and press them open.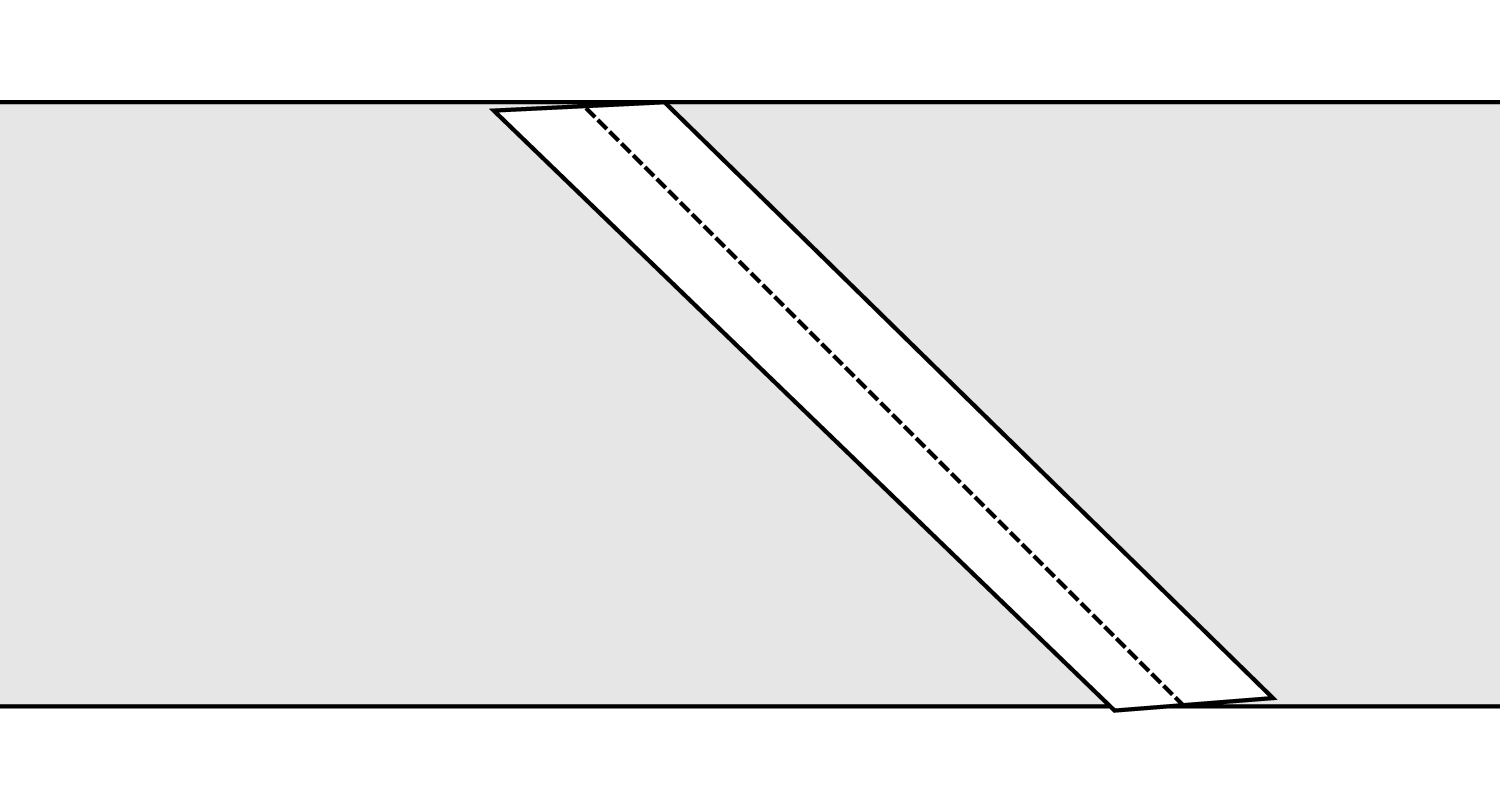 Then press the bias tape back in half, wrong sides together. (this image shows the end of a piece of bias tape folded in half to give you a visual, but obviously you won't have an end showing at this point)

Then finish sewing the bias tape to the raw edge of the apron.
Step 8:
Trim the seam allowances all around the apron to 1/4″. Press the seam allowances and bias tape away from the apron. At this point, I recommend you understitch the bias tape to help hold it down. However, this step just makes the apron extra professional and sturdy, it is not necessary for construction. To understitch, top stitch along the bias tape near the edge where it is connected to the apron, catching the seam allowances underneath. This stitch sews together the bias tape and 3 layers of seam allowance. The apron is NOT caught in this stitch.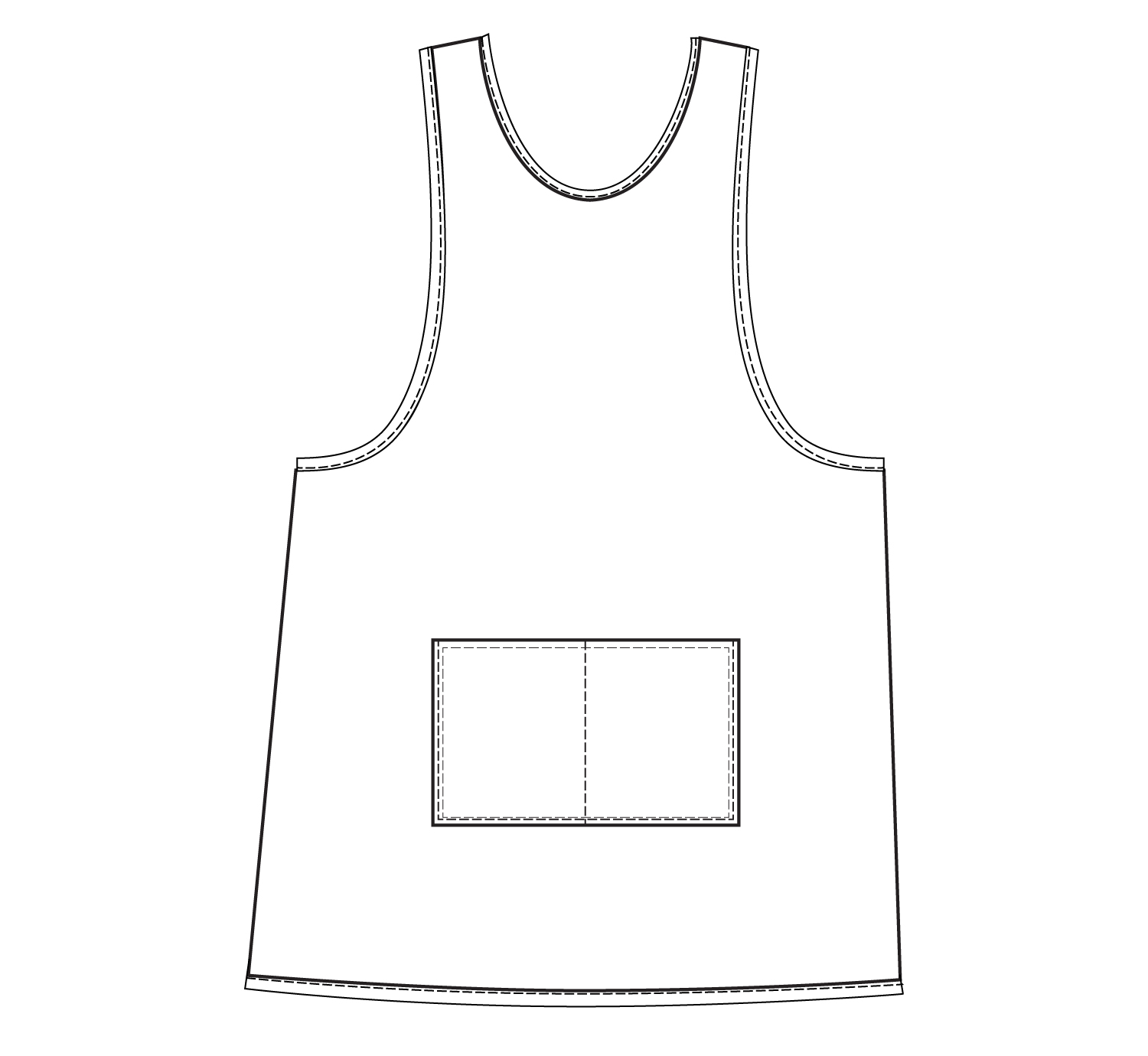 Step 9:
Press the bias tape fully to the wrong side of the apron. It should not be visible at all on the right side. If you understitched, that line of stitching will keep the bias tape from rolling to the right side. Edgestitch around the bias tape close to the fold to secure it to the wrong side of the apron. In effect, this is your third time sewing all around the perimeter of the apron. (If you understitched, the bias tape will now have two visible lines of stitching on it.)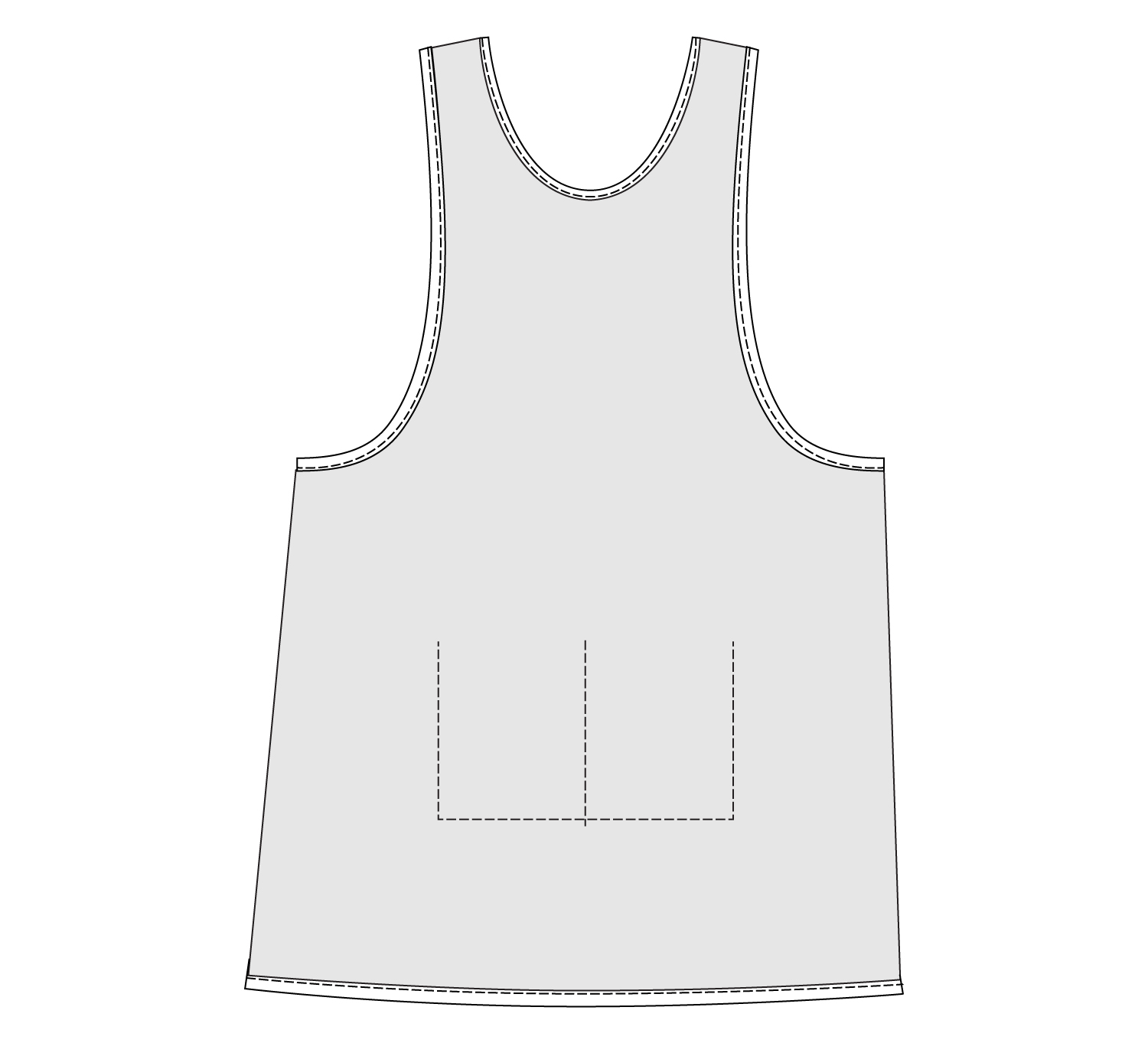 Step 10:
Press and steam your apron really well, especially around any wavy edges. Don't skip this step! And you're finished! Admire your beautifully constructed apron that will last years and even generations with care.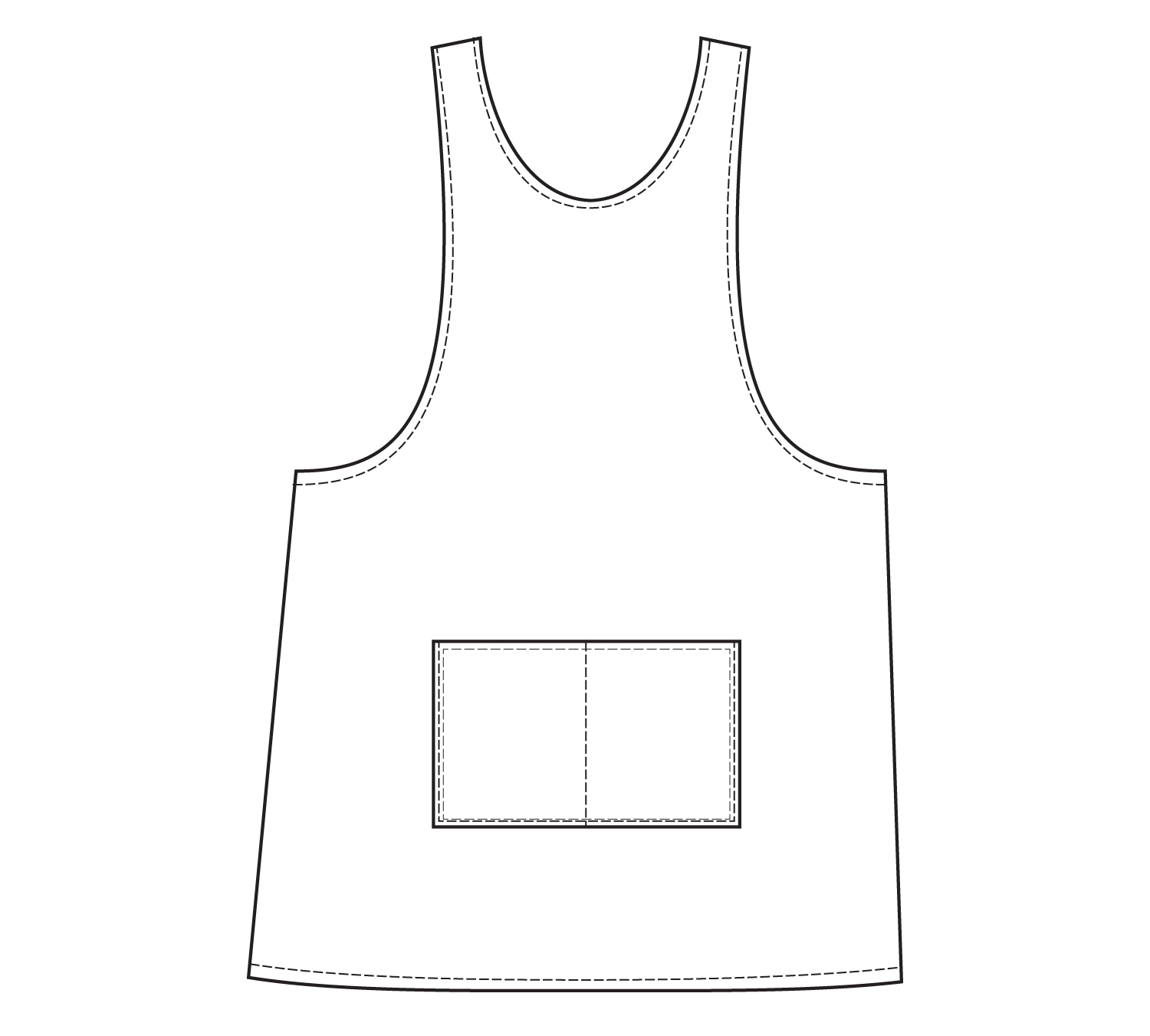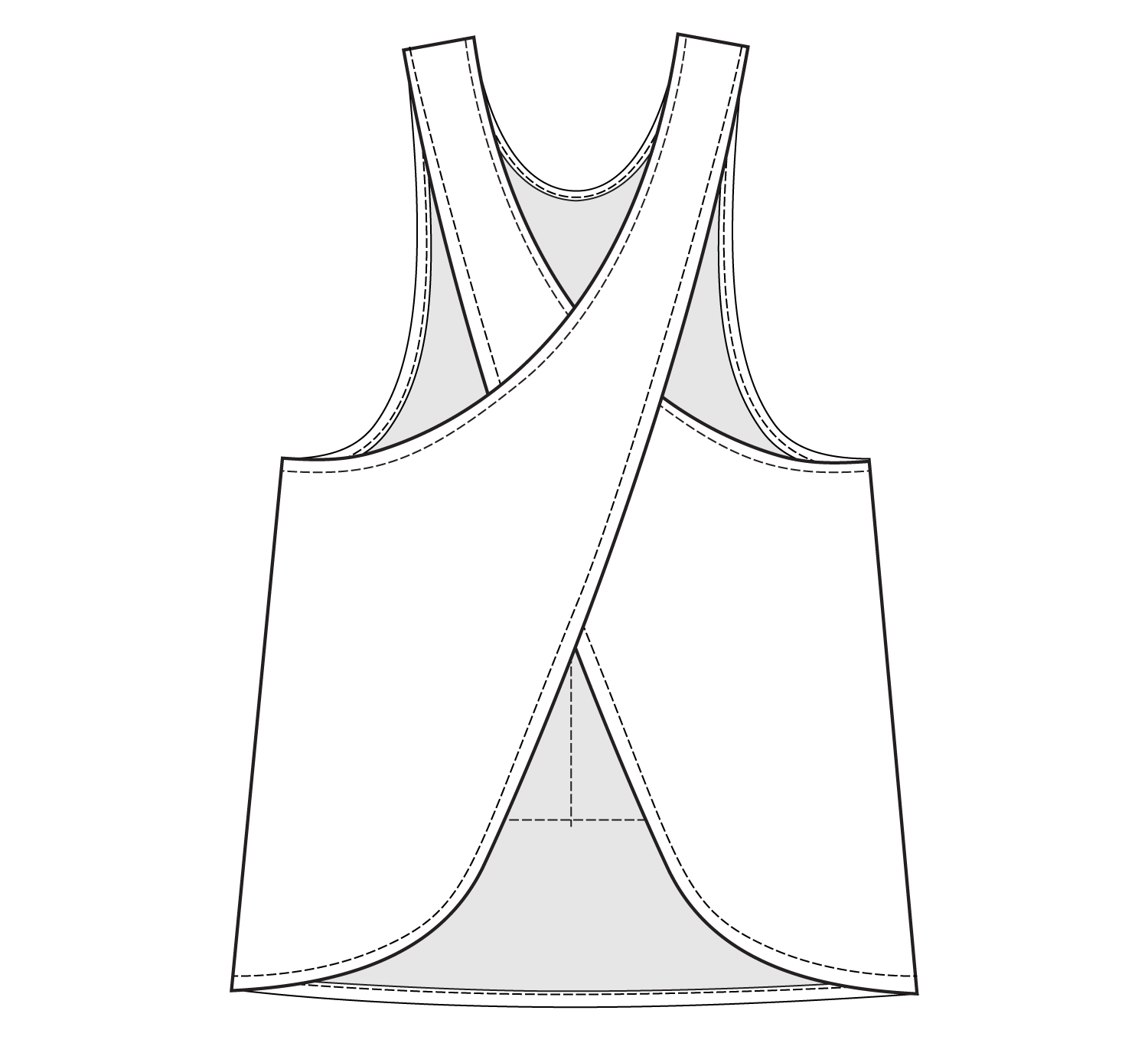 If you make an Allspice Apron, I'd love to see it! Tag us on social media with #HeyJunePatterns and #AllspiceApron!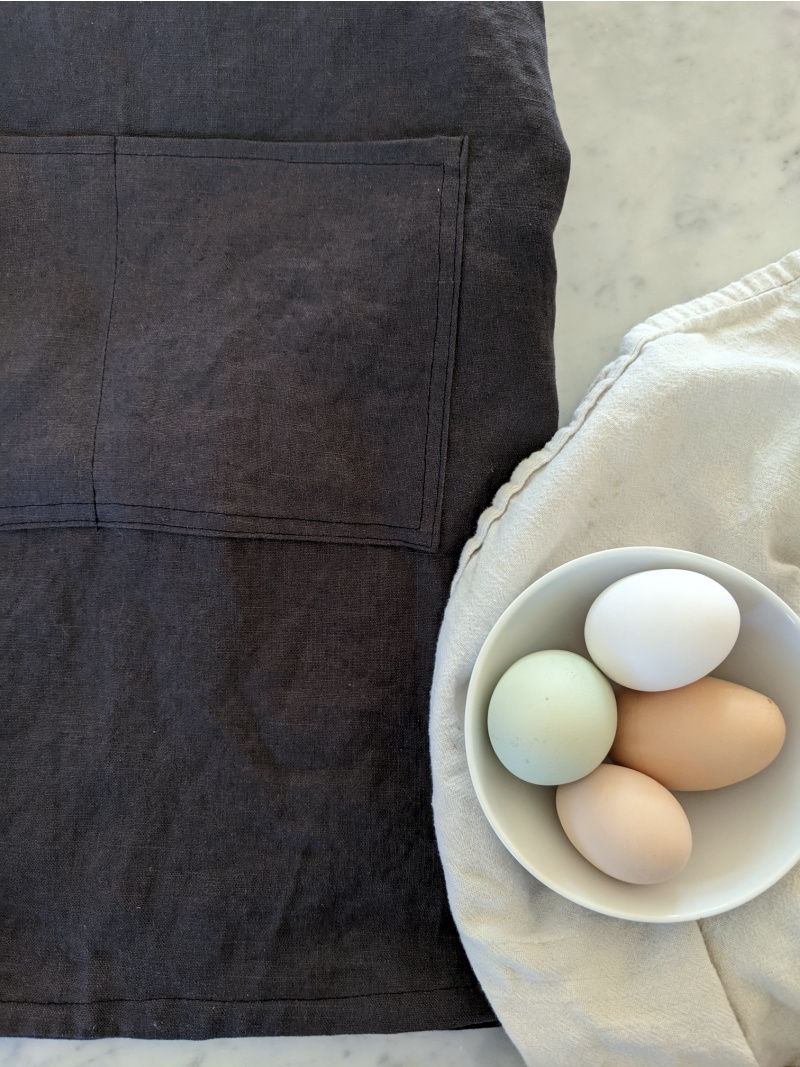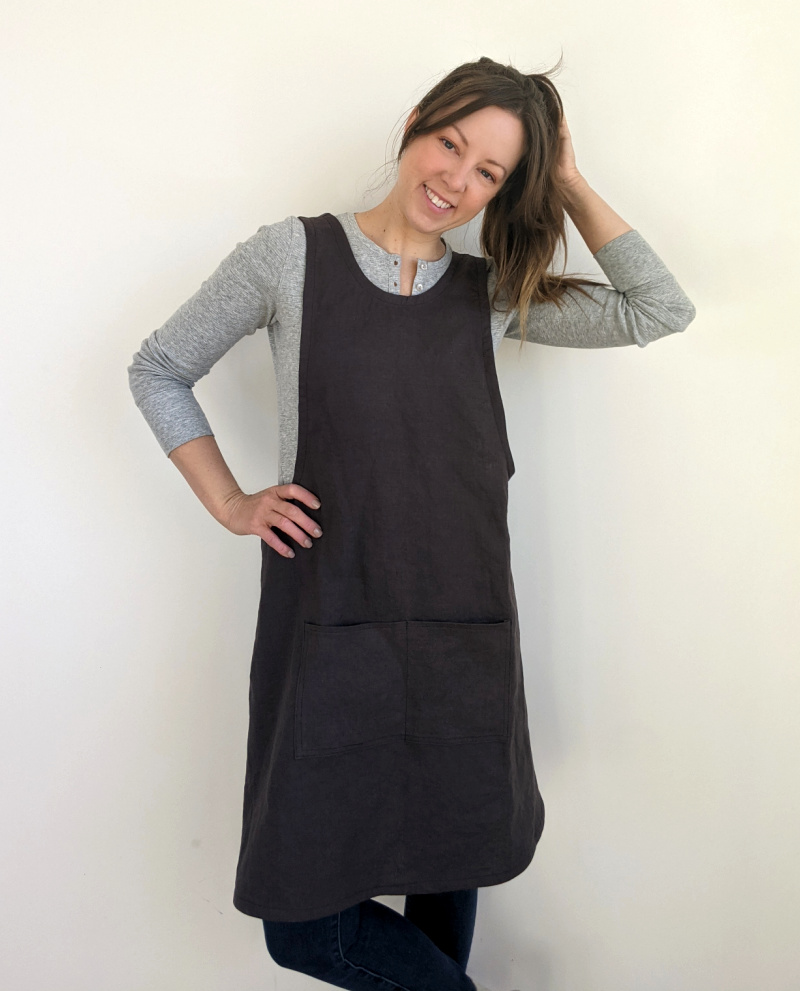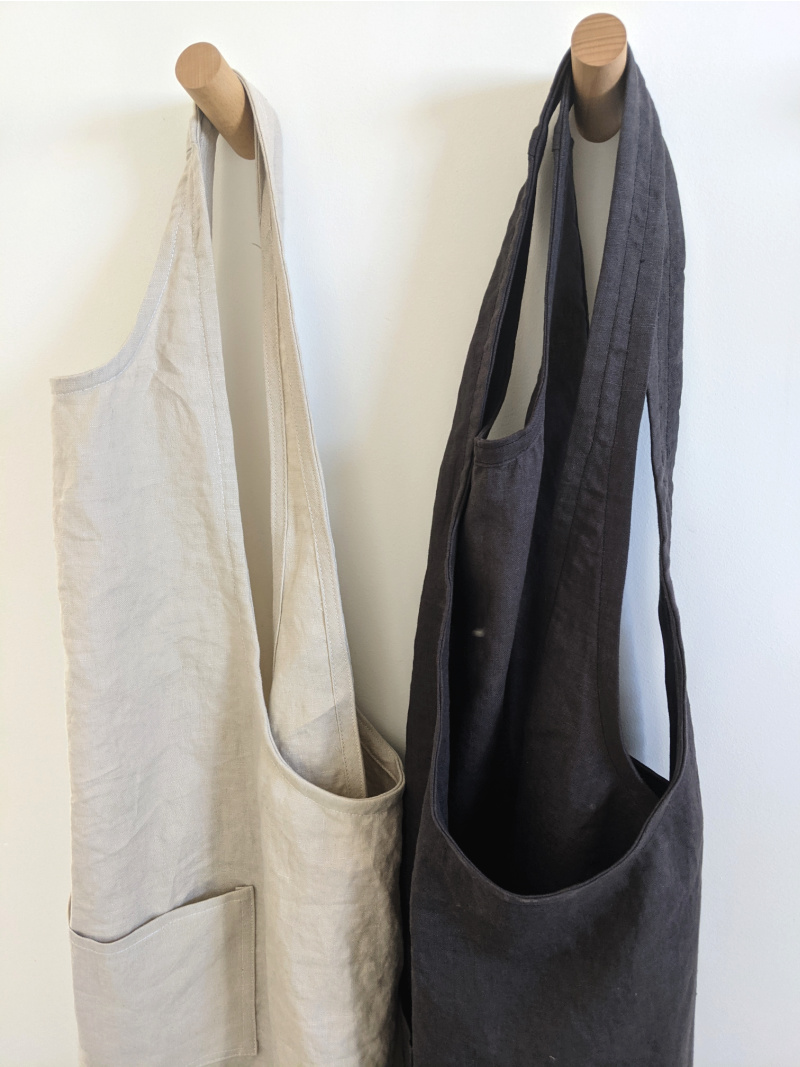 Happy sewing!