You guys, the Willamette Shirt testers knocked it out of the ball park, for real.  Whenever I finish a pattern I want a break from it after spending months working on it, but then I do these tester round ups and want to sew up another one immediately!  These ladies are just so talented and inspiring.  I love them all.  Enjoy!
Beth used this gorgeous gauze to sew up her Willamette in view B.  I just love that semi-sheer drapey fabric, and that print is to die for!  Gauze is an excellent fabric choice for the Willamette, in case you were wondering!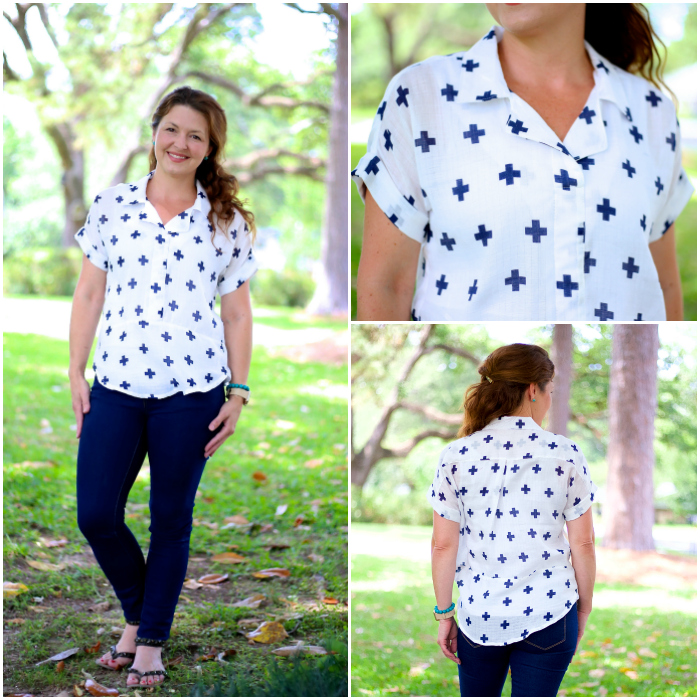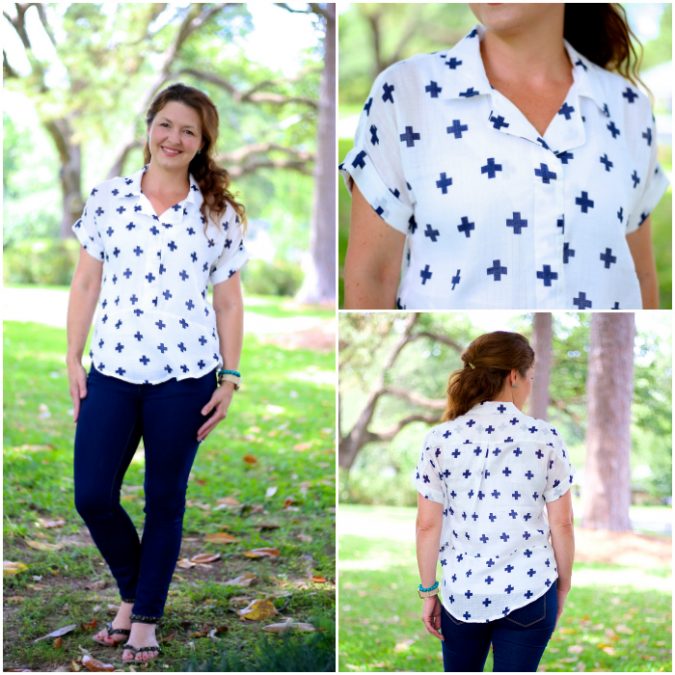 Abigail made a gorgeous solid view A in another beautifully drapey fabric – rayon!  I just love this shirt in a solid bold color!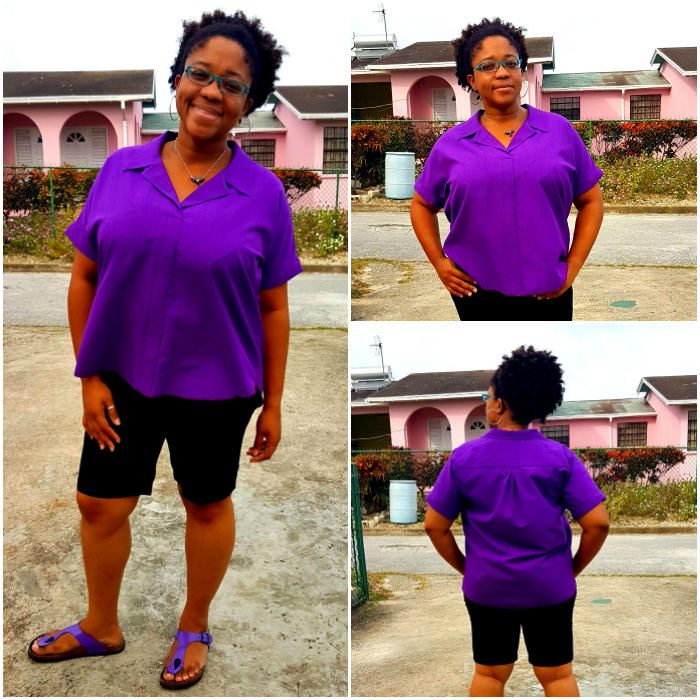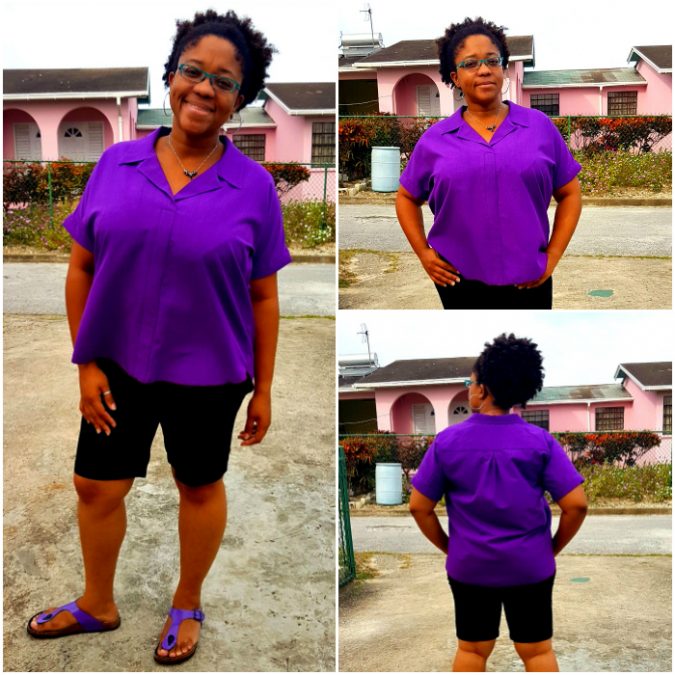 Amy made two Willamettes!  Her first is a lovely floral and the second features a novelty print with cute colorblocked accents!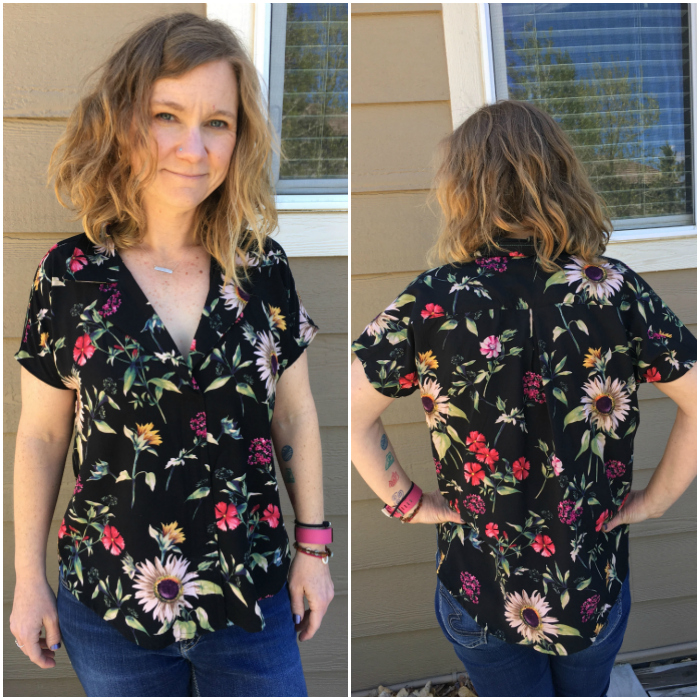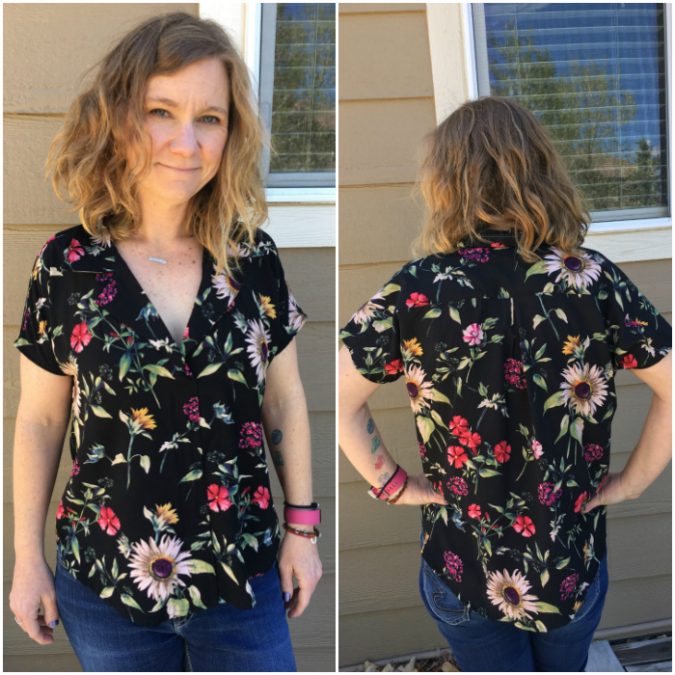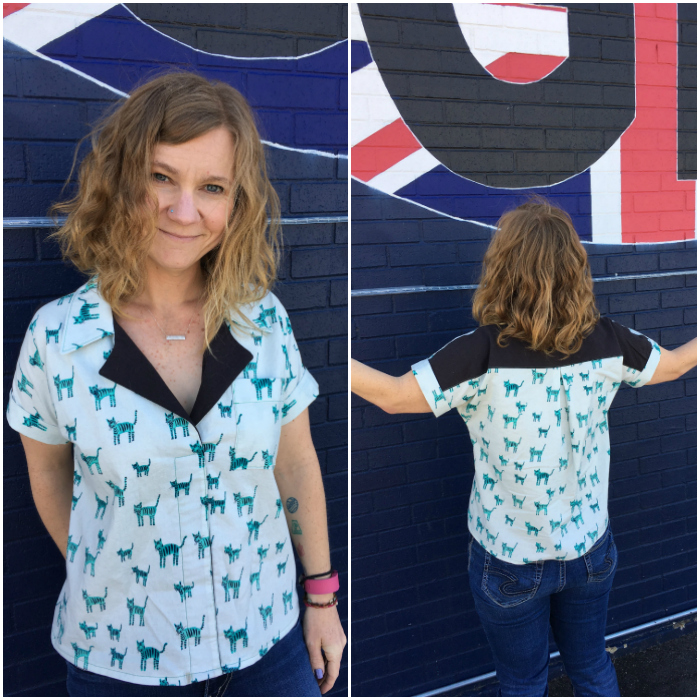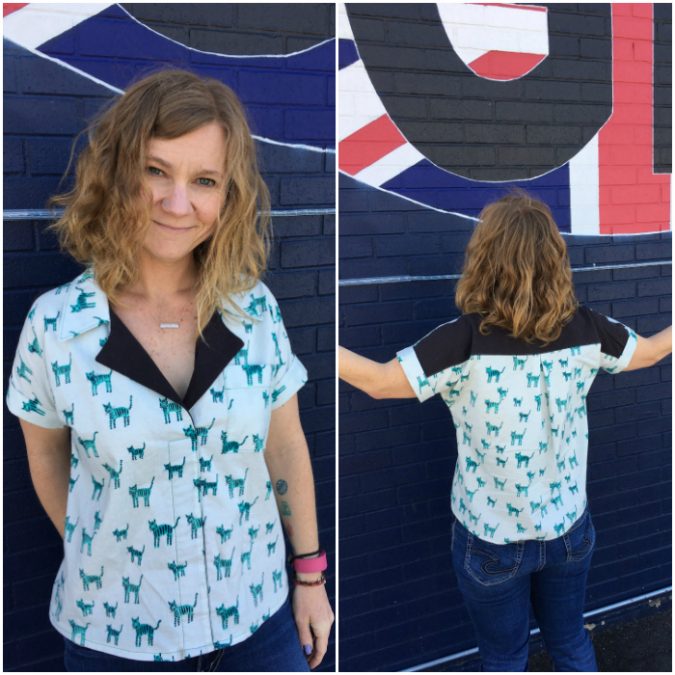 Indu also made two shirts.  I think a chambray Willamette like hers would be an absolute wardrobe staple.  I'd wear that constantly!  Her second one is a view C in a bright and pretty ikat.  Indu is also showing off the optional button in the placket!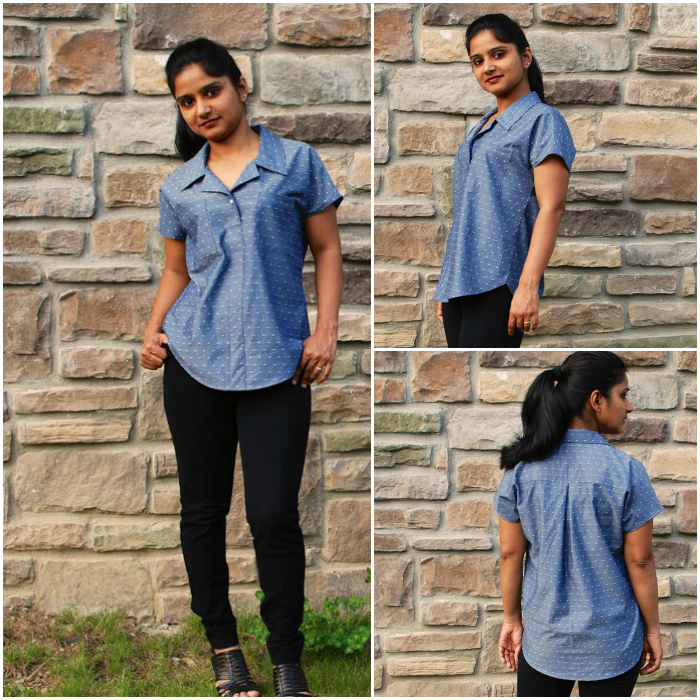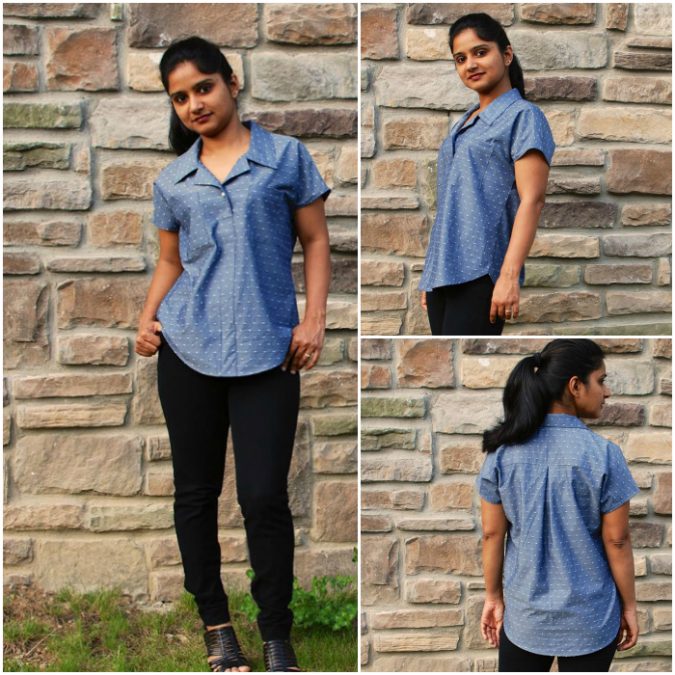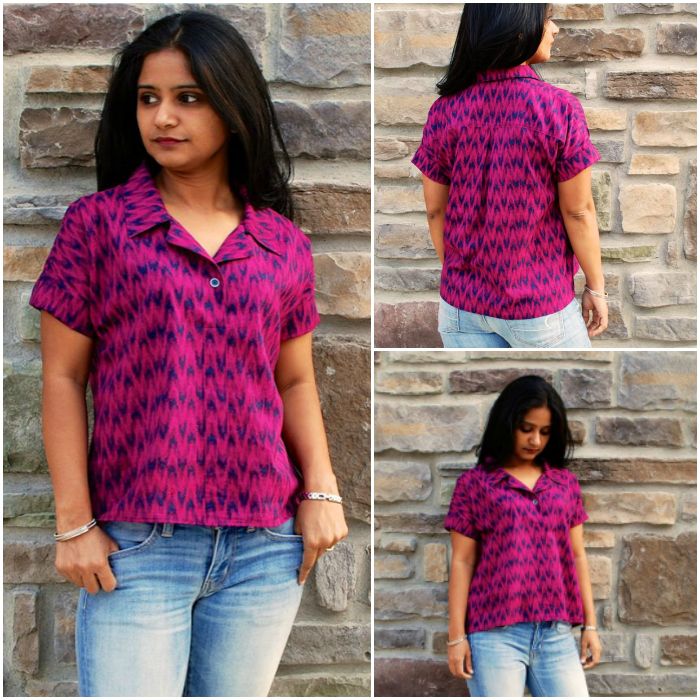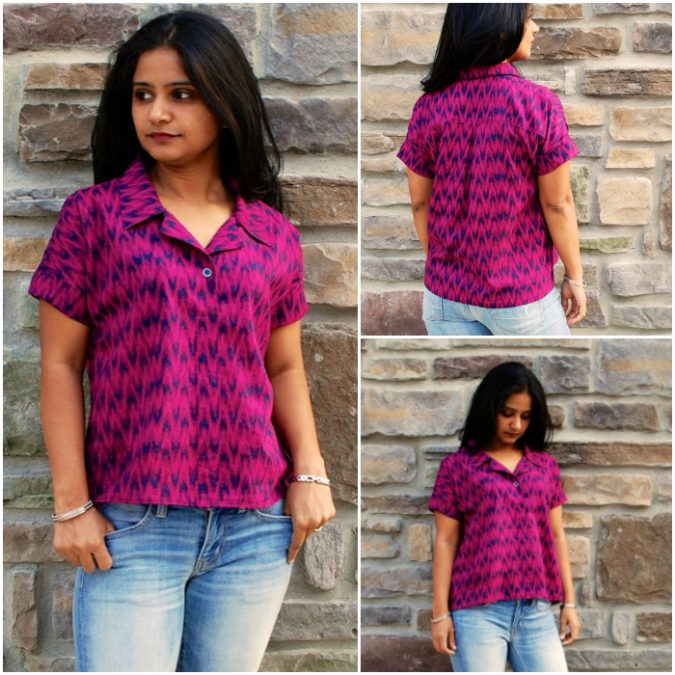 Emily made a pretty printed Willamette basically during childbirth.  Like push, sew, push, sew.  I mean, I'm exaggerating, but not by much.  Big round of applause to you mama!  For the shirt and the baby 🙂  The Willamette is great for postpartem and can be used for nursing by adjusting the height of the front placket!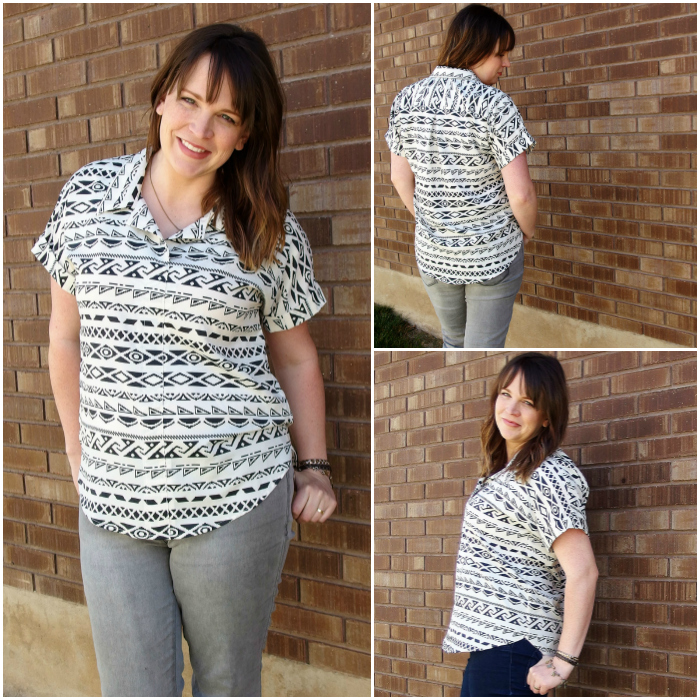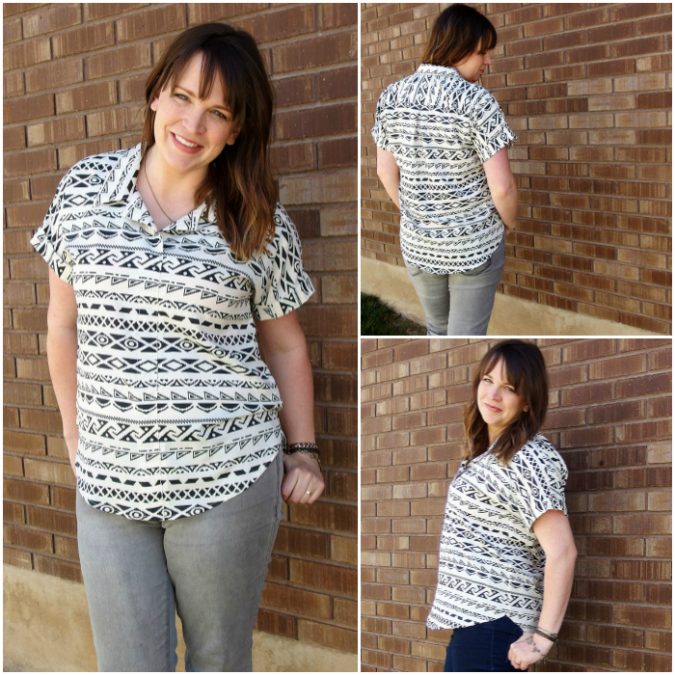 I'm completely enamored with Ashleigh's simple white Willamette.  I love how she sewed 3 buttons down the front for a cute accent.  This is also another way to make it nursing friendly!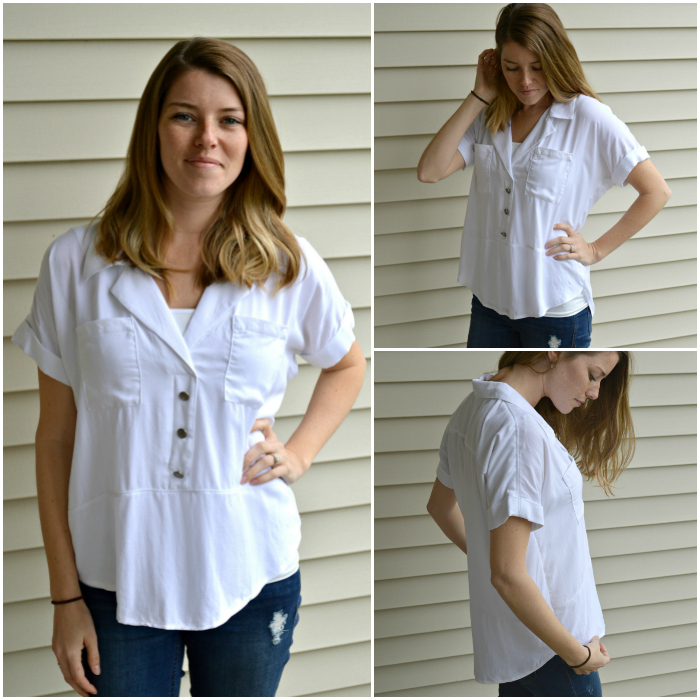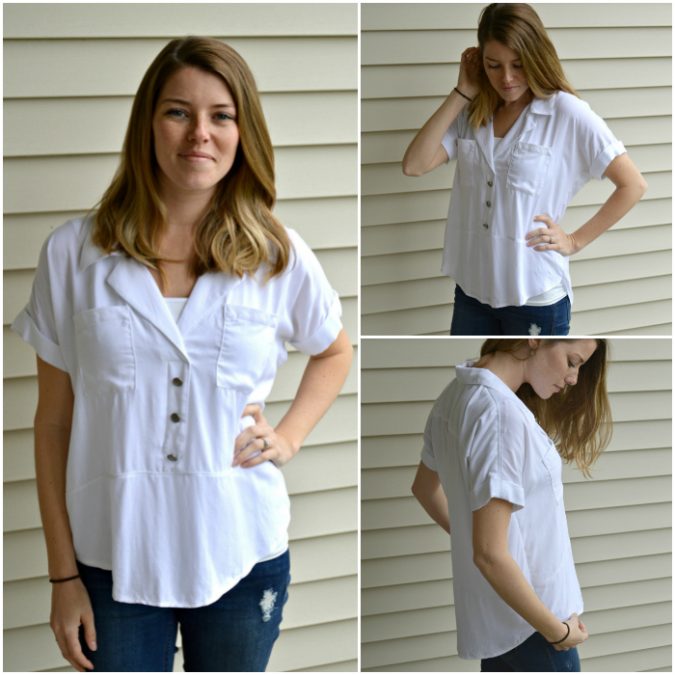 Tone used view B to make a cute colorblocked checked shirt, paired perfectly with aviators and skinnies!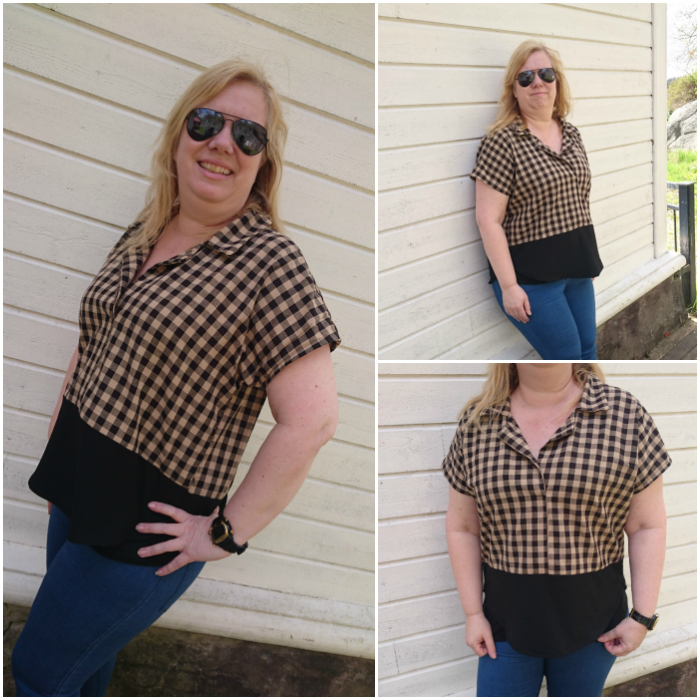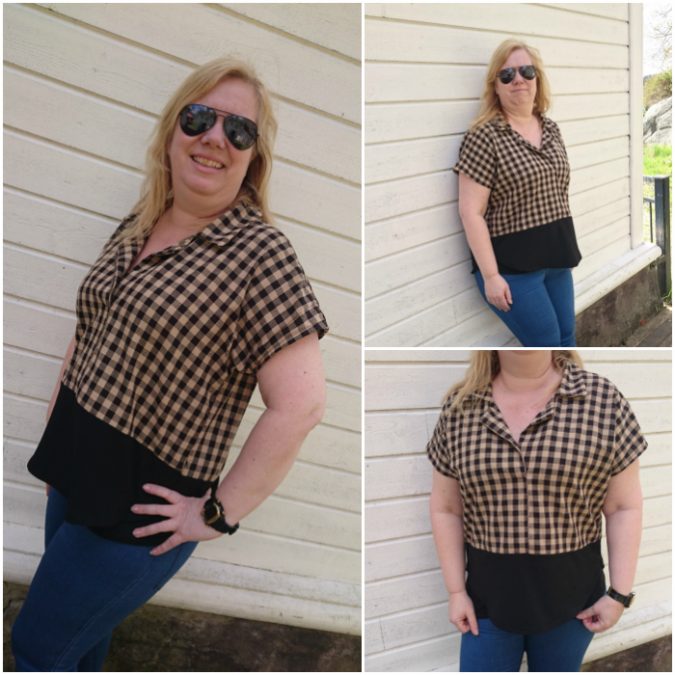 Courtney sewed up this pretty and silky view A.  I love how she paired a cami with this slightly sheer fabric.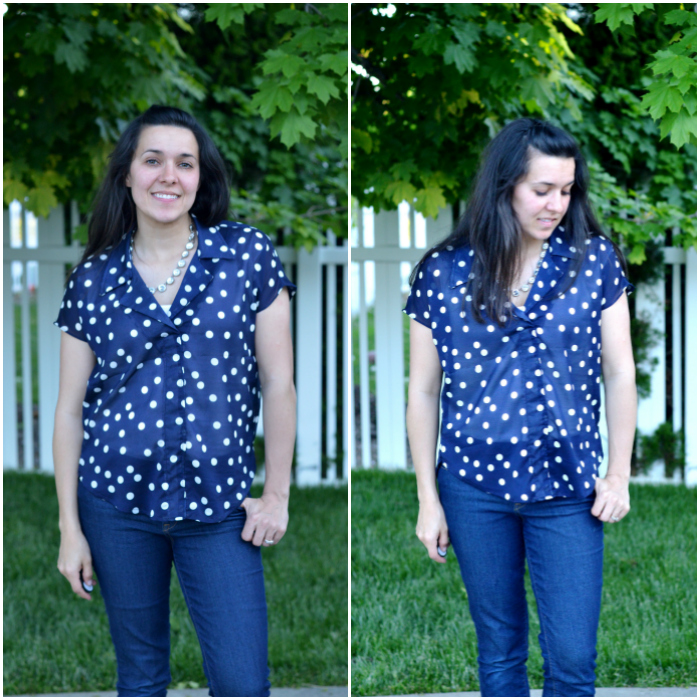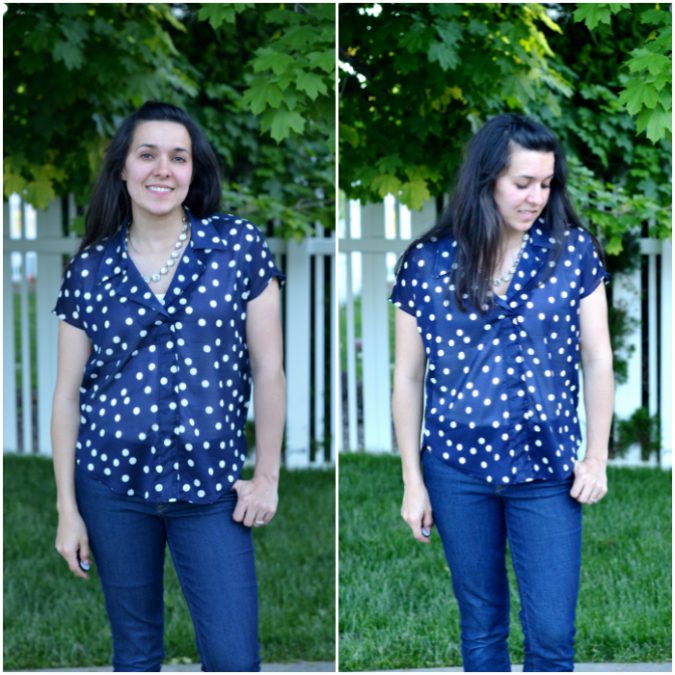 Ann made her breezy blousy view A in a perfect spring print.  Love that drape!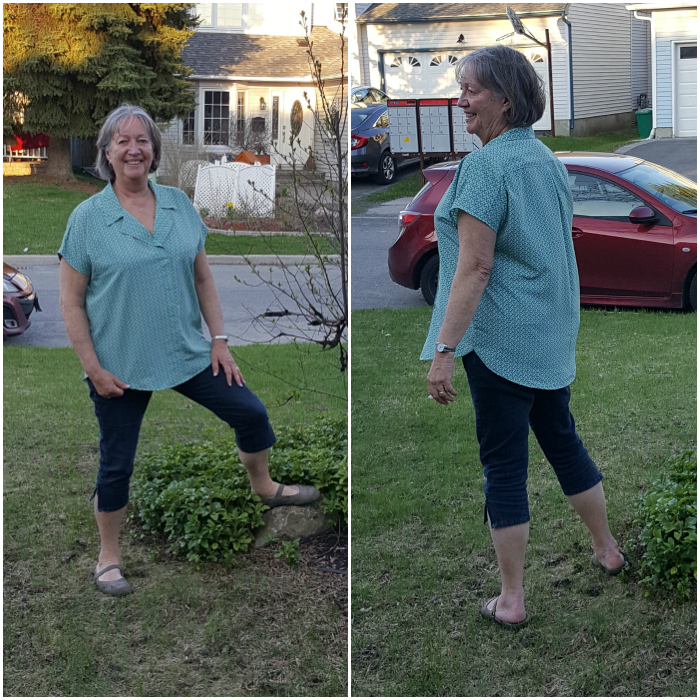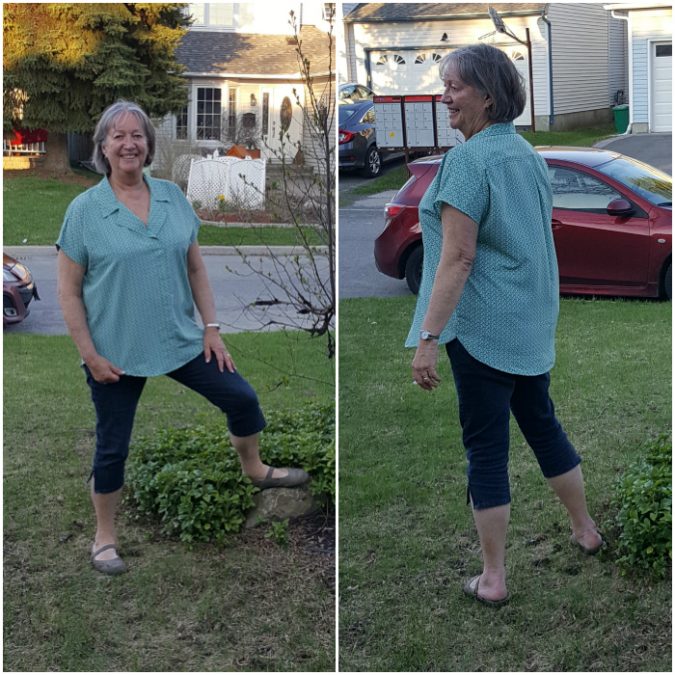 Amy made a classic camp shirt with gingham and red accents.  I love the contrasting cuffs!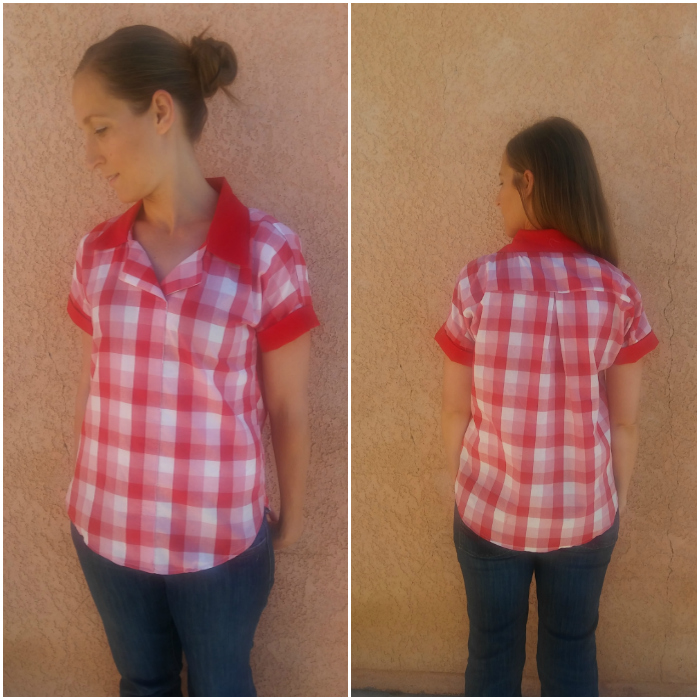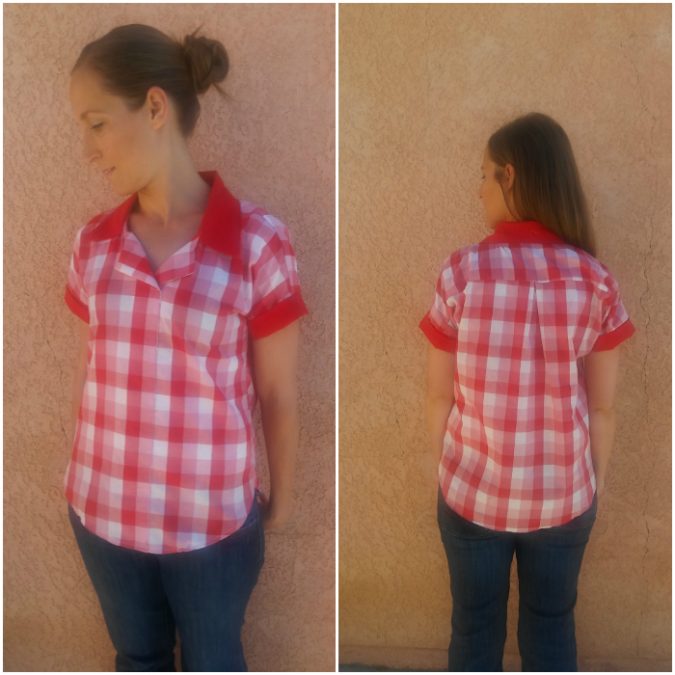 Rebecca is showing us how great view A also looks with a vertical stripe!  Love the styling here with those earrings too!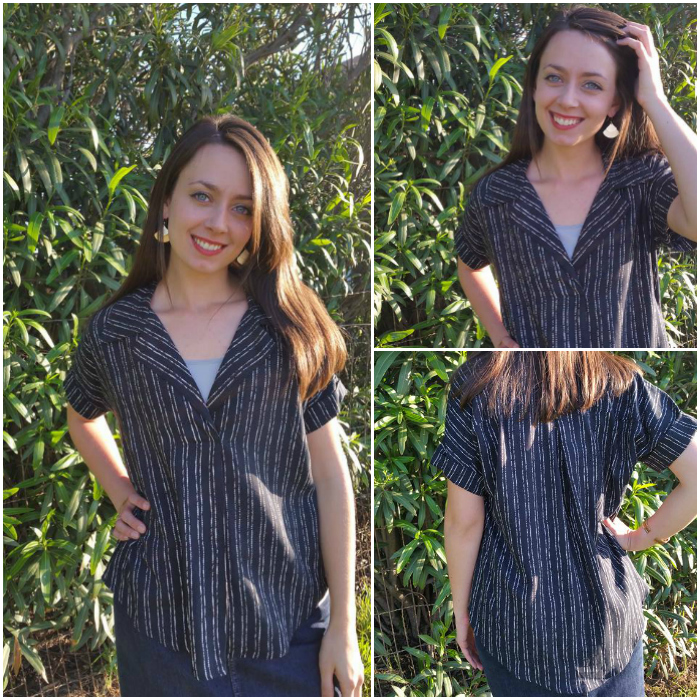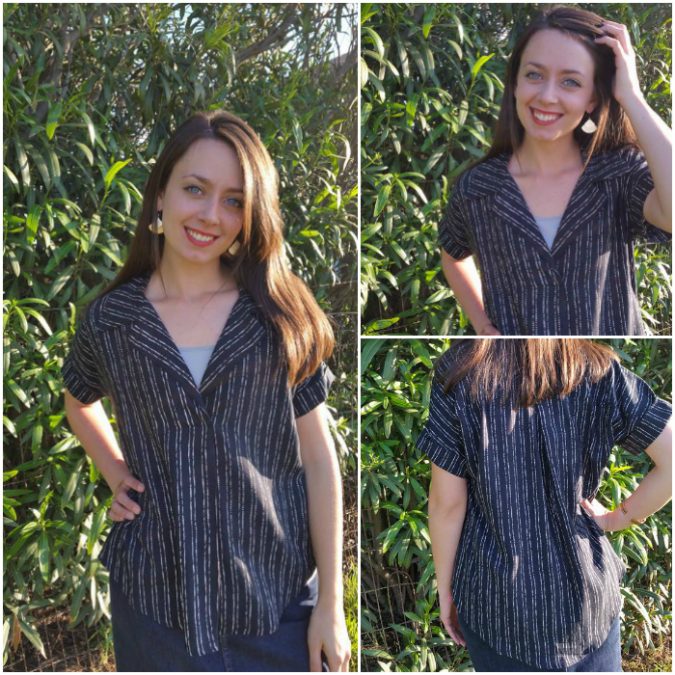 Brenna sewed up cute bold colored view A.  I love that all-over print on this top!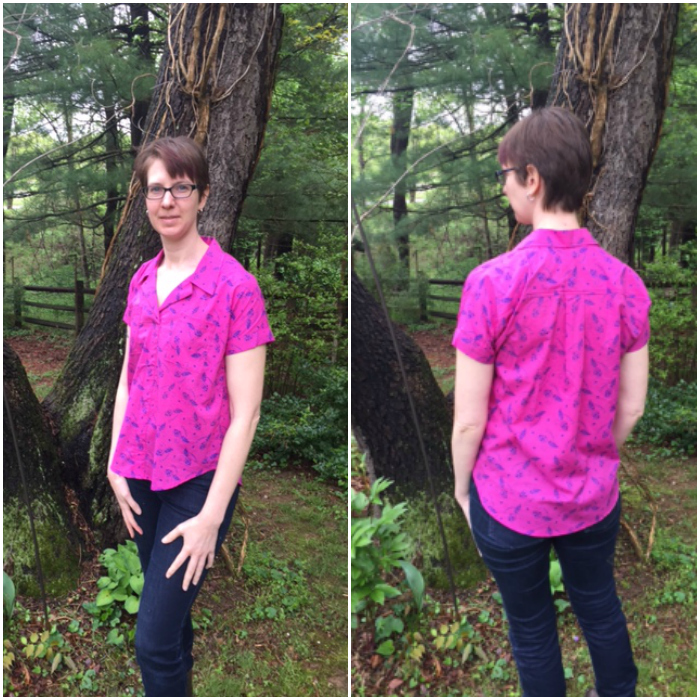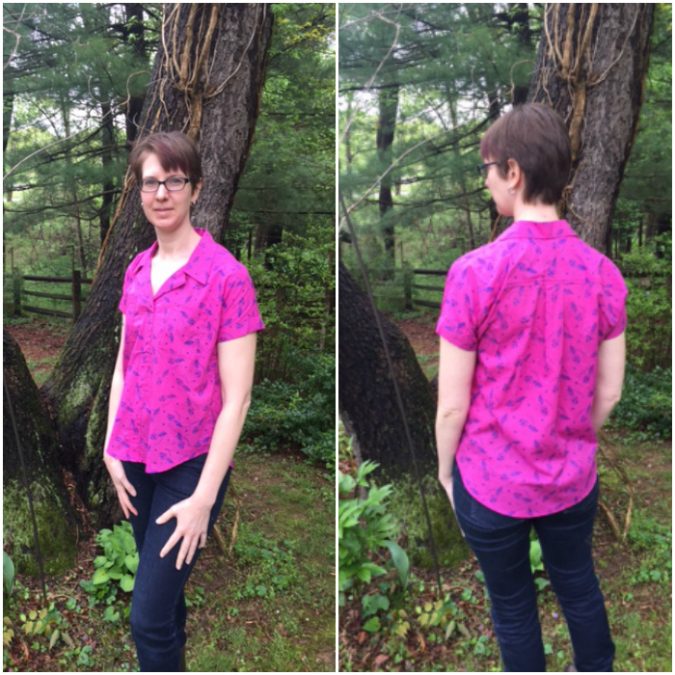 Stephanie is taking advantage of that shibori/tie dye trend with her soft and drapey Willamette view A!  Perfect fabric/pattern combo!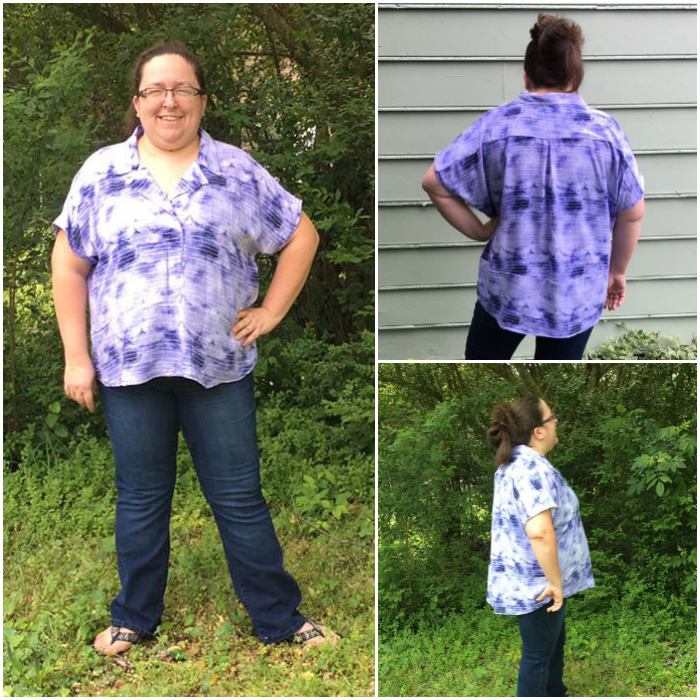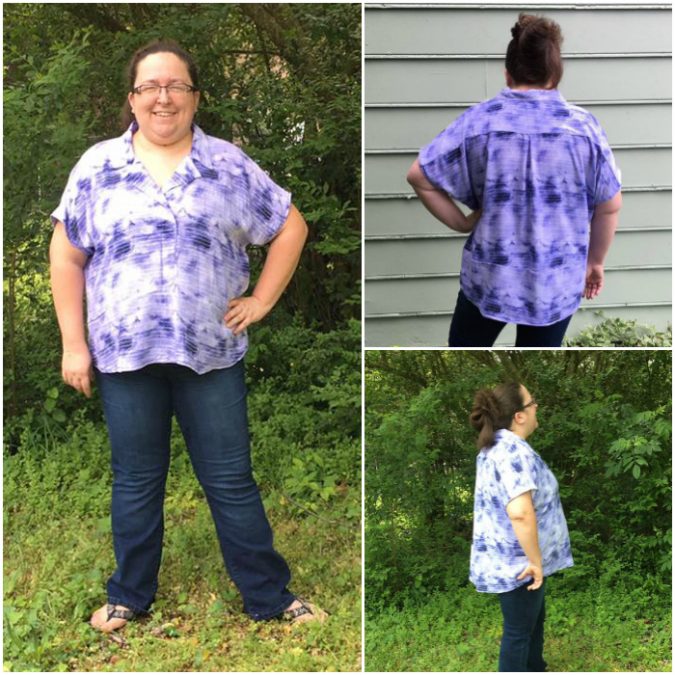 I want to call this shade of bluish green Emily's signature color because she uses it a lot and it looks fantastic on her!  Perfect solid colored Willamette for wearing all summer long!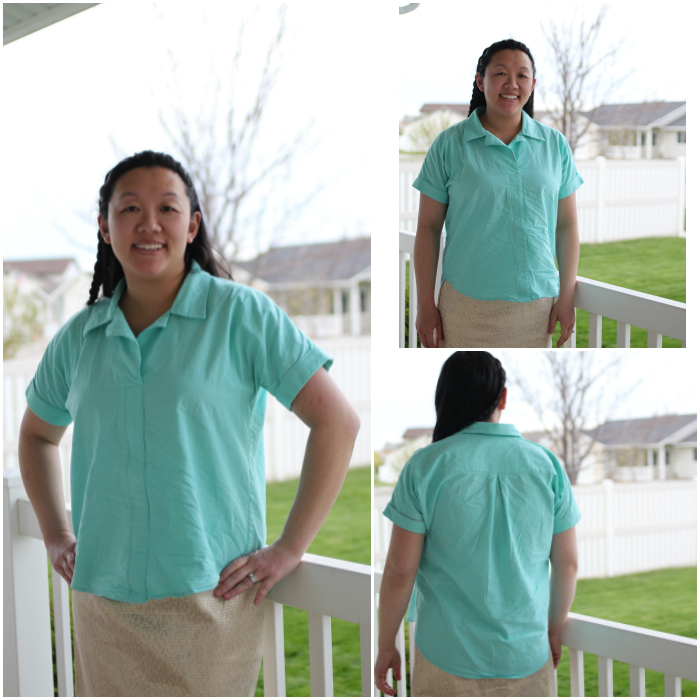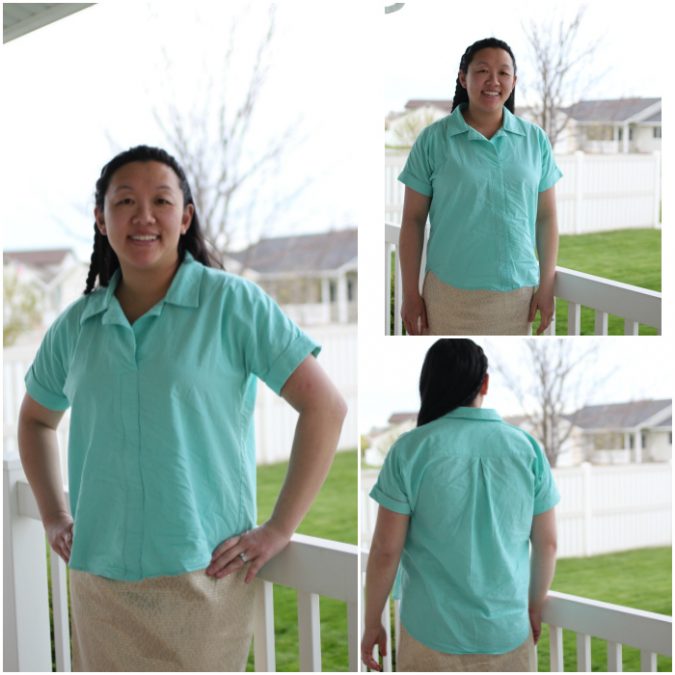 Cat made a super versatile light blue chambray version.  I think this would pair well with basically any bottom in my wardrobe.  Love that drape and fit, Cat!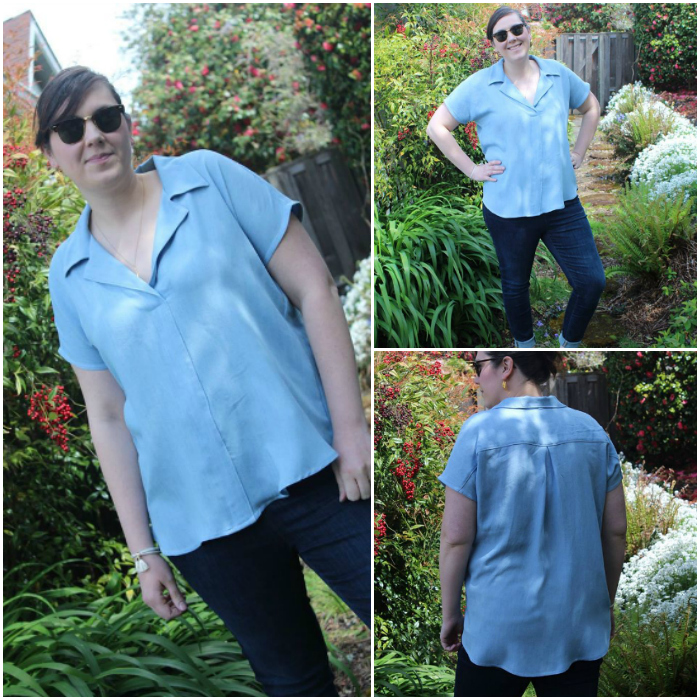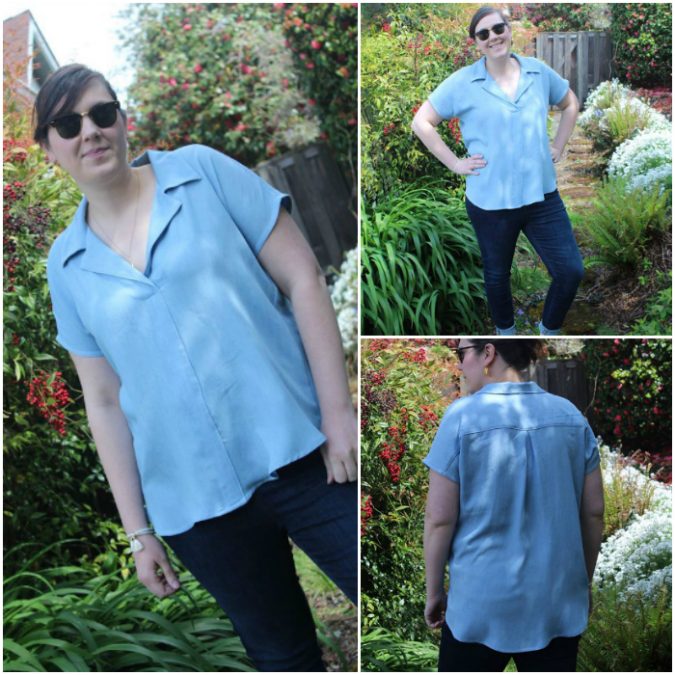 Tami nailed it with that wide checked fabric accented with bias cut pieces.  I can't stop staring at the back of her shirt, it's just perfection.  Style icon status!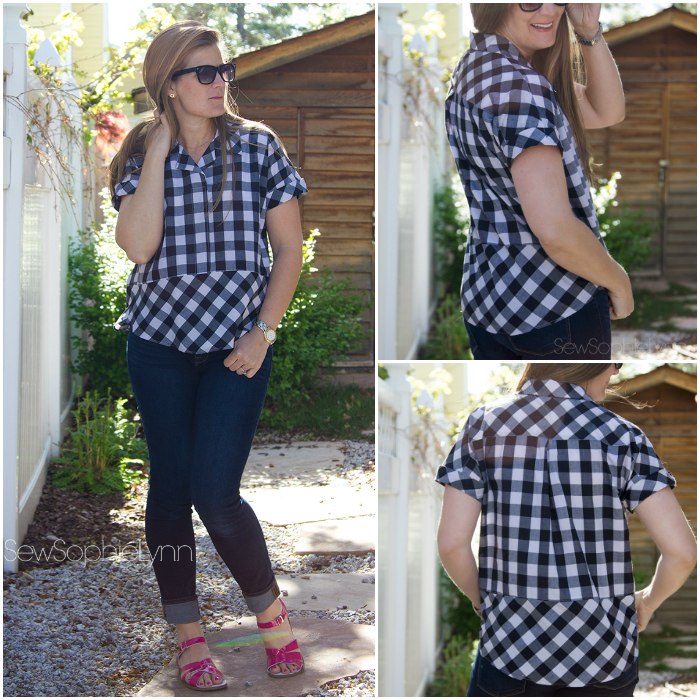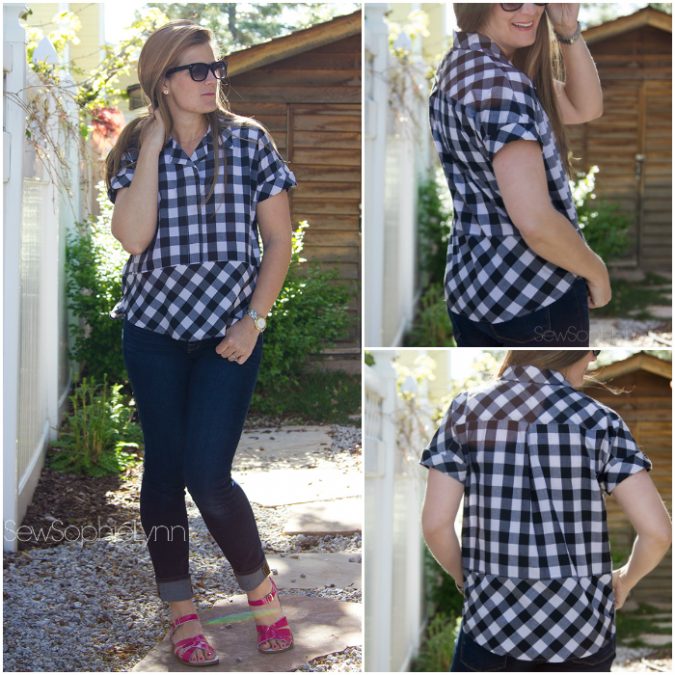 Cori made her Willamette in a pretty Spring green and paired it with the most gorgeous tree ever 🙂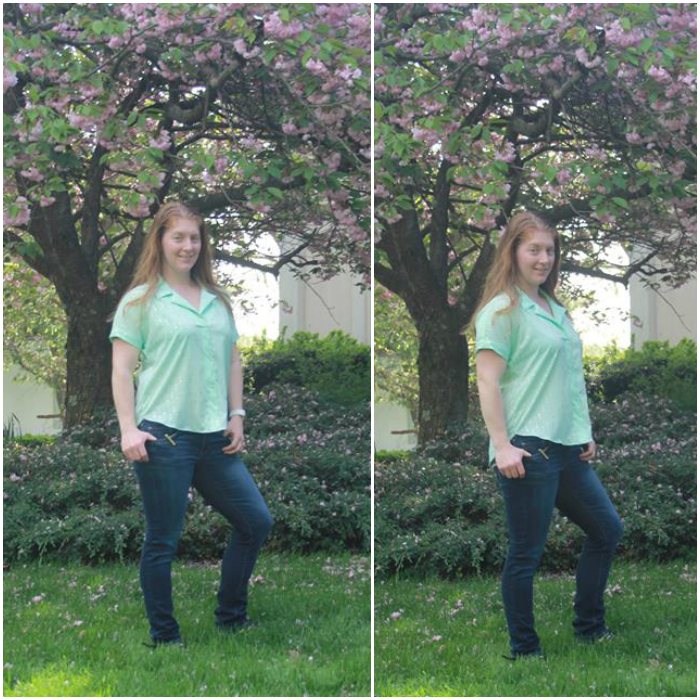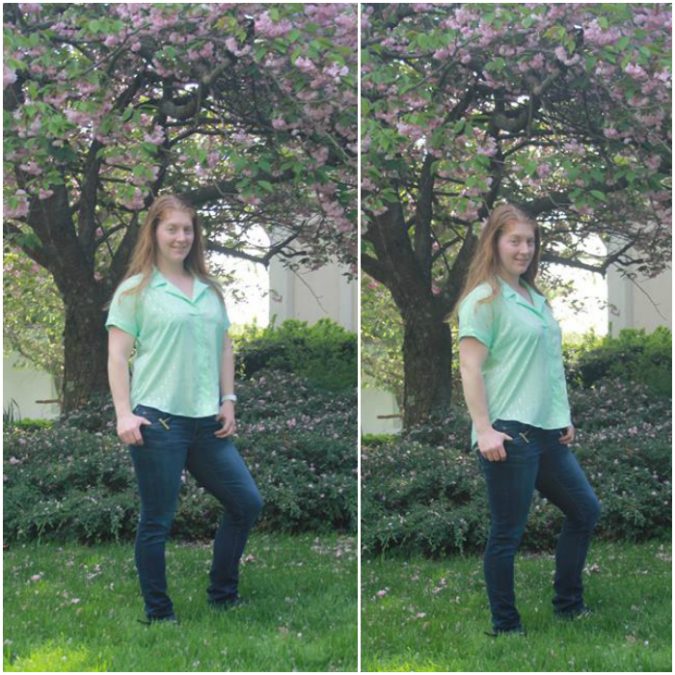 Emi's Art Gallery colorblocked view B has all the heart eyes from me.  And could that background be any more perfect?  Love this perfect, casual shirt Emi!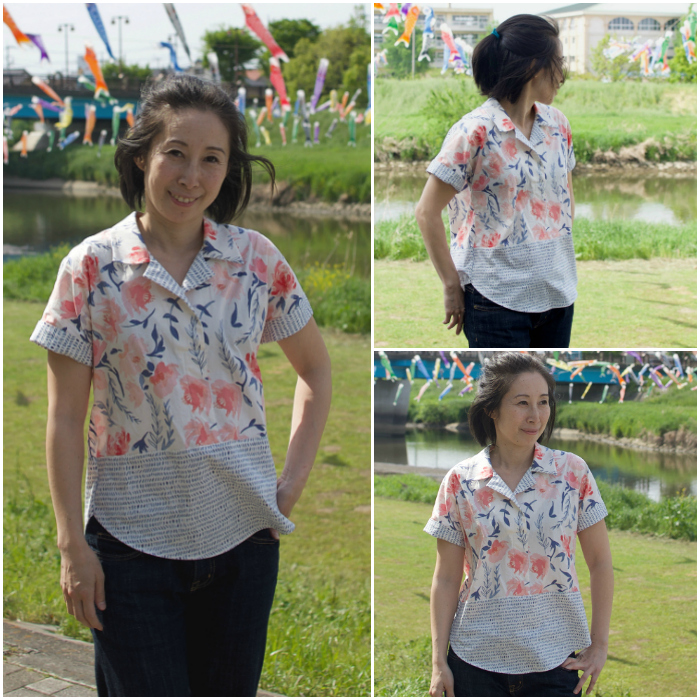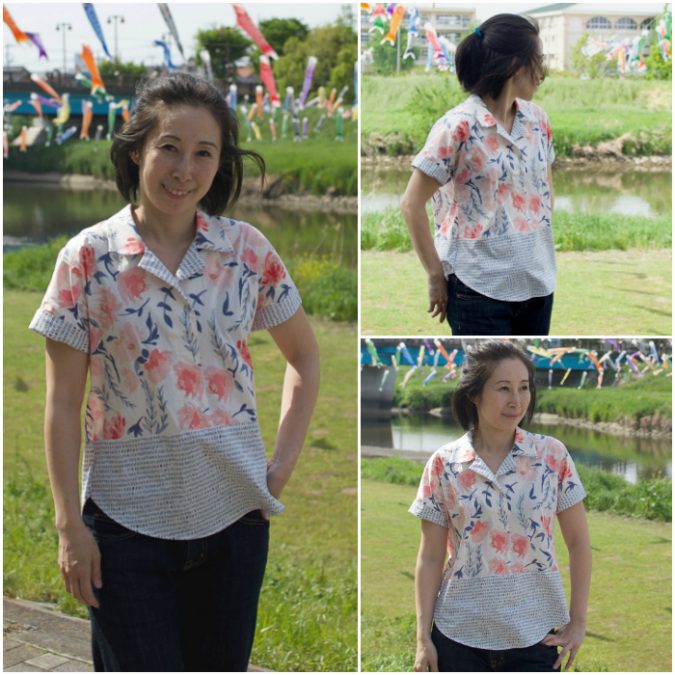 Crystal sewed up a view B and a view A Willamette! That sheer lilac color couldn't be more perfect for spring and I just love that graphic print on this shirt!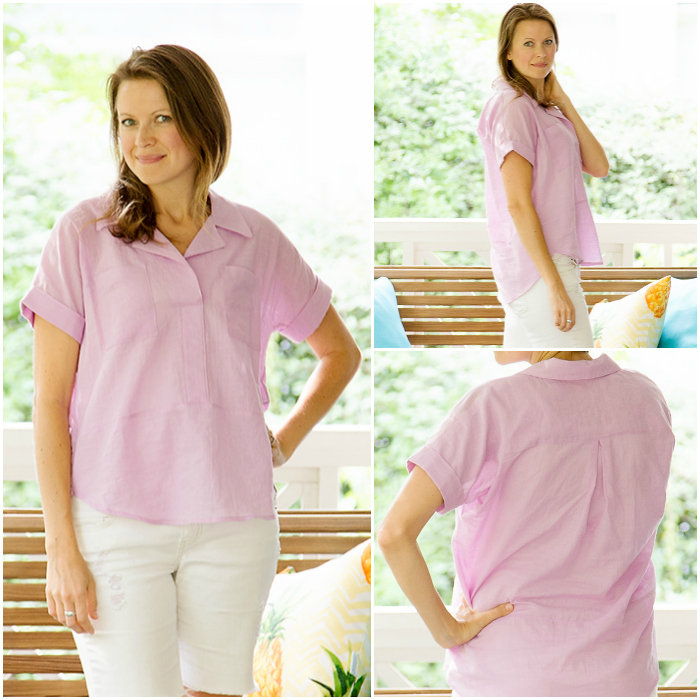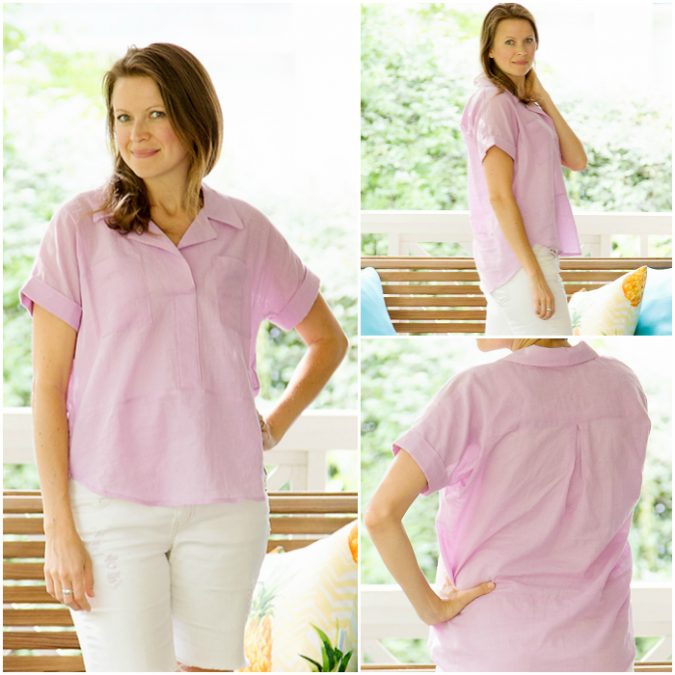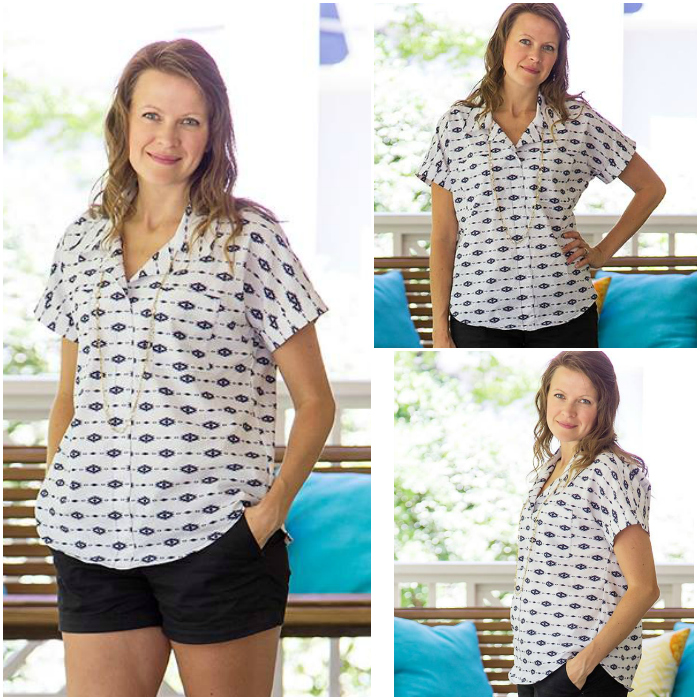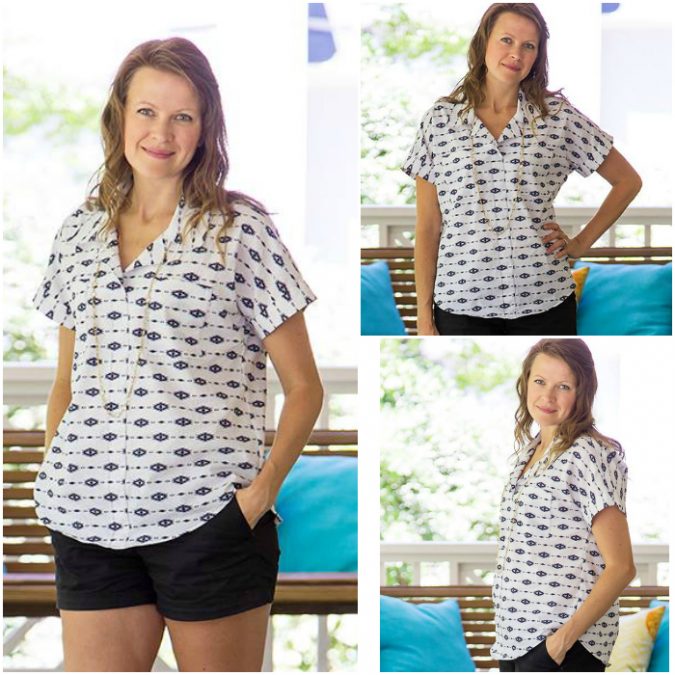 Jeanine is having way too much fun in her cute floral Willamette in view C.  Jeanine tacked the pleat closed at the hem, which is a great option for smaller hips.  These pictures make me so happy!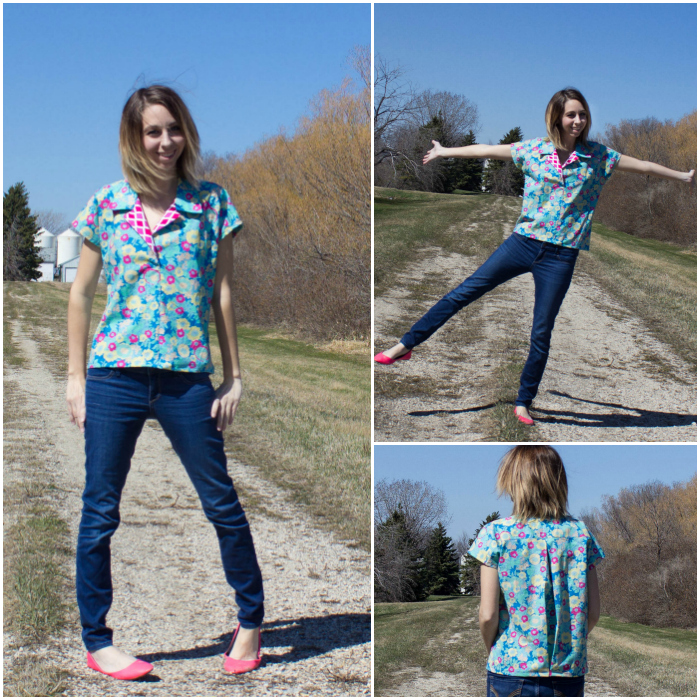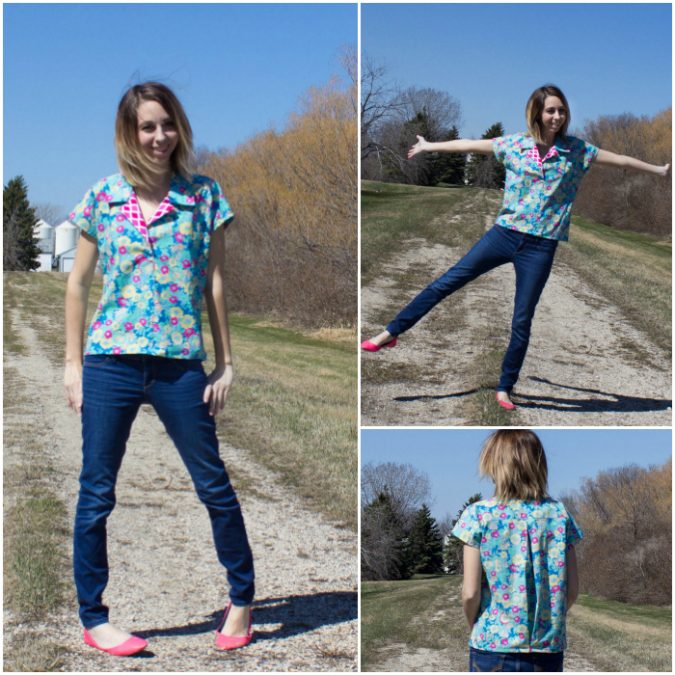 Jennifer sewed up this super cute lightweight plaid version.  It's the perfect camp style shirt!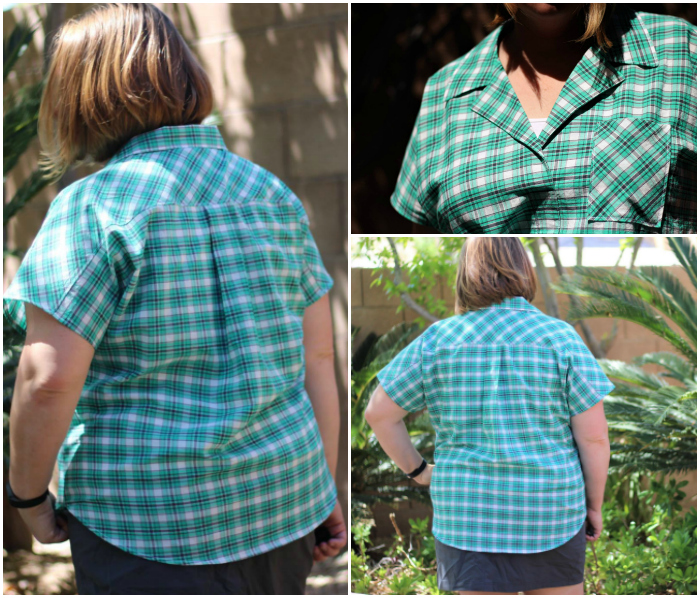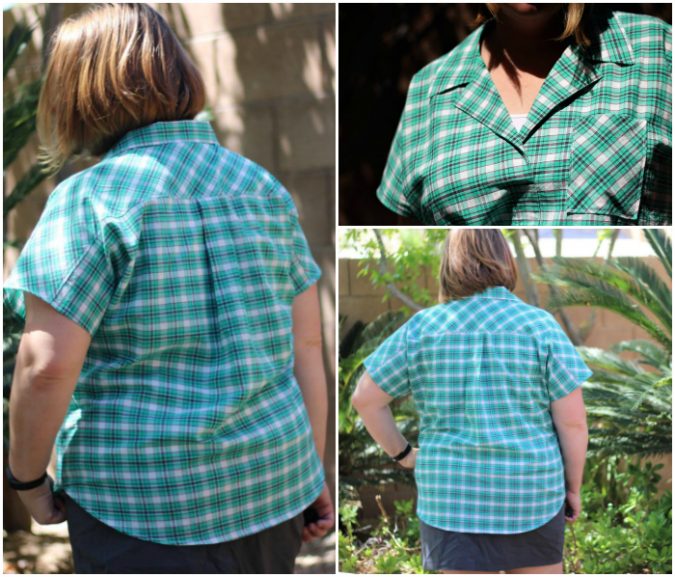 Maria made a gorgeous linen-look drapey Willamette for her daughter, who is expecting.  Views A and B should carry you through at least the second trimester of pregnancy in a soft and flowy fabric like this!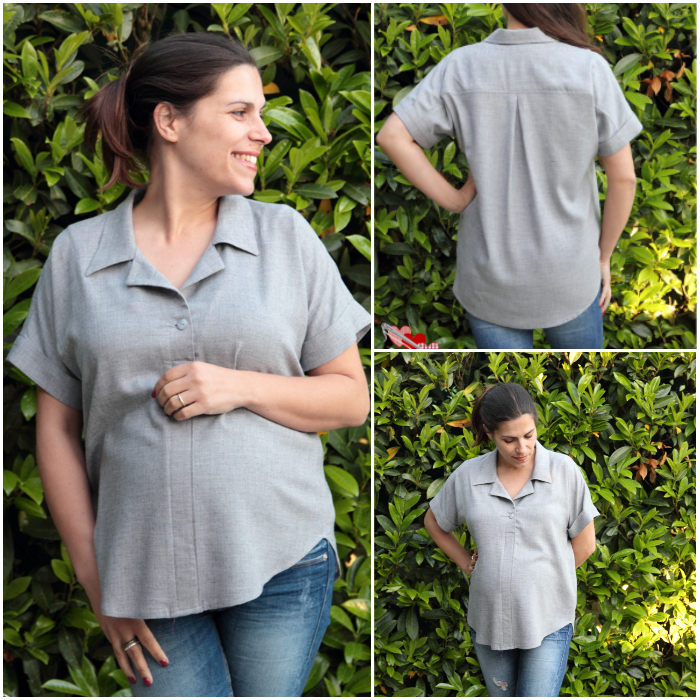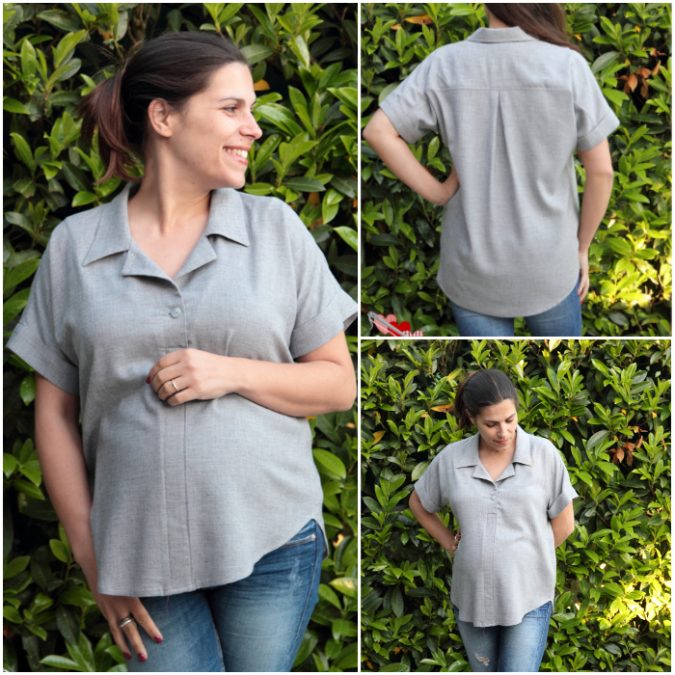 Kristin's one-pocketed view A has me wishing for bbqs and picnics!  I'd be reaching for this shirt all summer long!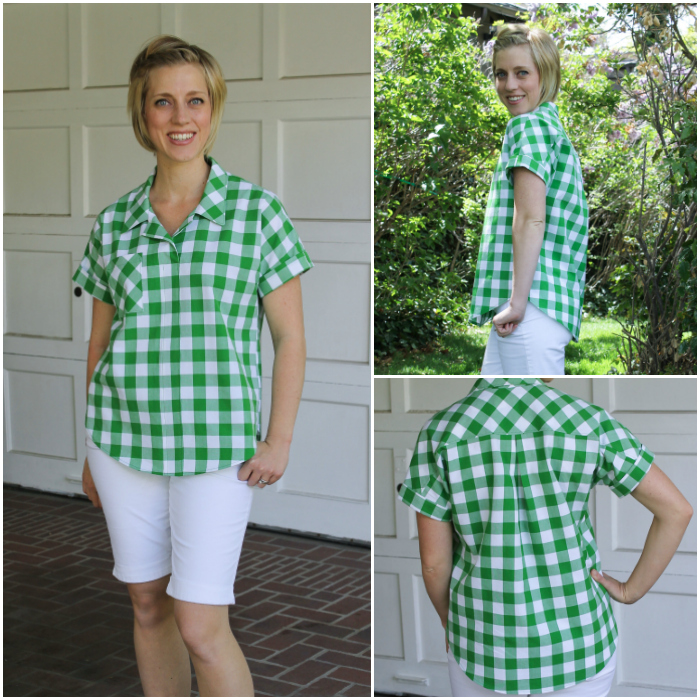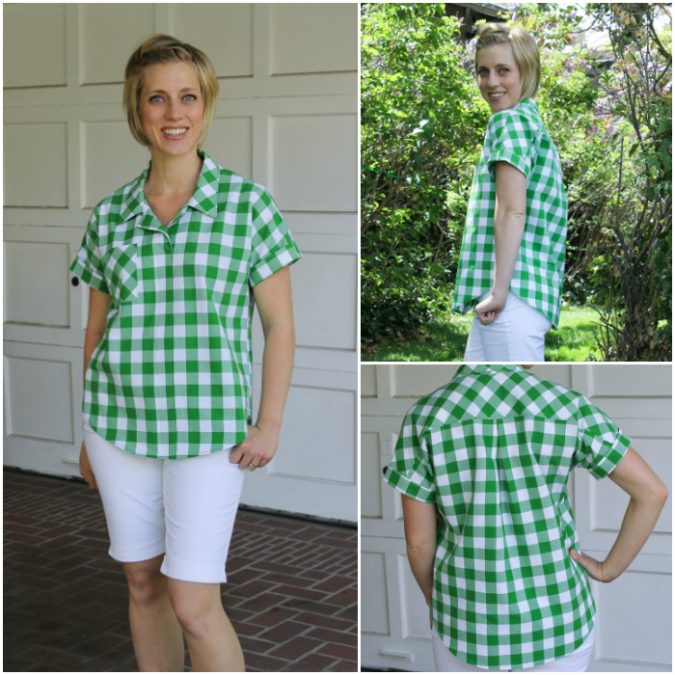 Jennifer used this cute and drapey print to make her view A Willamette.  I love how she layered it over a longer cami for a little visual interest!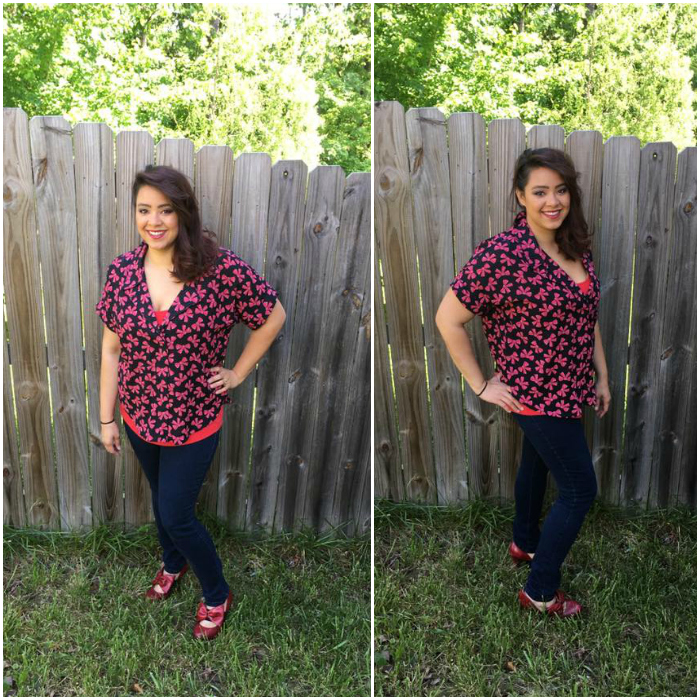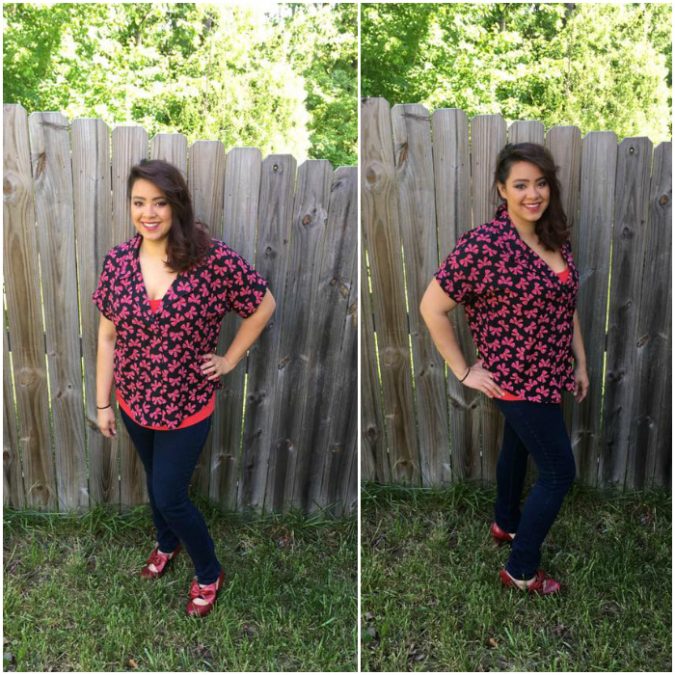 Mandy's indigo shibori-esque Willamette paired with cut off jean shorts and a chunky bracelet is basically everything my style dreams are made of.  Couldn't be more perfect, Mandy!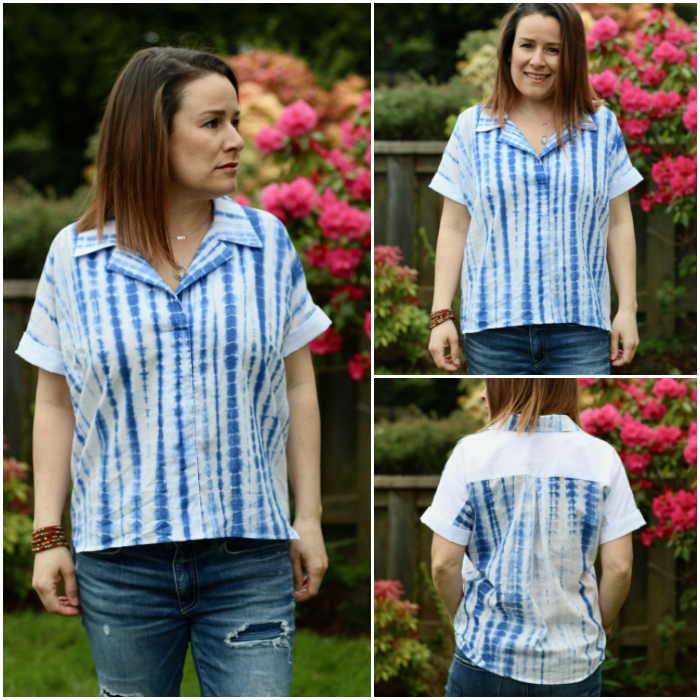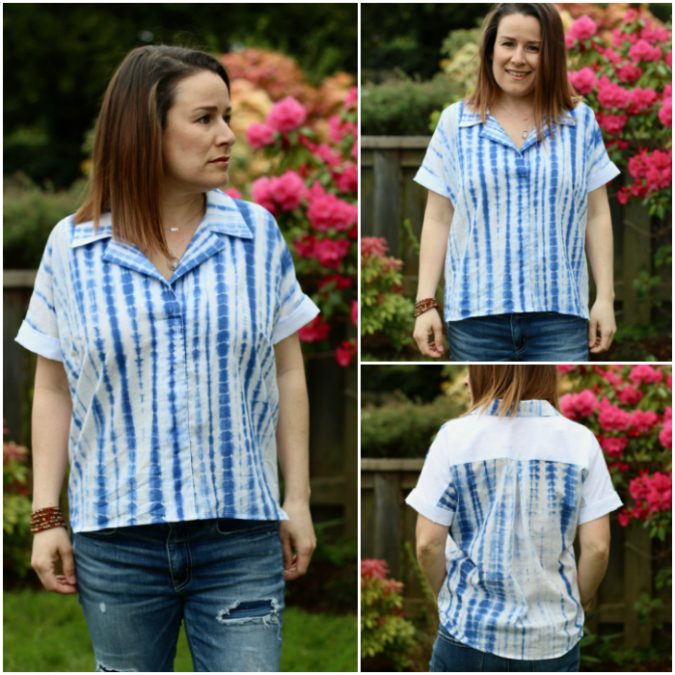 Kristin's simple white view B has me wishing for one of these wardrobe staples in my closet.  The styling options are endless!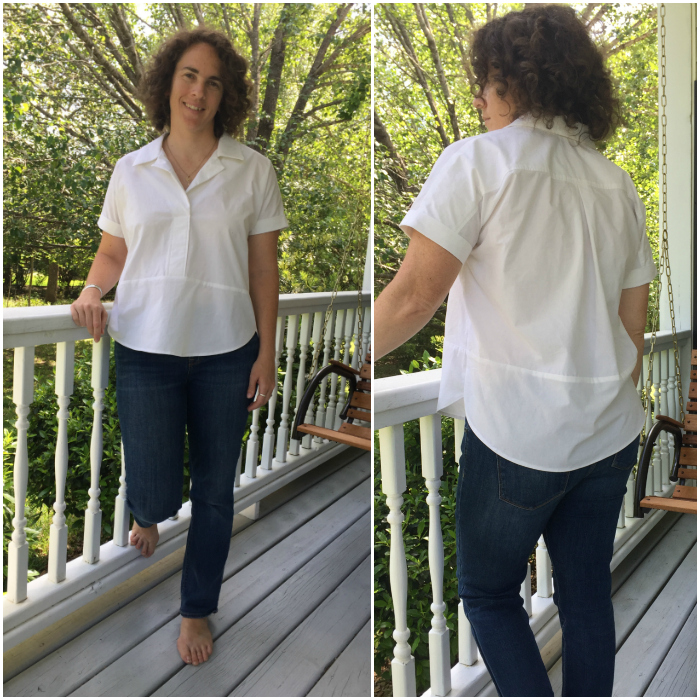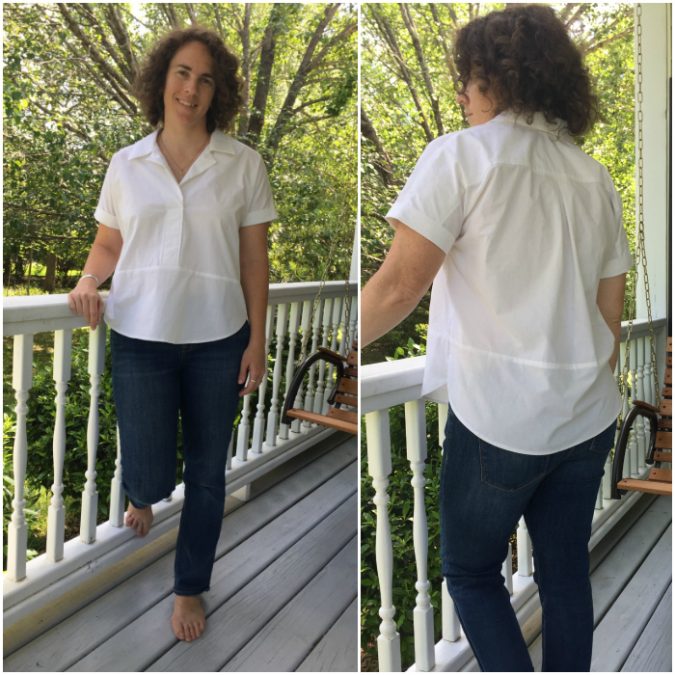 Maria used view B to make a gorgeous color blocked chambray and broderie anglaise.  And she paired it with the prettiest smile ever 🙂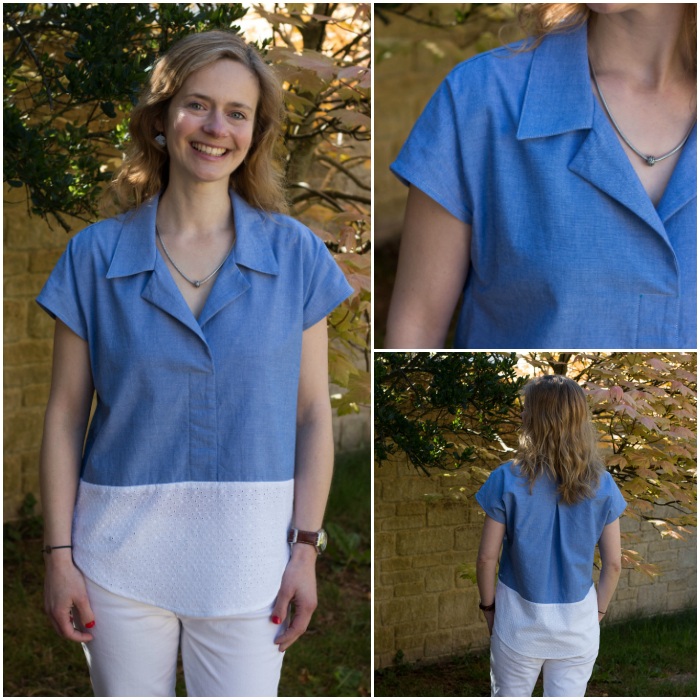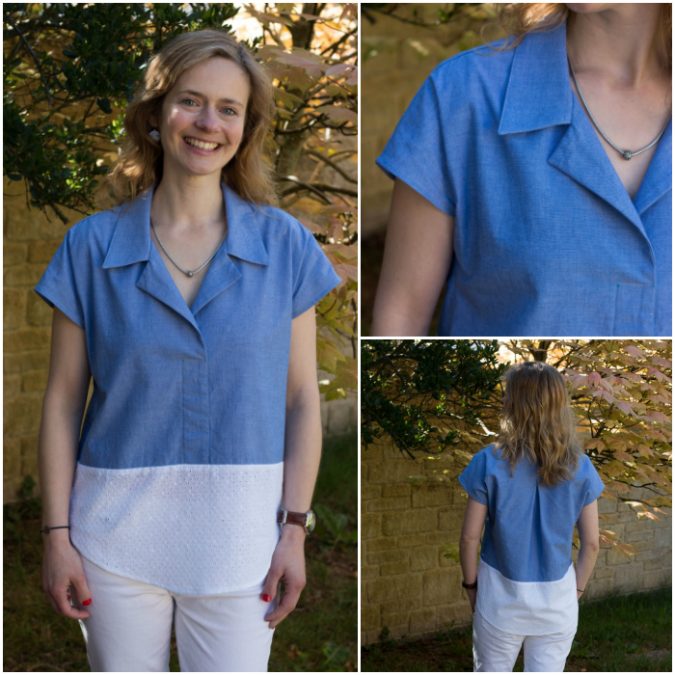 Stacey used a small scale floral for her view A Willamette.  I just love how she's showing off those curved hems with a fitted neutral bottom.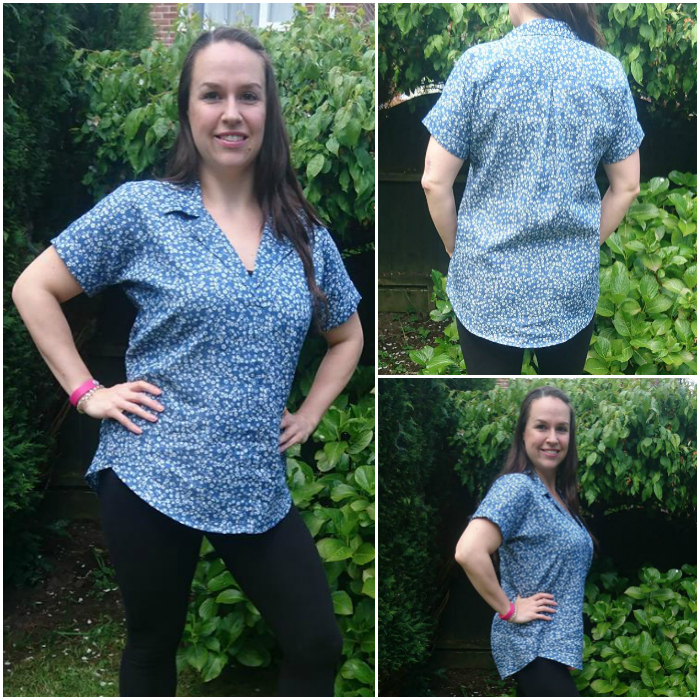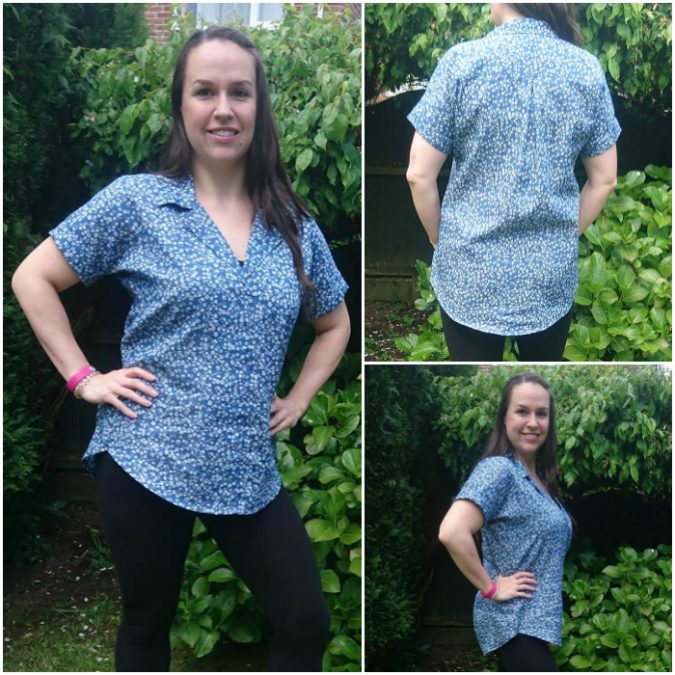 Melissa nailed that combo of fit & fabric on her View A.  The Willamette is great for showing off both small and large scale prints!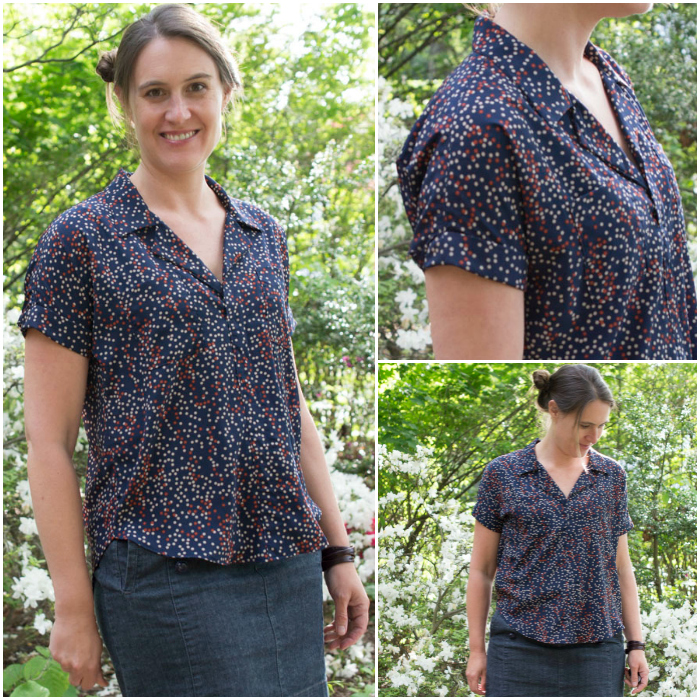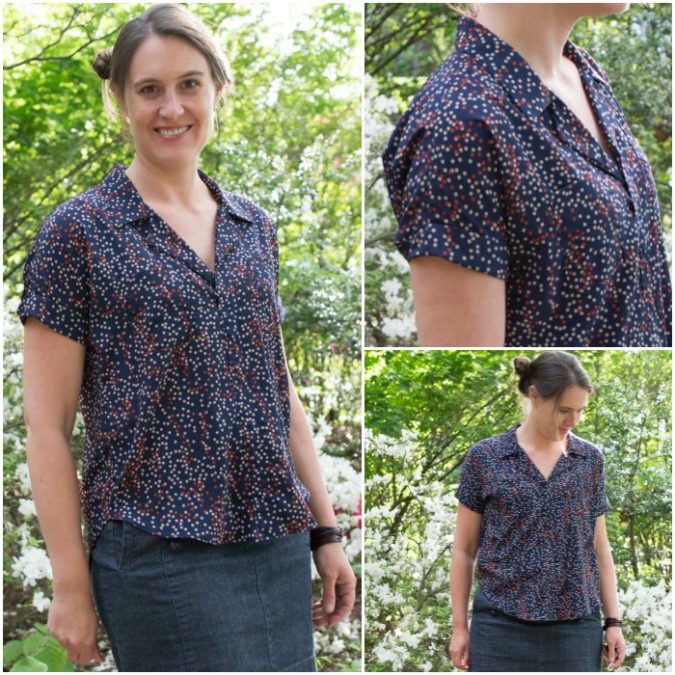 Meghan's blush view A makes me want to sew up another immediately!  That perfect pastel with that pretty inverted pleat – I just can't stop staring!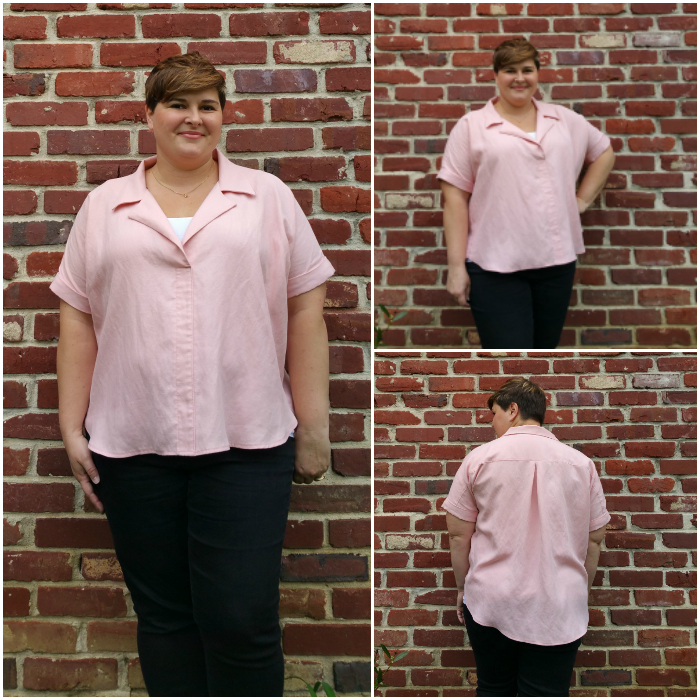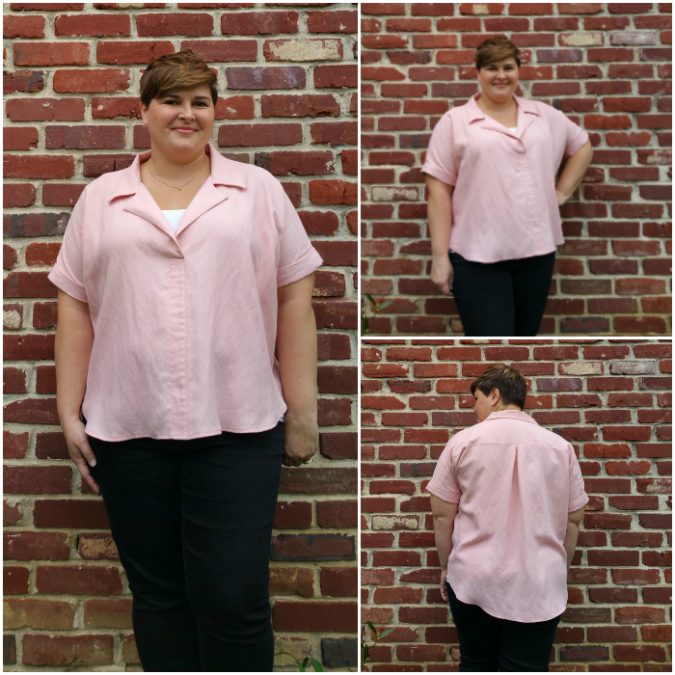 Robynne also made a small scale blue floral in this gorgeous semi-sheer drapey fabric.  All around perfection!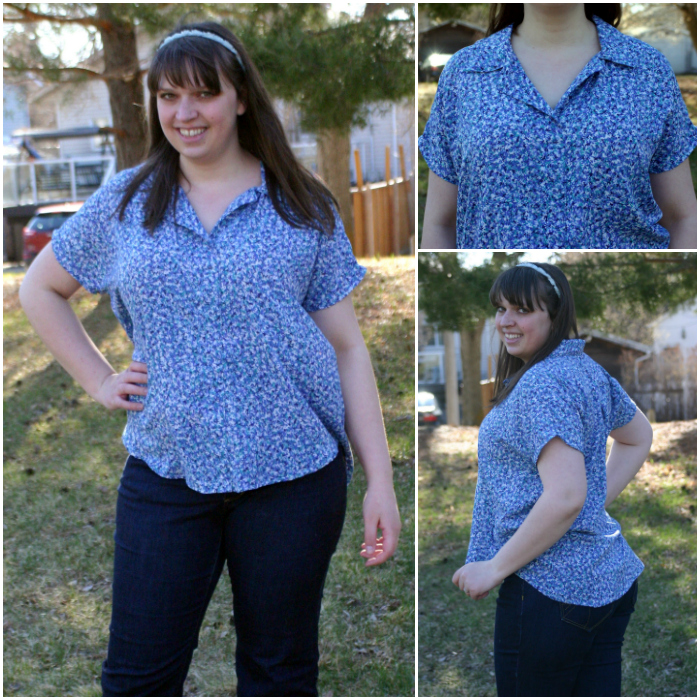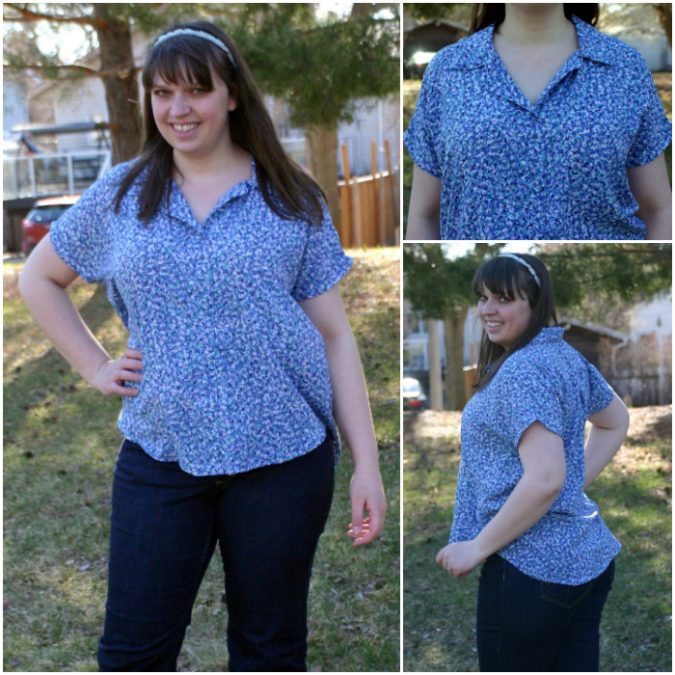 Melissa always reminds me of an old school Hollywood starlet, but something about those retro stripes with that pony tail just screams Rita Hayworth or Marilyn Monroe to me!  I love how she put the pocket on the bias too!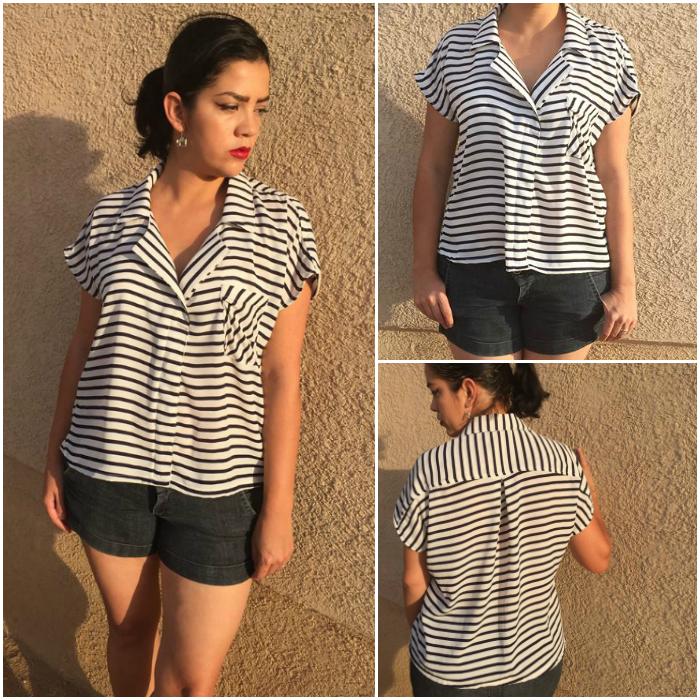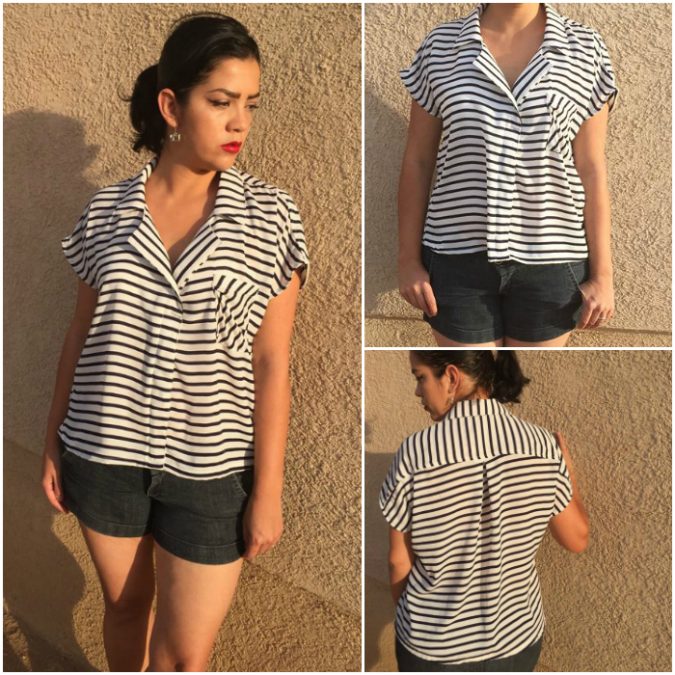 Last and most obviously not least is Patti, who basically killed it with that color and drape and styling and back drop and hair and shoes and ok, everything.  I love everything.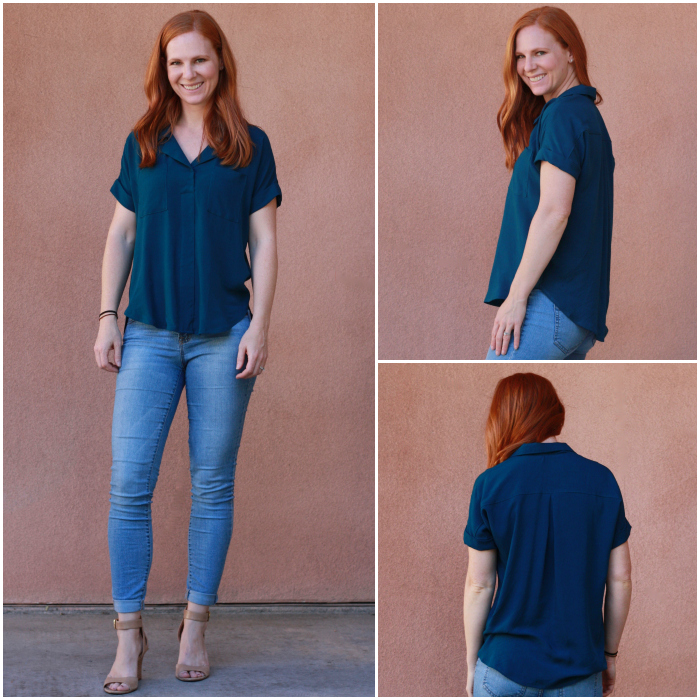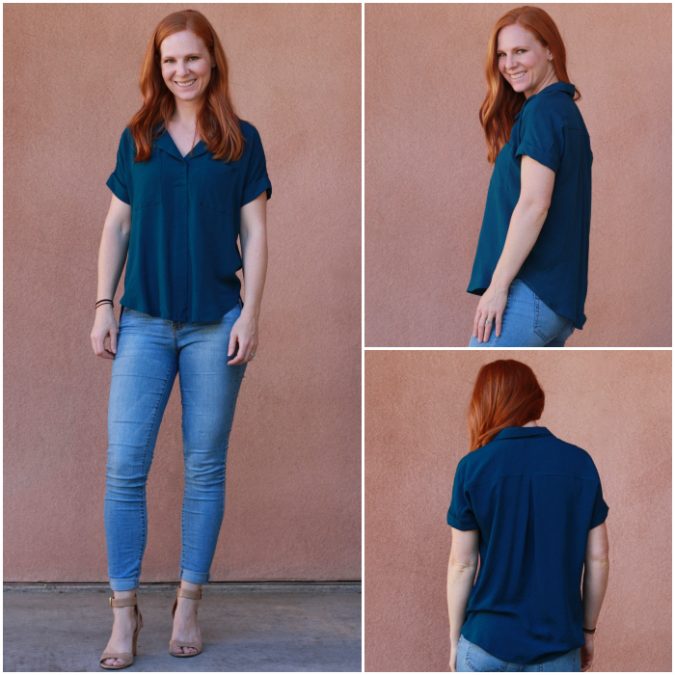 Thank you so much for your time and effort ladies!  Big round of applause to all my testers for helping to make the Willamette as perfect as it can be for all of us!  Be sure to stop by their blogs and instagram!  These are wonderful ladies to follow if you're looking for sewing inspiration!
Don't forget to grab the Willamette while it's on sale through this weekend only!