I'm so excited to bring you another tutorial from the amazing Indu!  Her hacks are always simple to understand and implement but add so much to a garment!  This flounce neckline is no different.  What a fabulous way to easily dress up the Union St. Tee to make it unique and just a bit fancy!
~~~~~~~~~~~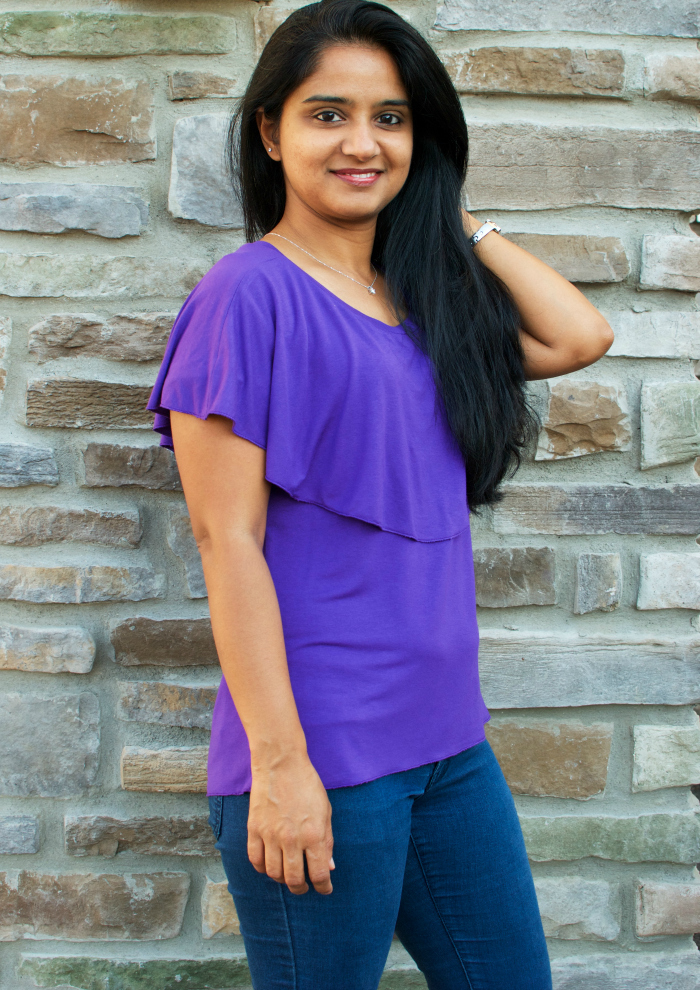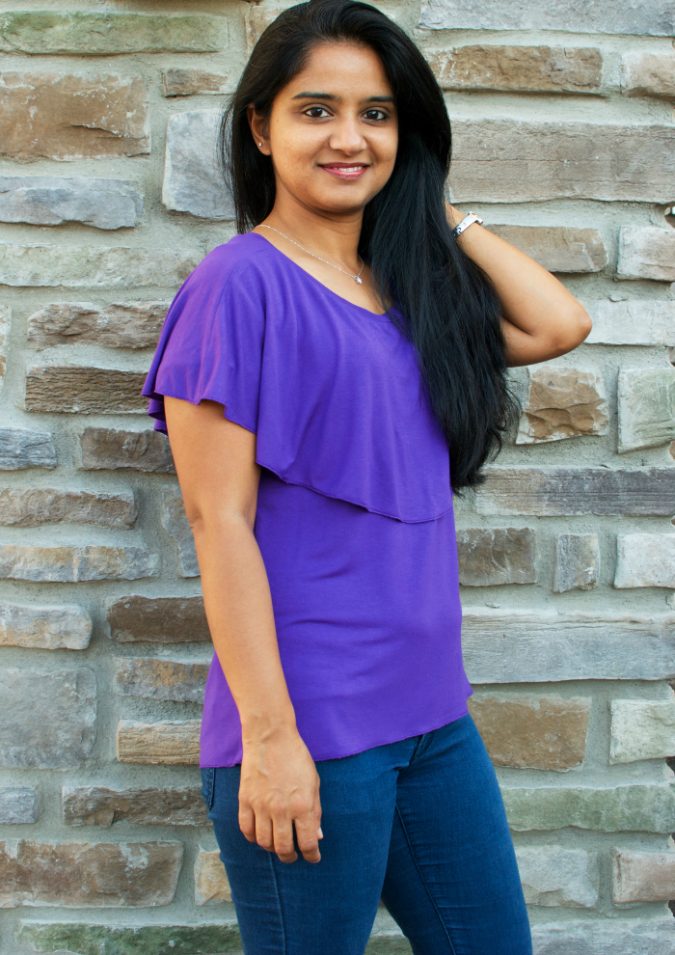 Hi friends!
I am so excited to be back on the Hey June blog to share this Union St. Tee flounce hack with you. This is easily my most used pattern and while making it (probably for the twelfth time), I realized yet again how much I love the fit on this. I am absolutely in love with how it turned out and hope you like it as much as I do. It's as simple as adding a circle flounce to the existing neckline.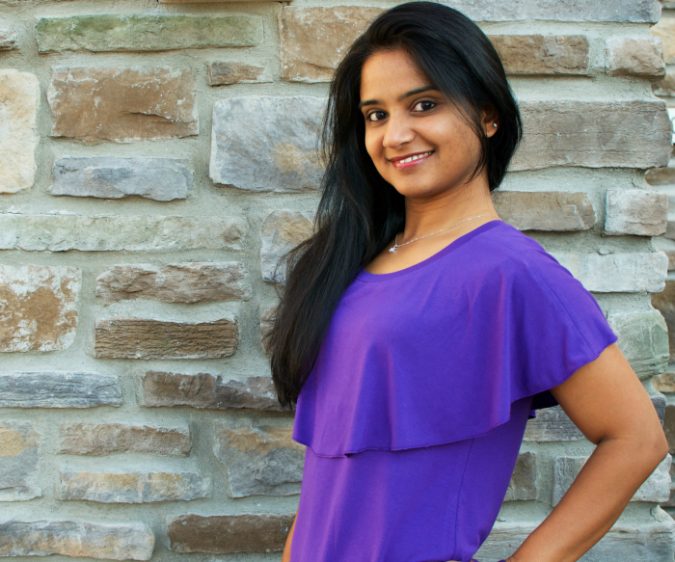 For this version, I used a rayon spandex with amazing flow and drape. I printed the scoop neck version and slightly raised the neckline (about 0.5 inch) because I was worried the weight of the flounce might pull the neckline to be deeper than I'd like. But you don't have to, as you can see the neckline is just fine and not stretched or weighed down by the flounce.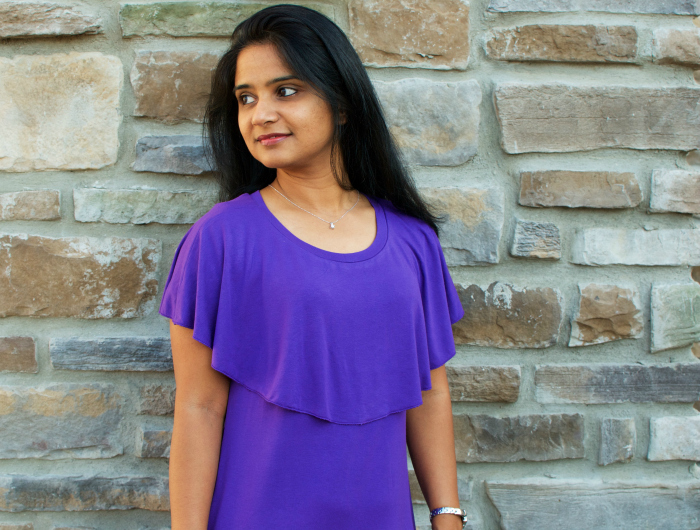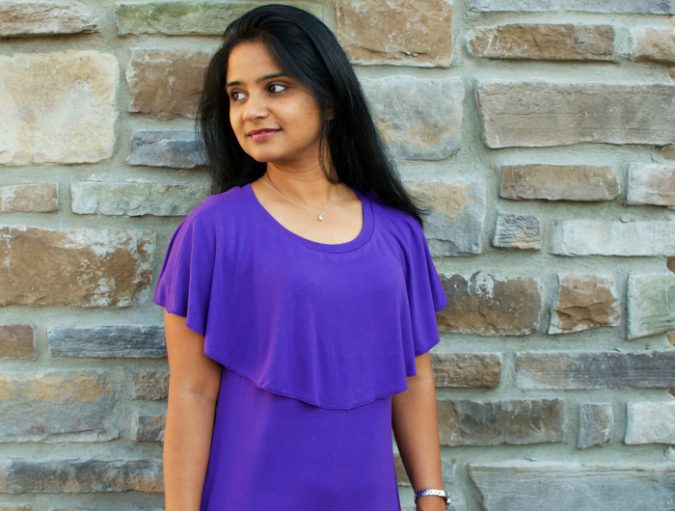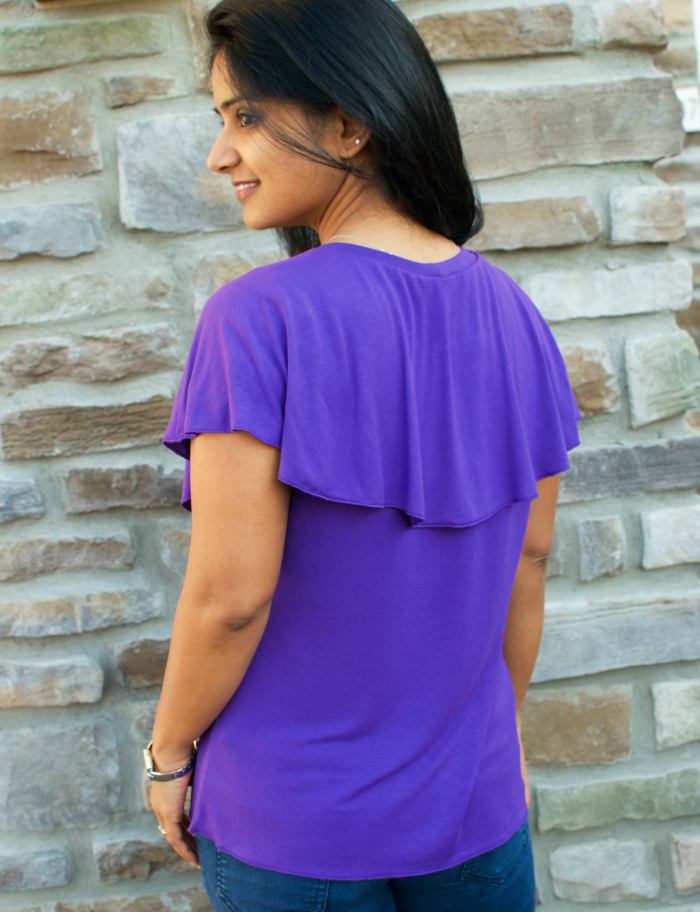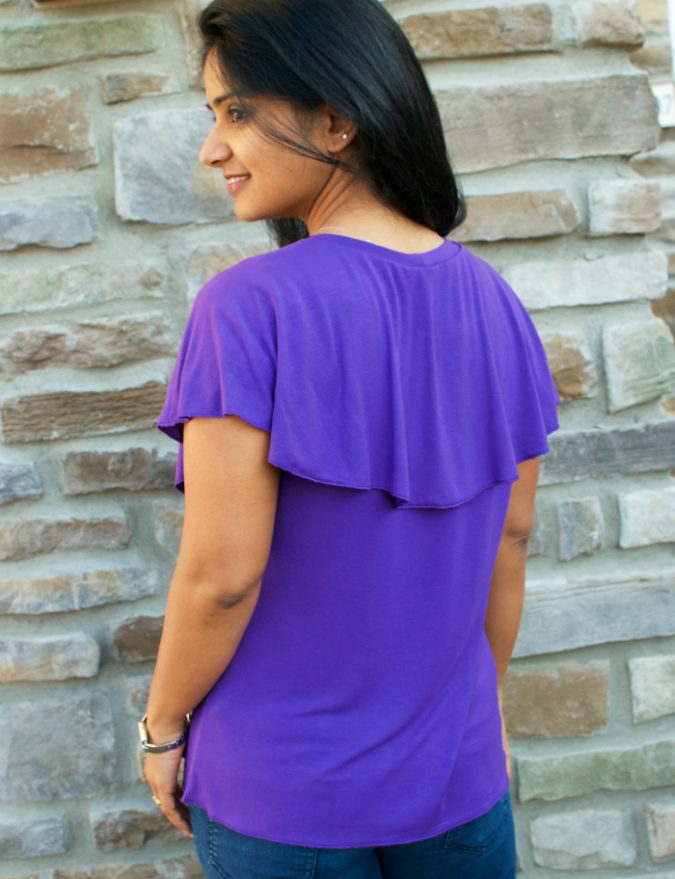 For the flounce pattern piece, we will simply be drawing two concentric circles. The circumference of the inner circle will be your neckline measurement. You can measure the neckline of your tee after you have constructed the shoulder seams. Or, measure the front and back neckline from your pattern pieces and subtract the seam allowances to get your neckline measurement. My neckline measurement was about 24 inches.
Using that as the circumference, calculate the radius of your inner circle using r = neckline/2π which in my case was about 3.8 inches.
For the outer circle, let's figure out how long you want your flounce to be. I measured mine from the side of the neck (on the shoulder seam) down my arm and 9" was about how long I wanted the flounce to extend over my arm. That measurement is the length of your flounce. So the radius of your outer circle will be your inner radius + length of flounce (which in my case is 3.8 + 9 = 12.8").
Or you could use this cheater method and simply print out a circle skirt pattern piece with the waist size corresponding to your neckline measurement ☺
I did not add any hem allowance to my flounce because I wanted to finish it with a serger. Now using your pattern piece, cut out one circular flounce piece.
Follow the instructions as per the Union St. tee tutorial until you get to the neckline. Place the flounce wrong side facing right side of the tee and baste it with a ¼" seam allowance before proceeding to attach the neckband.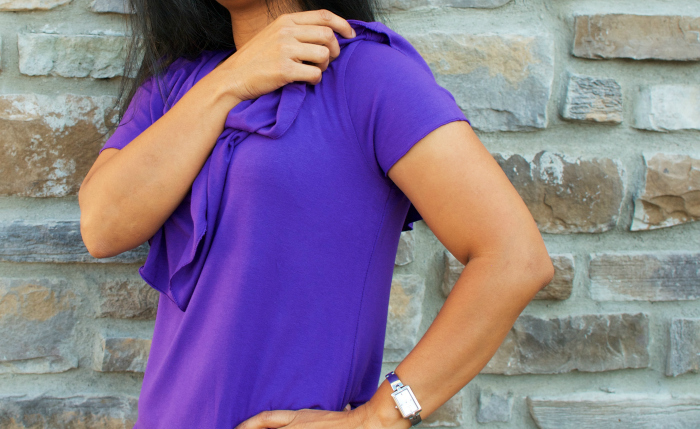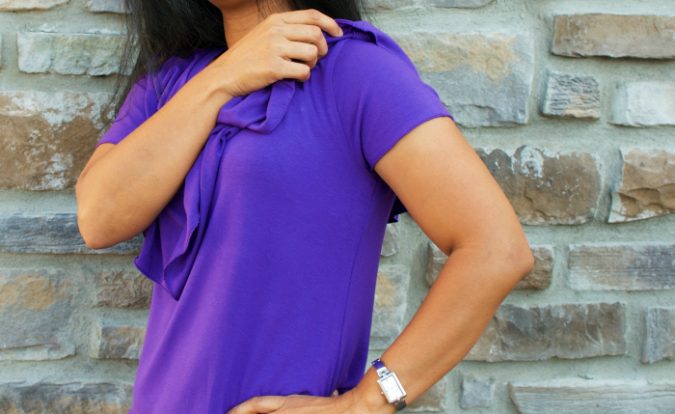 I removed the 1" hem allowance at the hem of the tee and finished it with a narrow rolled hem just like the flounce. I shortened the short sleeves by an additional 1.5" and then removed the hem allowance to finish them with a narrow rolled hem. And that's it! Have I mentioned how much I looove this tee?! I am going to be wearing it everywhere this summer!
Thanks so much for having me Adrianna!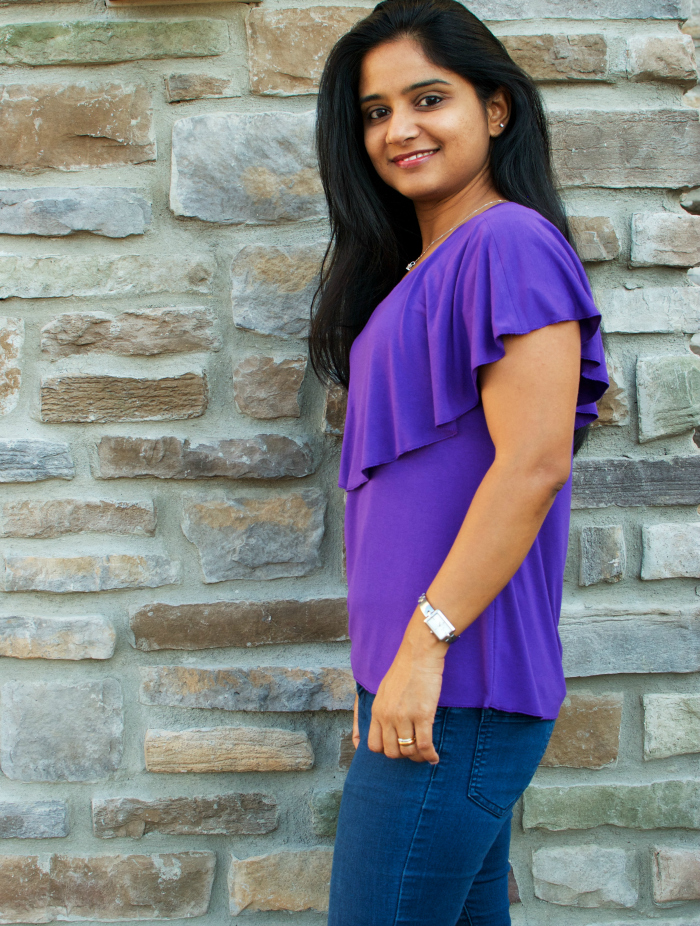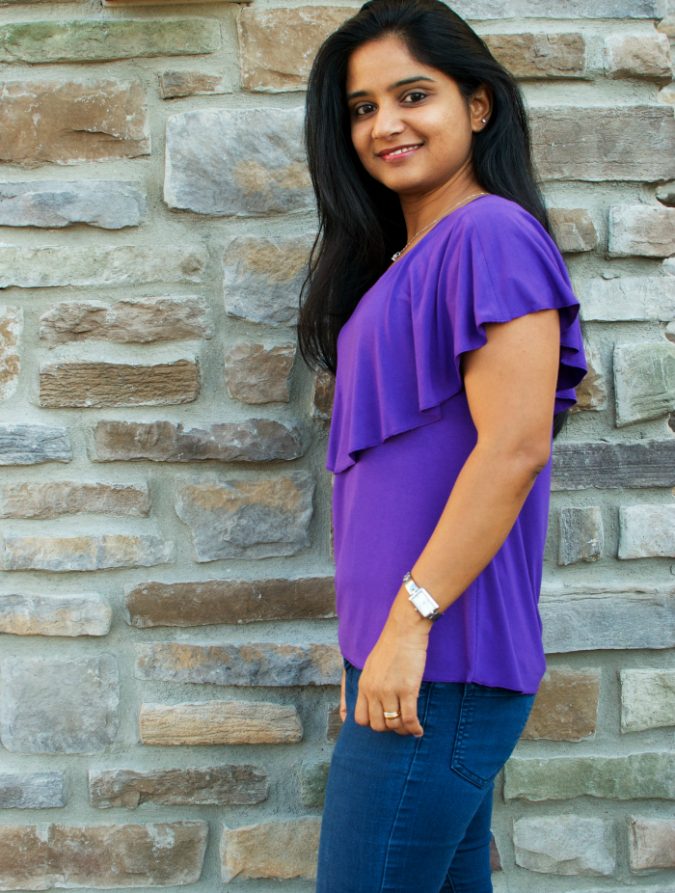 ~~~~~~~~~~~
Thank you so much for this beautiful and easy tutorial, Indu!  Make sure you follow Indu on Instagram if you're not already – her feed is so inspiring and gorgeous!  If you go back a few posts you can see how she altered the Amalfi Dress too!