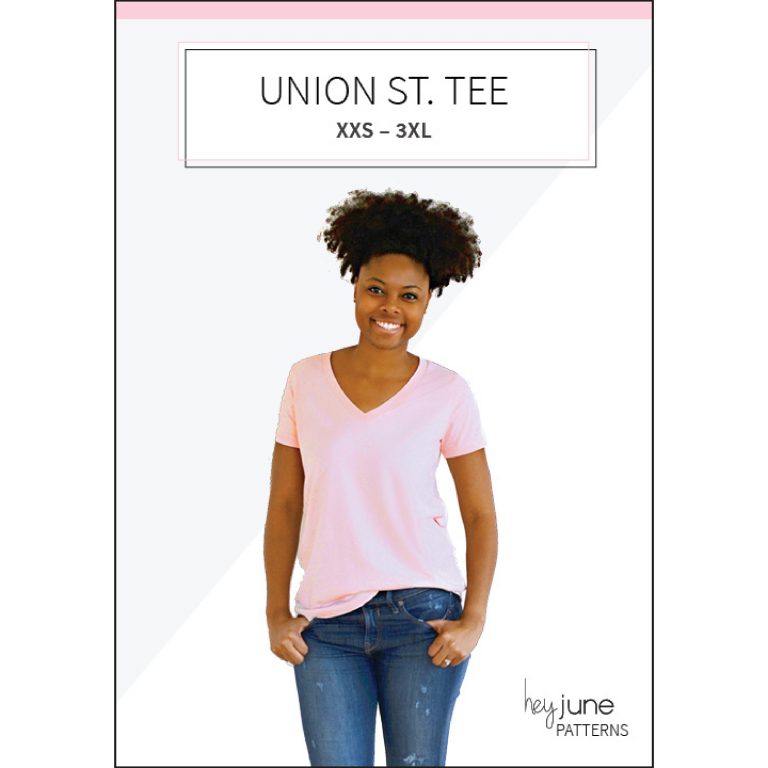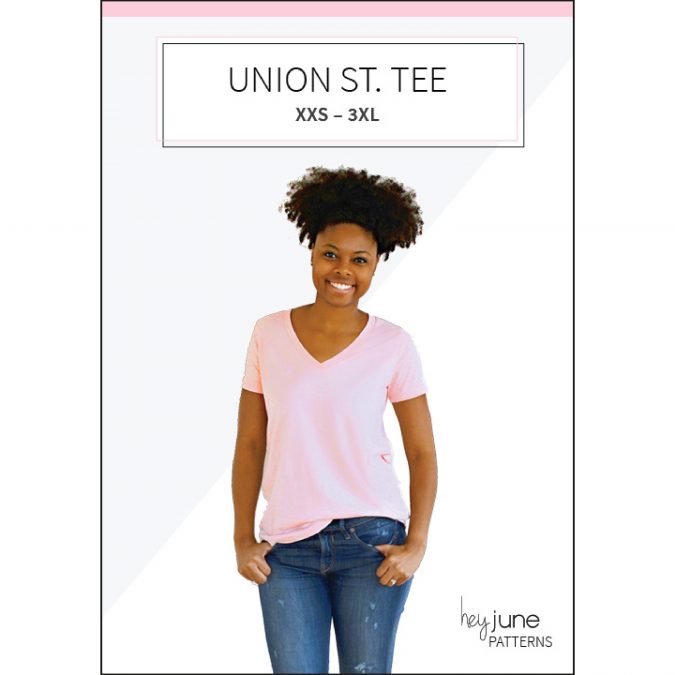 The Union St. Tee has been a Hey June pattern staple since 2014 and it is finally getting a makeover!  If you love the original, don't worry, the changes are only for the better!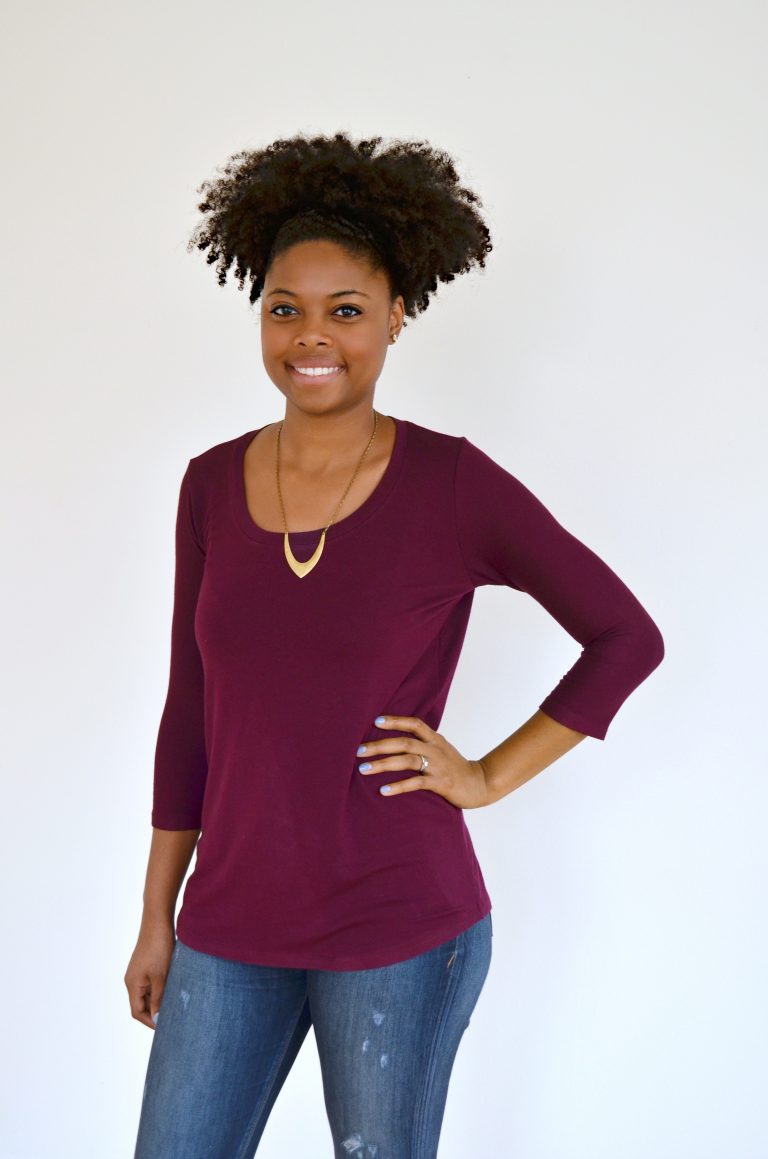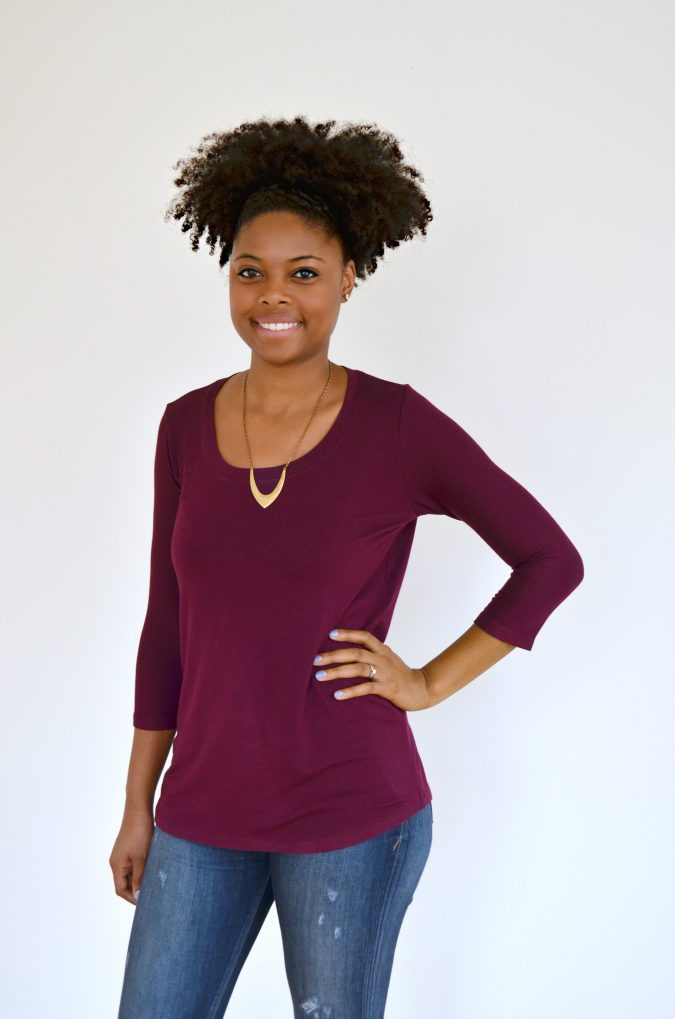 The pattern still features the classic V-neck line with professional finishing that you've come to love.  It also still has the same four sleeve lengths – short, elbow, 3/4, and long.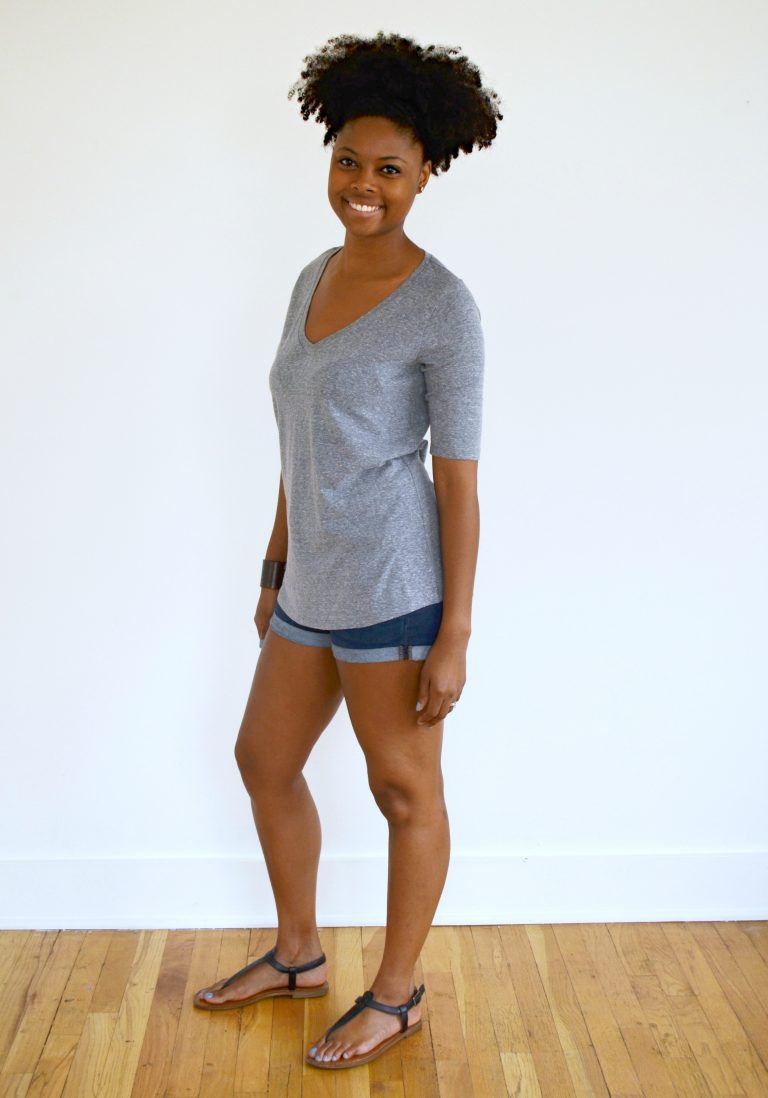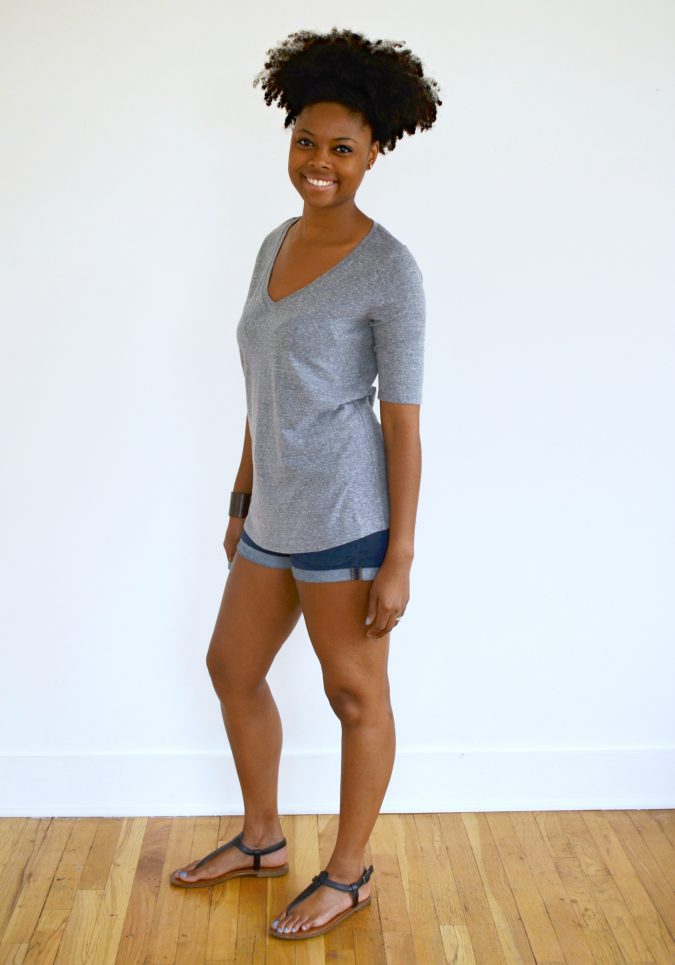 There were a few tweaks to the pattern though.  The first and most obvious one you'll notice is that there is now a body measurement size chart instead of just a finished measurement chart.  Using your body measurements will help you achieve the intended fit of a slouchy, relaxed tee with more fitted sleeves and a shaped body.  In the past, I know several people liked to make the Union with no ease for a fitted shirt, and you can certainly still do that.  However, following the size chart will give you more ease as shown in these photos.  You may find yourself making a size larger in the updated pattern than you did in the original if you are following the body measurement chart.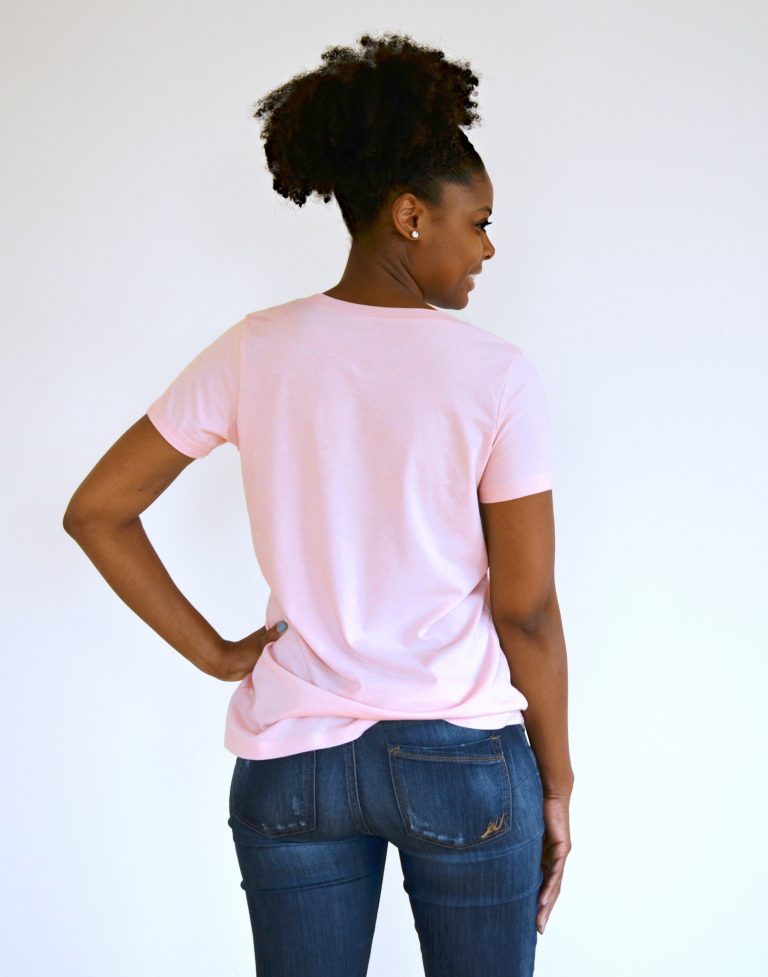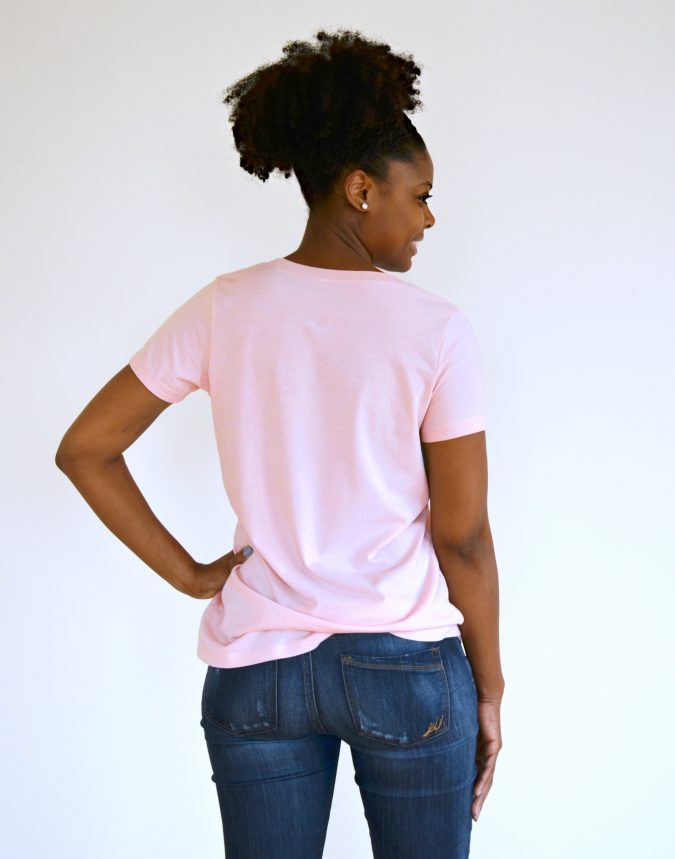 The other change to the size chart is that you will choose your size based on high bust, which will then dictate whether or not you need to use the included full bust adjusted front piece!  That's right, no more drafting your own FBA on the Union, it is now part of the pattern at the same price!  The FBA front piece is designed to save you paper and ink, so it is an extra half-piece that is taped to the front piece of your choice (scoop or v-neck.)  The regular pattern is drafted to fit up to a B/C cup, but the FBA will work well for a D+ cup (remember that sewing cup sizes are different than bra cup sizes – the pattern will walk you through the steps for measuring yourself for the best fit.)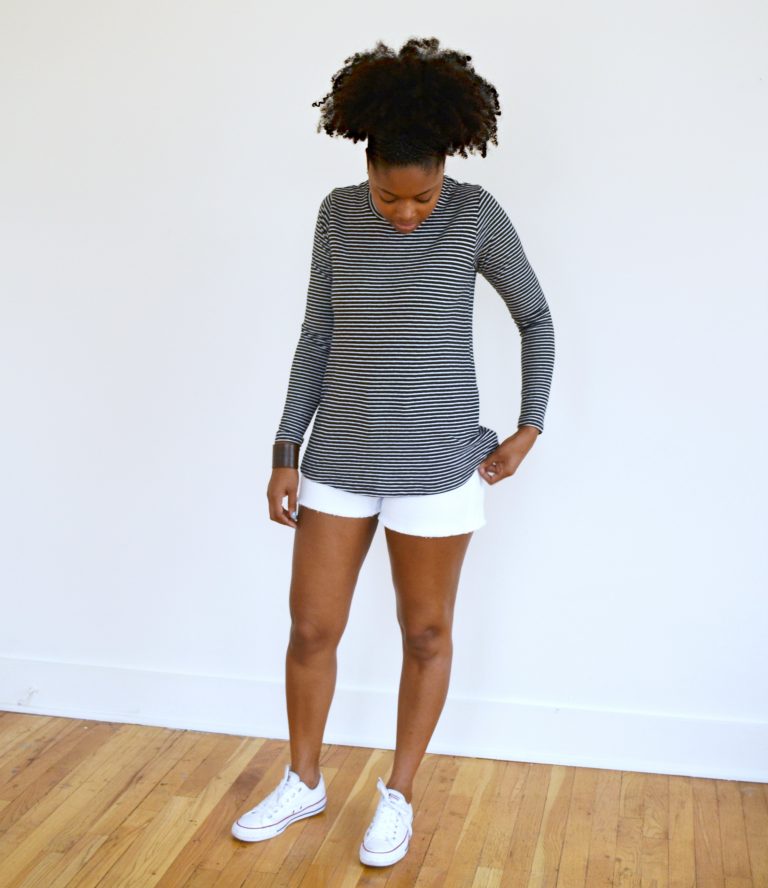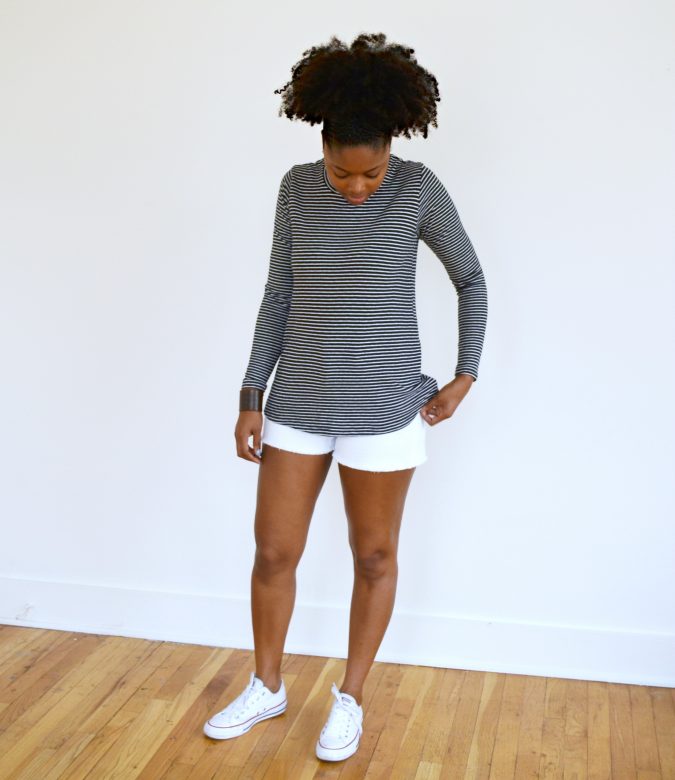 The new pattern also has an optional chest pocket.  The model shown here is wearing tees that all use the FBA piece, so we omitted the chest pocket for her.  The pocket can be used with the FBA, but can be harder to position on a larger bust in a flattering way.  If you use the pocket piece, it is best to place it on your body before sewing for optimal positioning.  The pocket position can vary wildly based on bust size, apex distance, and bust height.  However, the pattern does have chest pocket markings as a general guideline.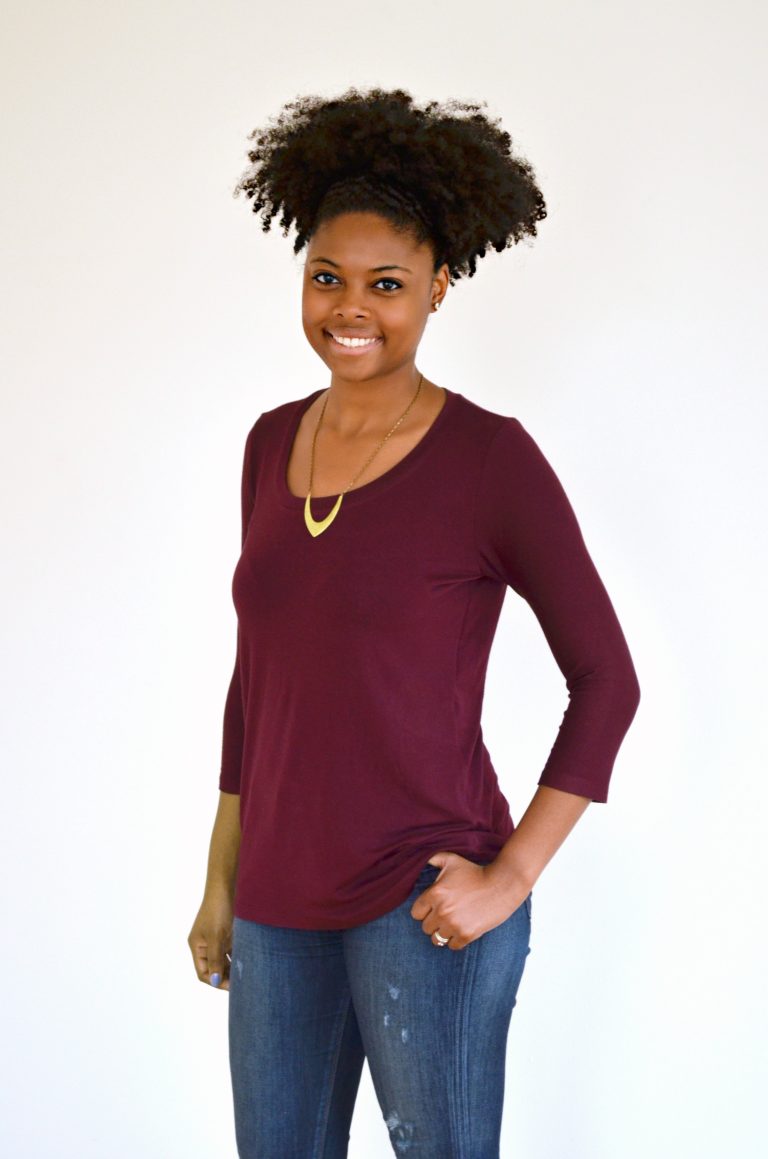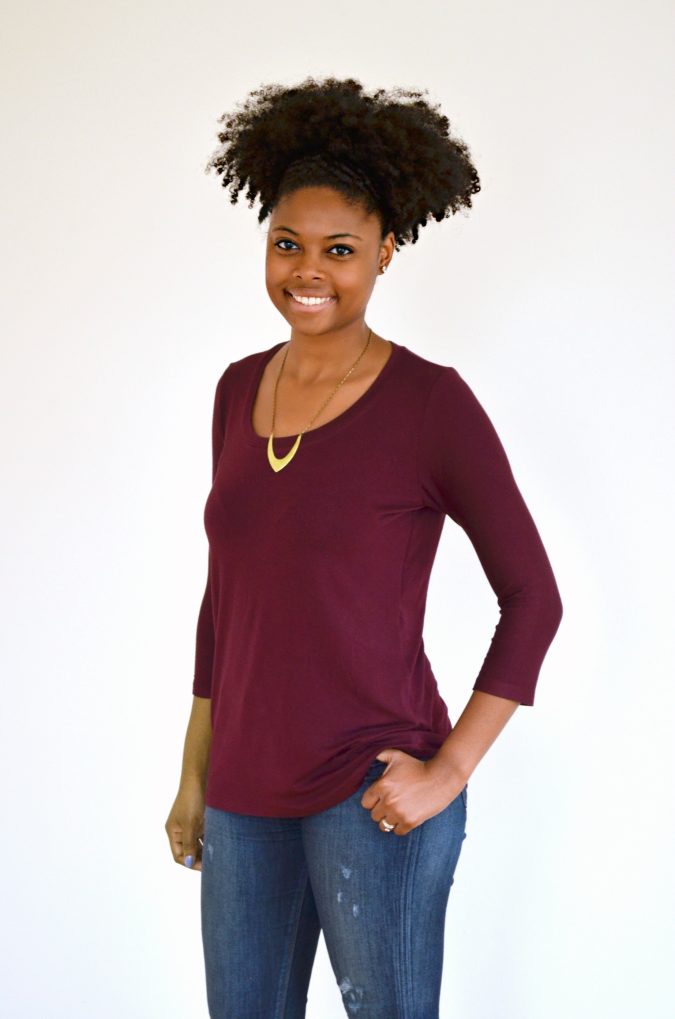 The last major update to the pattern was to lower/widen the scoop neckline.  Because of that change, I also added a true crew neckline that is closer to the neck in both width and height.  Like the FBA piece, the crew neckline is added by piecing together small portions of paper to the basic pattern so you do not have to print a completely separate front and back piece.  The striped long sleeved tee below uses the crew neckline.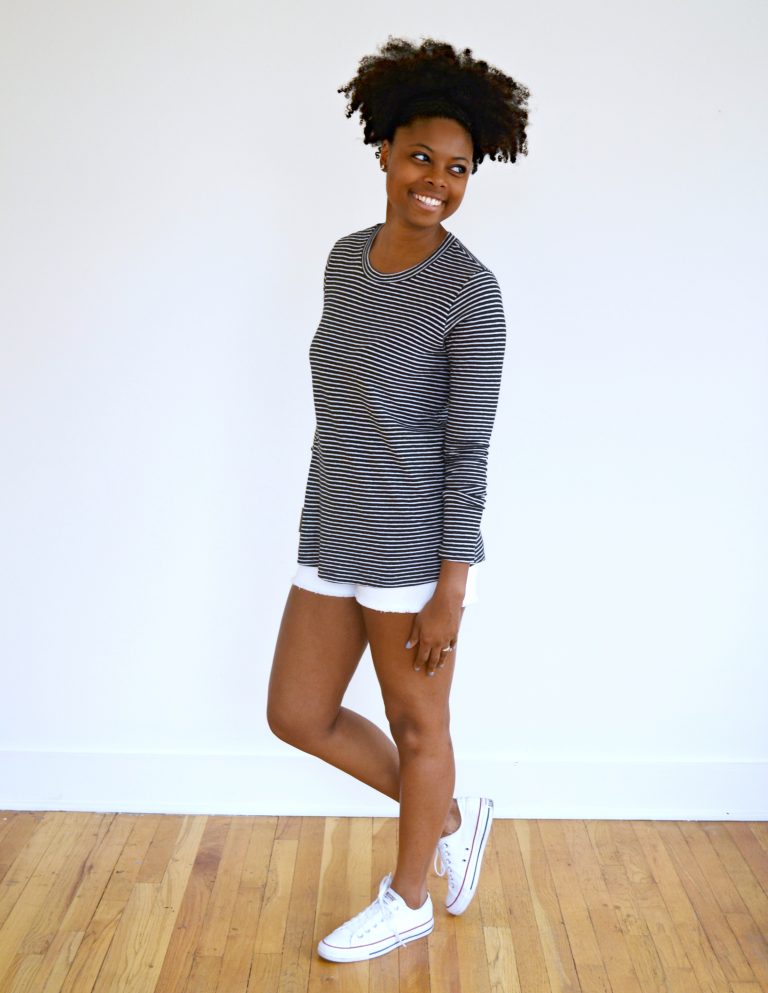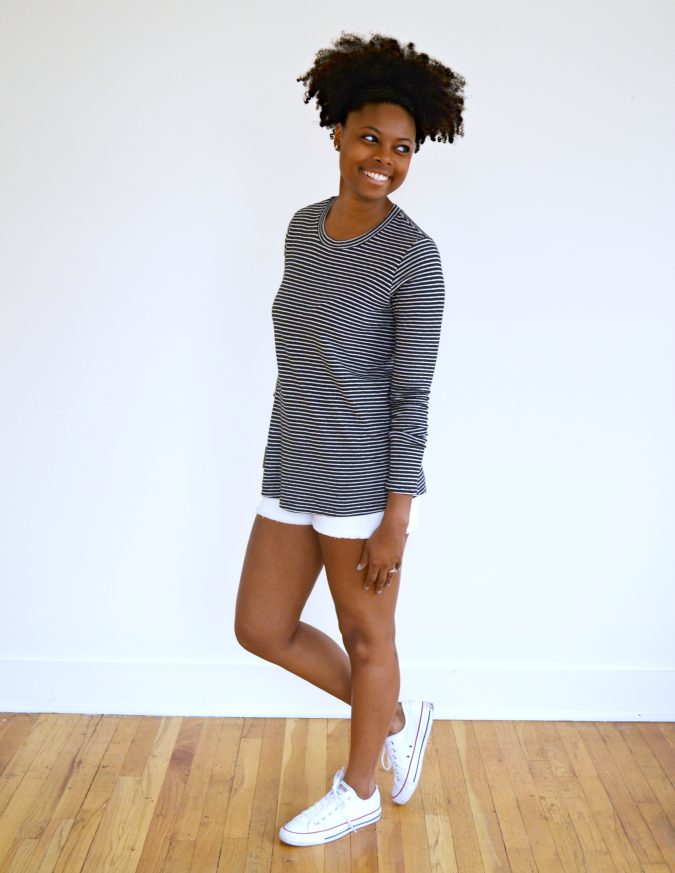 A note on sleeves:  The original Union St. Tee used set-in sleeves that were cut on the fold.  This is the way that any textbook will have you draft a basic set-in knit sleeve.  It is correct, and works perfectly fine for knits (not raglans though – run far and fast from knit raglans where the sleeve is on the fold!)  I see posts all the time complaining about knit sleeves being on the fold and I am completely befuddled as to why this became such an issue, especially for people who do not design patterns.  In the interest of making this tee as perfect as possible, these sleeves are slightly different in the front and back, both on the sleeve cap and on the body.  Because they are now asymmetrical, they must be cut as equal but opposite pieces.  Please follow the cutting directions to make sure you do not cut two of the same sleeve.  The pattern piece will remind you to "cut two", which in sewing pattern language ALWAYS means asymmetrical pieces. Things that are cut twice are always meant to cover each side of your body and you probably do not have two right legs or arms.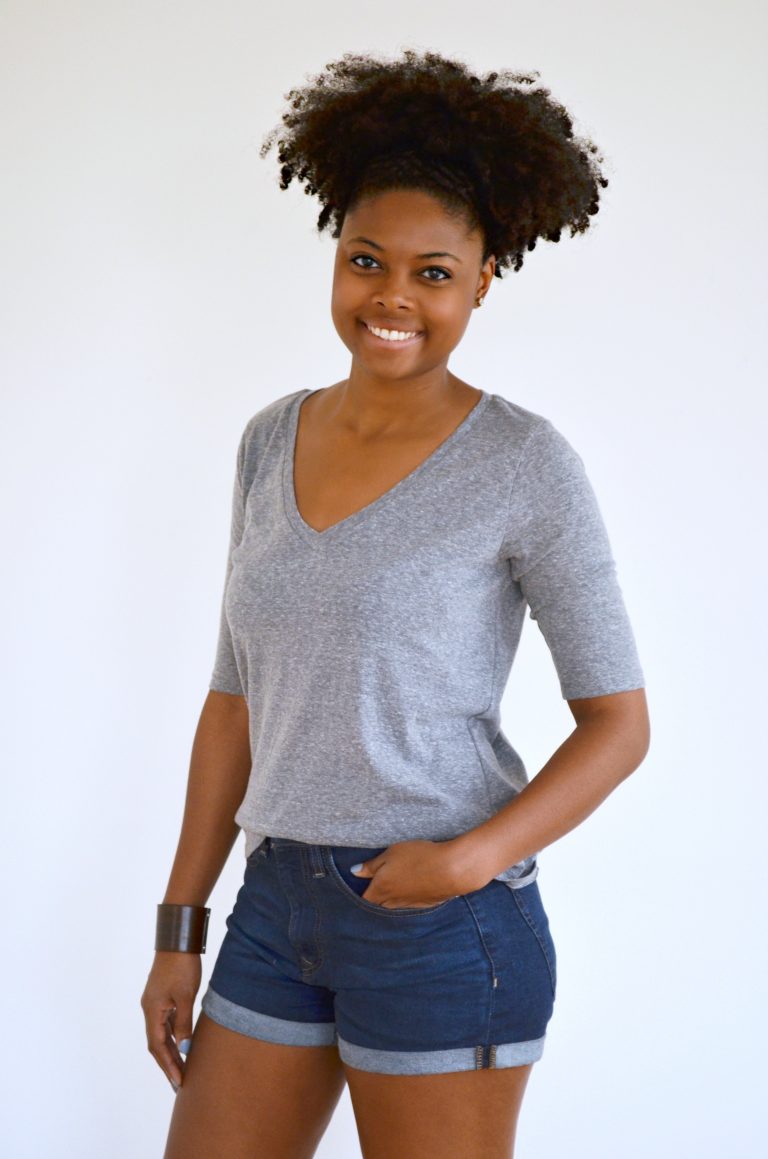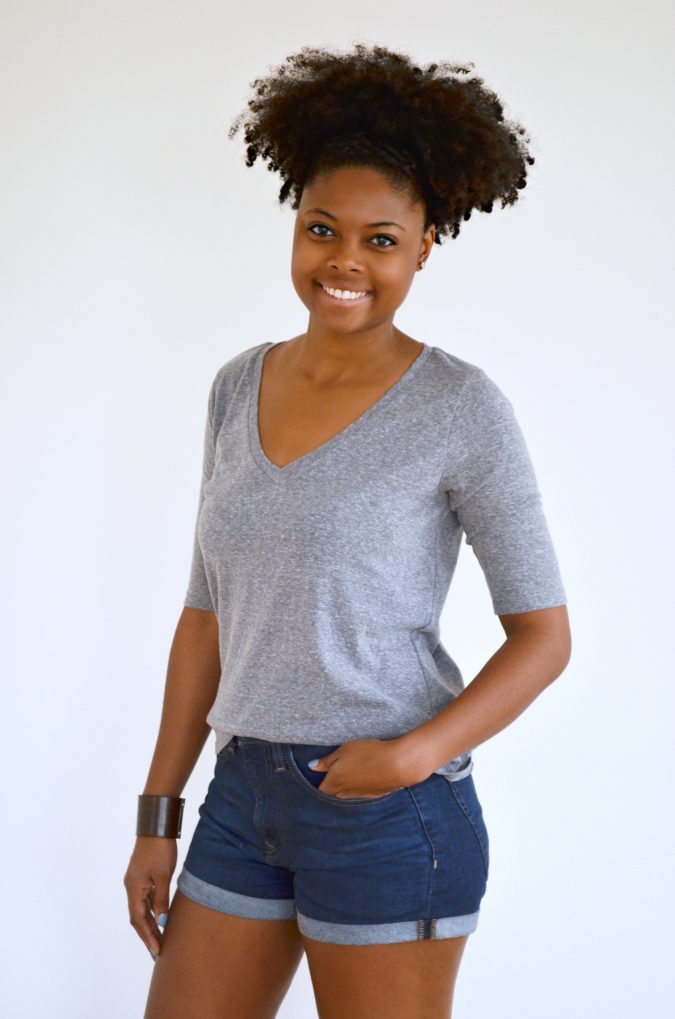 For these photos, we used four very different fabrics to illustrate how the Union looks in different substrates.  The 3/4 length sleeved maroon tee is made with rayon spandex, which is thin yet heavier and extremely drapey.  It lends a basic tee a fancier look and feel, and is easy to dress up with accessories and skirts or pants.  Rayon spandex is also the best fabric to use for disguising any fit issues.  The excellent drape helps eliminate any drag lines.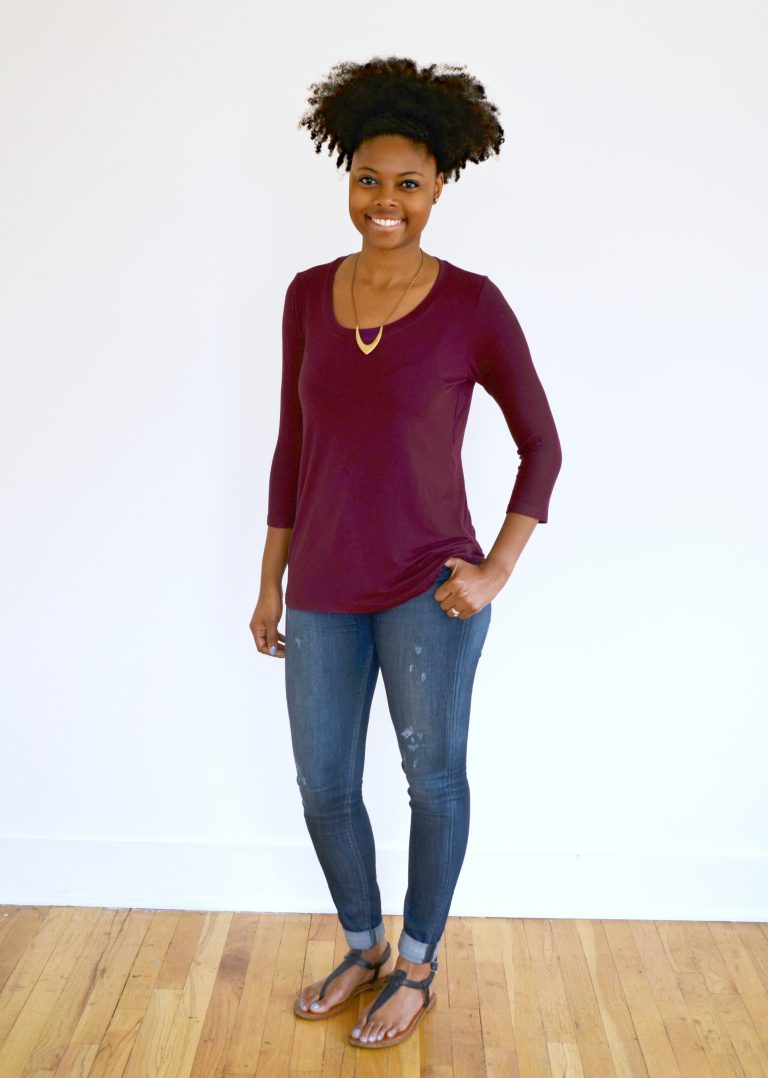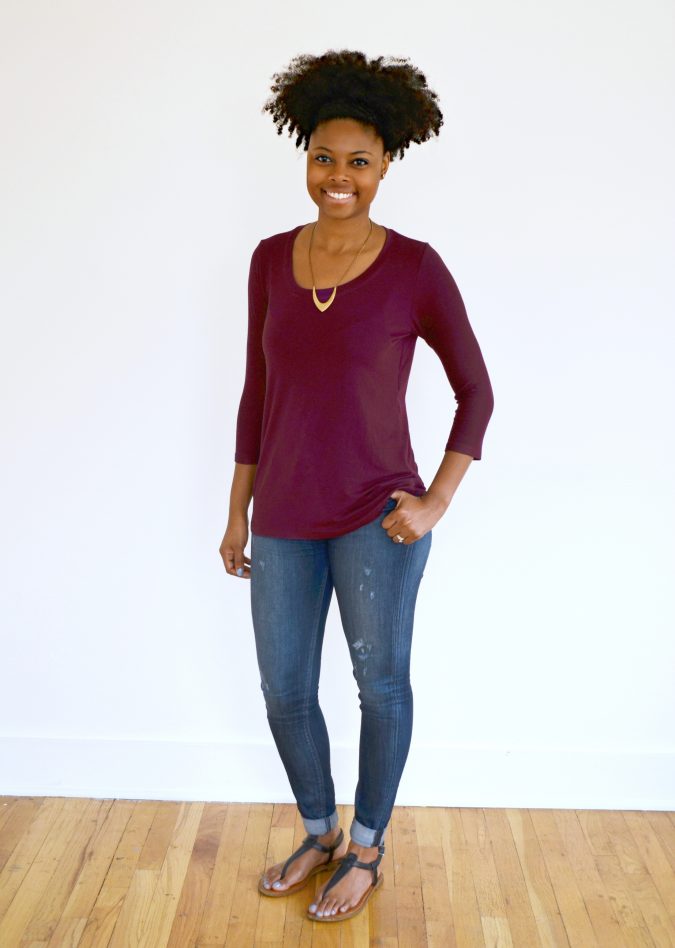 This striped long sleeved tee is made with a double knit, which is heavier and more structured with less drape.  It makes a wonderful thicker tee that feels like a light sweater.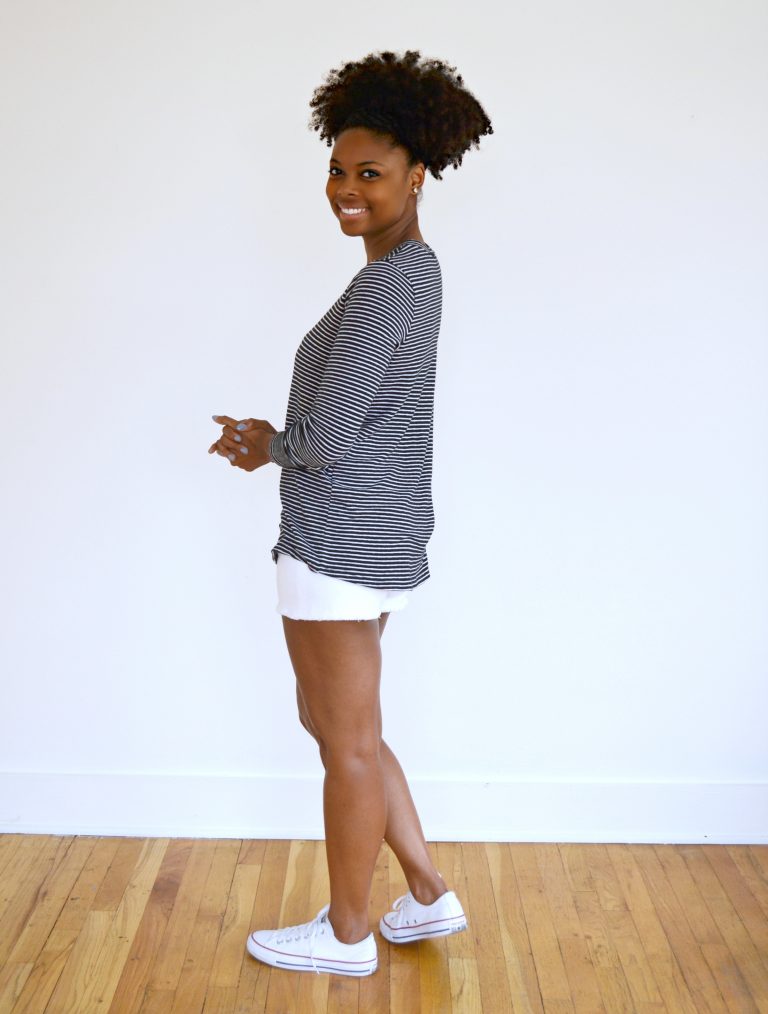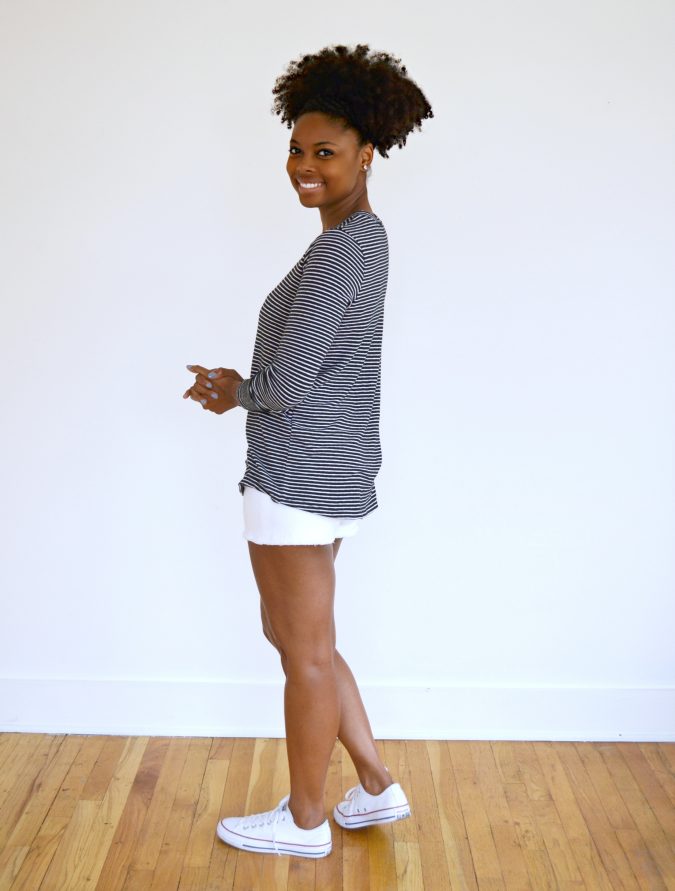 This slub gray elbow length sleeved tee is made with triblend, which is usually equal parts cotton, poly, and spandex or rayon, although it can have varying amounts of each.  It usually has a heathered look to it and is perfect for lightweight, lived-in, vintage-y feeling tops.  This is my personal favorite fabric for tees because it reminds me of a tee that you've owned for years and washed hundreds of times, without the time and effort put into making it feel that way 🙂  I also love that the lighter colors are slightly transparent.  I wear a nude bra with my white triblend tees and you can't see it at all, but it is definitely not opaque.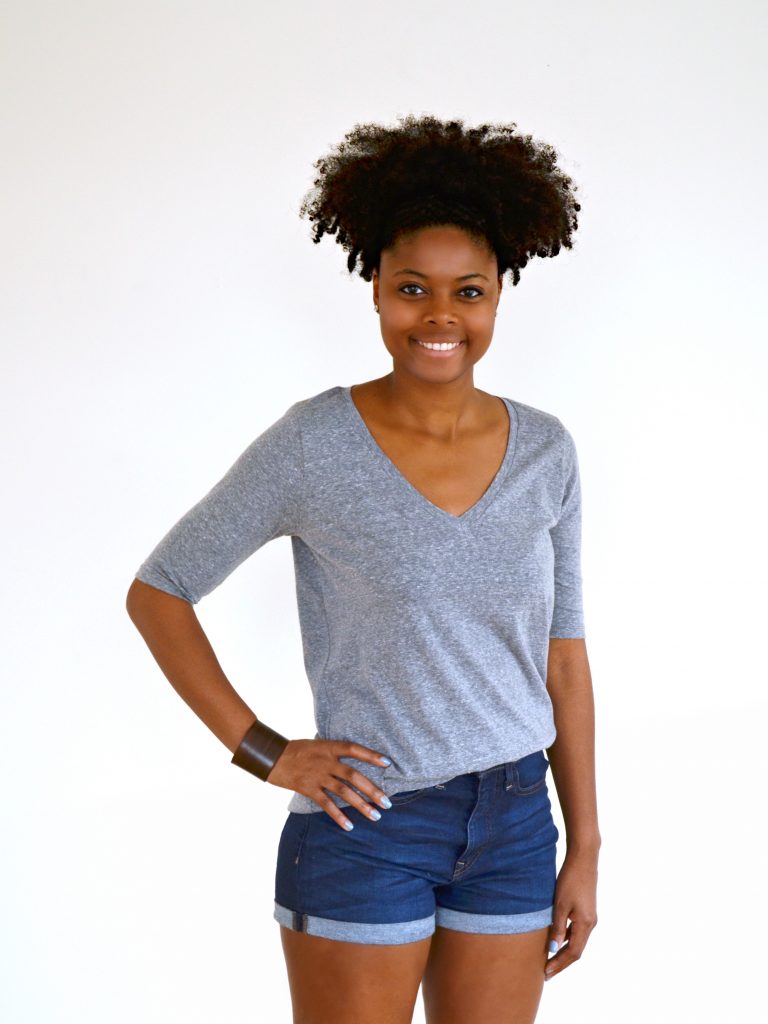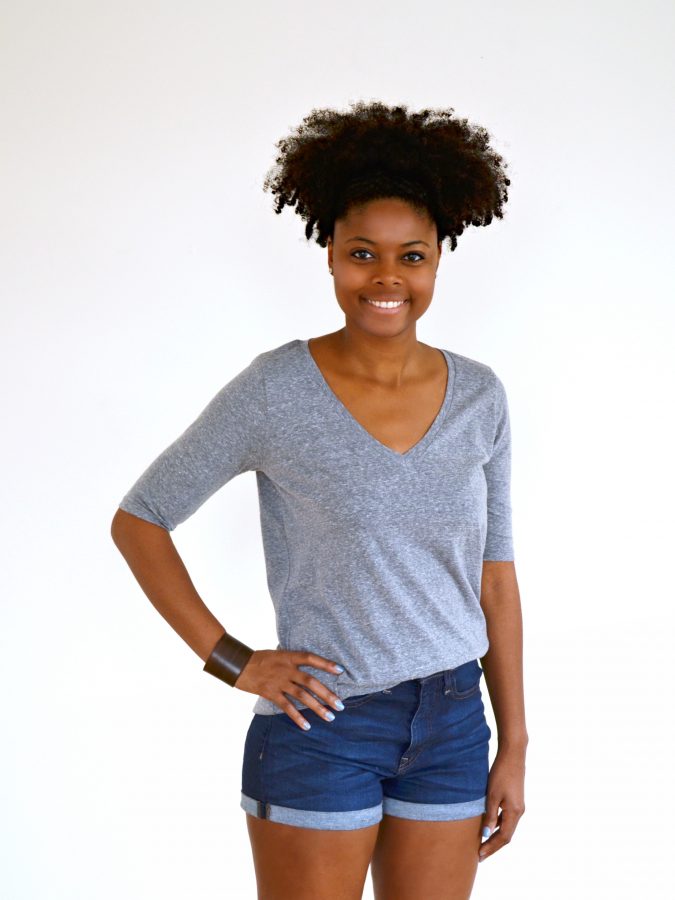 This pink short sleeved tee is made with Dana knit from Robert Kaufman.  It comes in dozens of colors and is an absolutely gorgeous and high quality knit.  It is a cotton/modal blend, which gives it an incredibly soft and smooth hand.  It is a breeze to sew with because it is so stable, but has a much better feel and drape than cotton/lycra, which is the next most similar knit.  This particular brand is completely opaque if you want to make a white shirt that isn't transparent at all.  This is the type of fabric I recommend the most for beginners, especially if it's your first v-neck.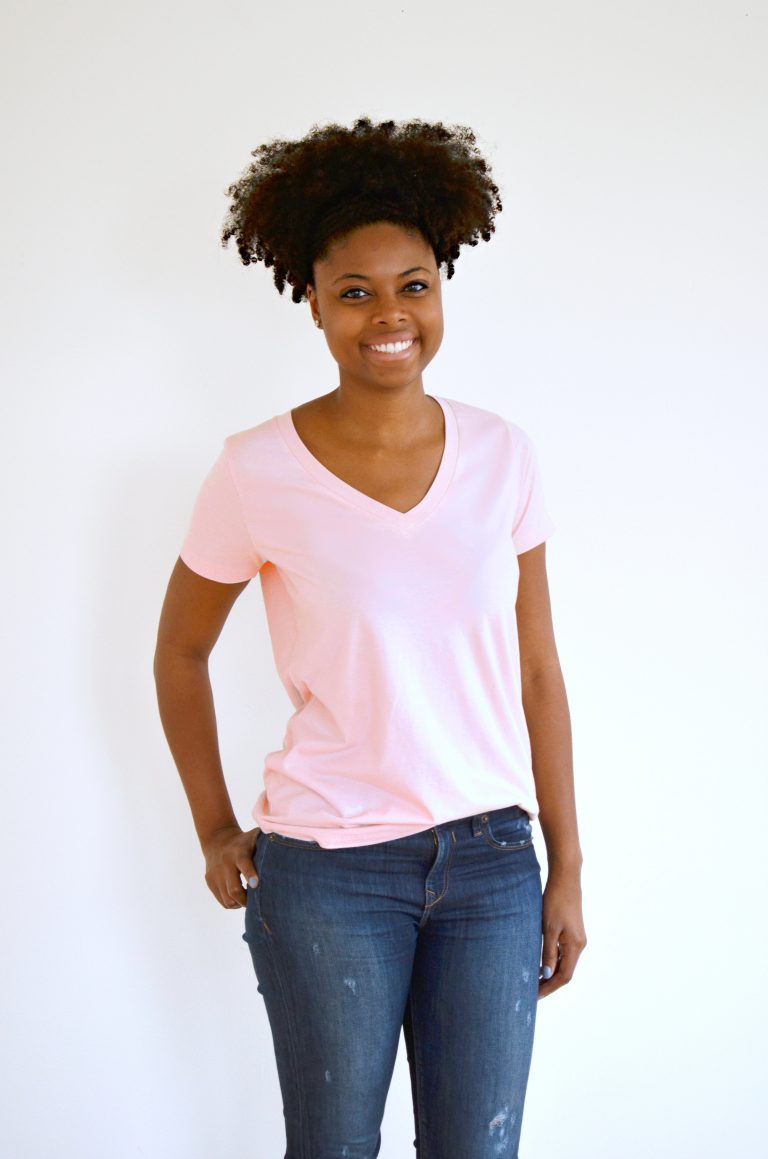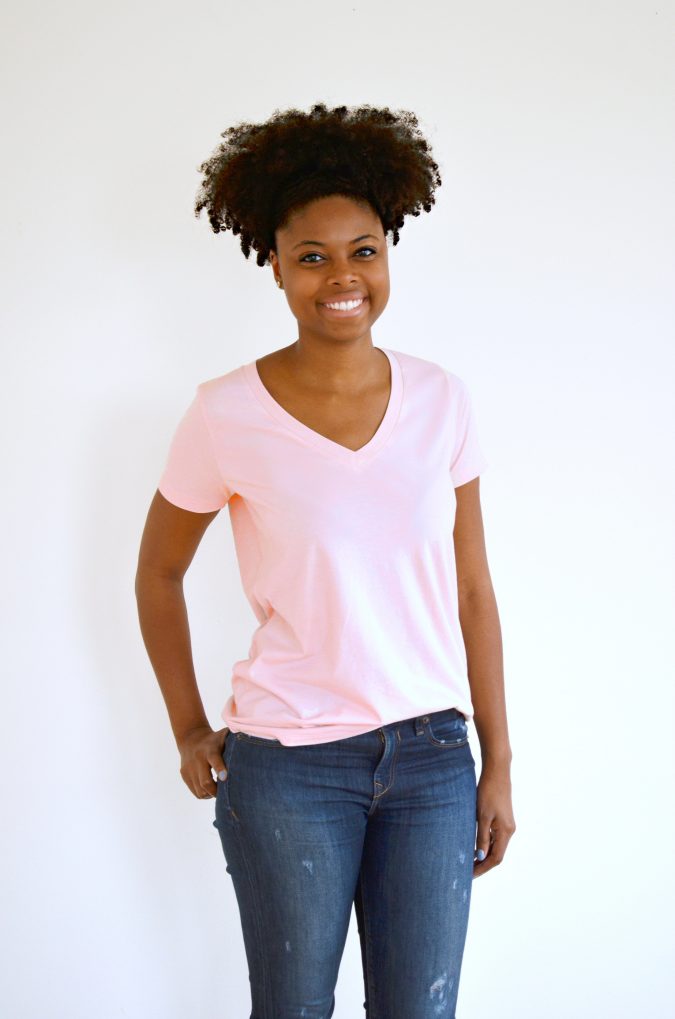 Lastly, a note on cotton/Lycra (aka cotton/Spandex).  You'll notice that the pattern lists it as not recommended.  It will work perfectly well and be easy to sew and give you a look similar to this pink top.  However, it doesn't have great drape and tends to exacerbate even the slightest fit issues.  If you choose to use C/L, just be prepared for a few extra lines and wrinkles, which in my opinion are perfectly acceptable for a knit tee.  But don't be surprised if you ask me for a fit solution and my first advice is to stop using C/L 😉
Head over to the shop to grab the new and improved Union St. Tee today!  If you've purchased the Union previously you can get the updated version simply by re-downloading it from your account (not from an emailed link.)  Be sure to check out the rest of the pics for more angles and to compare the fit with each of the different fabrics.  Happy sewing!