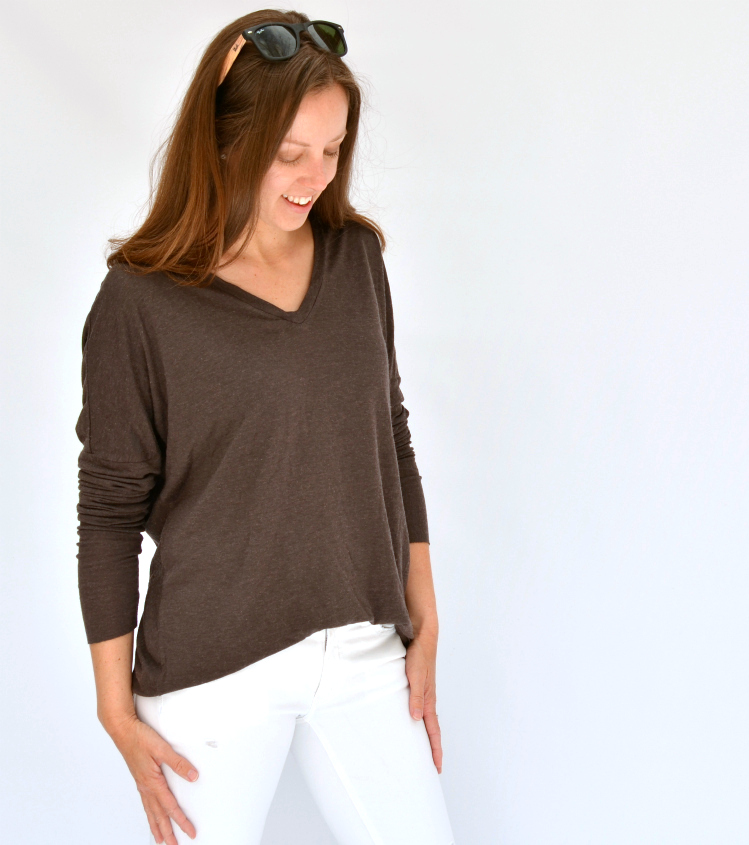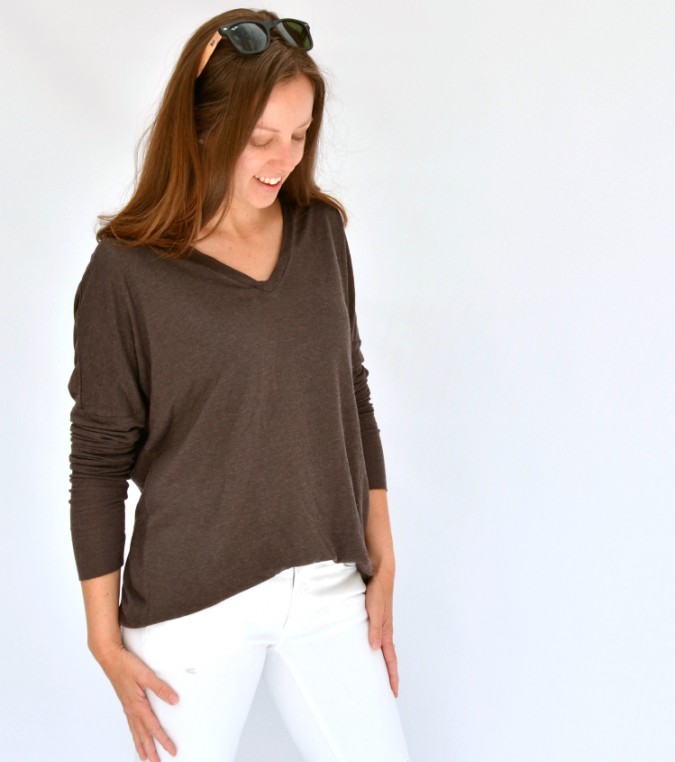 Happy almost-weekend sewing friends!  I have a fun and simple hack for you today plus a coupon code!  Be sure to scroll to the bottom of the post to grab it!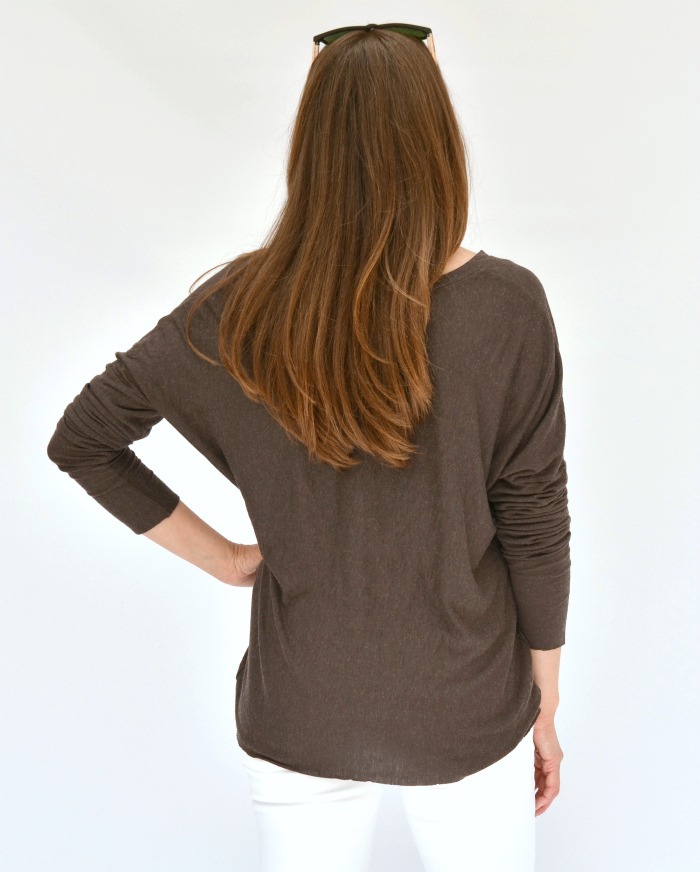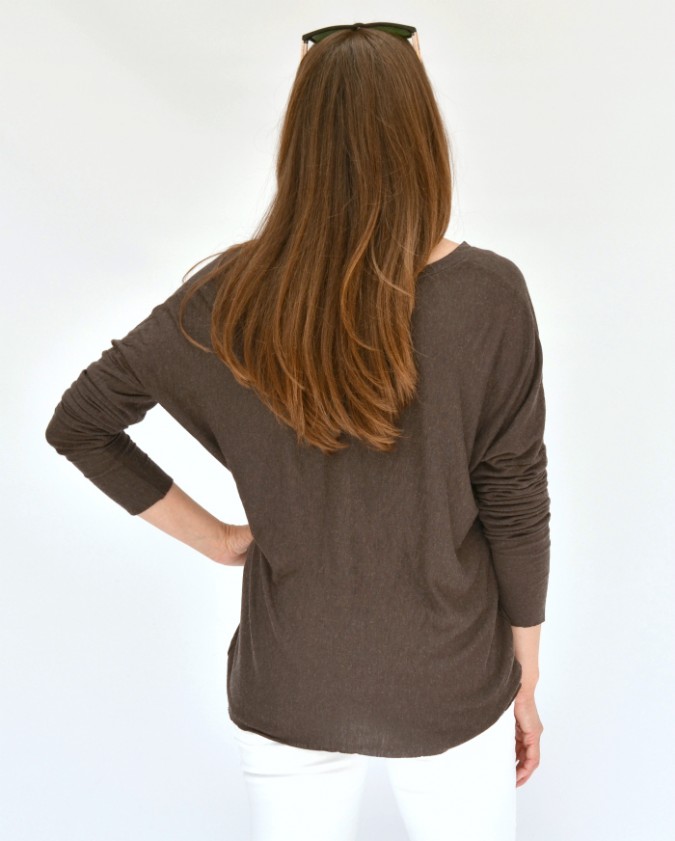 The Aurora Tee was originally designed to be a more fitted, figure-flattering dolman with shaped side seams and a curved hem.  But sometimes you just want a comfy casual tee with that perfect slouch.  Luckily it's really easy to hack the pattern to achieve that look!  Keep reading to learn how I did it.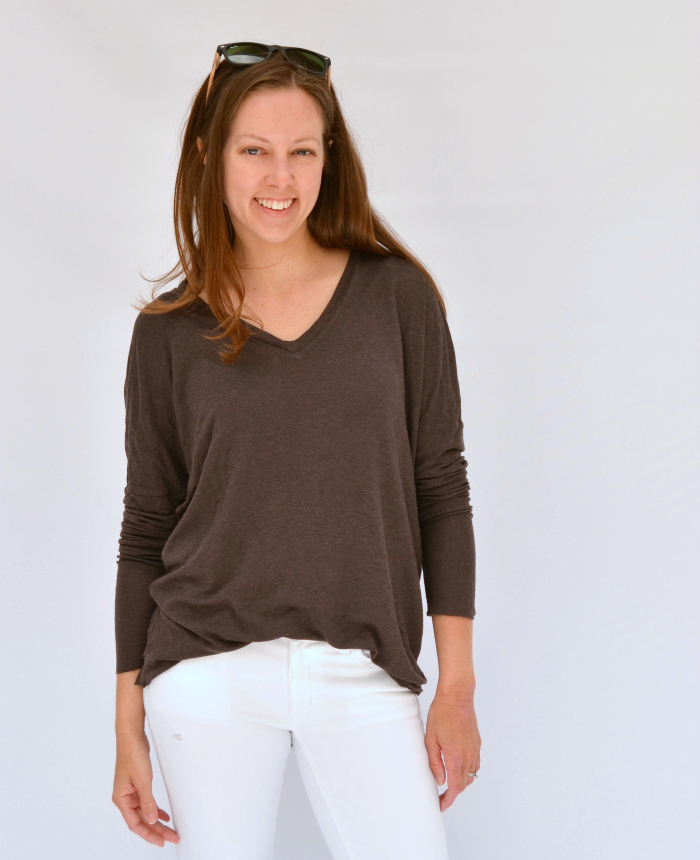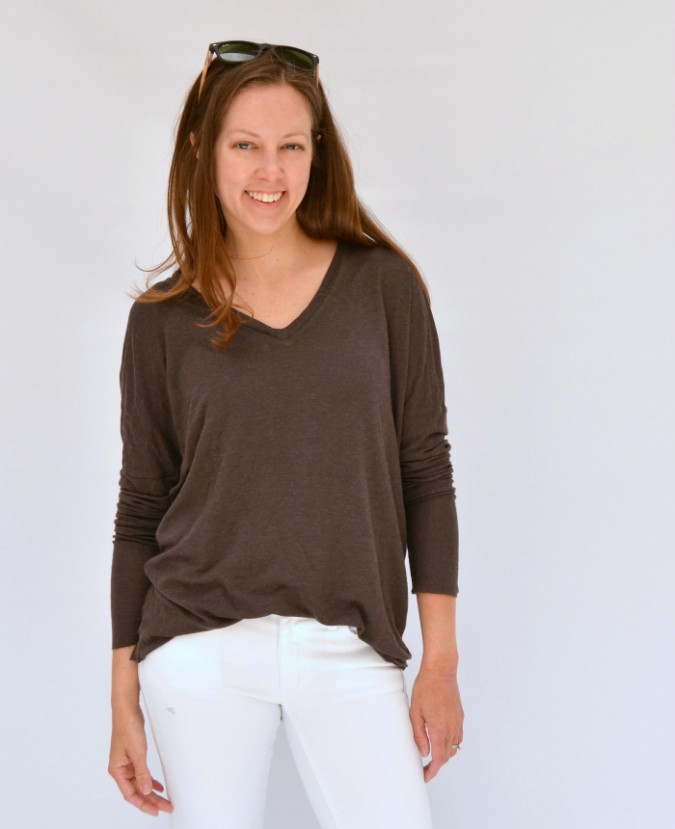 The first thing I did is completely optional based on personal preference.  I drew in a new neckline to make the Aurora a V-neck.  You can do this by eyeballing a V neck shape like in the illustration, or you can use the V-neck from the Union St Tee as a guide.  If you draw your own V-neck you'll have to calculate a neckband.  Measure the new neckline and cut a neckband that is 85% of that measurement.
To give the Aurora that perfect slouch, draw a vertical line straight up from the hem point on the side seam.  As you approach the underarm you'll have to curve the line slightly to connect with the hem of the dolman sleeve (see the illustration).
The next alteration I made is also optional but highly recommended.  Because the shirt is now much wider, I found that it was more flattering to cut off the curved hem and cut the hem straight across instead.  When playing with the proportions of a pattern, it's important to consider how the finished garment will sit on the body.  A shirt that is really wide AND really long will look like a tent.  Compensate by keeping the shirt shorter.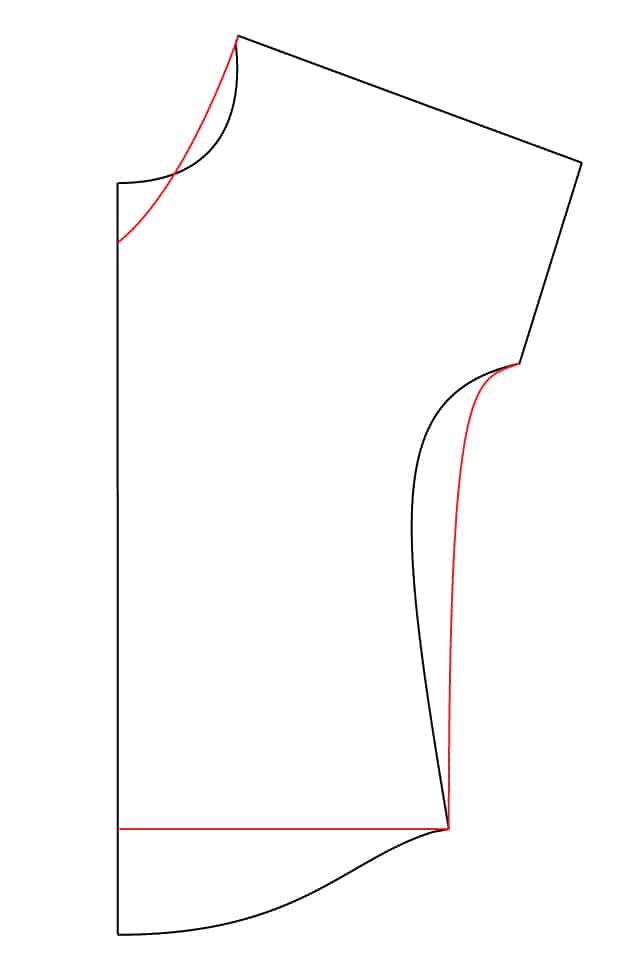 Again keeping with the idea of maintaining good proportions, I decided to narrow the lower sleeves.  I found that with so much added fabric in the body, a very fitted sleeve was necessary to keep the top flattering.  This will also help keep the sleeve pushed up on your forearm if you choose to style it that way.  I measured around my wrist and narrowed the sleeve hem to have no ease at that point.  (Side note: the Aurora is also really easy to hack into a short sleeved shirt by simply eliminating the lower sleeve and hemming the dolman sleeve.)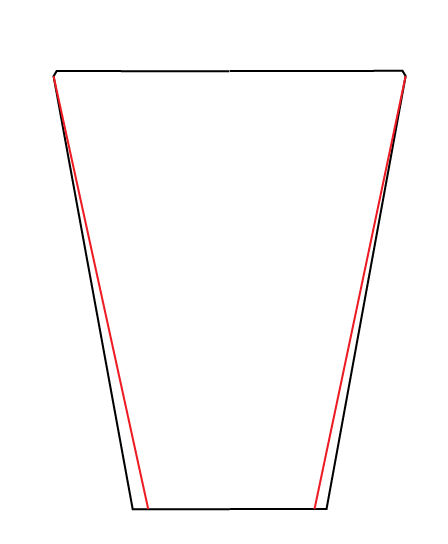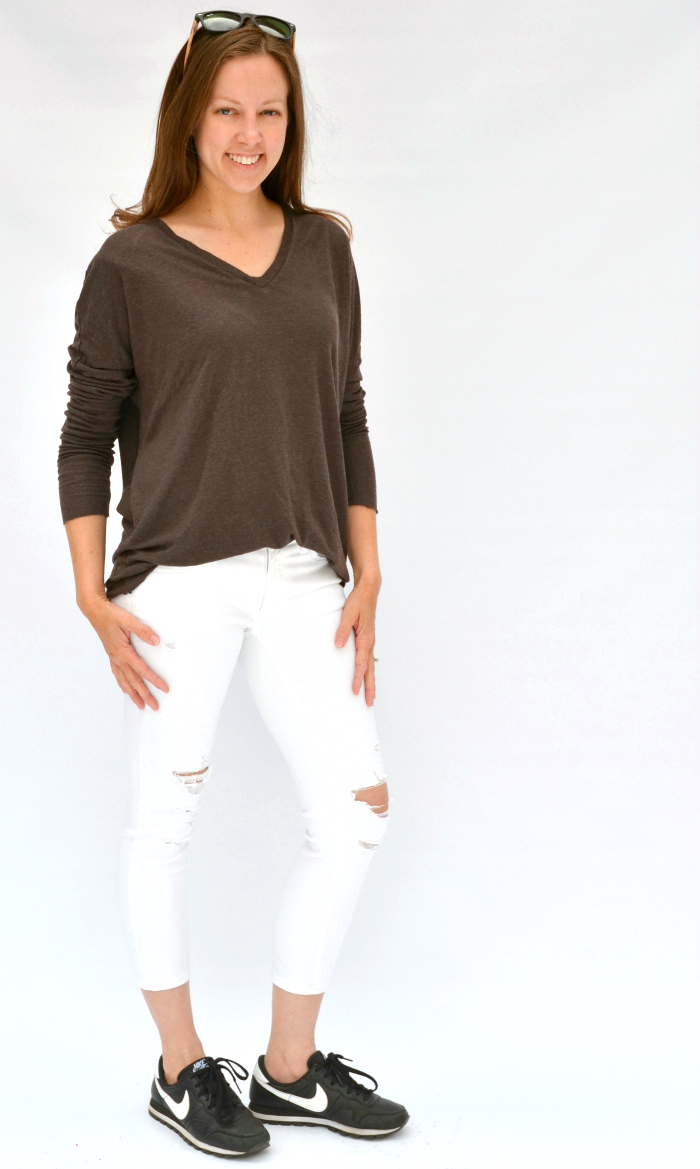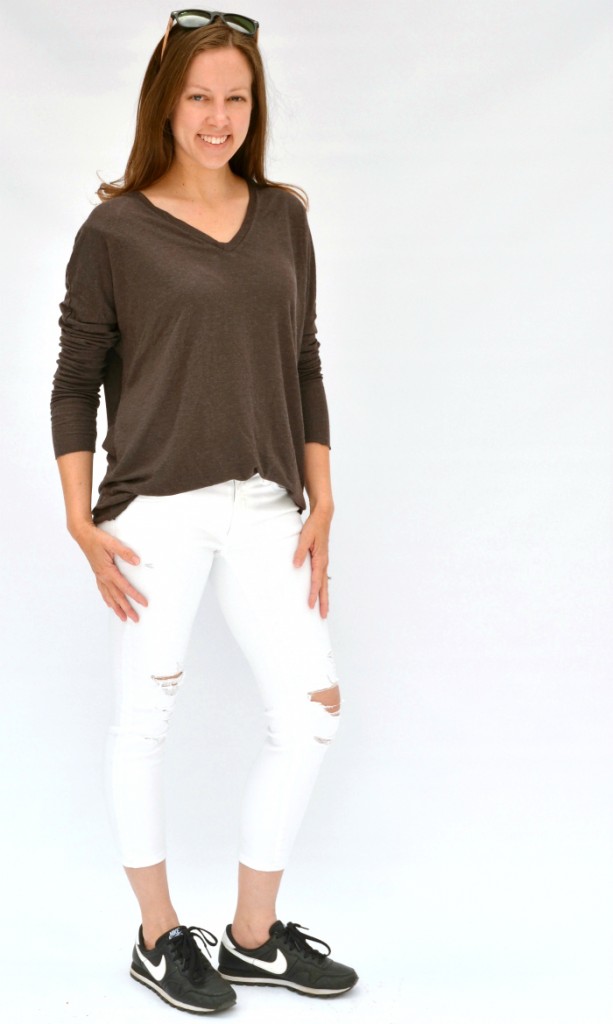 And that's it!  Told ya it was easy!  You can continue sewing the pattern as stated in the directions at this point.  This is a really easy and simple hack to start with if you've never hacked your sewing patterns before. Beware, once you get started hacking you won't want to stop!  With a few really good basic patterns in your stash you can hack them into almost any garment you can imagine!  Of course, there are times when all of us just want the work done for us so we can get to sewing and that's cool too 🙂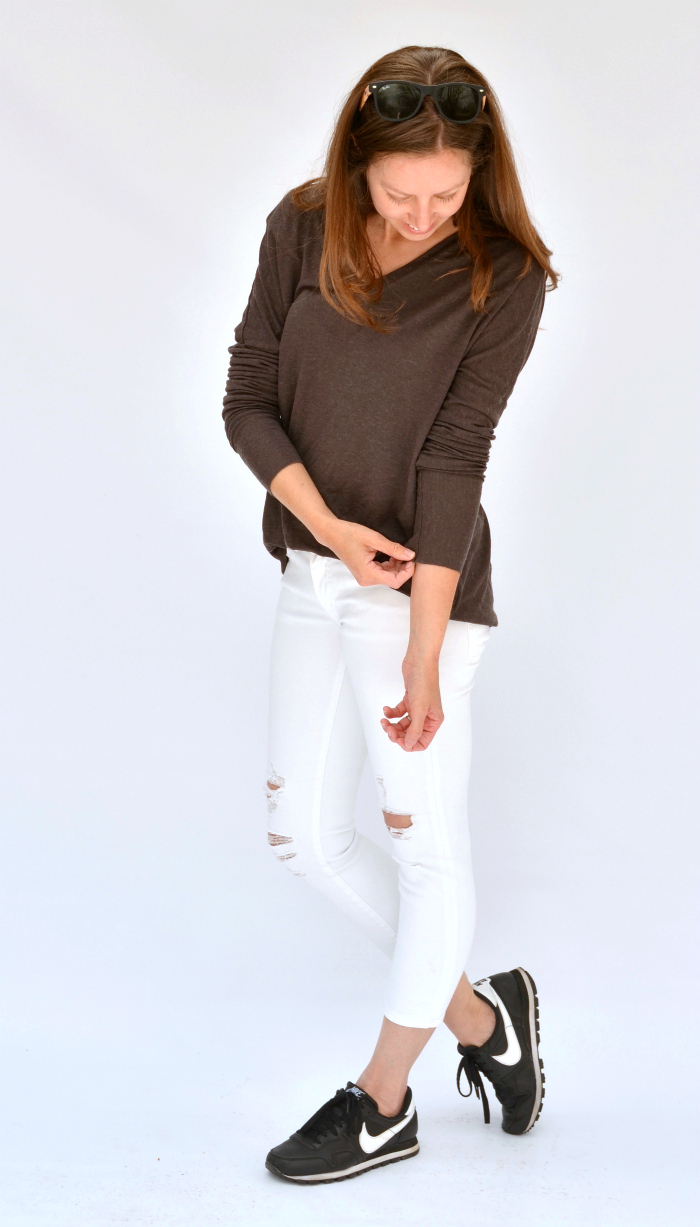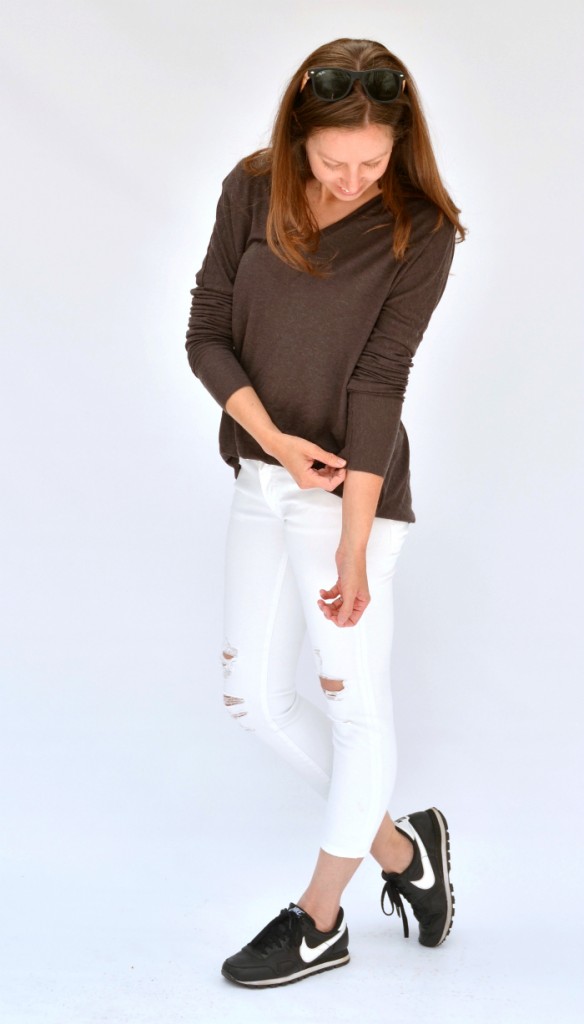 This Aurora was made with an indescribably gorgeous and soft silk blend poly knit sent to me by my sewing bestie and the best gift-giver on earth, Melissa from Sew Like My Mom.  She got it locally, OF COURSE.  This fabric is drapey and doesn't have great recovery, which makes it perfect for a slouchy top.  If you want to replicate this look, I suggest using a similar fabric such as poly/rayon, cotton/rayon, bamboo/cotton, etc.  Stay away from anything thicker that holds its shape well like a cotton/spandex (cotton/Lycra is the brand name).  Also, as you can see, I didn't hem the sleeves or hem which is totally acceptable for a top like this because I said so.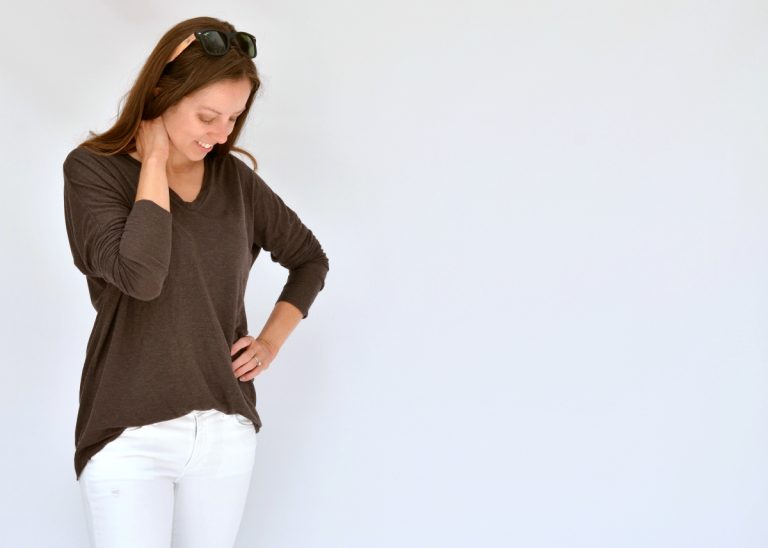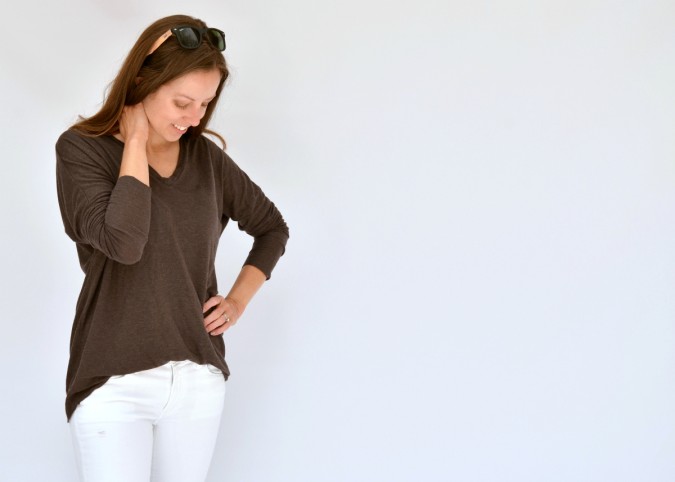 If you want to try out the hack, grab the Aurora Tee for 25% off using code "AuroraLove" now through 4/28 at 11:59 PM MST!
Happy hacking!