Prepare yourself for inspiration overload!  Emily is back with a whole 10 x 10 Hey June womens capsule wardrobe!  I would steal every single piece in this capsule and wear it to threads.  She has such a great eye for outfit combinations and even though each piece on its own is really casual and easy to wear, there is some magic that happens when they all come together.  Each outfit is so special and intentional.  Also, Emily always accessorizes like a boss!
---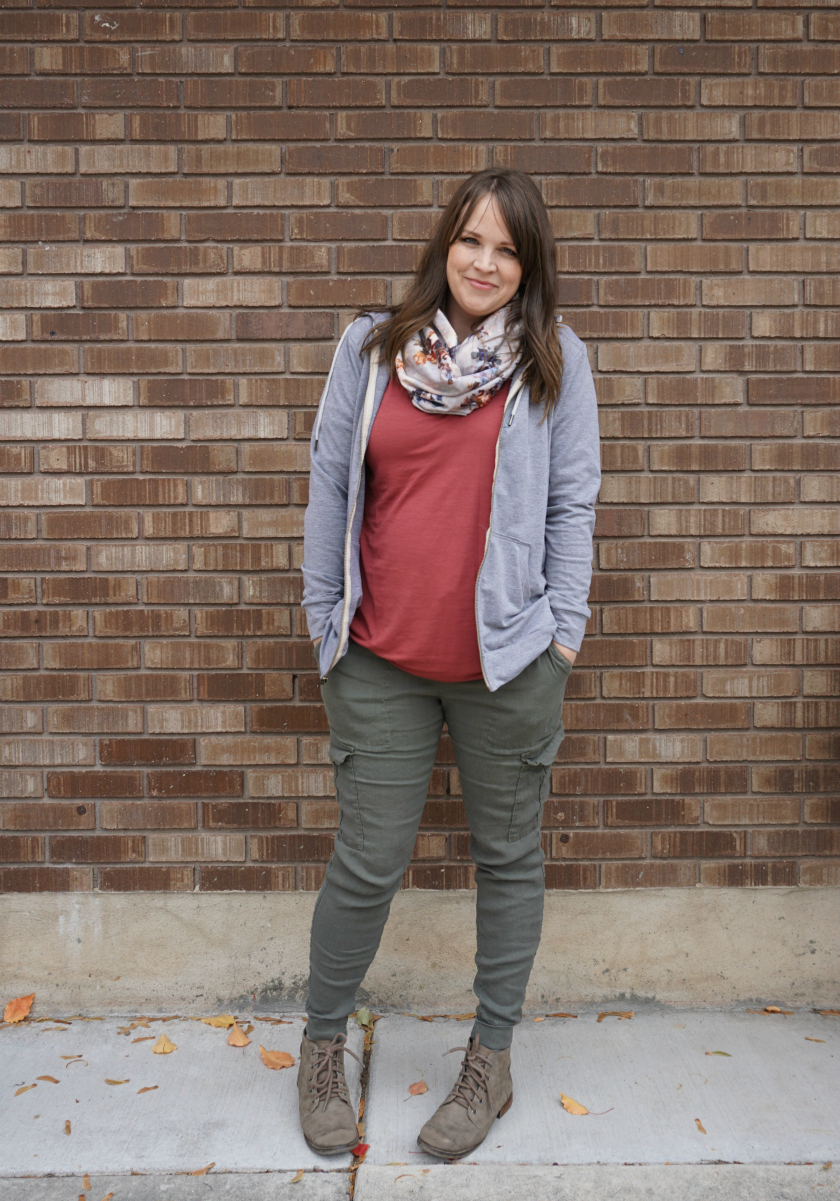 I'm baaaaa-aaack!! Adrianna keeps letting me hijack this space. You'd think she'd learn her lesson by now… but she hasn't. ☺
I've been super inspired by minimalism lately, in my home, life style and in my closet. Having 7 of us in a house together it gets super overwhelming with how much clothes and just plain old stuff we have. So, I'm really working on paring down our belongings and getting a more minimalistic mindset applied to our life. I usually come on here with a pattern hack tutorial but this time, with my new mindset I'm working on, I thought I'd make a little HJ Fall capsule for myself. As I was working on my capsule I heard about the Fall 10 x 10 challenge from Stylebee. If you haven't heard about it you can read all the details here. I was intrigued by the idea because it sounded like it was right in line with how I wanted my fall wardrobe pieces to work. So, I didn't actually do the challenge (since you're technically supposed to use pieces from your current closet) but I took the idea of the challenge and used it to build my collection.
Here's the list of the 10 items I chose:
Bryce Cargo pants– stretch denim (sold out) from RCF.
Bryce joggers- stretch linen (sold out) from Fabric Mart, using this tutorial.
Bryce joggers- French terry (sold out) from RCF.

My beloved Toms (that have seen better days)
Ankle boots

For simplicity's sake I only added a few additional accessories (though in the official challenge accessories are limitless). 2 scarfs, 2 hats, a beanie, a bag, a necklace, and a leather cuff bracelet.

Now, mind you, this is not a Pinterest worthy, style icon, fashionista collection. This is a 'van driving momma who normally wears sweat pants all day but should probably be a bit more presentable' collection. This is a capsule full of pieces that I will reach for time and time again. Comfort was my top priority (because that's how I roll, yo). The truth is I basically built a collection around my 3 Bryce Cargo pants that I'm obsessed with and wear religiously. So please bear with me as I now play dress up.

We have had a gorgeous fall this year with many warm days so having some short sleeve pieces has worked out great. Plus, I'm all about the layers in fall so they will be used a ton under cardigans, jackets and zip up hoodies. They will transition into Spring nicely as well so that's a nice bonus.

Let me just tell you…. I have wanted to make a zip up Halifax since the pattern was in testing. WHY DID IT TAKE ME SO LONG??? I will be living in this thing! It's amazing!

Also, I have been dreaming of this Willamette forever, too. I'm so pleased this post pushed me to make some items I've had on my "to-sew" list for far too long. Now, I know it should have pushed me to make a Cheyenne… hello, fall capsule without a Cheyenne!?! I know, I know. Shame on me. But already tackling 5 pieces on my limited sewing time (ahem… 5 kids) was enough for now. Someday it will happen, someday.

Can we all take a moment of silence for the distressed beauty of those jean Bryce cargos. These are my original ones I made during testing 10 months ago, and they have aged to perfection. (I can totally brag because I did absolutely nothing but wear them to death to make that happen). Annnnndddd… I'll just go ahead and push myself right off my high horse and confess something to you all. Whispers… "these pants are still closed shut by a safety pin. I never did add the button hole and button".  You can't win them all folks. You either have buttoned pants or aged beauty but you can't have them both…. oh wait…… er…. let's move on.

There really isn't much more to say. All the pieces I made are solid and simple (and not "sew frosting" worthy) but very much me and what I needed in my wardrobe. Adrianna always comes to my rescue when it comes to amazing solid foundational pieces. I've said it before and I'll say it again…. I'd be nakey without her! So, thank you for clothing me, Adrianna! How awkward would this parade of photos of me have been without you.  

---

Well I think we all know that basics are my frosting, so this is just one giant tiered sugary confection to me!  But, you know, the kind that's healthy.  I don't have words for how blown away I am by this capsule!  Thank you so much for all the inspiration (and I'm not gonna lie, I'm super impressed with how many times you changed clothes in one photo shoot.  More than I change clothes in a week)!