Please welcome Melissa back to the blog with a gorgeously styled Evans Blazer! I can't pick a favorite, I love all of her outfits and how versatile she's proven the Evans to be!
---
Hi all! It's Melissa Q. and I'm so excited to be back on Hey June Handmade! If you know me from my blog, A HAPPY STITCH, or from my Etsy Shop, The Espadrilles Kit, you might already know how much I love Adrianna's patterns. If not, let me tell you, I love them A LOT! I was particularly thrilled when she released the Evans Blazer. So, it is my great honor to bring to you a "How to Wear the Evans Blazer" post!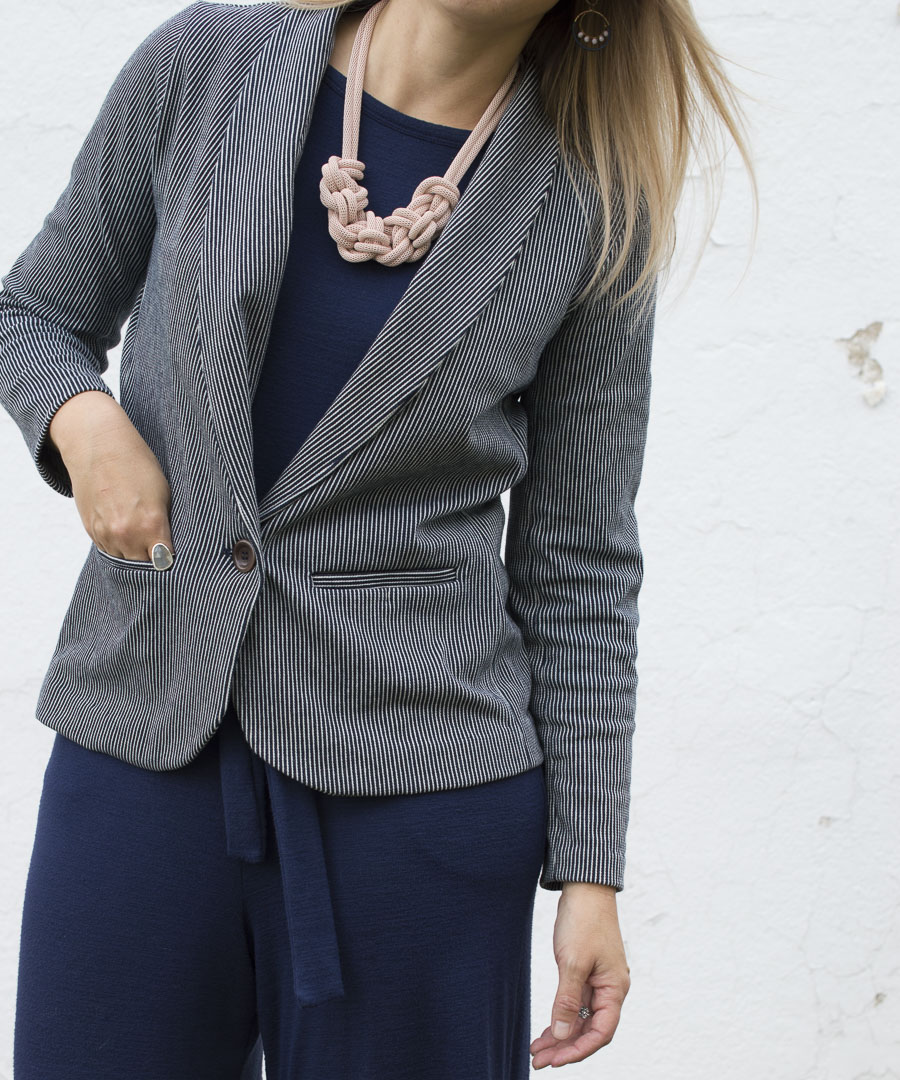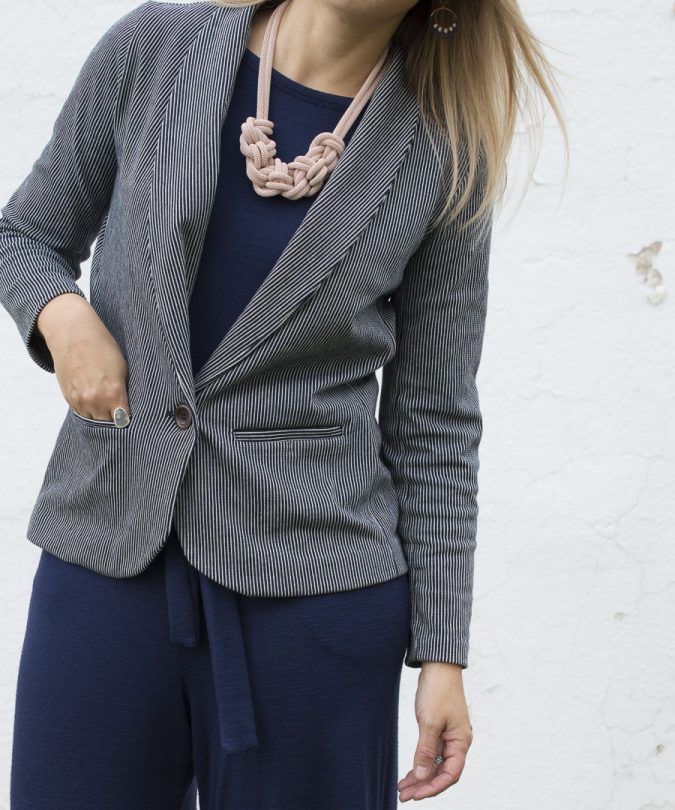 A little bit of background so you understand why I'm so obsessed. I had a very stylish friend in college who always wore a casual blazer over everything and she always looked fabulous without looking too dressed up. It was amazing and I've been trying to emulate that look for years. By adding the Evans Blazer to my closet, I'm inching closer.  (Most of my favorite style icons are my friends, anyway.)  The secret sauce with the Evans Blazer is its relaxed style. My lifestyle doesn't really call for a structured blazer; if I'm being honest it doesn't really call for a blazer at all! This is the THING I learning from my college mate, though, a relaxed blazer is something special. It rounds out a wardrobe because it combines the comfort of a cardigan sweater with the classy, structured look of a grown up. Considering I work from home, some days I just need to feel like a real grown up. Know what I mean? 
I made my blazer in a structured ponte knit with teensy navy and white stripes.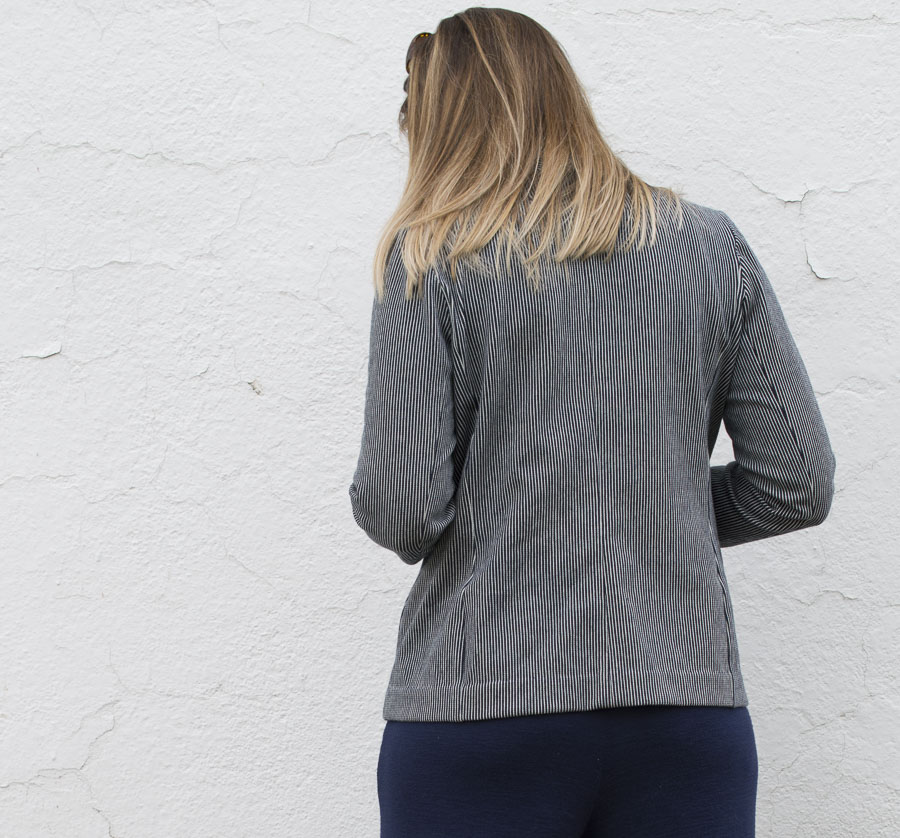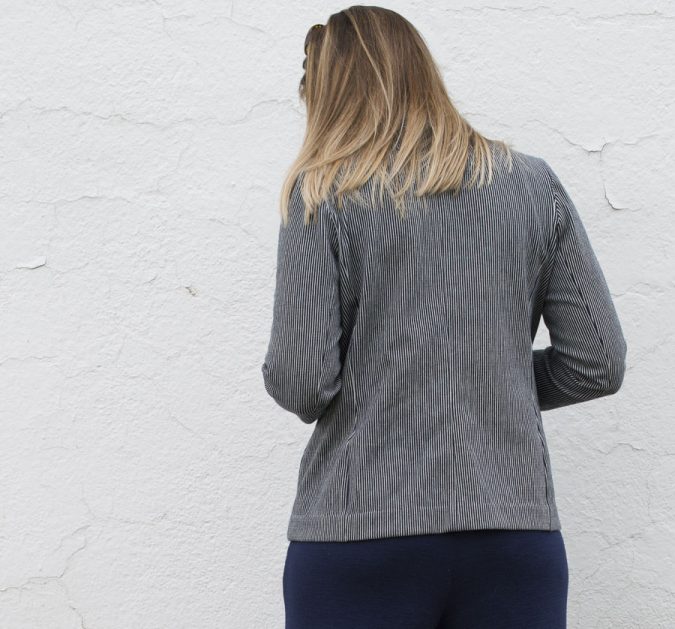 While I would say that sewing a blazer is more advanced sewing, Adrianna makes it really straightforward and omits finicky things like a back slit, etc.  Overall, it came together quickly and left me feeling very proud of myself. I'm darkly proud of my Hong Kong seams, as you can see.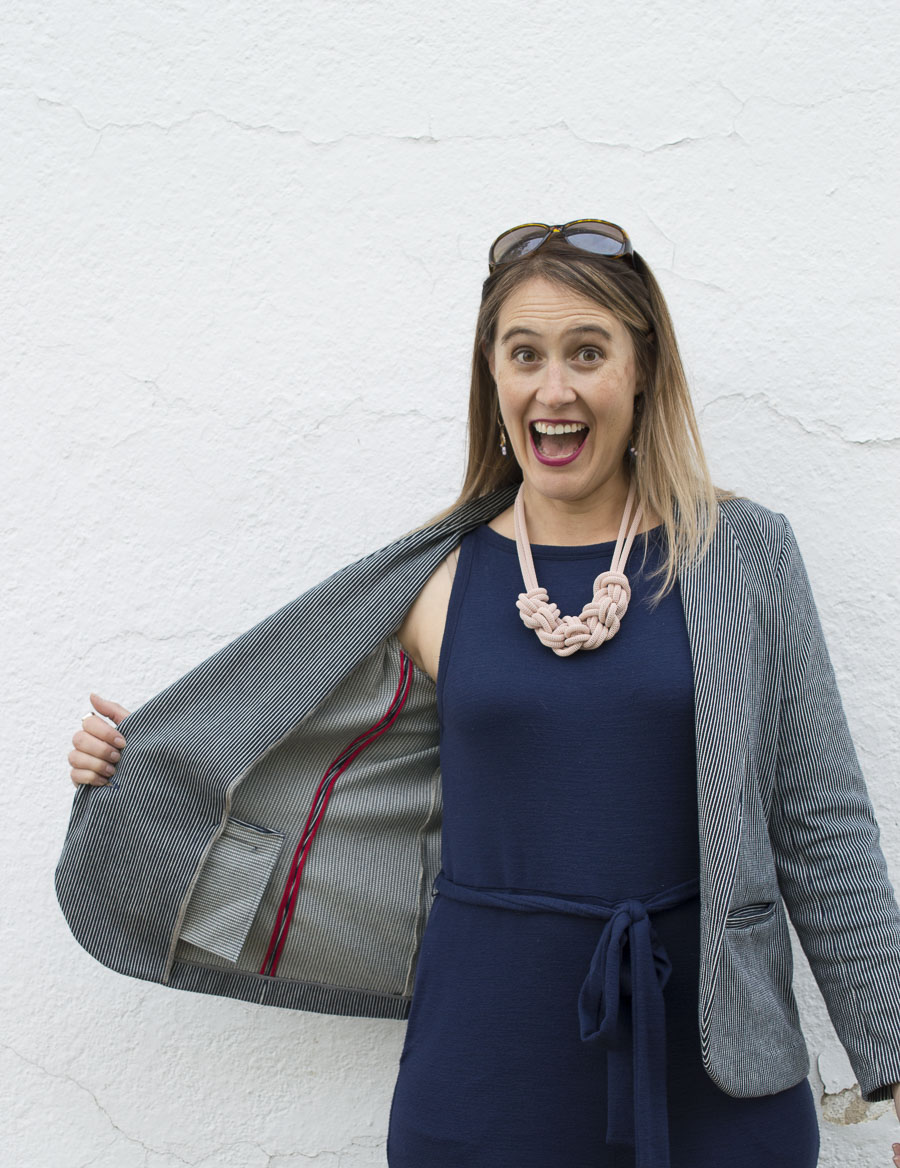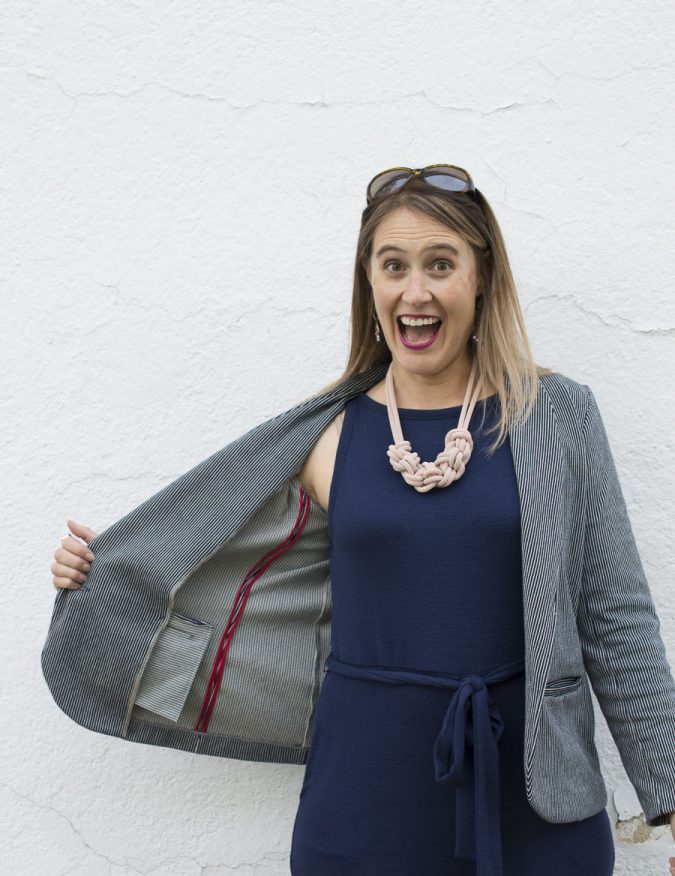 Ok, enough babbling. Here are my five favorite ways to wear my Evans Blazer for all different occasions.
In Jeans and a light fall sweater for a casual fall look: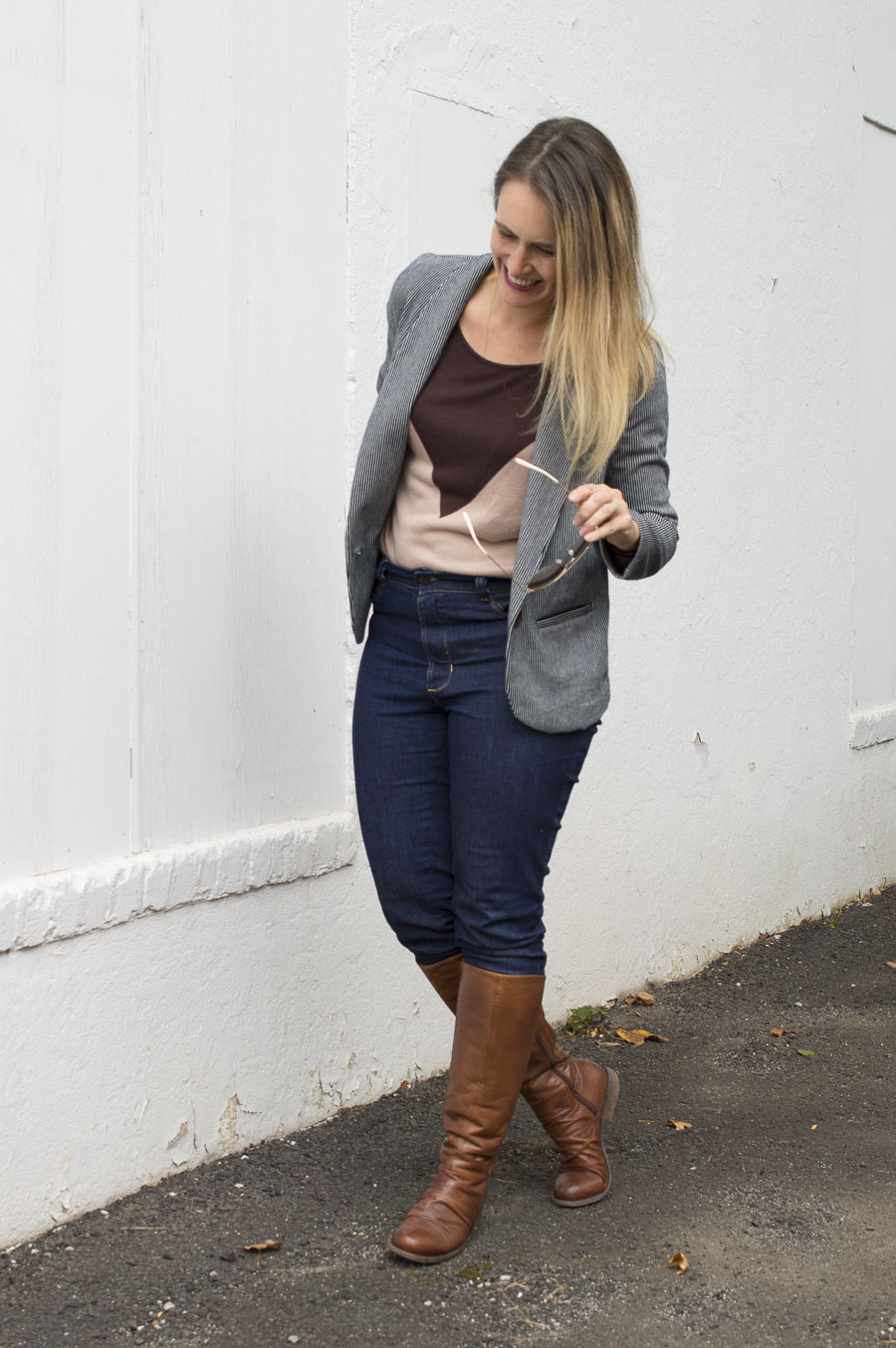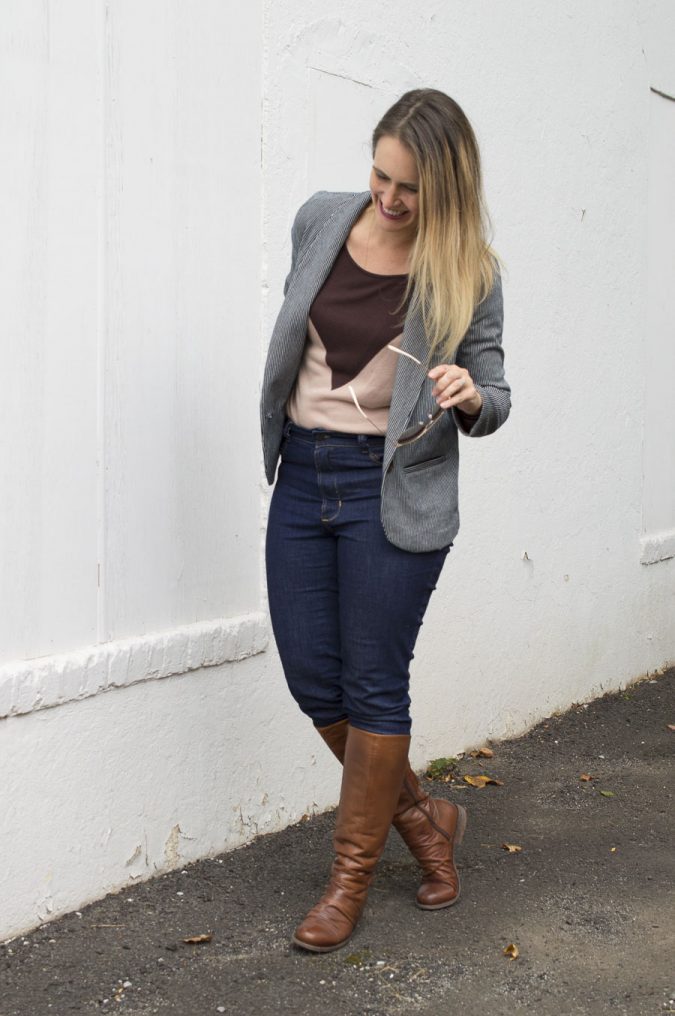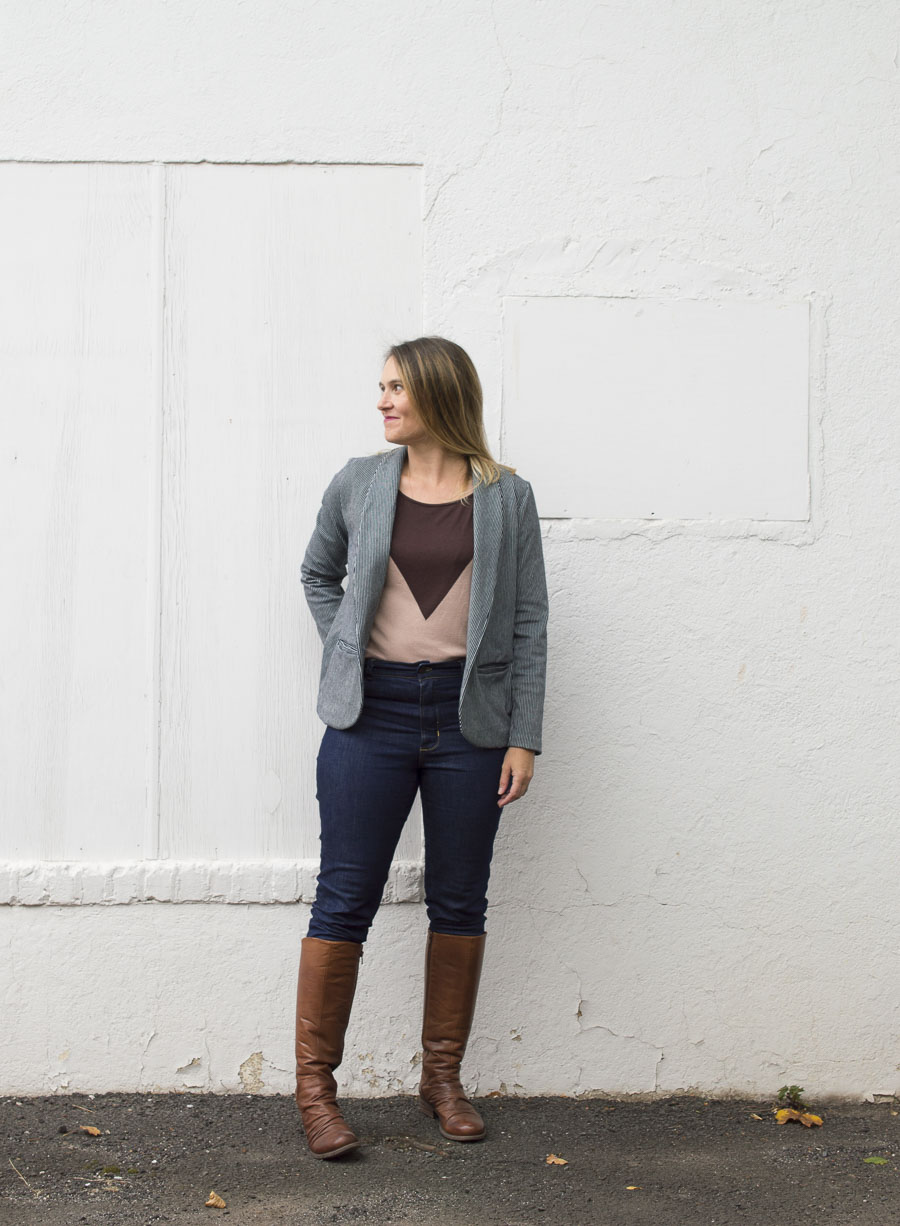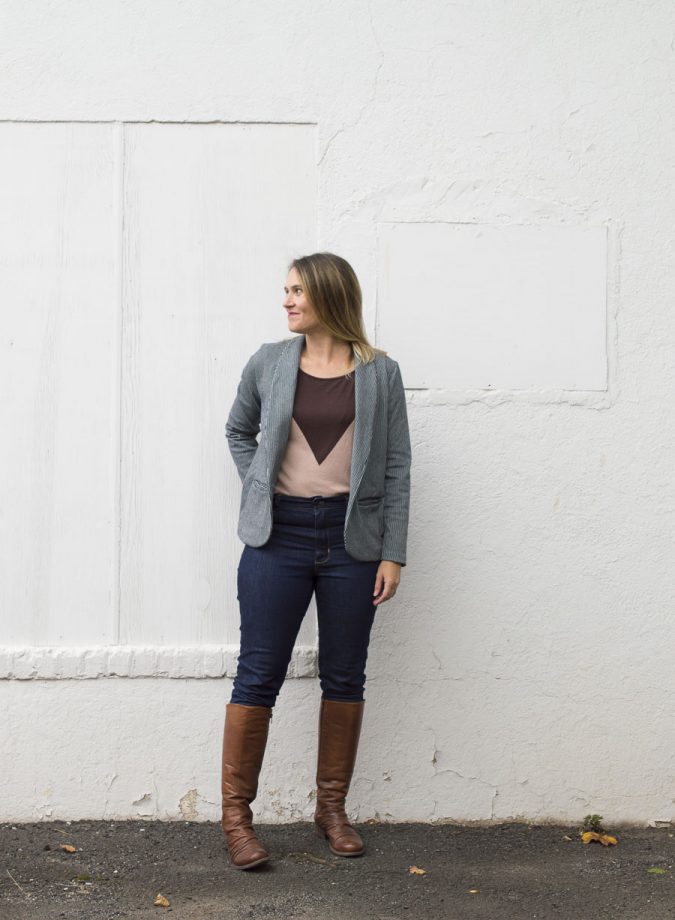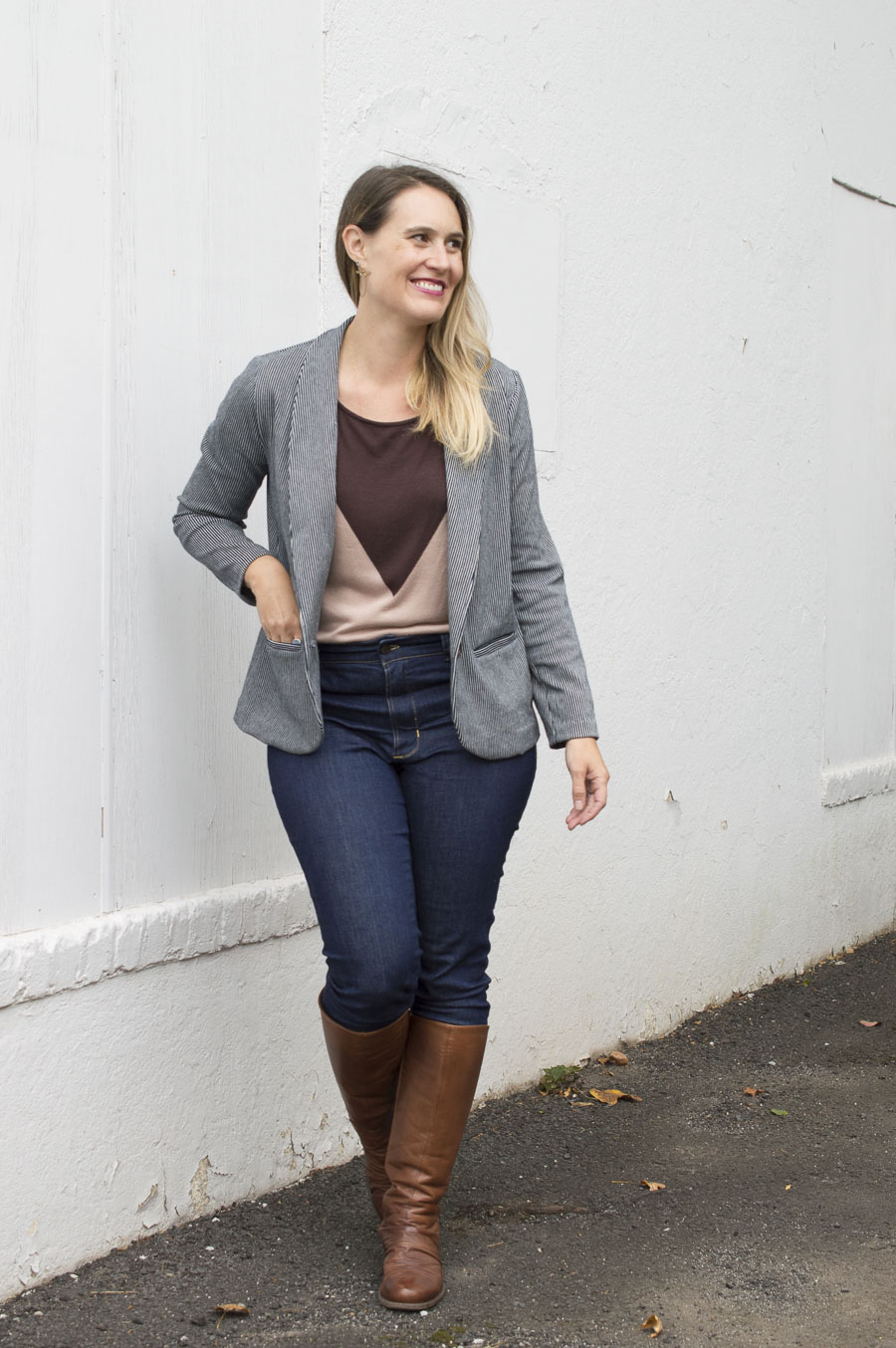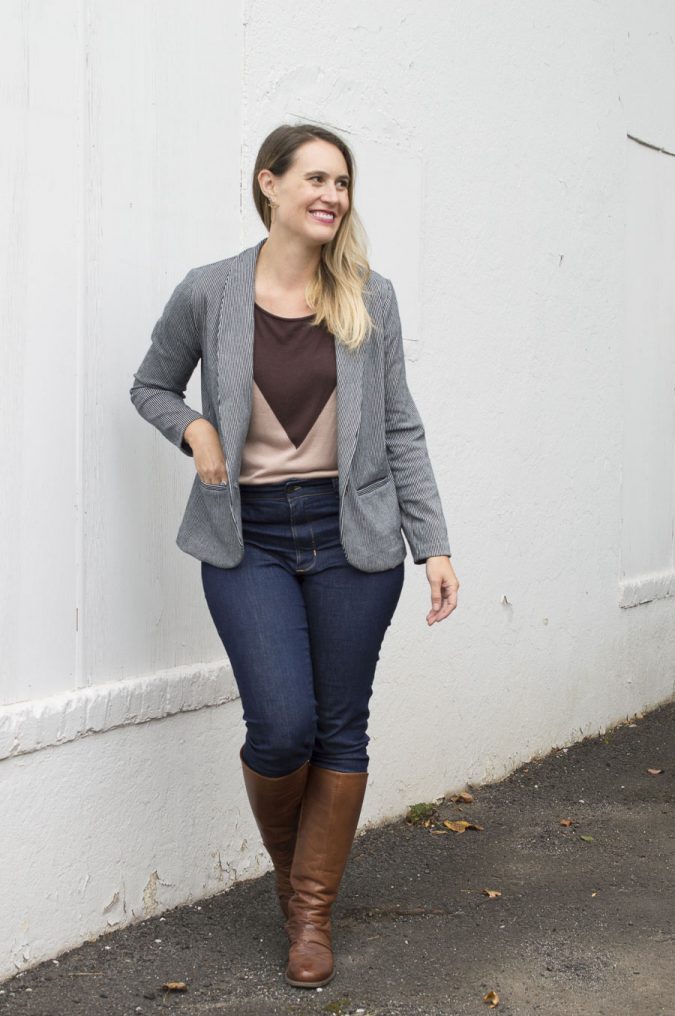 With colorful pants and a chambray shirt it stays casual but I get to play with the sleeves by popping the chambray shirt out.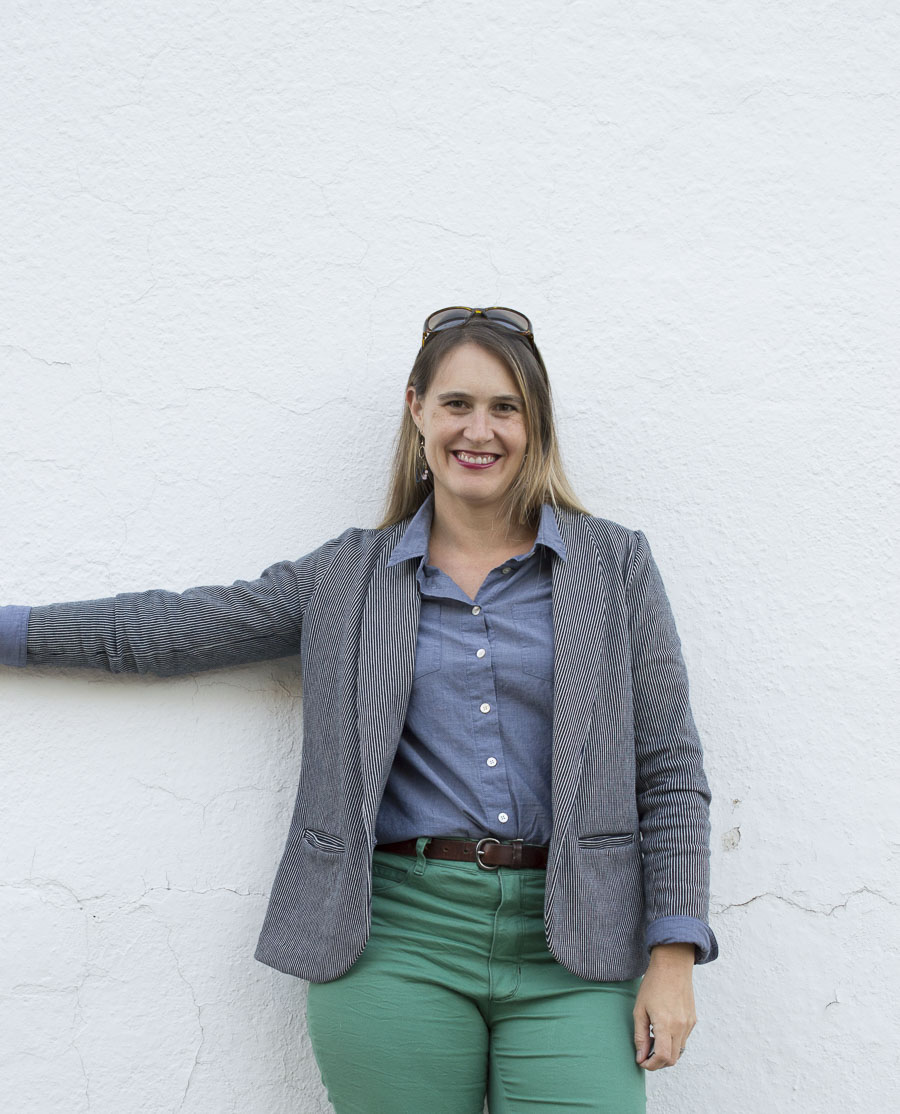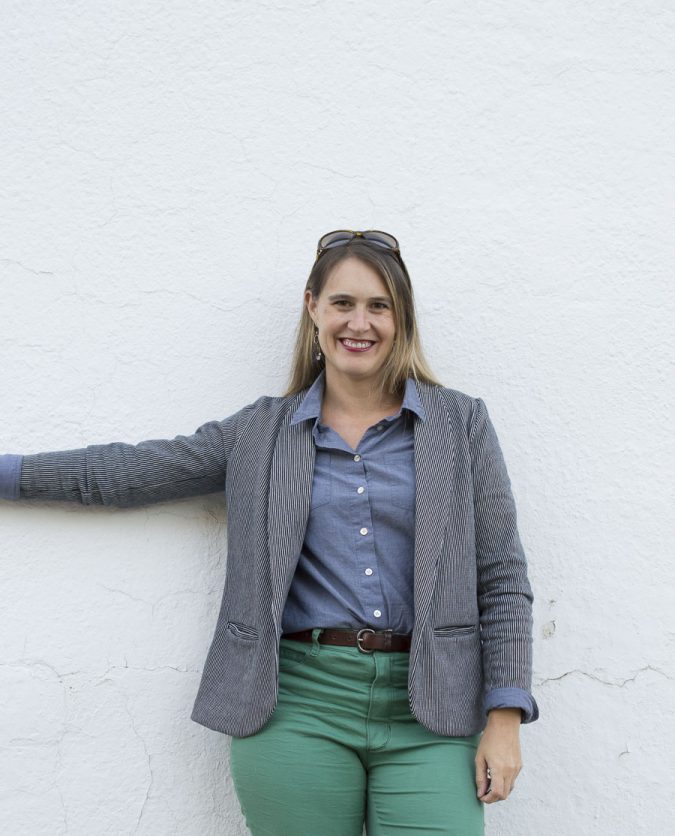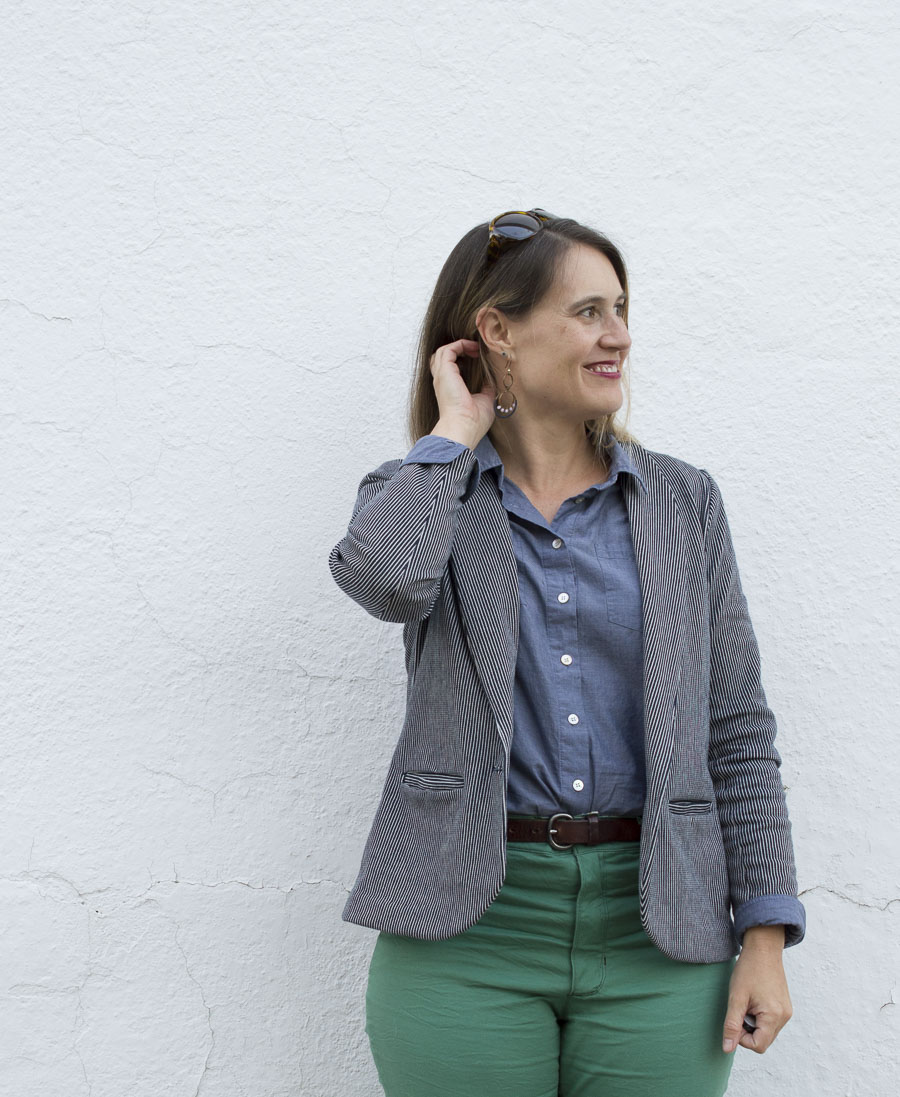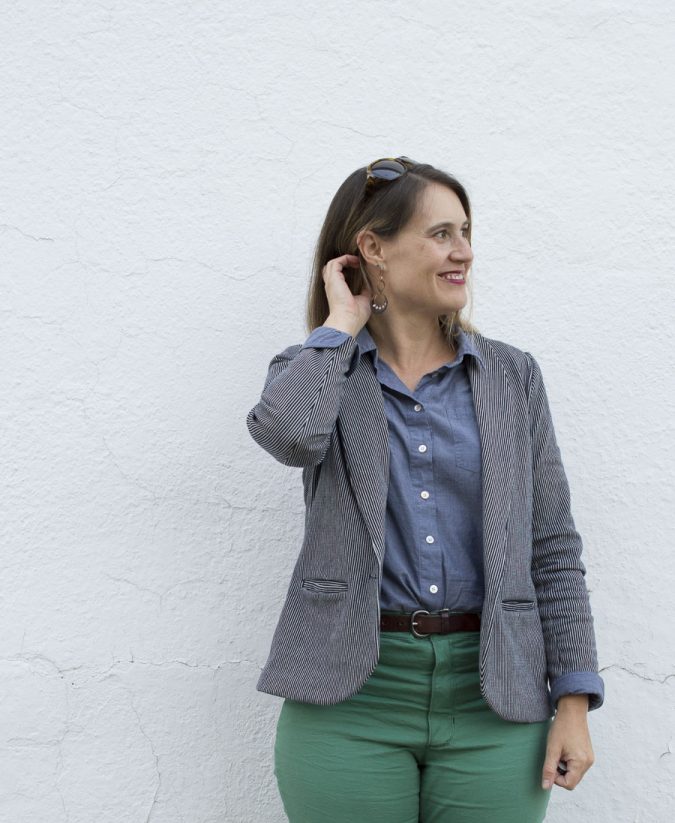 Worn with a flowery dress and boots, it suddenly takes an ordinary outfit and pumps it up a notch without getting too serious: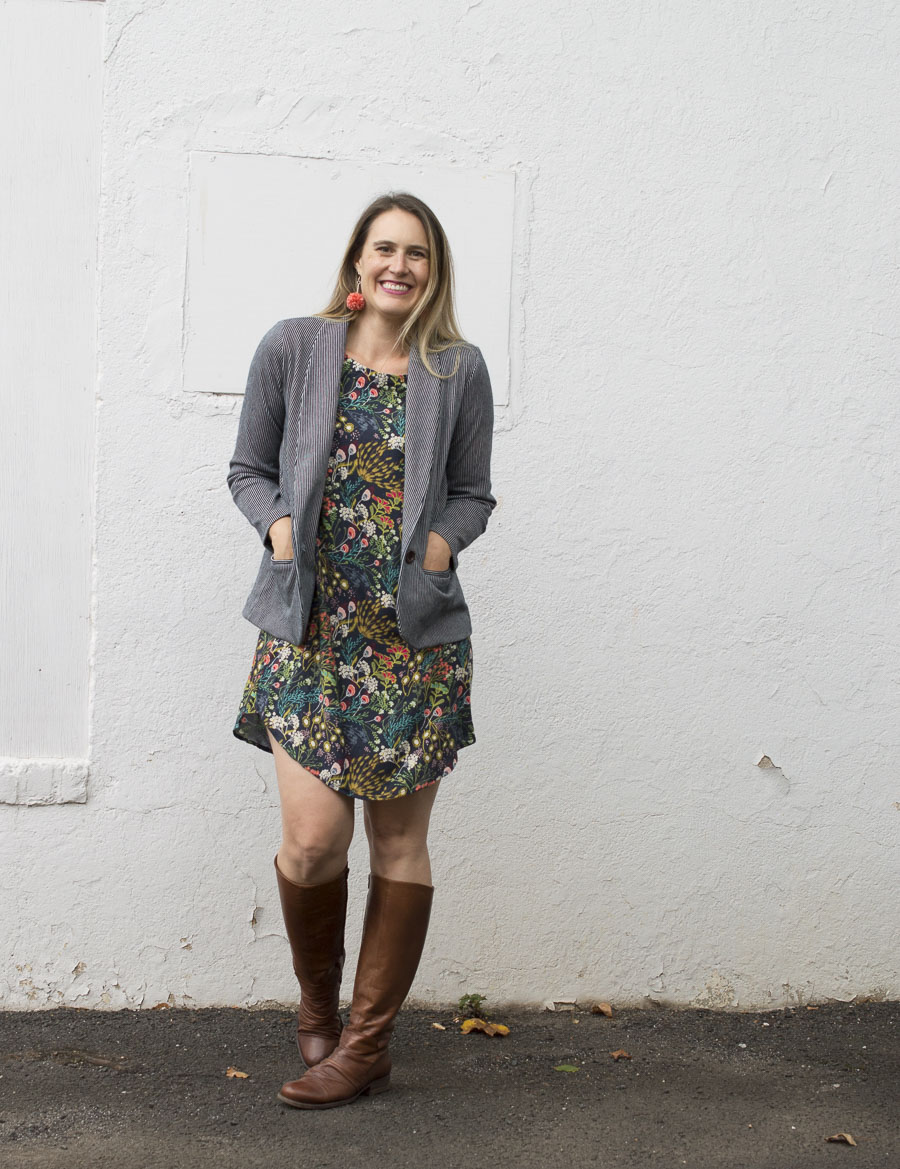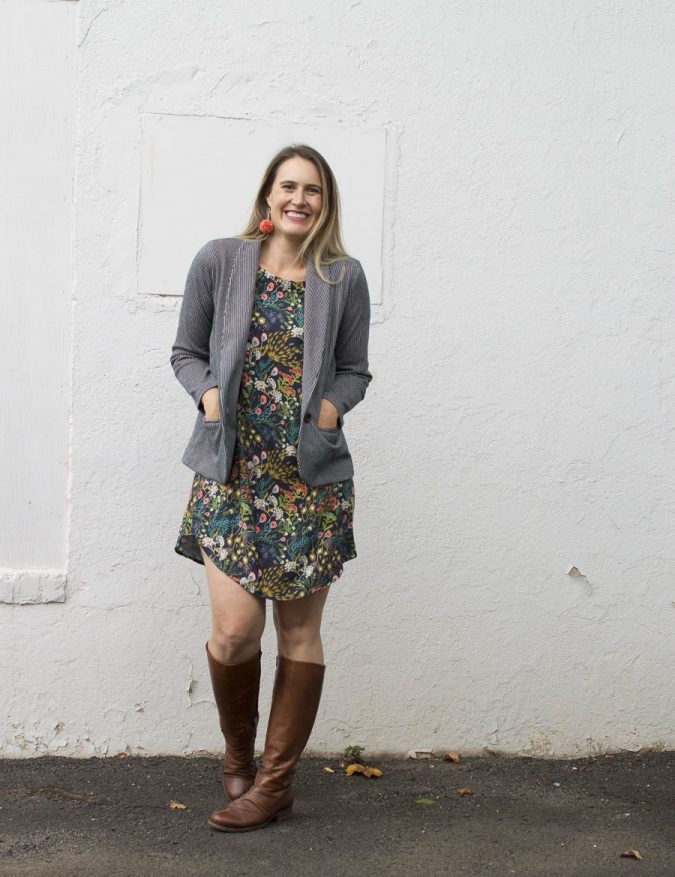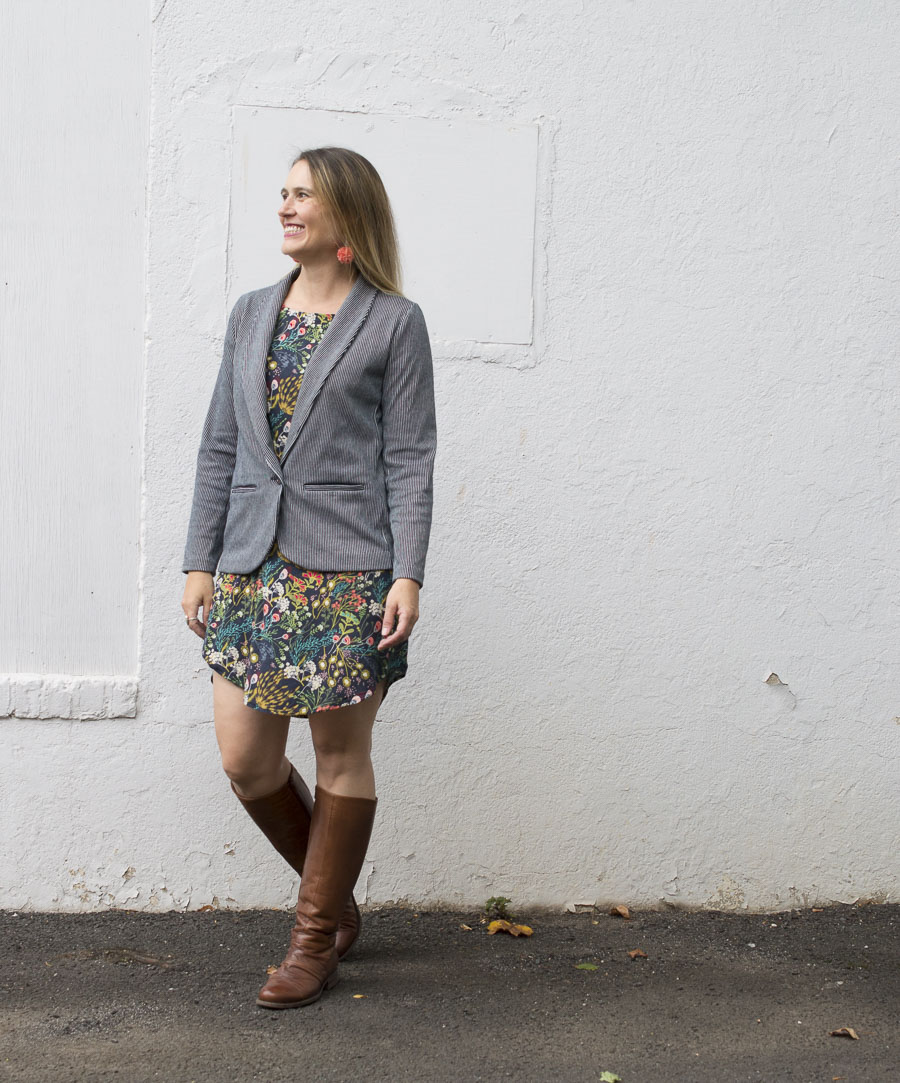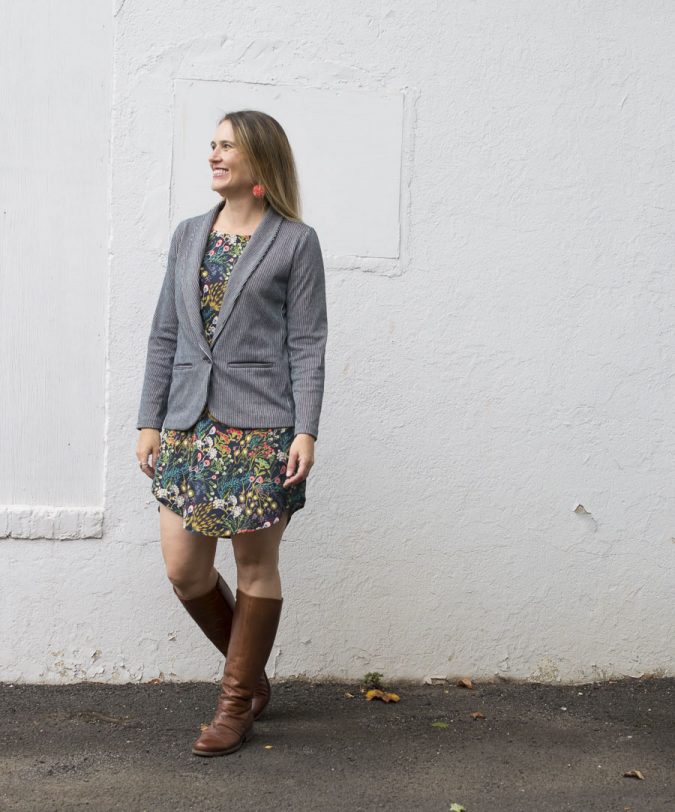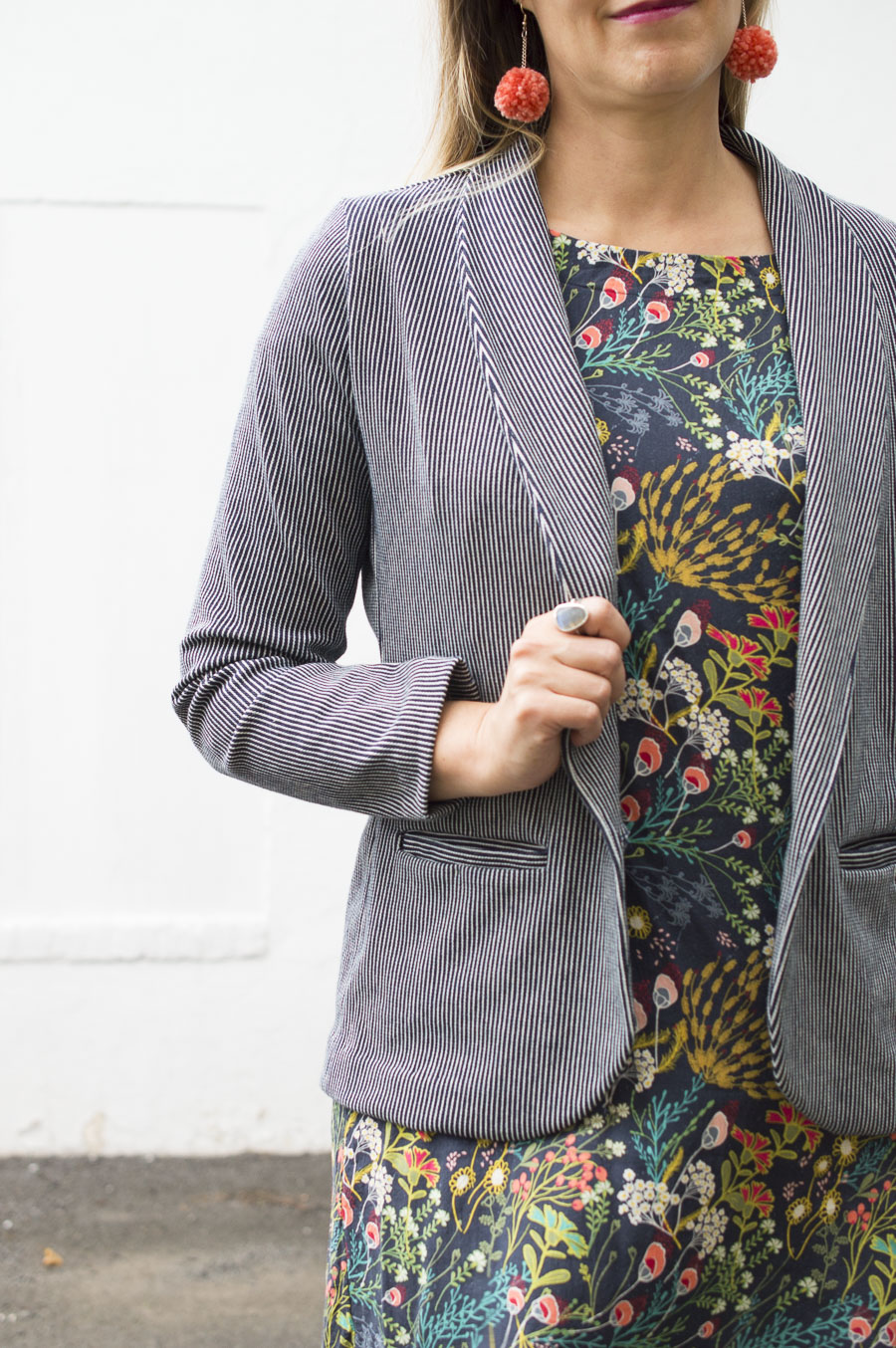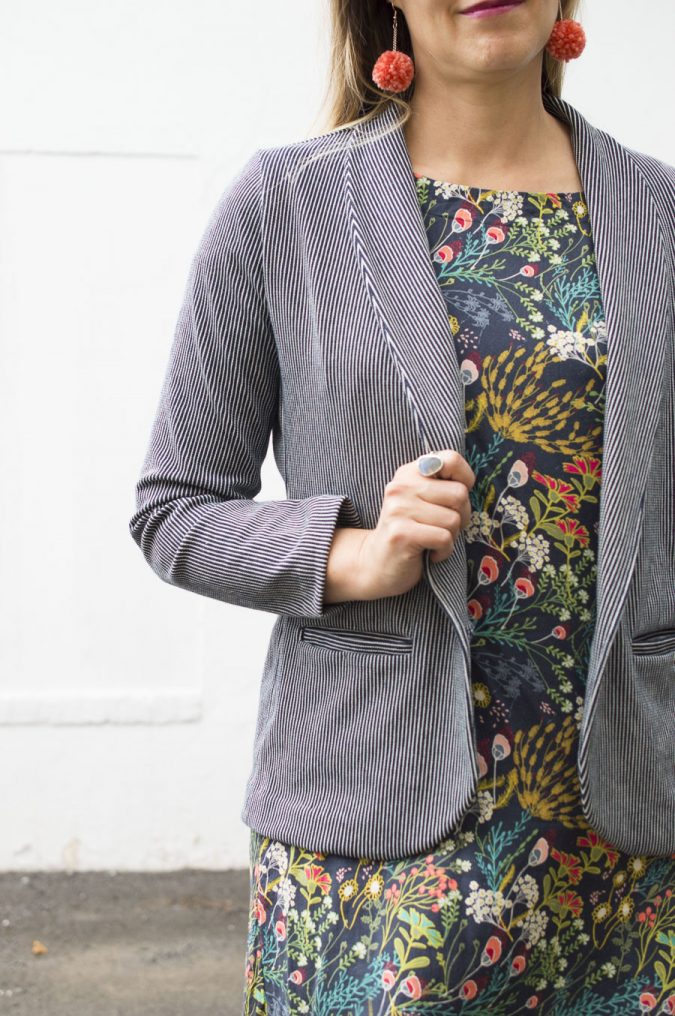 At it's dressiest, the blazer makes the jumpsuit and statement necklace perfect for a creative job interview or important meeting with a new collaborator.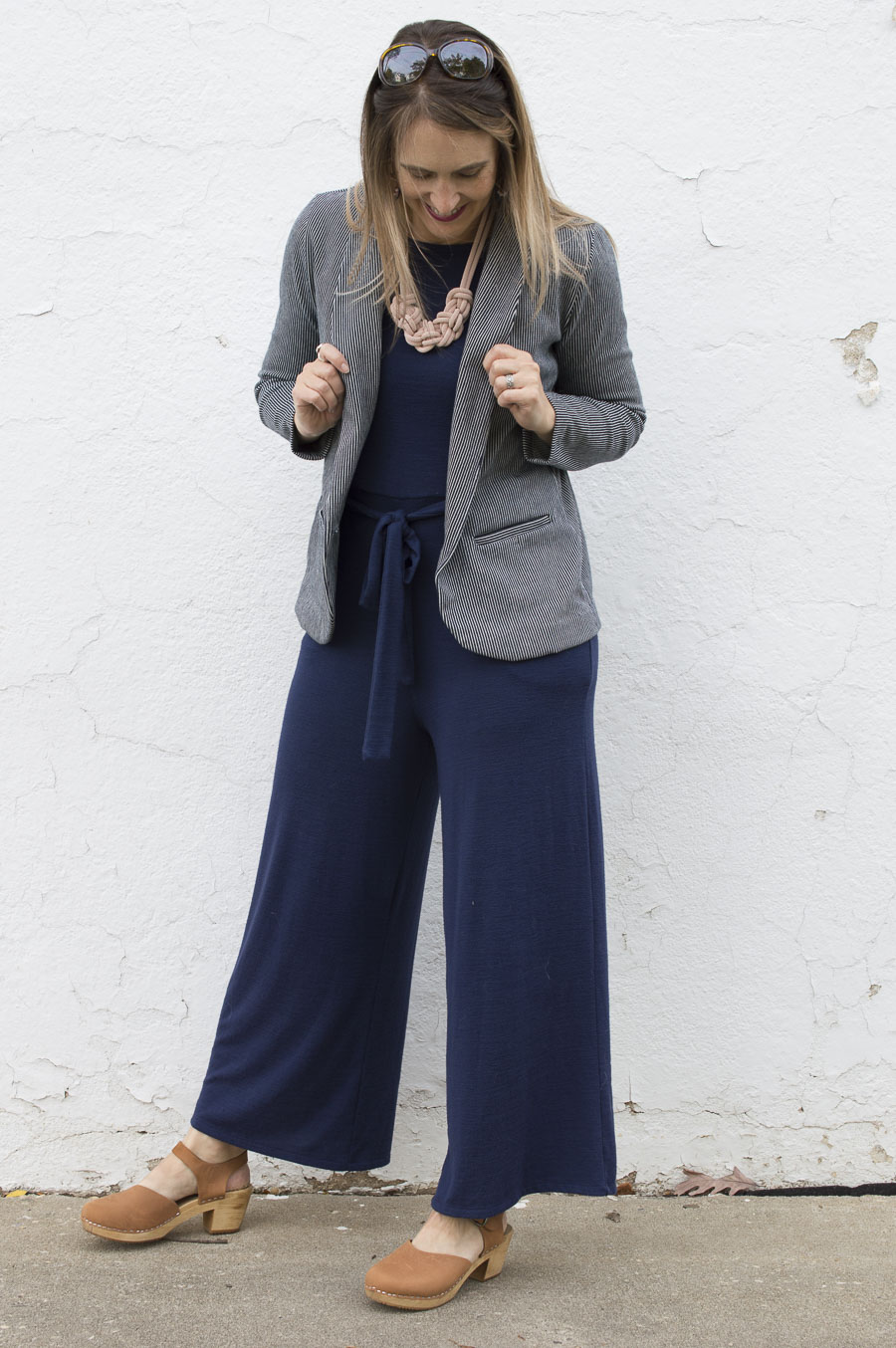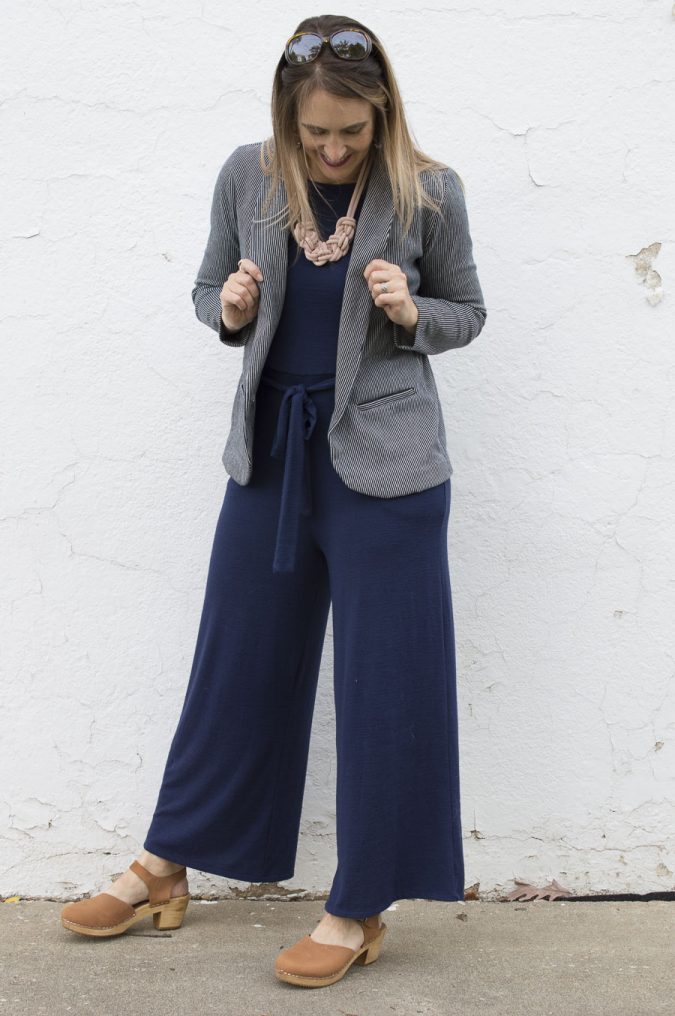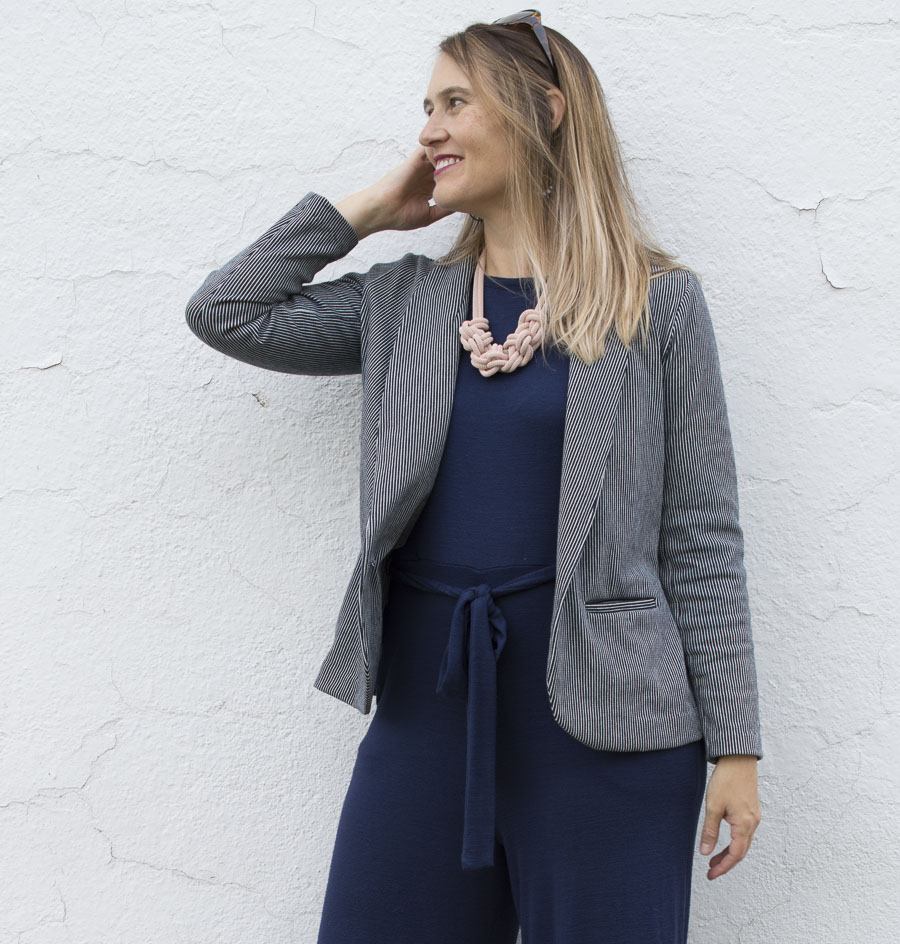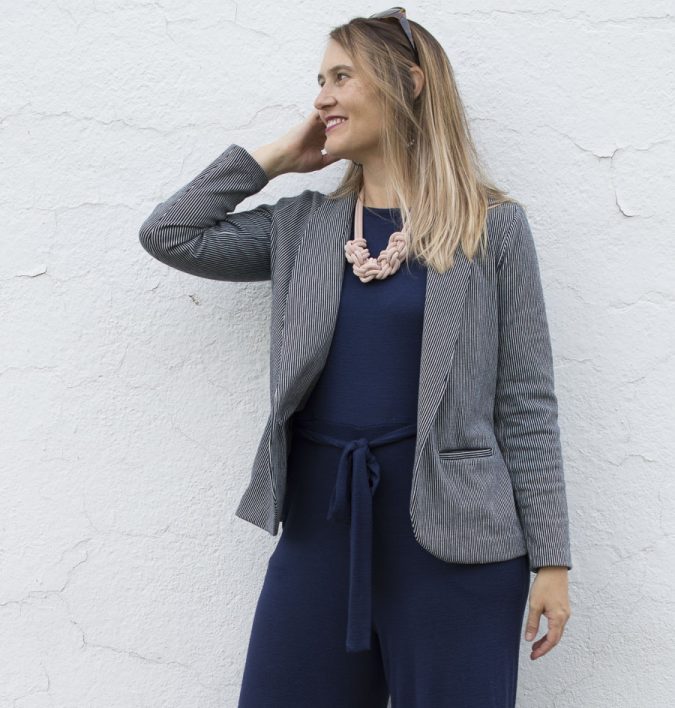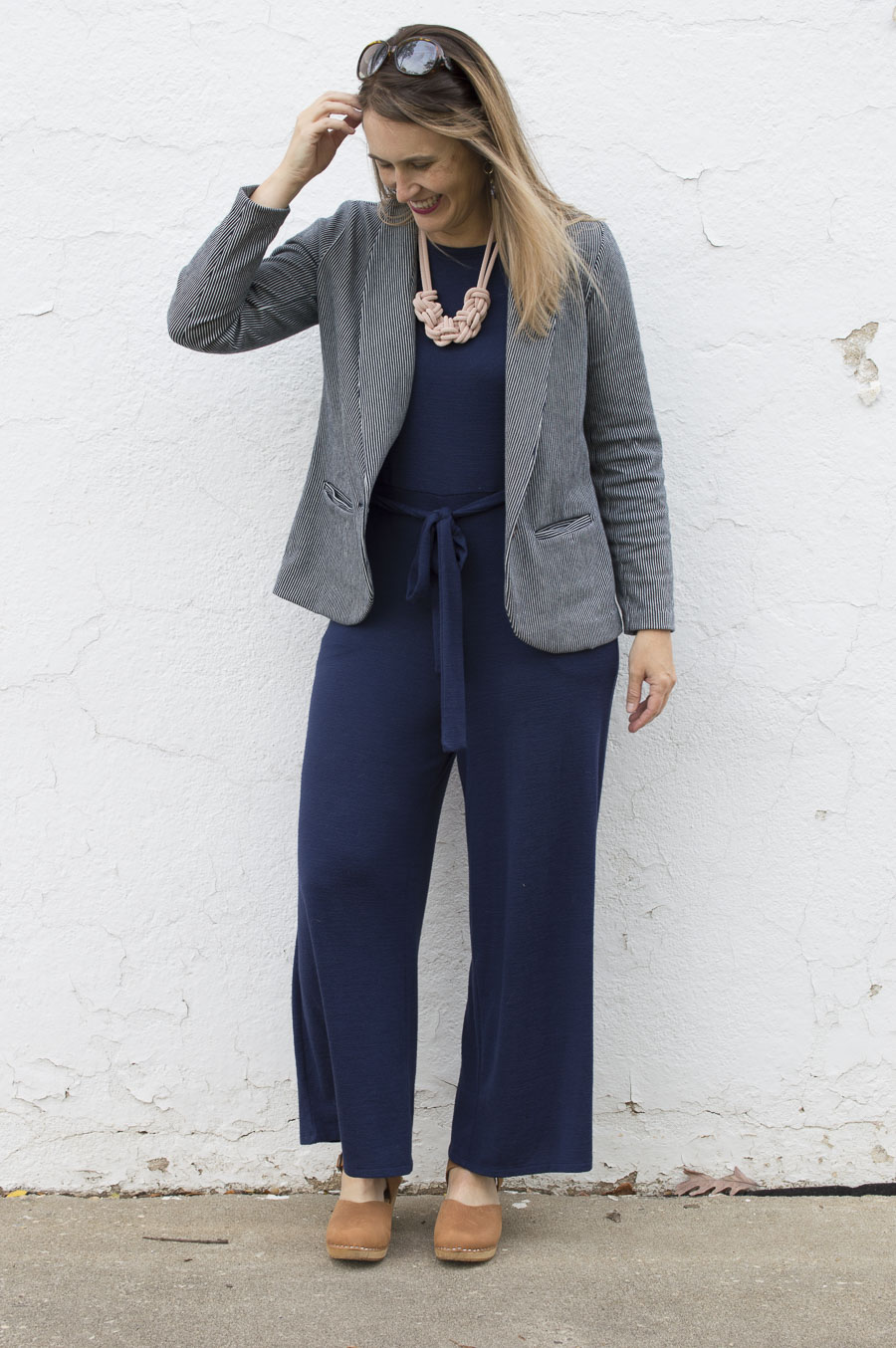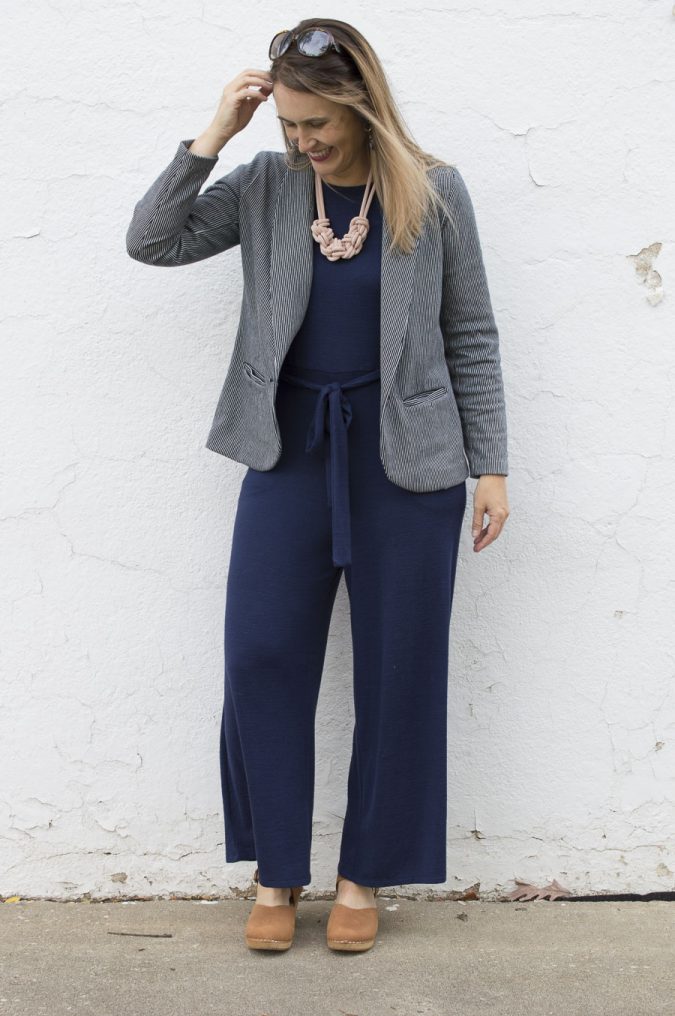 I also love it as a low key power blazer on top of my wide leg Lander Pants and rayon top: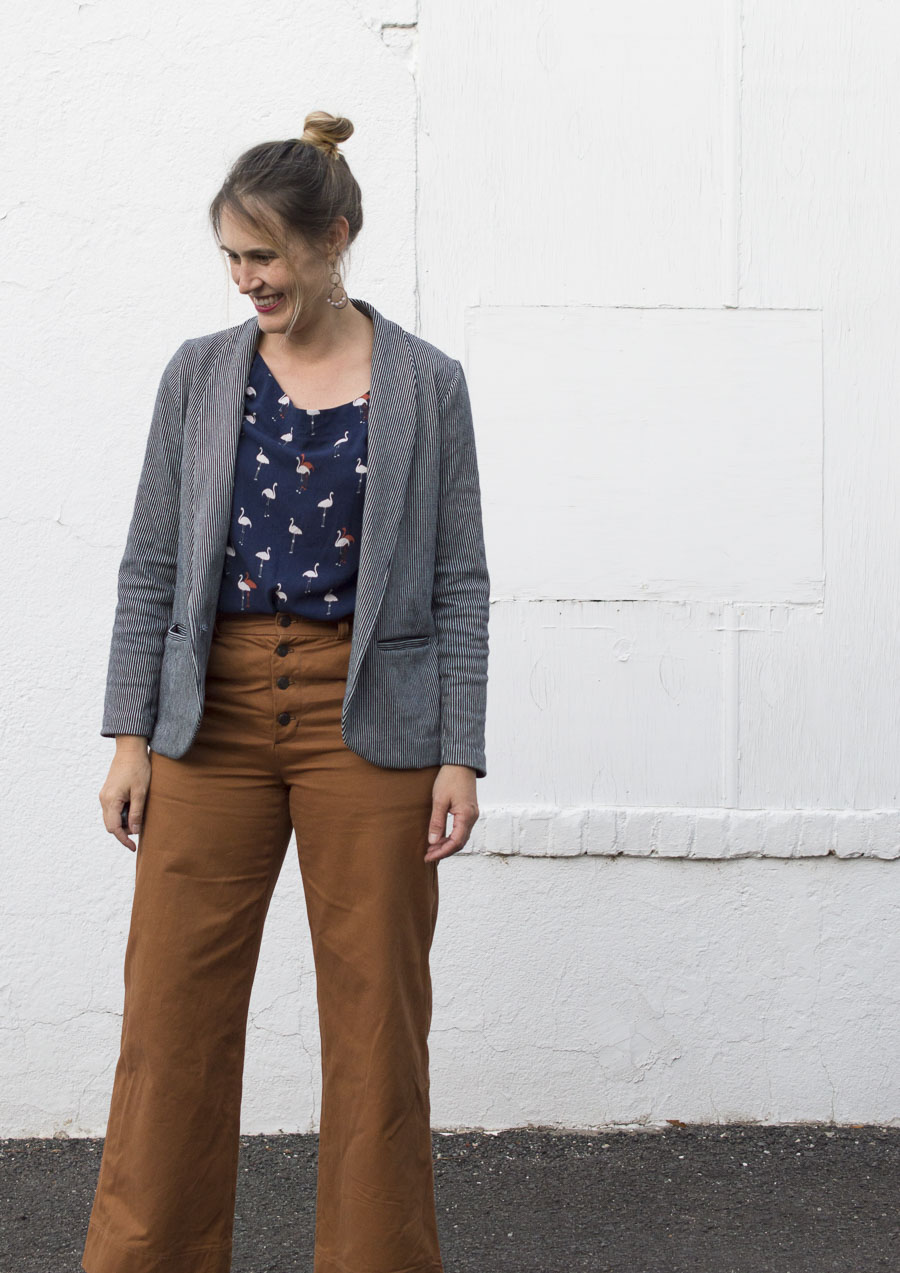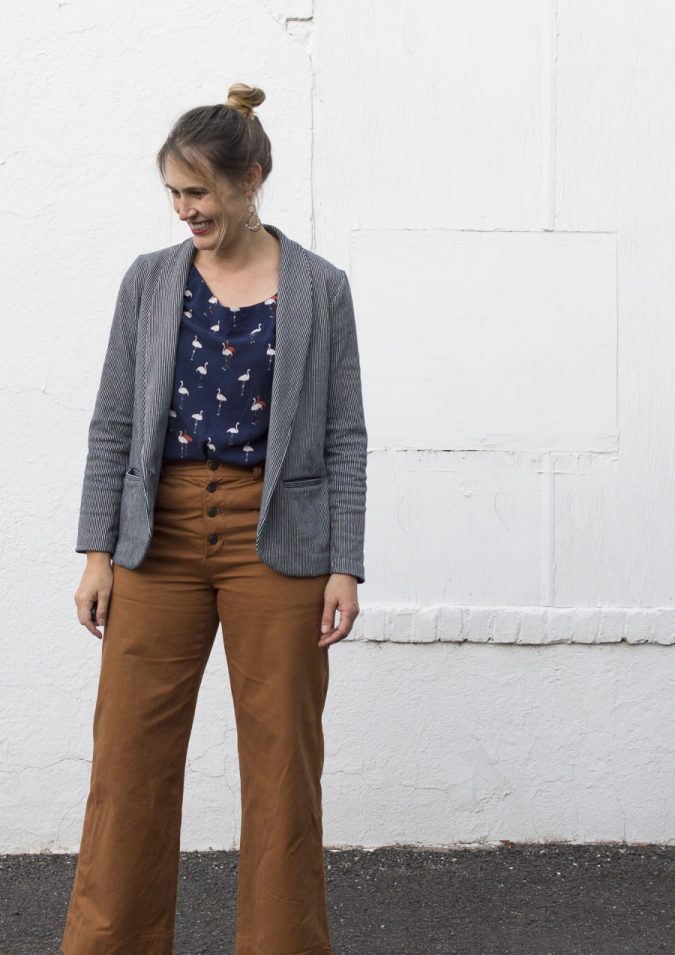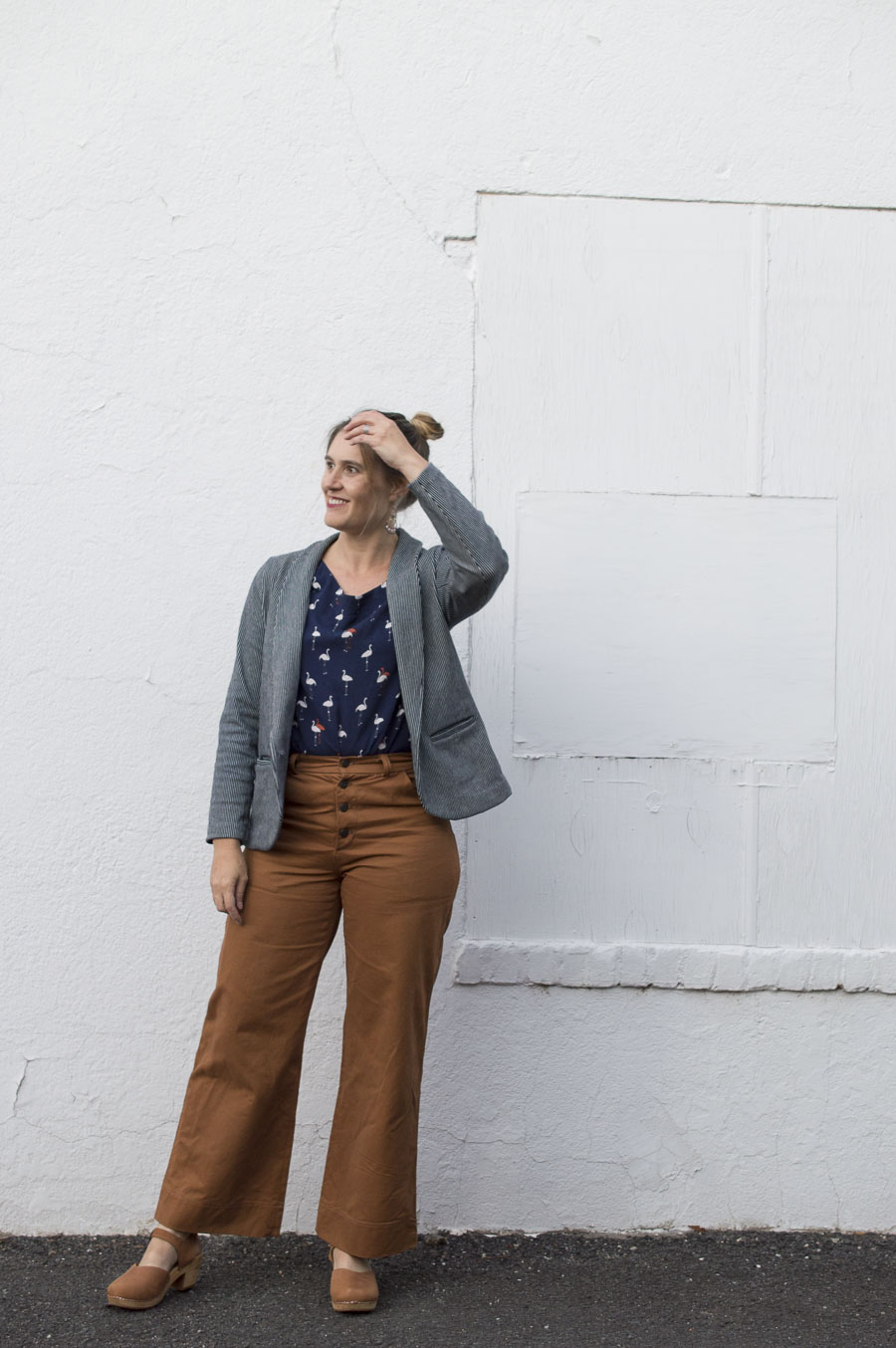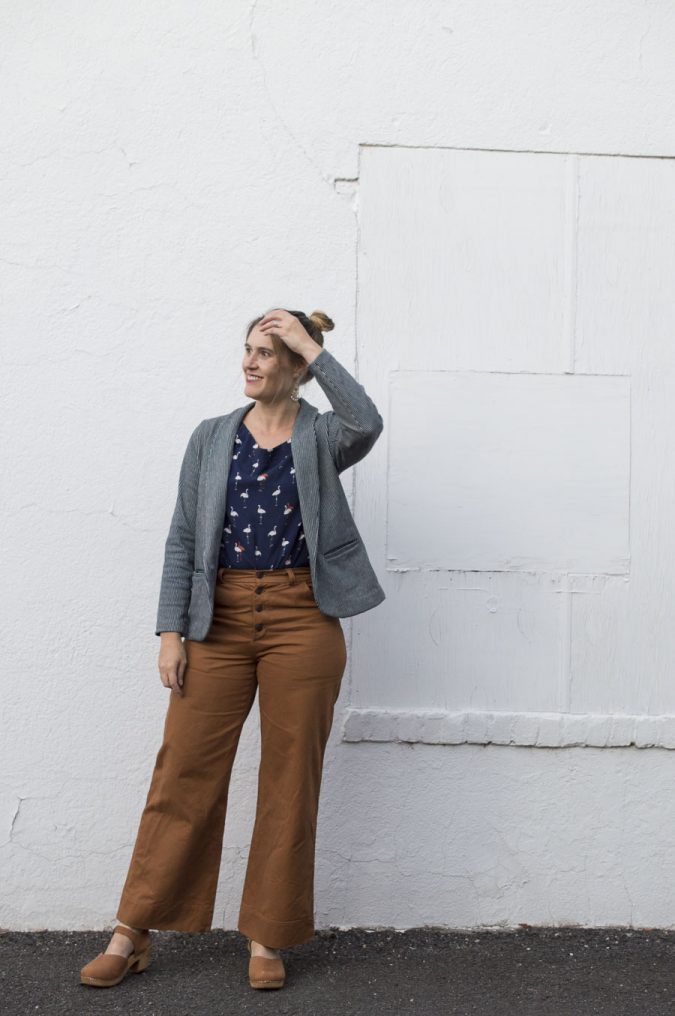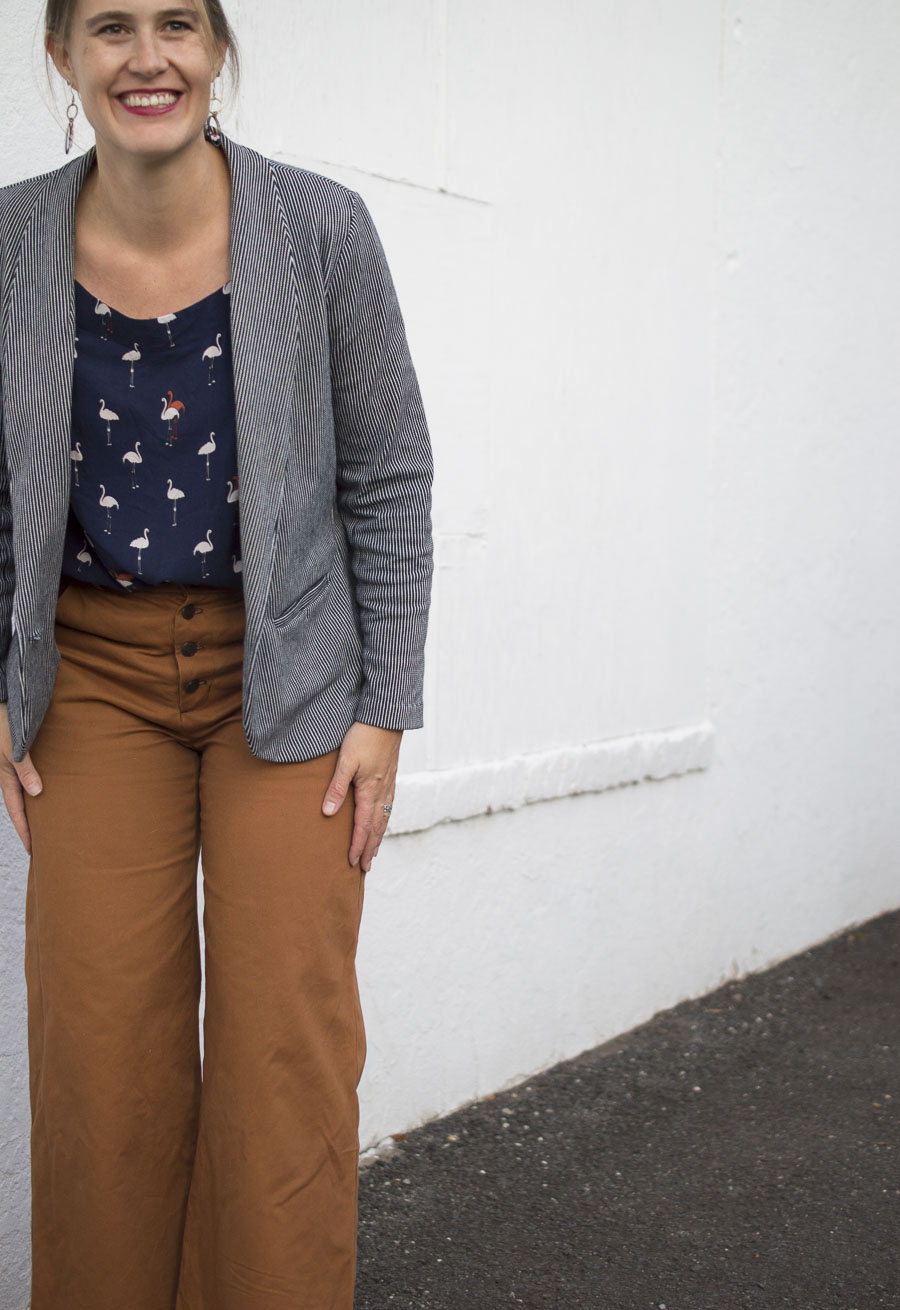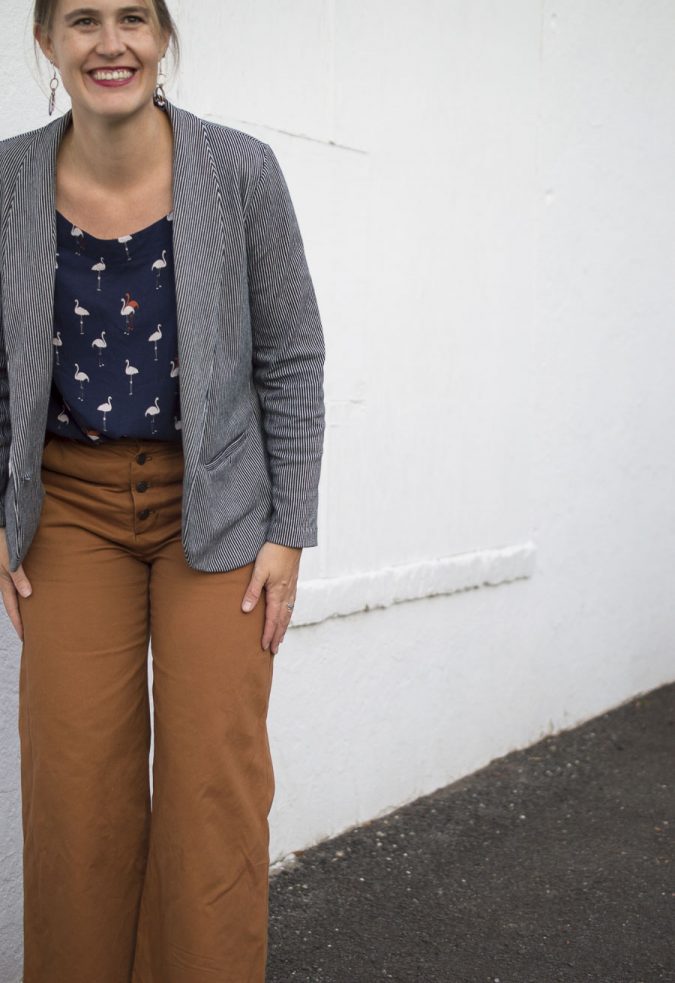 I hope I have convinced of its versatility and ease of wear. I'm exceedingly proud of having accomplished my dream of a relaxed blazer ! 
---
Thank you so much for this great post, Melissa! I love each of these outfits and how you accessorized them too!