This one's been a long time coming!  I'm so excited to finally share my Pendleton tote!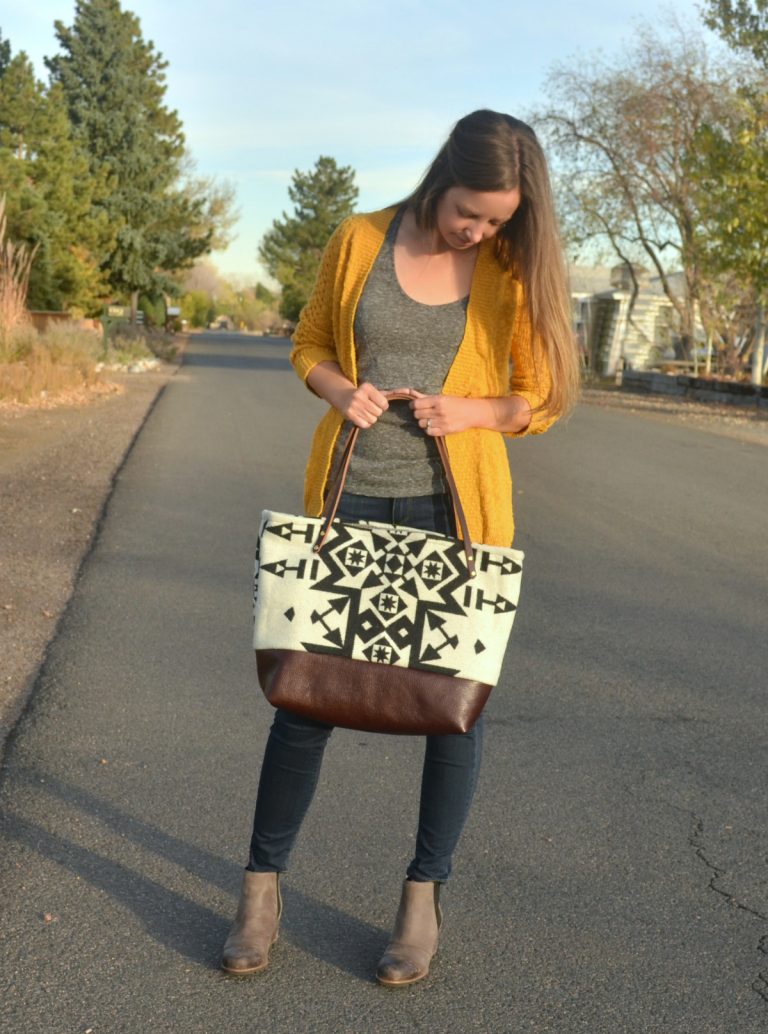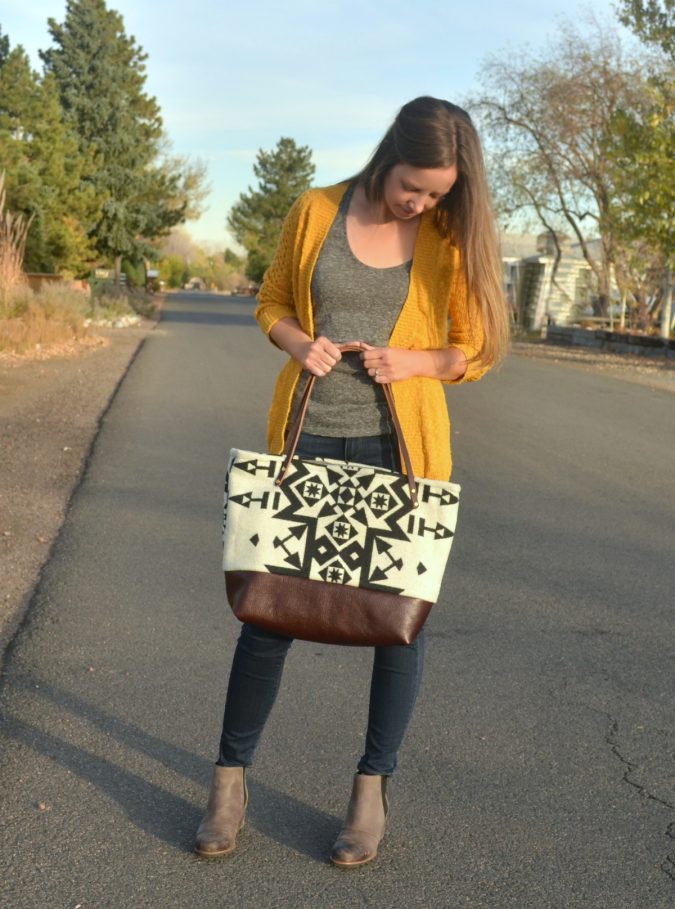 I got this Pendleton wool at Fancy Tiger Crafts about…….um…18 months ago?  They don't sell the yardage on their website (but you can call to place an order!  There's a link in the comments!), but they do sell super affordable Pendleton clutch kits – what a great idea for Christmas presents!  And I've had the hide from Leather Hide Store since 2012 or something crazy like that.  I got the leather handle kit also from FT this past Christmas with a gift certificate from my inlaws (best present ever!) so really I've had everything I needed for the last 10 months.  But I was paralyzed with fear about starting this project!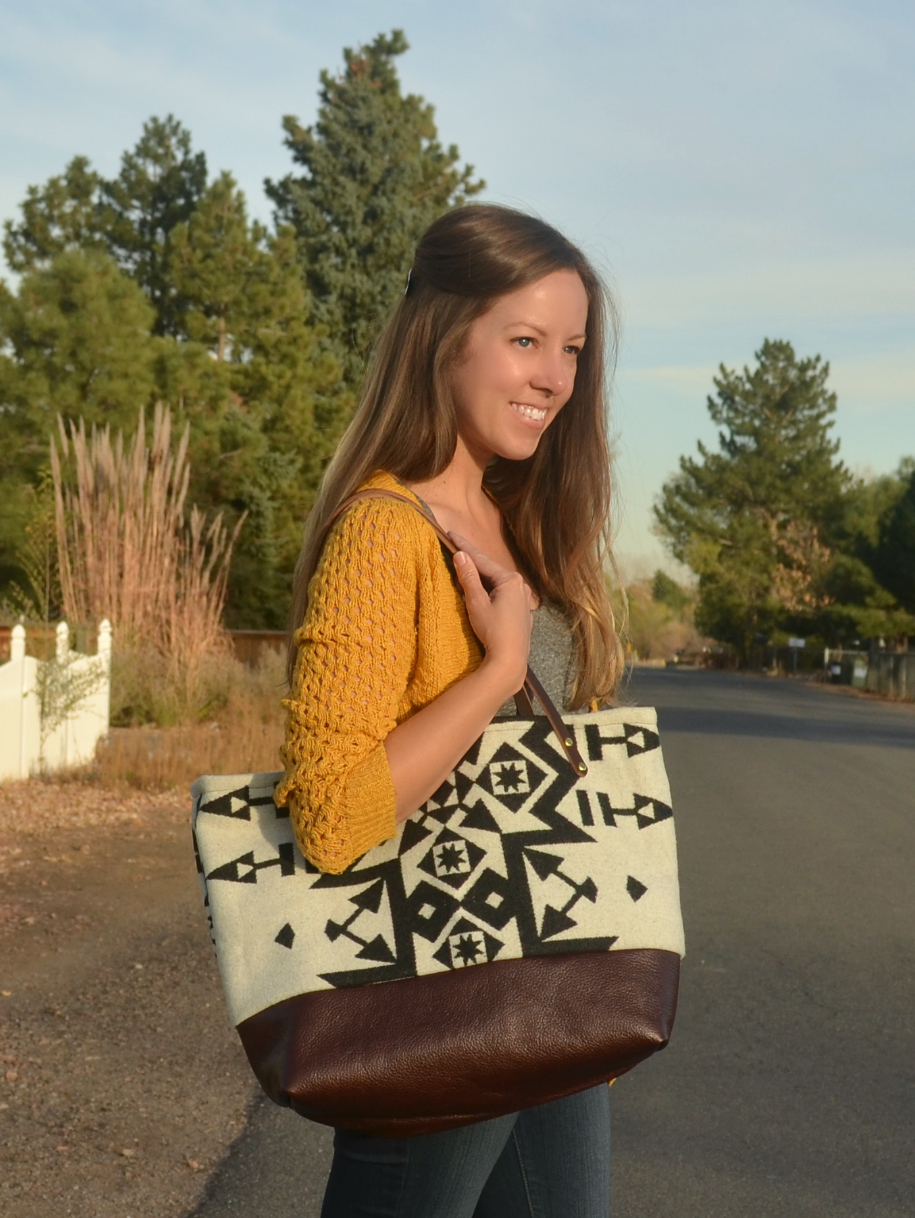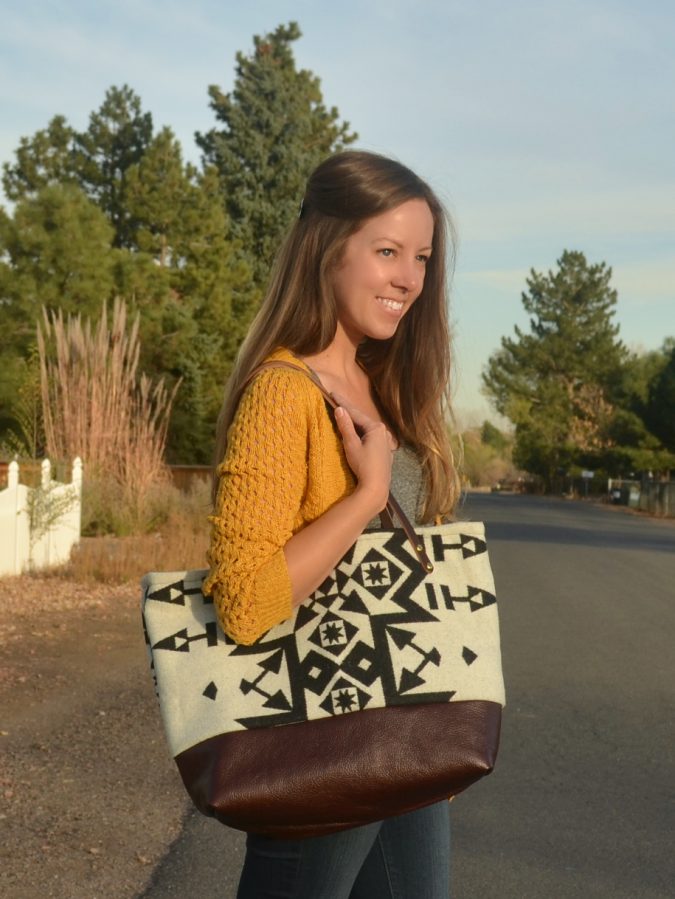 And when I say "paralyzed", I mean I would get all the pieces out from time to time, stare at them, and put them back on the shelf.  Then one moment last week I finally decided to not think about it and just start cutting and sewing.  And when I say "not think about it", I mean I measured 17 times before I actually cut into that wool.  And even after I was sure everything was correct I put down the rotary cutter and leaned against my desk and just took some deep breaths.  I don't think I've ever come that close to passing out before in my life, especially not because of something sewing related!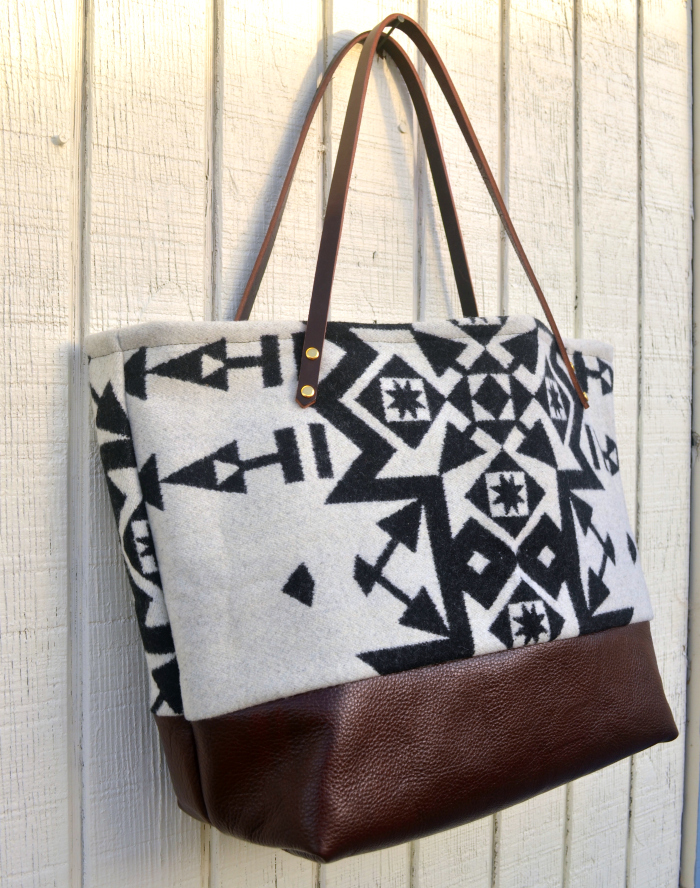 Anyway, that might seem a touch dramatic to you, but if you've ever purchased and sewed with a piece of Pendleton you'll know the struggle is real.  Not even counting the price of this glorious fabric, it's just so beautiful and perfect and it kinda seems already finished when you hold a length of it in your hands.  I was talking to Jaime from Fancy Tiger and she mentioned how so many people are loathe to cut it so they just bind the edges for a beautiful blanket.  I thought about using it as a wall hanging.  Anything to avoid cutting!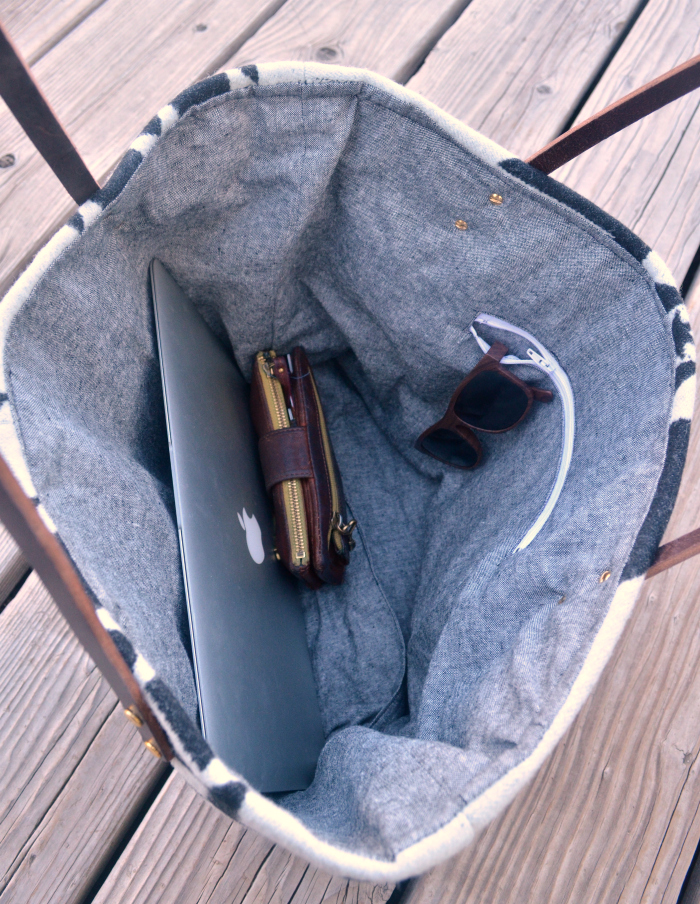 But I did it.  I cut it and I sewed it and I'm so glad I did.  Is my bag perfect?  Ummmm no.  You can see that with your own eyeballs.  It's FAR from perfect.  But it's finished and I think it's gorgeous and I'm so happy that now I have a legit reason to carry this around with me every day instead of glancing at it on my shelf from time to time.  That handle kit also made finishing the handles with that pretty brass hardware ridiculously easy too.  Like easier than getting your tween to take a shower easy.  SO easy.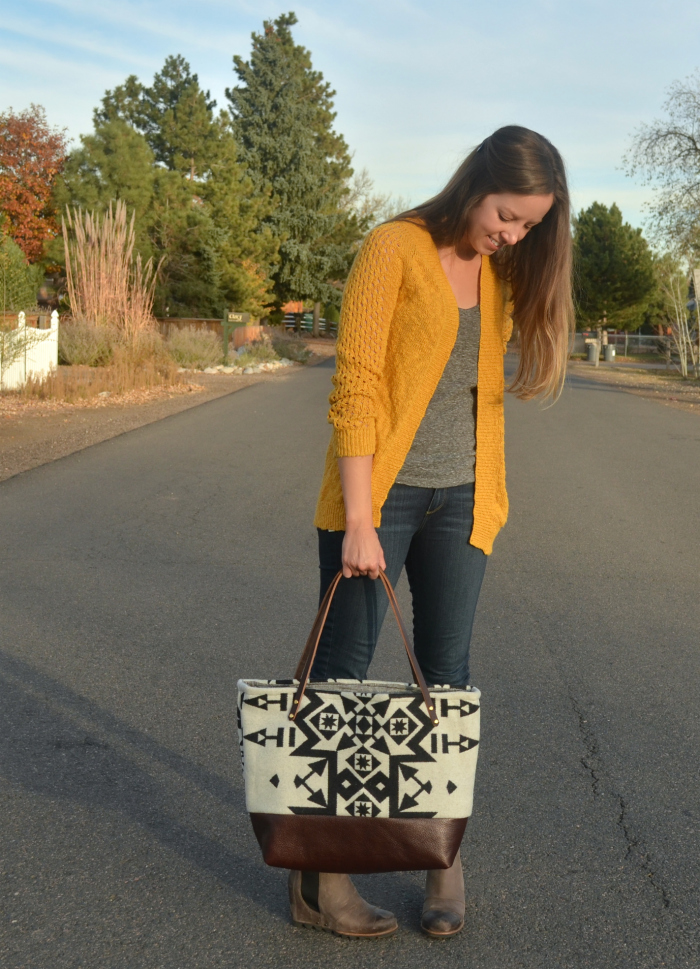 For the actual construction of the bag, I just used measurements and a good shot of courage from Anna Graham's book "Handmade Style".  This isn't a pattern from the book, but she's just so great at explaining the ins and outs of making a bag, boxing the corners, adding a lining and a zipper pocket, and making it all look easy to boot.  I'll sew a button down shirt or a pair of jeans before I'll attempt a square tote bag (hey, we all have our own strengths and weaknesses!) but she gave me the courage to move forward with the project.  For reference if you're thinking about making your own, my bag ended up about 20″ wide by 14" tall, the perfect size for an overnighter or hauling your laptop to a meeting, but not way too big for a shopping trip either.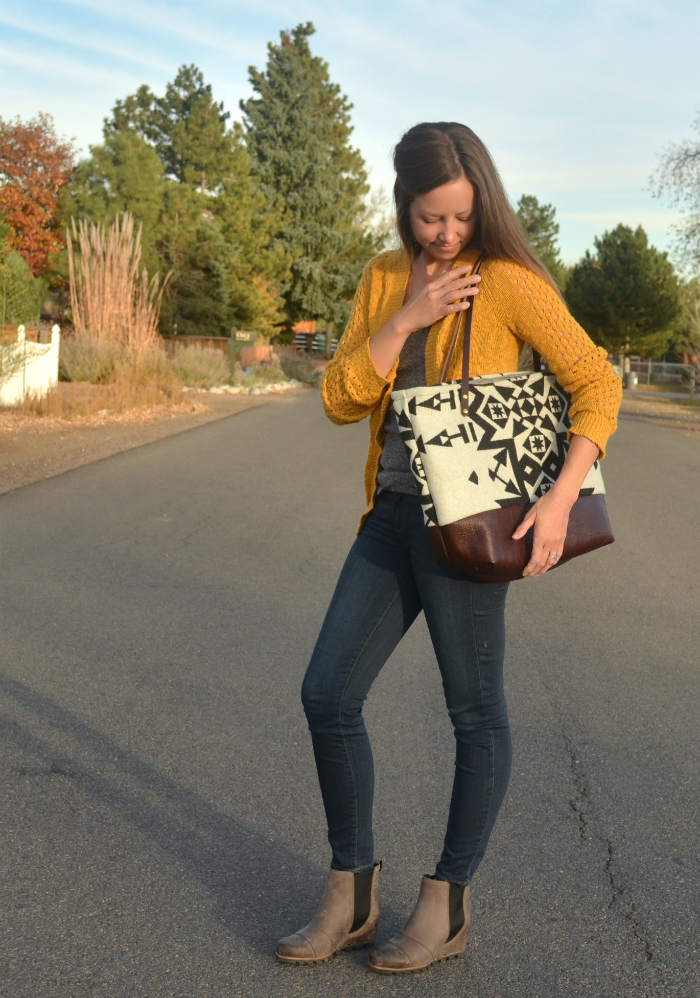 All in all this bag only took me about 4 hours to make.  Well, 18 months and 5 days and 4 hours, but who's counting.
What's the scariest thing you've ever sewn?  Are you holding back on anything you really want to make?  I'm here to say just do it!