The Key Largo Top tester round up is here!  If you've come to see all these ladies' amazing creations and see the pattern on all different body types and with different fabrics, you're in the right place!  Prepare to be amazed!  One thing to note, the ties on the front were shortened for the final version. You can see the exact proportions on the cover of the pattern and in the listing.  Be sure to get the pattern this weekend while it's on sale!
Here they are, in very specific order (alphabetical):
Abigail sewed up two Key Largos, one of each view.  I love how her view B has bias bound sleeve hems.  It really pulls it together with the exposed neckbinding!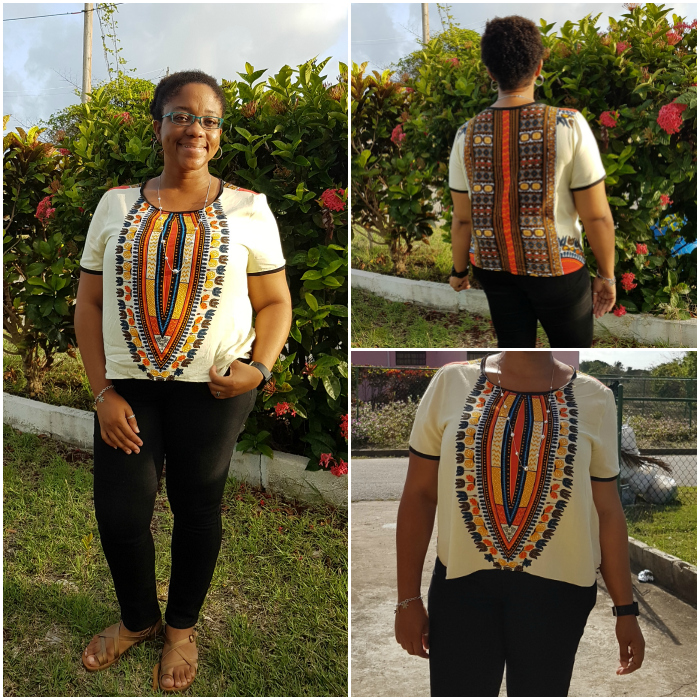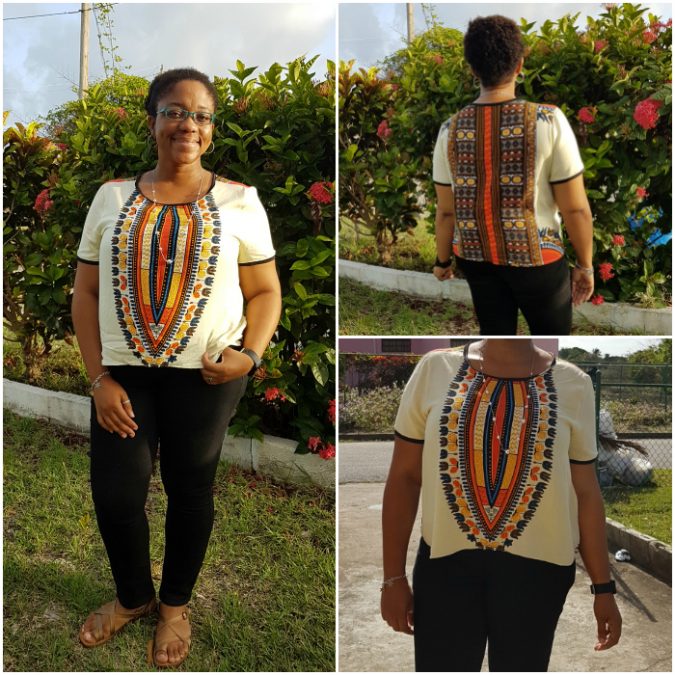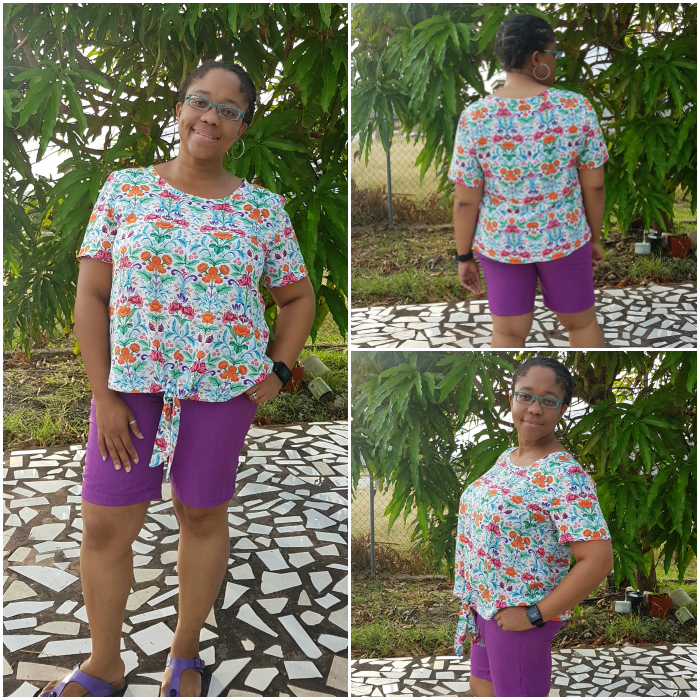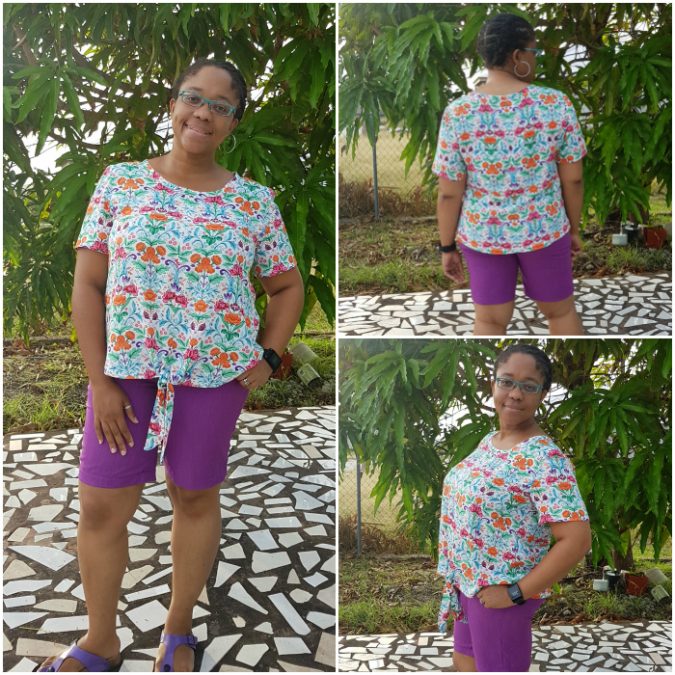 Amy made her view A in a soft and drapey floral print.  She cut hers on the straight grain and on the fold but still used the pattern pieces for the tie.  The pattern doesn't include instructions for the tie without a center seam, but if you have any experience sewing it's super easy to figure out!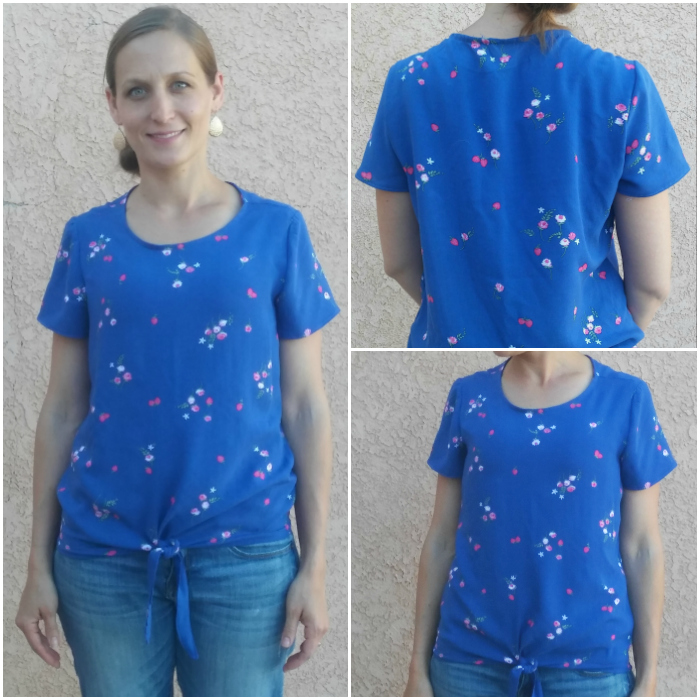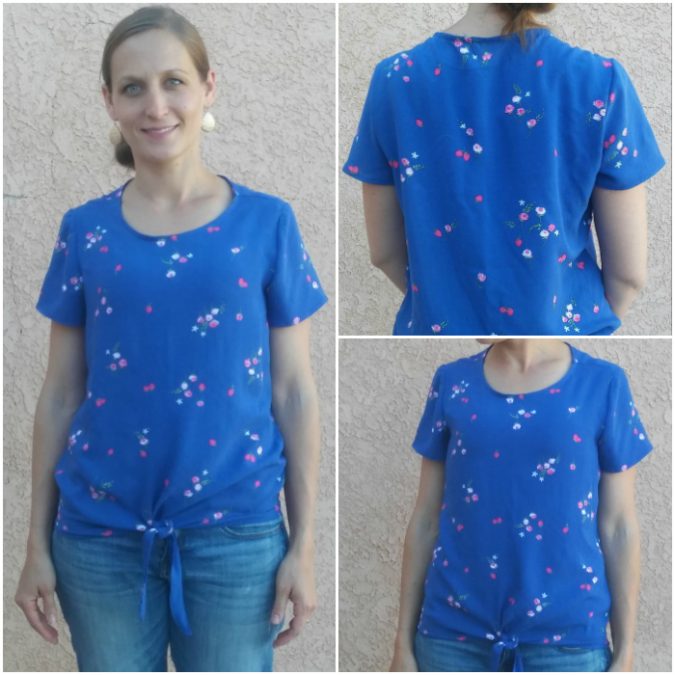 You don't have to go too bold to create a nice visual effect with the bias cut fronts – Amy used the subtle pattern on her fabric to really set this shirt apart!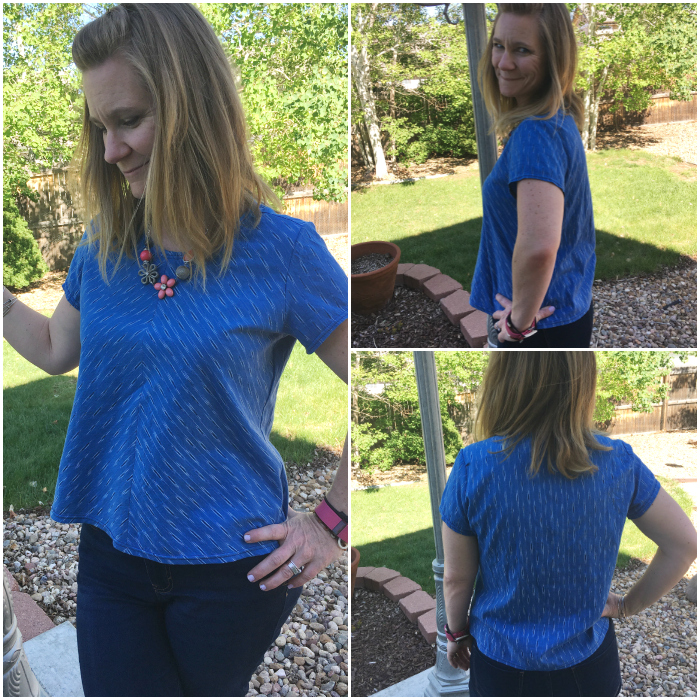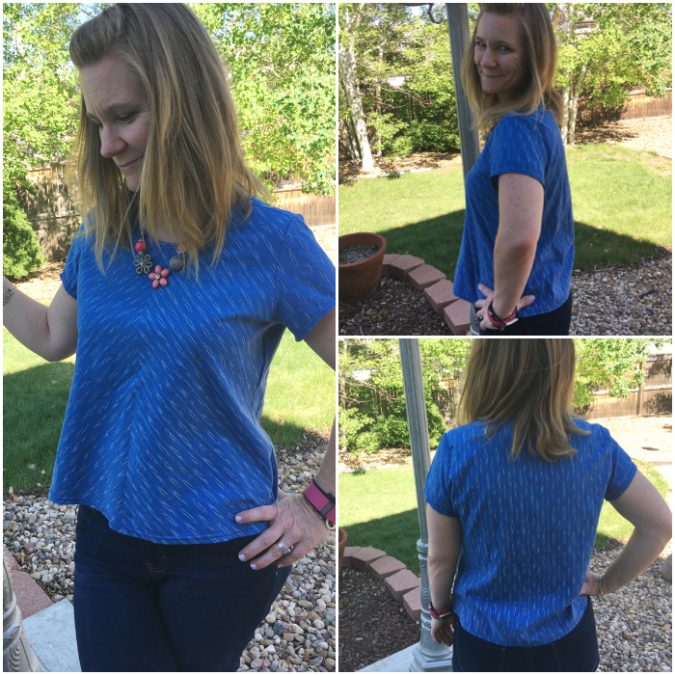 Ann also used a pretty and soft fabric.  Hers is a silk blend and I think it was more than worth the effort of sewing with more temperamental fabric for that gorgeous final result!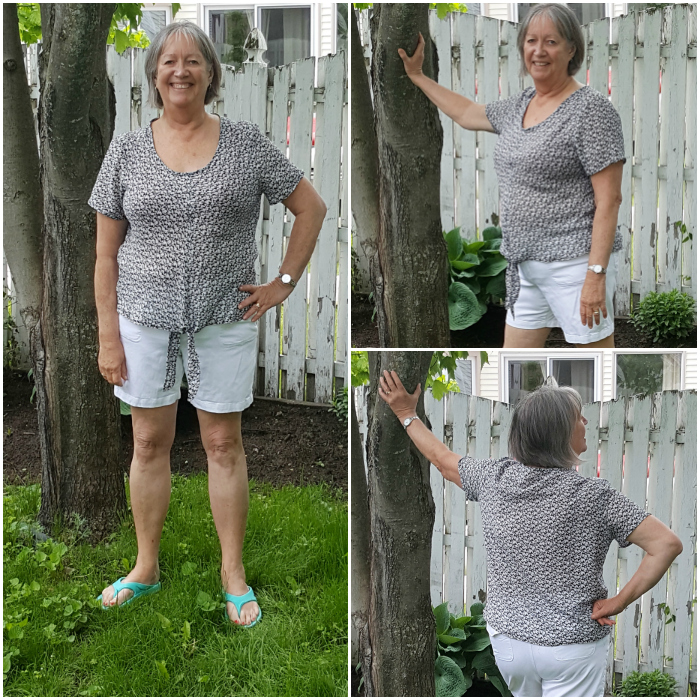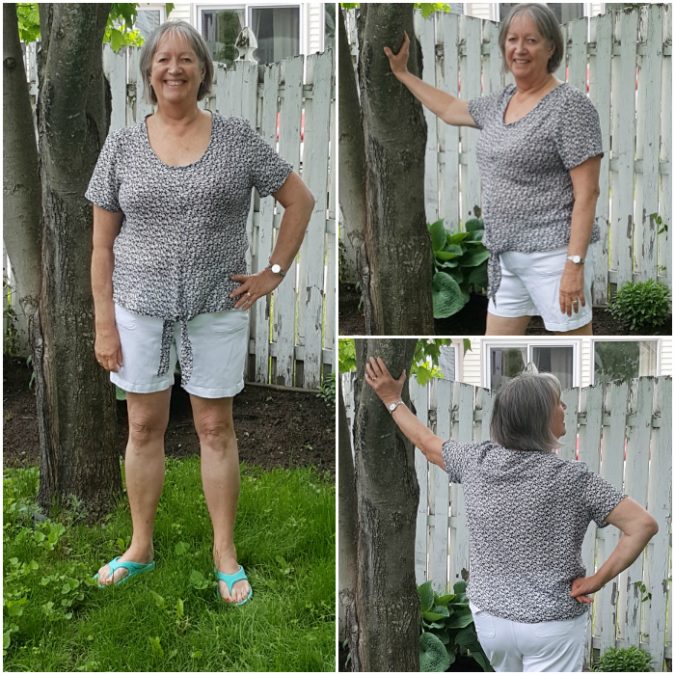 Beth's floaty Art Gallery top is absolutely perfect paired with those white jeans for a casual-yet-pulled-together summertime outfit!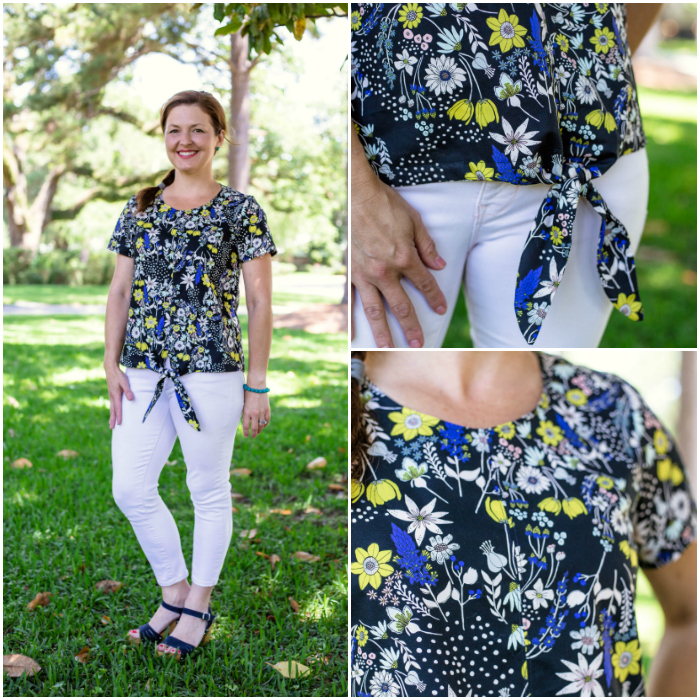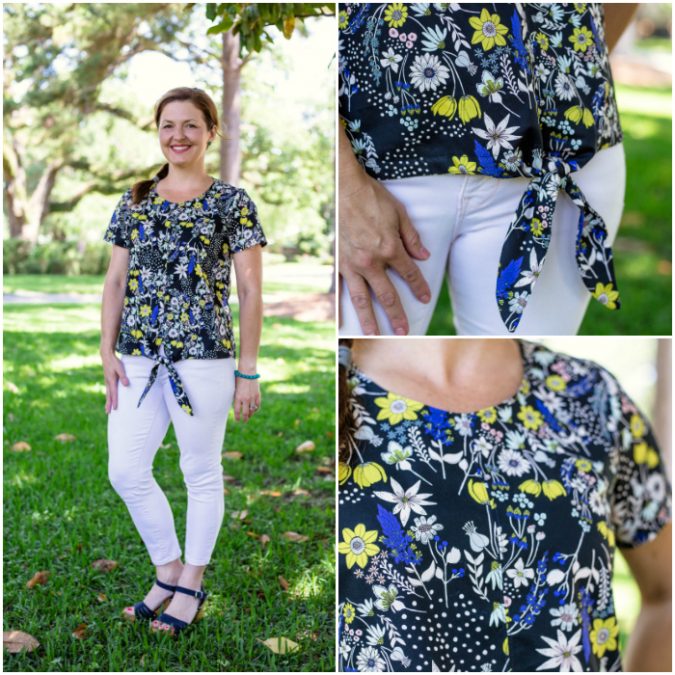 I just love the look of the Key Largo in a soft gauze with a bold punch of color like Brenda used for her view A!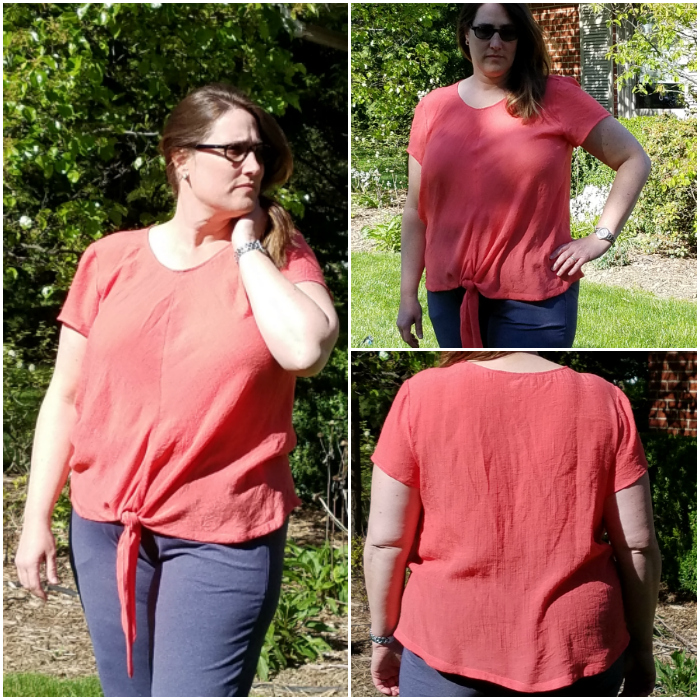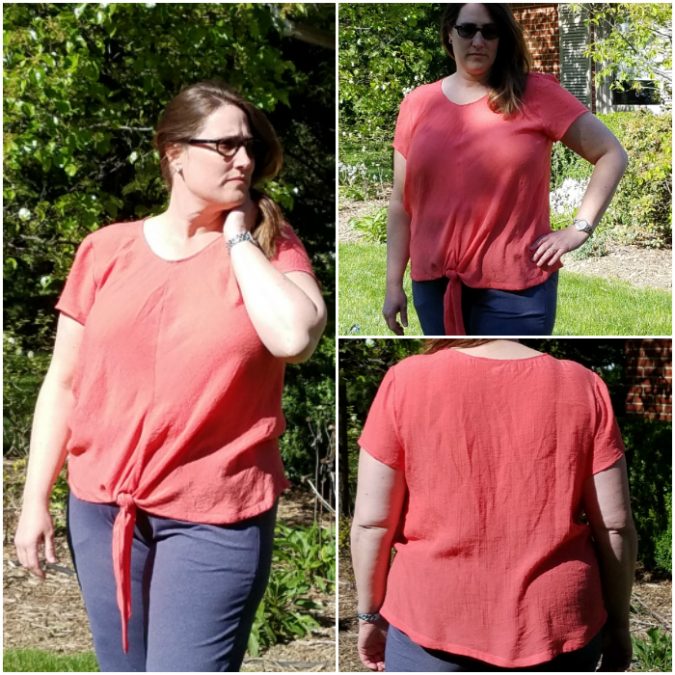 Brenna wasn't sure about pairing her pretty citrine Key Largo with pink jeans, but we all assured her that this color combo is working beautifully!  Love the weight of this fabric too, perfectly light without being too sheer.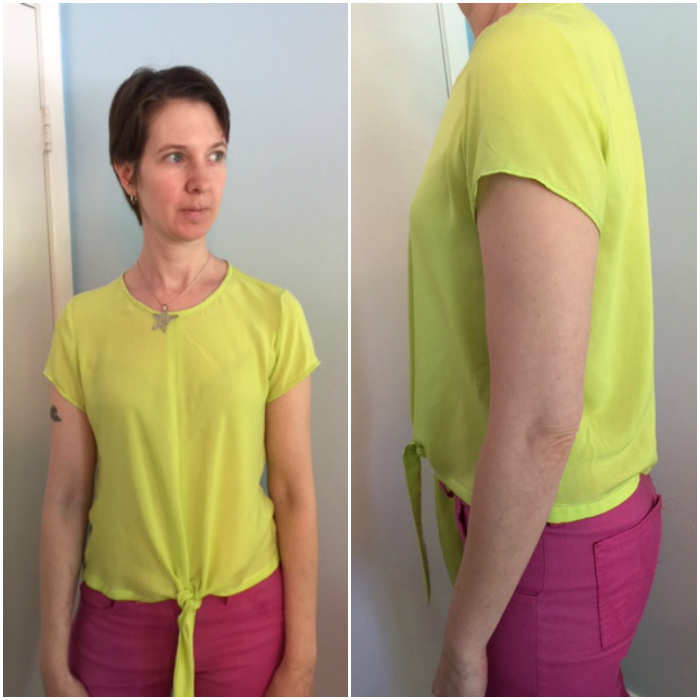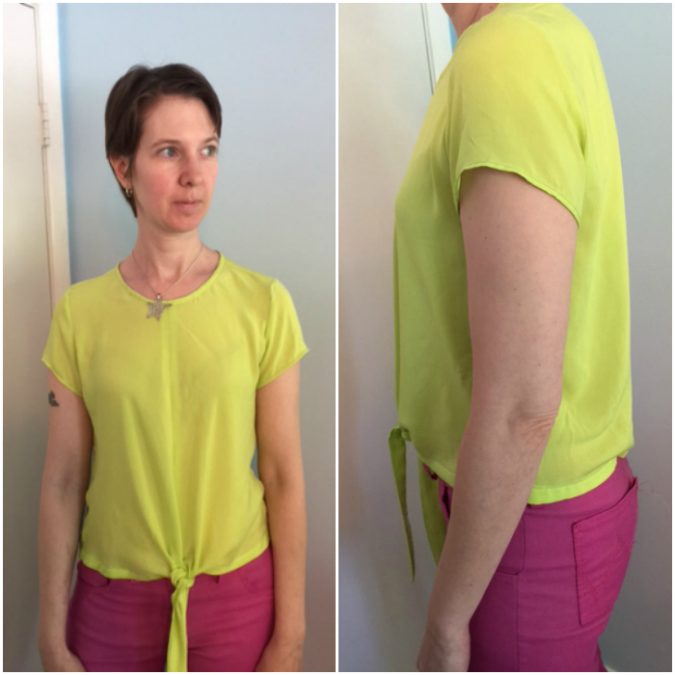 Cat also sewed up one of each view of the Key Largo, both in pretty blue shades.  I am loving her downward pointing chevron design with those stripes – so nautical and summery!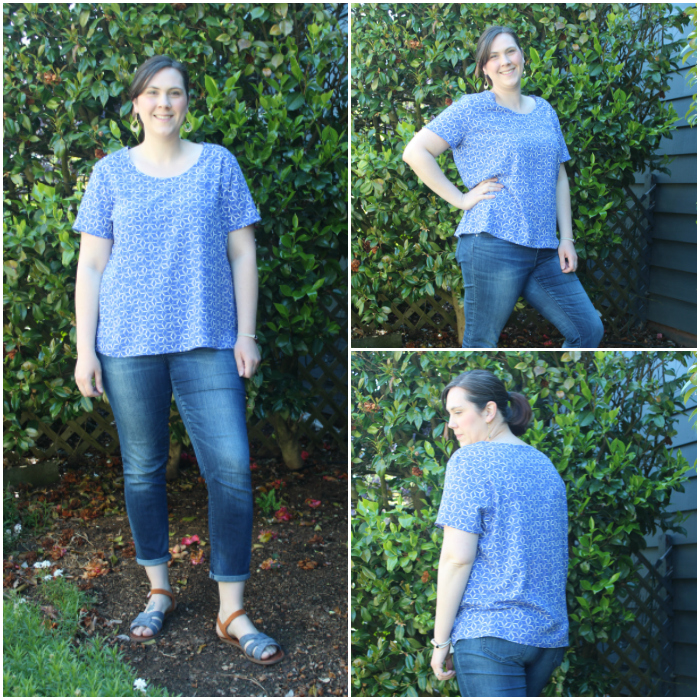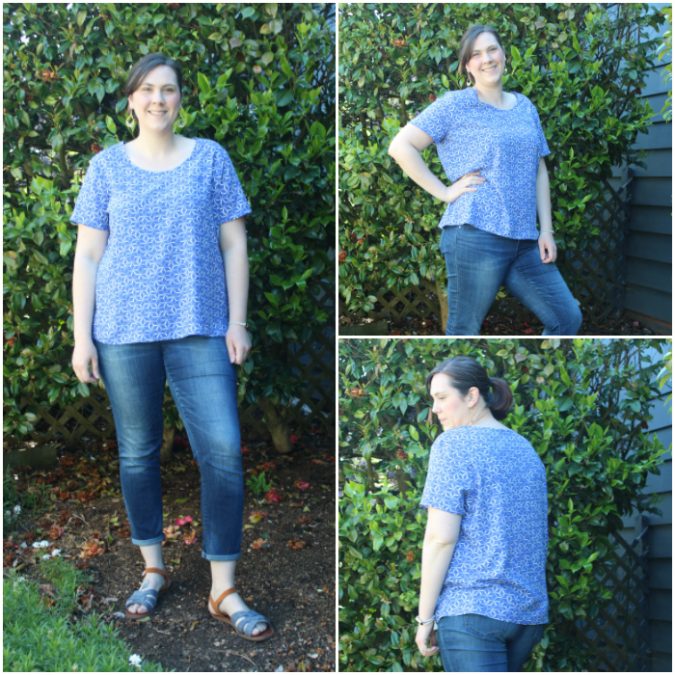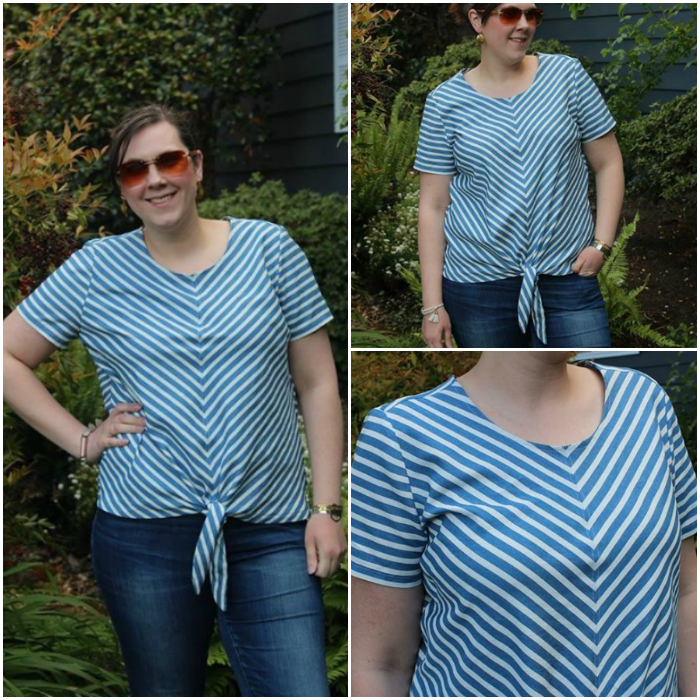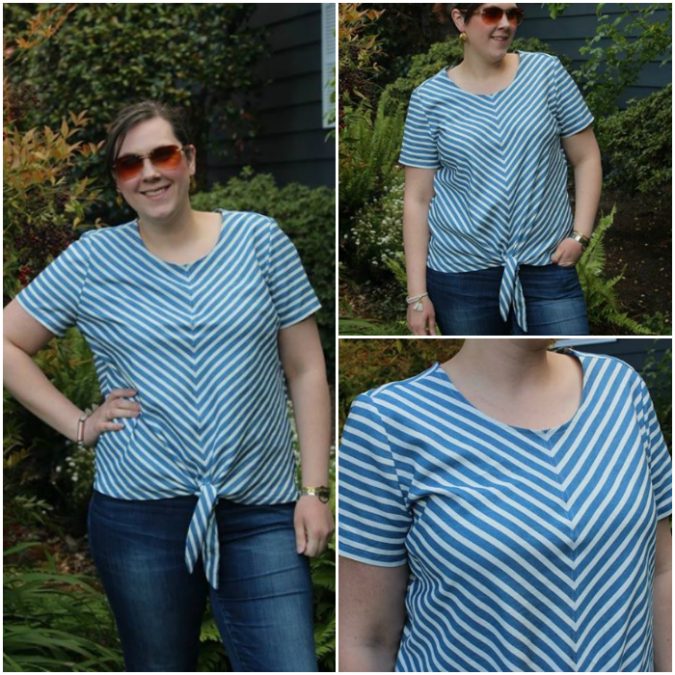 Christine used seersucker which isn't specifically called out in the recommendations since it falls under "lightweight woven", but in case you were wondering, it works wonderfully!  I think it adds that extra touch of Spring/Summer too!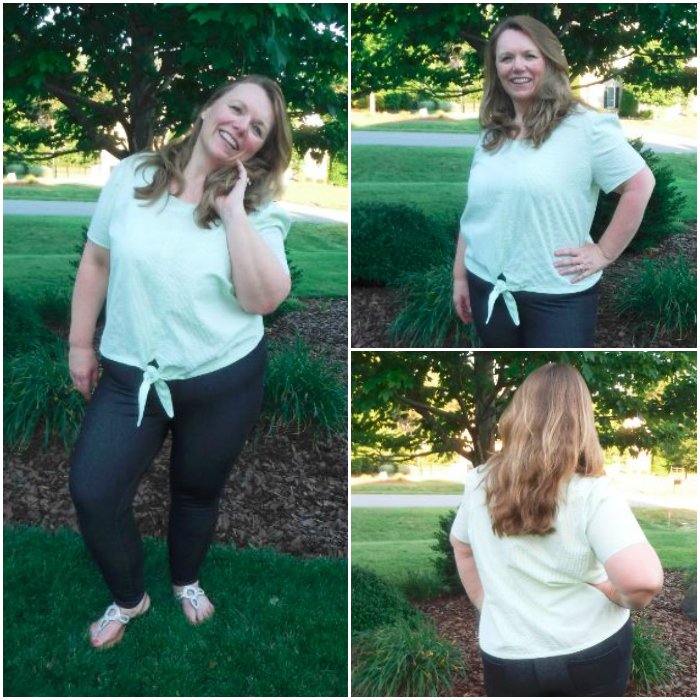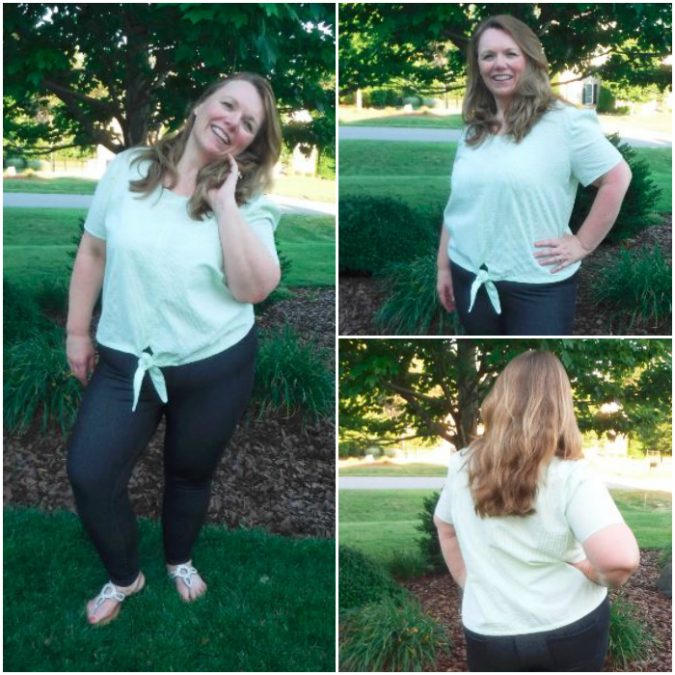 Cori made a simple and crisp light blue top, perfect for these warm days!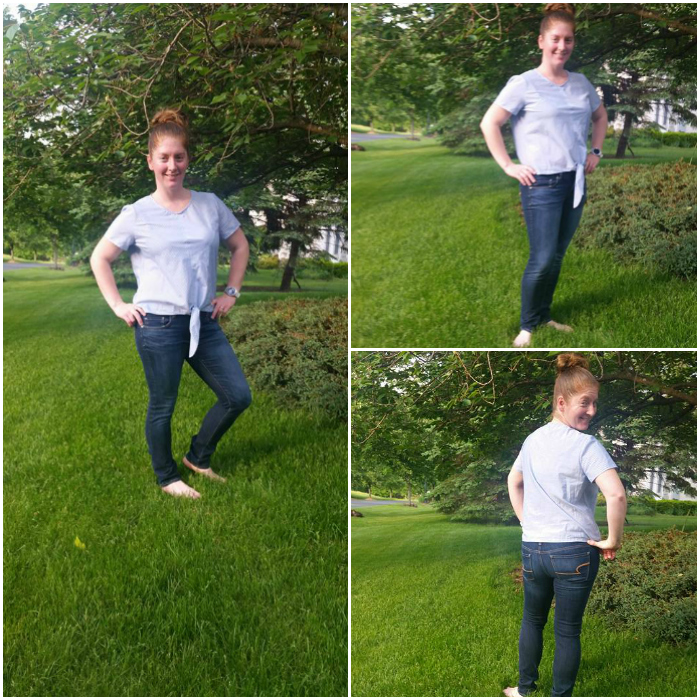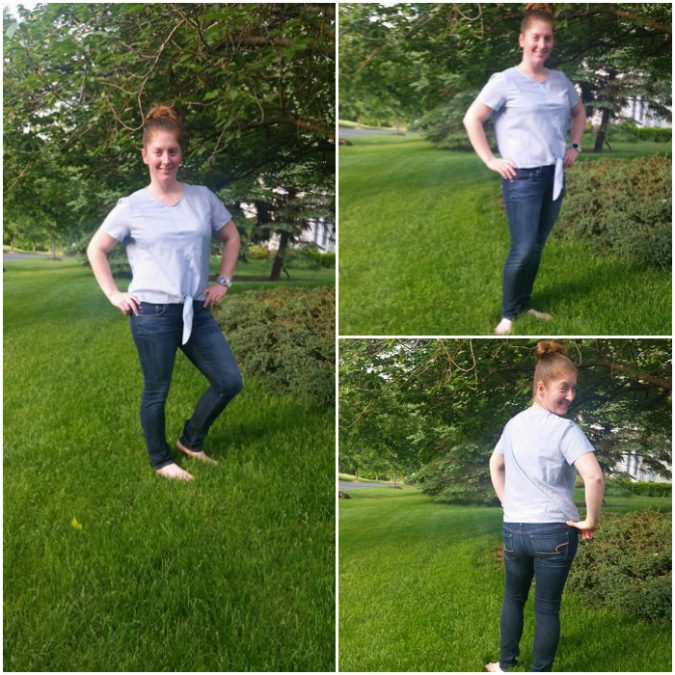 Crystal used a gorgeous black eyelet fabric to dress up her Key Largo to going-out status!  I love it paired with pretty necklaces too!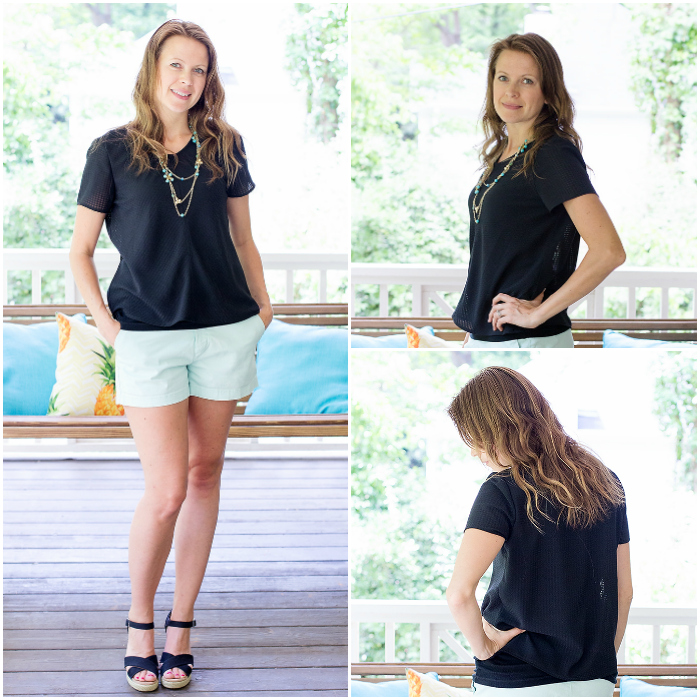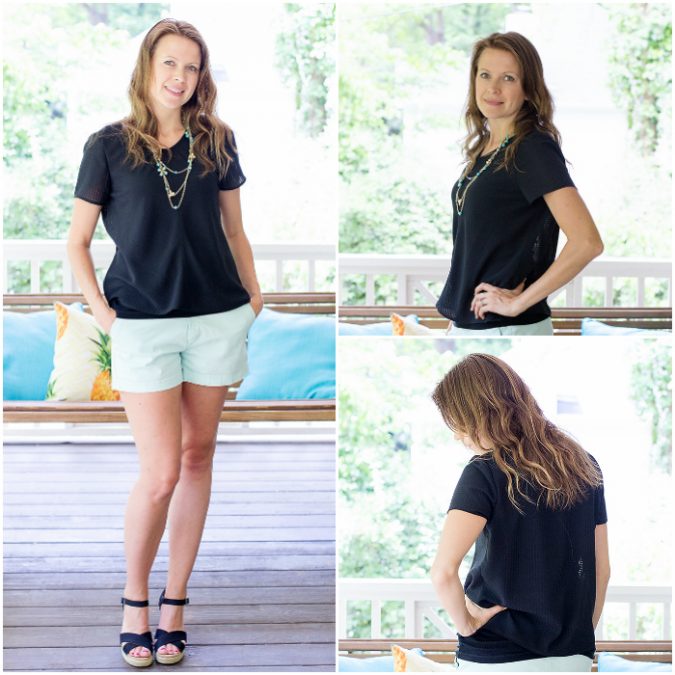 You wouldn't know by looking at Emily's cute fabric all aligned perfectly at the center seam, but she actually used a sheet from Walmart!  The Key Largo is perfect for lightweight wovens like thrifted sheets or tablecloths!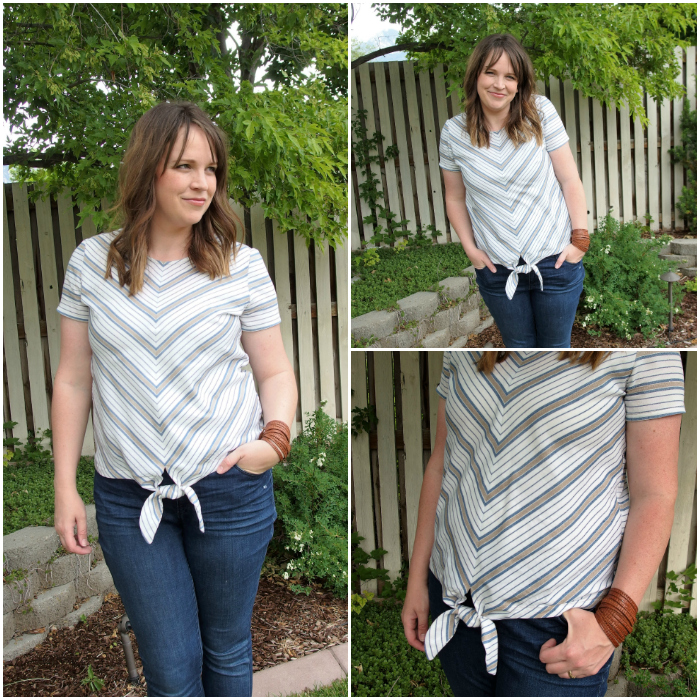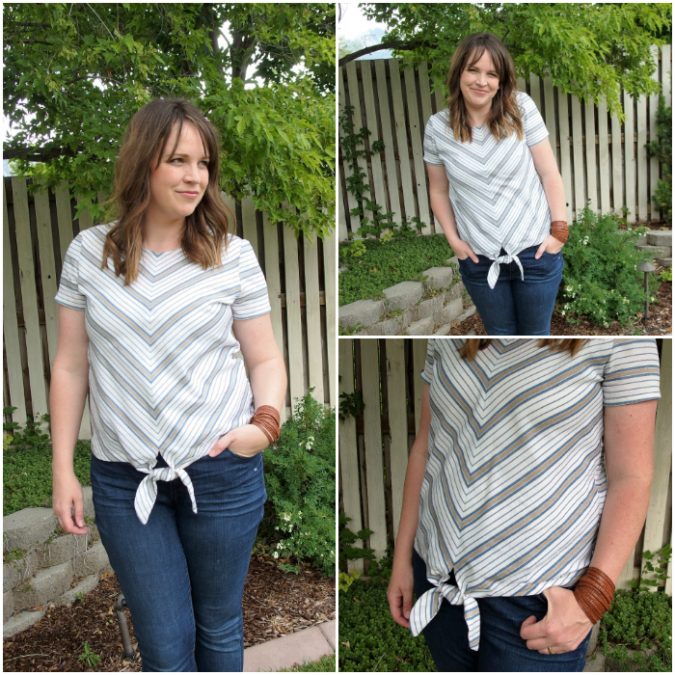 Emily actually sewed up FOUR Key Largos, which would be impressive by itself, but she also did a few hacks!  The green and seersucker versions below were cut with the hemline from the Willamette!  And she also made a dress, but you'll have to head over to her blog to see that and her cute new hairdo 🙂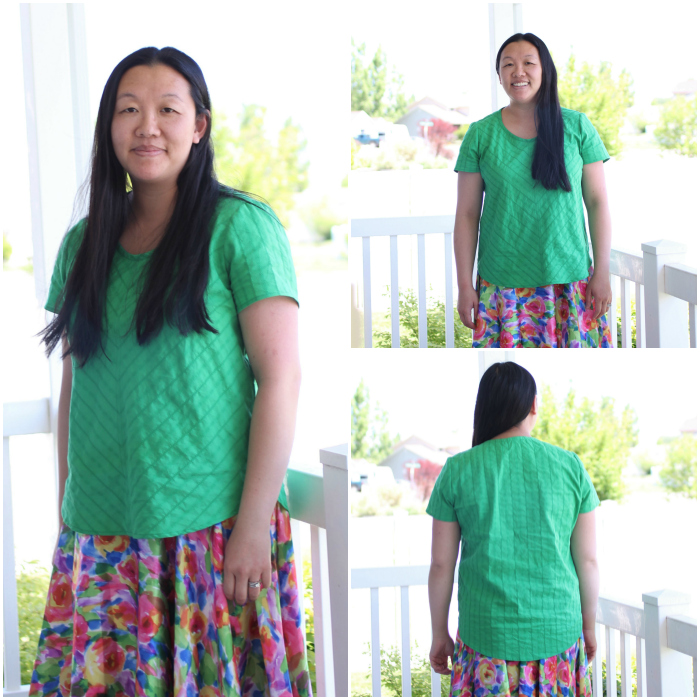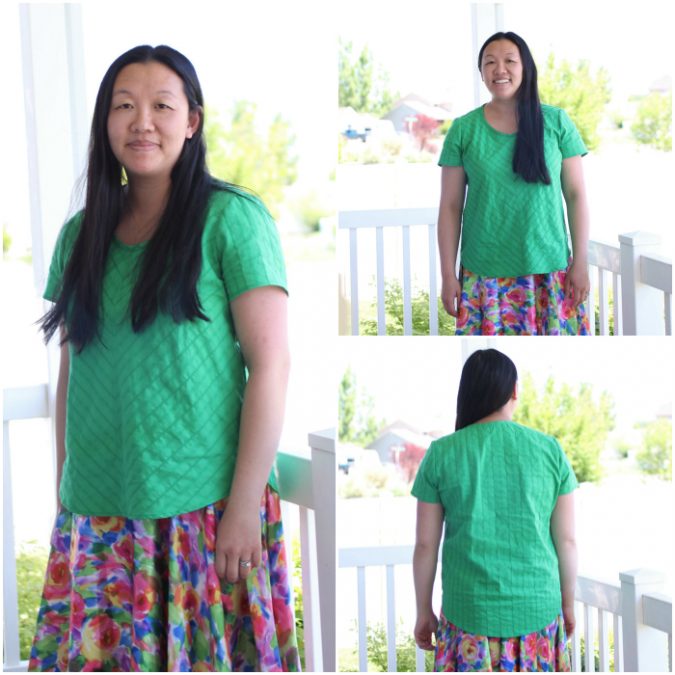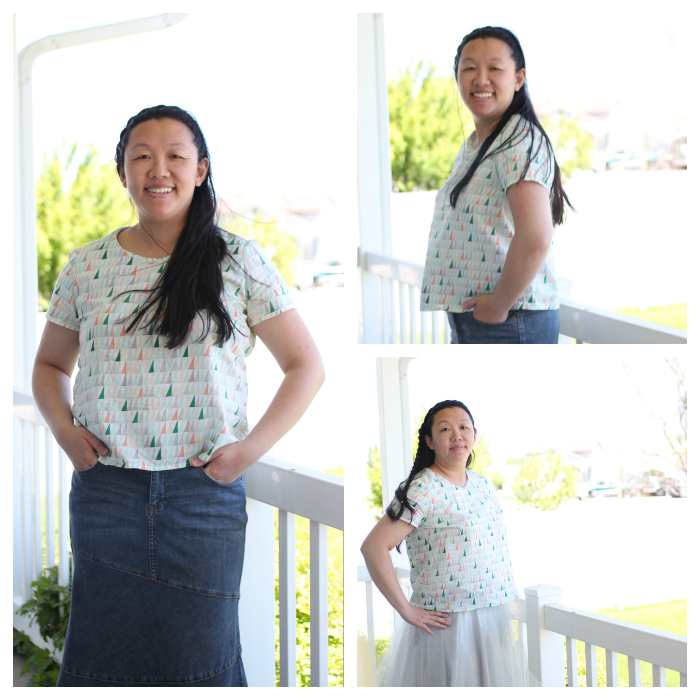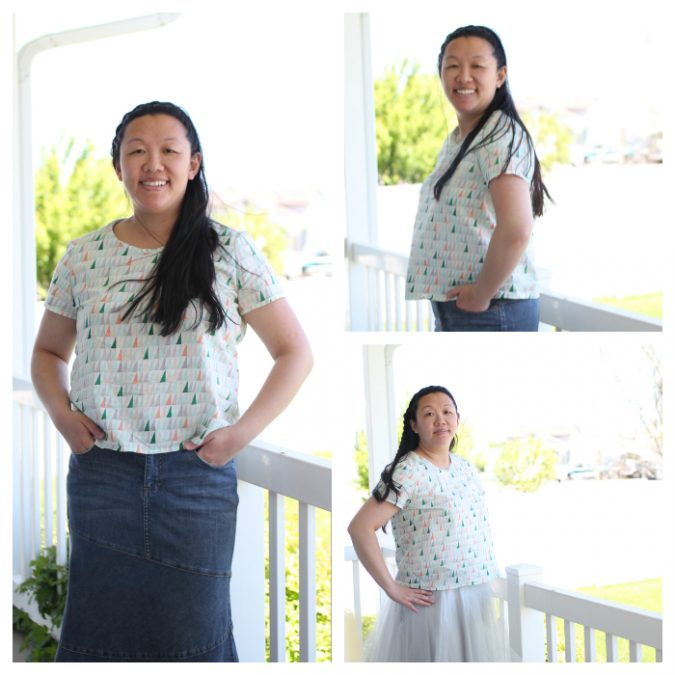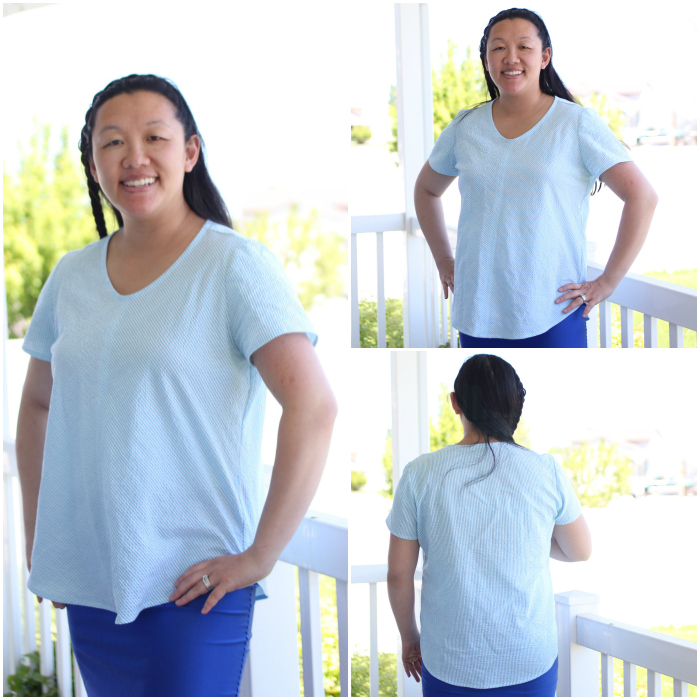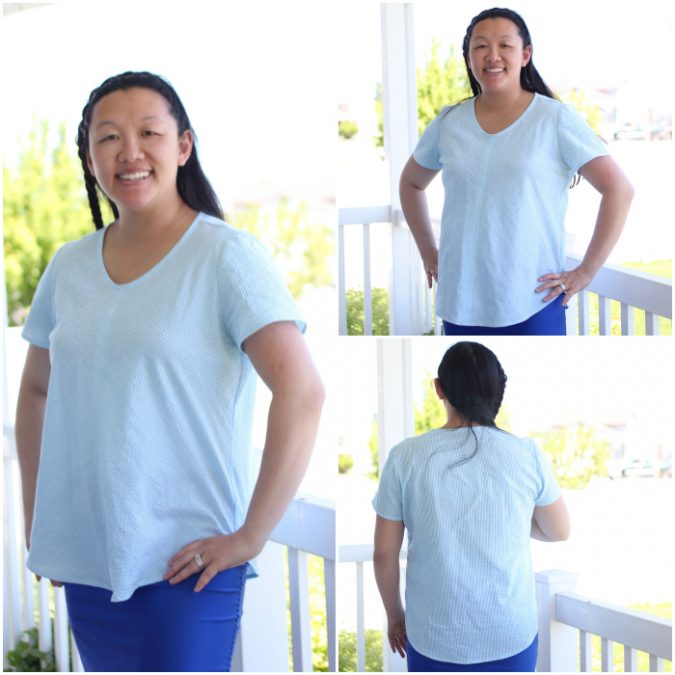 Indu also made two Key Largos.  I absolutely love how the chevron effect on the first one is done with the texture of the fabric and not a print.  It's subtle but stunning.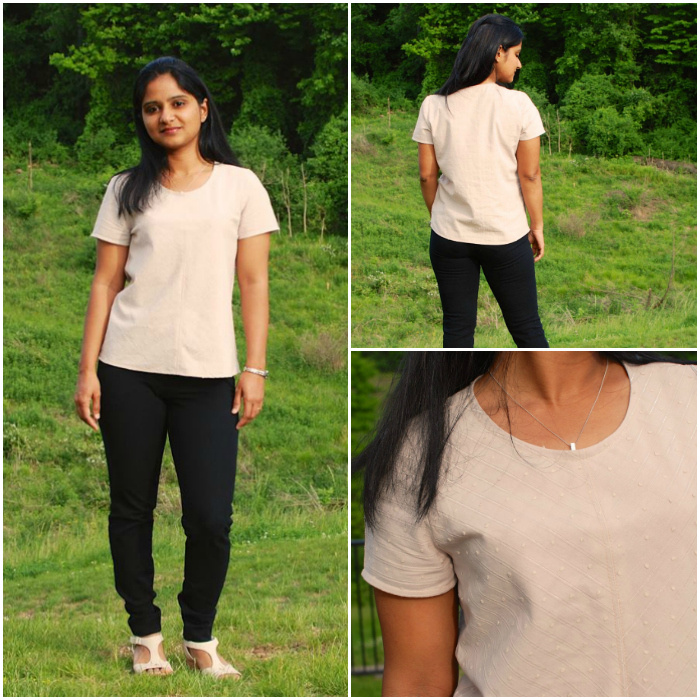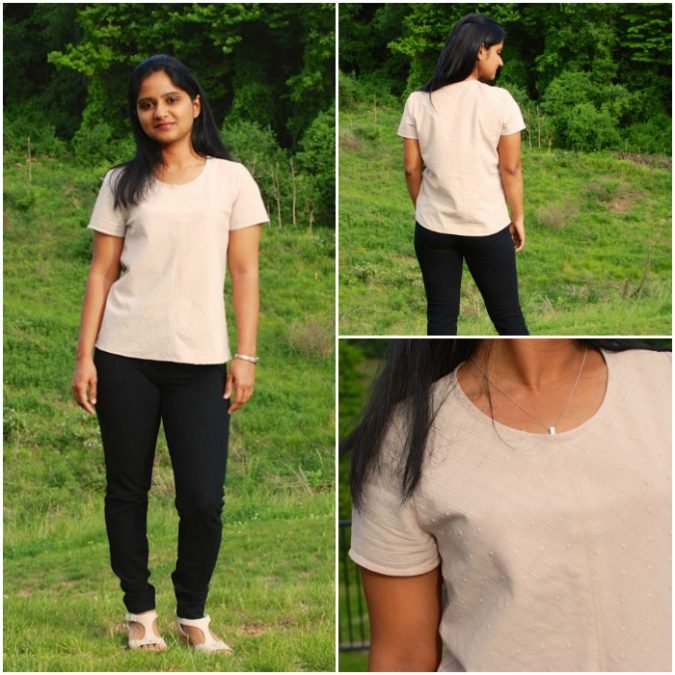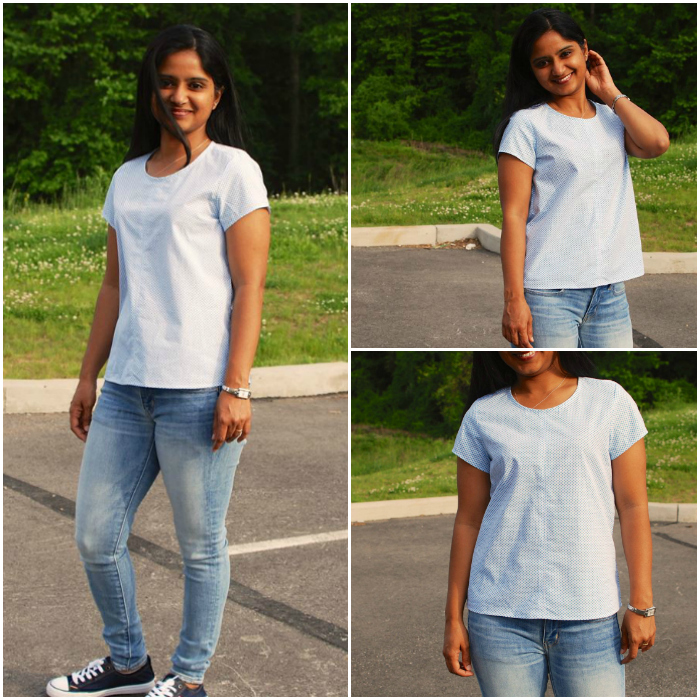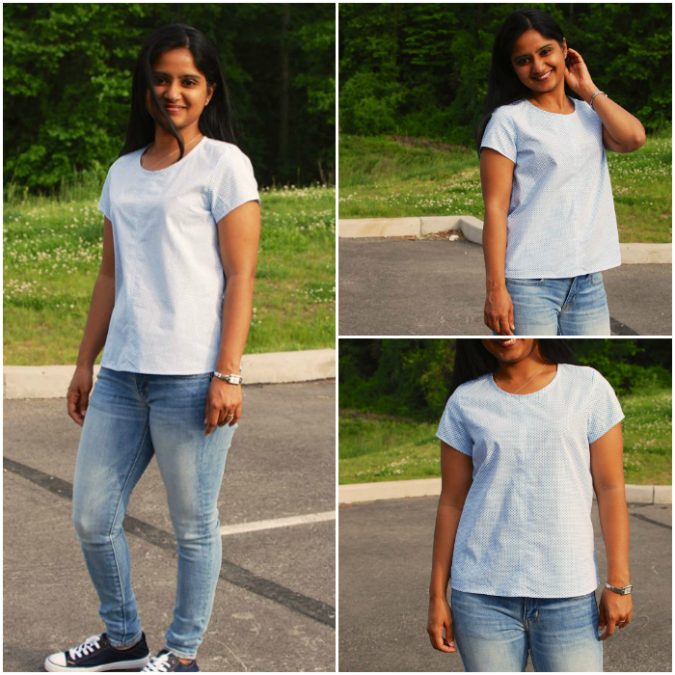 Iva used a cute owl print to make a view B for her daughter.  The Key Largo is great for teens!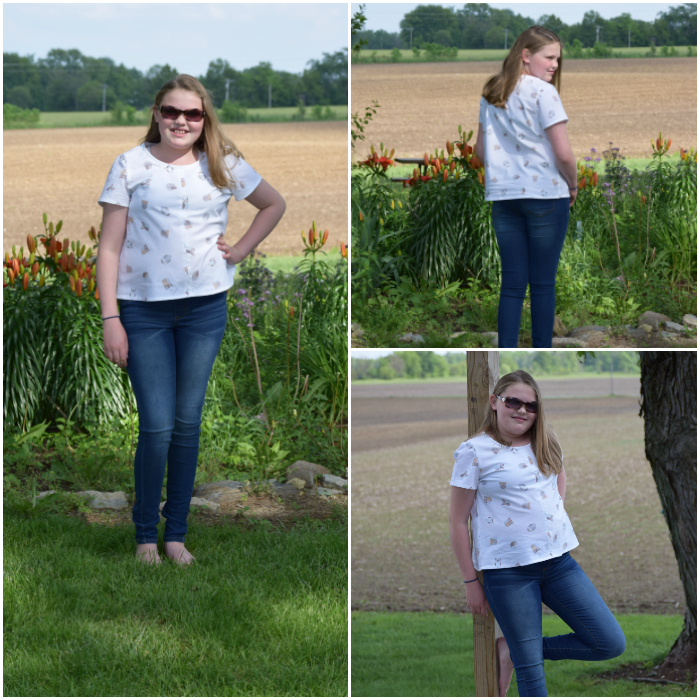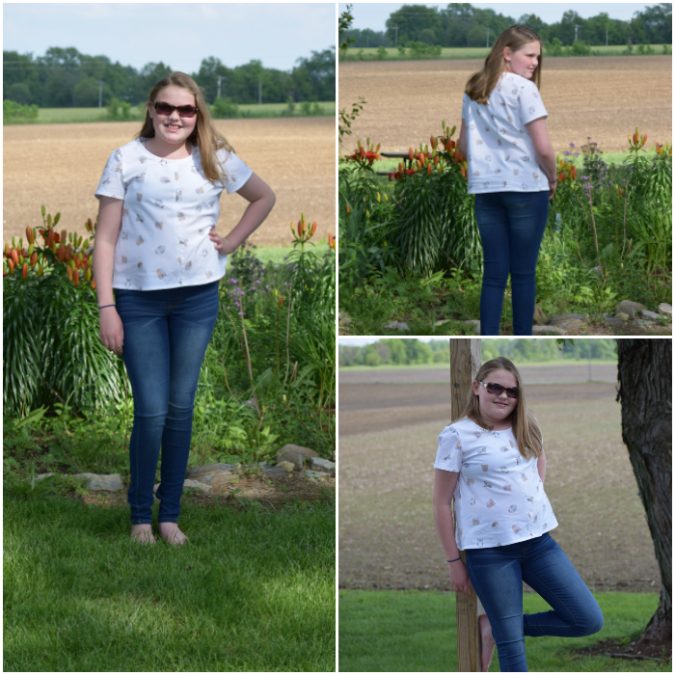 Jeanine had such a great idea and used a contrasting fabric for her tie facings.  You can see the reverse side of the ties depending on how you tie them, and I think it provides the cutest opportunity for a subtle color-block.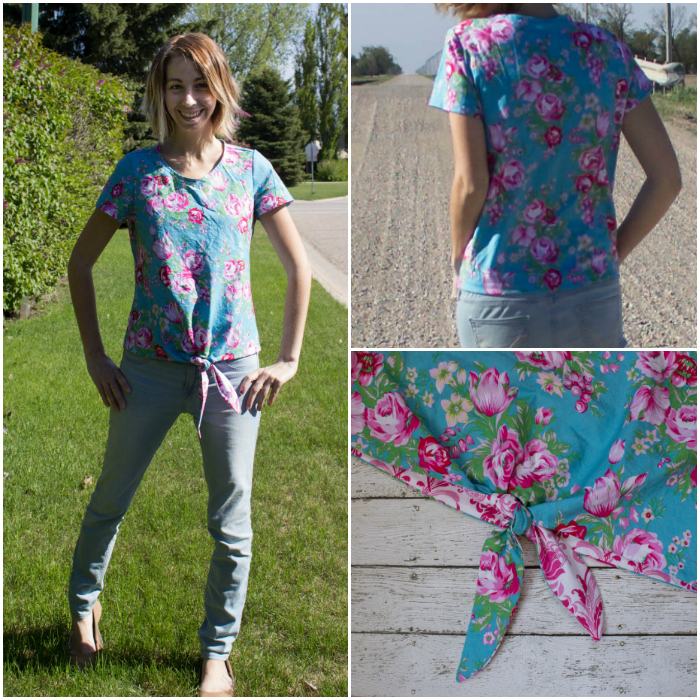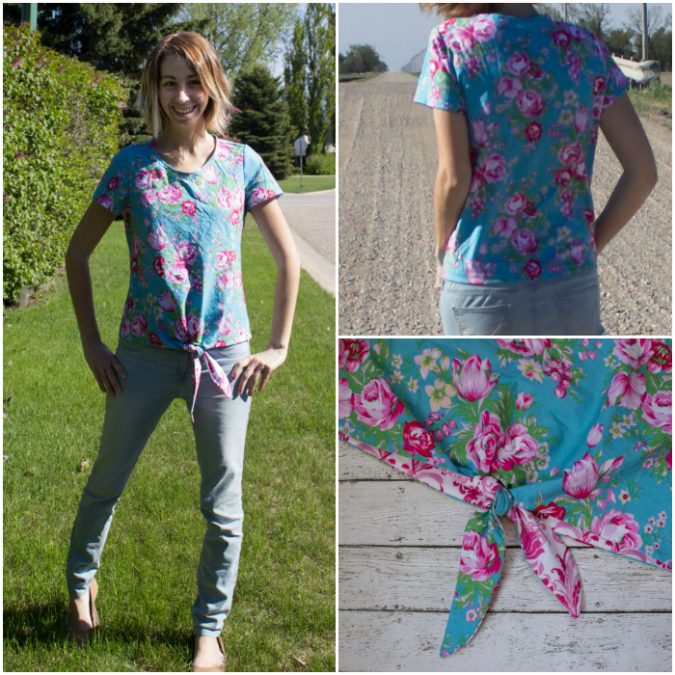 Jodi made a classic nautical blue summer shirt and paired it perfectly with coral pants.  I love these two together!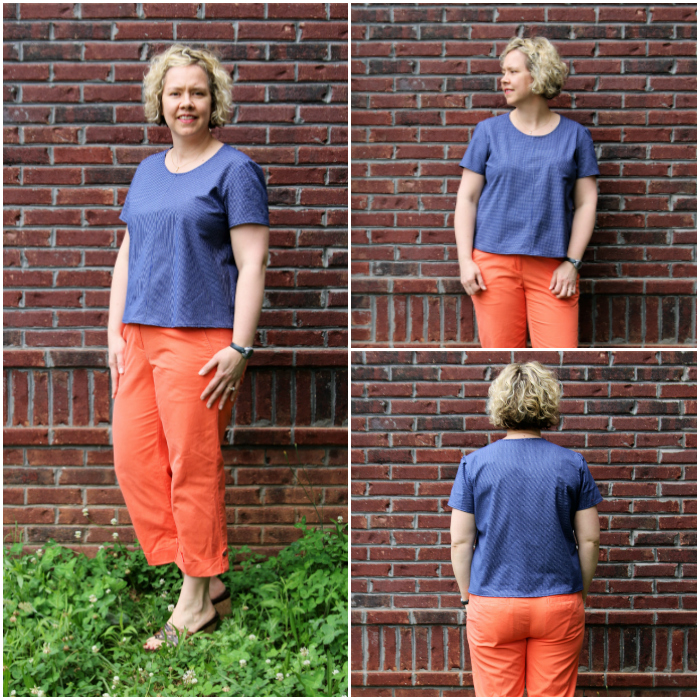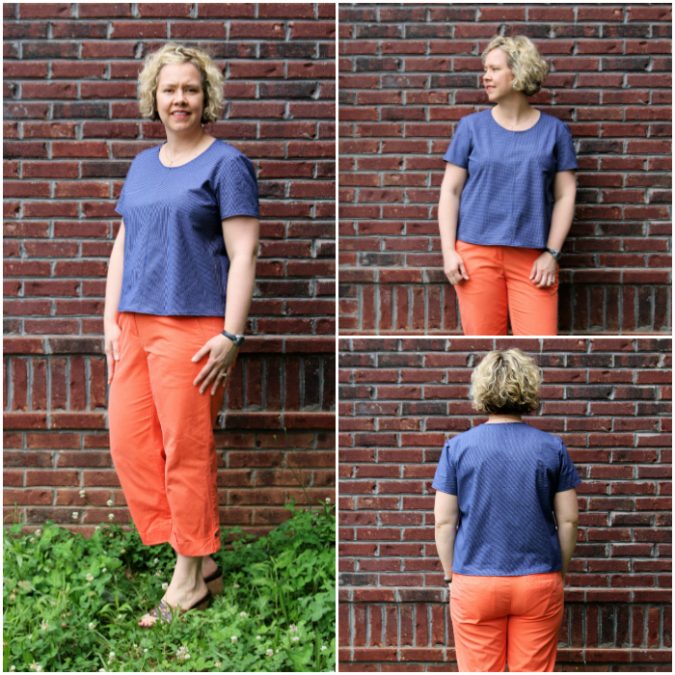 Kristin also used her stripes to do a chevron effect.  I absolutely love her vertically striped back and sleeve!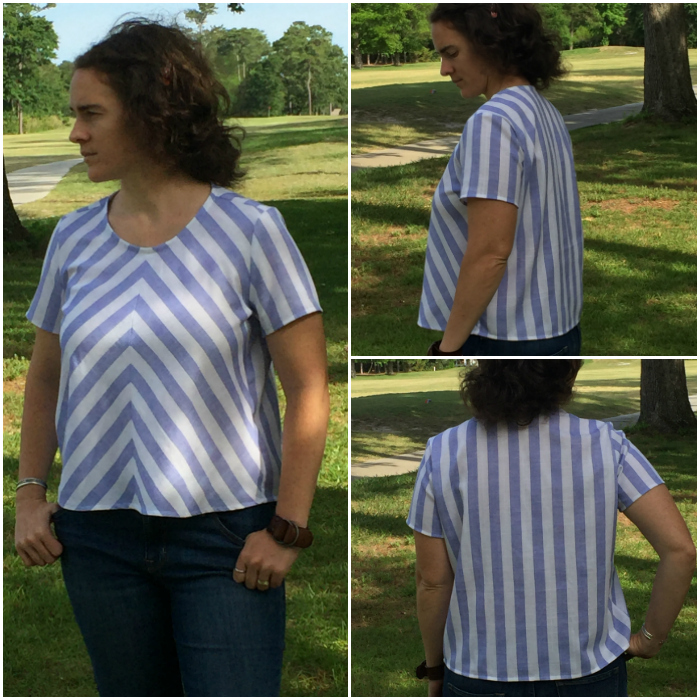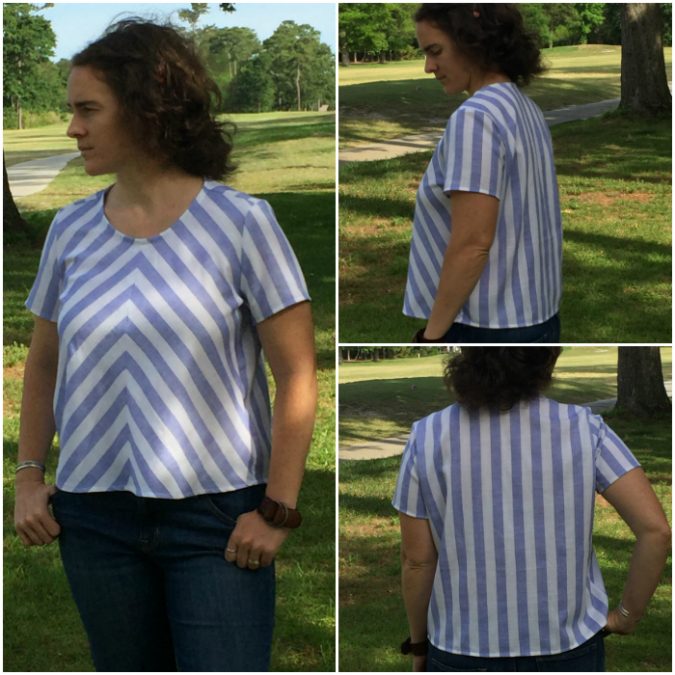 Maria made a cute and cool lightweight aqua view B, perfectly paired with her crisp white jeans for summertime!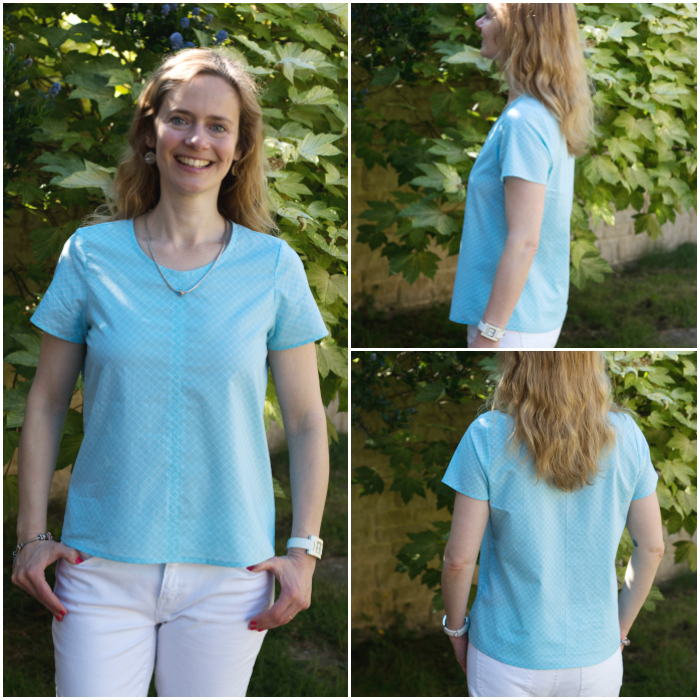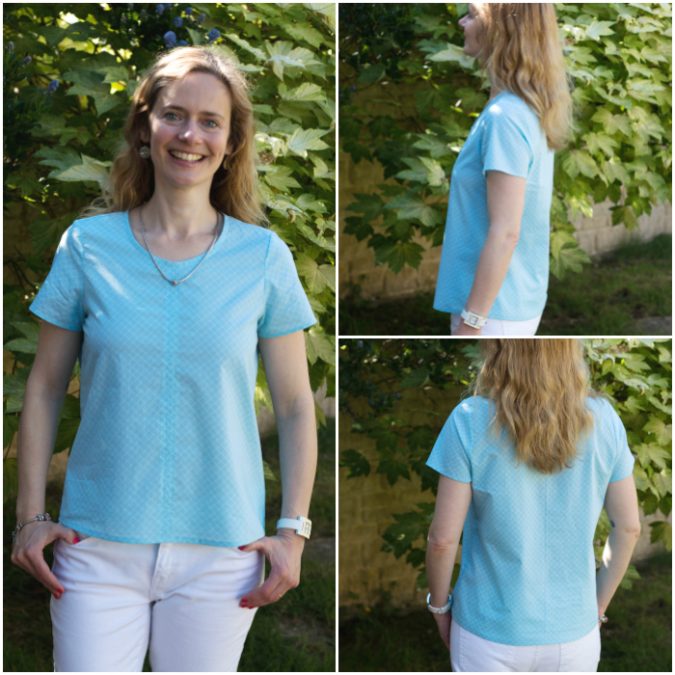 Maria made this soft and drapey view A for her daughter, who is expecting.  She reports that she only had to add length to make it work!  How gorgeous is she?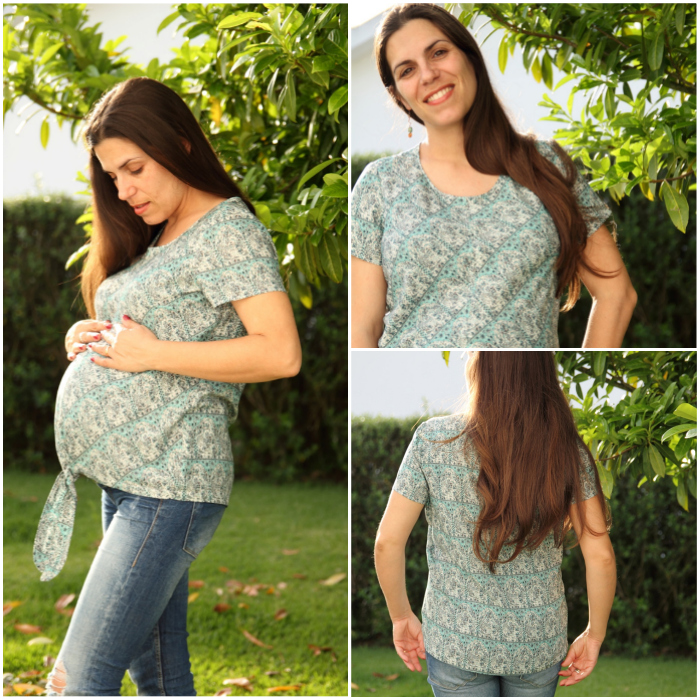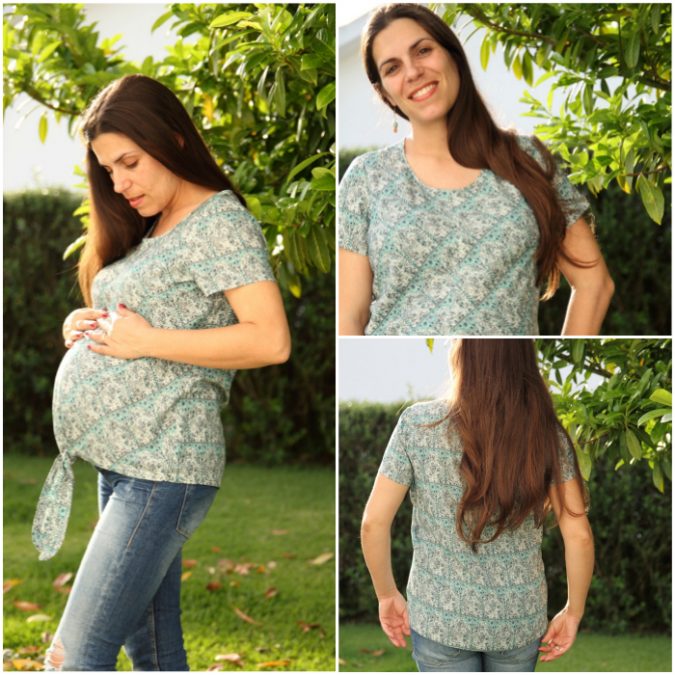 Meghan made two Key Largos also.  I love how she altered the black one to have a scalloped hem!  Scallops are really easy and fun to sew.  I have a tutorial for them from waaaay back in the day if you're interested in making this cute alteration to your Key Largo!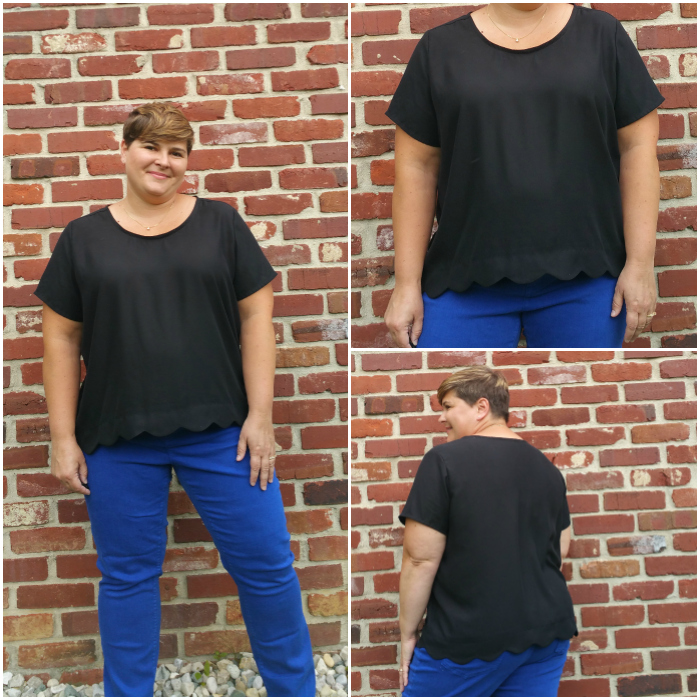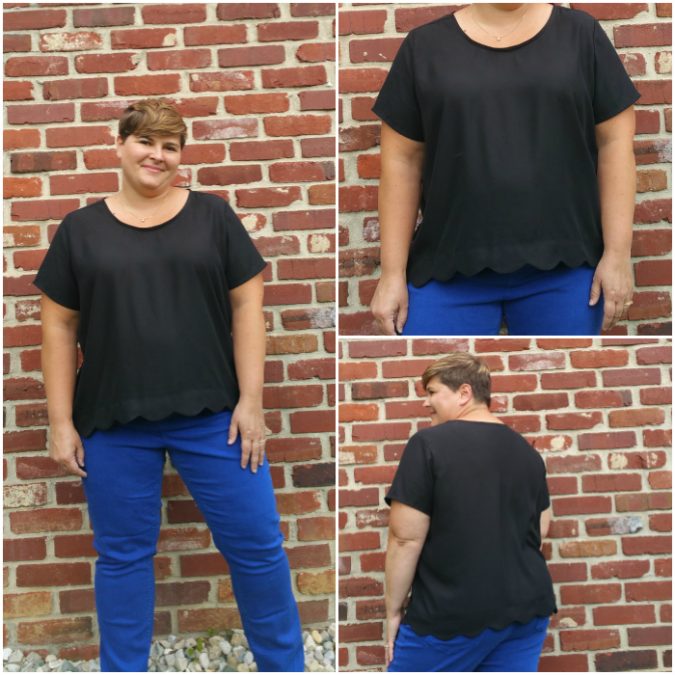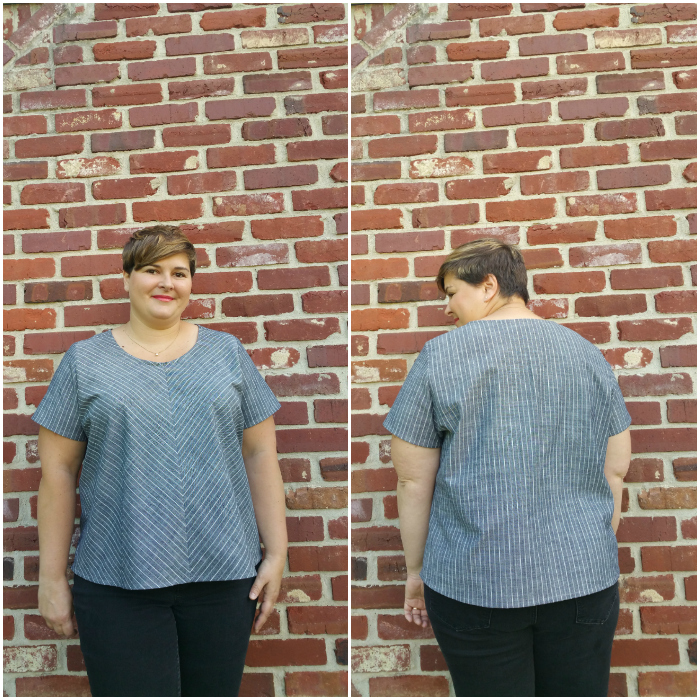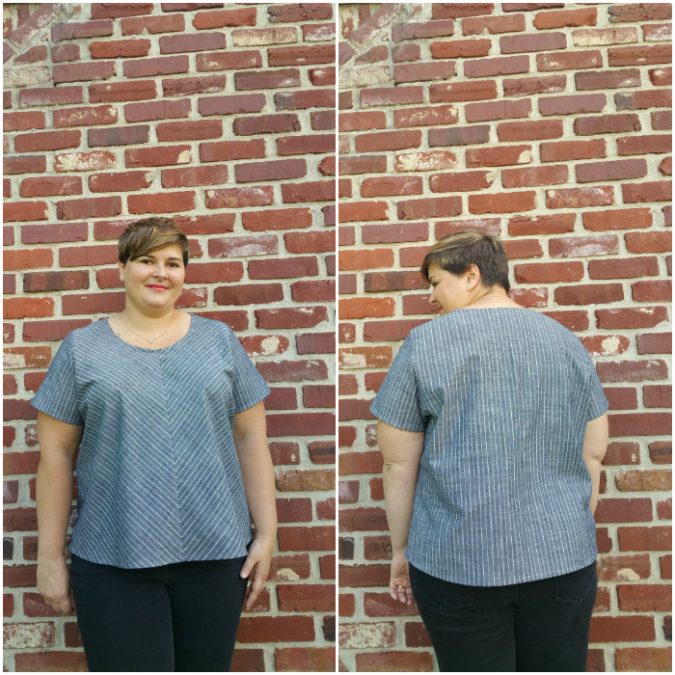 Melissa used this awesome sheer tomato print for her Key Largo view A.  It's so unexpected and I think that's what makes it just perfect in every way.  Fruit is the new floral 🙂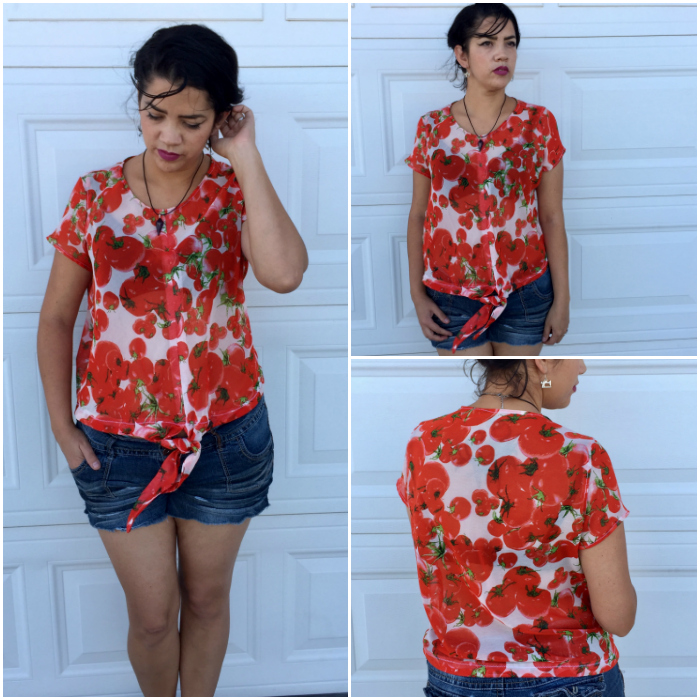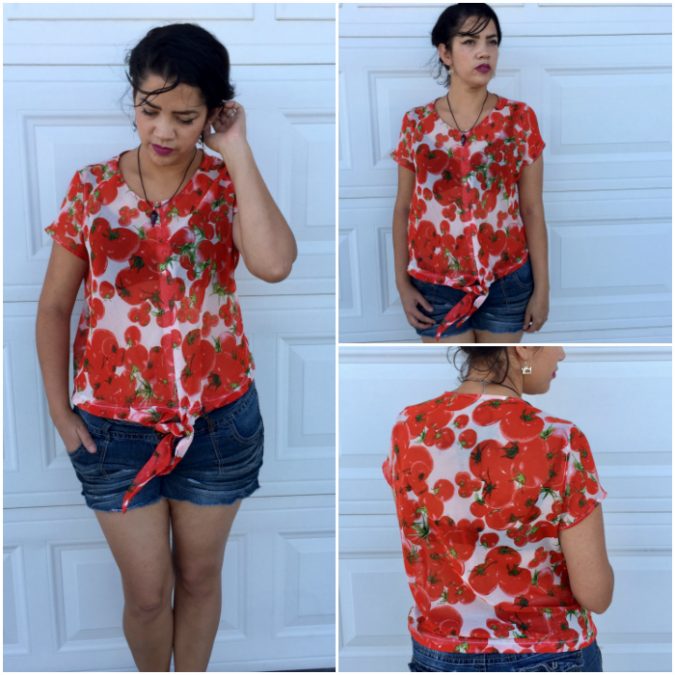 I can't stop staring at Melissa's view B.  She found the absolute perfect fabric for her Key Largo.  I love how the blue stripes are perfectly aligned but the orange is more abstract.  So fun!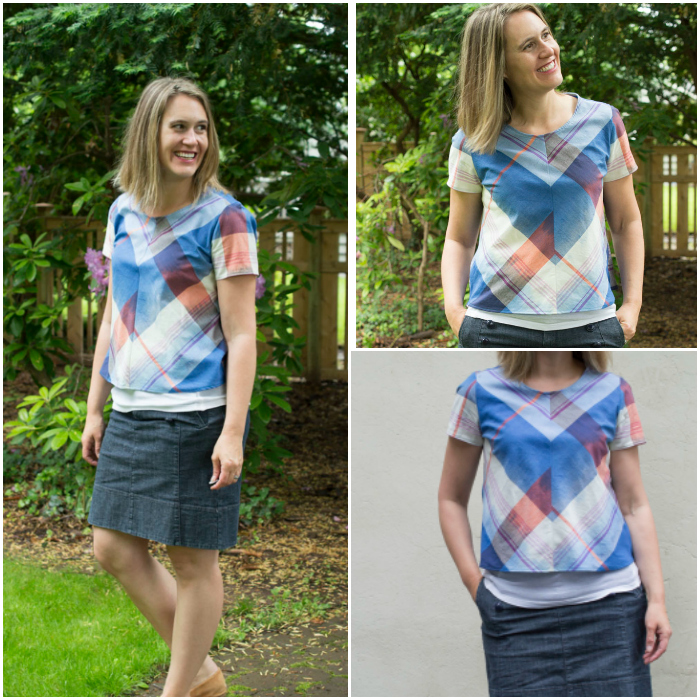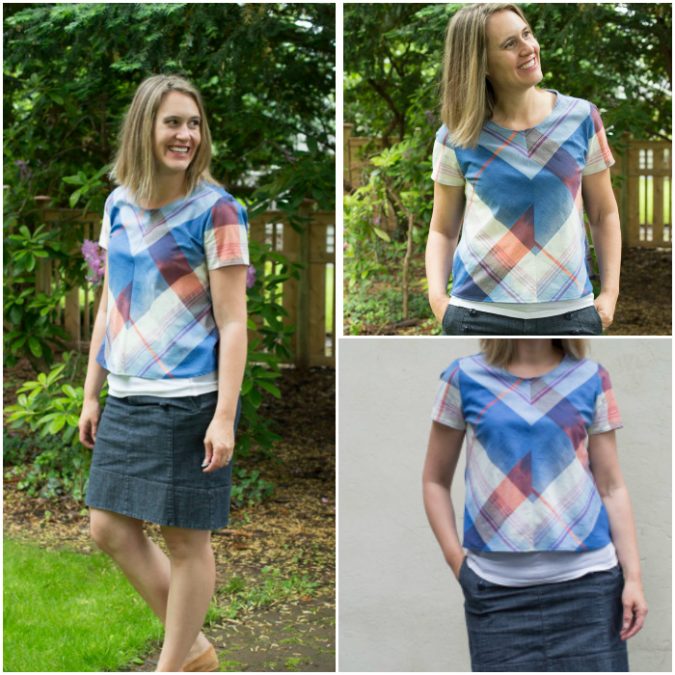 Pam used a lightweight floral for her cute view A.  She fits right in with her gorgeous flower garden!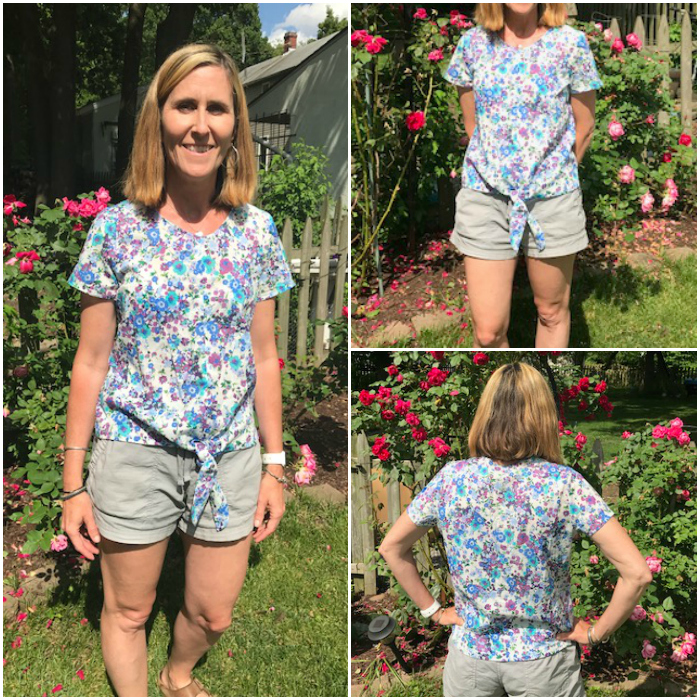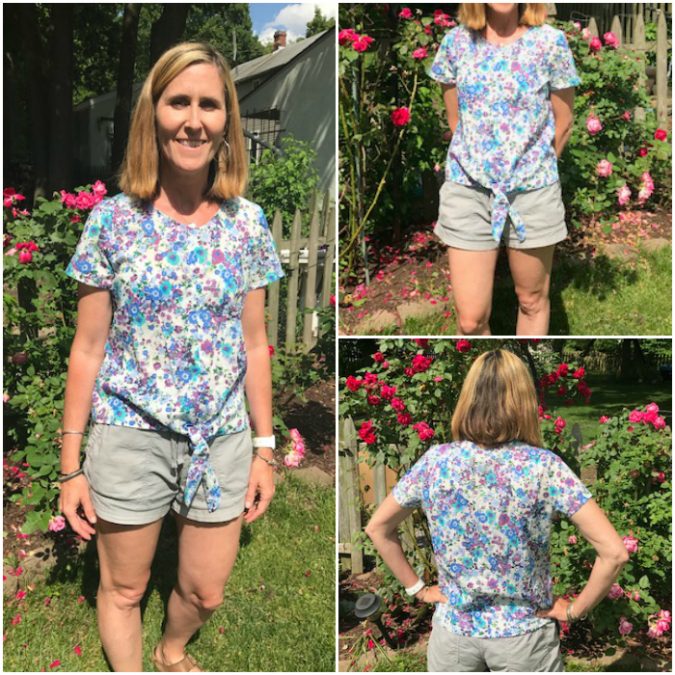 Patti used what might be the coolest fabric ever for her soft and drapey view B.  It's hard to see, but that plaid is actually made up of tiny horses!  You can see a close up version by clicking through to her instagram!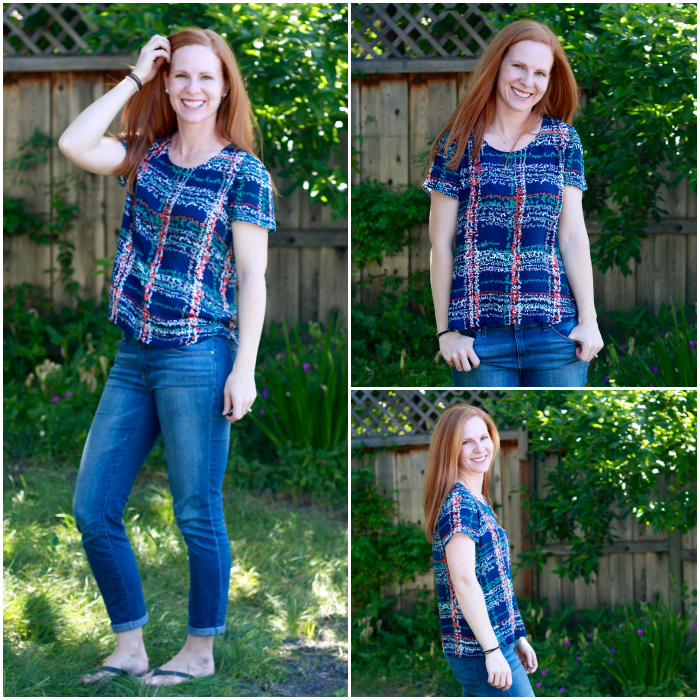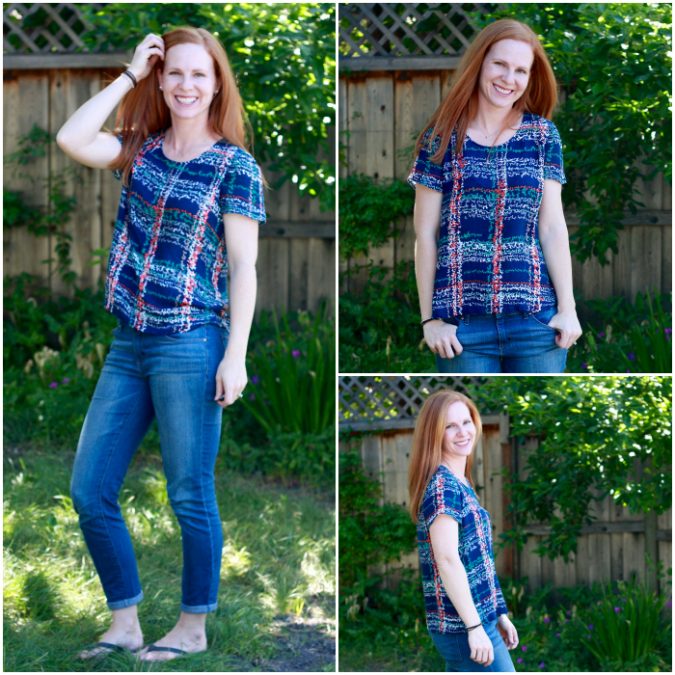 Rachel found beautifully textured lightweight fabrics for both of her Key Largo view As.  These simple but gorgeous tops would be very welcome in my closet – they're the perfect dressed-up basics!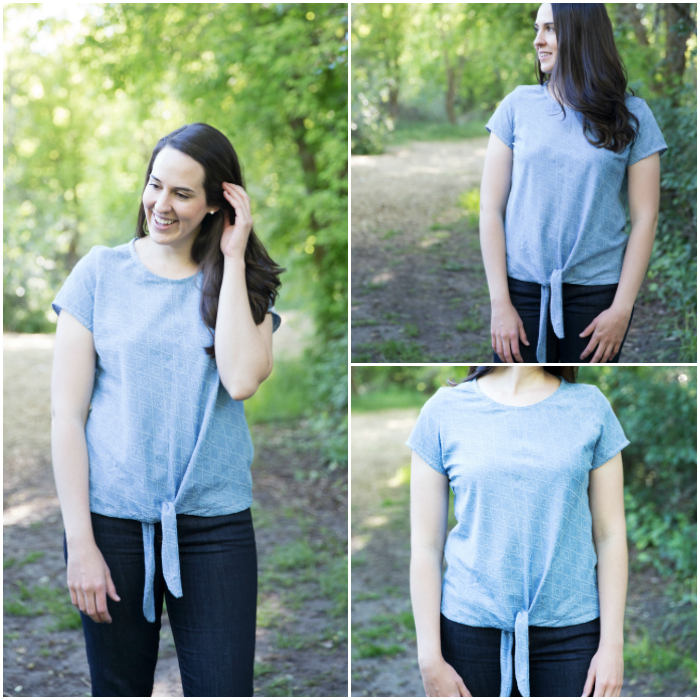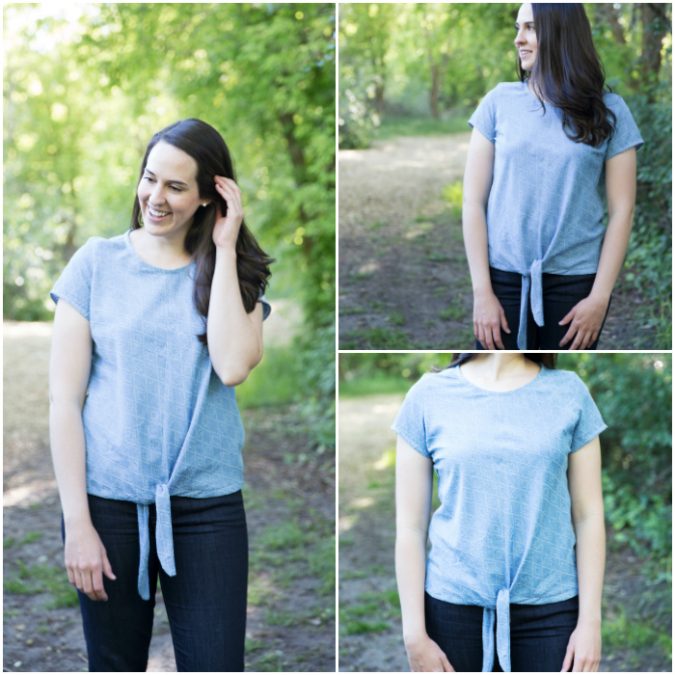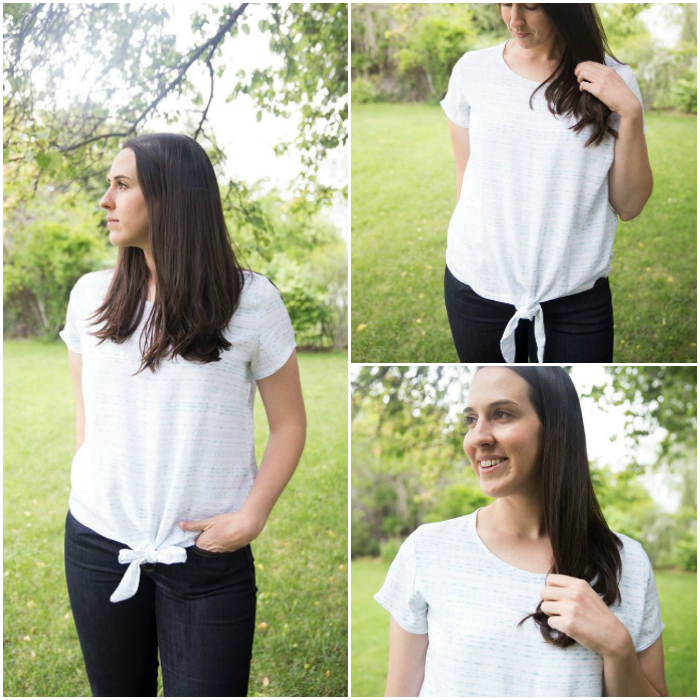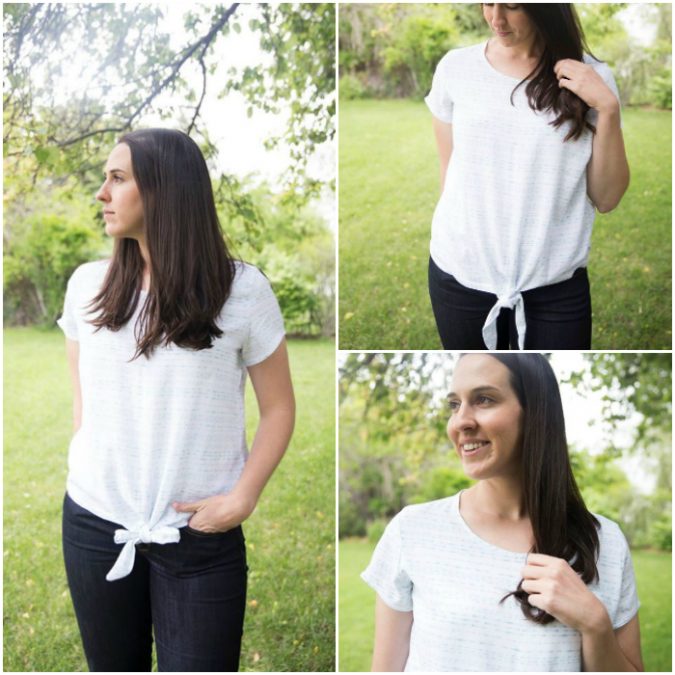 Rebecca also used her stripe fabric to create a chevron effect on the center front, but her fabric had the benefit of having variegated stripe widths!  I love the effect.  She also opted for the exposed binding on her neckline.  And PS: it was her birthday when she took these pics!  Perfect birthday outfit!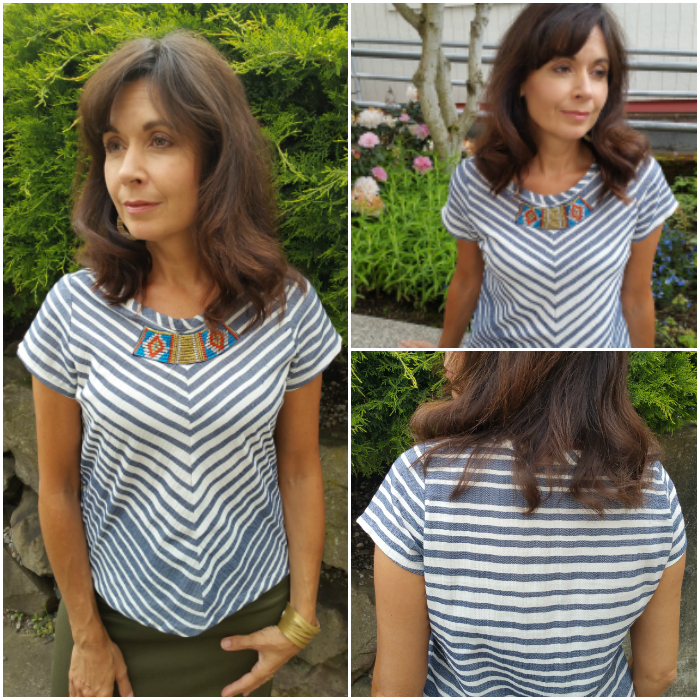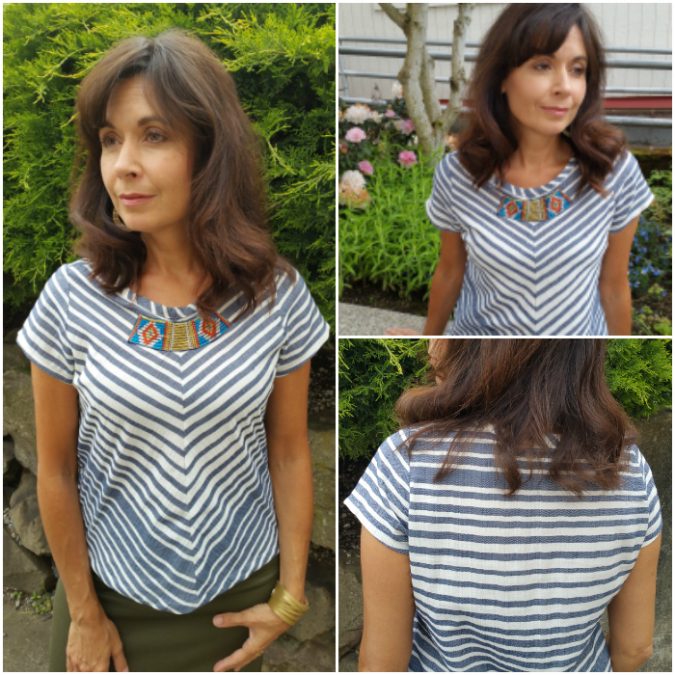 When I saw Stephanie's Key Largo my first reaction was, "HOW DID I NOT THINK OF MADRAS?"  The Key Largo + madras fabric is a match made in heaven.  So summery, so perfect.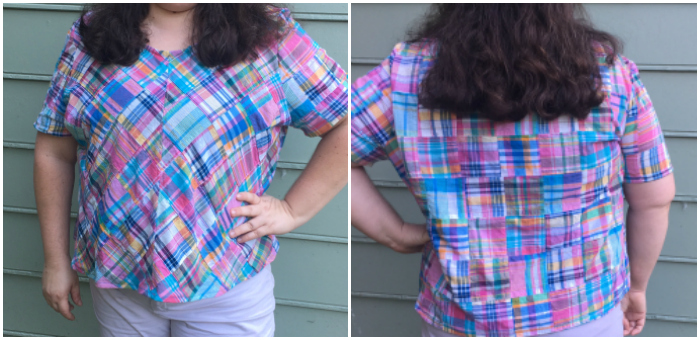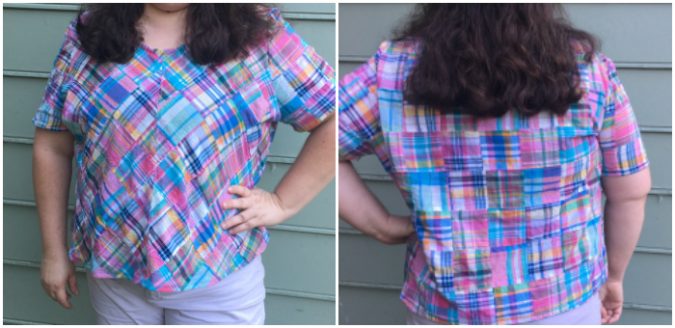 Teri made a simple but chic view B to pair with just about any bottoms all Spring and Summer long.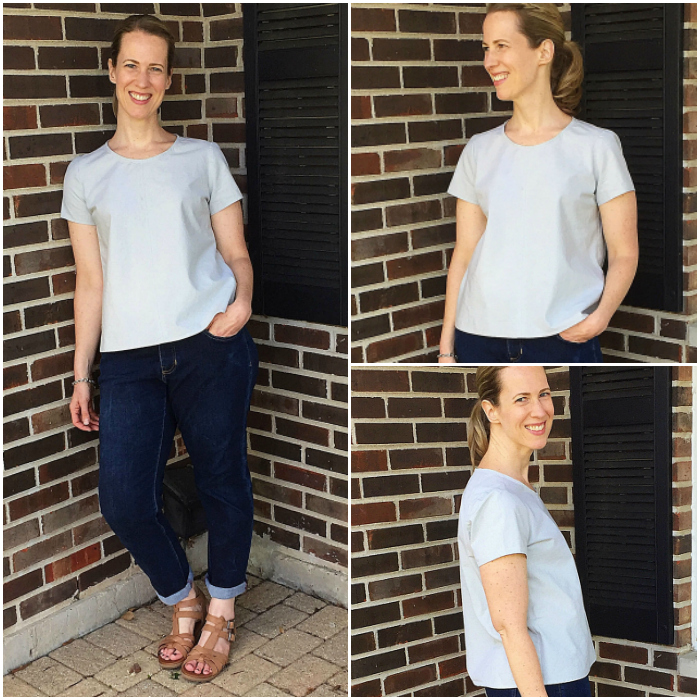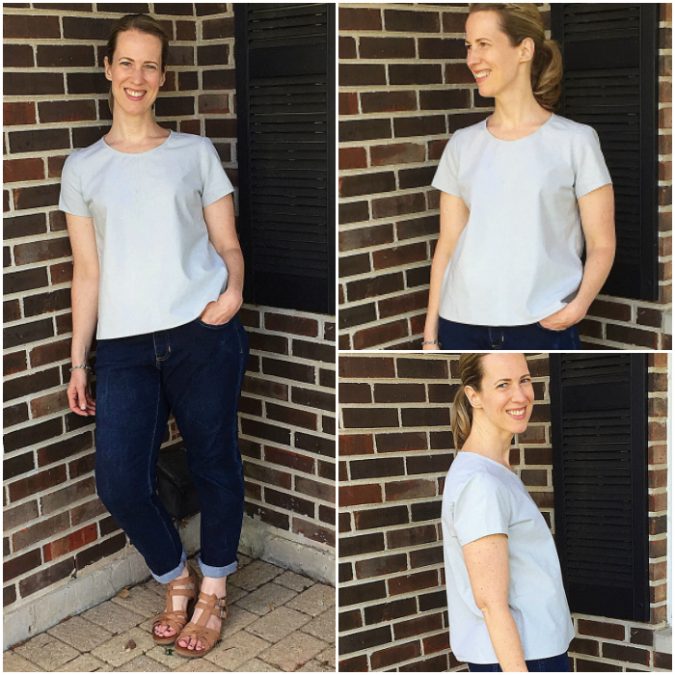 Tiahna has made 4 Key Largos, but you'll have to head to her blog to see them all!  I adore the check matching at the center of her view A, and that soft floral rayon she used for view B is the very definition of casual elegance.  I need a wardrobe full in that substrate!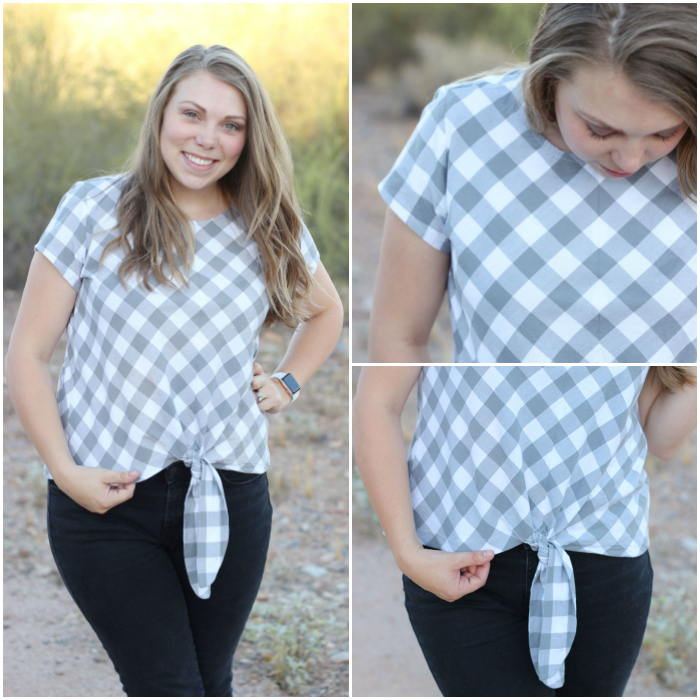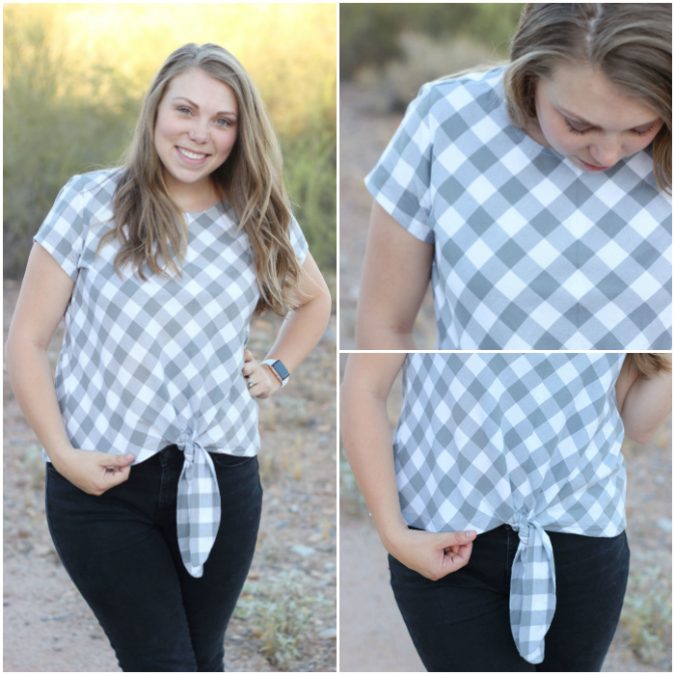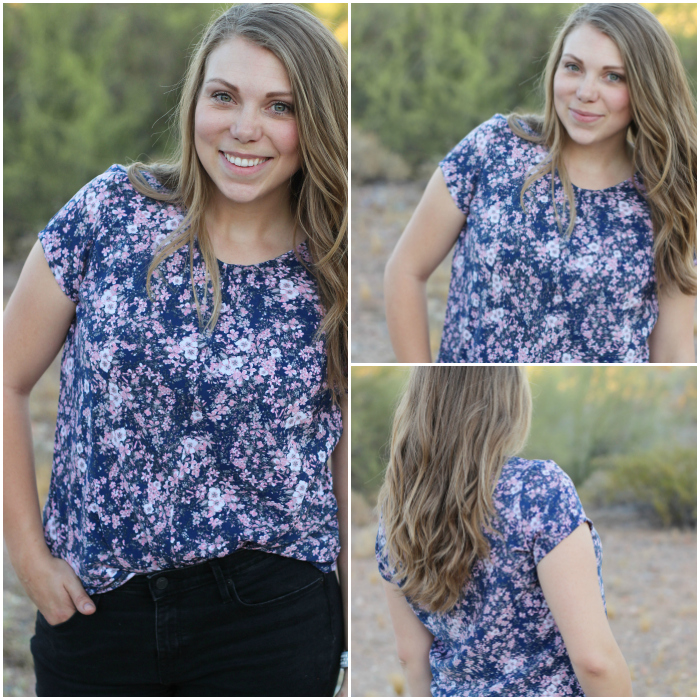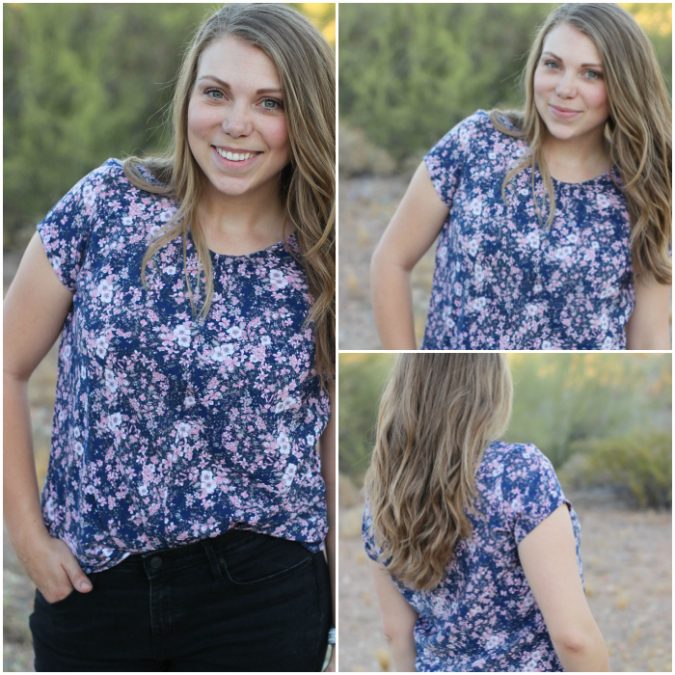 Thank you so much to these and all of my Key Largo testers!  You ladies rocked and really made this pattern as perfect as possible!