I'm so excited to share the Kendrick Overalls tester photos!  They went above and beyond on this pattern. Several of them even made both versions!  And be sure to scroll all the way through, because I'll share the extra versions they made without straps at the end of the post!
Patti made a very fall-worthy navy corduroy skirt and took some gorgeous pics for us in Yosemite!  I really love this pattern made more casual with a simple tee and sandals!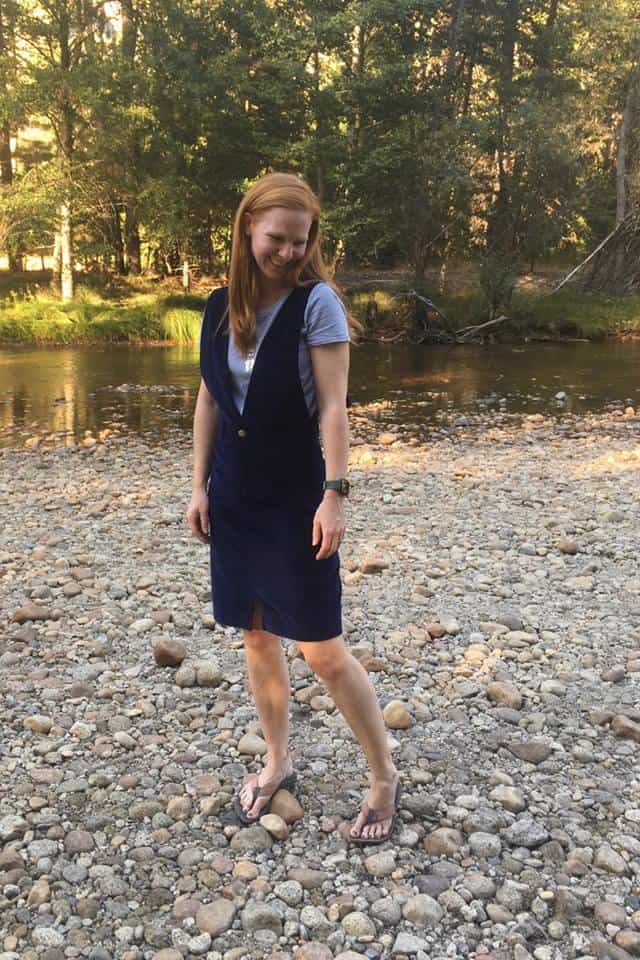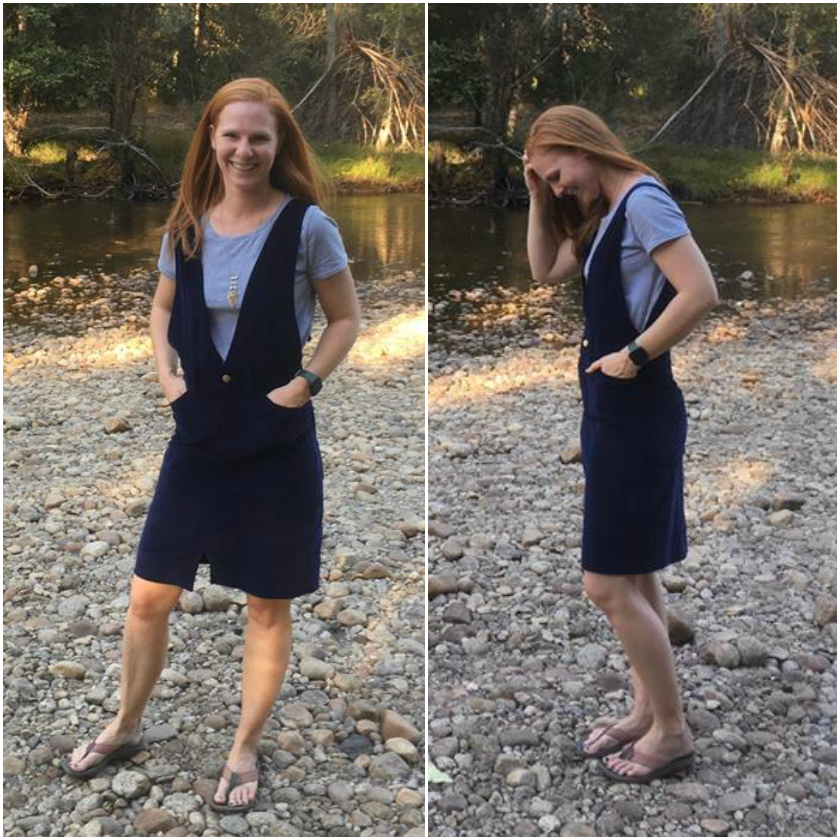 Kristin made the chicest, most stylish linen Kendricks.  I feel like she just needs to be strolling a Parisian street in these, although they're great for a Target run too!  Comfy yet cute is really where it's at.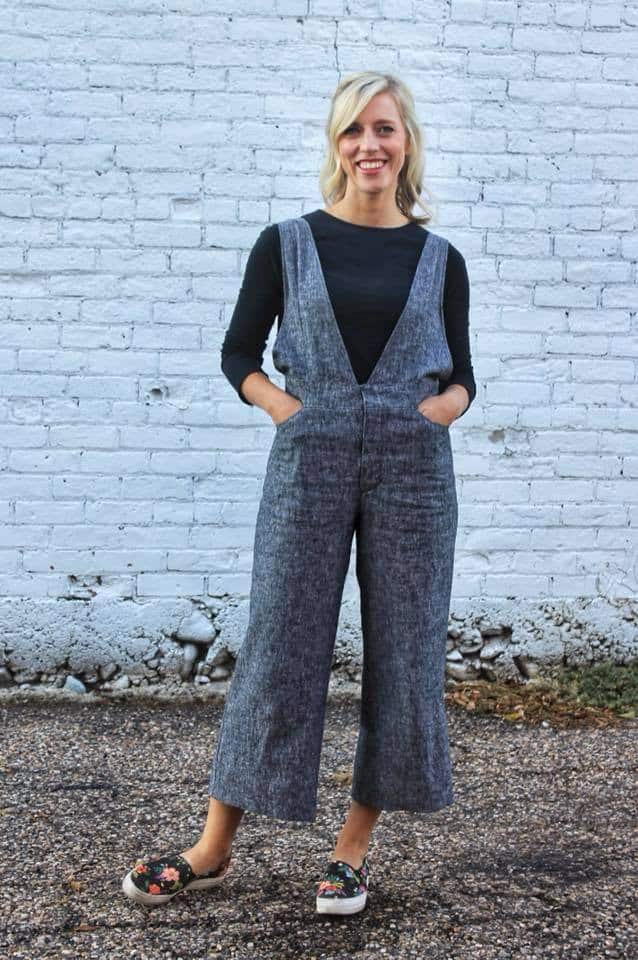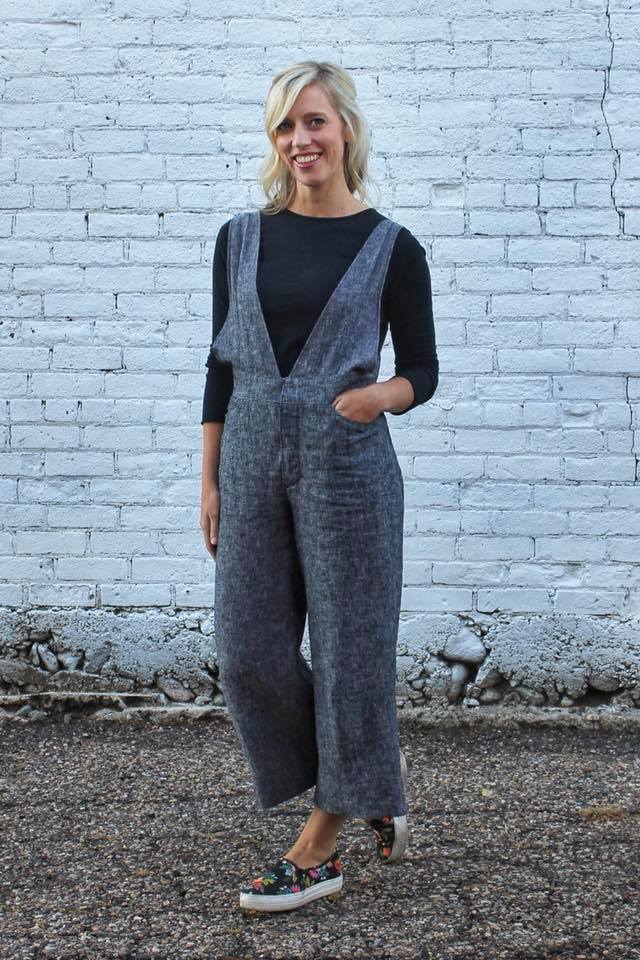 MJ paired her Kendricks with a graphic tee and basically the coolest shoes ever.  Such a cool outfit!  I love seeing the Kendricks with a tank top too.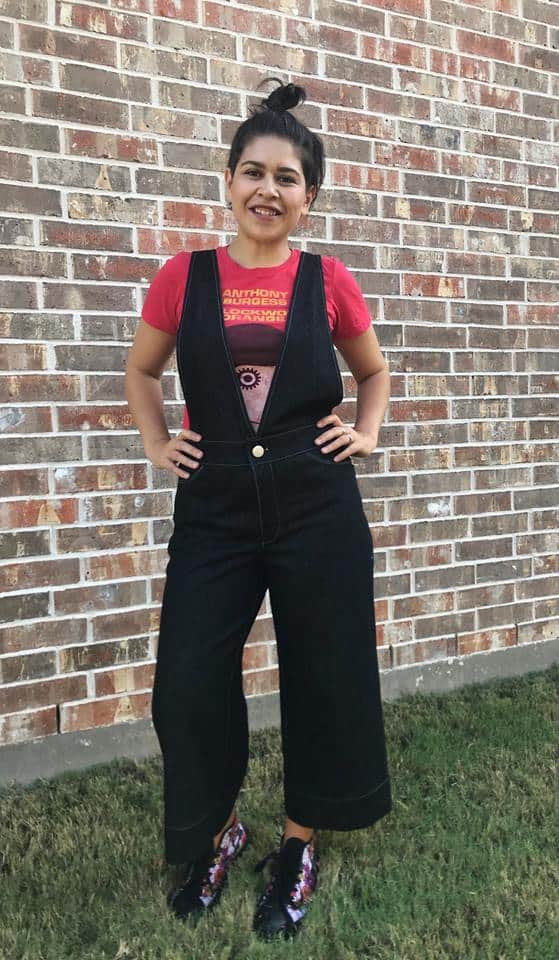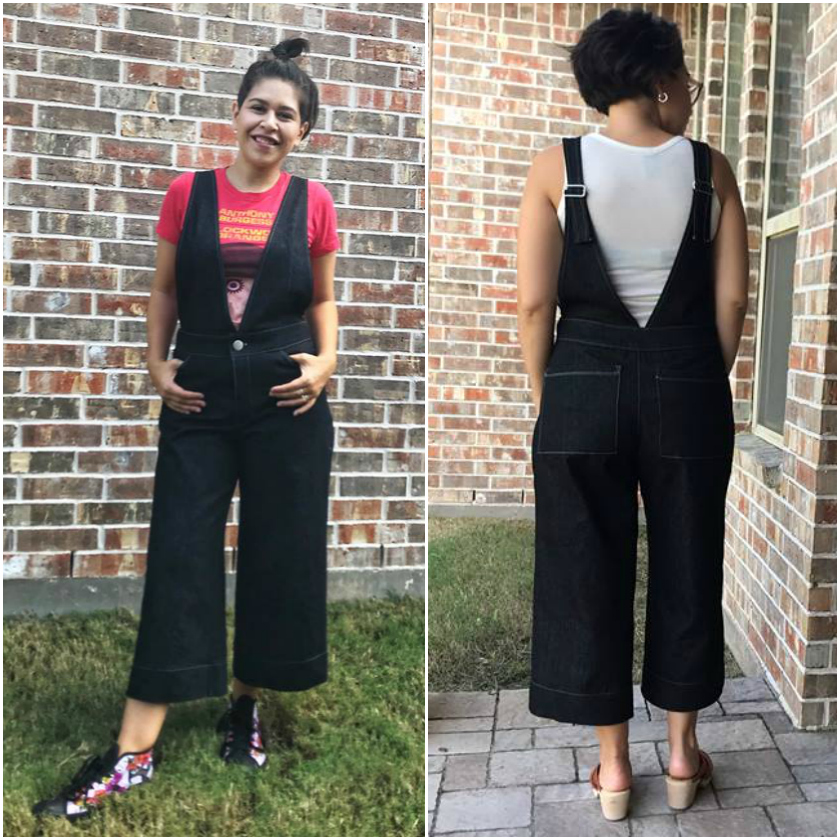 Katherine used such a gorgeous print for her Kendricks!  I love how using a print totally changes up the look of this pattern – almost makes it more "jumpsuit" than overall.  Such a pretty garment!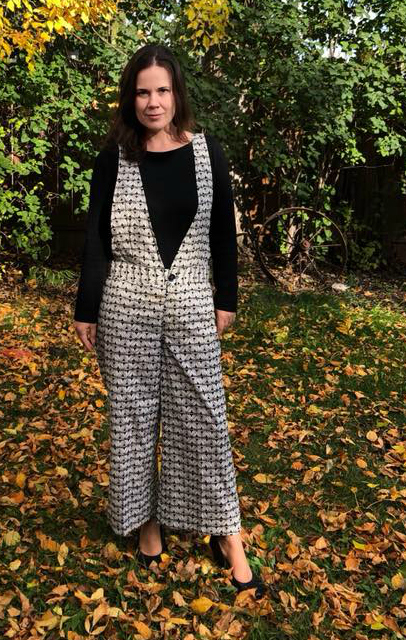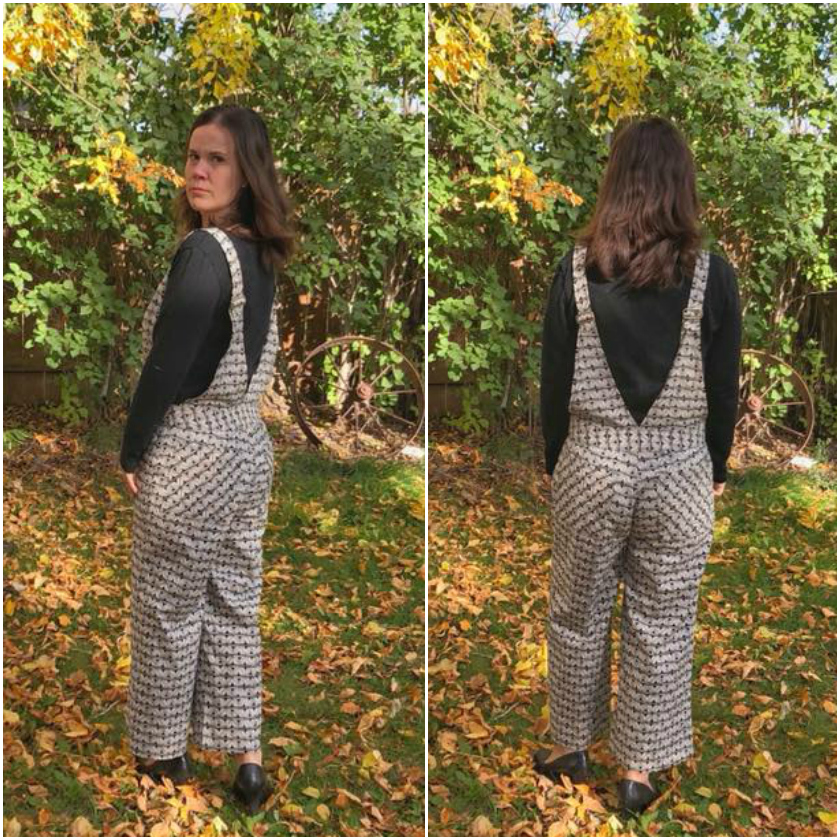 Emily made a classic denim pair and I love how she styled it with a striped tee (it's an Aurora without the lower sleeves!)  This one is so great for just about every day wear!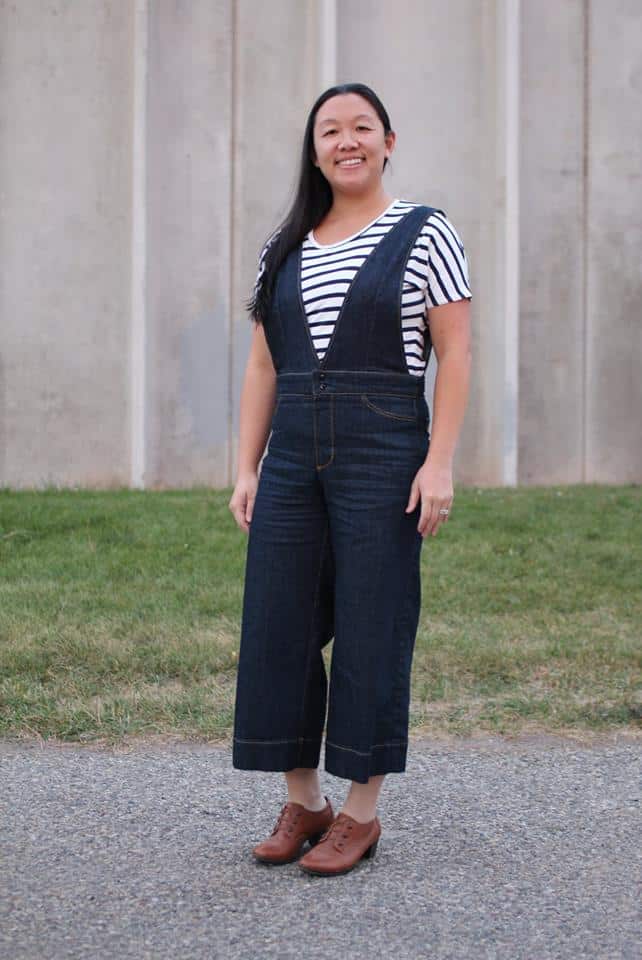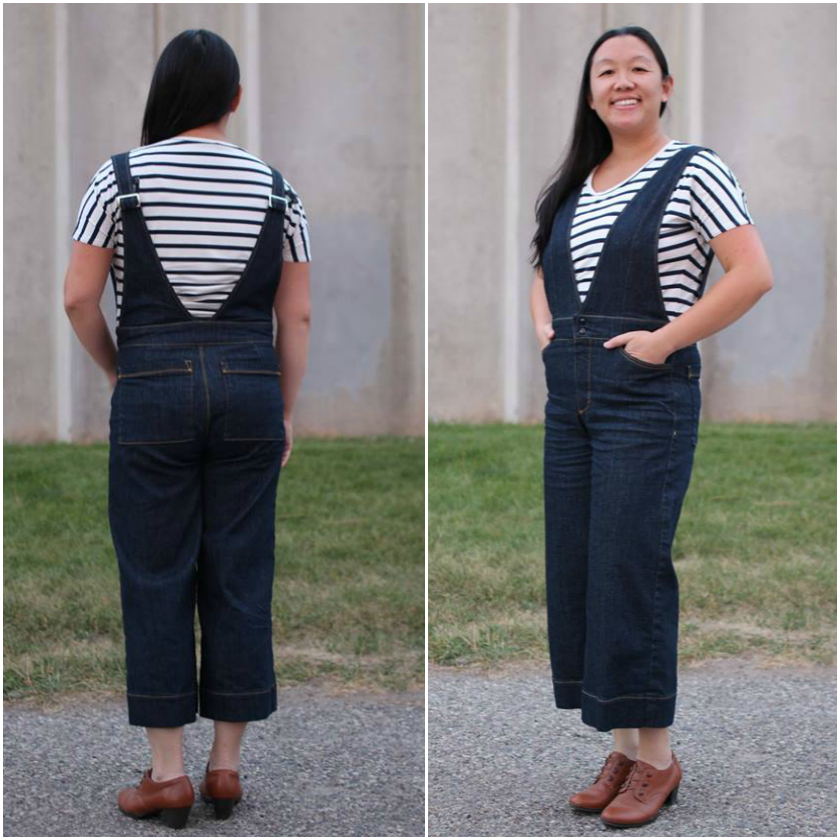 Pam made a classic solid black version and it's just perfection paired with a striped tee and sandals!  I would live in this!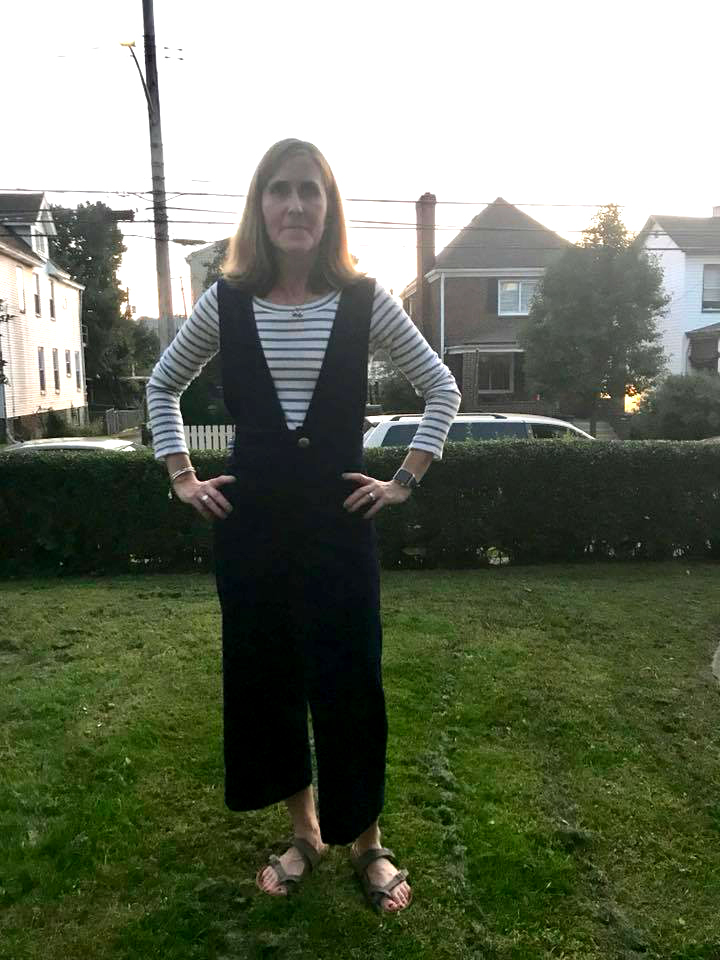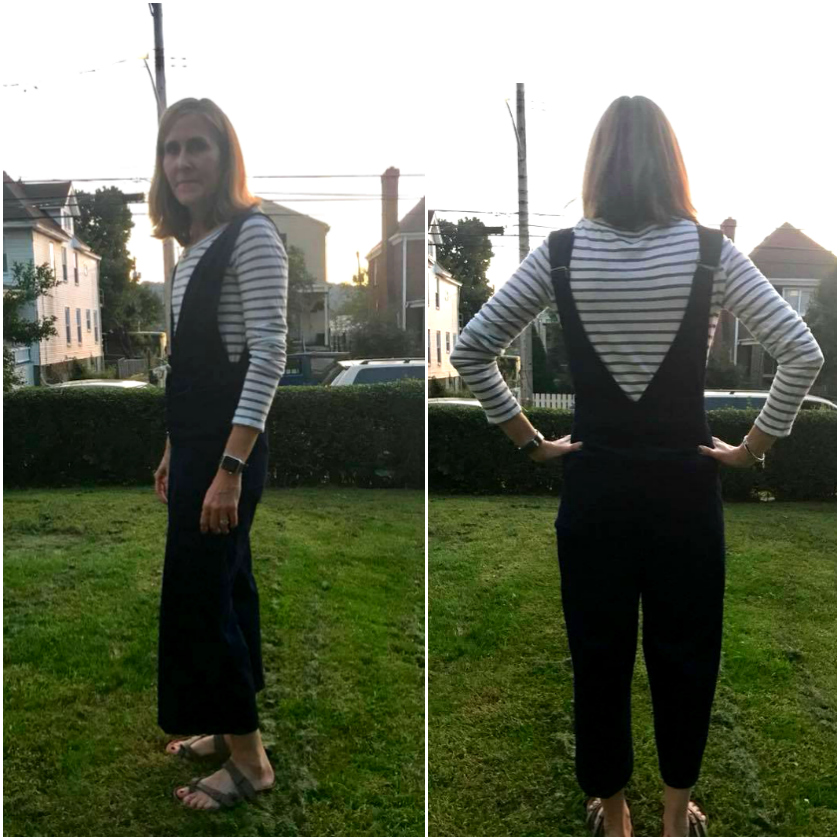 Amy used the cutest linen blend print for her Kendricks.  With a subtle print like this it's really the best of both worlds between a print and solid.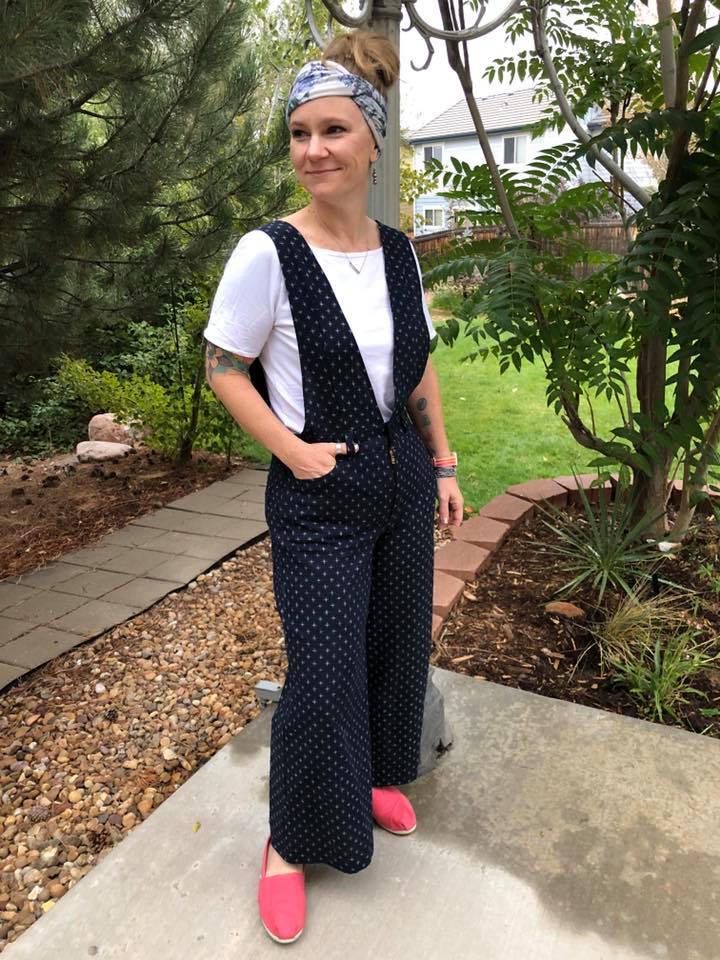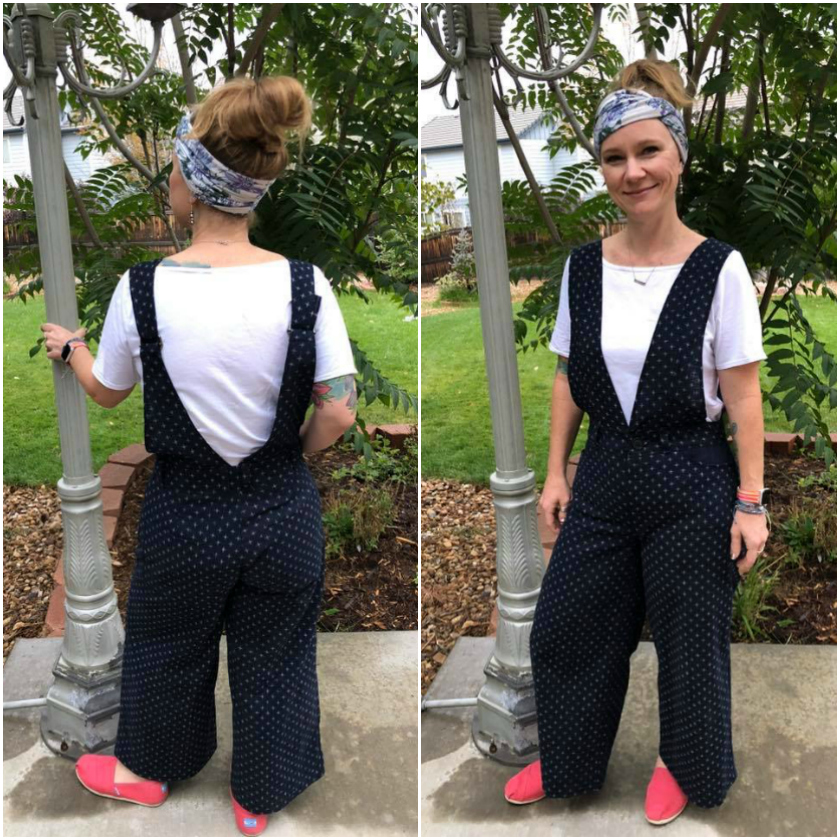 Crystal is slaying in her beautiful corduroy skirt version and these stunning pics.  Her outfit *almost makes me wish it was summer again!  Luckily this garment will look equally beautiful with boots and a long line cardigan!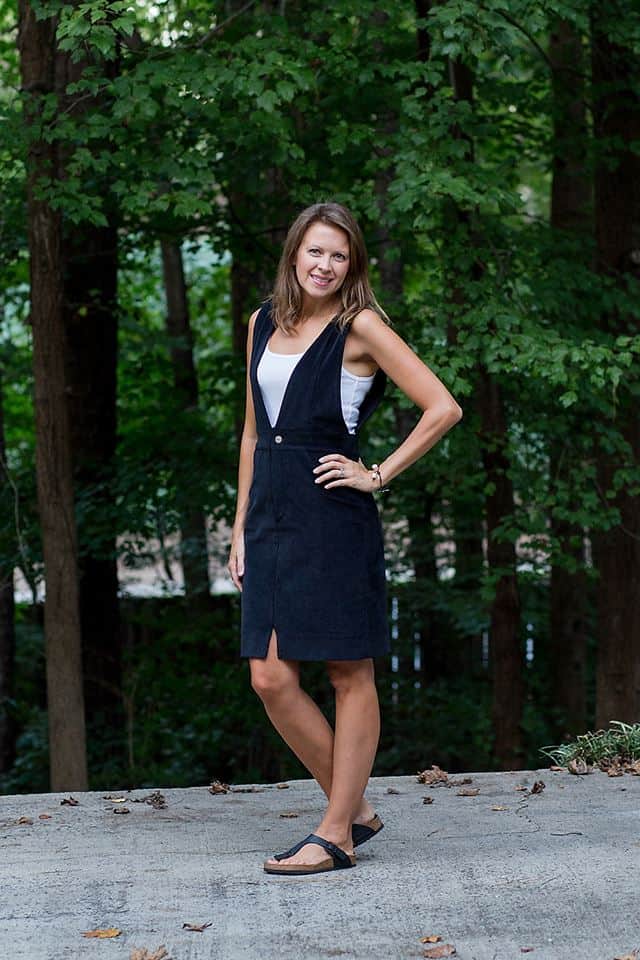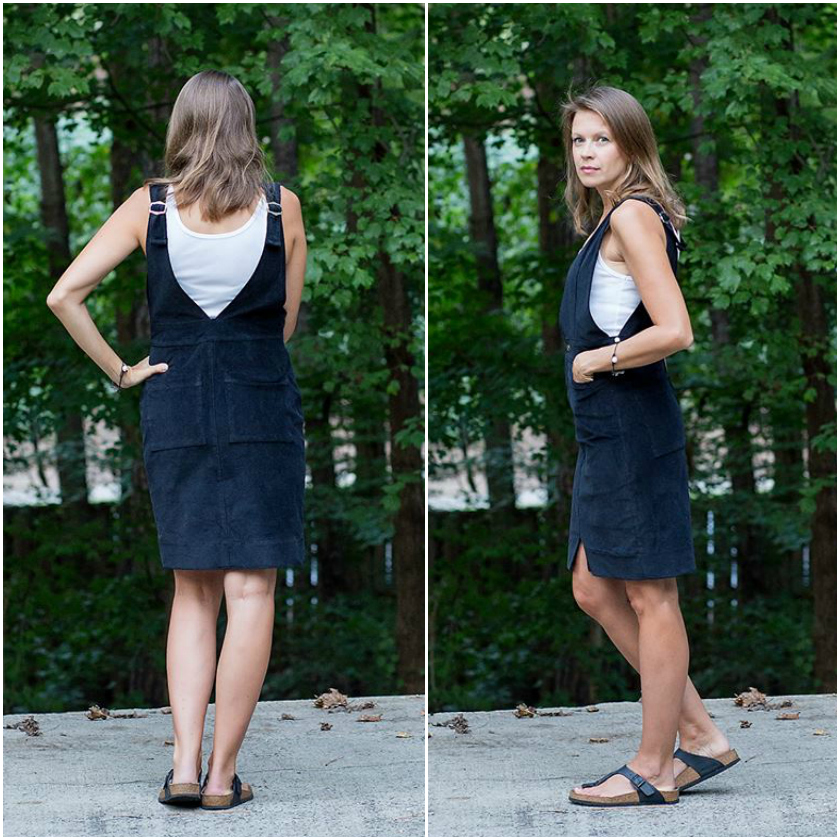 Brittney made a classic denim version for her daughter and word on the streets is that it's a big hit amongst the teen crowd!  High praise indeed!  I love that it's a cute and unique look, but it's still denim and pairs great with a graphic tee and sneakers.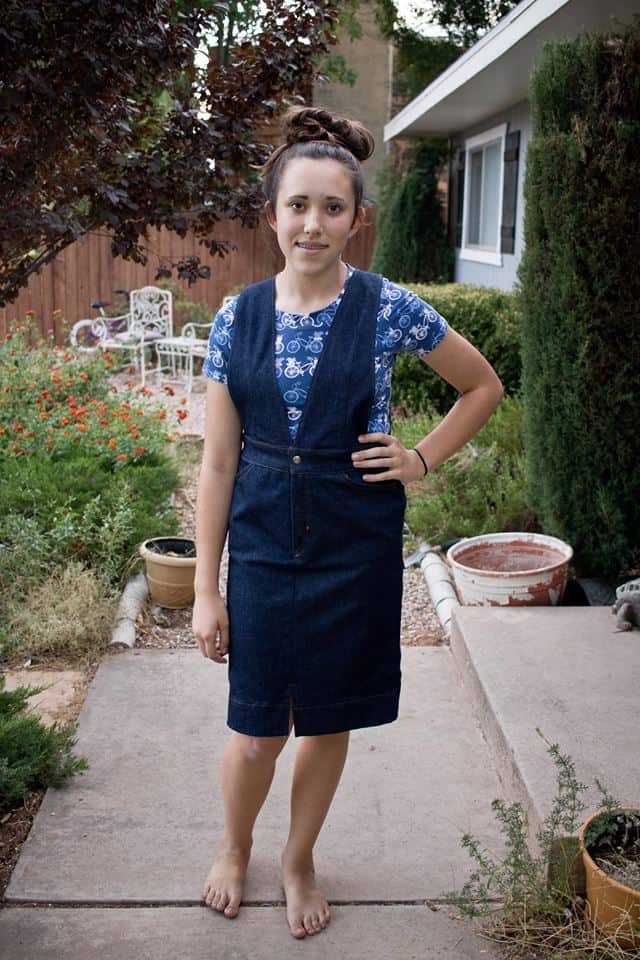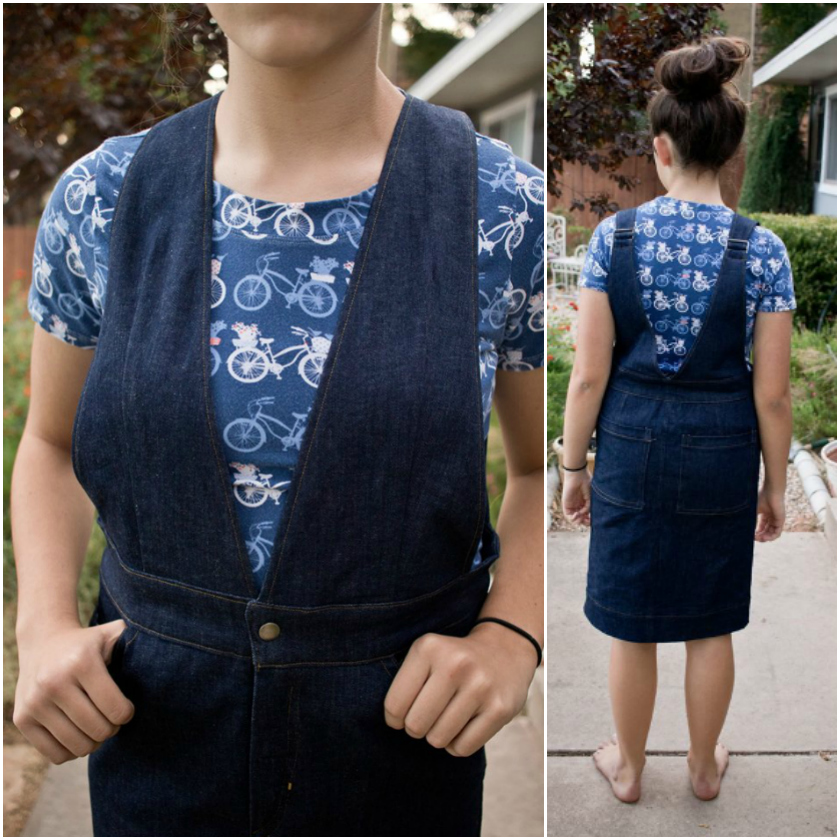 Indu is killing it like usual with her denim pants version.  That top stitching!  Those shoes!  I love seeing the Kendricks paired with a heel too – it really makes this outfit perfect for dinner out or anything else where you want to feel a little bit cute and dressed up, but still casual and comfy.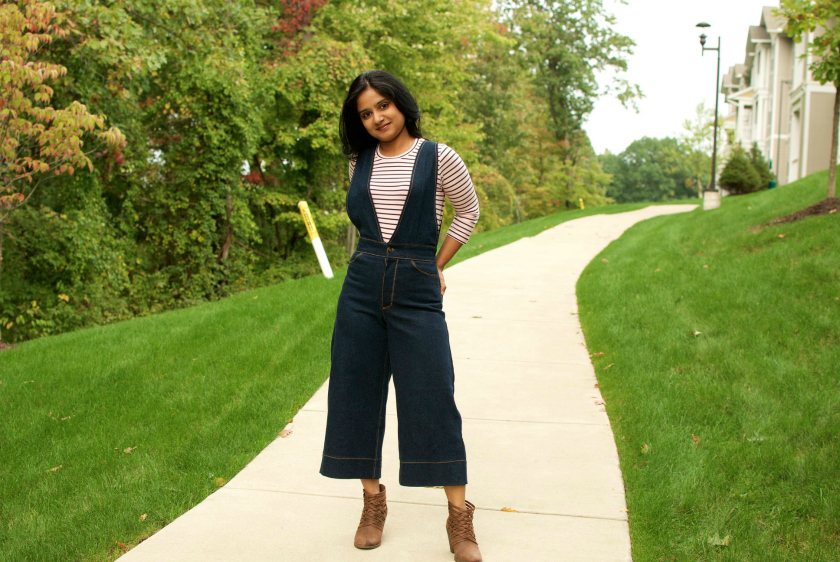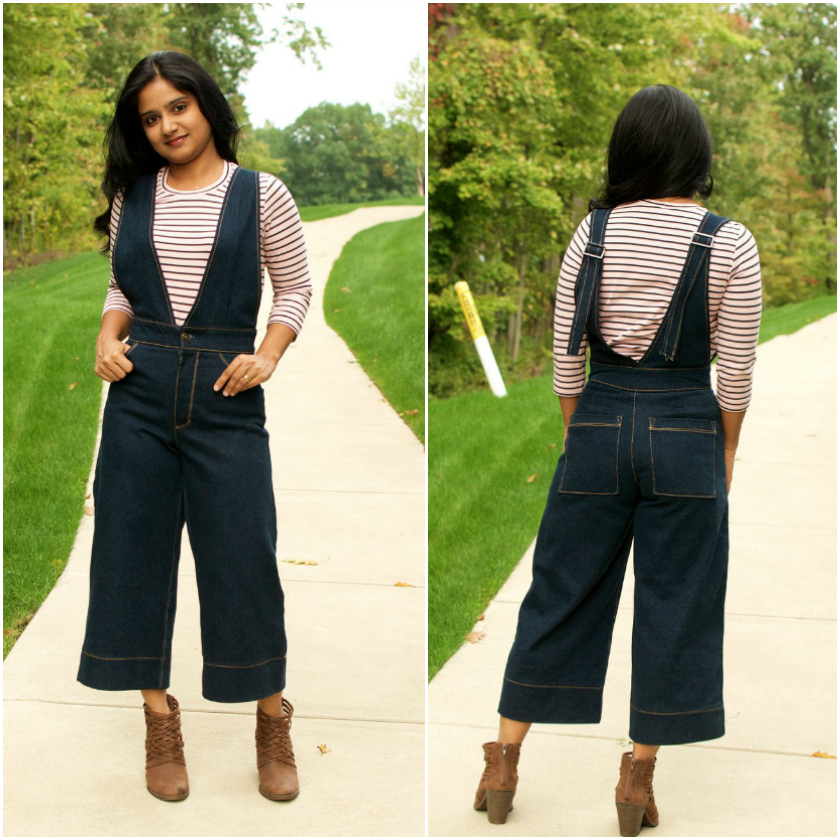 Can you even with Mandy's photoshoot!?  I have no words for this.  She absolutely nailed it – the overalls, styling, location, everything!  It's just stunning!  And I love the raw edge straps – they add the best funky little detail and character.  I only wish I could've been there for this photoshoot – it looks so fun!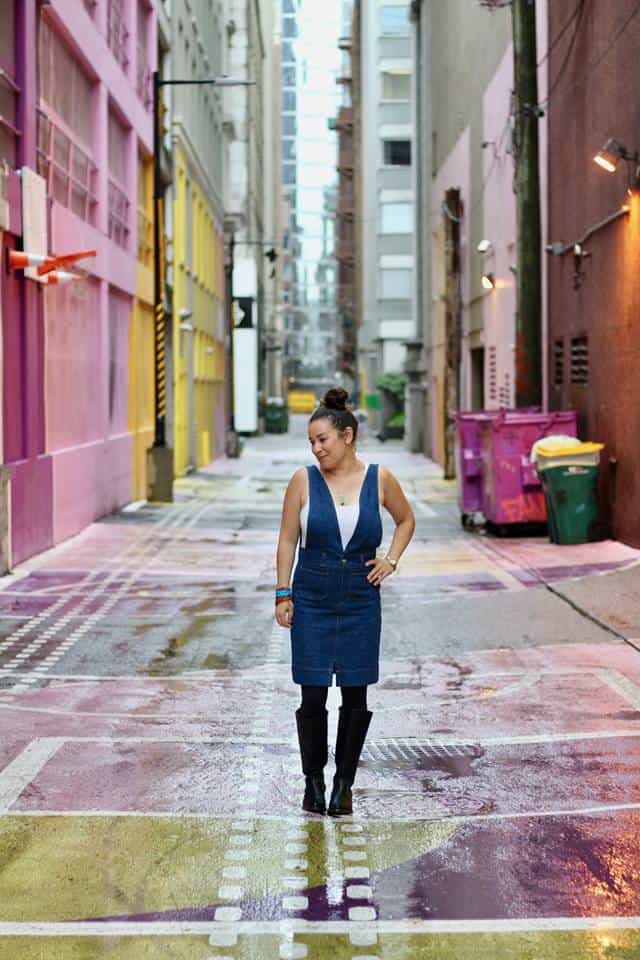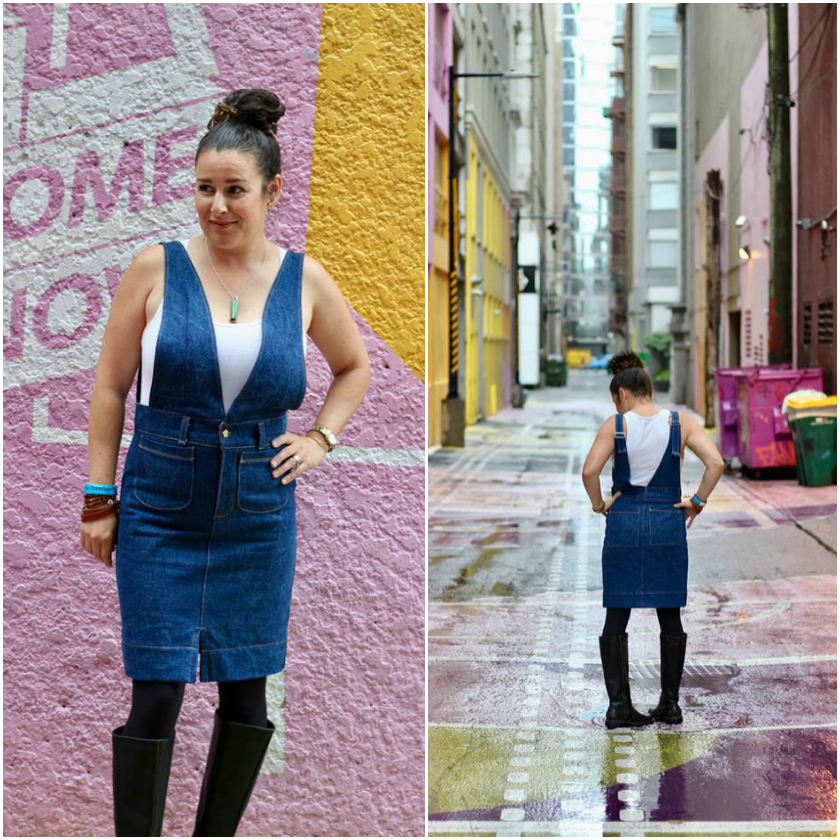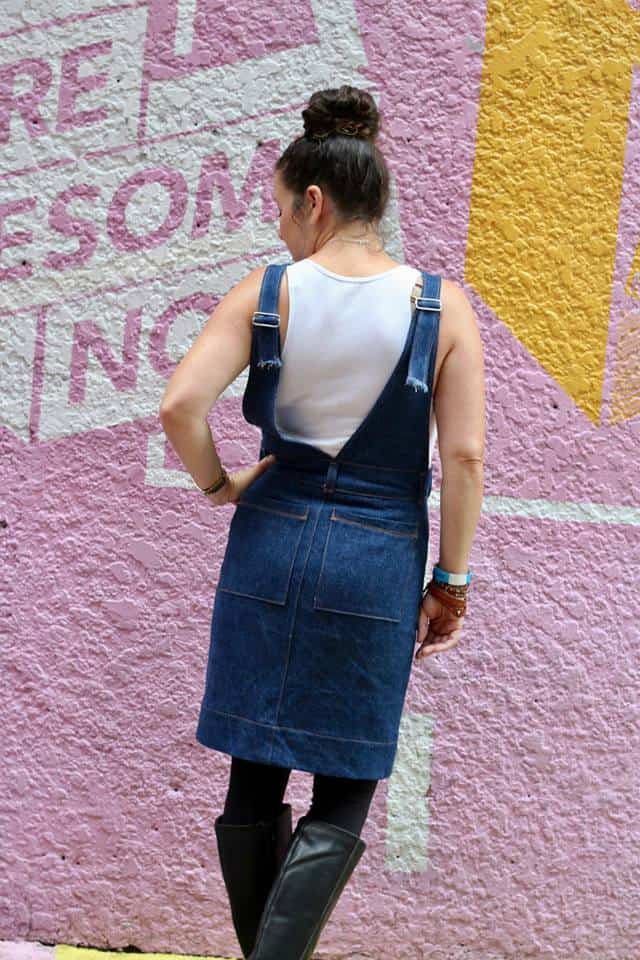 And last but absolutely not least for the overalls – Katie heard that we were going to be testing these and decided to fly all the way to Ireland just to take the most amazing tester photos!  (I'm sure that's how it went down, anyway).  These shots are nothing short of gorgeous!!  They make me want a pair of olive green Kendricks AND to visit Ireland! I love her styling with the cute blouse too – it really elevates the look of the Kendricks!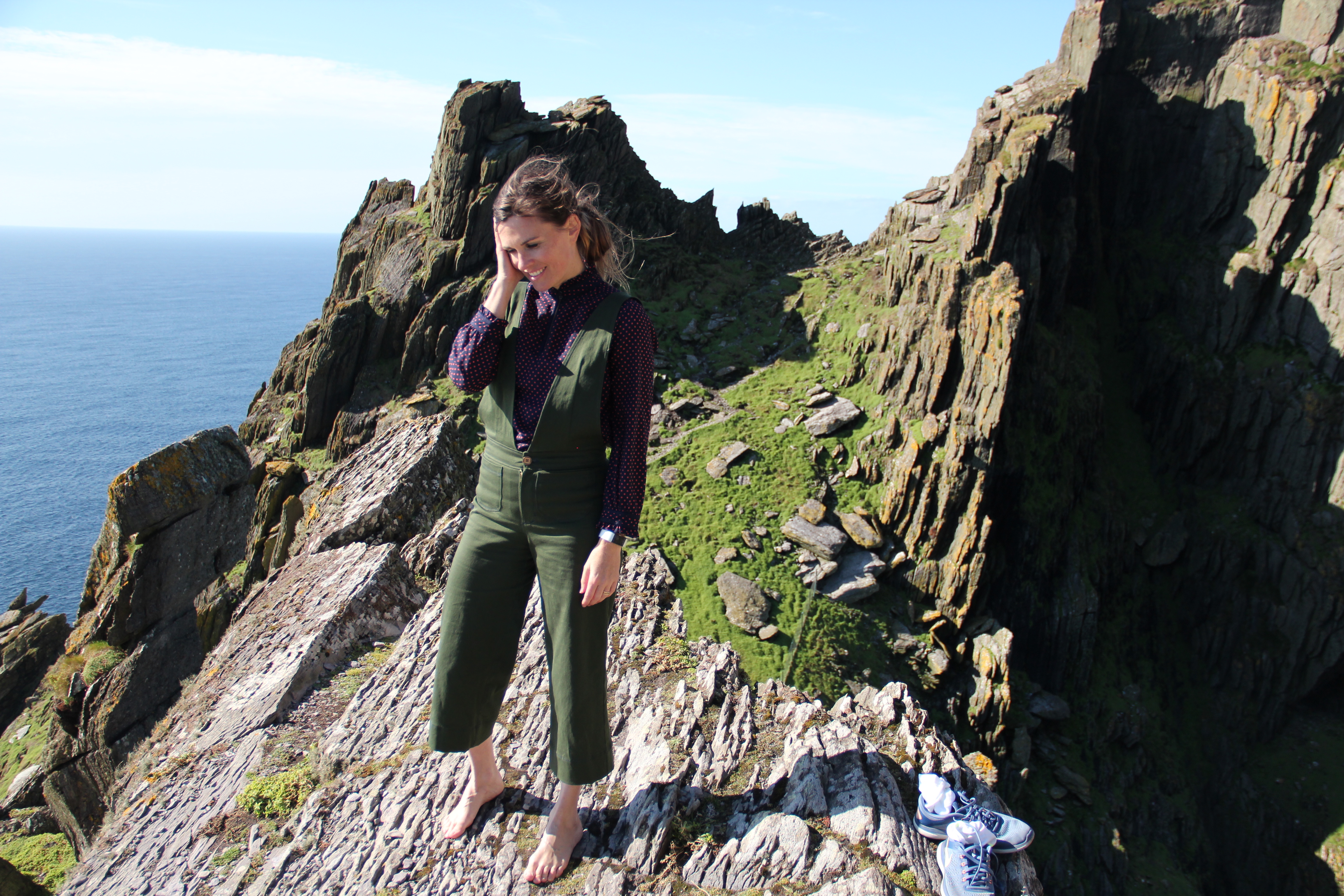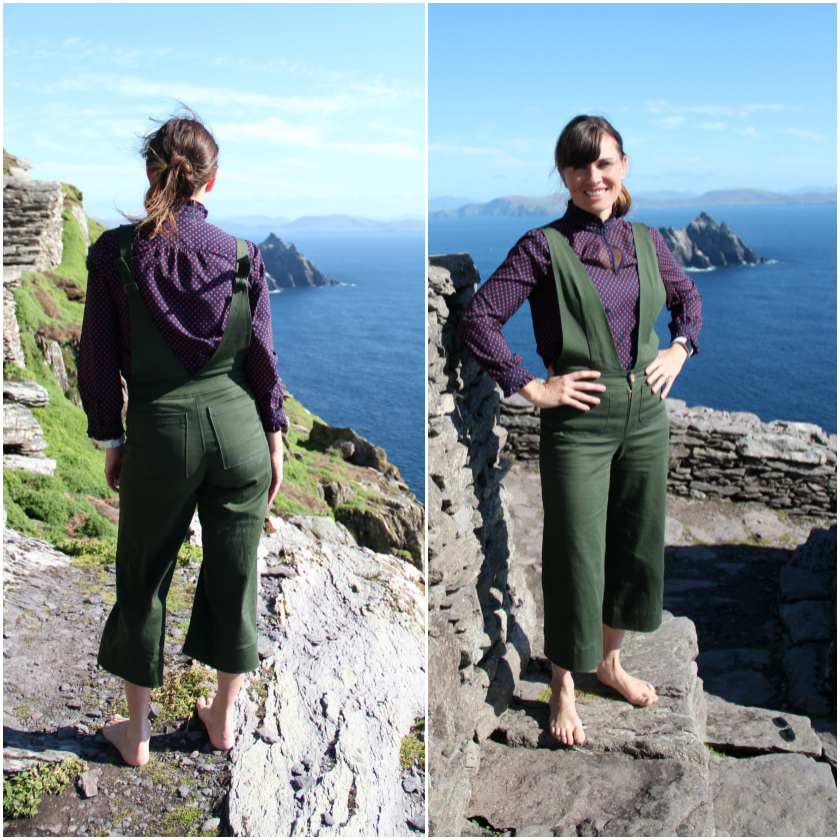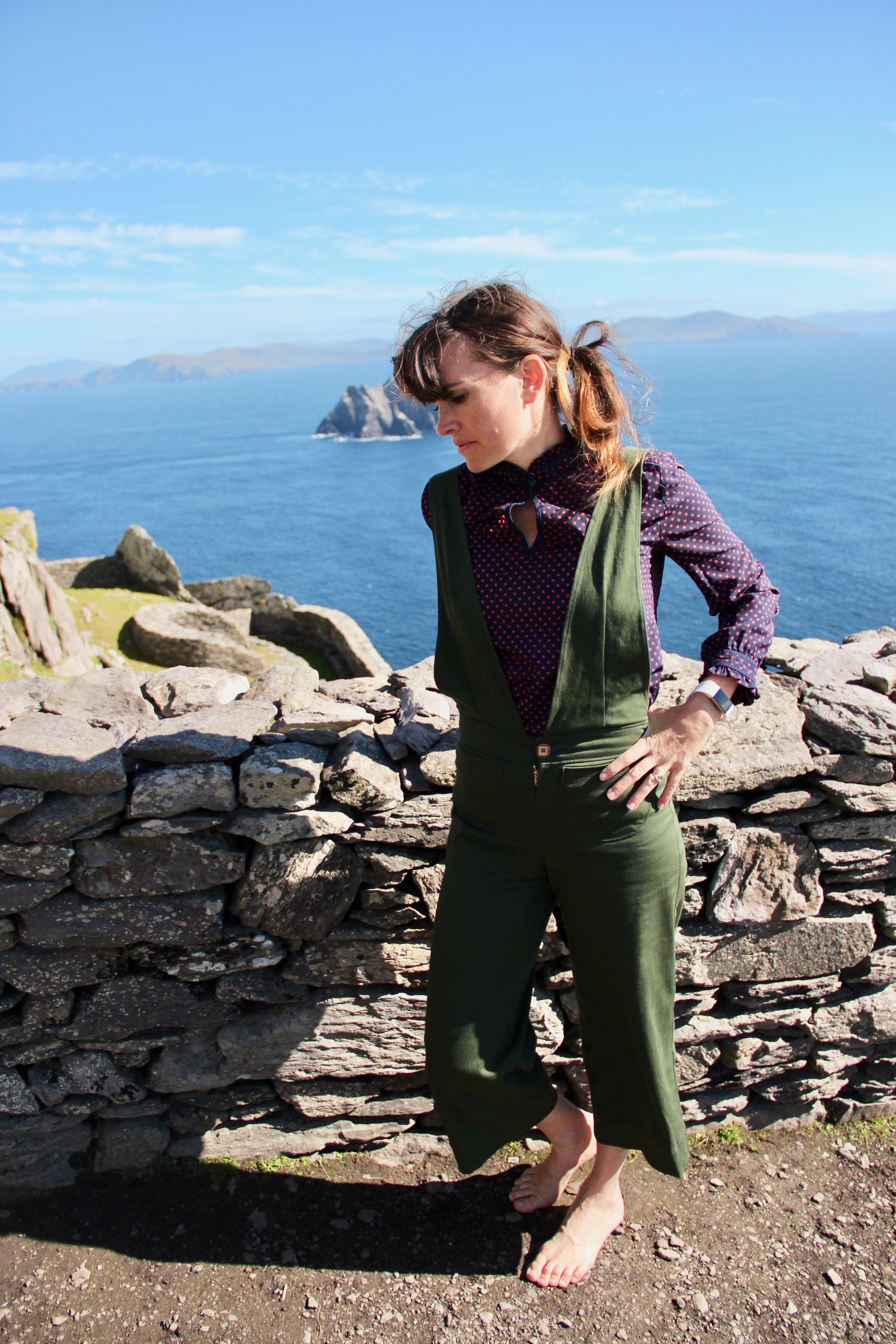 In case you didn't recognize the view from this stunningly beautiful Irish island – it's the location where they filmed Luke Skywalker's island in the new Star Wars movies!  Props were definitely called for!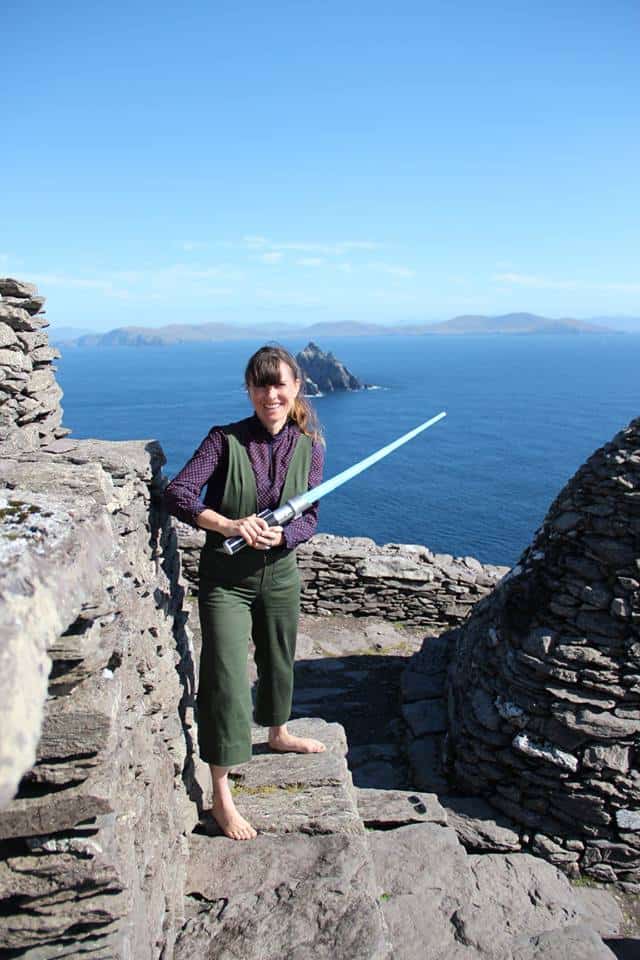 ---
Now please enjoy a little round up of all the testers who went above and beyond and made a pair of Kendricks without the straps.  This wasn't required, but I love that we have the visual of what this pattern can do!
Patti left off the straps AND made them full length for a pair of really elegant wide leg jeans!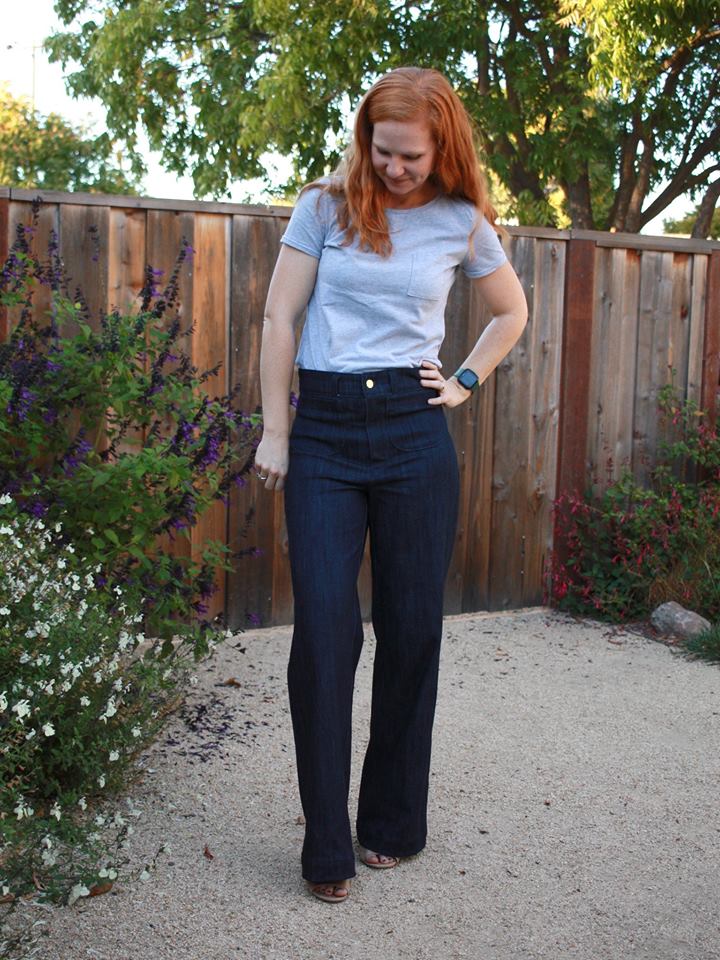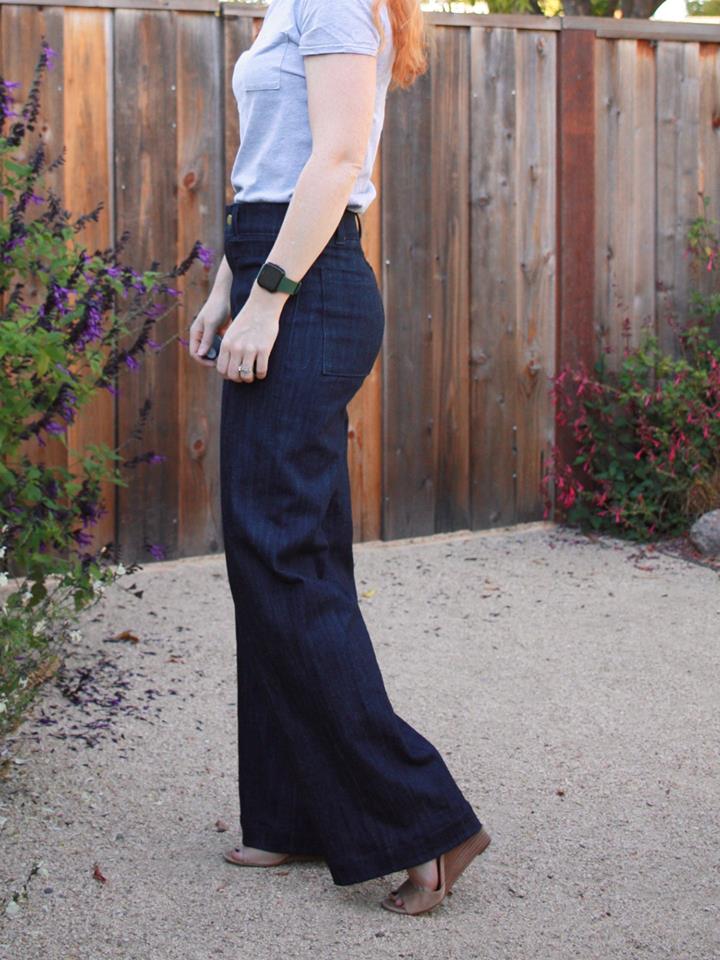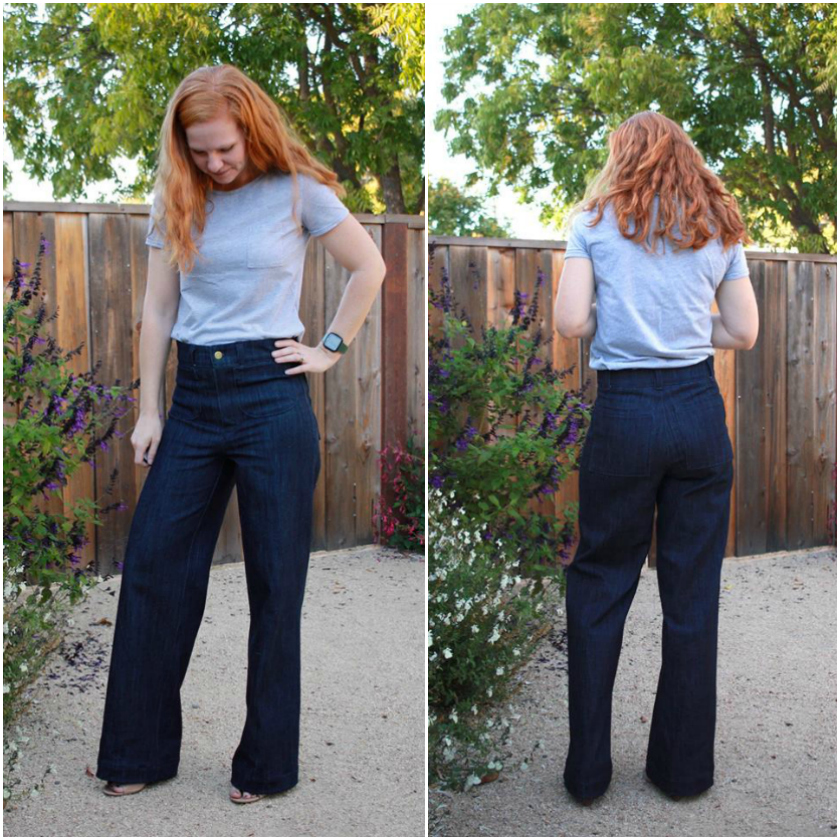 Gwyneth also made a full length pair in such a fun vibrant color! It's so perfect paired with a striped tee!  I love how she added a thick cuff to her pants too!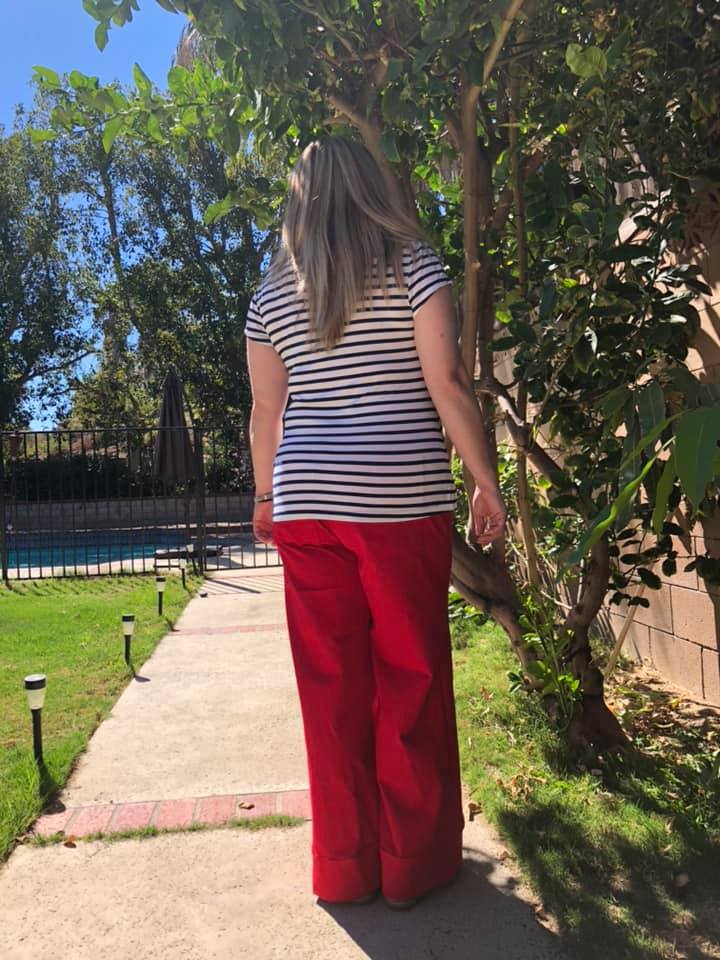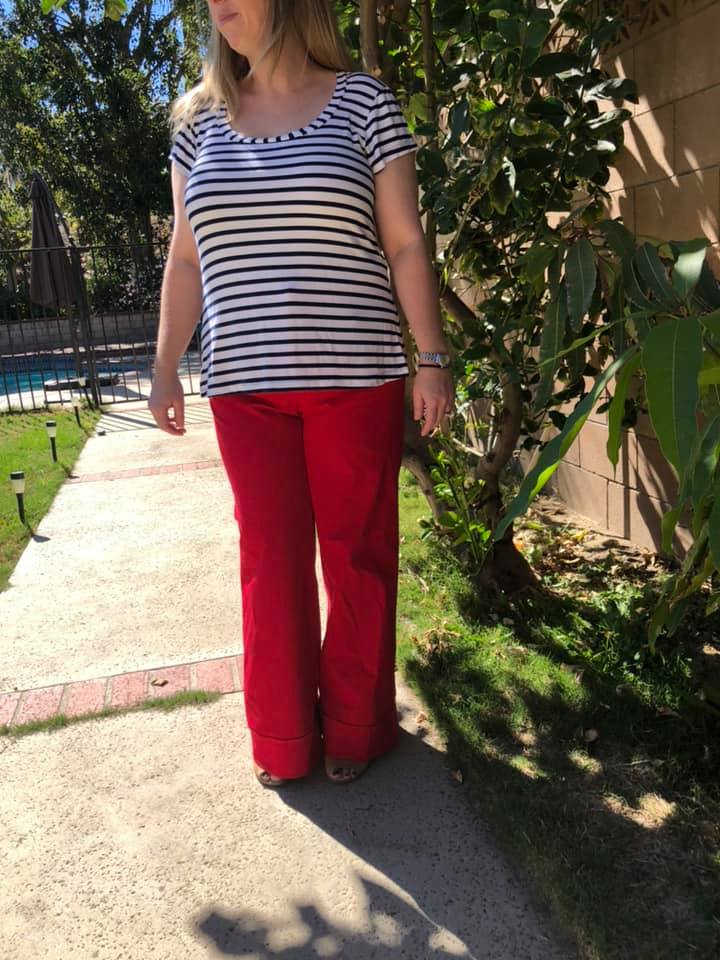 Emily used the cutest print for her skirt version!  I love a simple skirt silhouette paired with a beautiful print!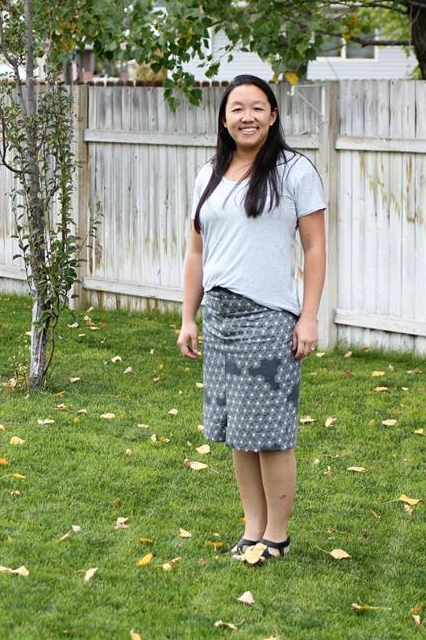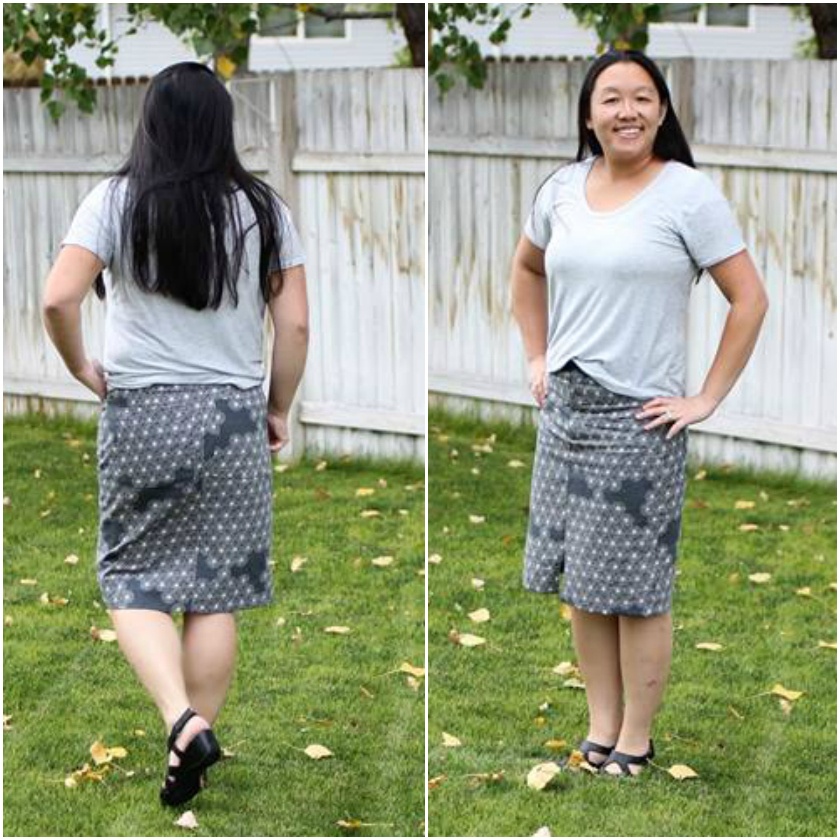 I don't know if I could've styled the skirt-only version any better for fall!  Becky paired her gorgeous corduroy skirt with a chambray shirt and pretty much the most gorgeous booties ever.  LOVE this outfit!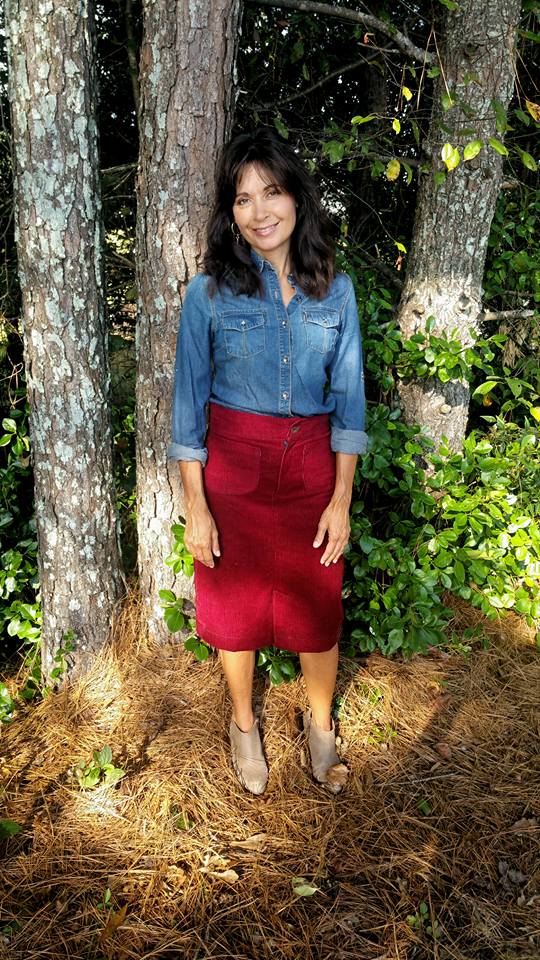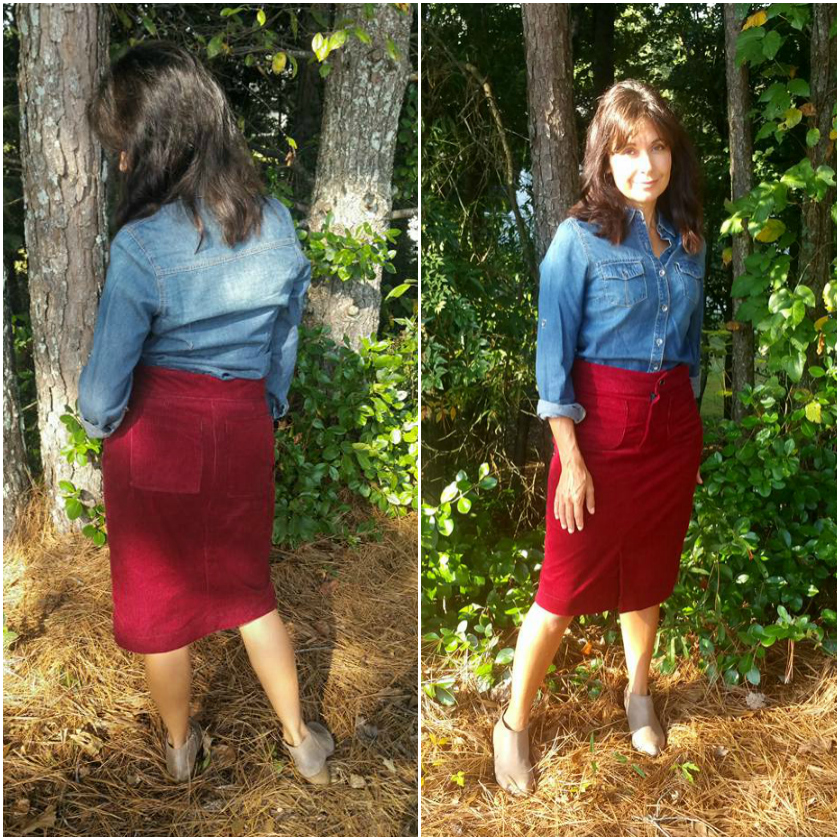 Speaking of cute boots, hello Indu!  Her top stitch game is on point again here.  I love that she made a classic denim skirt using the Kendrick pattern!  What a perfect wardrobe staple!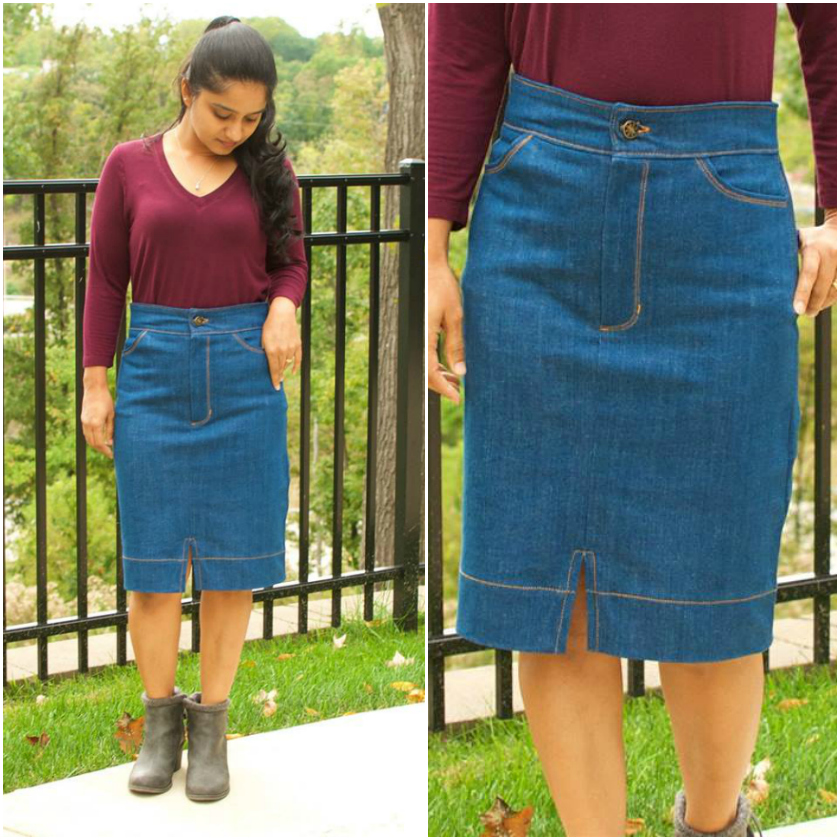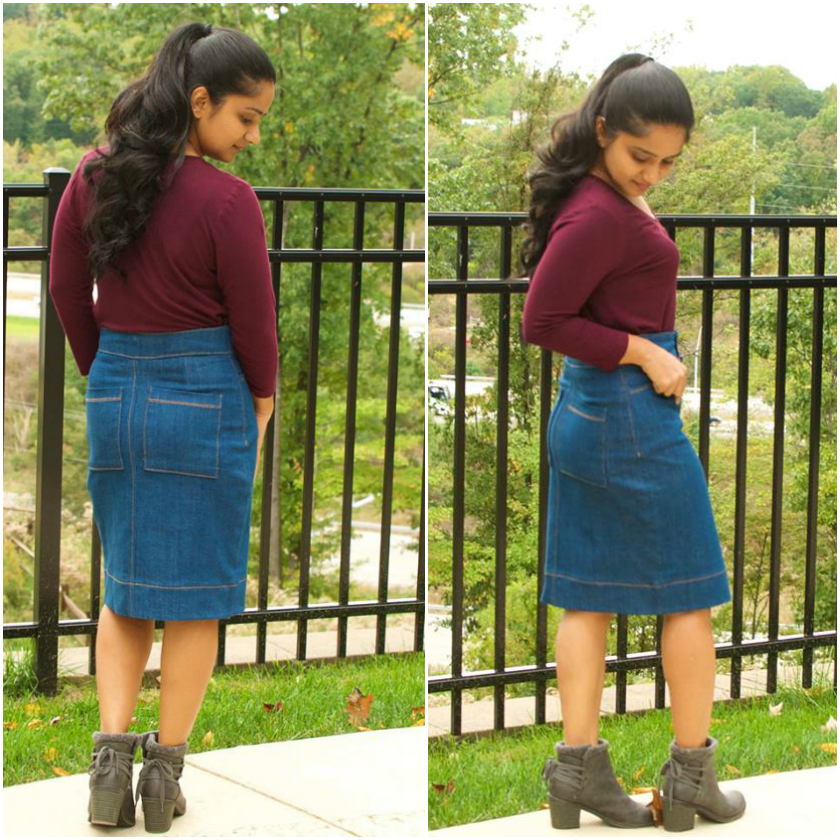 That sums up the Kendrick testers!  Thank you SO much for all your work and your stunning photos, ladies!  We couldn't do any of this without you!  Katie is expressing the way we all feel about these tester garments!