I've been having a ton of fun hacking my Kensington Dress and Tee pattern lately, so here's another one for you!  It's a little floral granny chic number!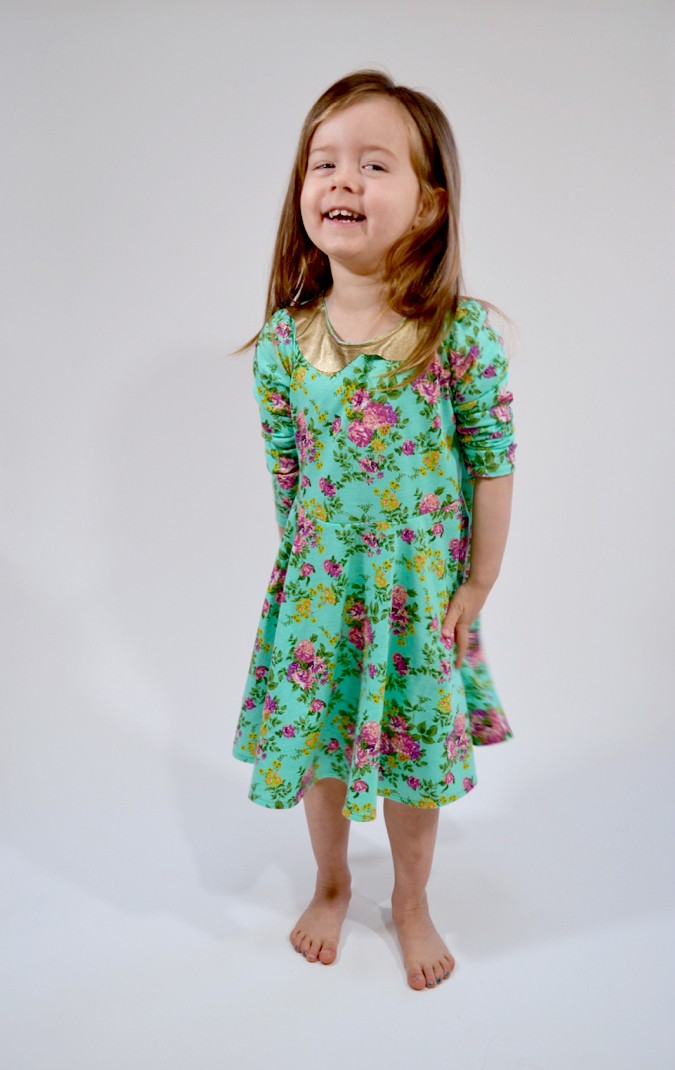 This is a standard Kensington Dress top and sleeve, no alterations, in a size 3. The Kensington has an optional button placket, pocket/s, two neckline finishes, short sleeves, or sleeve tabs, but I just went with the most basic version for this dress. It is also generously sized so your girls can move. Even move Like a Girl, according to the super bowl.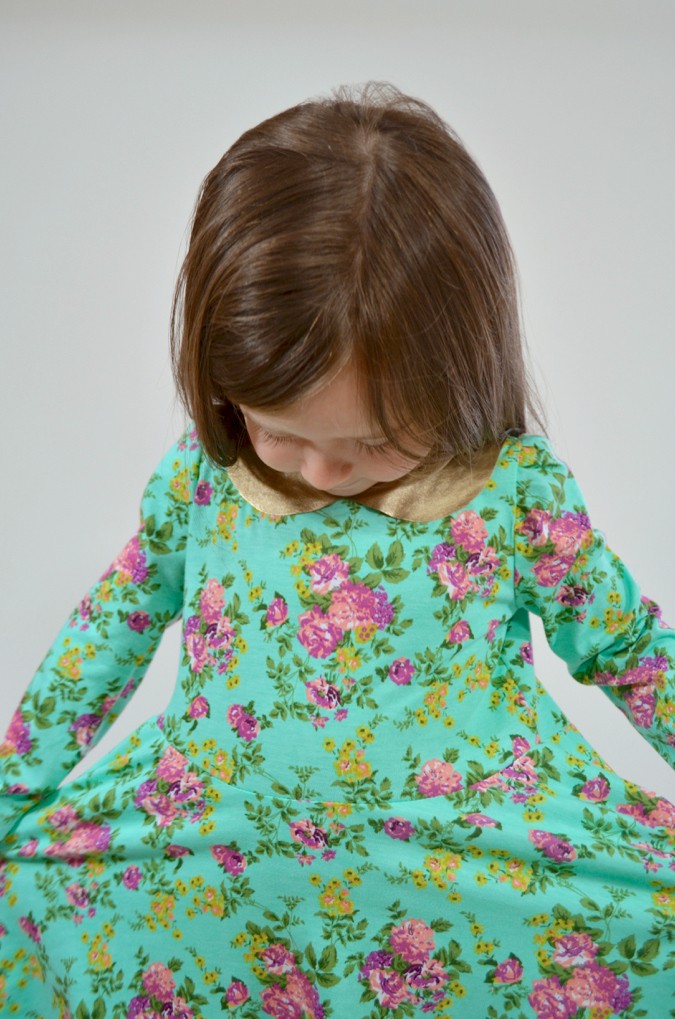 My only bodice hack was to add a gold vinyl faux peter pan collar, upcycled from a thrifted jacket. I simply traced an approximation of a collar on my bodice piece, and used that as a pattern to cut it out of vinyl. The vinyl is top stitched on the front side only, so it's really more of an applique than a collar. Vinyl is possibly the most annoying fabric to sew, and appliqueing it onto jersey is the sewing equivalent of repeatedly stabbing your eyeballs with pencils. So instead of trying to topstitch the bottom edge of the collar and guaranteeing the destruction of this garment, I cheated and stuck some double-sided fusible under the collar and every so carefully (with much press cloth action) fused it to the jersey. Because the stitched vinyl restricted the neckline stretch, I also added a button and loop closure to the back.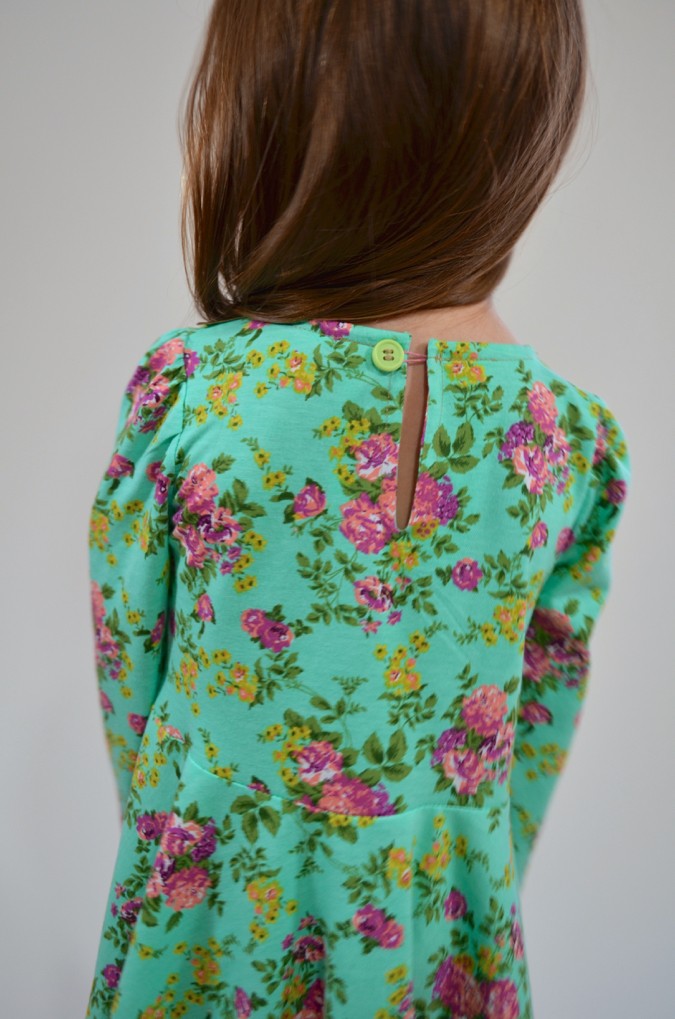 The skirt is normally a gathered rectangle, but I swapped it out for a full circle skirt for my twirly girl. Below is a little tutorial on how to add a circle skirt to any knit dress.
1. Sew the bodice side seams together. Measure across the bottom of the bodice at the waistseam, as indicated by the red line. This is your "A" measurement. Continue with the math to find your "C" measurement.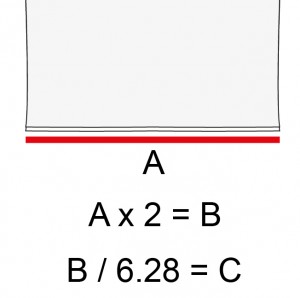 2. Fold your fabric lengthwise, and then widthwise, as shown.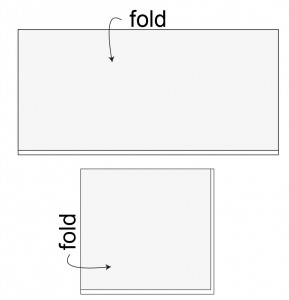 3. From the double-folded corner, measure out using your "C" measurement in all directions, marking points along the quarter circle. Cut along your marked curve.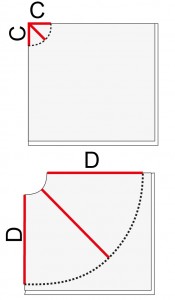 4. From the quarter circle, measure out in all directions using your "D" measurement and mark. D is the finished desired length + seam allowance + hem allowance. For the Kensington, both allowances are 1/2″, so add 1″ to your desired length. Cut along your markings.
5. Pin your skirt waistline in fourths, pin the center front and back of your bodice.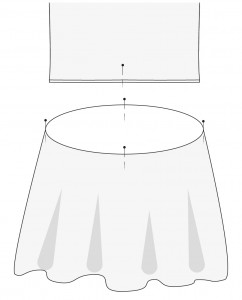 6. Slip the bodice down into the skirt, right sides together, aligning pins. The side seams of the bodice will align with two of the pins in the skirt.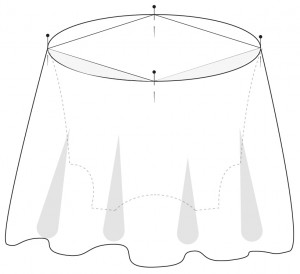 7. Sew the skirt and bodice together. The only thing left to do is hem, and you can do that a few different ways. One way is to leave it raw edged, as knits won't fray. For a more finished look, serge or zig zag stitch the edge of the skirt hem, then press it to the inside by 1/4″ and top stitch the hem down. You could also finish the edge with a rolled serger stitch, or even a regular serger stitch for a casual look.
That's it!  A cute, easy-to-sew, easy-to-wear, twirly dress for any season or occasion!