The Biscayne Blouse is here!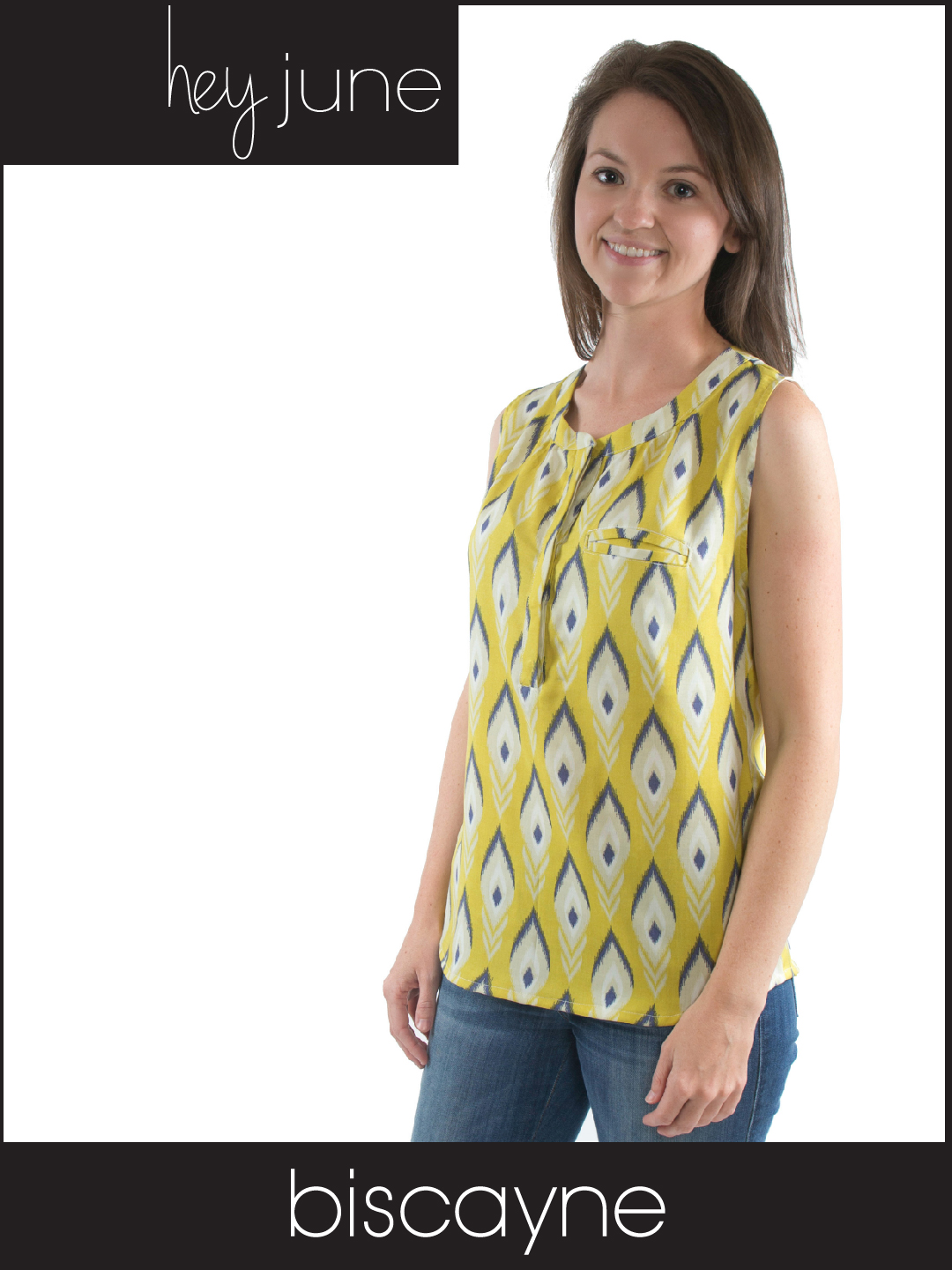 This flowy summery top is going to be such a great addition to your wardrobe.  It's versatile enough to wear to the office, out with friends, or at your Saturday morning farmer's market (or anything in between!)  It has a simple silhouette but great details that give it character.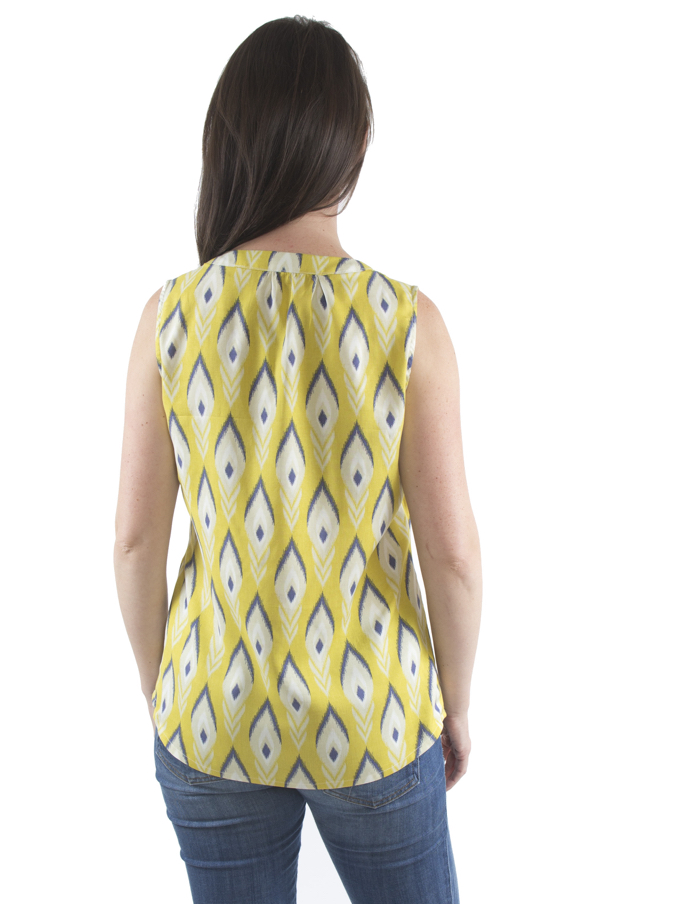 The Biscayne features a fully functional hidden button placket.  The fabric on the placket is folded and stitched accordion-style to hide the buttonholes and buttons underneath.  It's a beautiful element that makes you look like a sewing ninja, but I promise is actually really easy!  The directions walk you through it step by step, but if you need even more visuals, we'll be hosting a sew-along starting Monday June 8 so you can see the whole process!  Once you've made one you'll be doing it with your eyes closed.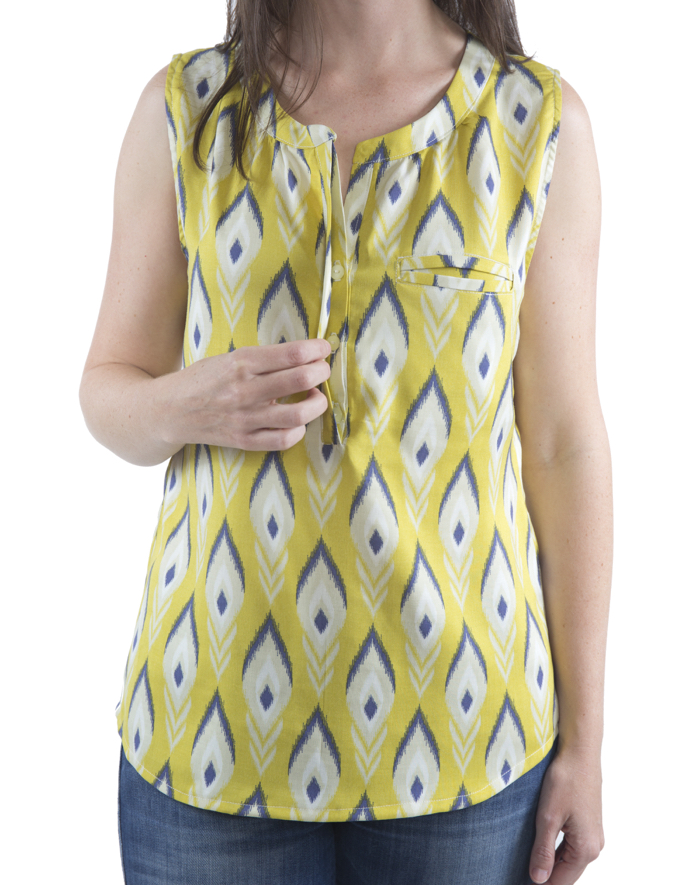 Another great element is the shaped neckband, which gives the drapey, subtly gathered bodice some structure.  The buttons on the placket only go halfway up, so the neckband can drape open depending on your fabric, giving you a beautiful neckline.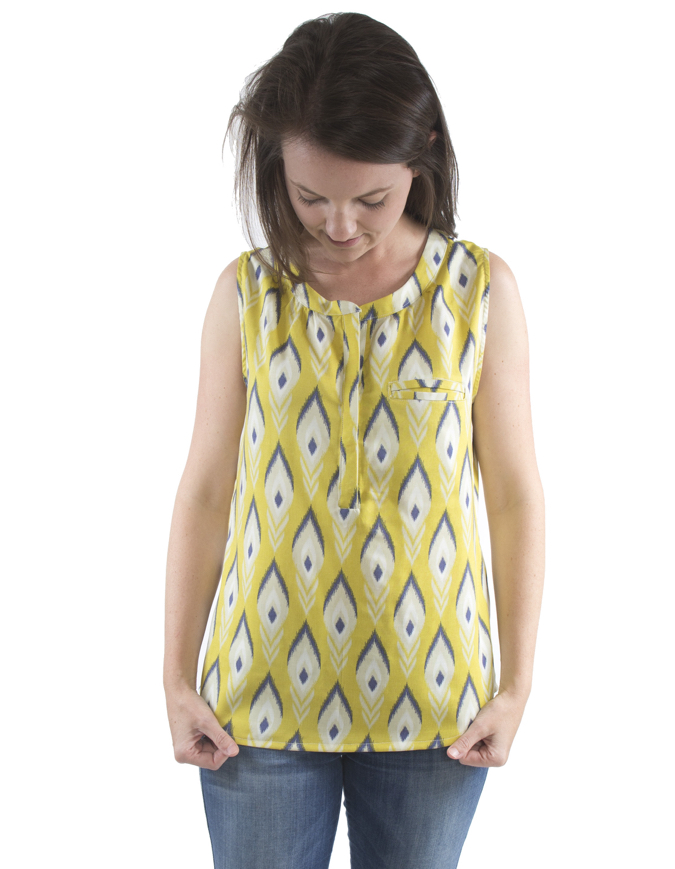 There are two pocket options.  First up is a self-welt pocket.  We've made this welt pocket as easy as possible.  It's only one piece, and the welts are made by folding.  You can do it!  But if you're not feeling up to the welt or your fabric is too sheer, there is also a patch pocket option.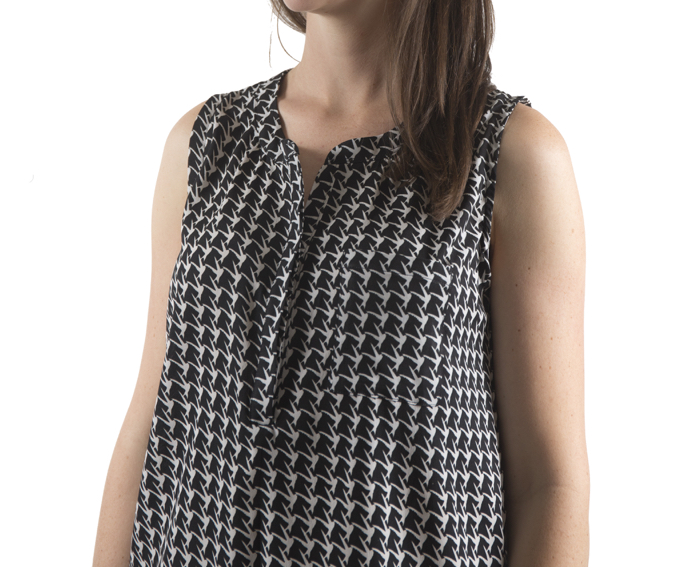 There are lots of little sewing details that may seem finicky but make this blouse a garment that will get years of wear.  All seams are french seamed so the inside is just as pretty as the outside.  Understitching on the neckband and bias bound arms guarantee a beautiful result.  This isn't a quick one hour sew like some other Hey June patterns, but the extra workmanship will be worth it in the finished garment.  If you're like me, you'll get a huge sense of accomplishment every time you look at your finished Biscayne Blouse!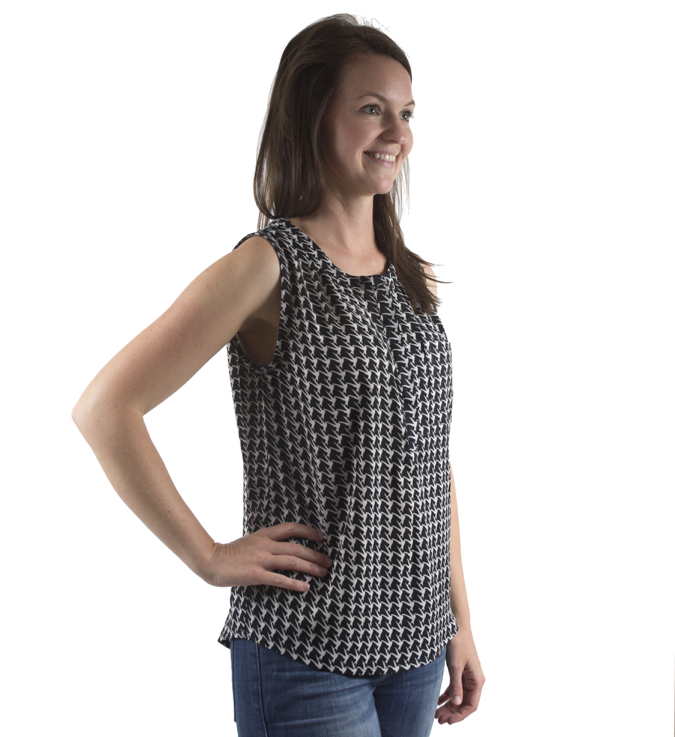 The Biscayne Blouse is meant to be very drapey, so fabric selection is really important.  I can't recommend 100% rayon challis highly enough.  I loved working with this substrate because it was sturdy enough that sewing was easy, but the finished drape was beautiful.  I imagine silk and silk blends would be very similar.  The yellow version on the pattern cover is made with Heather Bailey for Free Spirit rayon.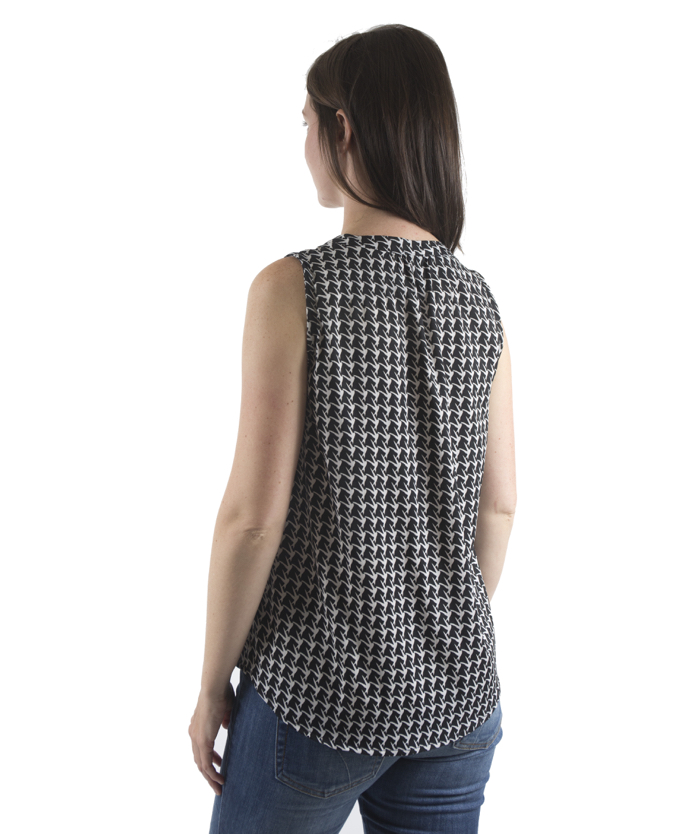 I've also made this blouse with a chiffon and a crepe-like mystery fabric.  They also turned out really well and had a lovely drape, but were slightly harder to deal with while cutting and sewing.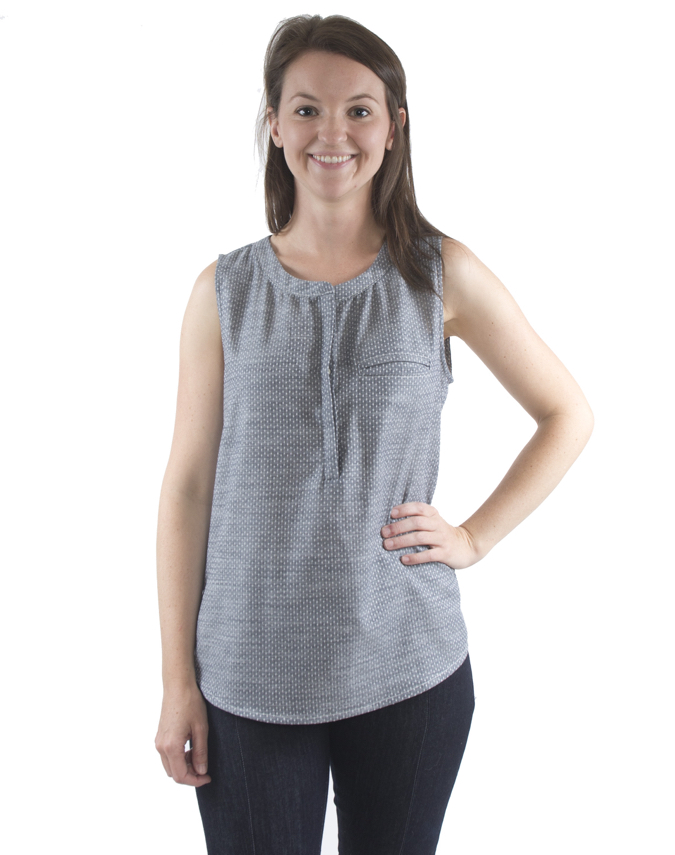 Lastly, you could make the Biscayne from a very lightweight shirting or chambray, like the polka dot version.   It won't have the drapey quality of the rayon version, but it is a still a great sleeveless blouse for staying cool this summer.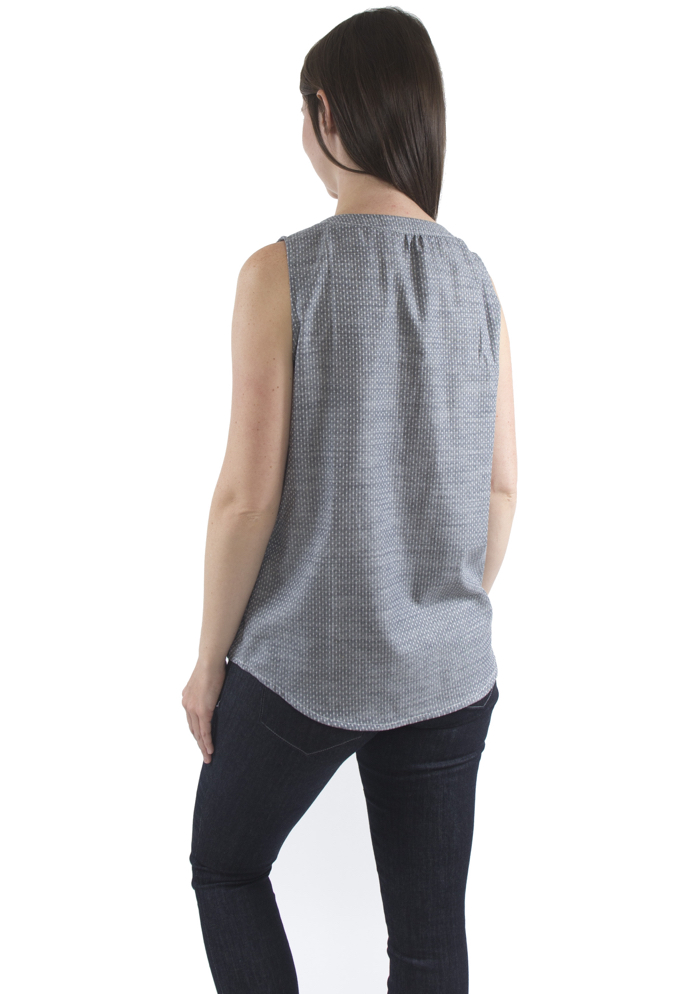 The Biscayne is on sale for only $8 all week!  No coupon code necessary!  Next Monday we'll begin the sew-along, so make sure to grab your pattern while it's on sale, get your fabric and notions ready, and make a muslin!  Depending on your body shape you might find you want to take it in at the bust or grade it out at the hips, but the easy fit of this blouse means that sizing is pretty easy.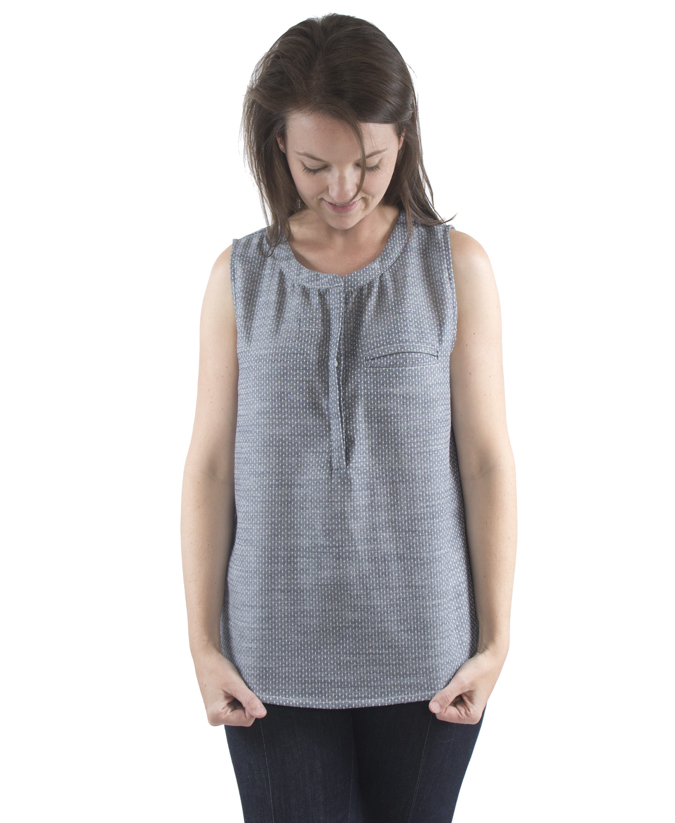 Tomorrow I'll share my lovely testers' blouses, so come back and check them out!
My gorgeous model in these photos is Allie, who owns IndieSew.  If you haven't seen IndieSew yet, I feel like I should warn you.  You're about to lose hours of your life.  It's a treasure trove of curated adult's sewing patterns from dozens of designers, including Hey June!  And there's also a great blog with all kinds of sewing tutorials!  Happy shopping 😉