[vc_row][vc_column width="1/6″][/vc_column][vc_column width="2/3″][vc_column_text]I love talking about the tools of my trade, so I thought I'd dedicate a whole page to my favorite sewing tools!
Machines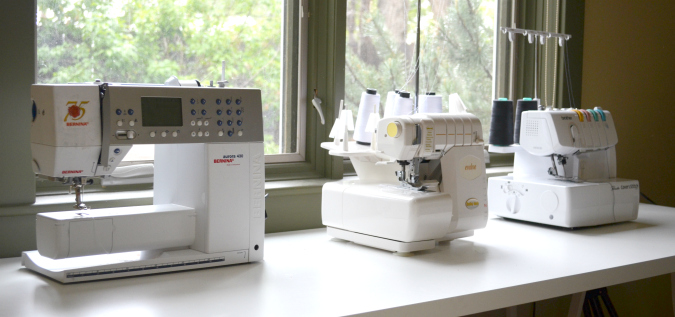 First up of course is my sewing machine!   I have a Bernina Aurora 430 and it's my favorite.  I can't even do justice to the love affair I have with this gal.  I sewed on a mid-level Singer and a higher end Husqvarna Viking before this, and there is no comparison.
My first impression sewing on the Bernina was that it was smooooooth.  It purred instead of chugged.  I lamented the loss of my drop-in bobbins because I liked the ease of that method, but it turns out Bernina doesn't make drop-in bobbins for a reason.  The traditional front-loading bobbin is necessary to ensure perfect tension in sewing and especially for buttonholes.  I'm willing to do one extra step to have perfect tension every time.  Speaking of buttonholes, the buttonholes on this thing are legendary.  Perfect Every. Single. Time.  You only have to measure the length of the first one and then every button hole you make after that will automatically be the same size.  All you have to do is press the foot pedal, sit back, and watch the magic happen.
It has a ton of stitches of course, although I find I only use about 3 of them.  It's fun to know they're there though 🙂  I love that you can move the needle to the far left or right for perfect edgestitching, and press one button to stop the needle in the down position for pivoting.
My favorite feature of the Bernina 430 is the knee presser foot lift!  I love being able to keep my hands on the fabric while sewing and rearranging things without having to remove a hand to deal with the presser foot lever.  Often times when you're doing precise top stitching, appliqueing, or pivoting, it's important to keep your fabric perfectly in place.  My knee does the work so I can keep sewing!
A note on buying: Berninas ain't cheap.  They are an investment that you'll enjoy for the rest of your life.  Even so, there are ways to save money.  Make friends with your local Bernina dealer and ask them to keep you updated with sales and specials.  Another option is to buy a refurbished Bernina.  They are still only sold through an authorized dealer and still come with a warranty, but they are up to half the full price of a new one.  My Bernina was refurbished and is still going strong after 5 years.  I've never had a single problem with this baby!
Moving on to my serger!  My first serger was the Brother 1034D
.  This serger is the perfect one for beginners, and may be the only one you'll ever need.  It has 3 or 4 thread options, an adjustable differential feed, and is super easy to thread.  It's one of the most popular sergers on the market, so there are a ton of tutorials for it on the internet if you need help.  And at under $200, you won't find a better deal!  I would've kept this serger indefinitely but I moved and left it behind with a friend because she didn't have access to a serger in that country.
I now use a Baby Lock Evolve serger that I also bought refurbished from a dealer.  It has anywhere between 2 and 8 threads, which is kinda crazy.  It can sew a safety stitch and serge the seam allowances all in one pass.  But to be honest I basically only use it as a regular 4 thread serger.  My favorite features are the jet-air threading, so I only have to press a lever and the loopers thread themselves, and the automatic tension.  The serger automatically sets its own tension depending on the fabric weight, so it's perfect every time.  Definitely worth the price tag!  The Evolve is discontinued, so you can find it refurbished for a great deal, or you can buy the comparable Evolution.
When I started getting really serious about sewing and having a business, and realized that I almost always used knits, I invested in the Brother 2340CV Cover Stitch
.  This little guy isn't very fancy, but it does one job really well.  It has 2 or 3 needles, two needle width settings, and adjustable tension.  There aren't a bunch of dials and settings on this machine and threading is ridiculously easy.  Read the instructions and some tutorials online to help you understand how to start and stop a stitch on your cover stitch, and then you're ready to sew!  You can't beat the professional look, ease of use, and great results of a cover stitch machine!  Twin needles and zig zag stitches can take you far, but when you're ready to step up to the next level, a small investment in a cover stitch will be more than worth it!  You can also buy extra attachments for this machine for binding and hemming.
Notions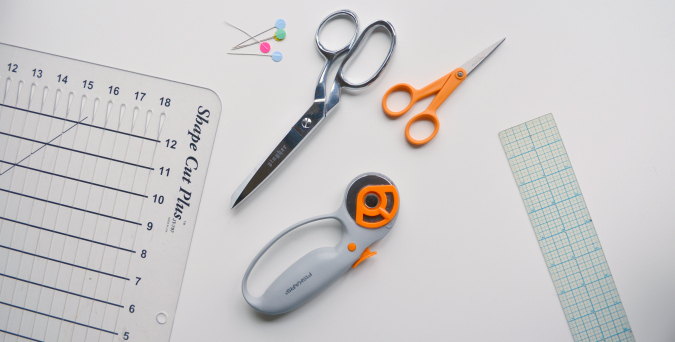 I'm not a huge notions girl.  I find that a great pair of scissors will take you far.  Here are the things I've been using and loving from day one.  There isn't really much I've added over the years.
I love my rotary cutter
 and 24×36 inch cutting mat
 and use them for all fabric cutting.  I also couldn't live without this Shape Cut Plus Slotted Ruler
.  It helps me make perfect rectangles every time.
I love this 2×18″ clear quilting ruler
.  It's just the perfect size and the fact that it's see-through helps a ton.  I use it to cut straight edges and to cut many of my bindings, since they are usually 2″ wide.
These little scissors
 are my everything.  I use them for thread cutting, buttonhole slicing, seam ripping (true story – don't own a seam ripper), notch marking, placket and welt pocket slicing, detailed applique cutting, and to pull slack on the threads of my cover stitch.  I recently bought a second pair so I could have one over at my cutting table and leave one near my machines.  I might buy a third to keep near the ironing board!  For heavier duty jobs I use my Gingher dressmaker's shears
.
I prefer flower-head pins
 to regular straight pins or the ones with a sphere head.  I just find they tend to be longer and lay nicely when pinning.  And they're pretty.
And I think that's it!  I use a regular measuring tape, and project-appropriate thread and needles, but in general I'm not fancy!
Photography
I really prefer natural, outdoor light and try to use that as much as possible.  However, for tutorial photographs and the occasional late-night photo session, I use the CowboyStudio Lighting Kit
 combined with this backdrop stand
 and many different backdrops that I just buy for cheap from Amazon.  Sometimes I secure fabric to the stand with these clamps
.
I use a Nikon D5100
and generally just use my kit 18-55mm zoom lens.  I also have a fixed 35mm f/1.8
 lens that I use for portraits.
{{page includes affiliate links}}
[/vc_column_text][/vc_column][vc_column width="1/6″][/vc_column][/vc_row]